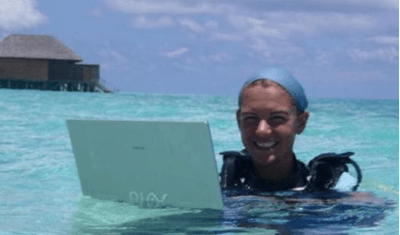 About
Marlies Wolters * Dutch / The Netherlands * 30-Something * World Traveler / Digital nomad * Experienced PADI IDC Staff Instructor * 1500+ dives / 50+ countries * Degrees in Leisure Management & International Business (MBA) * Small camera - big passion for SCUBA diving!
How my SCUBA adventure started
This diving adventure started with a try dive in a swimming pool in The Netherlands about 10 years ago and I just loved the feeling of being weightless underwater! After the first 100 dives in the cold and often murky waters in The Netherlands I got my first 'proper' clear and warm water dive on Mallorca - that was the tipping point - my passion was born! Course after course I did to become a Dive Master to work in tropical waters! Hawaii, Thailand, Maldives, The Philippines and Indonesia are countries where I worked as a dive professional. On the other hand I still love diving and teaching in The Netherlands as well! Just keep swimming! :)
Why this blog?
Let me inspire you with dive education and travel with marine conservation as common thread!
"In the end we will conserve only what we love; we will love only what we understand; and we will understand only what we are taught." (Baba Dioum)
Places on my bucket list
Galapagos (Wolf and Darwin's Arch)
South Pacific (Palau and Rangiroa)
Micronesia (Yap)
Maldives (Southern Atolls)
Sudan
Marine life on my bucket list
Let's just say 'everything', but these things will make me really happy!
Blue Dragon (Glaucus atlanticus)
Leafy seadragon (Phycodurus eques)
Mass coral spawning
Ocean sunfish (Mola mola)
Marine iguana / Galagapos Lizard (Amblyrhynchus cristatus)
Harlequin Shrimp (Hymenocera elegans)
Sea lion
Dugong / Sea Cow (Dugong dugon)
and many many many colorful nudibranches in amazing shapes! :)
Happy bubbles!
Marlies
Dive o'clock