PADI Course Director's perspective: From Divemaster to Instructor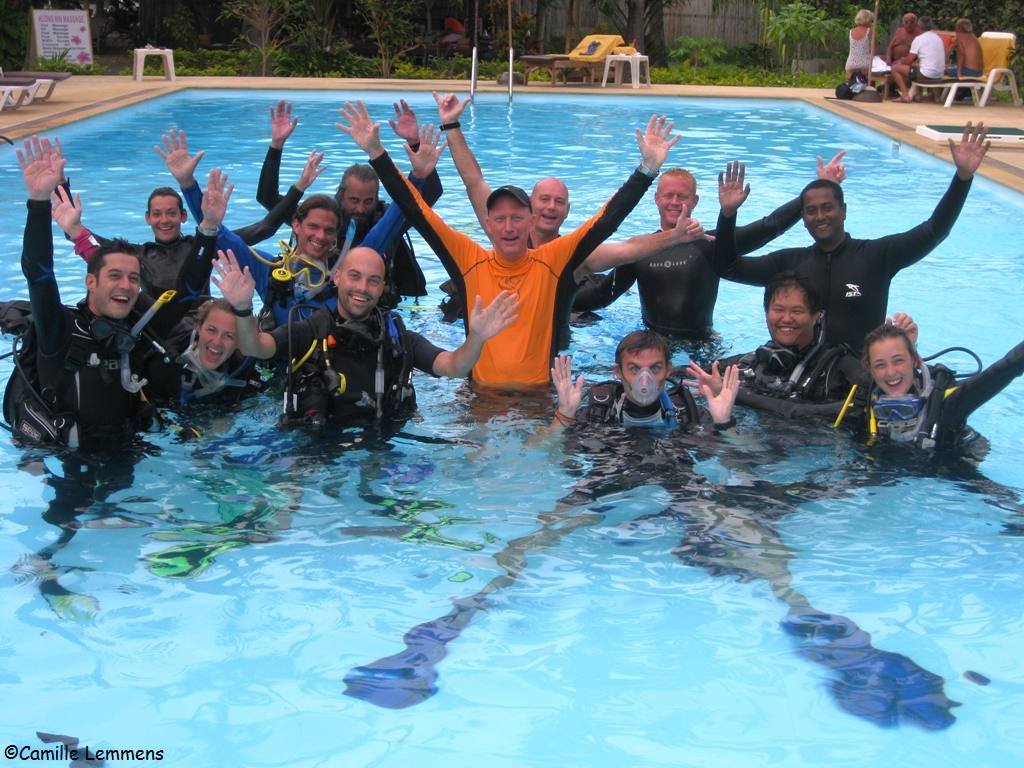 PADI Course Director Camille Lemmens teaching dive instructor courses.
A teachers perspective on the PADI IDC (Instructor Development Course), about good and bad students, the hardest parts and hilarious moments.

PADI Divemaster to PADI Course Director
There are several dive organizations to gain your dive certification, each one organizes the courses in a different way. Most dive courses I did where with PADI, the biggest and most known dive organization in the world. With PADI you need to get to a 'professional' level to be able to teach people to dive or assist the teacher and guide dives (Divemaster).
In short, a PADI Instructor can teach up to Divemaster level and there are many dive centers around the world with instructors to teach you. If you want to become a PADI Instructor, things works a bit different. In that case you need to find a PADI Course Director and do the Instructor Development Course (IDC). After this course you need to do the official Instructor Examination (IE). This examination is done by somebody else, a PADI Examiner, at probably different location with students from other PADI IDC's/Course Directors.
Continue reading about the PADI IDC course and PADI Course Directors
.
Pffff, a lot of information right?! That is what I thought when I was a Divemaster dreaming of becoming an Instructor and work on a tropical island. What I did next? Write some emails to different PADI Course Directors asking many many questions. Camille Lemmens was the PADI Course Director I choose to do my PADI IDC with, on Koh Samui in Thailand. We became friends and we met in different places around the world afterwards. Since he has been such an inspiration and great teacher to me I interviewed him to give you a PADI Course Director's perspective on the PADI IDC courses - from Divemaster to Instructor.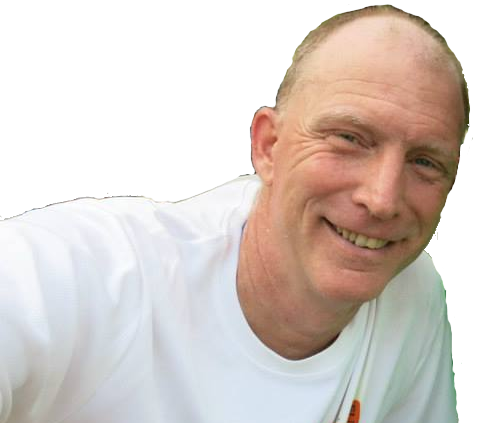 PADI Course Director Camille Lemmens
PADI Course Director Camille Lemmens
When and where did you start SCUBA diving / how did you get hooked?
In 1993 I was for the first time visiting Thailand and went to Koh Lanta. I lived for over a week next to a PADI dive instructor, but did not go diving. Forward a year and I just landed on Roatan in Honduras with a domestic flight. It was not easy to get a taxi and I wandered into the nearby town and got to share a taxi with an older guy and a couple. The couple were PADI dive instructors and on the way to the bay the taxi was taking us, the guy of the couple started to talk about the dive course they were offering, for just 200.-USD you could do the PADI Open Water course and shared accommodation was included.
The older guy and me looked at each other and we asked each other if we wanted to share accommodation for a few days. This sounded good to both of us and the room luckily had two beds, one in the normal room and a second bed or mattress on a platform, so that went just fine. We spent three or four days on the PADI course and there it was, on 19th October 1994 I received my first PADI certification. The additional bonus for me came when I got home after the holiday trip to Central America, the open water course was never charged on my credit card!
A similar story happened with my PADI Advanced Open Water diver certification in December 1995 on Gili Trawangan on Indonesia, my card was never charged for the Advanced course. No wonder I liked PADI :) Turns out that years later this company was my competitor in the PADI IDC market when I taught IDCs on Gili Air, just a few years ago. A wonder that they survived in their early years! After that I kept going back to Thailand and besides my recreational side mount dive course which I completed in Subic in the Philippines, all of my other dive courses up to PADI Course Director I took in Thailand and paid for it!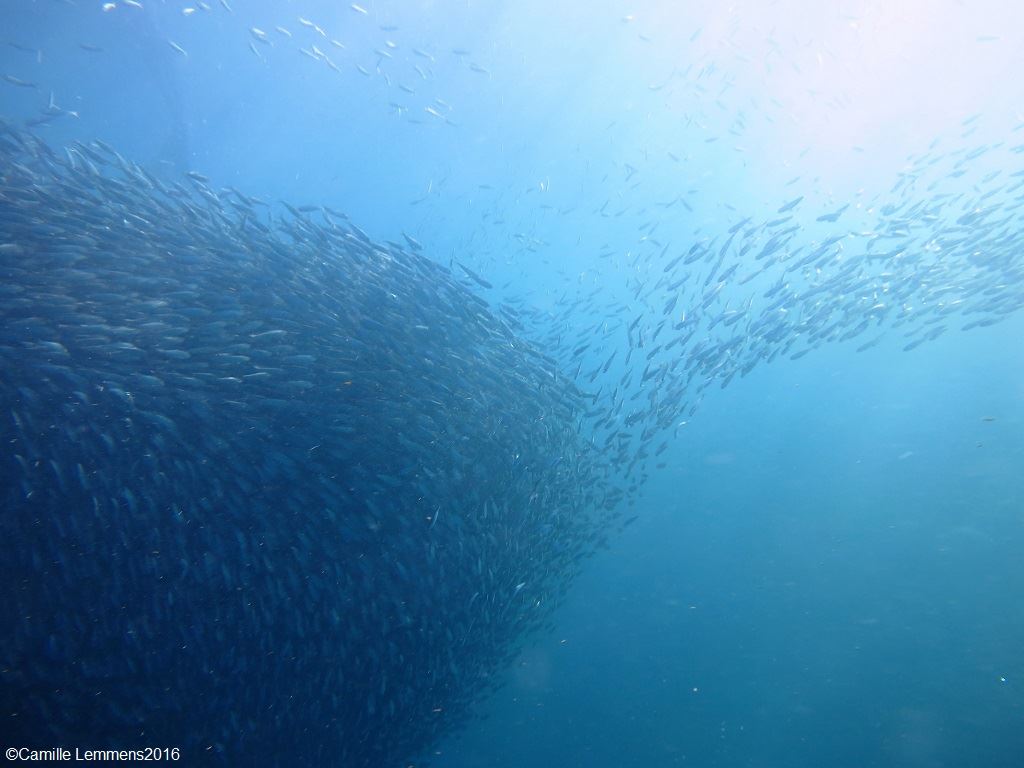 One of PADI Course Director Camille Lemmens' favourite dive spots.
What is your favourite type of SCUBA diving and destination?
My favorite type of diving is taking underwater macro pictures, which mostly means rather shallow dives, in the 20-25 meter range or shallower. My favorite destination is where there is a lot of macro, in Indonesia and the Philippines I saw a lot of 'firsts' but also in Thailand I enjoy macro dives. Favorite dive sites are;
Philippines; The house reef of 'Neptune Diving Adventure' at Panagsama beach near Moalboal. Good for macro and night dives and the sardine ball. Dauin has some great macro diving. Malapascua for the unforgettable early morning dives at Monad shoal, to see the Thresher sharks
Indonesia; Harbor at Gili Air, excellent night and macro dives
Thailand; Sail Rock, have done over 500 dives here and I consider it one of the best dive sites in Thailand. Variety of schools of fish, batfish, jacks, trevally's, my first whale shark, barracudas, schools of Chevron young ones and solitary big ones, massive potato groupers. South west pinnacle, great anemone, lovely deeper dive site, not that much visited in the Gulf of Thailand.
Thailand; Chaweng beach, Koh Samui, just cruising over the sand, very shallow but lots of unexpected finds over the years, bigger and mostly small. Closing in on 500 dives there.
Thailand; Hin Daeng and Hin Muang, visited from Koh Lanta, my first manta rays.
Thailand; King cruiser wreck, during my Divemaster course on Koh Phi Phi it was a new fresh wreck, it is great to see it back now after all those years when teaching IDCs as a PADI Course Director on Phuket.
Thailand; Boonsung Wreck off Khao Lak, great dive site, max depth about 18 meters, but lots of amazing things to see, honeycomb eels, marble rays among others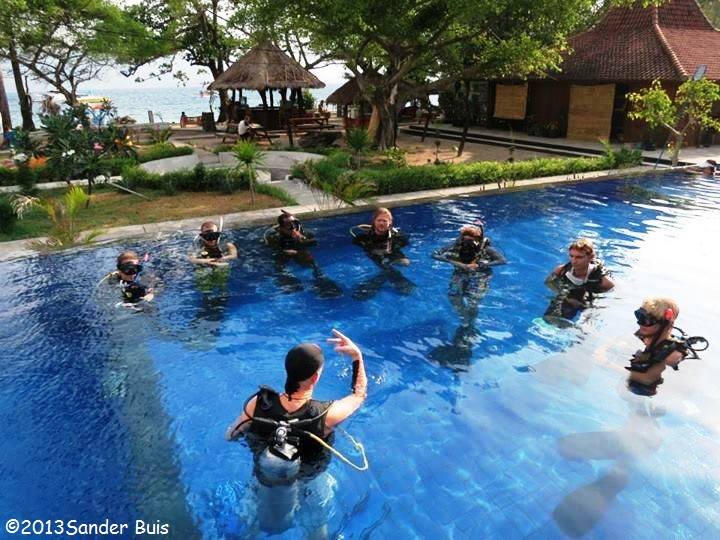 PADI Course Director Camille Lemmens Demonstrating IDC Surface Skills.
What made you decide to become a PADI dive professional?
My plan was to be able to start travelling and see the world. That was after I became a PADI Advanced Open Water diver. It took me a few years but I managed in January 1999 to pass my PADI IDC and PADI IE. My first job was on Koh Samui and boy met girl and I stayed on Koh Samui ever since, this is 17 years ago now, since when I arrived on Koh Samui in November 1999.

A few years ago, when I decided to become an independent PADI Course Director and started to take on freelance status, I also started to travel again, in South East Asia. I have now taught PADI IDC's in Thailand besides 9 or 10 years on Koh Samui, on Phuket, Koh Lanta, Koh Phangan and in Khao Lak and in the Philippines in Dauin, Malapascua and Moalboal, in South Korea in Osan and in Indonesia on Gili Air.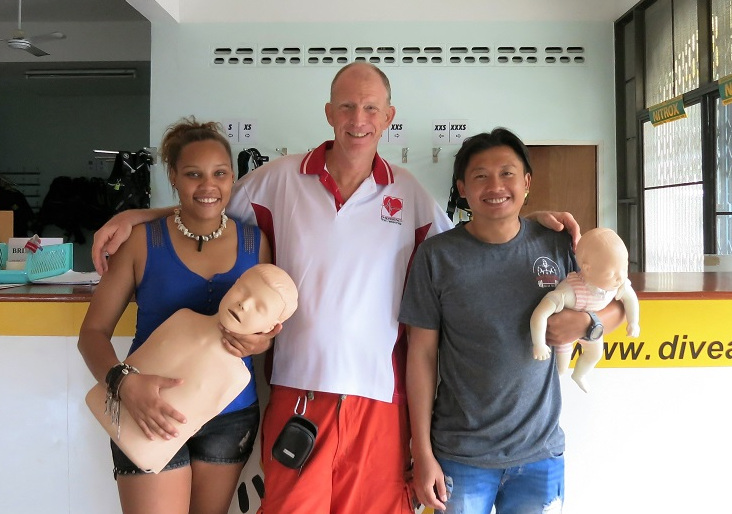 PADI Course Director teaching the EFR Instructor Course
What do you like most about being a PADI Course Director?
What I like most about being a PADI Course Director is to see how candidates grow during the program, from most of the times nervous starts with many mistakes to competent at the end of an PADI IDC program and killing it during a PADI IE. I also consider myself lucky to have been able to teach and/or dive in various parts of Thailand and in many parts of South East Asia, teaching in the Philippines, Indonesia and South Korea, diving in Malaysia and Vietnam. I also dived in Honduras, Egypt, United Arab Emirates, France, Norway and in the Netherlands. Due to diving I got to see parts of the world, below and above water, that otherwise I would not have been able to see and visit.
Can you name a few hilarious moments of previous PADI IDCs?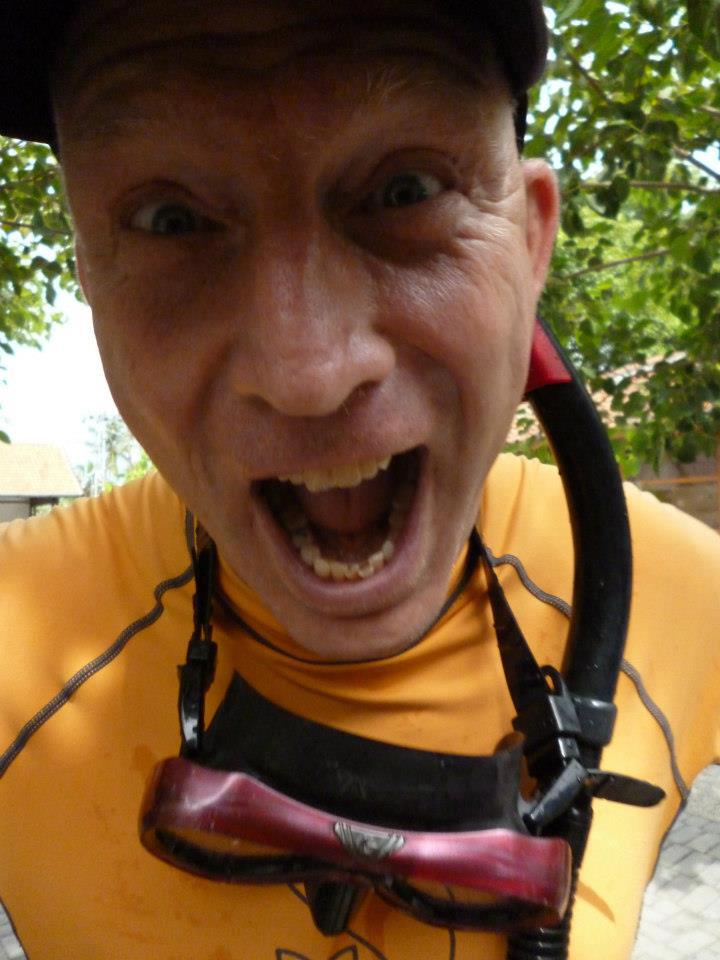 PADI Course Director teaching Instructor Development Courses.
One is from my last PADI IDC in South Korea. For the open water dives we had to travel to Sacheon-myeon, on the East coast, just a few km's South of the 38th Parallel. After all candidates successfully passed the PADI IE, we stayed on for a few more days to conduct PADI Instructor specialty training. The water at the East coast in South Korea is very cold, especially if you are used to Thai water temperatures over the last 20 years or so. The beach was 22C and at depth, 30 meters or deeper it went down to 6C. Now these guys were used to these temperatures, they dive all year round in these waters, well, at least they dive during the Korean summer and dive season, but in dry suits or semi dries and most of them had a few natural extra layers, if you get my drift. They were by no means skinny!
So here we are, getting ready for the deep dive to 38 meters, on Nitrox. Before the dive I told them, we hit 38 meters, look around a bit and come up, ok? Yes, OK, no problem. So when we were there at 38 meters, within minutes I was freezing my butt off and I gave the 'let's go up' signal.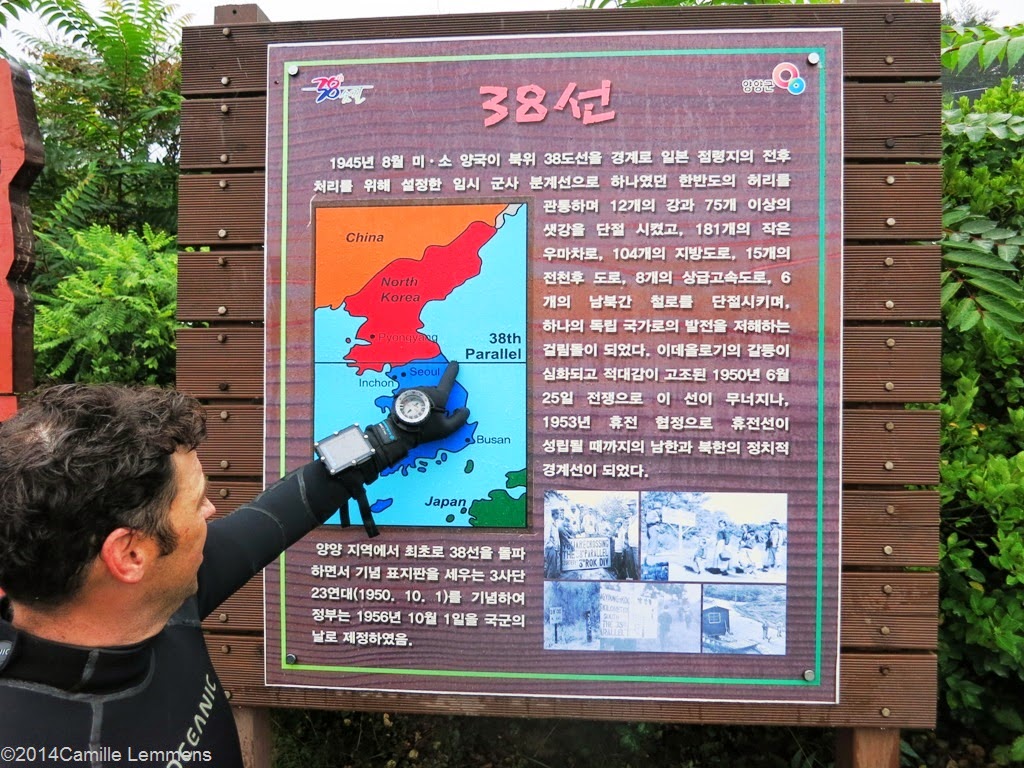 Diving the 38th parallel in South Korea.
A few days earlier, also in Sachean-myeon, South Korea, after the last open water training dive of the PADI IDC, when I was about to disassemble my equipment, one of the PADI IDC candidates came up to me and said, 'How about we leave the gear assembled and toss it in the back of my car and go over the 38th parallel? It is just a few clicks away".
He had been talking about the 38th parallel on a few occasions and that he offered boat dives North of the 38th parallel. Obviously we could not do a boat dive at that moment, but he knew the area and said we would be able to dive off the beach. It took me about a nano second to agree to that idea and option, so off we went with the five of us, three PADI IDC candidates, a Korean girlfriend from one of the candidates and all of our dive gear in two cars to the 38th parallel. Upon arrival we parked the car, took out our gear, we had enough air left for a short shore dive and we went marching towards the beach.
However, soon we were stopped by a young local police officer who said we could not dive, due to an imminent storm coming in towards shore. We tried to argue but to no avail. At this time an elderly police officer showed up who also outranked the younger one and he allowed us to dive but only for a maximum of 10-15 minutes and very shallow. Phew, that saved the day. So, we made our way through a couple of dozen of Korean surfers who were trying to surf in an almost non existing surf. A few moments later we were down next to a stone wall, protecting the local harbor from waves. We did not go deep, maybe 3-4 meters and viz was relatively low, but we managed the dive, had some fun down there and got up.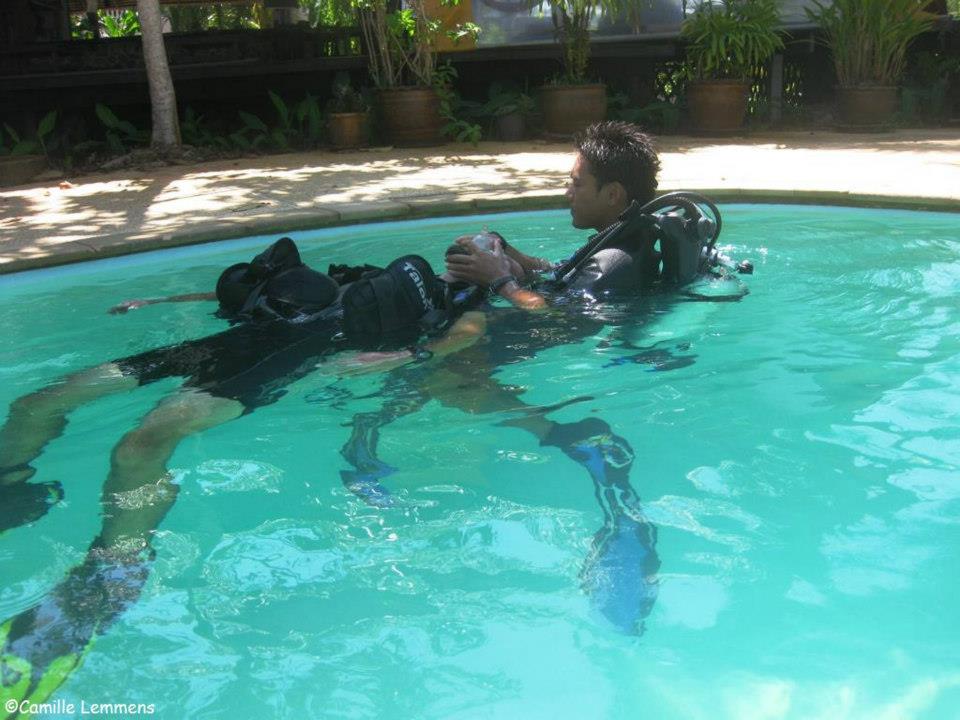 PADI Course Director teaching Rescue skills during IDC.
The moment we broke the surface, the police guys started to yell and scream at us through horns and a alarm horn was blowing very loudly over the beach. The storm warning came in second after we went down, all the surfers were immediately cleared out of the water but we were submerged. It was surreal to get out of the water under so much attention with the sound of a horn, wailing away, at a beach just north of the 38th parallel. Great memories of that dive. The person who invited me, after he received his teaching status as a PADI instructor, wrote a distinctive PADI specialty about the diving the 38th parallel in South Korea, but unfortunately I could not get certified retrospectively!
Once I started to work as a PADI Course Director on Koh Samui, it took me 6 years before I saw my first whale shark. It was a running joke that when I was on the boat teaching PADI instructor specialties, there would be no whale shark in sight that day. So, one day at Sail Rock, I'm having lunch at Sail Rock, between two dives, and some people shout at me; "Camille whale shark, come and look', and I am like, yeah right, so I continue my lunch. However, when I saw more and more people leaving the dry zone of the boat and jumping into the water, I went to have a look. Sure enough, there it was, a whale shark. I did not know how fast to put my fins on and don my mask and snorkel and off I went. Once I got out of the water and got ready for that second dive of the day, sure enough the whale shark was still there and it stayed with us pretty much for the whole dive. Since then, I have seen a few more whale sharks, not enormous amounts but enough to lose track how many exactly.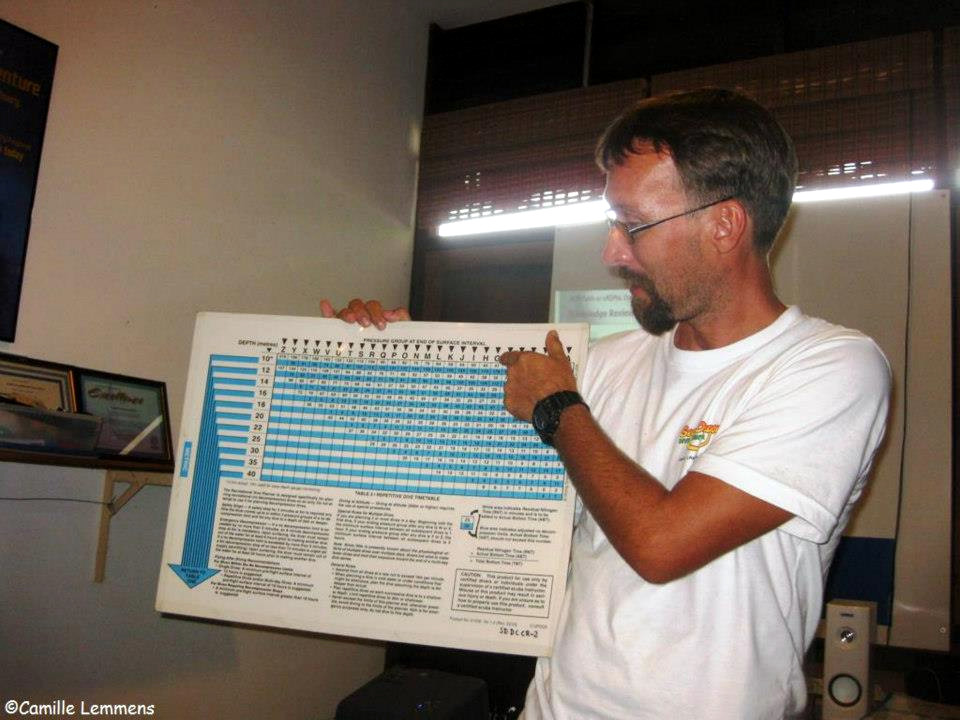 Teaching the RDP Dive Tables during an IDC.
What is the hardest part of being a PADI Course Director?
The hardest part of being a PADI Course Director is being away from my family. Travelling when you are single is great, and I still love to travel! However, with three young children it is not always easy.
How do you separate a good from a bad student and what do you do?
Good students or candidates come prepared to my PADI Course Director programs. Usually before they book and come and see me during a PADI IDC, there is plenty of time to let them know how to prepare in the best way and they want to know how to prepare. When they then arrive and they are prepared, that feels good, it makes their and my own life a lot easier. A fellow instructor trainer once said something along the lines of "if you want to learn something new or at the next level, do not make your teacher teach you things that you should know already".
The course, the required PADI materials and the PADI application fees are not cheap, so in general you expect a PADI IDC candidate to be prepared, since they are investing a lot of money and time, looking at the road they must have followed, to get to a PADI IDC program. With bad students there are a few options, but usually it ends up with spending lots of extra time after hours, teaching or practicing parts in which they are weak. Most of the time this is the theoretical part, the dive theory, physics and the RDP tables.
How do you stand out from the crowd as a PADI Course Director?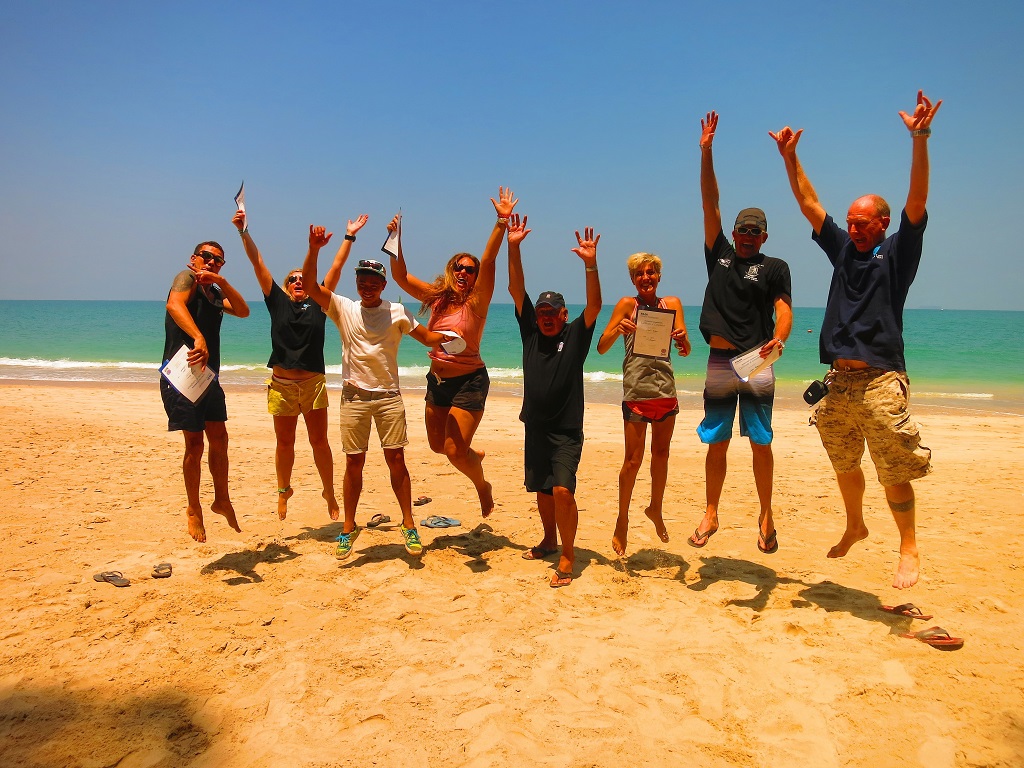 PADI Course Director Camille Lemmens with Happy New Instructors!
By now I can boast that I am experienced. I am a PADI Course Director since 2003 and a ten time consecutive Platinum PADI Course Director since PADI introduced this rating back in 2007, the highest rating a PADI Course Director can achieve. Furthermore I teach mostly in small classes, although a few times per year I have bigger classes, but can never predict when and where they will be. The advantage of teaching small classes is that the PADI IDC candidates receive lots of personal attention. Another advantage is that I can teach when the season is best at every location, although right now I started to teach on Phuket in Thailand all year round, so also in the monsoon season.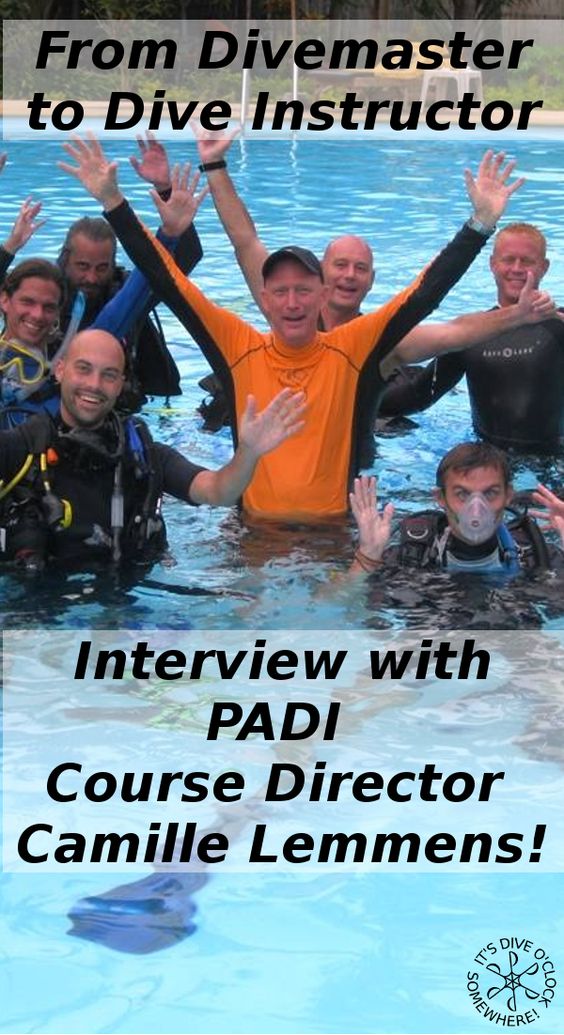 Can you give enthusiastic divers some good advice?
Do not forget to enjoy your diving, go out for fun dives once in a while, do not only teach or work, keep the love for diving alive!
Thank you Camille Lemmens for taking the time to share your knowledge and experience!
Camille Lemmens is an award winning PADI Course Director with a Platinum ranking for his teaching year after year. Platinum Course Directors issued a minimum of 100 professional-level certifications in one year. He teaches PADI IDCs in various places in Thailand and in The Philippines. If you are interested to know more about Camille Lemmens and find out where he will be teaching his next PADI IDC you can visit his website www.idcthailand.net.
If you like this post, hit that like button on our
Facebook page
and stay tuned for more!
Marlies Wolters
Founder of Dive O'Clock "It's dive o'clock somewhere!"

Share this page: