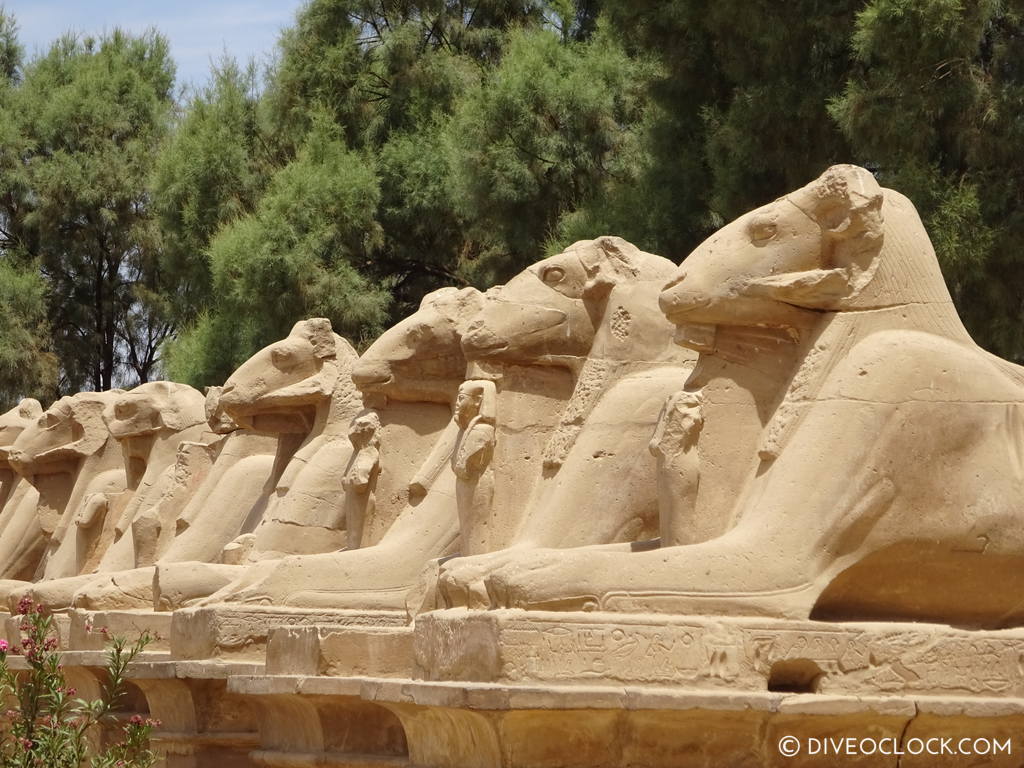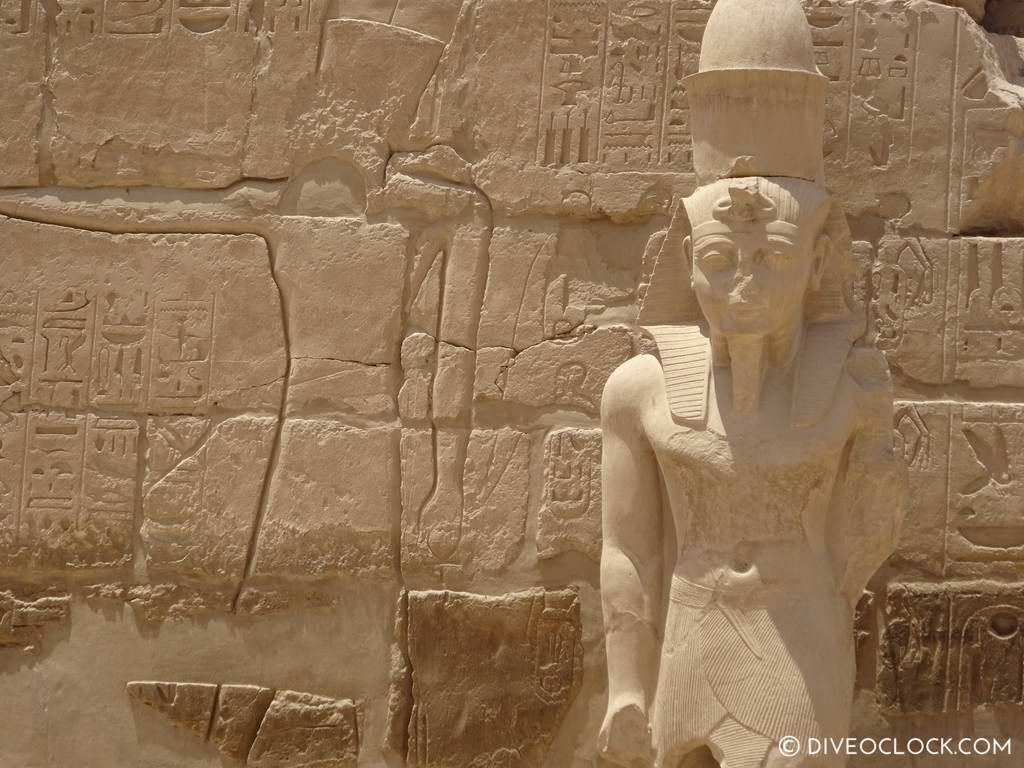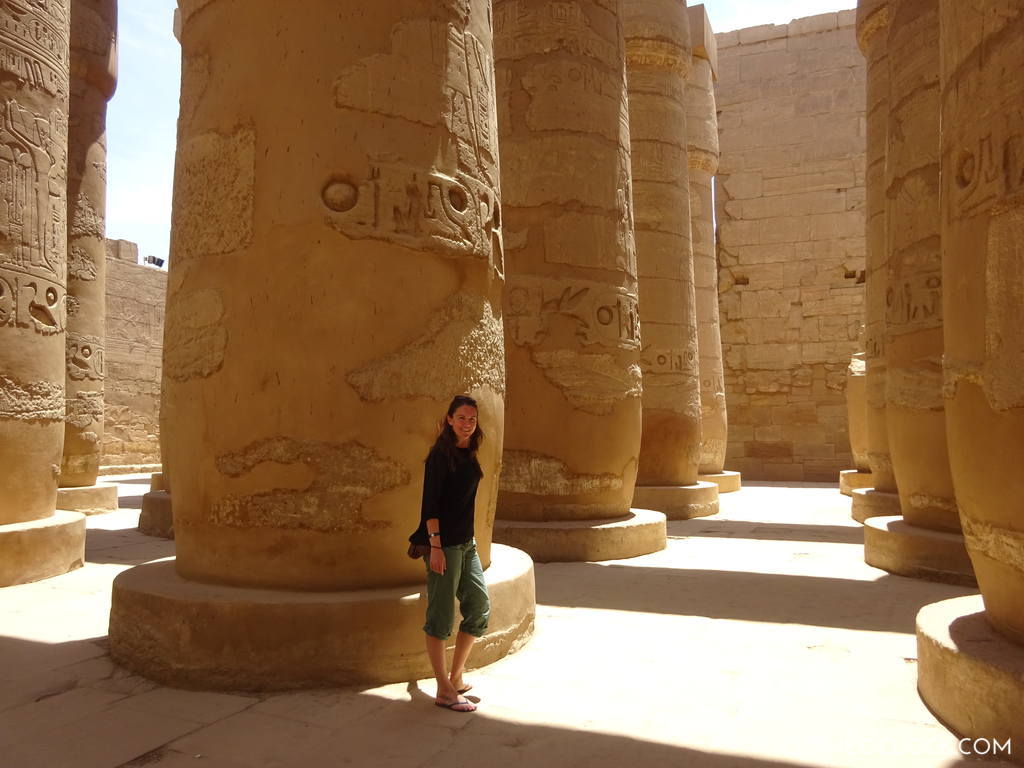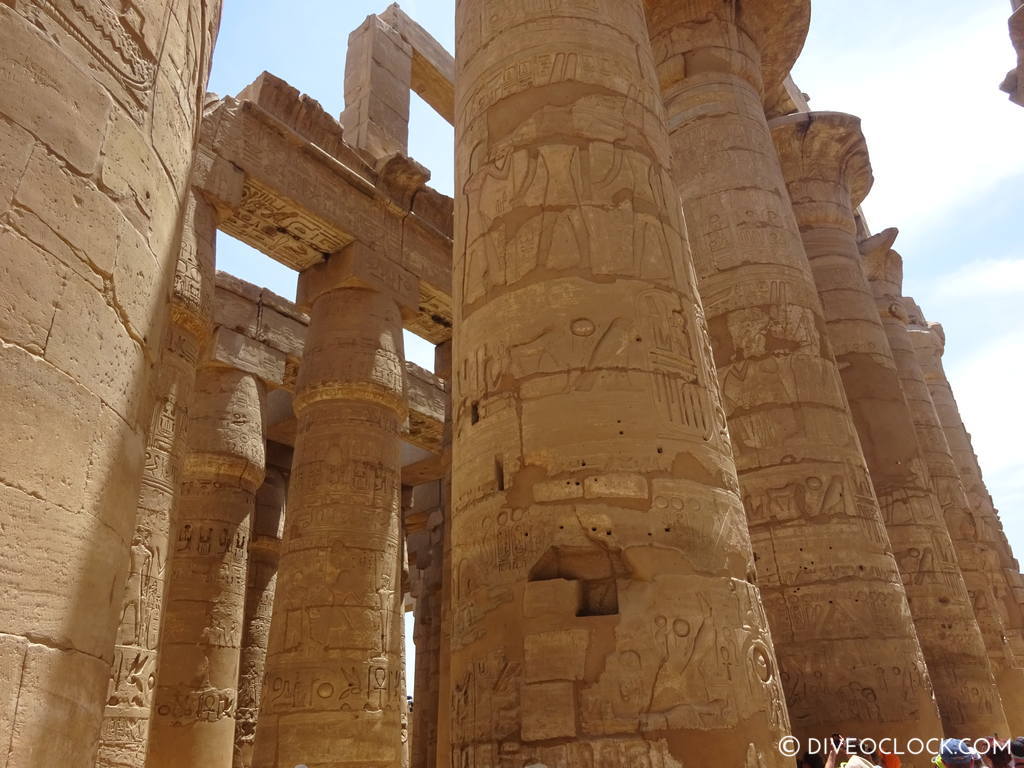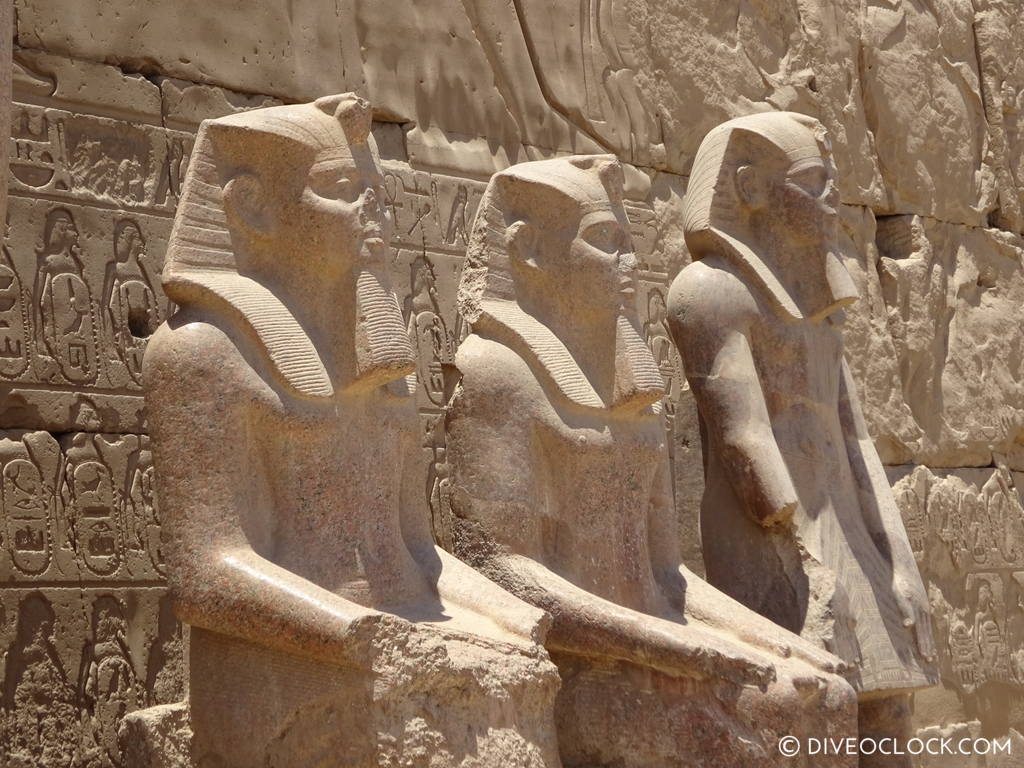 Karnak Temple in Luxor, Egypt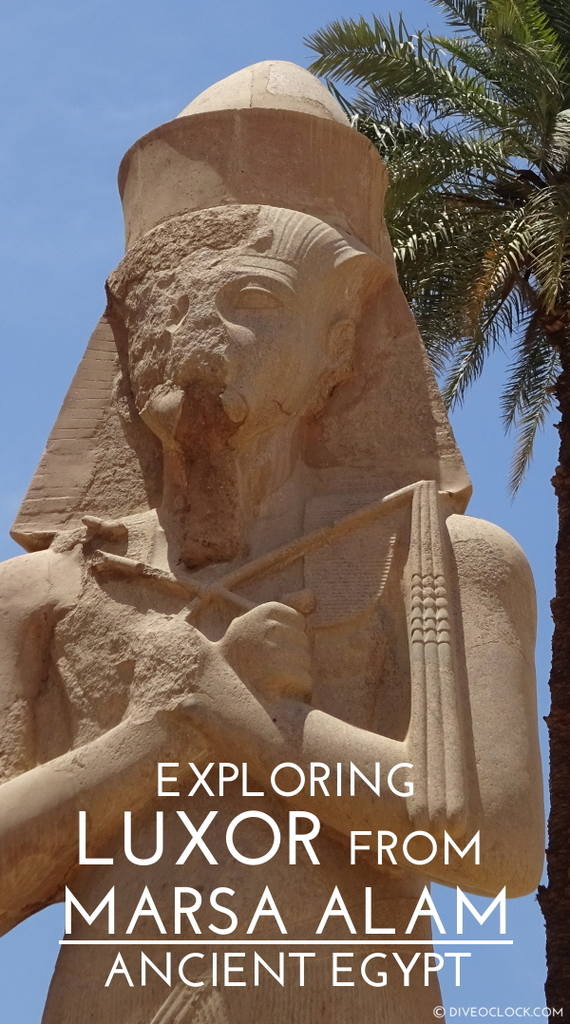 Exploring Luxor From Marsa Alam, Ancient Egypt
Looking for something to do when you need to off-gas? Maybe not everybody is diving or just not diving every day? Book a trip to Luxor and explore the Valley Of The Kings (three tombs), Karnak Temple, Al-Deir Al-Bahari Temple (Mortuary Temple of Hatshepsut), a Nile cruise and more. Learn a lot about Egypt of the past, today and the future by leaving your resort and jumping in this surface interval adventure from Marsa Alam or El Quseir!
While staying for SCUBA Diving around El Quseir and Marsa Alam you can go to Luxor for a day. Luxor is famous for its ancient temples from thousands of years BC. As I stayed in Dreams Beach Resort Marsa Alam, El Quseir, Egypt (with dive center and amazing house reef!) I could book a trip to Luxor from one of the sales reps in the resort.
From El Quseir we left early morning, around 5 AM to drive to Luxor. The travel time to Luxor is about 4 hours by air-conditioned touring car, with picking up people from several resorts in Marsa Alam and El Quseir and a break somewhere in the middle. Late afternoon we left Luxor to return to the resorts in the evening. The price is around 100 USD for a day trip to Luxor including all entrance fees.
Tips for visiting Luxor from El Quseir or Marsa Alam
Ask your hotel / resort a lunch package and bring a lot of water. You might be able to buy some along the way, but be prepared. You are sort of driving through the desert... Some snacks and maybe a travel pillow is also nice as it will be a very long day with a lot of new impressions.
Most importantly: Sunscreen, hat or scarf, umbrella and light colored / longer clothes. Personally I would recommend to cover at least shoulders and knees due to heat and because Egyptians are Muslim by law nowadays.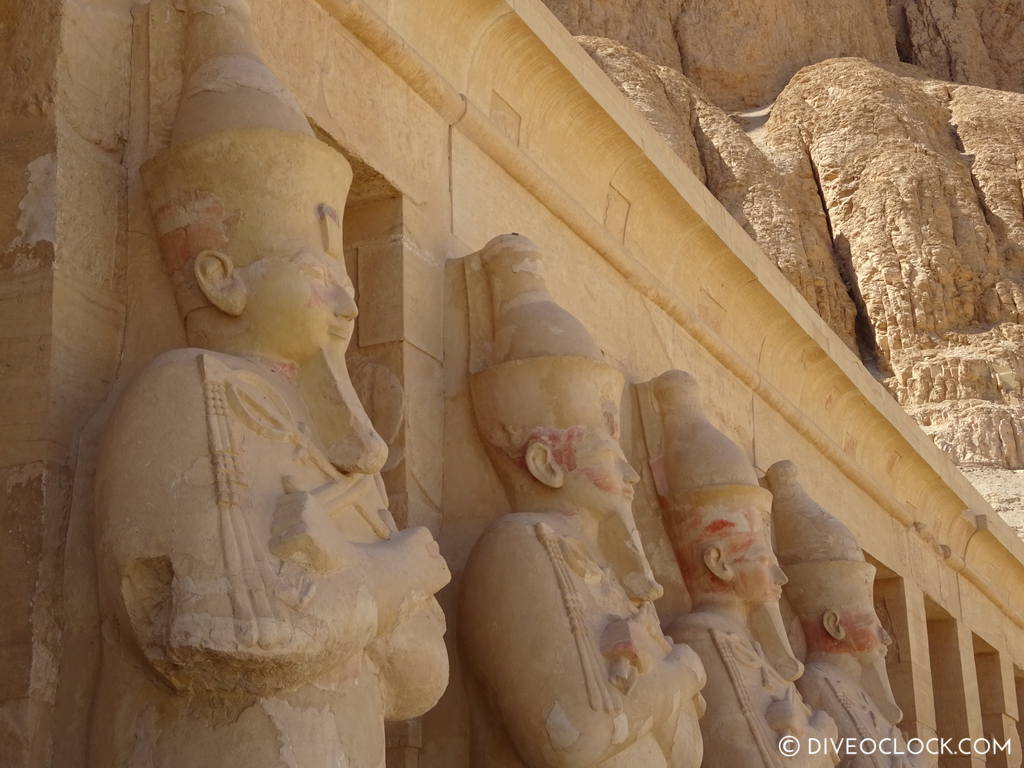 Al-Deir Al-Bahari Temple / Mortuary Temple of Hatshepsut in Luxor, Egypt
Karnak Temple in Luxor
Walking around the Karnak Temple will definitely make you feel small. The temple complex is huge, the pylons are incredibly high and learning all about the obelisk is simply impressive. The avenue of human headed sphinxes is also truly breathtaking.
Al-Deir Al-Bahari Temple or Mortuary Temple of Hatshepsut in Luxor
The Hatshepsut temple is also impressive for its size considering it is made thousands of years ago. You need to walk quite far through the hot sun, so be prepared.
Valley Of The Kings (three tombs)
The Valley Of The Kings is what I found one of the most impressive parts of Luxor. A changing selection of tombs are open to visit. This way the tombs do not get damaged by light, human breath and such. You can see coloring of hieroglyphs and more. Also getting inside a tomb is quite a relief from the sun and heat outside. It is all well-organized to protect these magnificent historical sights.

Nile cruise in Luxor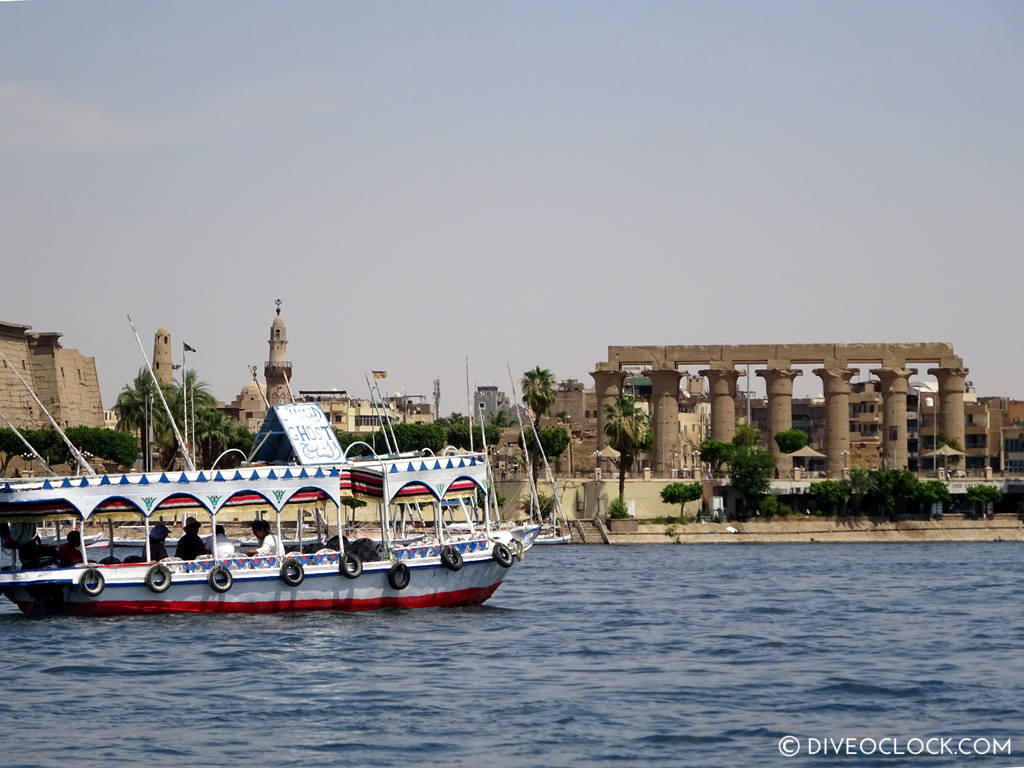 Nile cruise in Luxor
The Nile cruise that was part of our trip was more or less getting to the other side of the Nile. Quite hilarious, but it can be checked off the bucket list I guess. Nevertheless the city views from the Nile are amazing!
Modern Egypt
When driving through Luxor to visit all these impressive ancient Egypt sights you will get a glimpse of modern Egyptian life as well. What I remember most of our guide explaining about modern Egypt is that the investment in education has been lacking. If you have been to Egypt a couple of times you might wonder how 'they' ever build those pyramids.
Although it is slowly building up, for many children (and maybe their parents as well) making some money today is more important then going to school for 'tomorrow'. It is one of the reasons why you should not give money to children on the streets or when they will do some sort of 'act', like asking money for taking pictures of a goat on the back of a donkey. Ask around, read up on things and be informed!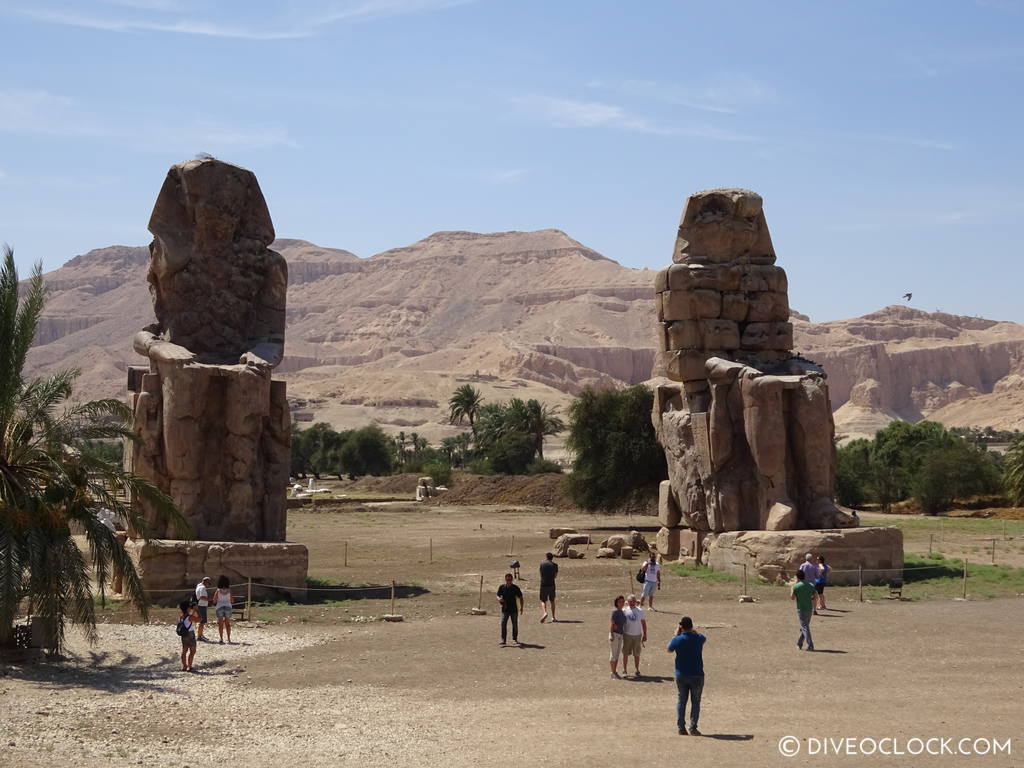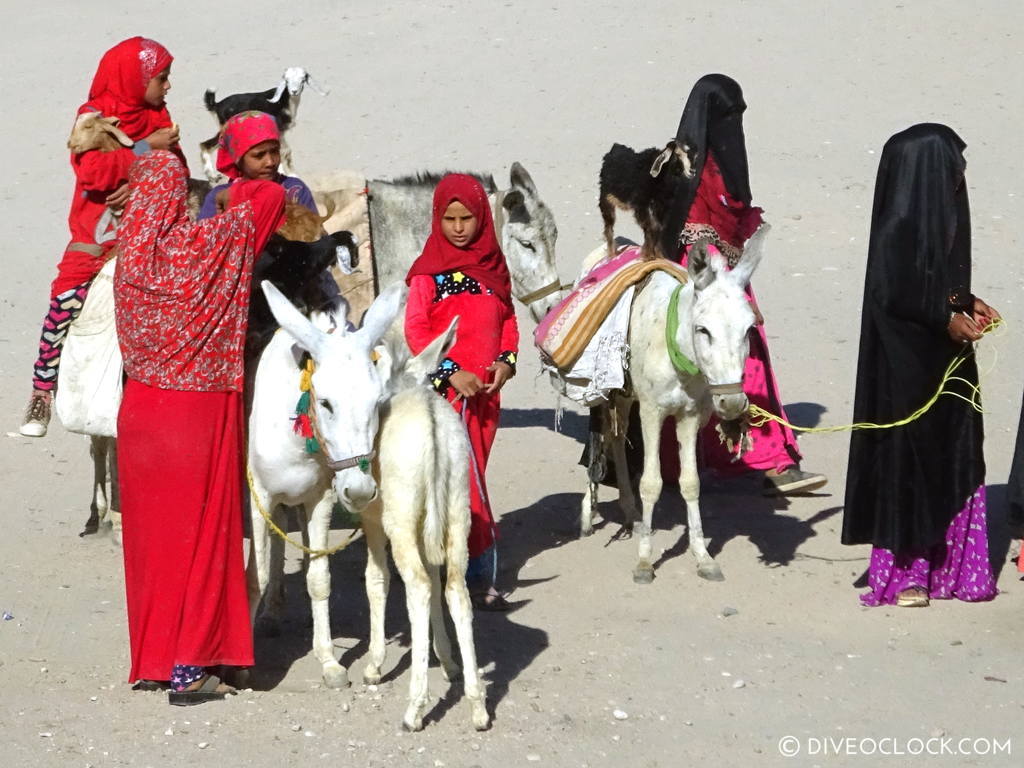 Colossi of Memnon, street in Luxor and girls trying to get some money from tourists, Egypt
Is Cairo Worth a Day Trip from Marsa Alam?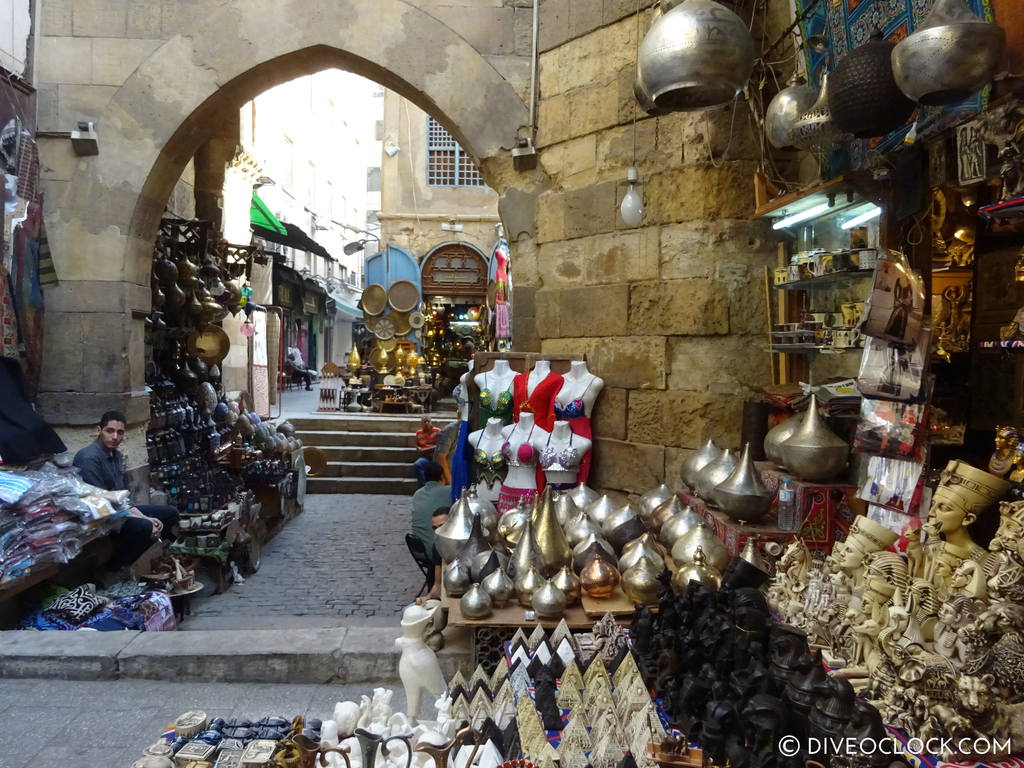 Khan el-Khalili bazar Cairo
Because I was staying for a few weeks I also booked a day trip to Cairo from Marsa Alam / El Quseir. As you need to fly (after diving) from Hurghada to Cairo this is very time consuming and you might need to skip a day of diving.
Cairo is definitely worth seeing, the pyramids of Giza Necropolis, the Egyptian Museum, the Khan el-Khalili bazaar and such are amazing. A day trip to Cairo from the South of Egypt simply consist of a lot of (group) travelling for a short amount of time at the places you actually want to see.
What I would do, of course depending on your resort-package deal, is to see if you can book a return flight to Cairo and a separate return flight to Marsa Alam from Cairo. This way you have more time in the city to explore things at your own pace, you can go early (less heat), do not need to do commission stops (perfume) or wait for people in your group.
Of course this depends a bit on how much you have travelled in similar countries. If walking around an Egyptian bazaar / souk where people quite aggressively can try to sell you something and children might follow you for a while is
quite intimidating
, than booking a trip like this might be perfect for you.
If you like this post, hit that like button on our
Facebook page
and stay tuned for more!
Marlies Wolters
Founder of Dive O'Clock "It's dive o'clock somewhere!"

Share this page: