Jeju Island - The Best Diving of South Korea!
South Korea's favourite holiday destination and one of the new 7 wonders of nature has a great adventure for you down below the surface. With possible strong currents, not the best visibility and some rock climbing involved - it is not for the faint-hearted - but a MUST DO experience in many ways!
As this is quite an off the beaten track place to dive I have written down as many details as possible for you to organize your trip or just to dive-in from your screen and be amazed by this experience anywhere in the world.
The Jeju province (various islands) is the southernmost area of South Korea. Laying in between China and Japan, the beautiful volcanic island of Jeju is known for (on my list for) the woman divers called Haenyeo or sea mermaids. The haenyeo is one of the many UNESCO world heritages of this island.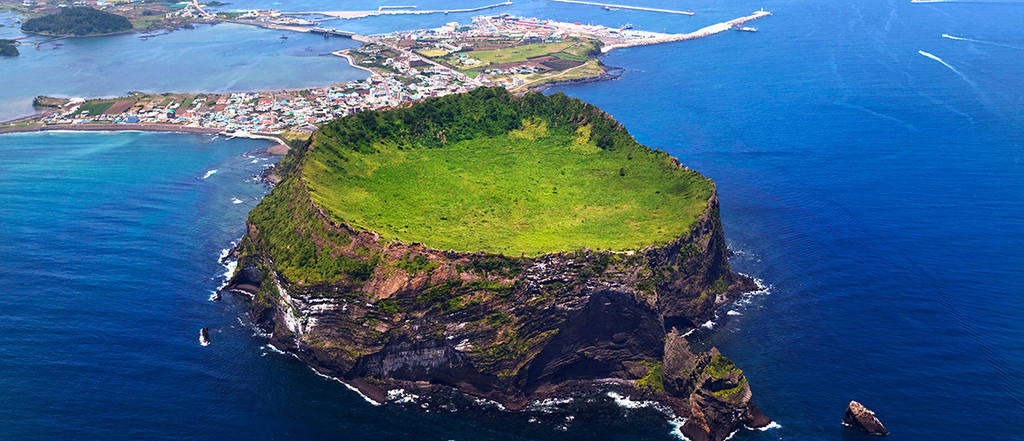 Seongsan Ilchulbong Peak on Jeju Island, photo credit: Jeju Tourism Organization
With a temperate climate, similar to Europe and North America, there are four seasons that give different diving conditions throughout the year. March to May is spring, summer from June to August, autumn from September to November and winter from December to February. Rain season runs from mid June to the end of July, diving around September and November is probably the best for Jeju.
My diving in June was affected by strong currents and only a few meters visibility, dry suits were worn and gloves necessary.
SCUBA Diving Bum-Sum, Mun-Sum and Sup-Sum Island around Jeju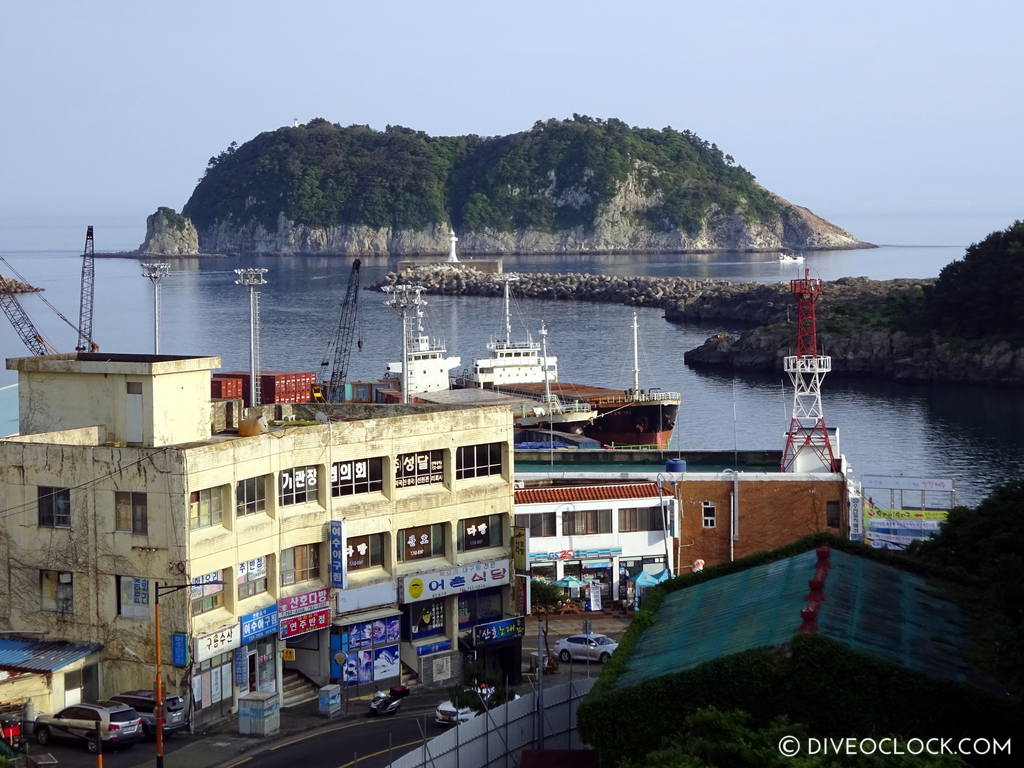 Munsum Island from Seogwipo (Jeju). On the left you can see little Munsum island.
With over 3000 South Korean islands it might not be surprising the biggest island Jeju also has little islands dotted around. If you search for the best dive sites of South Korea you will find Bum-Sum, Mun-Sum and Sup-Sum island written in various ways. Some examples to help you locate them: Bumsum / Beomseom (범섬), Munsom / munseom / (문섬) and Seopsum / Seopseom / Supsum (섶섬).
These uninhabited islands are located South of Jeju island, reachable by boat from Seogwipo. Which South Korean island is the best for SCUBA diving? The best dive sites of Jeju are around Munseom island, 5 minutes by boat from Seogwipo.
SCUBA Dive Centers on Jeju Island
On Jeju island it is quite hard to find somebody that (dares to) speak English with you, especially during low season I guess. Luckily free WiFi seems to be available literally everywhere on this island and internet translation sites and Apps are widely used. The internet in South Korea is known to be the fastest in the world, so you should be fine with a local dive center.
When it comes to diving there seems to be only one dive center on the island you can find with Google, but that is not correct.
Once you set foot on South Korean grounds, especially Jeju, you will realize Google Maps is not really accurate. In South Korea you should use Naver, it works similar and it is amazingly accurate. Install the App, it works great for organizing public transportation (up to the minute) as well.
When you look for SCUBA with Naver you can suddenly find many dive centers around Seogwipo, mainly with only a phone number - but the locations are correct. Sealife SCUBA Center / Dive Resort is one of the biggest dive centers around town, next door to the BK Hotel Jeju where I was staying. At Sealife Dive Resort I met the English speaking Korean NAUI Course Director and dive center owner Chang Soo Park who explained me all about SCUBA diving in Jeju. There are two boat trips daily, at 8 AM and at 2 PM, where you can choose to do one or two dives/tanks per trip (remember the seasons, 2-tank dives might be too cold!).
Sealife Dive Resort (씨라이프리조트) is officially located on 41 Budu-ro, Songsan-dong, Seogwipo-si, Jeju-do (Google locates this diving center by the way).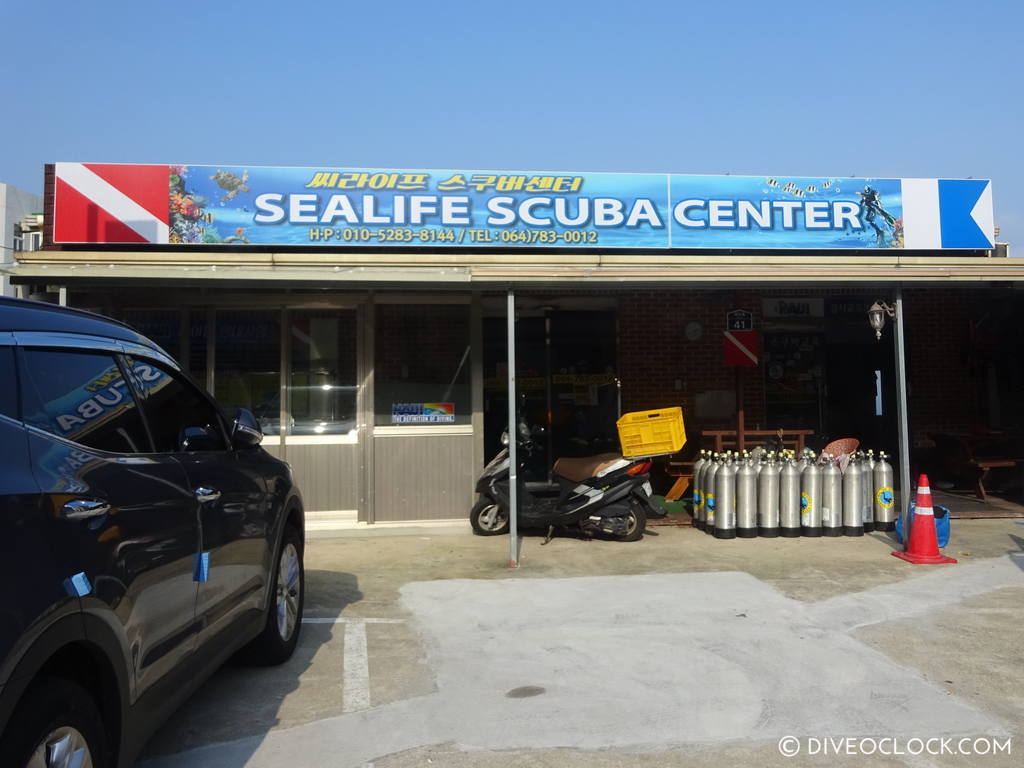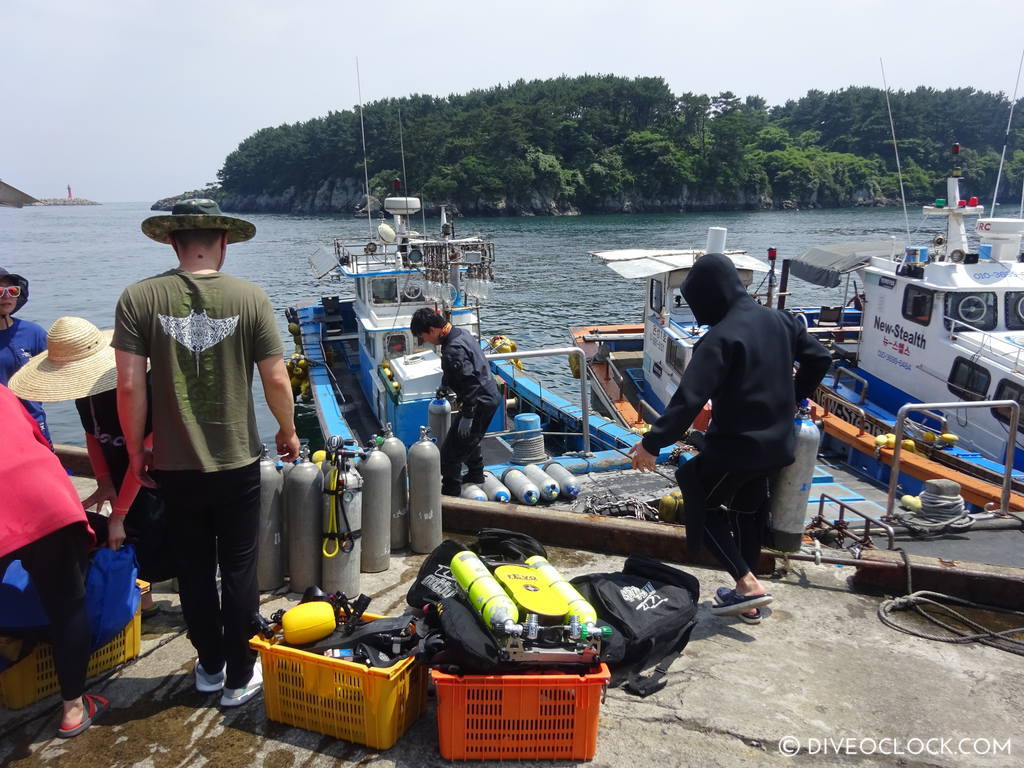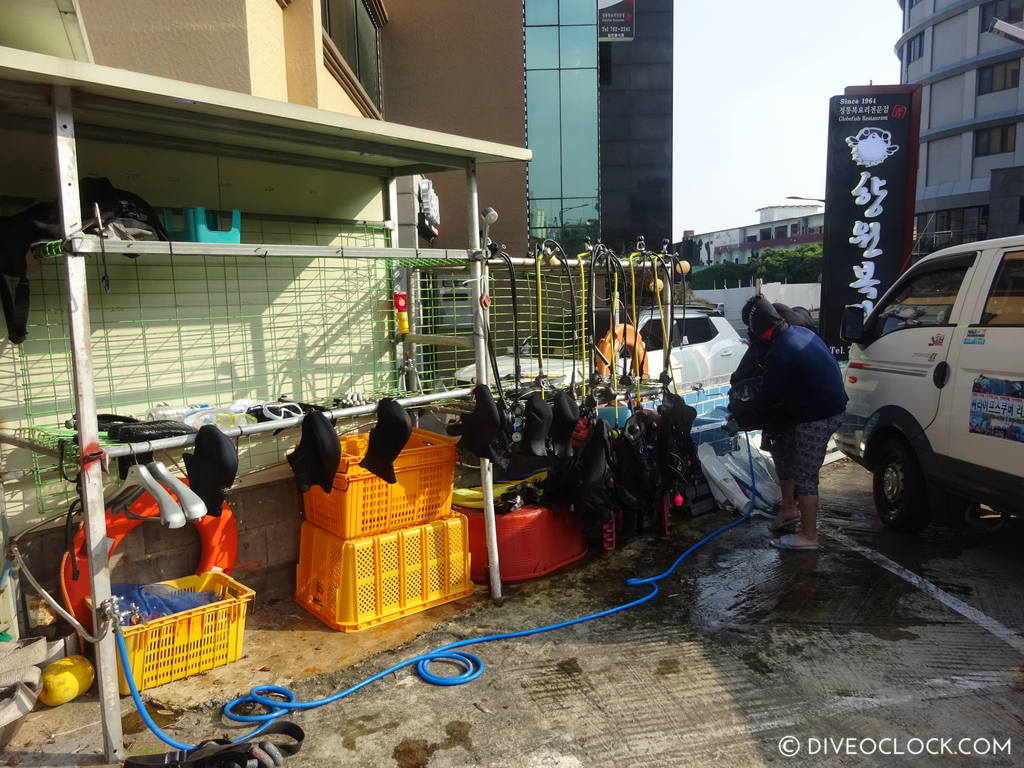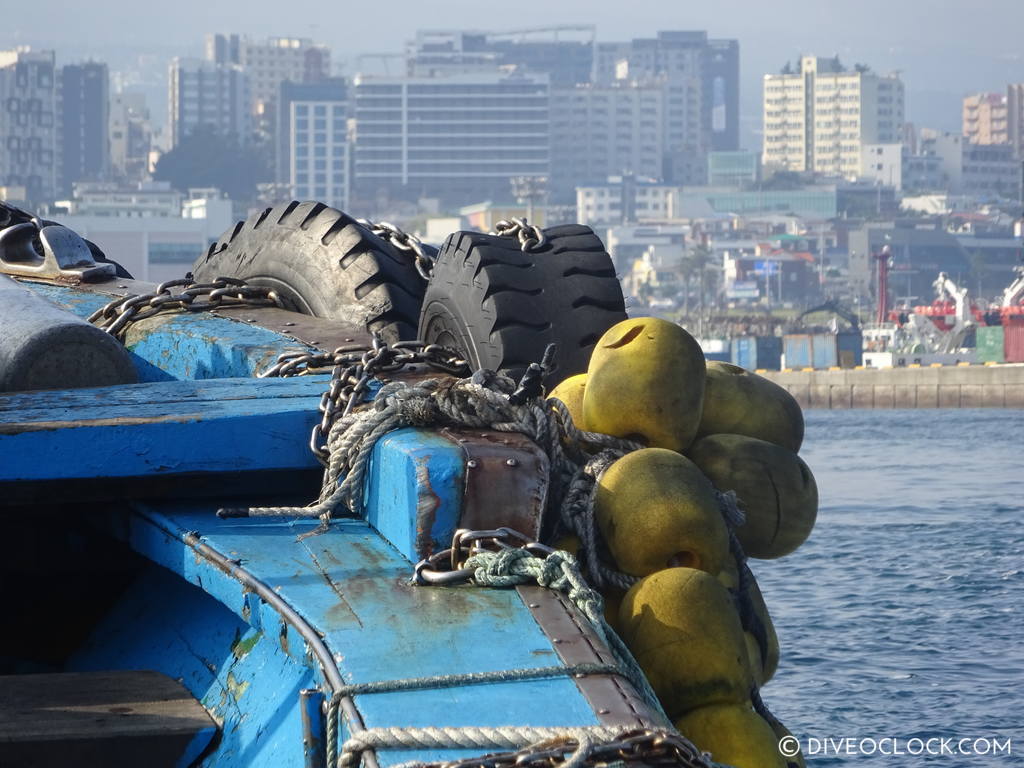 Sealife Dive Resort Seogwipo, dive shop and facilities.
Country
South Korea
Dive area name
Yellow Sea / East China Sea, Jeju Island, Seogwipo, Munsoem island / 문섬 (Use this for Google or Naver)
Dive center
Sealife SCUBA Center / Dive Resort (씨라이프리조트)
Famous for
Soft corals, wall diving, mixture of tropical and temperate climate
Price
50 USD per dive (with car and boat transfer) Full set of equipment 20 USD, no dive computer.
Bring your own food and drinks, towel, etc.

Hotel recommendation
BK Hotel Jeju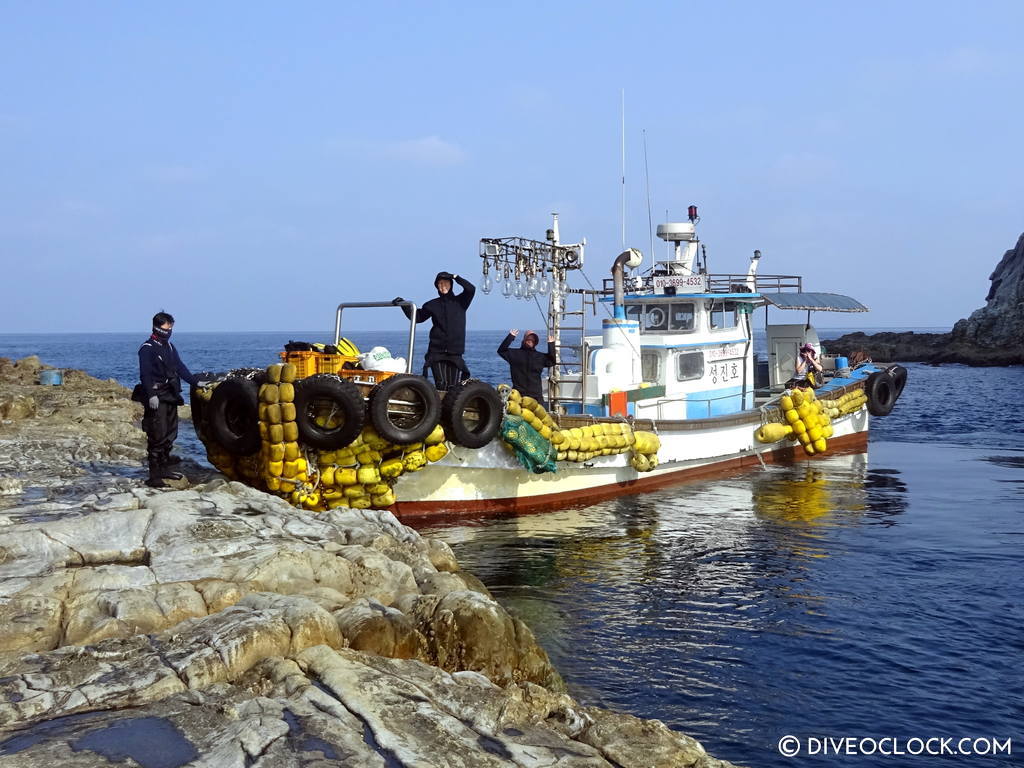 Fishing boat 'shuttle' service to Munsum island for SCUBA diving.
SCUBA Diving Munsum Island, Jeju - South Korea
As communication was very basic due to language differences not everything was discussed beforehand, but these guys are well organized! After collecting all the gear in boxes and loading them and the tanks on a pick-up truck we jumped in the car with our wetsuits on and drove to the harbor, a few minutes away.
Surprisingly there were only fishing boats around and so we also went diving with a fishing boat - too funny. No toilet on board, no diving facilities and soon I realized it was not going to be boat diving either - the captain dropped us on little Munsum island. If you zoom in on Munsum island you will see there is a tiny island in front of the island.
There were already divers from another dive center on the island, more like a plateau without shade. The island is another volcanic island with dramatic rock formations and sharp edges. When I saw a metal chain going in the water and lines going further down I knew enough... this was going to be really adventurous - whooohoooo!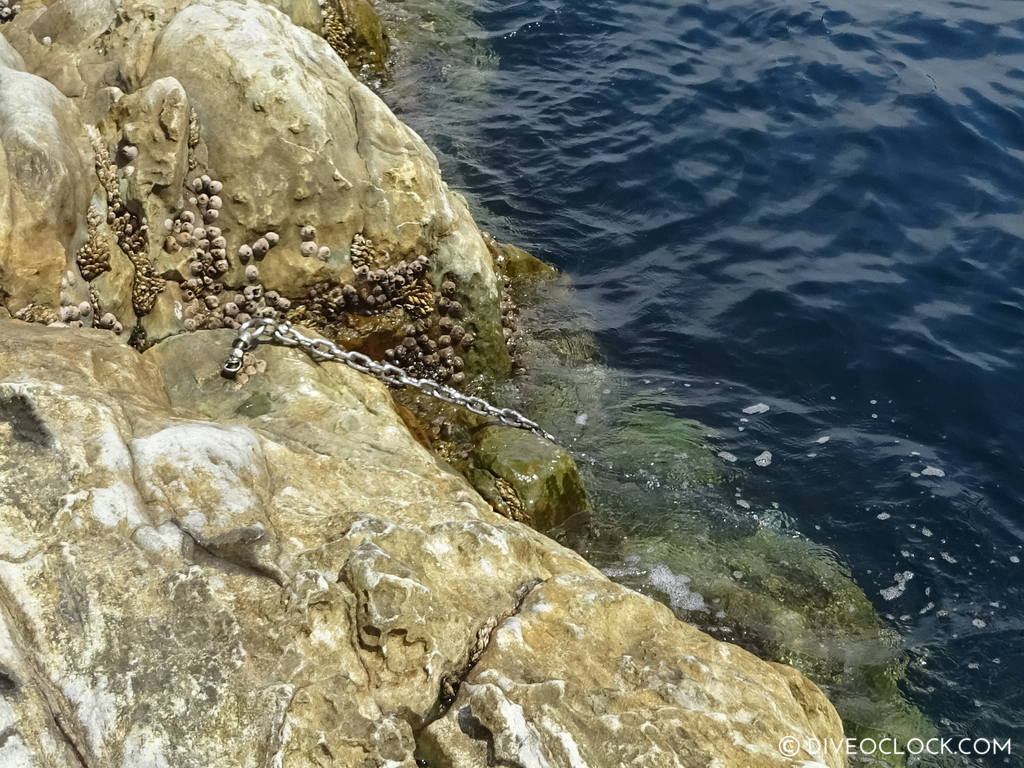 Metal chain going in the water for 'easy' entry/exit.
Munsum Island, What Diving Around Jeju Looks like
During the briefing the possible strong currents where pointed out and how to organize the dive around both islands and especially in the channel in between. There are ropes underwater to make sure you make it through that channel without hurting yourself or damaging the reef... Are you getting what I mean with adventurous diving?
To enter the water, you abseil down the metal chain or jump as far forward as possible without hitting the rocks or slipping in between. Time to explore the marine life of South Korea! The water temperature dropped to about 18 °C / 64.4 °F and the visibility was about 5-8 meters / 16-26 feet (similar to diving in The Netherlands).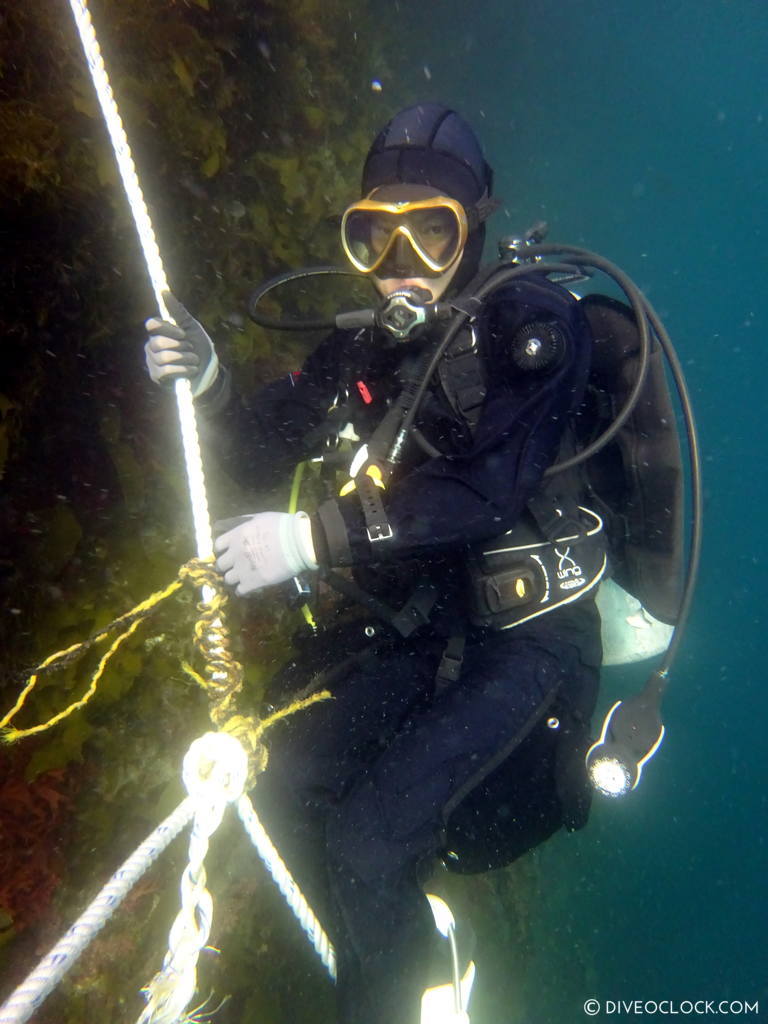 Ropes to help you stabilize in the current and to get in/out the channel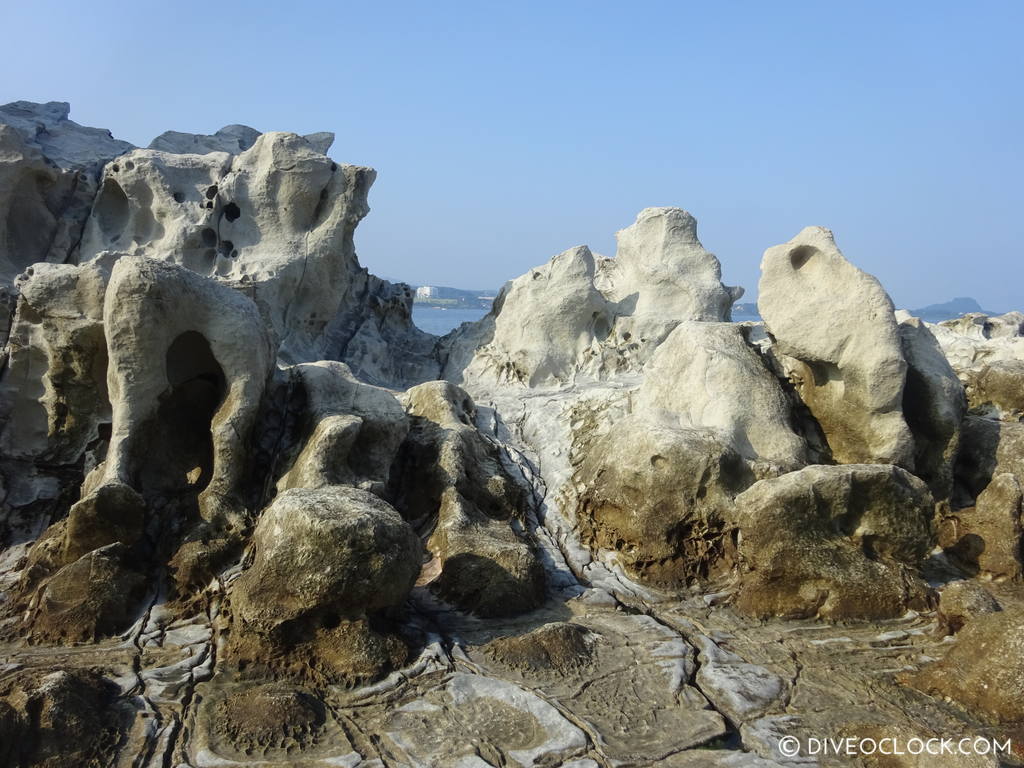 Some rock climbing with gear to get to the entry/exit point.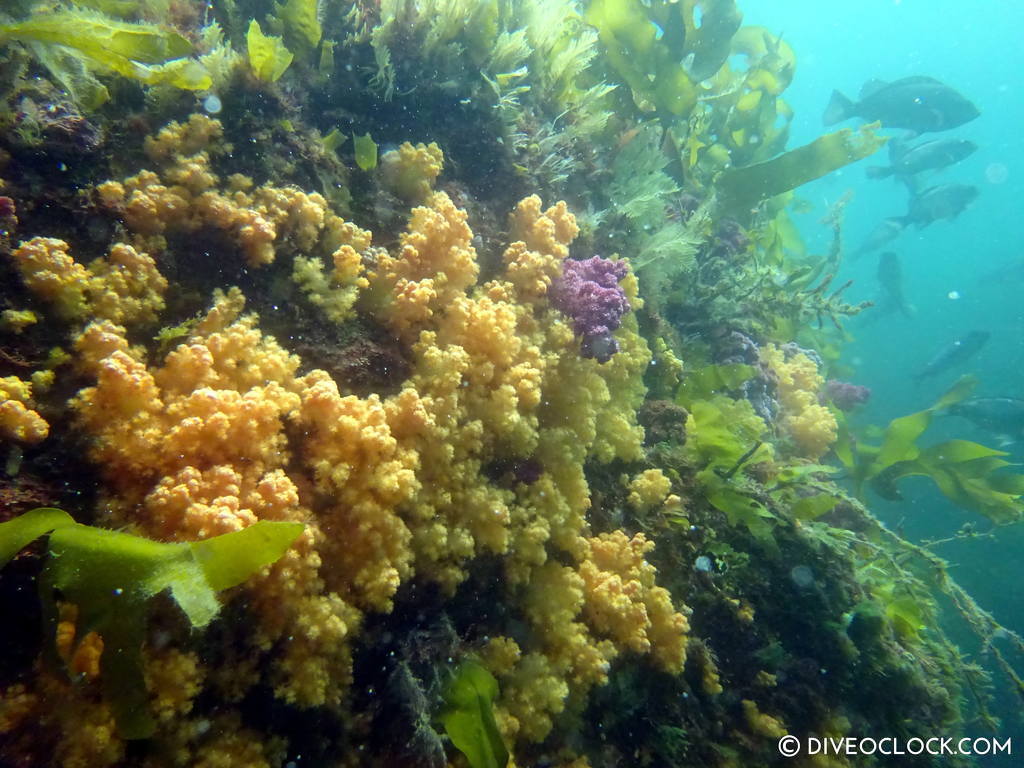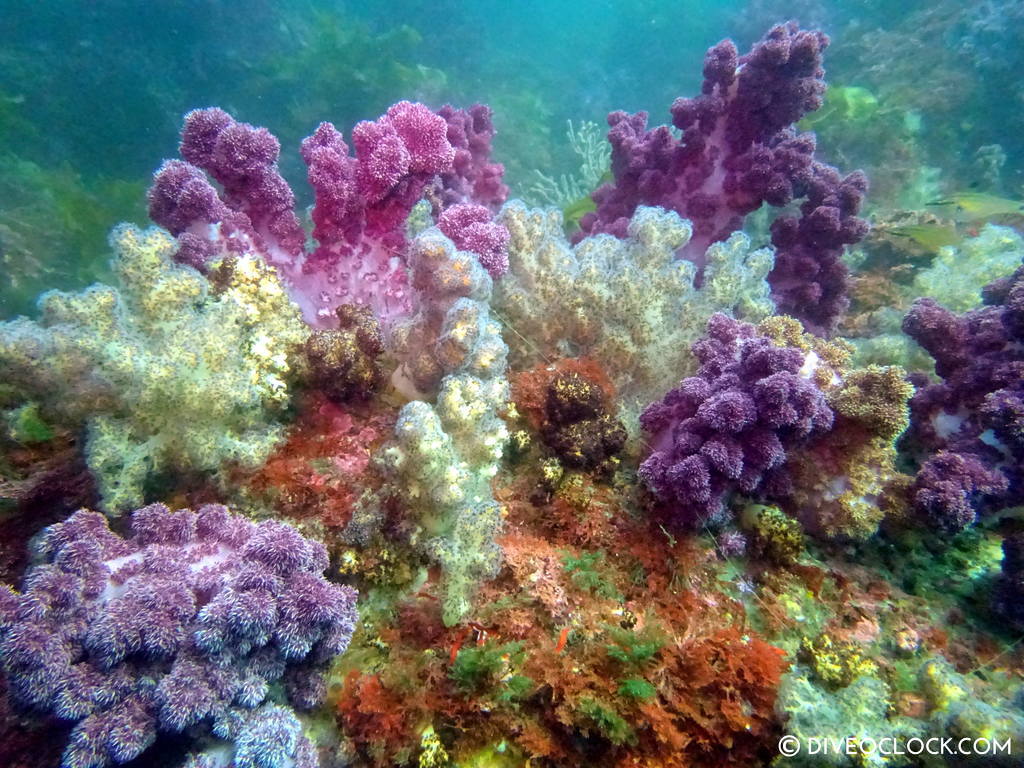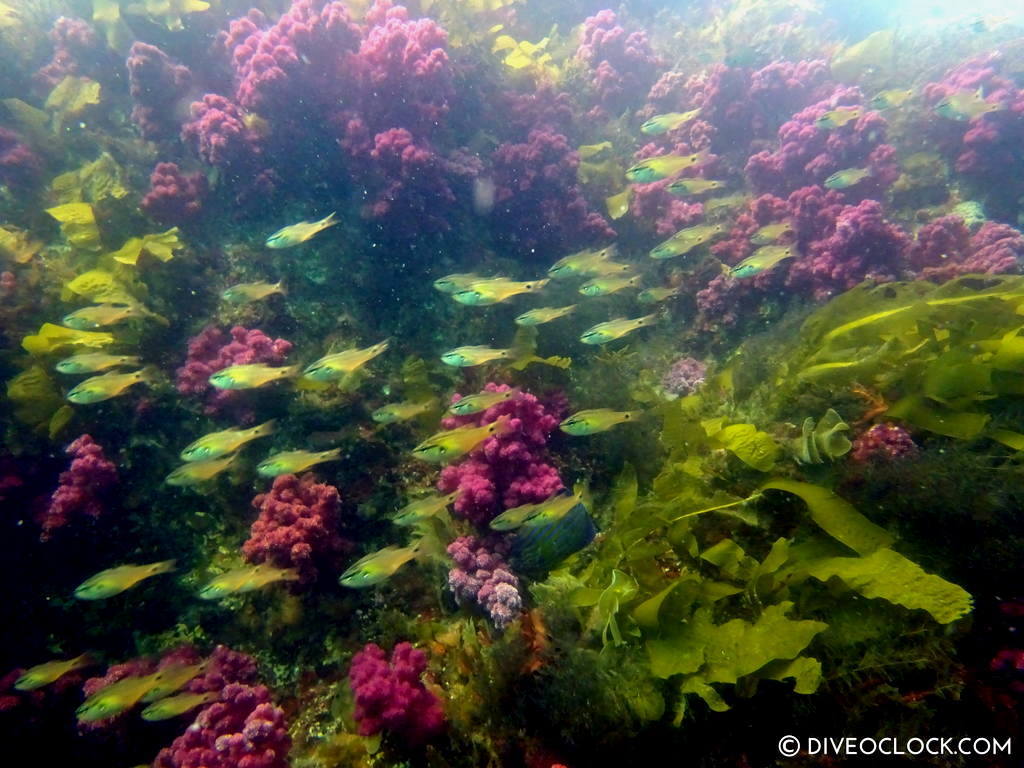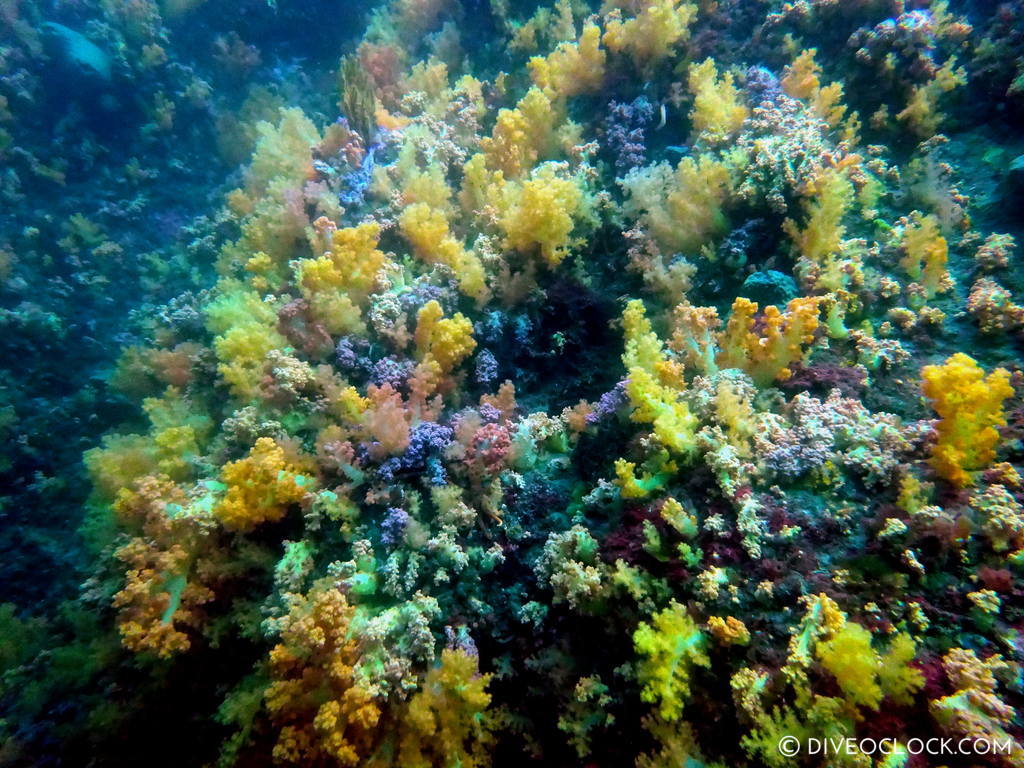 Soft corals and seaweed everywhere you look around Munsum Island, Jeju, South Korea.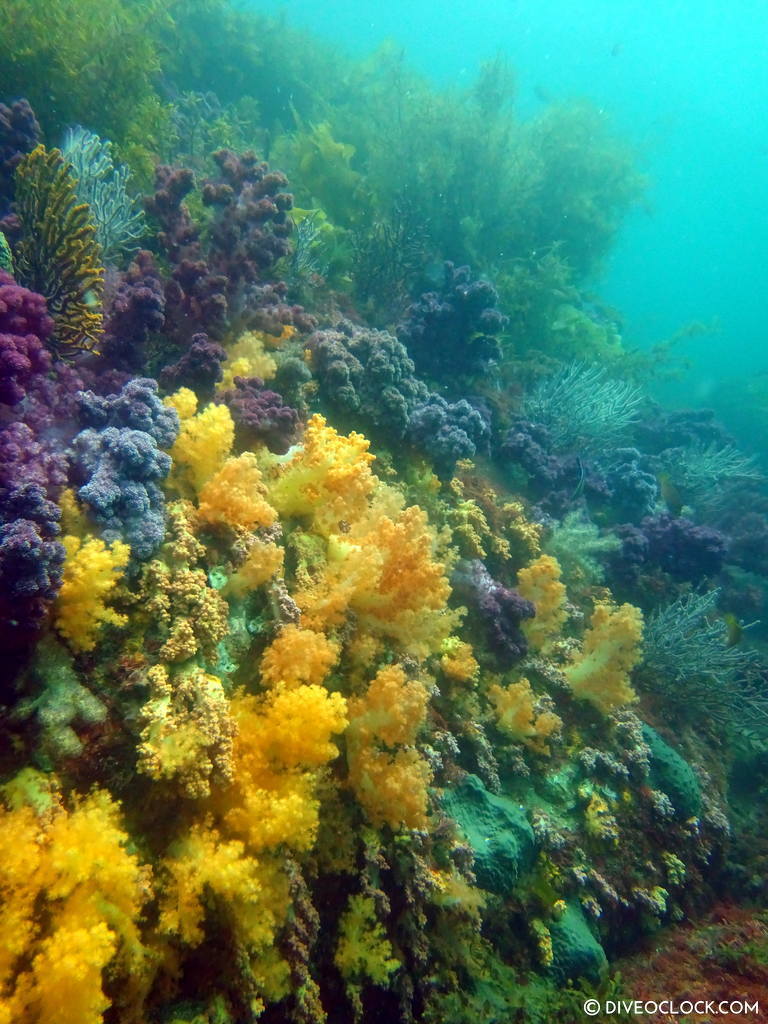 South Korea
Soft Corals and Seaweed Everywhere in Jeju!
With this adventurous set of diving conditions came a mind blowing experience - soft corals and kelp covering the whole reef! The volcanic rock walls, boulders and pinnacles where overgrown with colorful soft coral formations, some walls where fully covered with soft corals. These kind of dense soft coral blankets I have only seen in the Maldives and at Koh Lipe (Thailand) but at those places the cover was 'only a few square meters'.
If there where pelagic species we could not see them because of the viz. Tropical fish and temperate fish species where both abundant. Lionfish, boxfish and angelfish where easily spotted as their colors are so bright. Many different kinds of nudibranchs decorated the reef as well, great photography opportunities!
As the visibility was not the best and the current often pretty strong, some photos are a bit blurry, but I hope it gives you an idea of the seascape and marine life of Jeju. It is definitely worth a visit!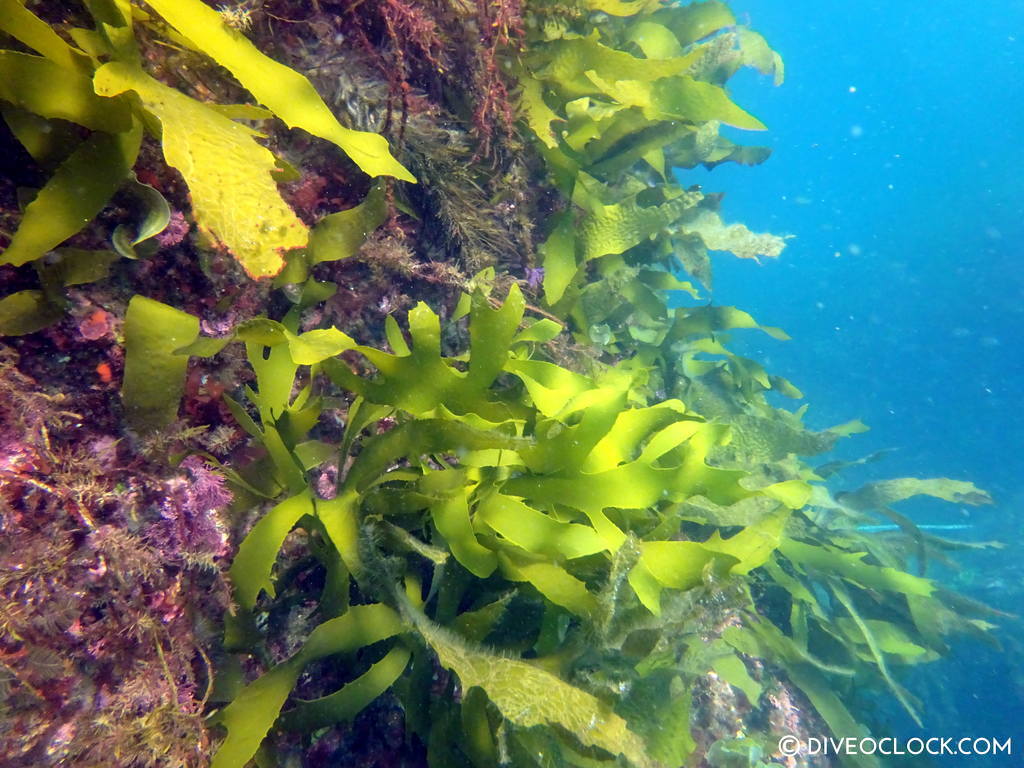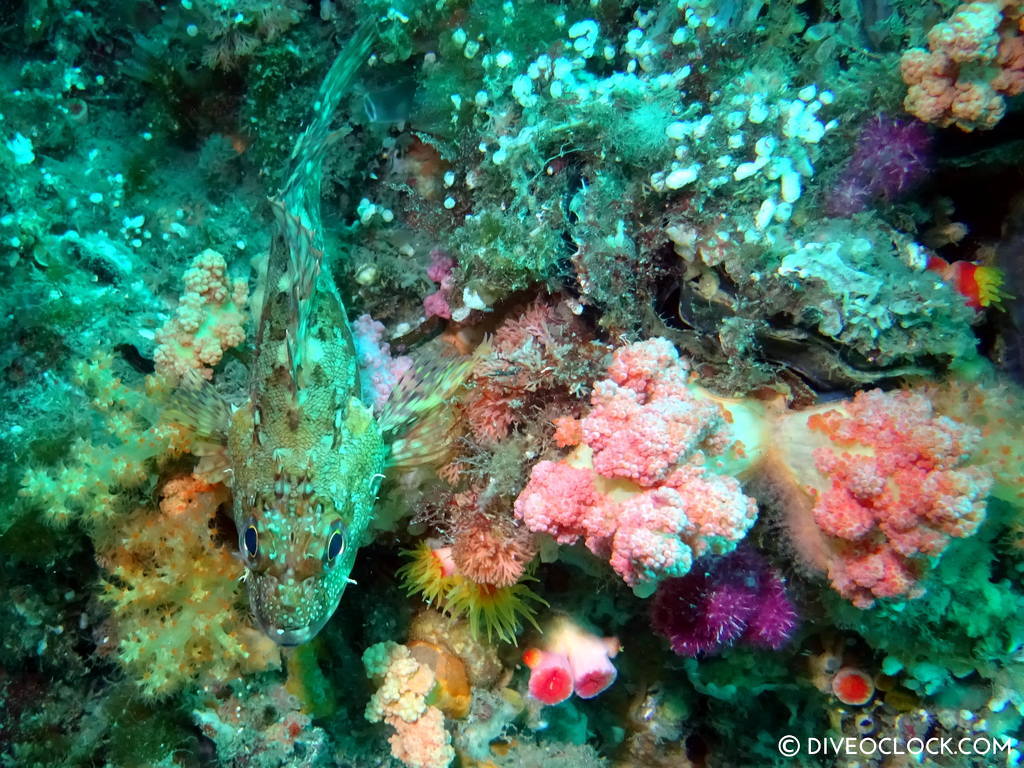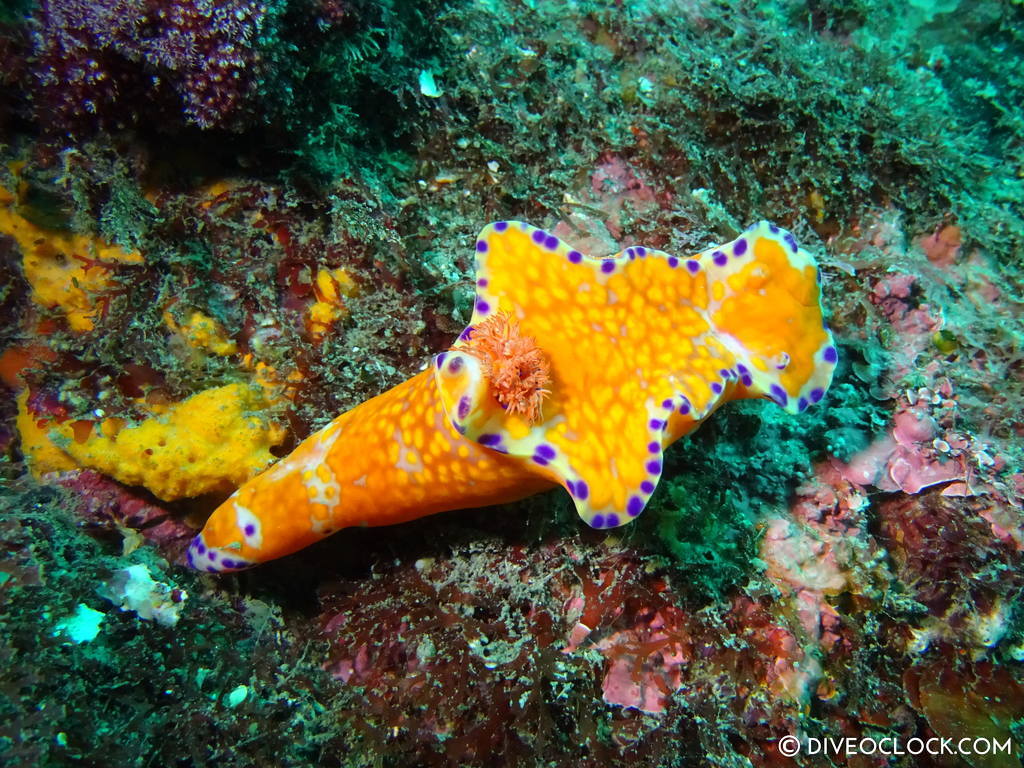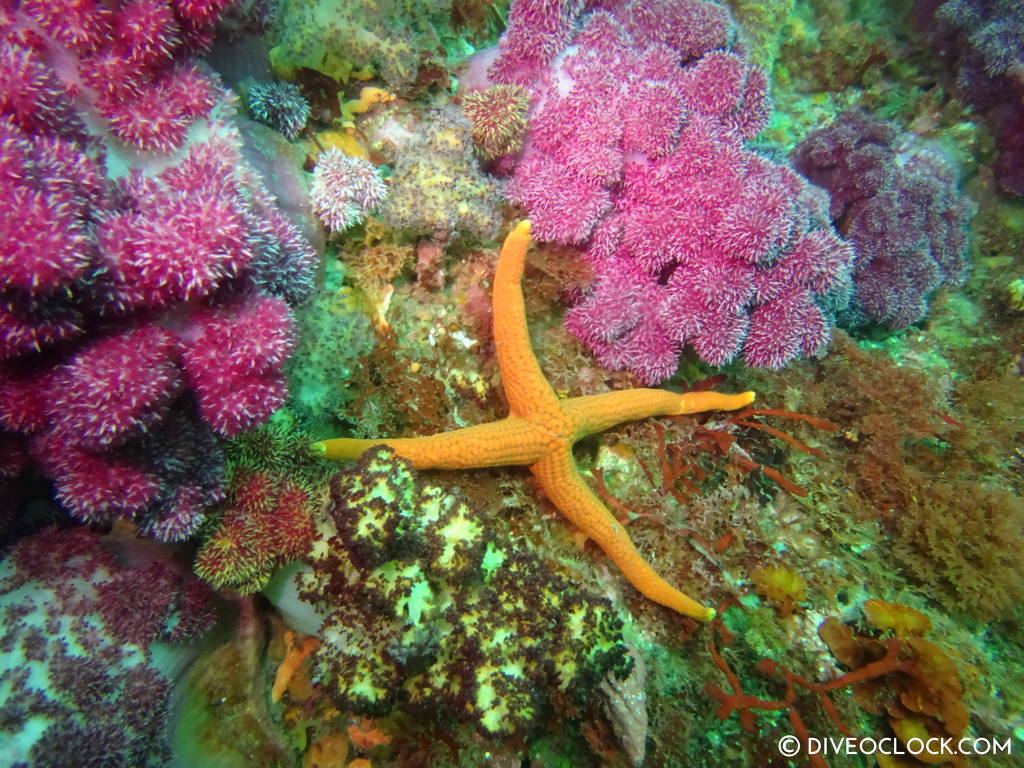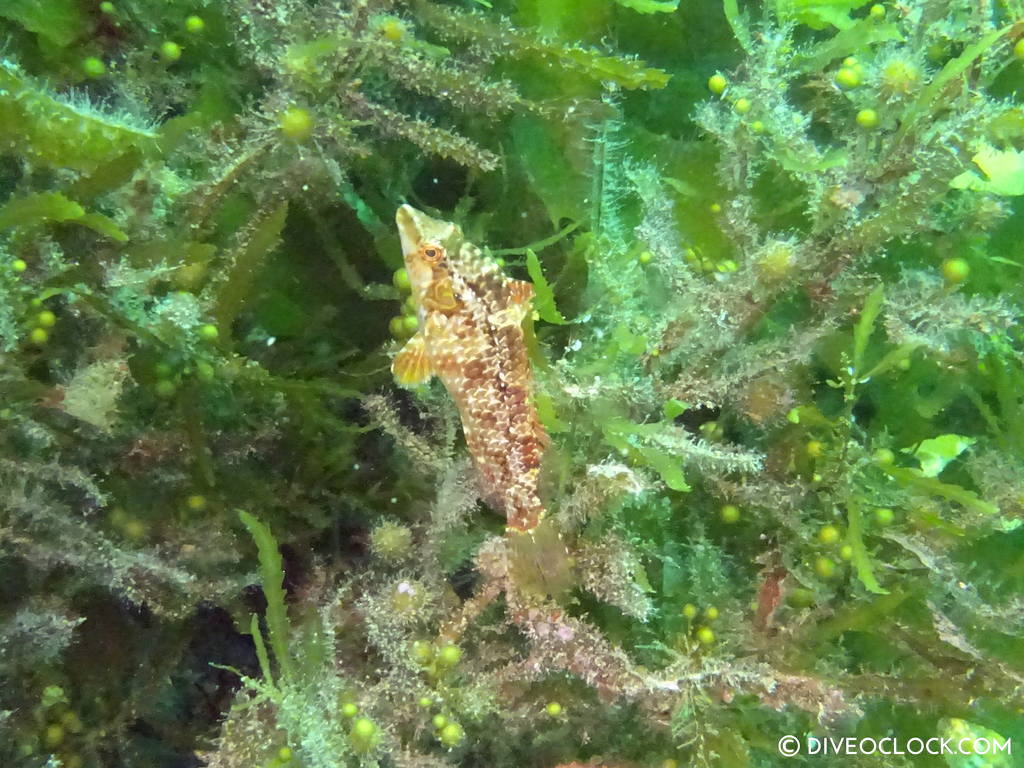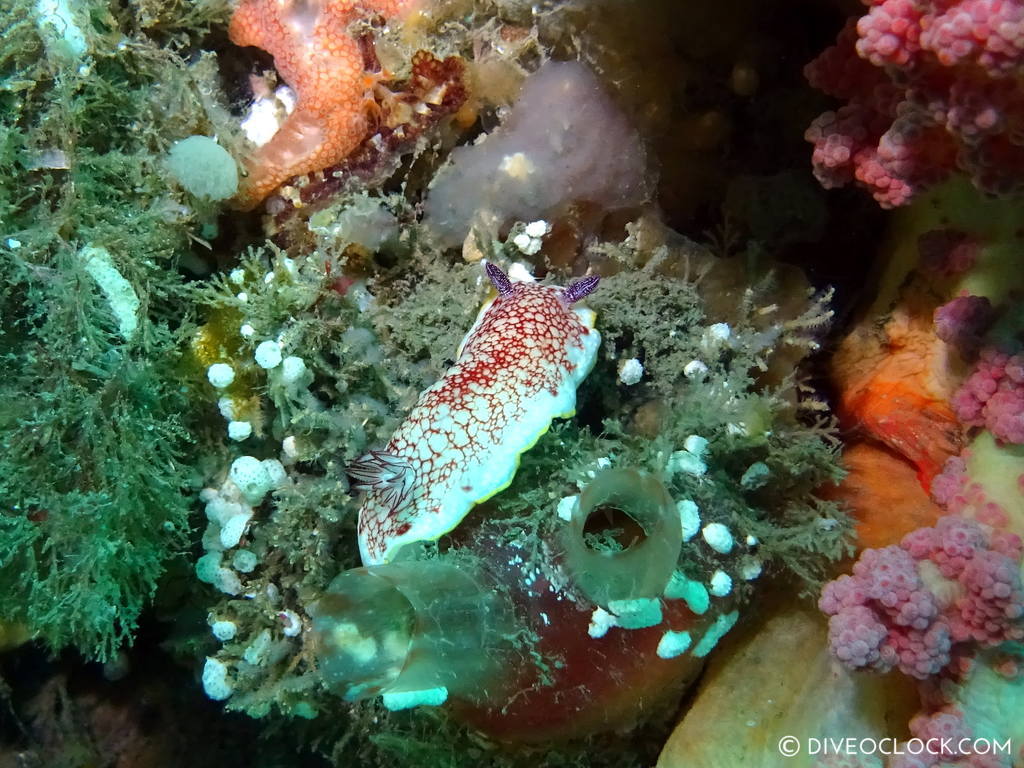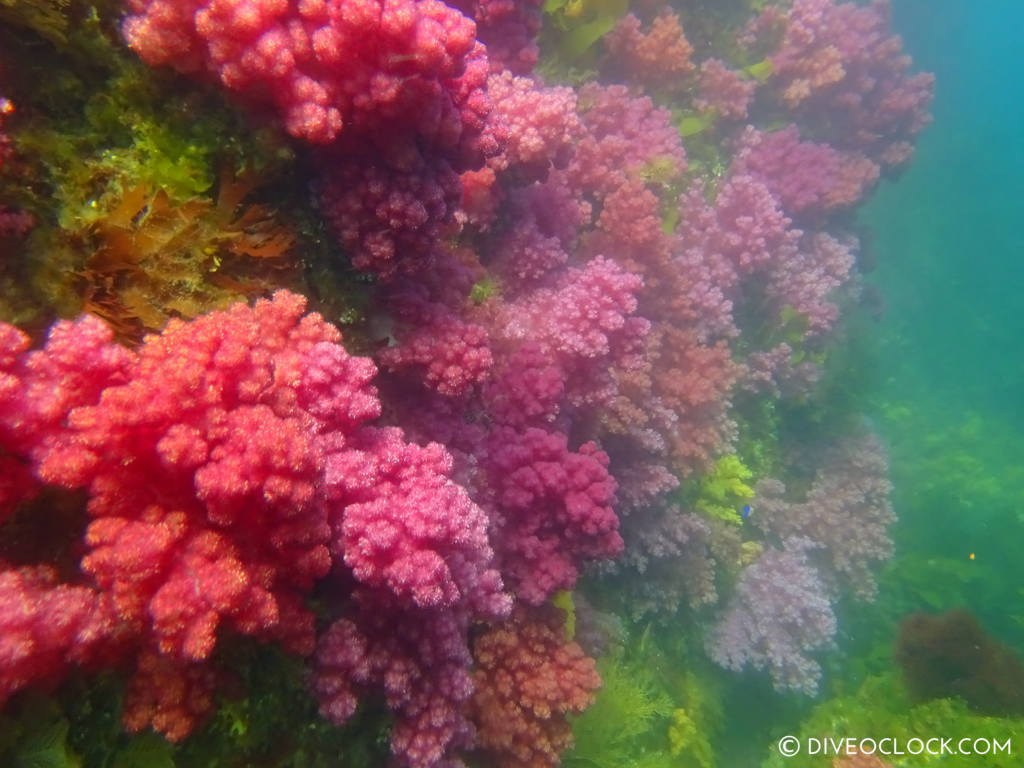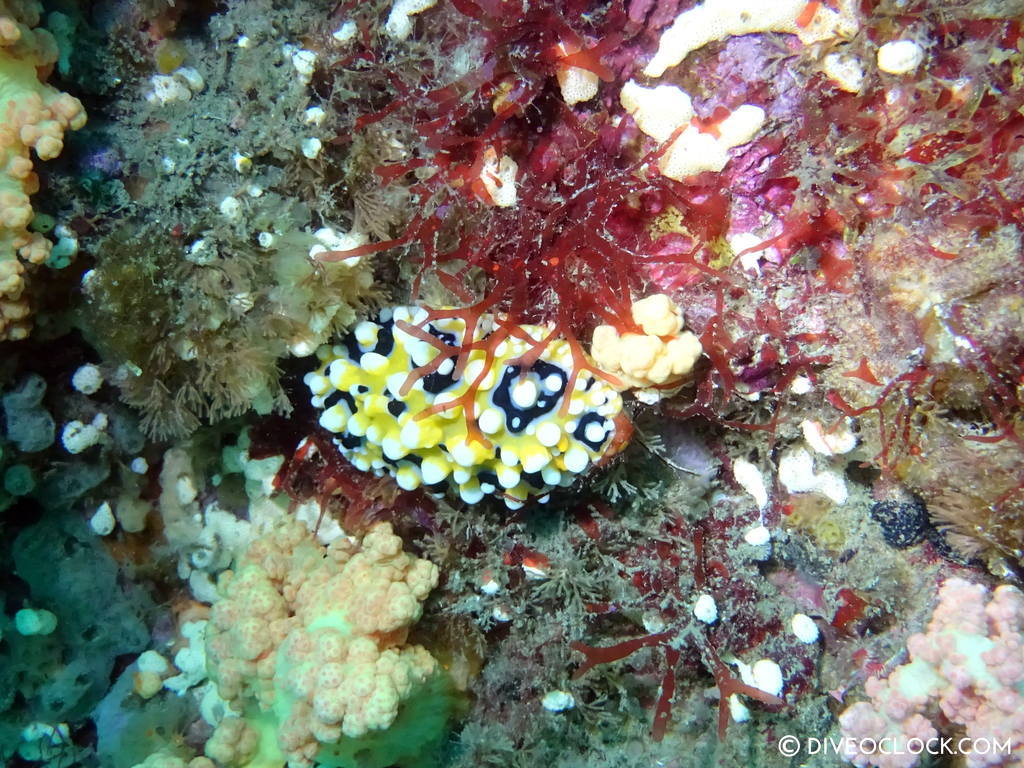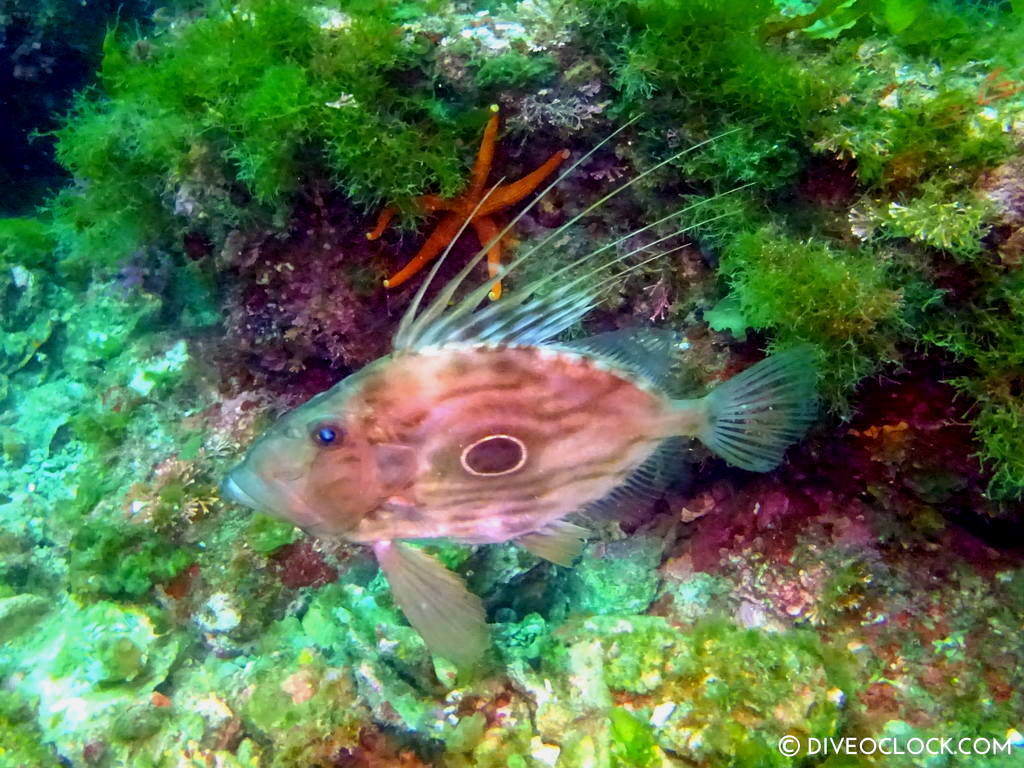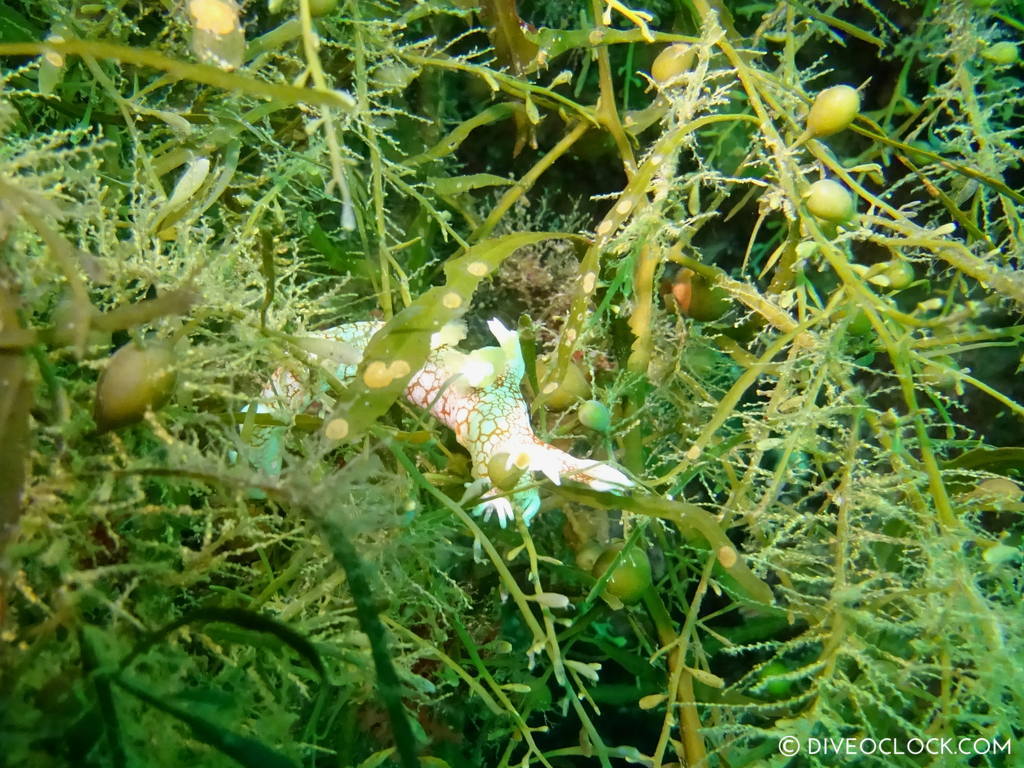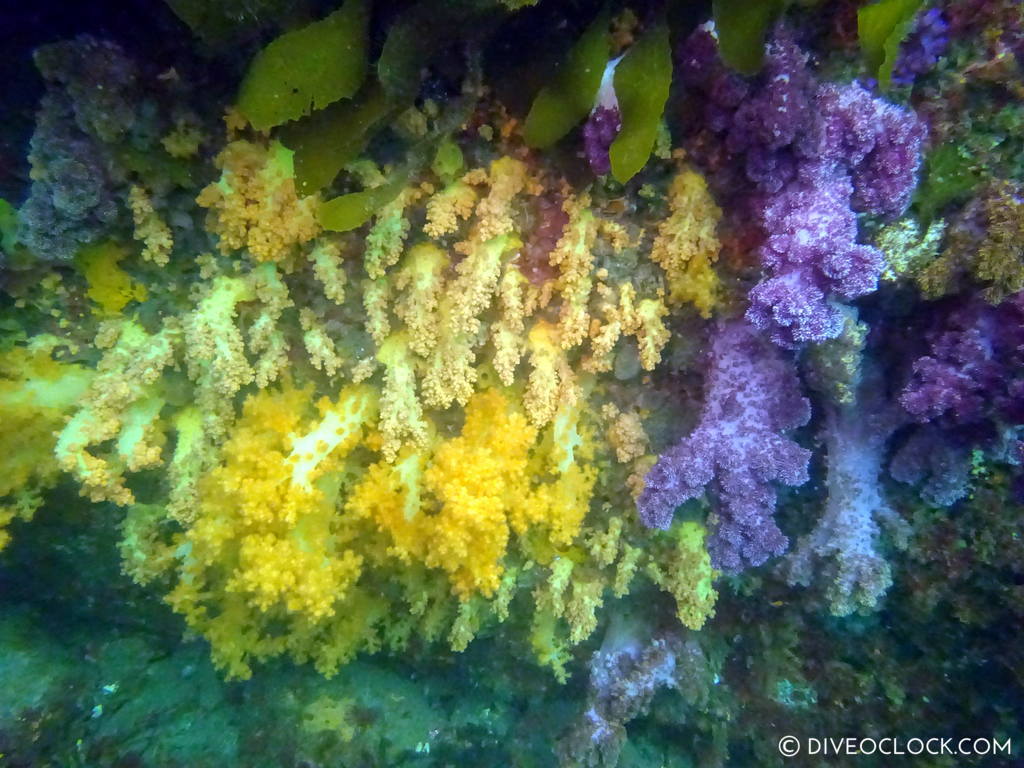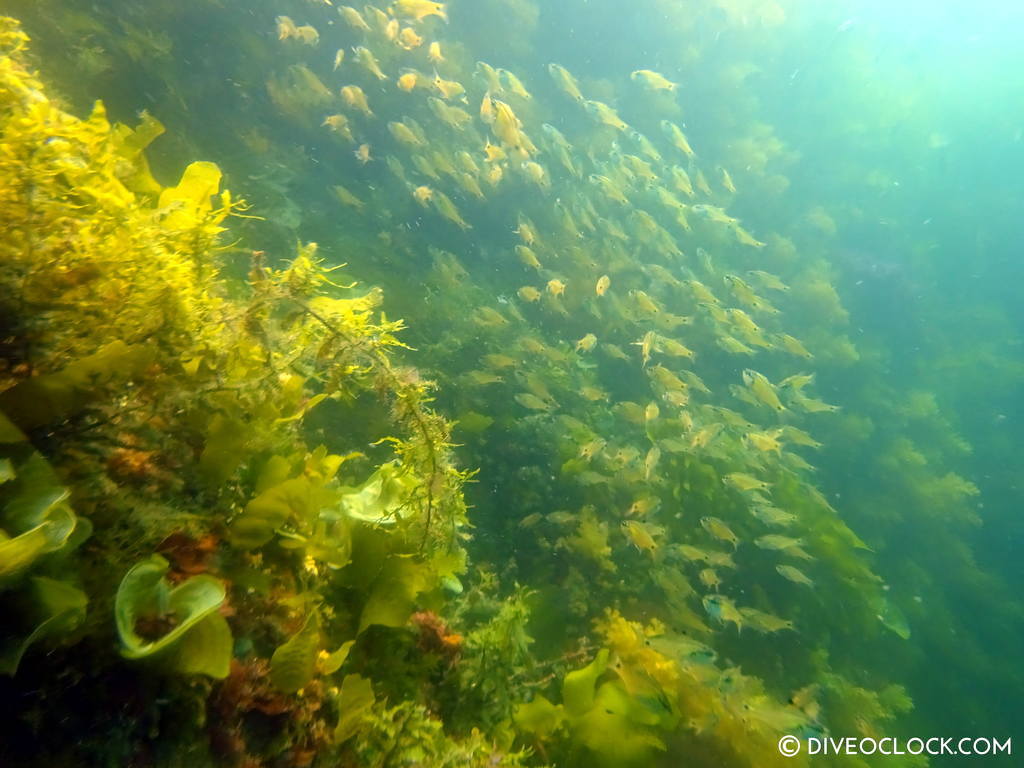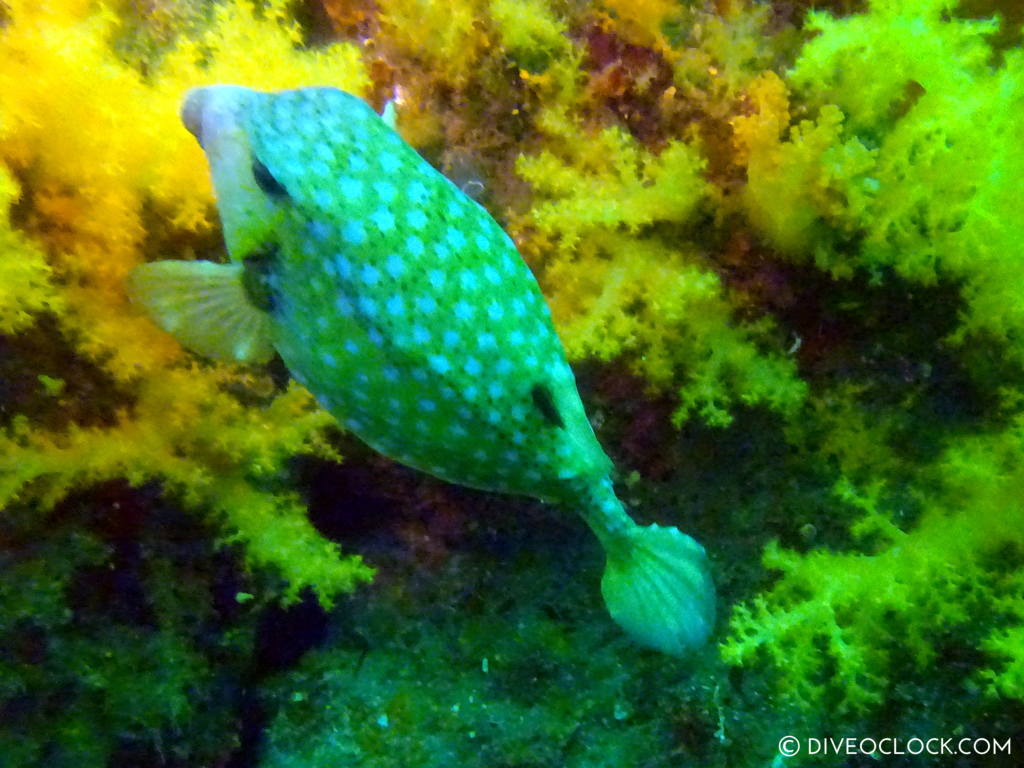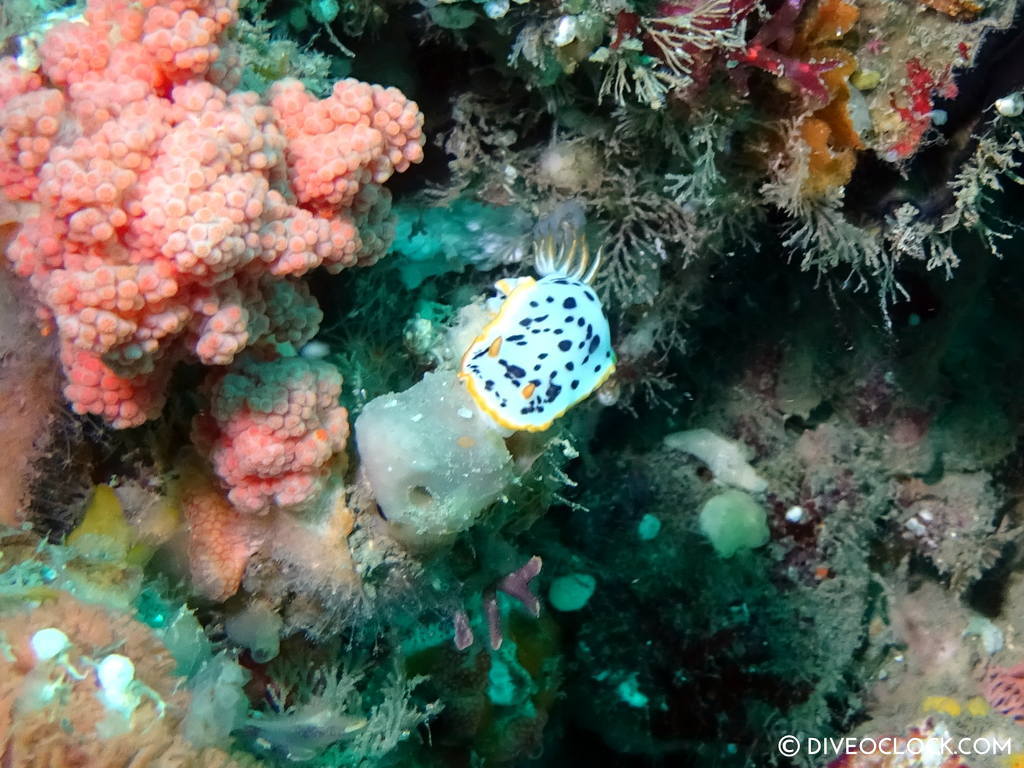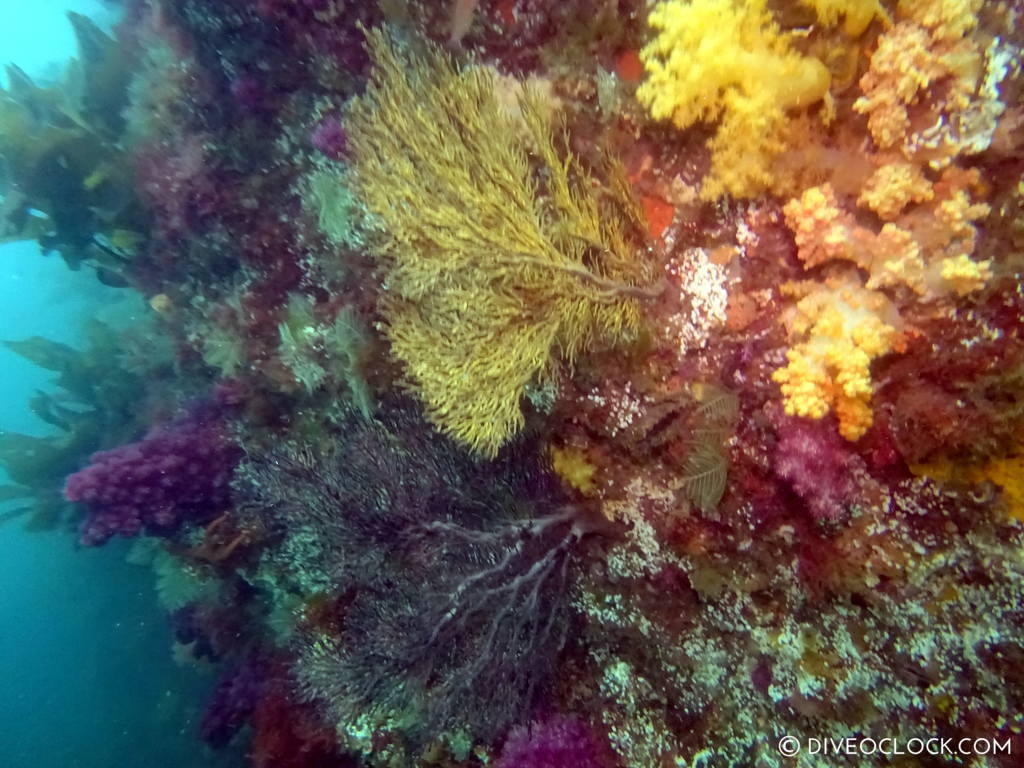 Seascape and marine life of Jeju, South Korea
Comparing dive destinations
Bottom structure
Reef structure
Pelagic
(big stuff in the blue)
Big reef
(bigger stuff on the reef)
Macro
(small stuff on the reef)
Current
(stream)
Flat bottom with bumps/big rocks/pinnacles
Hard corals
(not moving)
Sharks
Turtles
Nudibranchs
(snails/slugs)
No current
Slope (going down slowly)
Soft corals
(moving)
Rays
Eels/snakes
Sea horses and pipe fish
Small
(you can easily swim against it)
Wall
(steep but you see the bottom)
Table-/fan-shape
Trevally/Jacks/Tuna
Groupers
Scorpion/frog fish
Medium
(you can swim against it for a little while/higher air consumption)
Drop off
(steep and you can't see the bottom)
Anemones
Barracudas
Lobsters/crabs
Octopus/squid
Strong/reef hooks
(you cannot swim against it)
Blue
(no reference)
Sponges
Sardines/herrings
Puffers
Shrimps
Pumping/washing machine/OMG/hold your regulator
(superman)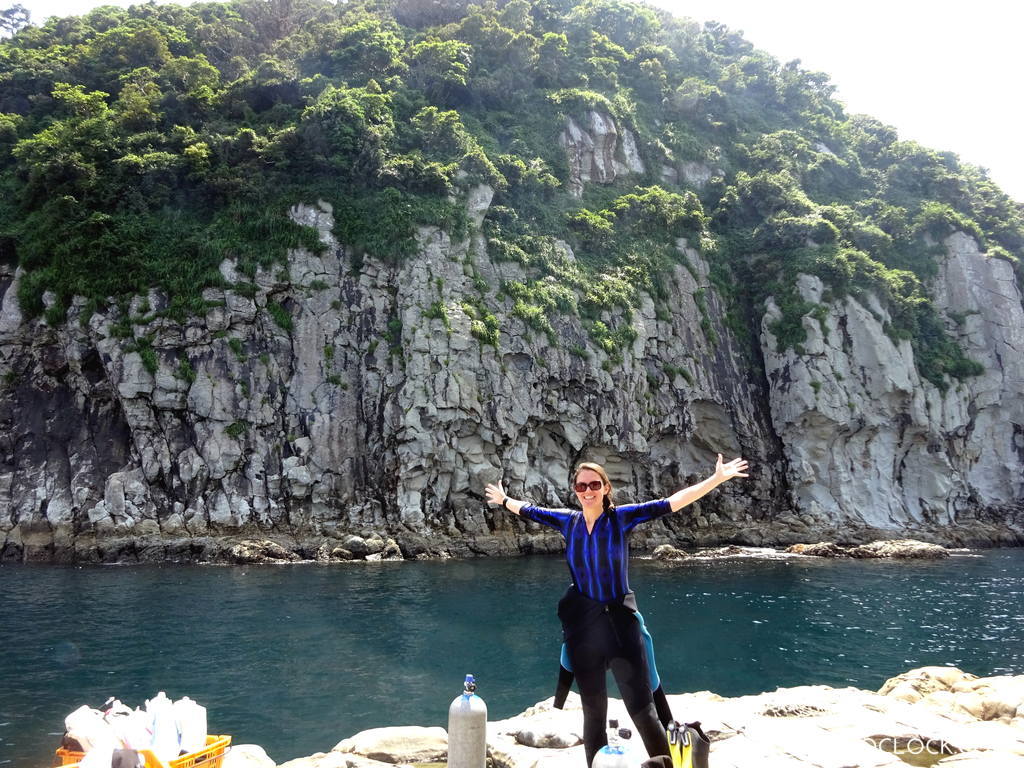 Dive O'Clock around Jeju, South Korea!
Jeju Diving Compared with other Dive Locations
In general I would say the diving conditions look a bit like diving Poor Knights in New Zealand, Gozo in Malta and Malibu/California (USA) with more current. SCUBA diving Munsum / Jeju was great fun and different in so many ways.
ONE LAST PIECE OF ADVICE: While diving from Munseom island we left all our valuables unattended while diving. Nothing happened, many people leave valuables unattended in many ways around the island, but if you would feel uncomfortable leave your valuables at home or at the dive center. I think it is a good reflection of the safety and respect that has really surprised me around Jeju, but don't take my word for it!
As I am staying longer in South Korea I hope to dive at a few other locations as well, so I will update the comparison to give you a better idea.
If you stay on Jeju, make sure to visit the Haenyeo museum and the Haenyeo woman diver show as well. (Stay tuned for my articles about it!)
If you like this post, hit that like button on our
Facebook page
and stay tuned for more!
Marlies Wolters
Founder of Dive O'Clock "It's dive o'clock somewhere!"

Share this page: