K-26 in South Korea - Explore Asia's Deepest Diving Pool
Do you think swimming pools are boring and only for training dives? Think again! Some swimming pools are deep enough to log as a real dive. In South Korea there is even a pool that goes down to 26 meters / 85 feet. Fun diving in the deepest swimming pool of Asia: K-26!
K-26 only opened a few months before I arrived in August 2018. This brand new facility is now the deepest swimming pool of Asia, beating Taiwan's Divecube which goes down to 21 meters / 69 feet.
When arriving at this recreational area, which looks like a wonderful city-escape for people living in Seoul, I could not wait to visit K-26. I felt welcomed like a super star when entering the building. Maybe I was the first foreigner to explore their beautiful new SCUBA diving facility, their enthusiasm was incredible. Luckily I was able to go on a weekday, no reservation needed. It was pretty quiet although the pool is also pretty big of course.
After the paperwork a guided tour followed, showing all the facilities. From the lobby you can watch people diving through the viewing panels. You can look at divers from behind the glass like they are fish in an aquarium. Quite a weird feeling from both sides. There are separate changing rooms with large lockers and shower facilities. On the roof there is a sundeck to relax and around the building there is a beautiful bay used for other water sport activities.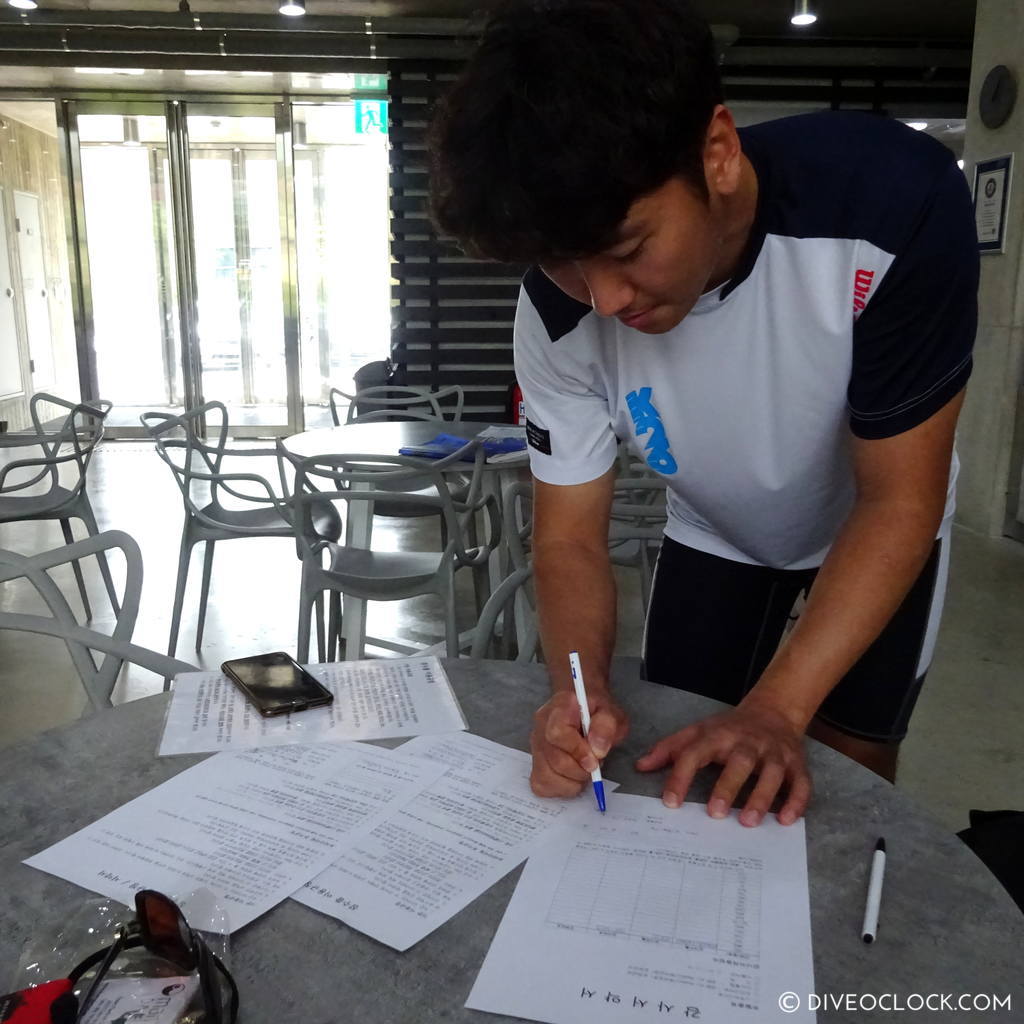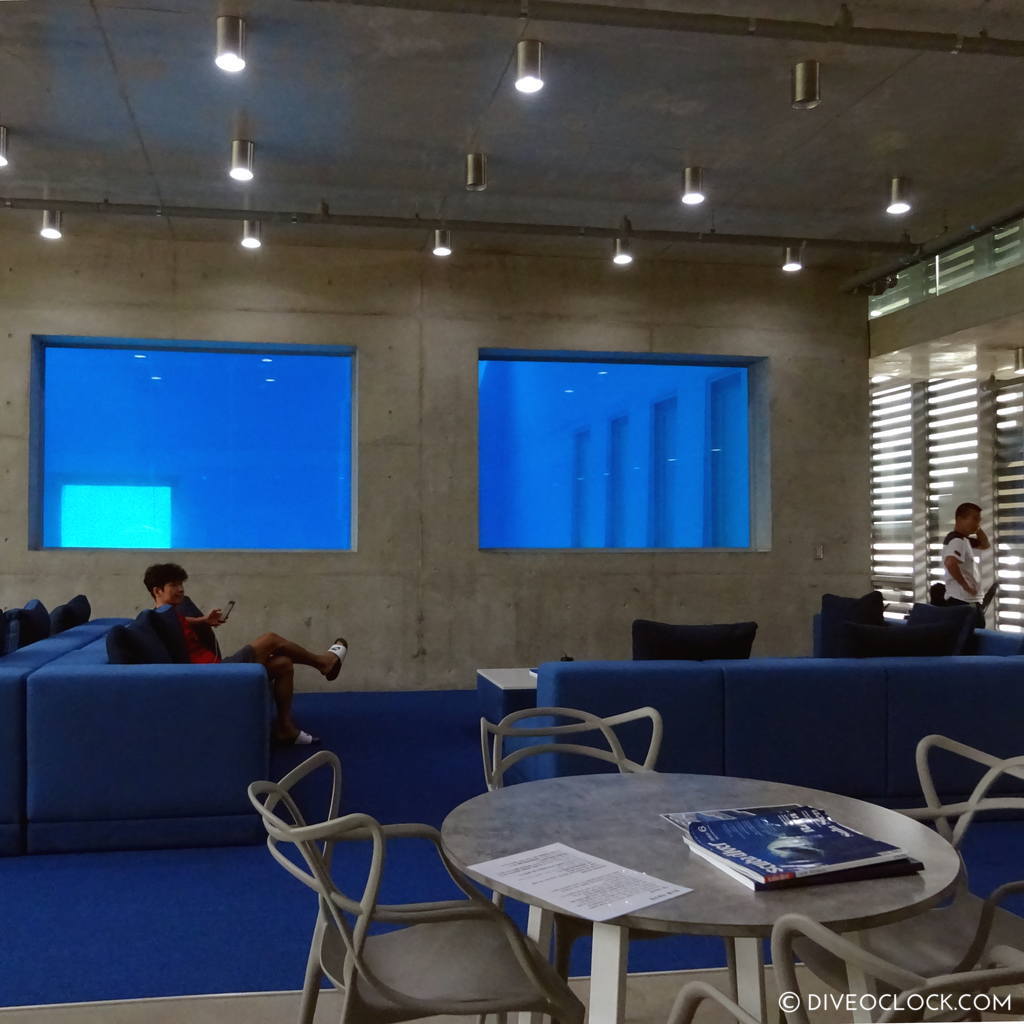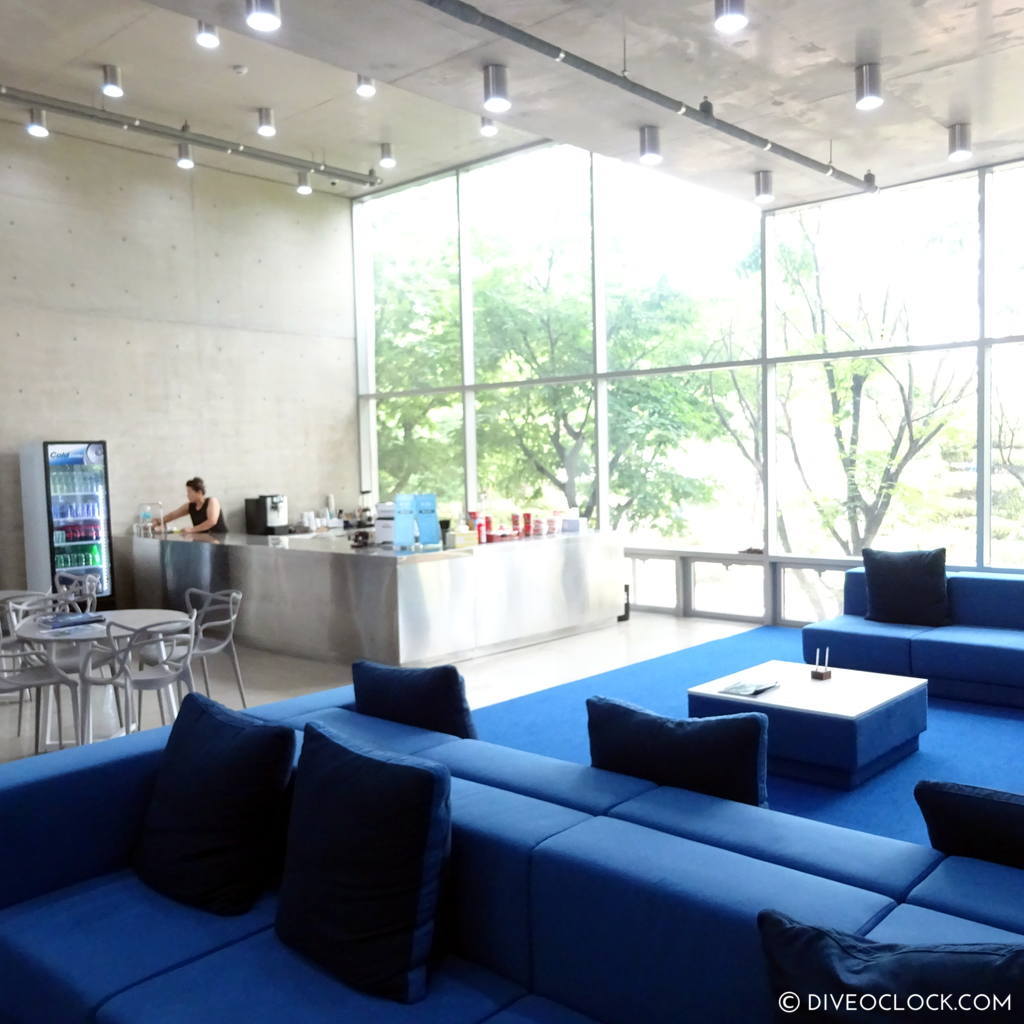 The lobby of K-26 swimming pool with viewing panels.
Swimming pools are great for learning SCUBA diving in a friendly environment, this one takes it too the next level. You can practice skills in various shallow areas, like you could normally do when gaining your PADI Open Water certification or equivalent. K-26 offers diving platforms down to 10 meter / 33 feet and even has a wreck-like construction where you can swim-through and practice your buoyancy. All without the risk of hurting yourself by bumping into sharp edges or stirring up sediment. There is also an air pocket (diving bell) to explore.
Of course for the 'real thrill' you have to go all the way down to the bottom. This was my first dive in a swimming pool over 5 m / 16 feet (Olympic pool) so I was really curious. Most really deep pools have their deepest end shaped like a chimney / vertical tunnel. One of the things I was really curious about was how small the 'tunnel' would be (as in diameter). Can you enter this area with several divers at the same time? Do you need to wait for others to get out before you can enter? Would I feel claustrophobic in the deep and dark end? Dive O'Clock!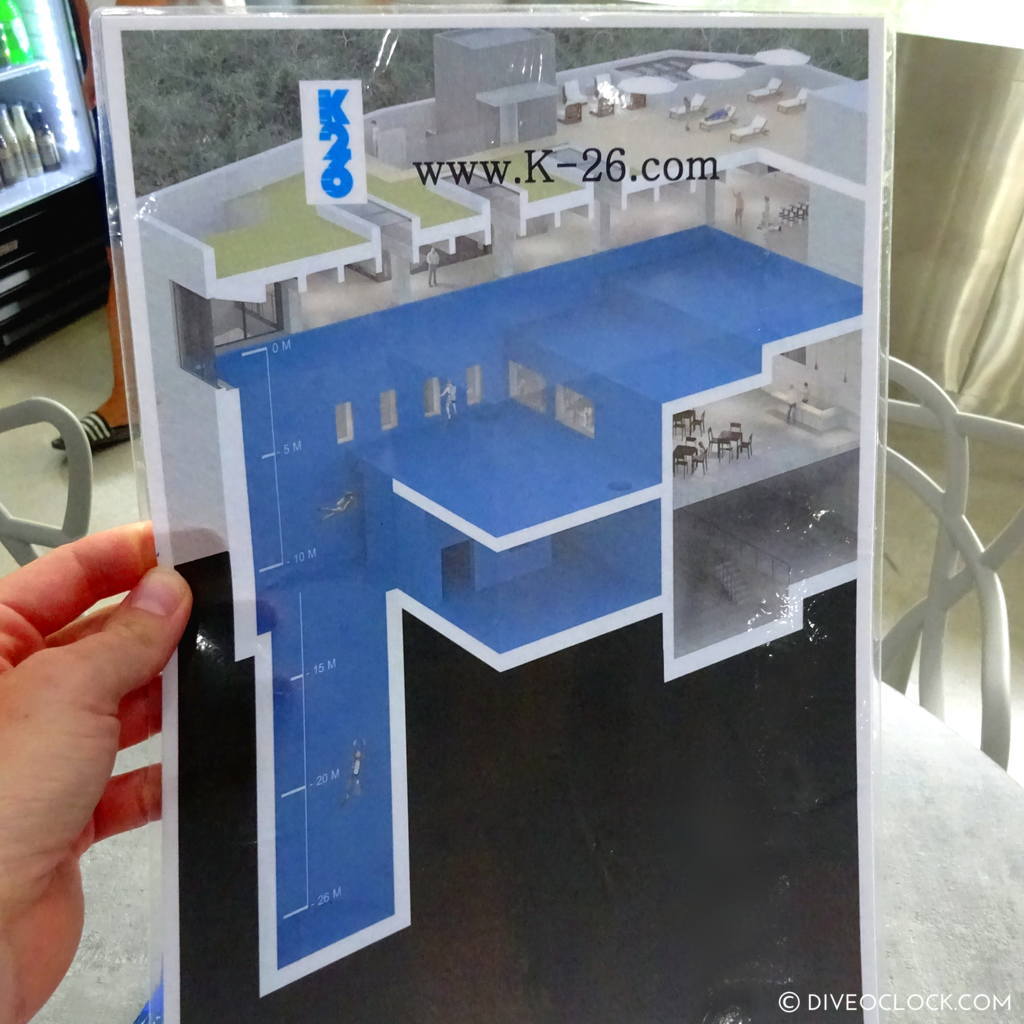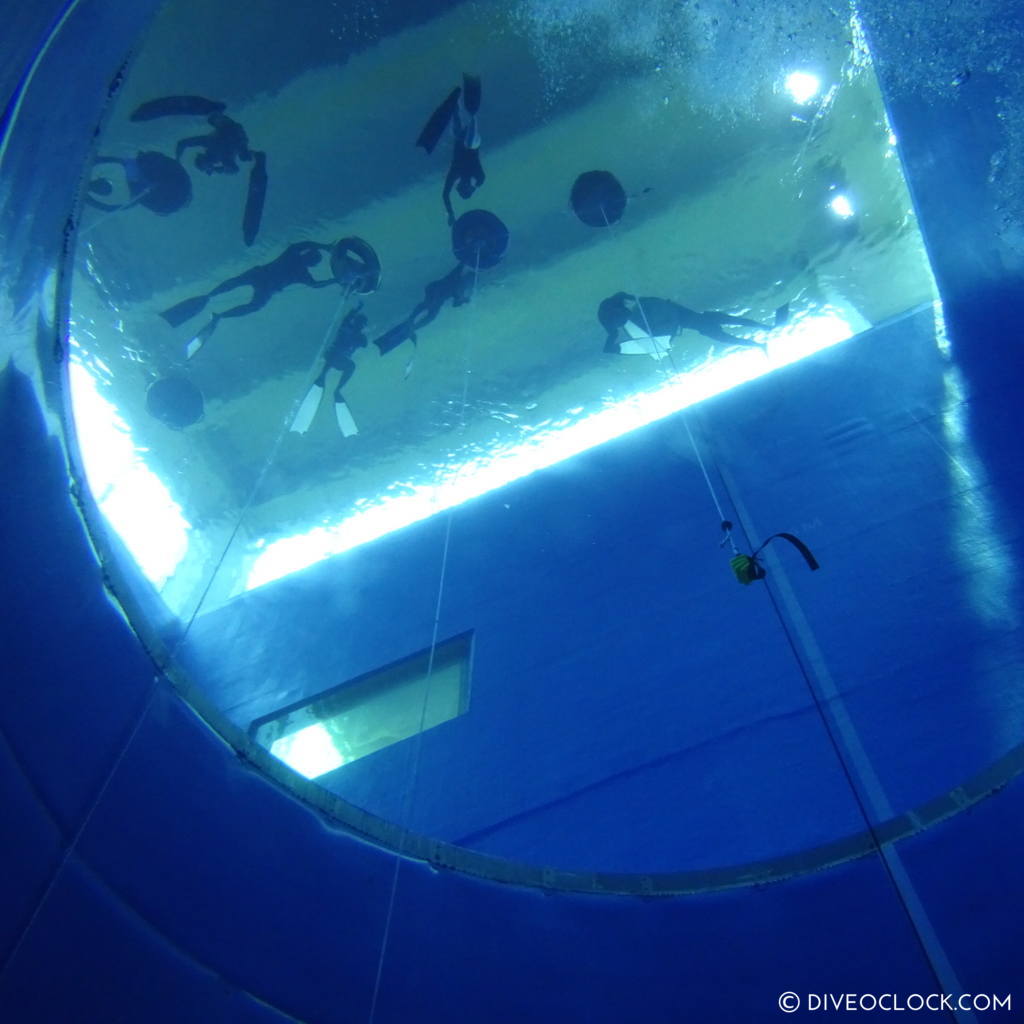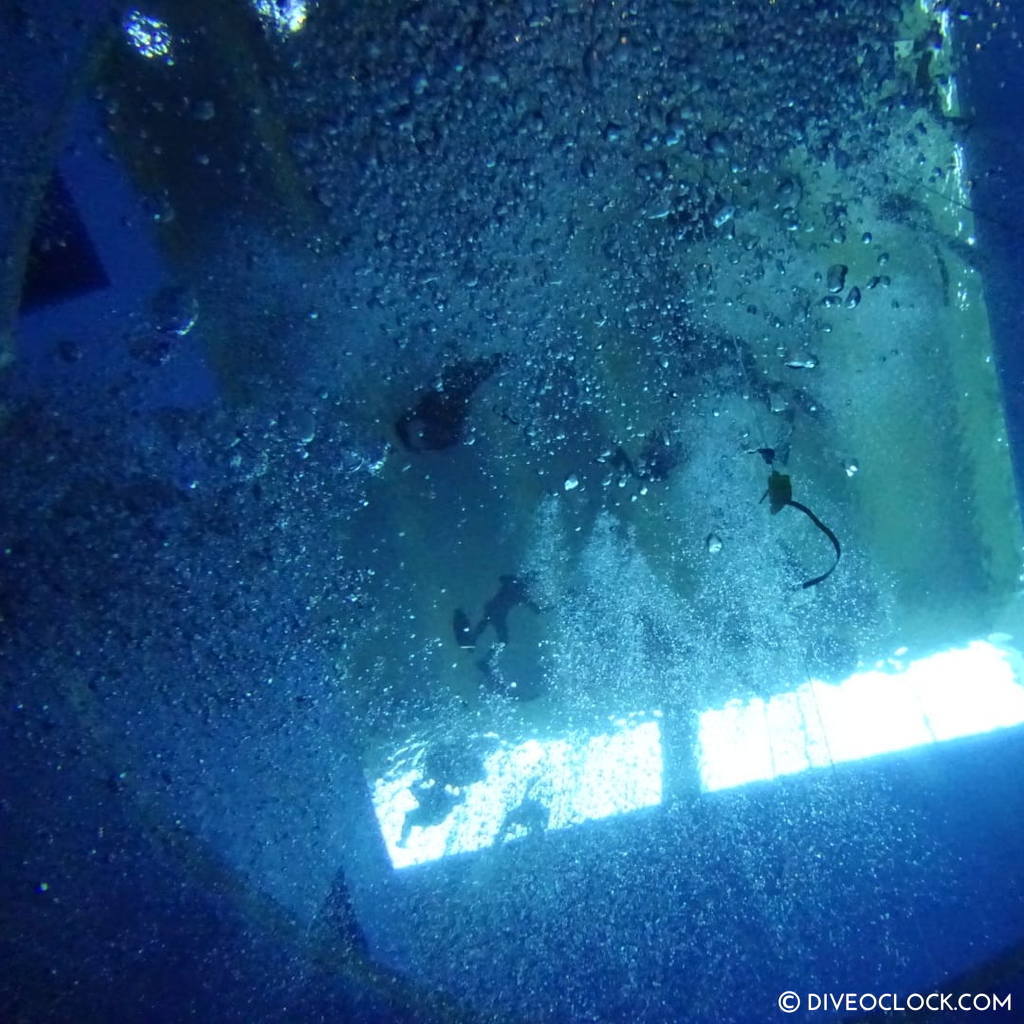 K-26 map of swimming area and looking up from the deepest end of the pool. A lot of bubbles in the pool, sorry guys!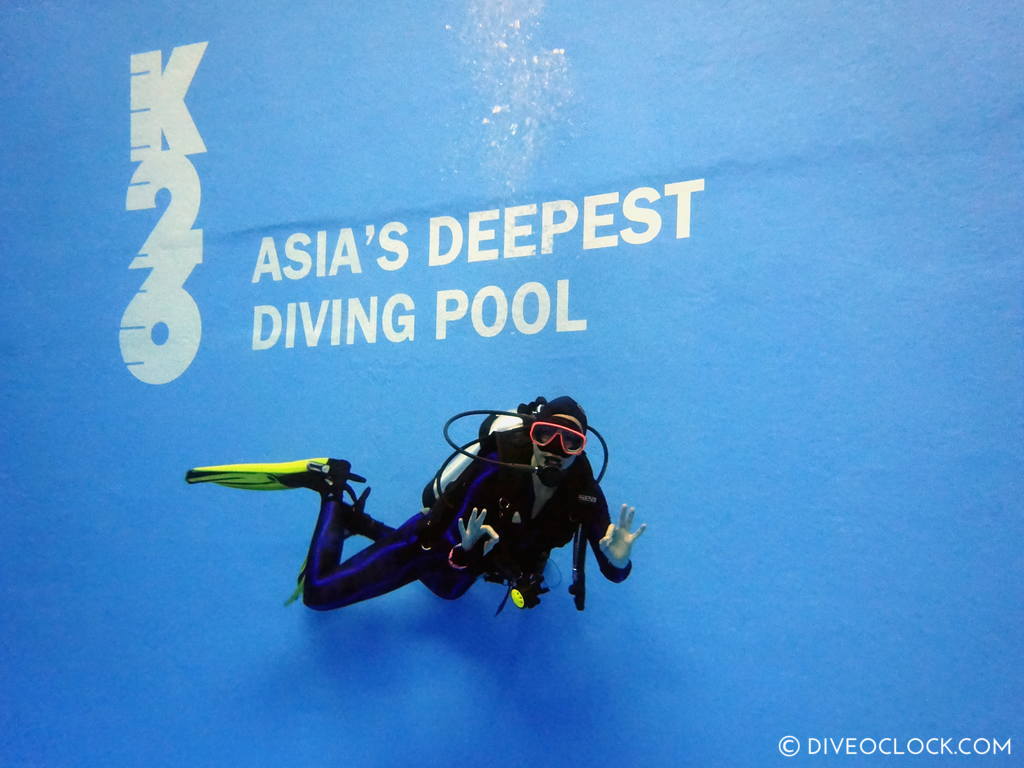 Dive O'Clock at K-26 - Asia's Deepest Diving Pool in South Korea.
Dive O'Clock at K-26 in South Korea
Diving to the deepest end of K-26, Asia's deepest diving pool, was awesome! The tunnel is wide enough for 4 divers going down vertically and many more if you free dive / apnea. There were quite a lot of free divers training at my time of visit. It was beautiful to share the area, I want to try free diving even more now. It's so elegant and physically and mentally challenging.
I hope they loved having me around too. It was only when I exhaled when on the bottom I realized all those bubbles coming up must be annoying in this small area. As they where mainly with their buoys and lines aligned to the back I stayed in the front end of the tunnel. What a great experience to dive in a pool down to 26 meters! The wreck-like area was fun too, no history or marine life of course - but fun to swim around and play. Definitely worth a visit if you are a passionate diver in Seoul or for training purposes of course.
Practical information about K-26
When you book a single dive you book a 3-hours entrance to the facility with one tank if you are a SCUBA diver. You need to have a dive buddy (both certified) or book an instructor guided dive. During weekdays you do not need a reservation if you arrive between 8 AM and 5 PM. Check the K-26 website for prices and let somebody call for you in Korea in advance to check. Dive equipment is included (without a dive computer) but you are also allowed to bring your own as well (if it's clean), there is no discount though. Bring your own towel, shampoo and such. There is a small cafe to buy soft drinks and coffee, some small snacks.
K-26 is easy to find on Google Maps and the location is accurate (not standard in Korea). Depending on your starting point and the traffic in Seoul you can drive to K-26 in a little over one hour. You can also get there by public transportation from Seoul, it just takes a lot longer. I went to K-26 with a rental car after diving along East coast, on my way back to Seoul. Use the Naver App for good directions and planning. Location of K-26 on Naver.
Compared to SCUBA diving Jeju Island and Sokcho, organizing a dive here is super easy. Read those articles for more practical information about getting around and diving in South Korea and of course impressions of marine life you can spot.
If you like this post, hit that like button on our
Facebook page
and stay tuned for more!
Marlies Wolters
Founder of Dive O'Clock "It's dive o'clock somewhere!"

Share this page: