Sokcho SCUBA Diving - Mission Impossible in South Korea
South Korea's East coast is the most popular dive area as it's only a few hours driving from Seoul. While on a mission to dive all the coasts of South Korea this SCUBA diving area turned out to be another mission impossible - even in high season. Finally I succeeded - but was it worth it?
This is another off the beaten track place to dive as a foreigner in South Korea. Please be very careful with booking transportation/accommodation before having confirmation of diving.
SCUBA Diving All Coasts of South Korea - The Mission Explained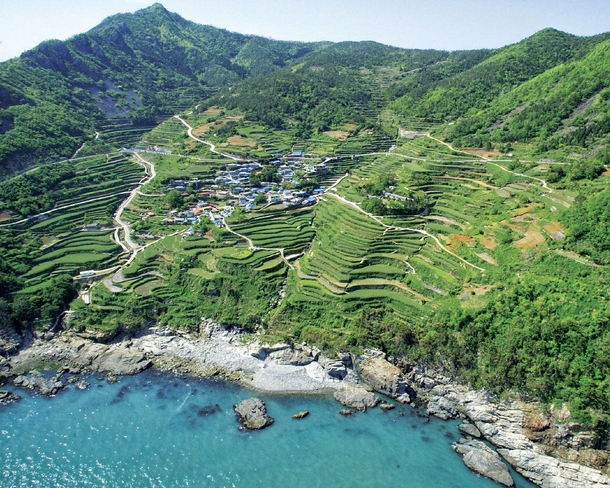 Namhae in South Korea, photo credit: photorator
South Coast of South Korea
When organizing fun diving around beautiful Jeju Island I thought that was hard. But as soon as I arrived on the main land I realized organizing diving Jeju was really easy compared to the rest of the country. After South Korea's favourite holiday and dive destination Jeju I had my eyes on diving Namhae island from Busan.
Namhae is one of the most scenic islands of South Korea, easily attached by a bridge to the main land. It's located along the South coast and only a few hours drive from Busan. It's a place where not many foreigners go, off the beaten track. I tried to contact people on Namhae (tourism office/government/dive centers/hotels). Of all the people I have asked either they did not reply or they could not help. As I didn't want to end up renting a car and booking quite an expensive accommodation to show up at an off season / empty place I changed my mission and skipped Namhae.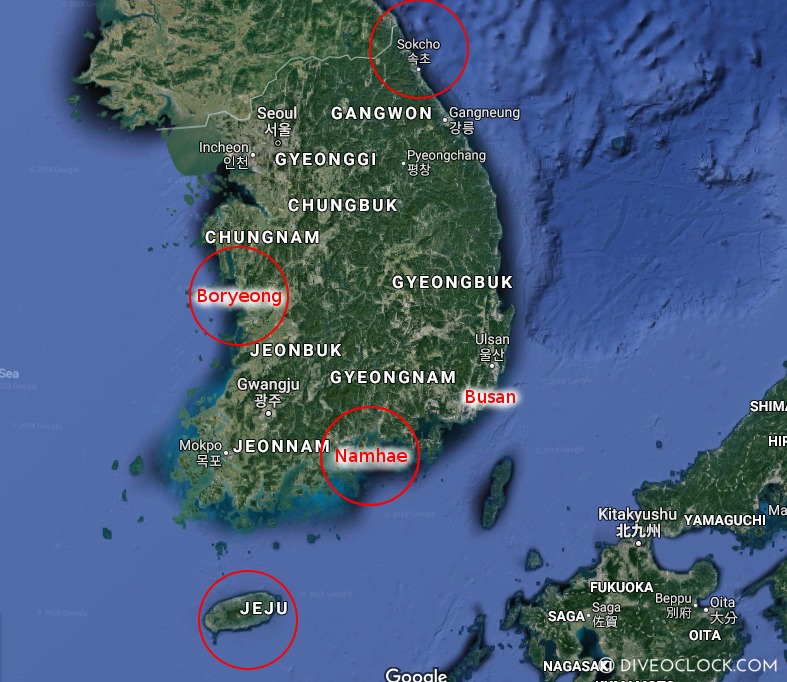 Map of the mission to dive all coast of South Korea
The alternative was diving around Busan itself, not a great place for diving but accessible if you know what I mean. Here I actually had great communication with an expat living in Busan and organizing dives in the weekend. Unfortunately there was a lot of rain (rain season / not monsoon) that created such bad visibility underwater (lot of sandy areas) that is was not worth diving. SCUBA diving the South coast of South Korea was off the mission, bummer.
West Coast of South Korea
Next off: The West coast! The West coast is not on many people's list for SCUBA diving as it simply offers a lot of sand/mud and really bad visibility. Why bother?
1. Passion - Diving is diving and new adventures are exciting!
2. Location - I was already in the area for Boryeong Mud Festival, South Korea's most popular festival.
When experiencing this funny beach festival I realized even more that mud is 'all there is'. Still I went to the dive centers nearby to see if I could organize a fun dive with them - they were probably all partying. Funnily enough there was dive equipment just laying outside the dive center, the safety in South Korea is really impressive.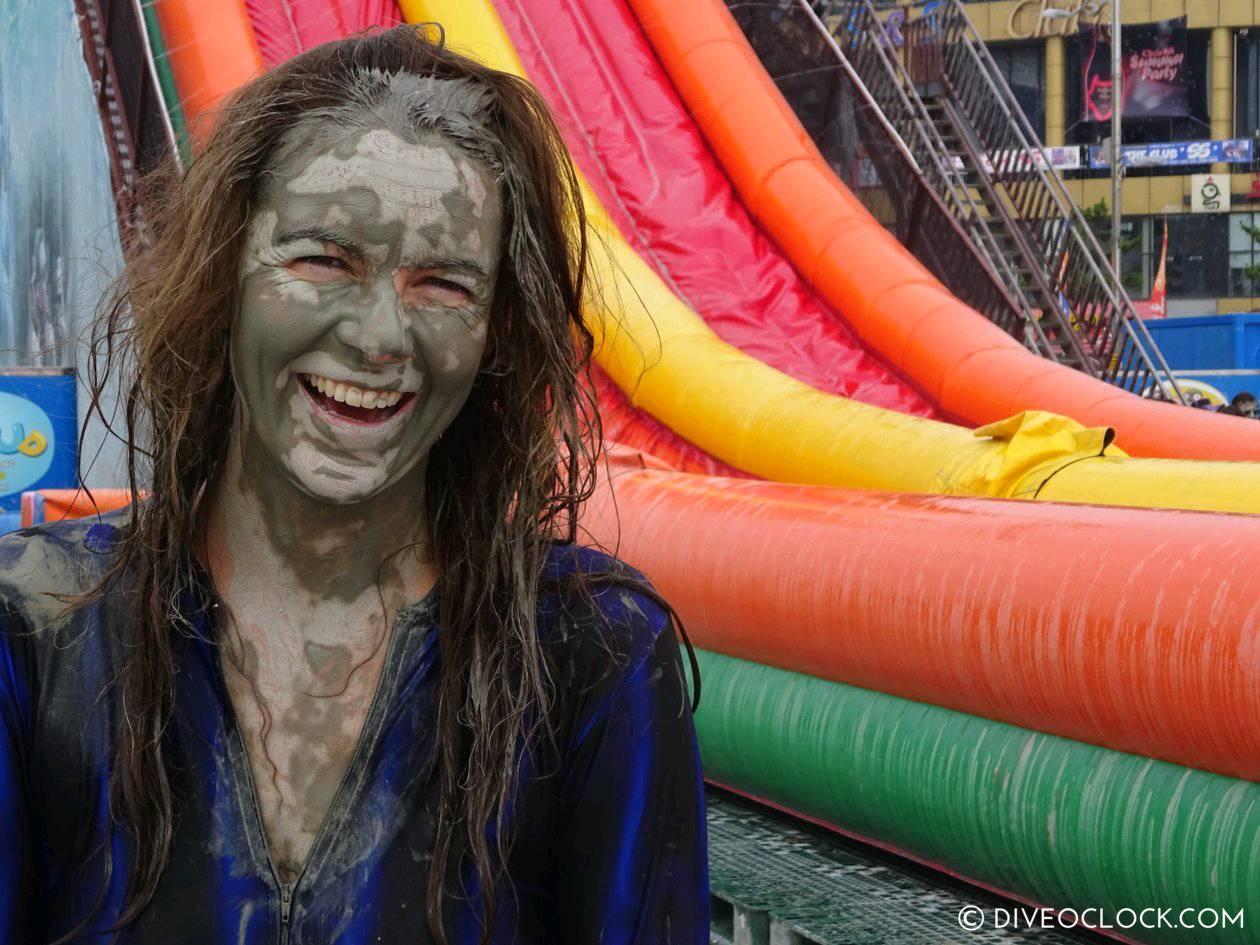 At least I could wear my wetsuit / dive skin in Boryeong, South Korea
East Coast of South Korea
From Seoul I tried to organize the East coast, the last coast of my mission. It turned out to be another time consuming adventure. To give you an idea: At one point I had the Korea Tourist Travel Hotline 1330 (you need to install an App so you can call them online) call various dive centers for me in Korean to make a booking. There is no English text on the dive center websites and a lot can't be translated with Google. Most dive centers don't even have a website of social media accounts other than a Korean Naver blog (August 2018). There are no booking forms and do not expect a reply to emails. However there are some dive centers run by foreigners and English speaking staff, in Seoul for example - this way you need to organize a full weekend trip well in advance.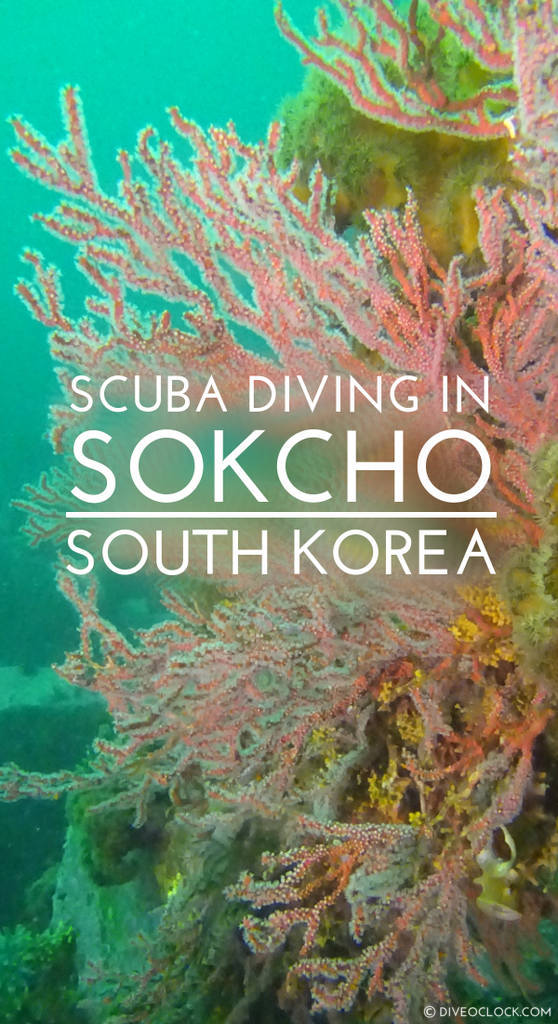 Finally one dive center responded positive when calling them through the Korean Tourist Travel Hotline but they needed me to call to confirm the booking. So, as my Korean is not conversational I went to the reception of my hotel and asked them to call with me next to them to provide all the information.
This time they didn't want to take my booking because they could not do the briefing in English, how professional! So as far as I was not getting any closer to diving I thought that was pretty incredible in a positive way. In many other off the beaten track places I have been to they just book you on and take your money, no matter how much you understand of the briefing - If you even get one.
How I finally managed to book a dive along the East coast
Even after all those failed attempts I was not planning on giving up on diving the South Korean peninsula. Finally I got in contact with a South Korean dive instructor who speaks well English through one of the online dive platforms. Meeting William Hong in Gangnam - Seoul was great, he explained all about GUE diving (more to follow soon) and wanted to help organizing diving the East coast for me. He even offered to join if all worked out. Great!
While I was looking at SCUBA diving between Donghae and Gangneung he explained me the seascape at Sokcho was actually a lot better. As Sokcho also give the opportunity to visit the North Korean border / Demilitarized Zone (DMZ) without booking a full day tourist tour (with commission stops) it was a great combination.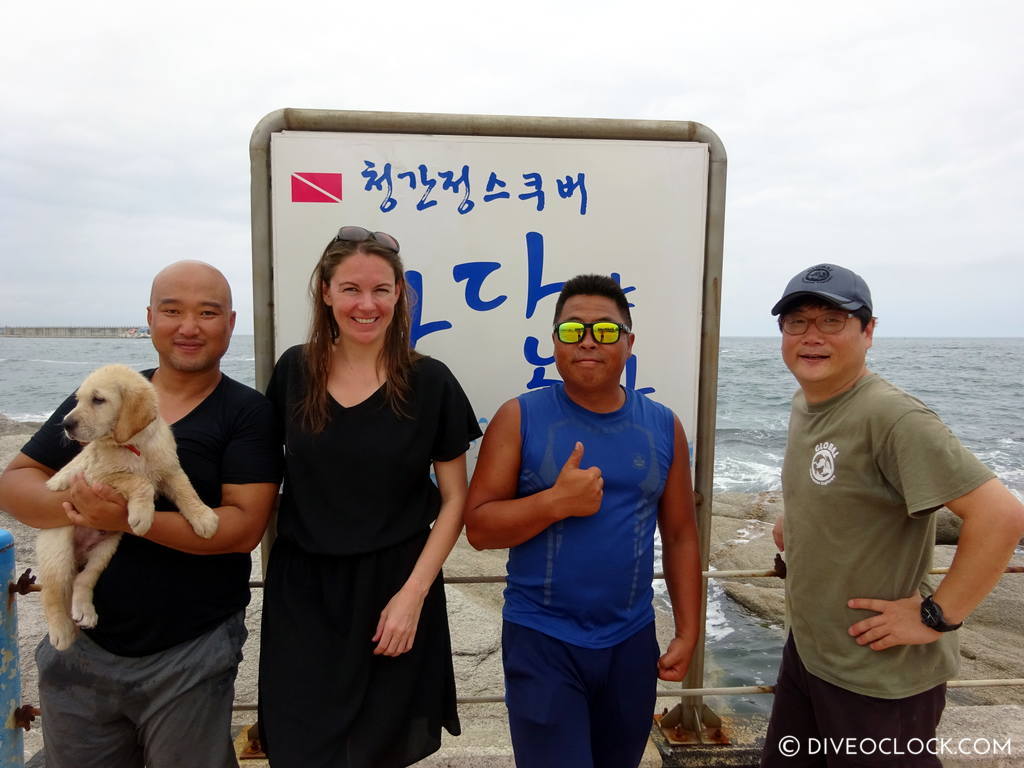 William (far right), the dive center team, the cutest puppy and me in Sokcho, South Korea
Next problem: Rain season turned into high season. Guess where everybody goes to the beach in summer? The East coast! No place to find under 50 US dollar per person a night for a dorm/shared room/facilities. After a long search I found one: Egg House Sokcho, clean and comfortable!
The plan was to go bu public transport, but as I wanted to combine the trip with visiting the North Korean border, Pyeong Chang (Winter Olympics 2018) and K26 (Deepest pool in Asia) a good car deal made it all possible. But still, no dive center confirmed diving... I had booked a car and four nights in Sokcho, so a few days extra. It was only at the end of my stay in Sokcho the diving finally got confirmed. All because of William who drove there to be my dive buddy and translate everything, can you believe that?! What a big honor. Diving Sokcho was on!!!
North Coast of South Korea
In case you are missing the fourth cardinal direction - There is no North coast, that's North Korea. I had a glimpse of North Korea from the border / DMZ in Goseong-gun and the coastline was dotted with beautiful little islands - unexplored diving for sure. Obviously it is not possible to dive there at the moment.
Country
South Korea
Dive area name
Sea of Japan, Cheongganjeong-gil 청간정길 Toseong-myeon (Use this for Google or Naver)
Dive center
Pavilion Diver Center / 청간정 스쿠버 (no website)
Famous for
Accessible diving from Seoul, temperate climate
Price
About 50 USD per boat dive without equipment. Full set of dive equipment is 40 USD a day. Prices vary quite a bit, cash only.
Bring your own food and drinks. Shower facilities with towel, shampoo and such included.

Hotel recommendation
Egg House Sokcho Guest House
SCUBA Diving Sokcho
Because of all the rain and a minimum number of divers needed (boat diving) we ended up driving a bit further North. The dive center / dive area is still in the Sokcho area, but the town is actually called Cheongganjeong. Naver location of Pavilion Diver Center / 청간정 스쿠버 (Cheonggan-ri Toseong-myeon Goseong-gun Gangwon-do).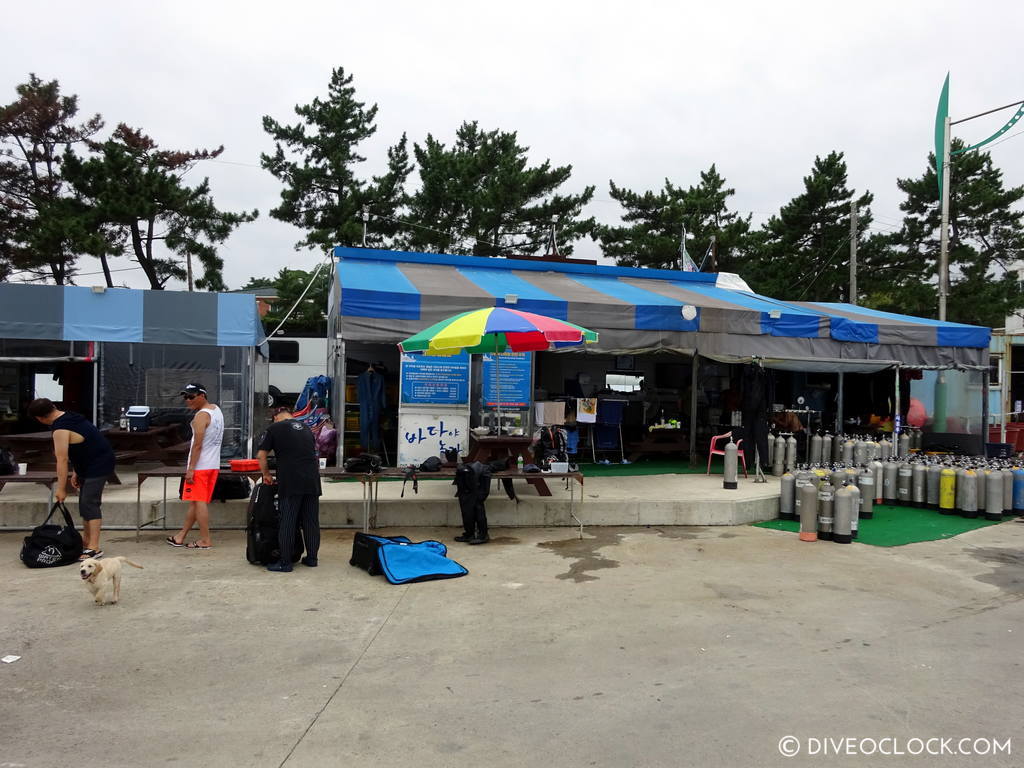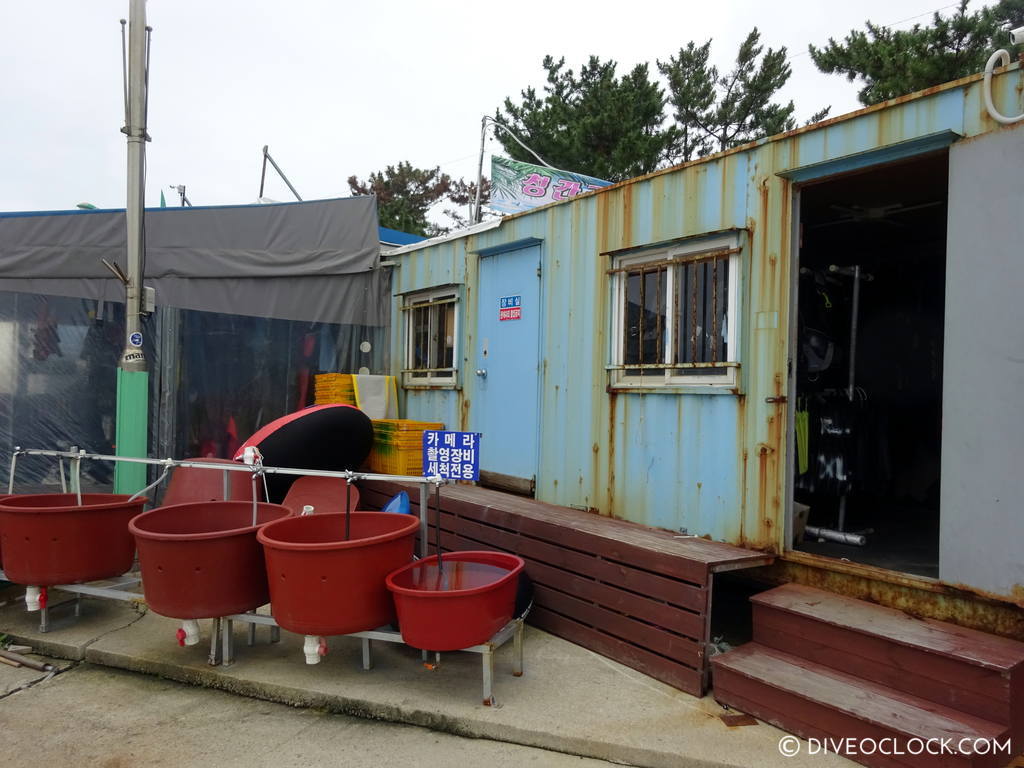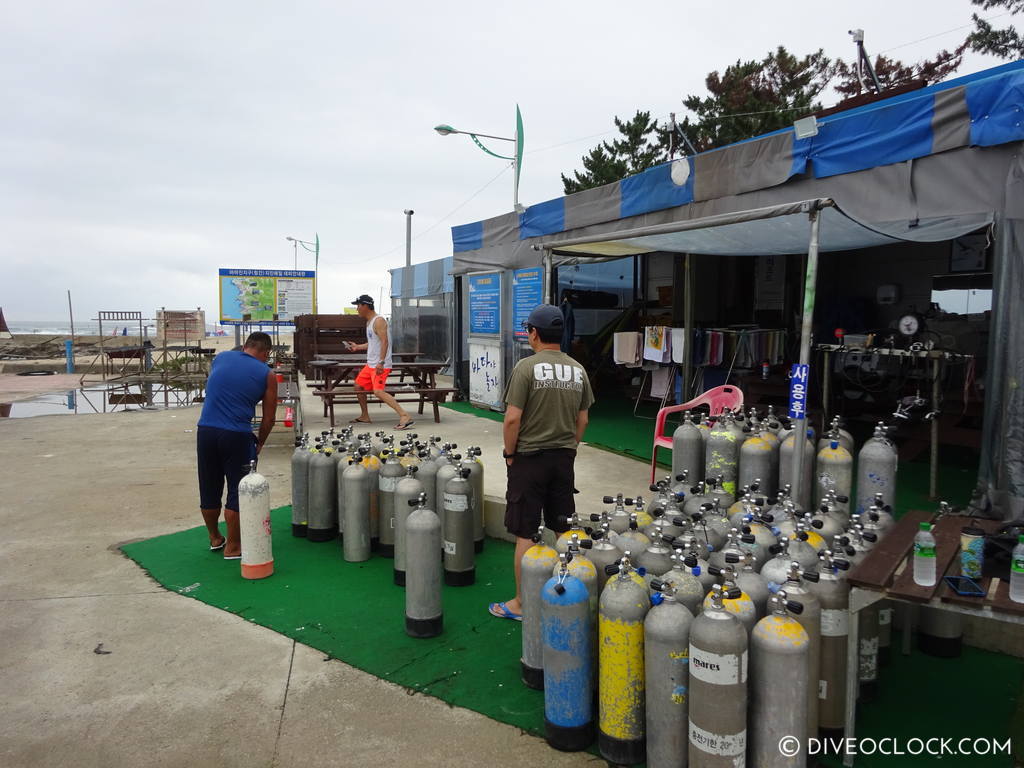 Pavilion Diver Center / 청간정 스쿠버 in Sokcho.
As soon as we showed up at the dive center I realized that it would be another wonderful new experience. The dive center is not affiliated with a dive organization although they have been diving for many years. They are no commercial flags, there is no fancy dive shop, it's a few containers used for storage, showering and seating. I asked for another regulator, one with an alternative air source (octopus) - well-organized don't get me wrong - just a different standard.
Maybe the boat was one of the most impressive parts of the dive center. This dive boat has two small platforms that lift you out of the water - how cool! We went out for one dive at the time, fully dressed and ready to jump in. With a bit of surface current and a bit more on the way down it was good to hold on to the mooring line all the way to the bottom.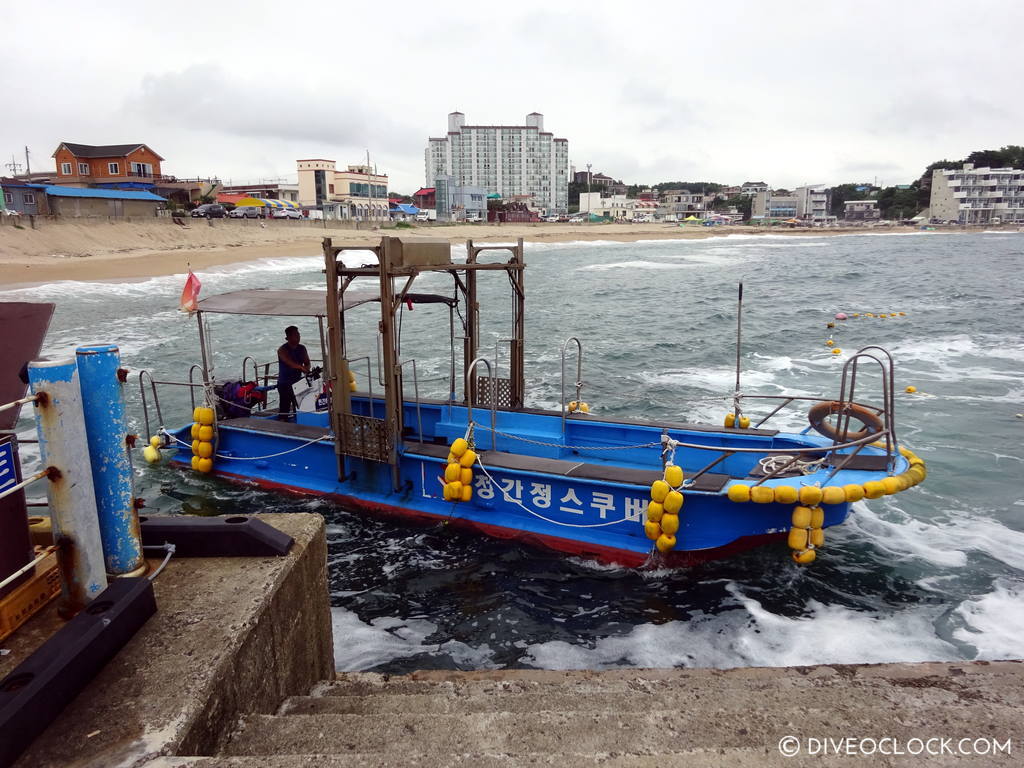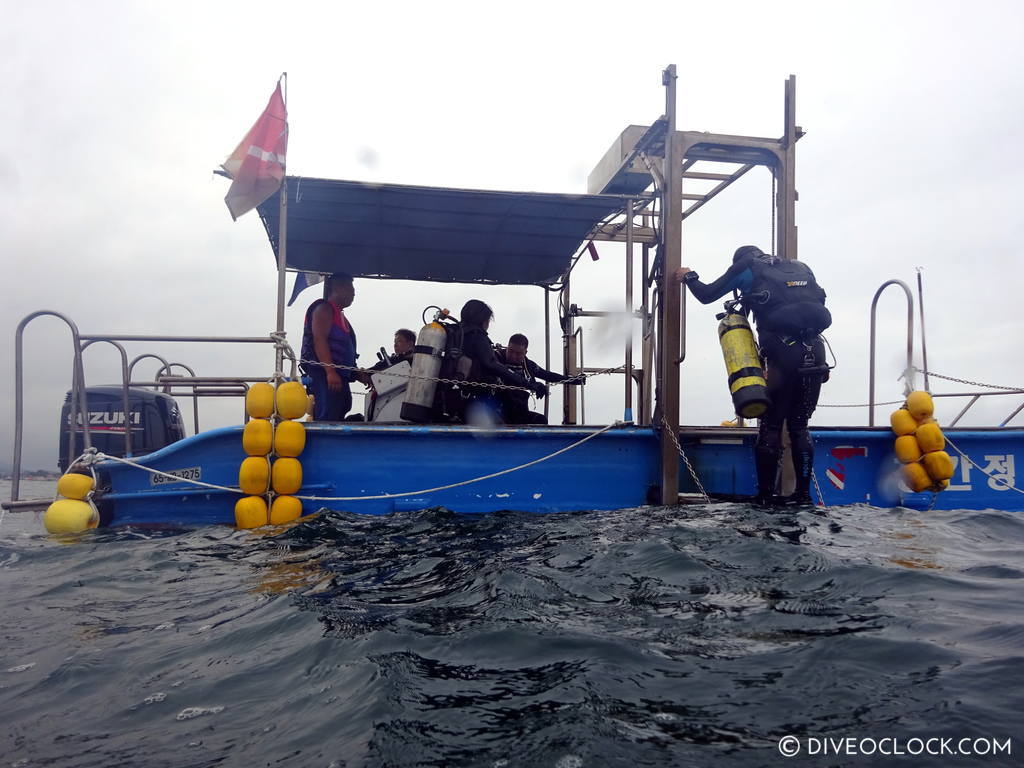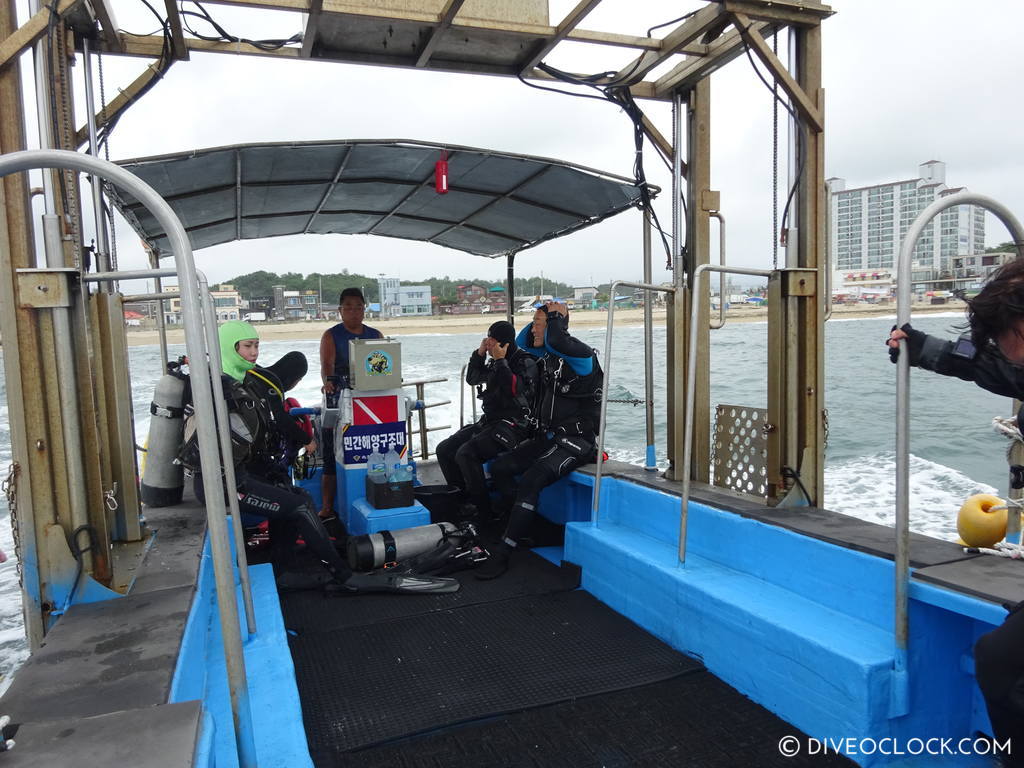 Boat diving in Sokcho with lift, South Korea.
Cheongganjeong's artificial reef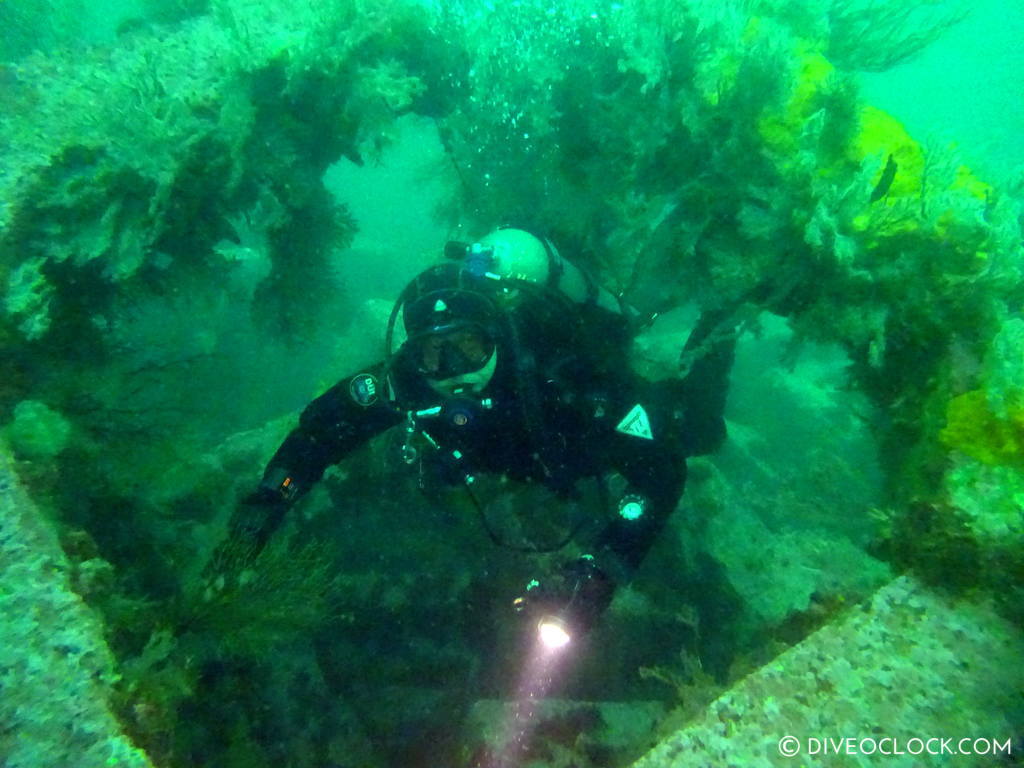 William diving through one of the reef blocks in Sokcho, South Korea
The artificial reef consists of wide concrete block frames, big enough to swim-through if not overgrown. As the area around the blocks is a flat sandy bottom it is no surprise marine life uses the blocks for some protection.
Many sea anemones, gorgonians and sea stars color the artificial reef. It's a lovely dive site, but the visibility was not so good unfortunately. Some photos of the dive you can find below.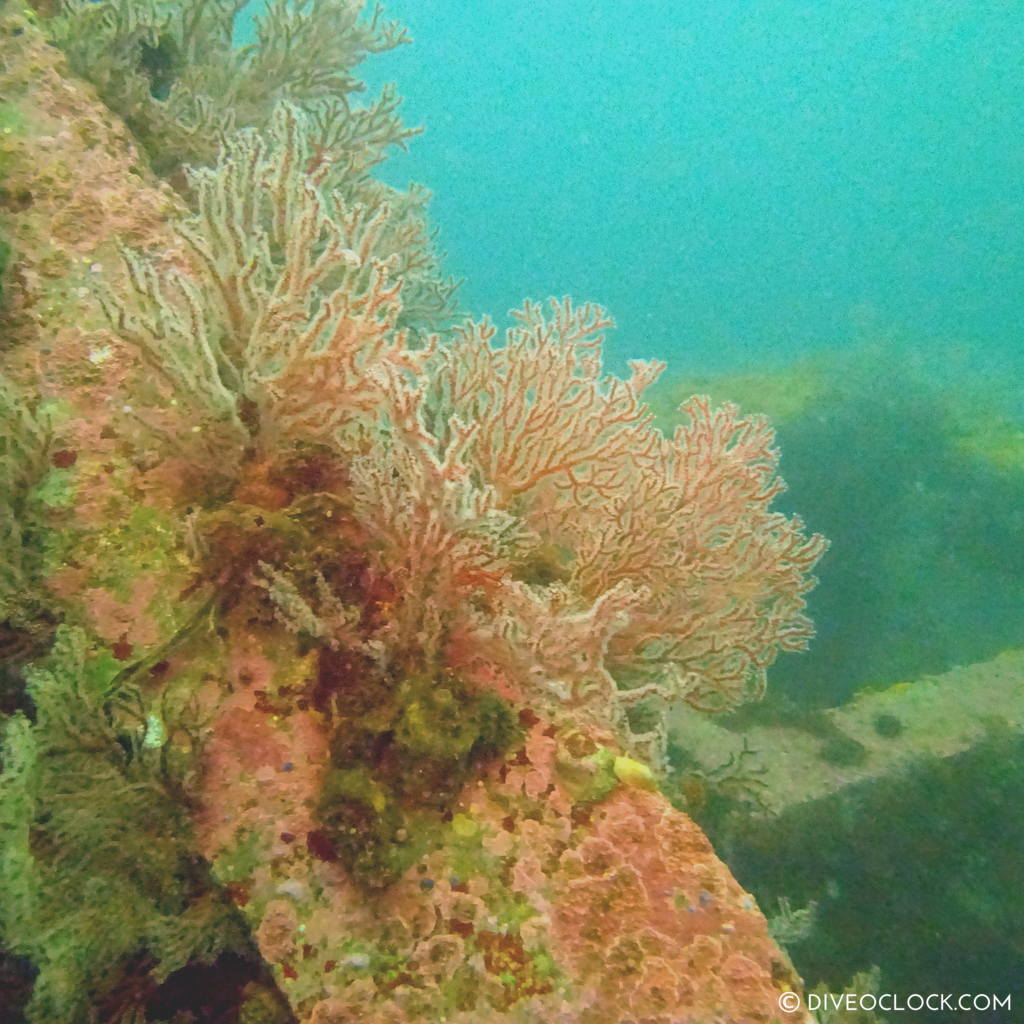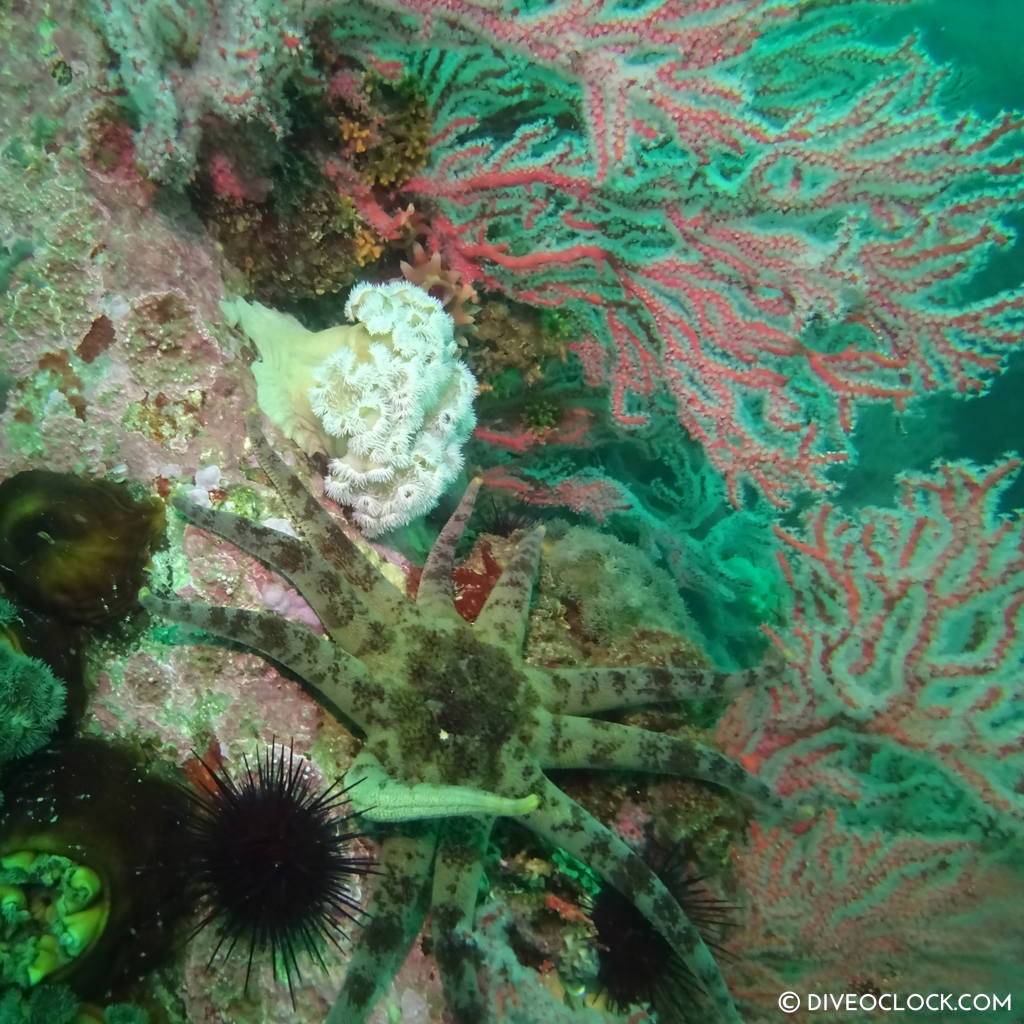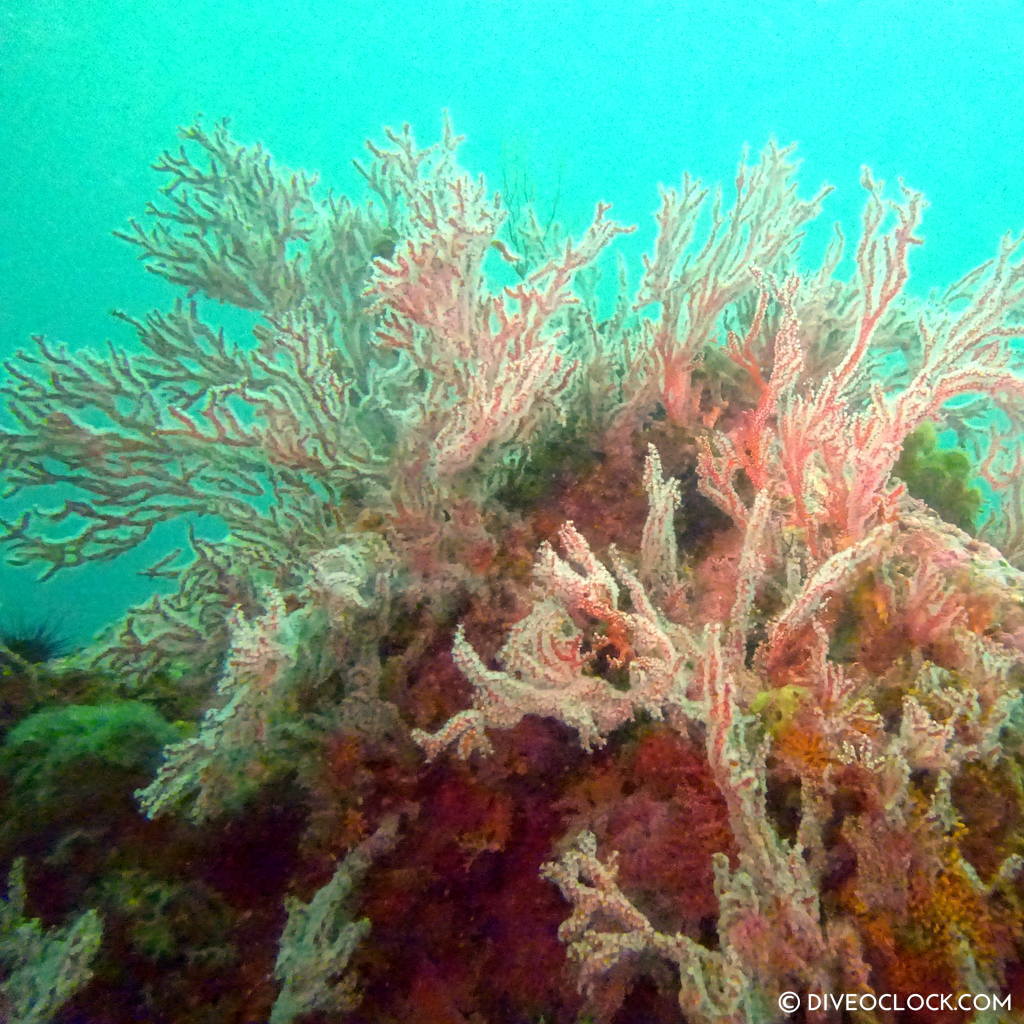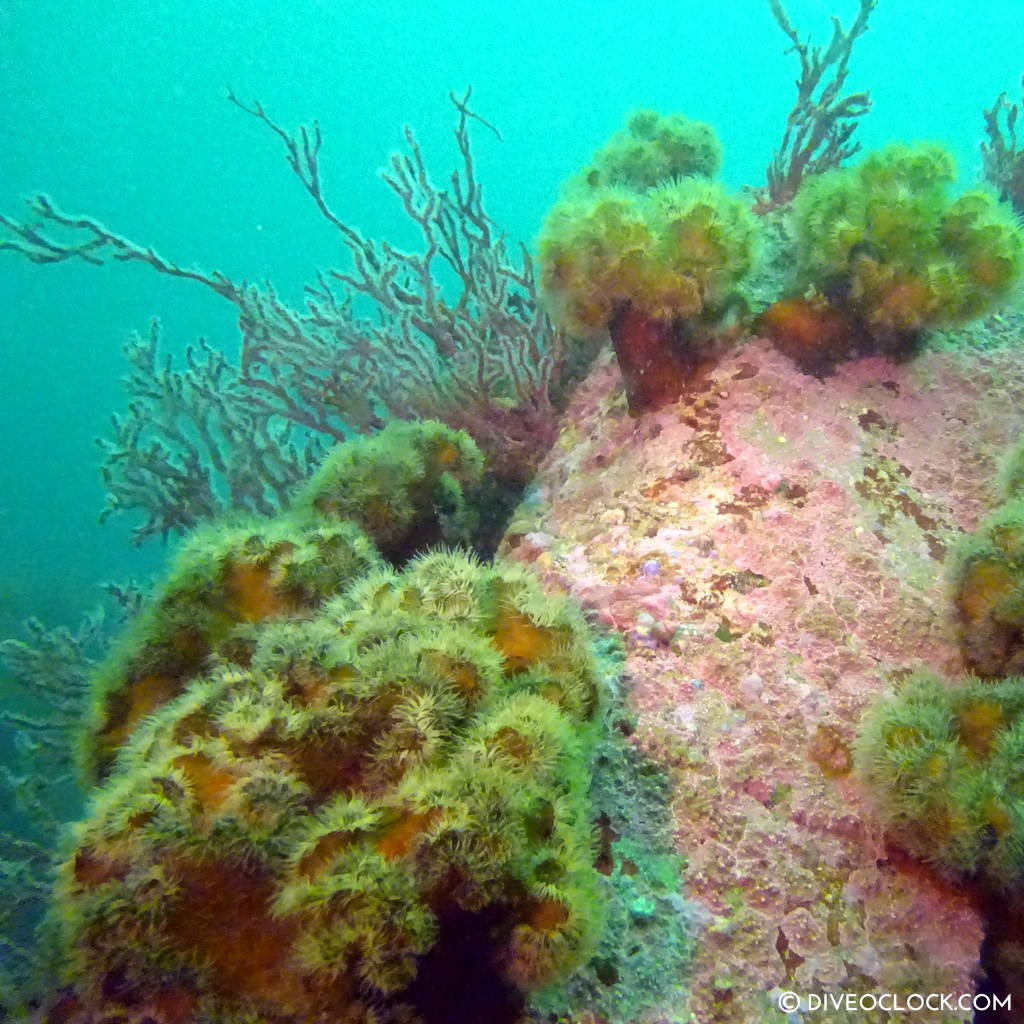 Cheongganjeong's artificial reef
Cheongganjeong's Daejidae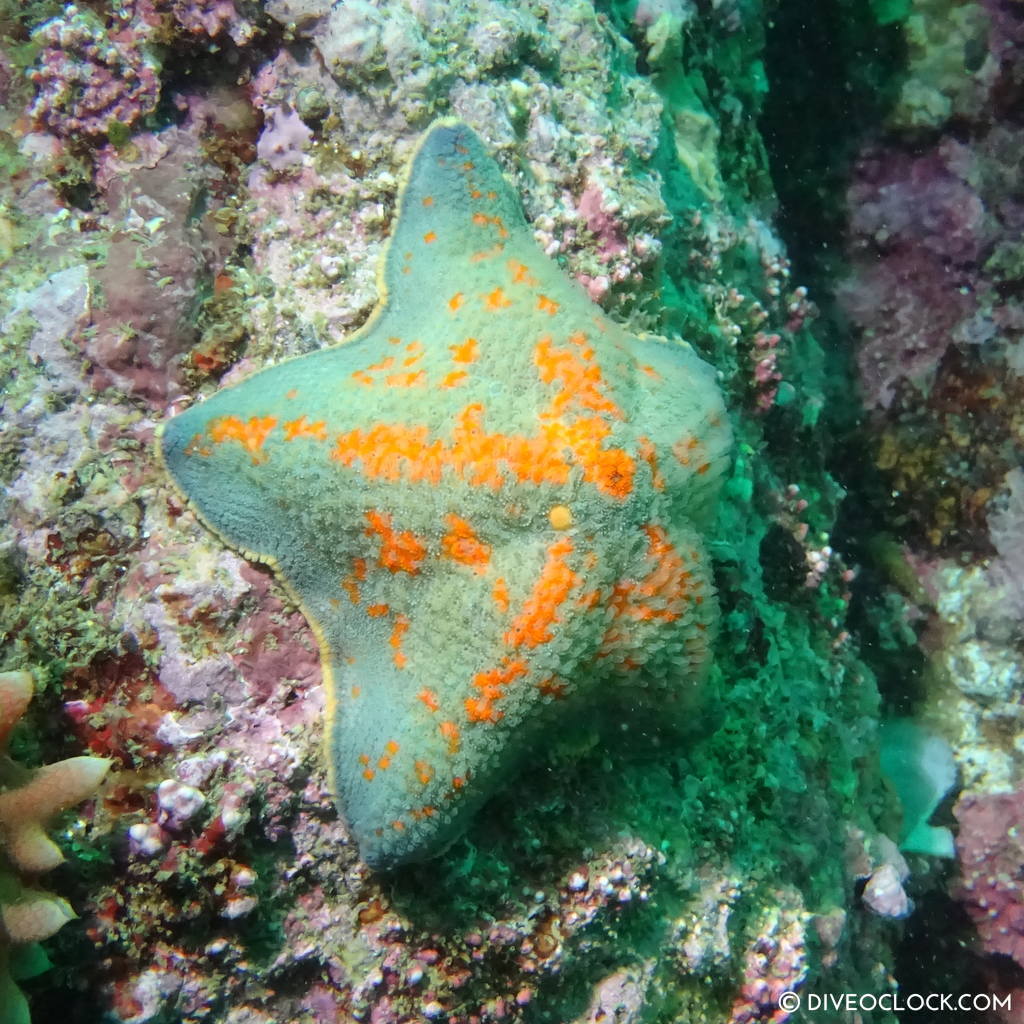 Beautiful sea star in Sokcho, South Korea
The second dive at Cheongganjeong was at a dive site called Daejidae. This dive site contains of a flat sandy bottom with some big rocks.
Many sea stars and sea anemones could be spotted as well as various beautiful nudibranch species and some shrimps. There were not a lot of fishes around and the ones around were not that colorful either. Still it was great to be able to dive and experience the East coast of South Korea and the diving culture around!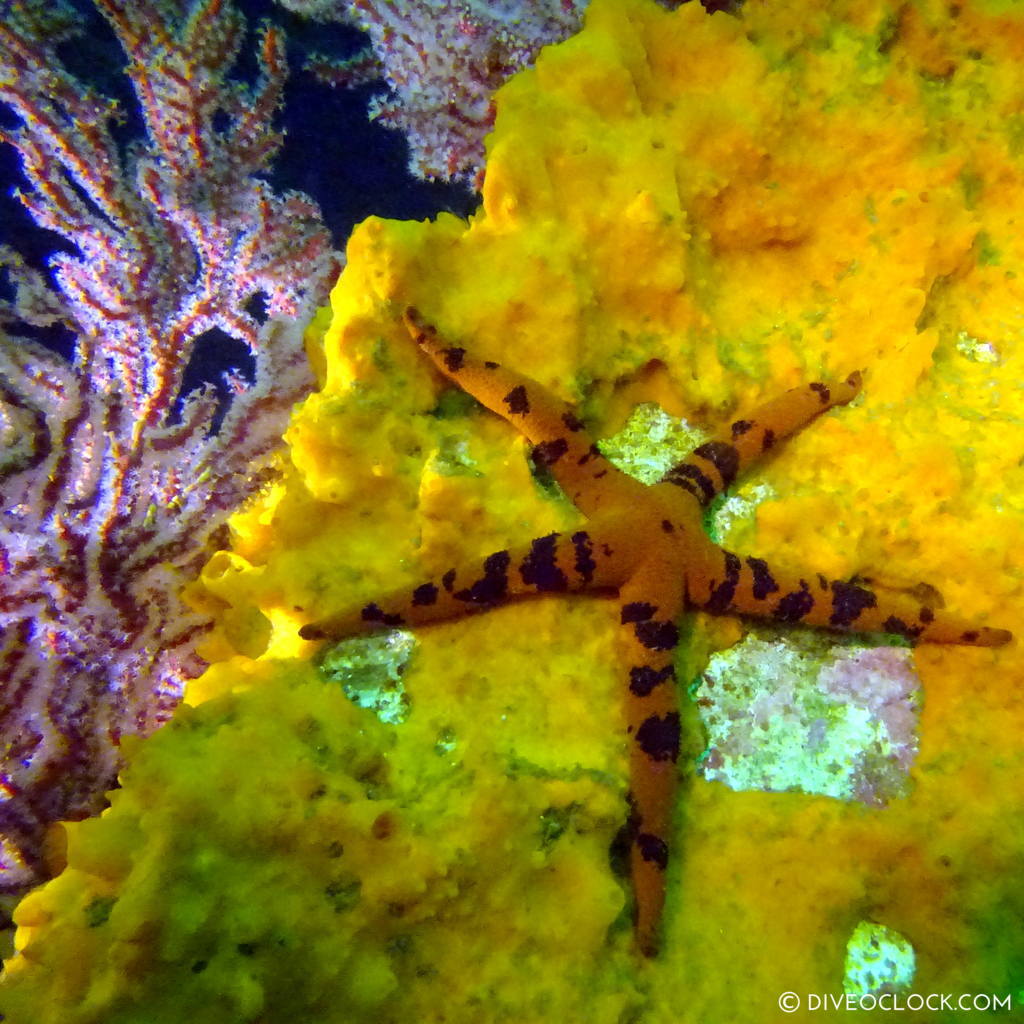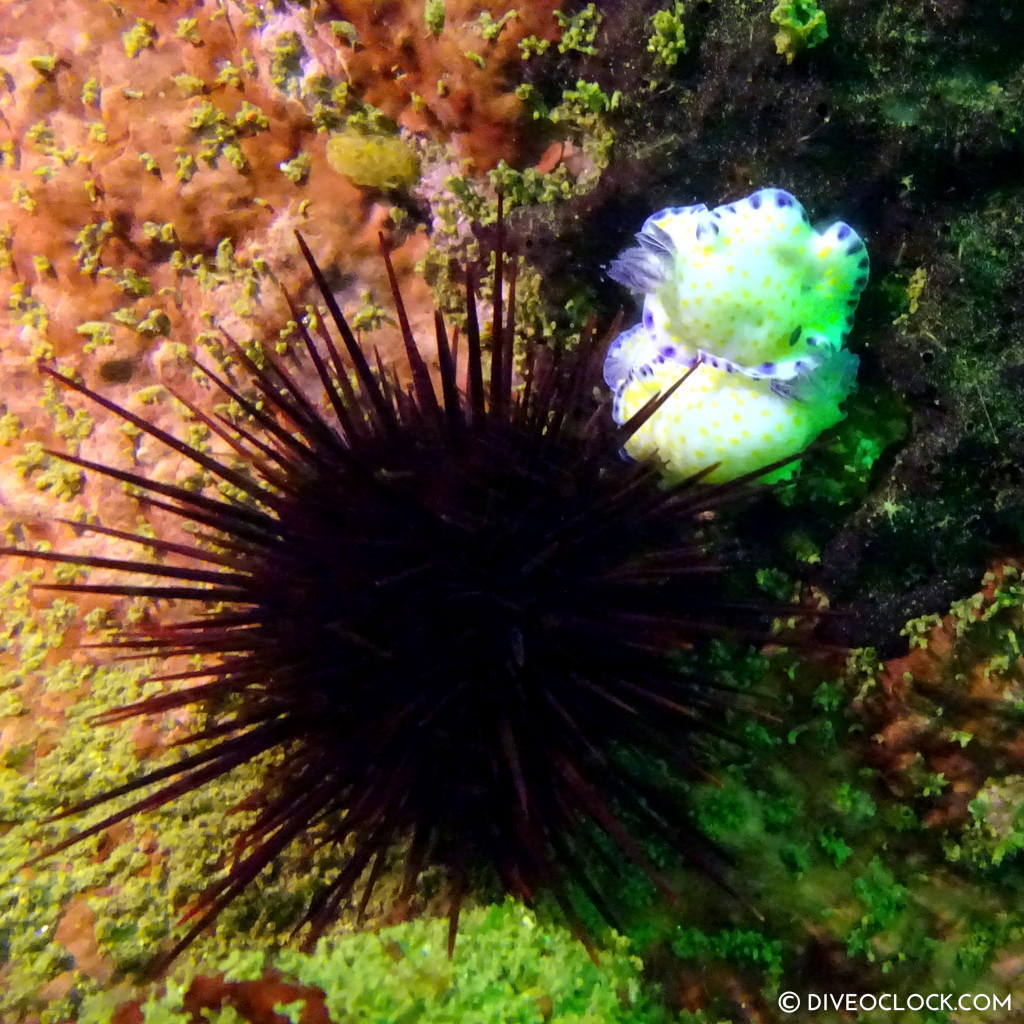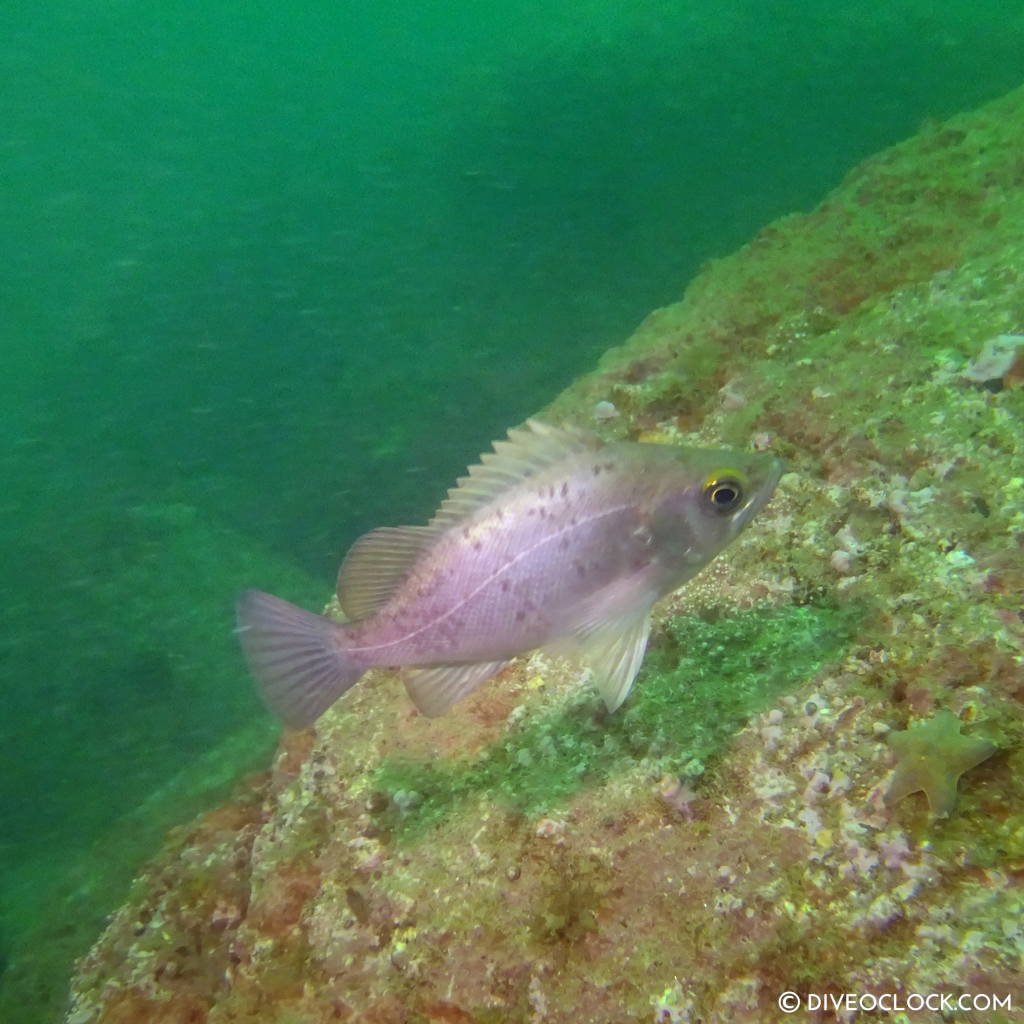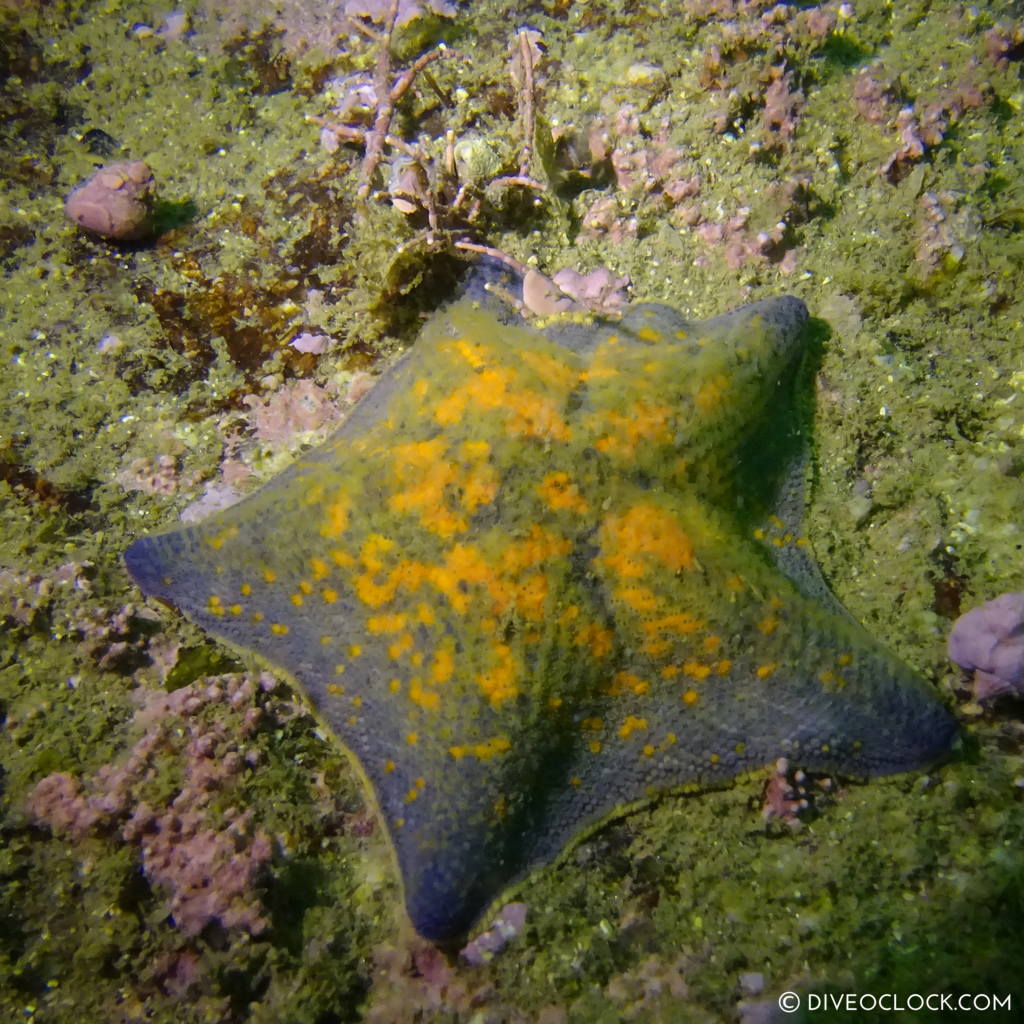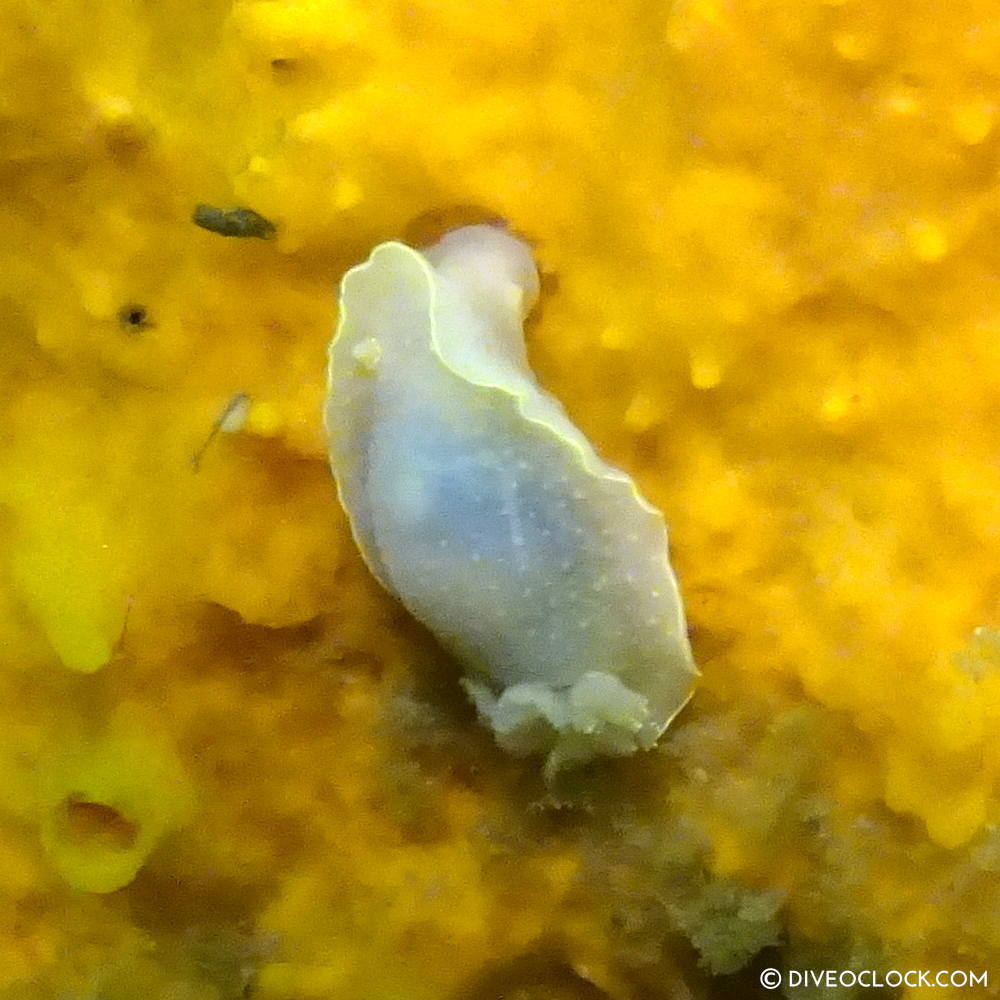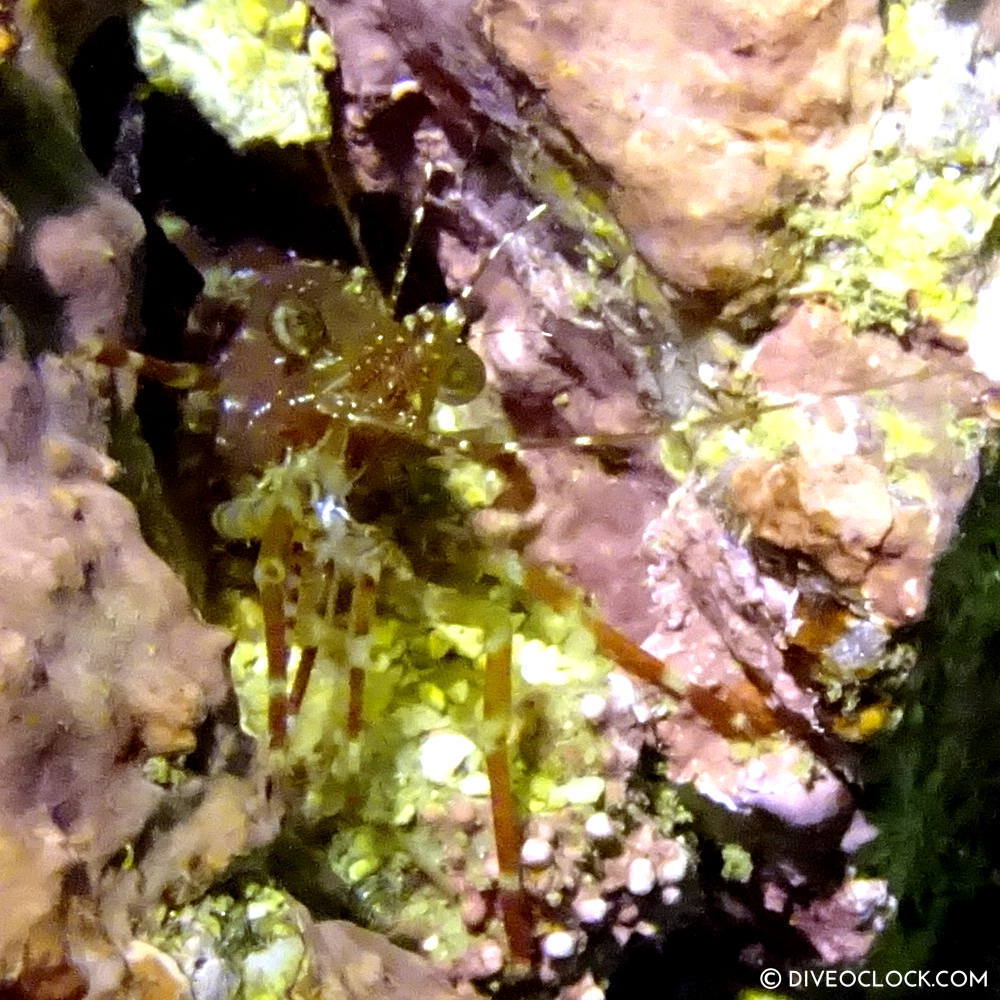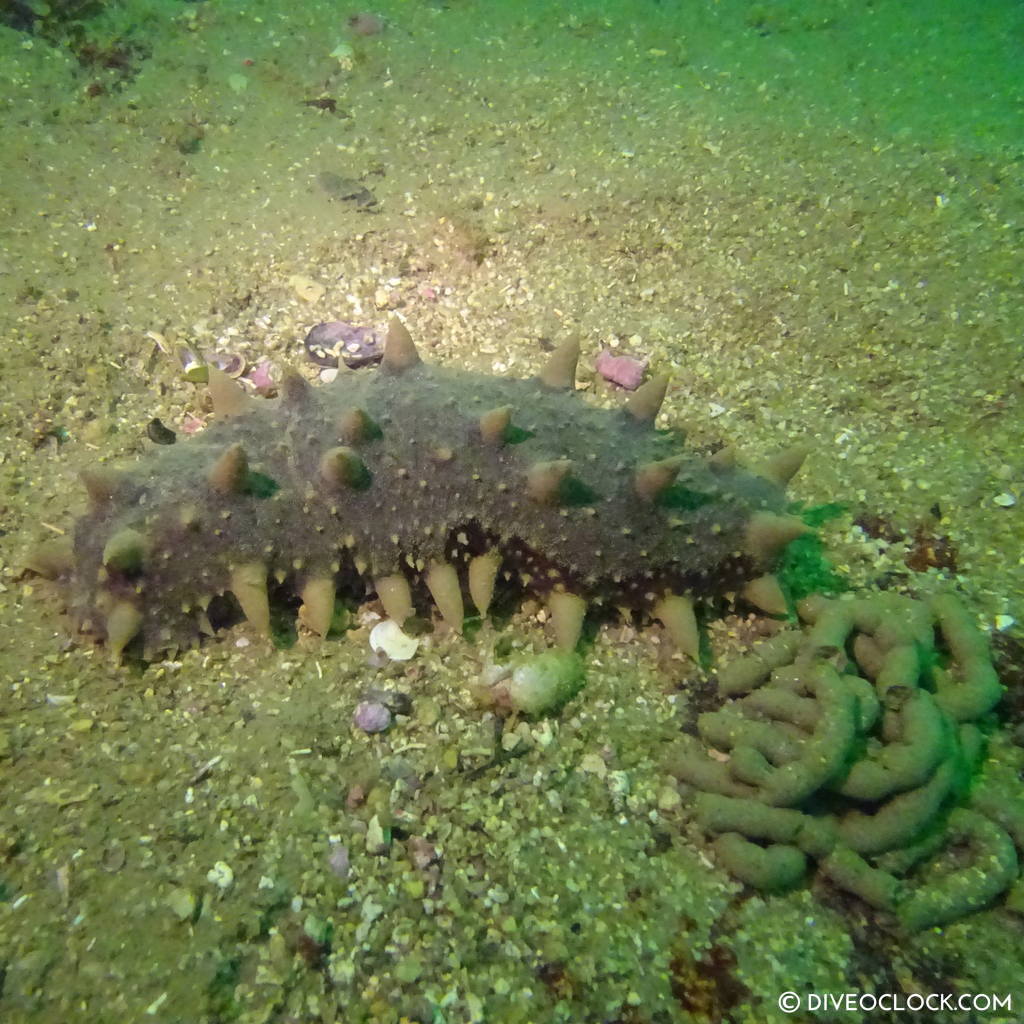 Seascape and marine life of Sokcho, South Korea
Comparing dive destinations
Bottom structure
Reef structure
Pelagic
(big stuff in the blue)
Big reef
(bigger stuff on the reef)
Macro
(small stuff on the reef)
Current
(stream)
Flat bottom with bumps/big rocks/pinnacles
Hard corals
(not moving)
Sharks
Turtles
Nudibranchs
(snails/slugs)
No current
Slope (going down slowly)
Soft corals
(moving)
Rays
Eels/snakes
Sea horses and pipe fish
Small
(you can easily swim against it)
Wall
(steep but you see the bottom)
Table-/fan-shape
Trevally/Jacks/Tuna
Groupers
Scorpion/frog fish
Medium
(you can swim against it for a little while/higher air consumption)
Drop off
(steep and you can't see the bottom)
Anemones
Barracudas
Lobsters/crabs
Octopus/squid
Strong/reef hooks
(you cannot swim against it)
Blue
(no reference)
Sponges
Sardines/herrings
Puffers
Shrimps
Pumping/washing machine/OMG/hold your regulator
(superman)
Sokcho Diving Compared with other Dive Locations
It's hard for me to compare Sokcho with another dive location specifically. Maybe Koh Rong in Cambodia comes closest, although the coral cover and marine diversity was a lot higher in Koh Rong. Of course bad visibility did not really help, but hey - it's nature!
Was it worth it? For me it was! Would I recommend it to others? If you live in the area, yes - if you are on a holiday / travelling around South Korea less than one month - no. Definitely go diving in Jeju!
More tips about South Korea and organizing diving I explained here: Jeju Island.
If you stay in Sokcho, the Terra Crab Farm is worth a quick visit.
If you like this post, hit that like button on our
Facebook page
and stay tuned for more!
Marlies Wolters
Founder of Dive O'Clock "It's dive o'clock somewhere!"

Share this page: