Can You Have Fun While Learning Technical Diving?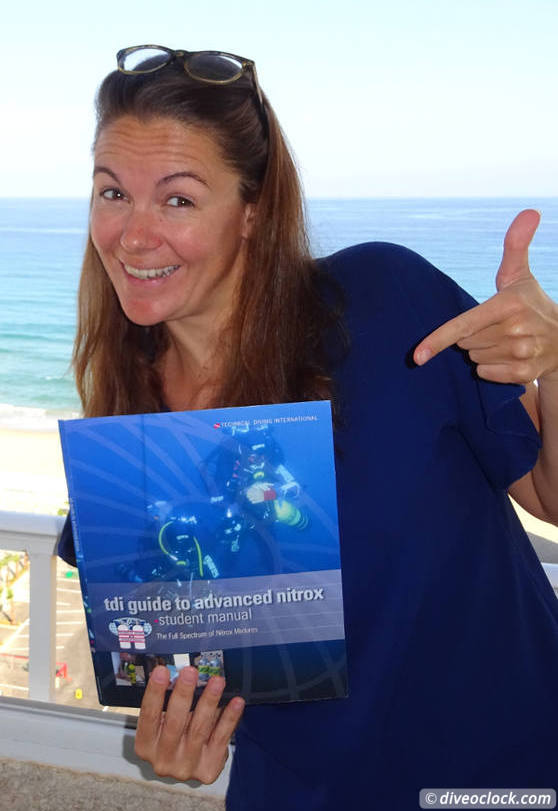 Having fun while learning tech diving!
It took me a year after my Intro to Tech to finally do my first technical diving course. As I never had the interest of diving deep or with a lot of gear it was a different but wonderful experience. I was surprised how much I liked it. Discover why.
Did I say that out loud? Not interested in diving deep or with a lot of gear? YES, I did! As you might know my favourite type of diving is shallow and colorful reef diving while taking pictures. The kind of diving with my 1 mm wetsuit or diveskin and diving as light as possible. Watching corals, fish and searching for the tiniest nudibranch is what I truly love about diving. No wreck, no deep or dark diving for me - just going slow with the flow and observe marine life. So...
Why on earth doing a technical diving course?!
Technical diving is different, or better said, the mindset of technical divers is different and very interesting. One of the main differences is to make decompression stops instead of safety stops (must do versus can do).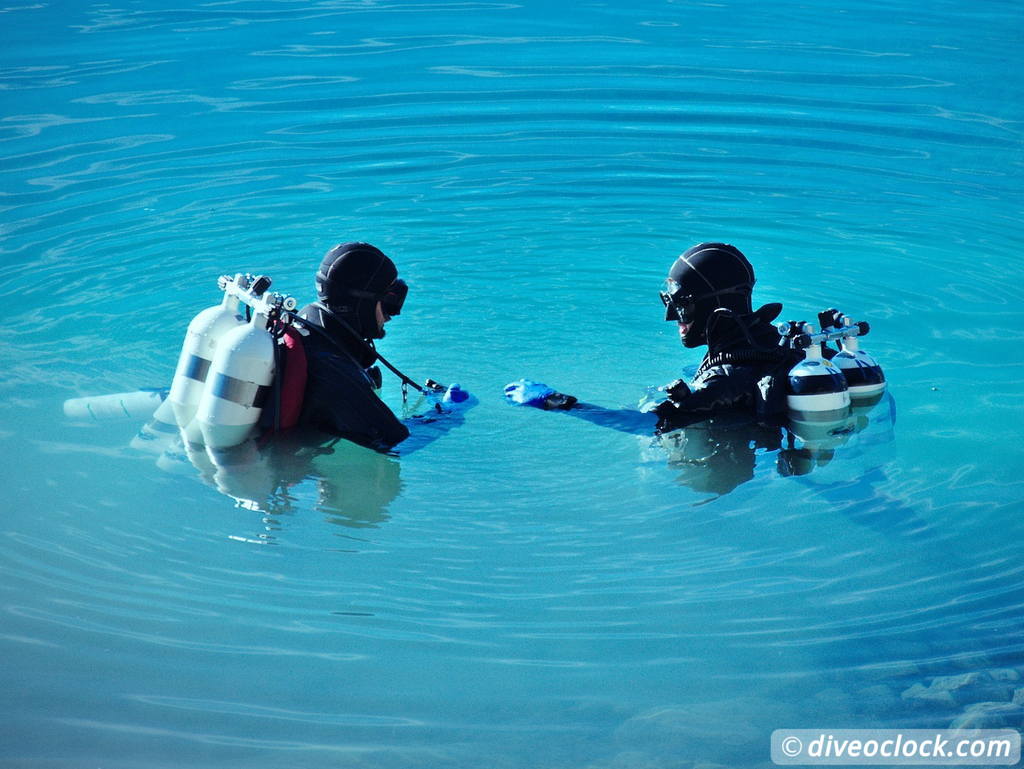 Two tanks, two regs, more procedures, more fun?
Without having direct access to the surface, because of the risk of decompression illness, it is of high importance to be in control at all times, there is no room for accidents.
The question if technical divers are better divers than recreational divers is often a subject of discussion for many divers. For sure there are more things to take in consideration with the intention to exceed decompression limits and maybe even cave diving in the long run. It is diving at a different level without a doubt.
Focusing on different things above and below
Instead of using tools to explore nature around you, you focus on exploring the elements of nature with the help of tools. The whole idea of just observing what is below changes into making a plan and going over it thoroughly. From watching your air and no decompression limits to calculating the exact plan beforehand and sticking to it.
Taking a technical diving course for me was all about learning more about the psychics and gas laws, the theory behind it. To get a better understanding of SCUBA diving in general.
In a Divemaster or dive instructor course you already learn a lot about the physics of diving. By doing a technical diving course I was hoping for more in-depth knowledge about the science of diving.
About one year after my Introduction to technical diving on Bonaire, I finally got the time to continue and learn more about it. Also, or maybe even more importantly, I found a great instructor and a high quality dive center, one of the most important things when signing up for a dive course.
TDI Advanced Nitrox in La Manga
There are various entry-level technical diving courses and various organizations that offer them. After doing all my dive courses with PADI I just wanted to explore another organization and experience possible differences.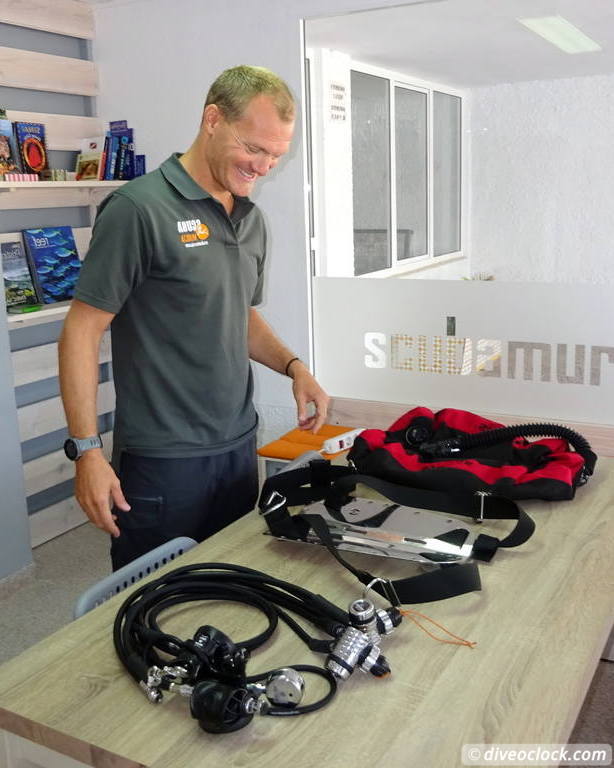 Ed explaining about setting-up a dive harness.
TDI (Technical Diving International) is the largest and most widely recognized technical diver training organization. Their entry-level certification is Advanced Nitrox (up to 100% oxygen and down to 40 meters / 130 foot) followed by Decompression Procedures. As safety stops already take too long in my opinion and I have less fun when diving really deep the TDI Advanced Nitrox course was the perfect fit for me.
When staying in La Manga - Spain I found SCUBA Murcia, owned by Joanna and Ed Smith who are very knowledgeable, super friendly and easy going. They have a dive center back in the UK and have just recently opened their store in one of the best dive areas of Europe: Islas Hormigas Marine Reserve!
As I was already fun diving with them and there for a month it was an easy step to sign up for the course with them. As mentioned before my intention for this course had nothing to do with learning to dive deeper within safety standards, so I guess it was interesting for my tech dive instructor Ed as well...
The theory of the TDI Advanced Nitrox course
What I really love about the theory of the TDI Advanced Nitrox course is that you learn HOW. You learn to calculate partial pressure of gasses, how much air you use exactly, equivalent air depth, oxygen expose limits and more interesting parts of diving. The theory is a lot more technical with more insights on physical laws than recreational diving, very interesting!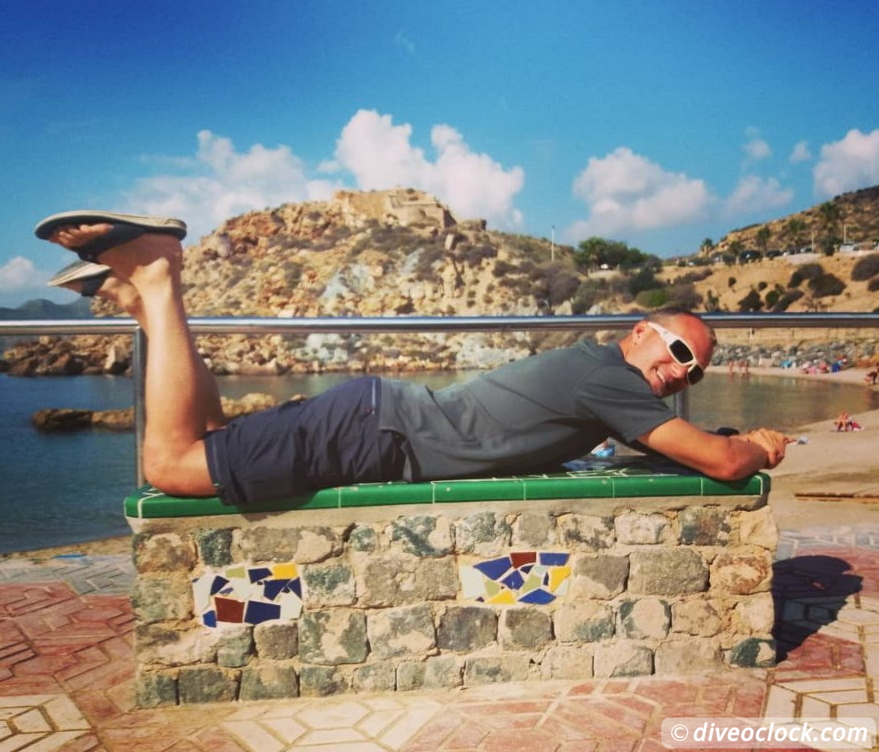 Demonstration of different types of fin kicks.
To compare: If you have done the 'normal' Nitrox course you can dive with a gas mixture with up to 40% oxygen. One of the most interesting parts of the theory is that you learn how to calculate things yourself, instead of reading it off a table. And, the funny thing is, this makes it a lot easier to understand what is actually happening!
The equipment of the TDI Advanced Nitrox course
Diving with two (or more) tanks, especially 15 liter tanks, looks tough and I think it is. Gearing up, entering the water (especially from an inflatable zodiac boat) and exiting the water with all the heavy stuff is not so easy.
Of course you will get used to it by practicing it a lot but it was definitely not my favourite part of the course. Diving in my dry suit with seals too wide and feet too big to control my fin kick did not really help here either, although it made me laugh - I did not use it for years. Changing to a wetsuit made the experience a lot more pleasant although the water temperature below 30 m / 100 ft was pretty cold.
Practicing technical diving skills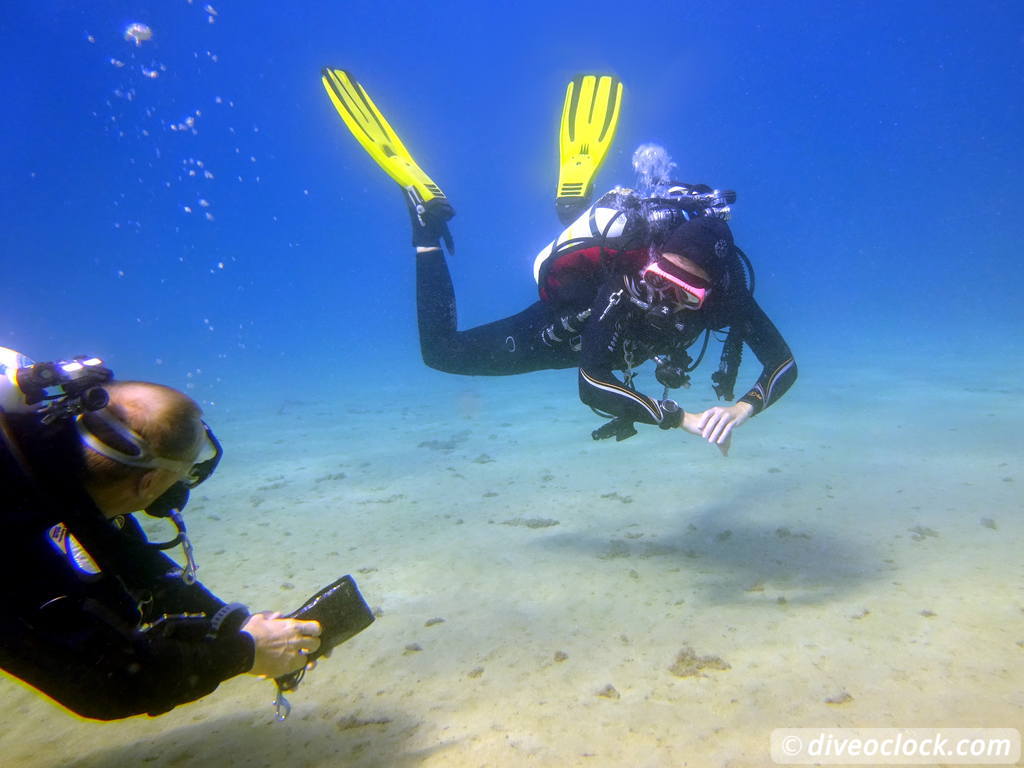 Practicing new dive skills at shallow depth.
Once you are underwater you make yourself and the 'heavy' stuff neutrally buoyant and all the fun is back!
That it is hard to loose a habit definitely comes to life when you have been teaching recreational diving for years. When you suddenly are the student again and need to unlearn things you used to teach kind of messes up your brain. This is something I absolutely loved about the course: Pre-dive safety check (START drill), hand signals (how much air) and other procedures are different for a good reason.
The funniest and also the hardest skill for me was swimming backwards while preforming a frog kick. It seemed so easy when Ed demonstrated it but every time I tried I failed and busted out laughing - filling up my mask - making me laugh even harder.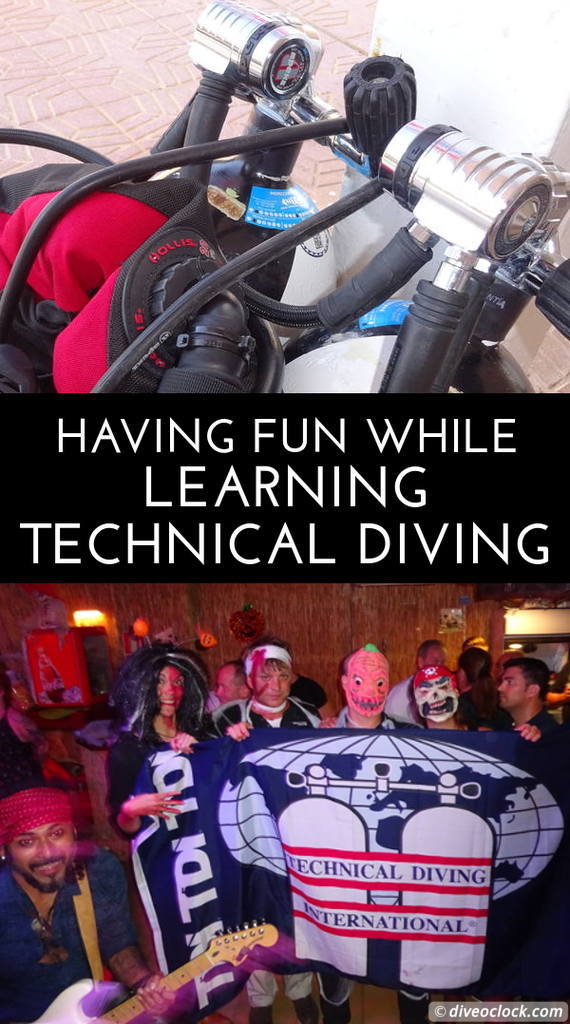 Getting certified for technical diving
After two training days in the classroom, shallow and deep water Ed signed me off as an Advanced Nitrox diver of TDI. That day it was Halloween, so I had a double party as I got certified to enter the dark side. Later one of my friends pointed out this is only for rebreather divers within the technical diving world ... still I have a lot to learn.
Doing a dive course with another dive organization as well as being the student instead of the instructor was even more exhilarating. New skills, new drills, different equipment and procedures makes you think about and reflect your own dive habits. Ed and Joanna, who helped out a lot, are a great team and they taught me so many things - at slow pace, with high costumer service and lot of laughs.
Thank you Ed and Joanna from SCUBA Murcia, Spain!
Would you like to try technical diving one day? Share your thoughts below!
If you like this post, hit that like button on our
Facebook page
and stay tuned for more!
Marlies Wolters
Founder of Dive O'Clock "It's dive o'clock somewhere!"

Share this page: