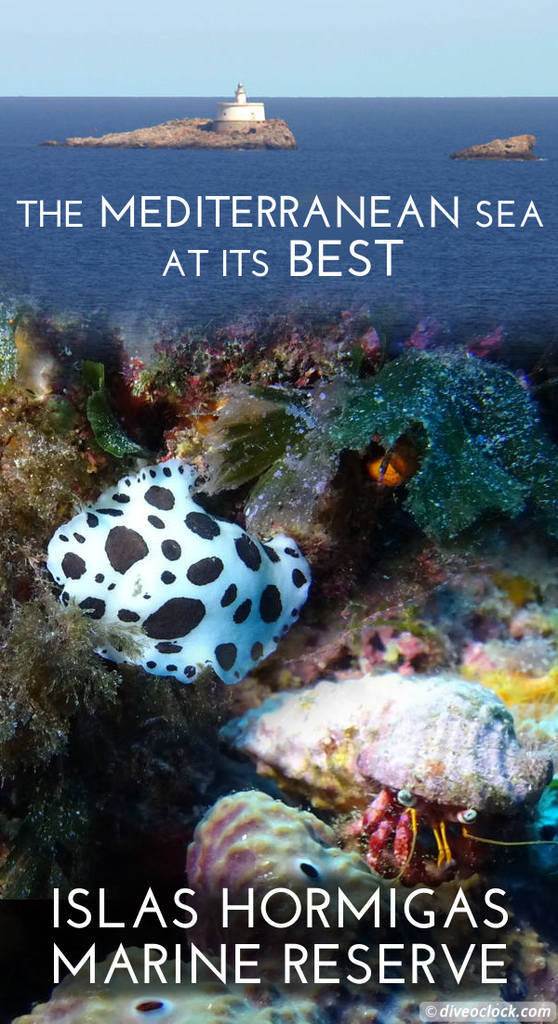 Islas Hormigas Marine Reserve - Top Mediterranean Dive Spot (Spain)
Arguably this is one of the best dive areas of Europe, for sure the best of Spain. This spot has wrecks, deep drop offs, exciting underwater pinnacles and large quantities of fish and mammals including Mola Mola's. Islas Hormigas marine park, or the Cabo de Palos / La Manga area in Murcia, has it all.
When searching for a good dive area to stay for a month, so no exclusive destinations, a few things became clear. For the months October and November Italy is not the best because of the rainfall. Spain has an incredible amount of sunny days in this period and I found out about the Islas Hormigas Marine Reverse. Islas Hormigas stands out because of fish bait balls and pelagic in this period. At the Visitor center in Cabo de Palos you can learn all about this special area in the Mediterranean Sea.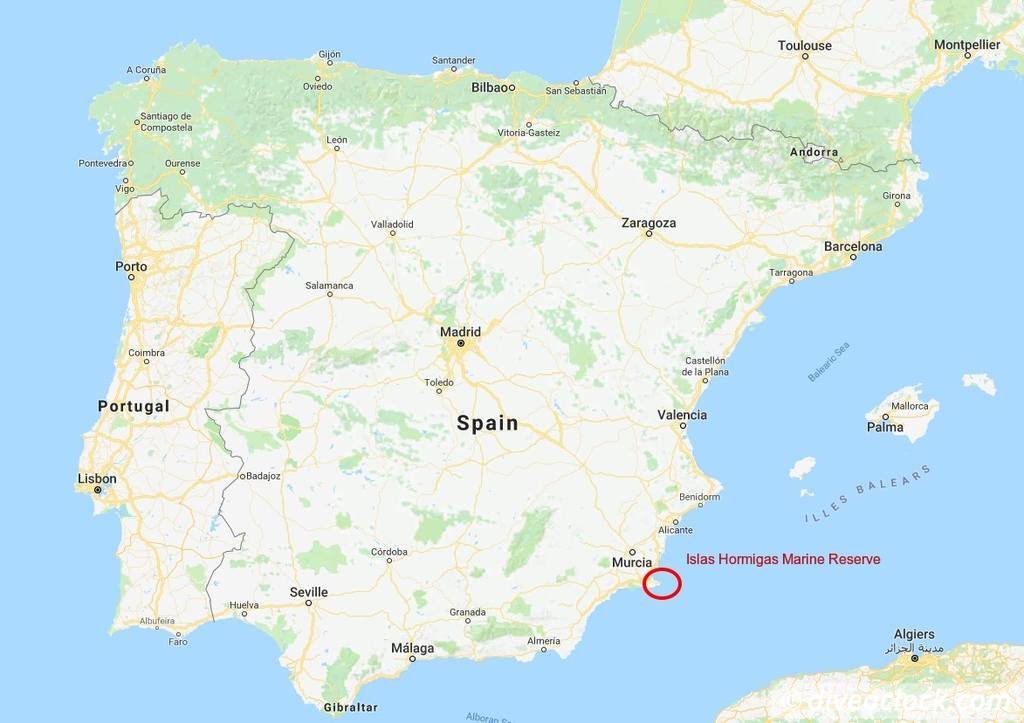 Islas Hormigas Marine Park on Map.
Country
Spain
Dive area name
Mediterranean Sea, Murcia, Islas Hormigas Marine Reserve
Dive center
SCUBA Murcia
Famous for
Deep wrecks, strong currents, underwater pinnacles, healthy reef and lots of fish
Price
Single boat dive with tank and weights: 40 Euro. Full set of equipment 30 Euro, dive computer 10 Euro. Discounts on multiple dives.
It includes transfer by car to boat and drinking water / hot tea and sweets on board.

Hotel recommendation
Hotel Entremares Termas Carthaginesas
How diving works in Cabo de Palos and the Islas Hormigas marine reserve area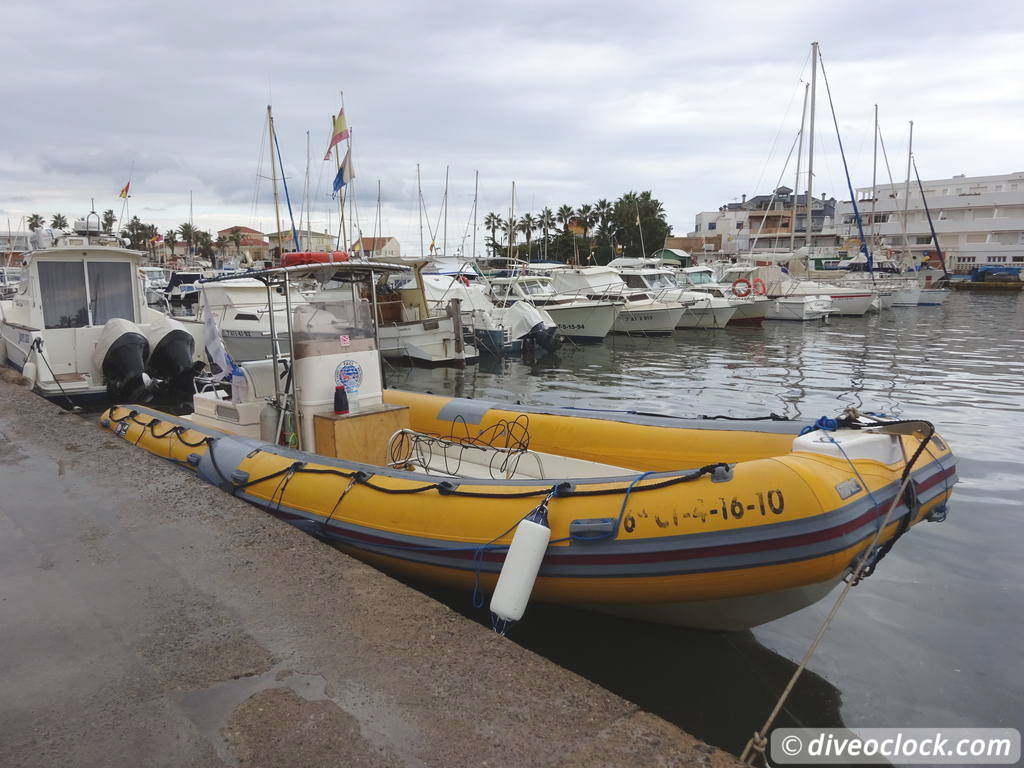 Diving with an inflatable zodiac boat in Cabo de Palos.
When you are diving in a marine park there are often rules that apply to keep it healthy. The main rules are there to protect marine life from stress caused by us in various ways. At the Islas Hormigas marine park there are rules like maximum one boat per dive site, a maximum dive time of 60 minutes and not diving at the center (the actual Hormigas islands) without a special (research) licence.
By Spanish law you are obliged to have a separate dive insurance. It costs about 5 euro per day to buy this with DAN. If you are already insured for the same things through your regular health insurance you still need to buy this dive insurance.
Printed proof of your dive insurance as well as your ID (not a copy!) and your dive certification card are being taken on the boat every dive!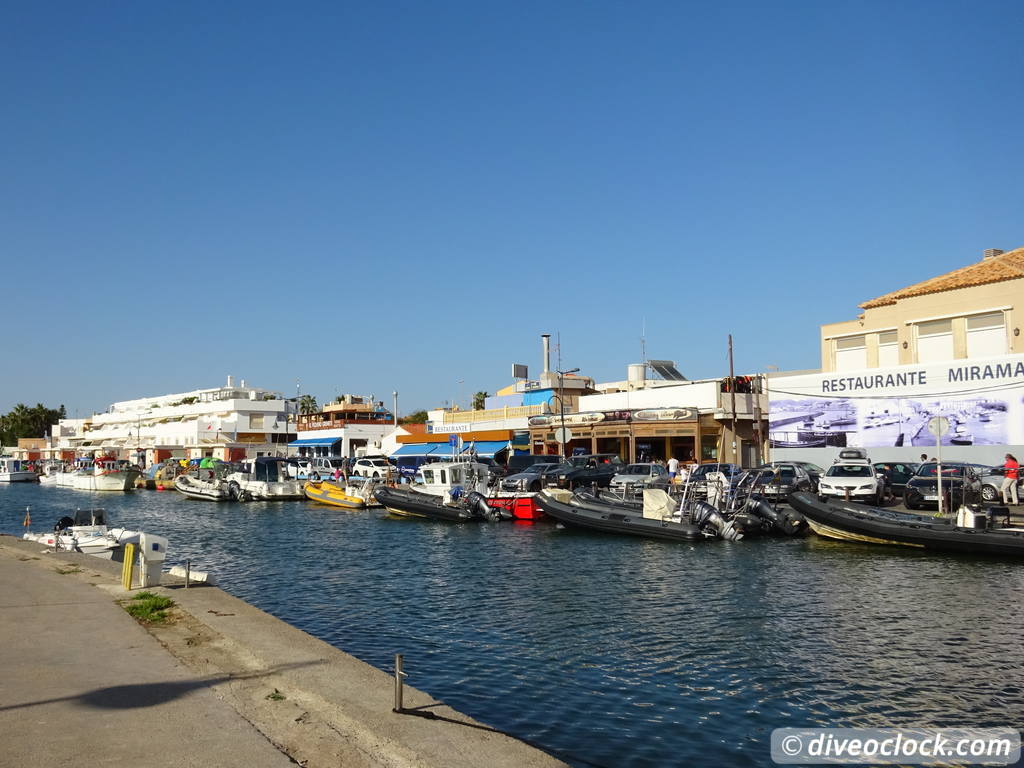 The harbour of Cabo de Palos with a lot of restaurants.
Most dive centers operate with an inflatable boat, a zodiac, where you sit on the tube while going to the dive site. It will take not more than 20 minutes to reach any dive site in the area, it can be just a bit bumpy with waves.
At Cabo de Palos it is normal to go out for one dive and come back to change tanks before going for the second. Most do not seem to offer a break long enough to drink some coffee, just reload and go. Depending on the season you can join two separate morning dives or even afternoon dives (after Siesta, many shops close for a long period during the day!).
Because of the marine park the dive centers have created a schedule regarding times and dive sites they go. They all go at different times to specific spots, so make sure to check this beforehand.
Diving Islas Hormigas Marine Park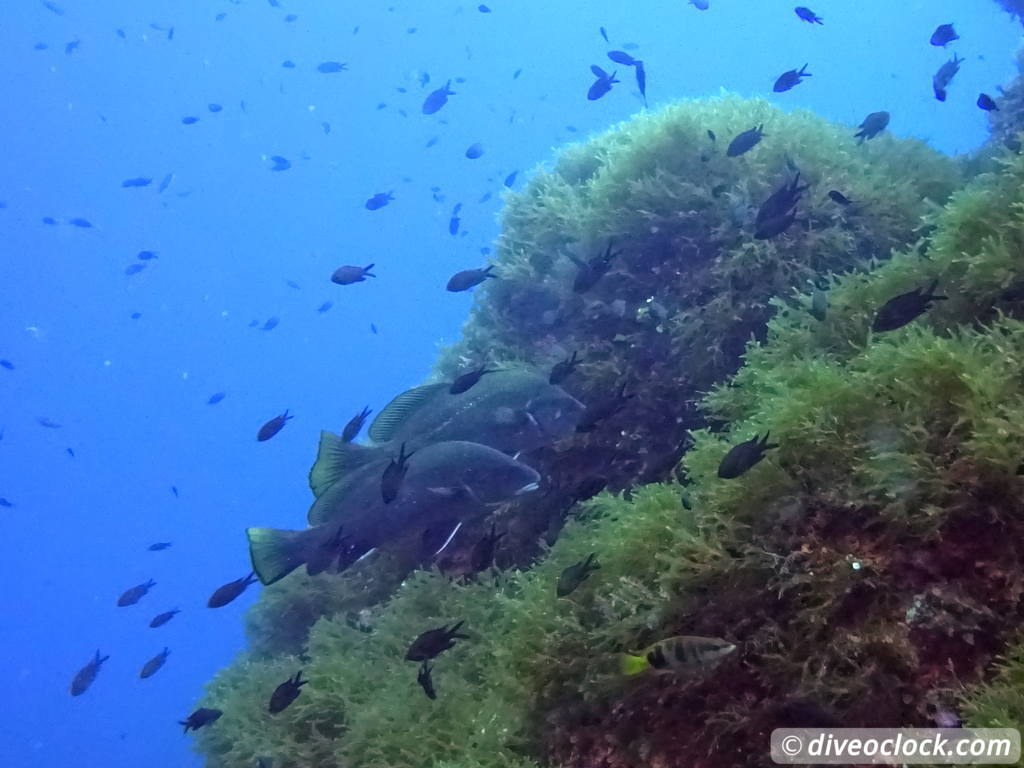 Groupers and small fish at Bajo de Dentro
There are a few different dive sites within the Islas Hormigas marine park. Most of them are underwater pinnacles that start below the surface with all kinds of currents. The maximum depth of the dive sites in the marine park is about 40 meters / 130 ft. To compare, the deepest wreck around is the SS Stanfield at 50 to 60 meters / 160 to 200 ft (for technical divers only).
We had a couple of days with waves and strong surface currents, choppy and pretty tough to enter. When you roll backwards off the boat you need to keep holding the line, all the way to the top of the pinnacle at 5 m / 15 ft or deeper. Jumping in while keep holding the line I have only done at Sec Pate in Guadeloupe, also with 'extreme' currents. When you ascent you must also hold the line all the way until you are back at the boat.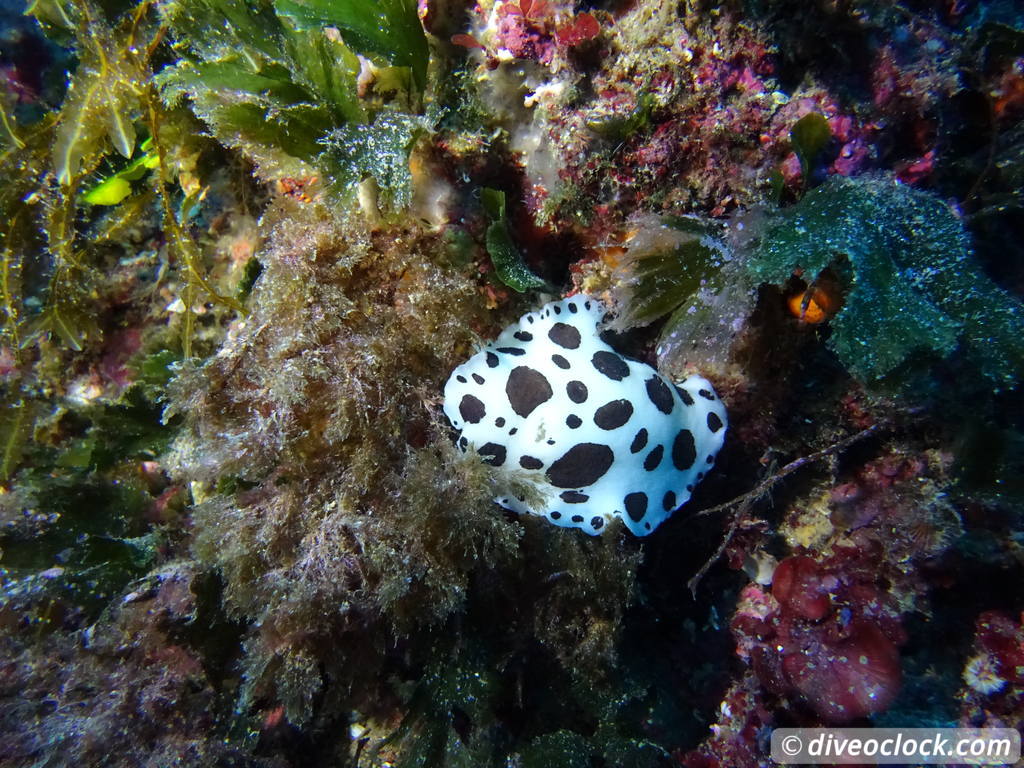 Dorid nudibranch (Peltodoris atromaculata) at Bajo de Dentro
Without these currents there was not so much life down there, so you better enjoy it! Bajo de Dentro and Piles II are two of the best dive sites within the marine park. Especially Bajo de Dentro I loved, to swim around the rock formations, while looking at all the fish in the blue. Schools of barracudas, Jacks and Dentex were passing by, so beautiful! There is a deep spot at (+30 m / 100 ft) Bajo de Dentro calles Las agujas / the needles, the yellow and purple polyps and sponges are amazing here.
As this is not tropical water, there is no coral reef but you can find corals on the reef. The reef mainly exists of rocks overgrown with various green and brown plants like sea weed and grass. Gorgonians are the ones that stick out being beautifully shaped and colorful.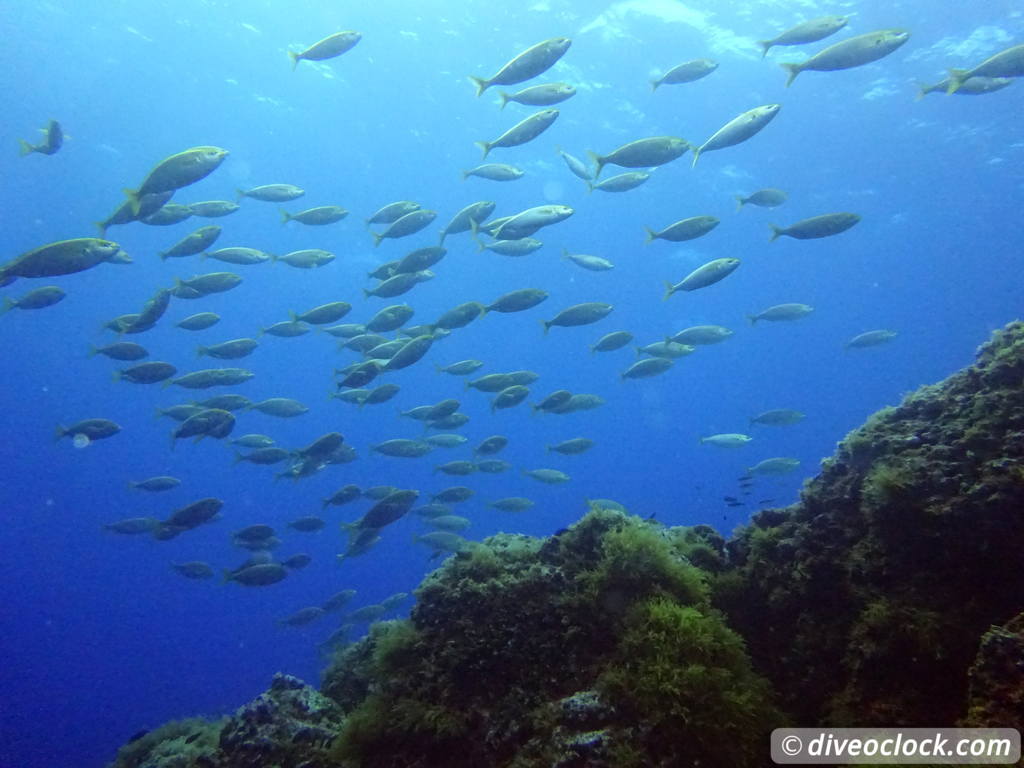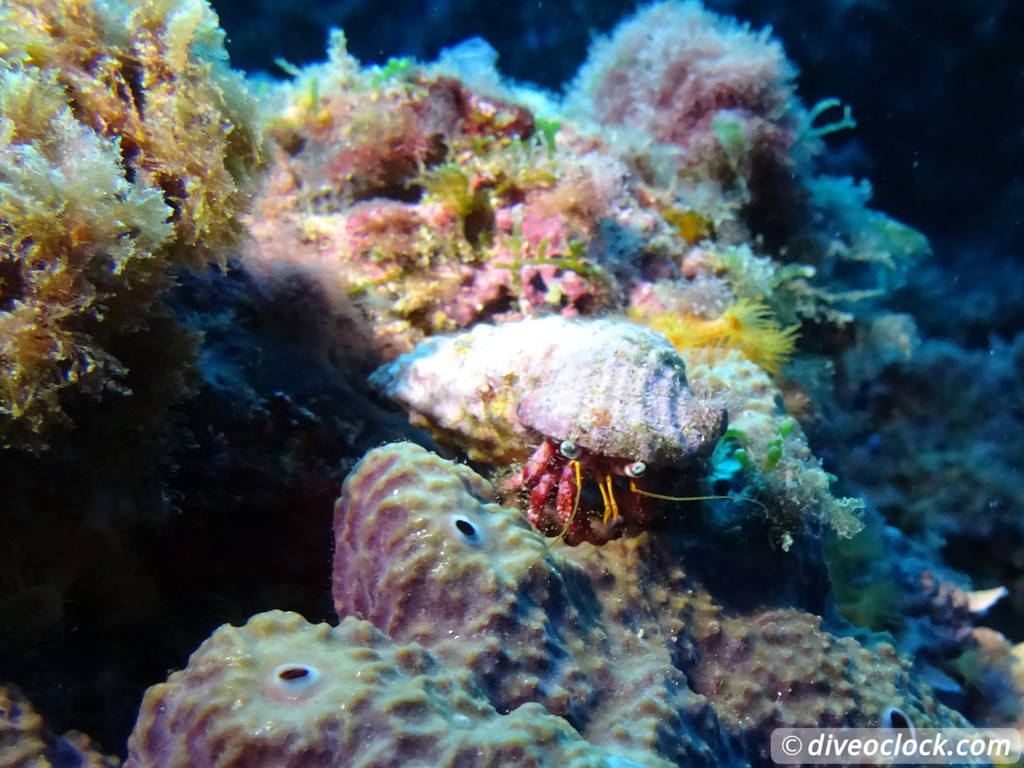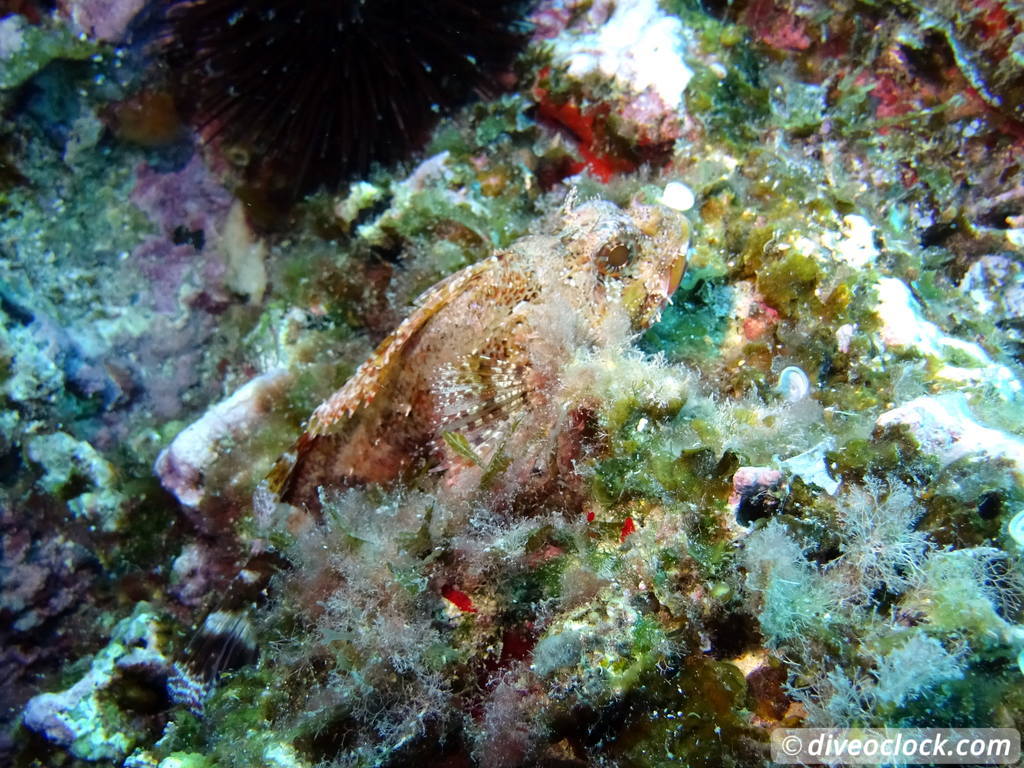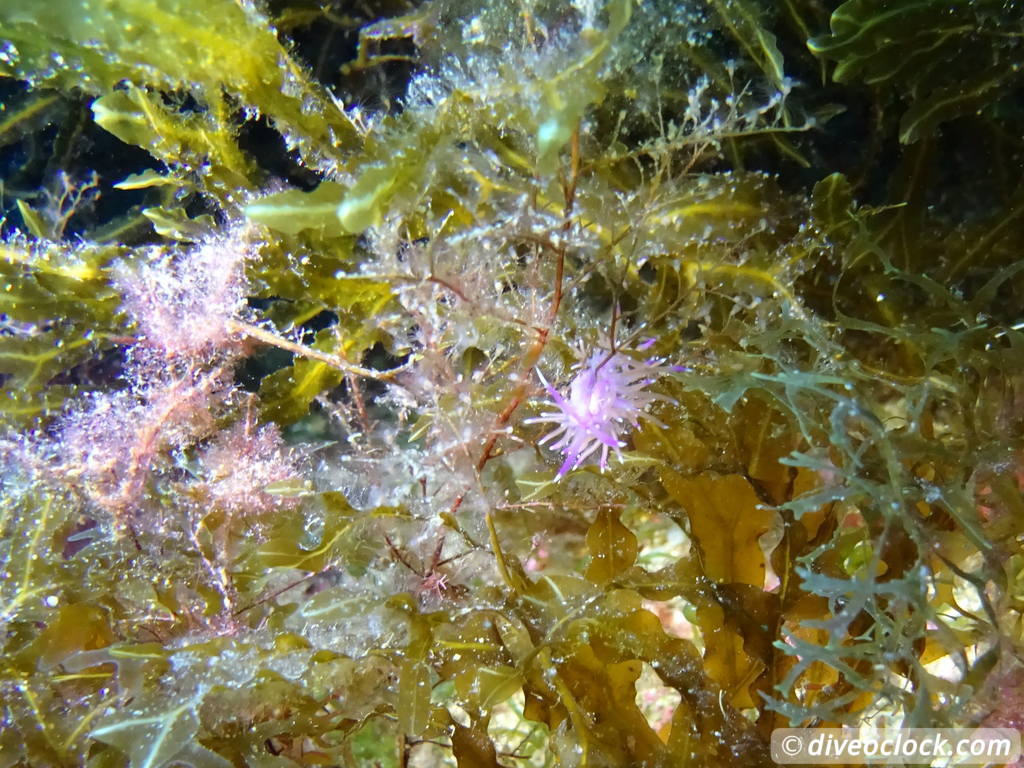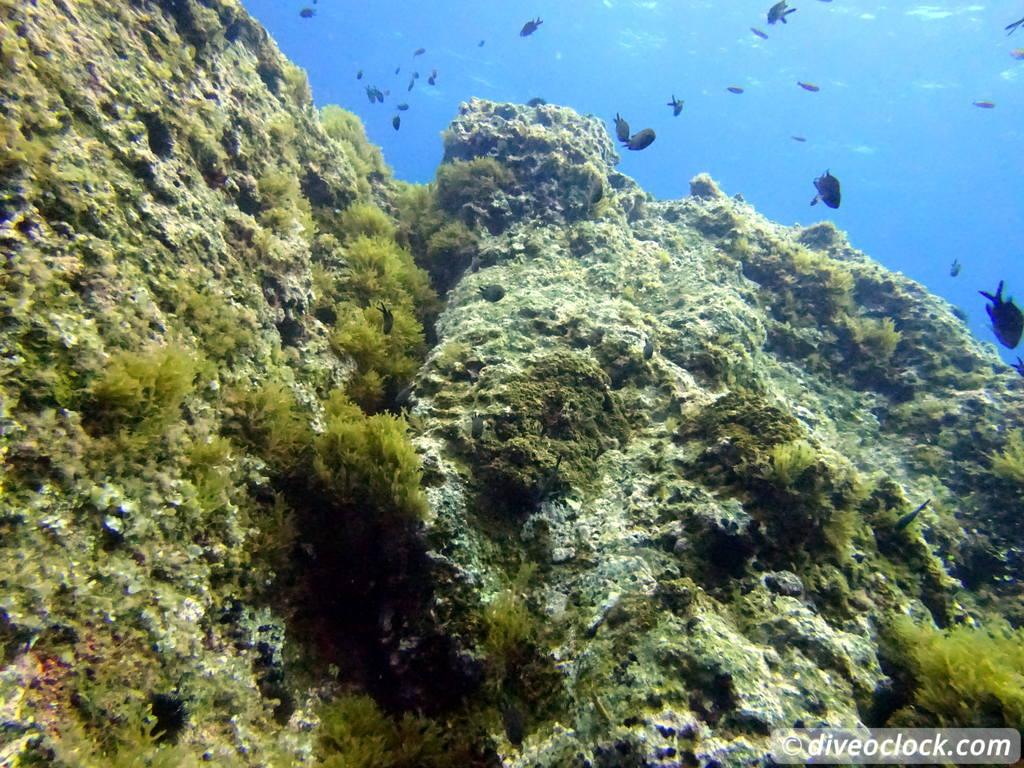 Diving Islas Hormigas Marine Park
Unfortunately no Mola Mola for me, it is still on my bucket list, but I did find the cutest black dotted nudibranch (Peltodoris atromaculata). Many Flabellina's (purple spiky nudibranchs), moray eels and little crabs could be spotted as well.
Because of the strong current, a leaking dry suit and no fin kick power I could not focus too much on the photos, sorry for that! This is a hot spot for diving in Europe, I even prefer this over Malta & Gozo because of all the fish around.
Comparing dive destinations
Bottom structure
Reef structure
Pelagic
(big stuff in the blue)
Big reef
(bigger stuff on the reef)
Macro
(small stuff on the reef)
Current
(stream)
Flat bottom with bumps/big rocks/pinnacles
Hard corals
(not moving)
Sharks
Turtles
Nudibranchs
(snails/slugs)
No current
Slope (going down slowly)
Soft corals
(moving)
Rays
Eels/snakes
Sea horses and pipe fish
Small
(you can easily swim against it)
Wall
(steep but you see the bottom)
Table-/fan-shape
Trevally/Jacks/Tuna
Groupers
Scorpion/frog fish
Medium
(you can swim against it for a little while/higher air consumption)
Drop off
(steep and you can't see the bottom)
Anemones
Barracudas
Lobsters/crabs
Octopus/squid
Strong/reef hooks
(you cannot swim against it)
Blue
(no reference)
Sponges
Sardines/herrings
Puffers
Shrimps
Pumping/washing machine/OMG/hold your regulator
(superman)
To be honest I started diving with Mangamar Dive Center, as I searched a dive center in Cabo de Palos. This is a fully Spanish dive organization with a huge rinsing area and changing rooms/showers. They went on holiday (low season break, as many shops and restaurants in the area) and took out their boats during my stay. From the Entremares Hotel without own transportation it is also pretty far walking, especially with gear. The bus schedule was also on low season so it was not really easy to get to Cabo de Palos on time for diving.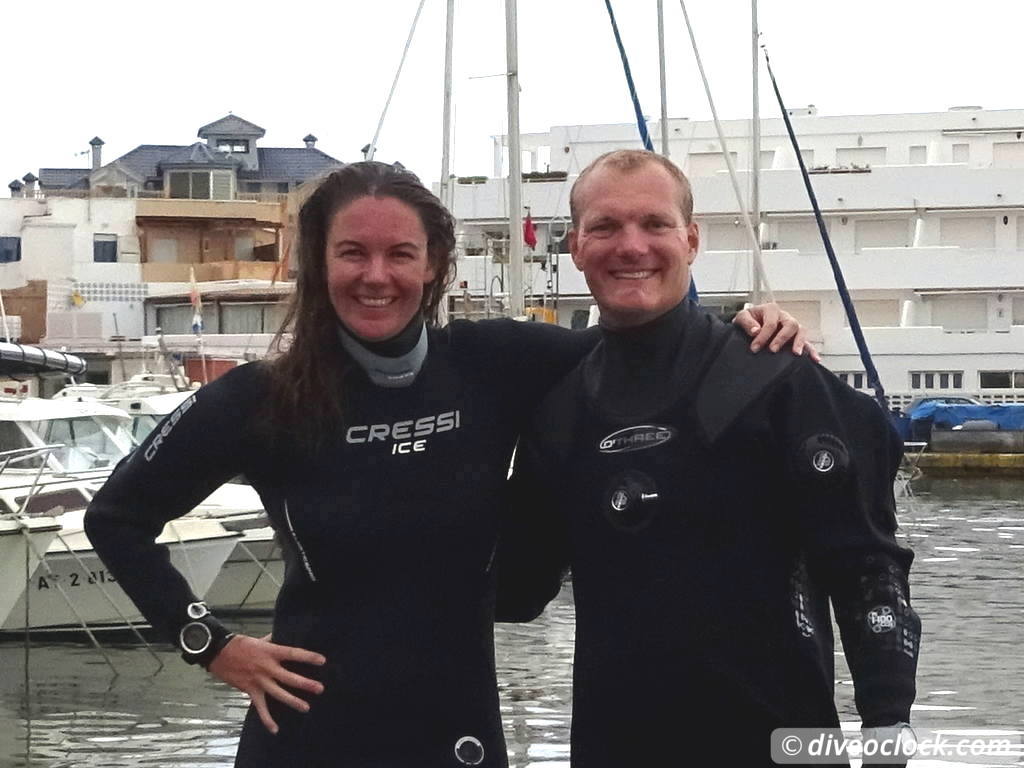 Ed and me at the harbour in Cabo de Palos
About the organization of SCUBA Murcia
Close to Entremares, at the beginning of the La Manga strip, I spotted SCUBA Murcia. When I walked in during siesta, or low season break, this dive center was OPEN! Jo started explaining me enthusiastically about diving with them and when I walked around their brand new dive center I was already super happy with the change. As my Spanish is not great either conversations were a lot easier and I was really happy to dive with them as customer service was much better as well.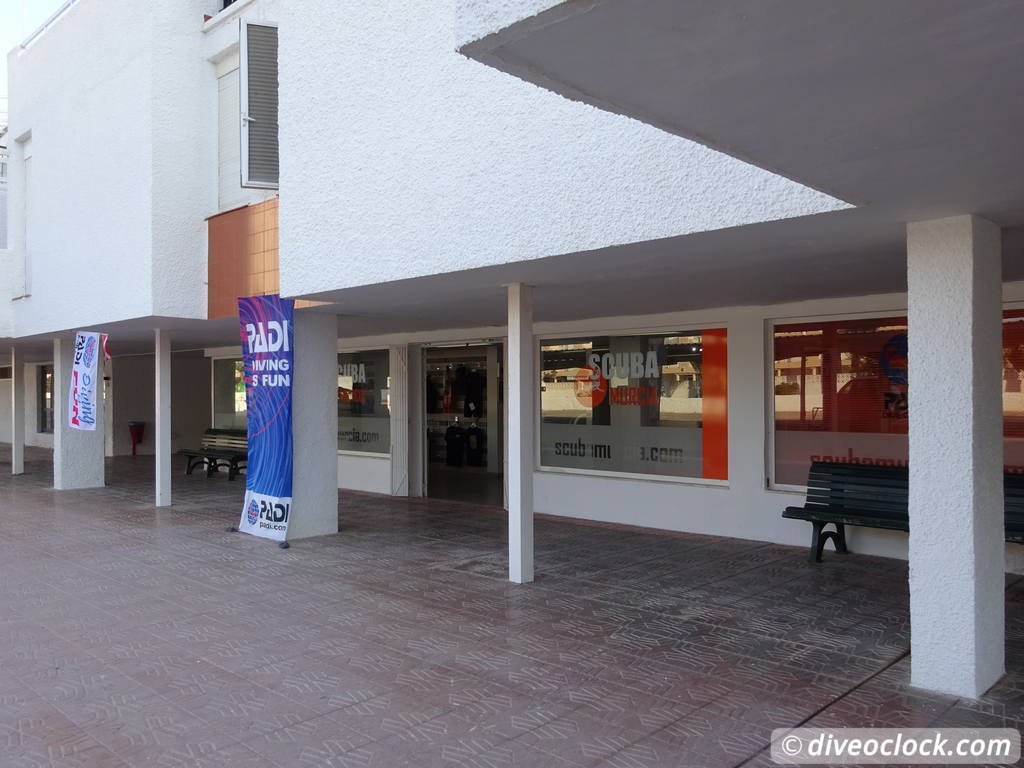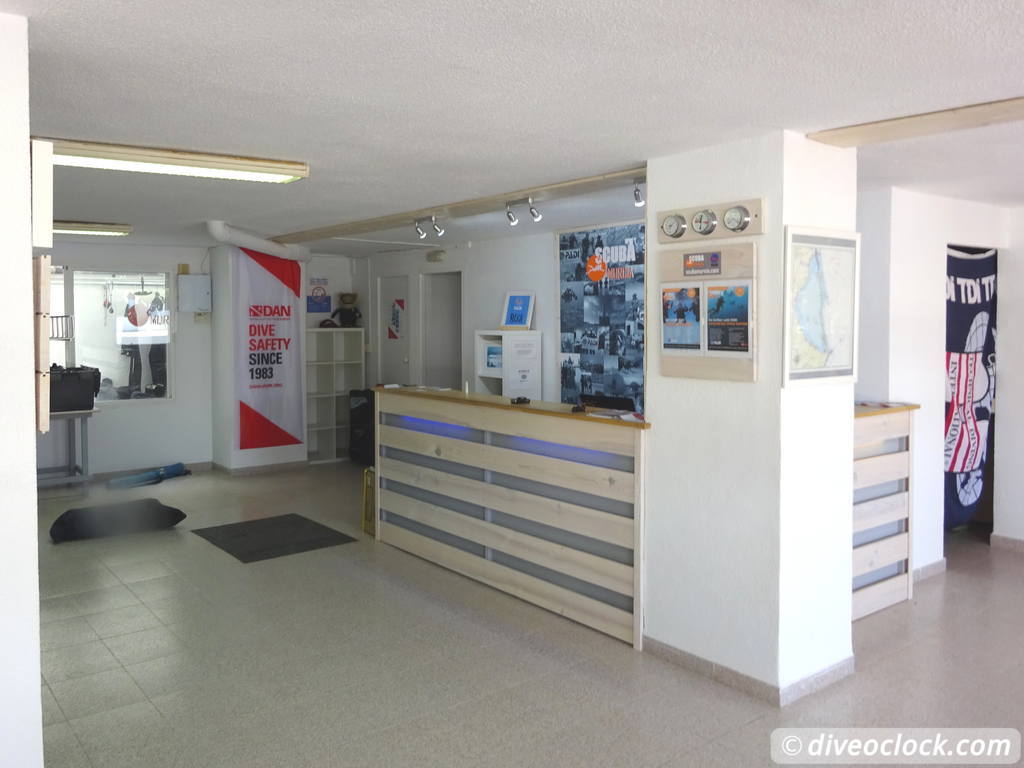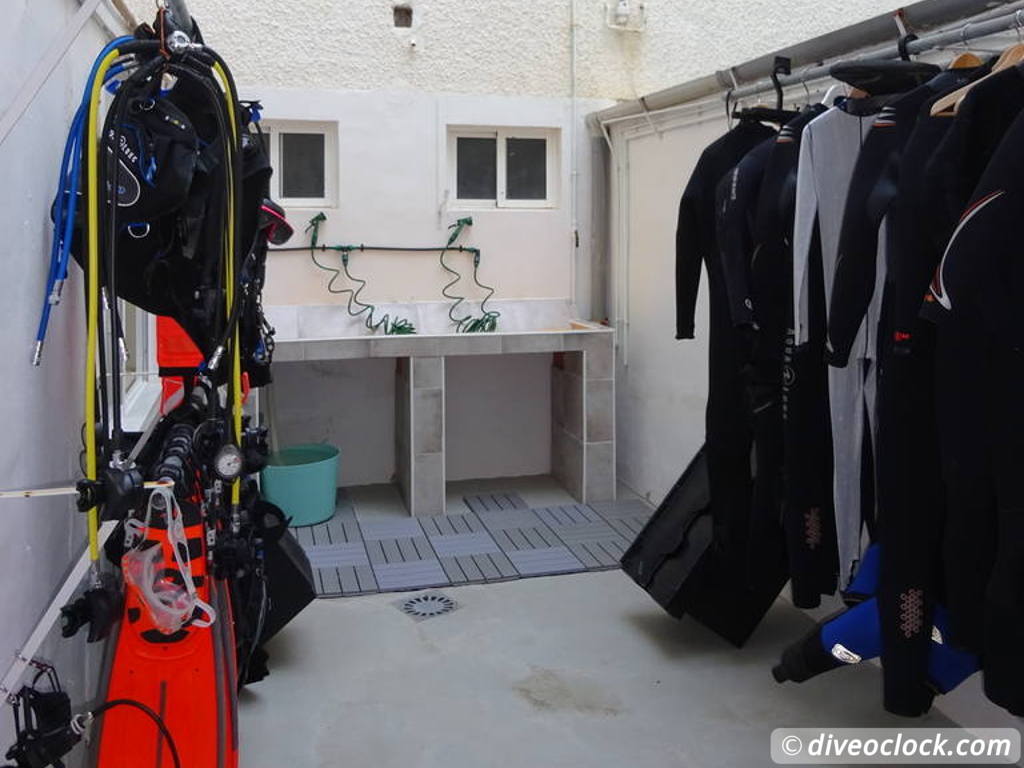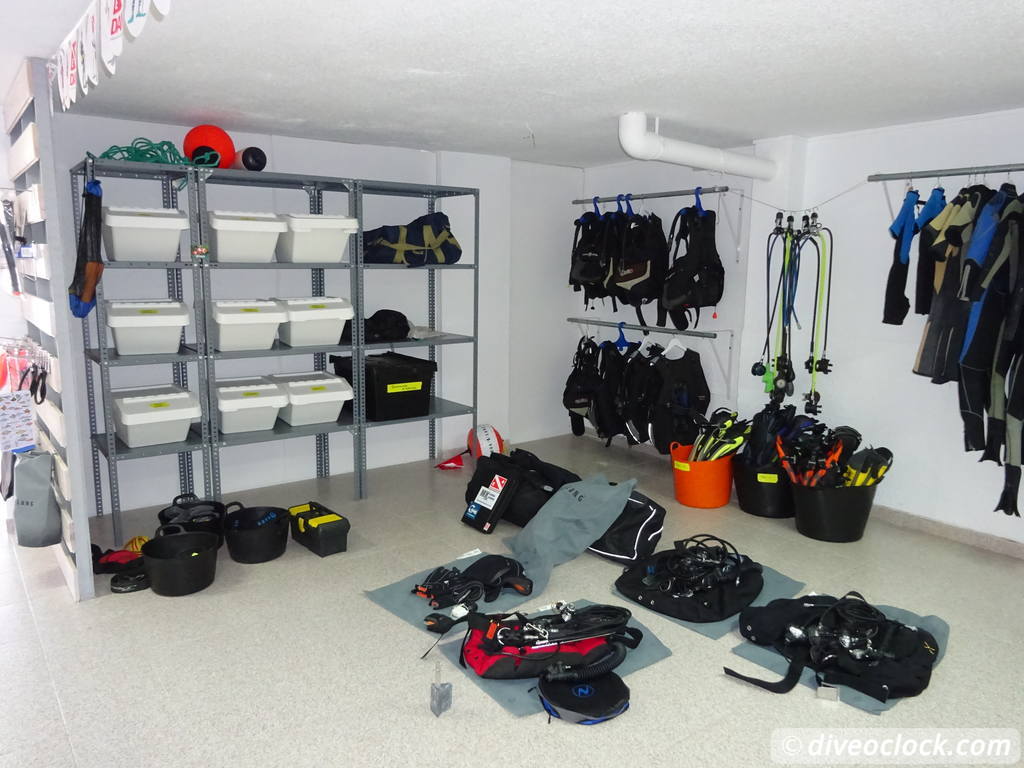 SCUBA Murcia in La Manga, Spain
Their dive center offers a large rinsing area with lot of space to hang your gear to dry - in a secured patio - perfect. Leaving your gear there is easy. There are hot showers as well and you can spoil yourself with some dive gear and merchandise at their dive shop. The classroom and equipment storage are well-organized and super clean, care is taken into the details here. It is no surprise I decided to do my TDI Advanced Nitrox Course with them as well. If you go to this area, do NOT look any further, go diving with SCUBA Murcia!
If you like this post, hit that like button on our
Facebook page
and stay tuned for more!
Marlies Wolters
Founder of Dive O'Clock "It's dive o'clock somewhere!"

Share this page: