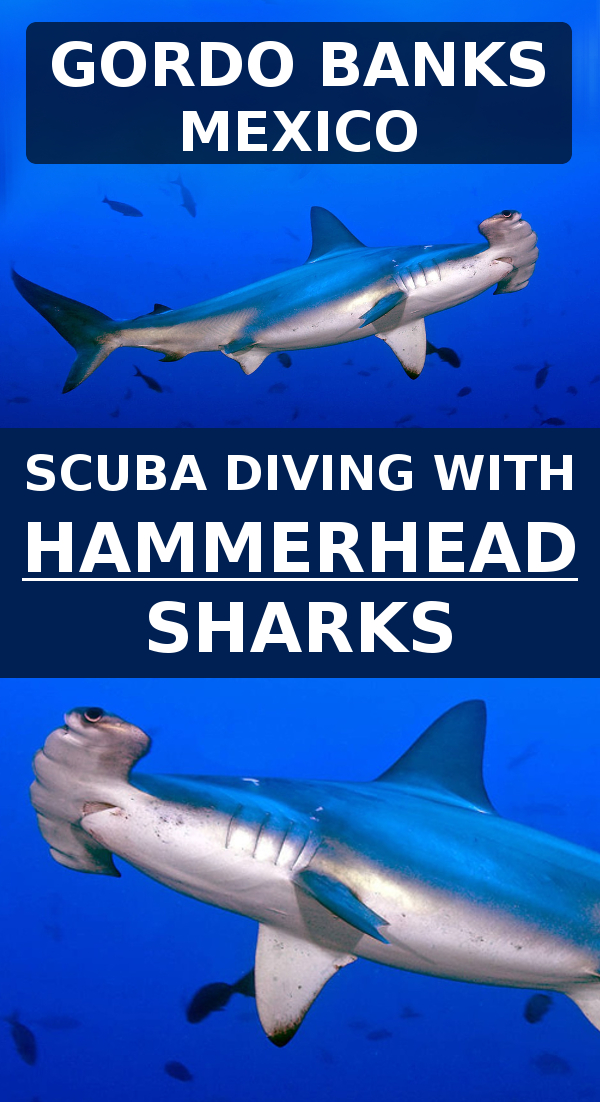 Los Cabos - Dive with Fascinating Hammerhead Sharks at Gordo Banks (Mexico)
There are a few places in the world where you can go on a scheduled hammerhead shark dive. Along the West coast of Mexico you have several options to spot these magnificent creatures, with a day trip or liveaboard. Mission Hammerhead Sharks: ON!
How exciting is it to dive with hammerhead sharks? In my opinion: WOW, just WOW! When I was living and working as a dive instructor in the Maldives we did a guided Hammerhead shark dive twice a week and it never bothered me - at all. Even-though I have seen hammerhead sharks quite often, when I found out there is a place to spot them just off shore in Mexico - I just had to go and see my 'friends' again.
Unfortunately I arrived in the area, called Los Cabos, at the Southern tip of the Baja California Peninsula, when hurricane season was full on.
Los Cabos is a popular holiday spot for North Americans. It consists of two main towns called Cabo San Lucas and San Jose del Cabo plus Cabo Pulmo (Jackfish tornados!). San Jose Del Cabo, the closest town to Gordo Banks, was hit badly by tropical storm Lidia (Sept 2017), just a few weeks before I arrived. Apart from the horrible damage on land, the reefs close to shore were still so murky that the dive trips in the Corridor area were cancelled or at least not worth it due to bad visibility.
Diving in the blue at Gordo Banks, Mexico
SCUBA diving the Gordo Banks
At Gordo Banks you can spot scalloped hammerhead sharks and silky sharks an impressive four out of five times (no guarantees of course). For my trip I had to wait another week in this pretty high-end area before we could go out because of another tropical storm (Norma).
As Gordo Banks is about 40 minutes by boat out in the open sea (no shelter from shores or other wave breakers) we needed calm weather and time for the stirred up sediment to sink back to the bottom.
Gordo Banks is a deep dive area, STARTING at 100+ feet / 30 meters, meaning you will dive in 'the blue' without reference. No reef, no rocks, no bottom to see, just water, bubbles and (hopefully) fish and sharks around. Two deep 'blue' dives were scheduled in the area, both hit or miss dives. So exciting!!!
You need to have at least 100 logged dives and local dives with the dive center before you can join this trip. I chose the only operator in San Jose del Cabo, East Cape Explorers, because I preferred staying in San Jose over San Lucas (less touristy - Cancun vs Playa del Carmen sort of speaking) and closer to the dive sites.
Country
Mexico
Dive area name
Baja California, San Jose del Cabo
Dive center
East Cape Explorers
Famous for
Hammerhead sharks at Gordo Banks and dive area The Corridor (Los Moros to Chileno Bay)
Price
Gordo Banks (2x per week): 150 USD for a 2-tank dive including drinks and snacks. Dive equipment costs 30 USD a day.
Other dive sites: 95 USD for a 2-tank dive + the rest mentioned above.
Hotel recommendation
Hotel Tropicana (Inn) del Cabo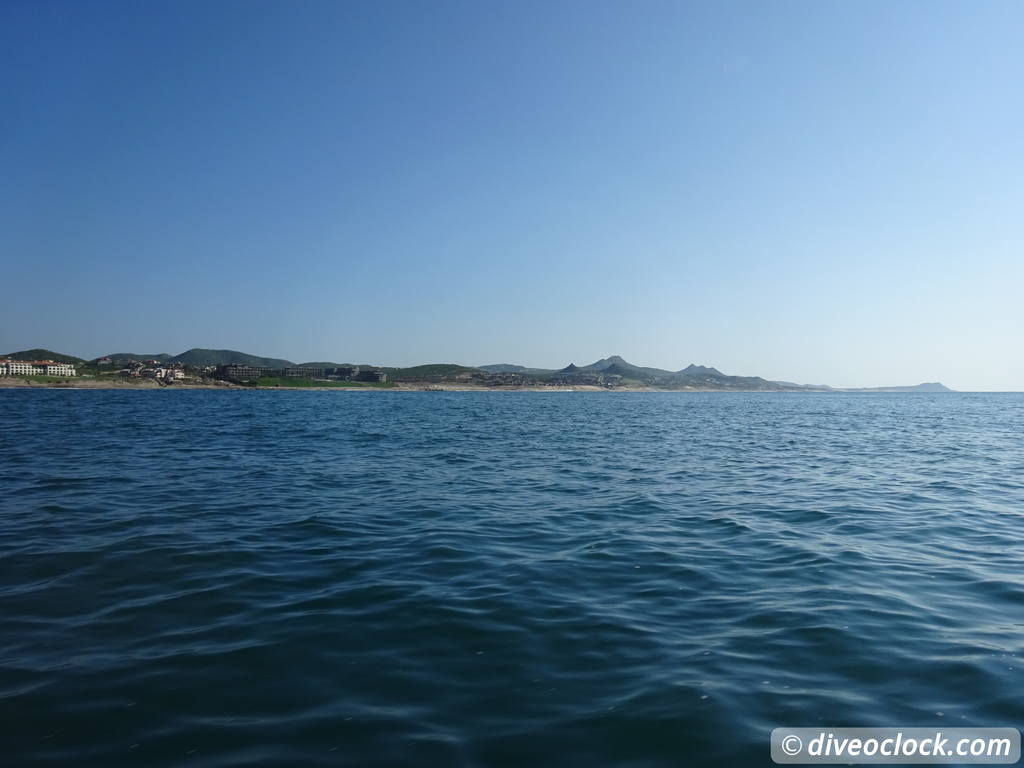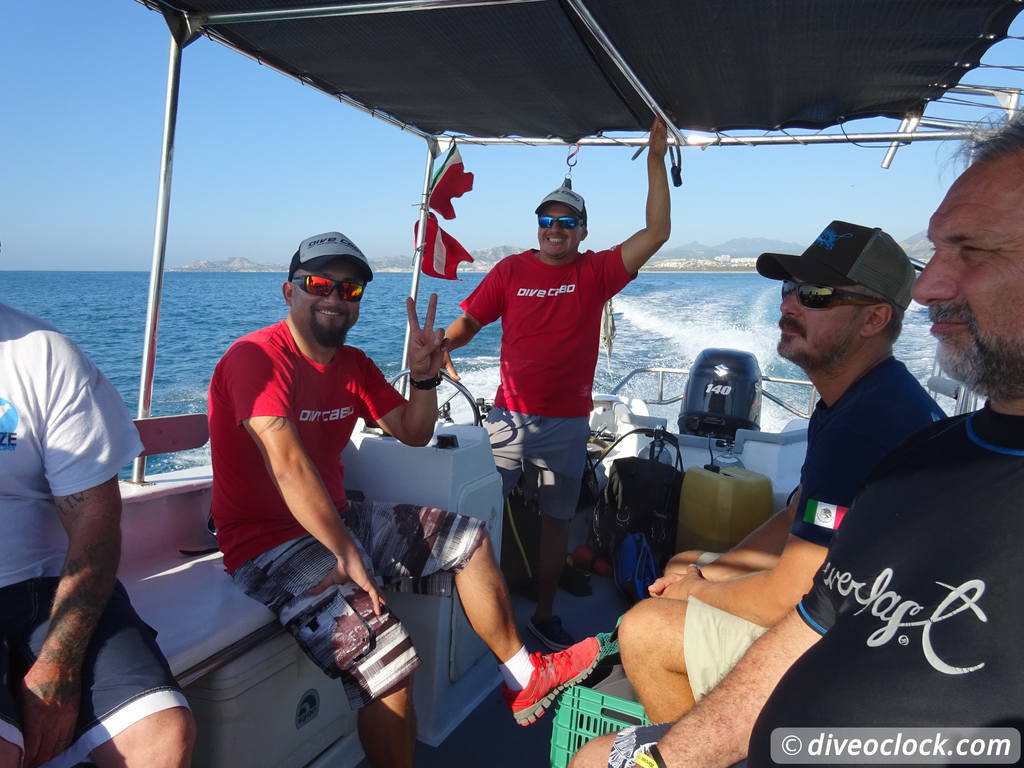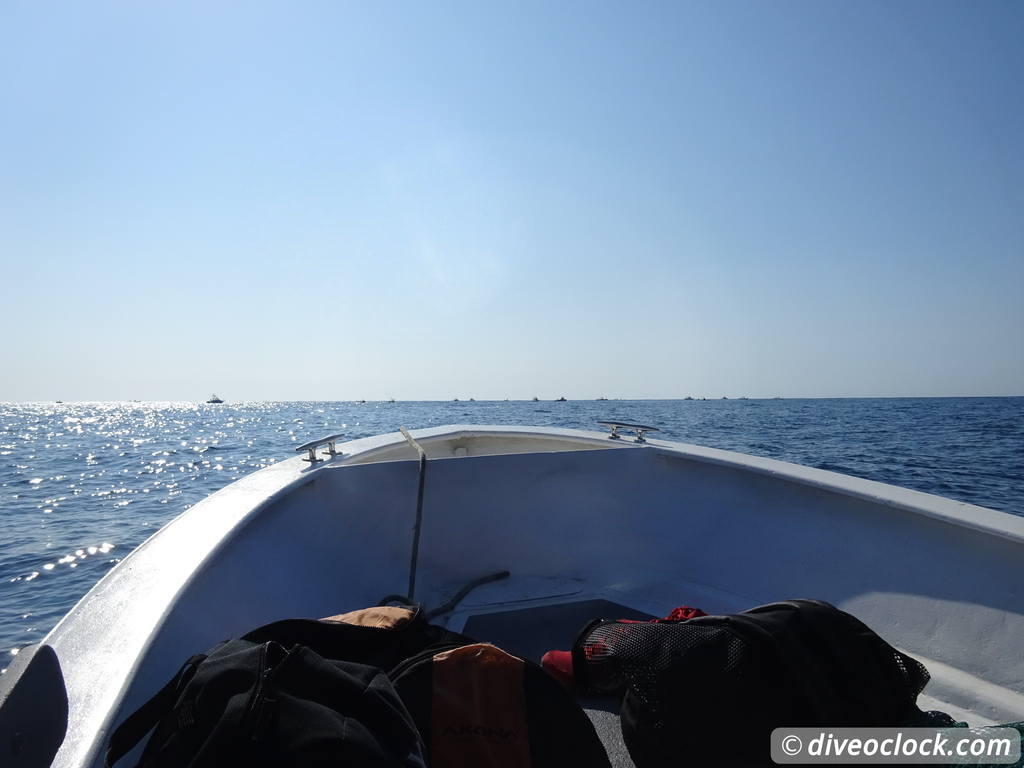 Great fun on the boat to Gordon Banks (shared boat) until we saw all the other boats...
Mission Hammerhead Sharks: ON!
Being there in hurricane (low) season I was able go out because two dive operators shared the boat. It was great fun until we got closer to the Gordo Banks. Apparently everybody had been waiting for the first opportunity to go out. The coastline was filled with fishing boats and we needed to find a good spot - not to get hooked. The area is big enough but it did spoil the exclusive feeling a bit.
As soon as we hit the water we saw the first hammerhead above safety stop depth! WOW! The water was really murky, bad visibility. I saw a glimpse and did not manage to take a proper picture unfortunately. We dropped down to about 25 meters / 80 feet on the first dive without any more luck. Many sharks are vertical migrating animals, they like to stay in the colder water - which means generally deeper down during the day and move around in shallower water from dusk to dawn. At our deepest point the water temperature was 25 degrees Celsius / 77 Fahrenheit.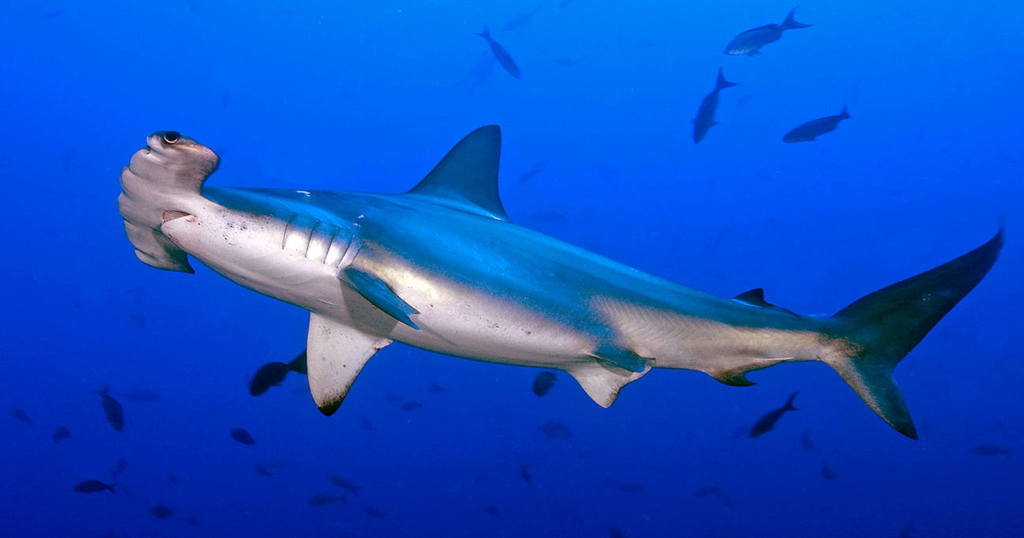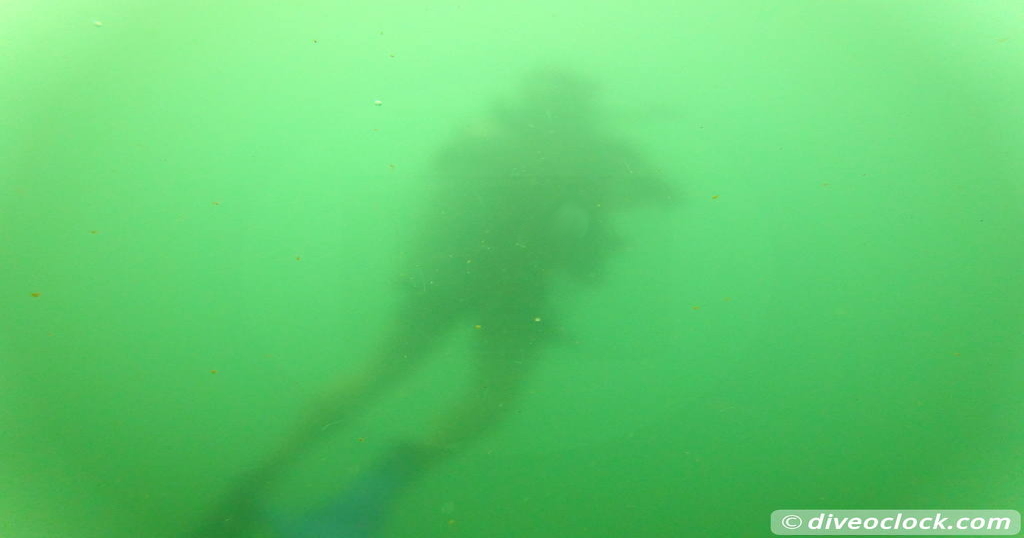 Expectations vs reality at Gordo Banks during hurricane season.
For the second dive, or the second chance, we went to a deeper dive site and planned to go up to 40 meters / 130 foot. Because we would run out of bottom time faster than air we dropped down fast but controlled. The visibility was still really bad, we needed to swim really close not having to look for bubbles in the blue (or green in this case). There must have been many sharks around but we simply could not see them. The temperature dropped to 23 degrees Celsius / 73 Fahrenheit at 35 meters / 115 feet - too cold for me in my 1mm suit. The thermoclines did not made it any better.
Was it worth it?! Hell yes! What an adventure to search for these magnificent creatures! I would definitely do it again, just not right after a tropical storm has hit the area - but that is nature. There were schools of 'little' fish below us (+40 meters / 130 foot), there was a lot of life around anyway. Normally you can see (manta) rays and big fish like tuna, jacks and groupers. I guess they were there too...just out of our visibility. Put me up for the next trip!
Comparing dive destinations
Bottom structure
Reef structure
Pelagic
(big stuff in the blue)
Big reef
(bigger stuff on the reef)
Macro
(small stuff on the reef)
Current
(stream)
Flat bottom with bumps/big rocks/pinnacles
Hard corals
(not moving)
Sharks
Turtles
Nudibranchs
(snails/slugs)
No current
Slope (going down slowly)
Soft corals
(moving)
Rays
Eels/snakes
Sea horses and pipe fish
Small
(you can easily swim against it)
Wall
(steep but you see the bottom)
Table-/fan-shape
Trevally/Jacks/Tuna
Groupers
Scorpion/frog fish
Medium
(you can swim against it for a little while/higher air consumption)
Drop off
(steep and you can't see the bottom)
Anemones
Barracudas
Lobsters/crabs
Octopus/squid
Strong/reef hooks
(you cannot swim against it)
Blue
(no reference)
Sponges
Sardines/herrings
Puffers
Shrimps
Pumping/washing machine/OMG/hold your regulator
(superman)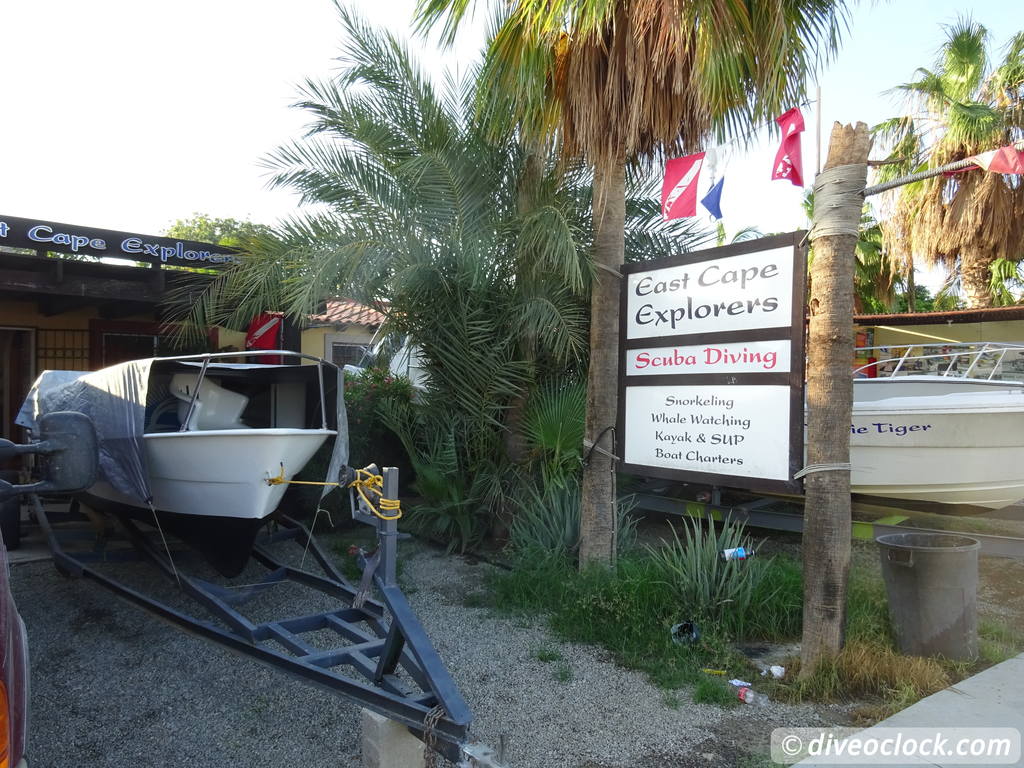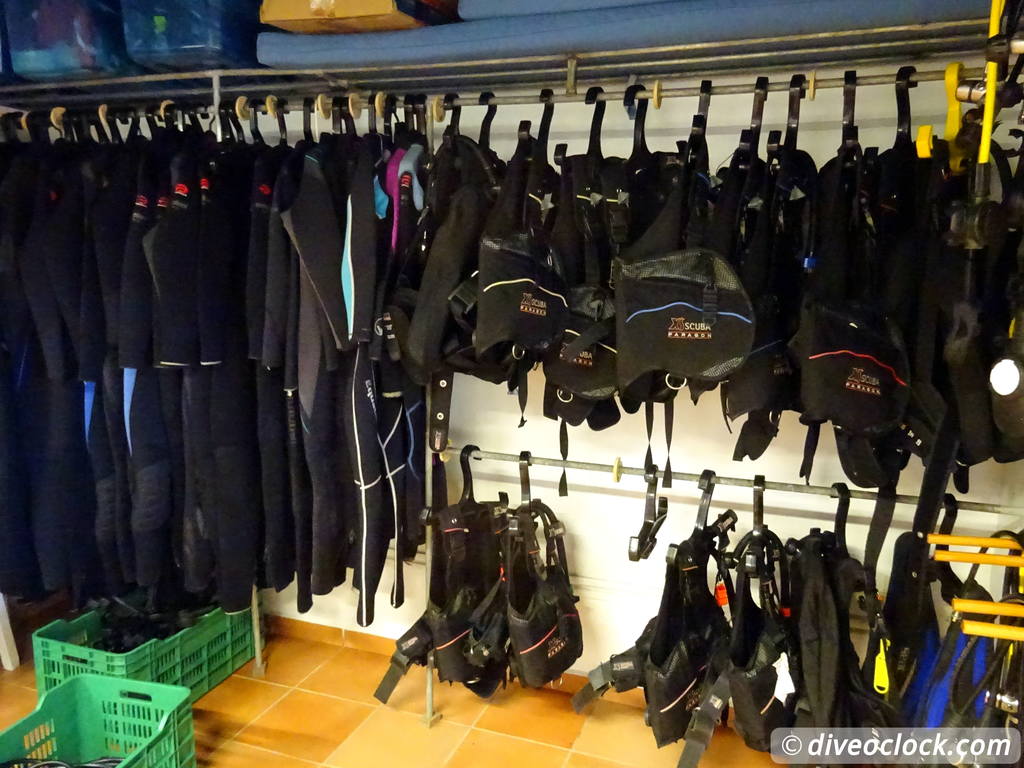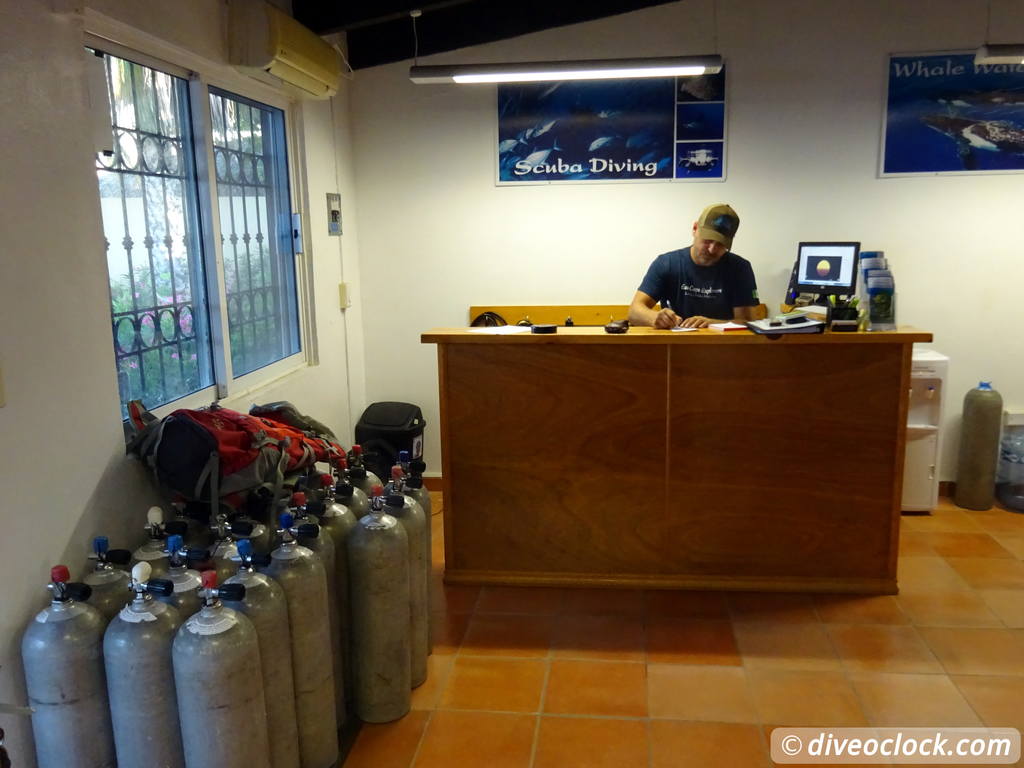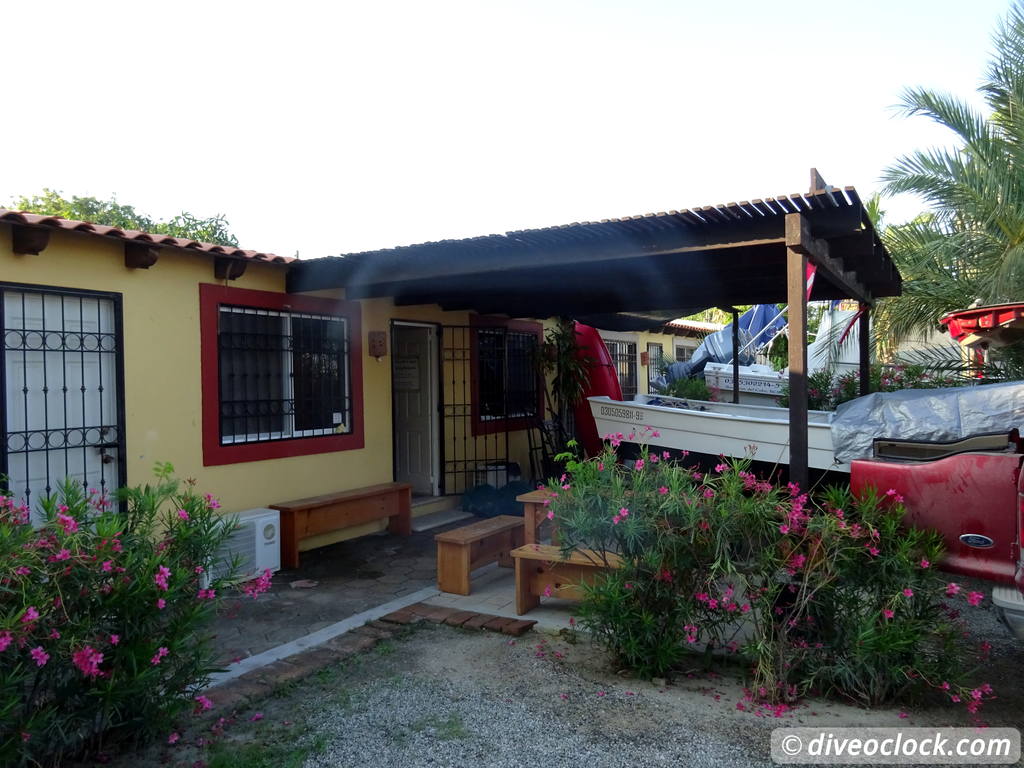 East Cape Explorers at San Jose del Cabo, in Mexico
About the organization of East Cape Explorers
This German-lead dive center is well-organized in many ways. While trying to dive in between the storms the owner Lars kept me updated. On the day itself Roland was in the shop (which is located in the marina) and guided the dives. Their dive equipment and store was well-arranged and up-to-date.
Safety standards are even extended for these kind of dives. As mentioned on their website: "Our dive guides are equipped with a Personal Locator Beacon, 2 large 10 ft. marker buoys, 2 reels, light sticks, mirror and buddy lines. Furthermore we hand each diver a 10 ft. long surface marker buoy. Our maximum divers per guide ration is 5:1." Safety first is definitely the priority here, taking things seriously.
By sharing the boat with Dive Cabo it is possible to go on the Gordo Banks trip twice a week. There is no competition, just collaboration and more fun on board. I was really happy to choose East Cape Explorers because of their service but also because of having a shorter ride to the dive site, skipping the trip from Cabo San Lucas to San Jose del Cabo twice.
As mentioned before I also preferred San Jose del Cabo over Cabo San Lucas. Staying down town in a really nice Mexican style hotel (Hotel Tropicana (Inn) del Cabo ) made it perfect.
You only need transportation to and from the marina, which is across the bridge, taxis are US priced - there is no Uber or bargaining for a local price.
San Jose del Cabo is about 3,5 hours from La Paz by a comfortable touring bus from Aguila. You can get tickets for 200 pesos one-way. Of course renting a car is also an option, but with insurance the price was out of my budget. If you fly from/to La Paz, combine this trip with a Responsible Whale Shark Trip and SCUBA Diving with Sea Lions and visit the Whale Museum of La Paz.
Thank you very much Lars & Roland from East Cape Explorers!
If you like this post, hit that like button on our
Facebook page
and stay tuned for more!
Marlies Wolters
Founder of Dive O'Clock "It's dive o'clock somewhere!"

Share this page: