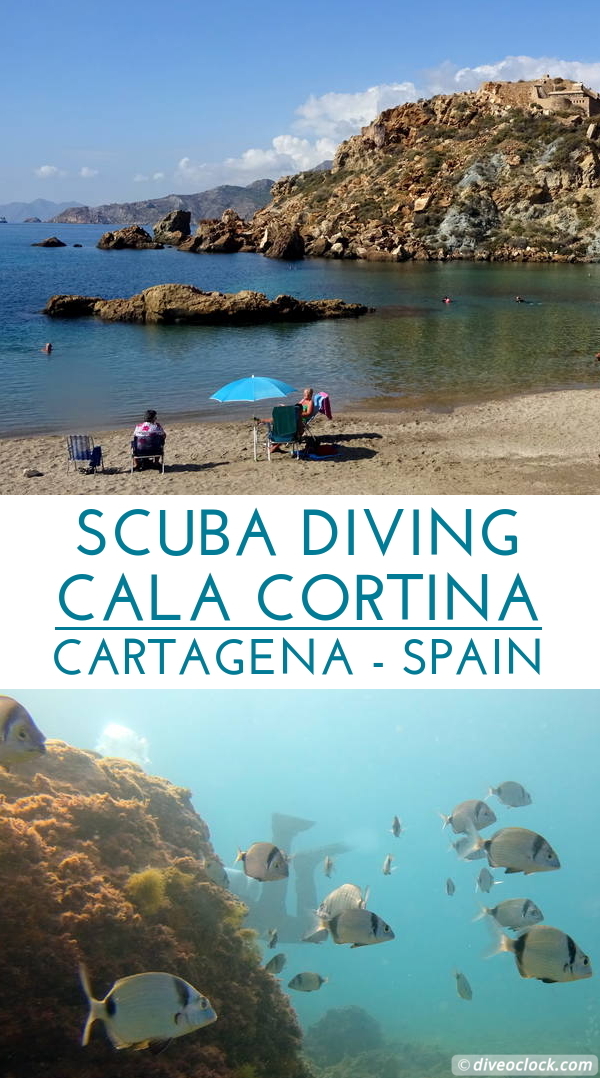 Cala Cortina - The Best Dive Spot of Cartagena (Spain)
Close to the harbor of the incredible historic city of Cartagena, at a popular weekend spot for locals, you can snorkel and dive. Cala Cortina offers easy shore diving with mesmerizing sea breams, you can look for critters and flounders in the sand and see if you can spot fish that cause hallucinations when eaten.
With a big sandy area and a maximum depth of about 10 meters / 30 ft this area is great for both snorkeling as well as dive training. Although we planned on going here for macro photography fun dives I ended up doing my TDI Advanced Nitrox Course training dives at this spot. Of course I was mainly busy with practising skills, but this spot deserves a dive destination page as well.
As soon as you arrive in the bay you will see the beauty of this place. With old ruins on almost every mountain around you, clear water and a little island in the bay it is iconic for the region. Because I was there after the summer, the beach was quite empty and the restaurants were closed - perfect for diving! The parking lot was filled with cars and vans from different dive clubs in the region all doing shore dives at Cala Cortina.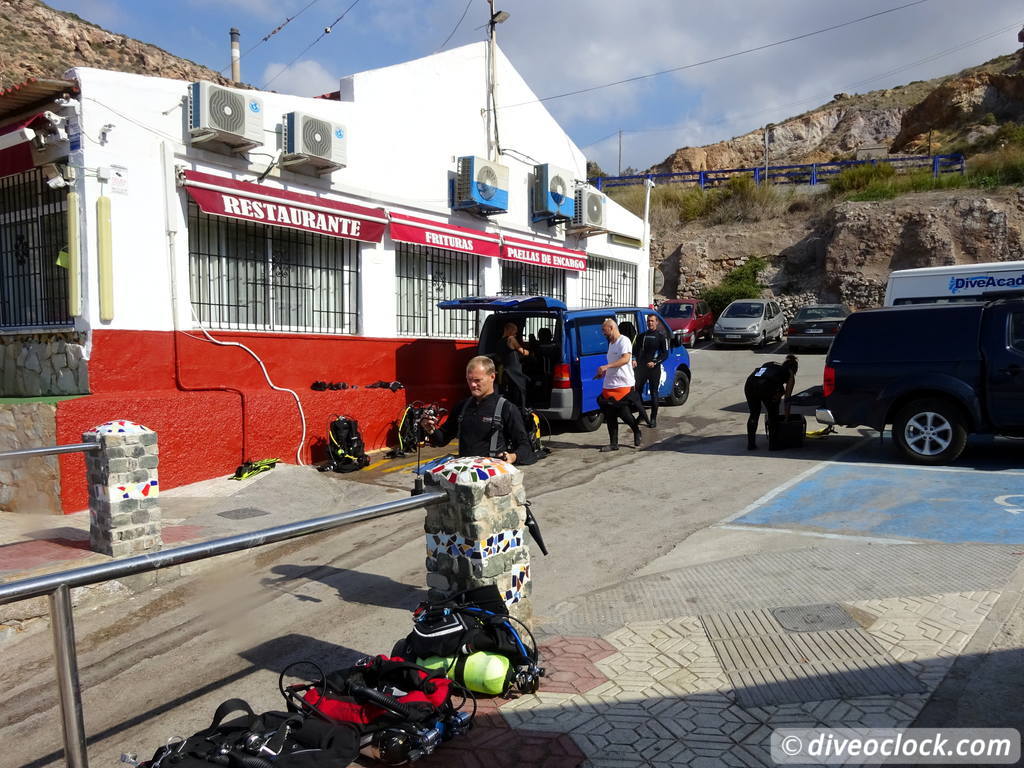 Shore diving at Cala Cortina, parking close to the beach.
Getting changed next to the car reminded me of diving at home in The Netherlands. Of course the water temperature is not so high and the sunny days are limited, but it is an ambiance I love. Everybody doing his own preparations, having his own dive plan and a good SCUBA vibe during the surface interval.
Country
Spain
Dive area name
Mediterranean Sea, Murcia, Cartagena
Dive center
SCUBA Murcia
Famous for
Easy shallow diving, macro opportunities, training area
Price
Shore dive with tank and weights: 40 Euro. Full set of equipment 30 Euro, dive computer 10 Euro. Discounts on multiple dives.
It includes transfer by car from La Manga / Cabo de Palos. Bring your own food and drinks.

Hotel recommendation
Hotel Entremares Termas Carthaginesas
Shore diving in Cartagena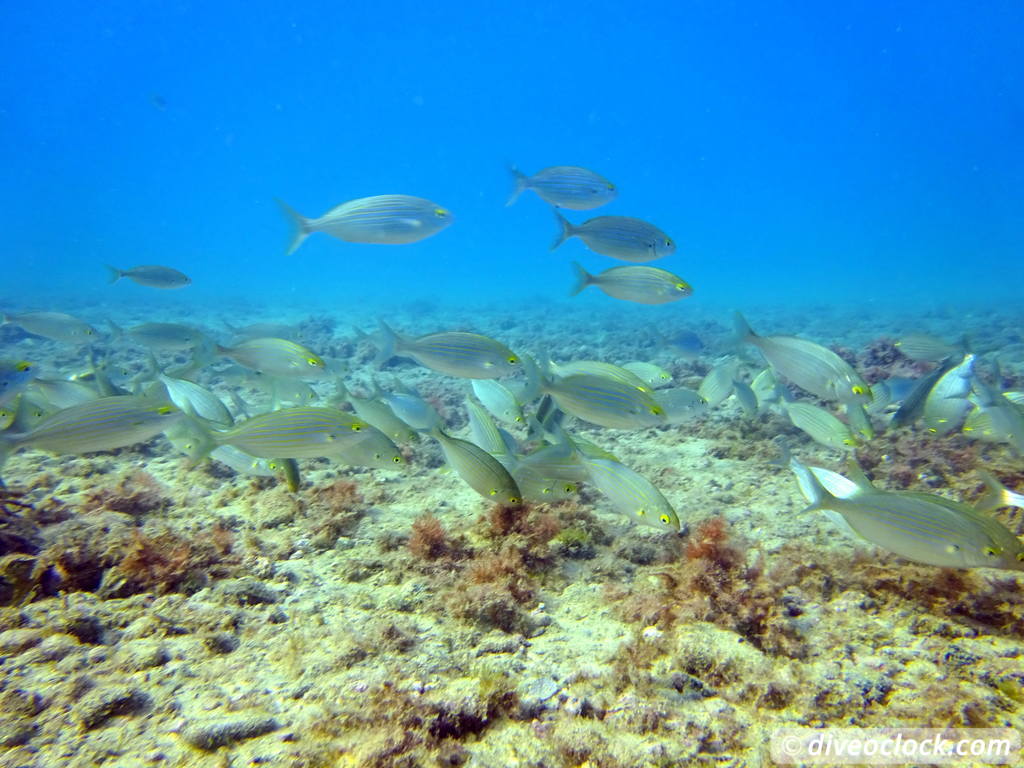 A school of Sarpa Salpa, a species of sea bream, recognizable by the yellow stripes on the length of its body. This fish can cause hallucinations when eaten!
With an easy beach entry and a sandy bottom that goes down slowly it is very relaxed to snorkel or dive at Cala Cortina. It is the opposite of diving at Islas Hormigas Marine Reserve, although - I have to admit - what you see is also the opposite. Having that said this area is big enough to make different dives without seeing the same things.
If you swim just out of the bay you can follow the rock formations of both coastlines. In between and under the rocks you can spot critters and maybe even a moray eel. On the sandy bottom we spotted some flounders and lots of fish searching for food.
If you stay in Cartagena, make sure to visit the National Museum of Underwater Archaeology too.
If you like this post, hit that like button on our
Facebook page
and stay tuned for more!
Marlies Wolters
Founder of Dive O'Clock "It's dive o'clock somewhere!"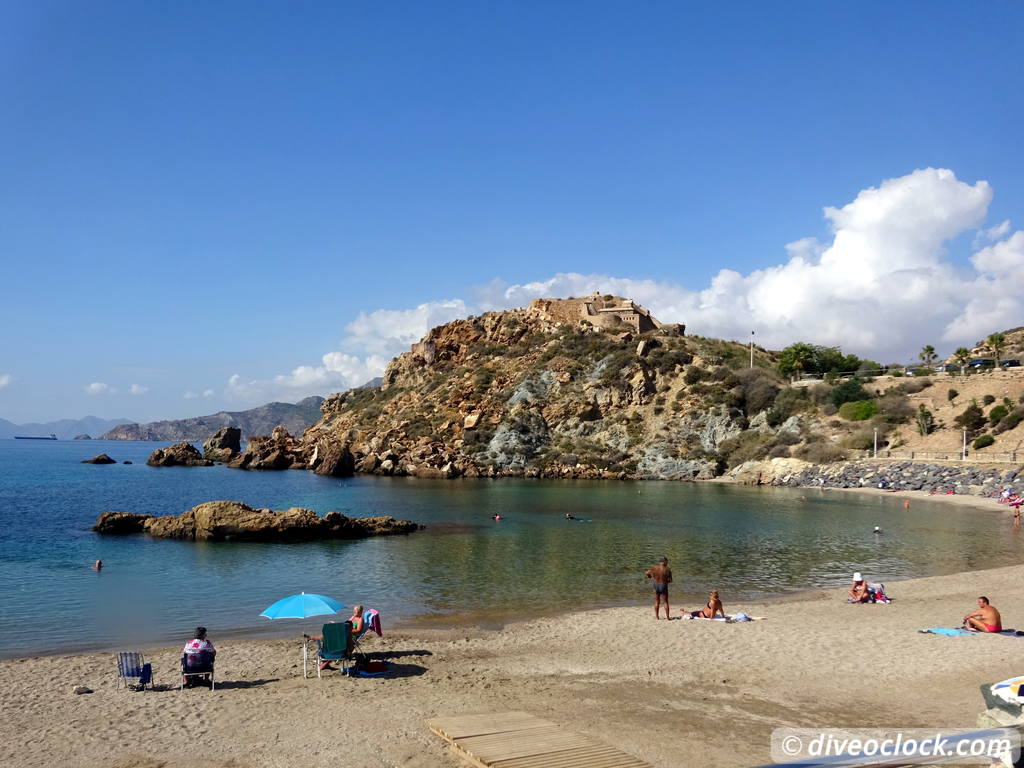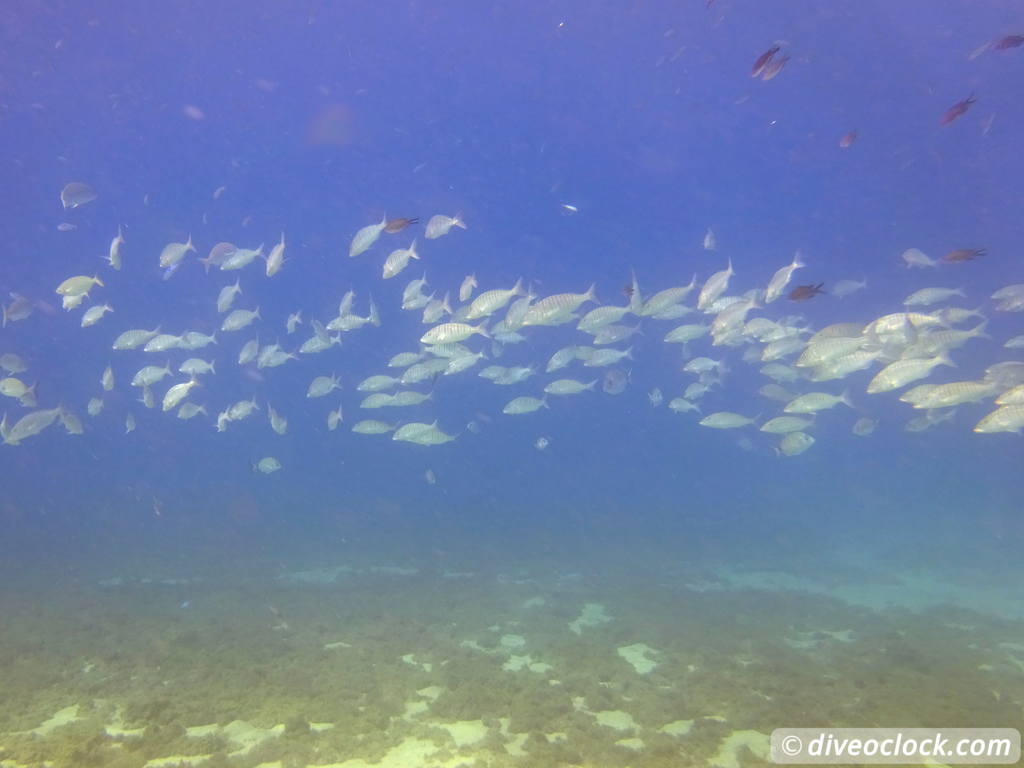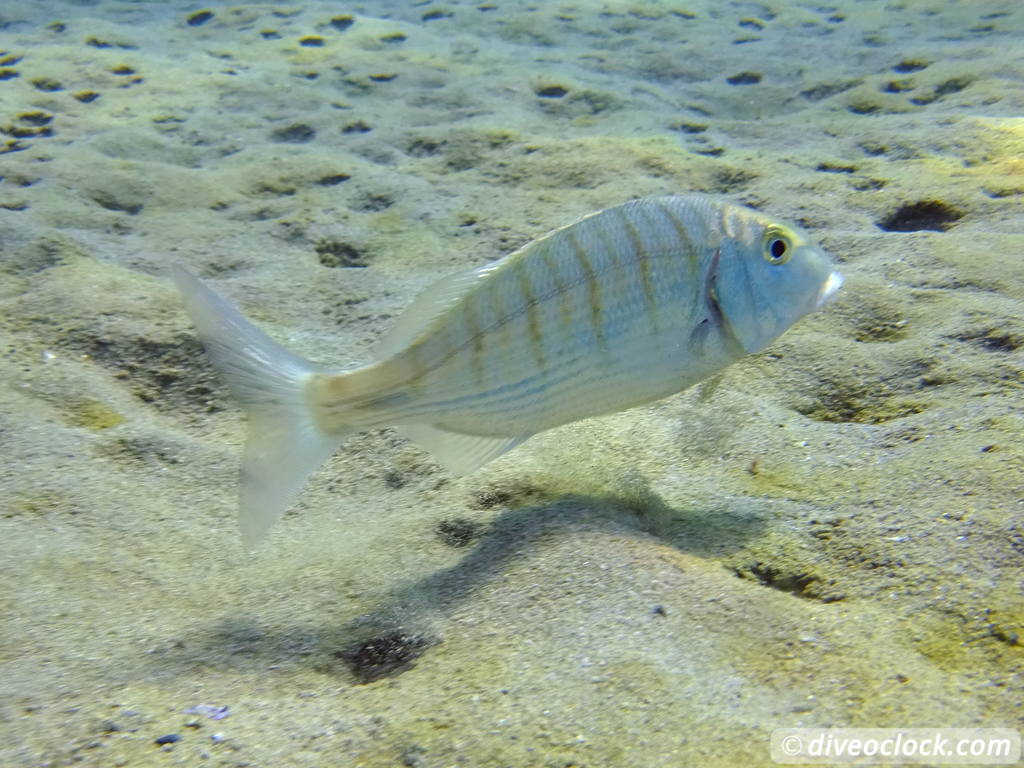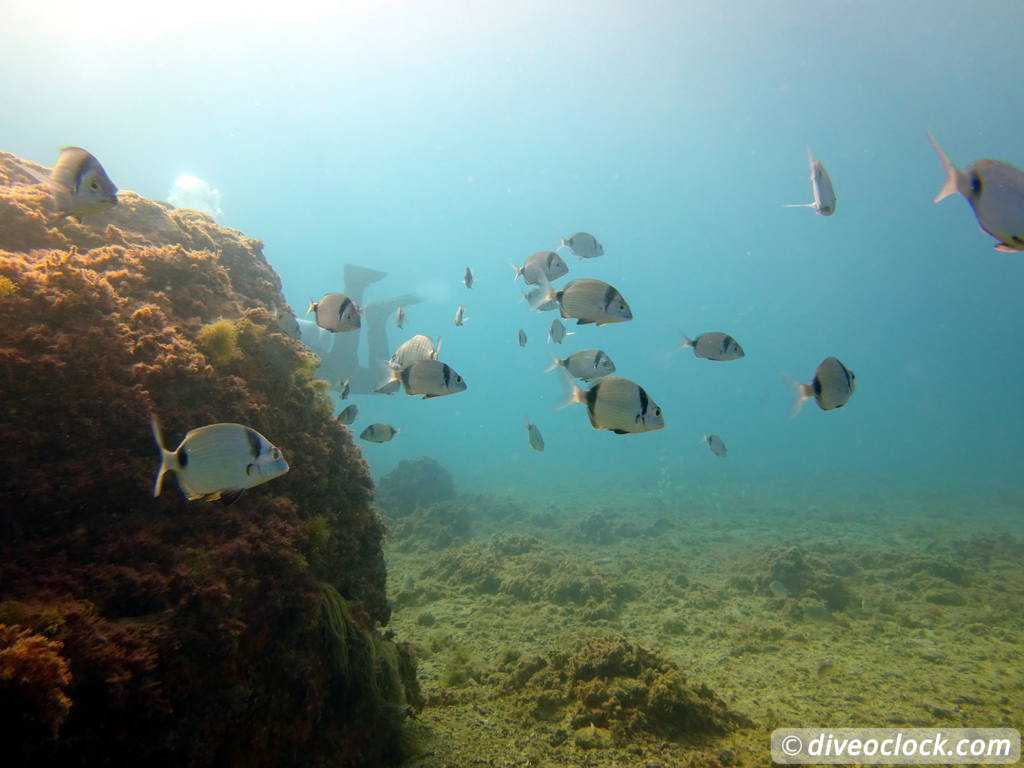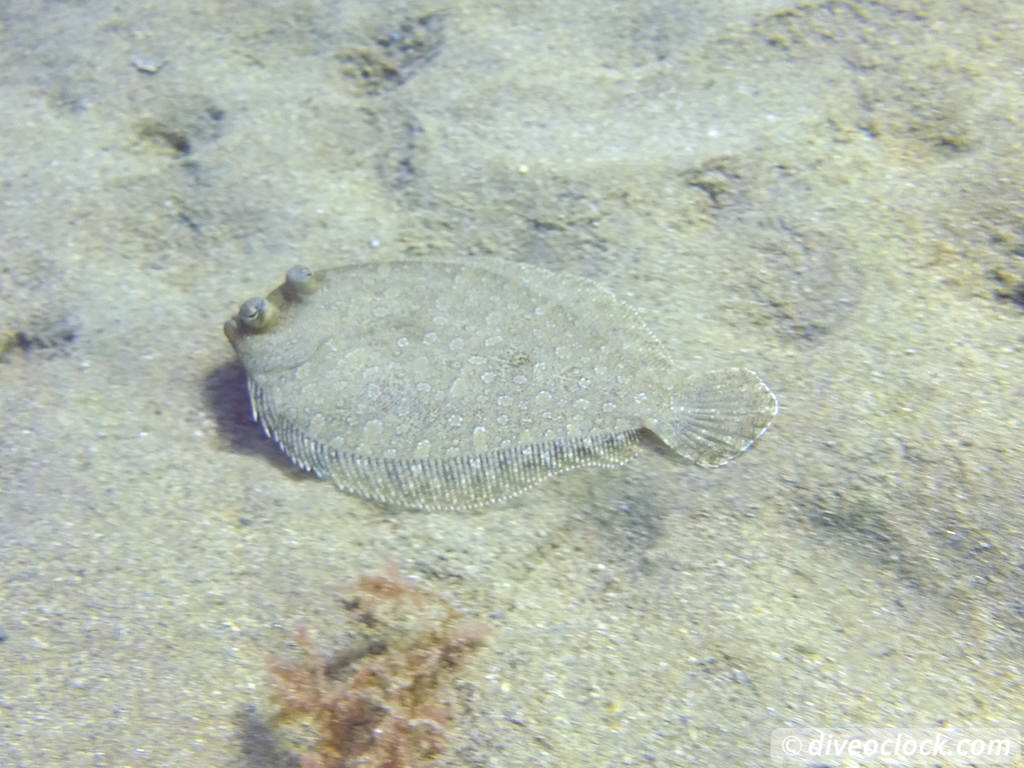 SCUBA Diving at Cala Cortina, Cartagena - Spain.
Comparing dive destinations
Bottom structure
Reef structure
Pelagic
(big stuff in the blue)
Big reef
(bigger stuff on the reef)
Macro
(small stuff on the reef)
Current
(stream)
Flat bottom with bumps/big rocks/pinnacles
Hard corals
(not moving)
Sharks
Turtles
Nudibranchs
(snails/slugs)
No current
Slope (going down slowly)
Soft corals
(moving)
Rays
Eels/snakes
Sea horses and pipe fish
Small
(you can easily swim against it)
Wall
(steep but you see the bottom)
Table-/fan-shape
Trevally/Jacks/Tuna
Groupers
Scorpion/frog fish
Medium
(you can swim against it for a little while/higher air consumption)
Drop off
(steep and you can't see the bottom)
Anemones
Barracudas
Lobsters/crabs
Octopus/squid
Strong/reef hooks
(you cannot swim against it)
Blue
(no reference)
Sponges
Sardines/herrings
Puffers
Shrimps
Pumping/washing machine/OMG/hold your regulator
(superman)

Share this page: