5 Funny Confessions of a Dive Instructor!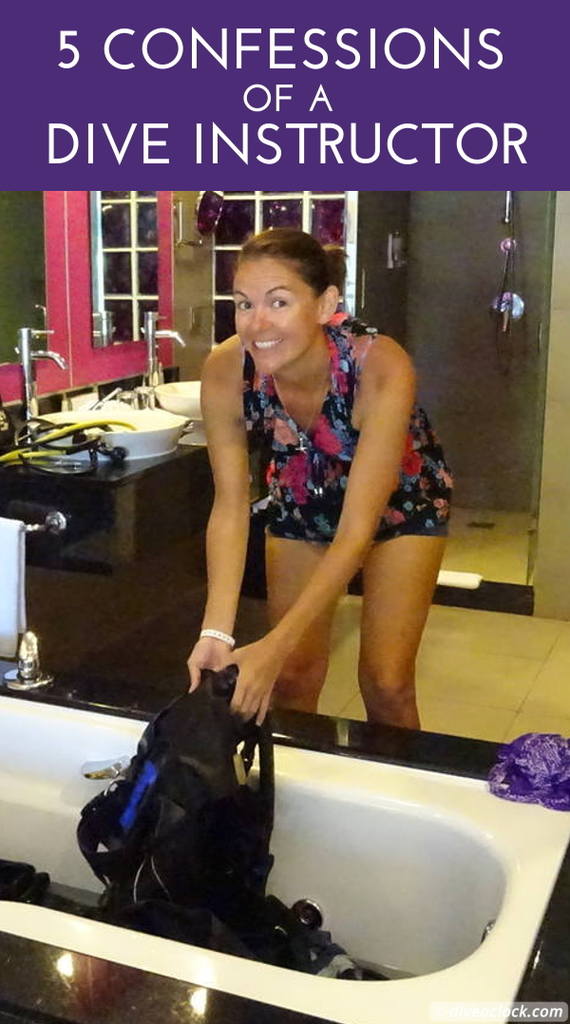 Sometimes I think I know everything. Quite often that is right before I realize I still have a lot to learn. Time for some hilarious confessions of a dive instructor. Laugh and Learn!
Have you noticed how some divers always seem to know best? In Facebook groups or at diving boats discussions often run high. Many divers want to share their knowledge and experience in a way there is no room for other opinions. So in contrary, let me share five hilarious things I have learned.
1. The backroll entry does not work without a tank!
If you are diving from a boat one of the common ways to enter the water is with a backward roll. You sit on the side of the boat with full gear on and regulator in your mouth - you hold your equipment in place and roll backwards off the boat. This way you roll in the water and you are ready to go with a positive or negative entry.
When I was in Isla Mujeres ready to snorkel with whale sharks I learned something. Here we also entered the water from the side of the boat - with fins, mask and snorkel only.
So, as done hundreds of times, I rolled backwards off the boat- bang - headache! Where your gear (especially your tank) would create a nice weight balance - there is none with snorkel gear; landing on the back of your head. If you enter the water from a boat without dive gear, just let yourself slide in the water face forward! As easy as that!

2. A dive bar is not an after diving bar!
Especially around popular dive areas you can find bars or restaurants that are themed and named after something dive related. From 'The 50 bar' (low on air) to 'Safety Stop bar' there are many names that are appealing to divers after a day of SCUBA diving. Mermaids, dive tanks, old dive gear and snorkel sets often decorate the place. While many are nicely located on the beach with bright colors, like tiki huts or pirate bars, you can also find them down town at dive locations.
When I saw a sign with 'dive bar' I thought "Yeah, let's have a deco beer here!" Guess what, there was NOTHING SCUBA related to be found. It was just a lousy smelly bar, bummer. When I Googled dive bar I found out it is means something completely different. If you are an English native speaker you might know this, but for the rest this might be a surprise!
Visit Bonaire and try Dive O'Clock Beer on tap!

After diving bar versus dive bar!
According to Wikipedia the definition of a dive bar: 'Dive bar is a colloquial or informal American term for a disreputable bar or pub. Such bars may also be referred to as neighborhood bars, where local residents gather to drink and socialize. Individual bars may be considered to be disreputable, sinister, of poor upkeep, or even a detriment to the community'.
3. Remember how to stay dry in a drysuit!
After not using my drysuit for many years I packed it for Islas Hormigas in Spain. First thing I realized when I arrived is that I had taken my dive boots for nothing as my drysuit already has boots attached to the suit, LOL. The purpose of a dry suit, versus a wetsuit, is that you want to stay dry inside, air isolation instead of water insulation.
To keep the air trapped in your suit you need to make sure the seals in your neck and wrists are tight enough so water can not enter and air will stay inside. What I forgot to do was to roll my long neoprene neck seal back in, to create a proper air trap - I just made sure my hair was not in the seal. Ooooops, all wet! After some great laughs I tried it again, finding out my wrist seals were too wide to fix by myself as well - that is when I switched to a wetsuit in Spain! Of course this was all paired with putting on the dry suit as well, what a struggle if you have not done it for a while! This video is pretty accurate!
4. There are two great dive locations that are called Guadeloupe!
Actually it is Guadeloupe and Guadelupe, but for sure this minor detail is hard to separate if you have not heard of these areas before. Worst thing, they are both located in the same region - Central America. When a friend told me about this amazing dive spot with countless sharks I was sold and have wanted to go ever since. The funny thing is that I got so excited I tried to convince my local dive club in the Netherlands to go here for the annual dive trip.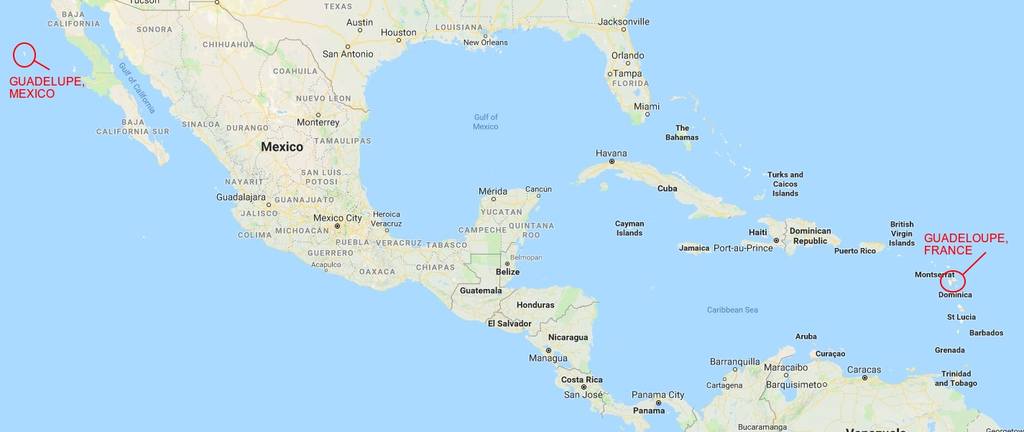 Map of both Guadeloupe Islands in Central America.
It was only after I booked the tickets to Guadeloupe, a French Caribbean Island, I found out there are no sharks over there... Finally I figured out that there is one Guadeloupe Island in the Caribbean and one off the Baja California in Mexico! Diving around Guadeloupe in the Caribbean was still really impressive, one of the highlights of the Caribbean! The other Guadelupe (Mexico) is still on my list but I did made it to the best spots of the Southern part of the Baja California.
5. Renting dive equipment can be the best option!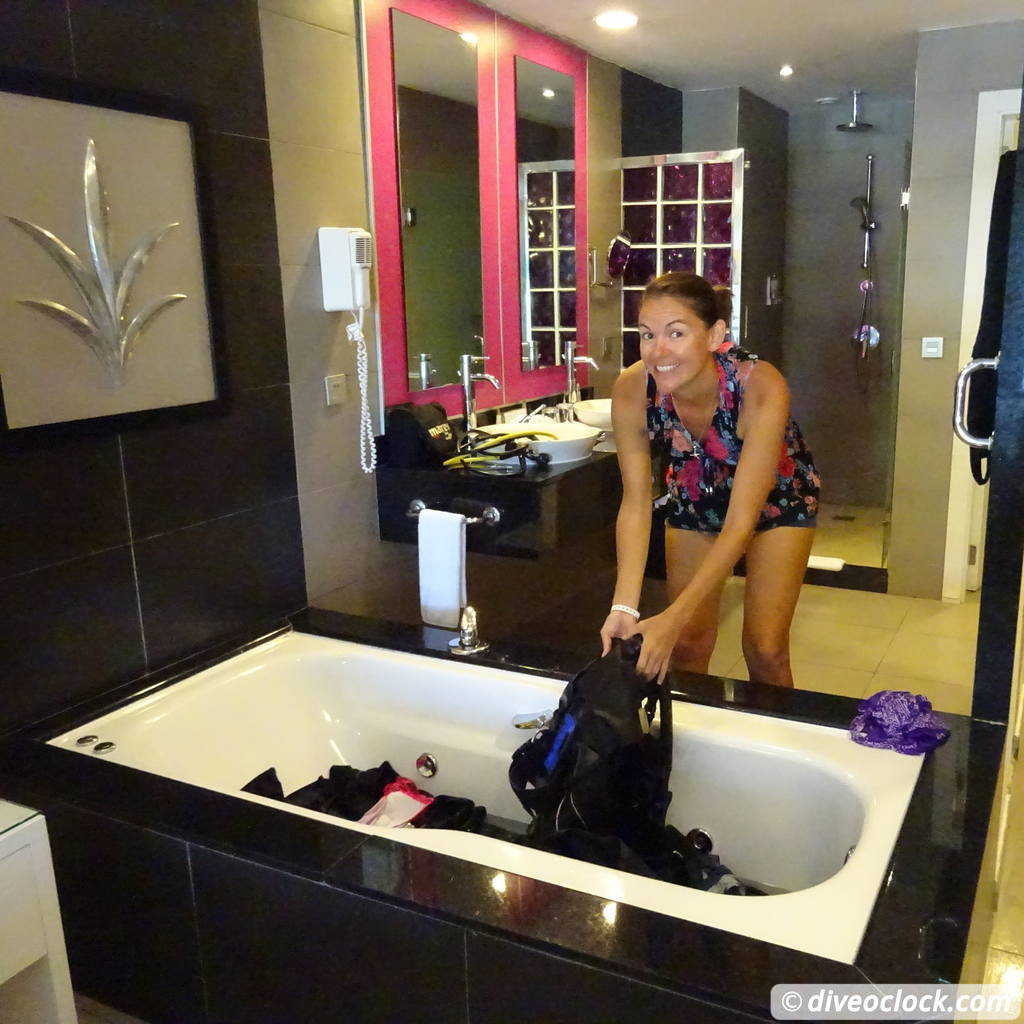 Rinsing my dive equipment in the Dominican Republic.
To be honest, over the last years I have been travelling from one dive location to another without having a home base. This way of living is great but traveling light and compact does make life a lot easier when you keep hopping on / off boats, planes and buses. Of course this is different from a dive holiday. Once a week diving instead of a week full of diving - would you bring all your equipment for this?
This year I brought all dive dive gear anyway, there are countless reasons to do so, as I have done before. The funny thing is I have shipped it back (thanks mom & dad for the storage) several times, as a package or with friends returning to The Netherlands. To clarify: My full set of dive equipment and dive travel bag is over 15 kilo / 33 pounds, leaving not a lot of space for the rest of my things (to live, not as a holiday). This year I shipped my equipment back 3 times and I am already considering bringing it again in 2018, LOL!
If you like this post, hit that like button on our
Facebook page
and stay tuned for more!
Marlies Wolters
Founder of Dive O'Clock "It's dive o'clock somewhere!"

Share this page: