Isla Mujeres - Snorkeling with Countless Whale Sharks (Mexico)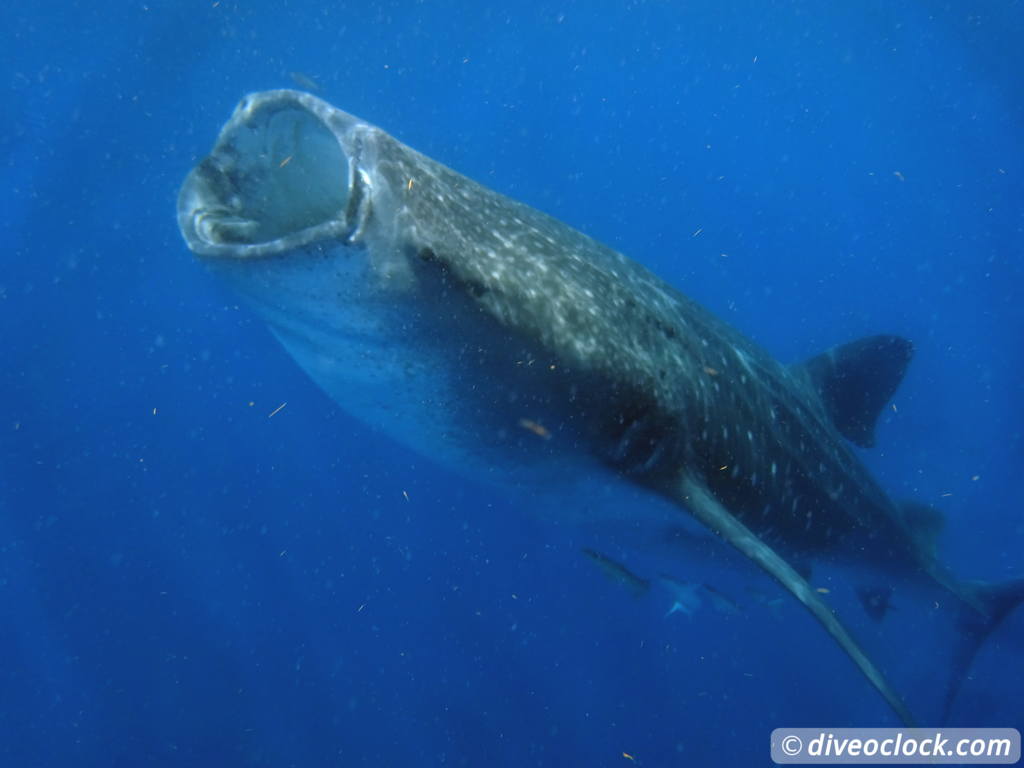 Whale Shark (Rhincodon typus) feeding off the coast of Isla Mujeres, Mexico
How about swimming with a whale shark up close? How about swimming with a few hundred? It is totally possible in Mexico. The highest number of Whale sharks in the world can be spotted off the coast of Mexico.
About five years after doing a similar whale shark (Rhincodon typus) trip from Cancun I was so exited to be back in Yucatan during the whale shark season (May - September)! The trip is mind-blowing, a once in a lifetime experience of which I never stopped telling people about. Especially when you expect to see maybe one whale shark it is impressive to see dozens if not a hundred!
The best thing about this trip is the adrenaline rushing through your veins as you get closer to the area which is a feeding hot spot. Where the Gulf of Mexico and the Northwestern Caribbean sea meet, whale sharks feed on plankton-rich water. They feed by opening their massive mouth to allow nutrient-rich water to flow in. With their sponge-like pads, they strain out their food, mostly zoo-plankton. Then the filtered water passes out through the gills. Especially when these gentle giants feed while laying motionless vertically in the water it is beautiful to observe them from a safe distance.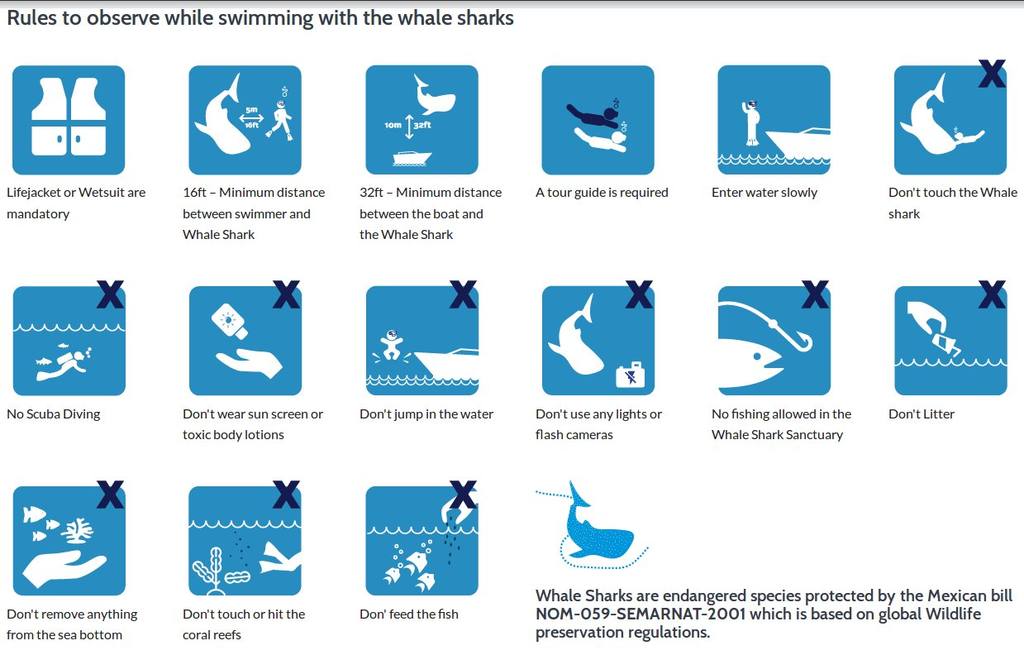 Key points of the Whale Shark Regulations by SEMARNAT (source Holbox Adventure)
The area is about one hour by boat from Isla Mujeres, really in the open sea (sea sickness pretty much guaranteed if you are prone to it). Also, the whale sharks are swimming around mostly and often they swim away from you, making it hard to get a bit closer or take photos while snorkeling at full speed. With a high number of regulations set by the governmental organ of SEMARNAT (Secretaría de Medio Ambiente y Recursos Naturales) the whale sharks are legally protected from harm done by people.
In the Yucatan area you get three guided in-water trips of about 15 minutes with the whale sharks, only if there are more than five whale sharks in the area. You snorkel with two, plus a certified guide, there are no more people allowed in the water from the same boat at the same time. As you can not chase them or interfere their path (and they can swim a lot faster than you, especially with currents and waves) you will get some exercise if the conditions are not optimal.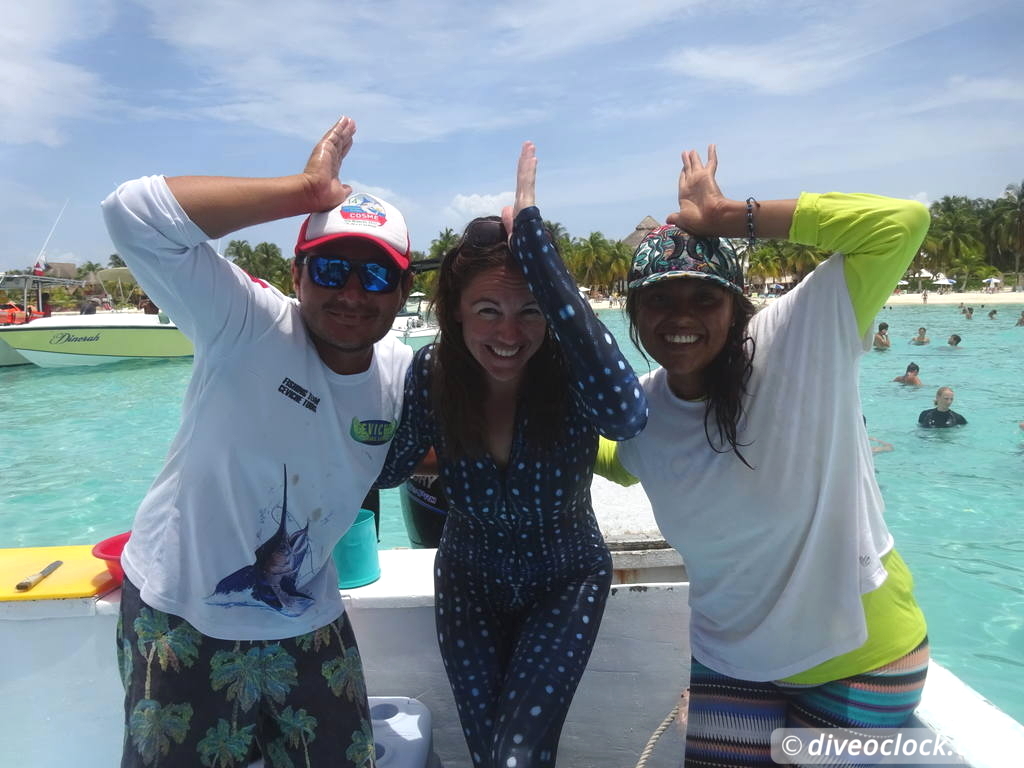 Time to spot some Whale sharks and find a fashion twin!
Doing this (postponed) trip a few days after tropical storm Franklin the conditions were far from optimal, waves, current and lots of particles in the water giving less visibility. It was really hard to get within 10 meters from a whale shark, let alone take some nice pictures without getting exhausted yourself. Of course this is all well worth it!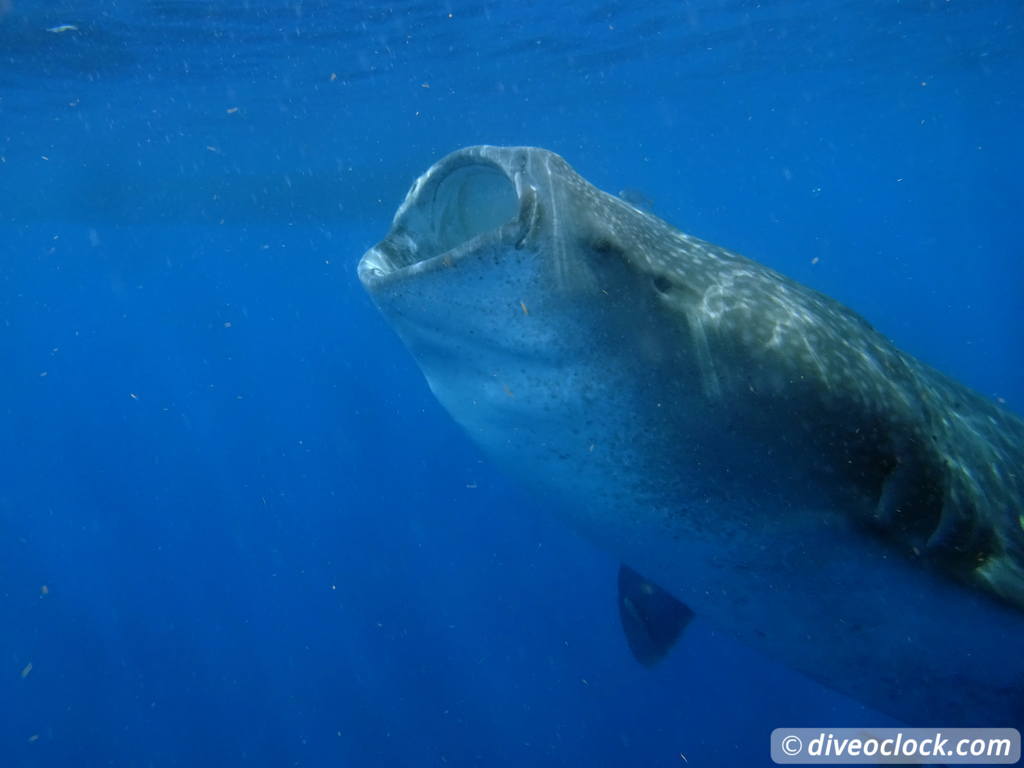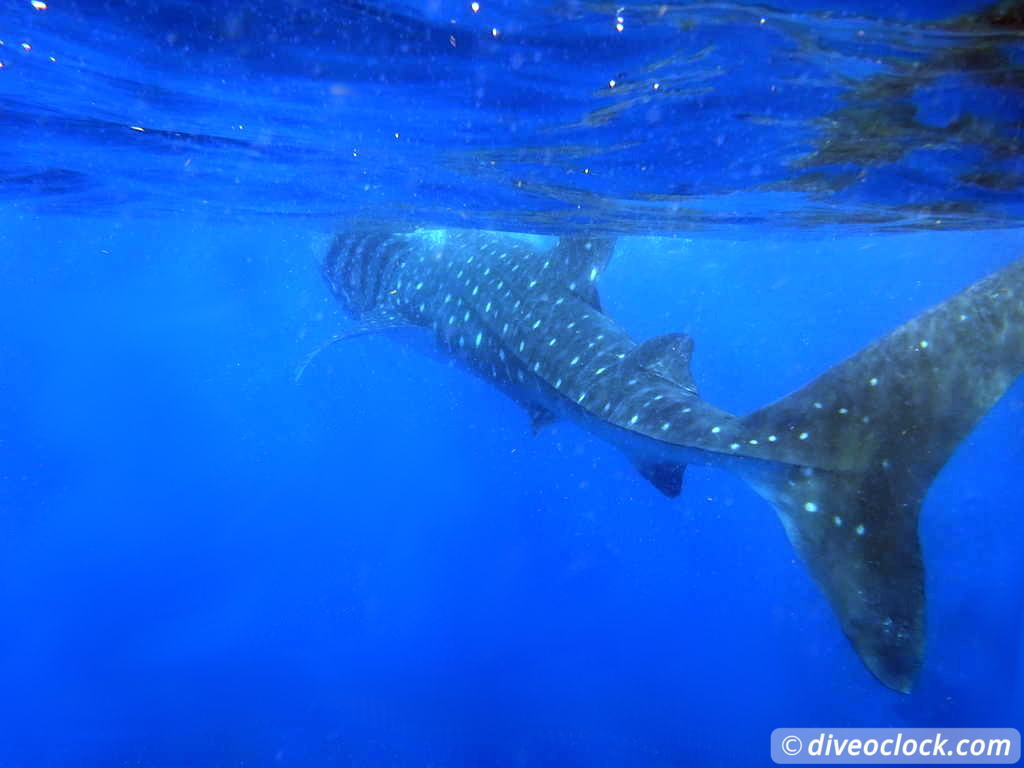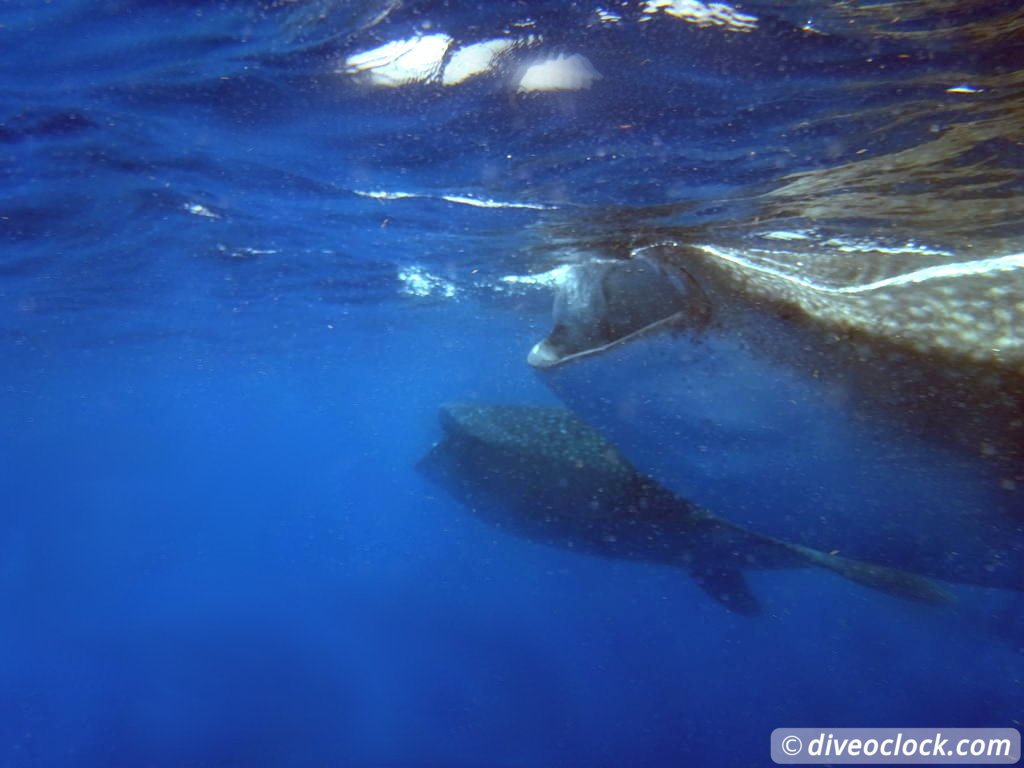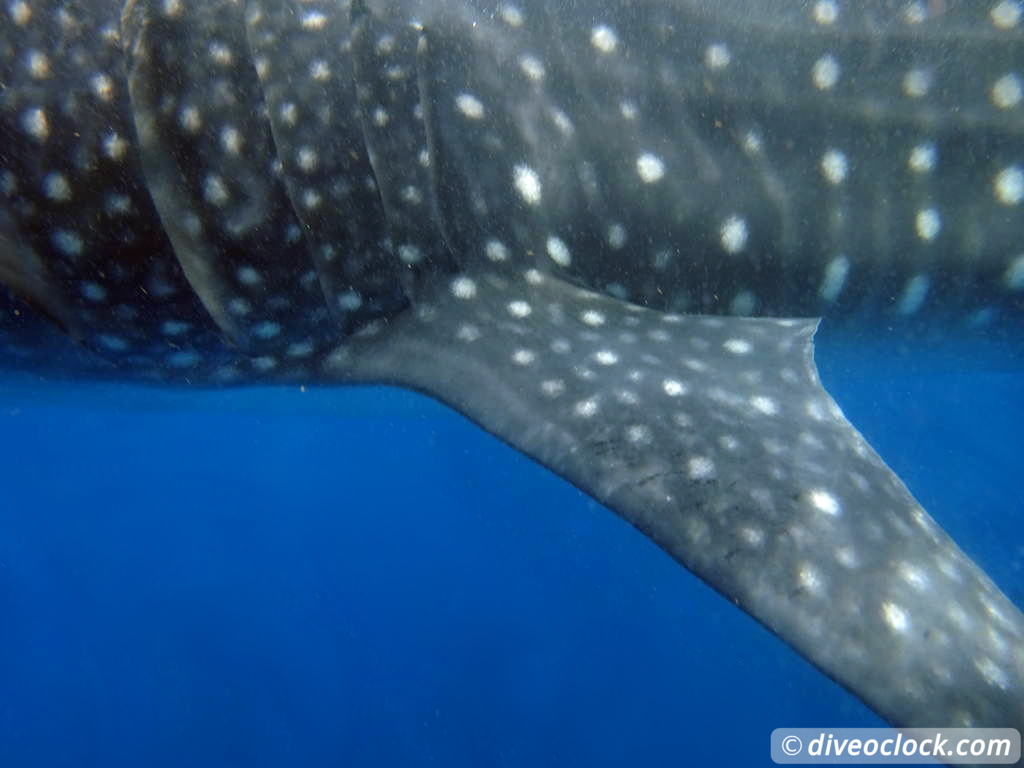 Whale Sharks!!!
Country
Mexico
Dive area name
Isla Mujeres (about one hour off-coast)
Dive center
Tiburon Ballena Isla Bonita / Karla Josefina together with Ceviche Tours
Famous for
Whale shark migration - feeding hot spot!
Price
125 US dollar for a shared boat, 850 US dollar for a private boat, both take up to 10 people (+guide and captain). Wetsuit rental is 10 USD (mandatory or full suit)
Including water, soda, sandwiches and the best ceviche ever (freshly made!)
Hotel recommendation
Cabanas Maria Del Mar Hotel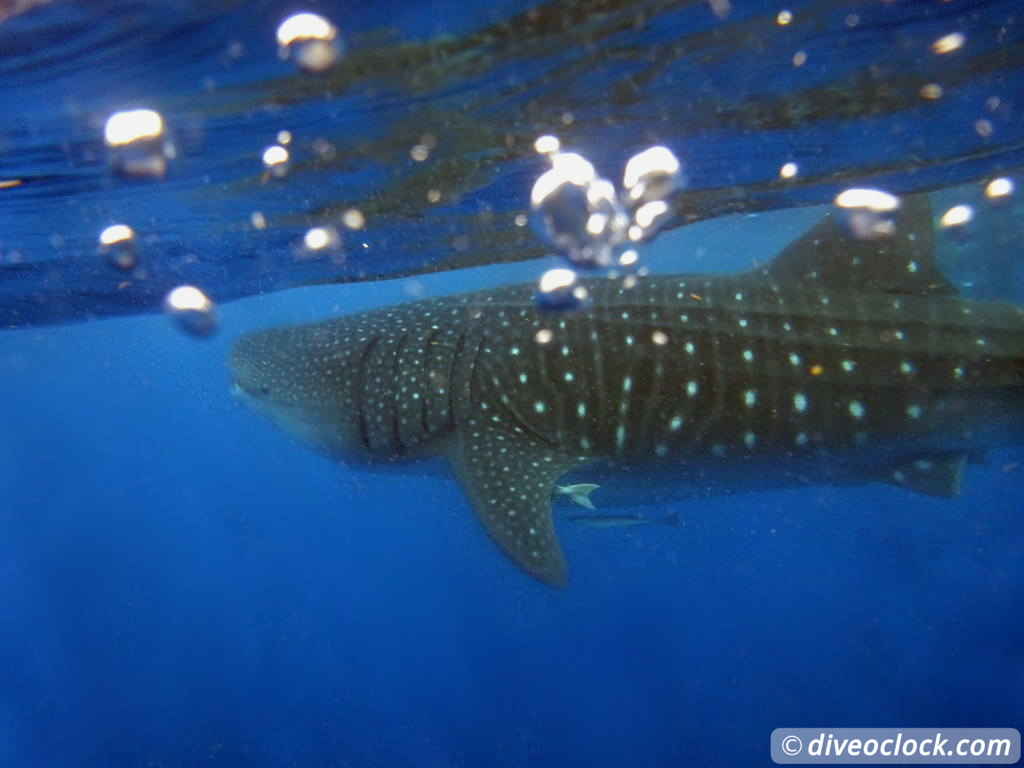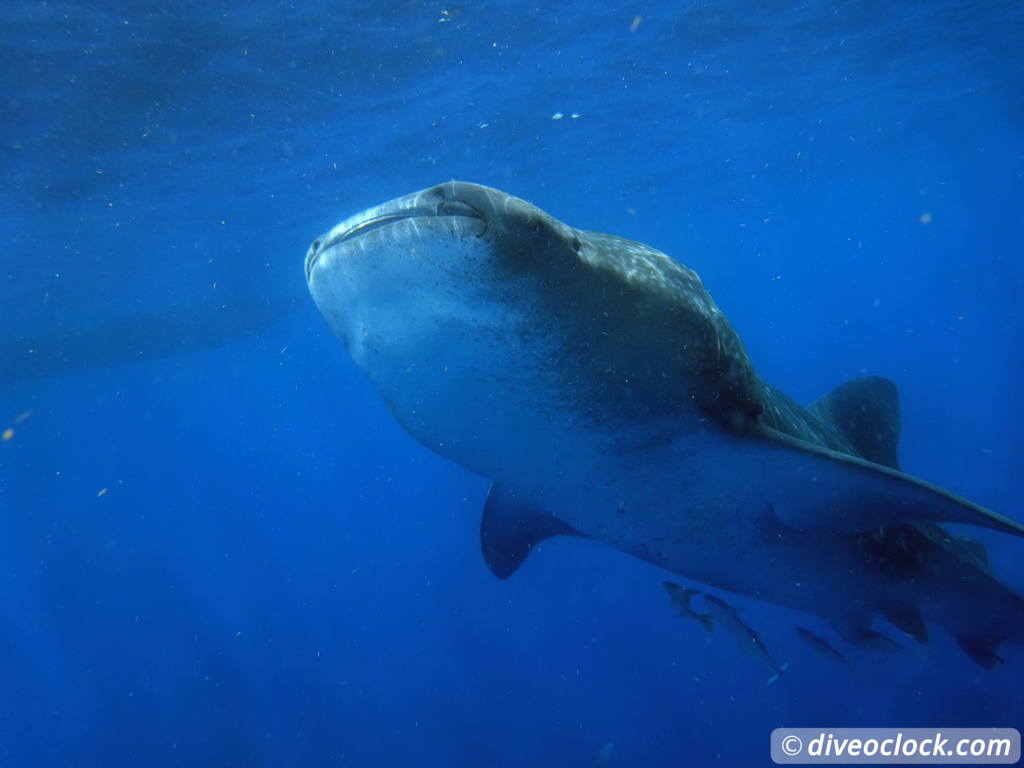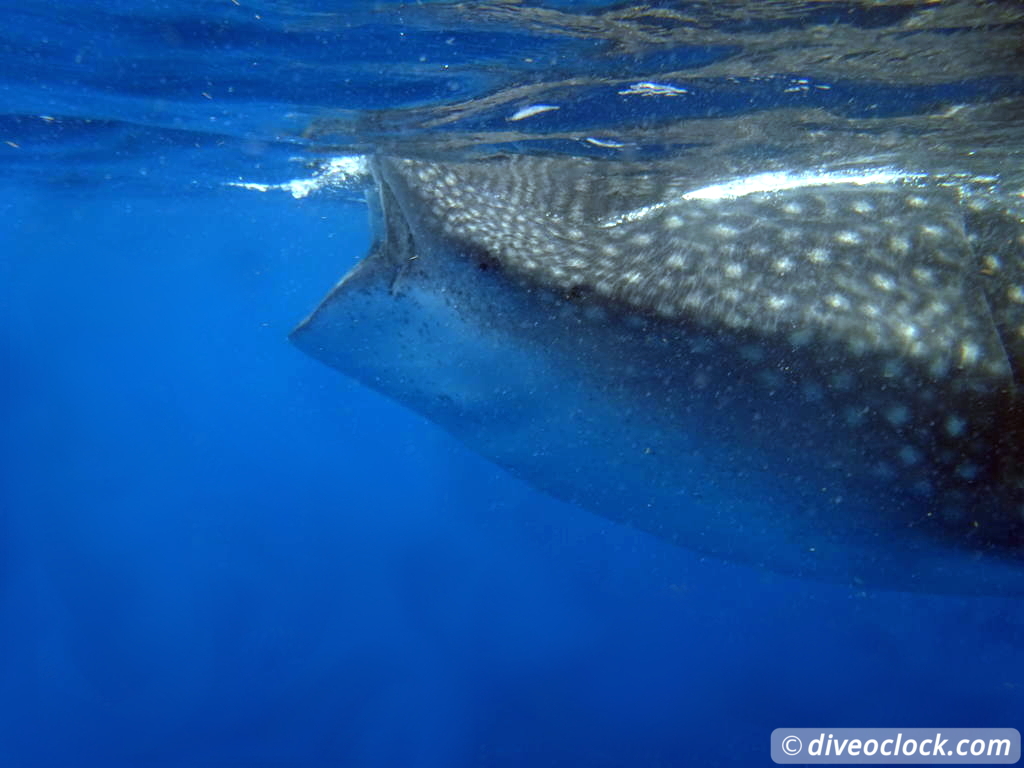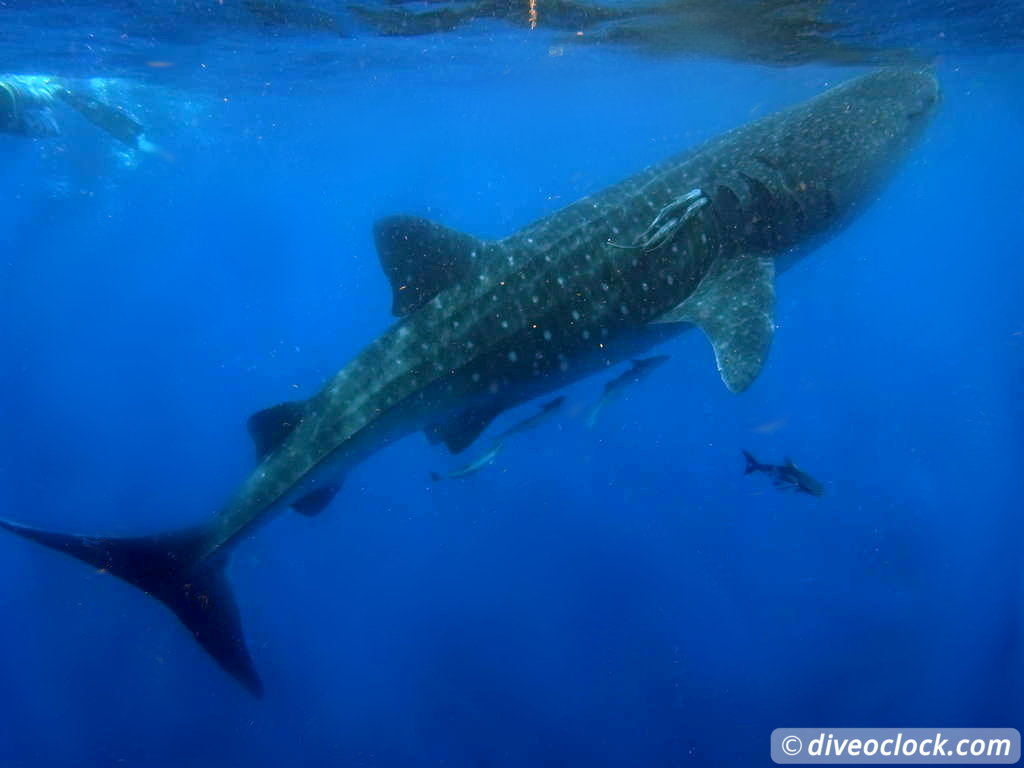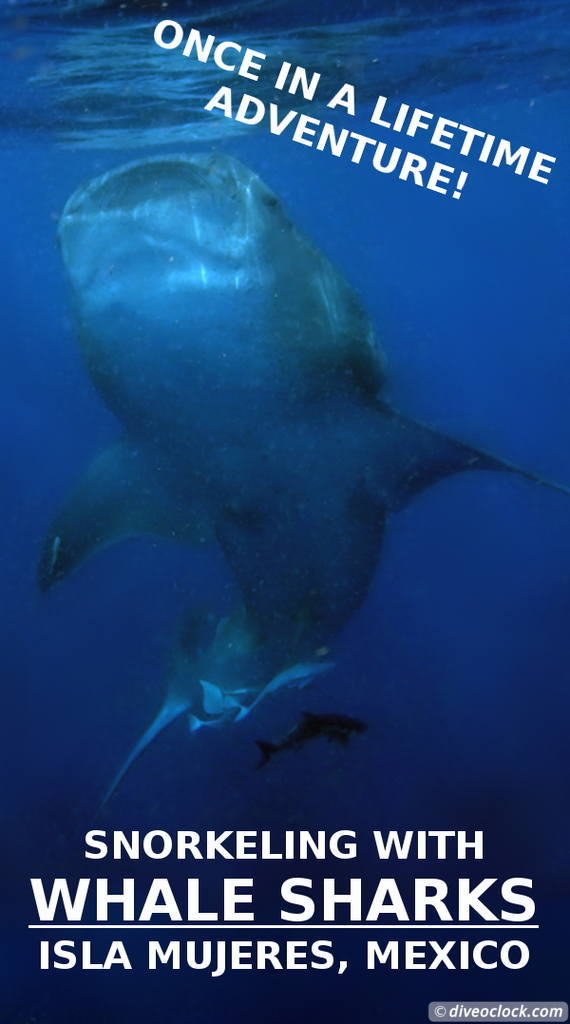 With my new whale shark dive skin from SlipIns I stole the show from the moment I got on the boat. At some point people took more pictures of me than the whale sharks, my moment of fame - :) Luckily I managed to get a few shots with my fashion twin underwater! (see photos below)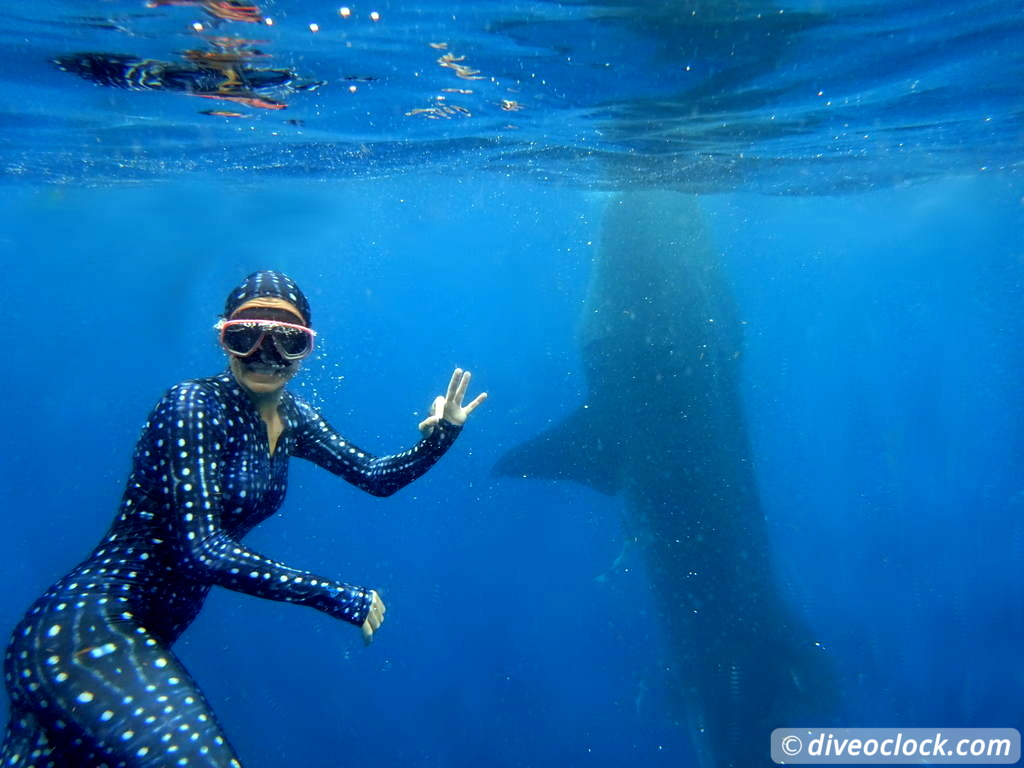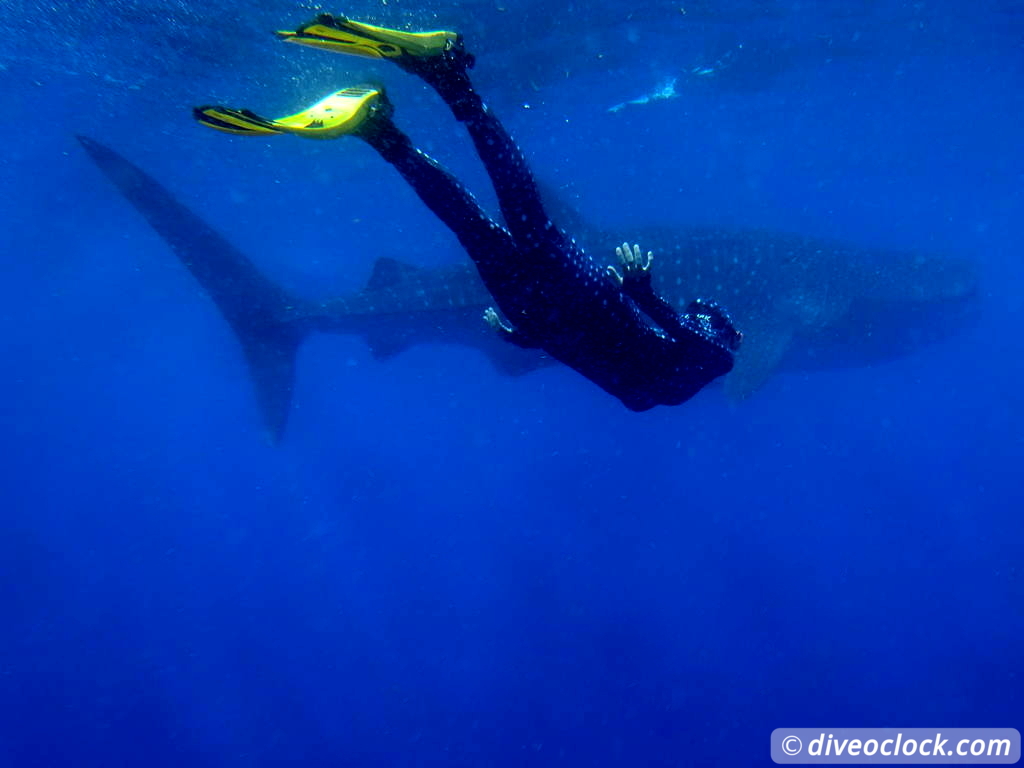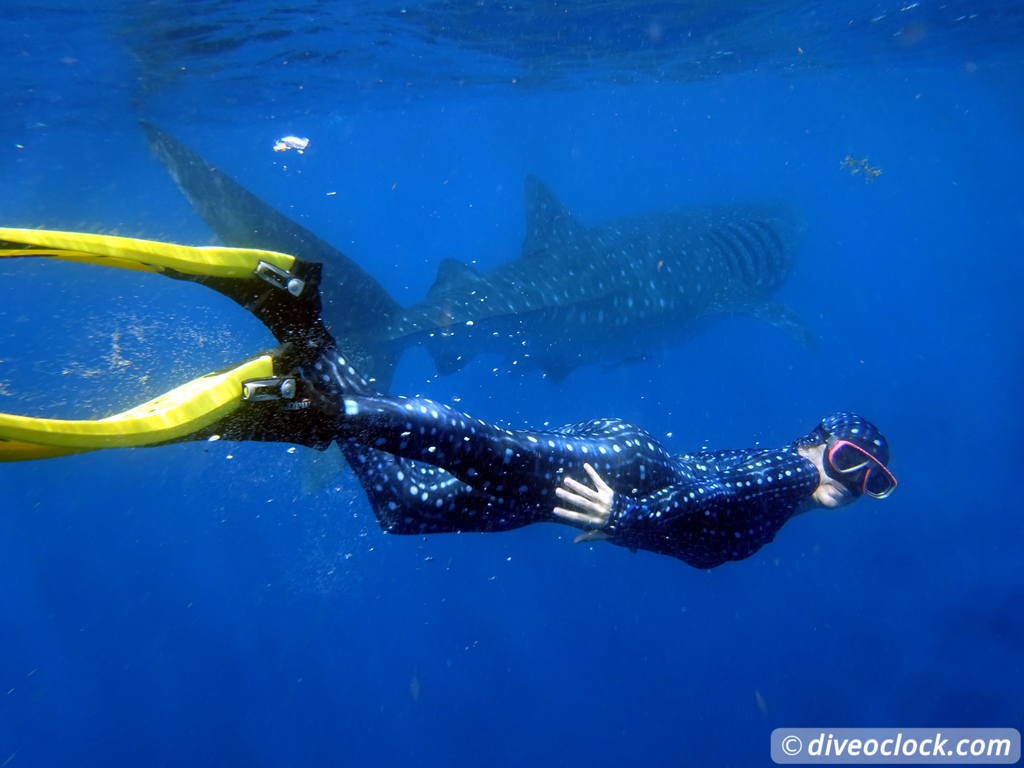 My fashion twin and me!
About the organization of Tiburon Ballena Isla Bonita / Ceviche Tours
With many operators around Yucatan organizing the whale shark trips I was really happy to get a recommendation from my friend Jay Gittens. Jay is a marine biologist working and studying in the field of whale shark conservation biology in the Gulf of California (Mexico). Together we wrote the MUST READ post: How Far Would You Go to See a Whale Shark in Real Life? Here you can read how to chose a responsible whale shark tourism operator, good and bad examples and why choosing a responsible company is vital for the future.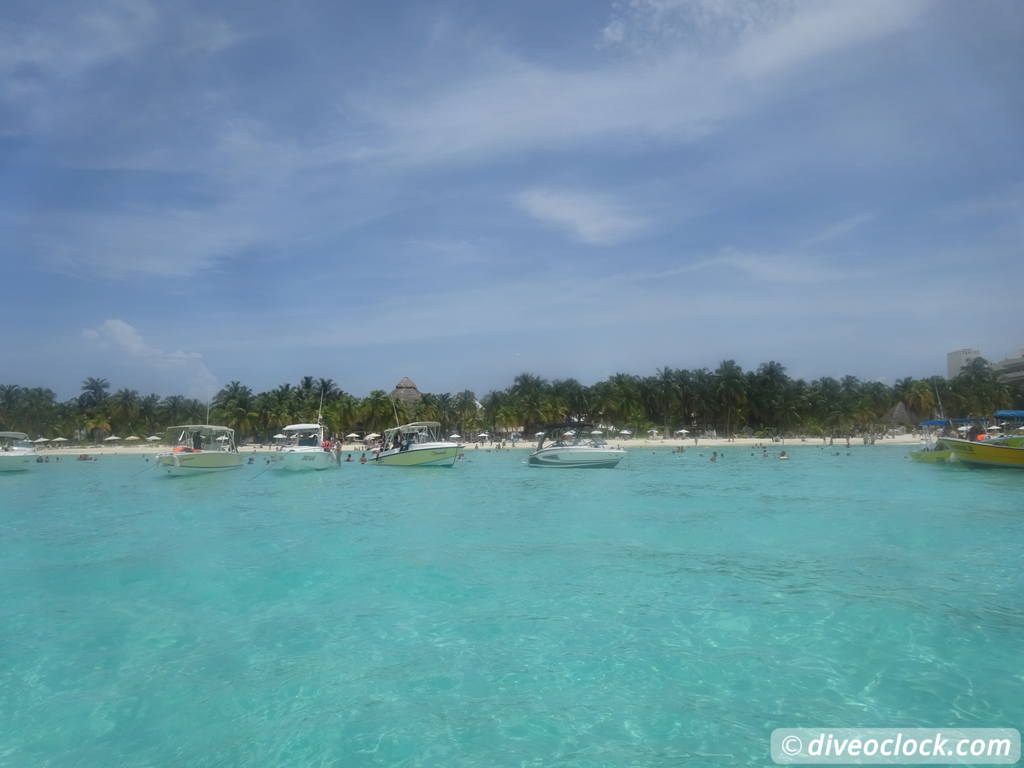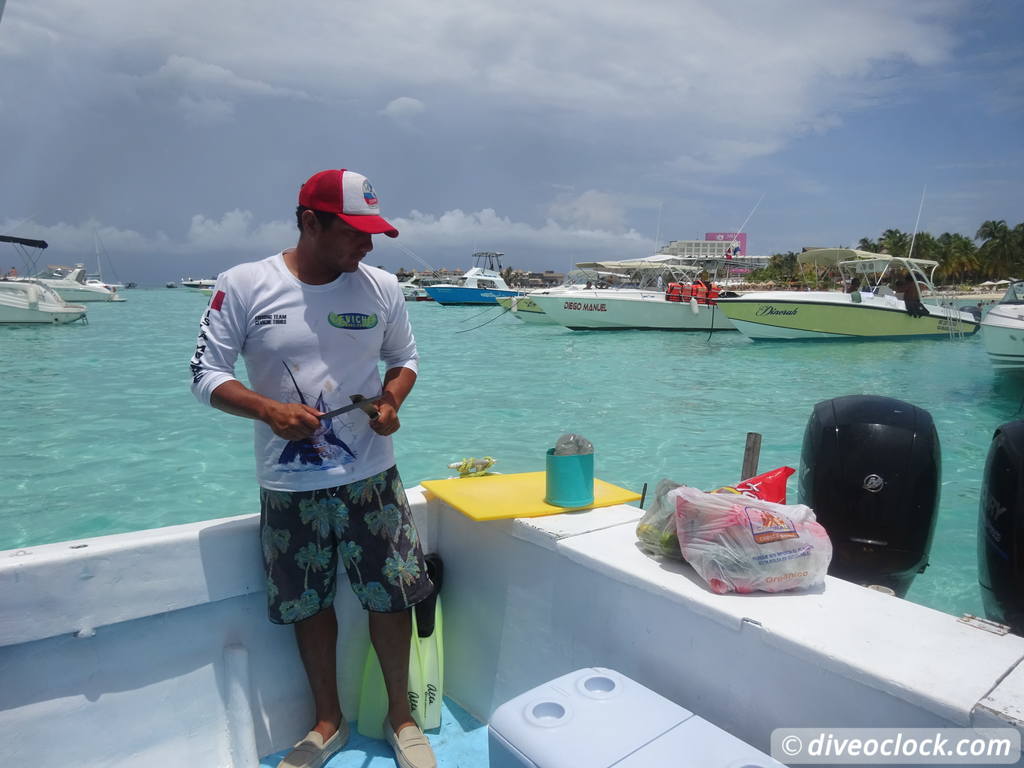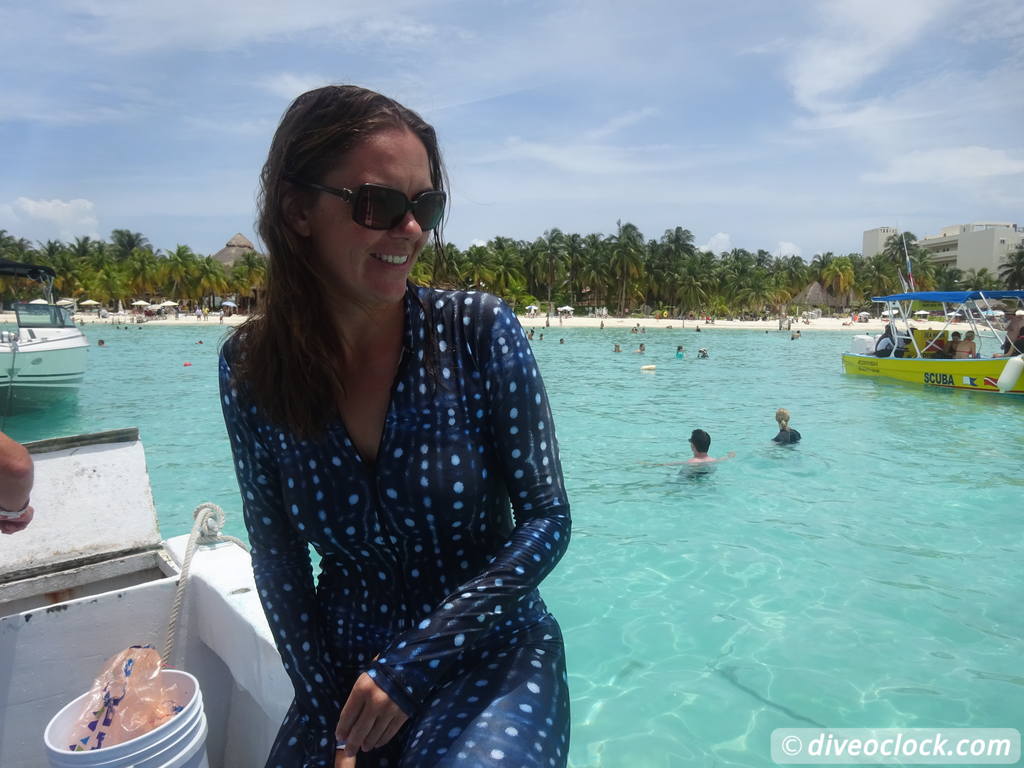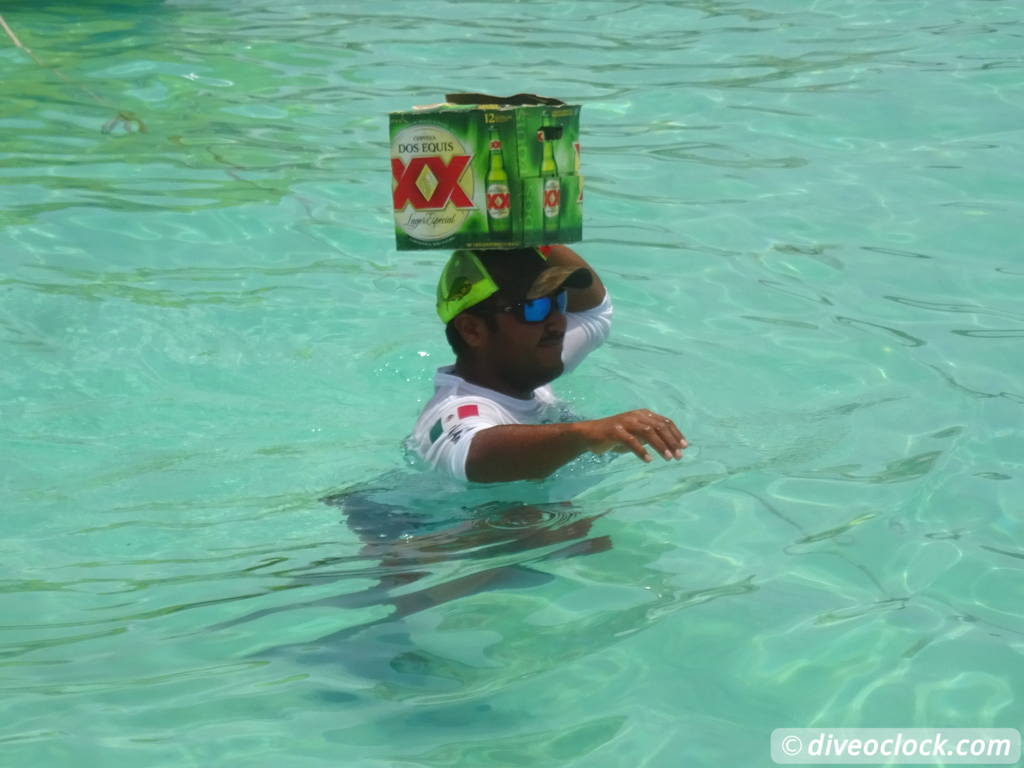 Relaxing at the turquoise lagoon of Punta Norte on Isla Mujeres!
Karla Josefina from Tiburon Ballena Isla Bonita works together with Ceviche Tours to offer you this lifetime adventure. She works hard to protect the whale sharks and giving here customers the best experience possible in my opinion. The trip takes about 6 hours, departing at around 7:30 am in Punta Sam (Cancun) and at about 8:00 am on one of the jetties close to the ferry terminal on Isla Mujeres.
Apart from Karla sharing all her knowledge and enthusiasm about these magnificent creatures you get a life jacket, water, soda, sandwiches and the best ceviche ever (freshly made!) while you relax at the famous beach of Punta Norte. (Beers not included but they will get you some if you like, bring your own if you wish)
Have you ever had the chance to see a whale shark in real life? (comment below!)
If you like this post, hit that like button on our
Facebook page
and stay tuned for more!
Marlies Wolters
Founder of Dive O'Clock "It's dive o'clock somewhere!"

Share this page: