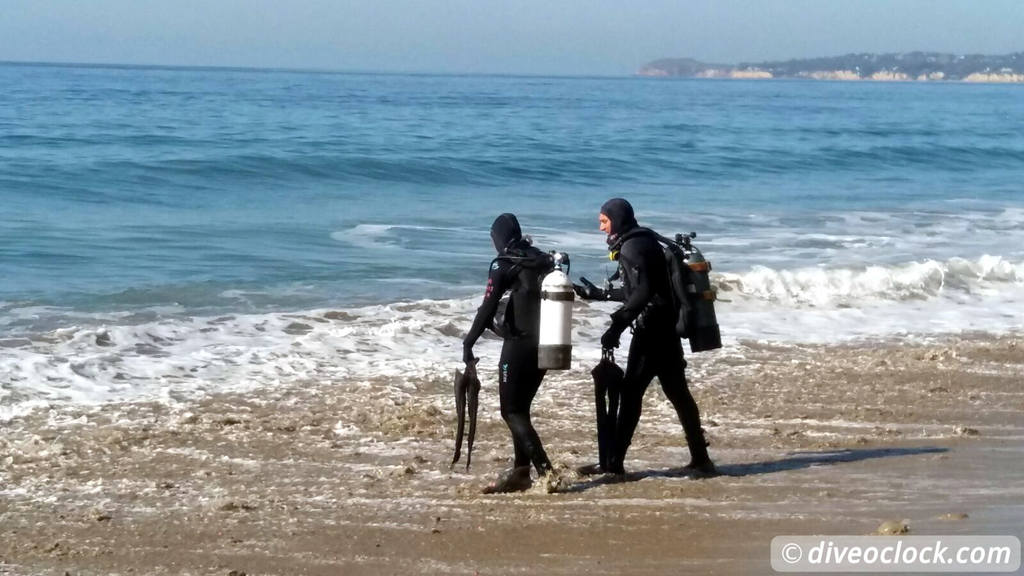 Full suit beach entrance in sunny Malibu!
Malibu - Kelp Forests and Lobster Diving in California (USA)
Sunny Malibu Beach, along the South Pacific highway and close to Los Angeles, Santa Monica and Hollywood, offers some very interesting diving! If you are on a holiday around here, try something different and go fun diving in a kelp forest!
Imagine gearing up next to the car with celebrities and fashionable people with fancy dogs taking a beach stroll - something different for sure!
It looks a bit like diving in the Netherlands (my home country), the water is pretty cold (a full wetsuit is necessary), diving is shallow and you need to time your dives according to the tides.
Around 9 AM we entered the water for an easy shore dive with some sea lions visible on the surface in the distance. After a little struggle to get in the water with the waves washing ashore it was time to descend and explore Malibu underwater!
Country
USA
Dive area name
California, Malibu
Dive center
Malibu Divers
Famous for
Kelp forests, lobsters (season), sea lions and horn sharks!
Price
Day trip Catalina Island with 3 boat dives: 135 US dollar.
Private guided beach dive with gear: 150 US dollars.
Hotel recommendation
The M Malibu
The Northern Pacific Ocean has a great variety of marine life on offer. Around Southern California kelp forests are common. Imagine long seaweed strings moving with the surge (back-and-forth movement of water). It is beautiful, I loved it, even-though a lot of the kelp was gone due to warmer water temperatures. The water was about 18 degrees Celsius and the sandy bottom dropped down to about 8 meters. An interesting rock formation with little overhangs and swim-throughs was full of marine life.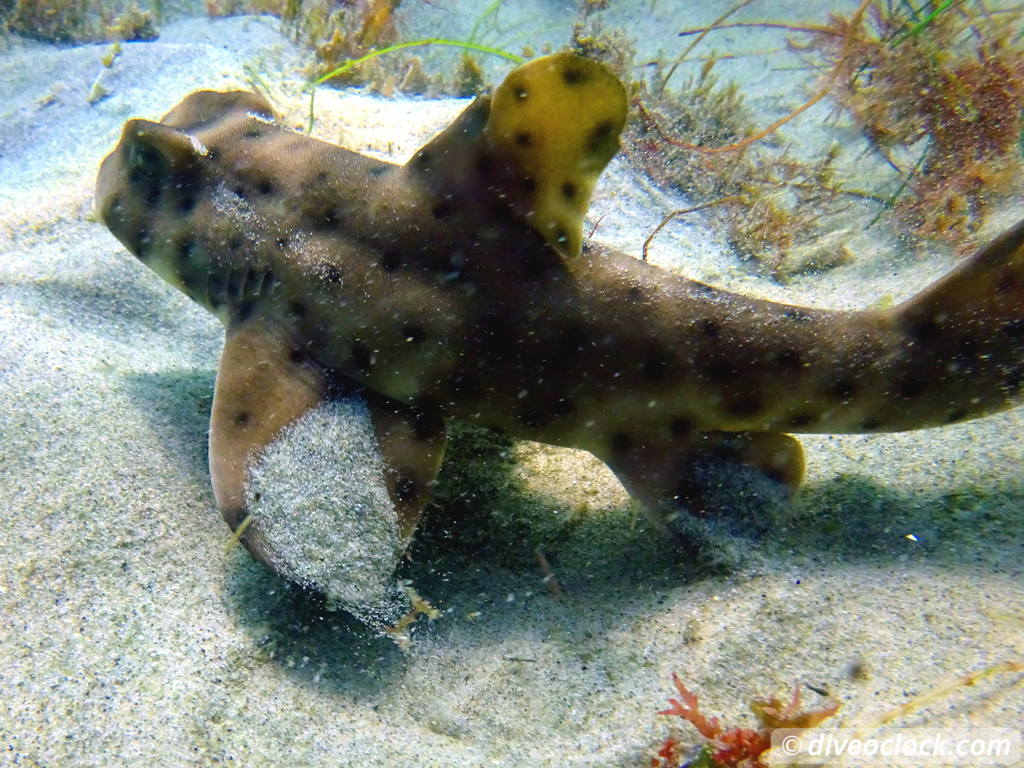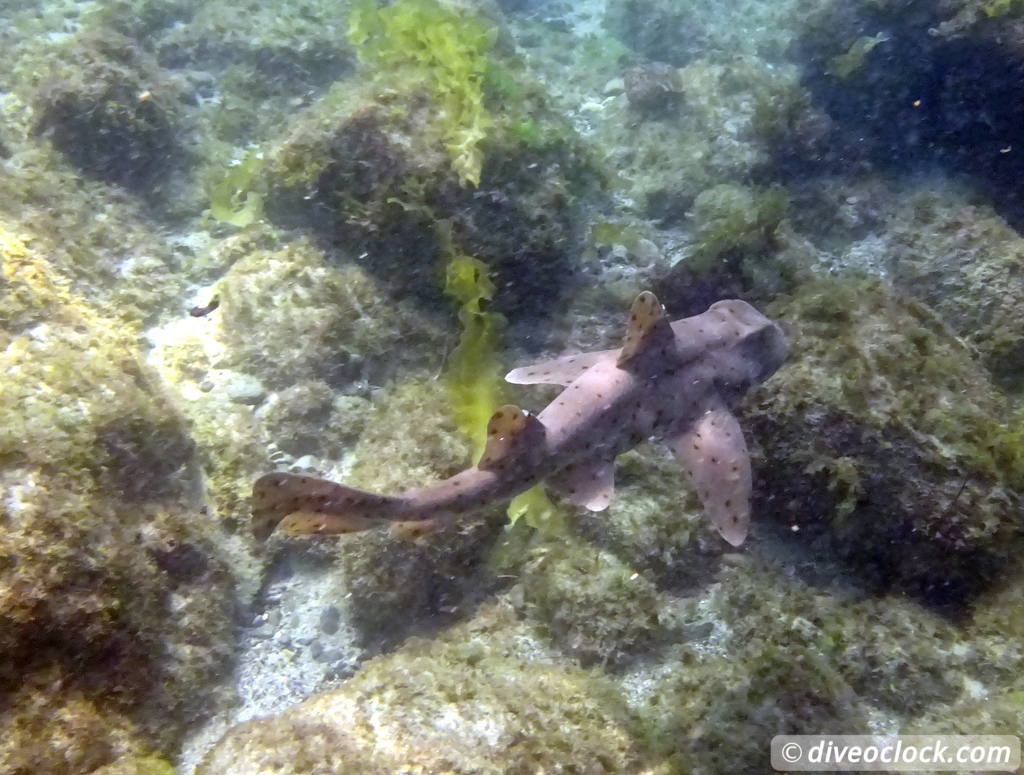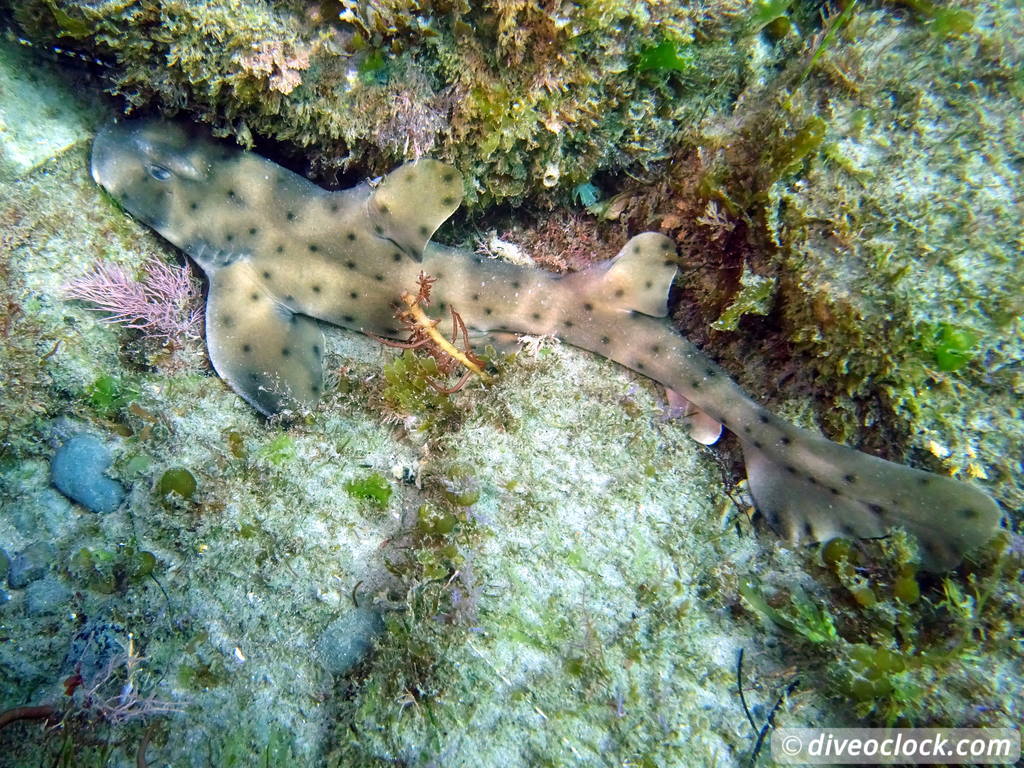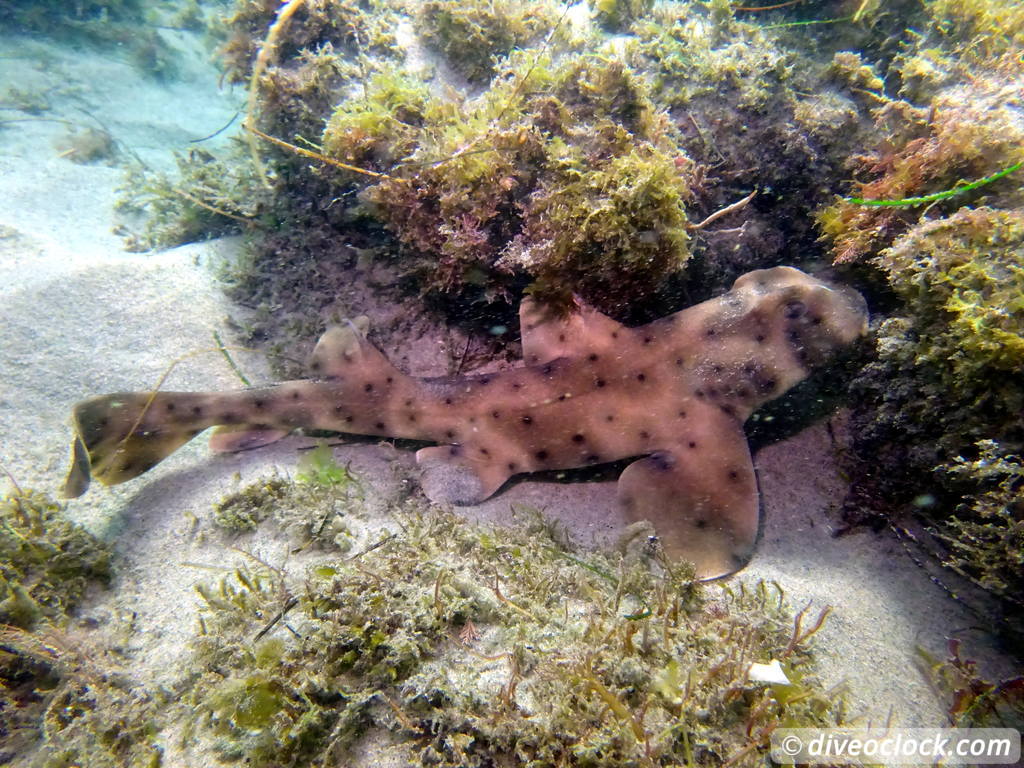 Horn sharks around Malibu Beach!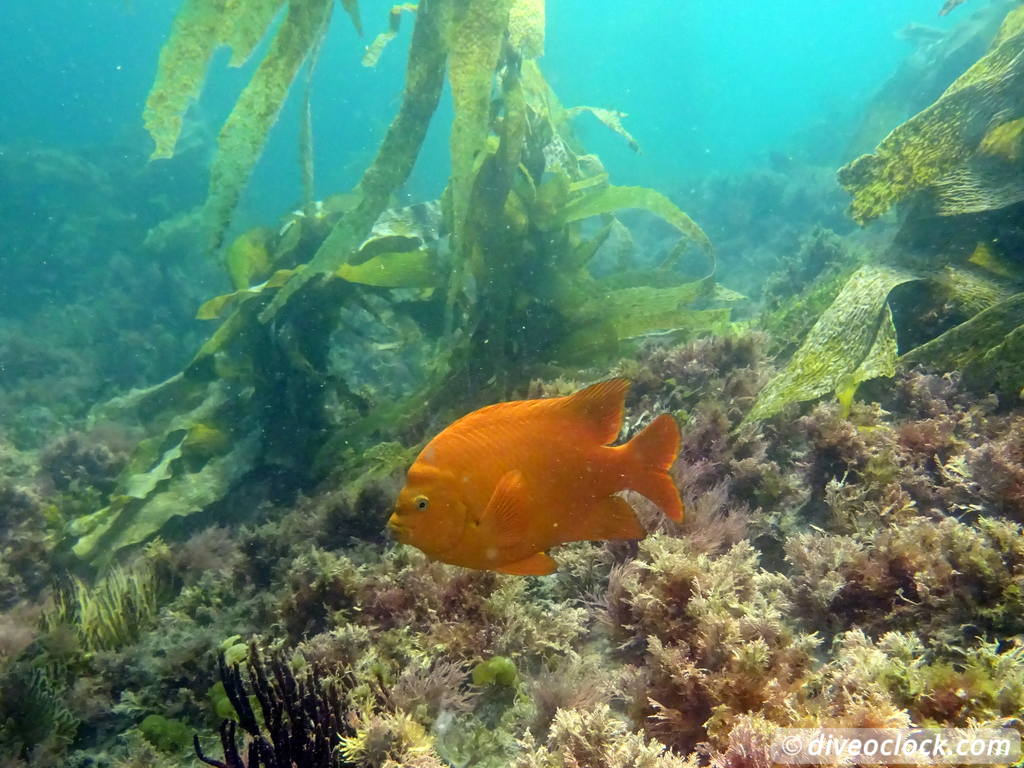 Garibaldi!
Did you know some shark species are real bottom-dwellers? These tiny Horn sharks grow to about 1 meter and are endemic around the Pacific coast of North America. You can find them all along the bottom, hiding their heads in the rocks.
All US states have an official marine state fish. California has the orange colored Garibaldi, a damsel fish. They brighten up the green kelp forest and so do the easy spotted purple/orange Spanish Shaw nudibranchs.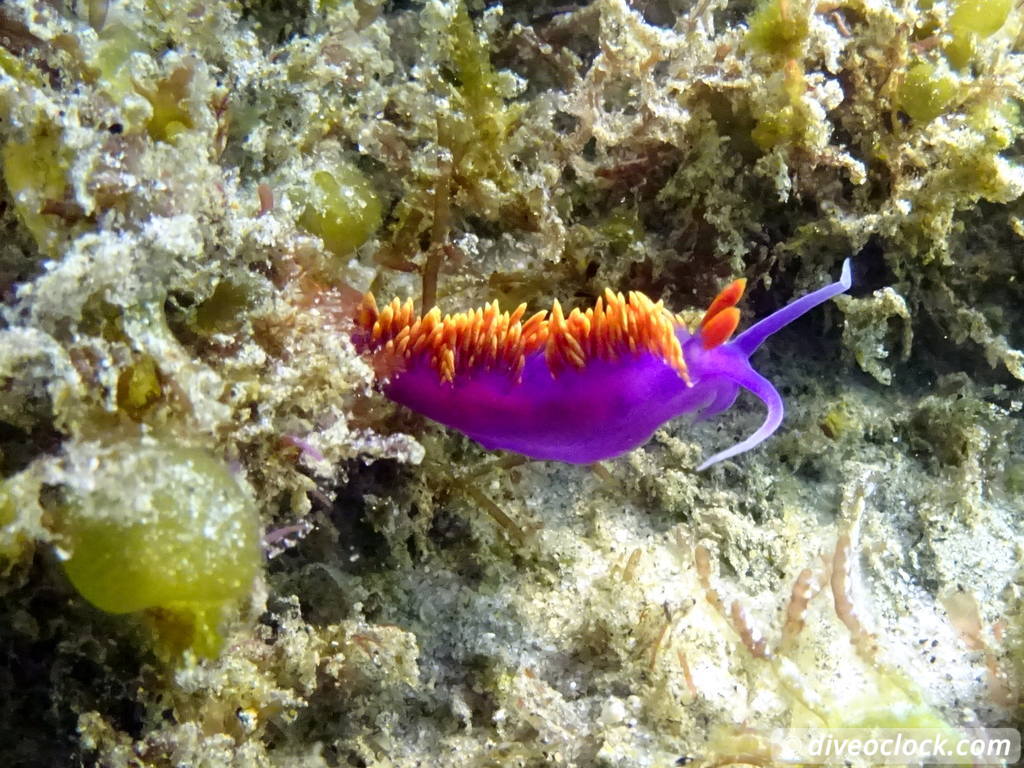 Spanish Shaw nudibranch!
Another very interesting marine life creature around here is the California Sea Hare. Even though the colors are not so bright, their size makes them easy to spot. This huge sea slug grows longer than the length of your hands.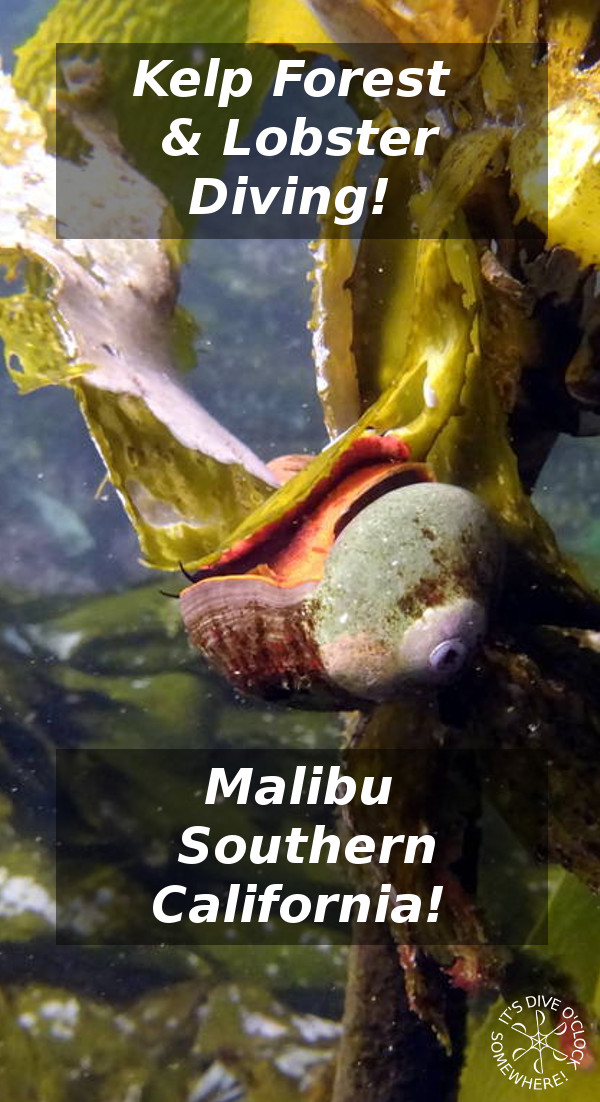 But, right now that is not what diving is about in California - it is Spiny lobster season! During this official 'recreational Spiny lobster fishing season' (October to March) divers can take up to 7 lobsters home for personal consumption. Luckily there are many regulations about how to catch a lobster and which ones (size) are allowed to harvest to keep the ecosystem vital and reproduction optimal. But, as you probably have guessed, I rather take pictures of the amazing kelp structures and marine life species!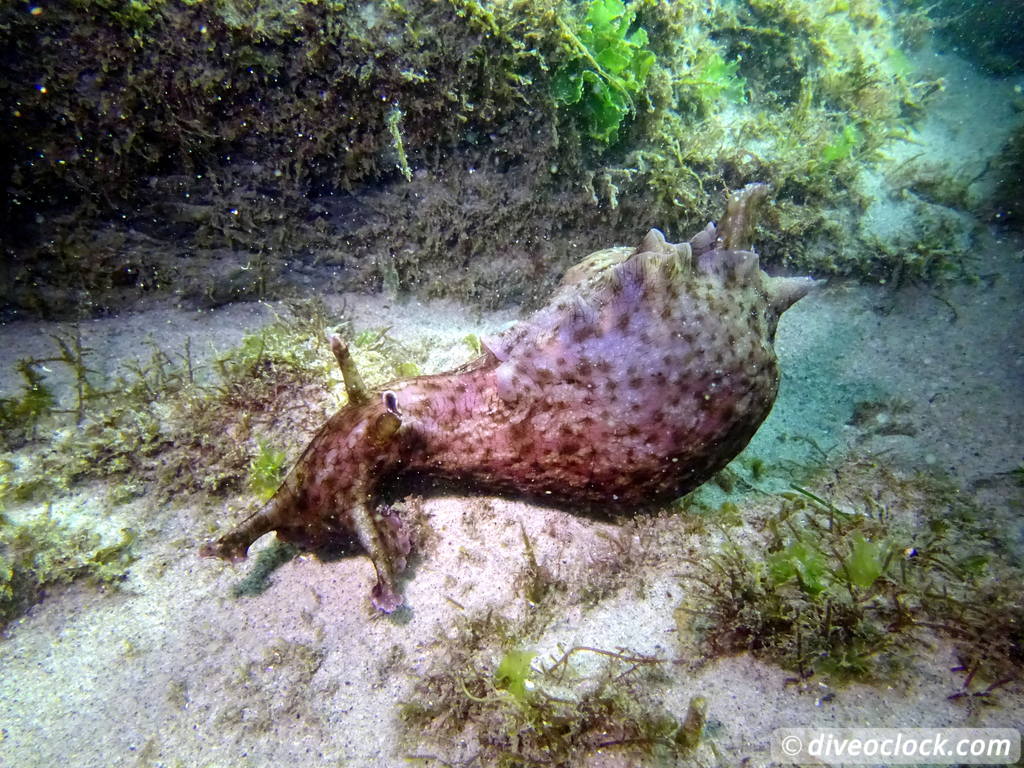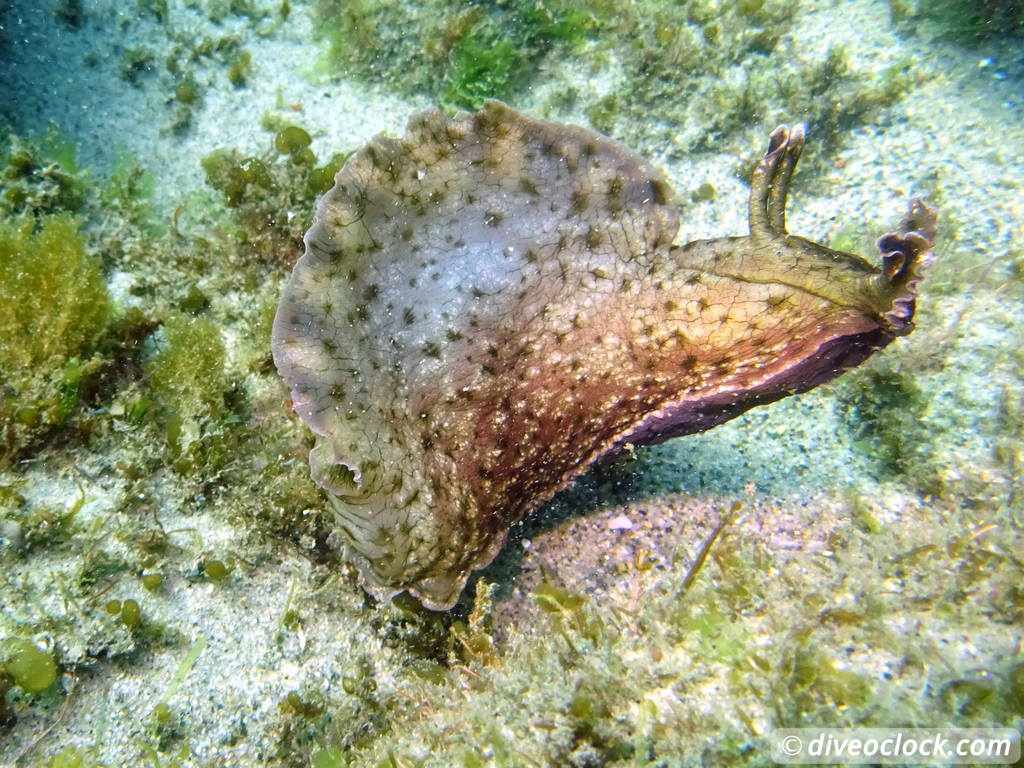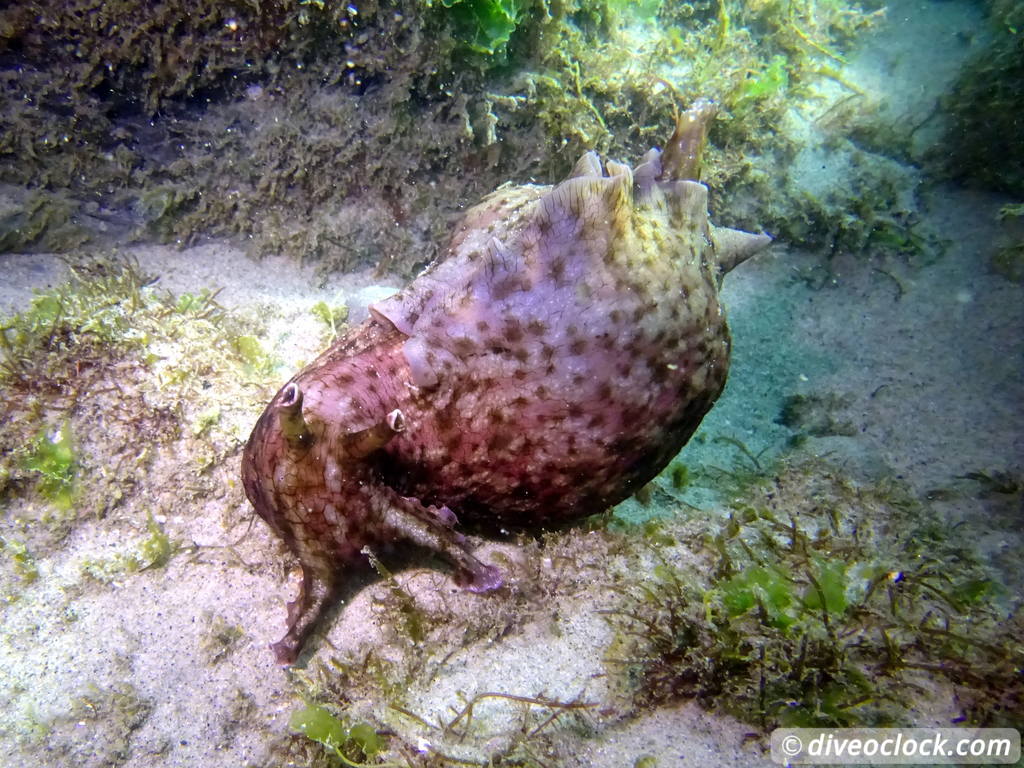 California Sea Hares!
Diving around Malibu Beach is easy. The average depth is about 5 meters and with a lot of sandy areas it is a great place to practice your buoyancy. On the other hand it is quite challenging to maintain your buoyancy as well, since the surge pulls and pushes you back and forward. Especially when taking pictures you need to focus on your breathing, the surge and the kelp moving in front of your object. Learn underwater photography here and you will have an easy time during (other) holidays!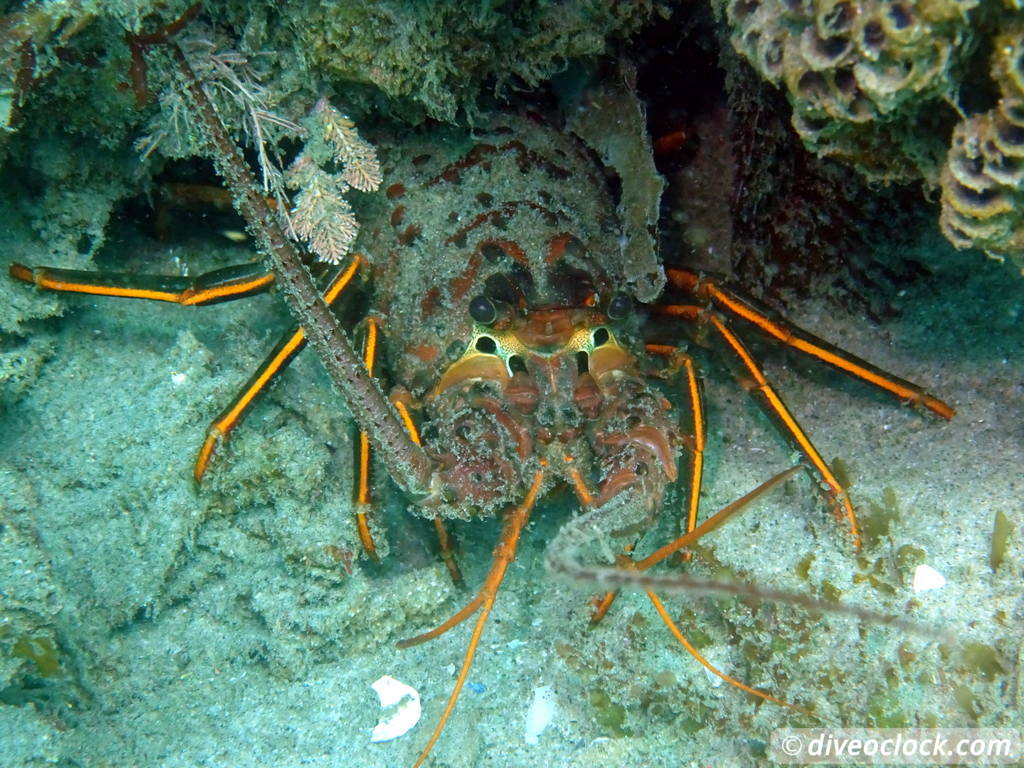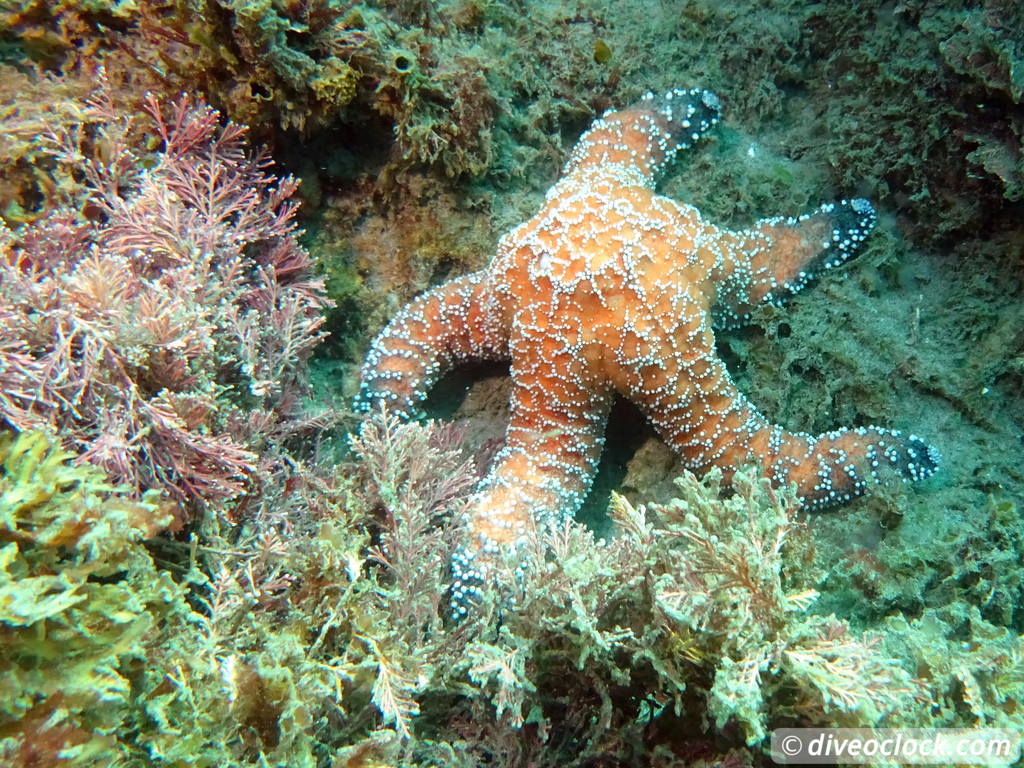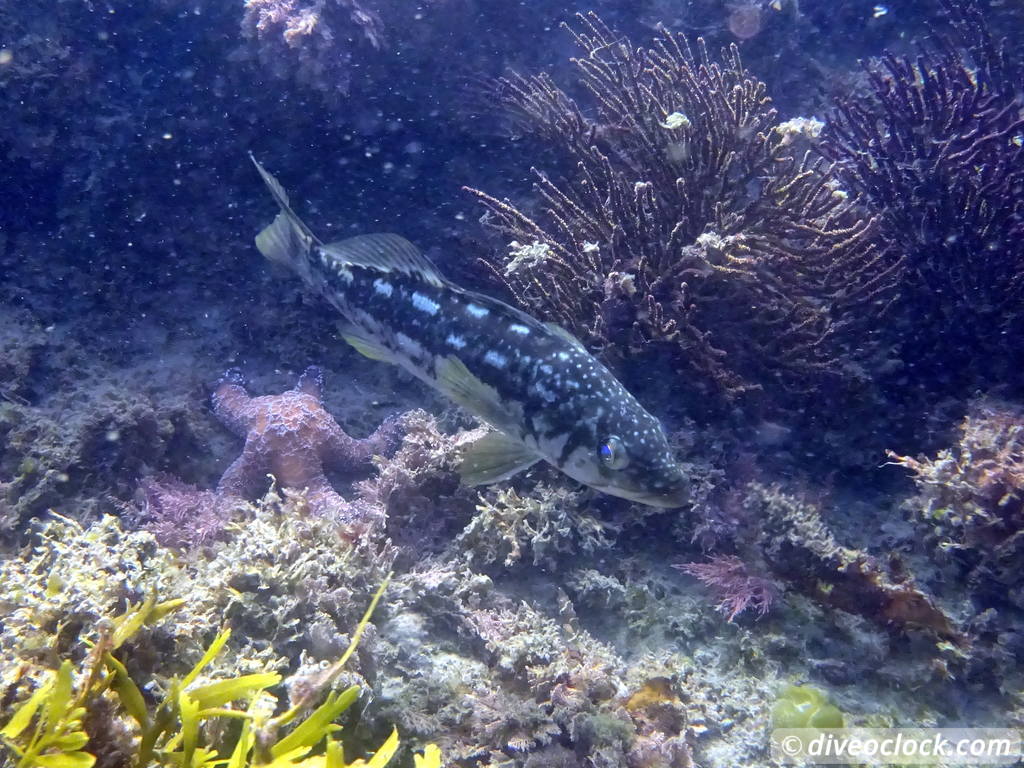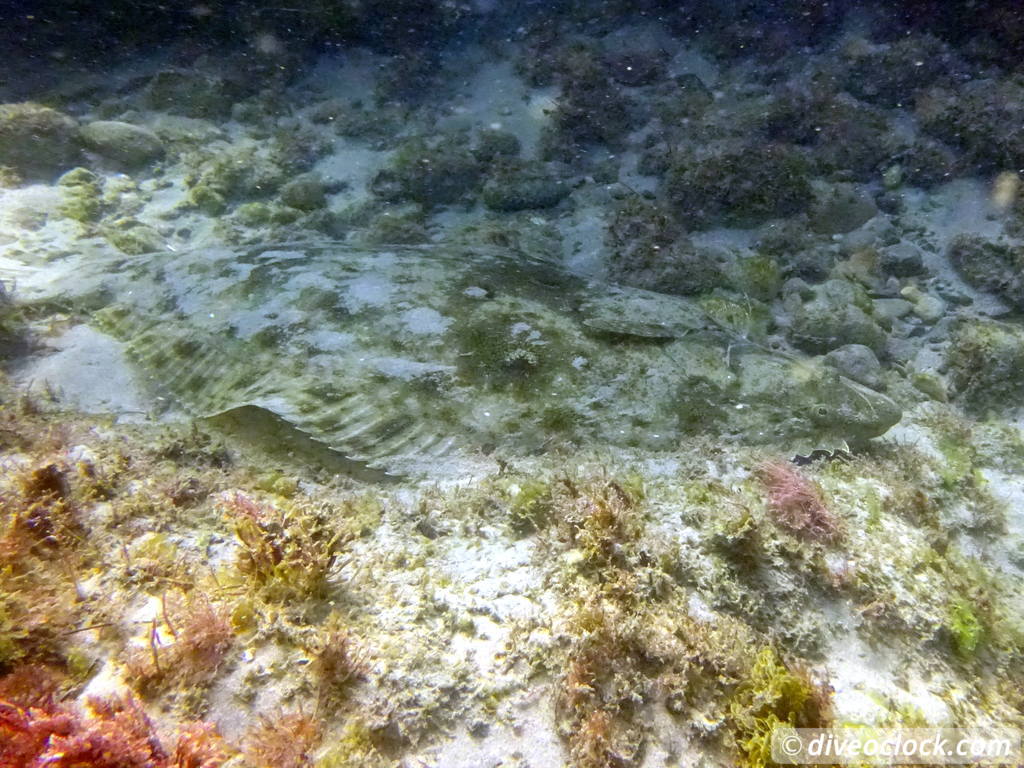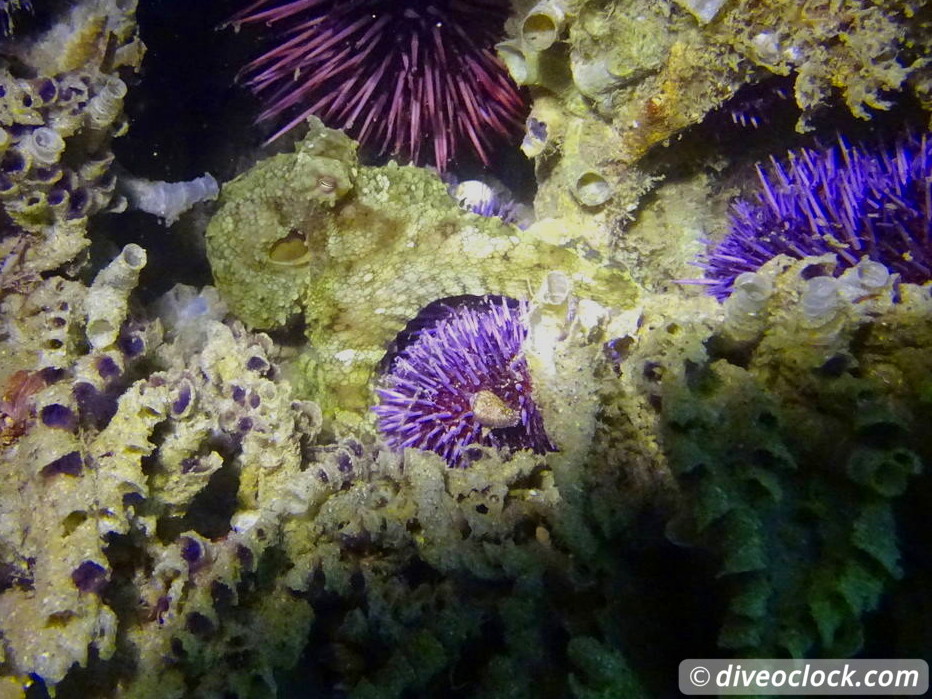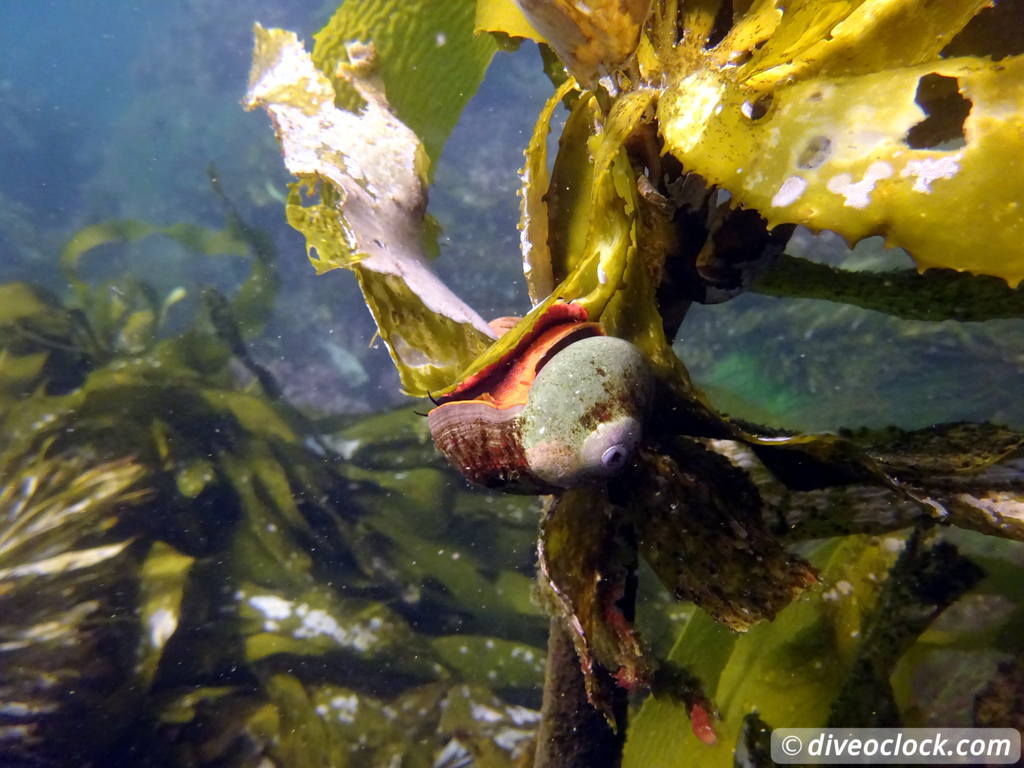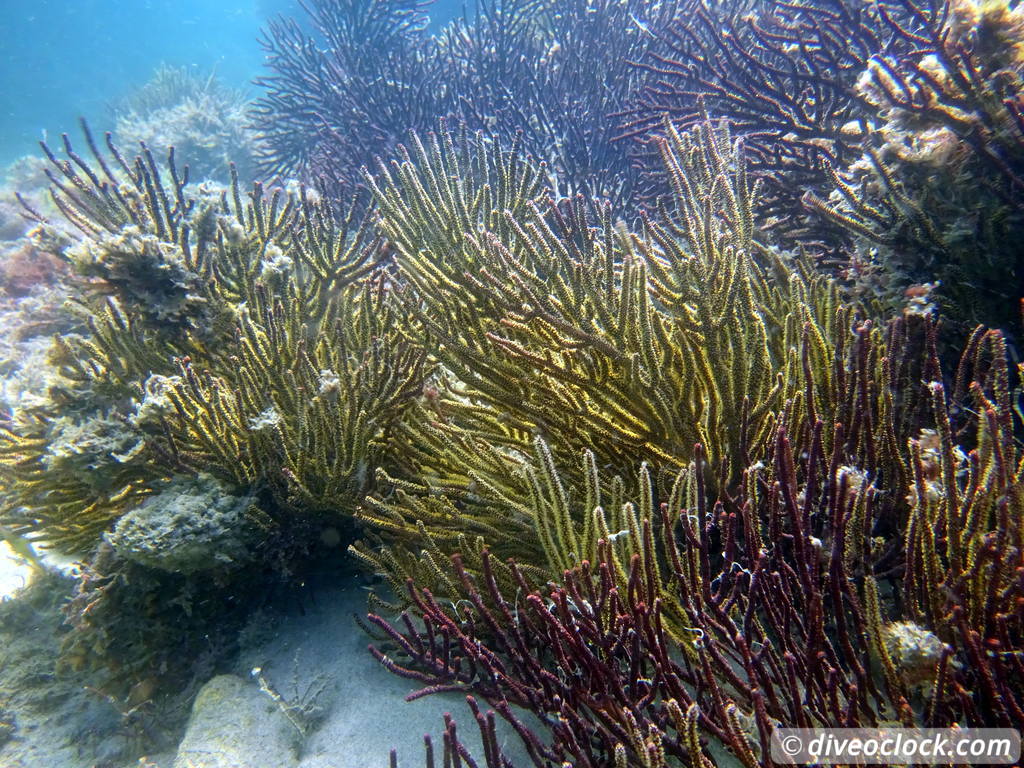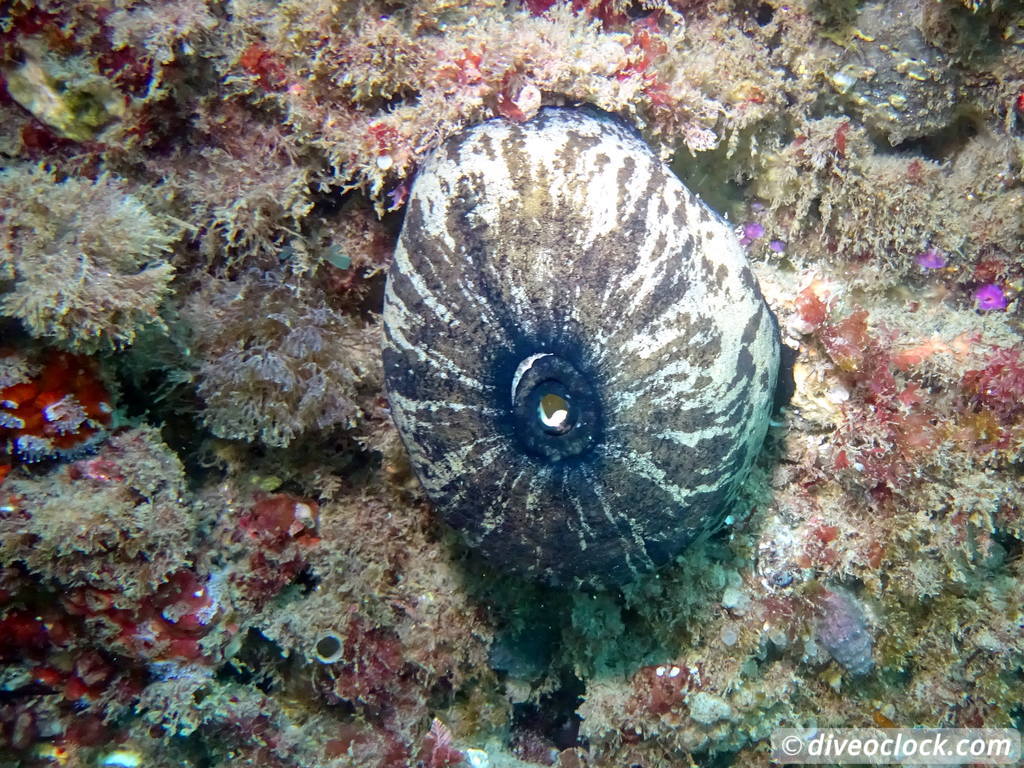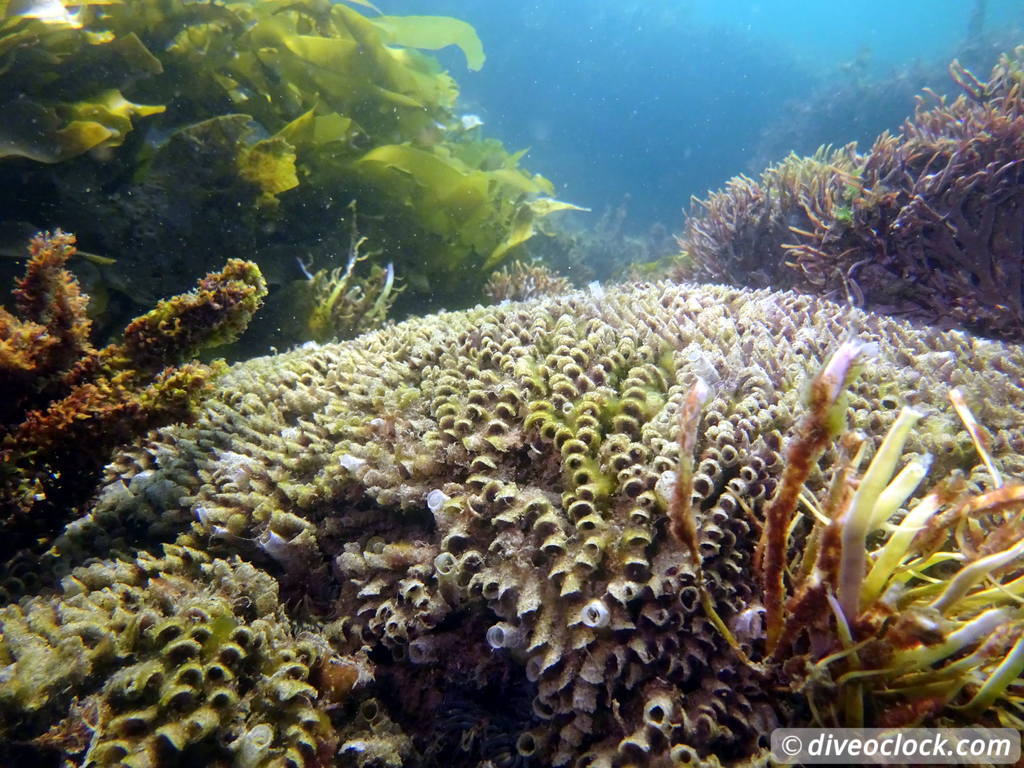 Marine life around Malibu, California
Photography does not only happen underwater around Malibu. When we walked out of the water there was a photo shoot right at the beach! Back to the 'real' Malibu feeling!
About the organization of Malibu Divers
It was not planned during my short stay in LA but luckily Malibu Divers could facilitate a last minute beach dive when I got very enthusiastic! I guess it is mostly locals that dive around here since the fun dive trips are mainly organized in the evenings and weekends. The best one is Catalina Island in the weekend. Unfortunately I did not have enough time to jump on this boat trip, so I have to come back one day.
After several dive trips in the South Pacific it was soooooo nice to walk into a real dive shop! The dive shop of Malibu Divers is bigger than all the dive shops I visited in all those remote areas - candy store feeling! The best part is that (finally) everything is well organized again. Front office, back office, maintenance area, logistics, all set. Sincere hospitality, no rush and friendly smiles, people that know what they are doing and doing things right! Such a relieve. Definitely recommended!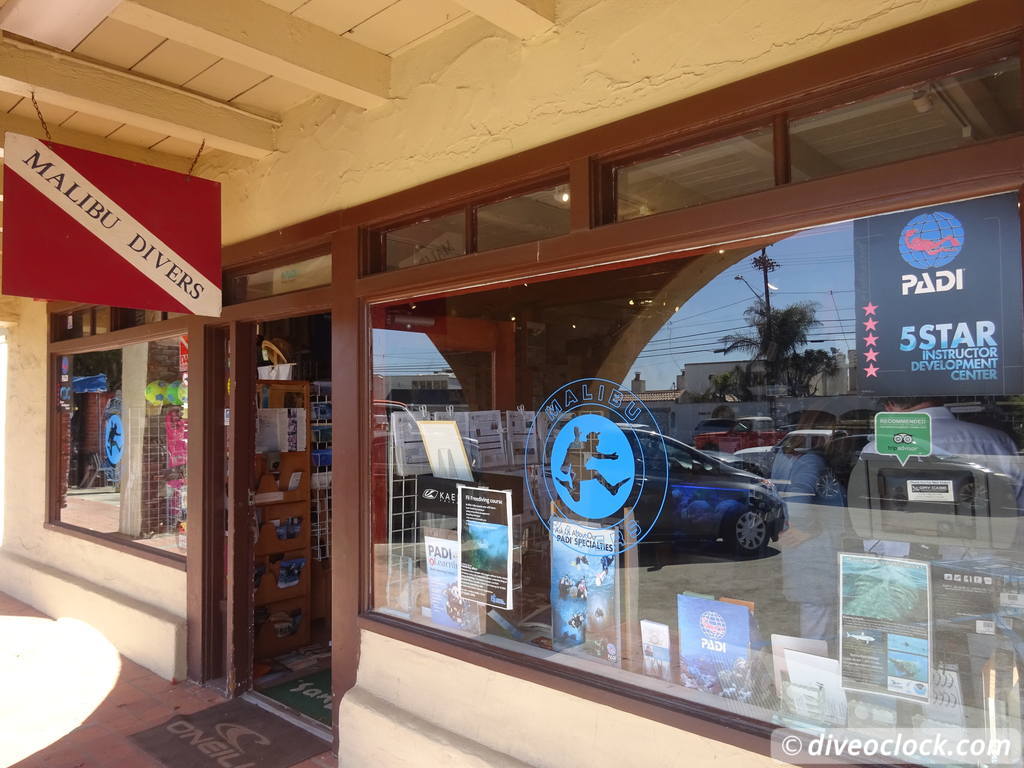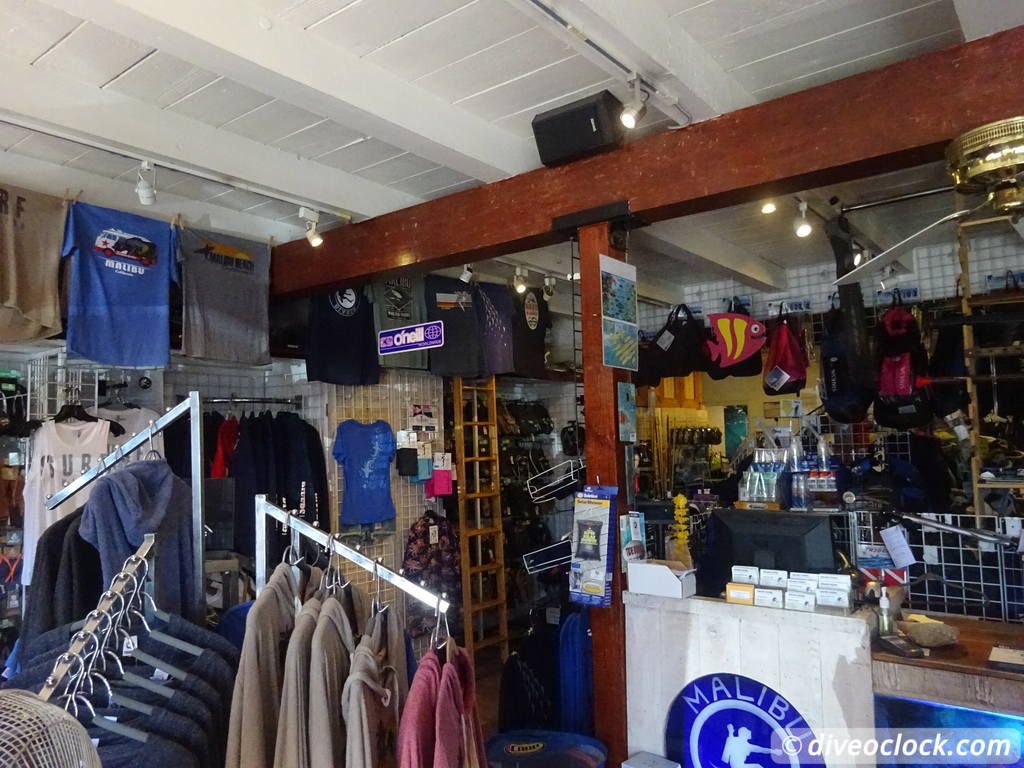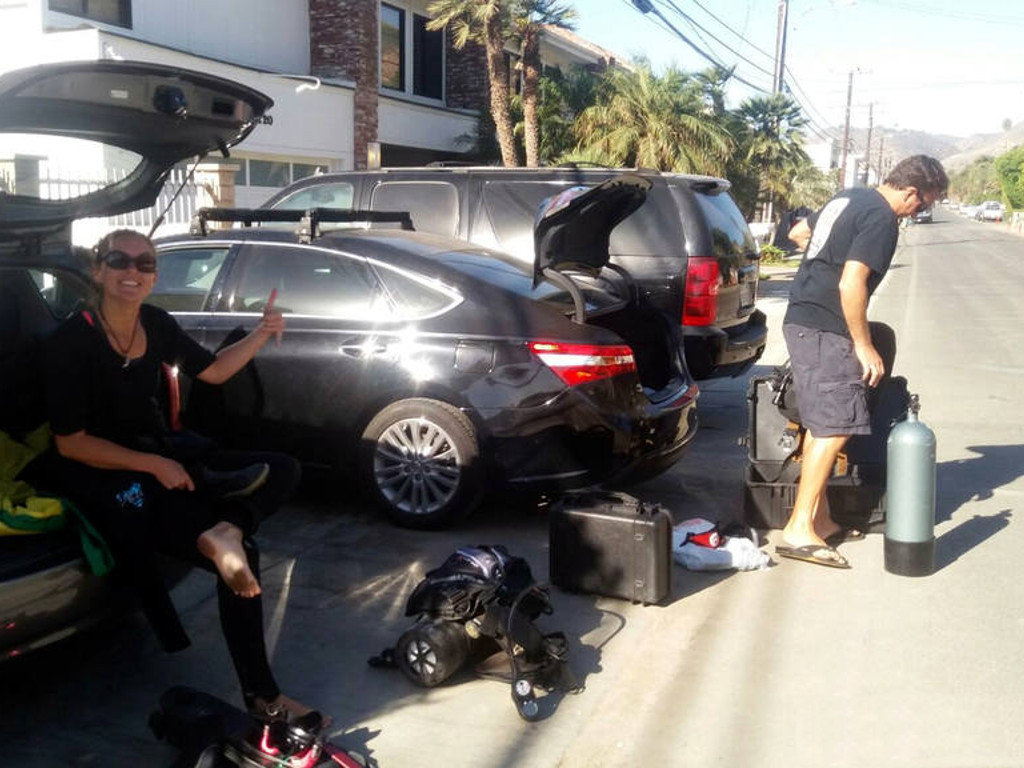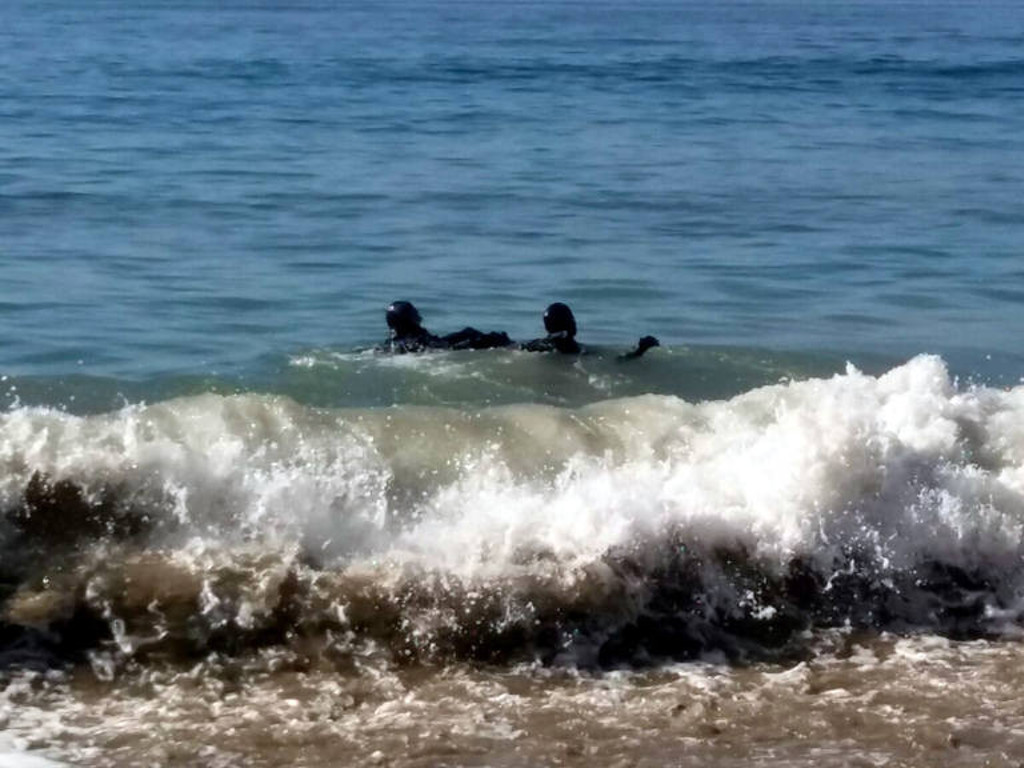 Malibu Divers, Malibu, California
Comparing dive destinations
Bottom structure
Reef structure
Pelagic
(big stuff in the blue)
Big reef
(bigger stuff on the reef)
Macro
(small stuff on the reef)
Current
(stream)
Flat bottom with bumps/big rocks/pinnacles
Hard corals tree-shape
(not moving)
Sharks
Turtles
Nudibranchs
(snails)
No current (but pretty strong surge)
Slope (going down slowly)
Soft corals tree-shape
(moving)
Rays
Eels/snakes
Sea horses and pipe fish
Small
(you can easily swim against it)
Wall
(steep but you see the bottom)
Table-/fan-shape
Trevally/Jacks/Tuna
Groupers
Scorpion/frog fish
Medium
(you can swim against it for a little while/higher air consumption)
Drop off
(steep and you can't see the bottom)
Anemones
Barracudas
Lobsters/crabs
Octopus/squid
Strong/reef hooks
(you cannot swim against it)
Blue
(no reference)
Sponges
Sardines/herrings
Puffers
Shrimps
Pumping/washing machine/OMG/hold your regulator
(superman)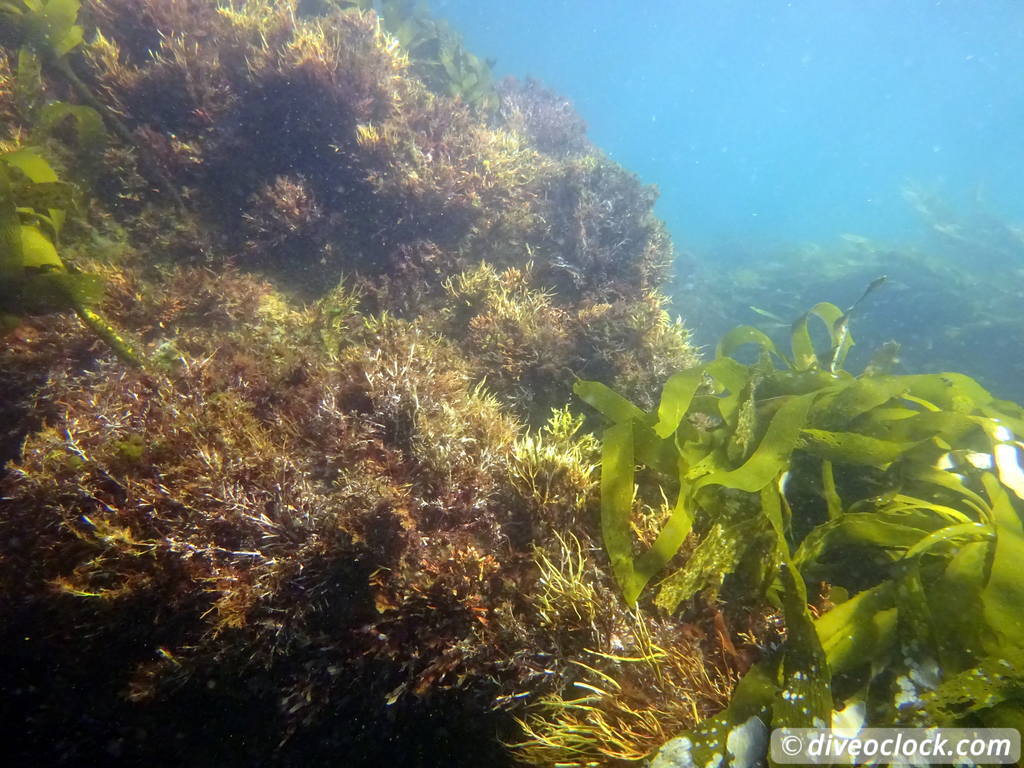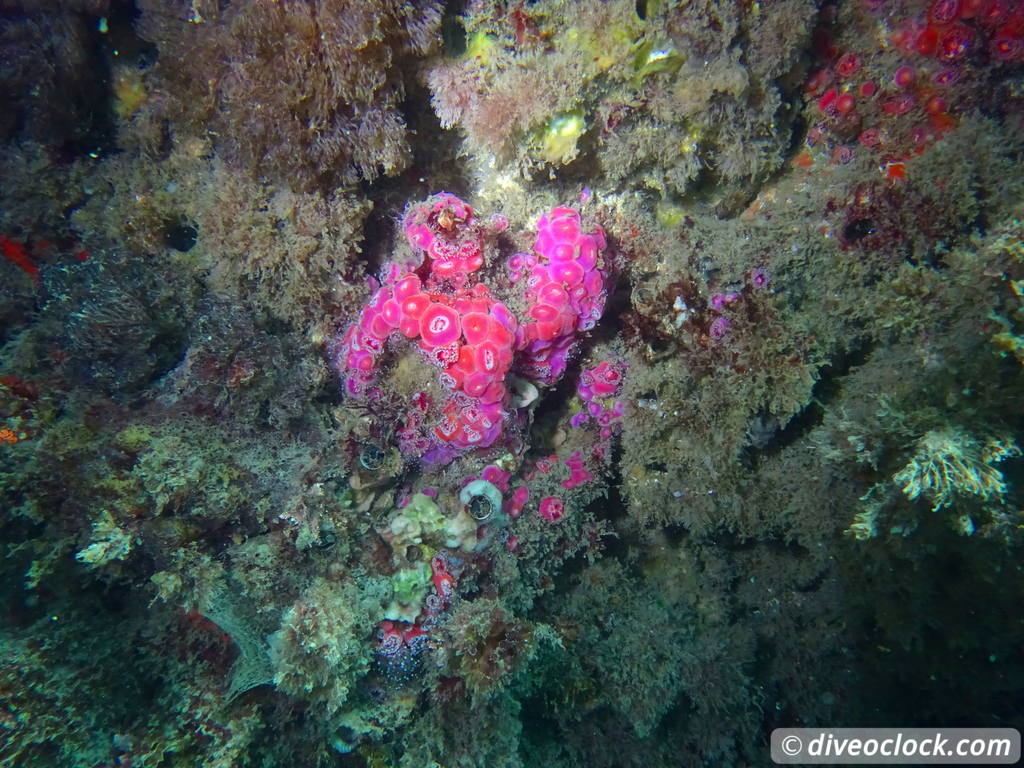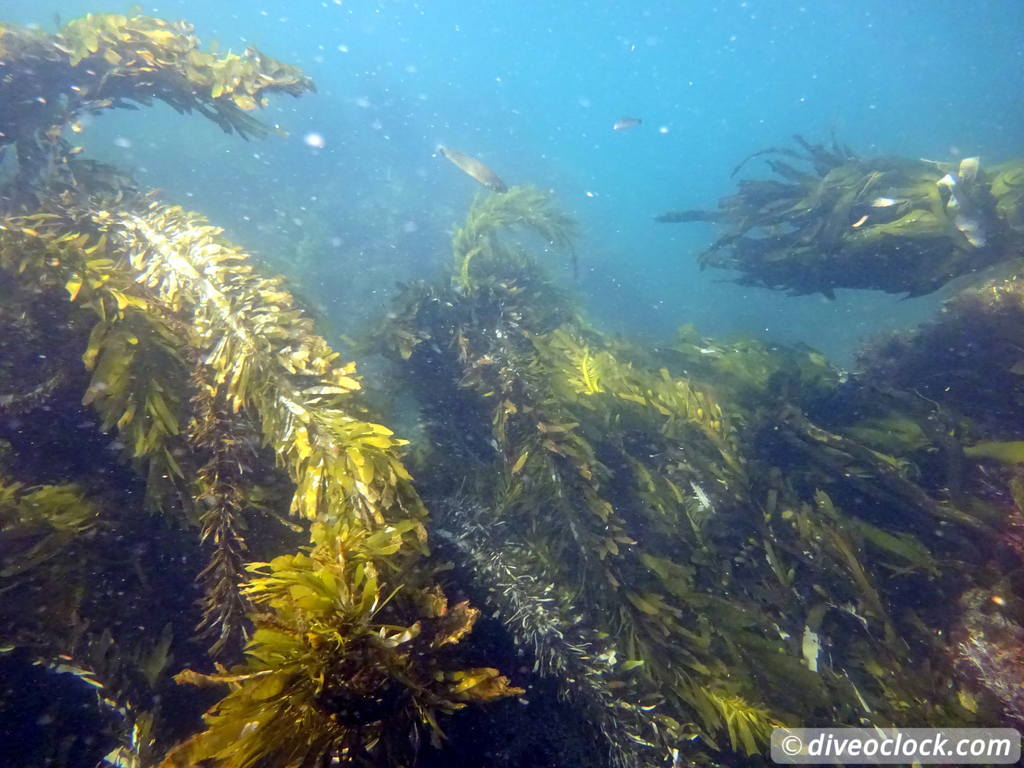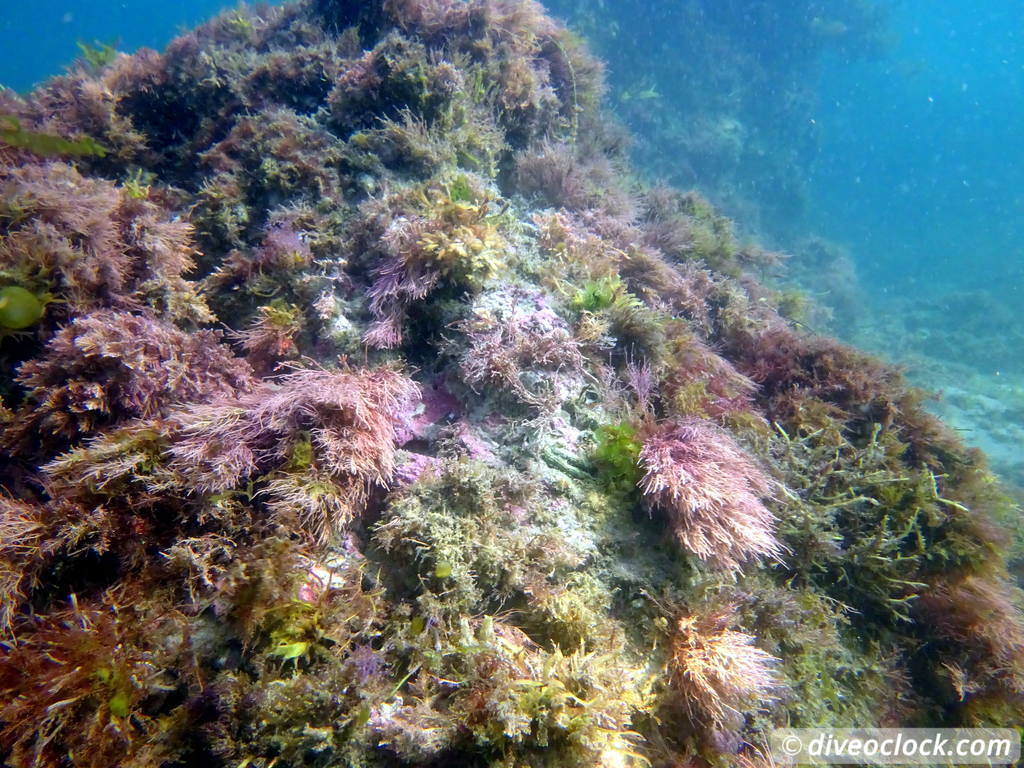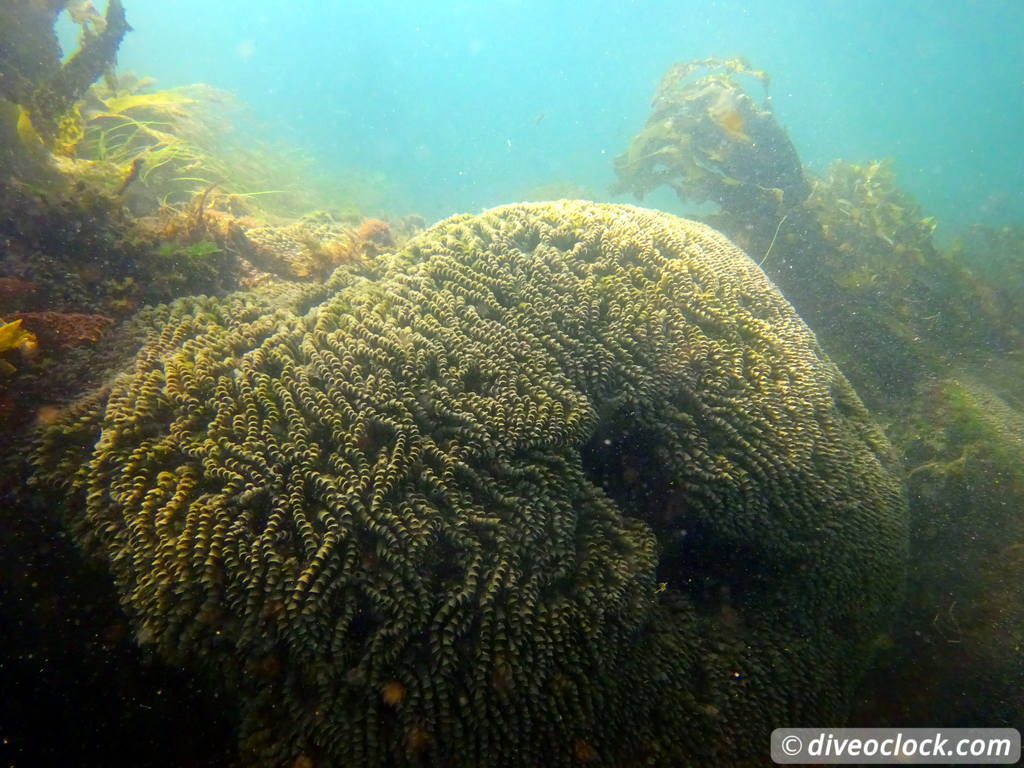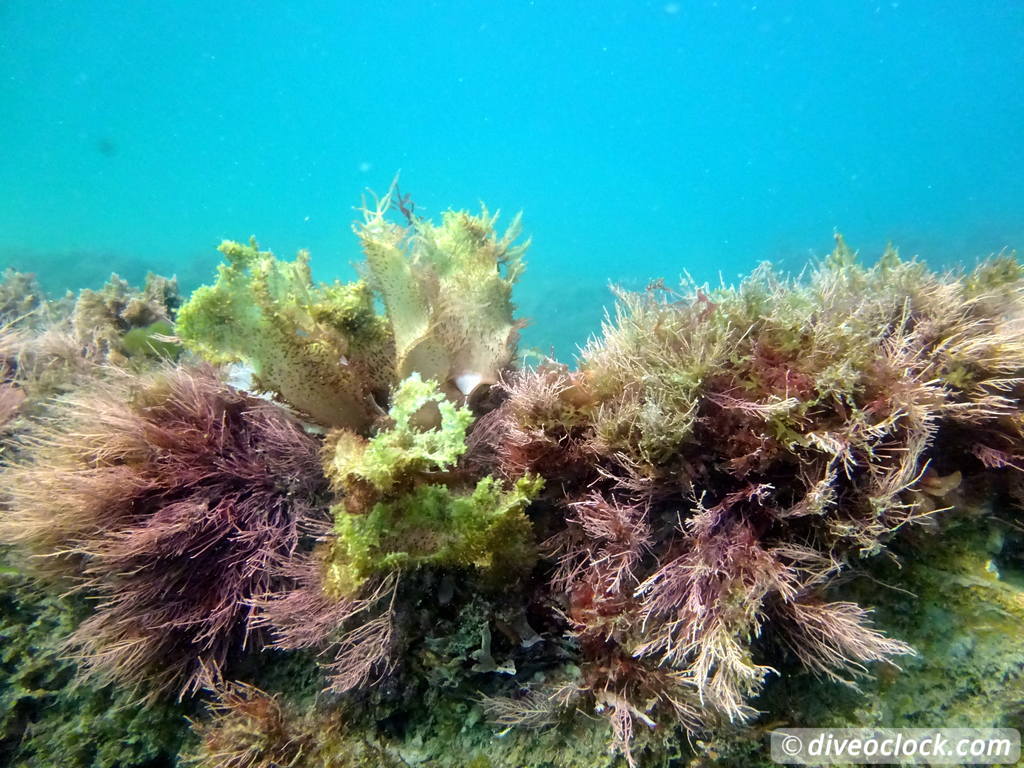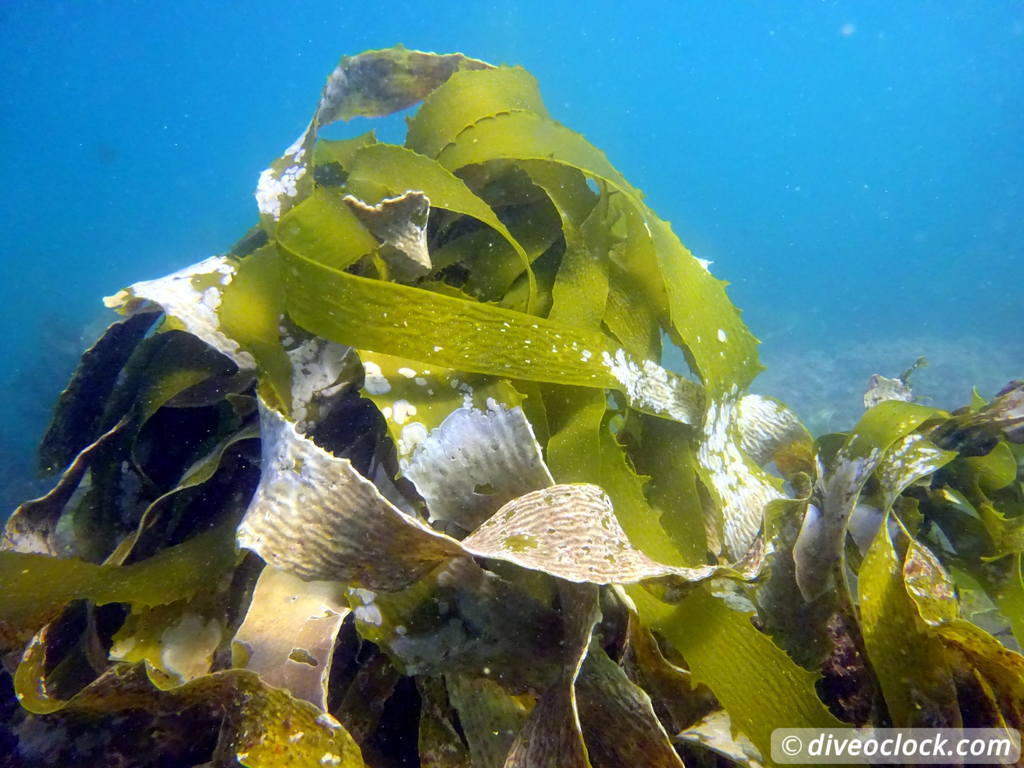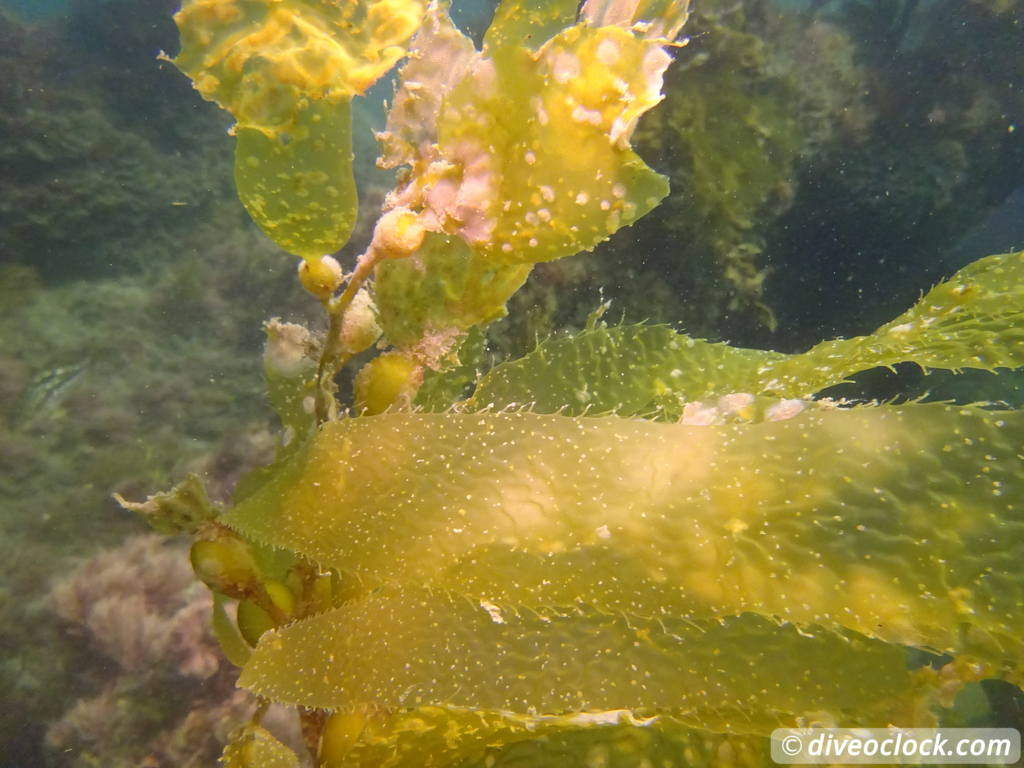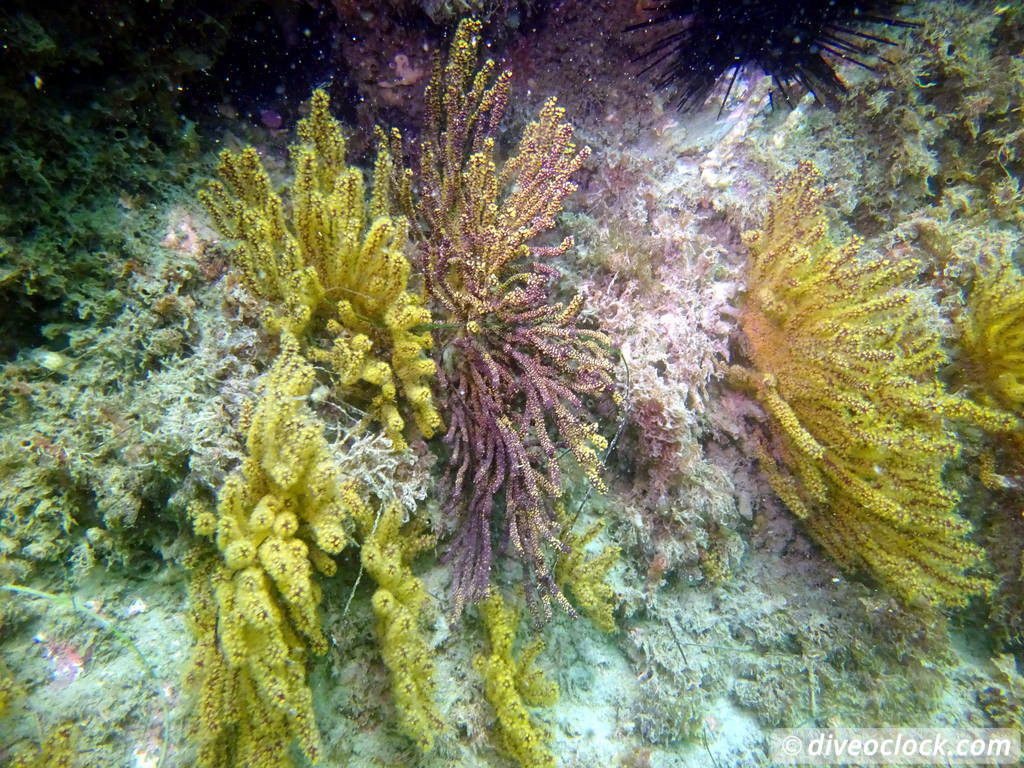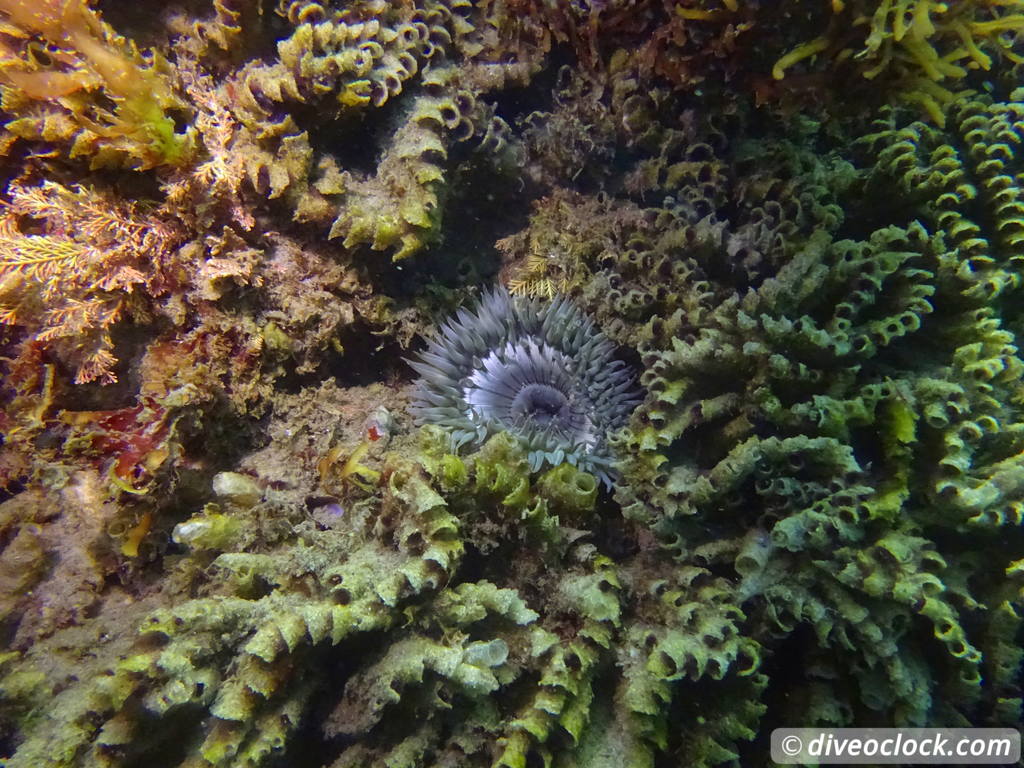 Kelp forest around Malibu, California
If you like this post, hit that like button on our
Facebook page
and stay tuned for more!
Marlies Wolters
Founder of Dive O'Clock "It's dive o'clock somewhere!"

Share this page: