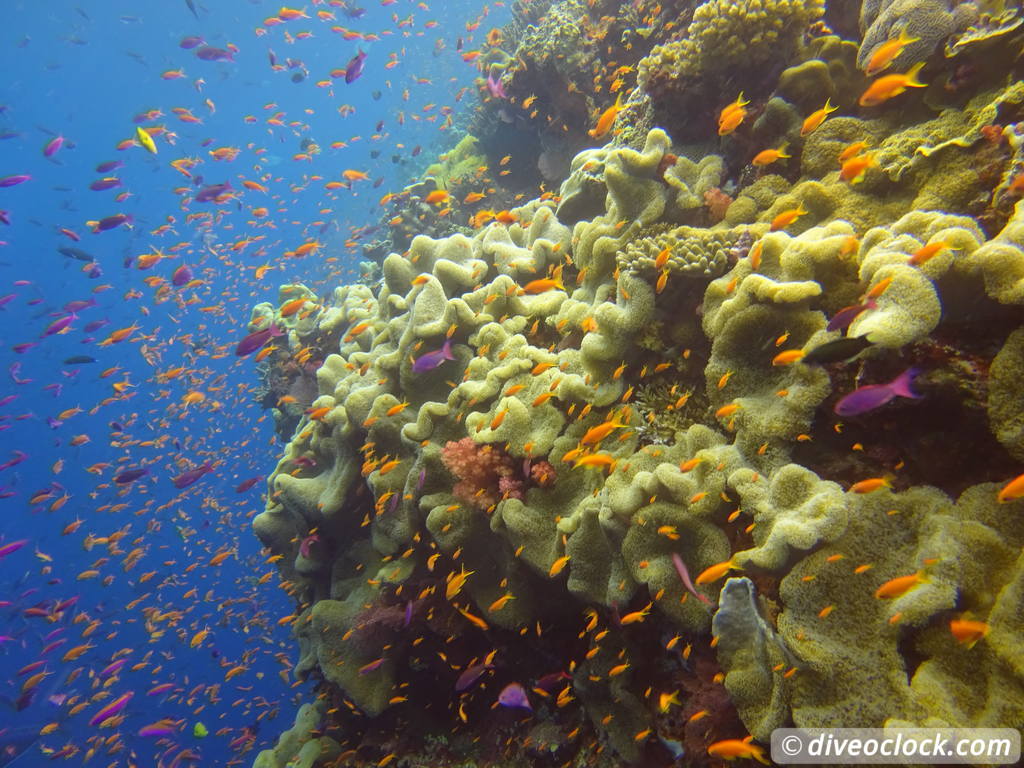 Bligh Water Fiji - The Soft Coral Capital of the World!
Laying in the South Pacific with tropical waters and an amazing Melanesian culture with Polynesian influences - Fiji is a tropical paradise! Find out about diving Mellow Yellow in the famous Bligh Water after Cyclone Winston!
Fiji is known as the soft coral capital of the world! Laying in the South Pacific with tropical waters and an amazing Melanesian culture with Polynesian influences - Fiji is a tropical paradise! Diving in Fiji has been on my bucket list for a very long time. After working as a Divemaster in Hawaii and exploring dive sites in French Polynesia I could not wait to explore another dive area in Oceania.
After comparing our options to dive Bligh Water (liveaboards are out of budget) there were three dive centers: Ra Divers (Volivoli Beach Resort), Dive Wananavu Fiji (Wananavu Beach Resort) and Safari Lodge Divers (Nananu-i-Ra Island). Ra Divers/Volivoli was still not operating after Winston and since we were on a road trip around the island staying a few days on another island did not fit our schedule.
Diving Fiji after Cyclone Winston
We have been warned that Cyclone Winston (February 2016) destroyed a lot of the country. Above the water you can still see many houses without roofs and people living in tents. Unicef tents are used to teach the children since the schools have been destroyed as well. The famous dive spots E6 and Mount Mutiny (Rainbow Wall) are badly damaged; broken hard corals and loss of sea fans (Gorgonians) and soft corals. We were wondering how damaged other dive spots would be and, of course, if it was worth the money...
| | |
| --- | --- |
| Country | Fiji |
| Dive area name | Rakiraki, Bligh Water, between Viti Levu and Vanua Levu |
| Dive center | Dive Wananavu Fiji |
| Famous for | Soft corals! |
| Price | 2 Fun dives with gear: 330 Fiji dollar (160 US dollar) |
| Hotel recommendation | Wananavu Beach Resort |
Diving Mellow Yellow!
Dive Wananavu had one trip to the Vatu-I-Ra Passage planned that week - we were hoping for good conditions to go out since it had been raining for weeks. Luckily we had some blue skies, no waves and also 2 fellow divers to meet the minimum requirement of 4. Vatu-I-Ra is where all 'the good' dive spots are - the heart of the coral capital. Mellow Yellow is the most famous spot and as soon as I put my head in the water I was blown away by all the colors and fish!
This must have been one of the best soft coral dives I have ever done! Like a rainbow of colorful corals, sponges and anemones and thousands of Anthias (little fish) dancing on top. I just could not stop taking photos of the overview - wide angle shots. Simply impressive.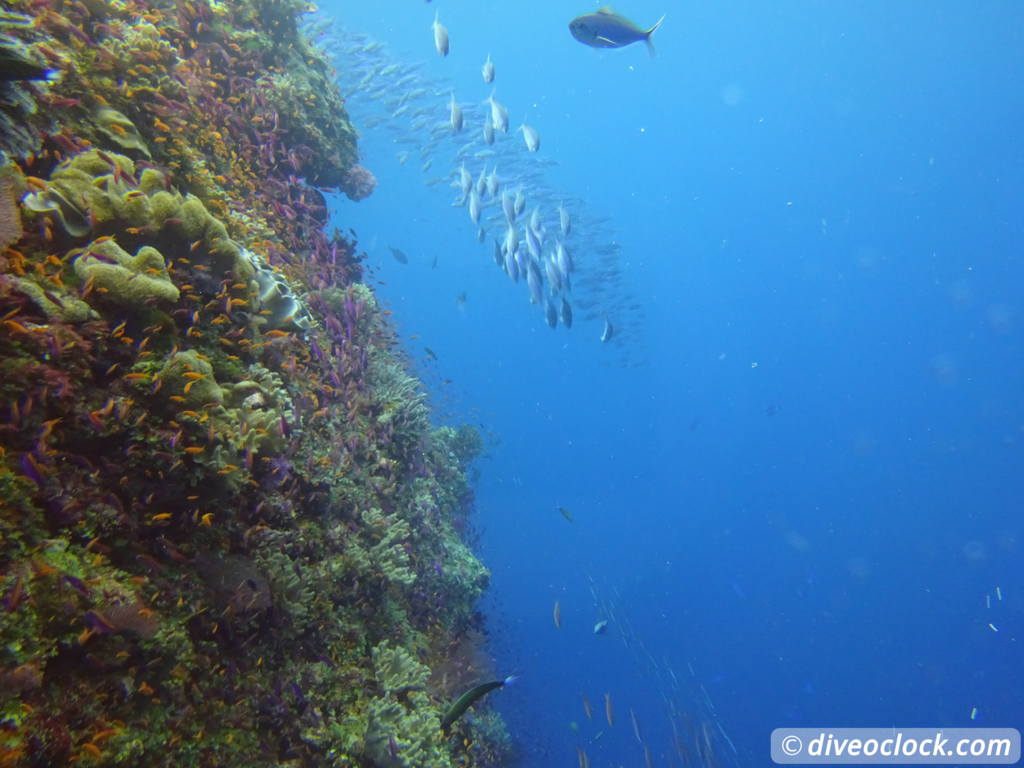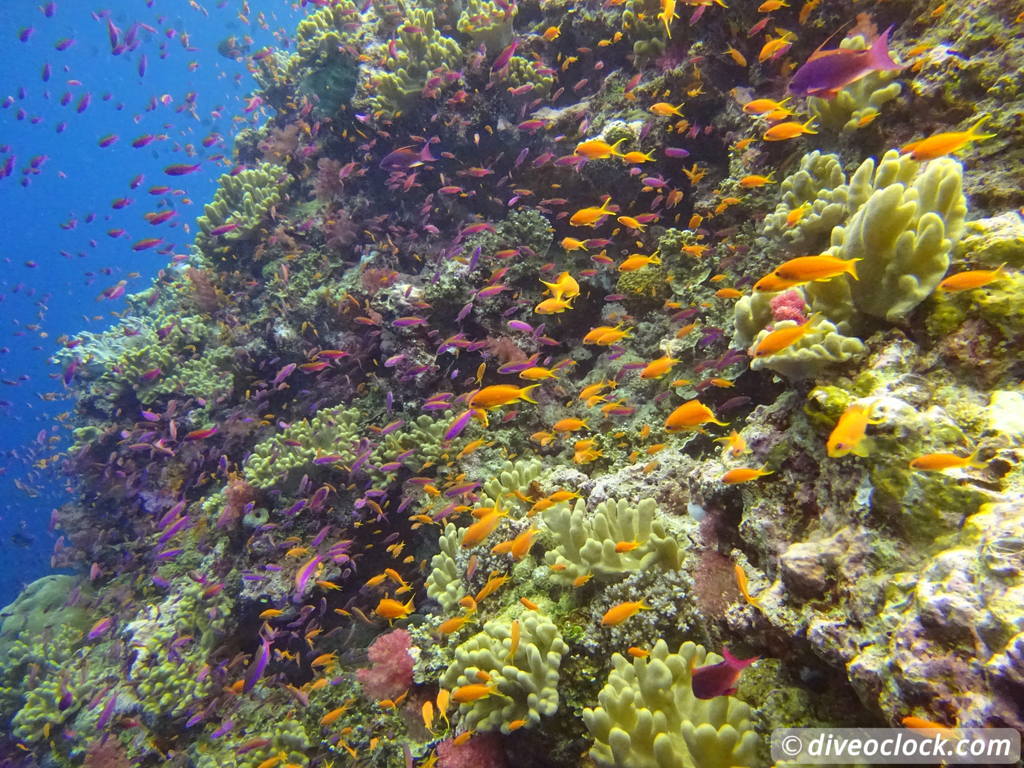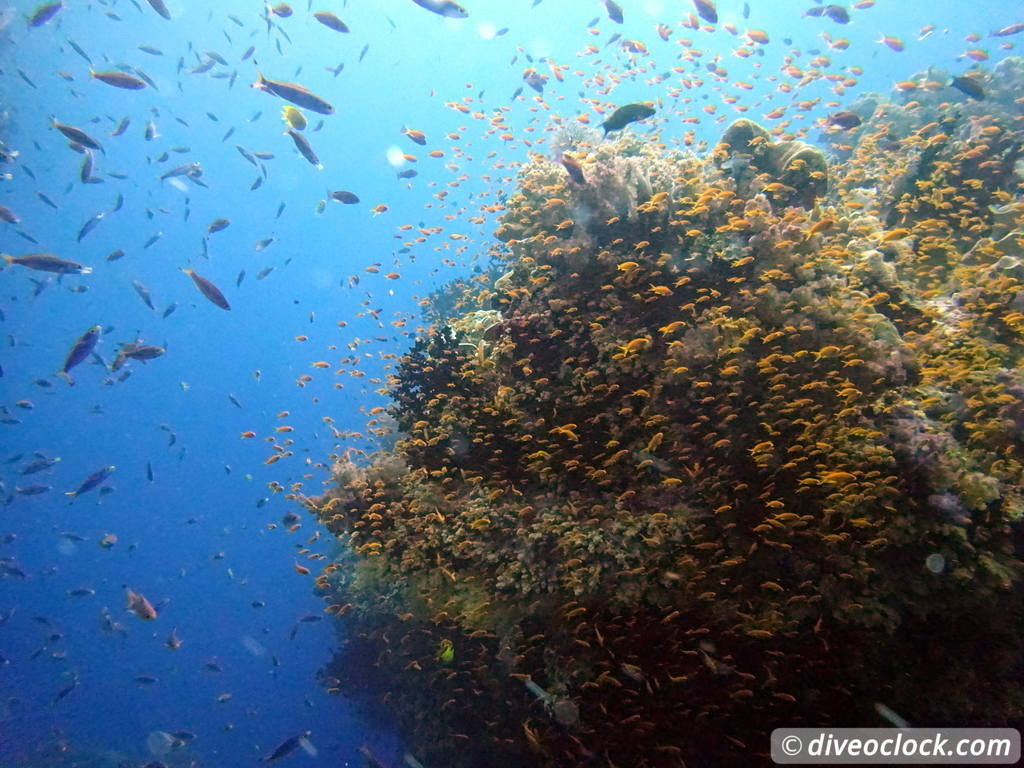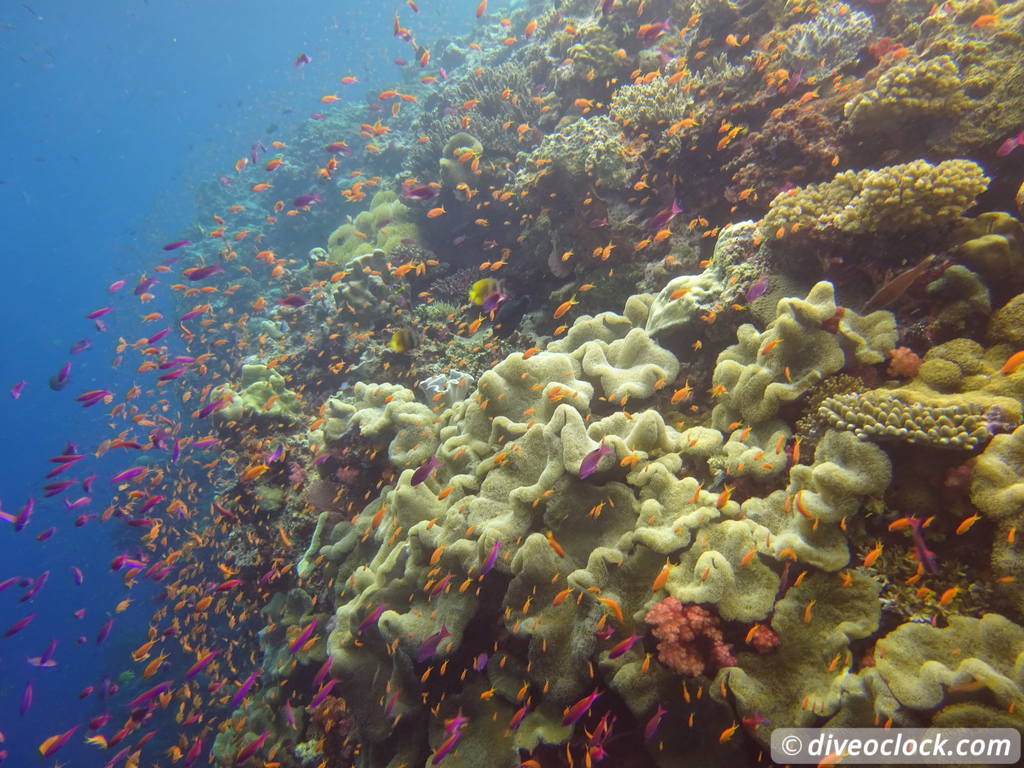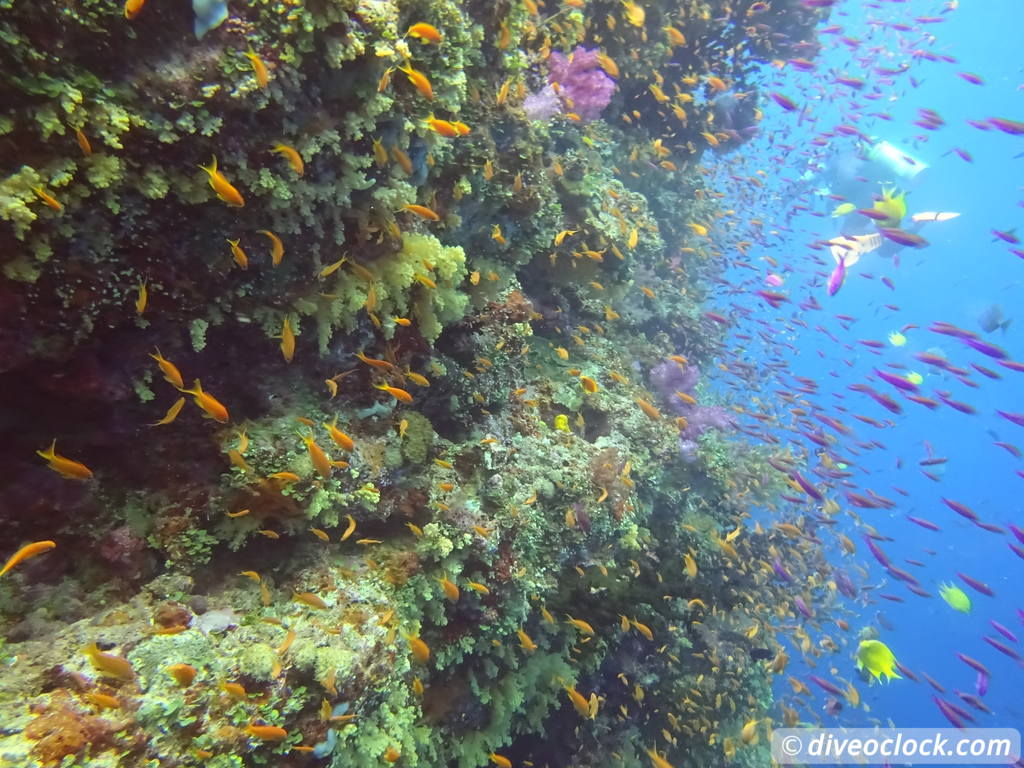 Dive site Mellow Yellow - Bligh Water, Fiji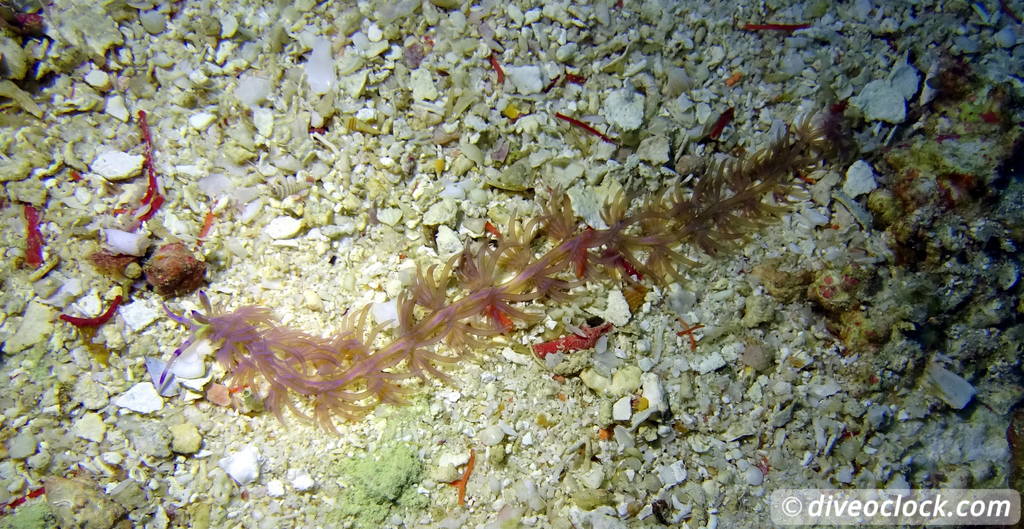 Diving Easter Kangaroo!
The second dive was at a site called Easter Kangaroo. There were a few arches and swim-troughs with a lot of soft corals. We found a Blue Dragon nudibranch (Pteraeolidia ianthina), some Lionfish and a few Giant clamps.
The visibility was about 30 meters and the water temperature about 25 degrees (Winter time in Fiji). I was wearing my 1mm wetsuit and long sleeve Lavacore shirt - and freezing down there! The second dive the sun disappeared so the colors were less visible underwater. Luckily we had no rain during our trip!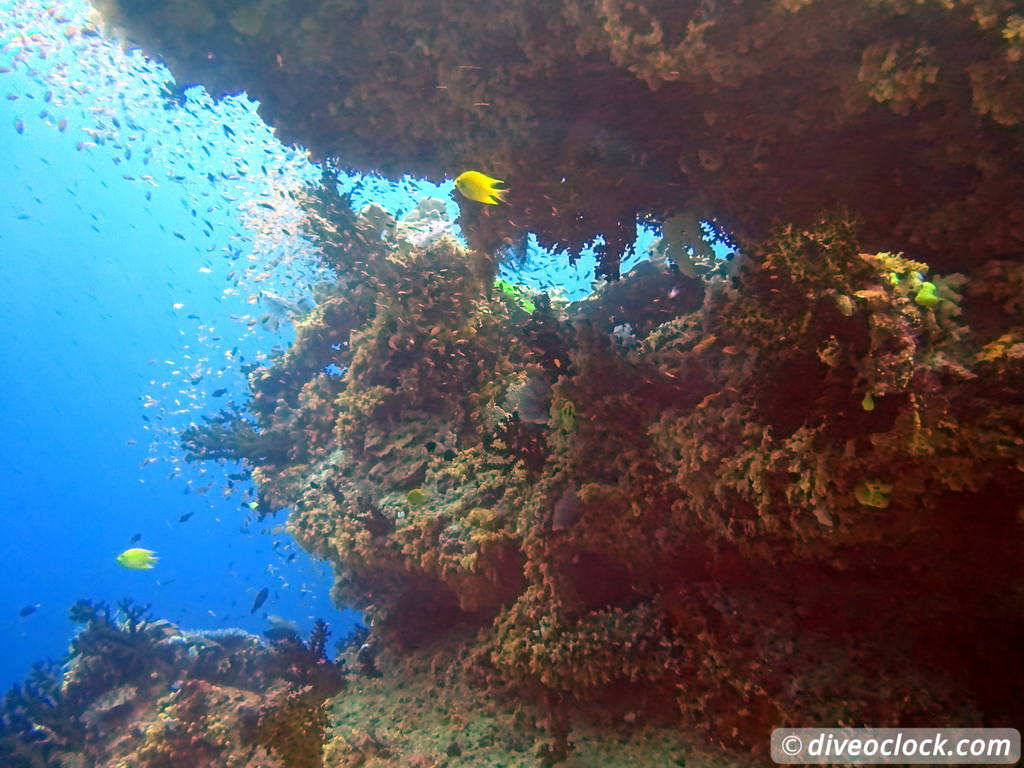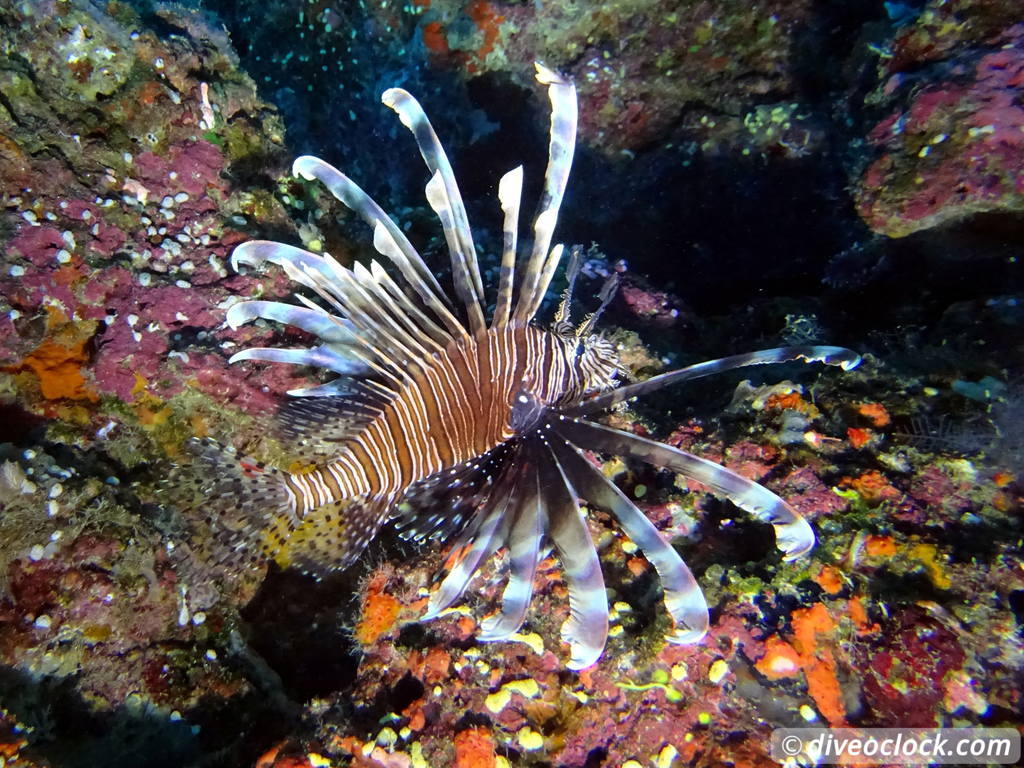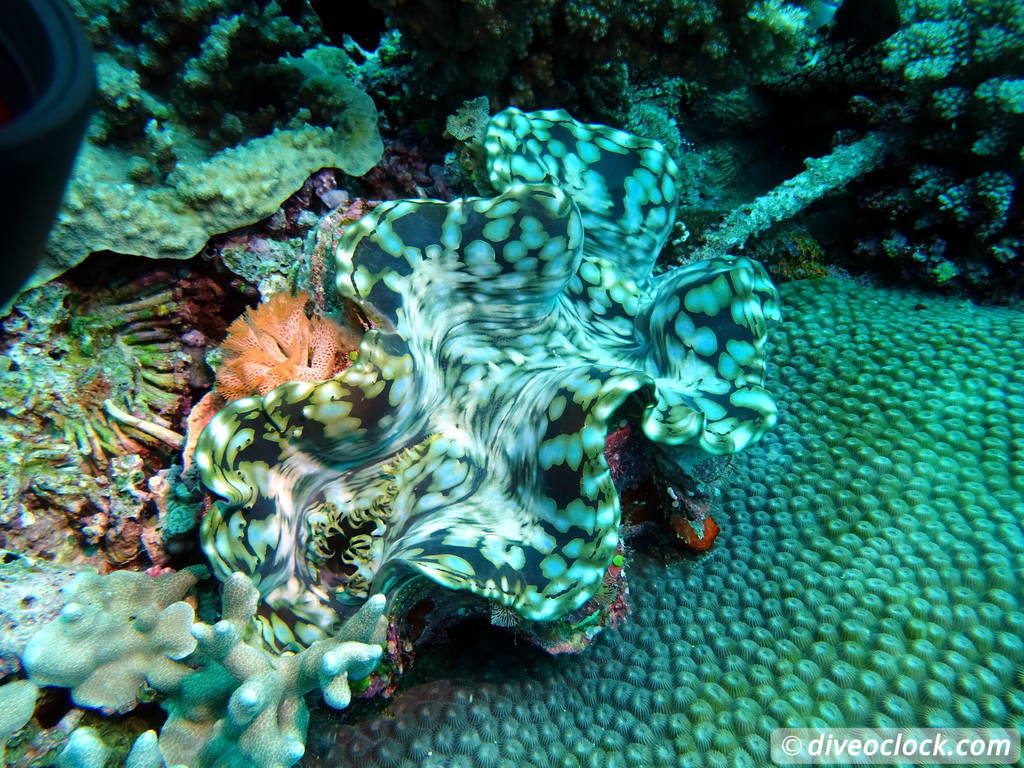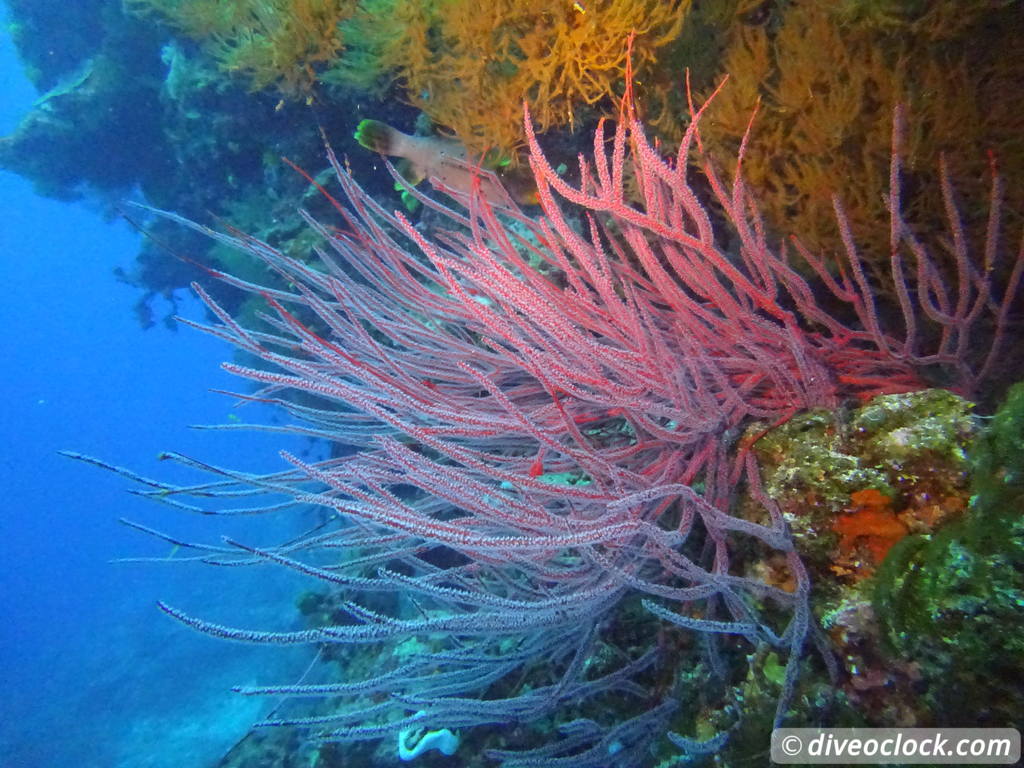 Dive site Easter Kangeroo - Bligh Water, Fiji
Comparing dive destinations
Click here for more information about comparing dive destinations.
Bottom structure
Reef structure
Pelagic
(big stuff in the blue)
Big reef
(bigger stuff on the reef)
Macro
(small stuff on the reef)
Current
(stream)
Flat bottom with bumps/big rocks/pinnacles
Hard corals tree-shape
(not moving)
Sharks
Turtles
Nudibranchs
(snails)
No current
Slope (going down slowly)
Soft corals tree-shape
(moving)
Rays
Eels/snakes
Sea horses and pipe fish
Small
(you can easily swim against it)
Wall
(steep but you see the bottom)
Table-/fan-shape
Trevally/Jacks/Tuna
Groupers
Scorpion/frog fish
Medium
(you can swim against it for a little while/higher air consumption)
Drop off
(steep and you can't see the bottom)
Anemones
Barracudas
Lobsters/crabs
Octopus/squid
Strong/reef hooks
(you cannot swim against it)
Blue
(no reference)
Sponges
Sardines/herrings
Puffers
Shrimps
Pumping/washing machine/OMG/hold your regulator
(superman)
About the organization of Dive Wananavu Fiji
The dive center is located at the North-East corner of the Volivoli 'peninsula'. Depending on your vehicle it takes about 20 minutes from the asphalt road to reach the dive center via a bumpy road with rocks. Meeting point was at 8am and we were back around 2pm for lunch. The aluminum boat has one seating area with dive tank benches, there is no dry area or toilet on board. The trip from the dive center to the dive sites took us about one hour.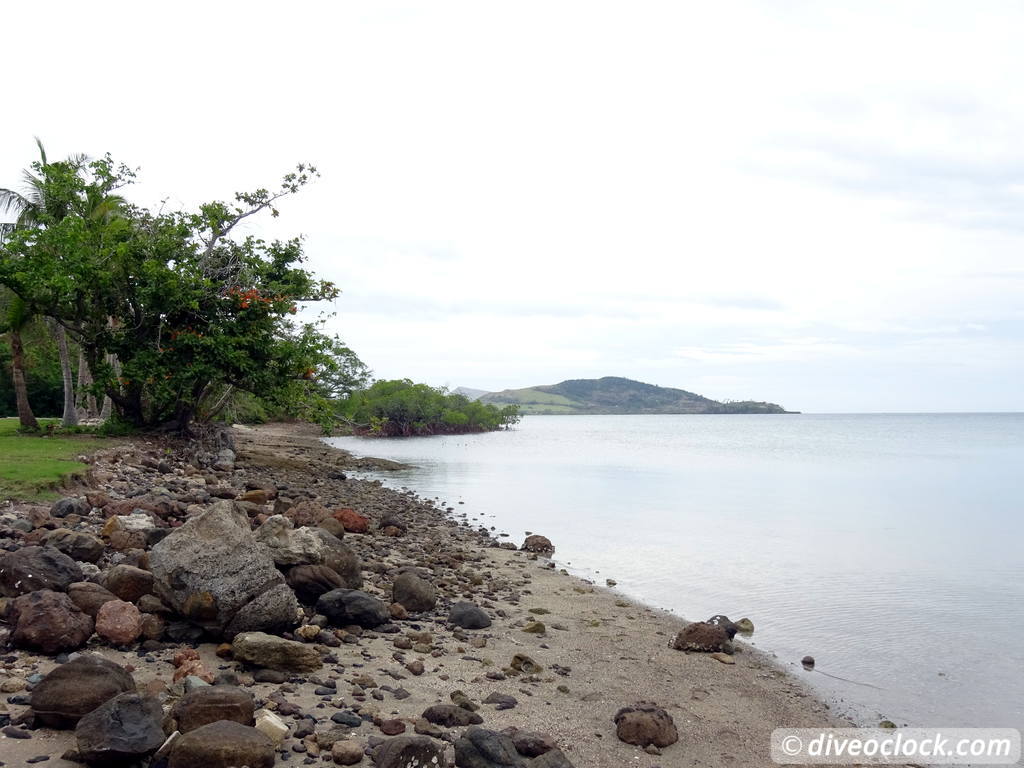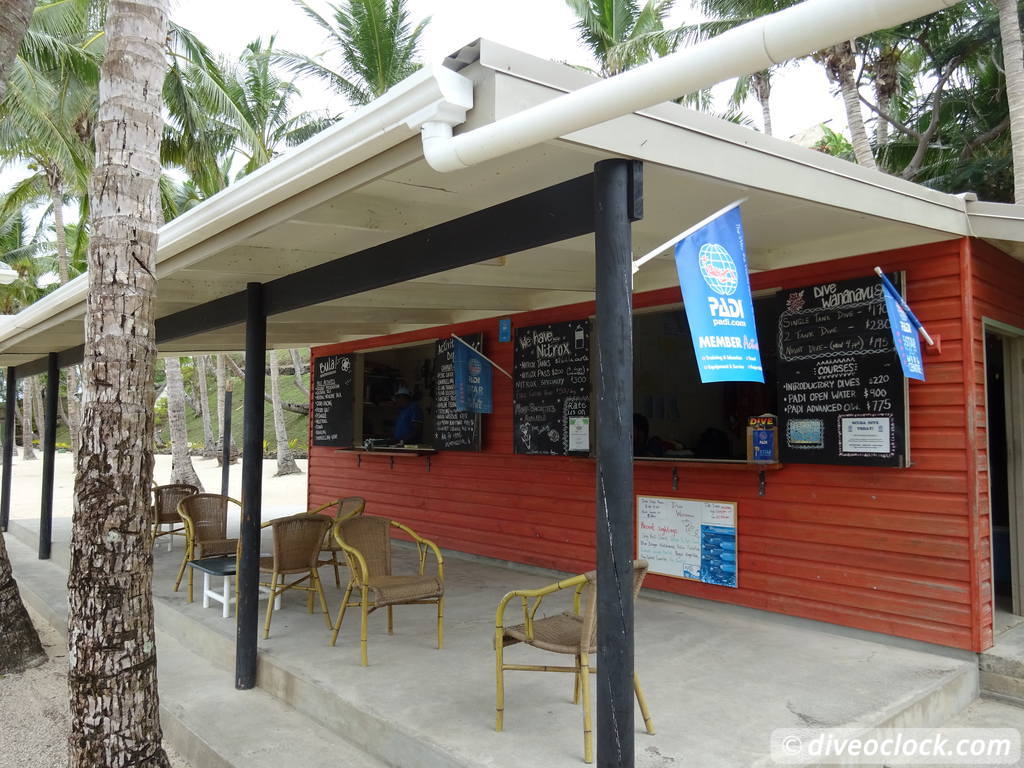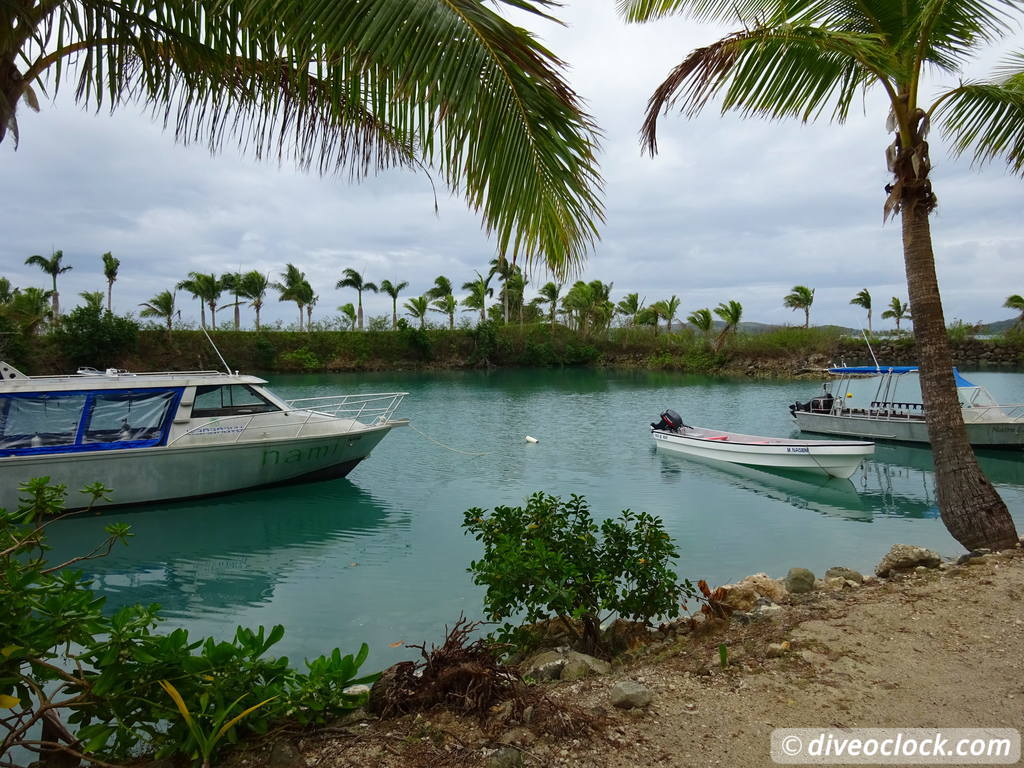 Dive Wananavu Fiji, Fiji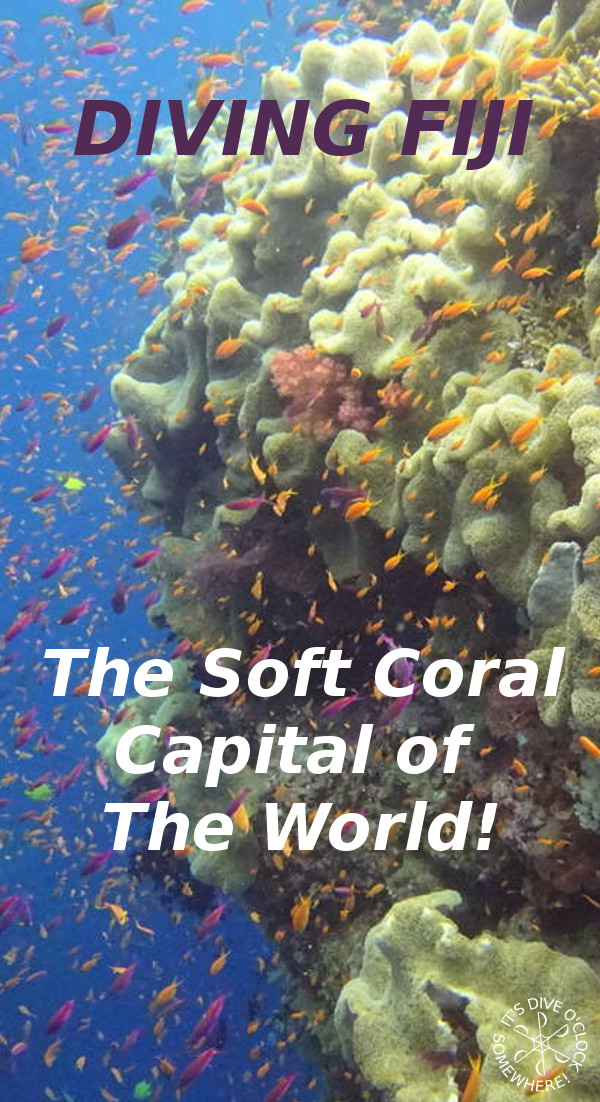 The crew was very helpful and the briefings were done nicely. We had three crew member on four divers - imagine that! Luckily there was no limited dive time other than reaching safety limits. Since we were grouped with two less experienced divers we could stay down a bit longer if we wanted, nice! But, since I was soooooo cold I was happy to go up all together. ;)
In between the dives there was fresh fruit, cookies and drinks + a beach towel! The rental equipment was fine, except for the fins I would say. The closed heel fins had a small inflexible blade which make it quite difficult to produce power with your kick cycles. If there is current you will have a hard time, luckily we did not have any. It is quite hard/expensive to get dive equipment to Fiji so I understand that even a DIN adapter is on the rental list and if you loose a weight block you pay for it (10 Fiji dollar).
Read how to combine diving Bligh Water with Shark diving at Beqa Lagoon and other things to do on the island during a Fiji Road Trip on a Budget: 7 Days Viti Levu Itinerary!
If you like this post, hit that like button on our
Facebook page
and stay tuned for more!
Marlies Wolters
Founder of Dive O'Clock "It's dive o'clock somewhere!"

Share this page: