Fiji Road Trip on a Budget: 7 Days Viti Levu Itinerary!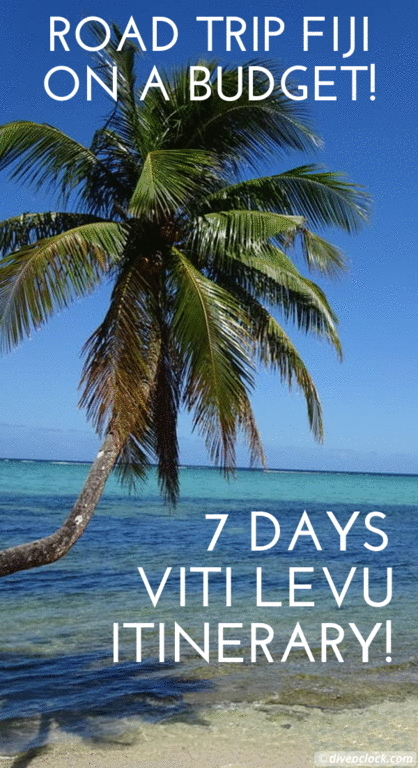 With the ocean on the left, sugar cane fields on the right and mountains in the back a road trip on Viti Levu is awesome! This 7 days itinerary will provide you the must sees and many tips for cheap accommodation and great restaurants while driving to the best dive spots around!
The roads are quiet and easy, just some chickens and cows crossing every now and then. Navigating is also easy, just follow Kings road and Queens road. You can drive around in one day if you want, it is 500 KM / 310 miles - but where is the fun in that?!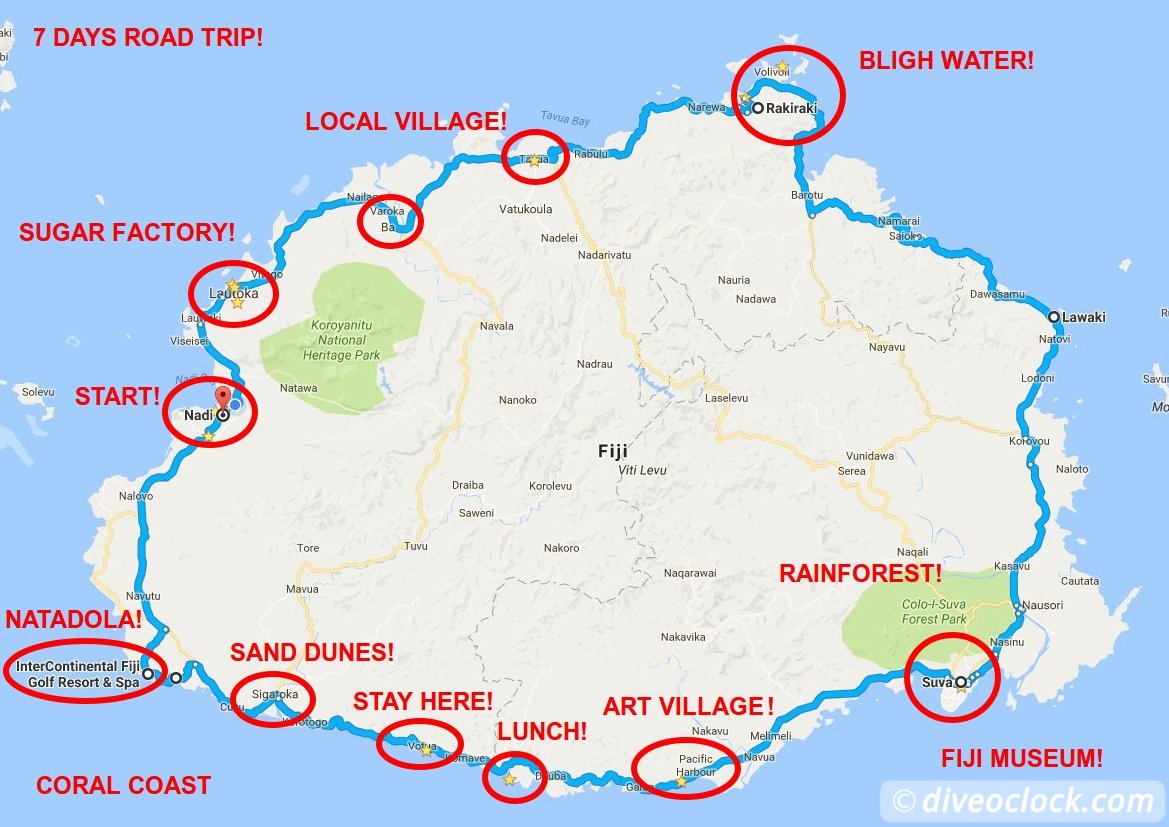 Map of the Viti Levu Fiji road trip
If you have some time, like we did, wait for some sunny days and spend a week driving around. This 7 days itinerary will provide you the must sees and many tips for cheap accommodation and great restaurants! Use it as a guide to plan you own trip and have some fun in Fiji!
The dive days are not counted, add them yourself depending on how many dives you want to do at every spot.
Day 1: Drive from Nadi to Lautoka!
Garden of the Sleeping Giant & Sabeto Mud Pools!
First stop: The Garden of the Sleeping Giant! This is a beautiful flower garden with some ponds, an orchid alley and plenty of places to relax. There are great photo opportunities here! For 18 Fiji dollar you can enter, including welcome drink. You can walk around in about 30 minutes. Bring your own food if you want to have something to eat.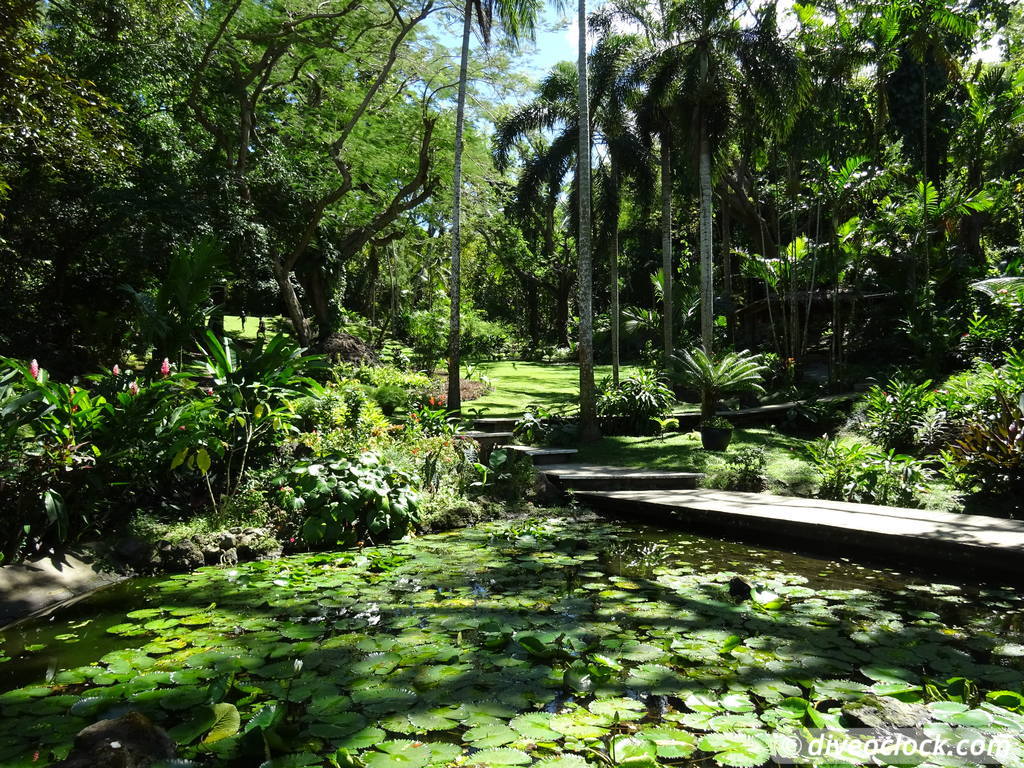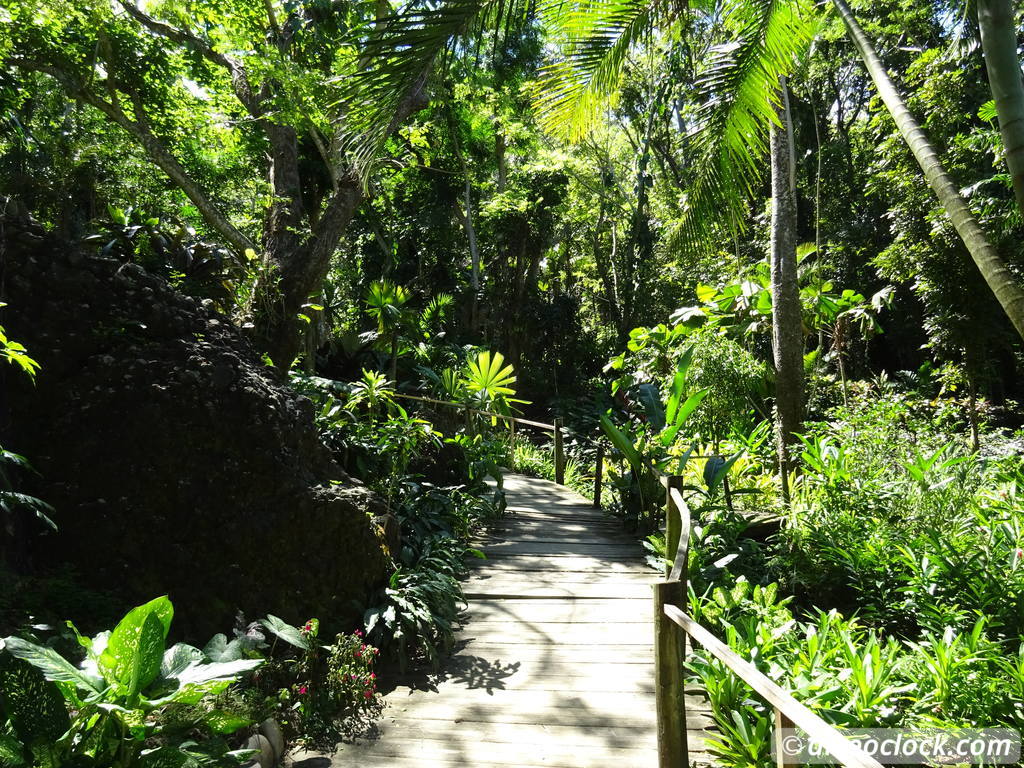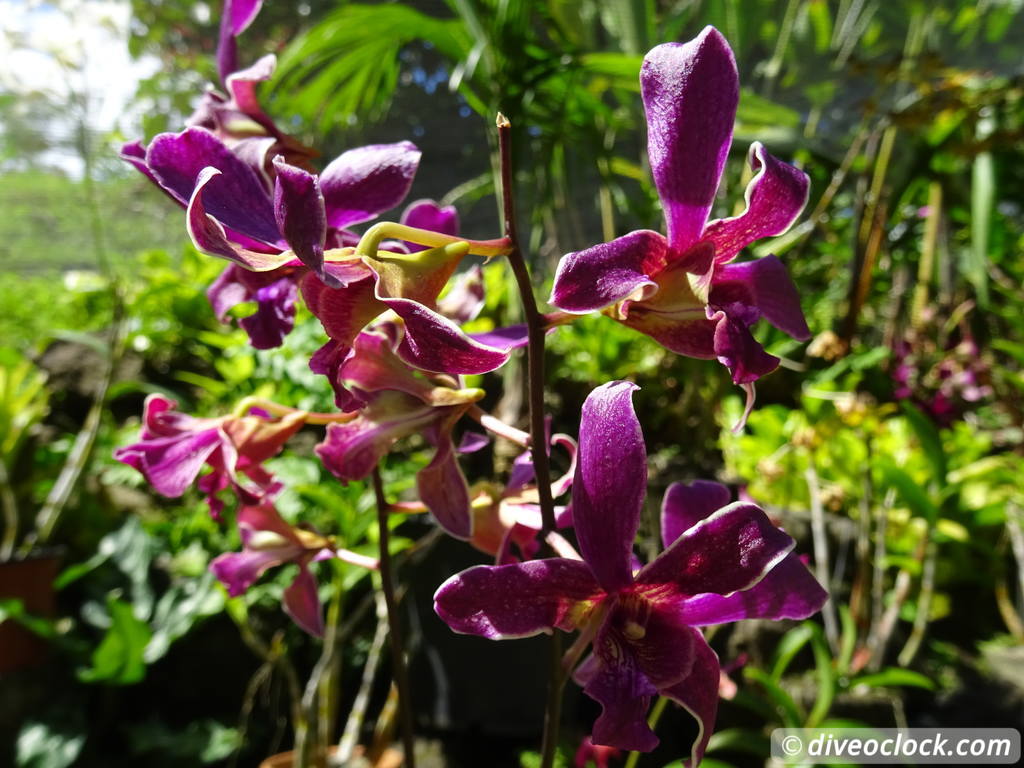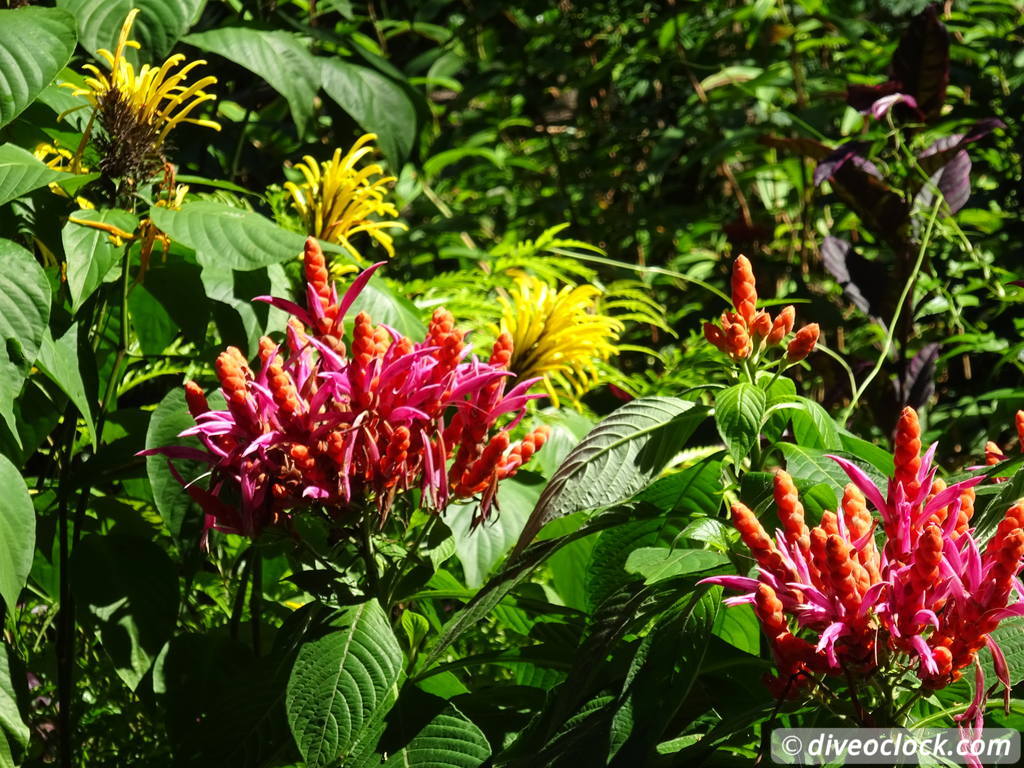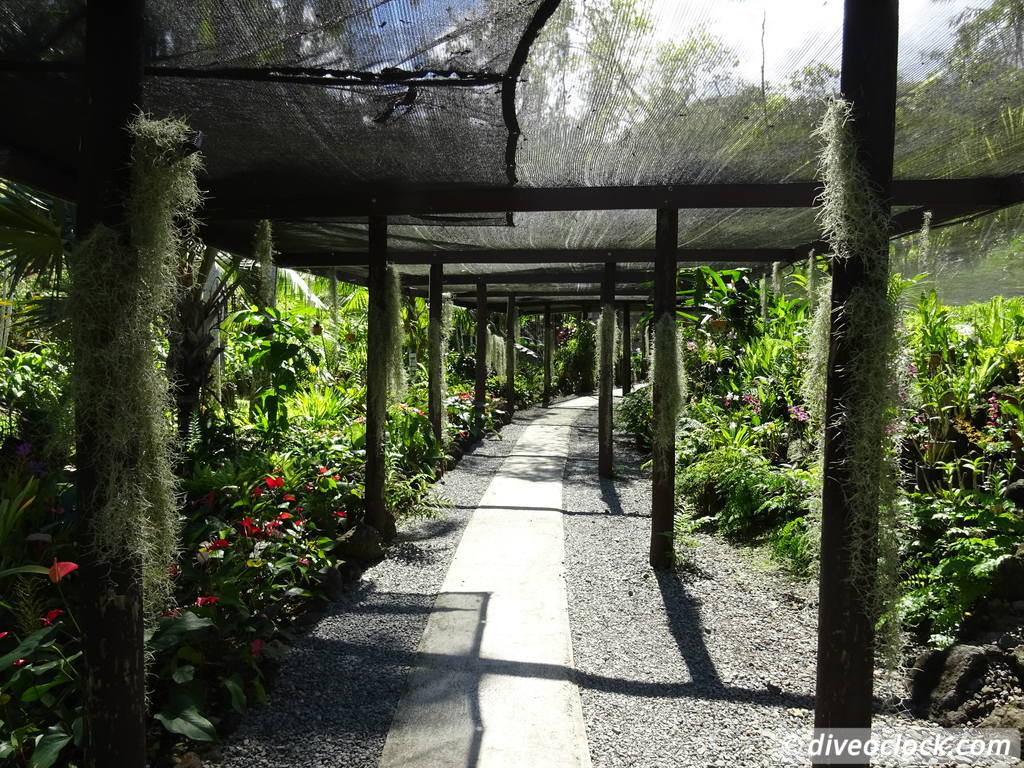 Garden of the Sleeping Giant!
The Sabeto Mud Pools and Hot Spring is located on the same road, about 1 km / 0,6 mile further. It is a family/community owned area with about 5 different pools, do not expect a wellness center but enjoy the experience! You pay for the mud - of which I am not sure about the minerals and vitamins as you would expect from a mud treatment. Just rub it on your body and leave it to dry in the sun or walk around and visit the souvenir shops. Than jump in the mud pool to rinse off the clay layer and move to the next pool to rinse off the rest of the mud step-by-step.
There is a hot spring and most of the other pools are heated by the hot spring water as well. There are some dressing rooms but most of it is just outside and there are no lockers. You can rent a towel for 5 Fiji dollars and for the same price you can have a fresh young coconut!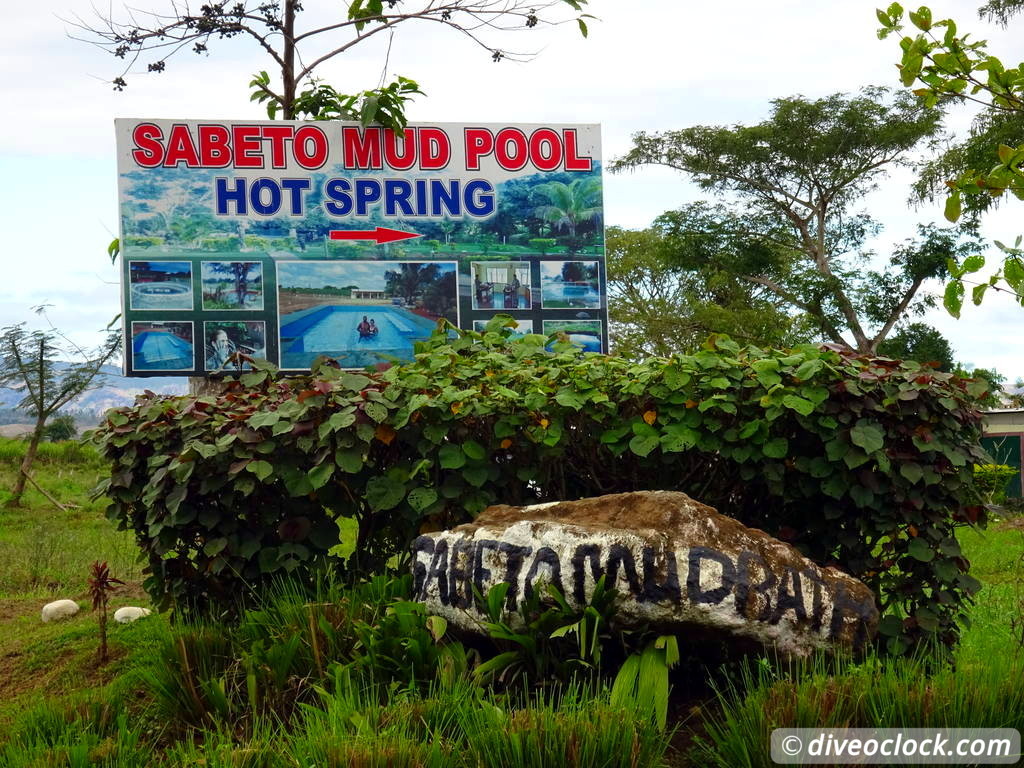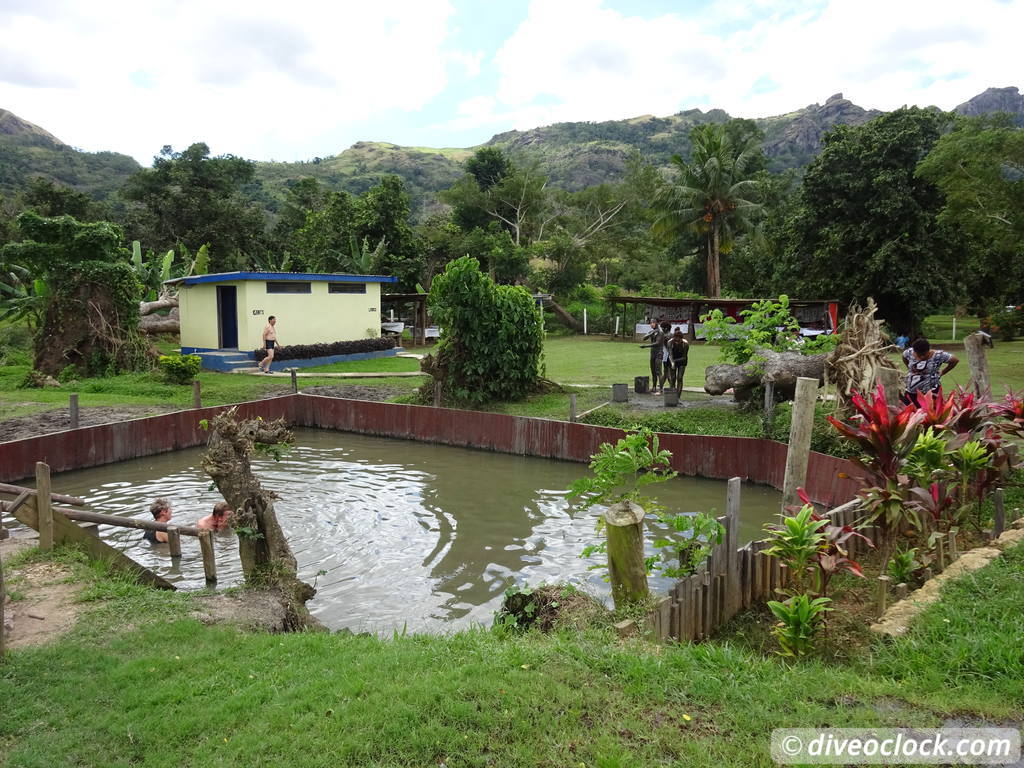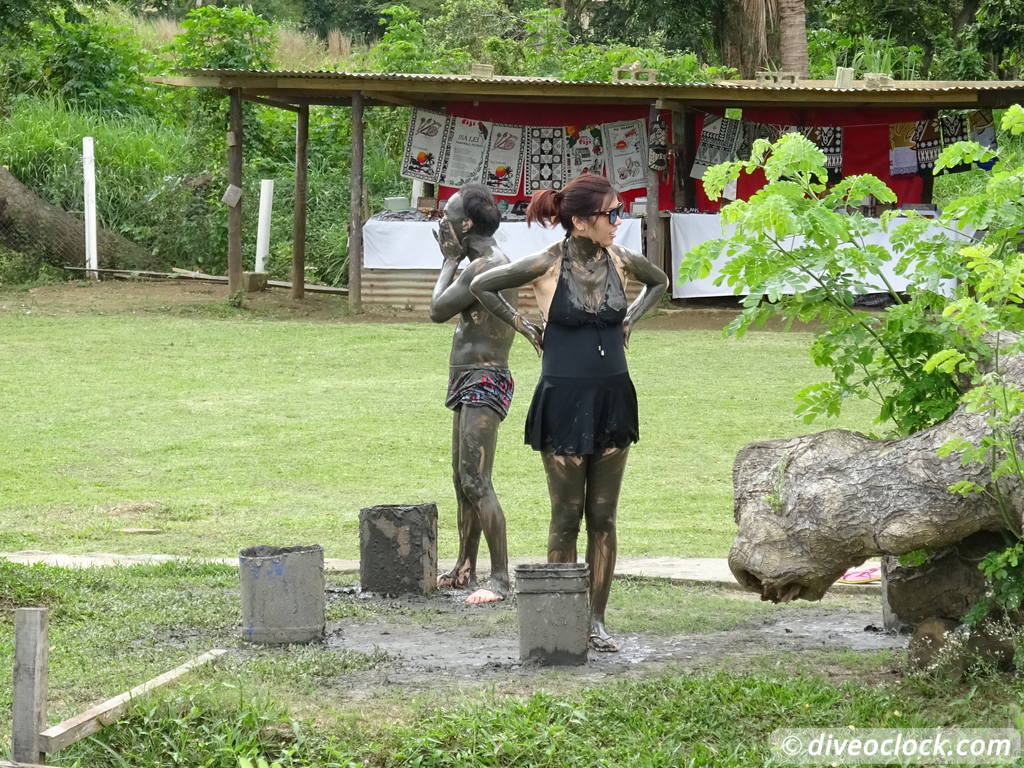 Sabeto Mud Pool & Hot Spring!
Lunch at Blue Ginger Café & Bar, Lautoka!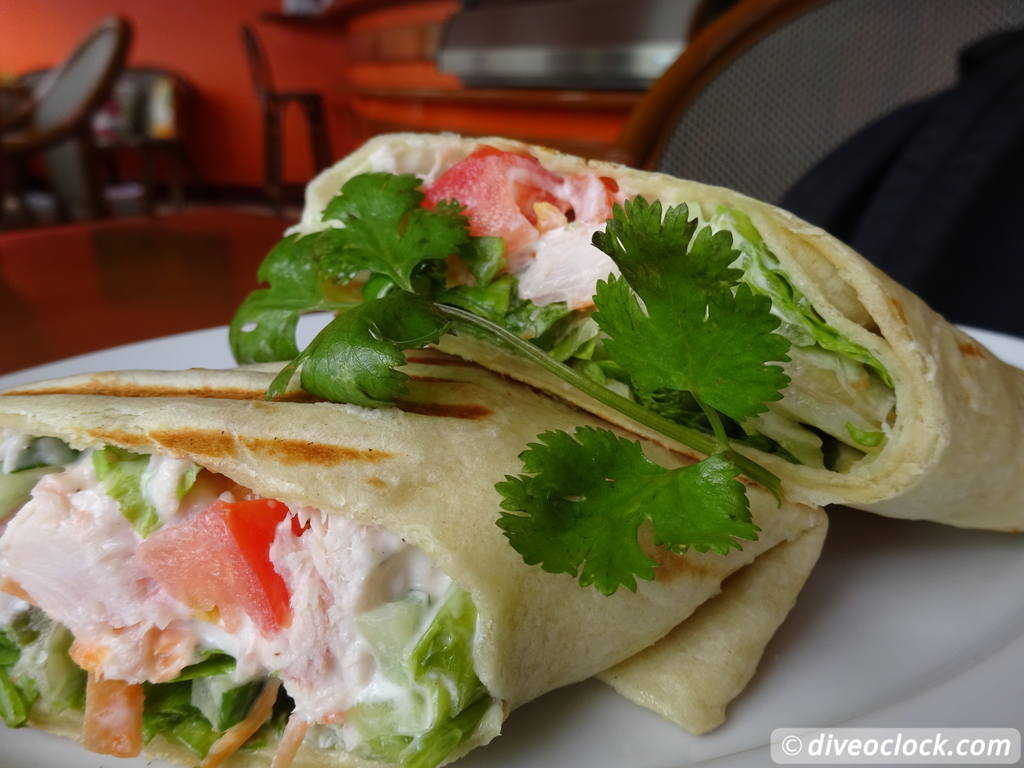 Lunch at Blue Ginger Café & Bar, Lautoka
After this refreshing morning it is just a short drive to Lautoka. Stop for lunch at Blue Ginger Café & Bar. From espresso to fresh fruit shakes and from the most delicious wraps and sandwiches to daily specials. The food is fresh and the taste is good! The ambiance is really cozy and nice. Right in front of Blue Ginger is a roundabout which might be hard to recognize - people will let you know if you do it the wrong way!... :)
Guided tour at the Sugar Factory in Lautoka!
This is one of the best factory tour I have had in years. You get to see the real deal and you can walk around everywhere like an employee! Since this is not for tourists you need to make an appointment with the HR department to visit. They would love to explain you all about making sugar!
The tour takes about one hour and the whole process is being explained. From the sugar cane train to packaging, all logistic steps and machines are shown. Just follow the employee that will guide you, wear closed shoes and they will provide safety helmets! It is a beautiful maze of machines, heating processes and logistics!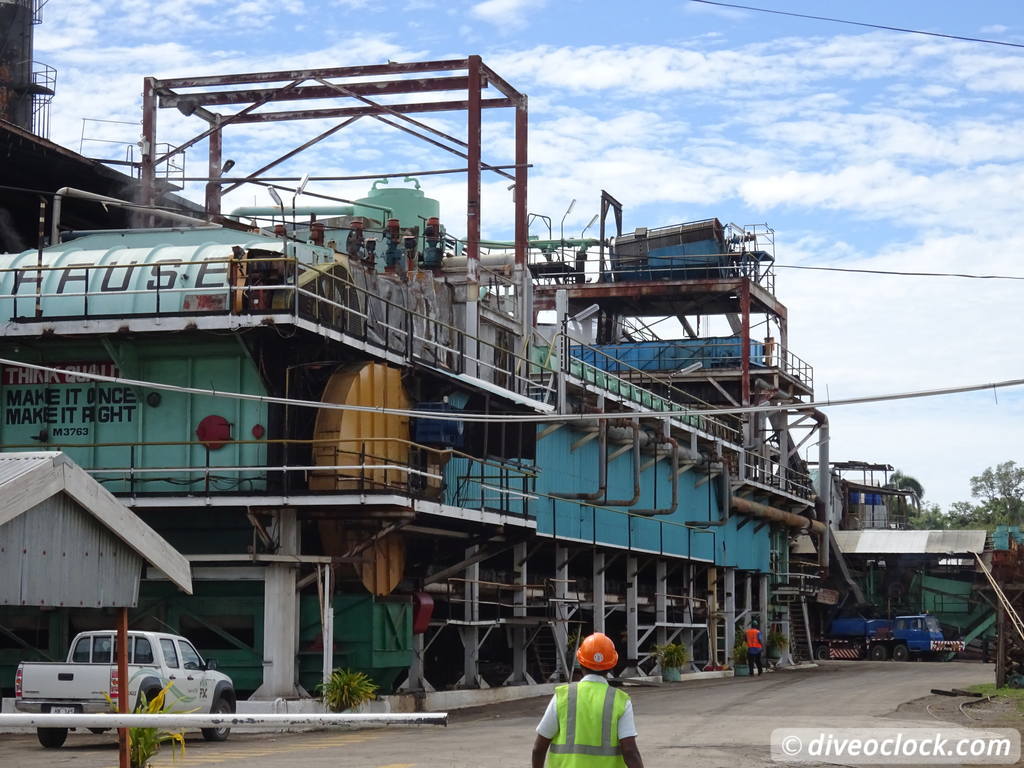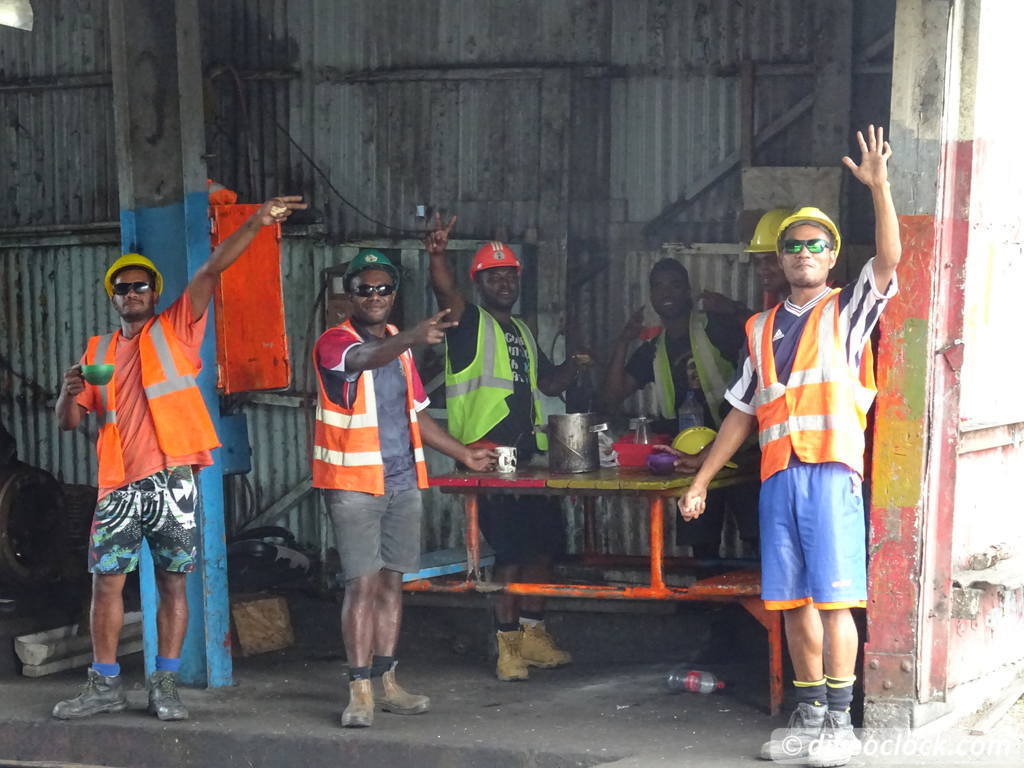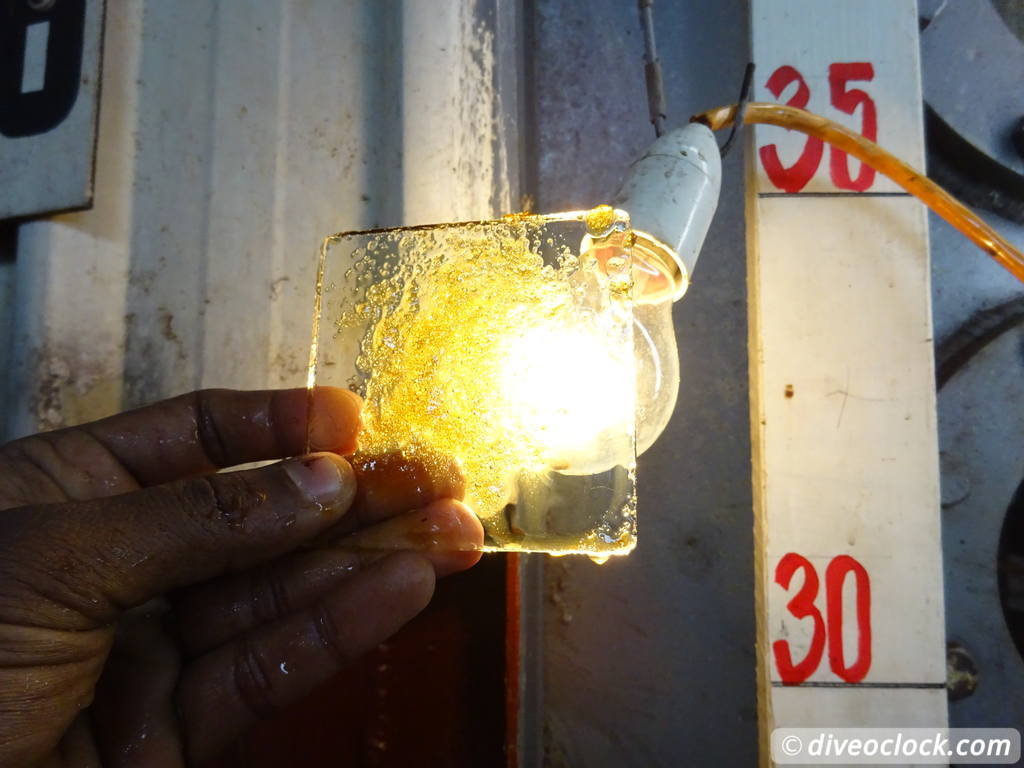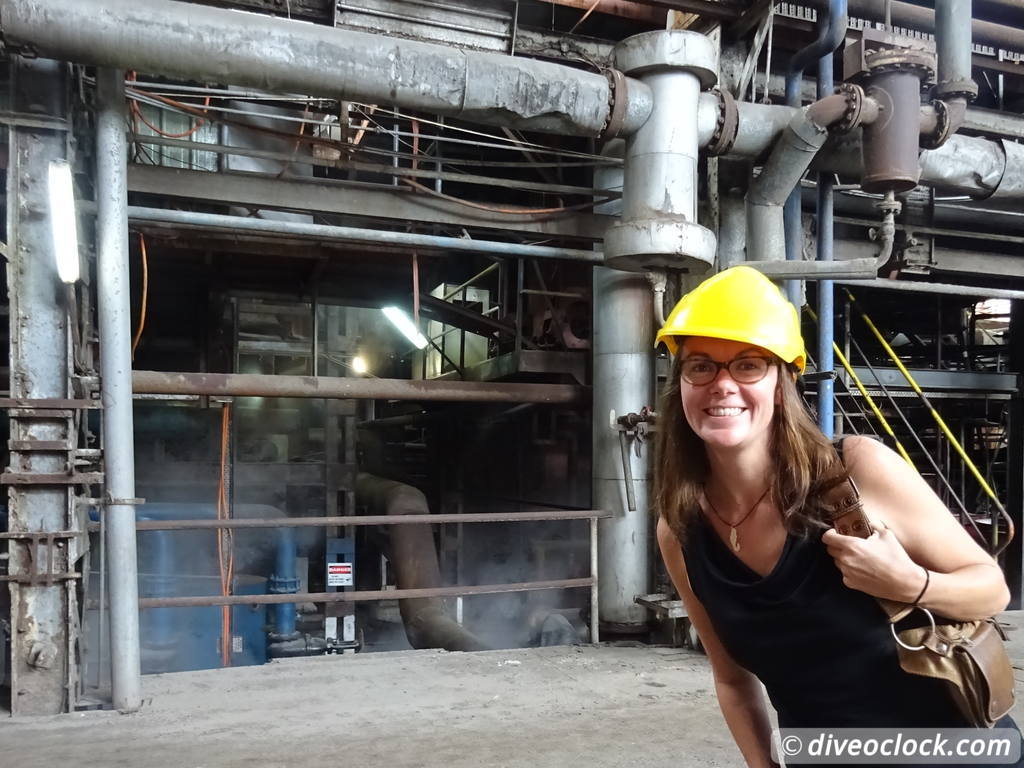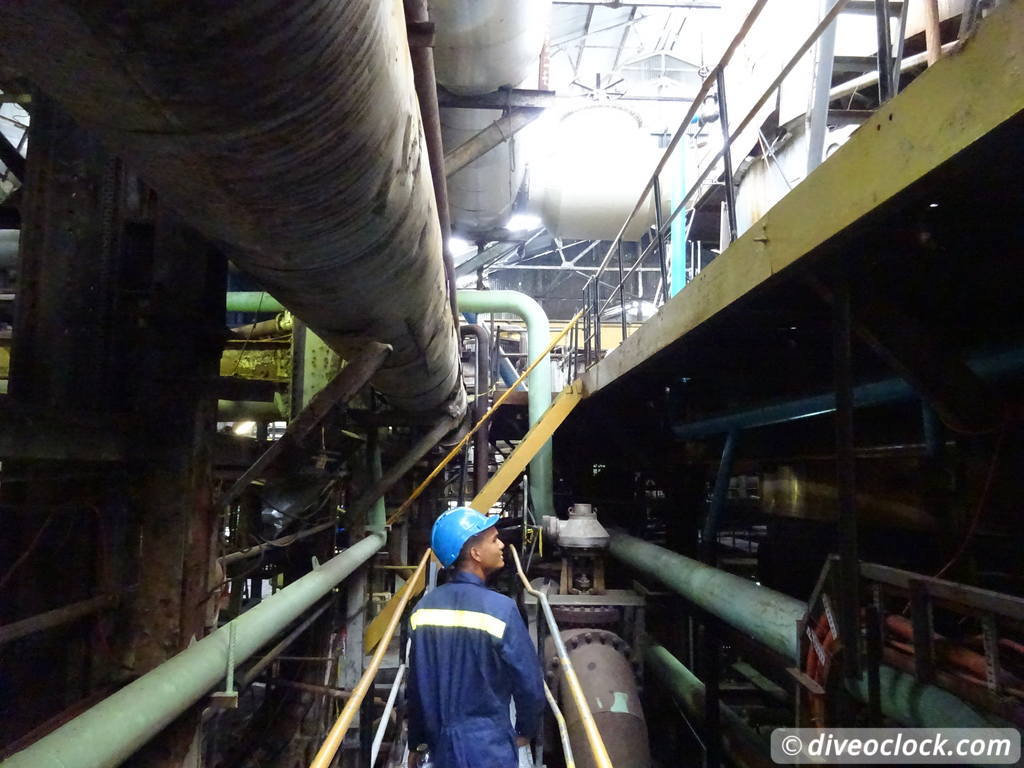 Lautoka Sugar Factory tour!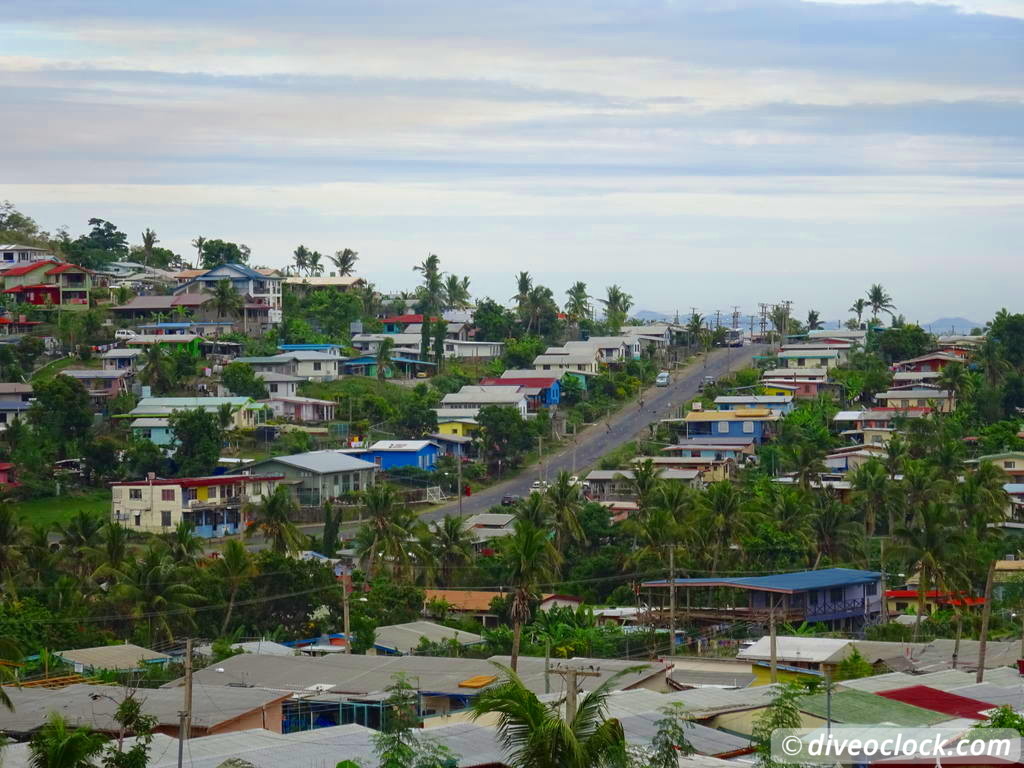 Views over the local town Lautoka
Have dinner at 3 Hungry Bears Bar & Grill!
This place might be a bit hard to find since there is no big sign outside (yet) and the old name (The Lounge) is still on the windows. It is a fancy sit down restaurant with a nice bar in the back with draft beer. The blackboard specials are a bit more expensive but great - especially accompanied with a nice glass of wine!
Stay with a local family through Airbnb!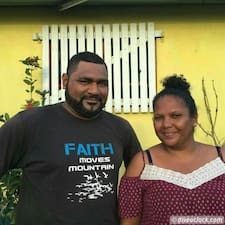 Stay with Kathleen through Airbnb!
We really loved this, even if it was just for one night. Kathleen and her family welcomed us in their authentic Fijian home. The yellow house with blue roof and a lovely porch was filled with family warmth and the door is always open. You have a private bedroom and share the rest of the house. Click here to check availability at Airbnb.
New to Airbnb? Get FREE travel credit/discount on your first booking!
Day 2: Drive along the North coast to Rakiraki!
Walk around Ba town!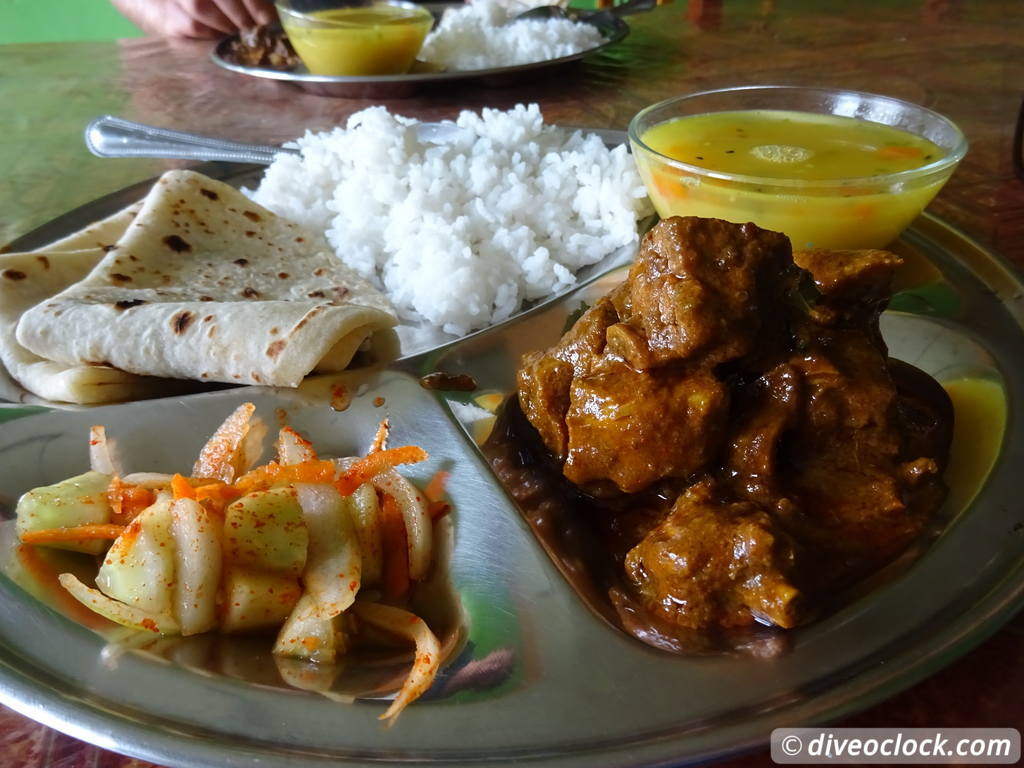 Indian curry at Samairaas Curry House
Have a small break in Ba, walk around the little town center or visit a local (Indian) hair dresser. Most shops will sell 'everything' and offer discounts. There is one restaurant, hidden behind a clothing shop, where you can have a coffee.
Have a local lunch in Tavua!
Stay on the local tour and try the Indian curry at Samairaas Curry House (navigate to Tavua Post Office, it is right across the street). For 6 Fiji dollars you get a plate with a delicious curry, soup, spicy salad, roti and rice.
SCUBA DIVE BLIGH WATER
Find out different ways to organize SCUBA diving at the soft coral capital of the world.
Budget hotel around Rakiraki!
In contrast to the damaged houses around this part of the island, because of Cyclone Winston (category-five) in 2016, there are only expensive places to stay around here (200+ Fiji dollars a night). Since we planned to go diving here we needed to stay around. The cheapest option we found for a private room was Tanoa Rakiraki Hotel .
Day 3: Driving along the East coast from Rakiraki to Suva!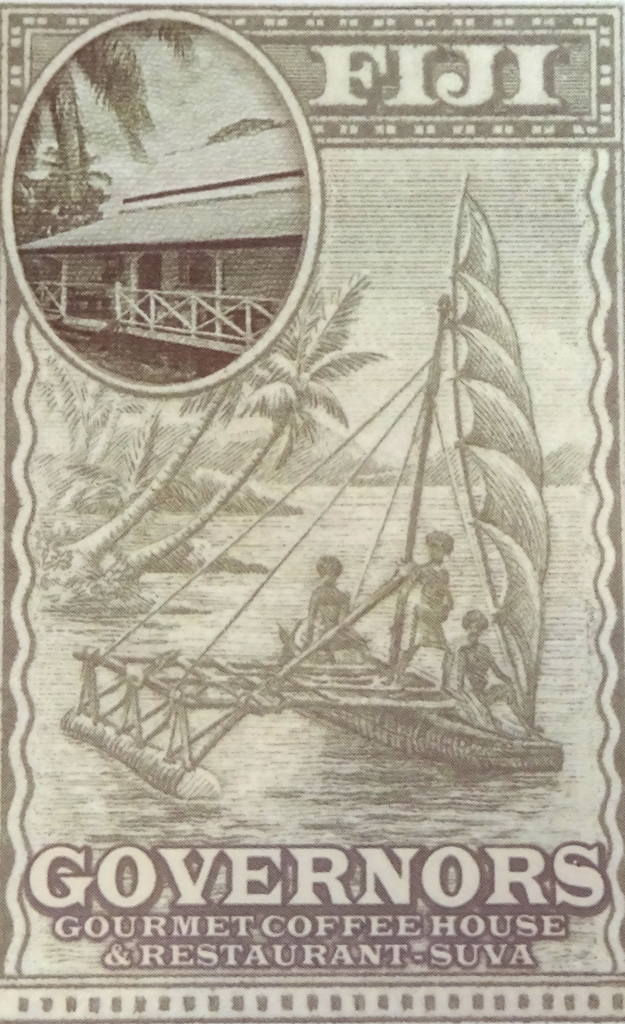 Have lunch at the Governors Museum Restaurant
Have lunch at the Governors Museum Restaurant!
This is a lovely colonial style restaurant with great gastronomy and great taste combinations on a plate. It is a bit upscale and the prices do fit the ambiance...
Try one of their cheese cakes!
Visit the Fiji museum!
Get to know the history of the country and learn about the diverse Indo-Fijian cultures! This is a must visit to understand the deeper meaning of things. Fiji's endemic and endangered flora and fauna, an art gallery and many old fashion items (masi) are on display on display.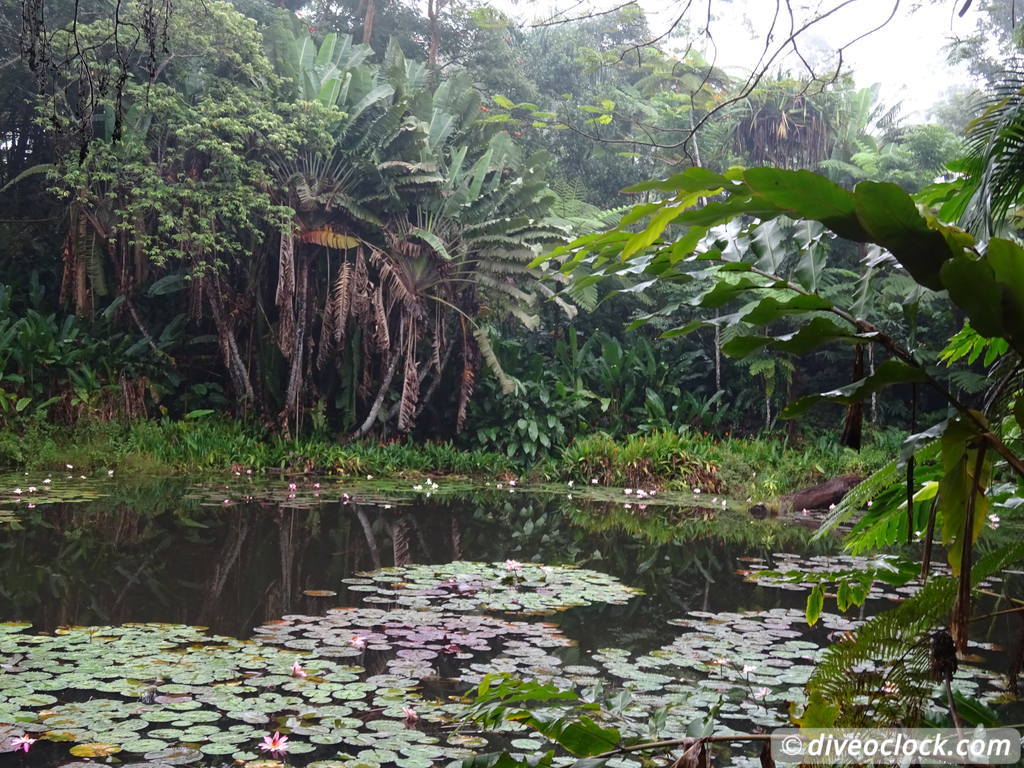 Relax at the Colo-I-Suva Forest Park
Relax at the Colo-I-Suva Forest Park!
The Colo-I-Suva Forest Park is right next to Suva town and it is worth a visit. Stay at the Colo-I-Suva Rainforest Eco Resort and try their Fiji tasting menu for dinner! You can go bird watching, paddle with a canoe on the lake or go for a bush walk. Relax and enjoy nature here!
Day 4: Exploring Suva!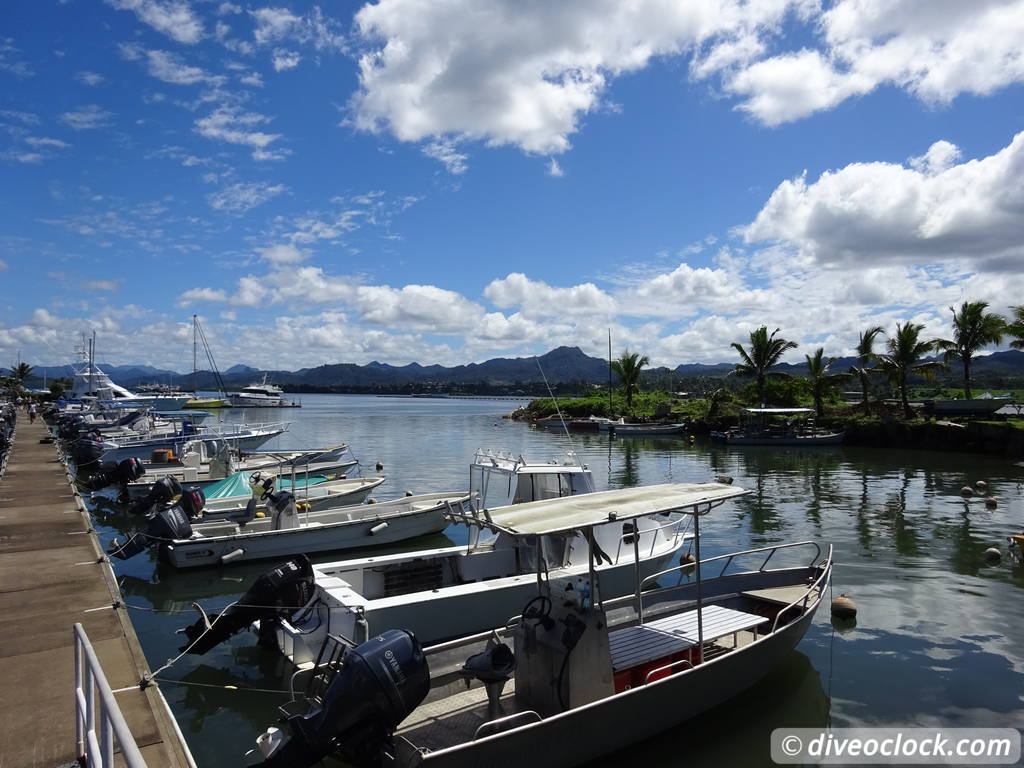 Royal Suva Yacht Club
Practice your bargaining skills at the Municipal Handicraft Centre!
This is a touristy market, know that, and prices are often higher than necessary. Walk around, bargain and take home some nice souvenirs from the Suva Handicraft market.
Shop & lunch at Damodar City!
Personally I like Suva better than Nadi, especially for shopping. Local shops, supermarkets, clothing and souvenir shops are all mixed together at Damodar City shopping center. There is even a cinema here if you like. Mamacita Mexican Restaurant & Bar offers great lunch deals and if you need some imported products you can visit the Cost U Less Supermarket, something like a Makro.
Sunset drinks at Royal Suva Yacht Club!
This place is great for sunset drinks! During happy hour the draft beers are really cheap and the setting is amazing!
Have dinner at Ashiyana Indian Restaurant!
If you can handle spicy food, order their special curry which is not on the menu!
Day 5: Suva to Pacific Harbour!
Visit the Art Village in Pacific Harbour!
Within about one hour you drive to Pacific Harbour. The art village is a colorful little commercial area, something in between a harbour shopping area and an outlet center with a Caribbean vibe. It is lovely to shop for a sarong, bikini or necklace, have lunch/dinner or get a massage! There are special shows during the day as well, visit the website of the Art Village for prices and show times.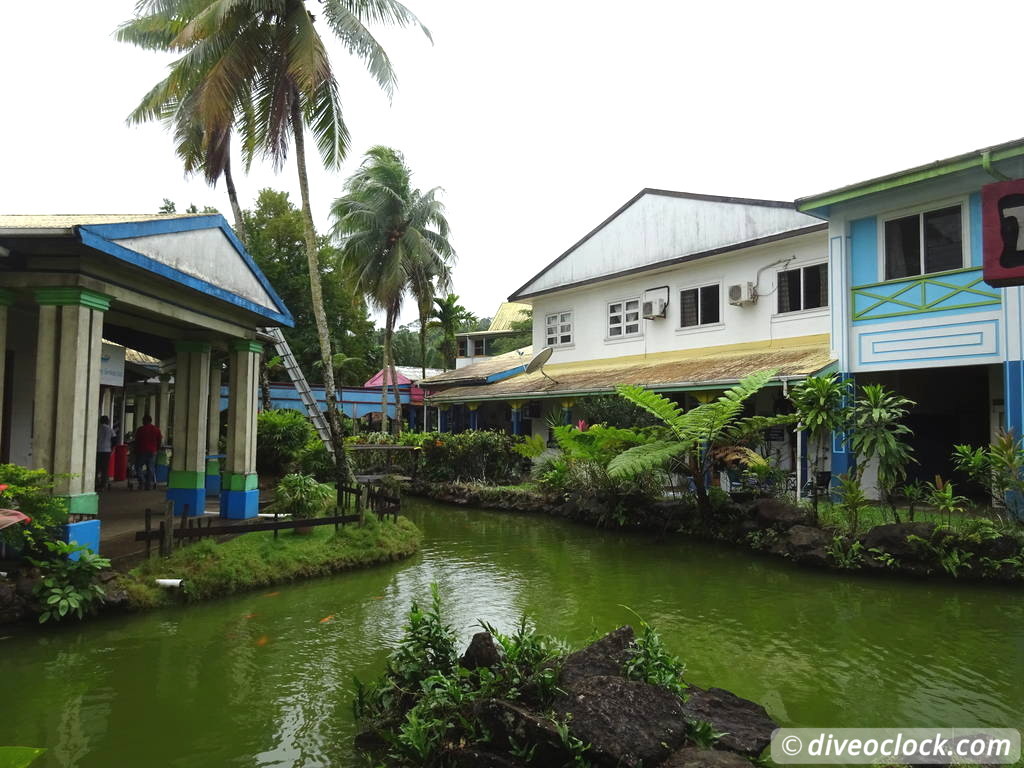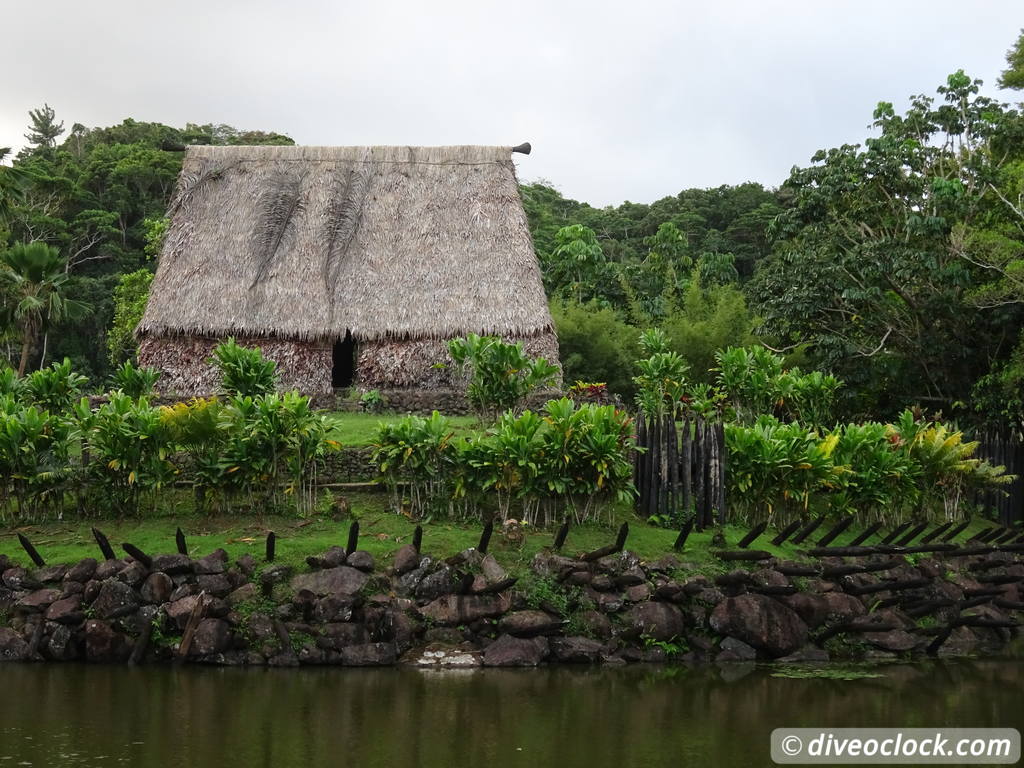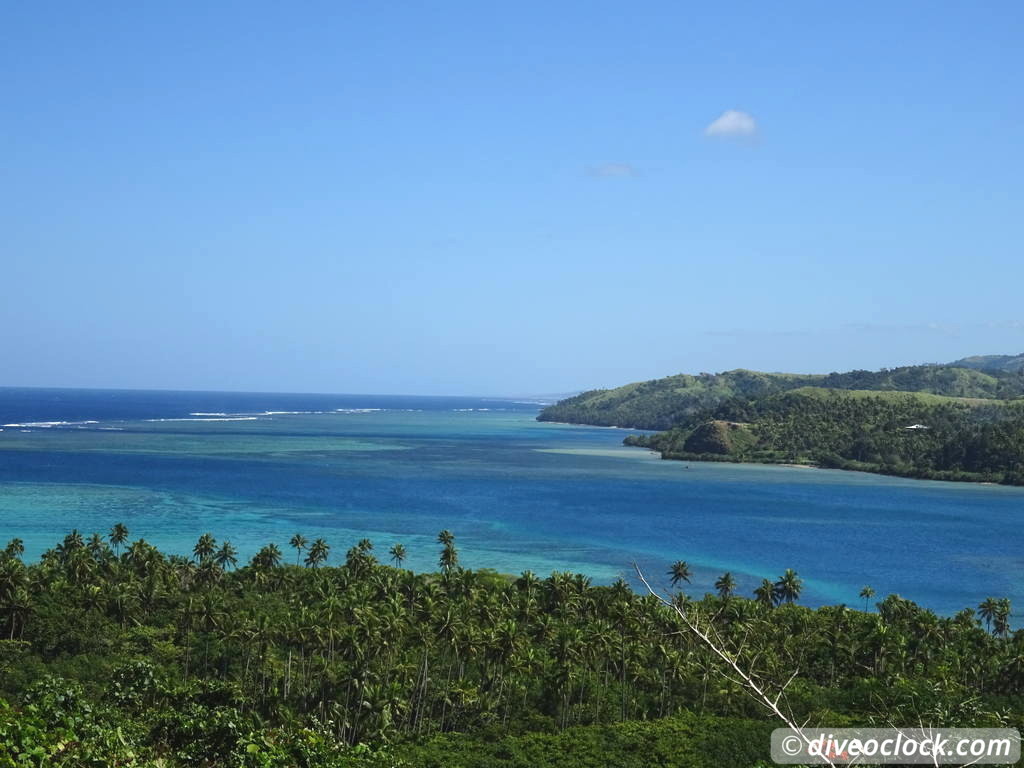 Art Village in Pacific Harbour.
Happy hour at The Pearl!
Have some fancy drinks at The Pearl Resort. Their happy hour is from 5 to 7 PM. The staff is awesome here!
SCUBA DIVE BEQA LAGOON!
If you are looking for a unique dive experience, book an Ultimate Shark Encounter at Beqa Lagoon.
Live music at Baka Blues Cafe!
Check if there is live music and hang out at Baka Blues Cafe! Something in between a pub and a jazz club with tropical influences - you will love it!
Stay in Pacific Harbour with Airbnb!
Another great place to stay with Airbnb is right in Pacific Harbour. Colin from New Zealand rents out a fully renovated stylish studio with swimming pool. Click here to check photos and availability at Airbnb.
Day 6: Exploring the Coral Coast and Sigatoka!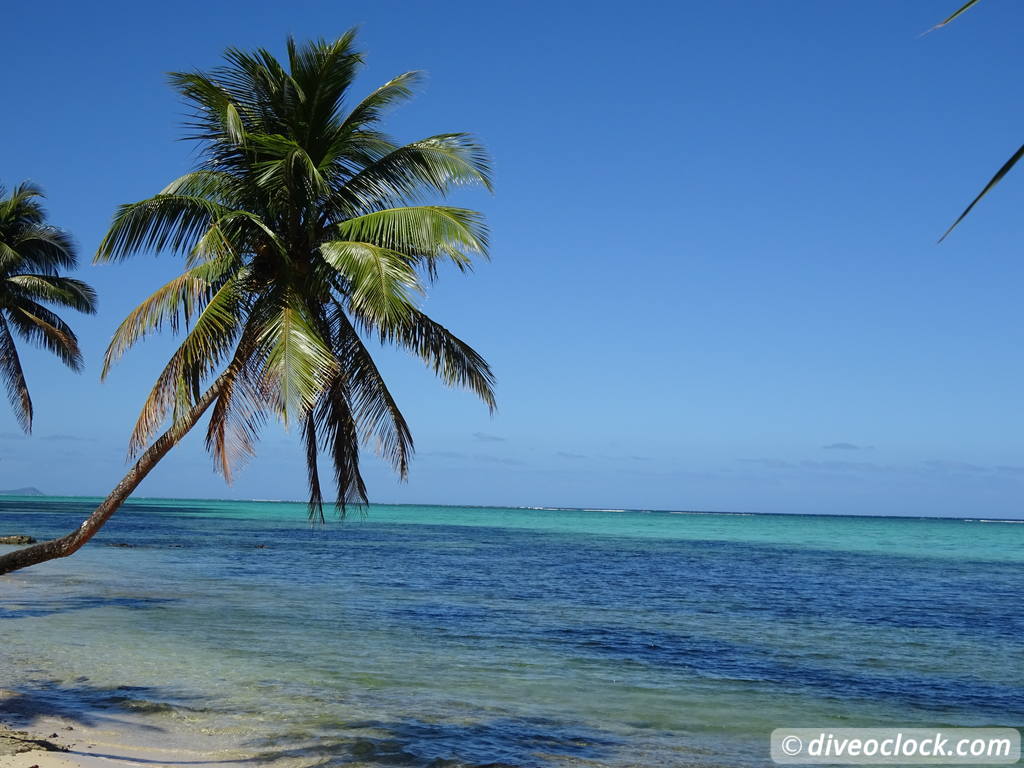 Driving along the coral coast close to the ocean!
Crusoe's Retreat Coral Coast!
Drive off the main road and visit Crusoe's Retreat. Have a coffee or try the Kokoda for lunch! Great photo opportunities here!
The sand dunes of Sigatoka!
Sigatoka offers a nice stop; the sand dunes! There is an official entrance at the headquarters of the park but you can also follow the 'handwritten' sign before that and visit another dune.
The cheapest accommodation along the Coral Coast!
Finding a cheap place to stay along the Coral Coast is not easy, especially if you want to have some privacy - meaning no dorms. After a long search we found Coral Lagoon Fiji Resort in Korolevu! You can stay right at the waterfront of the Coral Coast! Since the beach is a dead coral beach it is quite hard to have a beach walk but the views are amazing! From Sigatoka you need to drive back for about 30 minutes.
Stunning views at the Coral Coast of Viti Levu
Vilisite's Seafood restaurant!
Vilisite's Seafood restaurant next to Coral Lagoon Fiji Resort offers a lovely place to watch the sunset and have dinner right at the waterfront. It is a souvenir shop as well and there is a lady that offers cheap massages. Bring cash, there is no credit card machine around here!
Day 7: Drive from Korolevu to Nadi!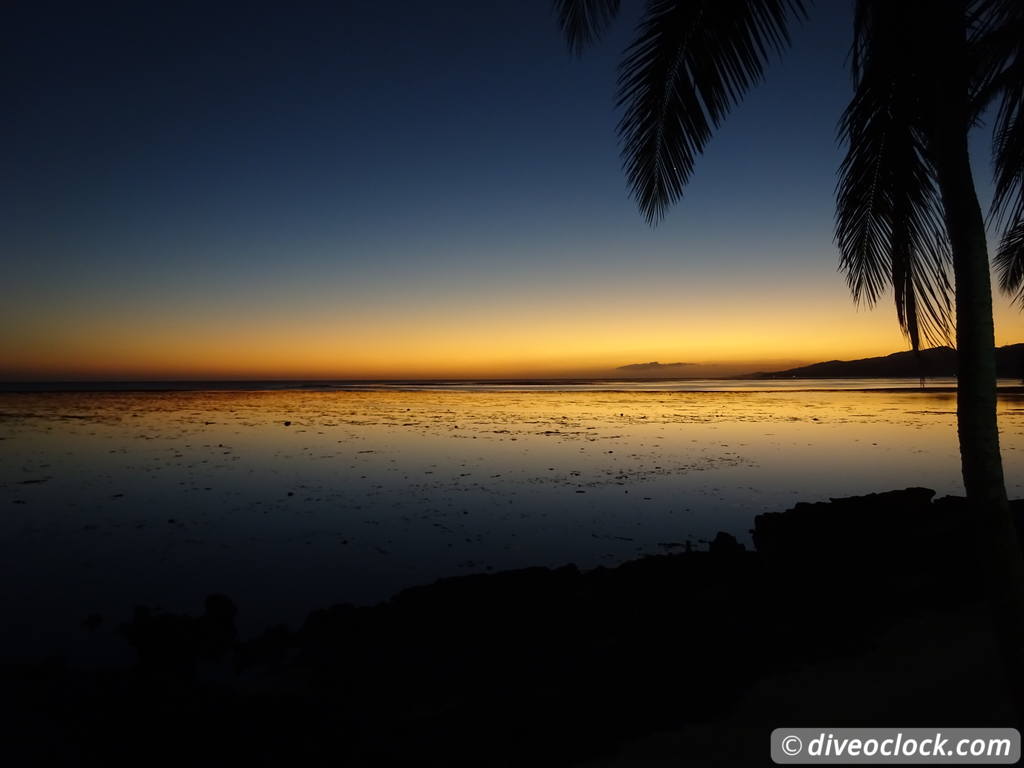 Fiji sunsets are amazing!
Saving the best for last: Natadola beach!
Explore the most beautiful beach of Fiji: Natadola Bay! It is easy accessible from the InterContinental Fiji Golf Resort & Spa. There is an asphalt road from the main exit on the Queens road. But, coming from Sigatoka you can also take the adventurous ride! Take the first exit and drive through Malomalo village. It is a sandy bumpy ride and will take longer - but it is fun!!! Once you park at the InterContinental you can walk through the resort and visit Natadola Bay. If you like snorkeling - this is the place to be! Finish off with a nice lunch and before driving back to Nadi.
My recommendation for staying around Nadi: Wailoaloa Beach Resort . It is walking distance to the beach, a small and lively resort for about half the price as the rest in Wailoaloa. The sunsets are amazing at Wailoaloa! Nadi is not the best place to stay, there are not many foreigners around - although it is worth a visit too!
The best 5 tips for an awesome Fiji road trip!
Buy a local SIM card (Digicel or Vodafone) with data. WIFI is often NOT free and connections are bad around the island. It is easy to navigate with Google maps once you are online!
Book your hotels upfront - venturing things out along the way does not seem to work around here and you might end-up spending a lot more!
Put your luggage in the trunk, out of sight - just to be sure! The gap between the income of locals and tourists is enormous.
Contact Nitz Rentals (Nadi) to get a cheap deal on renting a good car! Another cheap rental company is Sharma, located in Nadi town. The ones at the airport are way more expensive. We rented a car for 60 Fiji dollar a day, this is season and bargaining skills dependent.
Airbnb is a big money saver in Fiji. Sign up for FREE and get travel credit/discount on your first booking!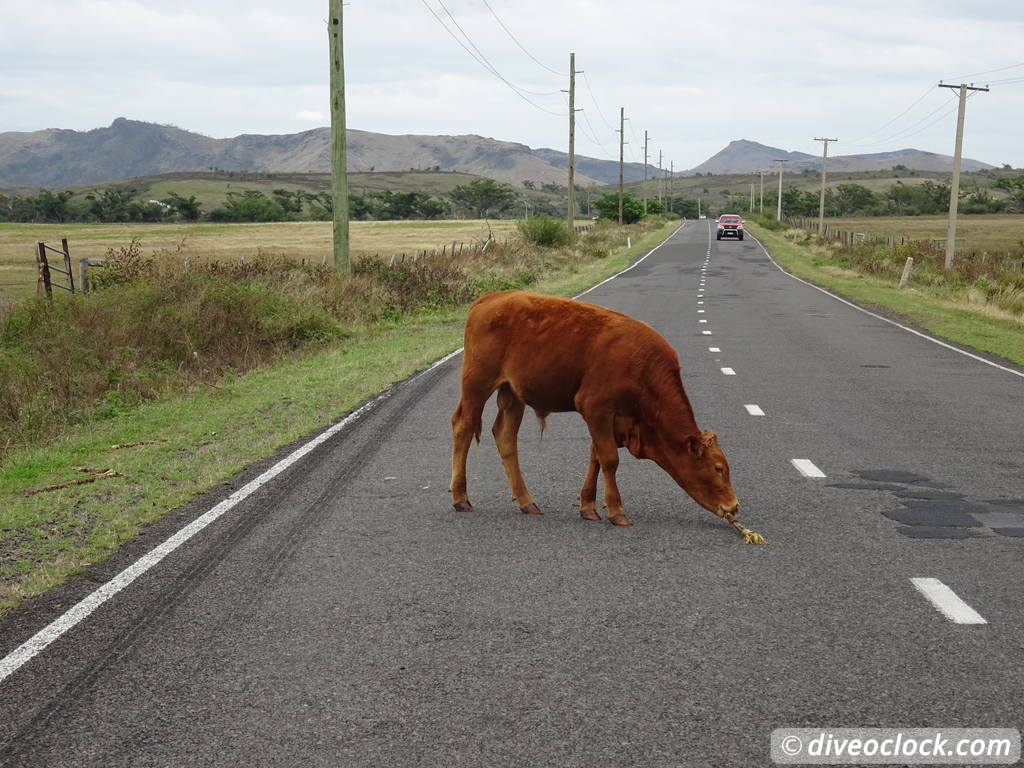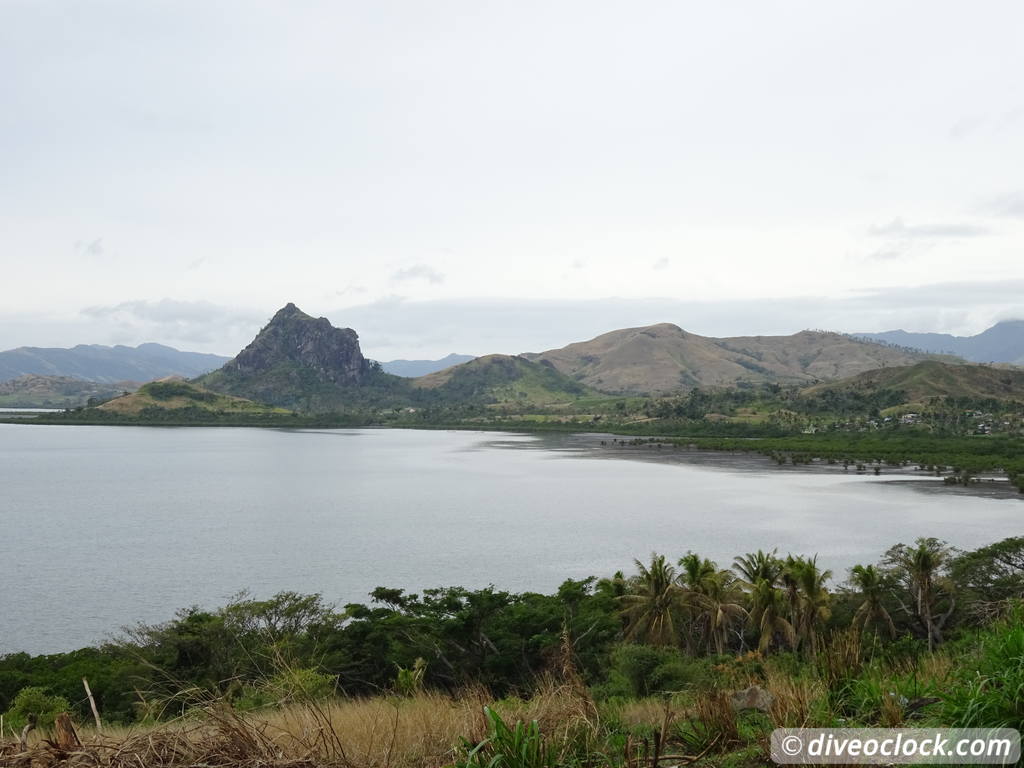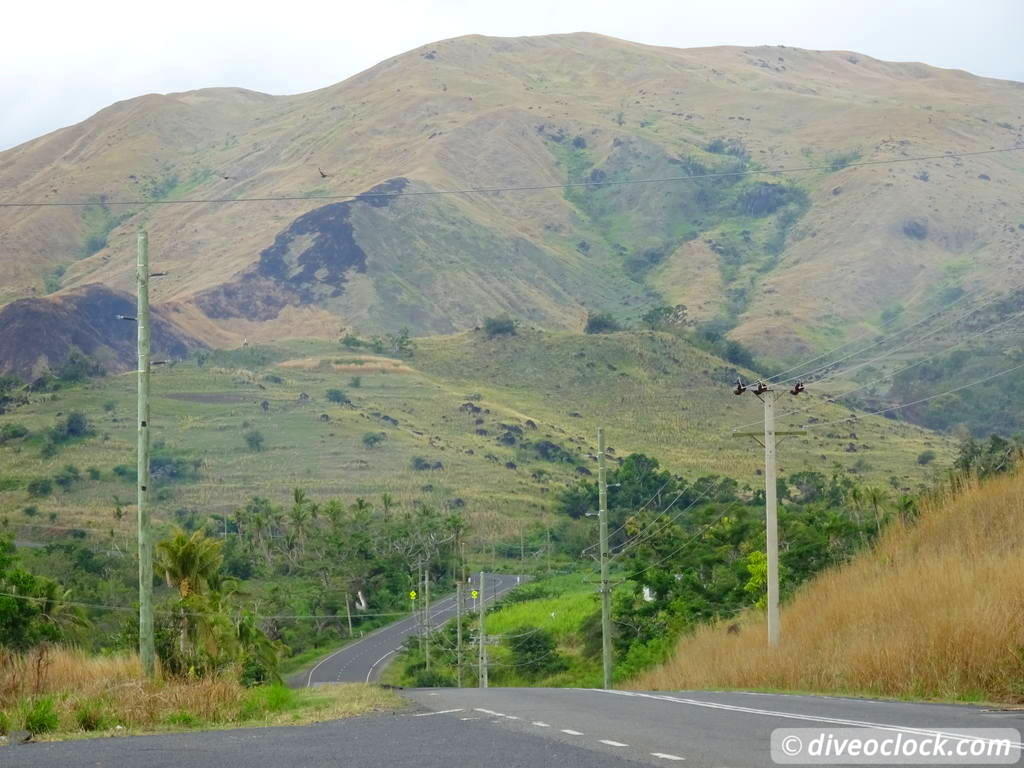 Some impressions of driving around Viti Levu. Different as expected?
What do you think? Does this look like an awesome trip?
Let me know if you picked-up bits and pieces for your own adventures! I would love to hear about your experience here!
If you like this post, hit that like button on our
Facebook page
and stay tuned for more!
Marlies Wolters
Founder of Dive O'Clock "It's dive o'clock somewhere!"

Share this page: