Top 5 Caribbean Dive Spots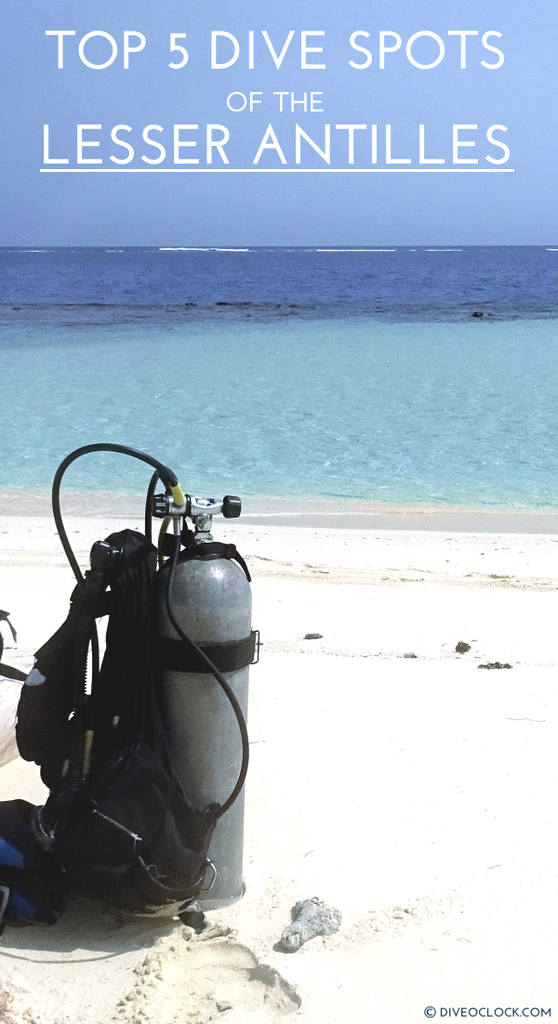 If you are looking for great dive spots in the Caribbean - do not look any further. These five locations should be on your dive bucket list for the Lesser Antilles, the Eastern and Southern islands of the Caribbean.
The Lesser Antilles are basically all the magnificent islands from The British Virgin Islands to Aruba in a big clockwise circle. They are the Leeward Islands (British Virgin Islands to Guadeloupe, The Windward Islands (Dominica to Trinidad & Tobago) and the Leeward Antilles (Aruba, Bonaire, Curaçao and some Venezuelan Islands), all connected to the Caribbean Sea and the North Atlantic Ocean.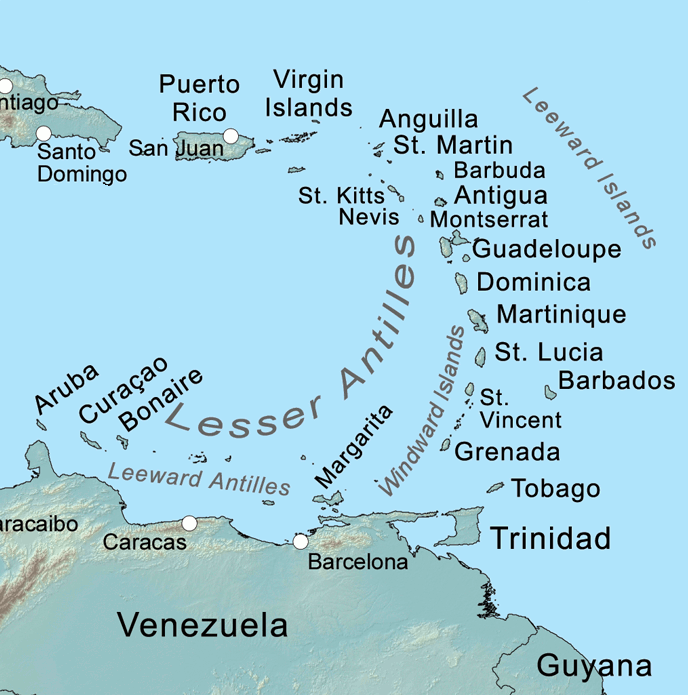 Lesser Antilles
With two different types of water and currents coming together it might not be so surprising quite a lot of those islands have a rough North and South coast. Easy diving is often organized along the West coast of these islands, where currents are often milder or non-existing.
Sadly it is stated that about 80% of the coral cover in the Caribbean region has been lost over the last few years. Still, it is an incredible area to dive and in any case you should go before it is too late. These are the areas that seem less affected, have great coral cover, deep dive sites and high chances of seeing bigger marine life species in the blue.
Five Caribbean Hot Spots for SCUBA Diving
1. Shore Diving Paradise Bonaire!
Bonaire is often awarded as the best shore dive destination in the Caribbean, let me tell you why this really is Divers Paradise after doing over hundred fun dives around these islands. Including 10 Bonaire shore diving tips and 10 dive site recommendations to get the best out of your holiday! Read about it here.
2. Humpback Whales and Challenging Deep Dives in Guadeloupe!
In the Les Saintes (Îles des Saintes) archipelago of Guadeloupe in the French Caribbean you can find a dive site beyond expectations. Forget about diving around the main island and take the plane or boat to Terre-de-Haut. Especially the dive site Sec Pâté is often mentioned as one of the best dive sites in the Lesser Antilles. Expect some deep diving, pumping currents and incredible marine life! Read the full story here.
3. Wall Diving and Dolphin Watching in Dominica!
Dominica (not to be mistaken with Dominicana or the Dominican Republic) is called Nature Island of the Caribbean. The Soufriere Scotts Head Marine Reserve is often mentioned as one of the best dive areas in the Caribbean. Volcanic rock formations, pinnacles and walls full of corals and sponges create a dramatic reef.
Find out more about Dominica here.
4. Explore Tobago's Currents and Sharks!
Beautiful beaches, crystal clear waters and rough mountain rides through the rainforest! Watch pelicans catching fish during the day and fireflies dancing at night. If you are new to SCUBA diving you should start your adventure on the Crown Point side where the water is clear and diving is easy. Experienced divers should definitely dive at the Speyside as the reefs are impressive and currents can be strong. Get ready for a fast underwater adventure in Tobago and explore a different type of diving in the Caribbean! Discover Trinidad & Tobago here.
5. Discover a Stunning Coral Atoll in the Dominican Republic!
How about having a turquoise lagoon surrounded by a ring of corals teeming with marine life all to yourself? One of the three coral atolls of the Caribbean, one of the best dive areas in the Dominican Republic and for sure my favourite. Escape the crowds, stay overnight in Punta Rucia and explore not only Cayo Arena below the surface but also the unexplored coral banks that are perfectly healthy and full of life.
Click here for an off the beaten track adventure!
What are you favourite dive spots in the Lesser Antilles and why? Share your opinion in a comment below!
If you like this post, hit that like button on our
Facebook page
and stay tuned for more!
Marlies Wolters
Founder of Dive O'Clock "It's dive o'clock somewhere!"

Share this page: