Soufriere Scotts Head Marine Reserve - The Best Dive Spot in Dominica!
Dominica is often mentioned as one of the best dive spots in the Caribbean. Volcanic rock formations, pinnacles and walls full of corals and sponges create a dramatic reef. Find out more about two top spots: SCUBA diving at Scotts Head Drop Off & Soufriere Pinnacles!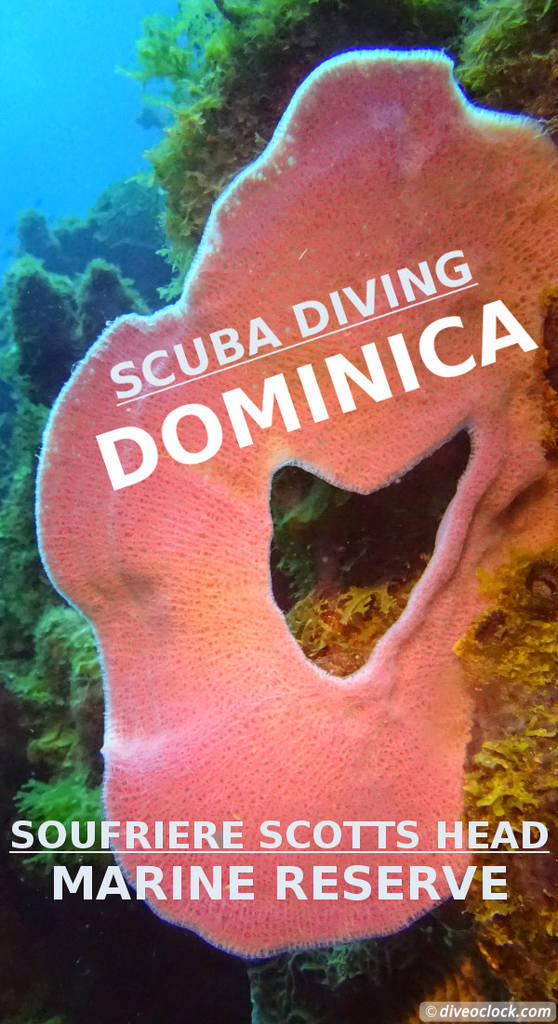 There are three marine parks in Dominica, each park offers a different kind of reef and bottom structure. Around the Eastern Caribbean most dive spots are on the Caribbean side of the island and often a slope gradually going down. In the South of Dominica you can find something else.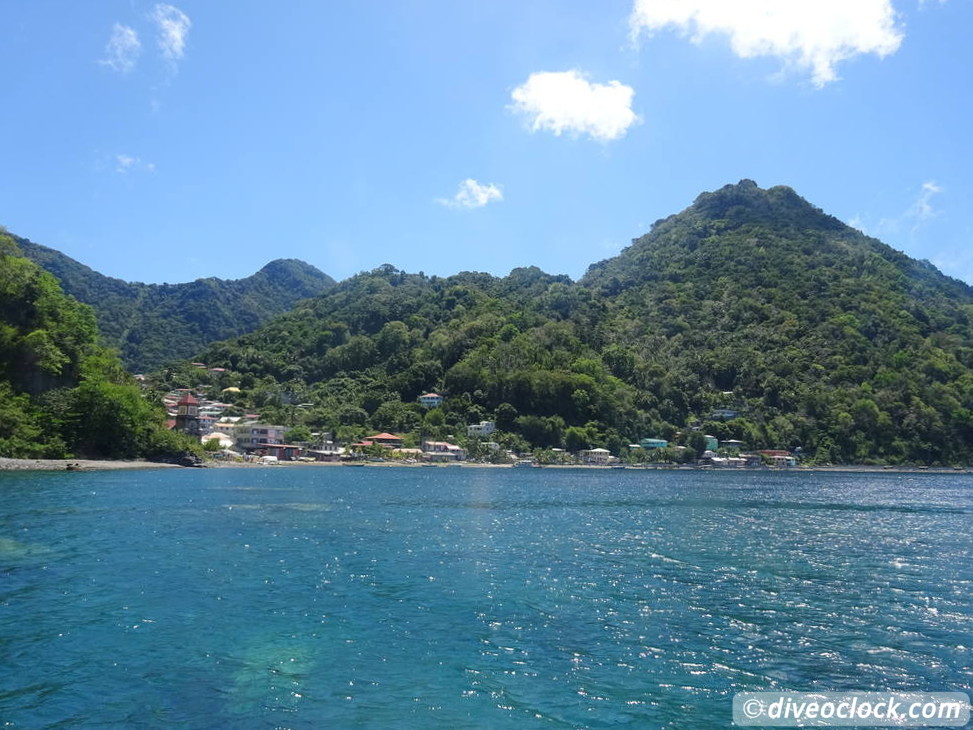 Soufriere Bay, the reef was visible from the surface!
Soufriere Scotts Head Marine Reserve, located in Soufriere Bay, offers the most dramatic reef of them all. As the whole island is volcanic with craters, volcanoes and hot springs (some with bubbles) the views are fantastic. You can even SCUBA dive right in volcanic activity at
Champagne Reef
.
Two top spots to dive in Soufriere Scotts Head Marine Reserve are the Scotts Head Drop Off & Soufriere Pinnacles. Time to take a closer look, underwater!
| | |
| --- | --- |
| Country | Dominica |
| Dive area name | Soufriere Scotts Head Marine Reserve |
| Dive center | Buddy Dive Dominica (Permanently closed) |
| Famous for | Volcanic coral reef with pinnacles and walls |
| Price | 2-tank guided boat dive $99,- USD (Air), dive equipment rental 45 USD full set per day. Discounts on packages. |
| Hotel recommendation | Fort Young Hotel |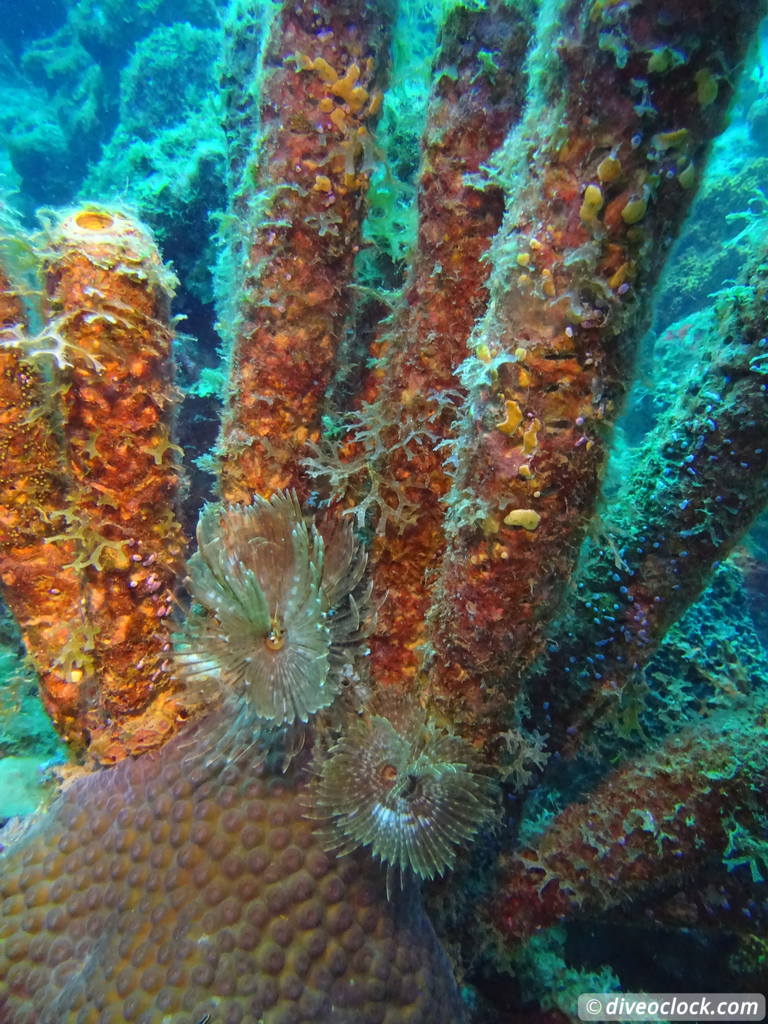 Dive site Scotts Head Drop Off.
Dive site Scotts Head Drop Off
Located right at the Scotts Head hill, where the Caribbean Sea and Atlantic Ocean meet, you will find several interesting dive spots. Scotts Head is a town with a small strip of land/ lava rock beach towards a hill at the end. The story goes that the French removed the head of the English officer George Scott on the hill and threw it in the sea after giving him too much liquor.
Scotts Head Drop Off is the last dive site of the marine park, the closest to the Atlantic. This means you can have strong currents but also a higher chance of pelagic - the bigger animals in the blue. We dropped down and had barely any current, nice and easy. The wall goes down to 30 meters / 100 feet, which is deeper then average in the Caribbean.
Lobsters, Muray eels and Scorpion fish were hiding, while schools of Smallmounth grunts were swimming around. Even a beautiful Lettuce sea slug was found at Scotts Head Drop Off.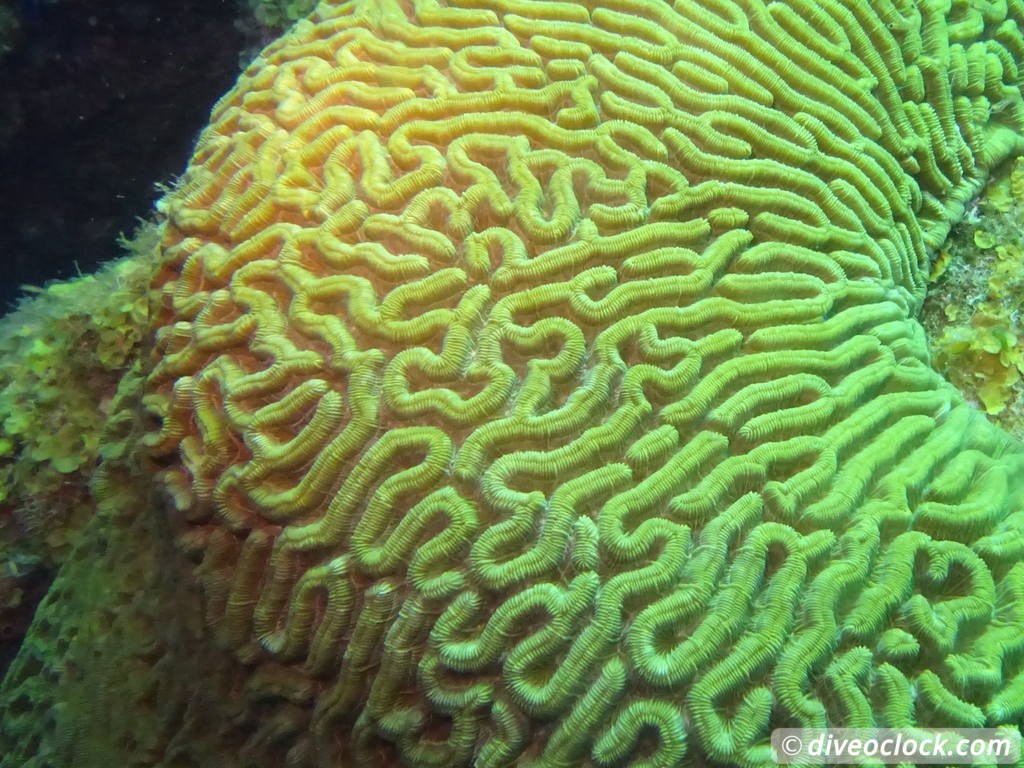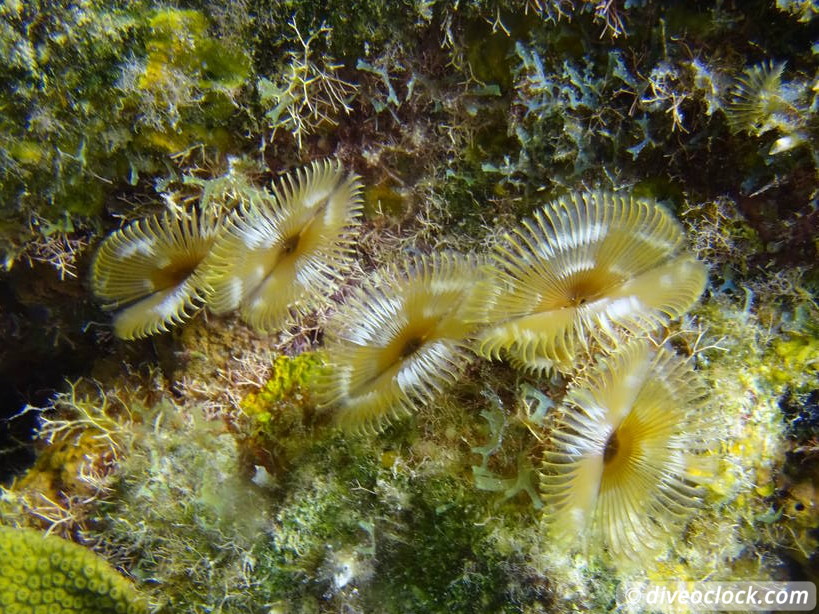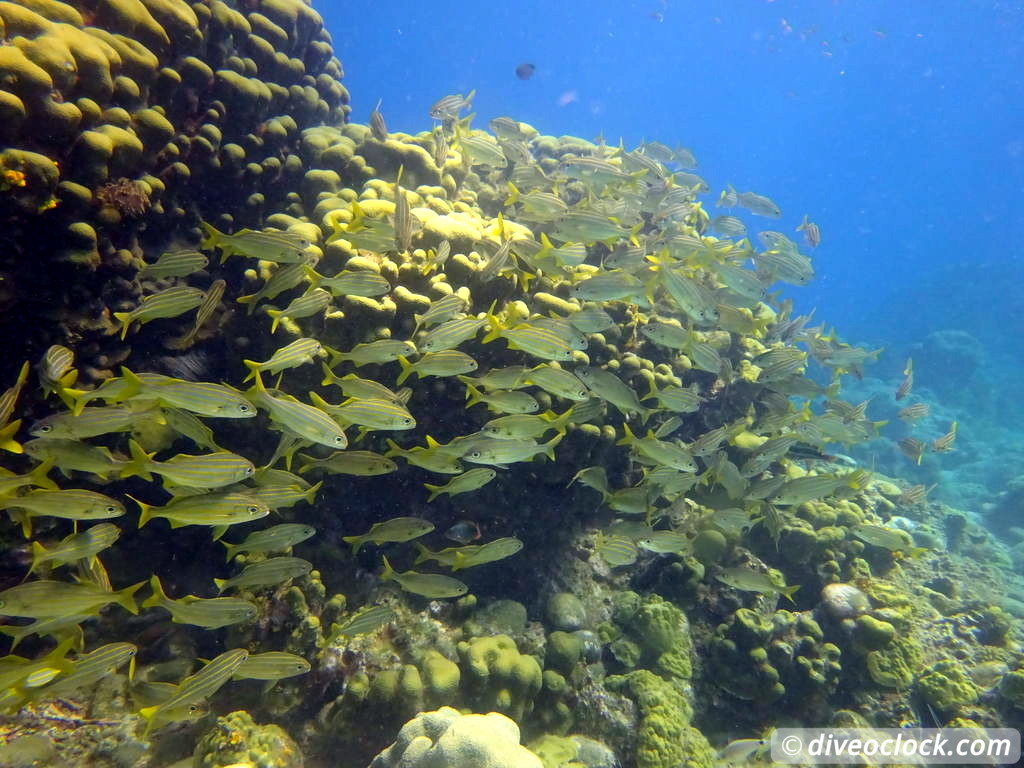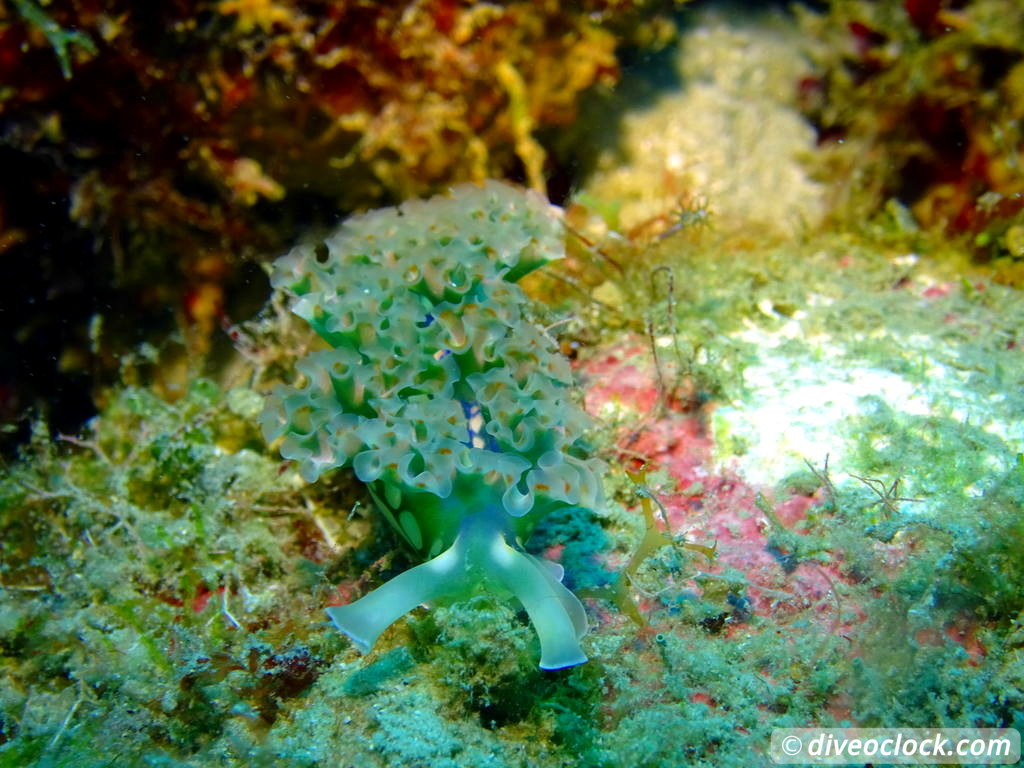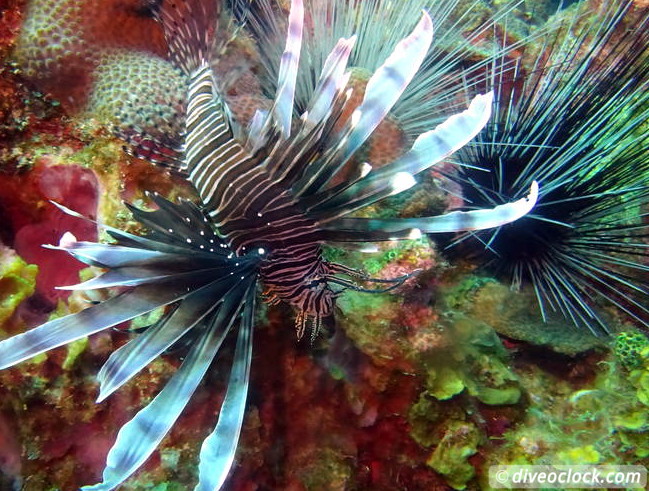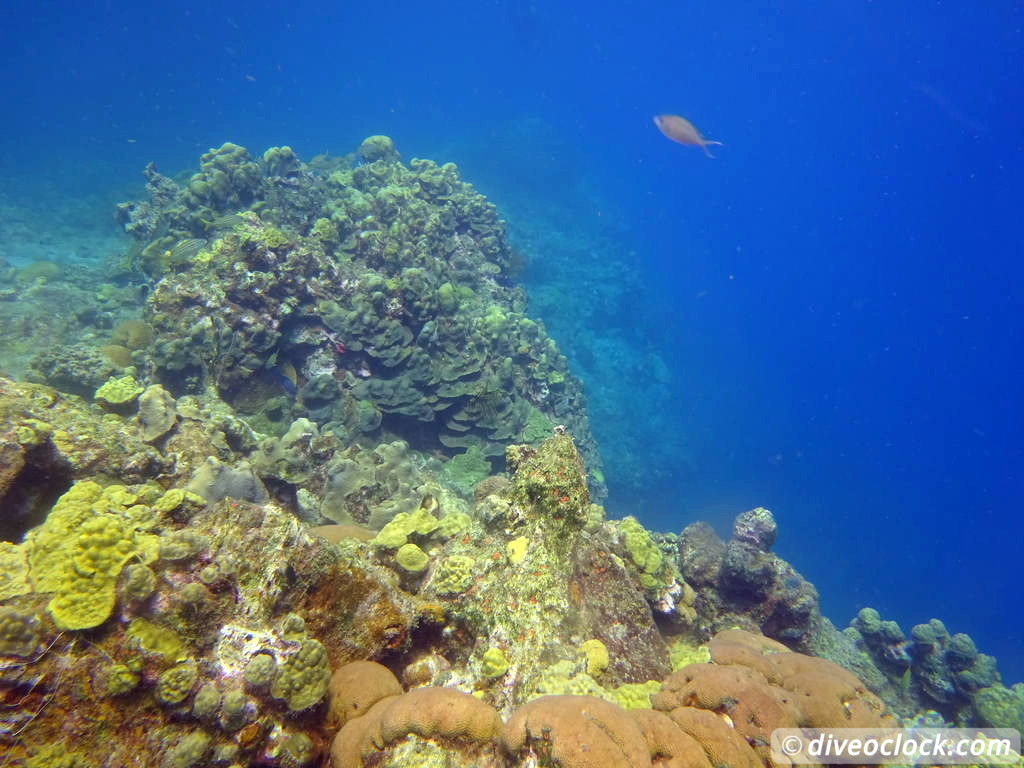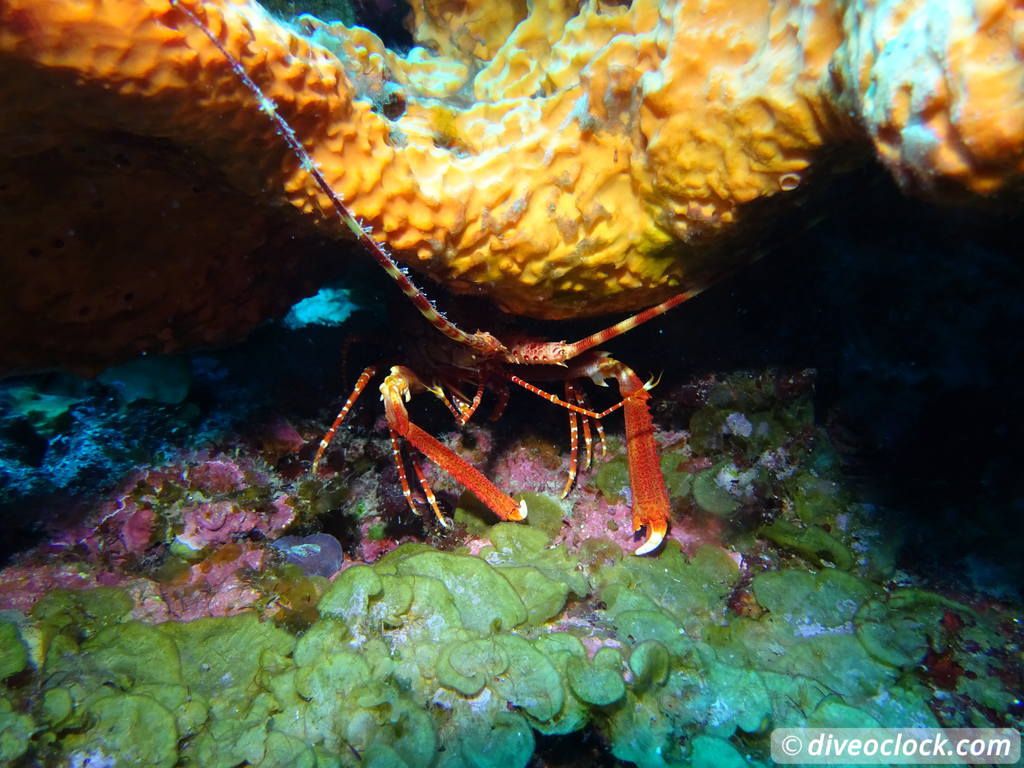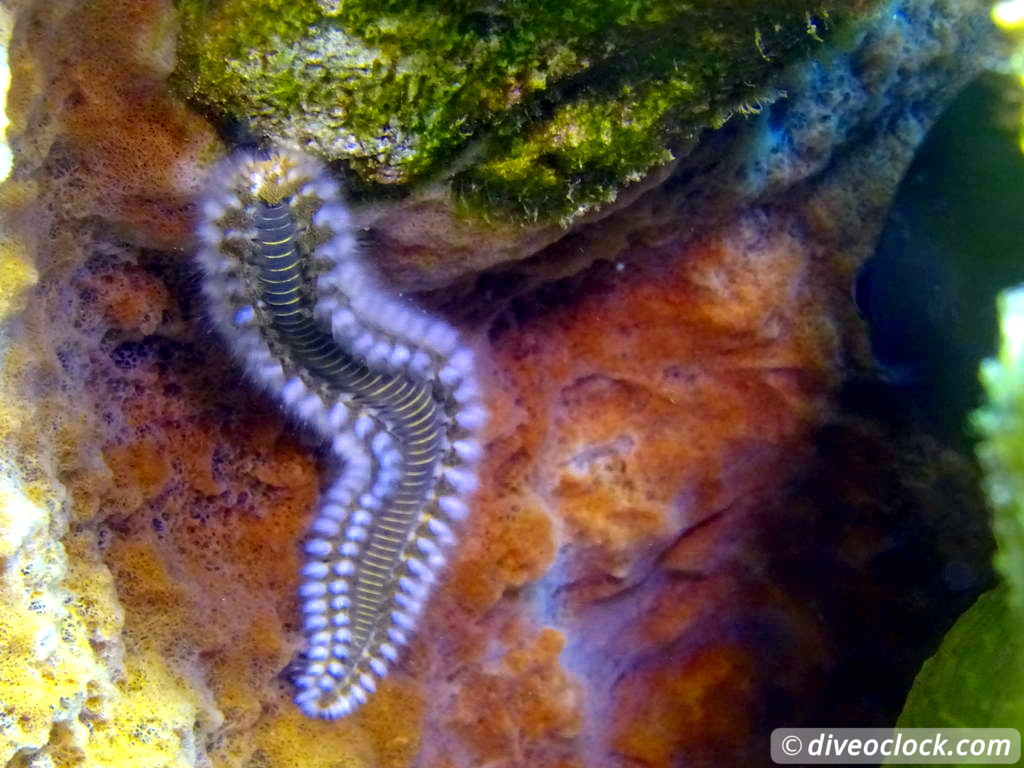 Marine life at Scotts Head Drop Off, Dominica.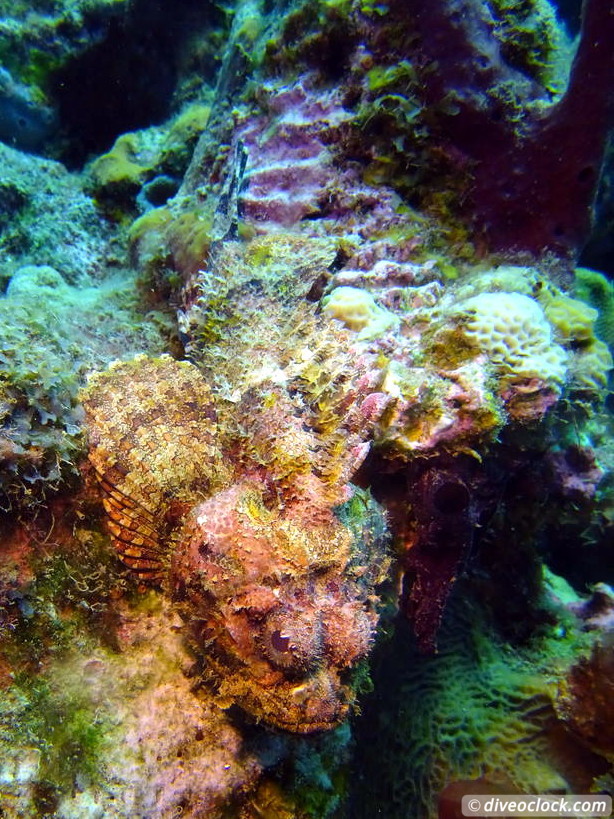 Scorpion fish in Dominica.
Dive site Soufriere Pinnacles
After a lovely surface interval in Soufriere bay it was time for our second dive. Luckily we got to go to another highlight of the area: Soufriere Pinnacles.
This dive site looks like fingers sticking out of the bottom, pinnacles everywhere. We followed the reef structure and passed by the pinnacles making a big circle, very interesting. The reef dropped down to over 30 meters / 100 feet.
In the anemones many shrimps were hiding. There was a tiny Corkscrew anemone with a crazy number of Pederson cleaner shrimp (see picture). Sea cucumbers, flounders and even a little Stringray were on the sandy area. A Sharptail eel was moving from rock to rock and quite a lot of Yellowline Arrow crabs could be spotted. Amazing!
Both dive were beautiful with many marine life species but also a very interesting seascape. Really something different compared to the other dive areas I have been diving in the Caribbean (see the
Destinations page
).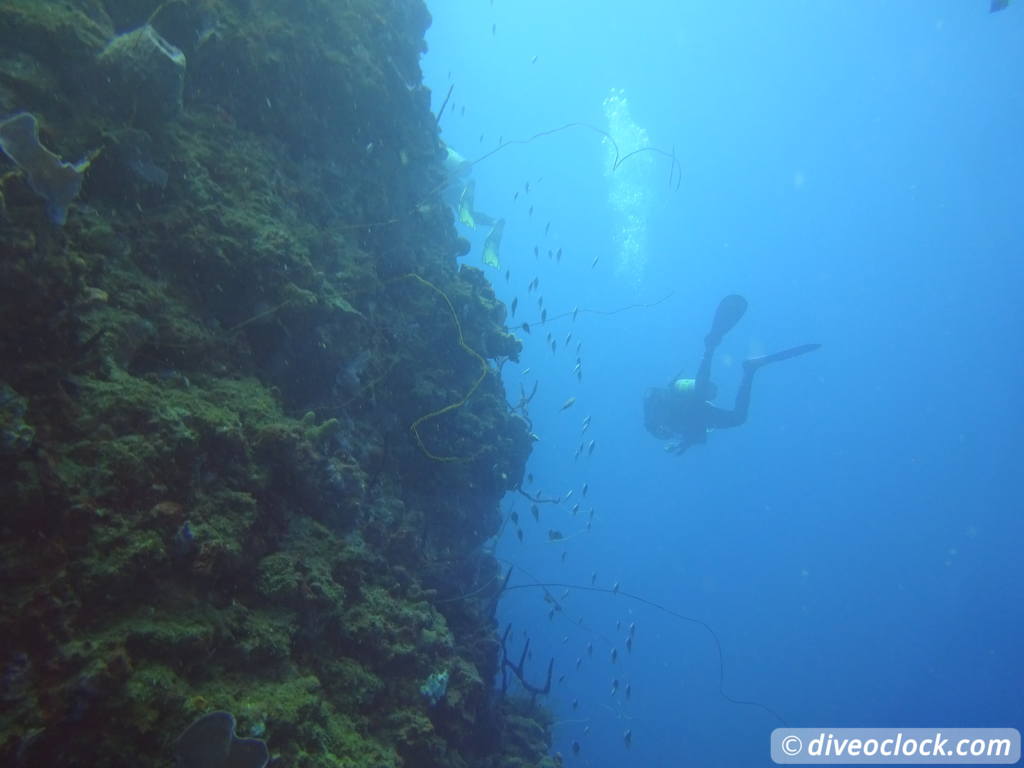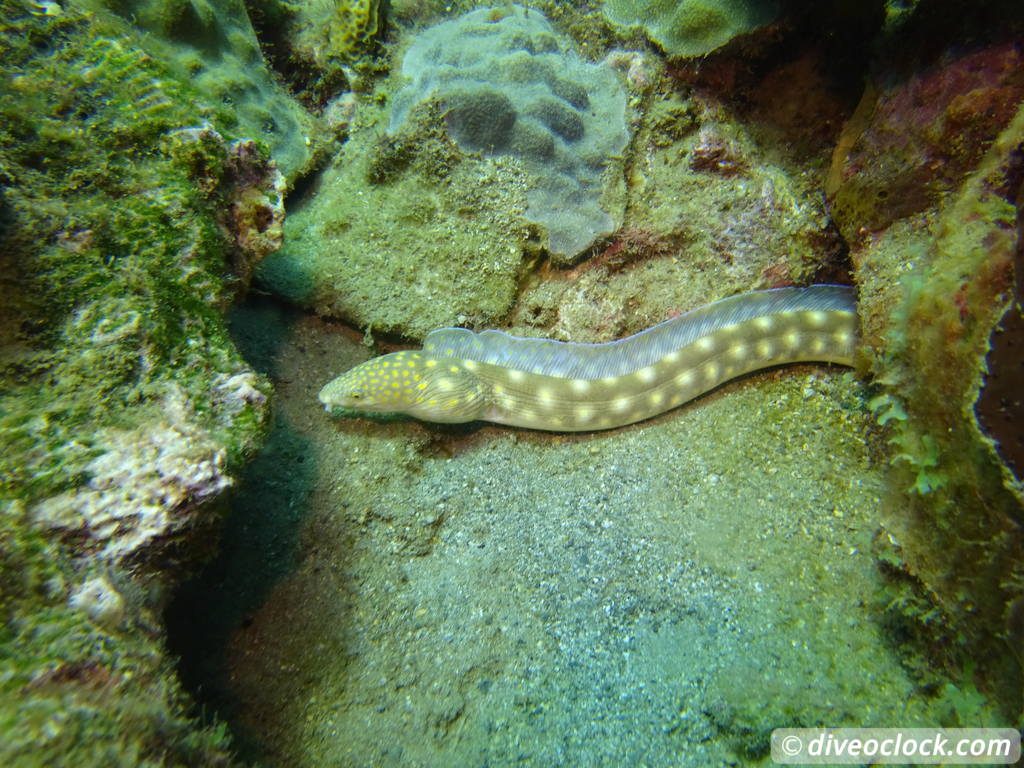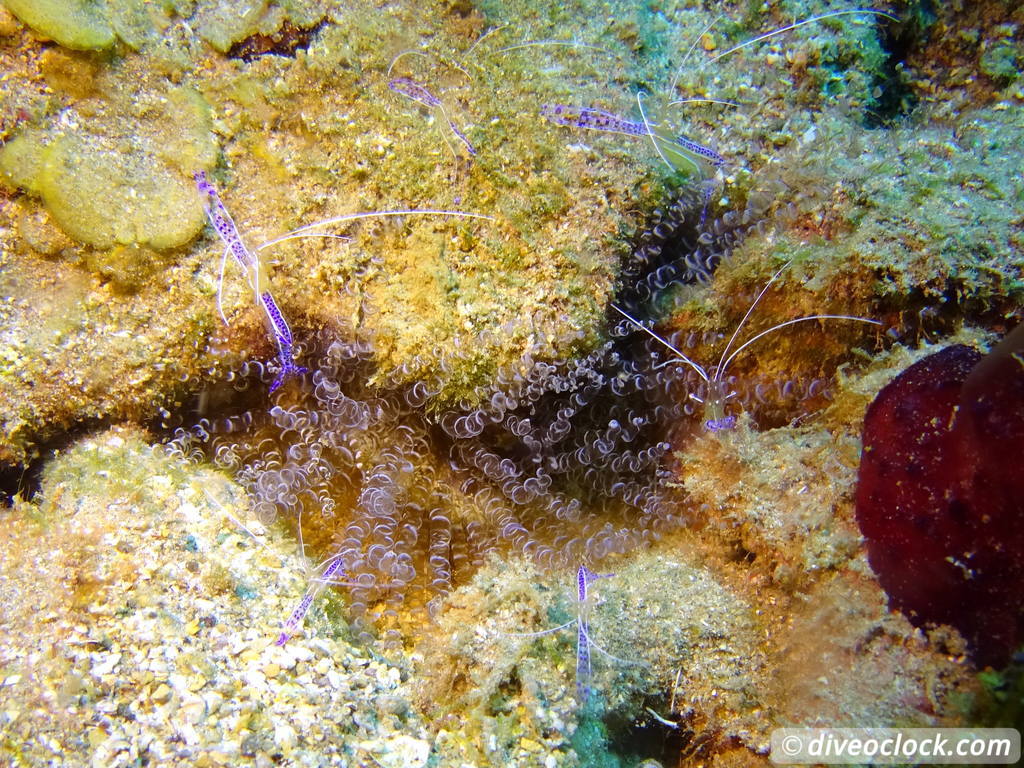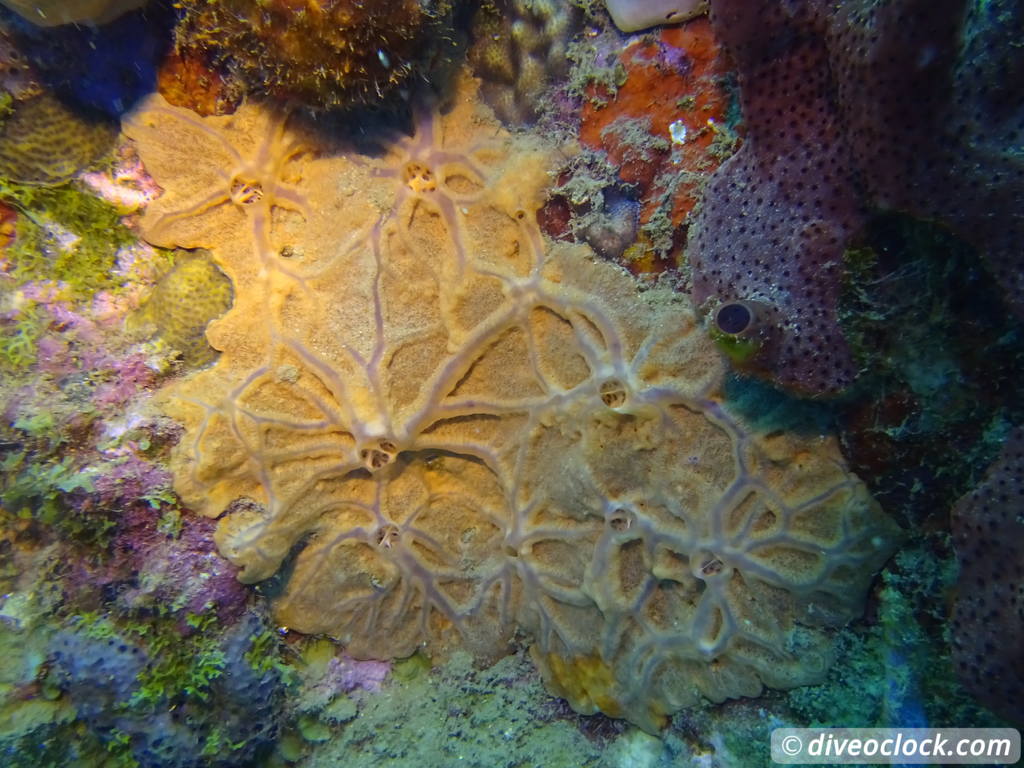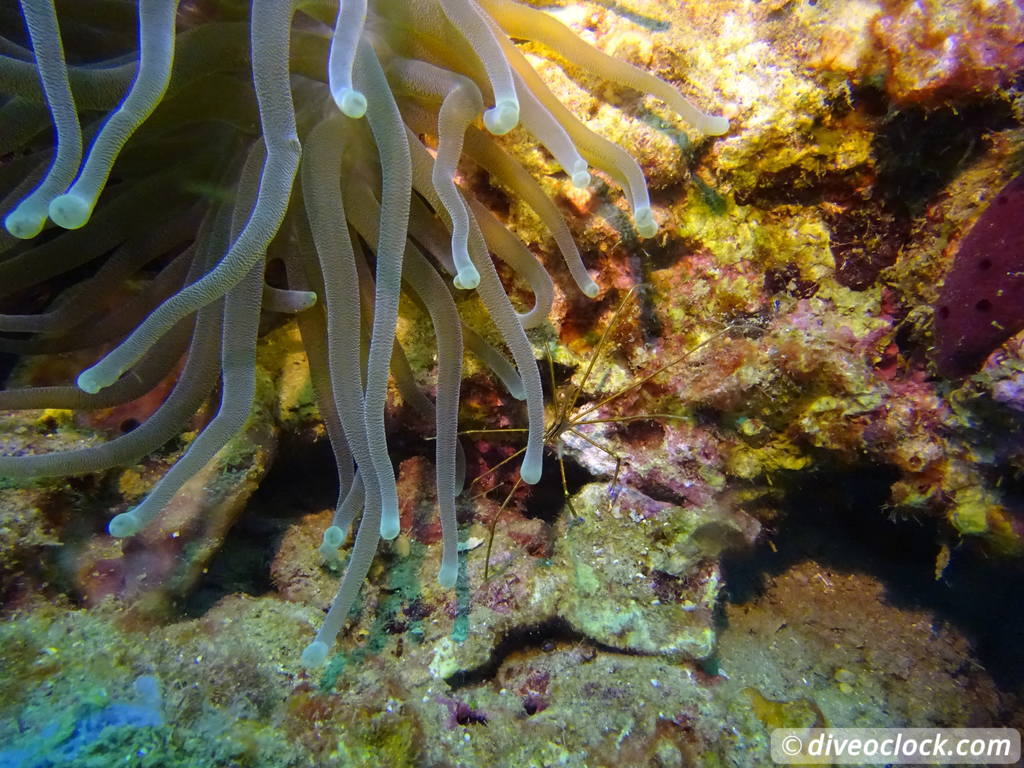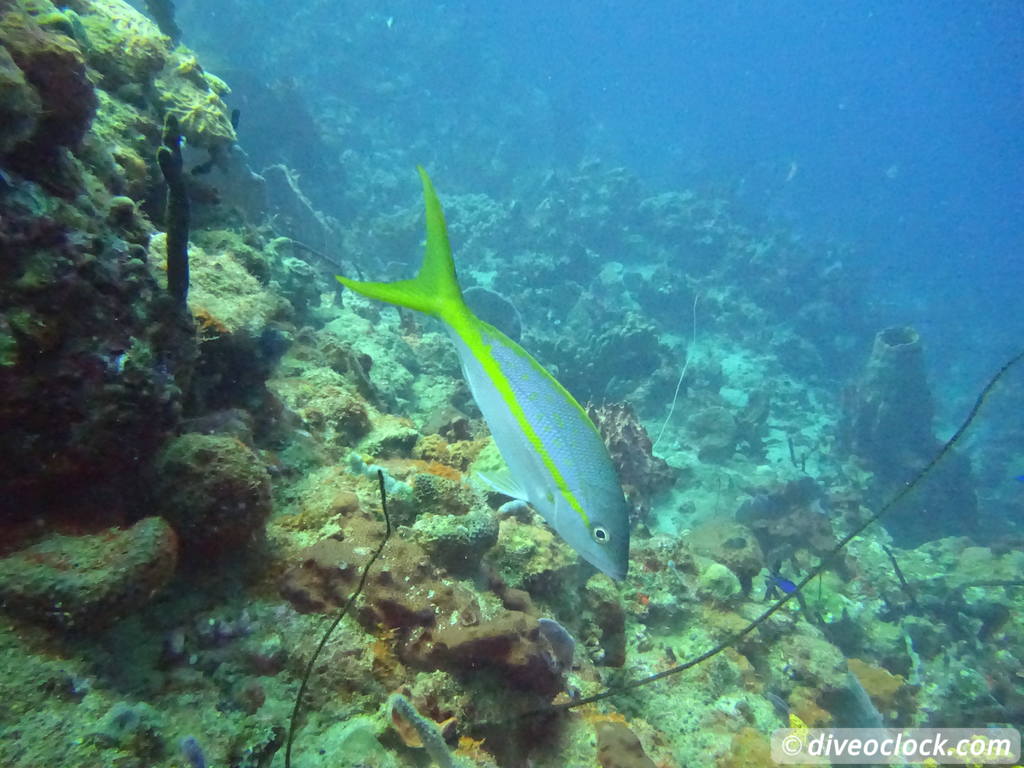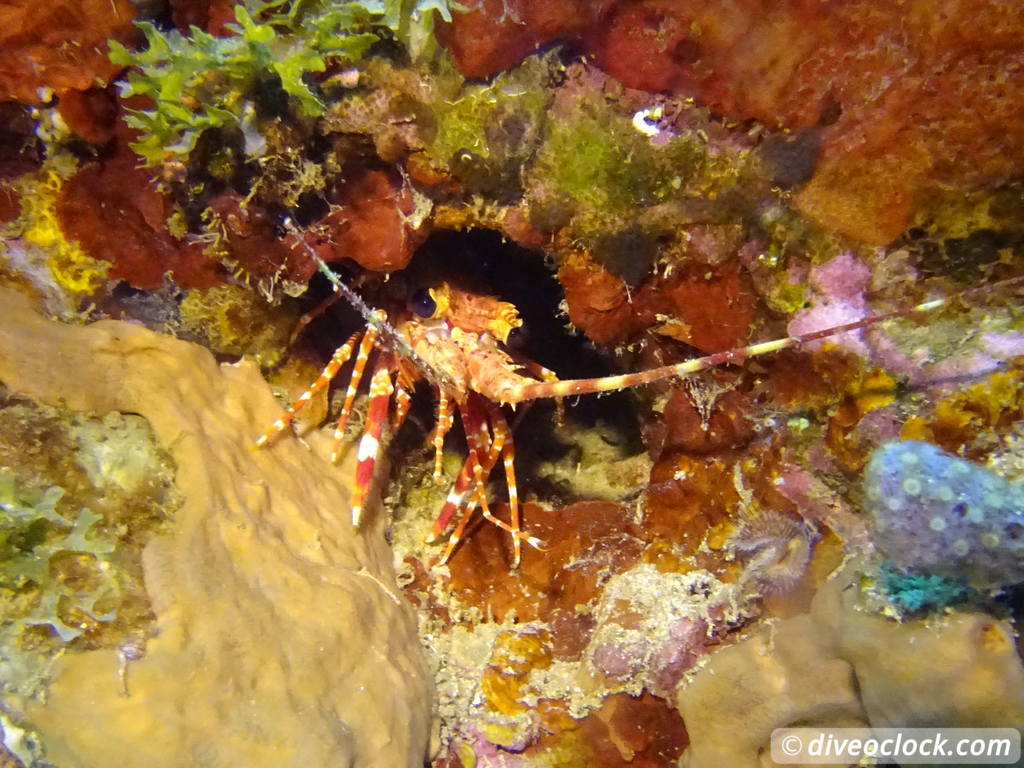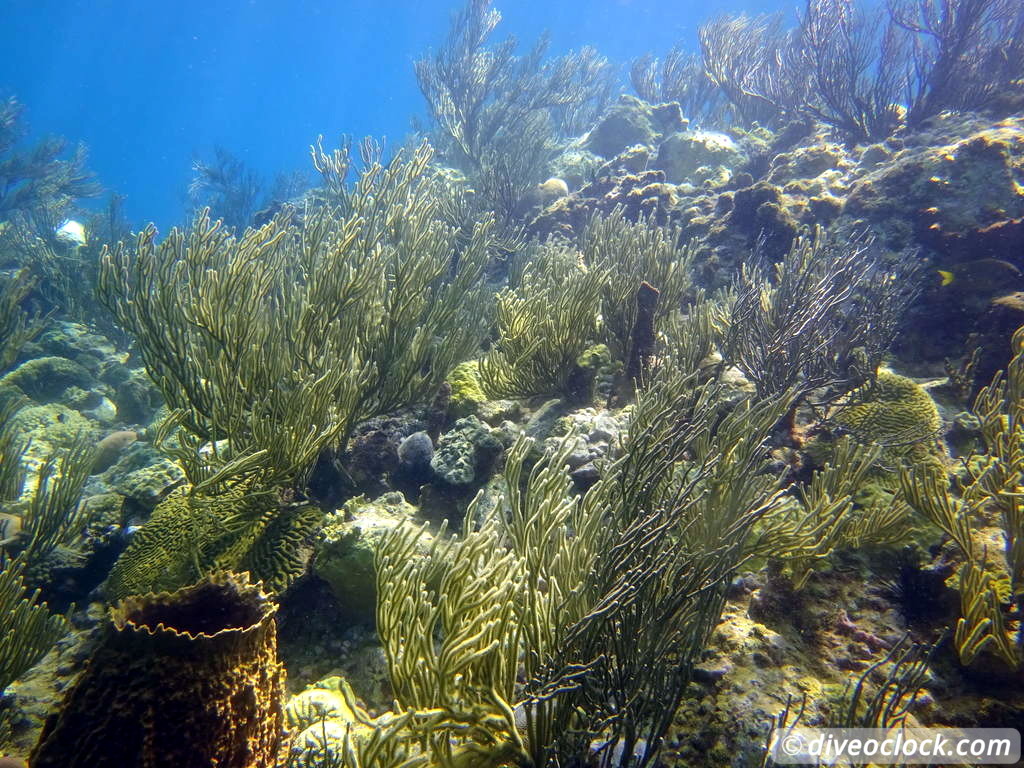 Impressions of Soufriere Pinnacles, Dominica.
Comparing dive destinations
Bottom structure
Reef structure
Pelagic
(big stuff in the blue)
Big reef
(bigger stuff on the reef)
Macro
(small stuff on the reef)
Current
(stream)
Flat bottom with bumps/big rocks/pinnacles
Hard corals
(not moving)
Sharks
Turtles
Nudibranchs
(snails/slugs)
No current
Slope (going down slowly)
Soft corals
(moving)
Rays
Eels/snakes
Sea horses and pipe fish
Small
(you can easily swim against it)
Wall
(steep but you see the bottom)
Table-/fan-shape
Trevally/Jacks/Tuna
Groupers
Scorpion/frog fish
Medium
(you can swim against it for a little while/higher air consumption)
Drop off
(steep and you can't see the bottom)
Anemones
Barracudas
Lobsters/crabs
Octopus/squid
Strong/reef hooks
(you cannot swim against it)
Blue
(no reference)
Sponges
Sardines/herrings
Puffers
Shrimps
Pumping/washing machine/OMG/hold your regulator
(superman)
About the organization of Buddy Dive Dominica
Being Dutch and after spending months in
Bonaire
, Buddy Dive is a well-known dive company to me. Having their second location in Dominica AND in 'the best hotel', Fort Young right at the waterfront in Roseau, it was a pleasure diving with Buddy Dive Dominica.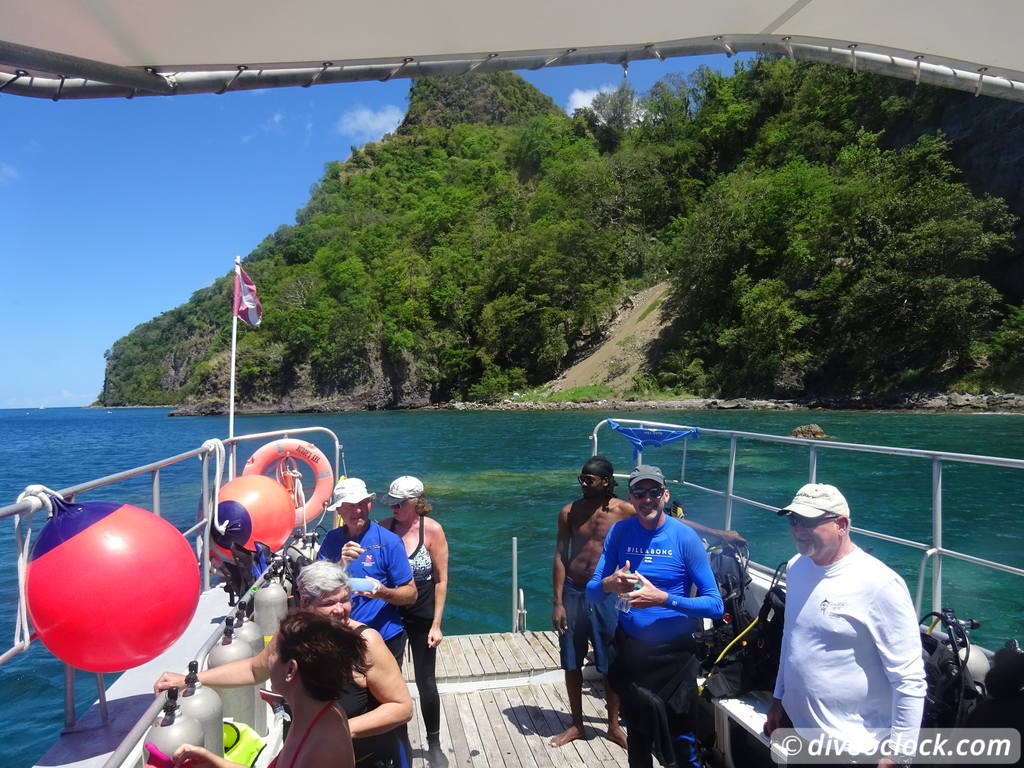 Boat diving with Buddy Dive Dominica.
The dive center is the most complete and with high international standards, managed in every little detail. What I really loved is that they asked if you were OK with Lionfish hunting during the dive, in the paperwork. Lionfish are an invasive species in the Caribbean and removing them from the reef is beneficial to the ecosystem. This way you have an option to choose to help protecting the reef or having a guide to show you interesting things the whole dive.
We were lucky to have only a few (and lovely) divers on board but the boat is suitable taking many divers in a comfortable way. There is a toilet, a shaded 'dry area' and benches to set-up your equipment. The defogger really got my attention, what a great trick to always keep it handy and nicely dosed.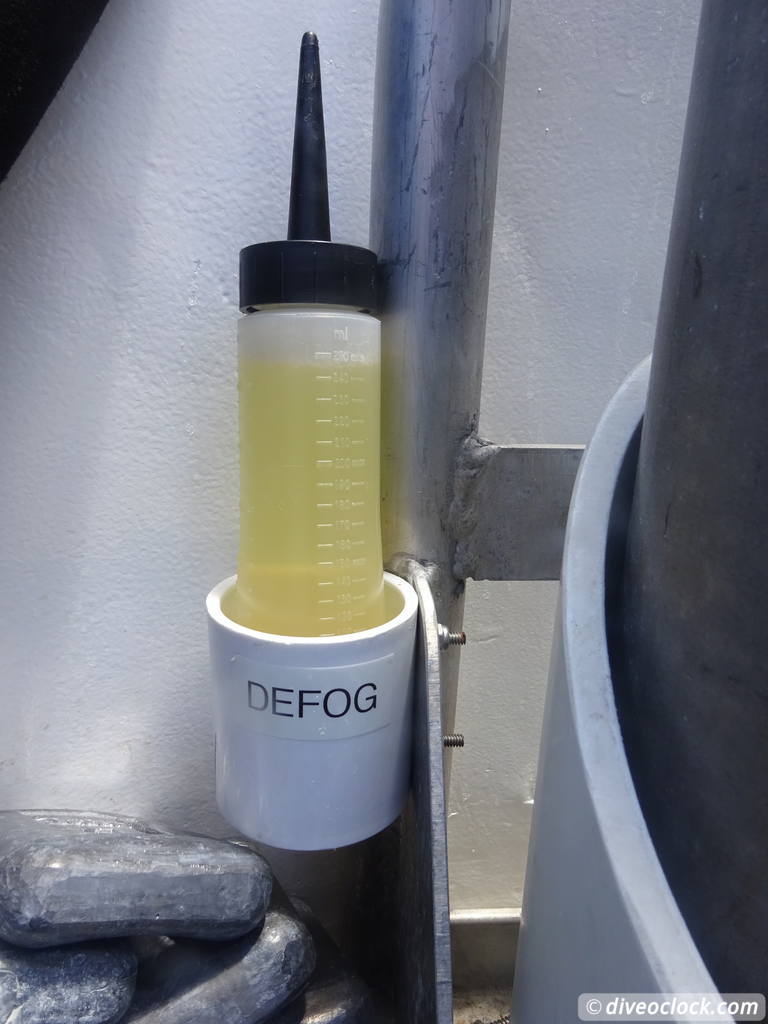 Defogger in a handy bottle at various spots on the boat.
The dive time was not really limited, you could dive for an hour depending on your air and no decompression limits. During the surface interval there was fresh fruit and there was drinking water with paper cups to take! With all the Styrofoam around it was a relieve to see Buddy Dive taking a lot better care for the environment. Do you know how long it takes to decompose?
Check it here in Quiz form
.
The staff was really friendly, experienced and interacting a lot - they made it a great dive trip above and below. At the dock there is a huge area to clean your equipment, with various freshwater barrels and clothing racks with hangers to use plus showers.
As it is located in the Fort Young hotel you can enjoy lunch afterwards in their restaurant. We had lunch together with the other divers, what a great way to end an awesome day of diving!
For more information about Dominica on land, things to do, restaurant and bar recommendations and a lot of useful travel tips for your holiday, visit my travel blog!
Dominica on Crazy Dutch Abroad
.
Update 2021: Buddy Dive Dominica is permantently closed. If you have another dive center to recommend, please get in touch.
If you like this post, hit that like button on our
Facebook page
and stay tuned for more!
Marlies Wolters
Founder of Dive O'Clock "It's dive o'clock somewhere!"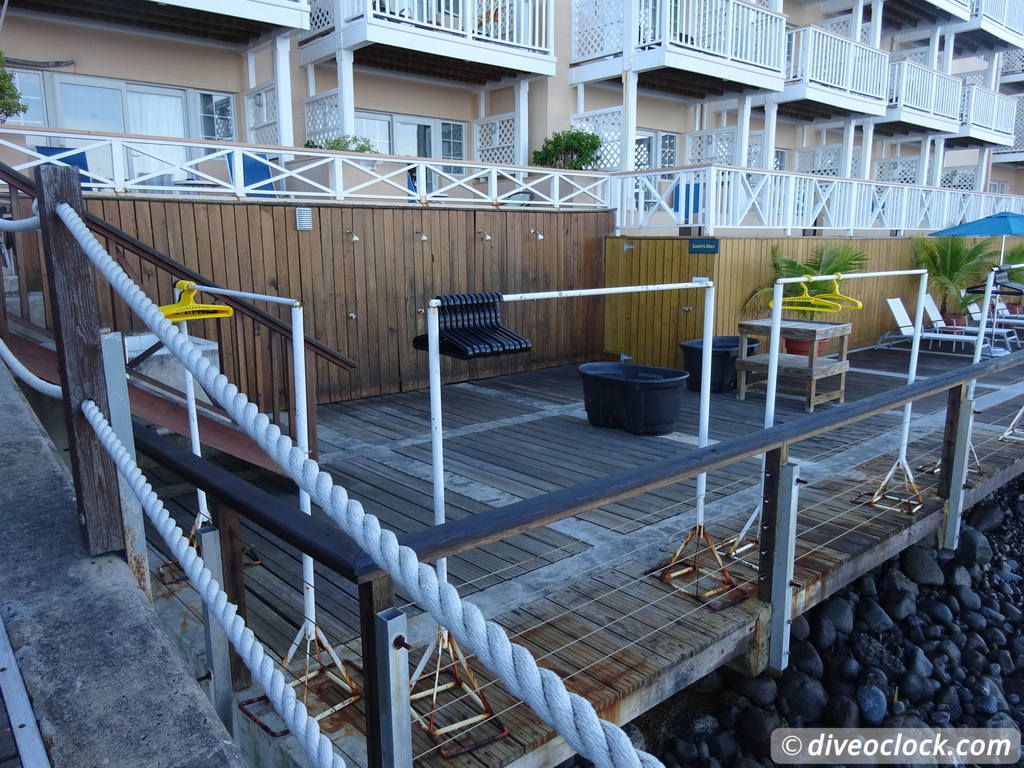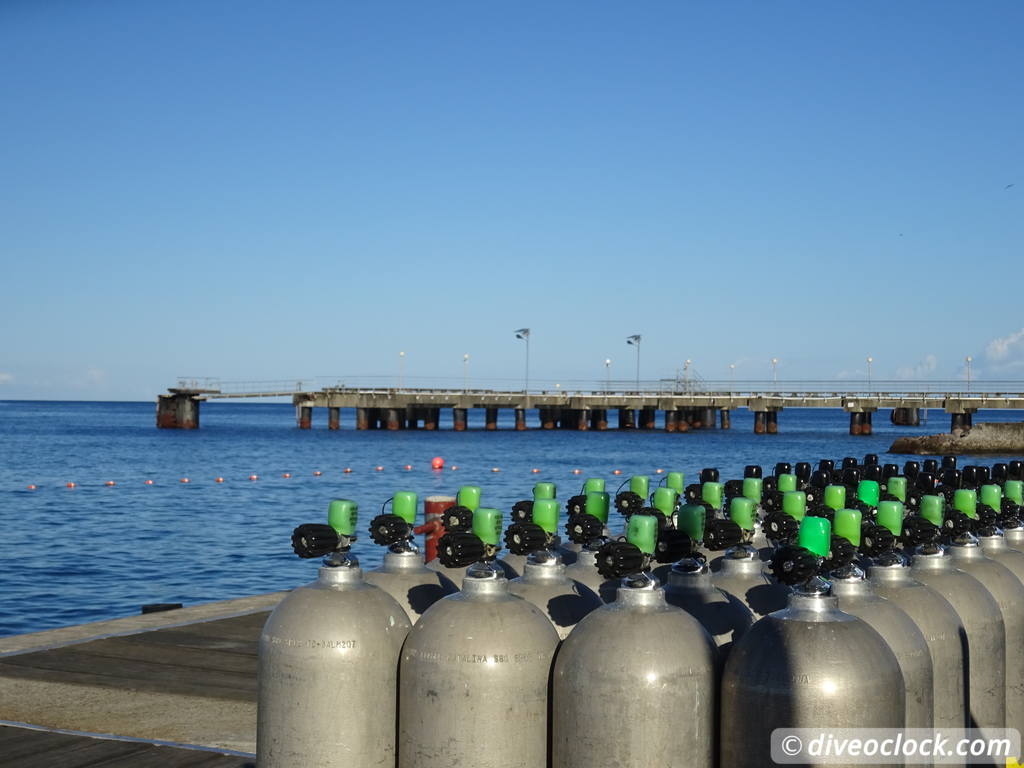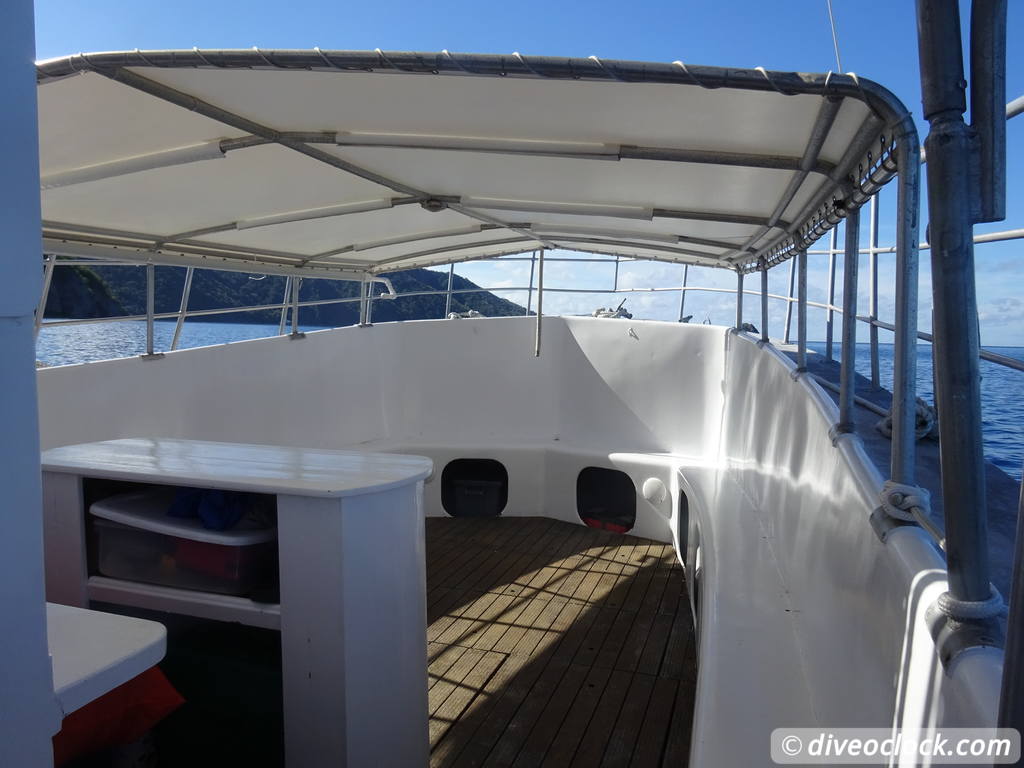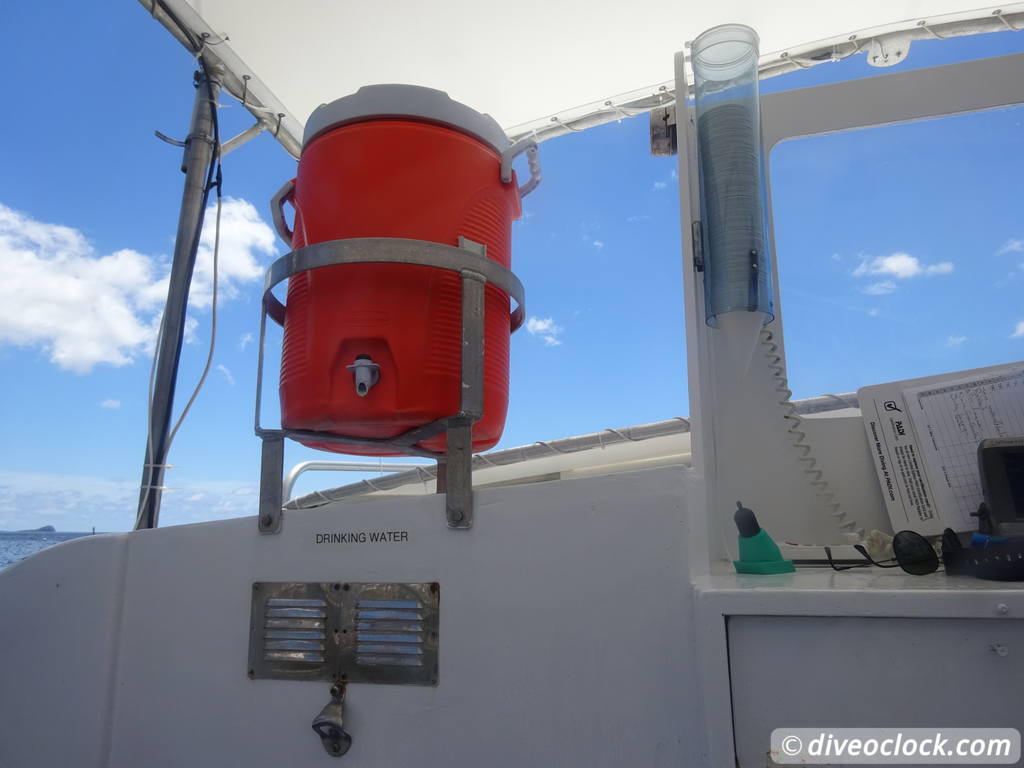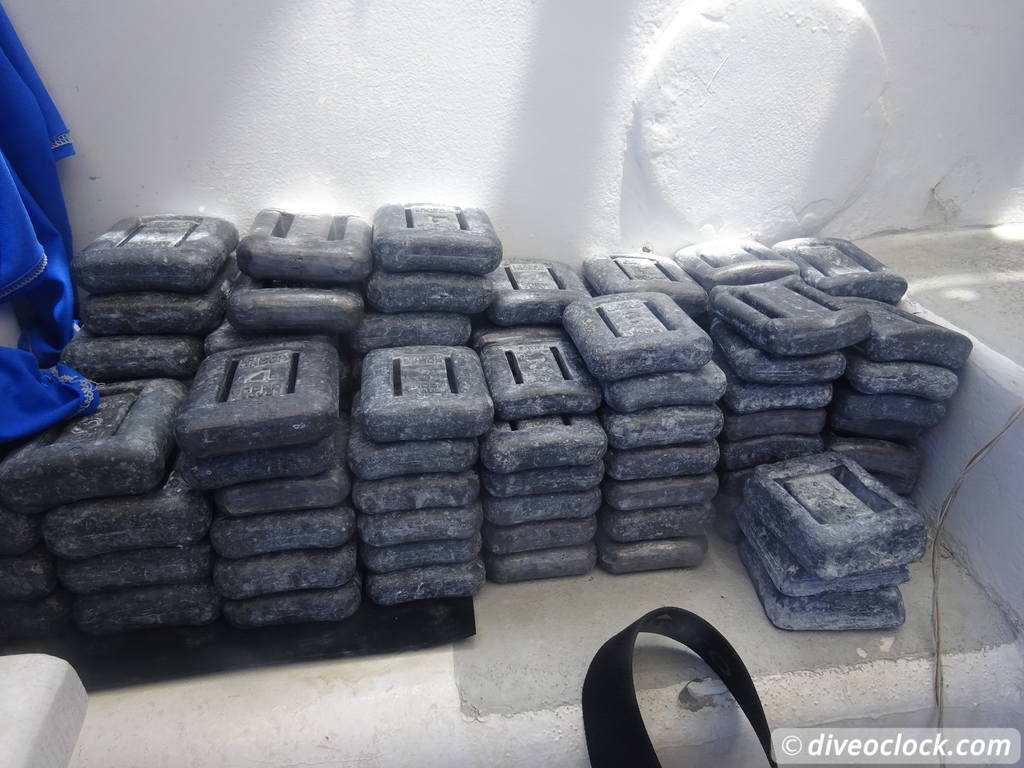 Everything well-organized at Buddy Dive Dominica.

Share this page: