Trinidad & Tobago - Diving with Sharks and Turtles around Crown Point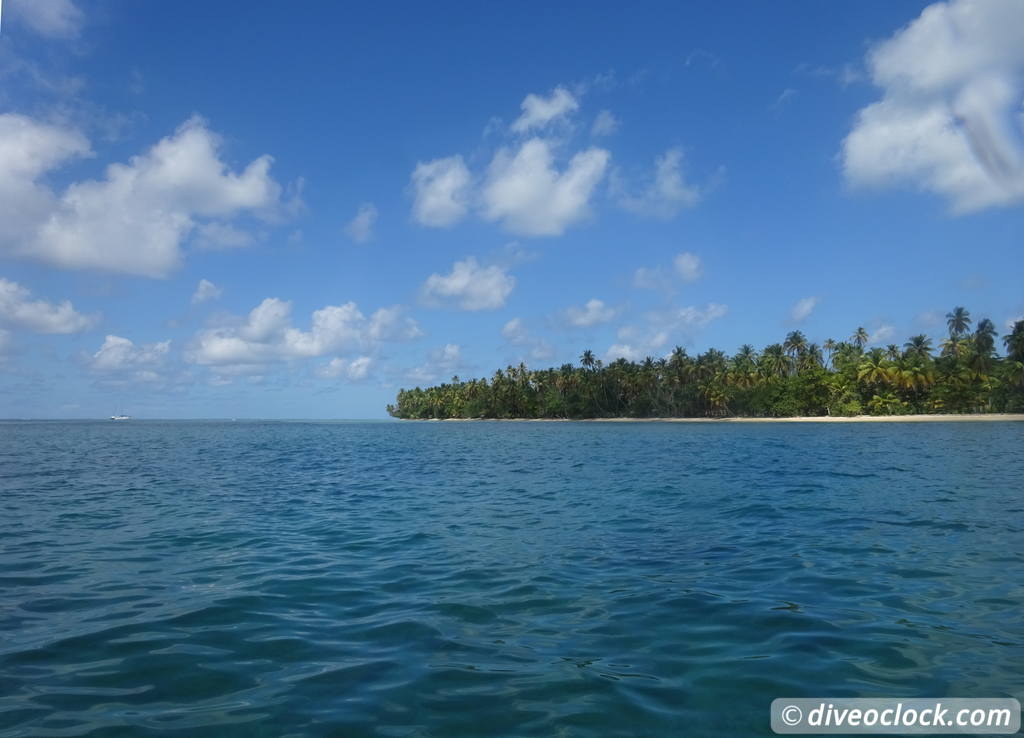 Calm waters around tropical island Tobago.
With often strong tidal currents the nutrient rich dive sites Divers Dream and Divers Thirst are the most spectacular dive sites in the South of Tobago. Discover what is so special about these dive sites in the Caribbean!
The country Trinidad and Tobago consist of two beautiful islands in the South of the Lesser Antilles. Tobago is the smaller one of the two, with some tiny uninhabited islands around it. This is THE place for SCUBA diving with current and seeing large marine life species!
The Atlantic side of the island is often rough with high waves and currents in all directions while the Caribbean side is normally calm with crystal clear watersin beautiful bays. There are various SCUBA dive and snorkel areas for all levels around Tobago.
Crown Point area in the South-West and
Speyside
in the North-East are the most popular places to stay for a dive trip. As the popular town Crown Point is more lively than Speyside this area was the place to stay for this first Tobago adventure.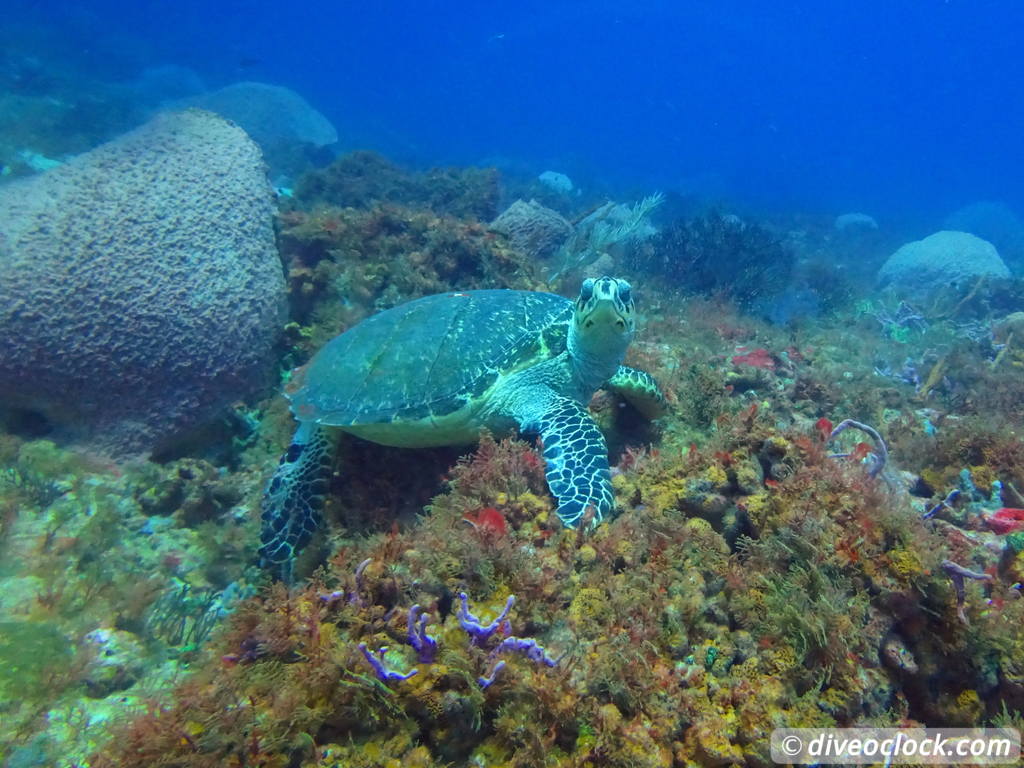 Highlights of SCUBA diving Tobago
Currents are not so common in the Caribbean while currents bring in a lot life! Especially schools of fish and bigger marine life species and pelagic can be spotted in Tobago. Impressive rock formations, small caves and ledges and a huge variety of corals make this a favourite dive spot.
You can find magnificent photos of Hammerhead sharks at Sisters on the internet. Even Tiger sharks are seen around Tobago. At Sisters the sightings of sharks have been declining and the chance of seeing one has become pretty rare over the last years. The schools of Hammerheads seem to have disappeared.
Kelleston Drain is another famous dive site, on the Speyside area, where you can find one of the largest Braincoral formation in the world. Partly due to its popularity the corals have been affected and many local dive professionals do not mention it in their top dive side list anymore.
The best dive spots around Crown Point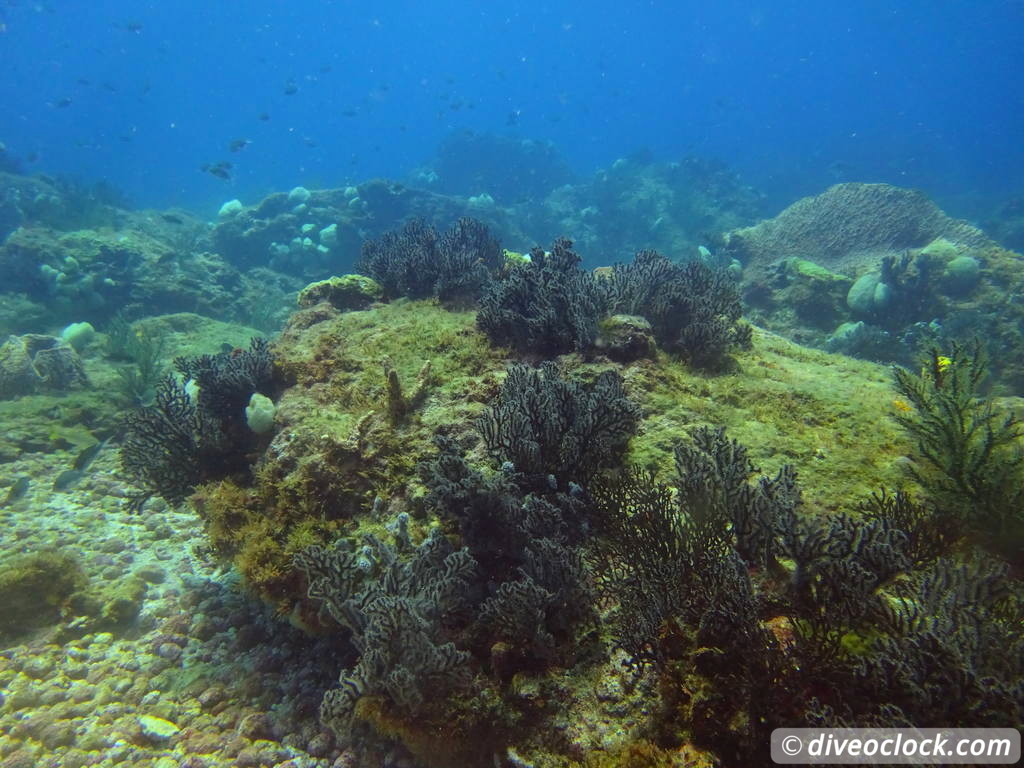 Black coral fans at Divers Dream.
There are quite a few dive spots around the Southern tip of the island with no or mild currents, perfect for less experienced divers.
On the Caribbean side you will find: Dutchmans, Arnosvale North, Arnosvale South, Mt. Irvine Wall, Mt. Irvine Ext., Maverick, Culloden, Chelsea and Randy's Special.
Around Mount Irvine Bay you can find some wrecks and great macro photography opportunities (Nudibranchs & Sea horses!). Arnosvale Bay offers a shelter for young reef fish and some nice shallow fringing reef dives.
At the Atlantic side of the South Point, the real Crown Point area, the following dive sites are there to explore: Cove, Cove Crack, Flying Reef, Stingray Alley, Divers Dream, Divers Thirst, Crossover, Bopez, Runway and Kariwak.
Divers Dream and Divers Thirst
are the major attraction for people that are used to strong and changing currents, it is NOT for the faint-harted. As those dive sites are more off-shore with changes of currents. The conditions need to be good before the boat can go to these top dive spots. We were really lucky!
Country
Trinidad & Tobago
Dive area name
Crown Point (South Tobago)
Dive center
R & Sea Divers
Famous for
Nurse sharks and turtles
Price
Boat dive with tank and weights $45,- (Air) and $25,- for full equipment rental per day.
Discounts apply on multiple dive packages.
Hotel recommendation
Tropikist Beach Hotel and Resort
Divers Thirst
Divers Thirst and Divers Dream are the favourite dive spots of the experienced dive guides around. Why? Because you never know what you are going to get. Visibility, currents and of course marine life can be totally different from one dive to the next. That is very exciting!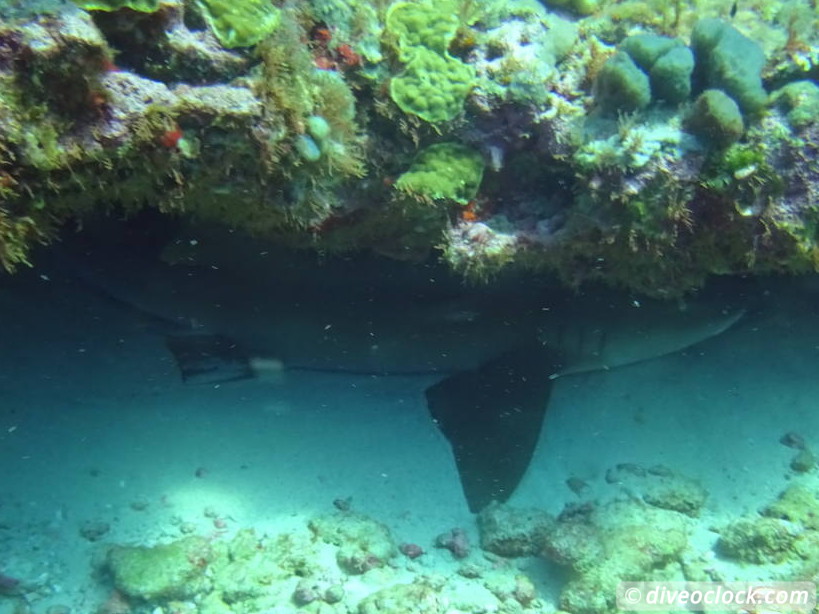 Nurse shark relaxing under a ledge.
It can be a slow drift dive, peacefully cruising the dive site while looking under all the ledges or you can be blown over the reef by a pumping current seeing the whole area in a few minutes. Currents can go in various directions and with various speeds.
Listening carefully to the briefing and doing exactly what your dive guide says can save you long waits at the surface. Due to the conditions on these dives there are times when it is very difficult for the boat to see divers ready to get back on board. That is one of the reasons why dive guides should always carry an inflated surface marker buoy (SMB) during the whole dive. This way the captain can keep the SMB in view and see where the group drifts. Also it is very important to dive bring your own SMB in case you get seperated from the group.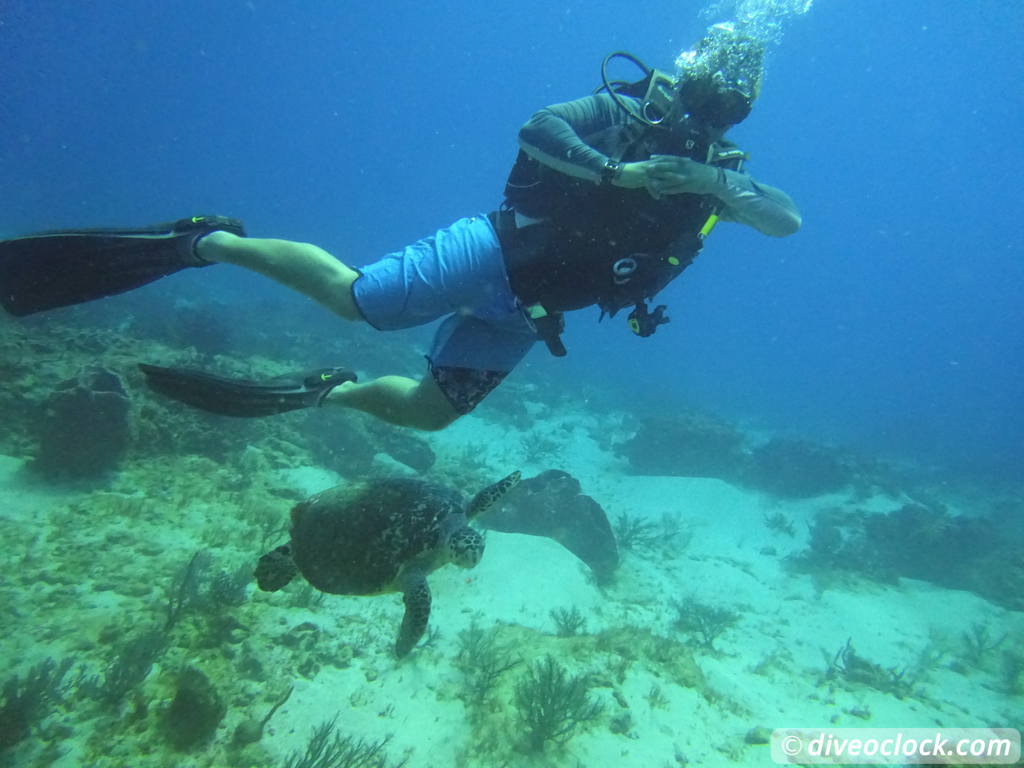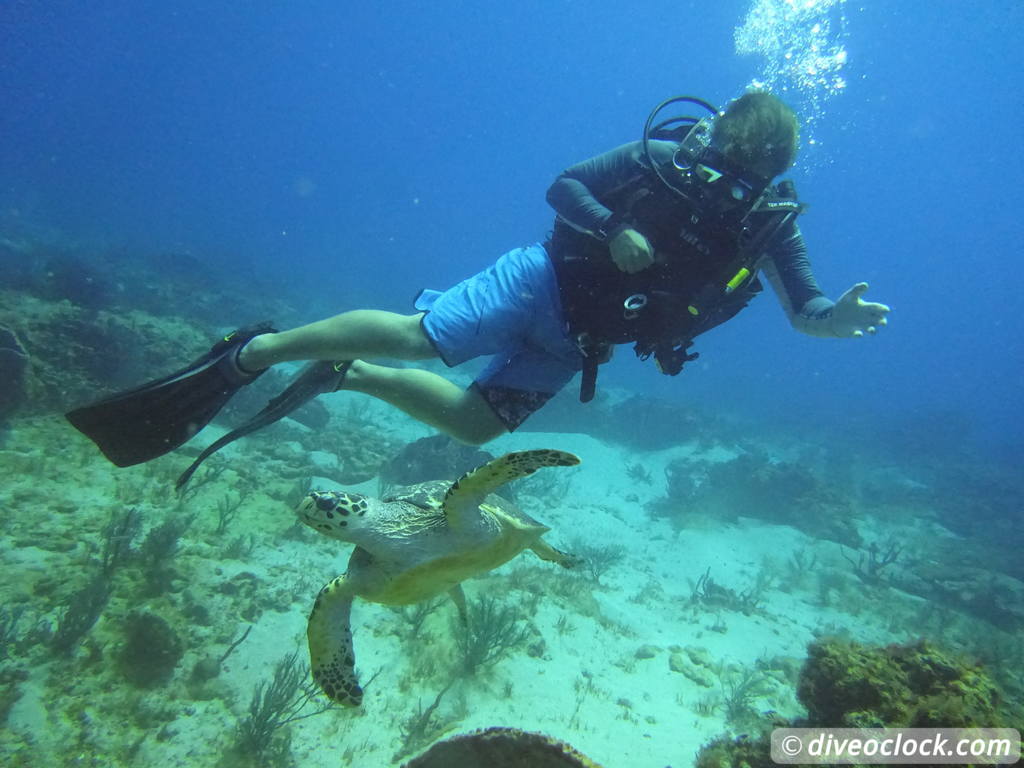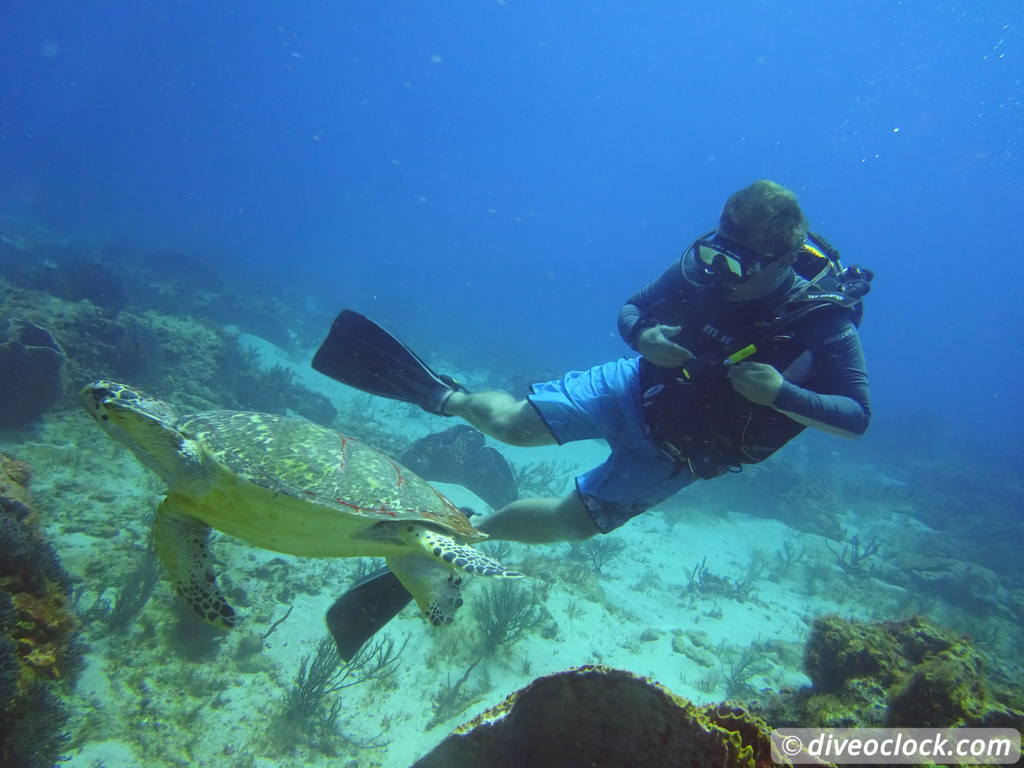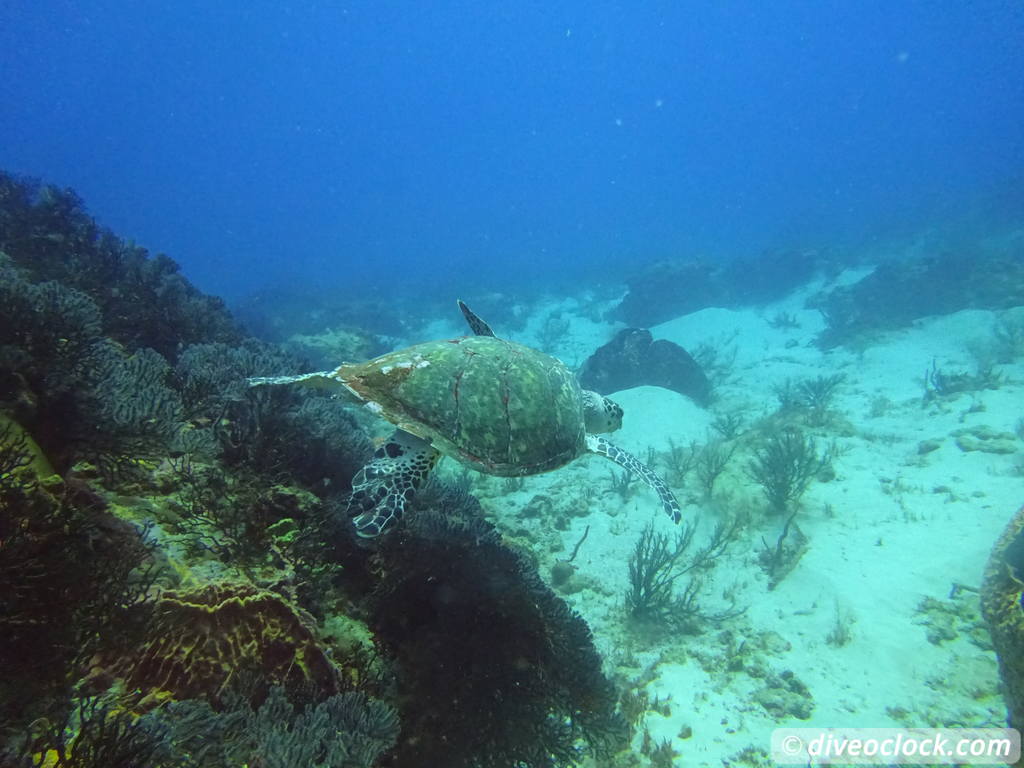 Turtle crossing!
We were really lucky! Great Visibility, pretty strong current (if you are familiar with extremely strong currents) and a great variety of marine life. There were many turtles cruising around and crossing. Many lobsters were hiding in the smaller places while Nurse sharks were relaxing in the bigger ones! Divers Thirst went down to about 25 meters, the reef is not fully covered with corals and sponges but there were impressive schools of fish around.
Divers Dream
Our second dive was Divers Dream, a bit closer to shore with more corals, sponges and big rock formations along the plateaus. The coral cover was amazing, especially the impressive amount of healthy and intact black coral fans. With strong currents it can be hard to stay close to the bottom here, without touching and breaking off the fragile coral formations.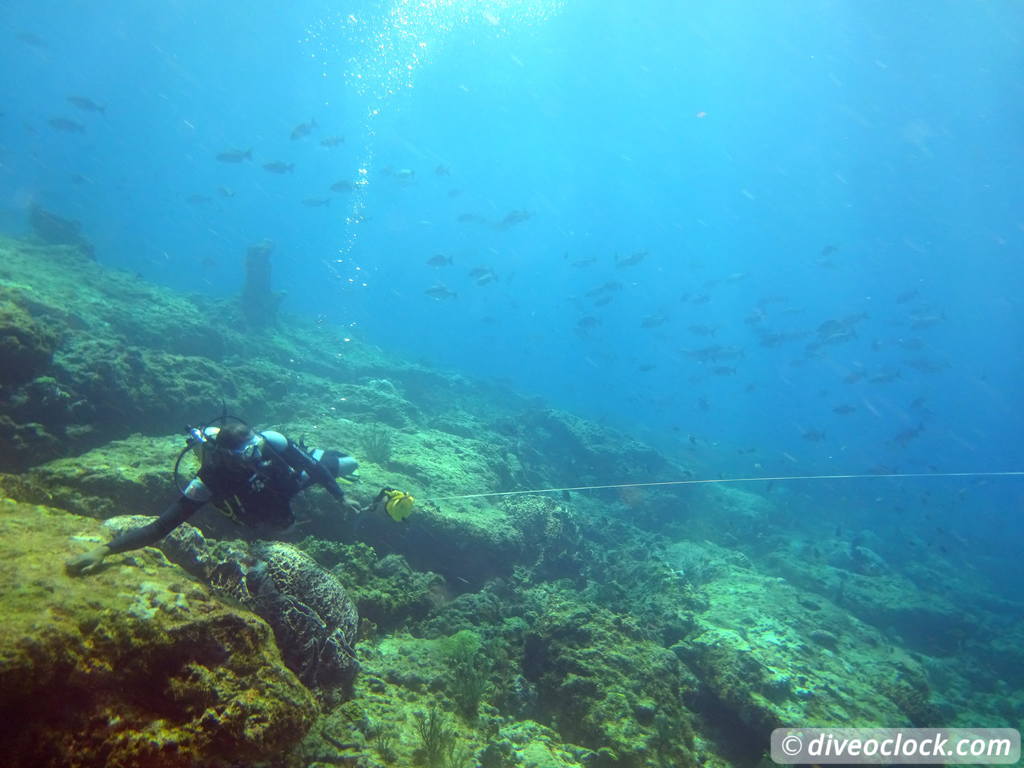 Hold your surface marker tight!
While our guide, instructor Randy, was literally pulling the surface marker around and watching our backs for our safety we could enjoy the marine life around.
Do you know what is really special about diving here?
Marine life around Tobago is a lot bigger as normal
, and that is NOT because of the magnification underwater. Nutrient-rich water from the Orinoco River makes this reef unique. The water is so nutrient the conditions are optimal for maximum growth. Sponges are as big as a diver and damsel fish, like the sergeant major, are about twice as big! If you know a bit about marine life and tropical ecosystems you will be blown away by the size of the flora and fauna around! Really nutrient water is often not the clearest due to particles floating around. We were really lucky to have an excellent day with no waves, no extreme current and great visibility.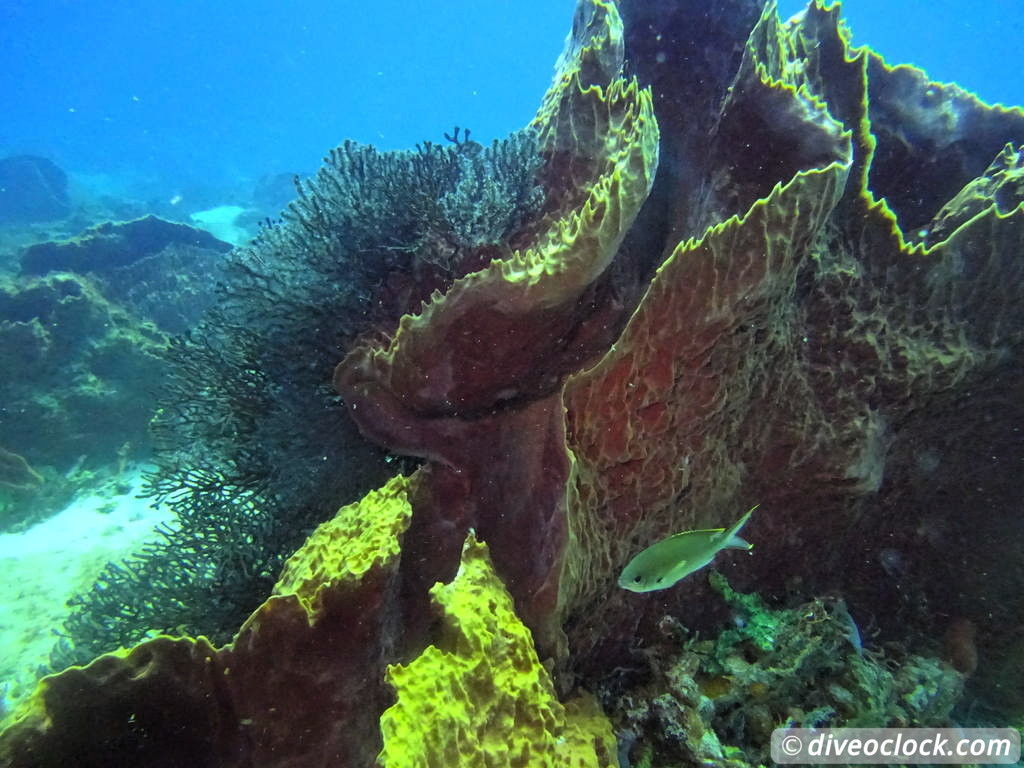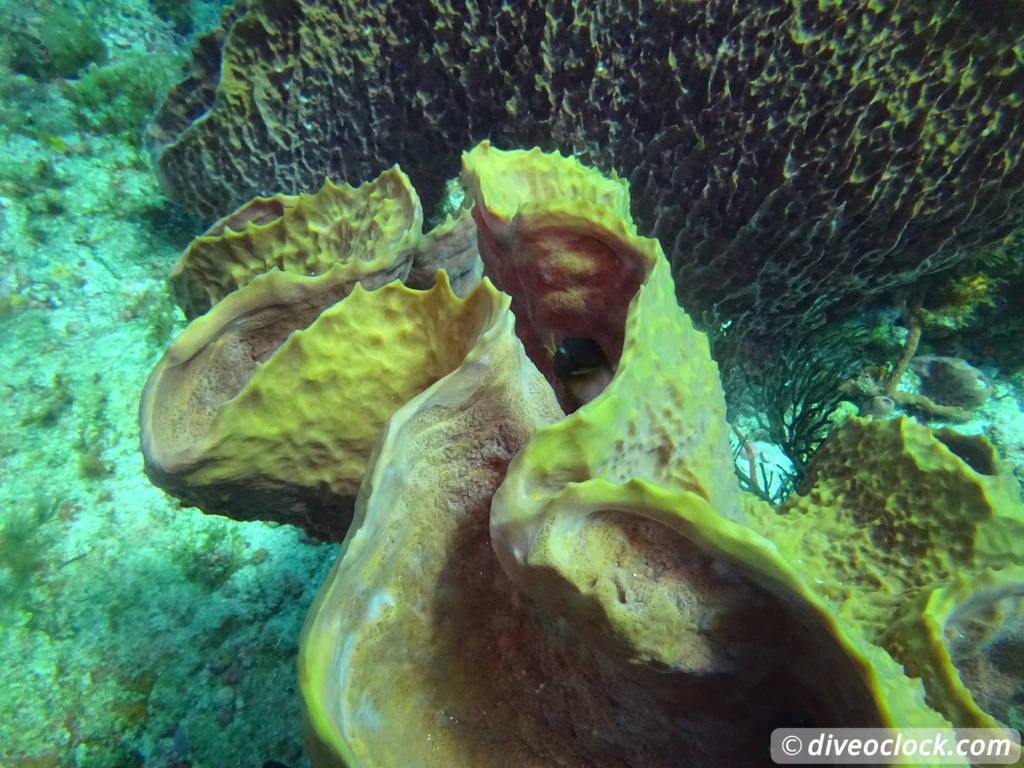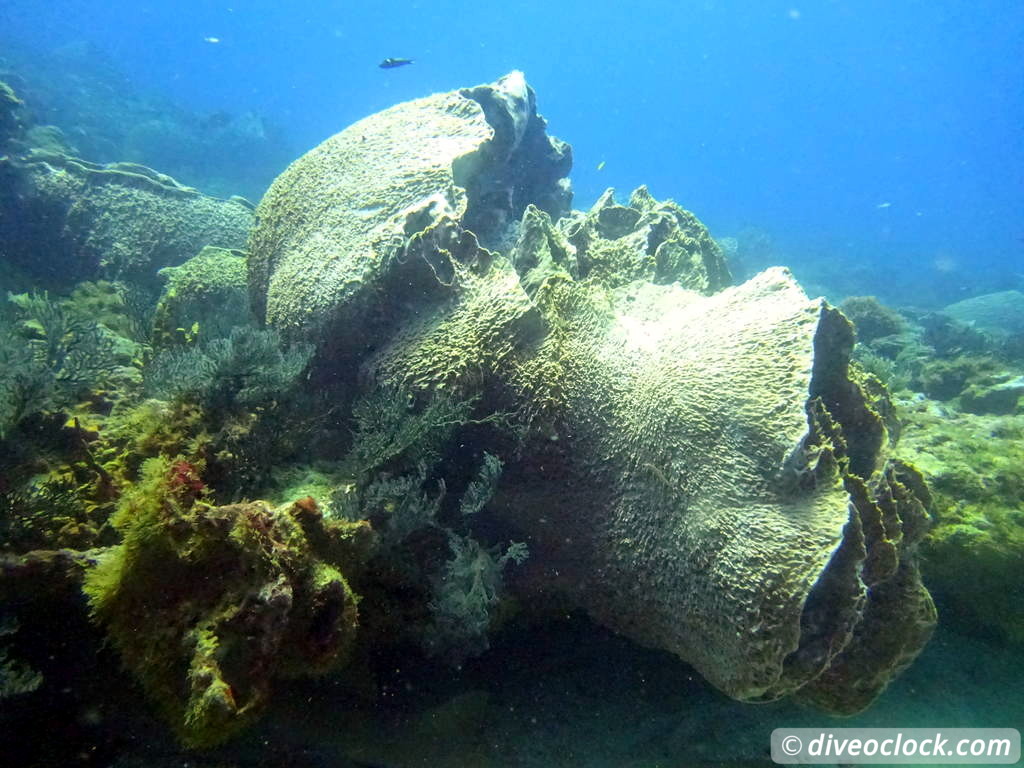 Huge Barrel sponges in Tobago.
Comparing dive destinations
Bottom structure
Reef structure
Pelagic
(big stuff in the blue)
Big reef
(bigger stuff on the reef)
Macro
(small stuff on the reef)
Current
(stream)
Flat bottom with bumps/big rocks/pinnacles
Hard corals
(not moving)
Sharks
Turtles
Nudibranchs
(snails/slugs)
No current
Slope (going down slowly)
Soft corals
(moving)
Rays
Eels/snakes
Sea horses and pipe fish
Small
(you can easily swim against it)
Wall
(steep but you see the bottom)
Table-/fan-shape
Trevally/Jacks/Tuna
Groupers
Scorpion/frog fish
Medium
(you can swim against it for a little while/higher air consumption)
Drop off
(steep and you can't see the bottom)
Anemones
Barracudas
Lobsters/crabs
Octopus/squid
Strong/reef hooks
(you cannot swim against it)
Blue
(no reference)
Sponges
Sardines/herrings
Puffers
Shrimps
Pumping/washing machine/OMG/hold your regulator
(superman)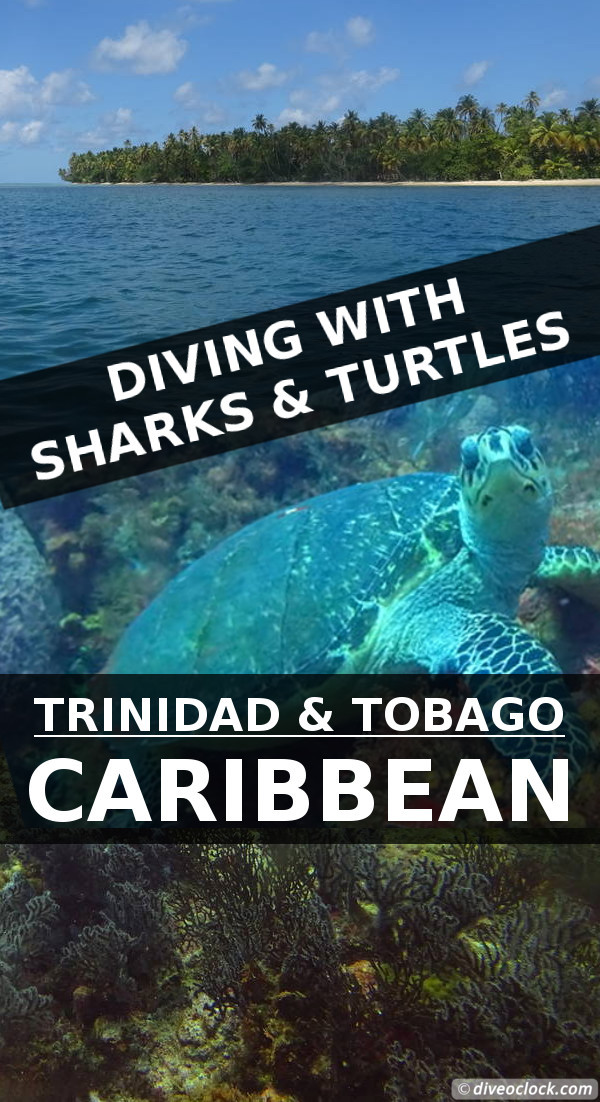 About the organization of R & Sea Divers
R & Sea Divers
in Crown Point came to my attention as it was mentioned as one of the best dive operators in the area. As we were there right before Carnival I was a bit concerned about spaces on the boat since ten thousand's of international tourists arrive in February. John & Wendy manage the dive center and Wendy immediately helped us out will all required information and reservations. Apparently most visitors celebrate Carnival on Trinidad first before moving to Tobago. Since we did it the other way around we shared the boat with other dive companies so we all could go out to Divers Dream & Thirst.
The dive shop of R & Sea is located in The Shepherds Inn hotel and the boat leaves from their dive gear and maintenance center right before the entrance of Pigeon Point. The boat, dive equipment and compressor area looked well taken care of. We got a pick-up from our dive guide Randy, a lovely funny guy who is very knowledgeable about the waters around. Shomari was driving the boat and helping us in and out of the water. He is a Divemaster and he knows how currents can be at those dive sites which is very comforting as you might drift a long way with these currents. The boat and dive site briefing was done properly and underwater Randy showed us many marine life species as well as taking good care of keeping everybody safe.
R & Sea Divers are a member of the Association of Tobago Dive Operators (ATDO). These members are conducting at least the following standards for safety and comfort regarding the currents:
Instructor on staff full time
Oxygen, first aid kits and radios on board dive boats
Safety sausages provided for all divers
All boat dives must be escorted by a Dive Guide
Surface Markers must be carried by Dive Guides
Read more about it on the website of ATDO
here
.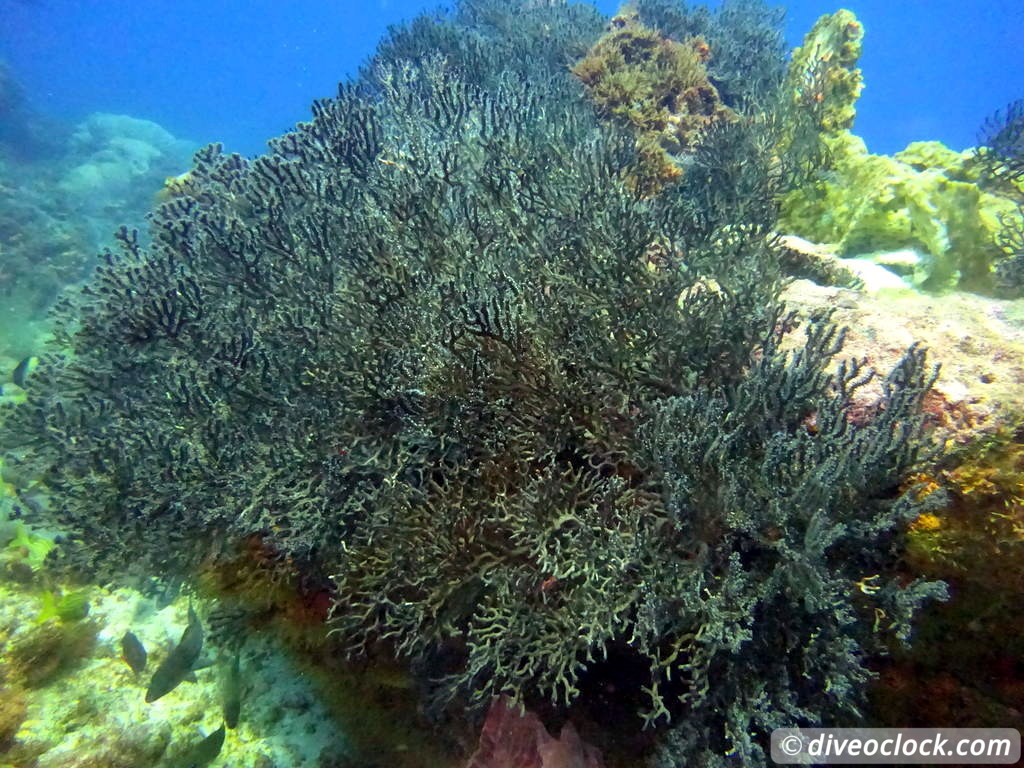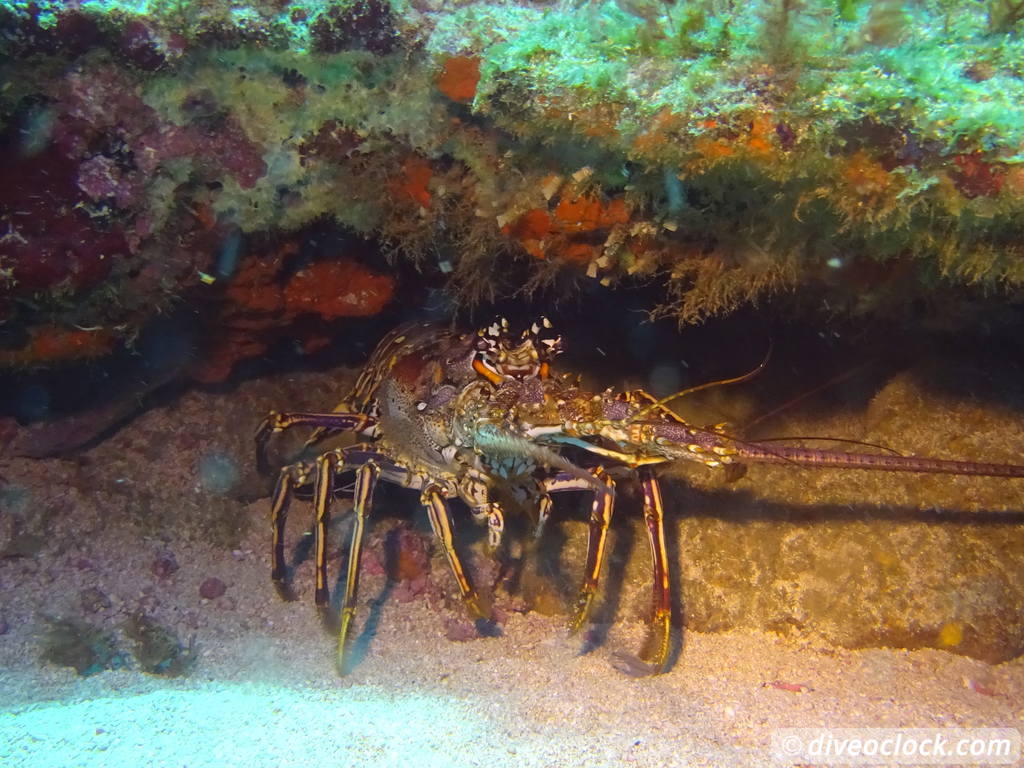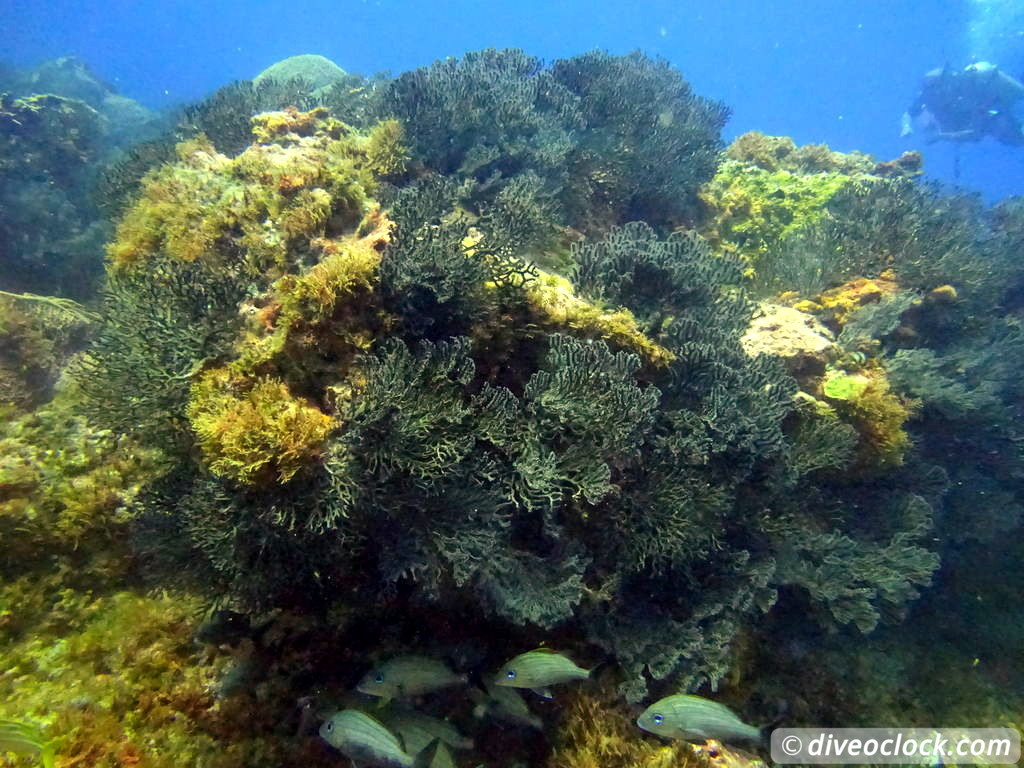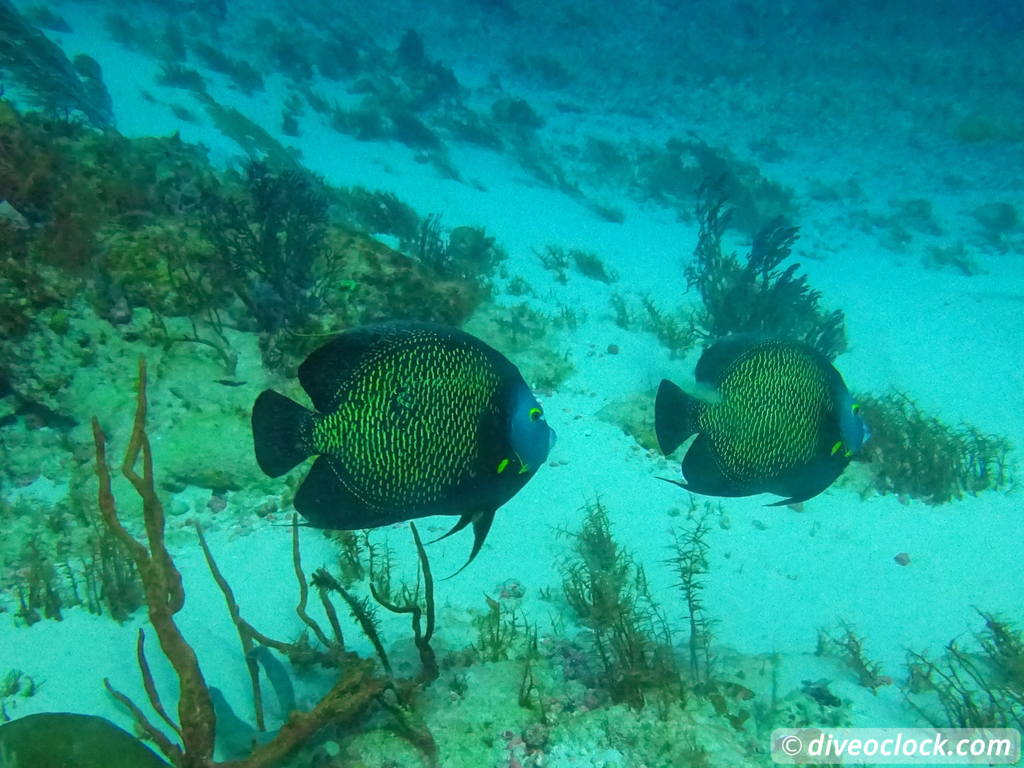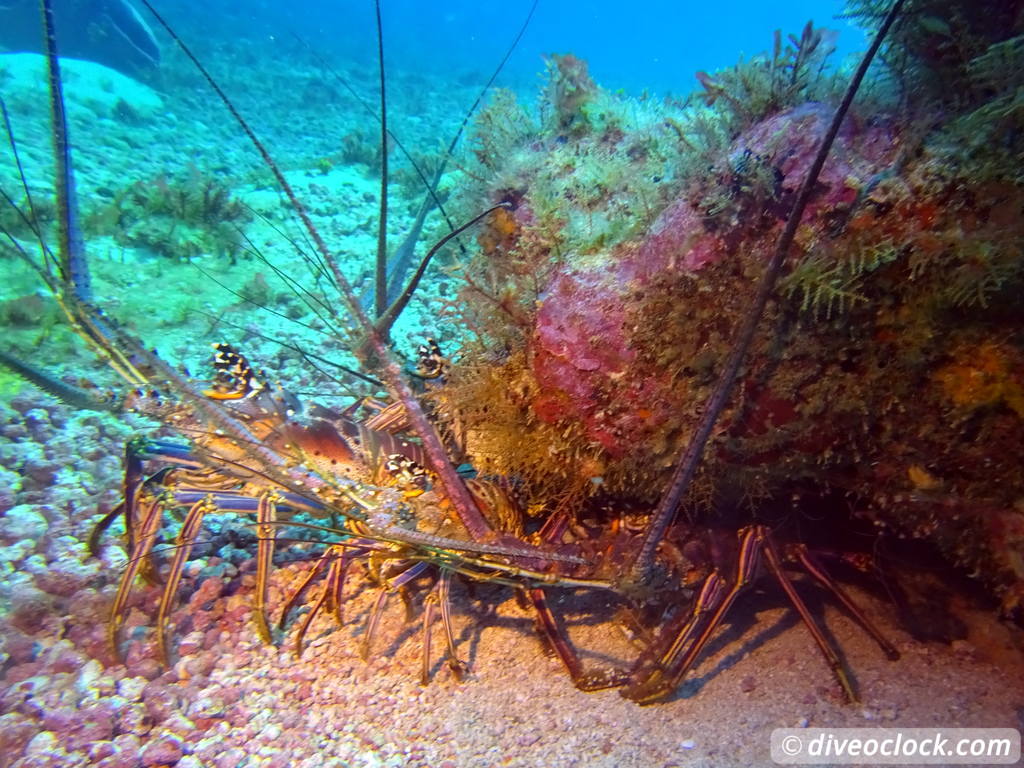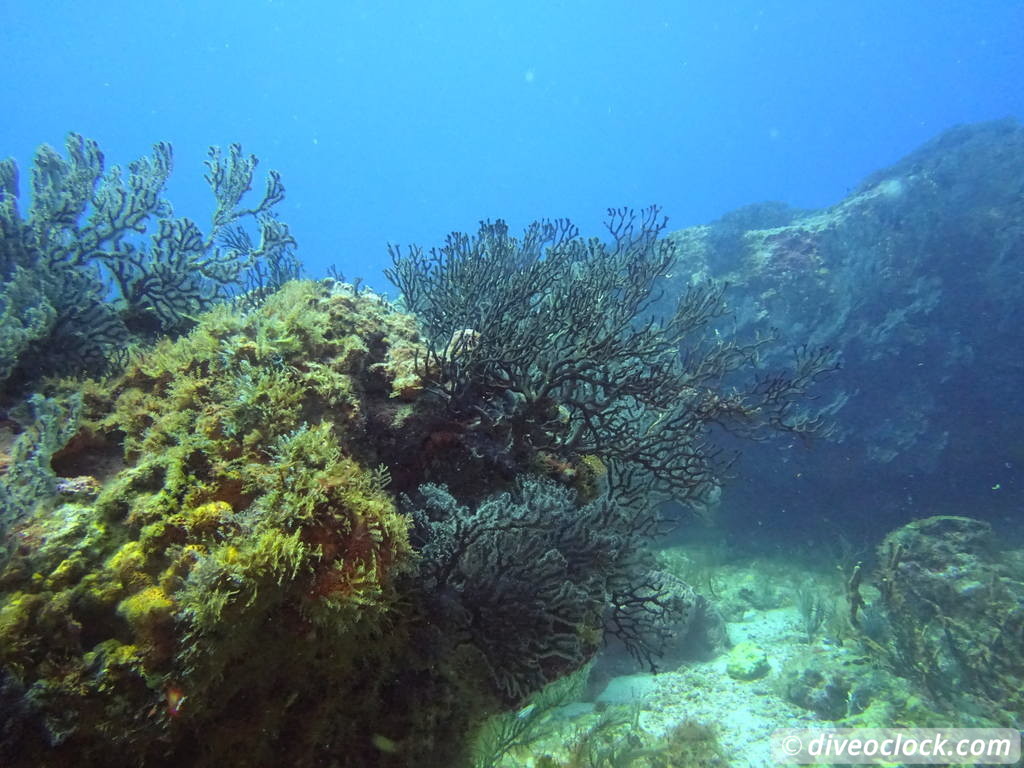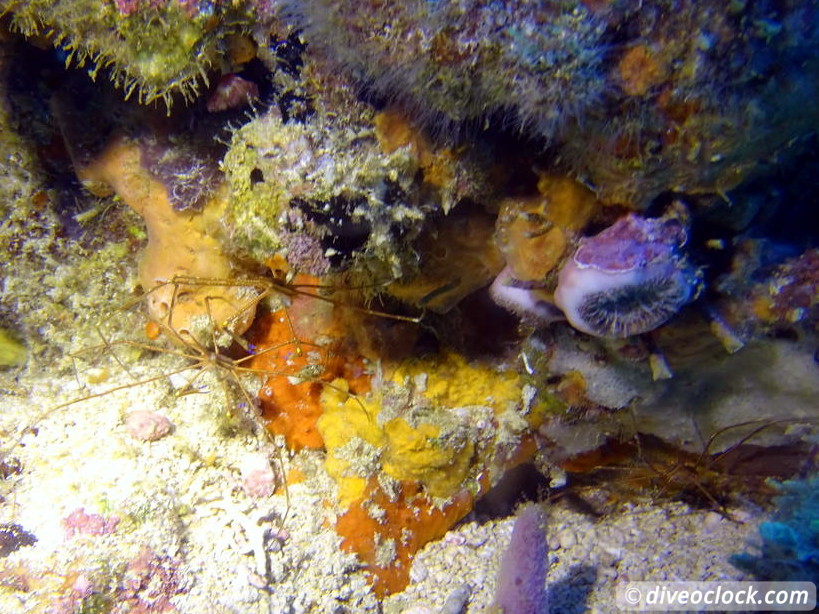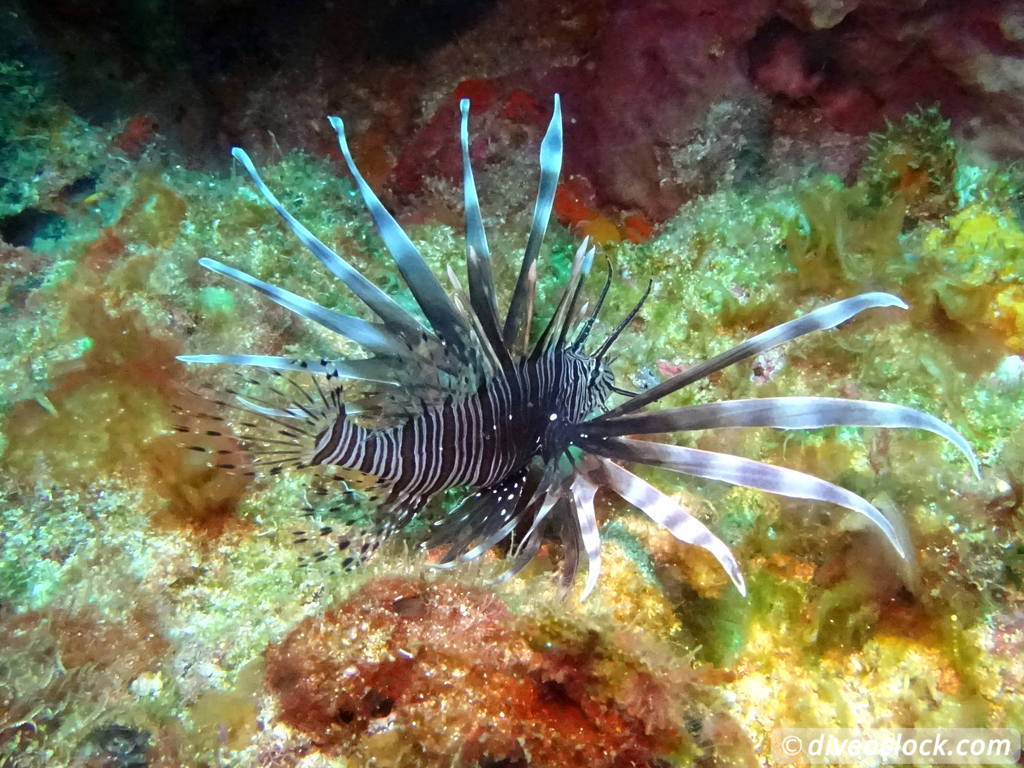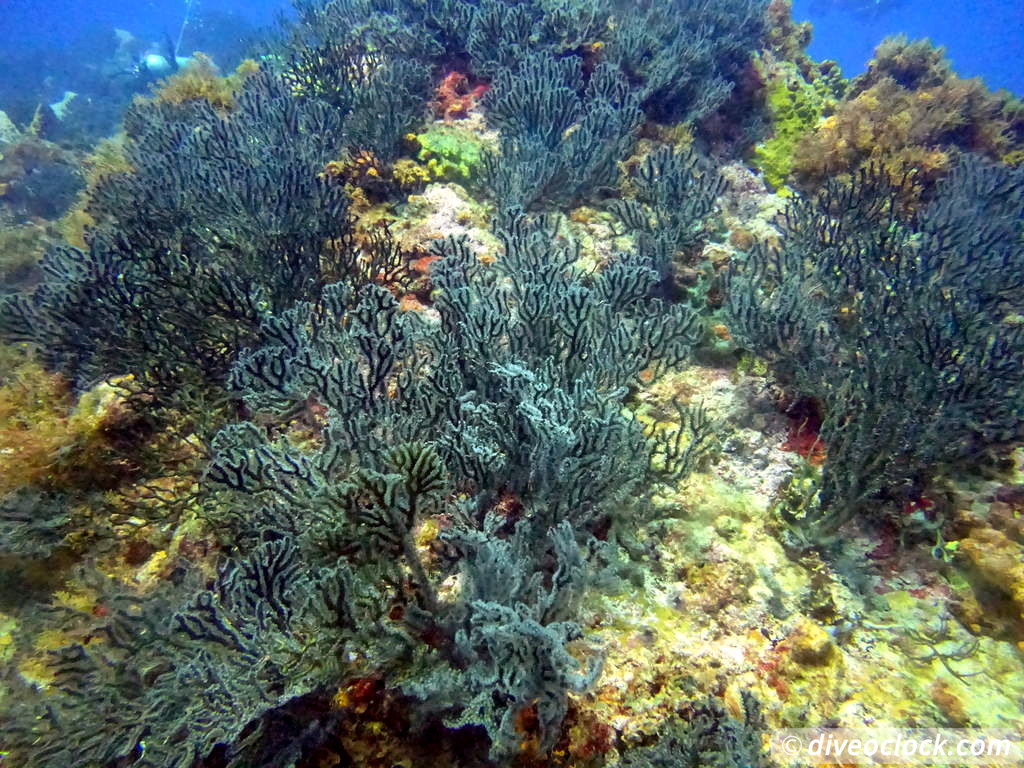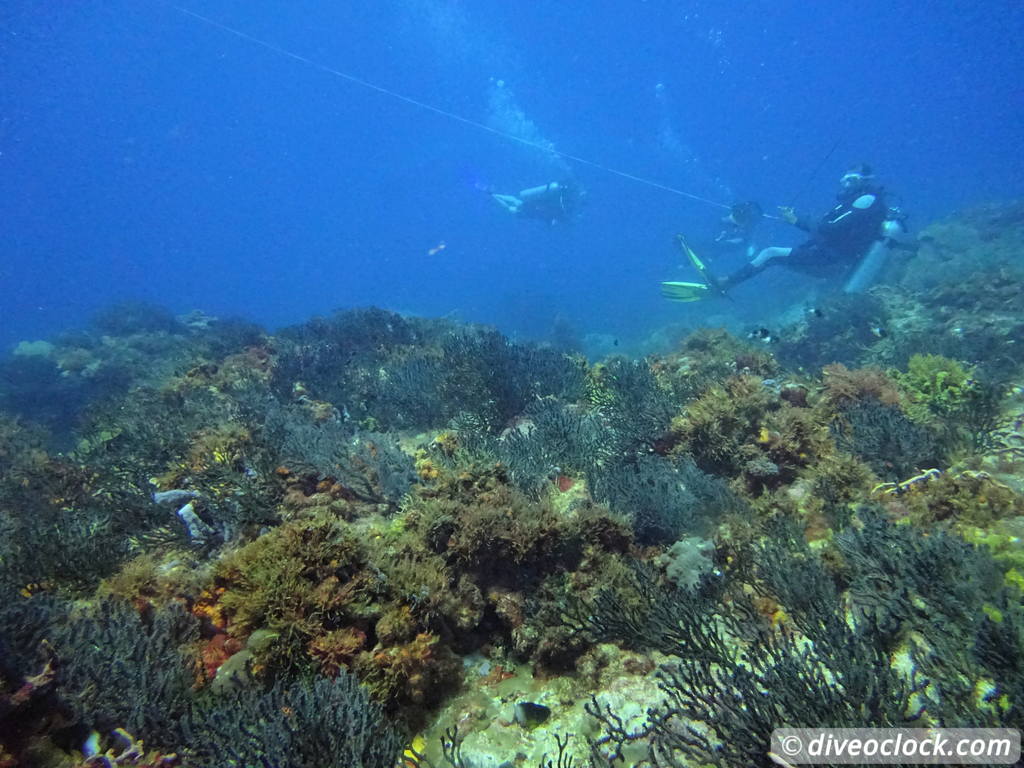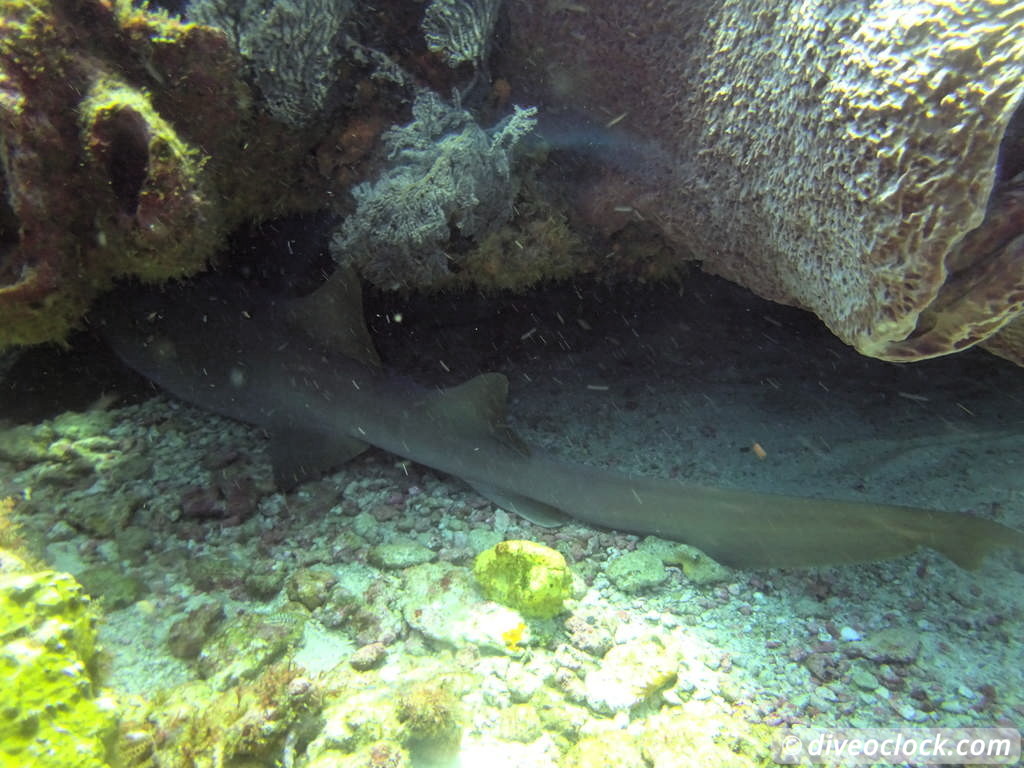 Marine life around Crown Point, Divers Dream & Thirst.
For more information about Trinidad &Tobago, things to do, carnival, restaurant and bar recommendations, cultural experiences and a lot of useful travel tips for your holiday, visit my travel blog!
Click here for travel information about Tobago
on Crazy Dutch Abroad.
If you like this post, hit that like button on our
Facebook page
and stay tuned for more!
Marlies Wolters
Founder of Dive O'Clock "It's dive o'clock somewhere!"

Share this page: