Dominica - Diving in Volcanic Bubbles at Champagne Reef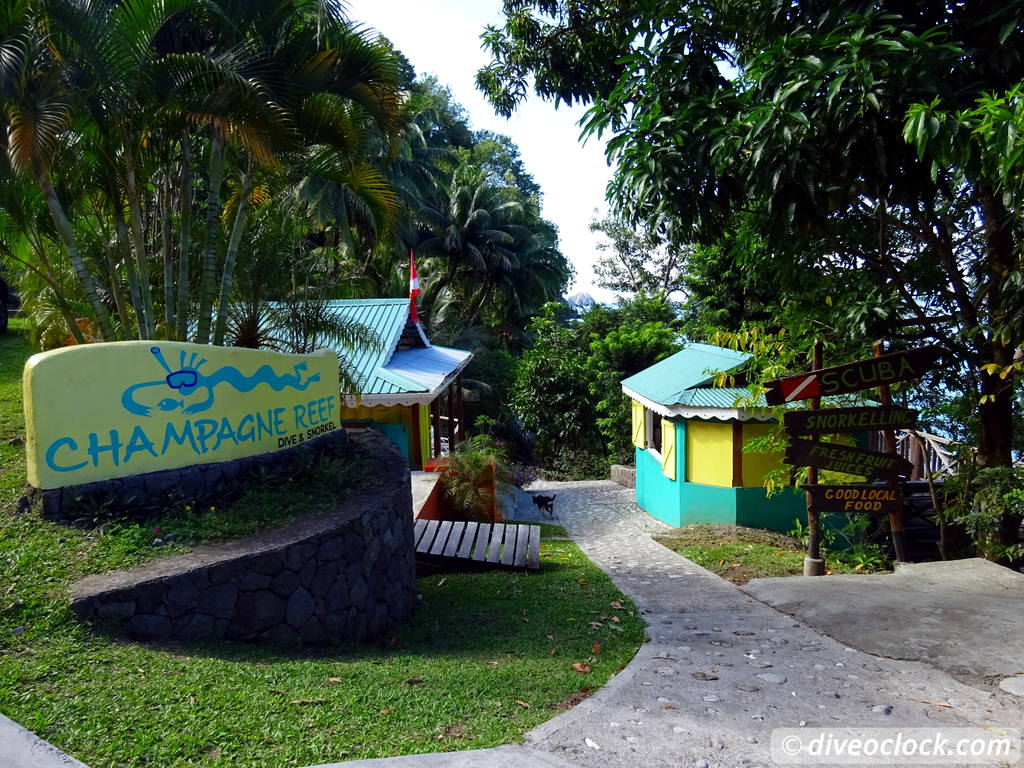 Champagne Reef Dive & Snorkel in Dominica!
Experience an unique SCUBA dive in golden champagne! Rich volcanic soil provides a wonder you can experience while snorkeling or SCUBA diving: BUBBLES, BUBBLES, BUBBLES!
Located in the South West of Dominica, the volcanic crater of Soufriere Bay create stunning mountains and curly rides along the coast. With such a volcanic landscape it is no wonder the seascape is dramatic as well. Underwater pinnacles, walls and big rocks form interesting dive sites around Soufriere. The best part of the volcanic soil: Geothermal activity! Natural hot springs can be found as well as volcanic gas bubbles venting.
The sand is hot and the bubbels rise from the seabed giving you a chance for a unique SCUBA dive (or snorkeling) experience. It looks like you are diving in a glass of Champagne, bubbles rise to the surface everywhere around you. To top it all off the color of the reef is gold as well. Champagne Reef is best known for experiencing the volcanic bubbles and there is a dive center right at the waterfront.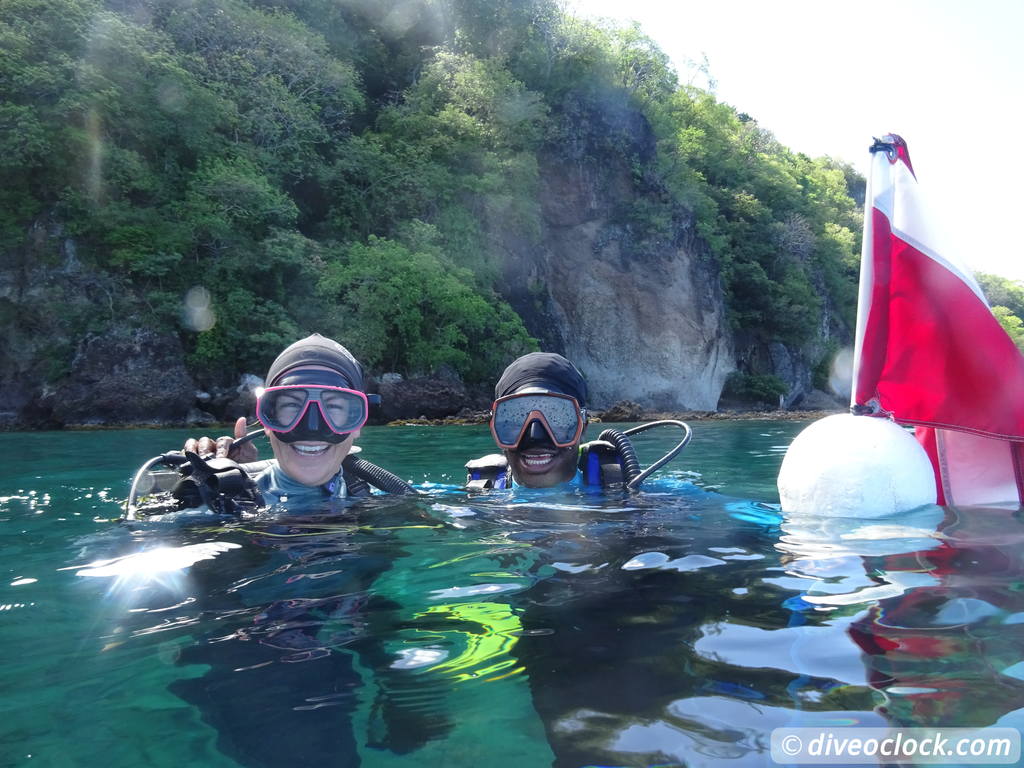 Ready for a dive at Champagne reef in Dominica!
Champagne Reef is part of the Soufriere Scotts Head Marine Reserve, one of the three marine parks of Dominica, the Nature Island of the Caribbean. What you might not know is that there is a beautiful reef right next to the actual 'bubbles'. It is a fringing reef that gradually slopes down to greater depth with interesting rock formations. The house reef of Champagne Reef Dive & Snorkel is full of life. Hard corals, barrel sponges and schools of fish are present as well as many critters and tiny creatures, perfect for macro photography!
The bubbles and the reef give a variety of shore dives and Champagne Reef Dive & Snorkel has the perfect spot to accommodate this. Time to discover this lovely yellow-blue painted spot underwater!
| | |
| --- | --- |
| Country | Dominica |
| Dive area name | Soufriere Scotts Head Marine Reserve |
| Dive center | Champagne Reef Dive & Snorkel |
| Famous for | Volcanic bubbles and coral reef |
| Price | 2-tank guided shore dive $89,- USD (Air) including equipment rental |
| Hotel recommendation | Fort Young Hotel |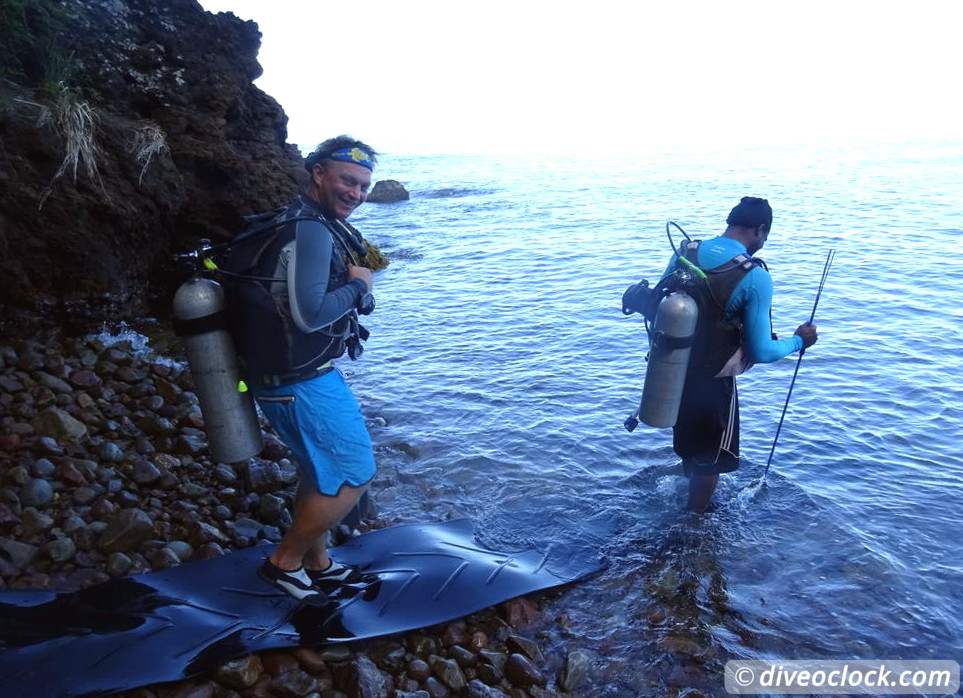 Easy shore entry at Champagne reef.
The Coral Reef at Champagne Reef
At the end of the boardwalk from the dive center you can enter the black lava beach by walking over the rocks (reminding me of
Tulamben on Bali
).
If you have proper dive boots it is easy but there is a rubber mat to create an easy entry if you walk bare feet or have thin swimming shoes. The friendly dog (see picture below) followed us and waited at the surface for our return, so cute!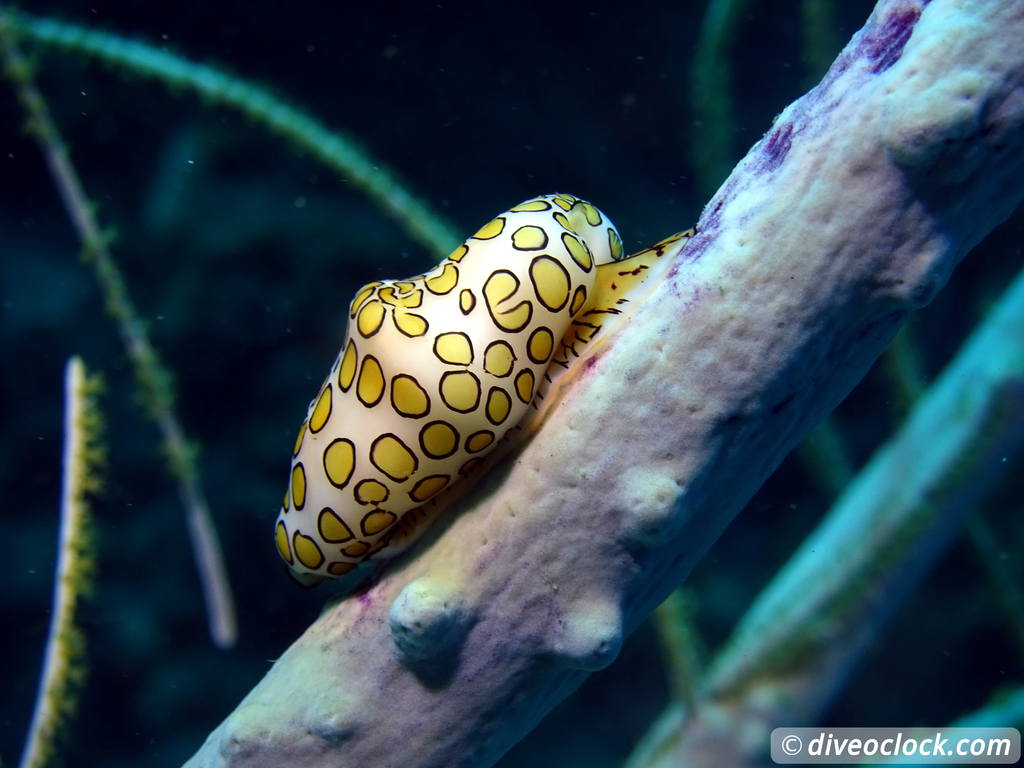 Flamingo tongue snail at Champagne reef.
Within the first five minutes of our dive: BOOM - a magnificent Flamingo tongue snail. What a great start!
Various Muray eel species, spotted drums and even a sharptail eel was sighted in this first part of the dive. Many Yellowline arrow crabs and various shrimps were around as well as Balloonfish hiding in sponges and Scorpionfish to spot with a good eye.
The highlight was finding a juvenile Jackknife fish. This high-speed moving black and yellow fish was as big as a fingernail with an extreme long dorsal (top/on his back) and tail fin. You must be a bit of a dive nerd to understand the excitement here I guess but we went crazy!
The reef is beautiful with a dense coral cover on the second part and quite a dramatic seascape for a reef slope with rocks. After a relaxing long reef dive without any current it was time to hit the real 'champagne' area...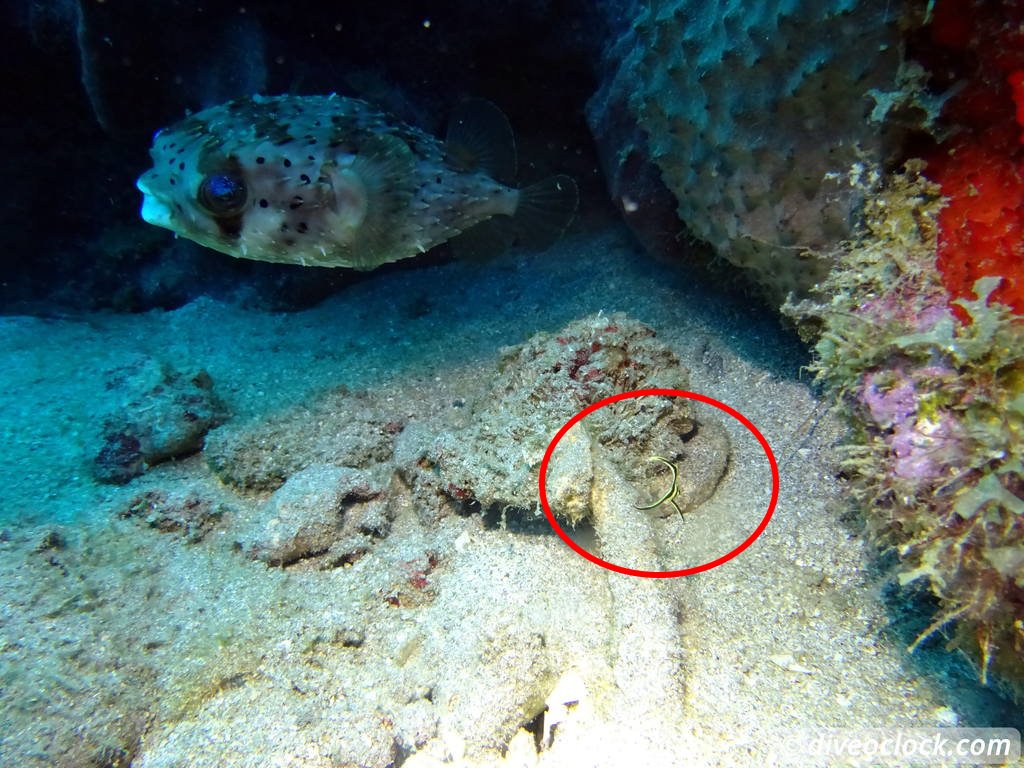 Juvenile Jackknife fish at Champagne reef.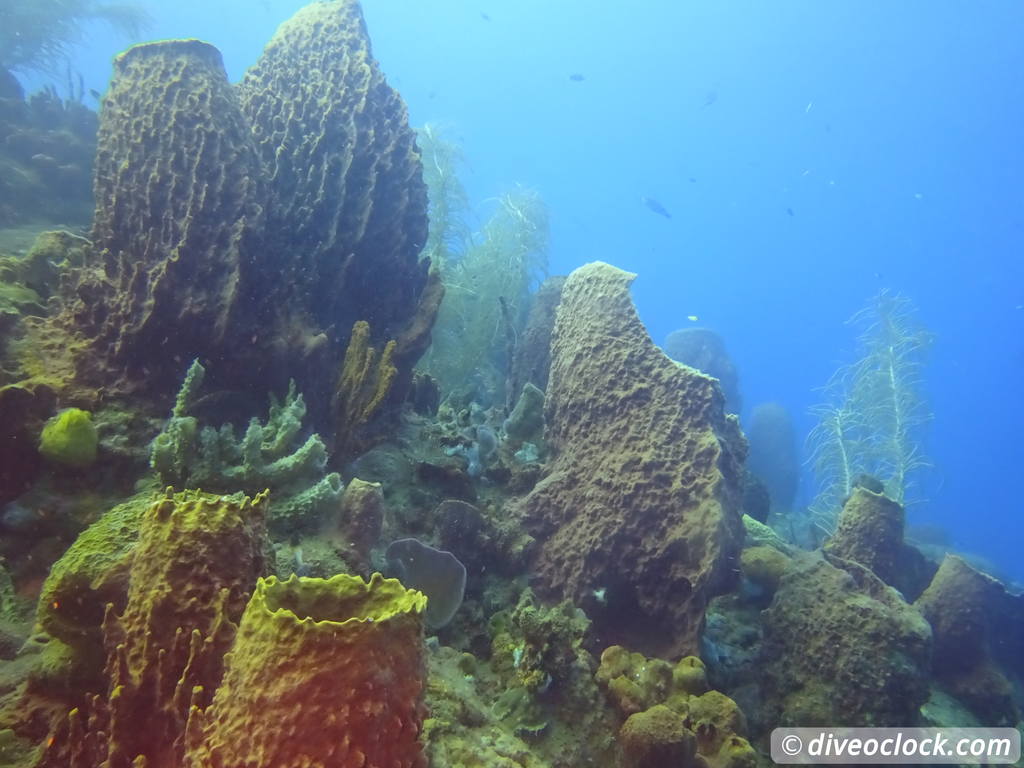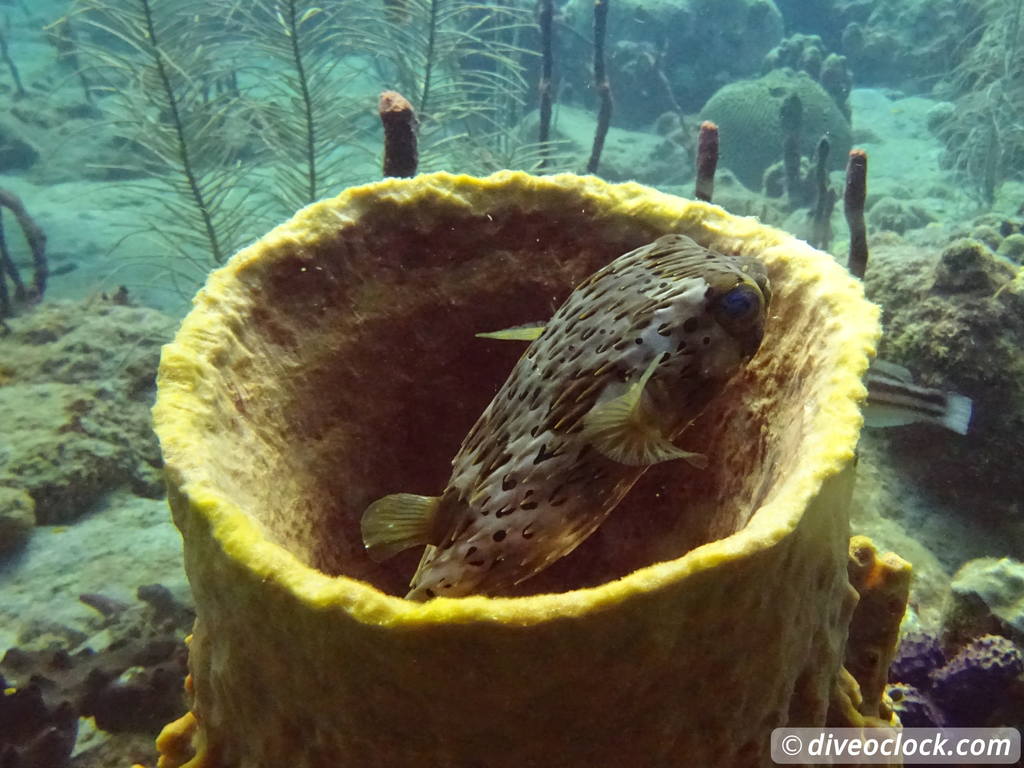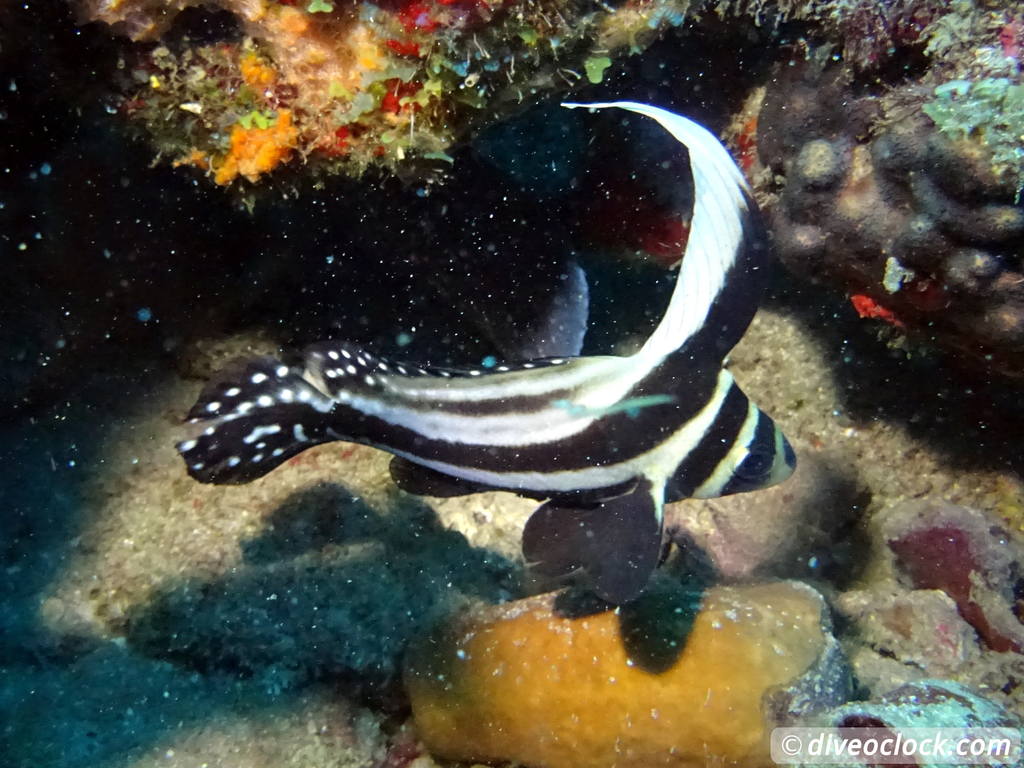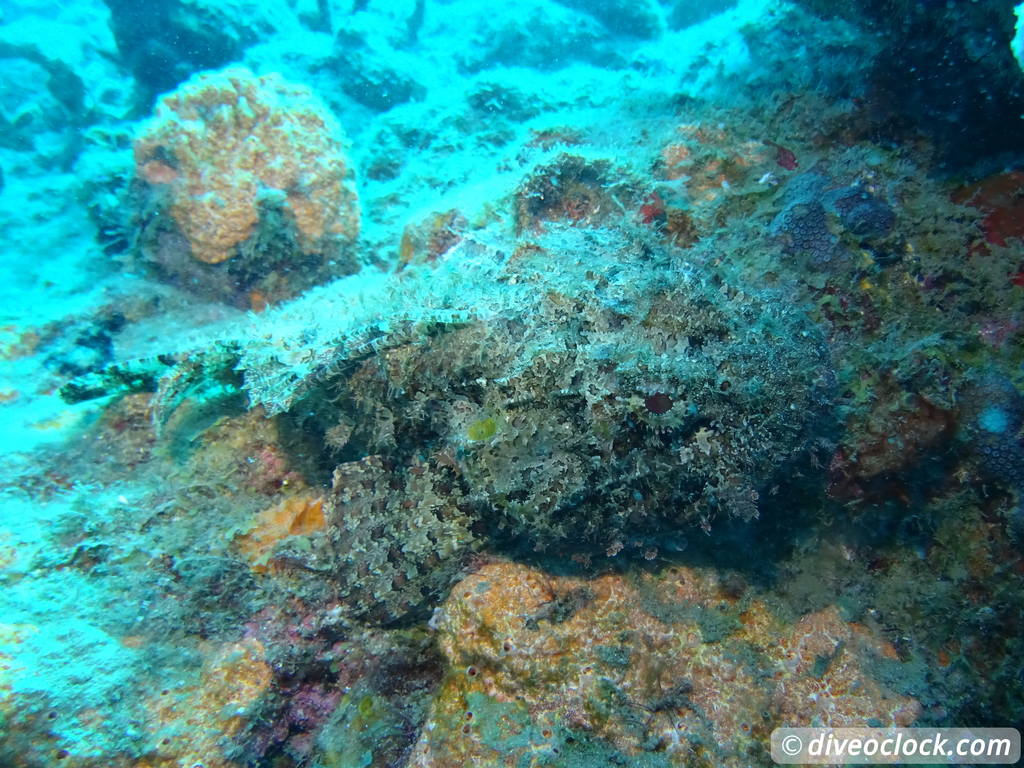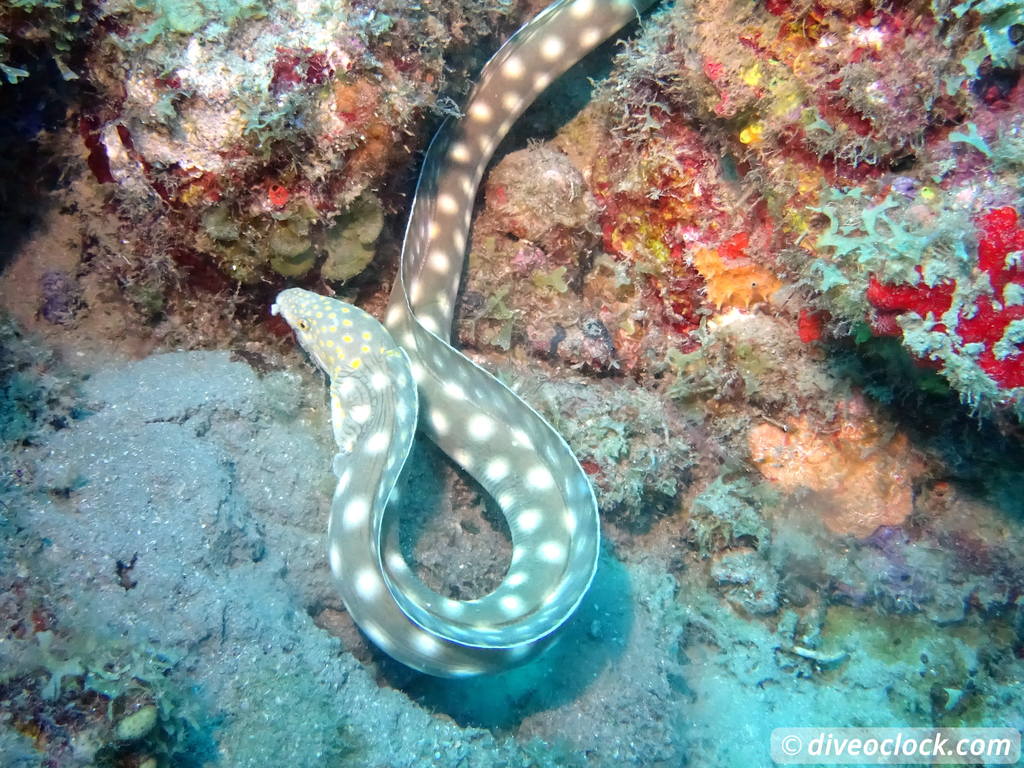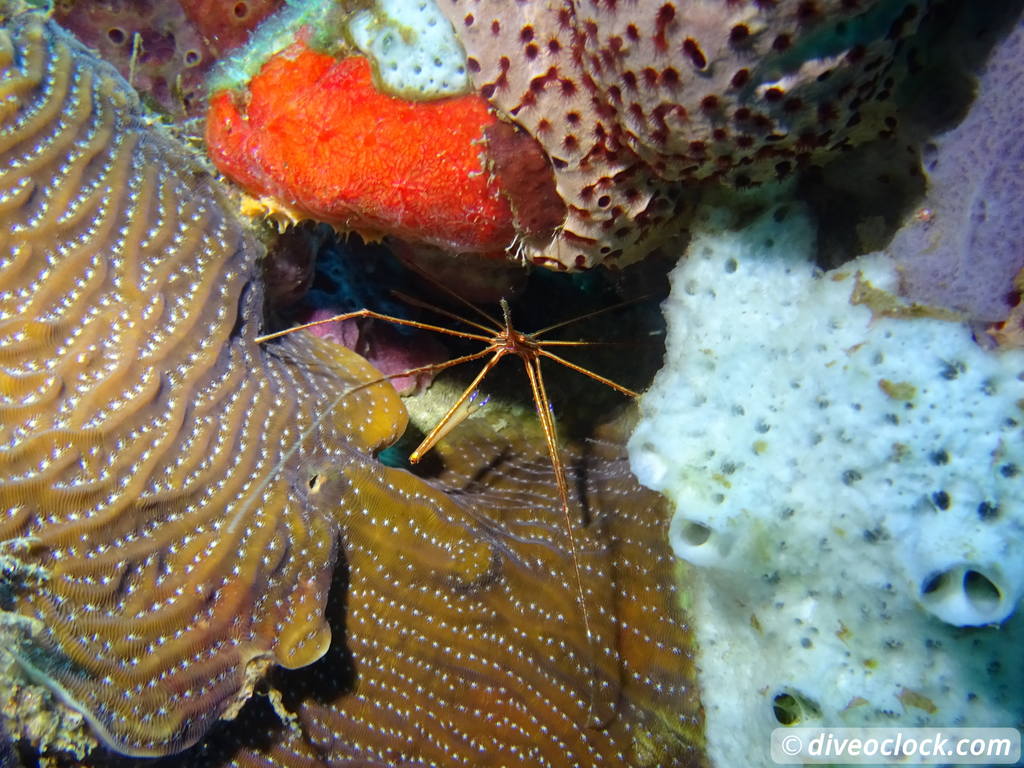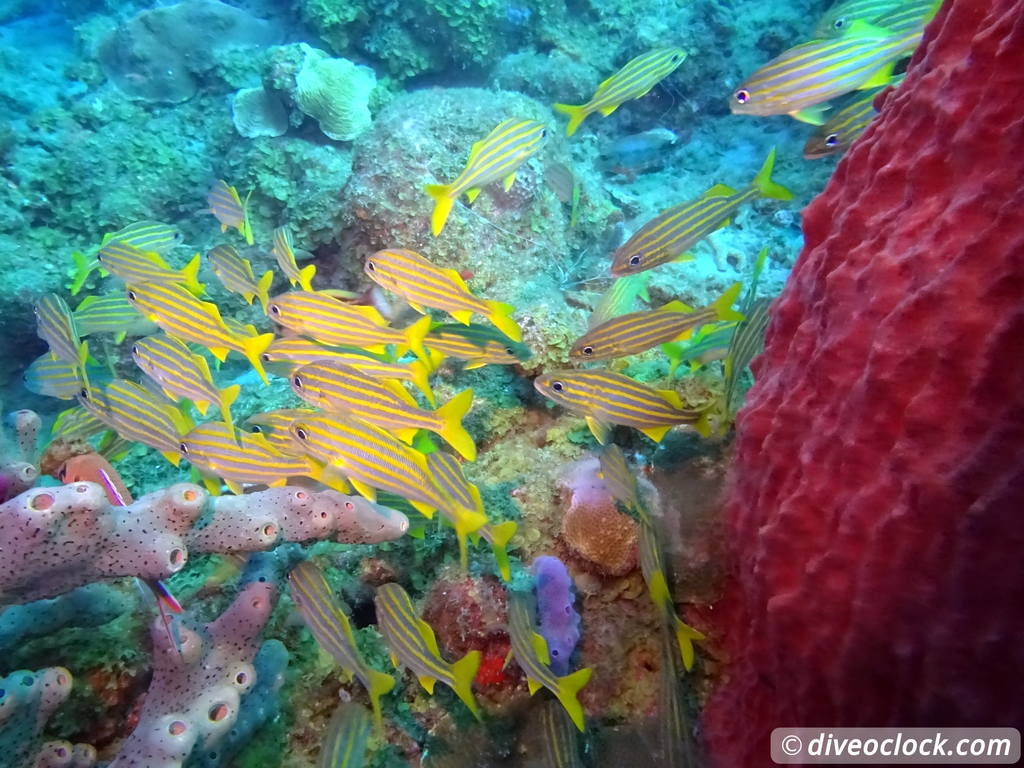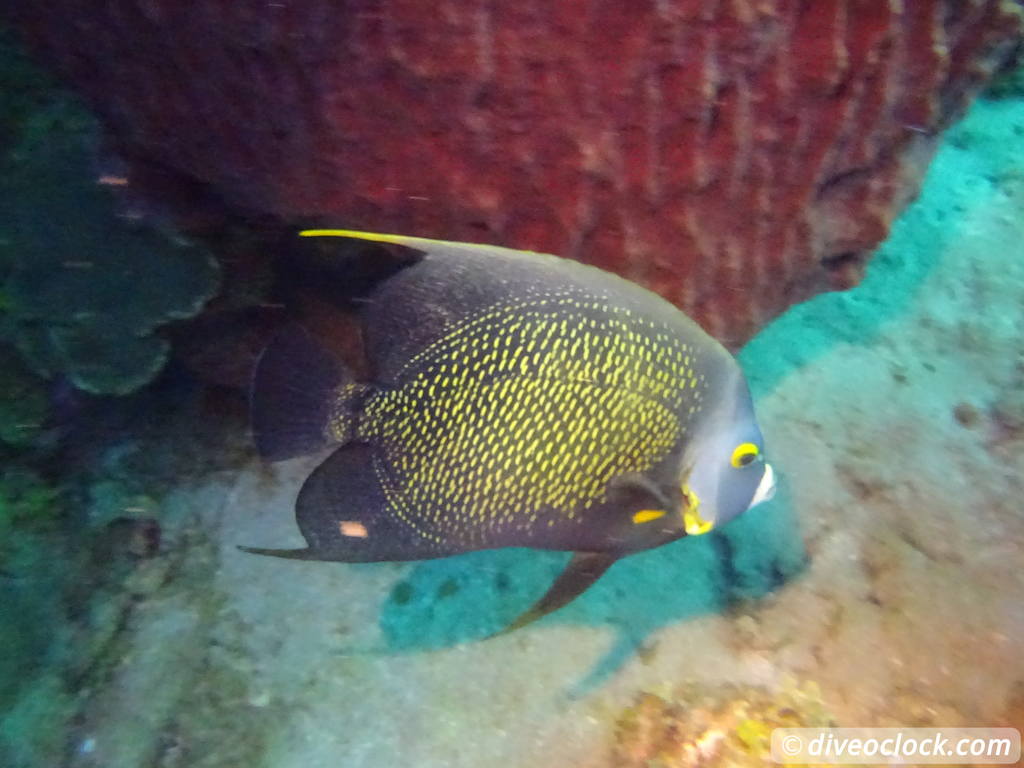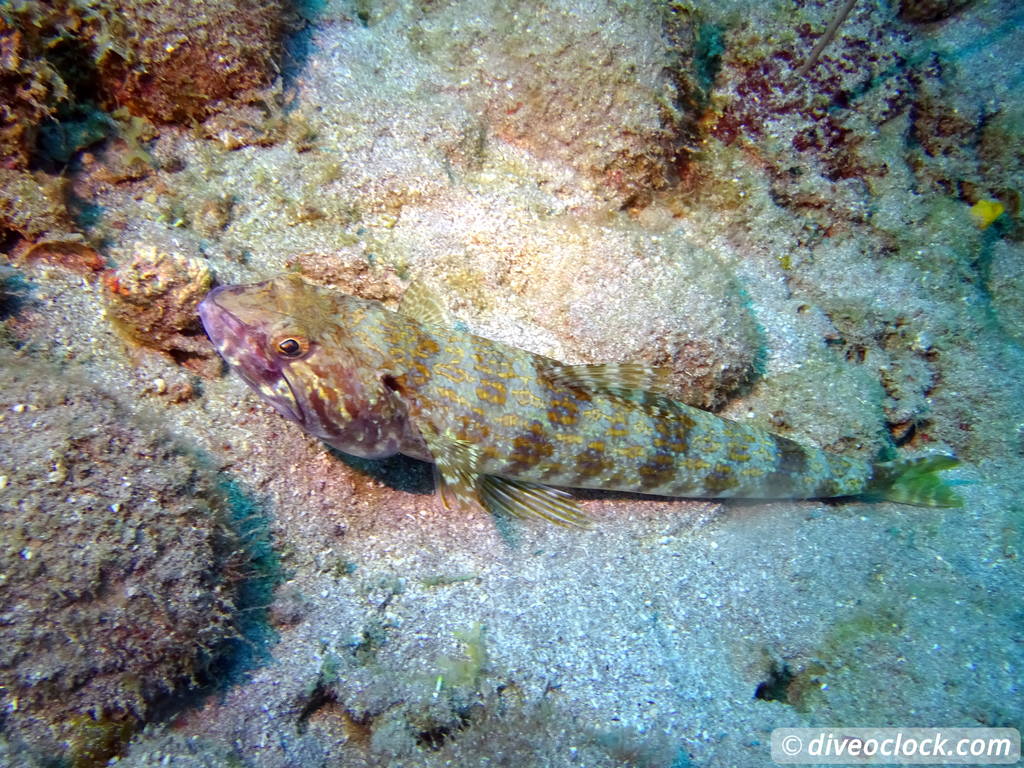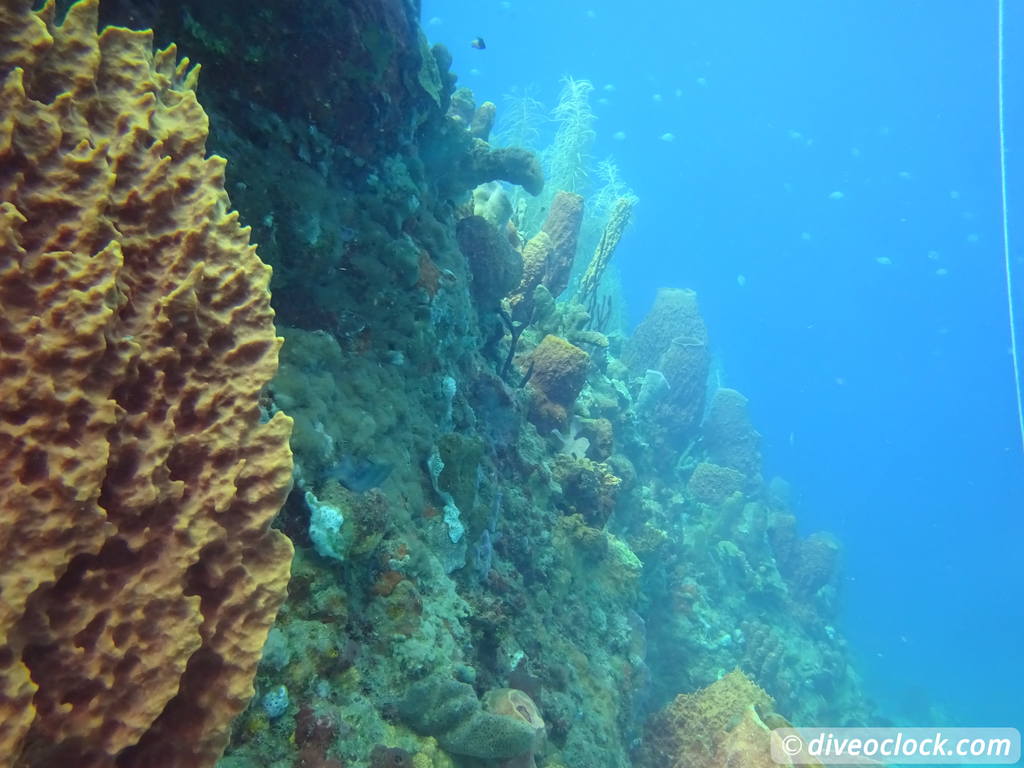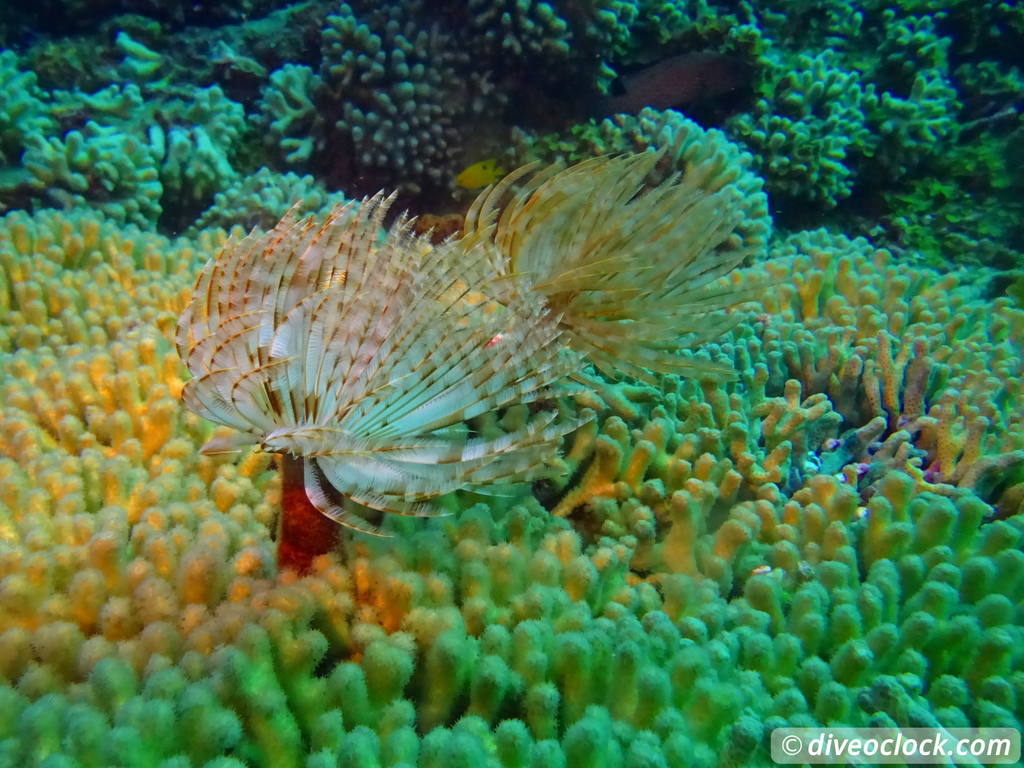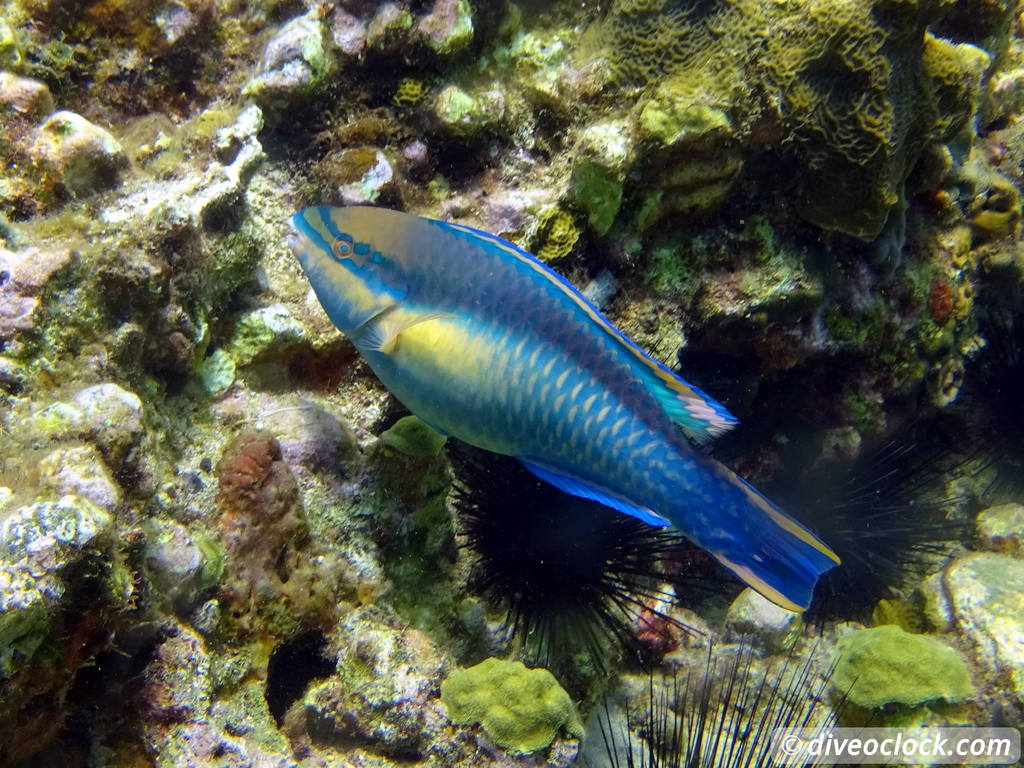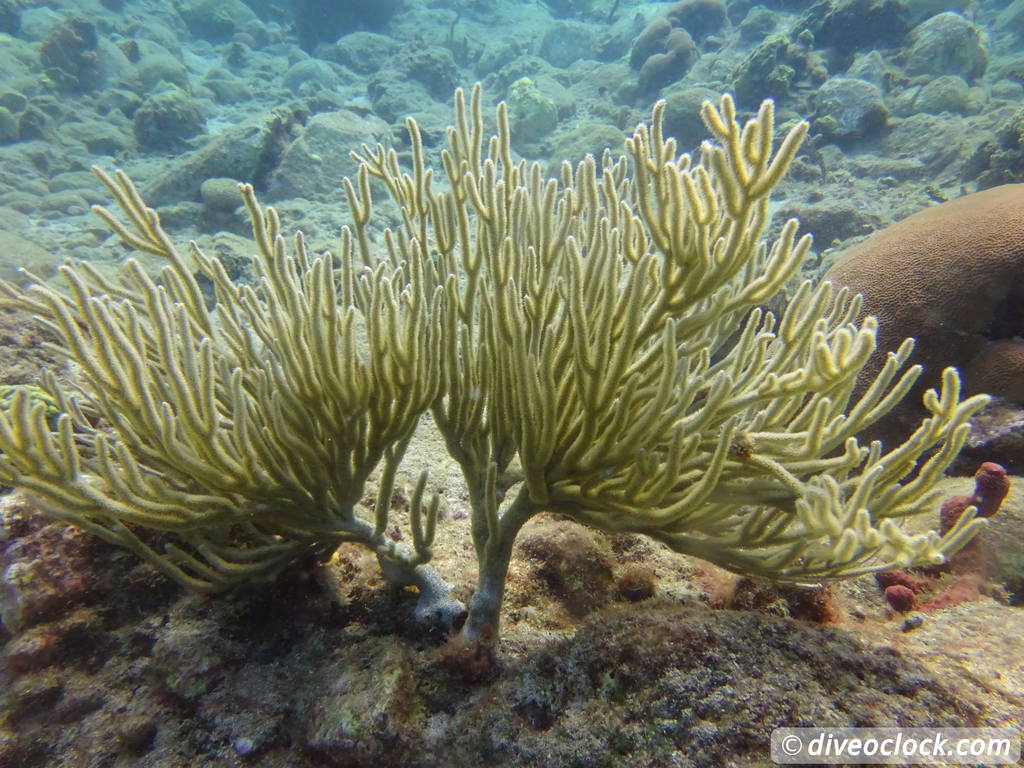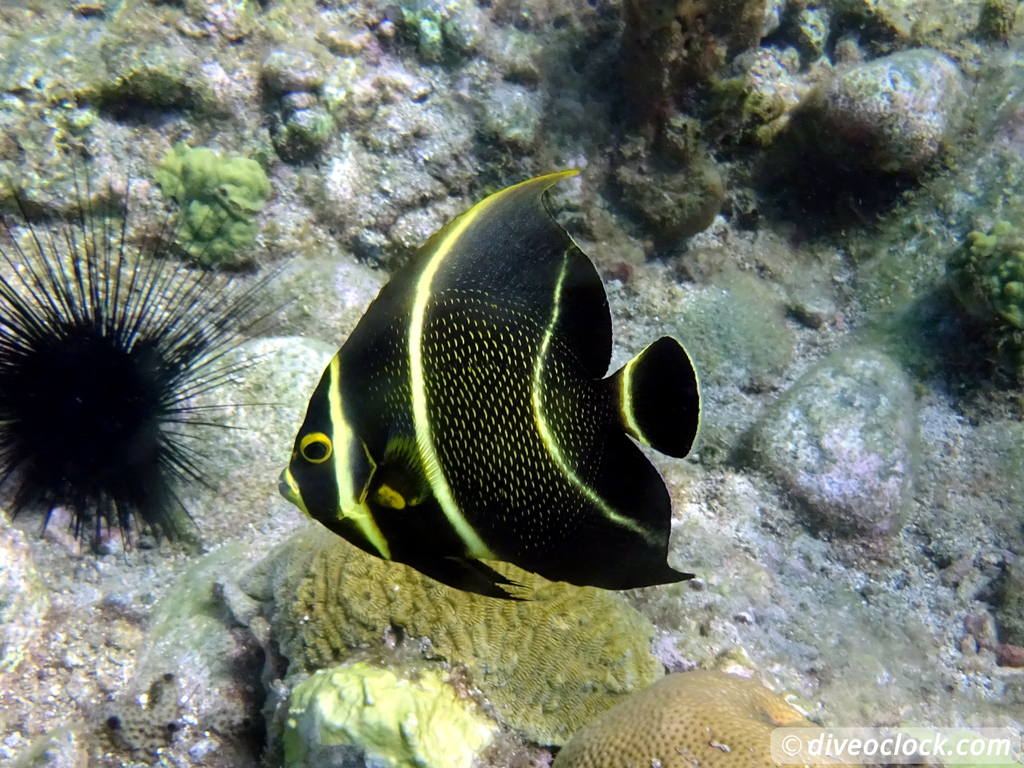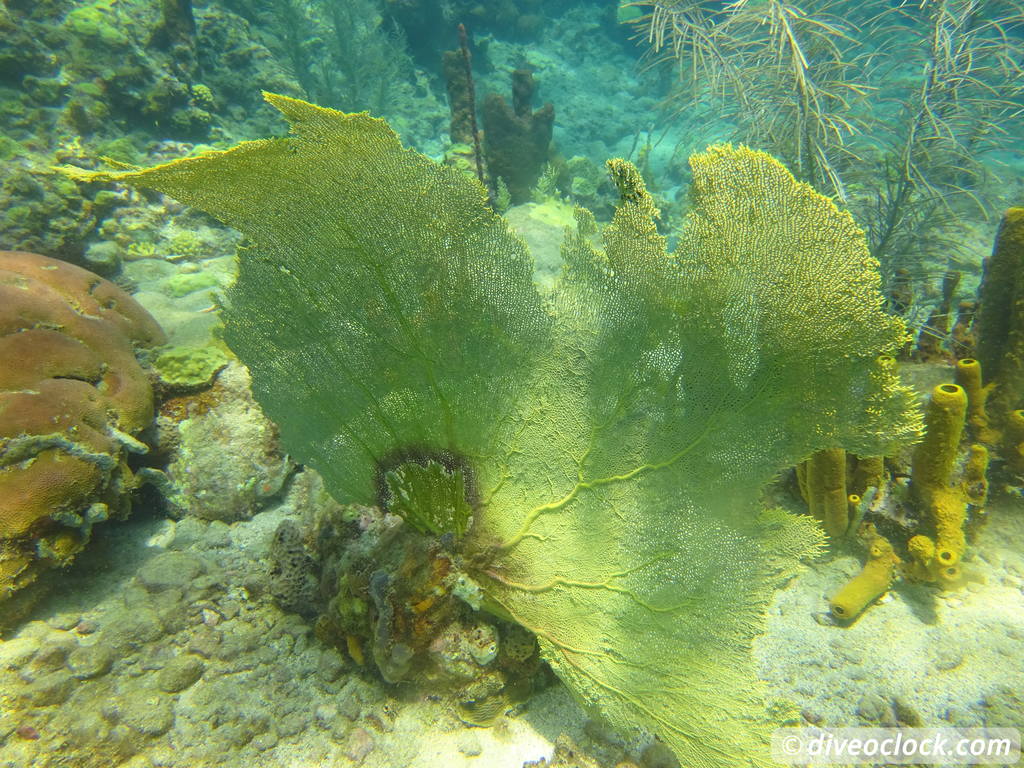 Marine life at Champagne reef, Dominica.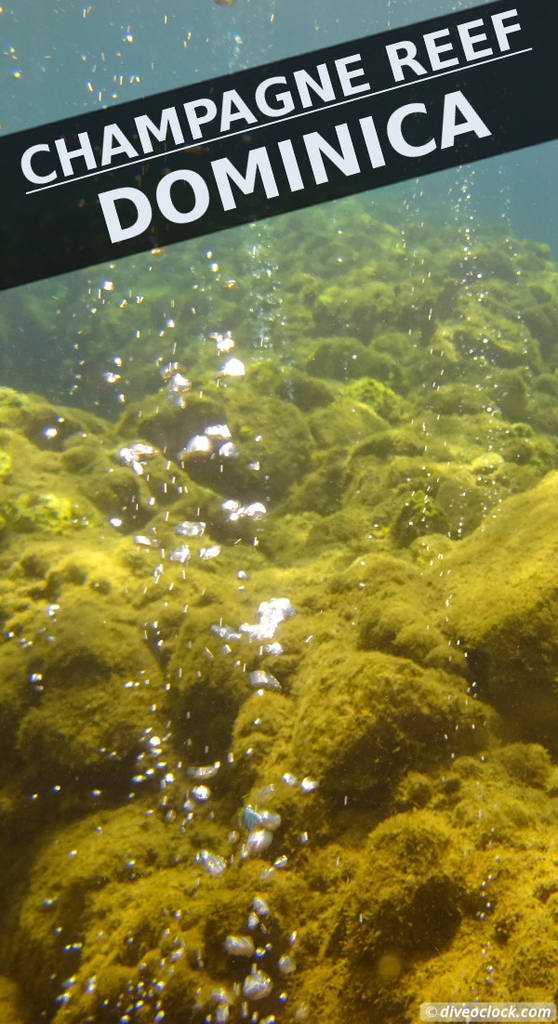 The Volcanic Gas Bubbles at Champagne Reef
Do you remember the yellow fish in the tank from the movie Finding Nemo getting all excited about bubbles? That would be me at Champagne Reef - over-excited to enter the geothermal area and play with
"BUBBLES, BUBBLES, BUBBLES!
"
As the area is really shallow it is the perfect way to the dive. When we got closer to the area the temperature gradually increased and the sand turned from black in to gold.
First I thought one of our tanks (o-ring/1th stage) was leaking air, but soon I realized the volcanic bubbles were making all the noise - LOL. No fish around but BUBBLES everywhere! What an incredible experience. The sand was hot and there are areas where really hot water floats in the sea, giving a hot stream. Amazing!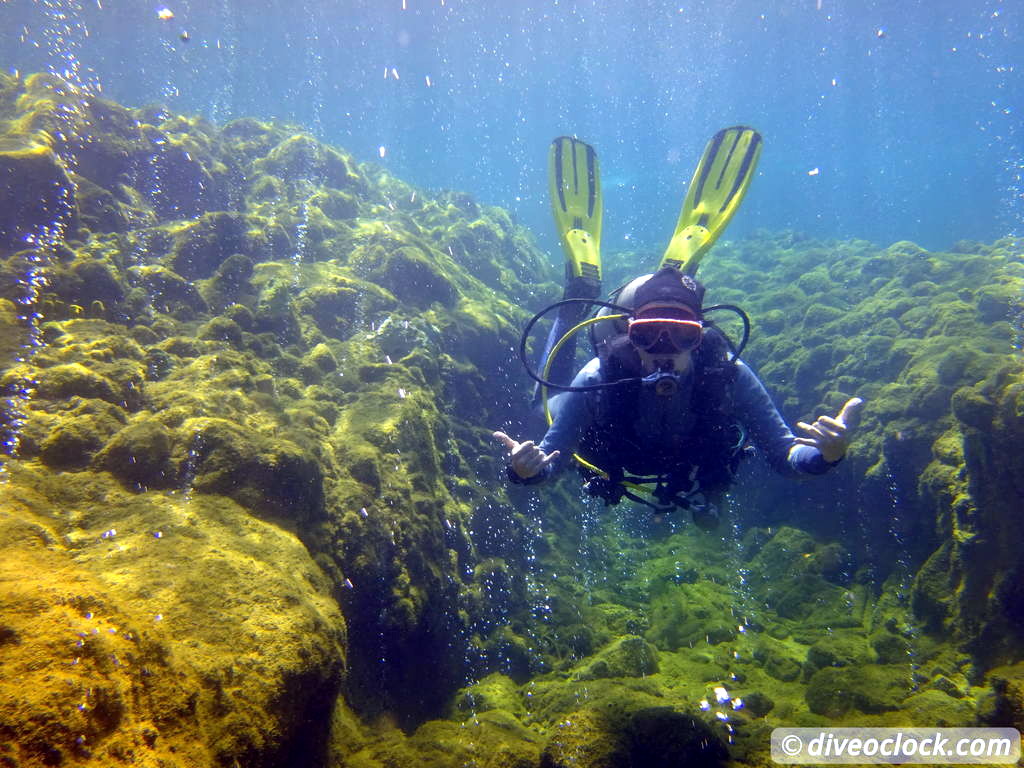 Bubbles, bubbles, bubbles!
Comparing dive destinations
Bottom structure
Reef structure
Pelagic
(big stuff in the blue)
Big reef
(bigger stuff on the reef)
Macro
(small stuff on the reef)
Current
(stream)
Flat bottom with bumps/big rocks/pinnacles
Hard corals
(not moving)
Sharks
Turtles
Nudibranchs
(snails/slugs)
No current
Slope (going down slowly)
Soft corals
(moving)
Rays
Eels/snakes
Sea horses and pipe fish
Small
(you can easily swim against it)
Wall
(steep but you see the bottom)
Table-/fan-shape
Trevally/Jacks/Tuna
Groupers
Scorpion/frog fish
Medium
(you can swim against it for a little while/higher air consumption)
Drop off
(steep and you can't see the bottom)
Anemones
Barracudas
Lobsters/crabs
Octopus/squid
Strong/reef hooks
(you cannot swim against it)
Blue
(no reference)
Sponges
Sardines/herrings
Puffers
Shrimps
Pumping/washing machine/OMG/hold your regulator
(superman)
About the organization of Champagne Reef Dive & Snorkel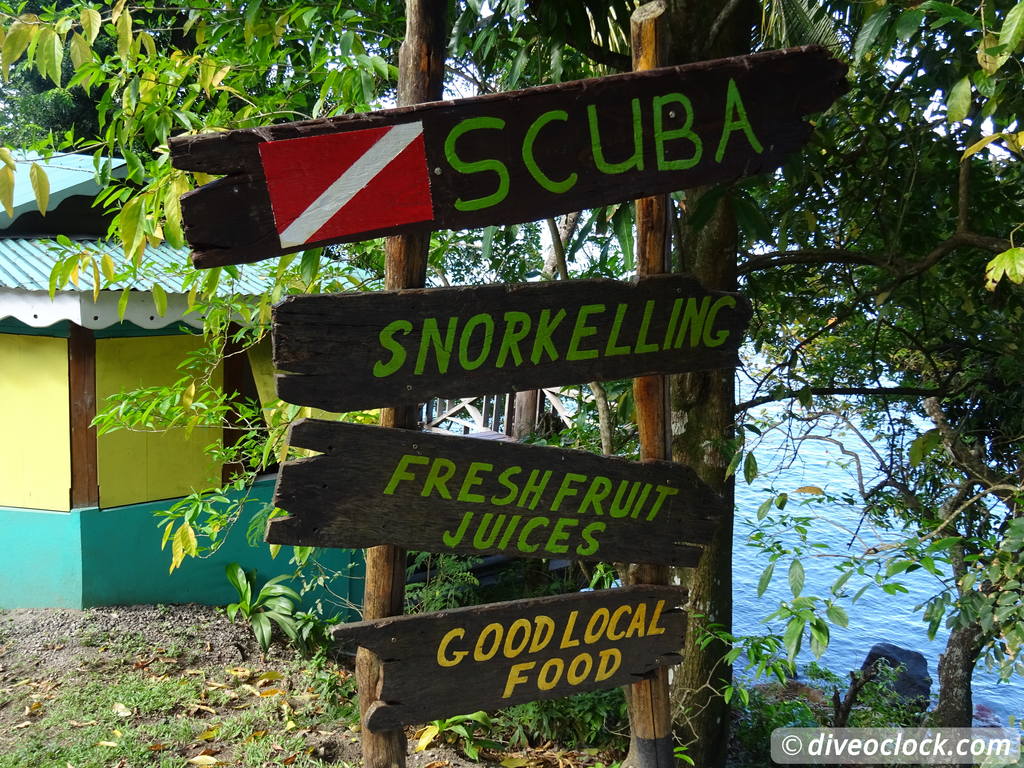 The first real positive vibe was a quick and accurate reply to my email from one of the owners; Lucy. Lucy and Clem own Champagne Reef Dive & Snorkel and scheduled us for a day when there were no cruise ships around, perfect to escape crowds!
We arrived around 9 AM and had the whole place to ourselves. As soon as I opened the car their friendly dog came to say hello. Vaughn was our dive guide and was very motivated and enthusiastic to show us around and take us for a dive. After the paperwork, certification and logbook check Vaughn gave us a proper briefing about our dive profile and all the marine life we could see.
The area looks a bit like a small beach town, perfect to spend a half or full day. Of course you can swim, snorkel and SCUBA dive from the shore, just walk in from the beach, but you can also enjoy lunch and fresh fruit juices with a great sea view. There are showers, changing rooms & toilets as well as picnic tables to relax and (my favourite part) fish and critter books to look up what you saw underwater. Vaughn and I could not wait to ID our tiny Jackknife fish.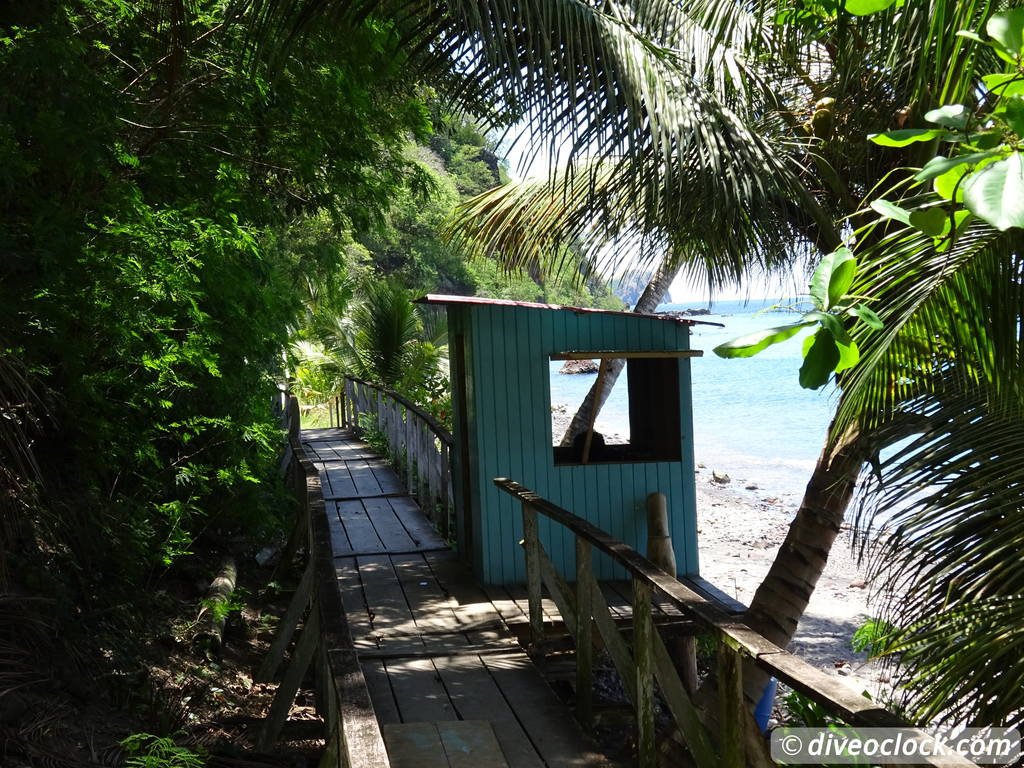 Boardwalk to Champagne Beach.
Everything is well organized and there was time for conversations with the staff. Clem explained us all about their Caribbean style dive and snorkel center. Have you seen their beautiful logo? Hopefully they will start selling some souvenirs with that funny diver!
TIP: If you are staying on Dominica and you are flexible about when to visit Champagne reef; avoid cruise ship days! It can get really busy while other days you might have the whole beach to yourself (like we did!). Also other dive companies might visit this dive area by boat, they are likely to schedule this site as their second tank dive so if you want to avoid their boats - go early morning.
For more information about Dominica, things to do, restaurant and bar recommendations and a lot of useful travel tips for your holiday, visit my travel blog!
Click here for Dominica on Crazy Dutch Abroad
.
If you like this post, hit that like button on our
Facebook page
and stay tuned for more!
Marlies Wolters
Founder of Dive O'Clock "It's dive o'clock somewhere!"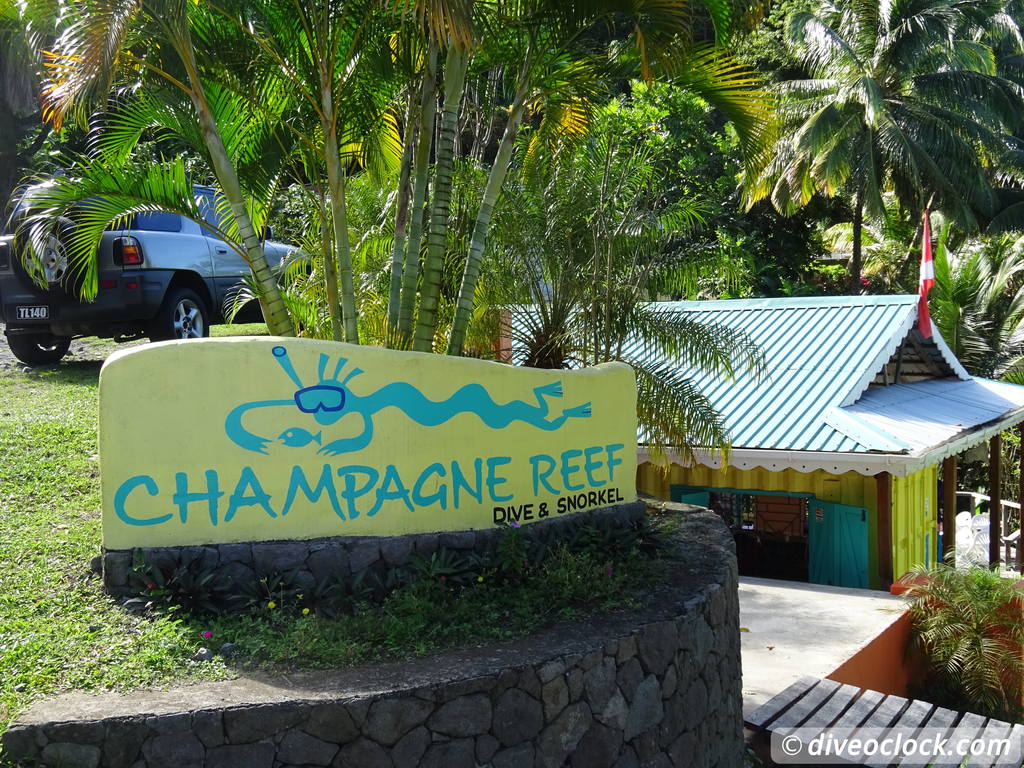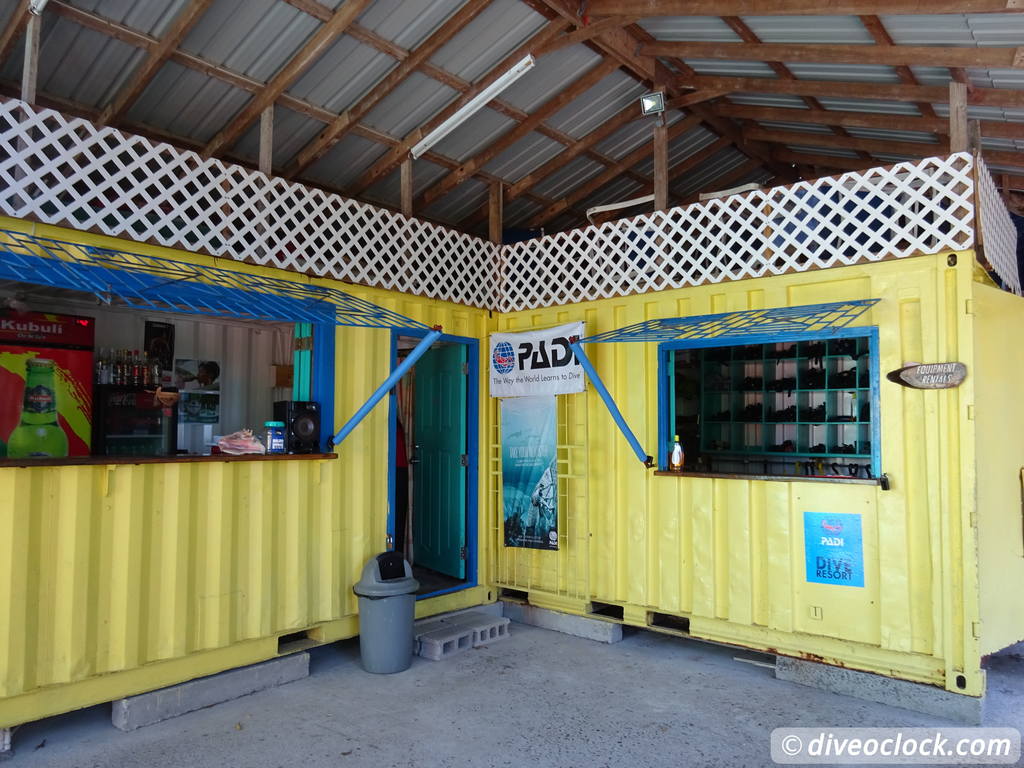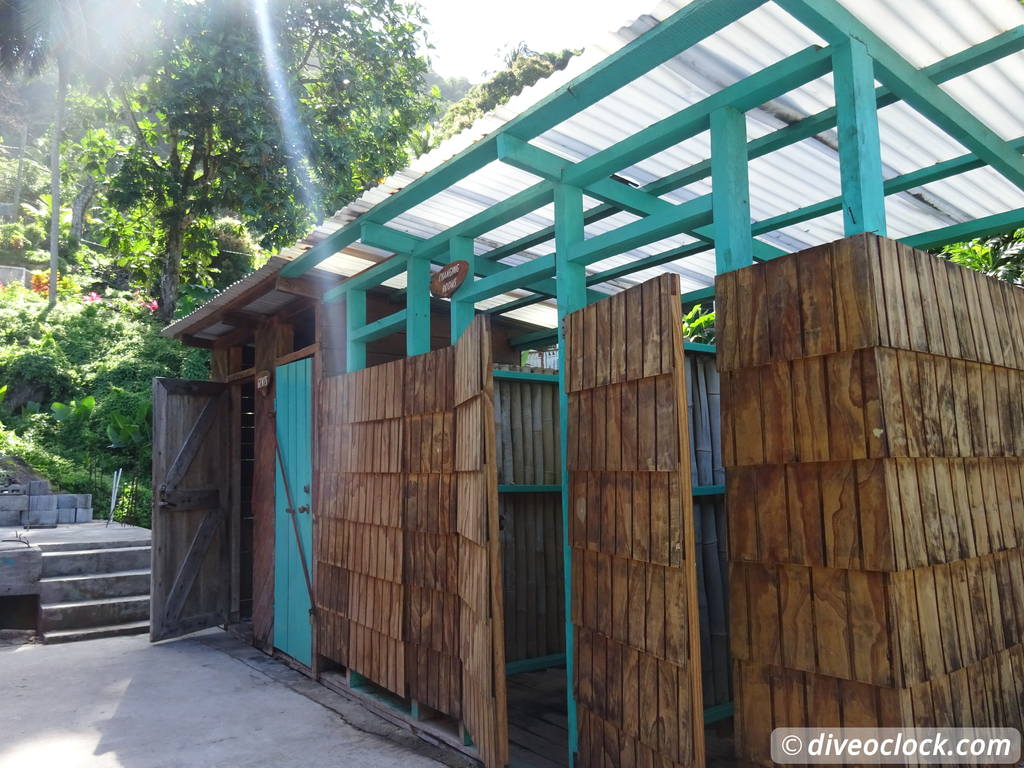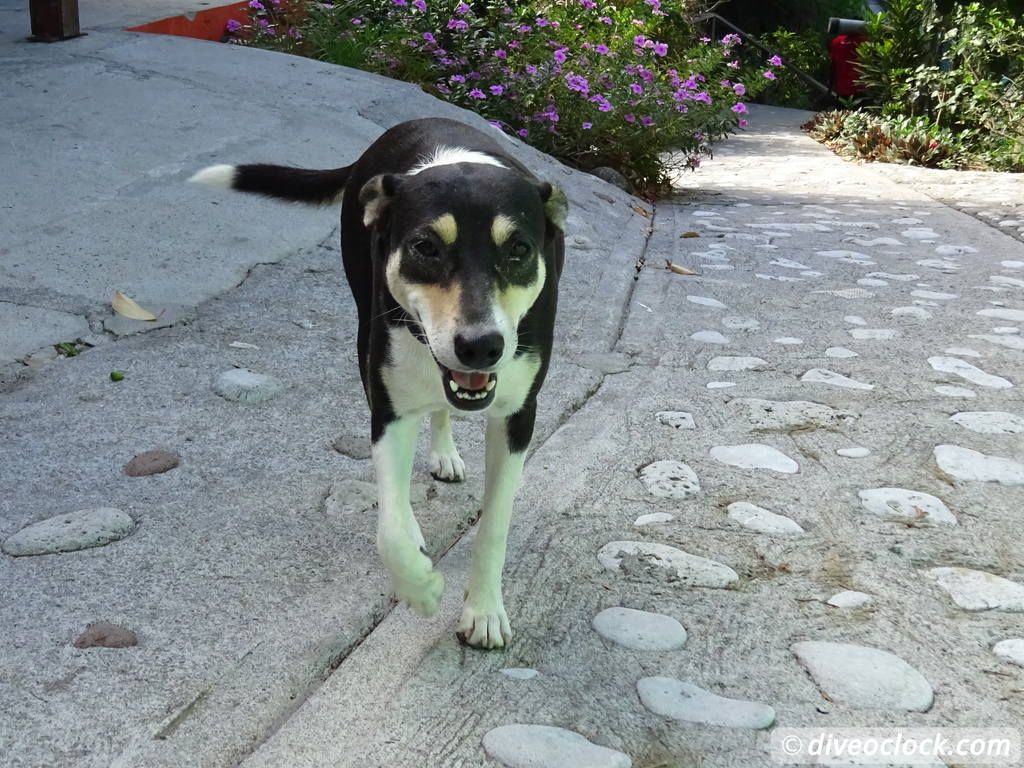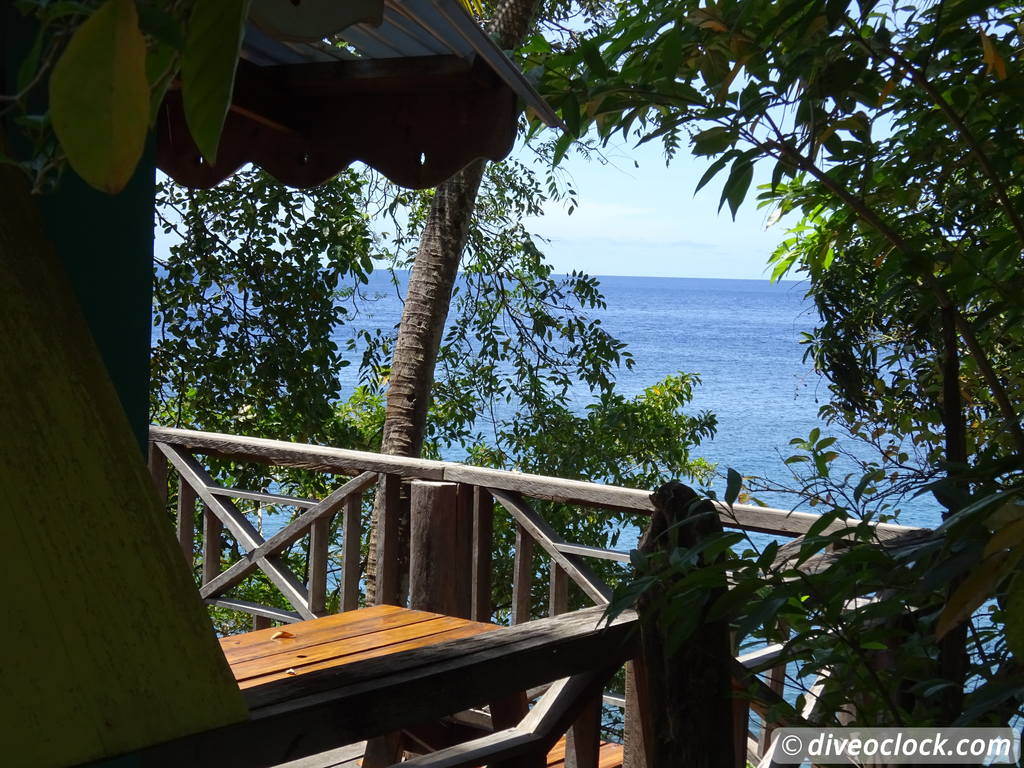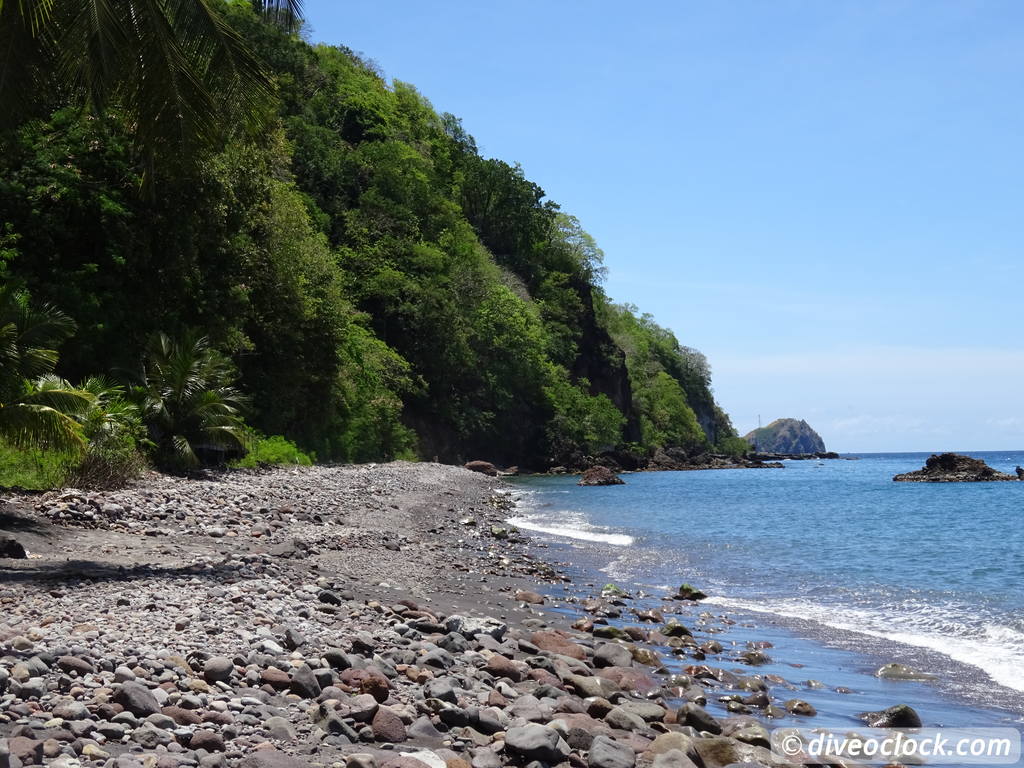 Champagne Reef Dive & Snorkel center + their sweet dog.

Share this page: