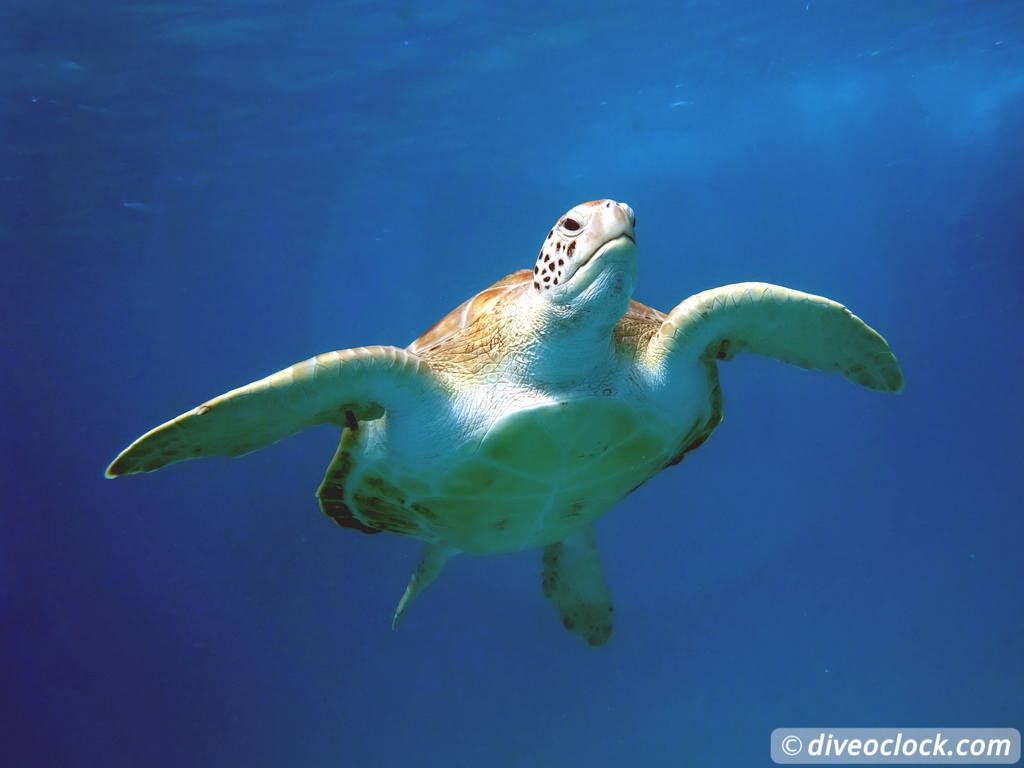 Turtle time in Barbados!
Barbados - Exploring The Wrecks and Turtles of Carlisle Bay
How about a relaxing day at the beach with some wrecks just off shore? Need more? How about a dozen of turtles on top of that? Read why snorkeling with turtles and exploring the wrecks of Carlisle Bay should be included in Barbados trip and how to organize it.
Carlisle Bay is located South of the capital Bridgetown with a long strip of soft white sand beaches to give you the ultimate paradise feeling. On sunny days the water is turquoise blue and it looks like one big lagoon, very beautiful! There are plenty of beach bars and restaurants along the coast, some rent out beach beds and umbrellas others are more local with a reggea vibe and picknick tables.
Carlisle Wrecks
Close to shore, less then 200 meters from the beach, there are six shipwrecks laying in the sand for you to explore. From the most shallow wreck to the deepest: Barge, Cornwallis, Berwyn, Bajan Queen, C-Trek and Eilon. The wrecks lay at a depth between 3 and 17 meters, depending on the tide. The biggest wreck is the Bajan Queen, over 36 meters long. Because the wrecks are laying really shallow and close to each other it is a nice snorkel adventure.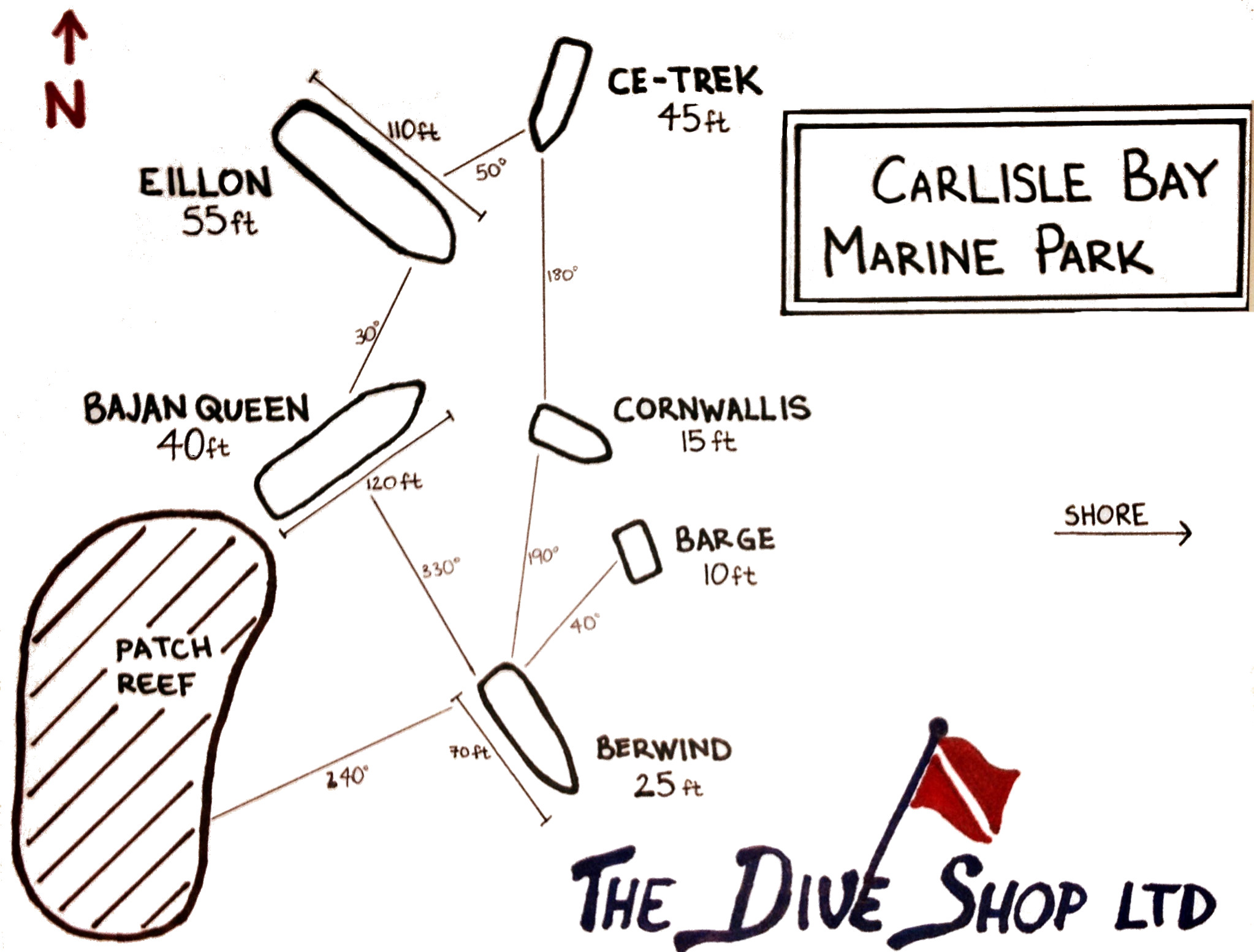 Wrecks map of The Dive Shop Barbados
The wrecks were sunk in different years. If you like a challenge try to figure out which one was submerged first and try to put them in the right order. Google away afterwards and read up on the ship stories (not me, I look at the marine life on them :)). Have a look at the corals and sponges forming a reef on the shop and see what animals are hiding behind the door openings and windows.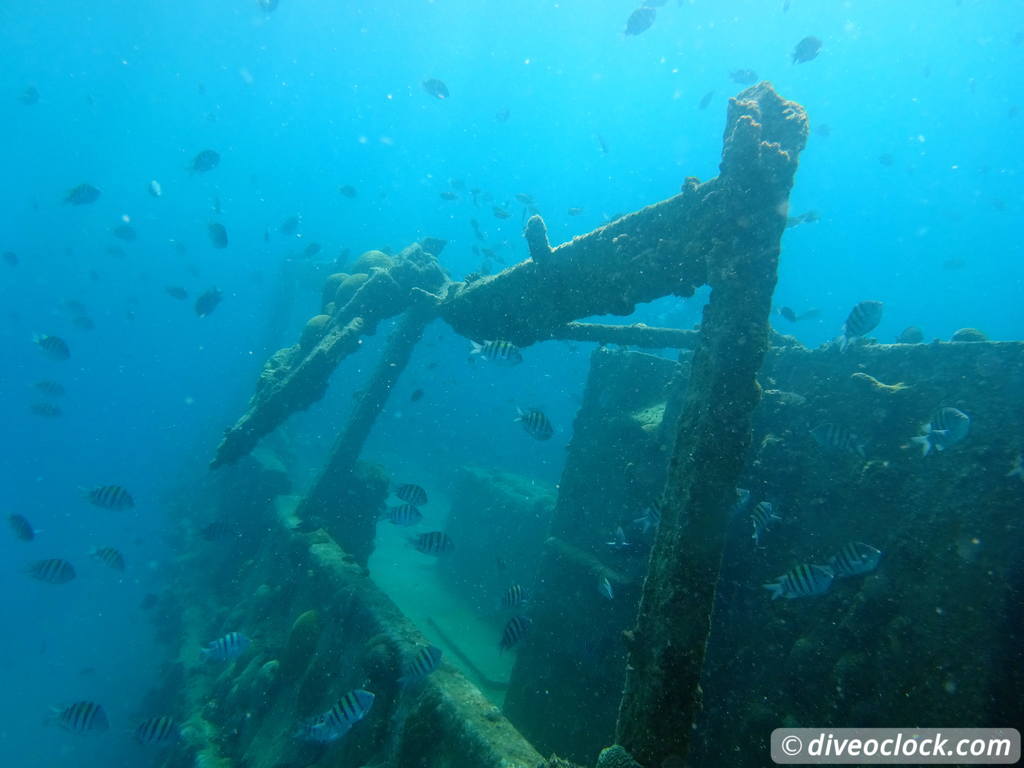 Many Sergeant major fish swimming around the wreck.
Marine life is using the wrecks as a solid ground for creating a coral reef. Many fish species and critters can be found on and around the wrecks. Sergeant major fish and others damsels are dancing around the wrecks and you might even find a camouflaged Scorpionfish on one of them. Around the wrecks there are many concrete blocks and anchors laying in the sand with often some marine life hiding underneath. Check the buoy and anchor lines as well, juvenile (baby) fish and reef squids are often right underneath.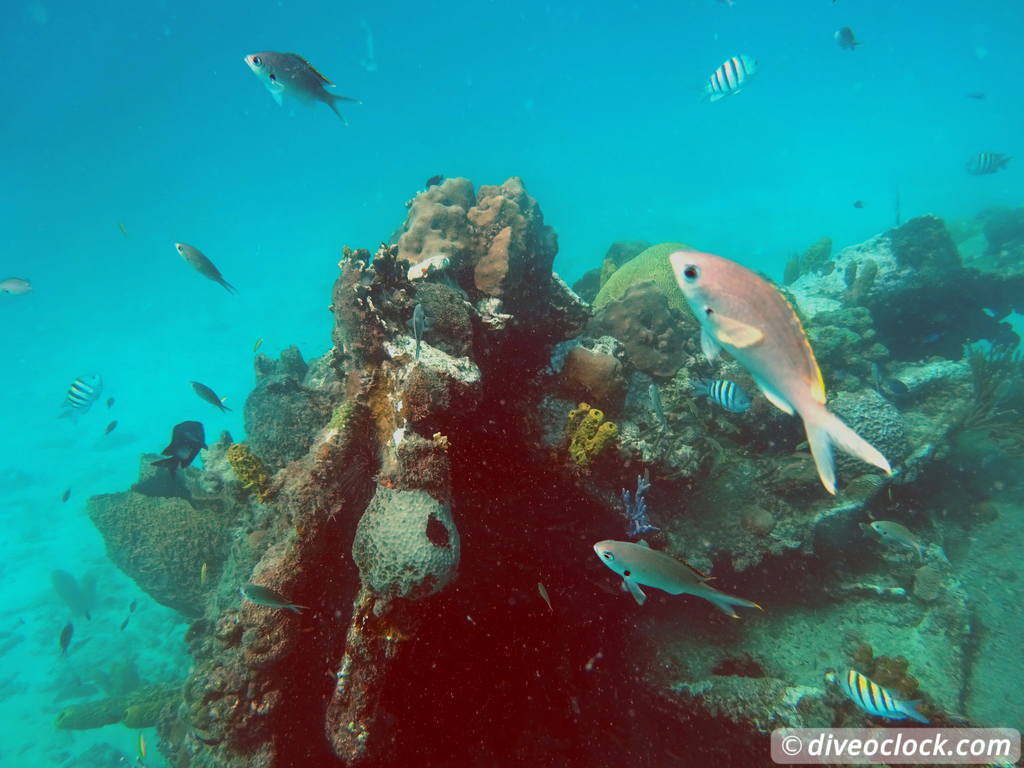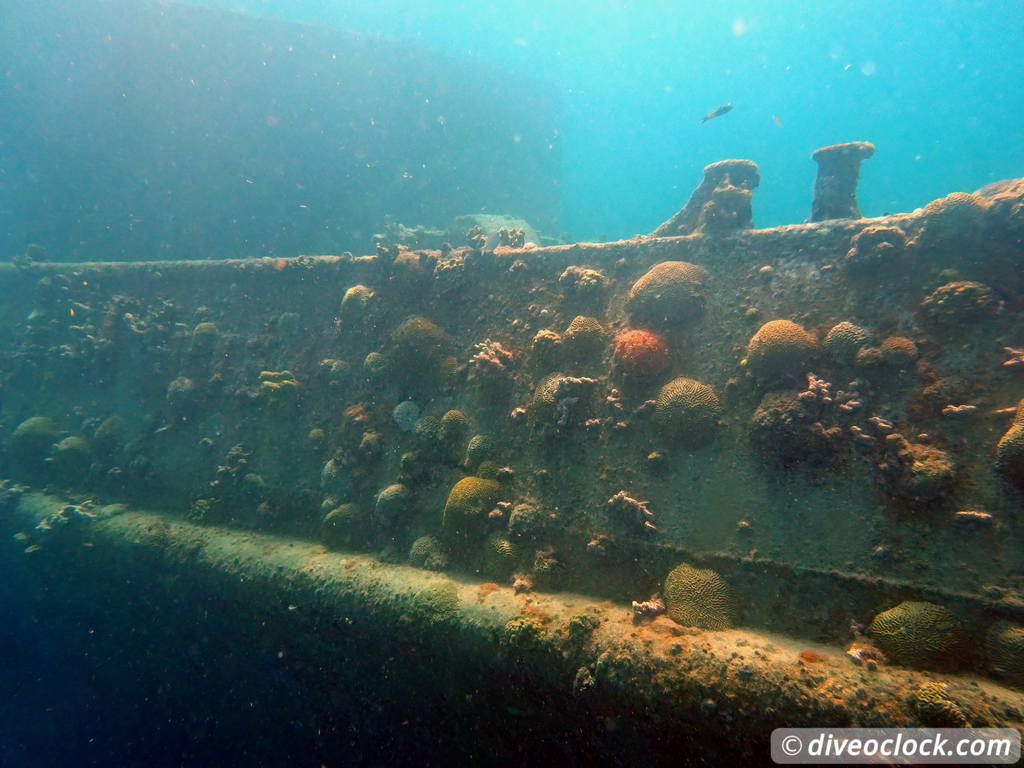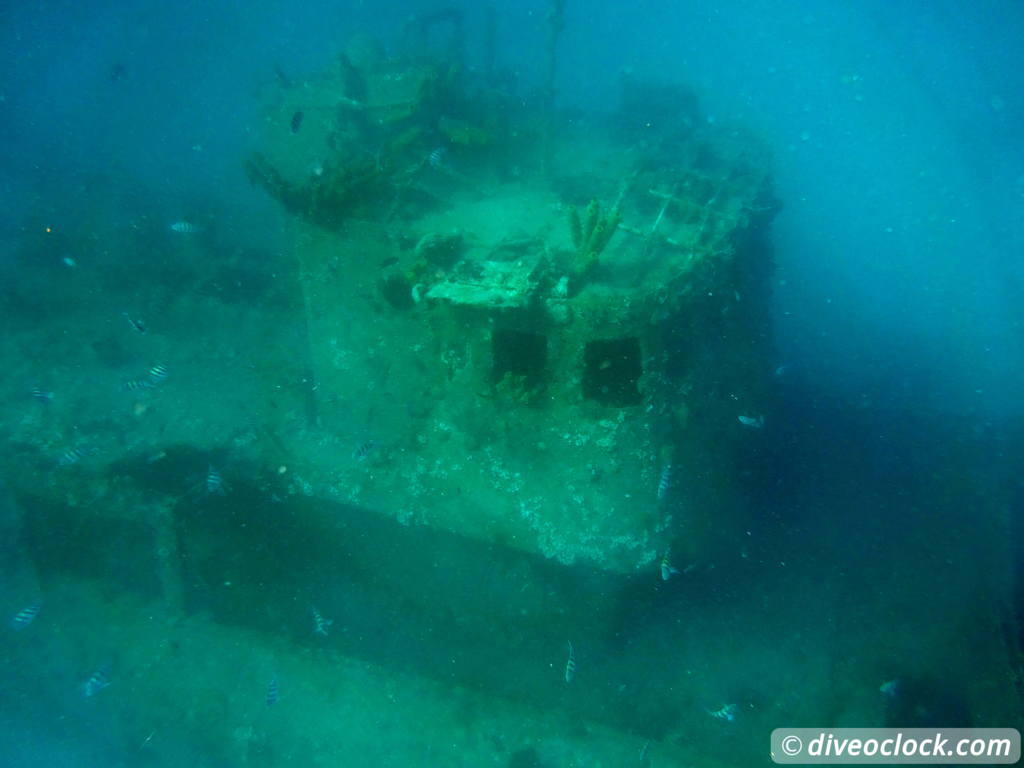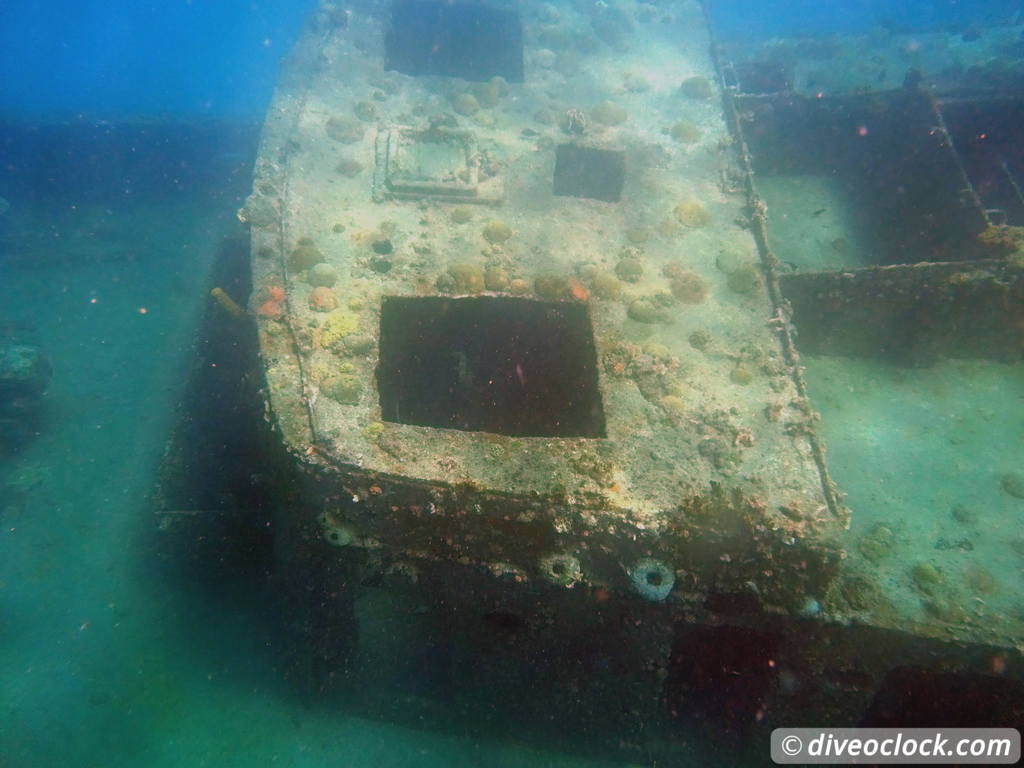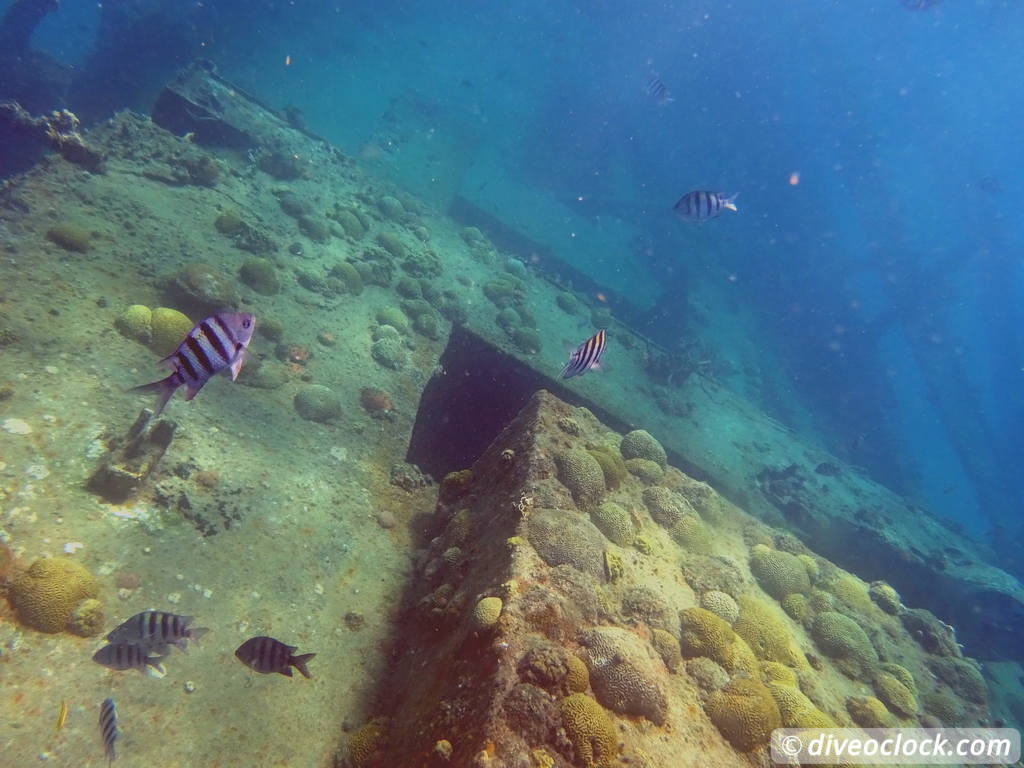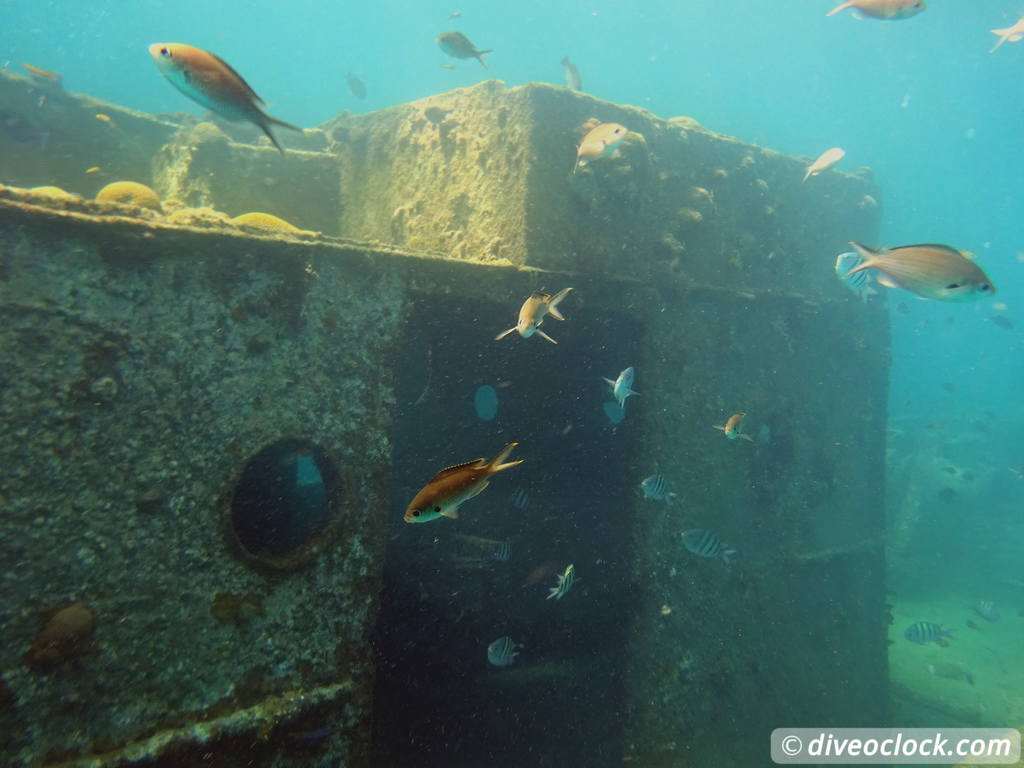 The wrecks of Carlisle Bay, Barbados
| | |
| --- | --- |
| Country | Barbados |
| Dive area name | South Barbados |
| Dive center | The Dive Shop Barbados (Permanently closed) |
| Famous for | Turtles and wrecks |
| Price | Single-tank shore dive unguided without equipment $25 USD. Guided snorkel trips daily, call the dive center for details. |
| Hotel recommendation | Pirate's Inn |
Turtles at Carlisle Bay
Barbados is also known for its impressive number of sea turtles and they are pretty easy to spot on the white sand in the shallow areas. Even if you just stay on the boat or on the beach you can spot some turtles catching air on the surface.
You can spot many Green sea turtles and Hawksbill turtles in Carlisle bay, we mostly saw Green sea turtles. They can weigh up to 200 pounds (about 90 kg). We counted about 20 on our snorkel trip. The biggest turtle was over 1 meter long, it is an amazing feeling to swim along and watch them from up close in the wild.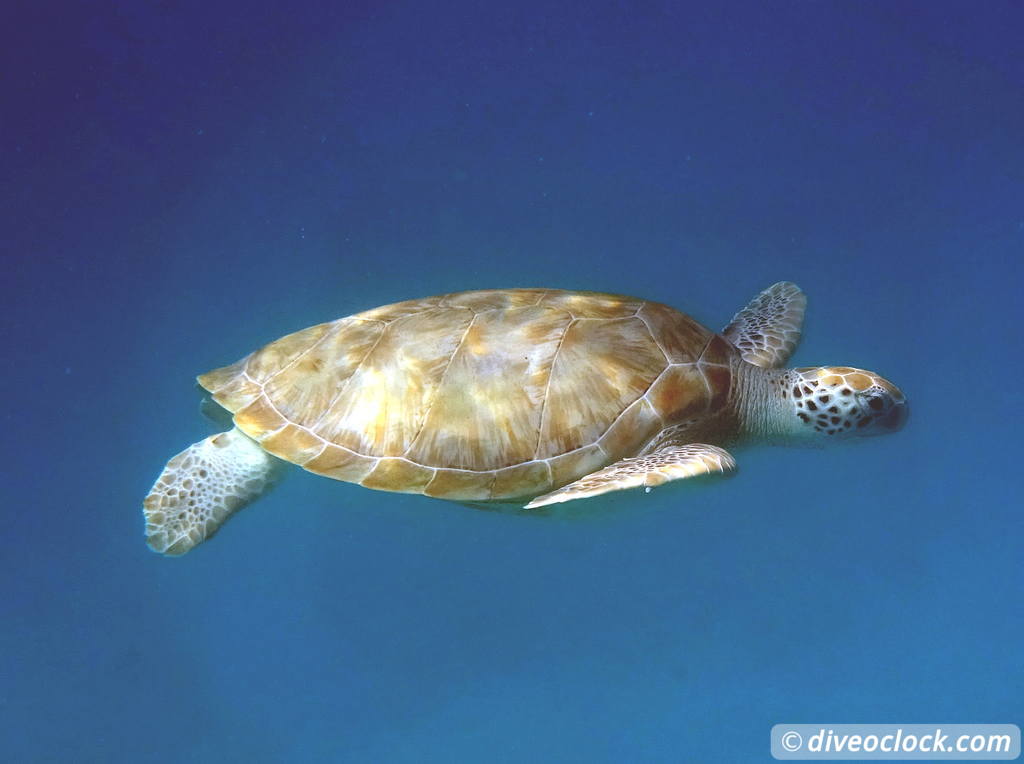 Green turtle in Carlisle Bay.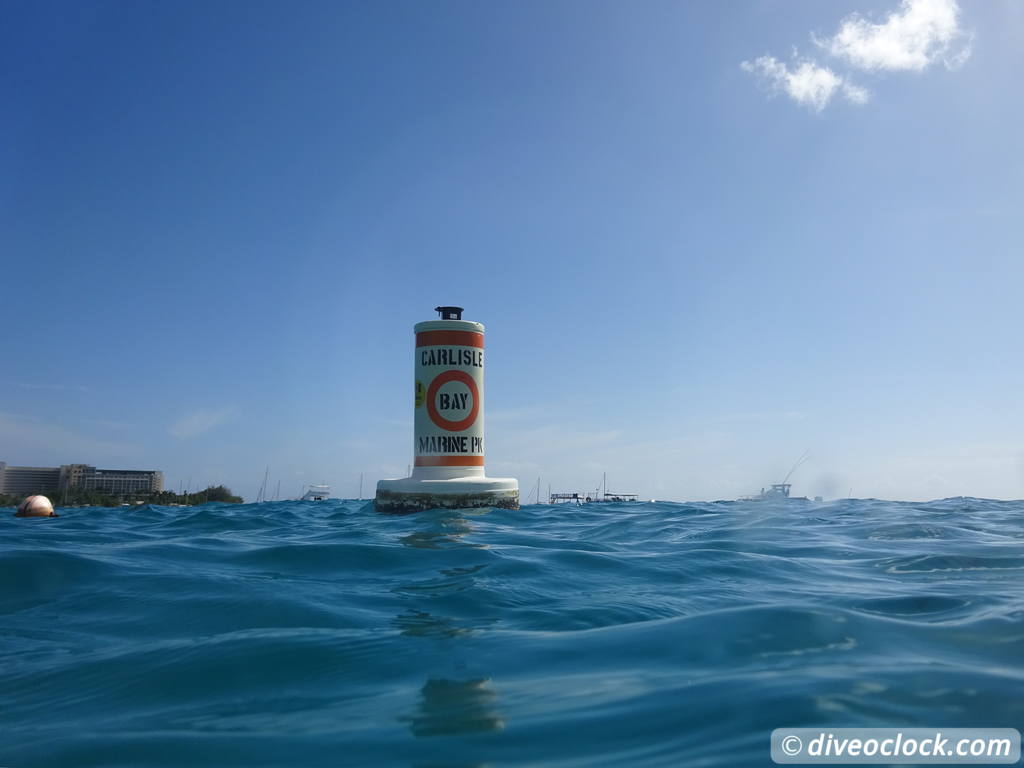 Marine park buoy in Carlisle Bay.
How to organize the wreck and turtle trip in Carlisle Bay
The best part: You can snorkel from the beach for FREE!
The shipwrecks are located in the Carlisle marine park, marked with some buoys and buoy lines. If you follow the buoy line from the shore all the way to the end you are in the right wreck area.
During the day, especially if there are cruise ships around, you can probably just swim to the crowd. Look for people splashing, swim noodles and people wearing lifejackets plus a circle of boats surrounding an area. Make sure to watch the boats in this area. Especially if you hear a boat engine, there is a lot of traffic around and you do not want to hit a propeller!
If you prefer a guided snorkel trip by boat you can book a group tour from $40 USD, often with rum punch. Various dive operators organize boat dives to the Carlisle wrecks as well. With The Dive Shop you could even skip the boat and dive the wrecks from the shore as the Marine park is part of their house reef. Update 2021: The Dive Shop is permanently closed. If you have another dive shop to recommend, please
get in touch
.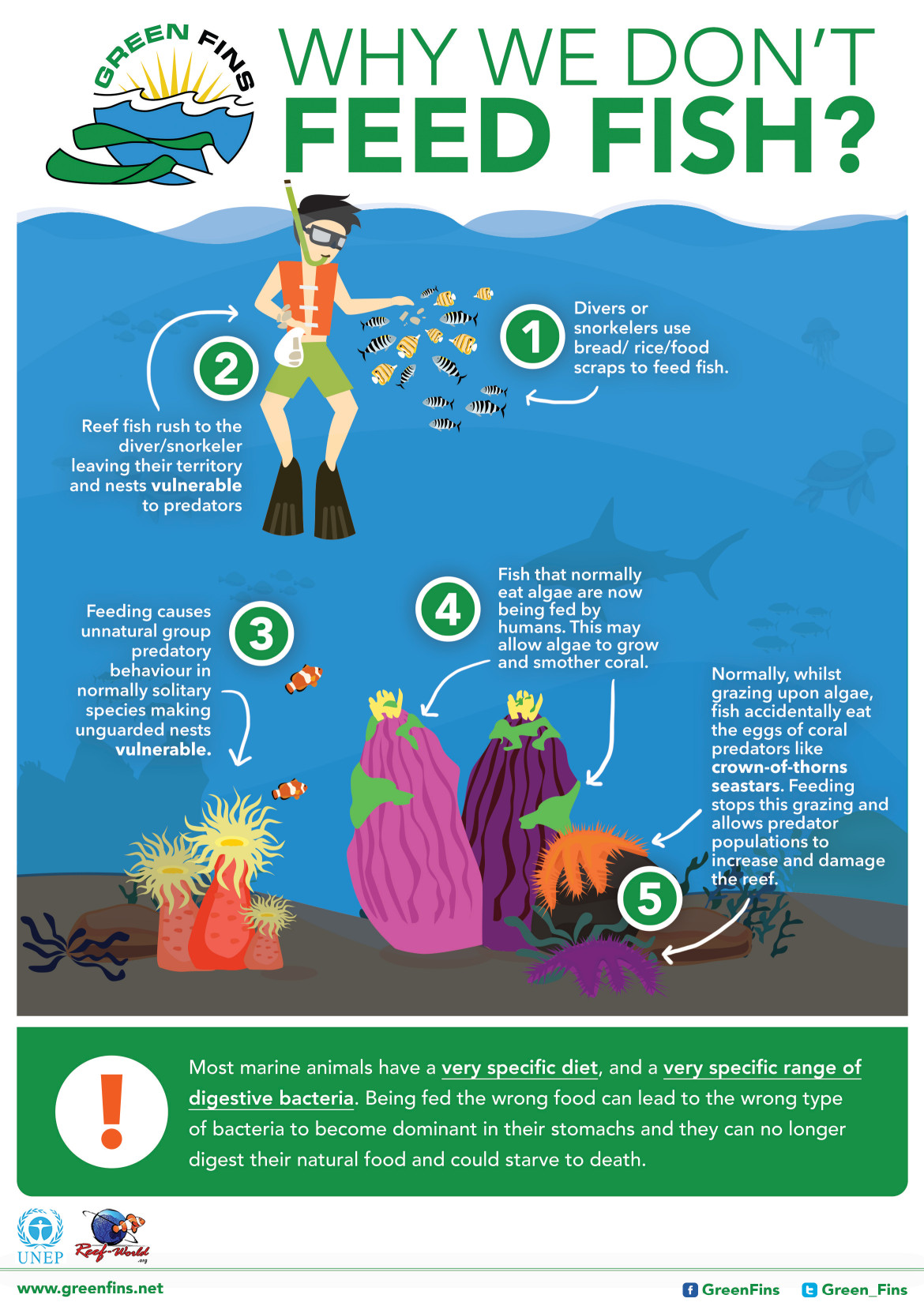 SCUBA diving the wrecks of Carlisle Bay is great for beginners, if you have not been diving for a while or for night diving. If you are an experienced 'wreck' diver there more interesting wrecks and reefs to dive on in Barbados. One of the most beautiful reef dive sites around is the G-spot and it is called the G-spot for a reason!
Read about it here!
If you love fish & turtles - do NOT feed them!
Some companies offer snorkel trips including feeding the turtles and fish. Please be aware that this is NOT natural and DO NOT touch turtles either! There are plenty of turtles around to experience a natural encounter which is more sustainable. Have a look at this infographic from GreenFins to learn why feeding fish is dangerous to fish health and the balance of the ecosystem.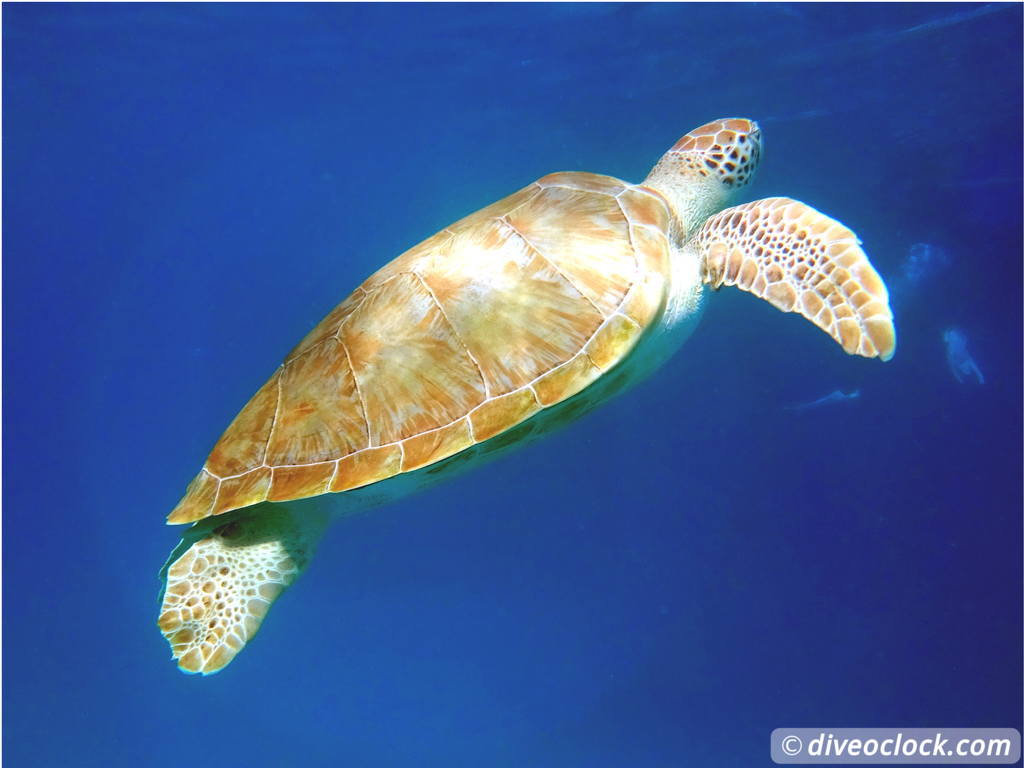 Please do not feed marine life!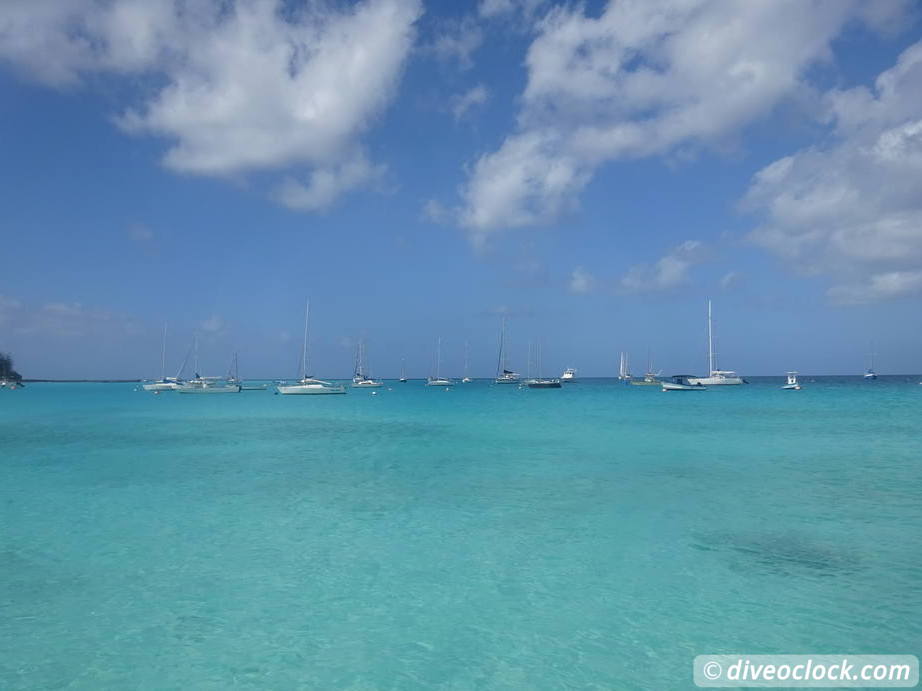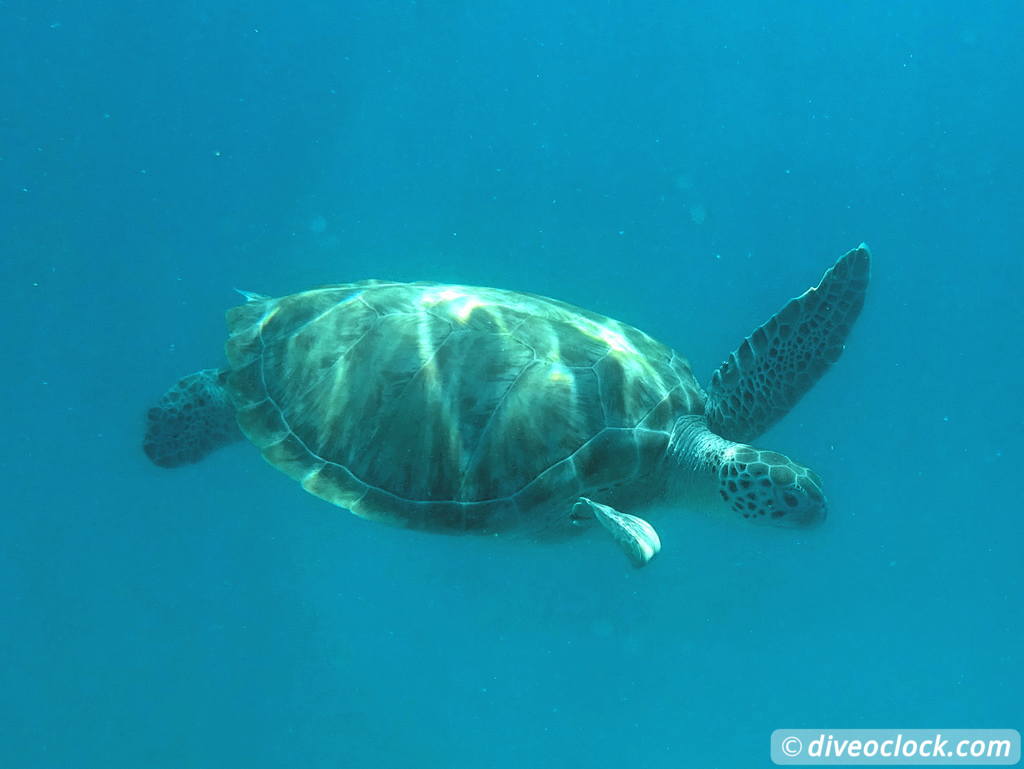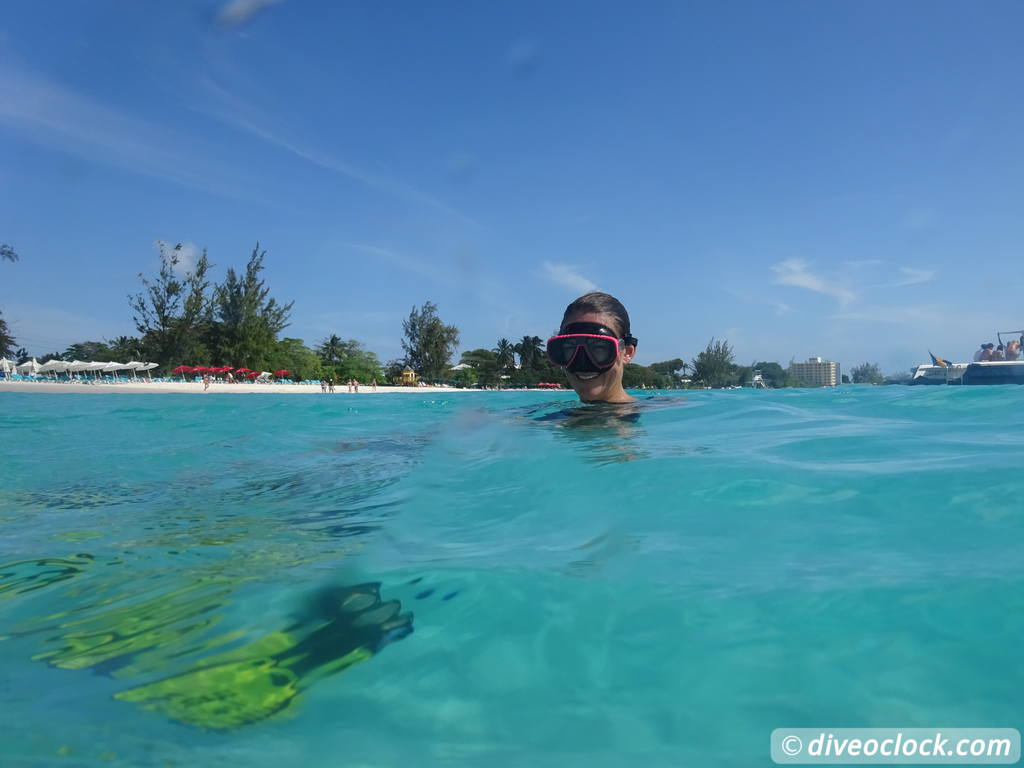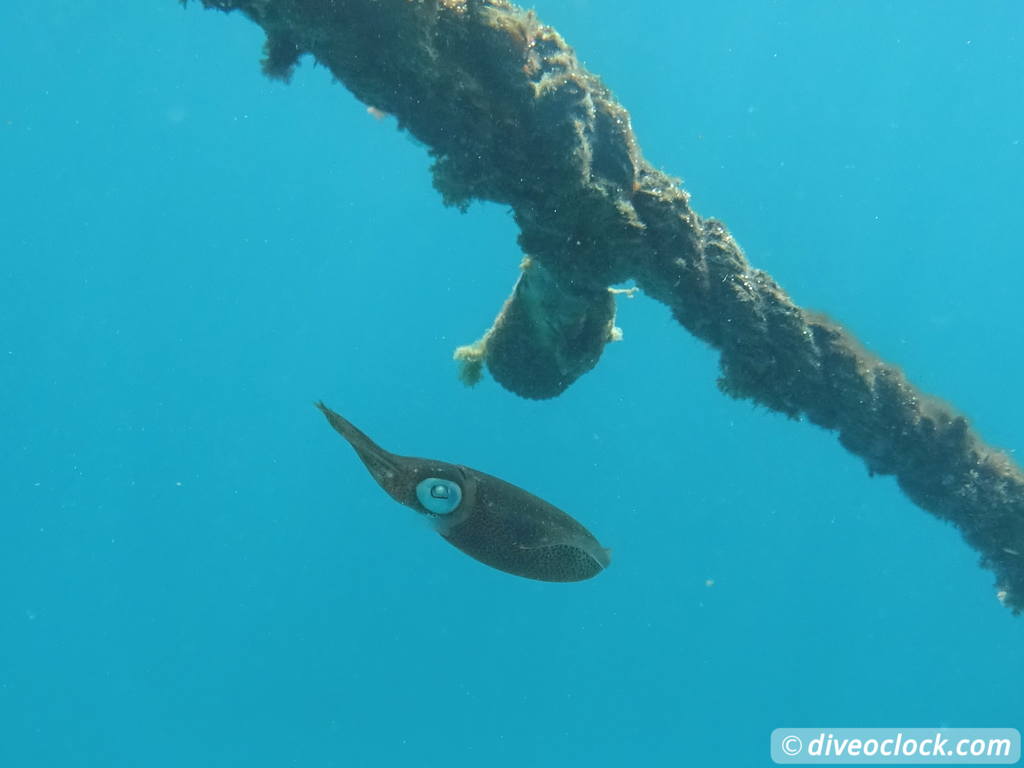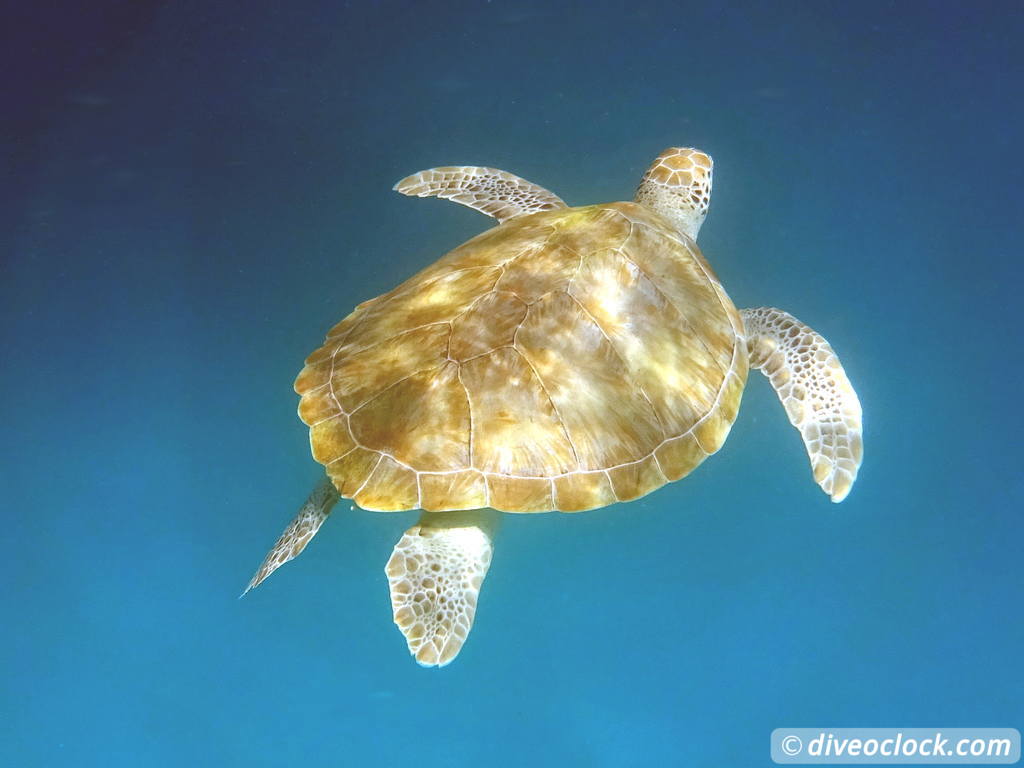 Snorkeling in Carlisle Bay, Barbados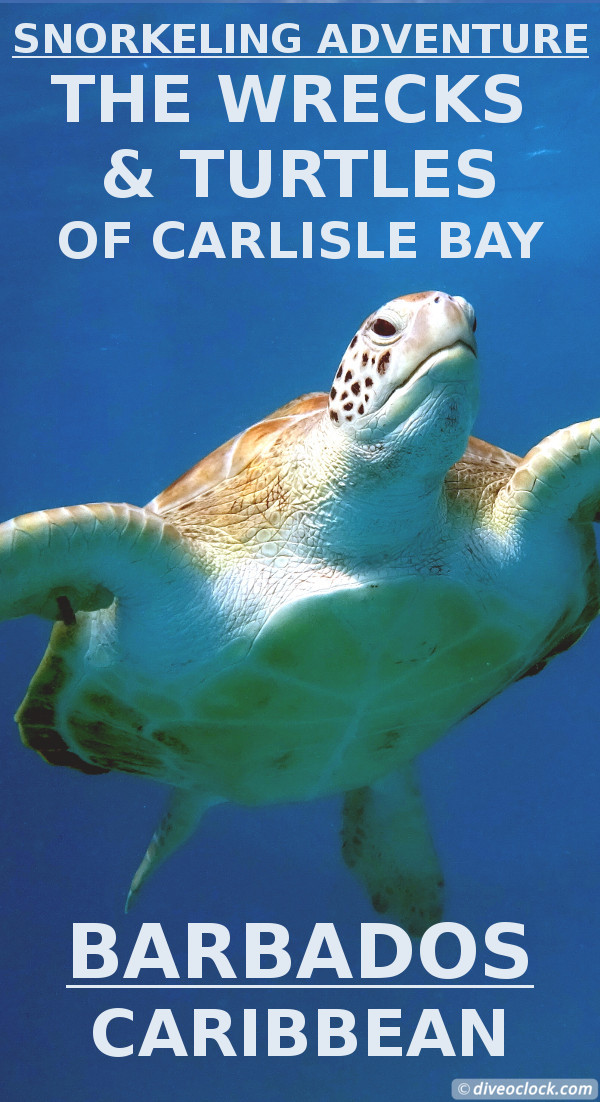 For more information about Barbados, things to do, restaurant and bar recommendations and a lot of useful travel tips for your holiday, visit my travel blog!
Click here for Barbados
on Crazy Dutch Abroad.
If you like this post, hit that like button on our
Facebook page
and stay tuned for more!
Marlies Wolters
Founder of Dive O'Clock "It's dive o'clock somewhere!"

Share this page: