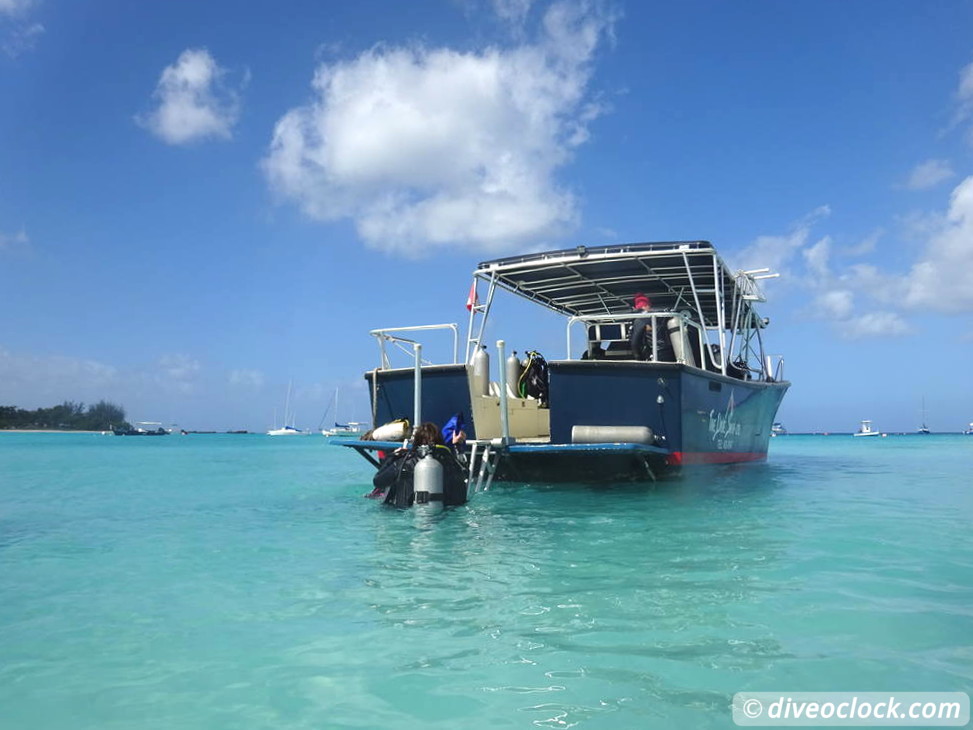 Getting on the dive boat in Barbados!
Diving the G-spot on Barbados!
Barbados is the most Eastern Caribbean island, known for an amazing number of wrecks and great visibility. What you might not know it that there are some beautiful coral reefs as well, with the G-spot as one of the highlights. It is called the G-spot for a reason!
Barbados offers about 25 dive sites, mainly along the Caribbean coast. Various dive centers cover a part of the 'selection'. There are some dive centers run and owned by a single person, taking up to 6 people in a small open-air fisherman's boat, and there are some bigger dive centers, taking care of more divers on a day and serving the cruise ship guests.
We tried to book with Seahorse Divers, one of the smaller shops run by David. We thought it would give us a higher chance of a small group, being able to go to dive spots for experienced divers and supporting a local business. Unfortunately for us he had a big group for the week so he called the company he used to work for: The Dive Shop.
We were lucky, they had space for us on the boat within a few days. On top of that a 'big trip' was planned with experienced divers to a dive site a bit further from the dive shop, close to Oistins, called the G-spot. Apparently this is one of the best reef dives along the South coast as not many dive boats go there often, healthy reefs were expected! What is normally a single-tank boat ride was turned into a 2-tank trip, perfect!
Barbados is known for crystal clear visibility and close to shore you can see the bottom easily. Turquiose waters and crystal clear waters form a layer around Barbados, just stunning! We were excited to explore the visibility at greater depth.
Country
Barbados
Dive area name
South Barbados
Dive center
The Dive Shop Barbados (Permantently closed)
Famous for
Turtles and wrecks
Price
2-tank boat dive with tank and weights $120,- USD (Air) including equipment rental, drinking water and pick-up/drop-off at your hotel.
Discounts apply on multiple dive packages.
Hotel recommendation
Pirate's Inn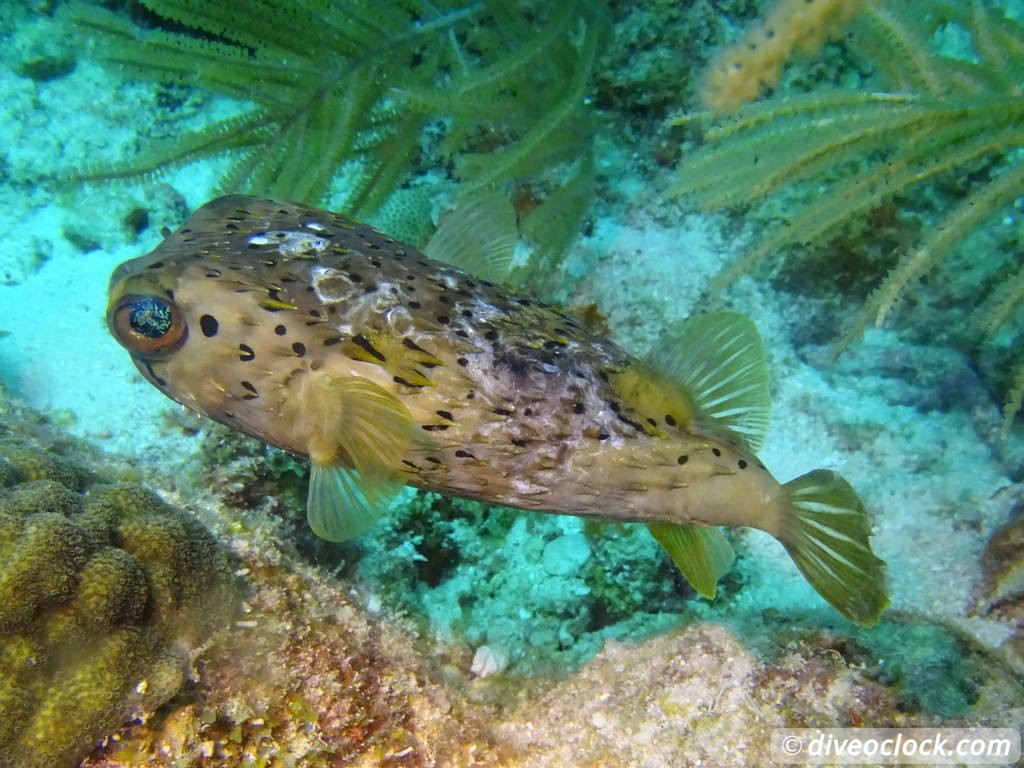 Balloonfish
G-Spot
At the dive spot, the G-spot, there were many nutrients in the water, a lot of particles floating around. Our visibility was about 20 meters, not the 100 meters as expected, but still good.
We jumped in and saw three Eagle rays in formation at a distance, the video and photos came out all blurry - but what a great start! The G-spot is known for spotting Eagle rays on almost every dive - check!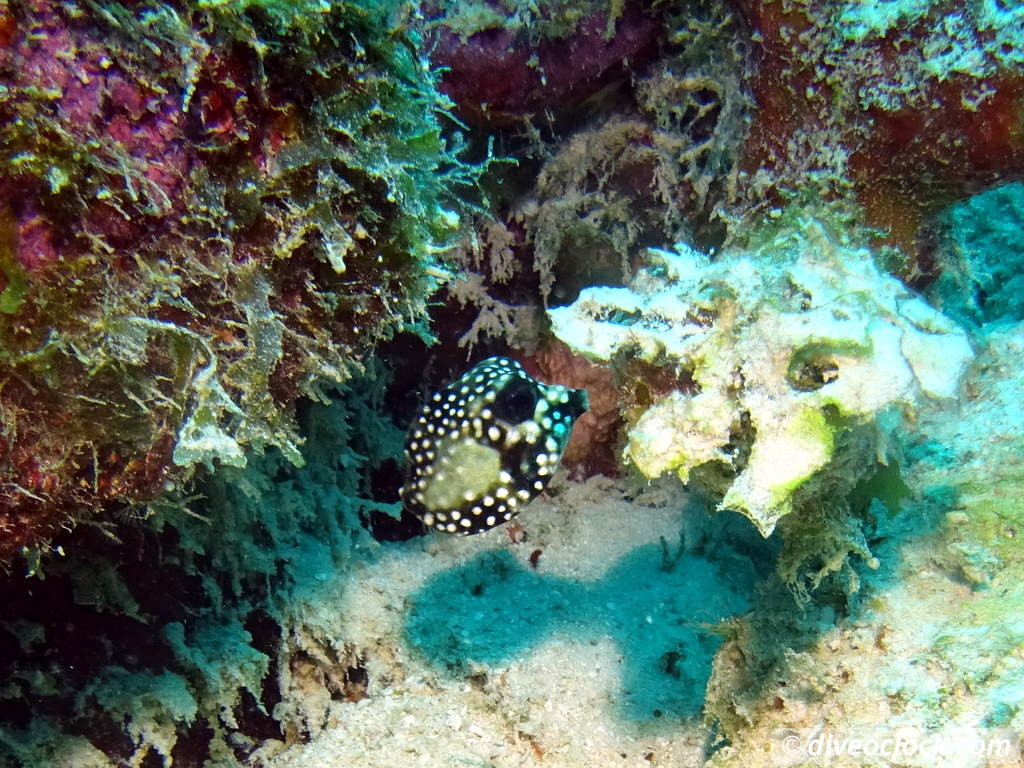 Juvenile Smooth trunkfishes
The reef was healthy, many Barrel and Vase sponges plus sea fans along the bottom and Damsel fish dancing on the reef. Lots of Balloonfish were around, an impressive number I have to say. Often they were resting in Sponges, not sure if that is the best hiding place as they are recognized easily. Some Rock beauty fish (Angelfish) were around, I have not seen them a lot in the Caribbean.
Juvenile Smooth trunkfishes were spotted everywhere, they are like swimming tiny boxes - so cute! Lobsters, Cleaner-shrimps, muray eels, Cowfish, even a Spotted drum we found on G-spot.
The current was mild, barely noticeable and the reef structure was mainly flat, fringing reef to about 30 meters.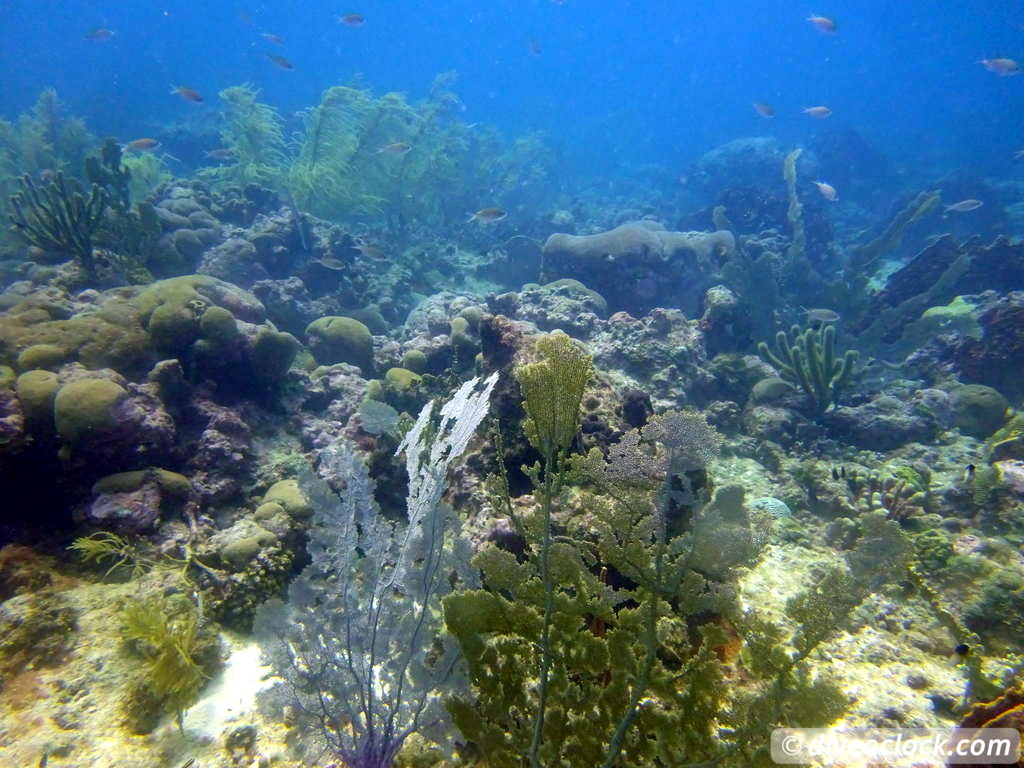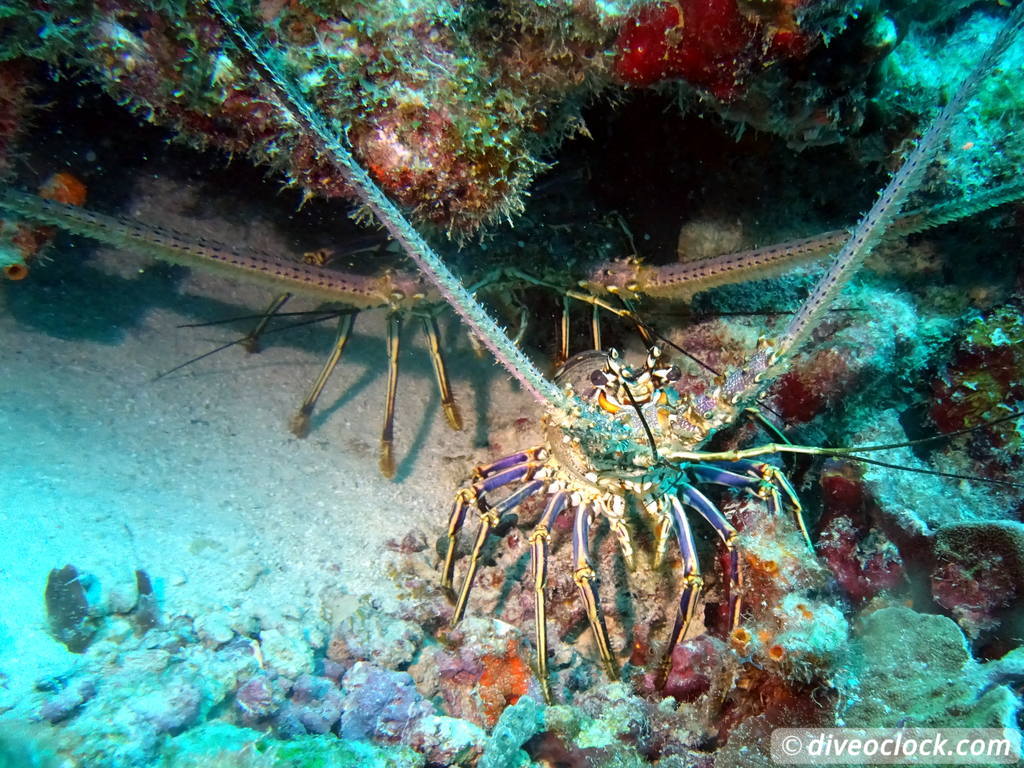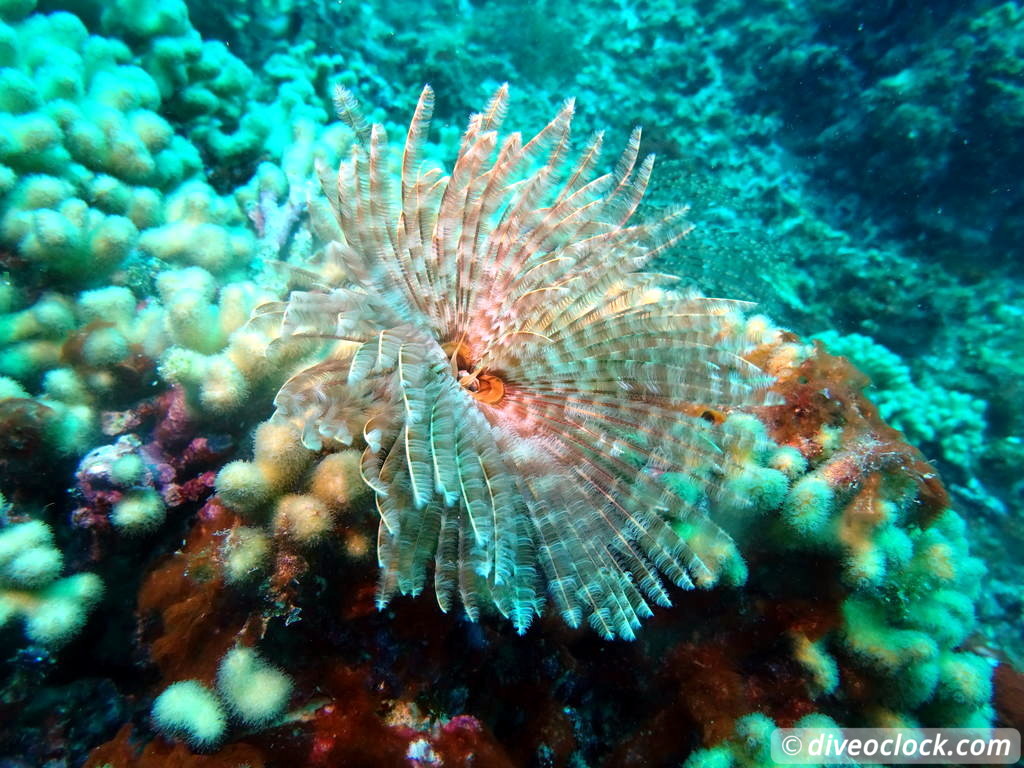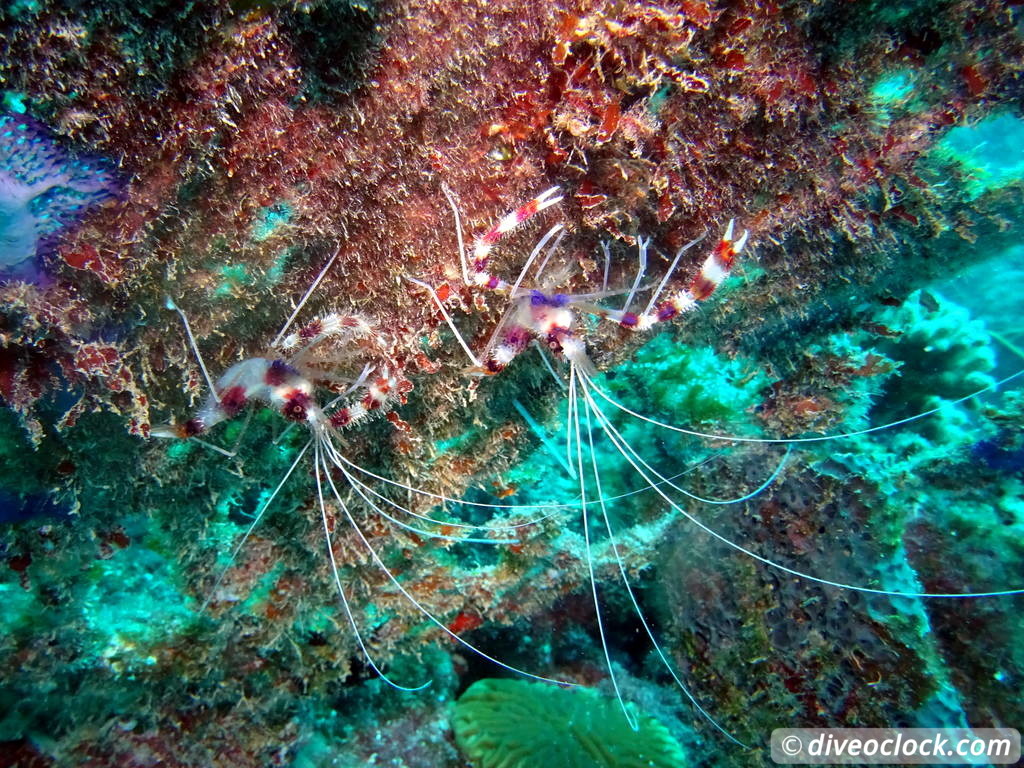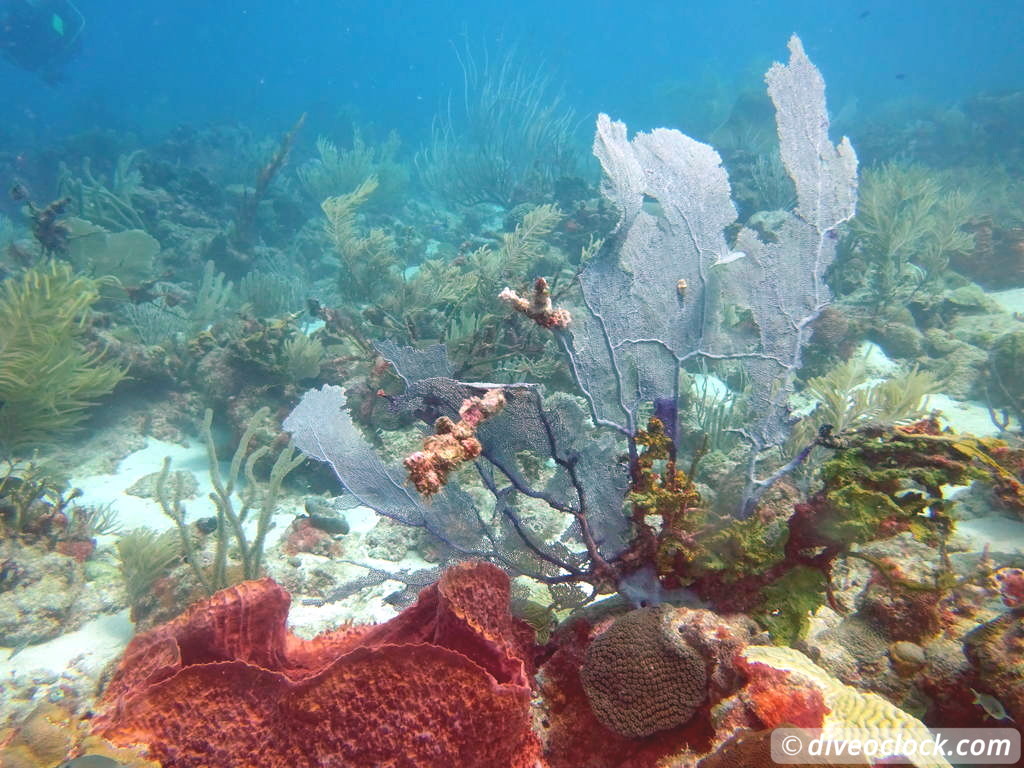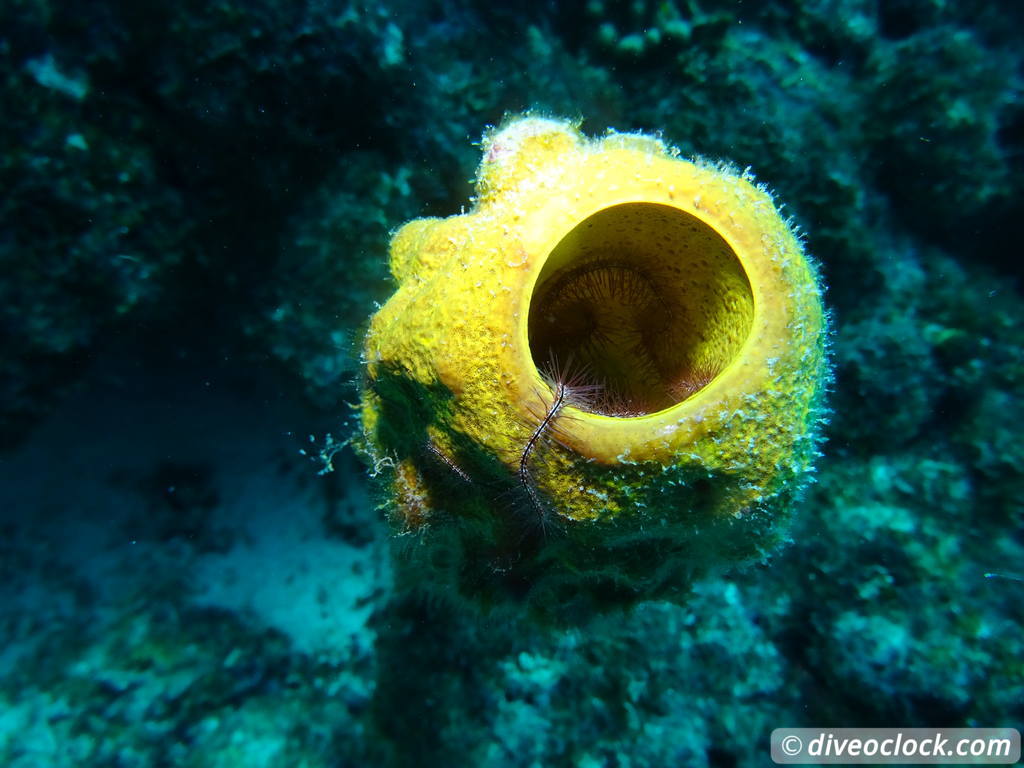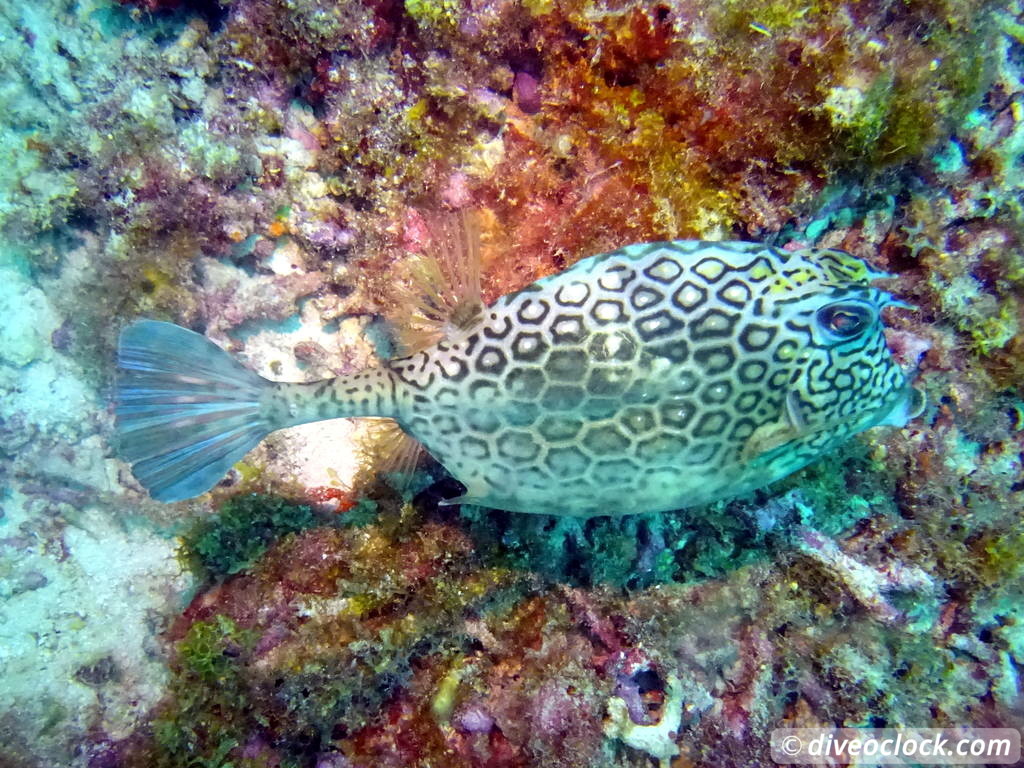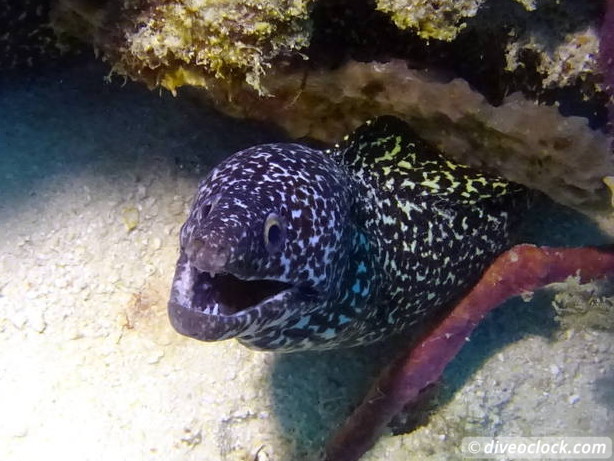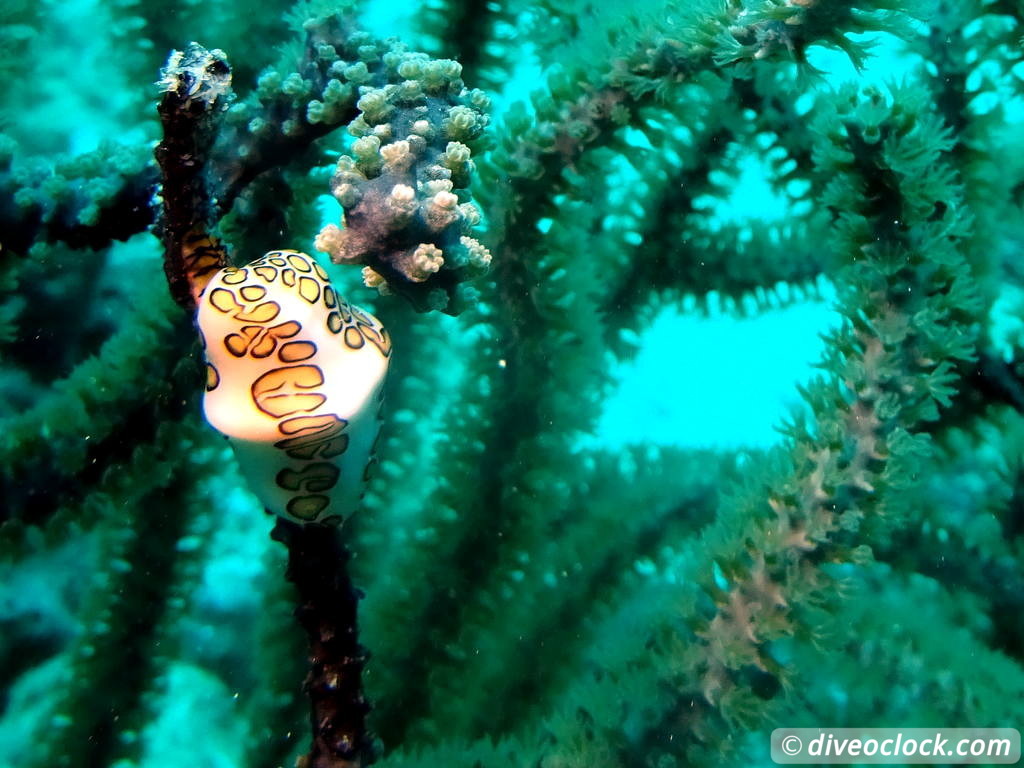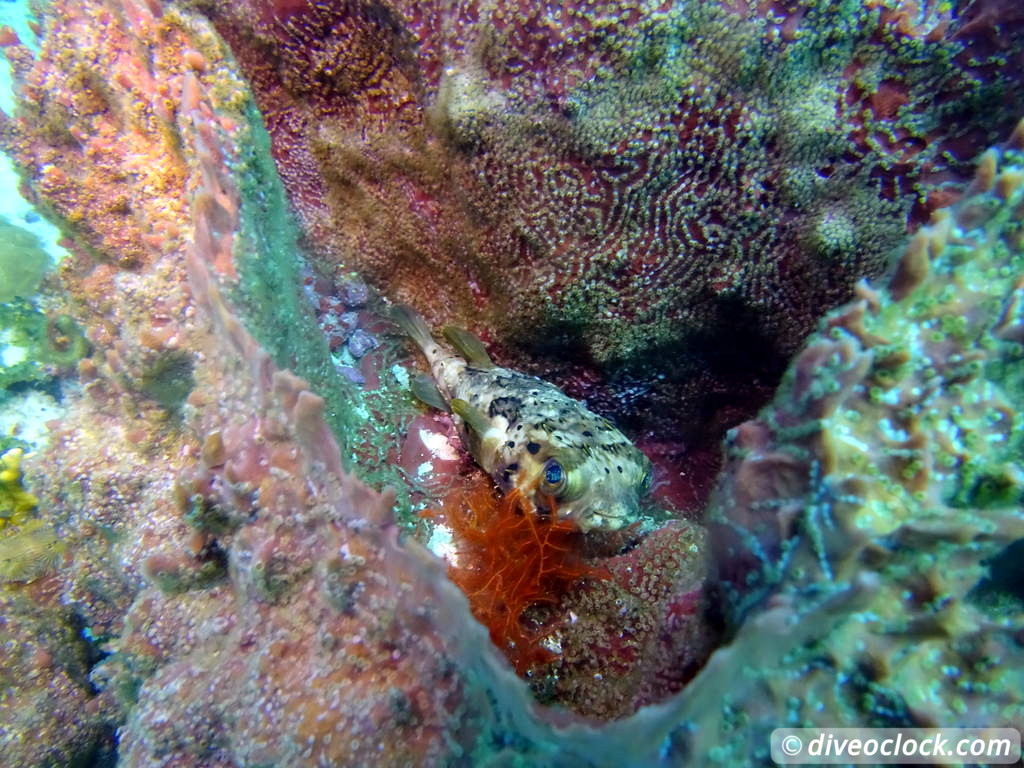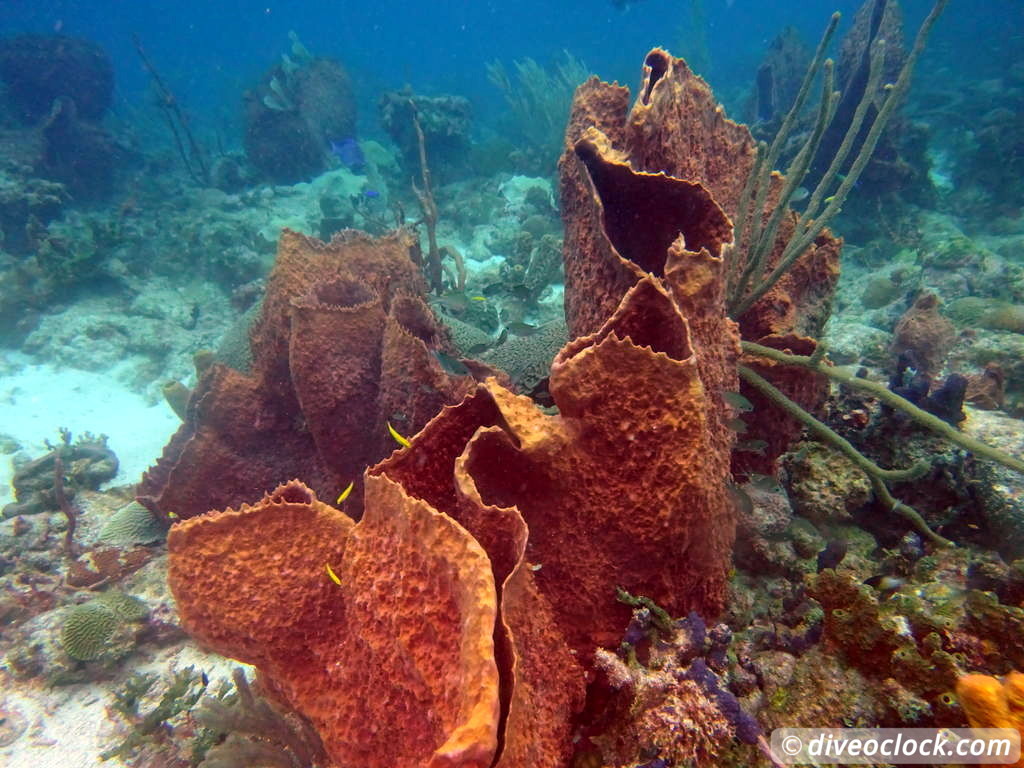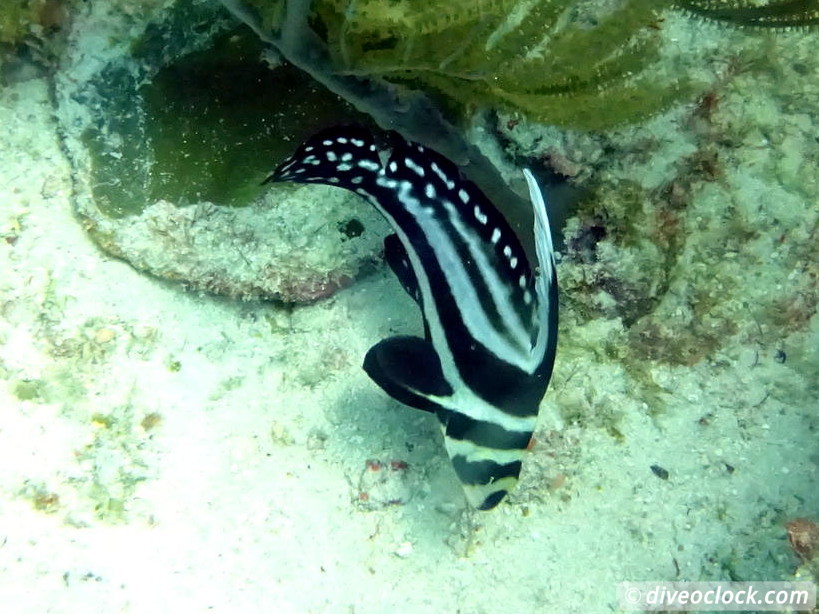 Marine life at G-spot, Barbados
Boot
In the shape of a boot shoe this reef is another favourite spot in the South of Barbados. The reef was less dramatic as G-spot but still a good coral cover. Turtles were all around as well as well as some big Trumpet fish and Peacock flounders.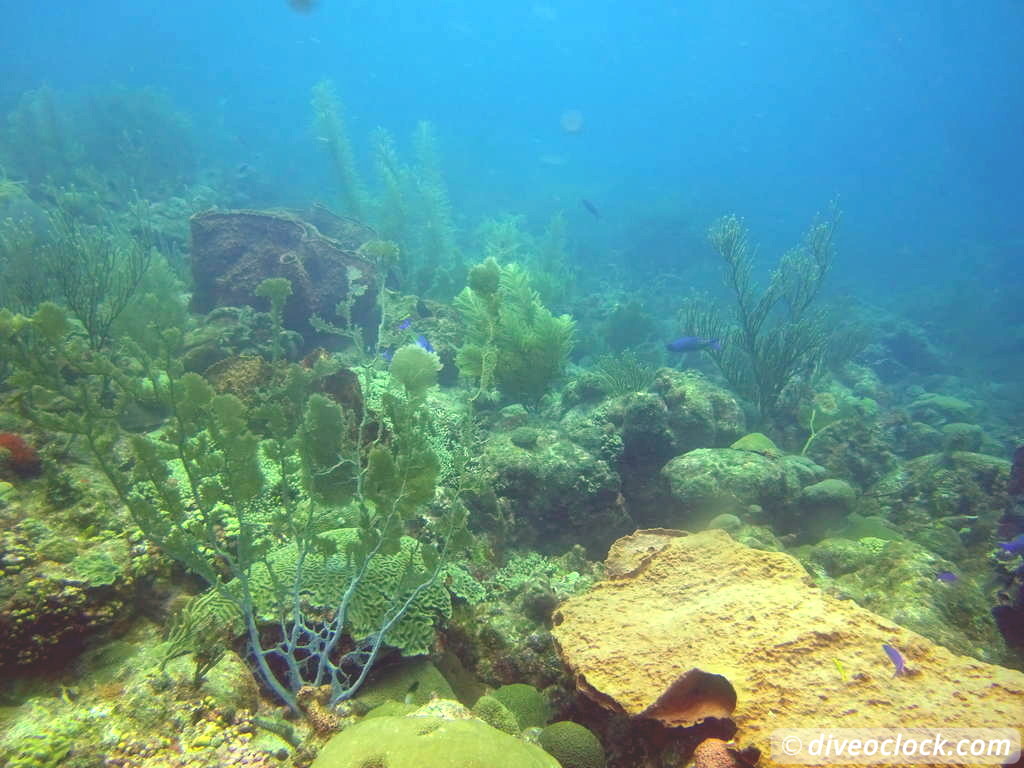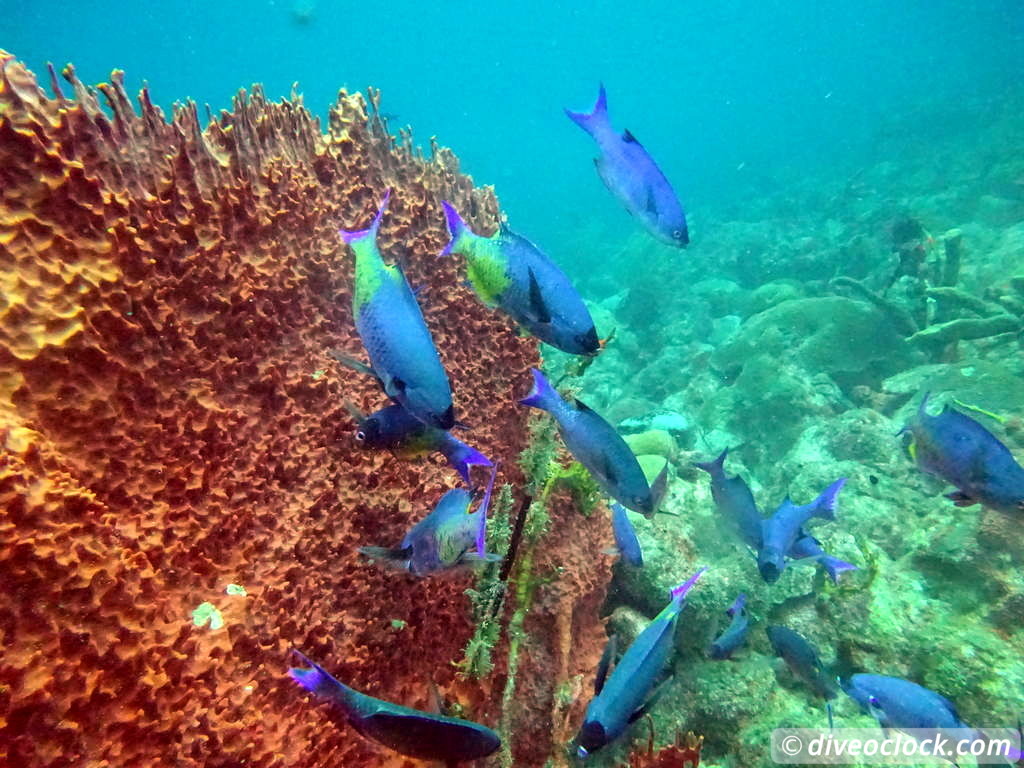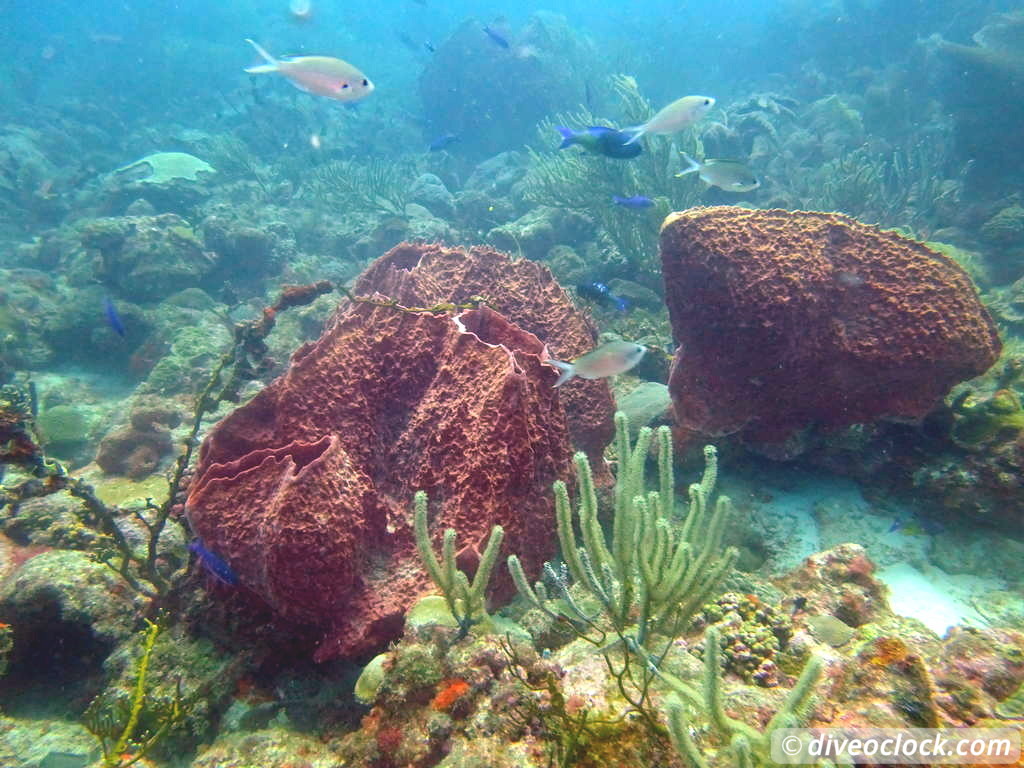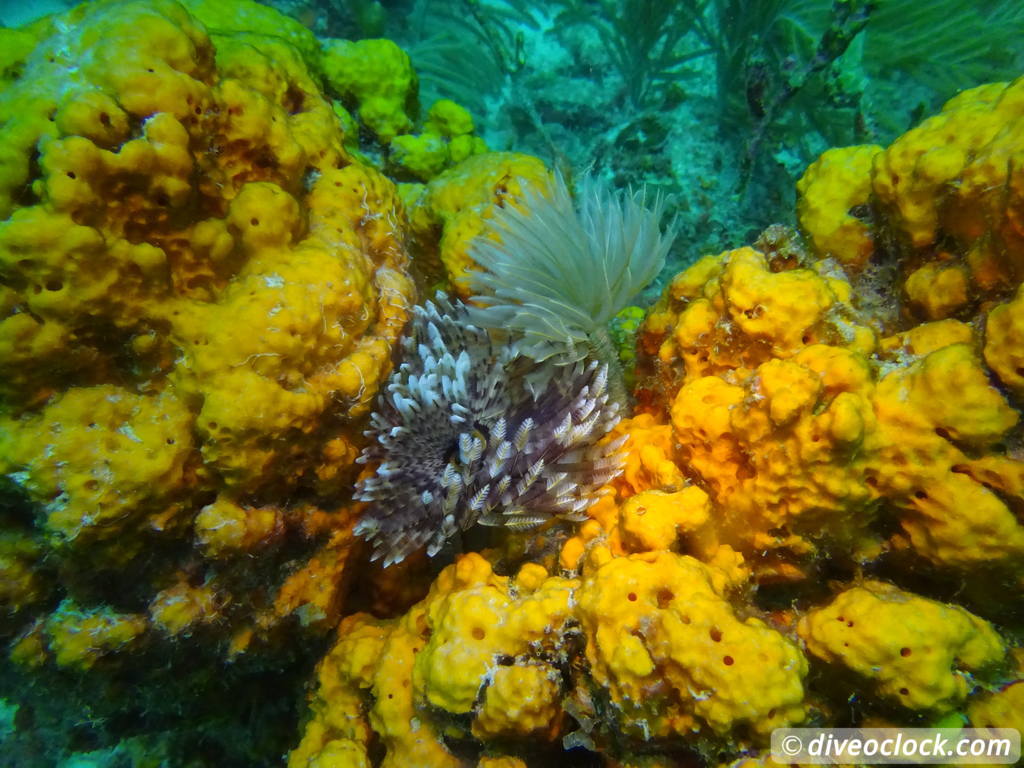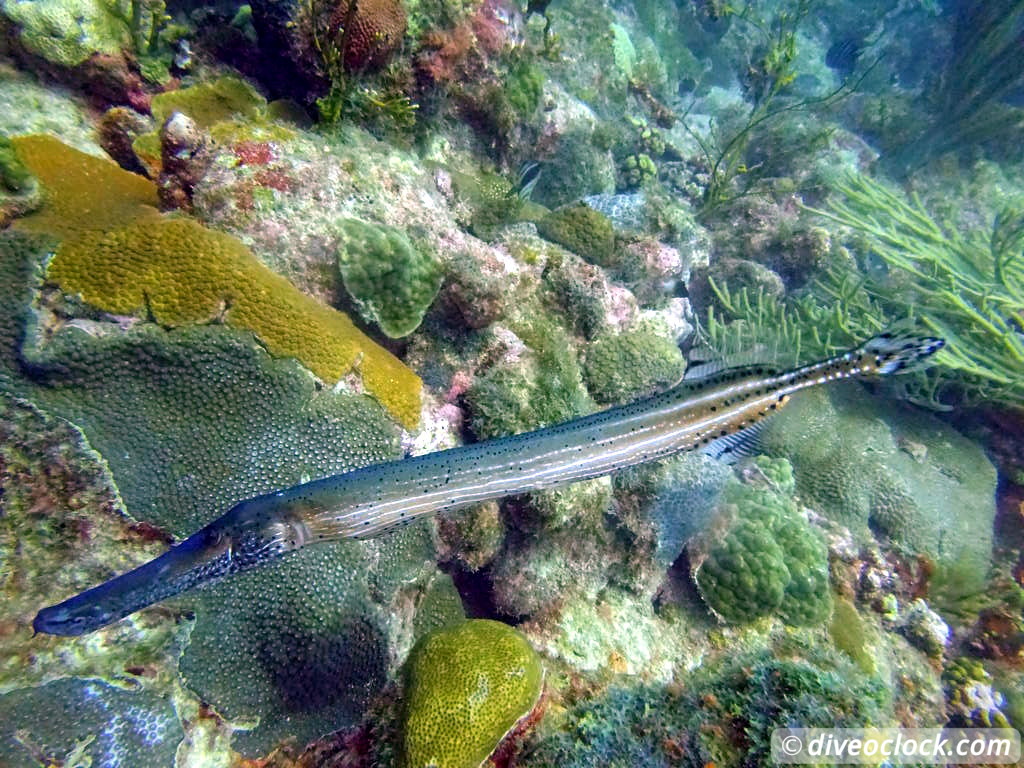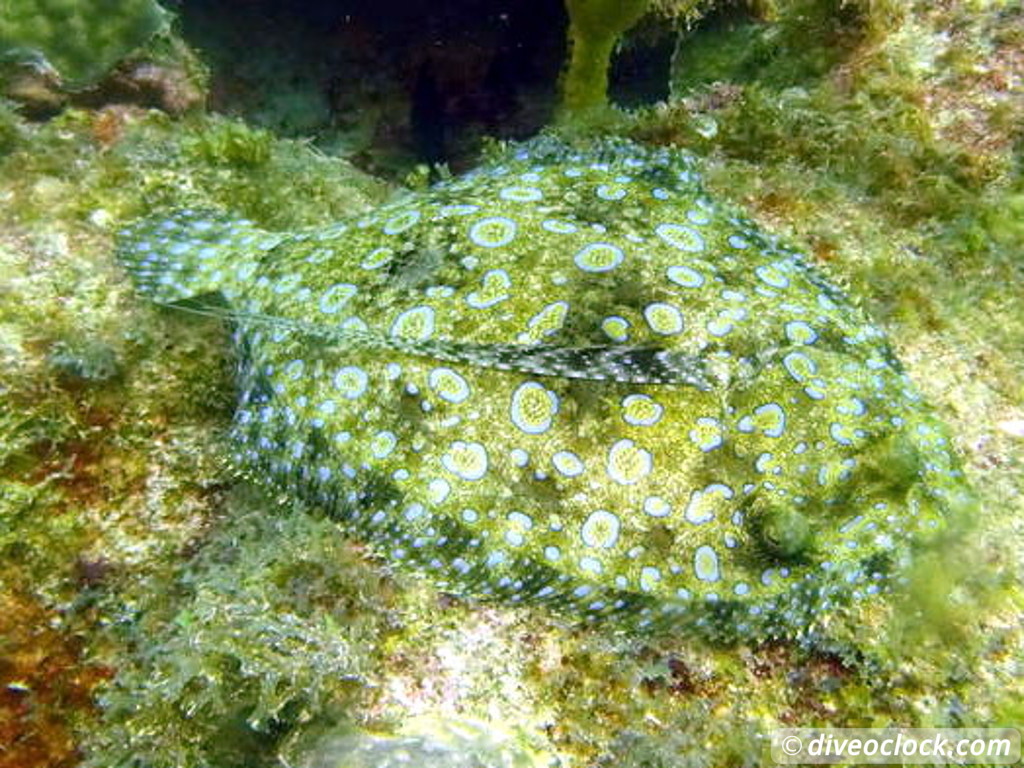 Marine life at Boot, Barbados
Comparing dive destinations
Bottom structure
Reef structure
Pelagic
(big stuff in the blue)
Big reef
(bigger stuff on the reef)
Macro
(small stuff on the reef)
Current
(stream)
Flat bottom with bumps/big rocks/pinnacles
Hard corals
(not moving)
Sharks
Turtles
Nudibranchs
(snails/slugs)
No current
Slope (going down slowly)
Soft corals
(moving)
Rays
Eels/snakes
Sea horses and pipe fish
Small
(you can easily swim against it)
Wall
(steep but you see the bottom)
Table-/fan-shape
Trevally/Jacks/Tuna
Groupers
Scorpion/frog fish
Medium
(you can swim against it for a little while/higher air consumption)
Drop off
(steep and you can't see the bottom)
Anemones
Barracudas
Lobsters/crabs
Octopus/squid
Strong/reef hooks
(you cannot swim against it)
Blue
(no reference)
Sponges
Sardines/herrings
Puffers
Shrimps
Pumping/washing machine/OMG/hold your regulator
(superman)
About the organization of The Dive Shop
Previously known as Dive Limited the oldest dive center of Barbados is The Dive Shop, located at the beach of Pebbles and Bayshore in Carlisle Bay. As mentioned before we wanted to go with a small company, but when we saw the boat of The Dive Shop we realized changing for a bigger dive shop was a good decision!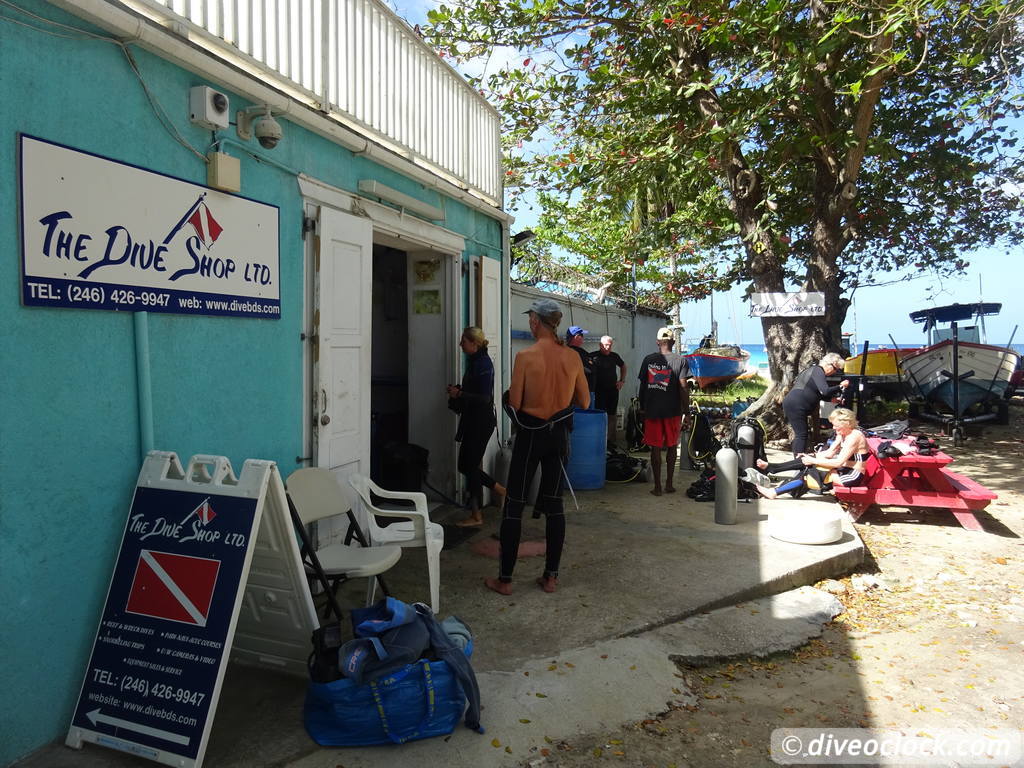 The Dive Shop Barbados.
The boat was spacious with benches to easily set up your equipment, a lot of shade and even a small cabin where you can change some clothes if necessary (no toilet). To go on board you need to carry your full set and walk from the dive shop to the boat over the beach, the water was about breast height next to the boat. You take your own equipment with one tank back to the dive shop as well. Weights stay on board. There are no fresh water buckets for cameras and dive computers on board.
Fatema was helping us out getting organized and picked us up from the apartment, right on time! She advised us to bring a set of dry clothes as well, and we found out why! With the constant wind of Barbados it gets pretty cold when you are back on the surface. The shop has a front desk, you can buy some dive equipment and there are lockers/changing facilities. Outside there is a shower and hoses to rinse your equipment plus one fresh water barrel for everyone to use.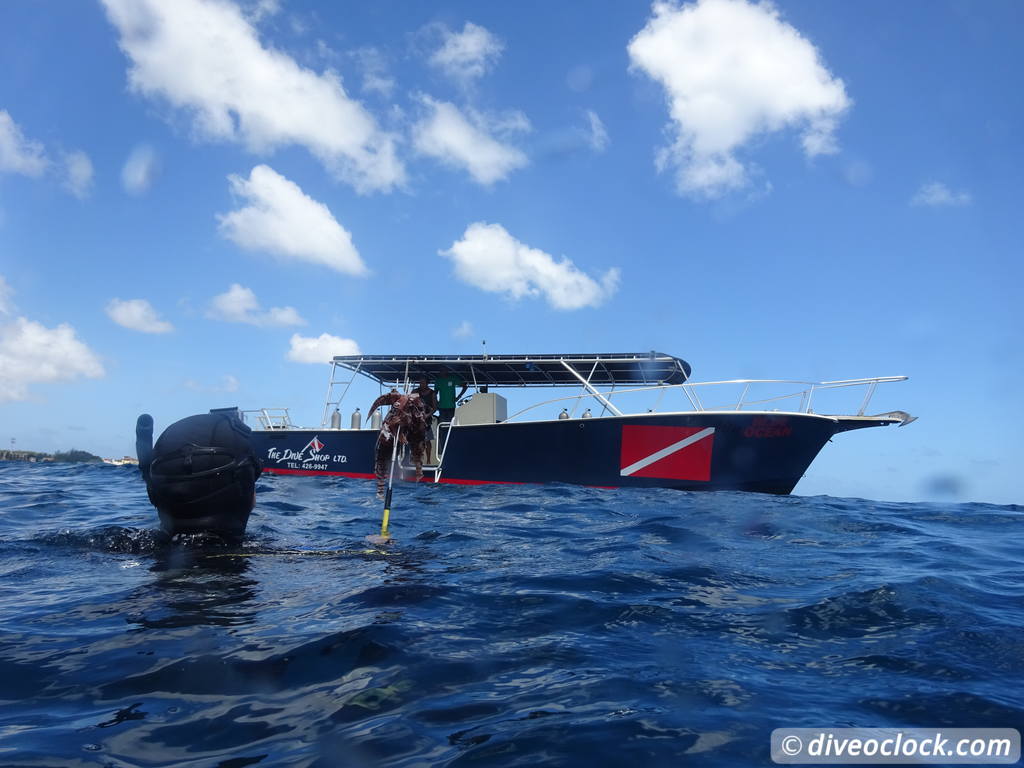 Lionfish!
Kane was our dive guide, we had a small group of three fun divers because the rest was diving without a guide. He gave us an excellent dive site briefing and showed us a few creatures underwater. There was no boat briefing about oxygen or life jackets. As the dive sites were easy to navigate and everybody was very experienced he did not really guide us the whole dive. Instead he went hunting with his girlfriend for Lionfish, an invasive species in the Caribbean. They got quite a lot and it was the first time I saw people hunting Lionfish myself, very interesting!
Update 2021: The Dive Shop is permantently closed. If you have another dive center to recommend, please get in touch.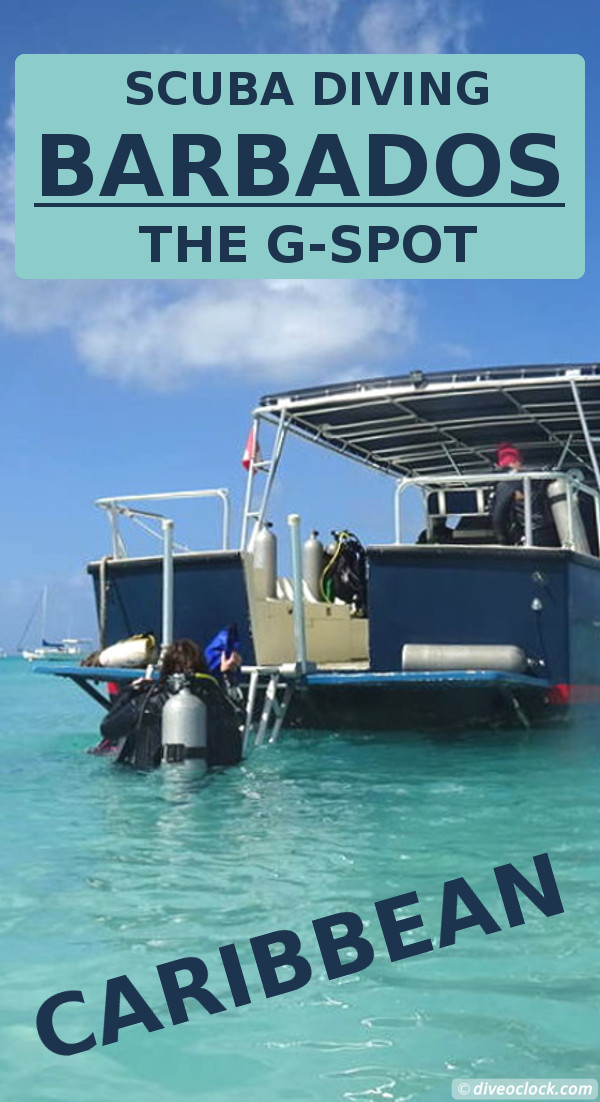 The Wrecks and Turtles of Carlisle Bay, Barbados
How about a relaxing day at the beach with some wrecks just off shore? Need more? How about a dozen of turtles on top of that? Read why snorkeling with turtles and exploring the wrecks of Carlisle Bay should be included in Barbados trip and how to organize it.
For more information about Barbados, things to do, restaurant and bar recommendations and a lot of useful travel tips for your holiday, visit my travel blog!
Click here for Barbados
on Crazy Dutch Abroad.
If you like this post, hit that like button on our
Facebook page
and stay tuned for more!
Marlies Wolters
Founder of Dive O'Clock "It's dive o'clock somewhere!"

Share this page: