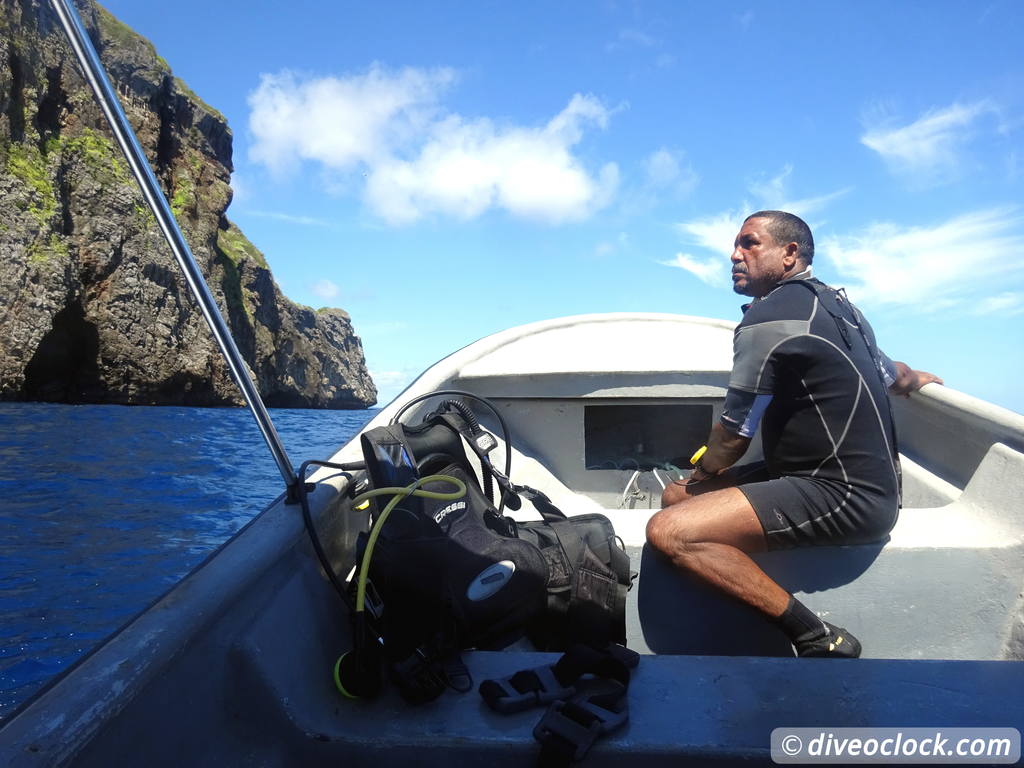 Dive O'Clock with our experienced dive guide Jose!
Samana Hot Spot: Diving The Tower of Cabo Cabron (Dominican Republic)!
At the end of the Samana peninsula you will find a beach town called Las Galeras. From here you have access to most dramatic seascapes of the Dominican Republic. The highlight is The Tower or Piedra Bonita, an underwater pinnacle that drops down to 55 meters.
After exploring the
Bayahibe
area with shallow colorful reef dives on the Caribbean side it was time for a more rough experience along the Atlantic coast. As soon as you enter the Samana peninsula you can see the landscape dramatically changing. Hills turn in to mountains, roads starts to swirl and scenic views with stunning beaches seem to appear around every corner. The area is different from the other coastlines, no big resorts or all-in entertainment with all kinds of motorized water sports, it is quiet and more local.
By driving through the small villages you will see a more laid back vibe with strong Caribbean and even some reggae influences. High season runs from January to March, when there are Humpback whales passing through! As we were there in May it was time for another interesting part: Exploring the dramatic seascape of Piedra Bonita or The Tower!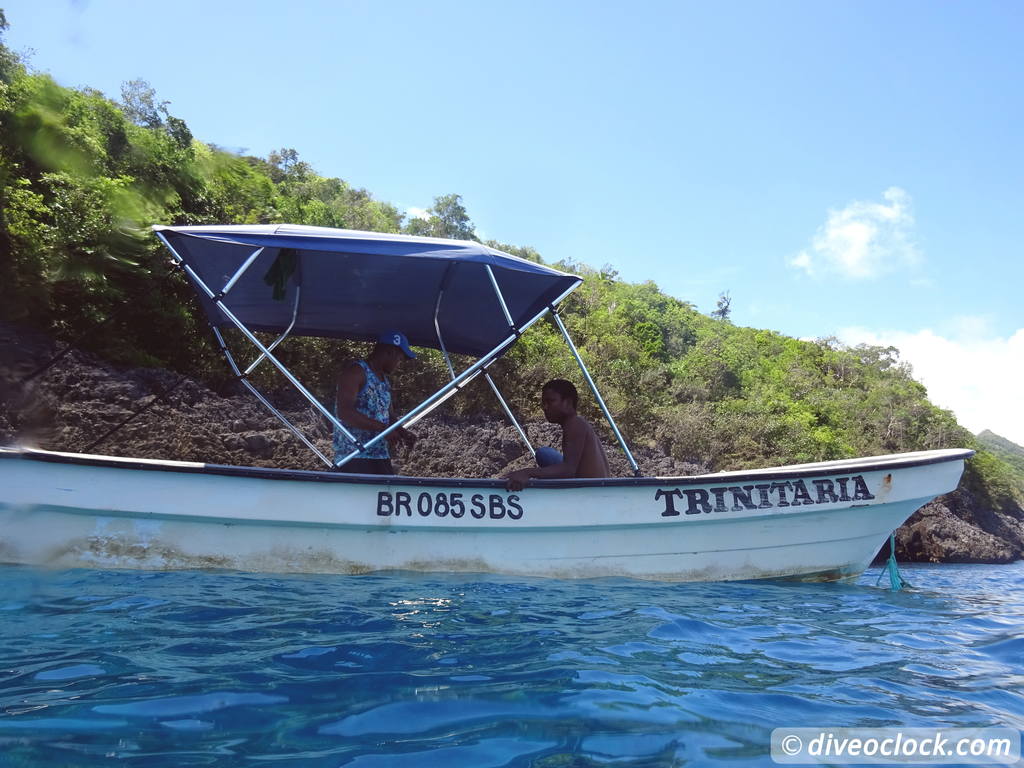 Diving with a small local boat
With only a few dive centers in town and a handful of tourists it was a local experience like no other. The lovely owners of Las Galeras Divers, Christine & Serge, were happy to take us to Cabo Cabron to explore this dive site which is pretty famous around the Dominican Republic. From the beach of Las Galeras you can already see the cliffs of the national park of Cabo Cabron, really spectacular, that is a great sign of what you can find below!
| | |
| --- | --- |
| Country | Dominican Republic |
| Dive area name | Samana/Las Galeras |
| Dive center | Las Galeras Divers |
| Famous for | Underwater pinnacles with corals |
| Price | Guided 2-tank trip to Cabo Cabron: $75,- pp (full set of dive equipment $10,-) Discounts apply on multiple dive packages. |
| Hotel recommendation | B&B Aparthotel La Isleta |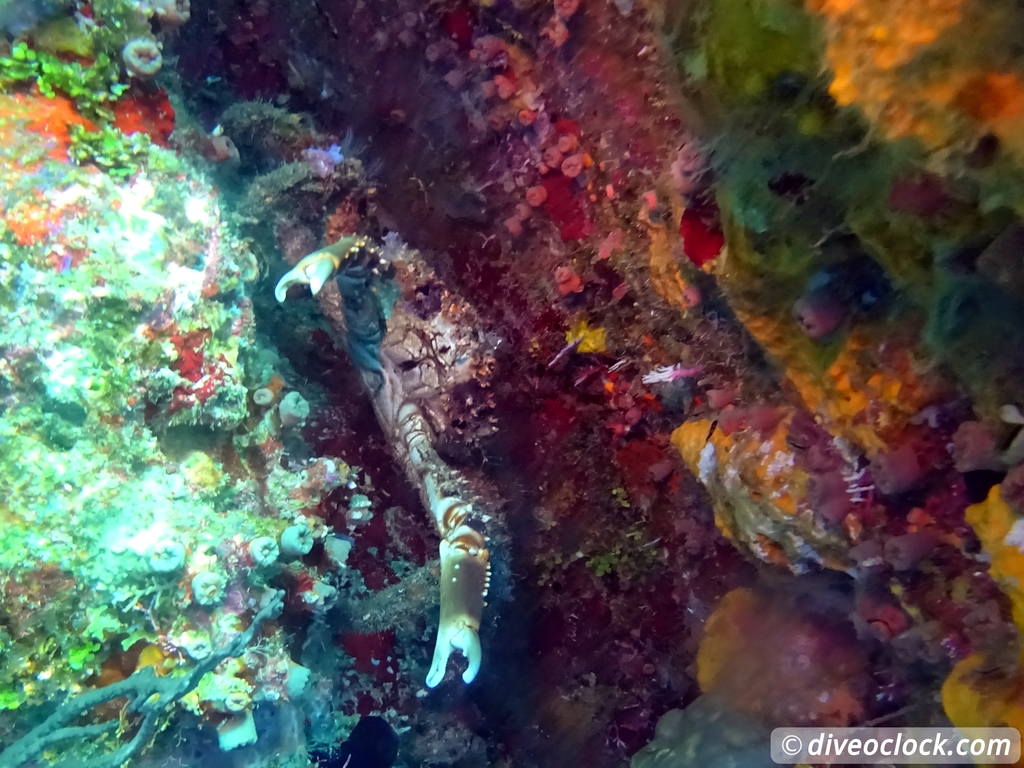 Hairy clinging crab (Mithrax pilosus)
Diving The Tower / Piedra Bonita
After mooring the boat to a buoy we easily rolled backwards off the boat. There was only a tiny current noticeable and the visibility was great with lots of parrotfish on the top of The Tower. We descended to a depth of about 21 meters, following the structure of this pinnacle which is indeed dramatically shaped. With all kinds of stalagmites, overhangs and deep ridges it was great fun to explore hiding creatures with sometimes a mild current around a corner.
Although the tower is not completely covered with corals and sponges it has some colorful dense areas, like a field of underwater flowers. Especially on the wall-like vertical parts of the pinnacle sea fans and rods were moving with the water flow. The top of the pinnacle is great for the safety stop, especially with direct sunlight it is great for some dramatic photos.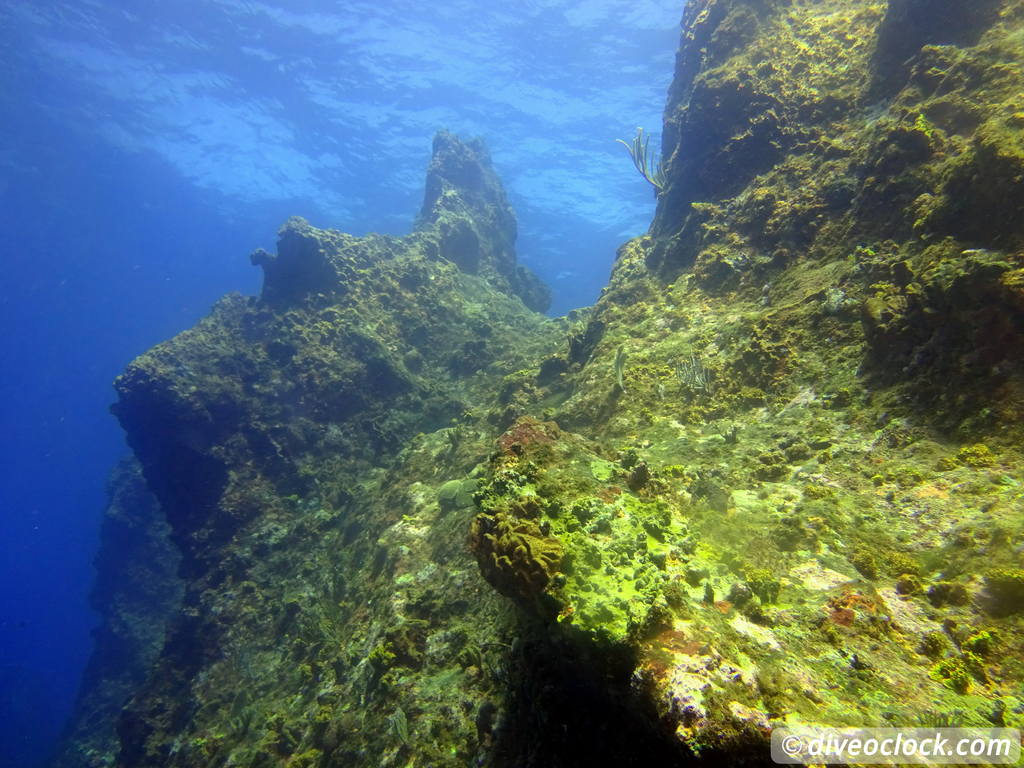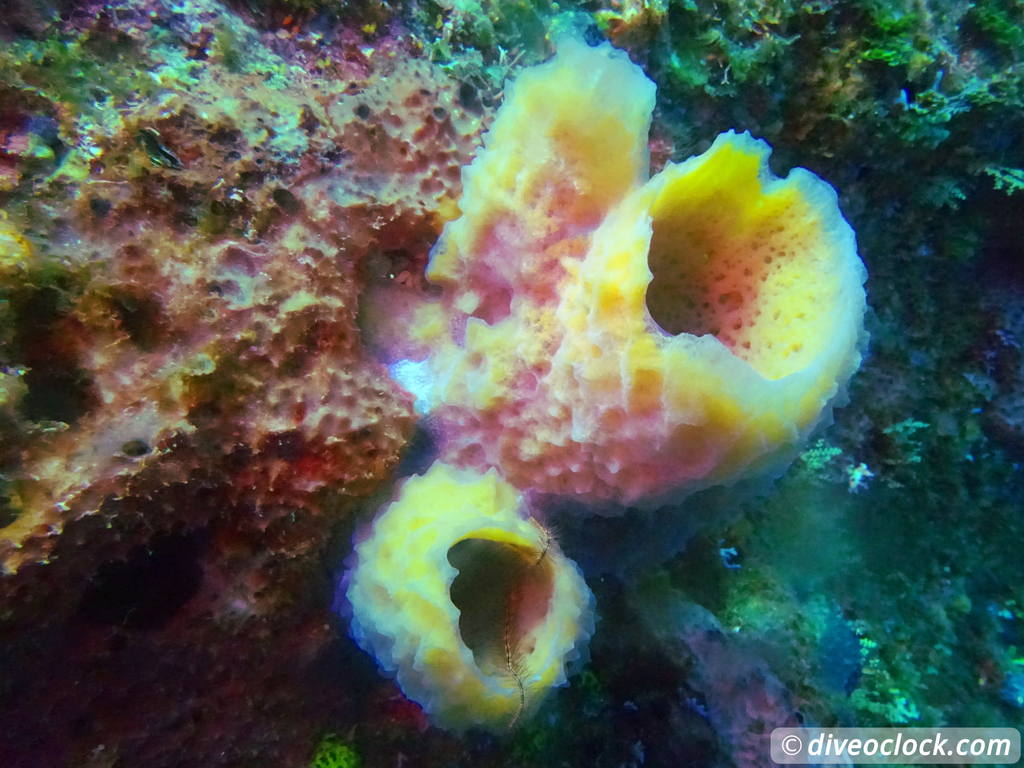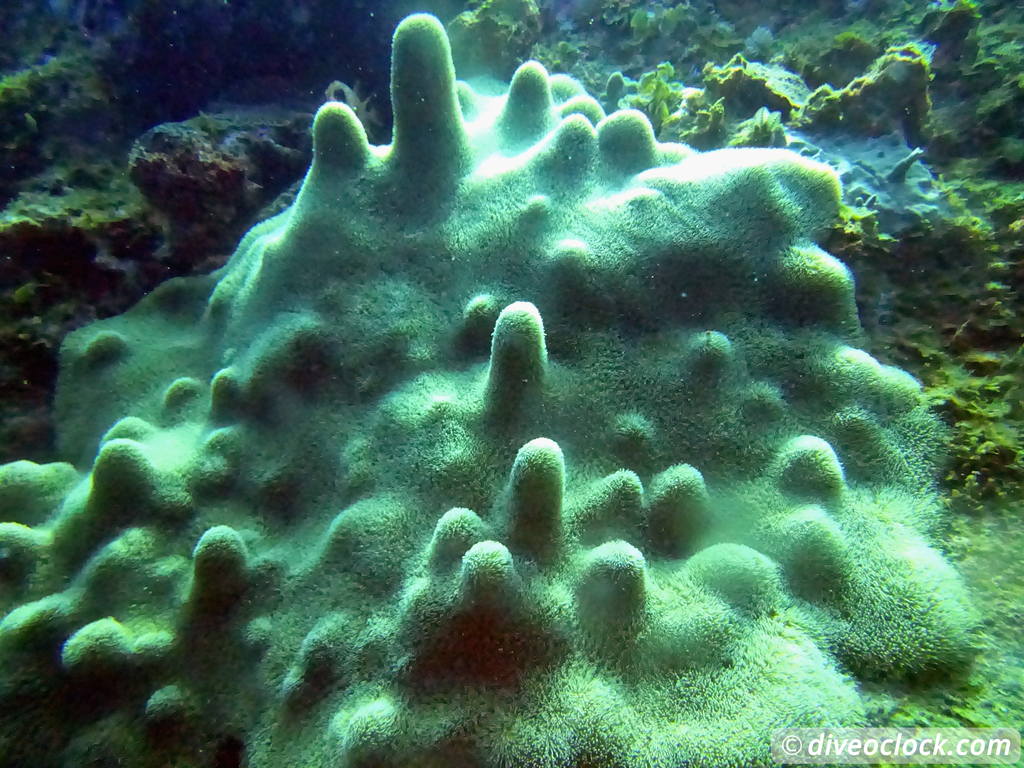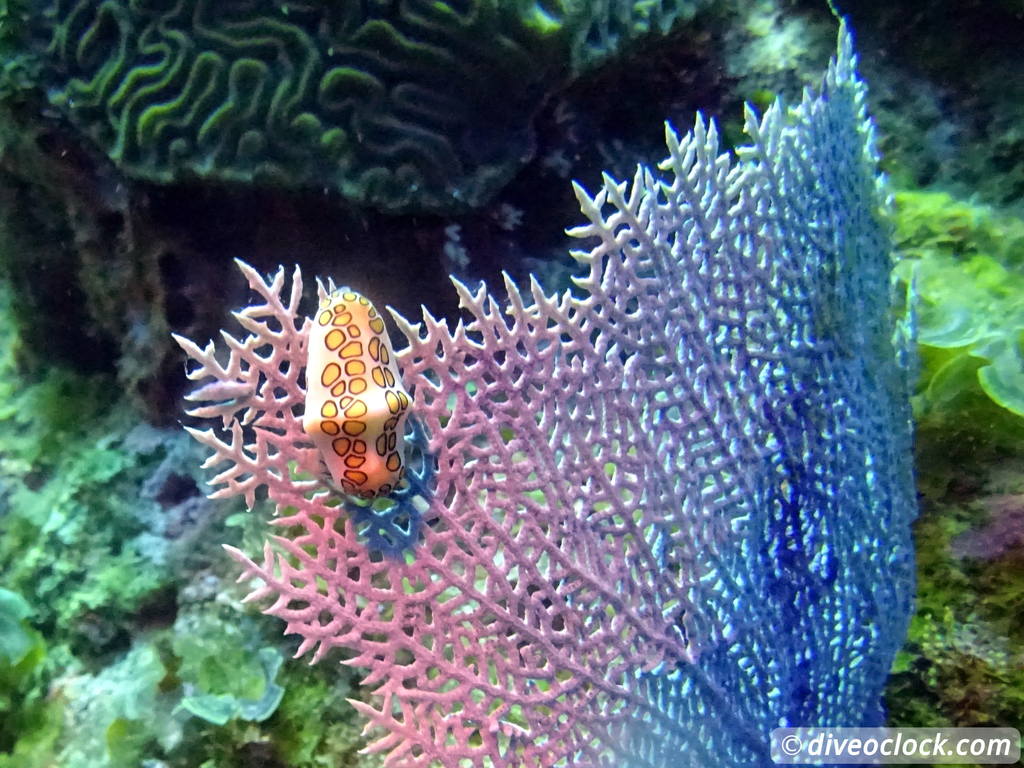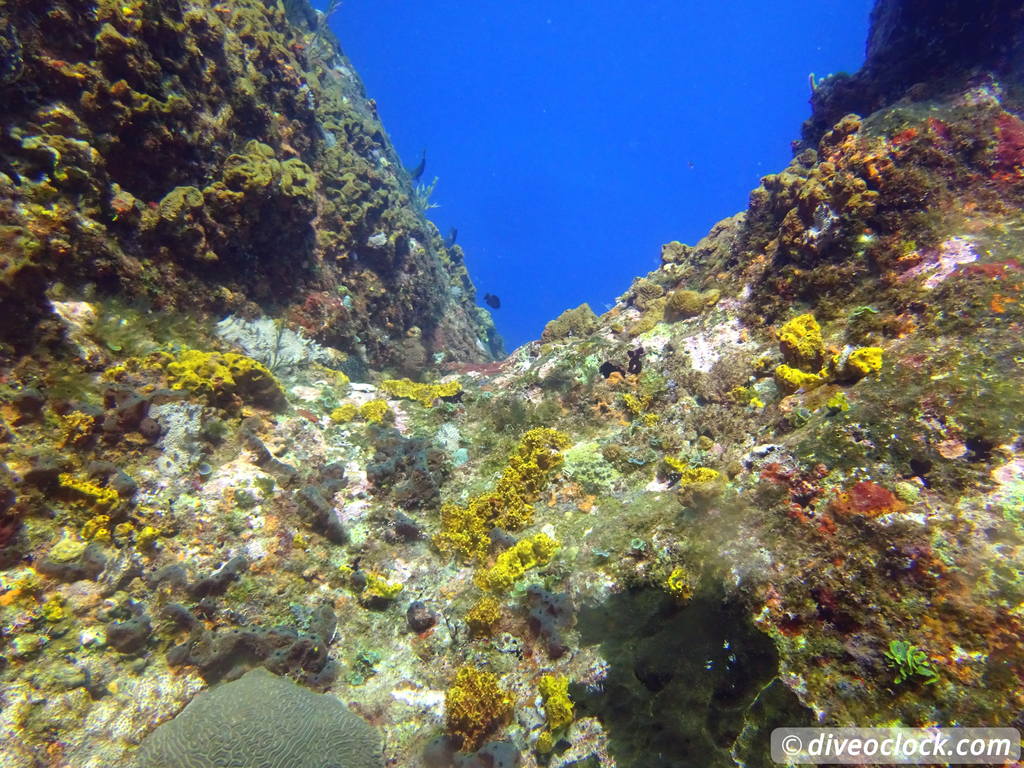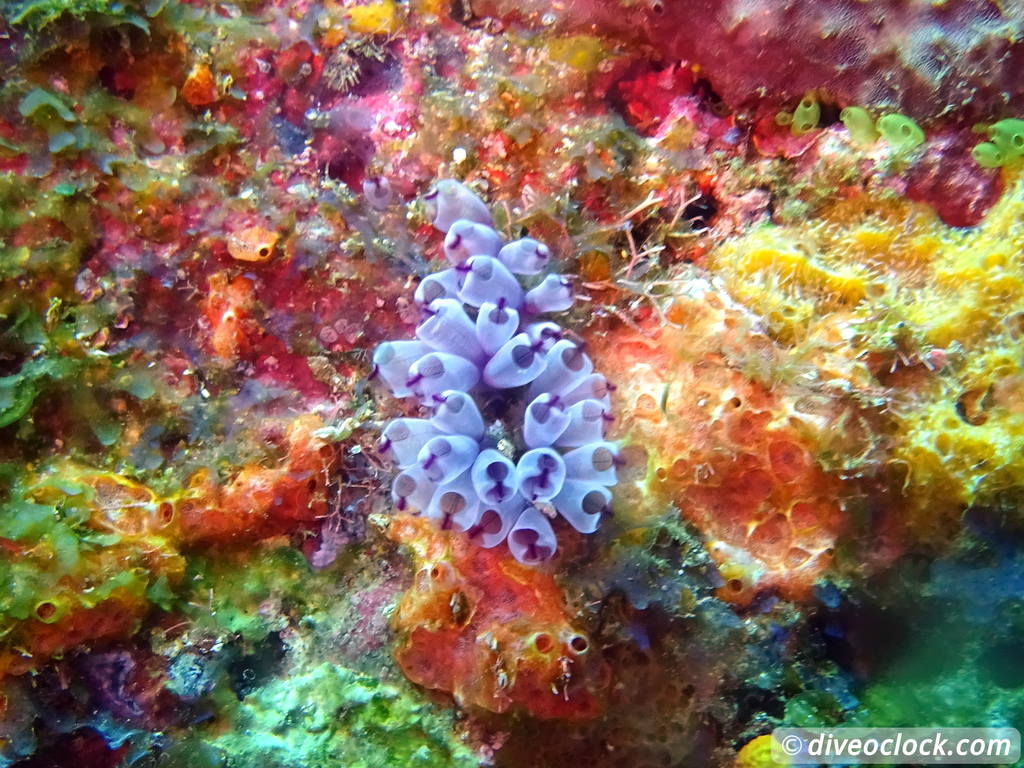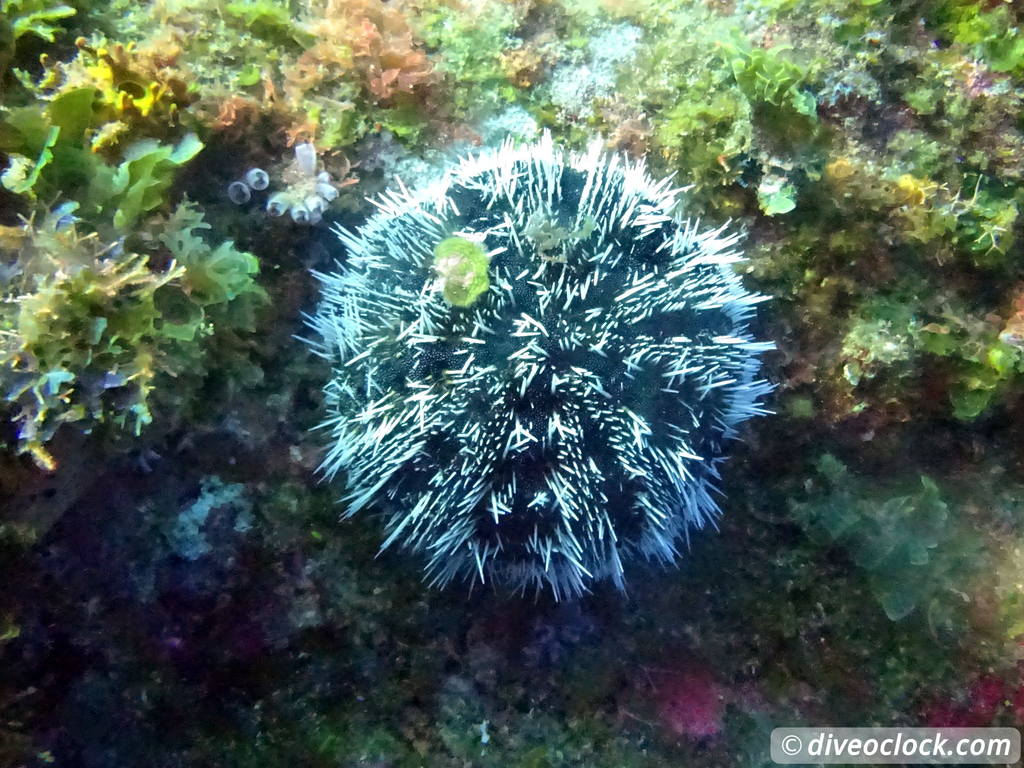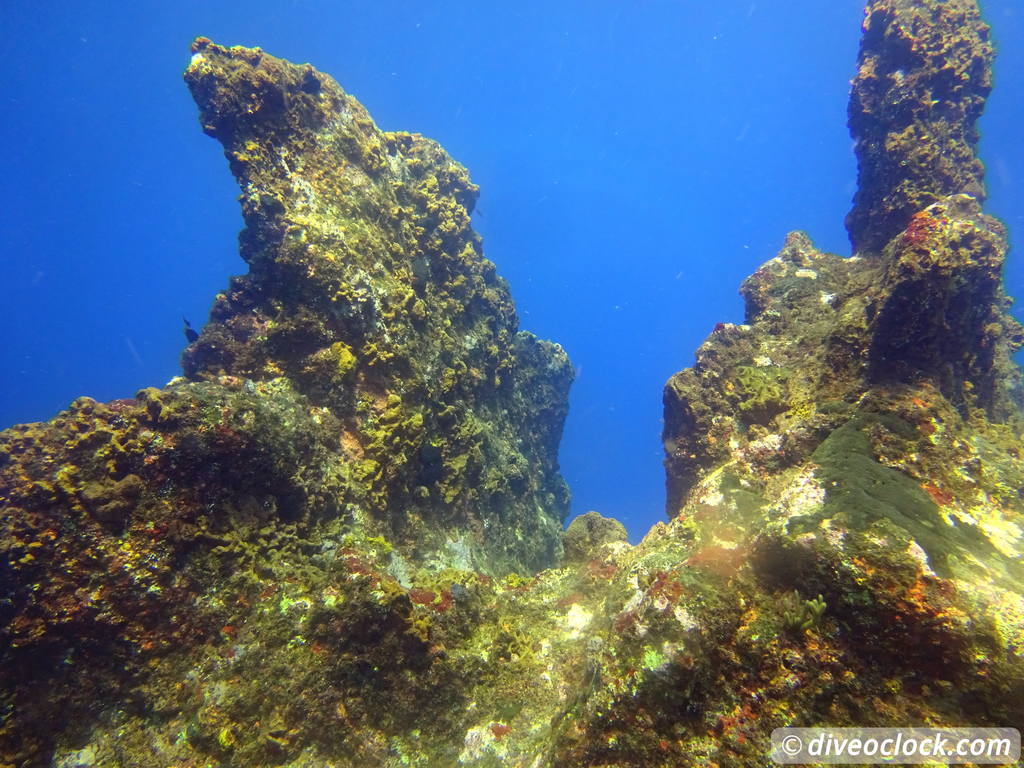 Diving Piedra Bonita, Dominican Republic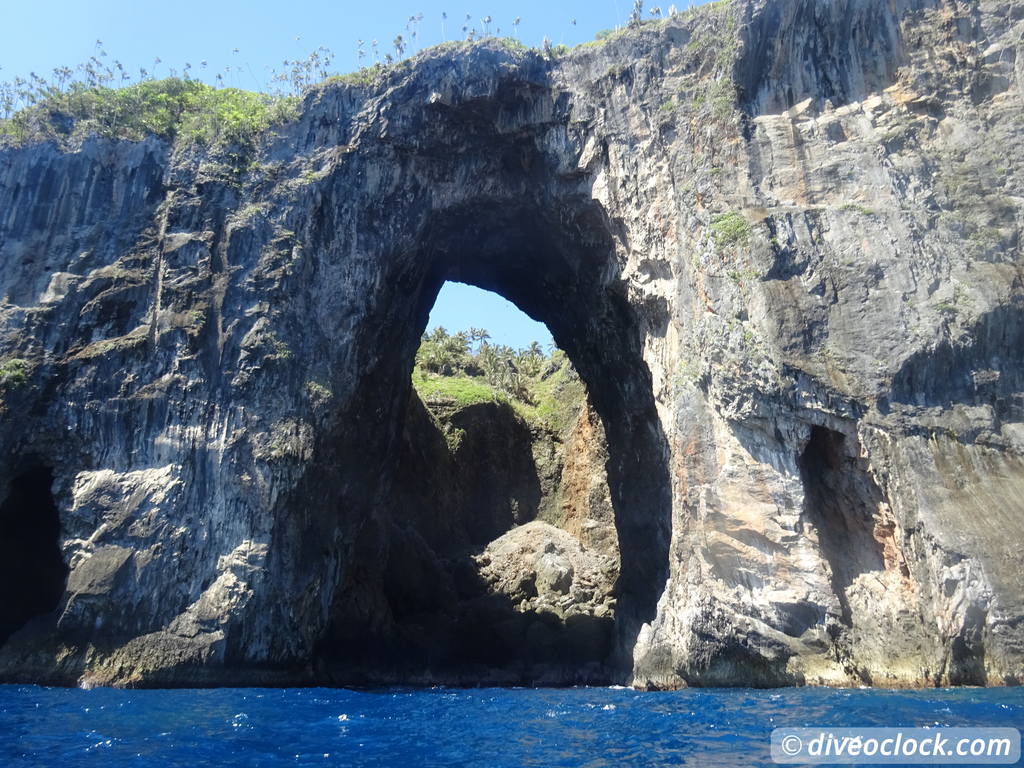 Interesting dramatic landscape as well!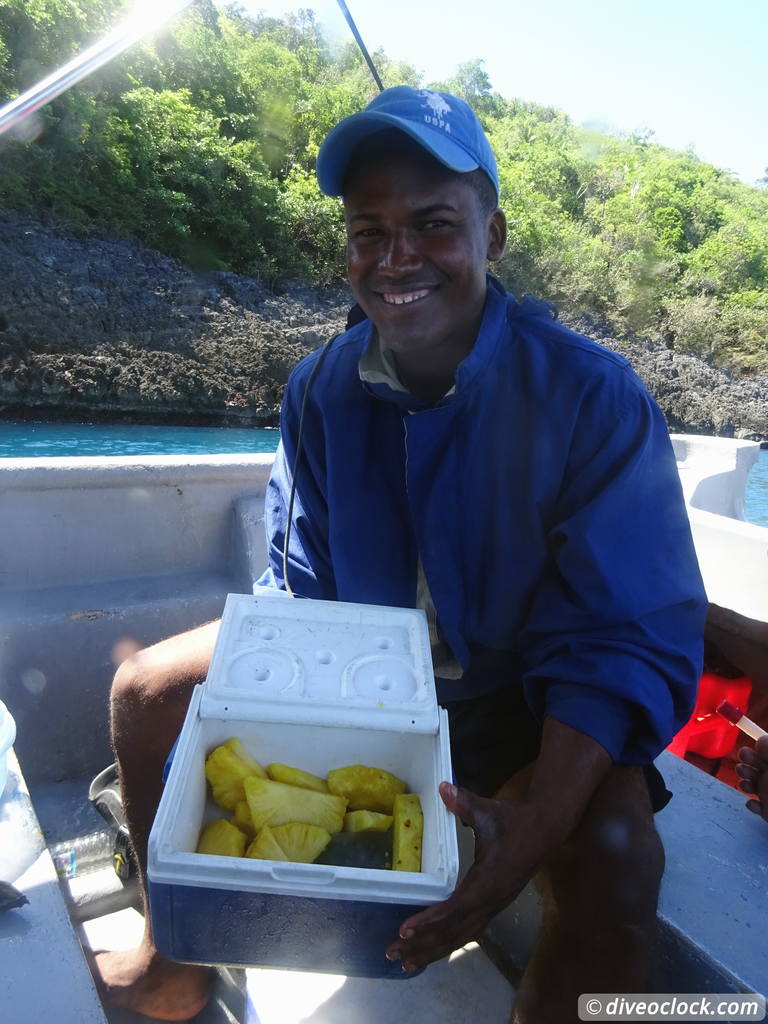 Fresh pineapple (and lots of cookies) in between the dives!
Surface Interval with fresh fruit!
After our first dive we moved the boat, which was rocking a bit because of the waves. Slowly we passed by some interesting rock structures and cliffs of the Cabo Cabron National Park before anchoring at the second dive spot.
At this little bay, where you can find both the Tibisi dive spots, we got some fresh pineapple from our captain Chelo while extending our surface interval, lovely! There were no other boats around and (luckily for us) no other divers as well, what a great paradise feeling.
Diving Tibisi
Our second dive was at Tibisi, a dive site with healthy coral slopes going down to about 50 meters as well. Many hard coral boulders, sea fans and rods were present as well as a few muray eels checking us out. This dive site also has some dramatic stalagmites and wall-like structures, creating another interesting dive site to explore.
It was not full of fish but we saw quite a few turtles cruising around, always a pleasure. The yellow tail damsel fish of the picture below was quite territorial and was nipping my camera for a while. There were some lionfish here as well, an invasive species in the Caribbean, but still a beautiful creature.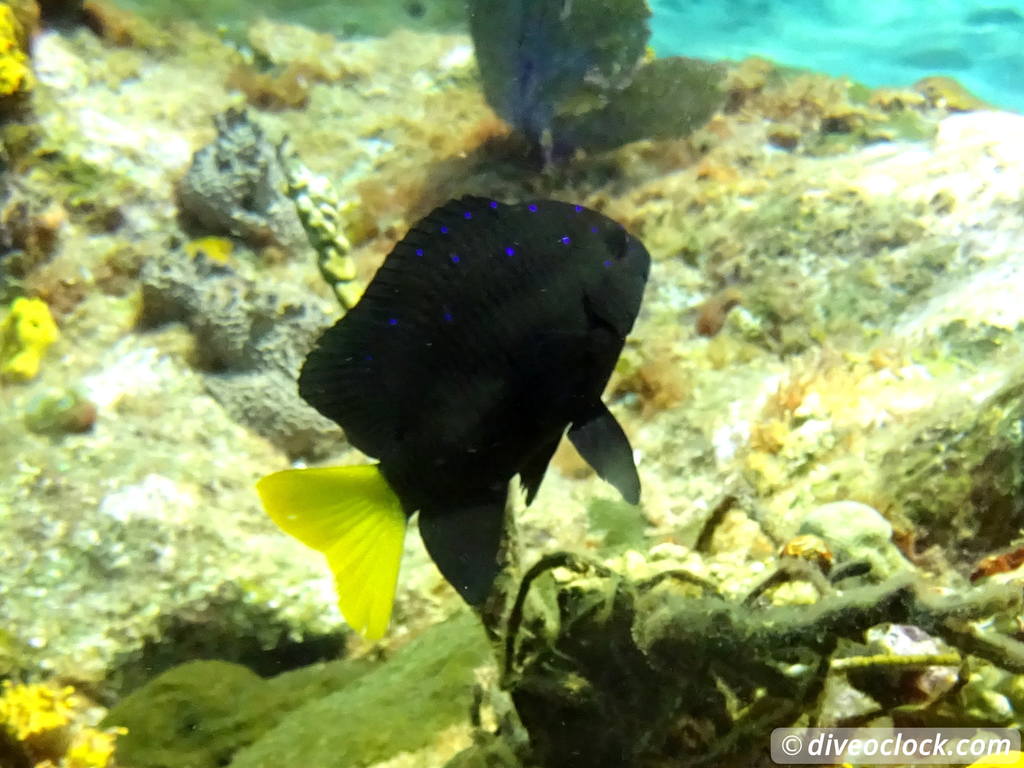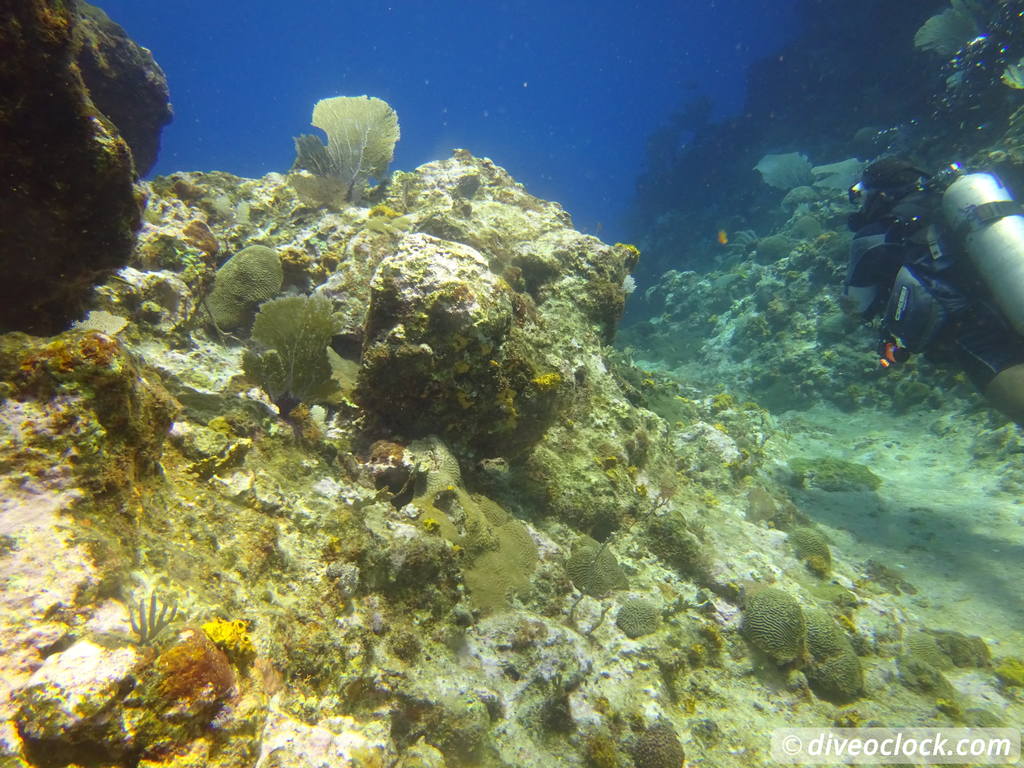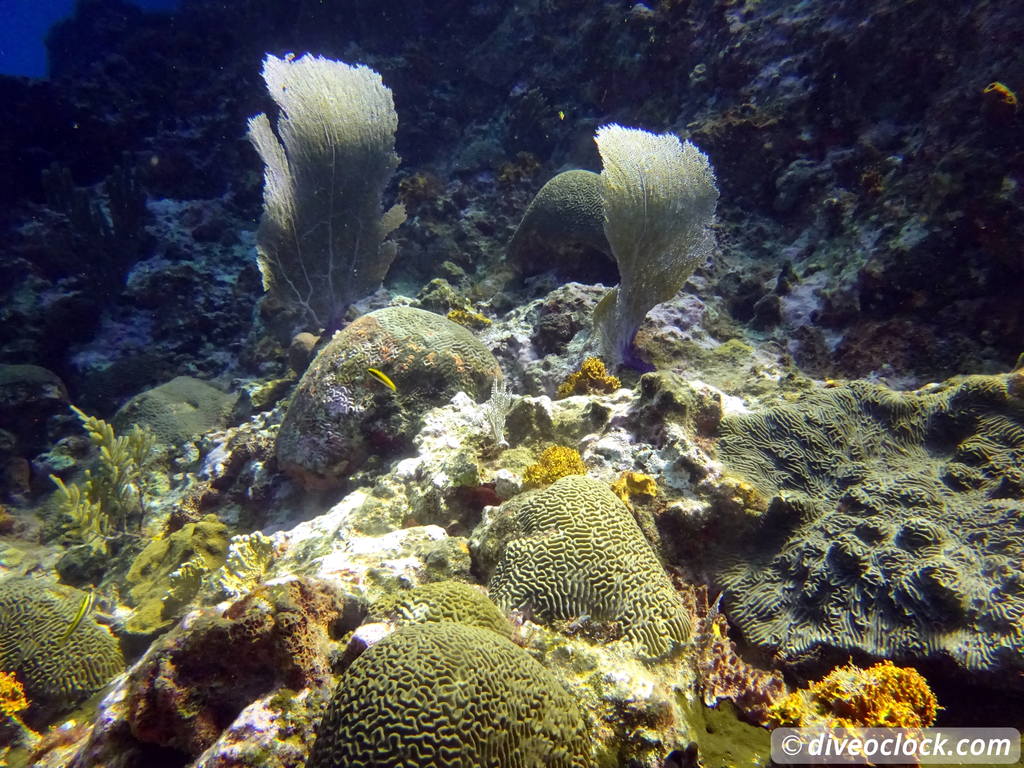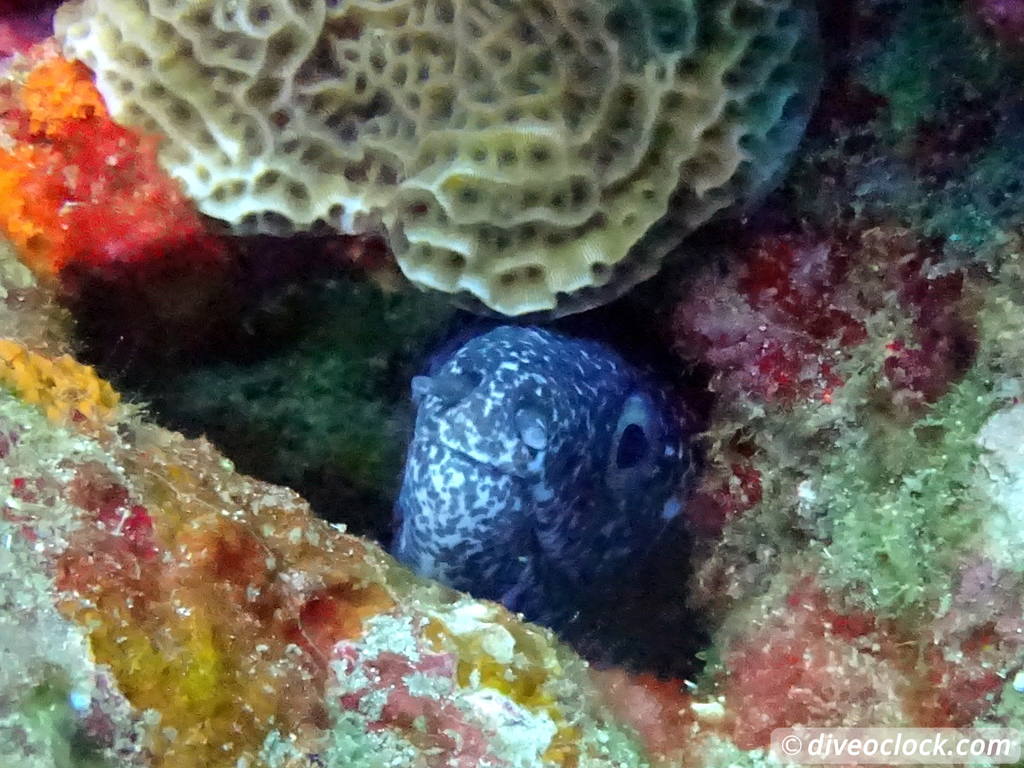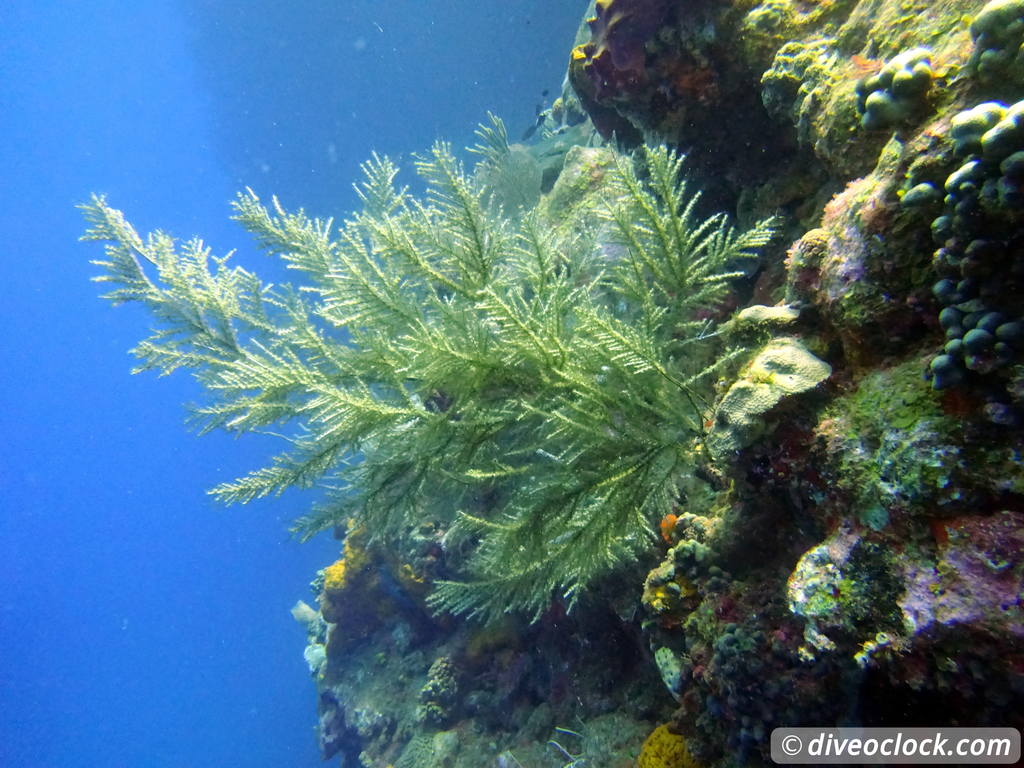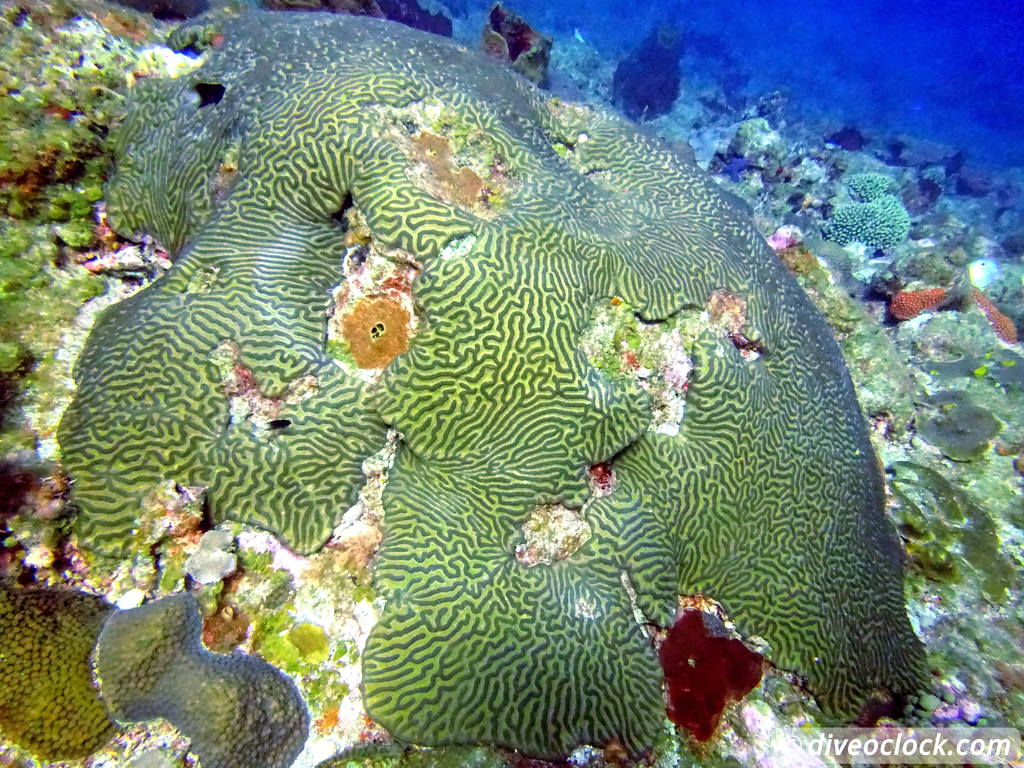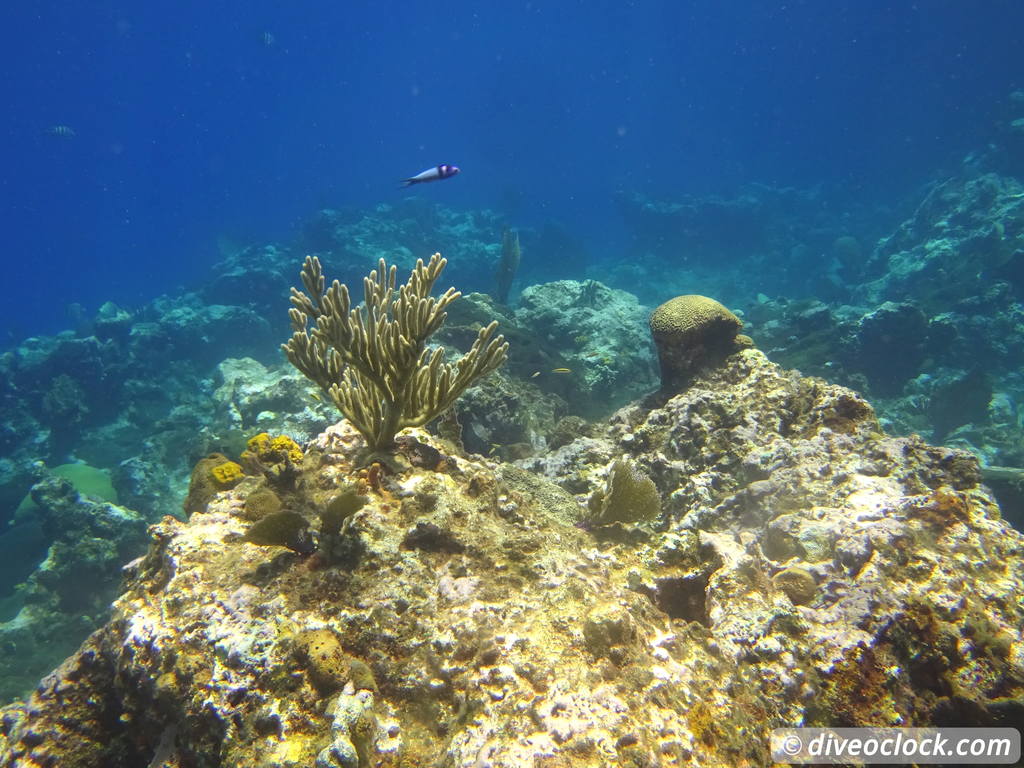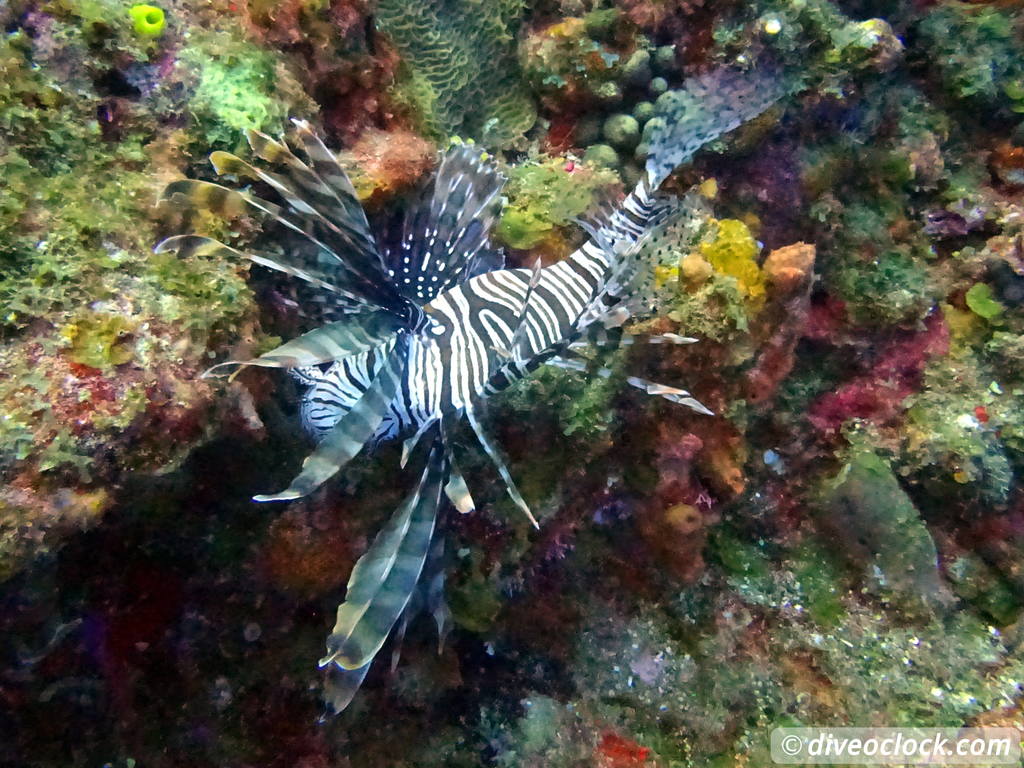 Marine life at Tibisi, Dominican Republic
Comparing dive destinations
Bottom structure
Reef structure
Pelagic
(big stuff in the blue)
Big reef
(bigger stuff on the reef)
Macro
(small stuff on the reef)
Current
(stream)
Flat bottom with bumps/big rocks/pinnacles
Hard corals
(not moving)
Sharks
Turtles
Nudibranchs
(snails/slugs)
No current
Slope (going down slowly)
Soft corals
(moving)
Rays
Eels/snakes
Sea horses and pipe fish
Small
(you can easily swim against it)
Wall
(steep but you see the bottom)
Table-/fan-shape
Trevally/Jacks/Tuna
Groupers
Scorpion/frog fish
Medium
(you can swim against it for a little while/higher air consumption)
Drop off
(steep and you can't see the bottom)
Anemones
Barracudas
Lobsters/crabs
Octopus/squid
Strong/reef hooks
(you cannot swim against it)
Blue
(no reference)
Sponges
Sardines/herrings
Puffers
Shrimps
Pumping/washing machine/OMG/hold your regulator
(superman)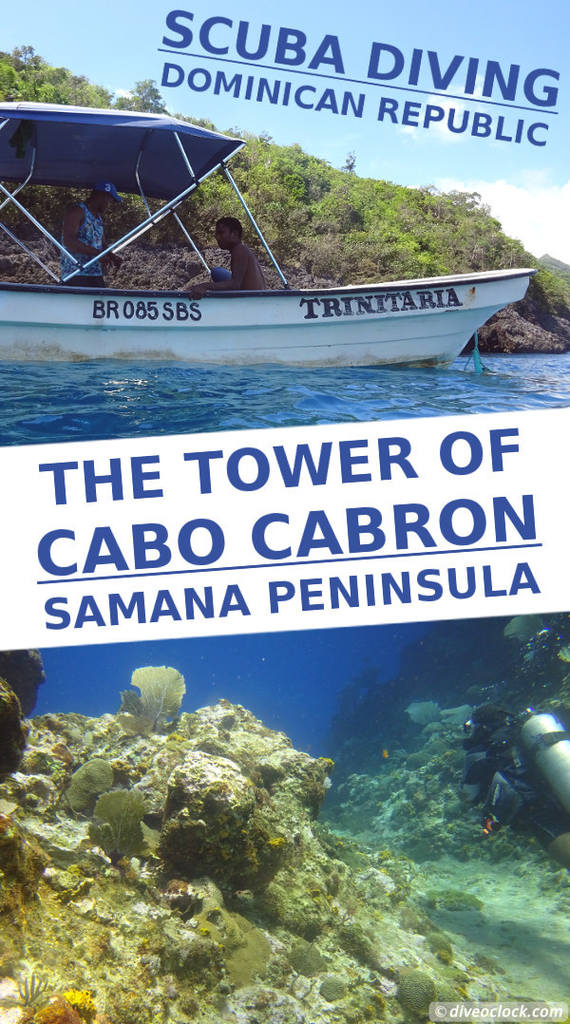 About the organization of Las Galeras Divers
If you are looking for a small and family run dive center, you have found the perfect spot! With Christine organizing the dive planning and administration (+ checking the weather forecast) and Serge being a dive instructor and equipment manager you have a lovely Swiss couple running the show. Their son Igor has just moved here to be part of this team as well and of course you have the experienced dive guide Jose (fluent in Japanese!), captain Chelo and a few other locals helping out.
What I really loved was the scooter/motor to drive all the equipment to the beach, what a great idea! At the beach many locals helped to get the boat in the water, a real community feeling here in Las Galeras. The whole day went smoothly, no rush, nothing timed, just a paradise feeling as mentioned before.
The village of Las Galeras has a few European restaurants. The guesthouse next door (Bout Du Monde) has some amazing crepes - recommended with a nice beer/glass of wine after diving!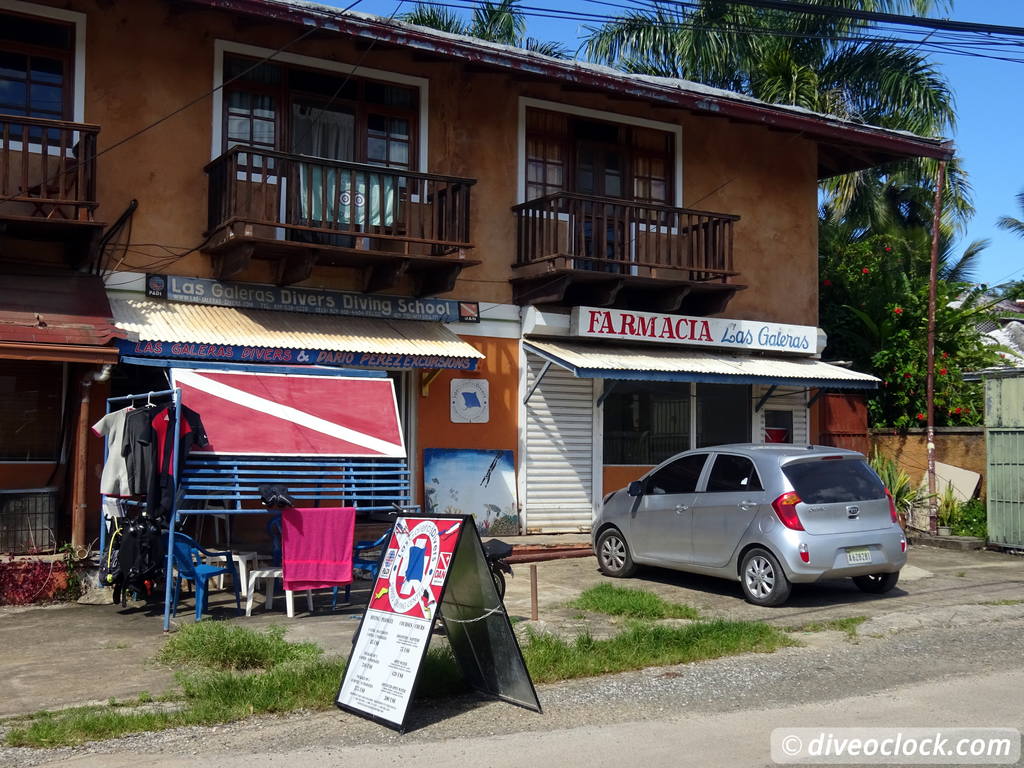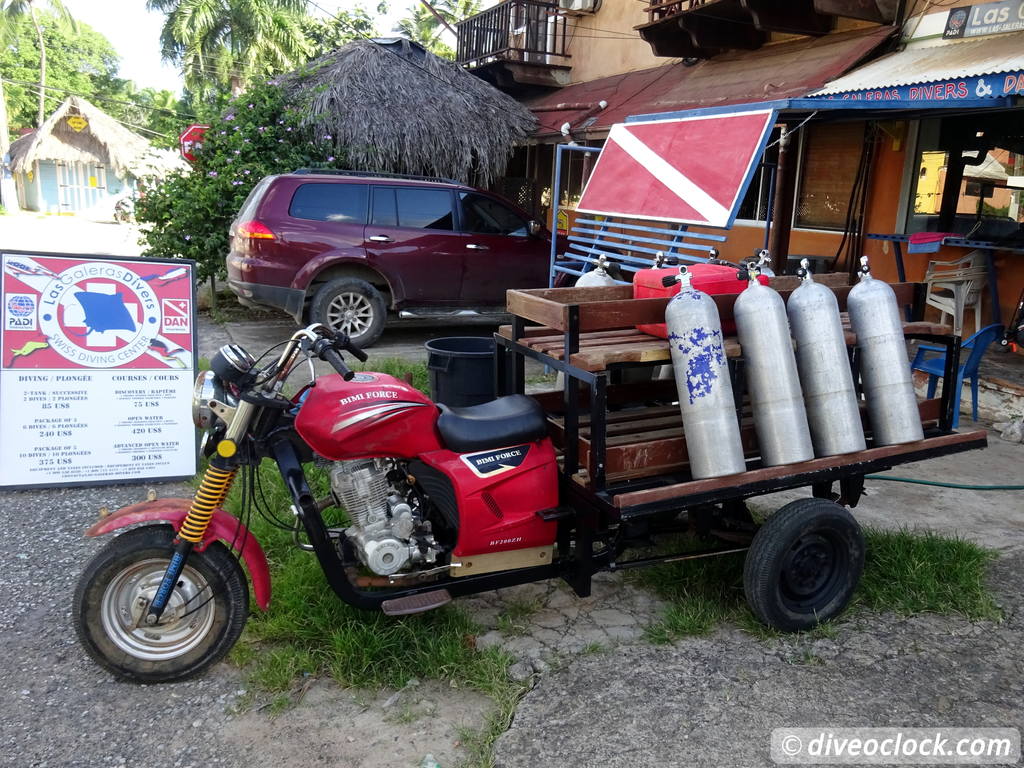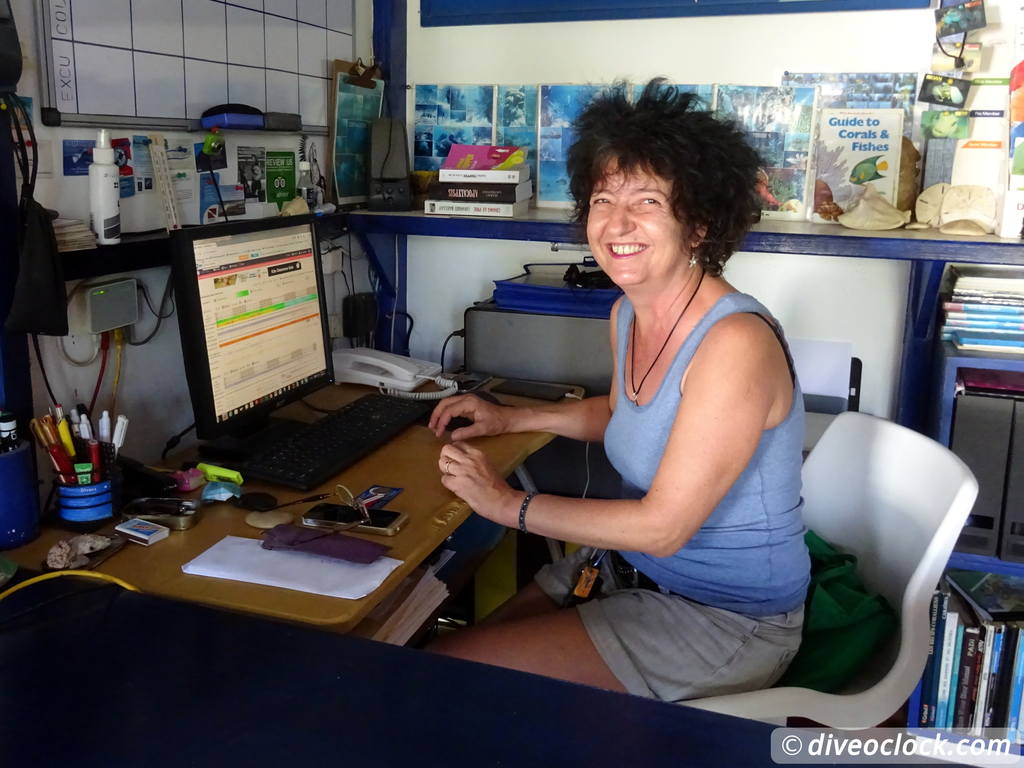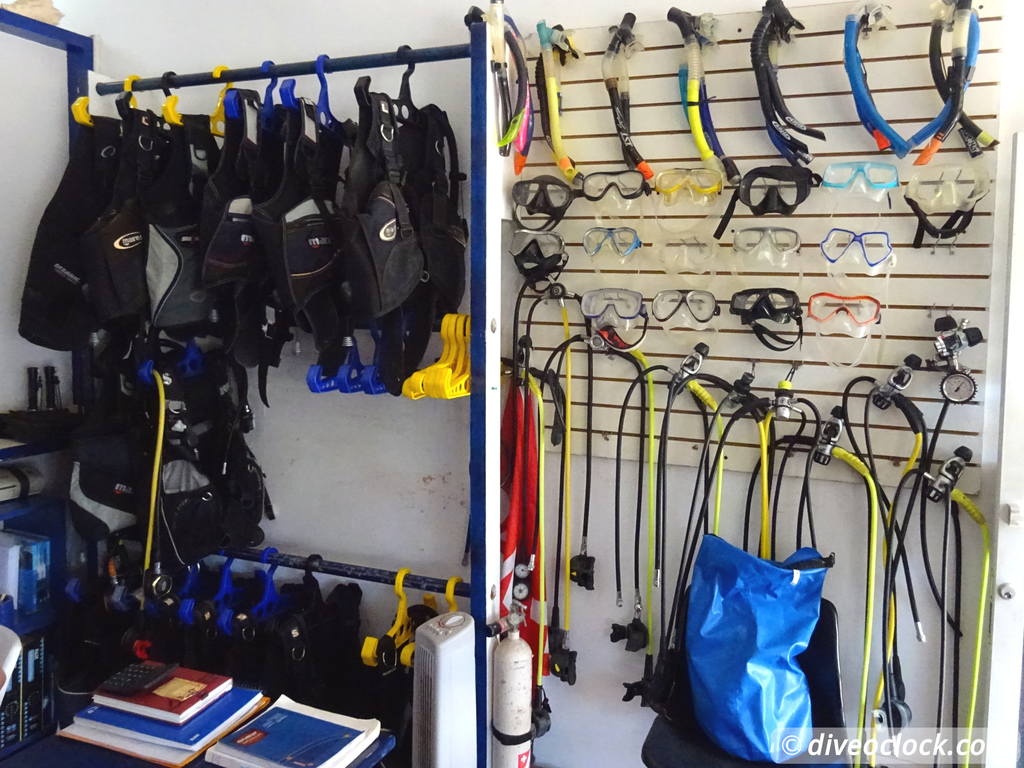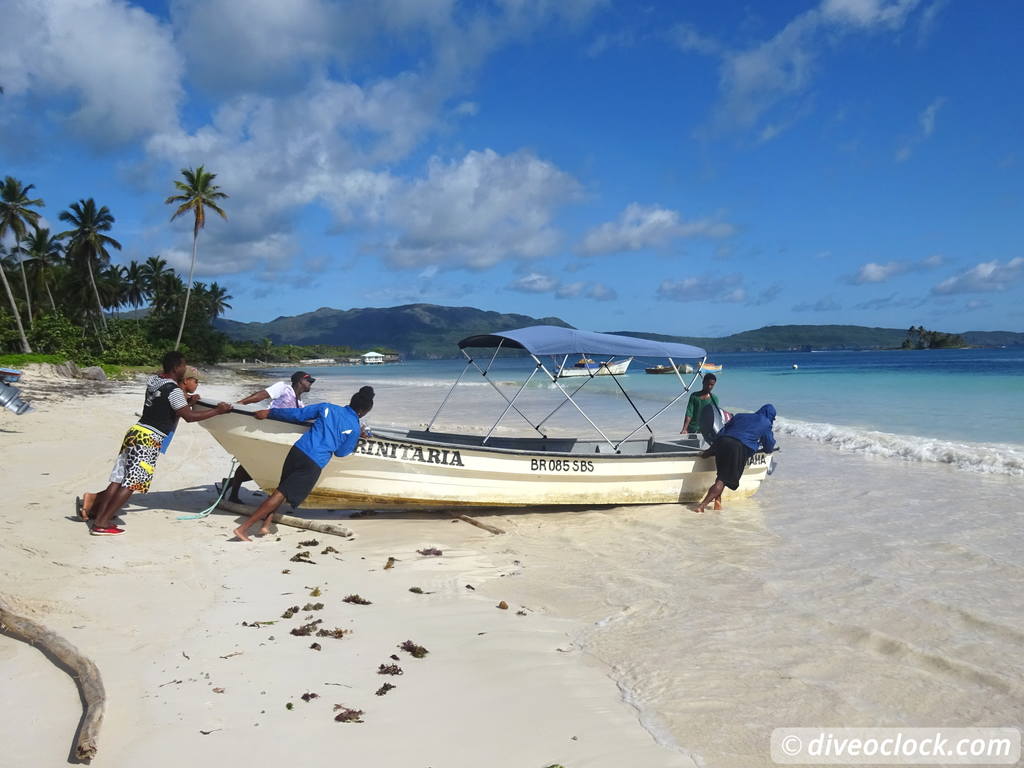 Las Galeras Divers in the Dominican Republic
If you like this post, hit that like button on our
Facebook page
and stay tuned for more!
Marlies Wolters
Founder of Dive O'Clock "It's dive o'clock somewhere!"

Share this page: