How to Rinse your Regulator - 10 Tips
There are some things you should and definitely should not do when rinsing your regulator. A regulator is often the most expensive part of a dive equipment set. Taking good care of it obviously extends the lifespan but it also can prevent unnecessary repairs or malfunctions.
Taking care of all your dive equipment is essential for your safety and it can save you lots of money. Especially a regulator, with many springs, levers and valves, needs to be in a good working condition. If corrosion occurs in your regulator it can create unpredictable behaviour, like a free-flow or worse...
You probably (or hopefully) rinse your regulator after every dive (day), but are you doing it right? There are some steps you could take to rinse your regulator properly. Although dive centers and shops might have their own guidelines about rinsing a regulator, these 10 tips are some of the most commonly accepted ways to keep your regulator in a good state.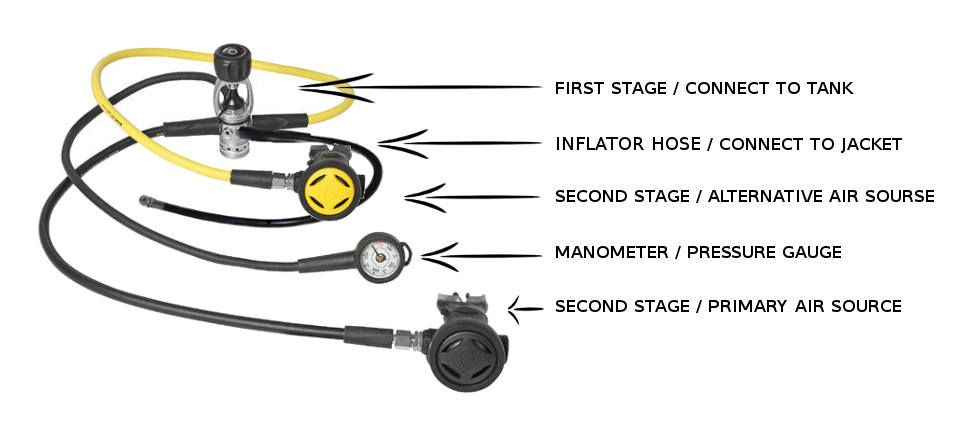 Dive Regulator parts
Quick links for Rinsing a Dive Regulator
1. Rinsing your regulator with fresh (warm) water
As obvious as it might sound, rinsing a regulator with fresh (tap) water after a dive is necessary, even after a swimming pool or fresh water dive. While sea water contains salt crystals and sand particles that can cause corrosion, swimming pools have chlorine and acids and fresh water lakes often have minerals, maybe salt as well and/or alkaline deposits. If the water is a bit warm (not hot) it speeds-up the cleaning process and breakdown of materials that cause potential corrosion.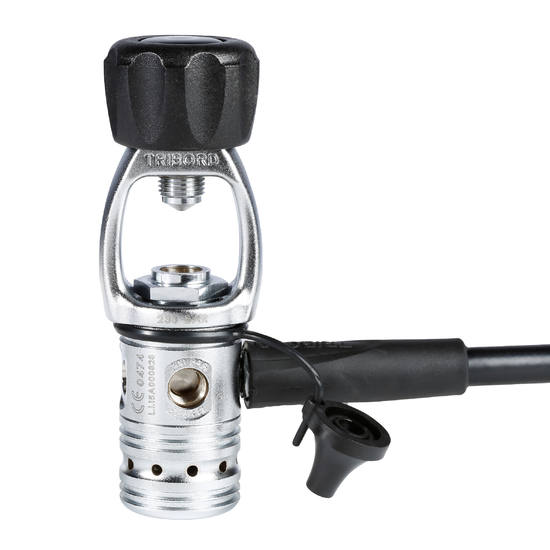 A dust cap gives a water tight seal, not waterproof! Do NOT soak this part.
2. Rinse it within a few hours after the dive
The longer you wait with removing materials that cause potential corrosion the more damage can be done, pretty straight forward.
3. Dry the dust cap before putting it on the first stage
While materials that cause corrosion are bad to enter your regulator, a drop of fresh water entering your regulator at full speed (200 bar) is very risky for damaging parts. The best thing to do is to rinse the dust cap with freshwater and dry it with a clean towel of air from the tank (slowly open the tank as this can hurt your ears!) Screw it on the first stage firmly, but be careful not to screw too much and damage the plastic cap.
There are two important things about the dust cap regarding rinsing. It needs to be secured properly on the first stage and it needs to be dry and clean.
4. Do NOT soak the first stage
The dust cap is called a dust cap for a reason, it is watertight, not waterproof.
Soaking the regulator completely is a common mistake made by many new and inexperienced divers, but it contains a high risk of sending 'bad materials' through your whole regulator the next time you put pressure on it.
Therefore it is important you do NOT put the whole regulator in the water tank or barrel. Get the water hose and give your first stage a stream of water.
5. Soak some regulator parts for a while
By leaving the second stages, gauge and low-pressure connections (BCD inflator/Dry suit) soak in fresh water you have a higher change of dissolving and removing all 'bad materials'. Leave it for at least 5 minutes at the dive center, at home you can repeat this and leave it to soak for one hour or overnight. It is better to rinse off your regulator before soaking, so the water is really fresh and not mixed (same like showering before jumping in a bath/pool...) Again, do NOT soak the first stage.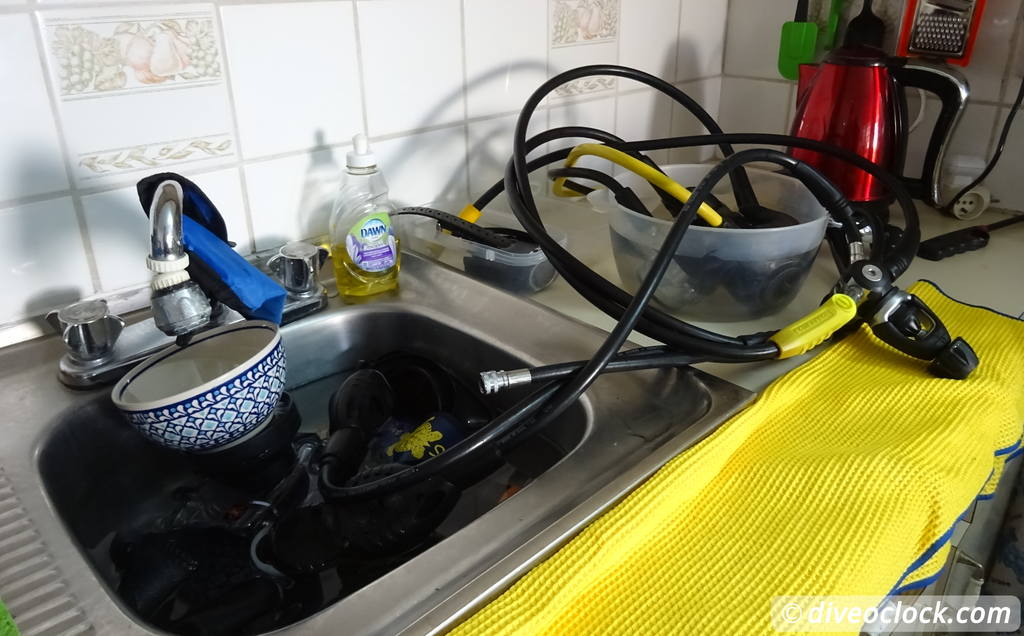 Soaking the regulator for a few hours at home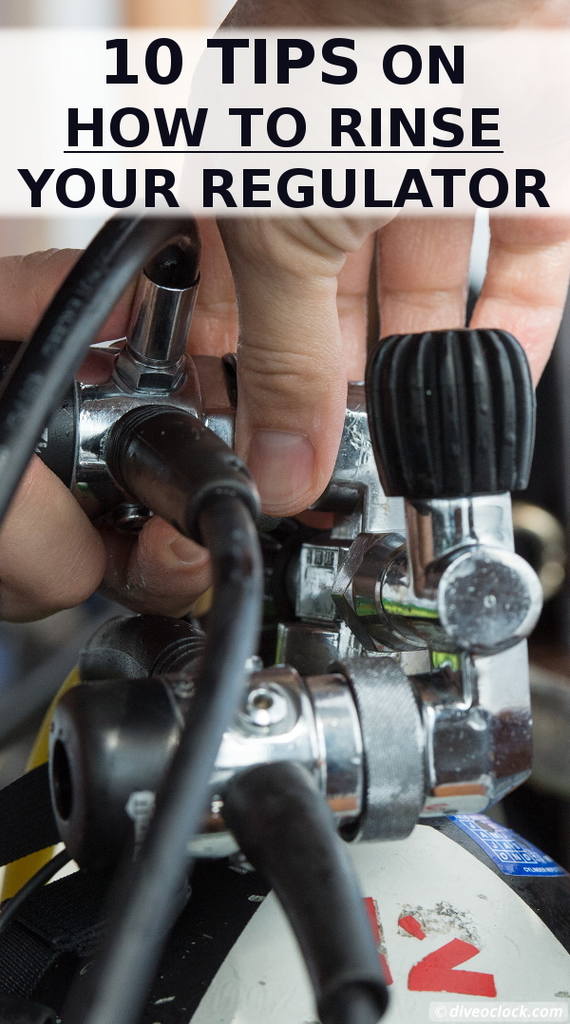 6. Wiggle the second stages underwater
Move the second stage & octopus/alternate air source though the water allowing fresh water into the mouthpiece that exits through the exhaust tee. After soaking, while still underwater, move the second stages around so that water movement causes loose particles to exit the gauge.
7. Do NOT press the purge button
Do NOT press the purge button of the second stages while being soaked underwater. Ideally you can rinse your regulator set in a pressurized state, connected to a tank while the pressure is still on. This way you have no risk of water entering your regulator in a bad way, because there is pressure going out. If you accidentally press the purge button while there is no pressure/tank attached you have have the same risk as forgetting the dust cap. With pressing the purge button you open the valve and water can enter the hose and first stage.
8. Clean the mouthpieces properly
Clean the mouthpieces hygienically with a toothbrush and washing machine detergent powder. Just a quick rub with a toothbrush, even without soap, might remove some sand or other materials from hard-to-reach spots. By adding some soapy materials, antibacterial if you like, you can rinse it thoroughly. Especially if you share a regulator with other persons, like borrowing or renting it from a dive buddy or dive center.
9. Let the regulator dry out of the sun
Let the regulator dry before storage / do NOT let it dry in the sun. UV light from the sun might damage the rubber parts so always leave your regulator to dry out of direct sunlight. Make sure your regulator is completely dry before storage, moist and humidity might grow some unwanted mould/fungus.
10. Store the regulator hanging or with loops
Avoid stress/pressure on the regulator, make sure there is no kink in the hoses and avoid folding. The hoses can become weak due to cracks and folds, as they need to handle a lot of pressure a damaged hose can cause serious problems. Find a non-humid environment to store your regulator. If you store your regulator in a regulator (travel) bag, make sure you make big loops with the hoses.
Do you have some tips to add? Comment them below!
Now you have gone through these steps I hope you will use them the next time you rinse a regulator.
Apart from rinsing you also need maintenance. Regulators must be serviced by a certified professional at least once a year or every 50 dives if you dive extensively.
If you like this post, hit that like button on our
Facebook page
and stay tuned for more!
Marlies Wolters
Founder of Dive O'Clock "It's dive o'clock somewhere!"

Share this page: