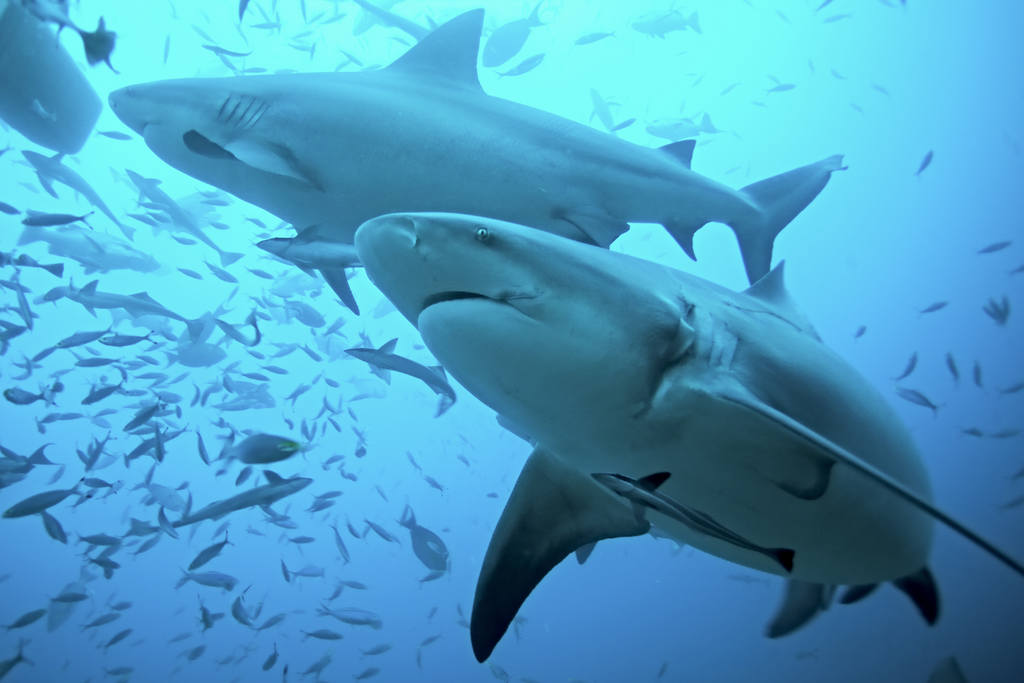 Beqa Lagoon - The Ultimate Shark Encounter in Fiji!
Get your adrenaline pumping and dive with countless sharks without a cage in Fiji! See Bull sharks, Tiger sharks, Silvertips and many other shark species in one single dive! It is show time!
Did you ever encounter a shark during your dive adventures? Have you ever done a shark dive? In Fiji they offer 'guaranteed' shark encounters! This ultimate shark encounter at Beqa Lagoon is world famous for observing countless sharks during one single dive.
How many shark species do you know? You can tick off a few of your bucket list here. Get your adrenaline pumping and watch Bull sharks, Nurse sharks, Lemon sharks, Silvertip sharks, Grey sharks plus White- and Blacktip reef sharks. What a thrill! Are you scared yet?
The absolute highlight here is seeing a
Tiger shark
up close and it is all
without a cage
!
| | |
| --- | --- |
| Country | Fiji |
| Dive area name | Beqa Lagoon, between Pacific Harbour and Beqa Island |
| Dive center | Aqua-Trek Beqa Diving (not recommended, go with Beqa Lagoon Resort ) |
| Famous for | Sharks! |
| Price | Day trip with 2 dives: 390 Fiji dollar (190 US dollar) |
| Hotel recommendation | Beqa Lagoon Resort |
Shark feeding: Show time!
Sharks and thousands of fish are circling around as soon as you enter the water, probably as soon as they hear the boats coming - it is feeding time!
Public trash cans filled with dead fish are placed and secured underwater while all the divers get ready to go down. Because of possible high waves and surface currents they have set up an infrastructure of mooring lines and ascent / descent lines so everybody can descend easily one by one without drifting away from 'the arena'.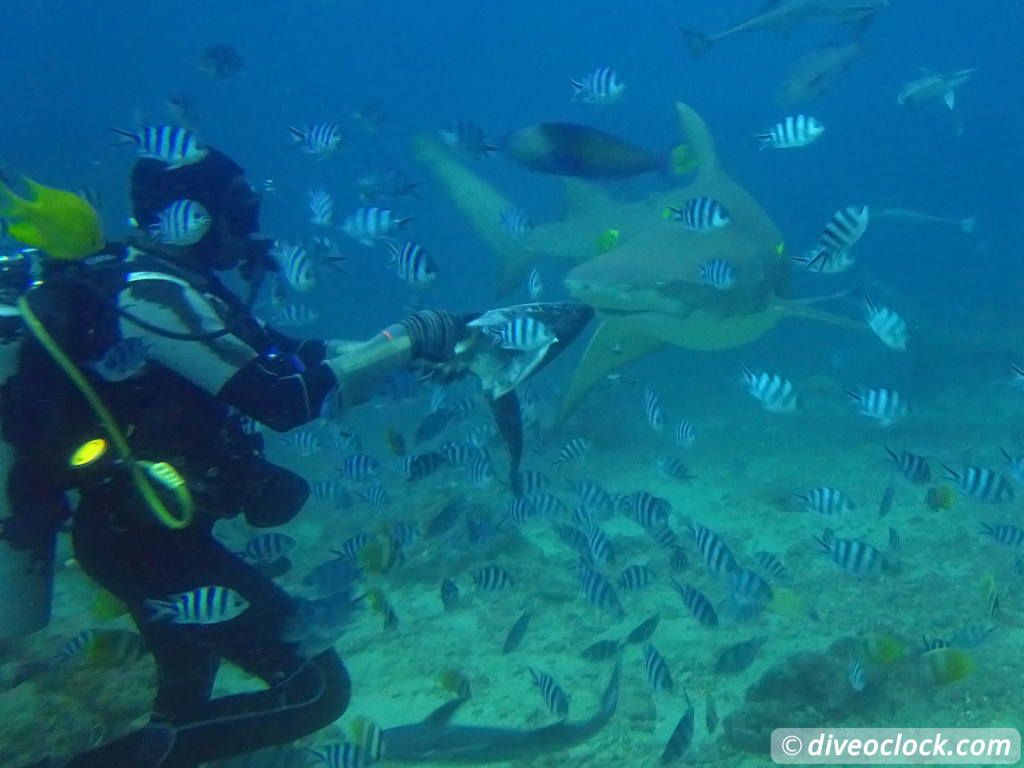 Shark feeding at Beqa Lagoon, Fiji!
A man-made wall is created at about 20 meters depth so everybody can watch the show safely from behind the wall without damaging the reef. Side-by-side all divers (about 20 on our dive) kneel down while the dive guides (carrying a metal bar) keep an eye out for Go Pros and hands sticking out too far.
Since the trash cans have holes in the top the sharks can smell the food easily. The dive guides that are doing the feeding have special chain mail armor on their arms and wear gloves to hand-feed the sharks. Piece by piece the bait is taken out of the can and served to the sharks. The sharks circle around and grab a piece before swimming away right over your head - WOW!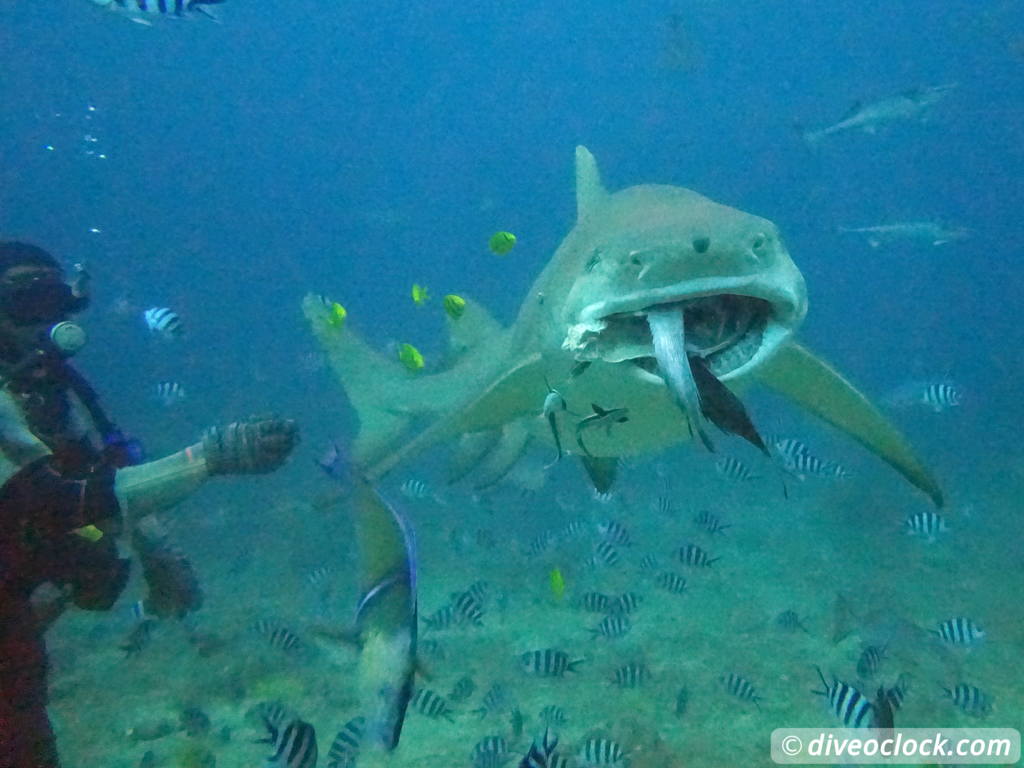 Feeding sharks in Fiji!
When the apex predator opens his mouth to grab the bait it is really impressive! Unfortunately we did not have great visibility so the photos are not so good - sorry for that! After 20 minutes the show is over and it is time to go back up slowly and do the safety stop in smaller groups so everybody can hold the line at about 5 meters.
About the organization of Aqua-Trek
The Aqua-Trek dive center is located close to the Queens road bridge in Pacific Harbour. The funny thing is that I like to check-in the day before to meet the staff, fill out the paperwork and sort out equipment without time pressure, but that was obviously not part of their logistics. We could buy a cup of brewed coffee (for 5 Fiji dollars!) but the shop was more or less closed for visitors.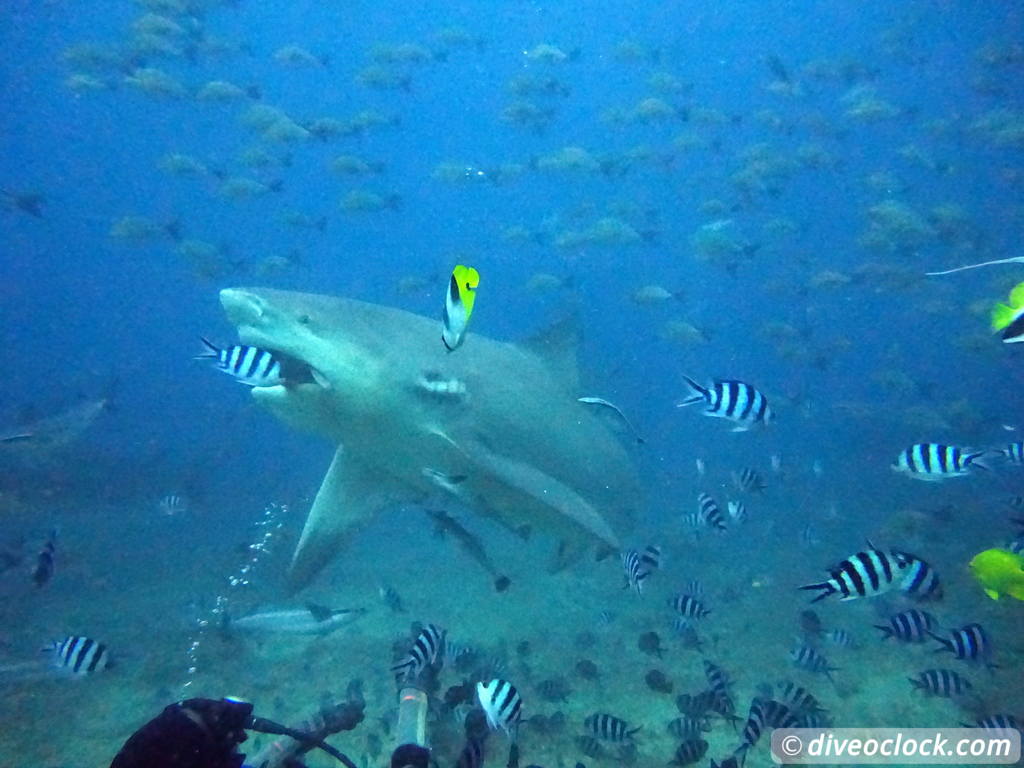 Got photobombed by a sergeant major (stripey fish)!
Meeting point was at 8:15 AM the next day and sorting out everybody's equipment and paperwork was done efficiently - I was surprised how well this went regarding the number of divers. Quite a few divers were there for the second or third time. The rental equipment was fine but the fins are not really suitable for diving. You are just sitting on the bottom anyway and descent / ascent with holding a line so it works out fine without swimming. Wearing a long (full body) wetsuit is mandatory and since the water temperature was about 25 degrees Celsius this was perfect.
In between the dives drinking water and some cookies were provided. The crew was very experienced in running this show - everything went smoothly and in a timely and safe manner. You are being monitored the whole time. The aluminum boat has one seating area with dive tank benches, there is no dry area or toilet on board. The trip from the dive center to the dive sites took us only 10 minutes. Around 2 PM we were back at the dive center.
The shark dives are not scheduled daily and they take only a limited number of divers. We needed to delay our dive trip due to fully booked days, so
book in advance!
You pay about 200 US dollars for 2 dives, I have to admit that is by far the highest price I have ever paid for such a short dive (without free coffee :-)).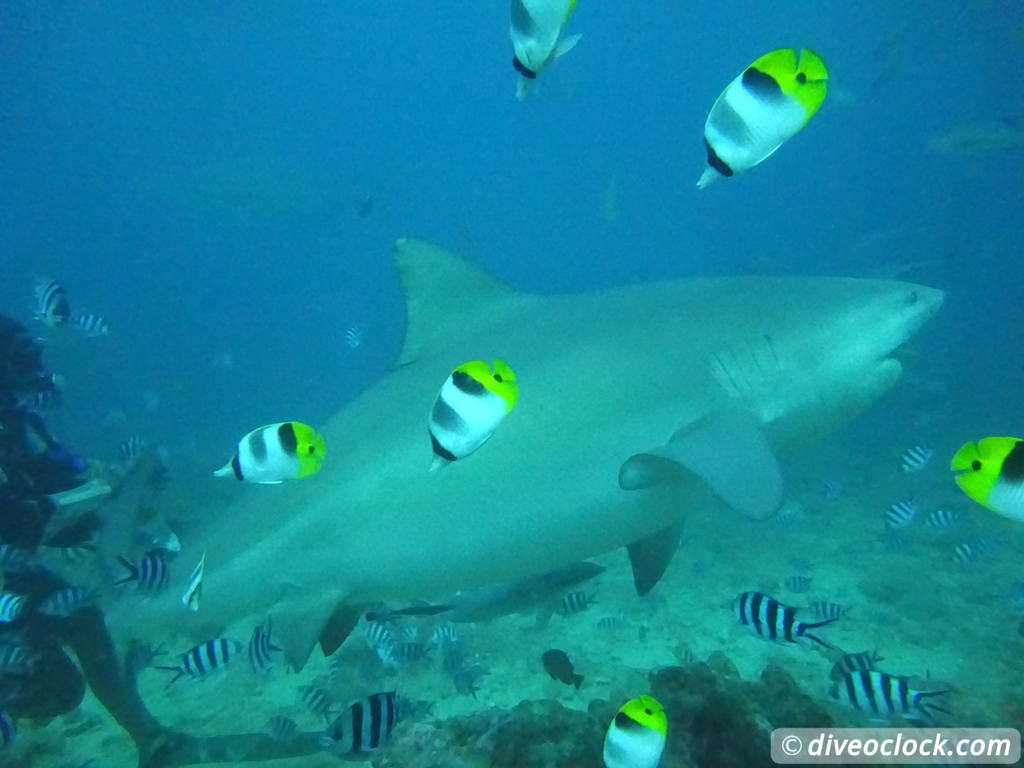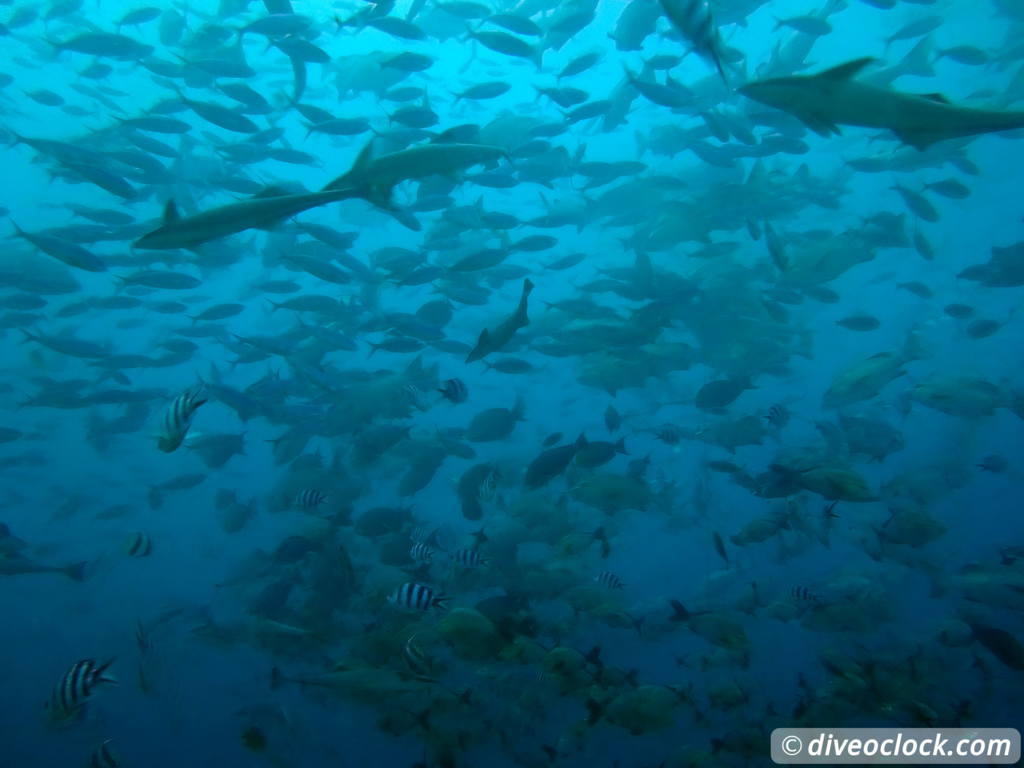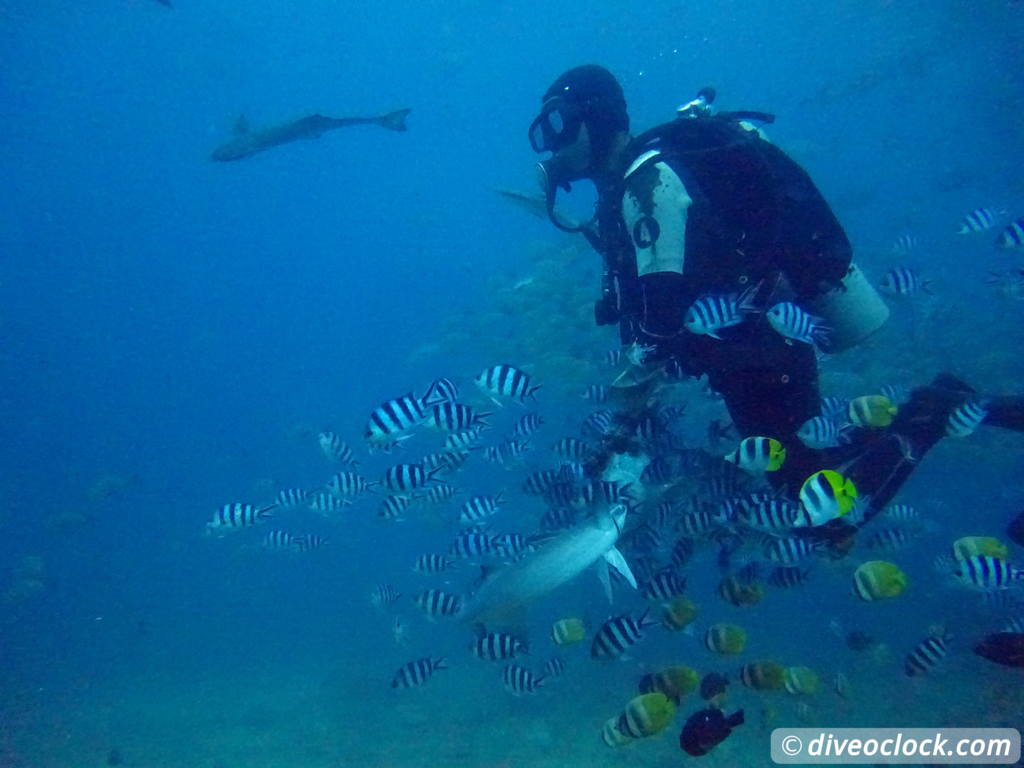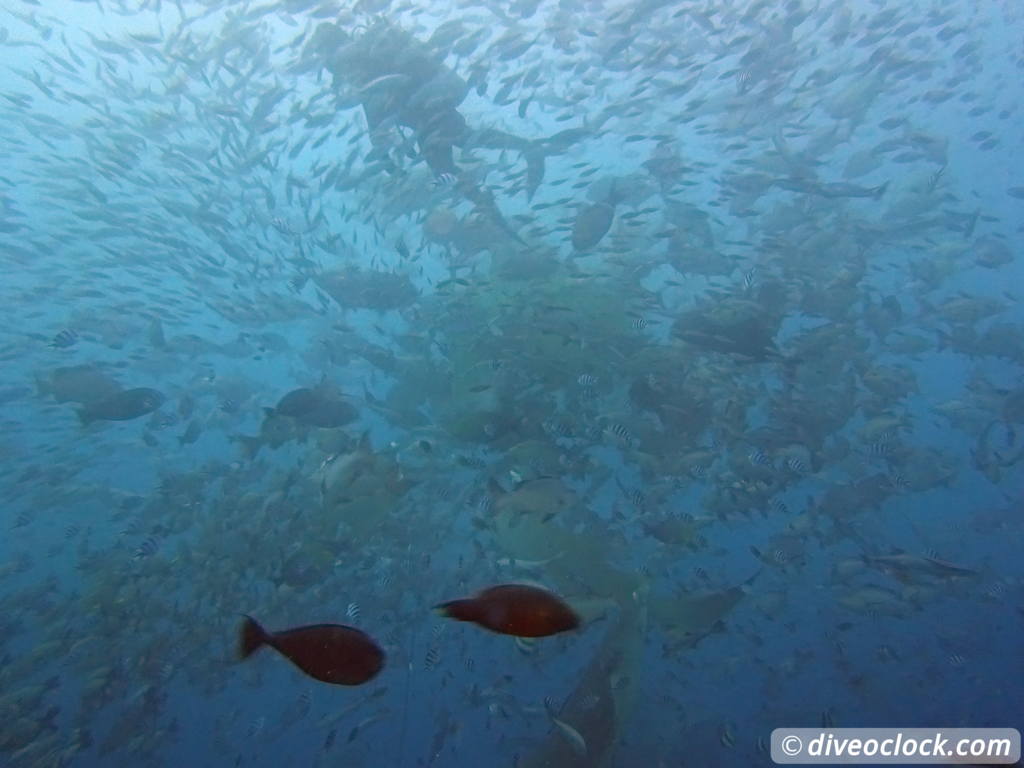 The ultimate shark encounter at Beqa Lagoon, Fiji!
Eco-tourism and shark conservation
In Beqa Lagoon Fiji certified SCUBA divers seek the opportunity to observe sharks in nature. These wild animals are attracted using bait and if watching sharks in aquariums seems unnatural to you, you might want to think twice about this trip sold as a shark eco-tourism adventure.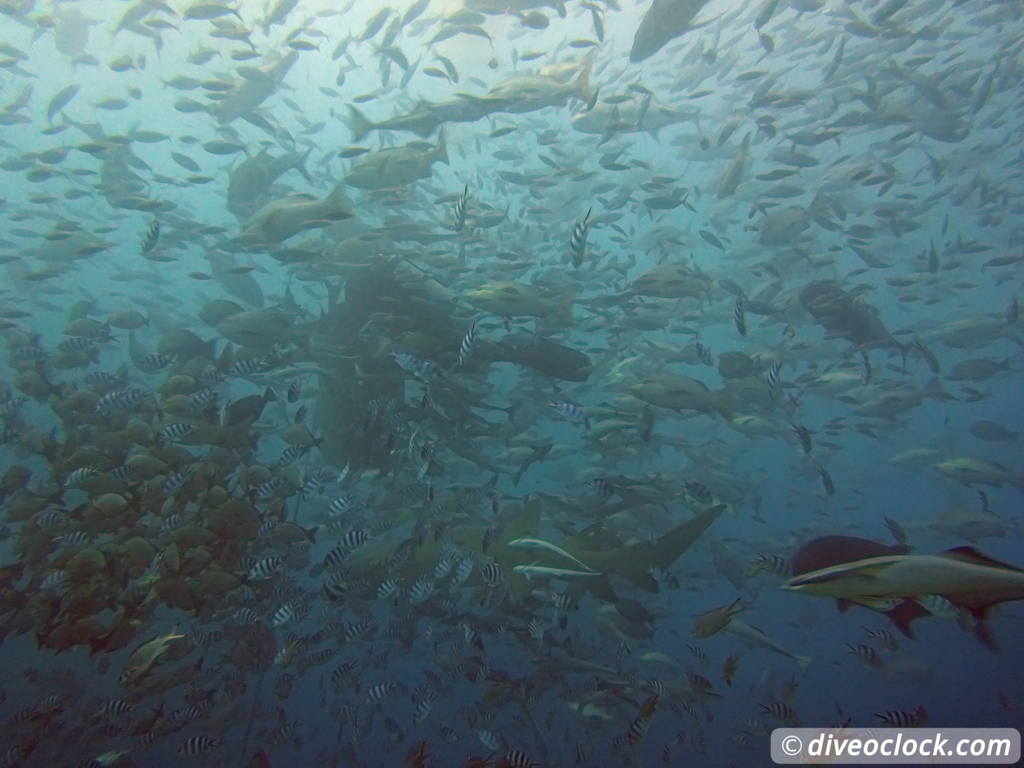 Unnatural behaviour?!
Do these sharks loose their hunting instinct? Are they over-exploided? Are changes visible in the sharks behaviour when you are conditioning wild animals in their own habitat? There are many pros and cons regarding shark feeding but one thing is certain: For the sharks it is better to be disturbed than to be dead! These shark-human interaction trips DO raise awareness for sharks and their vital role in the ocean. Local economies shifted from shark fishing to shark feeding and sharks are worth a lot more alive. The revenue in shark tourism is enormous and part of the money goes to the villages, but is this really sustainable? Are they doing the right thing?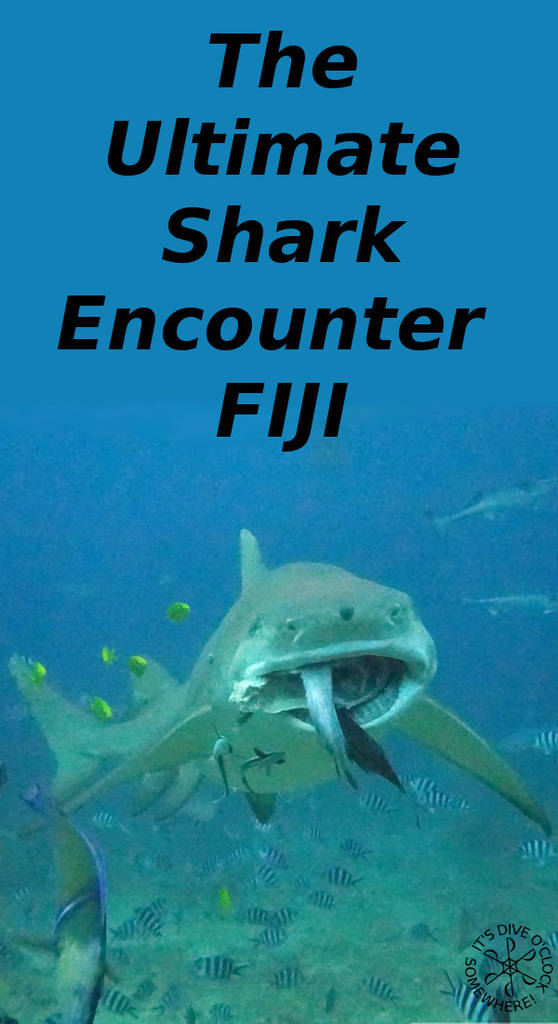 Aqua-trek was feeding the sharks by hand and using large amounts of fish on both dives. There are two other dive centers here that organize the shark dives: Beqa Adventure Diver in Pacific Harbour that organizes the diving a bit similar and Beqa Lagoon Resort on Beqa Island that offers a softer approach with less fish and no hand-feeding. They all seem to have their own shark conservation program and guidelines... Objectivity does not always seem to be the main priority, be aware of that! Visit their websites and read up on things before deciding IF and with whom you go along with.
To be honest with you, this is NOT my kind of diving. I am happy that I did it after doubting about it and reading up on things but I would rather see a small percentage of these sharks in a natural way. Compared to the
Thresher shark dives in Malapascua
,
snorkeling with whale sharks around Isla Mujeres
and the
Hammerhead shark dives in Mexico
, even the ones I guided in The Maldives, shark feeding really is a different thing and it does not make me happy. Having that said, this is a guaranteed shark encounter, an effective way to raise awareness for the sharks and it gives amazing photo opportunities to share your love for these wonderful animals.
I would love to hear your opinion about shark eco-tourism!
Please share your thoughts and let me know if dive information and tips are useful to you!
Read how to combine diving around Beqa Lagoon with Bligh Water (the soft coral capital of the world) and other things to do on the island during a Fiji Road Trip on a Budget: 7 Days Viti Levu Itinerary!
If you like this post, hit that like button on our
Facebook page
and stay tuned for more!
Marlies Wolters
Founder of Dive O'Clock "It's dive o'clock somewhere!"

Share this page: