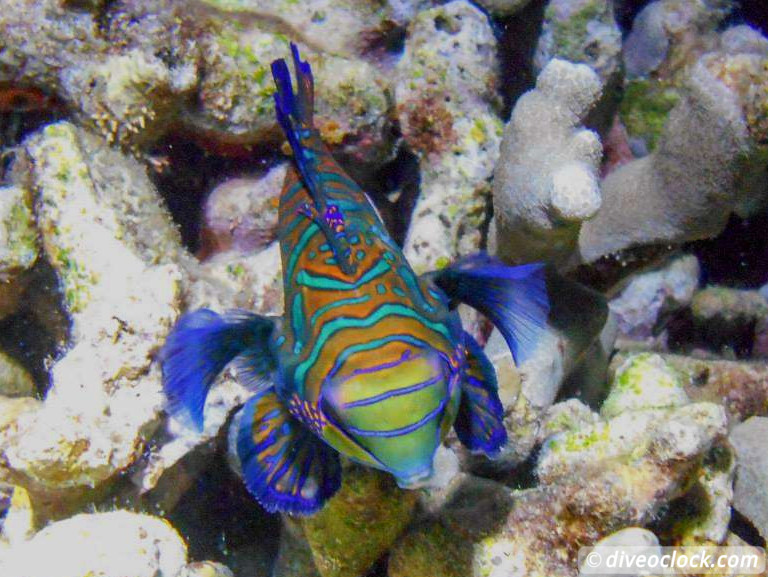 Mandarin fish at Malapascua Island, The Philippines
Malapascua - Mindblowing Thresher Sharks & Mandarin Fish (Philippines)
How about combining two bucket list creatures in one single day? At Malapascua you can dive with Thresher sharks around sunrise and Mandarin fish during sunset with another great reef dive in between!
The beautiful tropical island of Malapascua lies North of Cebu Island. It takes about 5 hours by bus from Cebu City to Maya from where you take the boat. The island is laid-back with beautiful beaches. Lots of restaurants and bars are located at the beach (Bounty Beach) and you can have beautiful sunset drinks there.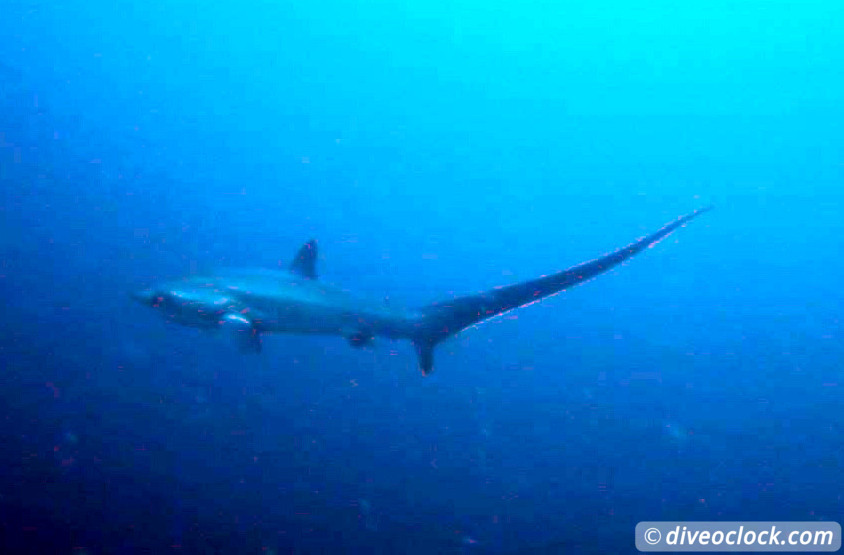 Thresher shark at Malapascua Island, The Philippines
The locals live in the middle of the island, it is a maze of little houses and local shops. There are some sort of main walking paths around the island. It is all sandy and you have to wind and turn around houses and gardens a lot for shortcuts. You can easily get lost on this little island so make sure to bring your phone with GPS.
Island life is beautiful but that is not what this is about, it is about diving and it is all about diving! There are many dive shops around and there are dozens of dive sites to explore. Thresher sharks & Mandarin fish are what attracts many divers to the island and you should not miss out on those dives!
| | |
| --- | --- |
| Country | Philippines |
| Dive area name | Visayas, Cebu, Malapascua Island |
| Dive center | Little Mermaid Dive Resort |
| Famous for | Thresher sharks & Mandarin fish |
| Price | For up to for dives you pay about $37 including marine park fee and equipment. For the Thresher sharks you pay another $1,- and a dive light costs $5,- a dive. |
| Hotel recommendation | Cocobana Beach Resort |
Thresher sharks at Monad Shoal
Monad Shoal is the dive site to spot the rare Thresher sharks! Thresher sharks have a long tail that can be as long as the body itself. They have the ability to slap/whip/slay their prey with their tail, sort of knocking them unconscious.
We jumped in the water at around 5:30 and went down to a little less than 30 meters. As no decompression limits are short at that depth and the sharks are (of course) not guaranteed it was a quite exciting dive. The rules are strict for this dive, there is a protocol which every dive center follows.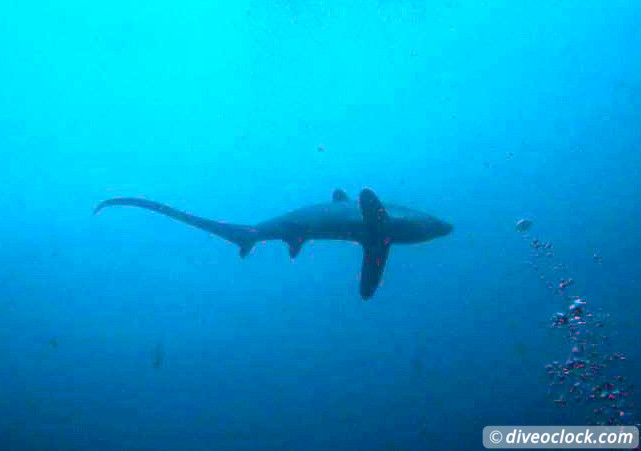 Thresher shark at Malapascua Island, The Philippines
There is a small ledge to kneel on at the 30 meter zone with a rope. Basically everybody kneels behind the rope, holding the rope not to disturb the sharks too much. After 30 minutes the 'show' is over and you go back for your safety stop.
These pelagic sharks are diel vertical migrators, meaning they come up to the shallower parts of the reef during the night and stay deeper during the day. That is why you need to get out of bed really early, otherwise they are already down to deep. We were lucky to spot two on our dive, not too close but still, we saw them!
Mandarin fish at Light House Reef
Another 'special' dive around here is a dive to spot Mandarin Fish doing 'boom boom' ;). Mandarin fish are some of the most beautiful colored (psychedelic) fish of the tropics and they are very shy. They are on the dive bucket list of many divers, especially underwater photographers. Having that said, make sure to check how many divers are on the schedule. You can have more cameras than mandarin fish easily...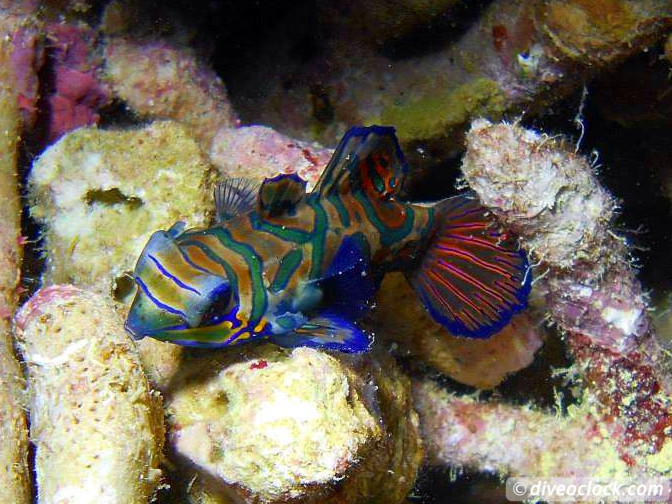 Mandarin fish at Light House Reef
The dive spot called Light House Reef is where you can spot Mandarin fish mating almost every night of the year. This dive is scheduled around sunset, when the mating 'dance' begins and the male fish starts to impress the female. It is quite challenging to take a photo of these shy fish without disturbing them, they easily go back hiding in the reef.
As it becomes really dark the show is over, dive torches are turned on and the dive continues as a night dive. Although there is a lot of sandy bottom on this dive site there is still a lot to see. Many Thorny seahorses were around.
Comparing dive destinations
Bottom structure
Reef structure
Pelagic
(big stuff in the blue)
Big reef
(bigger stuff on the reef)
Macro
(small stuff on the reef)
Current
(stream)
Flat bottom with bumps/big rocks/pinnacles
Hard corals tree-shape
(not moving)
Sharks
Turtles
Nudibranchs
(snails)
No current
Slope
(going down slowly)
Soft corals tree-shape
(moving)
Rays
Eels/snakes
Sea horses
Small
(you can easily swim against it)
Wall
(steep but you see the bottom)
Table-/fan-shape
Trevally/Jacks/Tuna
Groupers
Scorpion/frog fish
Medium
(you can swim against it for a little while/higher air consumption)
Drop off
(steep and you can't see the bottom)
Anemones
Barracudas
Lobsters/crabs
Octopus/squid
Strong/reef hooks
(you cannot swim against it)
Blue
(no reference)
Sponges
Sardines/herrings
Puffers
Shrimps
Pumping/washing machine/OMG/hold your regulator
(superman)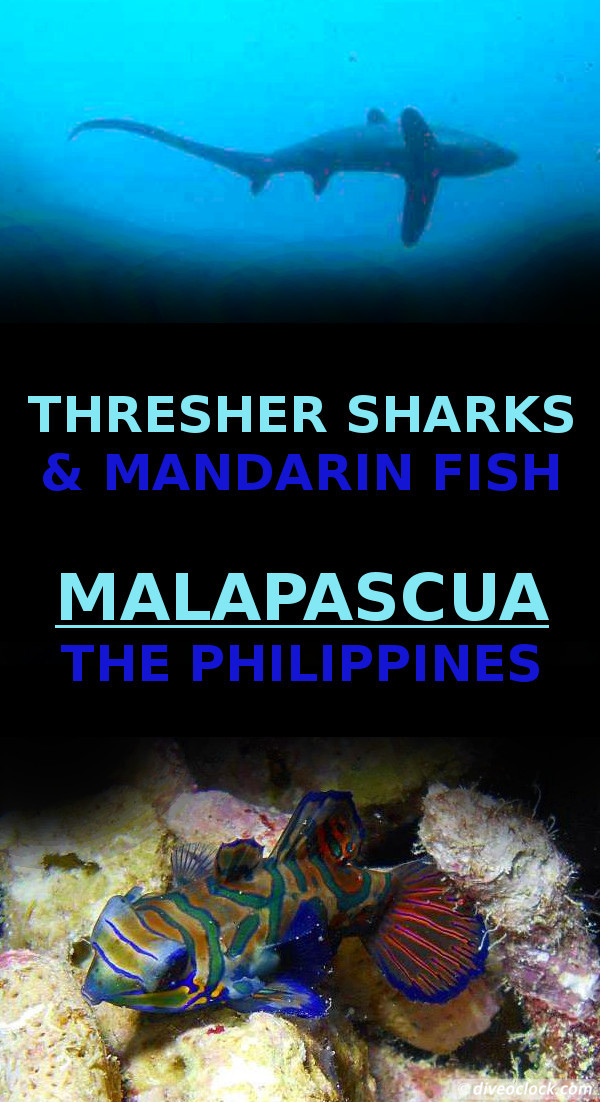 About the organization of Little Mermaid Dive Resort
With many dive centers around on Malapascua island you can just choose whoever you prefer. We selected Little Mermaid because we had a lovely talk to one of the dive guides and the prices were OK. This is a small dive center and we had a private trip to both the sunset and sunrise dive, excellent! We went on a little open boat, more like a small rowing boat with loud engine, which was fine for the short rides. There are many other dive sites as well but this did not fit the budget unfortunately.
Make sure to try the tasty tzatziki pizza at Little Mermaid Dive Resort and do not forget to bring enough cash. There are no ATMs on Malapascua or at the harbor area on Cebu (Maya), or at least they were not there in 2015. More about the island you can read
here
.
If you like this post, hit that like button on our
Facebook page
and stay tuned for more!
Marlies Wolters
Founder of Dive O'Clock "It's dive o'clock somewhere!"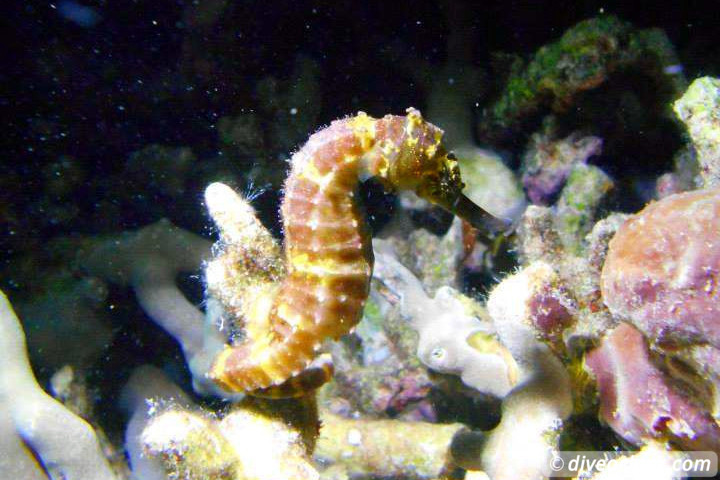 Thorny seahorse at Light House Reef

Share this page: