Ko Si Chang - SCUBA Diving and Marine Conservation Close to Bangkok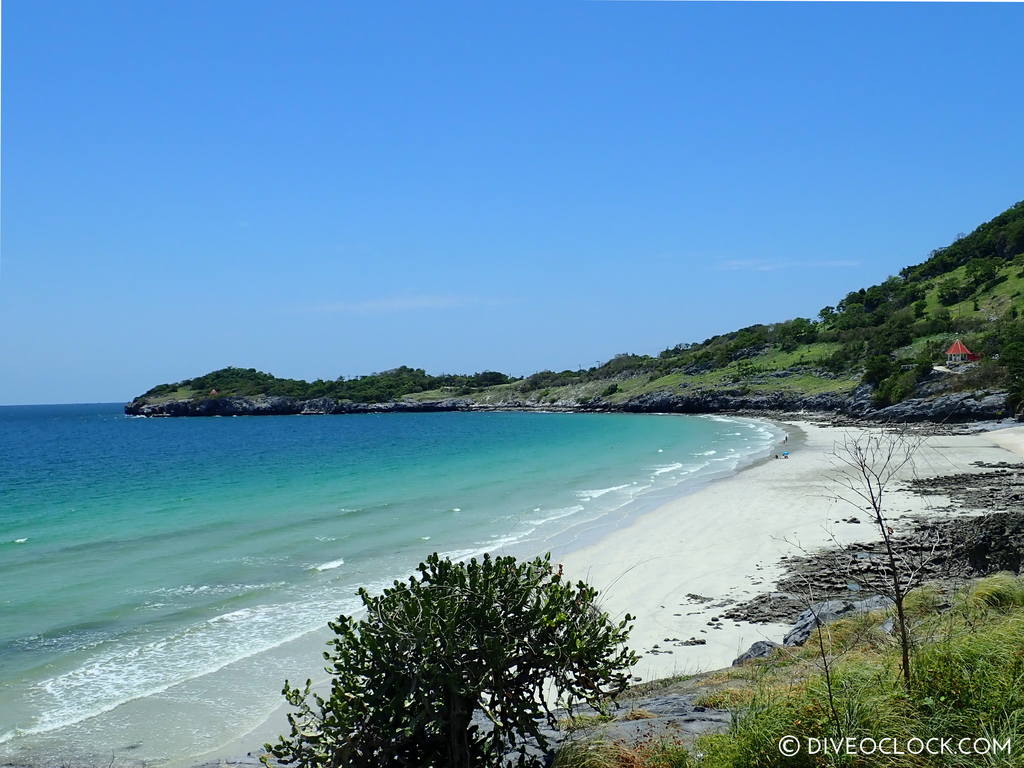 Tum Pang Beach / Tampang Beach / Haad Tham Phang on Ko Si Chang
Ko Si Chang is the place to go if you want to squeeze in a day of local Thai vibes and SCUBA diving before you leave Thailand. Visit coral reefs in the making supported by the DMCR (Department of Marine and Coastal Resources), enjoy the anemone gardens and search for nudibranch at Hin Sampayu.
SCUBA Diving on Ko Si Chang
The water can be turquoise blue, the cliffs and bays are stunning and there is a lot of marine research going on but there are no dive centers on Ko Si Chang (2019).
Maybe because most of the tourists visiting Ko Si Chang are actually Thai. Maybe because visibility can be low or maybe it is the idea that close to Bangkok and major ports the reefs must be bad...
Well, to be honest, it is not a hidden gem (yet), but for sure SCUBA diving around Ko Si Chang is interesting in many ways!
If you stay on Ko Si Chang, make sure to check Ko Si Chang - 3 Things To Do for Ocean Lovers as well.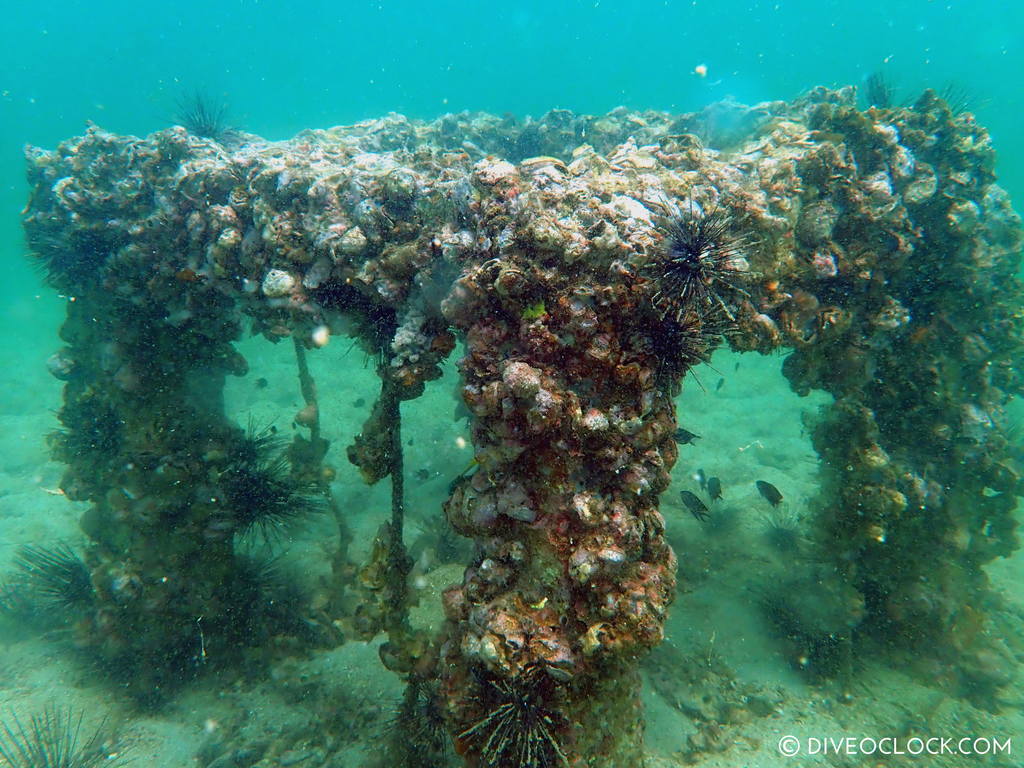 One of the artificial reef blocks around Ko Si Chang.
Marine Conservation around Ko Si Chang
On many of the Ko Si Chang island maps you can see that there are various artificial reefs around Ko Si Chang and the nearby islands. Most of them are a bit off the coast and too deep to see for snorkelers, depending on the time of year / visibility.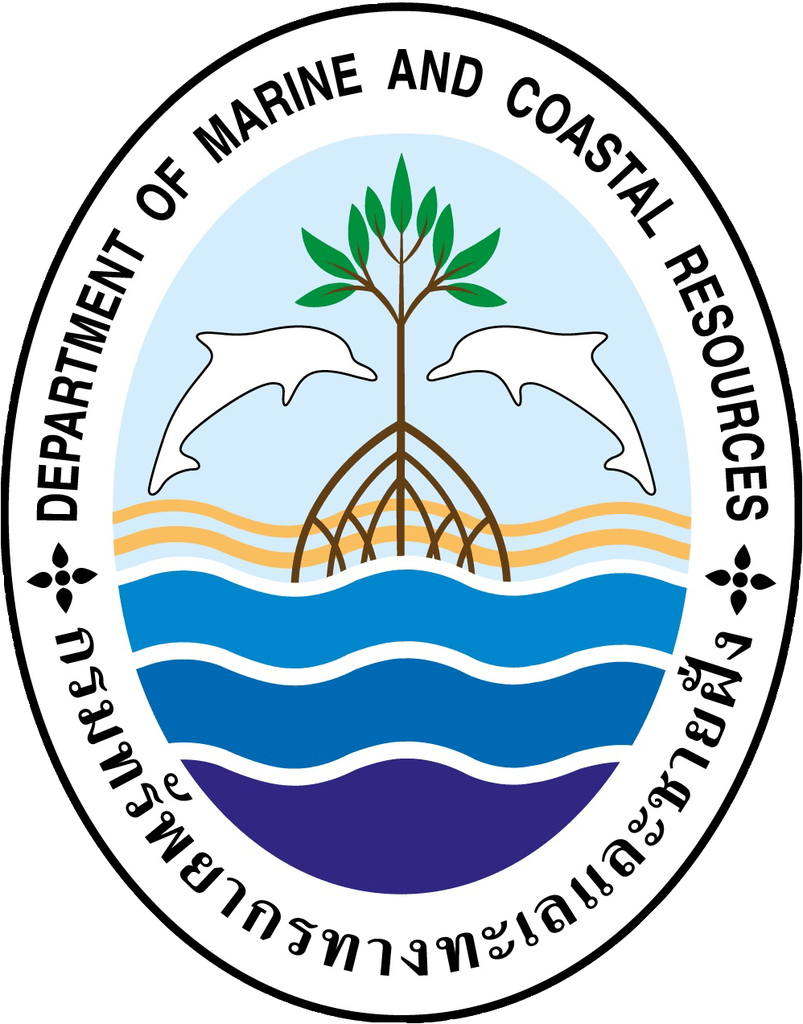 Apart from the artificial reefs that 'grow naturally' there is an aquaculture project or coral gardening going initiated and controlled by the DMCR. The DMCR (Department of Marine and Coastal Resources) is a large Thai governmental organization.
The Department of Marine and Coastal Resources (DMCR) undertakes resource management of marine and coastal flora and fauna including mangrove forests, coral reefs, seagrass beds as well as endangered marine species, through conservation and rehabilitation initiatives.
The operation seeks to secure an abundance of resources and achieve ecological balance so as to promote national, economic and social development. (Source: IYOR2018)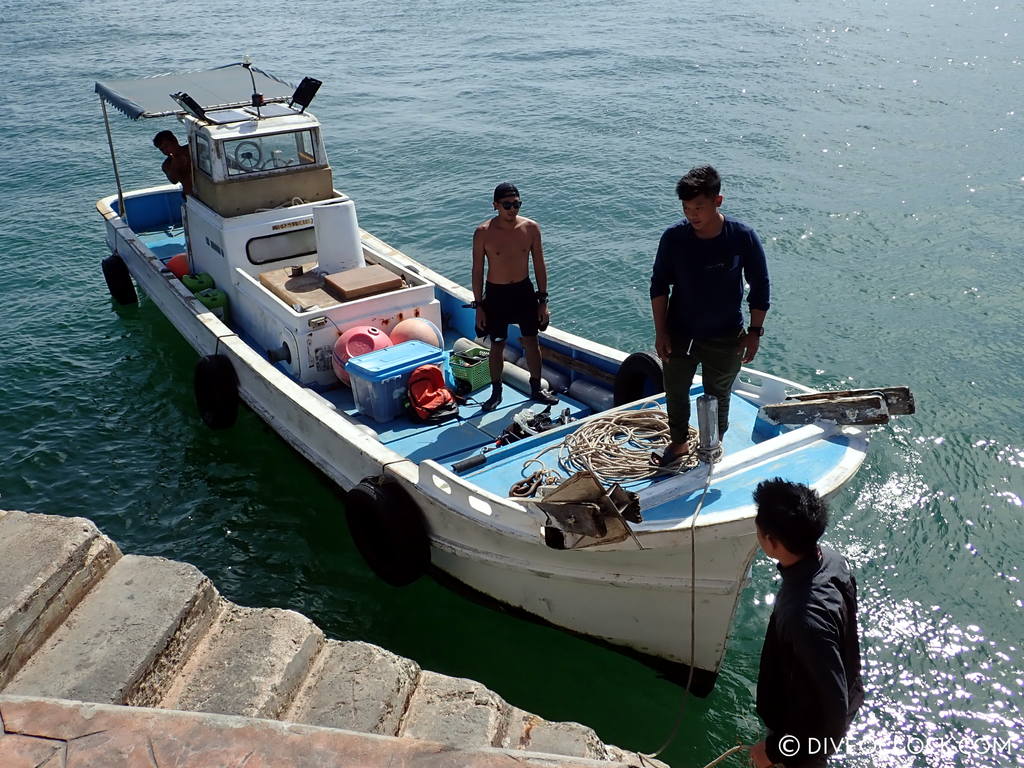 Khamyai scuba diving boat arriving on Ko Si Chang for the pick-up.
Organizing your dive trip on Ko Si Chang
If you want to explore the coral reefs around the Ko Si Chang islands with a scuba cylinder you need to organize this differently. Contact Bert from Sea Raja Scuba in Si Racha (where you take the ferry to Ko Si Racha) to arrange your diving.
Make sure to do this a few days in advance! Preferably visit the dive shop in Si Racha for the paperwork and to try on dive gear if you need to rent dive equipment. That makes it a lot easier! Use the Grab App to get around Si Racha cheap and easily.
Once your trip is organized you can simply wait for them at the Tha Bon pier (closest to the Chinese temple) on Ko Si Chang for the pick-up. From that point on Bert, Manus and the boat boys will take care of everything. Boat briefing, dive site briefing, emergency procedures, no rush, expect a perfectly organized day trip.
The best time of the year to go SCUBA diving at Ko Si Chang is November to April.
Other months it really depends on the weather conditions and tide regarding visibility and current.
Country
Thailand
Dive area name
Chon buri, Ko Si Chang / Koh Sichang
Dive center
Sea Raja Scuba in collaboration with Khamyai Scuba Diving.
Famous for
Stingrays, nudibranch and a large scale marine conservation project by DMCR.
Price
2-tank private boat dive trip 3000 THB / 98 USD per person including dive guide, water, lunch, tanks and weights.
Equipment rental 500 THB / 16 USD (no dive computer). Inquire for trips to Pattaya and Samaesan with Sea Raja Scuba here

Hotel recommendation
Benjaporn Bungalow has a garden setting with lovely seating areas (look for white squirrels in the trees). You have seaview (sort of) from the balcony on the second floor. They can organize sightseeing trips, have motorbike rentals but are also walking distance to convenience stores, restaurants and the town aka harbor. Breakfast is very good and the staff is very friendly. Free pick-up and drop-off at the ferry to Si Racha. Stayed here 5 nights, recommended!

Hin Sampayu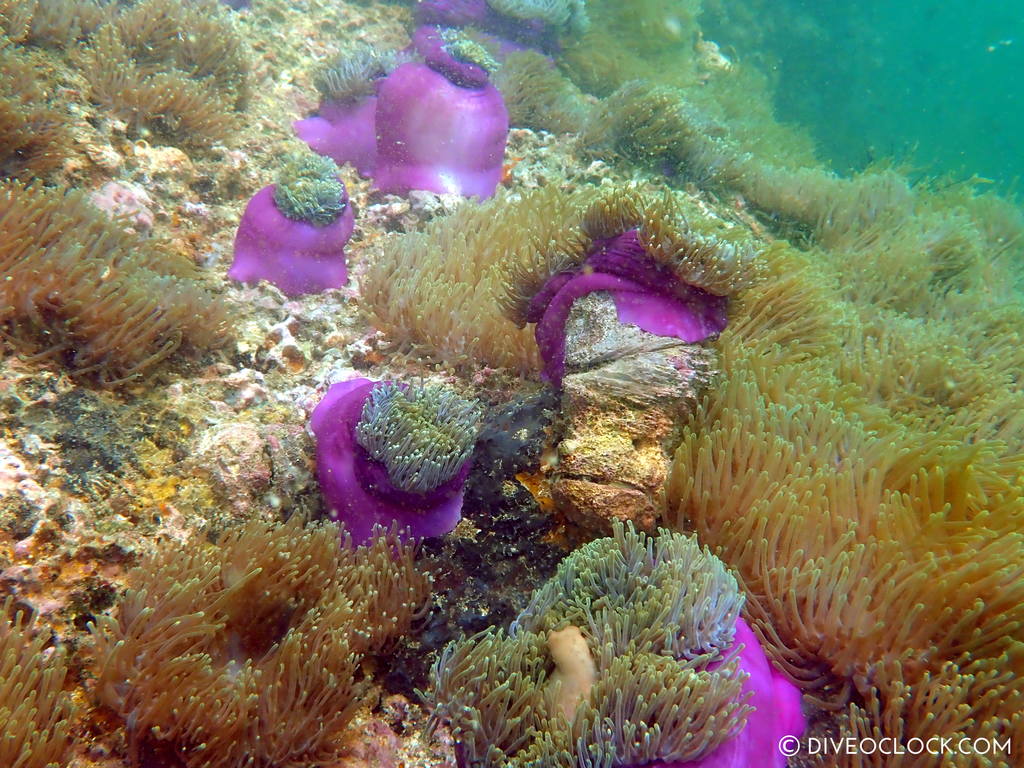 Anemone fields at Hin Sampayu
Hin Sampayu
Nudibranch and Anemone fields
North of Ko Si Chang lays Hin Sampayu, a small rocky island with an old lighthouse. It is a popular spot for sport fishing, so watch out for fishing lines, fish hooks and bait when scuba diving.
At Hin Sampayu you do not need to go deep, above 52 ft / 16 m you will find most marine life and corals. Try to swim a bit slow to discover all the small species. We found beautiful pipefish and various nudibranch and stingray species in the sand and on the reef. Although the visibility was not the best you could see tropical fish everywhere, see photos below.
The best part of this dive site is the shallow part, perfect for your safety stop. At around 15ft / 5m depth you see a purple field of anemones moving with the surge and current, stunning colors and anemone fish dancing on top.
The weather conditions need to be favorable to go out to Hin Sampayu.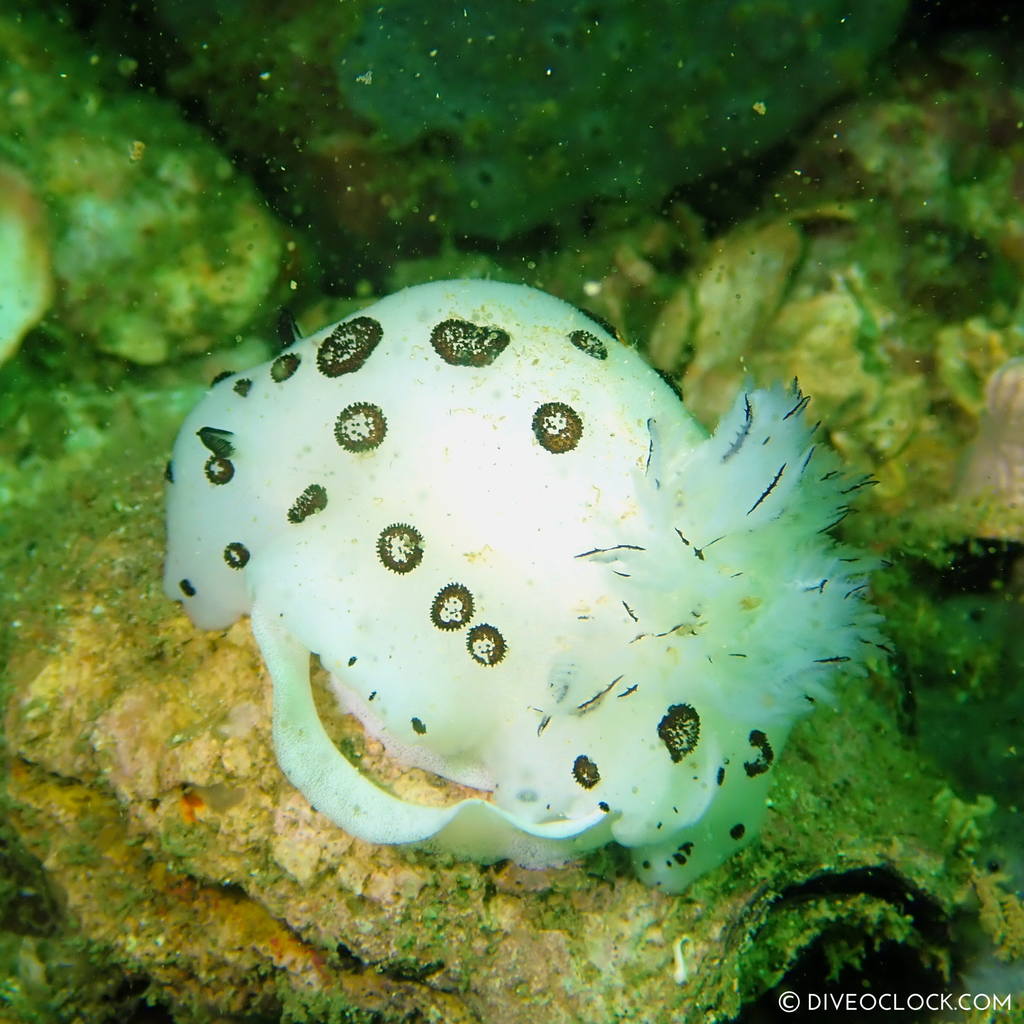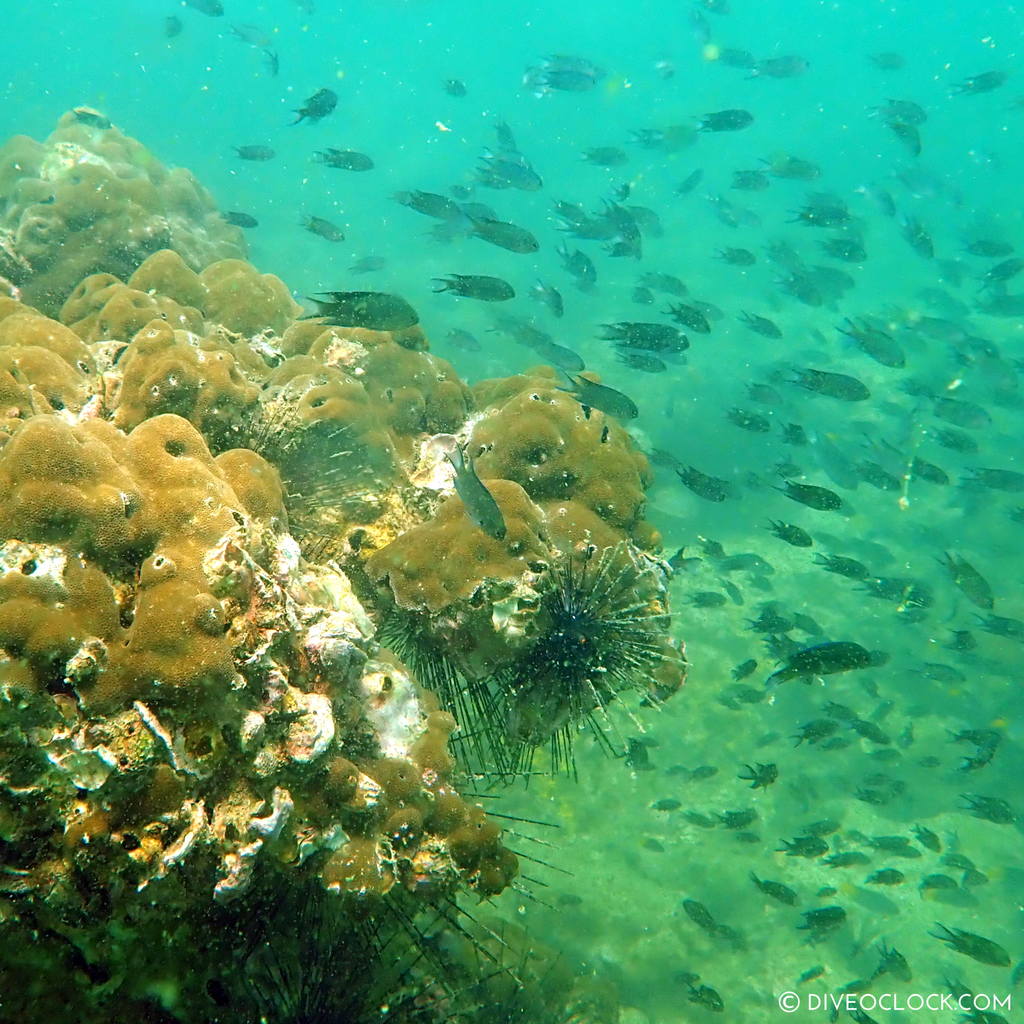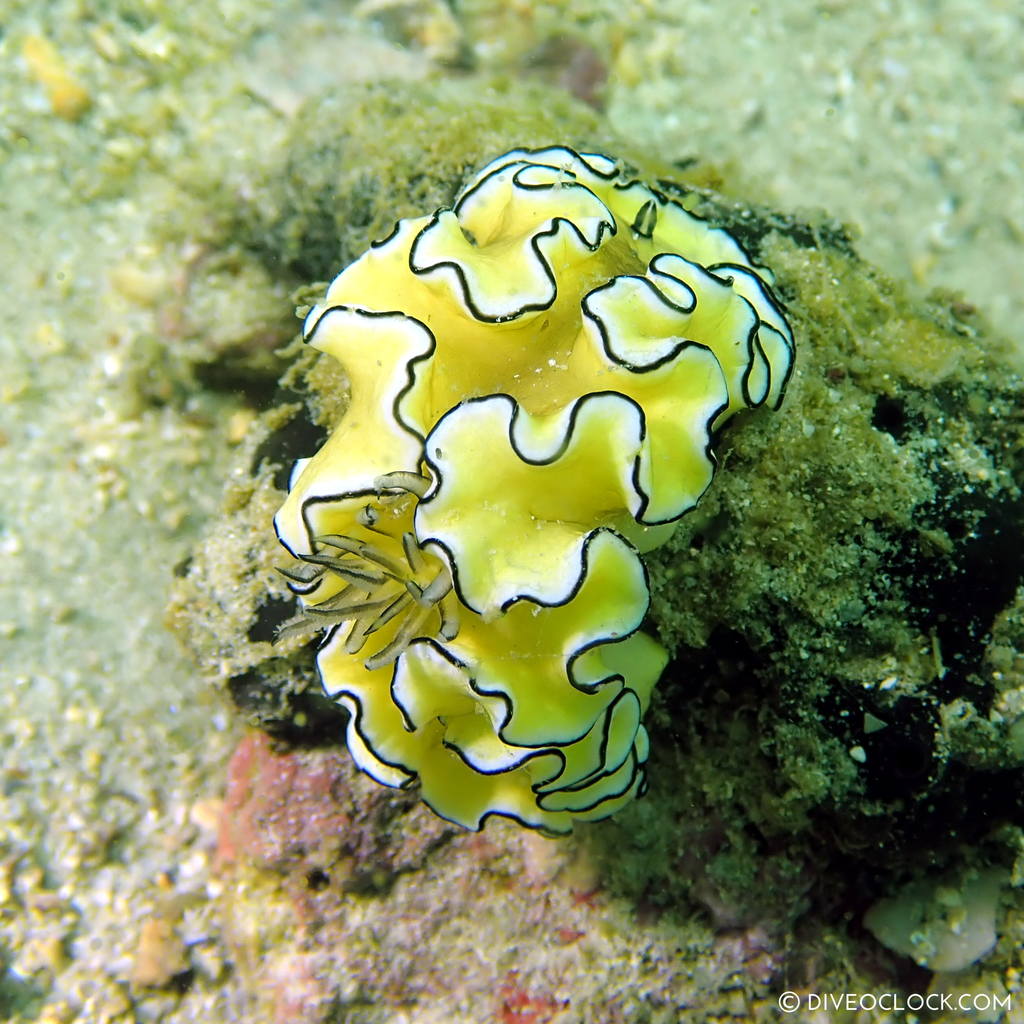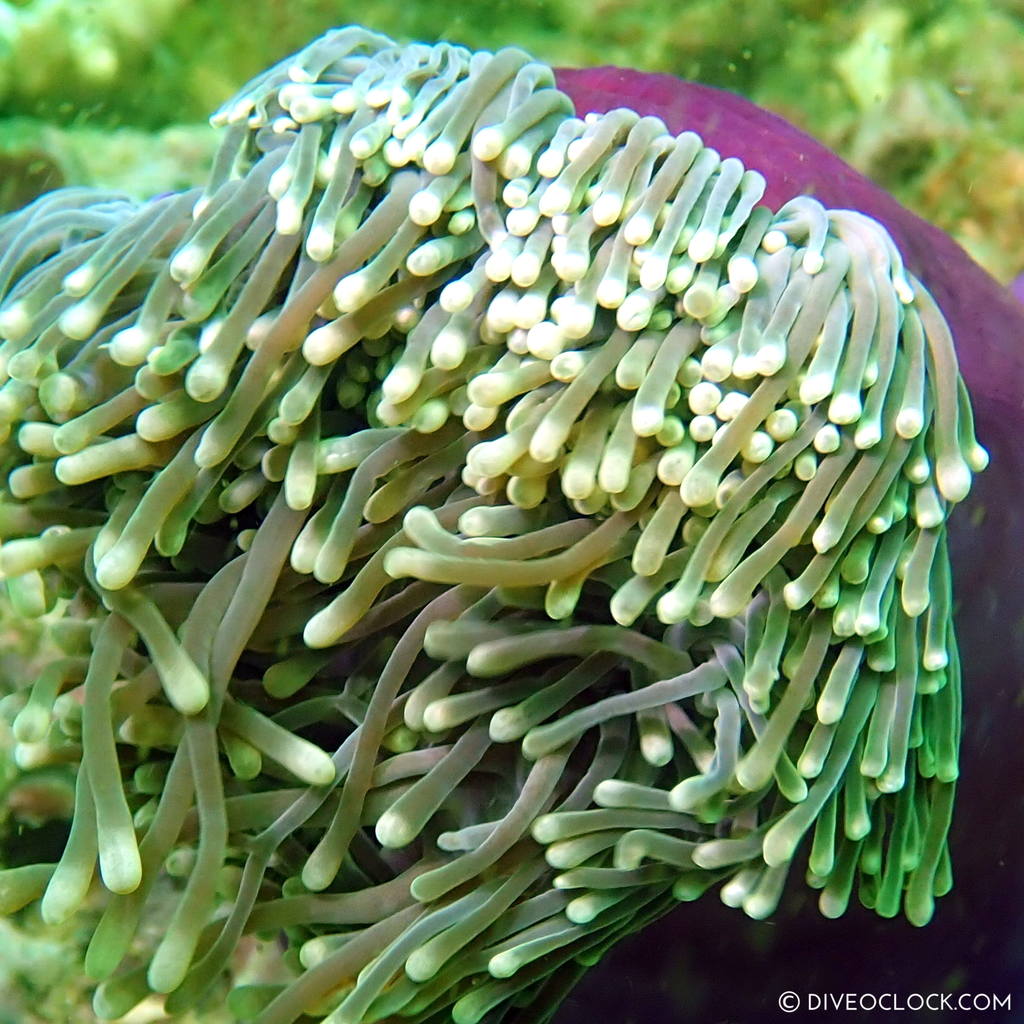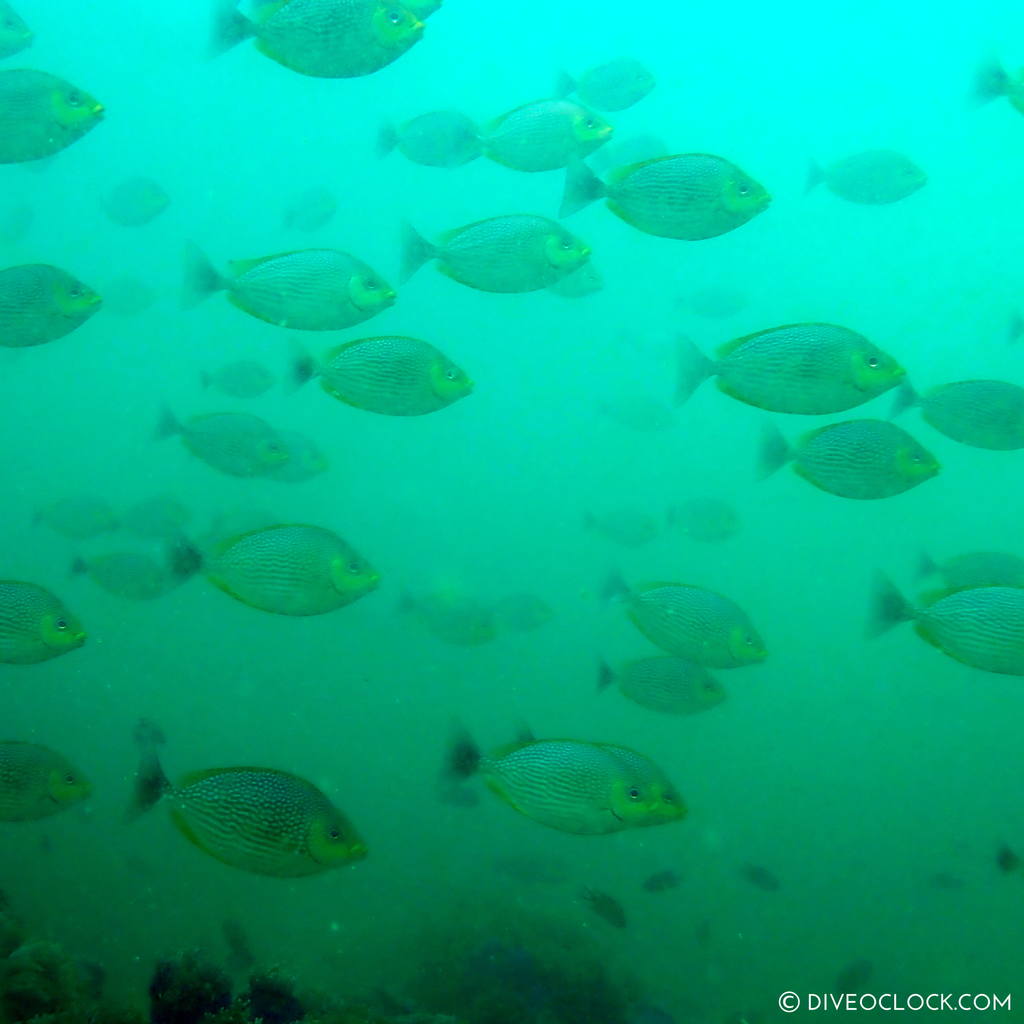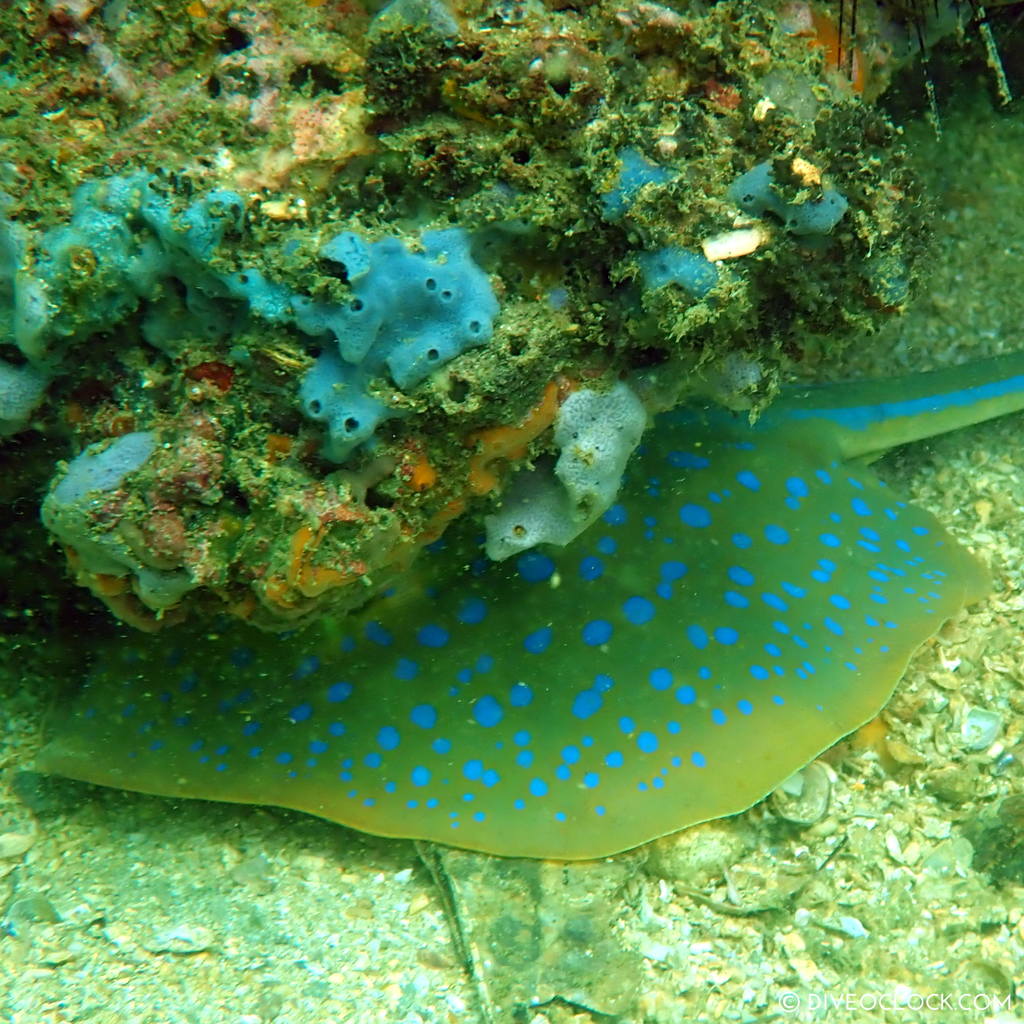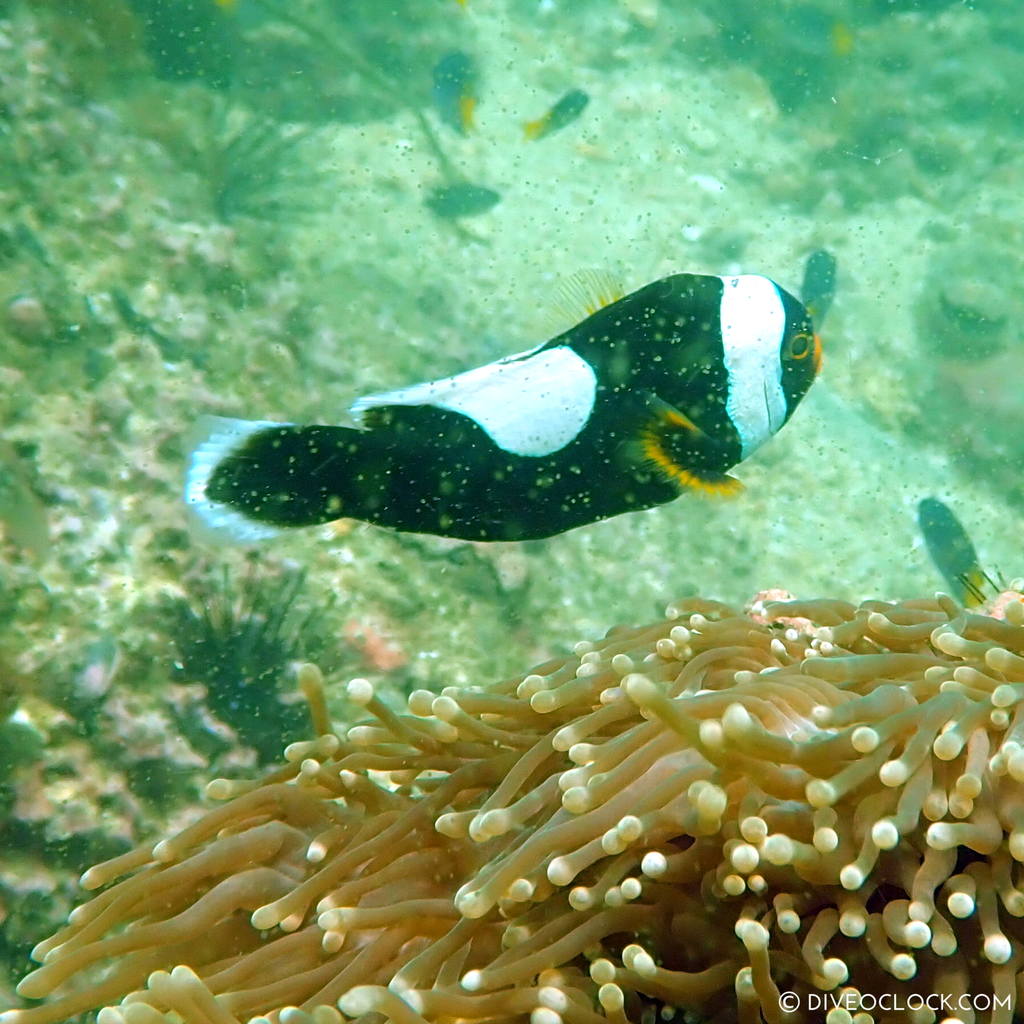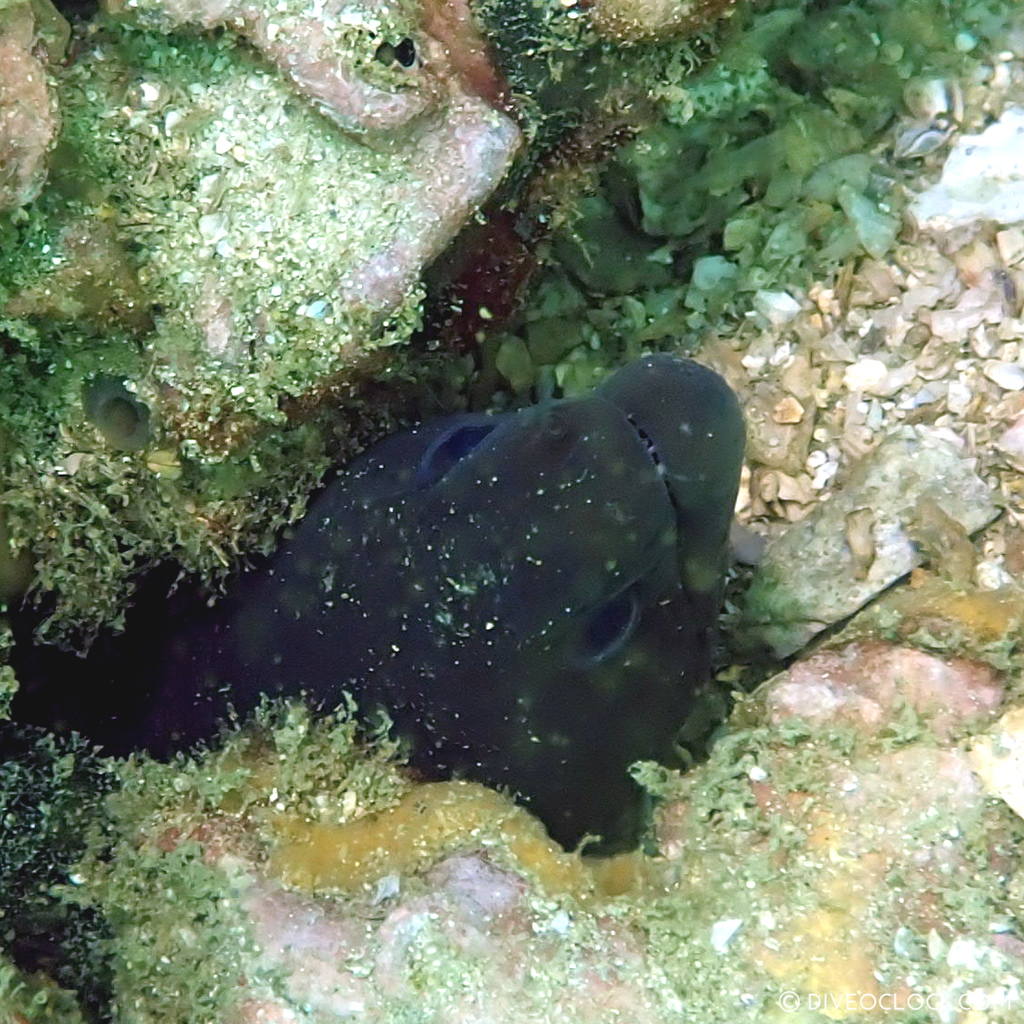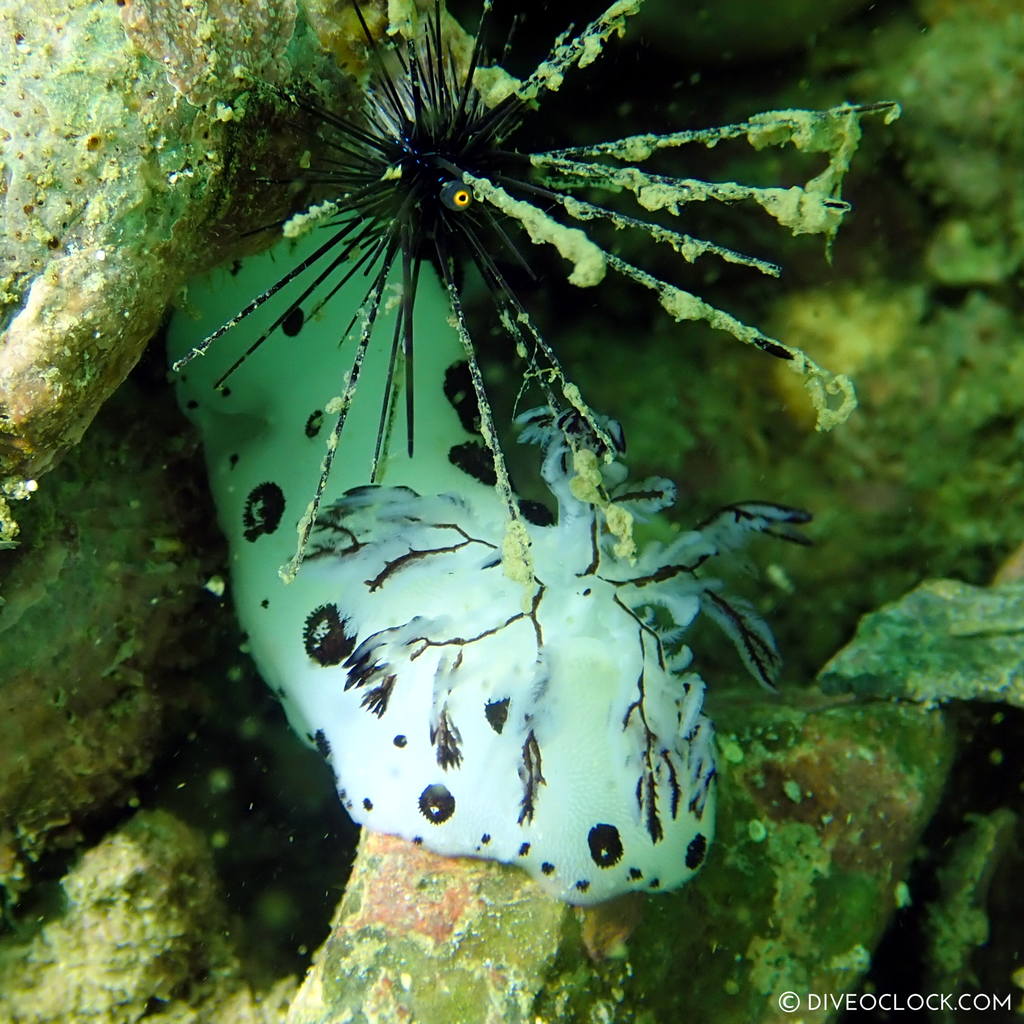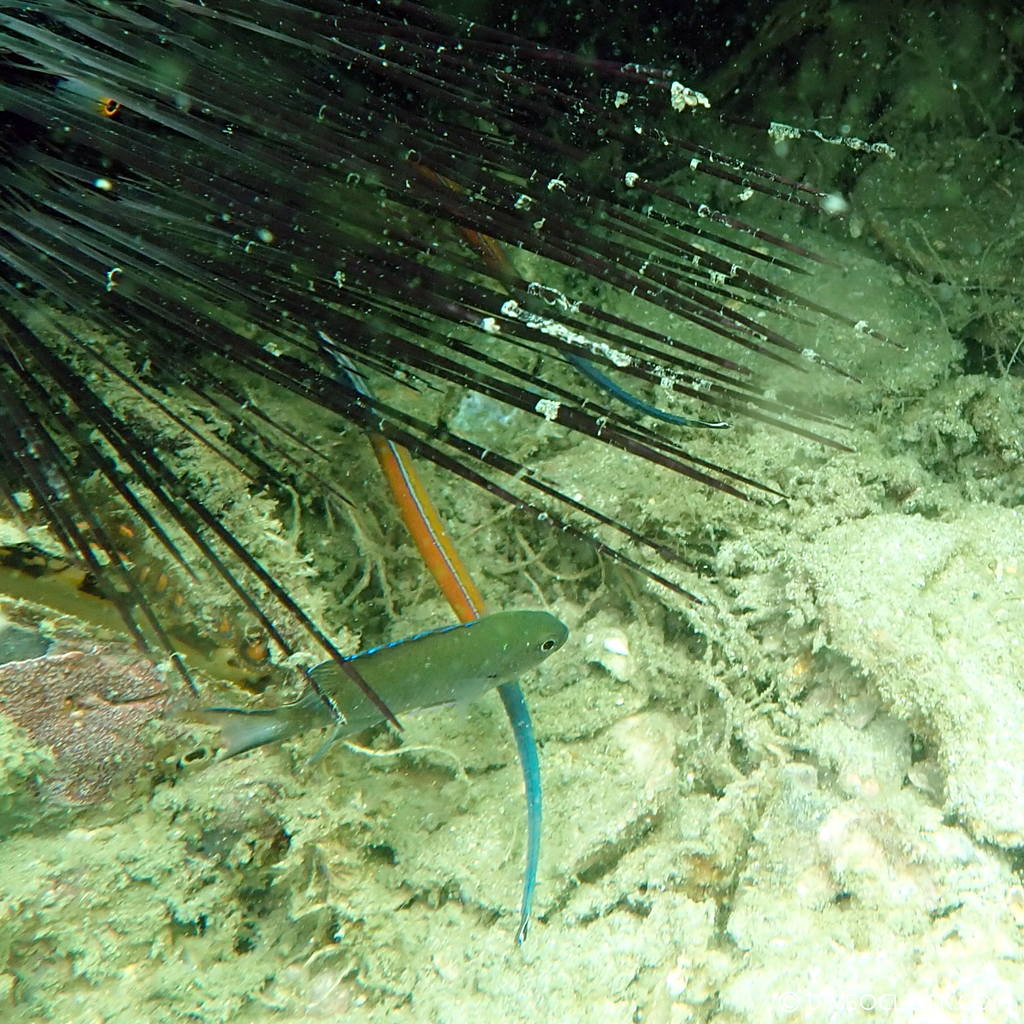 Variety of marine life species at Hin Sampayu (Ko Si Chang)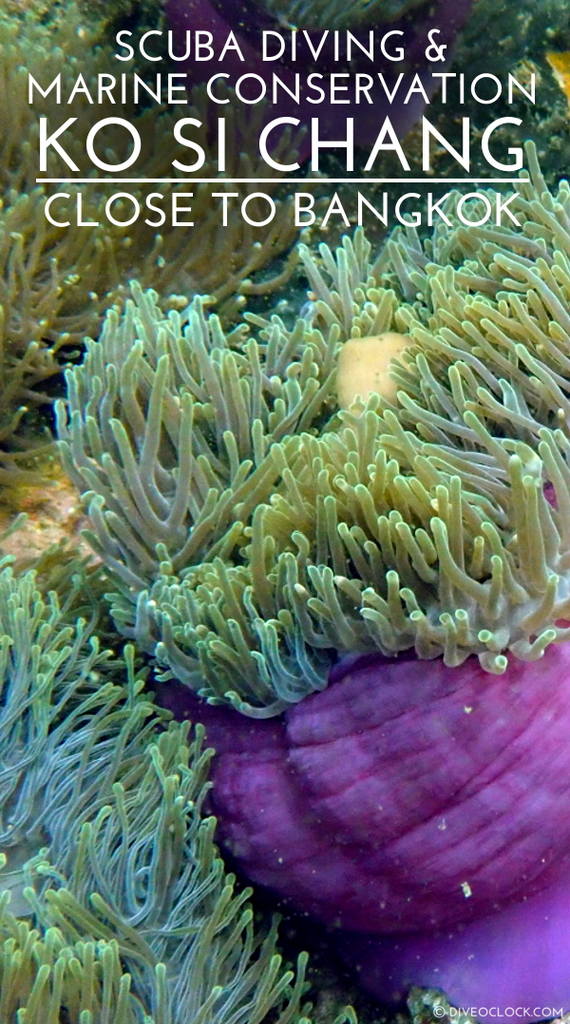 Ko Ran Dok Mai
Ko Ran Dok Mai
Coral gardening, cuttlefish and pilot fish
This cute little island hold a big secret: A coral reef in the making! Led by captain and dive instructor Manus, this DMCR (Department of Marine and Coastal Resources) project is in full swing. You can explore the Staghorn coral transplants and the coral gardening efforts at various stages.
According to Manus, they managed to restore 48,000 coral colonies in various phases. At Ko Ran Dok Mai you see the living coral fragments anchored onto cinderblock structures. The bricks have holes on the bottom, so fish and other small marine life species are finding cover underneath this 'coral garden'.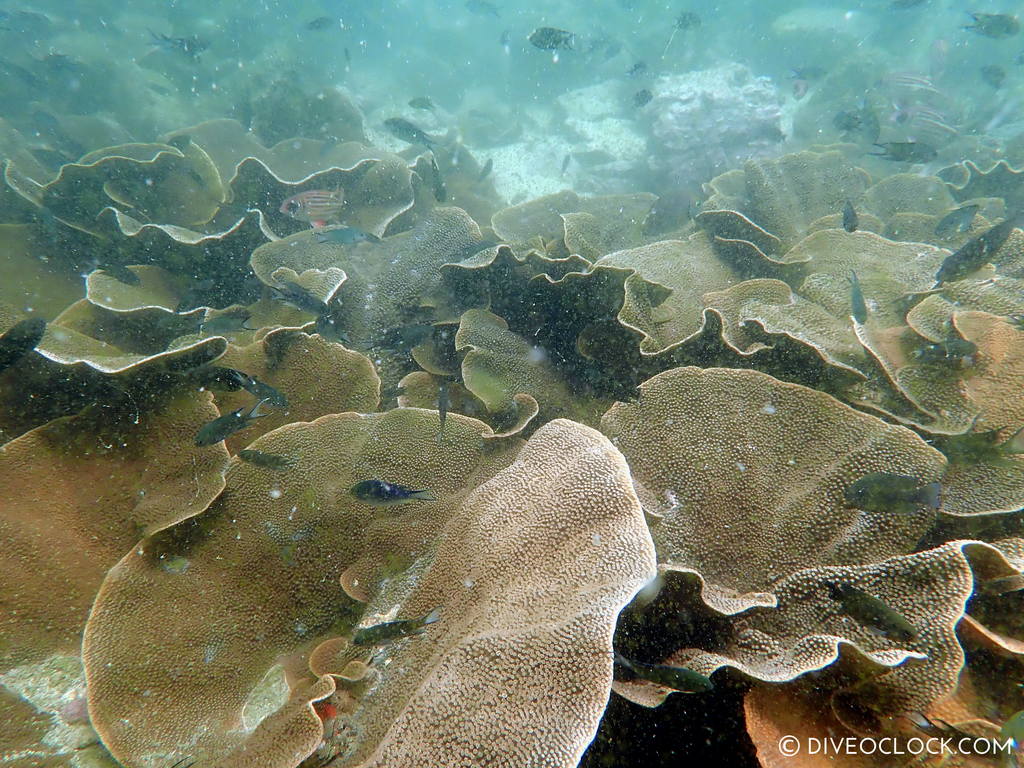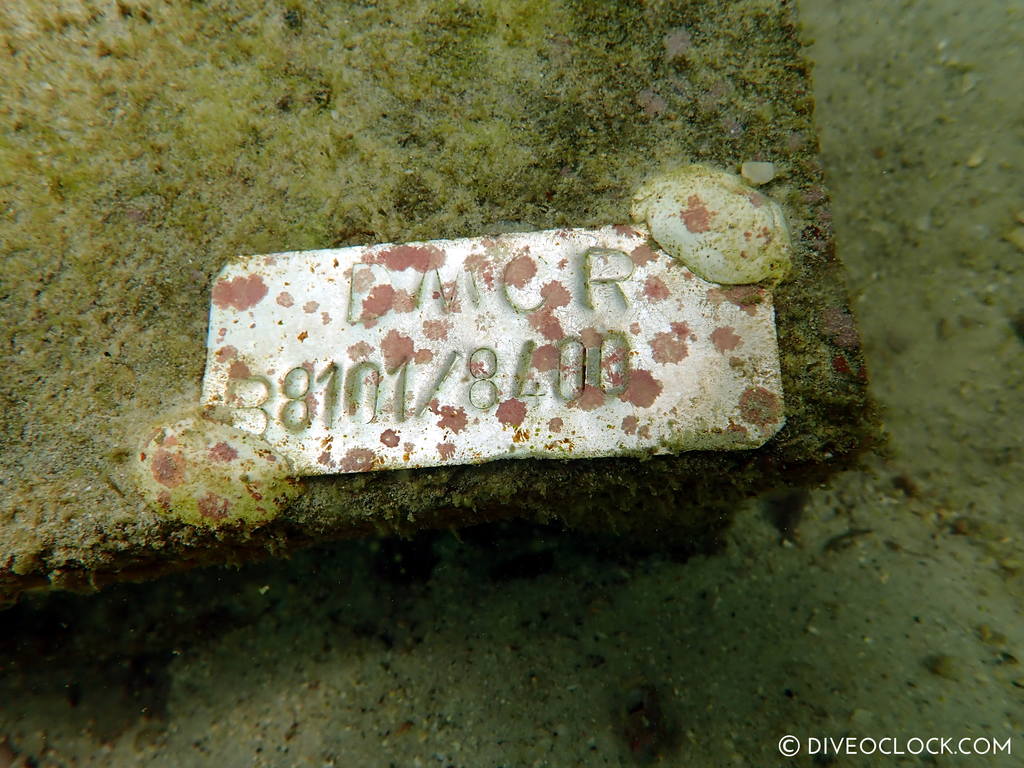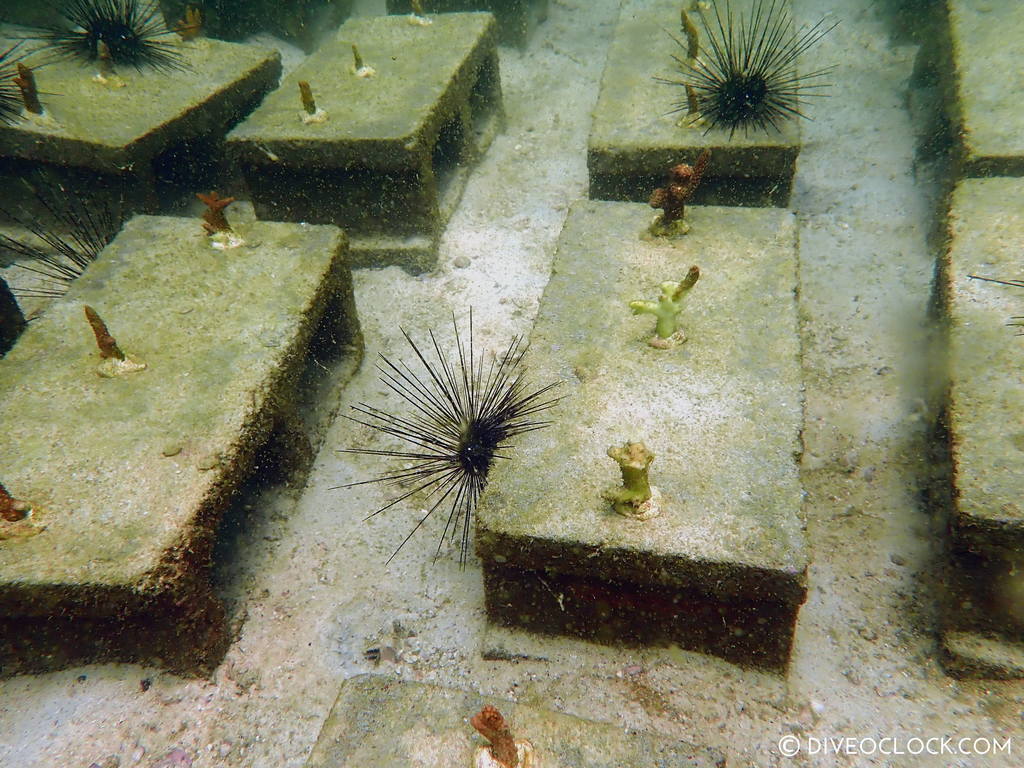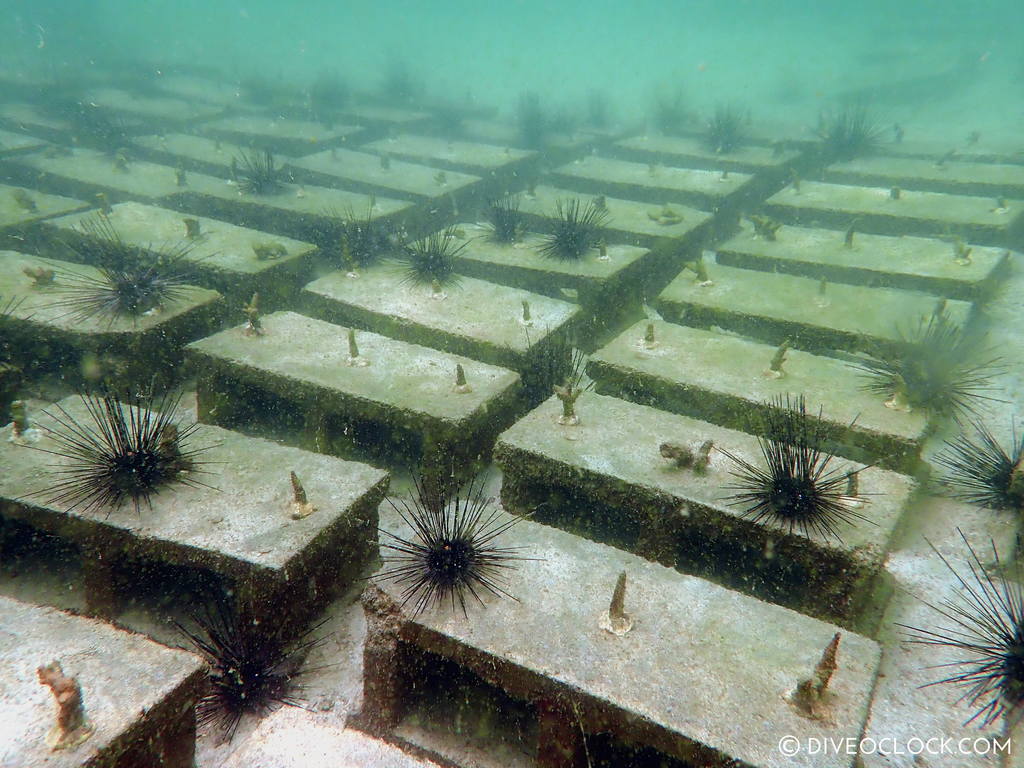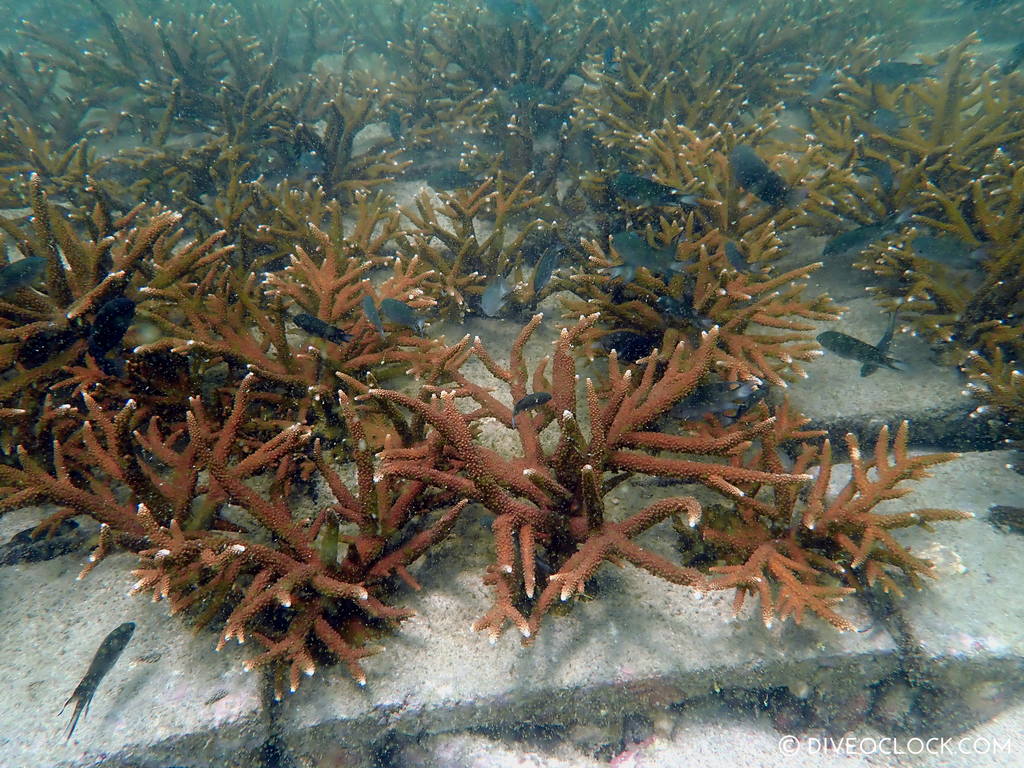 Turbinaria and Staghorn coral gardening at Ko Ran Dok Mai (Ko Si Chang)
Also the disk corals (Turbinaria) are slowly covering more and more of the sandy bottom, creating hiding places for many marine life species. Broken pieces are aligned with the rest of the coral formations, creating a blanket of turbinaria.
This dive site is shallow and has a sandy bottom. Probably because of the project you can see quite lot of marine life species. Cuttlefish, sea stars, crabs and smaller tropical fish species can be seen. During the dive a Golden trevally (Gnathanodon speciosus) was our Pilot fish (not sure if that is a compliment. ;)).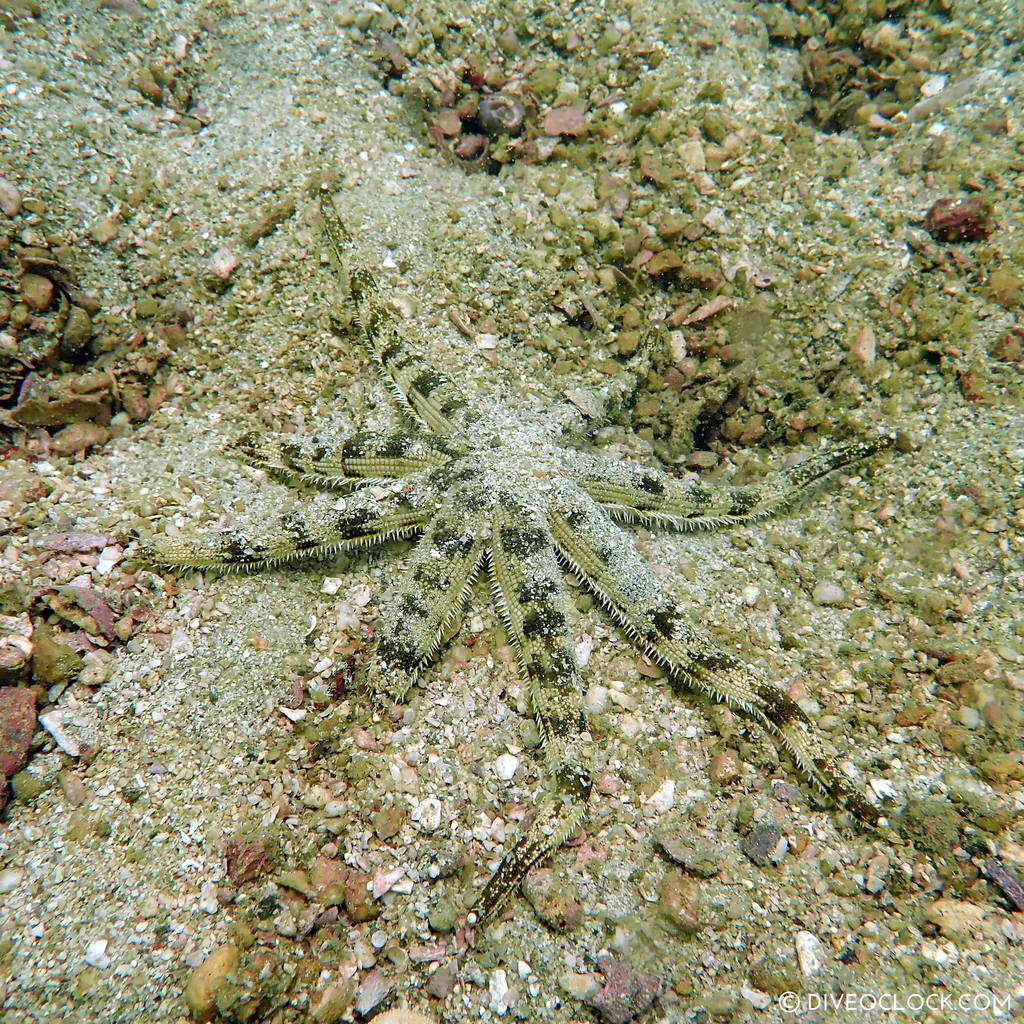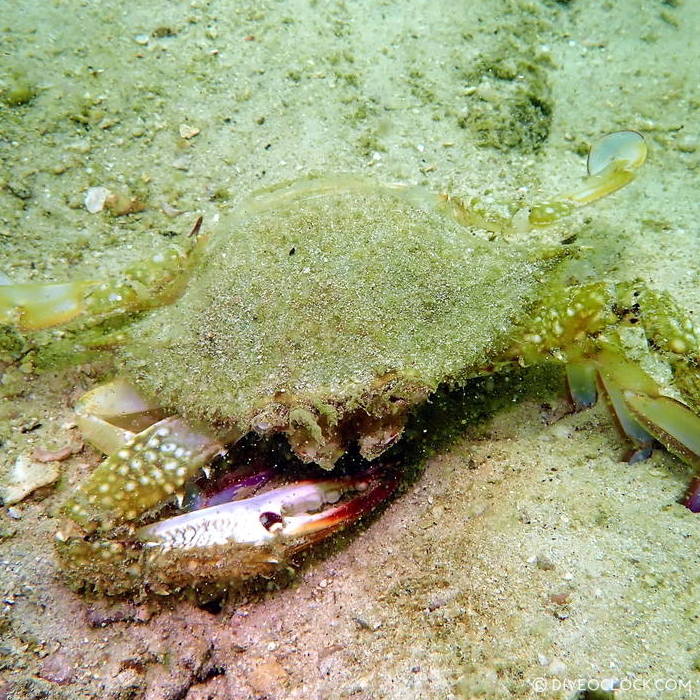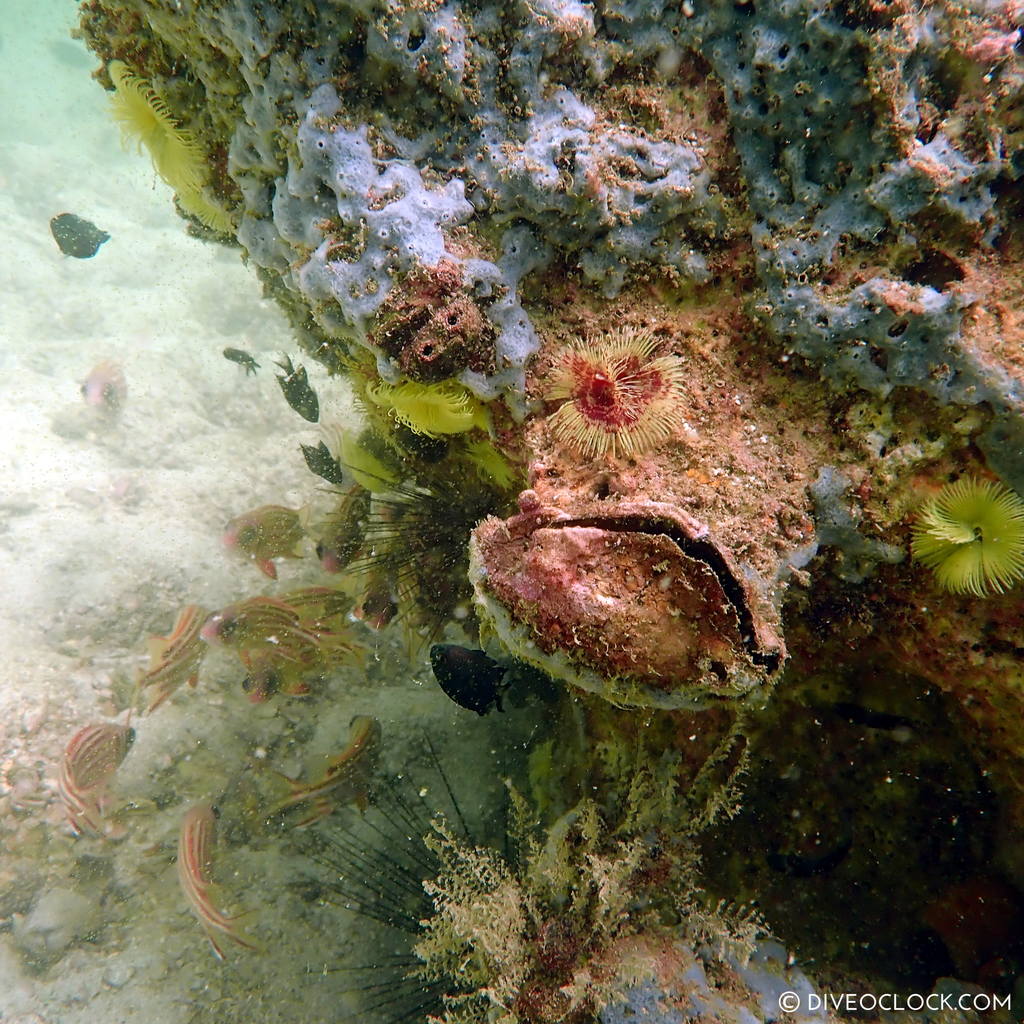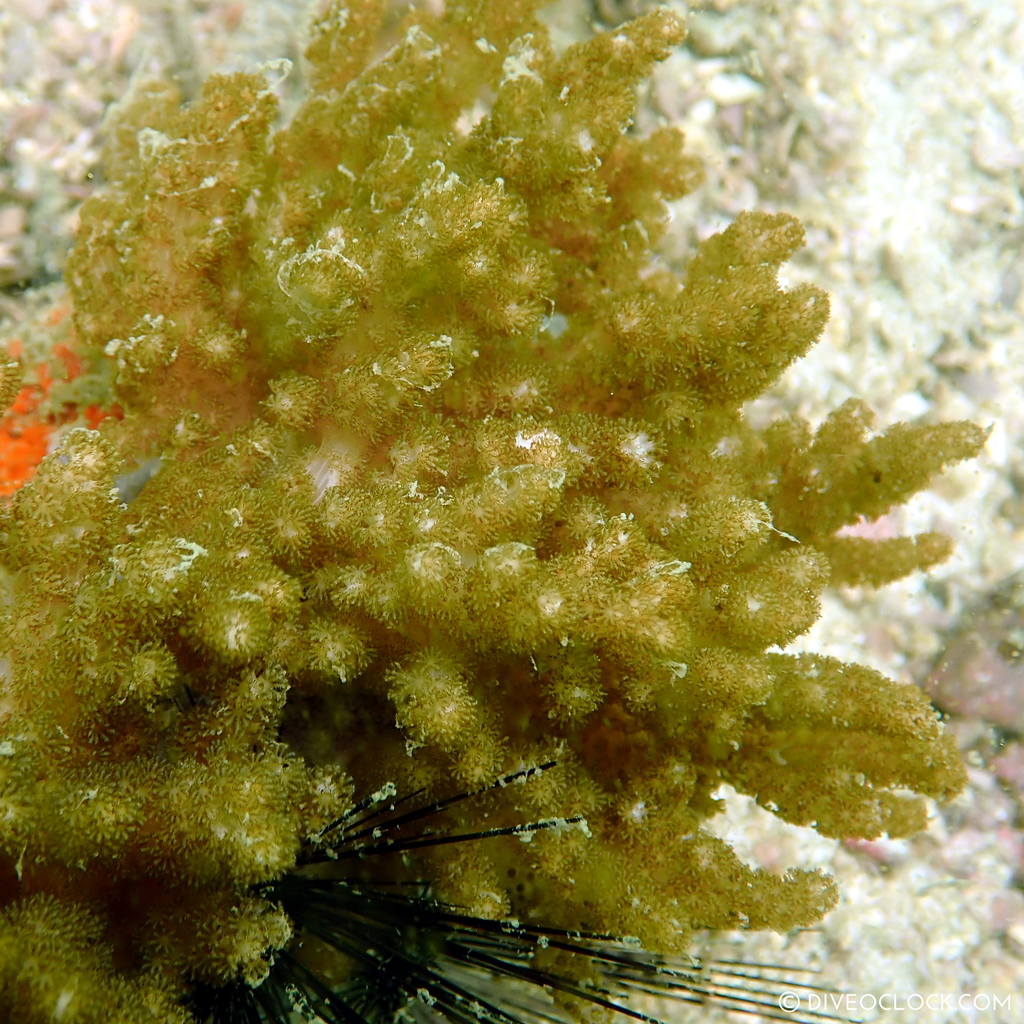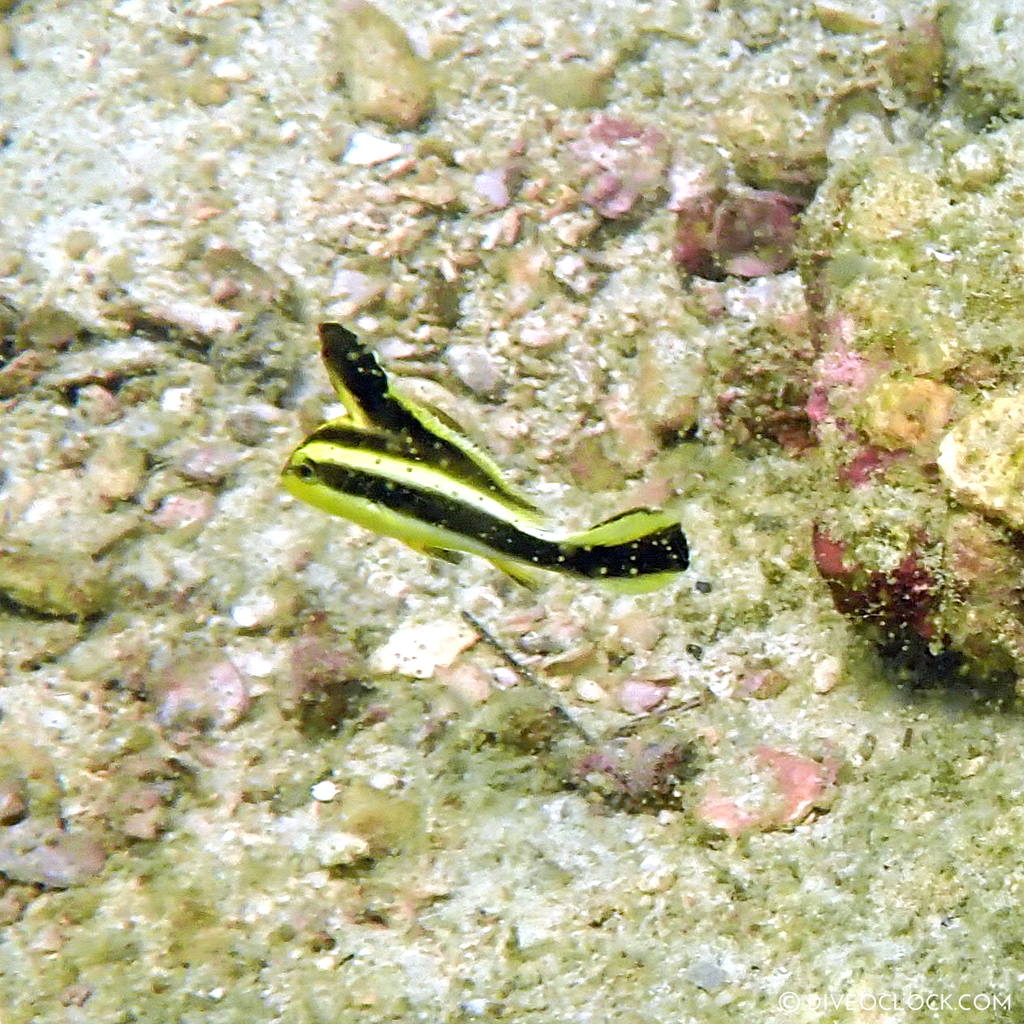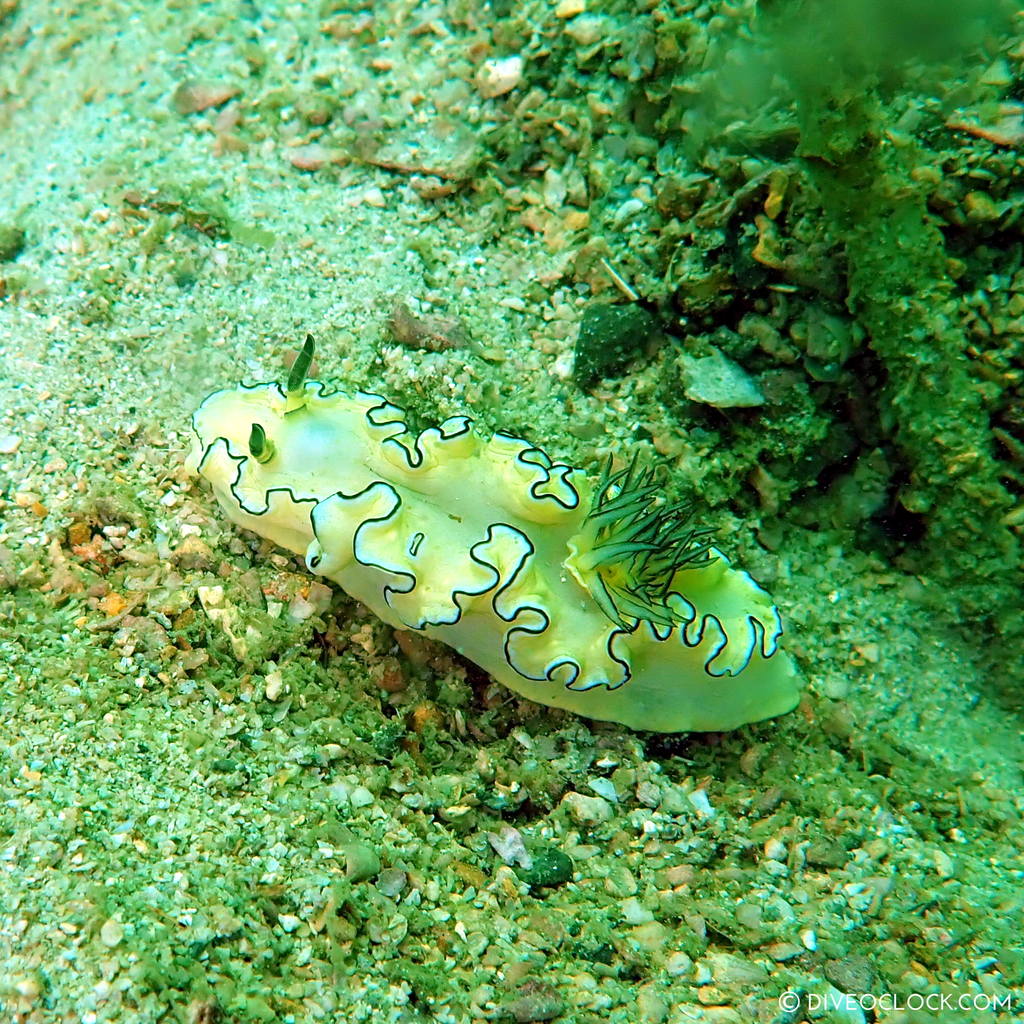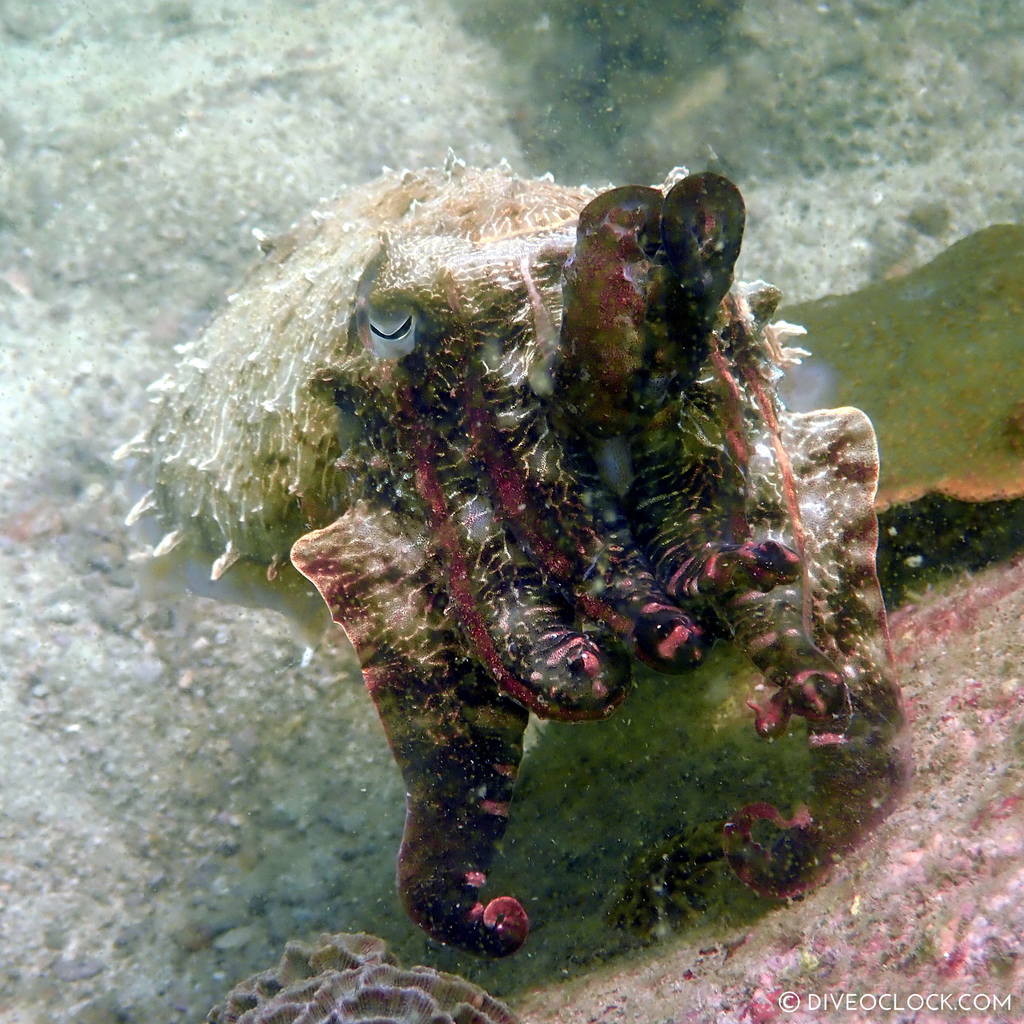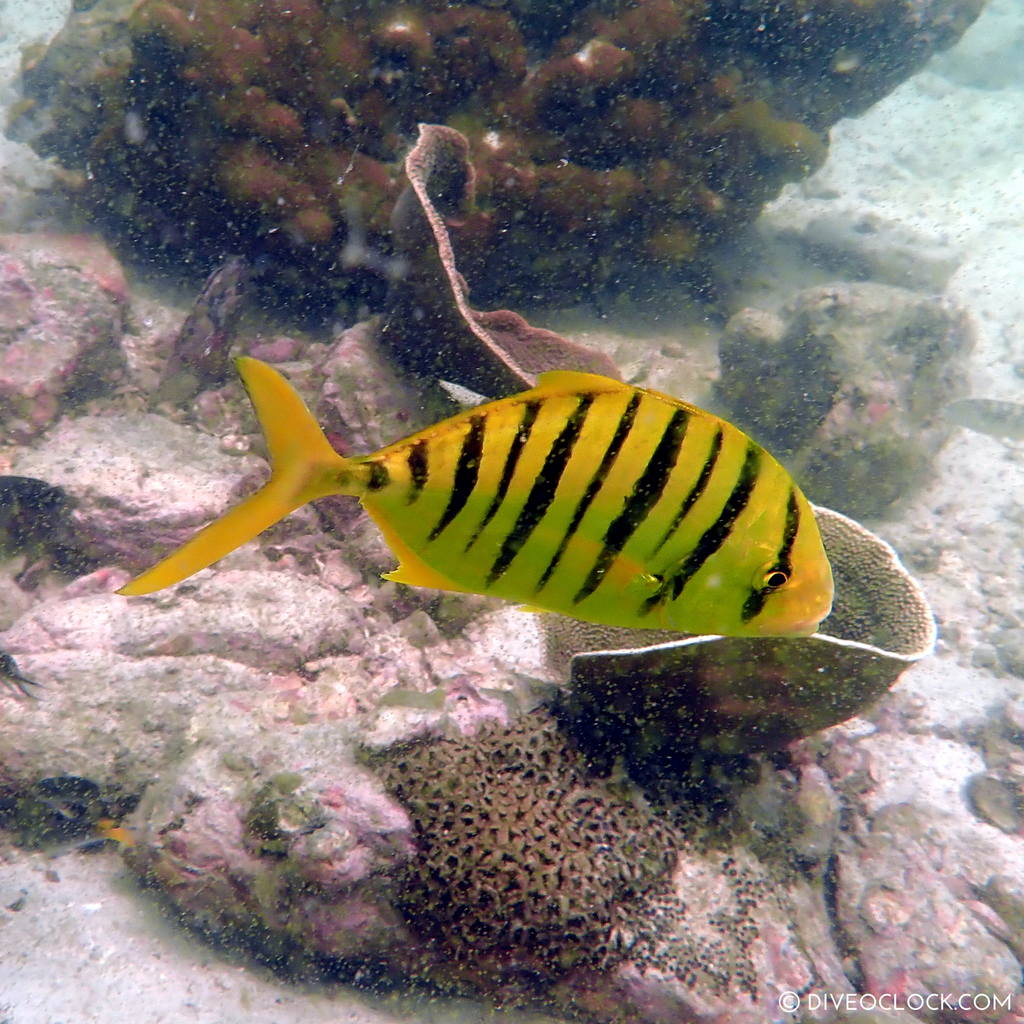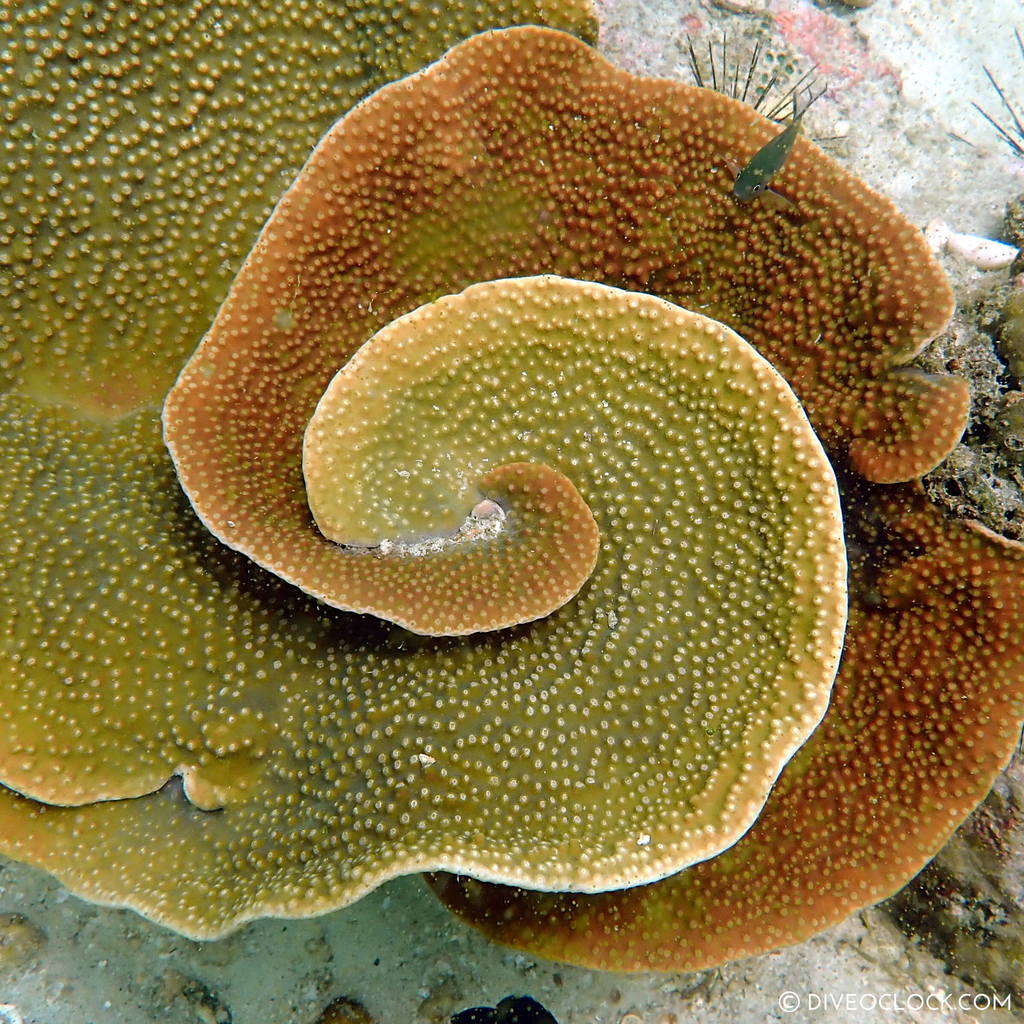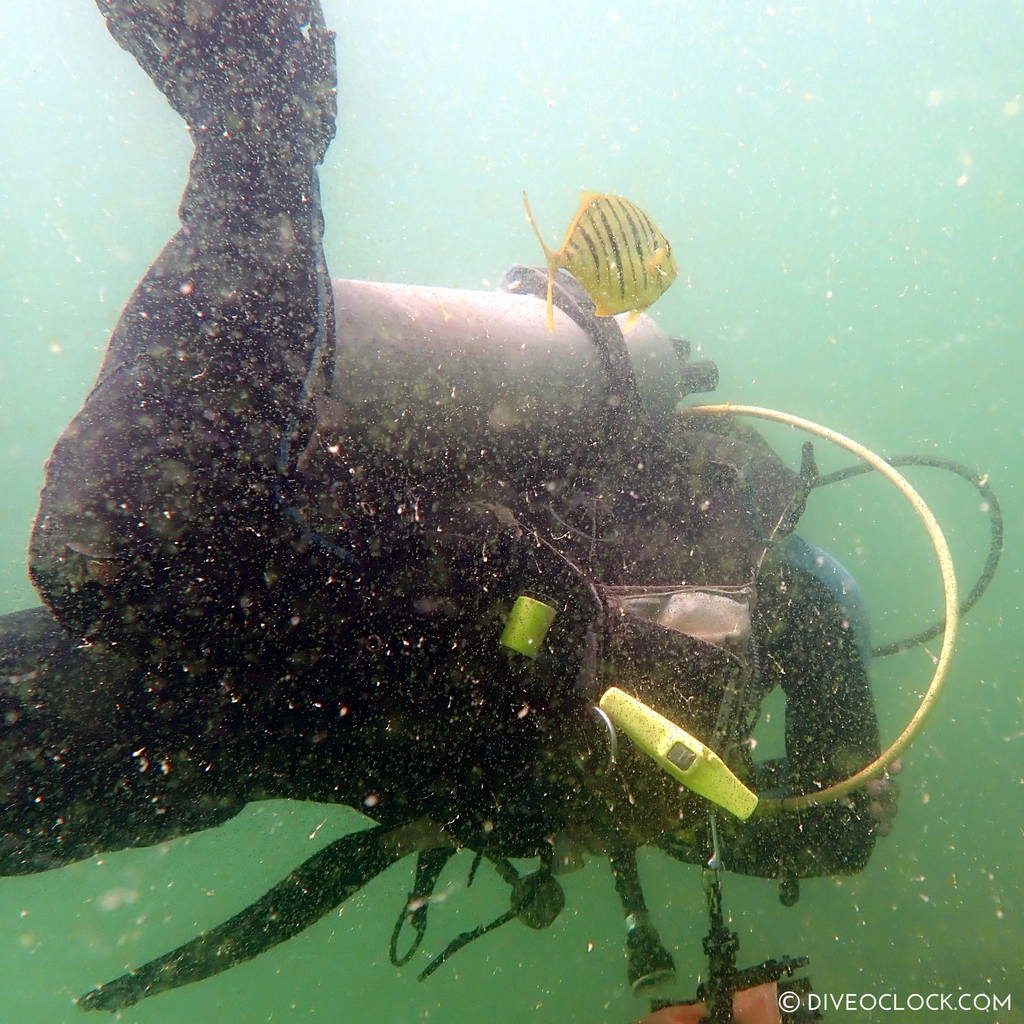 Turbinaria and Staghorn coral gardening at Ko Ran Dok Mai (Ko Si Chang)
Comparing dive destinations
Bottom structure
Reef structure
Pelagic
(big stuff in the blue)
Big reef
(bigger stuff on the reef)
Macro
(small stuff on the reef)
Current
(stream)
Flat bottom with bumps/big rocks/pinnacles
Hard corals
(not moving)
Sharks
Turtles
Nudibranchs
(snails/slugs)
No current
Slope (going down slowly)
Soft corals
(moving)
Rays
Eels/snakes
Sea horses and pipe fish
Small
(you can easily swim against it)
Wall
(steep but you see the bottom)
Table-/fan-shape
Trevally/Jacks/Tuna
Groupers
Scorpion/frog fish
Medium
(you can swim against it for a little while/higher air consumption)
Drop off
(steep and you can't see the bottom)
Anemones
Barracudas
Lobsters/crabs
Octopus/squid
Strong/reef hooks
(you cannot swim against it)
Blue
(no reference)
Sponges
Sardines/herrings
Puffers
Shrimps
Pumping/washing machine/OMG/hold your regulator
(superman)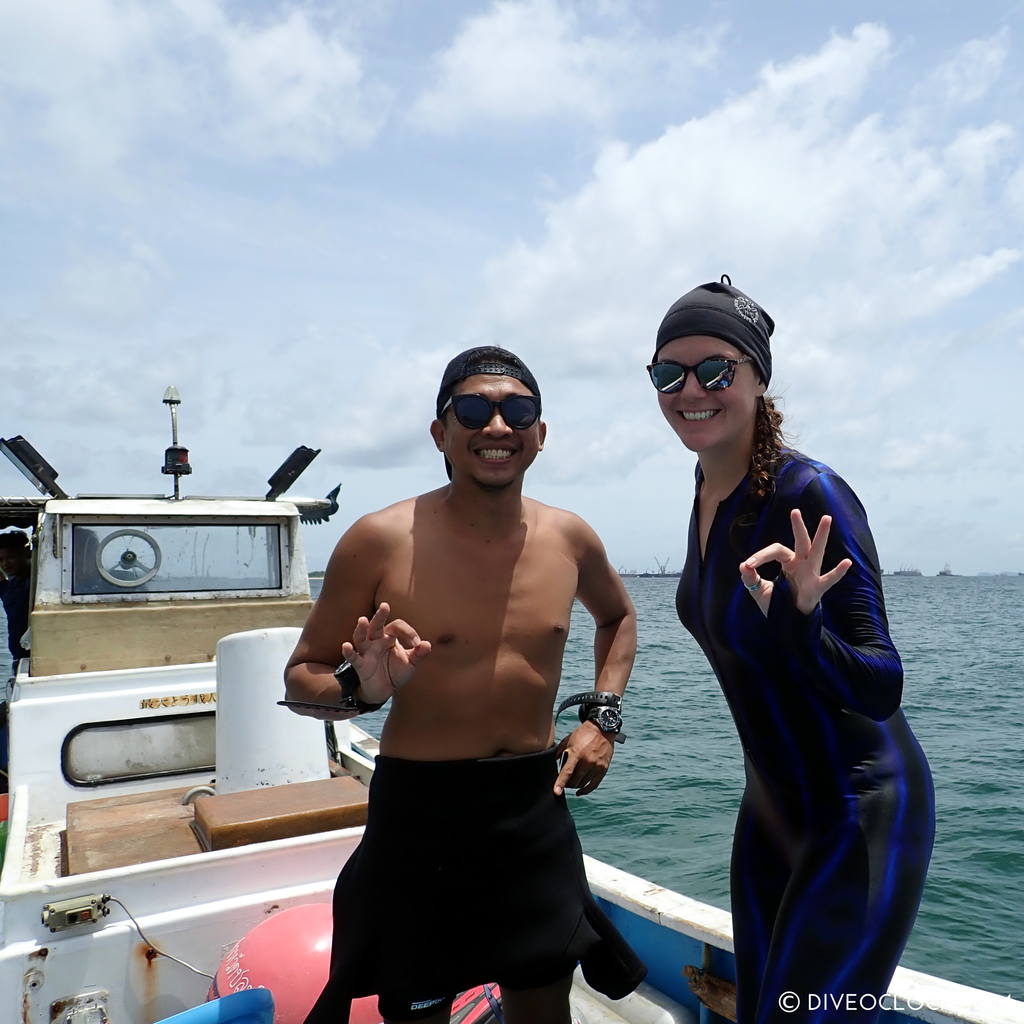 Dive O'Clock at Ko Si Chang!
Thank you for reading and drop me a message if you need help organizing your trip.
Do you have more tips for diving around Ko Si Chang? Share them as a comment.
If you like this post, hit that like button on our
Facebook page
and stay tuned for more!
Marlies Wolters
Founder of Dive O'Clock "It's dive o'clock somewhere!"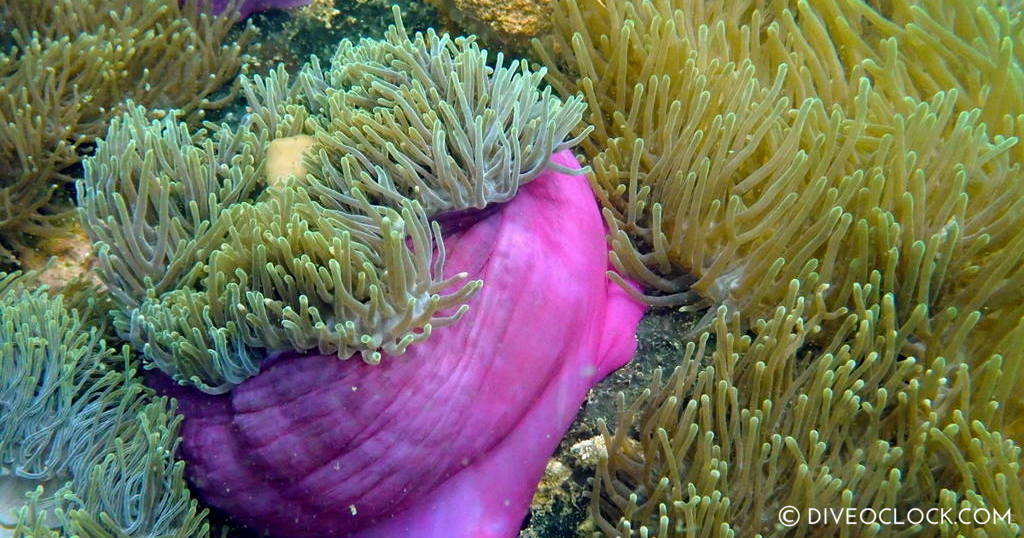 Share this page: