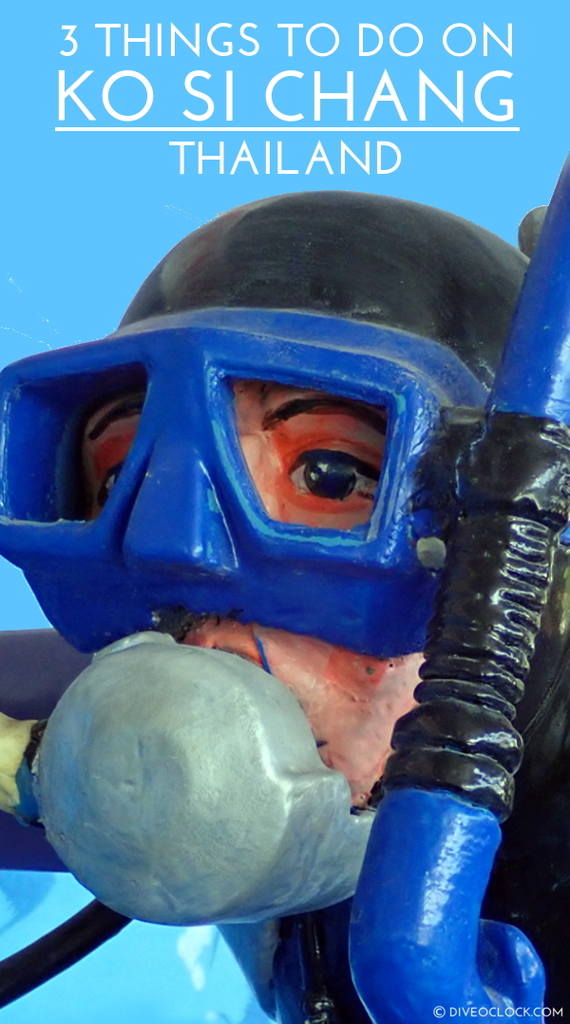 Ko Si Chang - 3 Things To Do for Ocean Lovers
The island closest to Bangkok is Ko Si Chang or Koh Sichang. It's tropical, has coral reefs and still has an authentic Thai island vibe. Ocean lovers, SCUBA divers and snorkelers should not miss these 3 things to do on Ko Si Chang!
Things To Do on Ko Si Chang
Apart from eating your heart out at one of the many local Thai food stalls and restaurants there are temples to visit, various view points and the former royal palace with gardens. The 'regular' things to do on Ko Si Chang are hard to miss as day trips visiting all 10 'major' highlights are offered everywhere. Hire a tuktuk with driver for a day or rent a motorbike and visit those spots at your own pace. Some roads are steep and remote, so some motorbike experience is recommended.
It is a 1 hour drive from the Bangkok Suvarnabhumi Airport (BKK) to the pier in Si Racha and 45 minutes by ferry (every hour). There are ATMs, various convenience stores (including a 7-Eleven) and English is widely spoken. Ko Si Chang is a very quiet island, especially in the evenings.
Fun fact: White squirrels and street pigs are icons of Ko Si Chang, especially the pigs are hard to miss.
Enough about Ko Si Chang in general, let's talk about marine life and corals!
3 Things To Do on Ko Si Chang for Ocean Lovers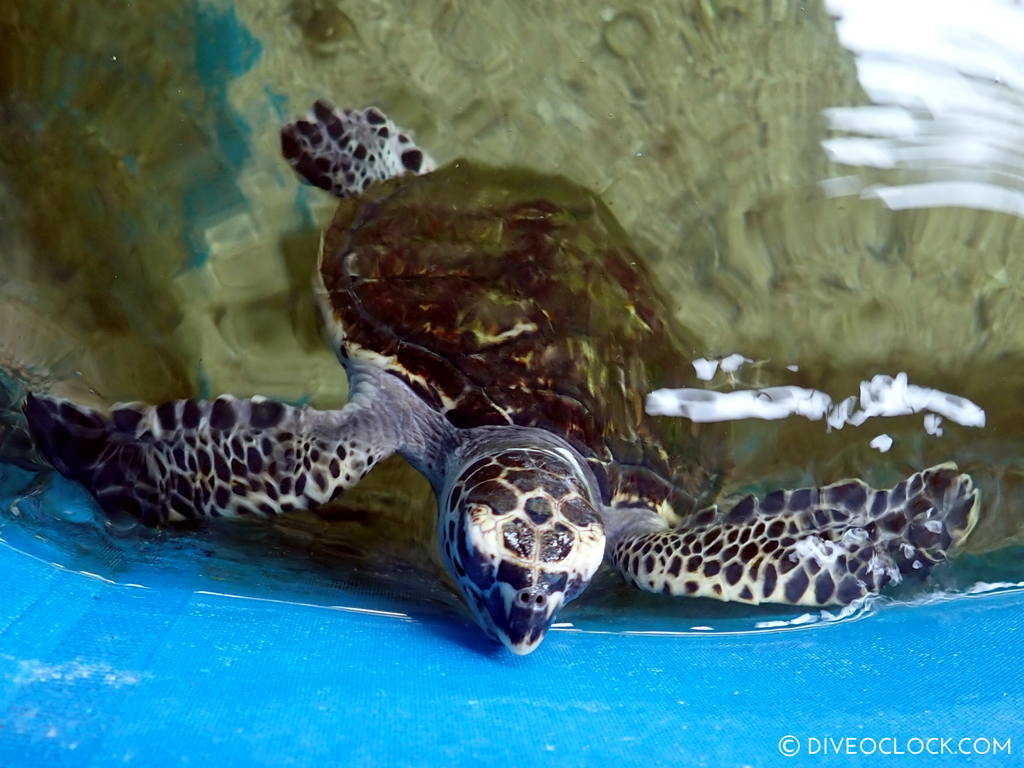 Sea turtle at Cholathassathan Museum, Ko Si Chang
1. Visit The Cholathassathan Museum (พิพิธภัณฑ์ชลทัศนสถาน)
Right behind the Koh Sichang Marine Science Research Centre of Chulalongkorn University you can find the Cholathassathan Museum. This museum looks a bit like a zoo aquarium but it is more of a marine life education and research center.
Unfortunately most of the signs are only in Thai but I guess the photos and illustrations explain quite a bit. A large part of the museum is not for visitors, but you can get a glimpse of their research and marine conservation efforts.
There are various tanks with marine life in it. You can see a large variety of marine life species including small turtles, sharks, cuttlefish, crabs, tropical fish (nemo) and corals. My hope is that especially Thai kids learn a lot about marine life at Cholathassathan Museum, and education is key in conservation.
Expect to spend up to one hour at the Cholathassathan Museum.
You can visit the museum for FREE, a donation is appreciated.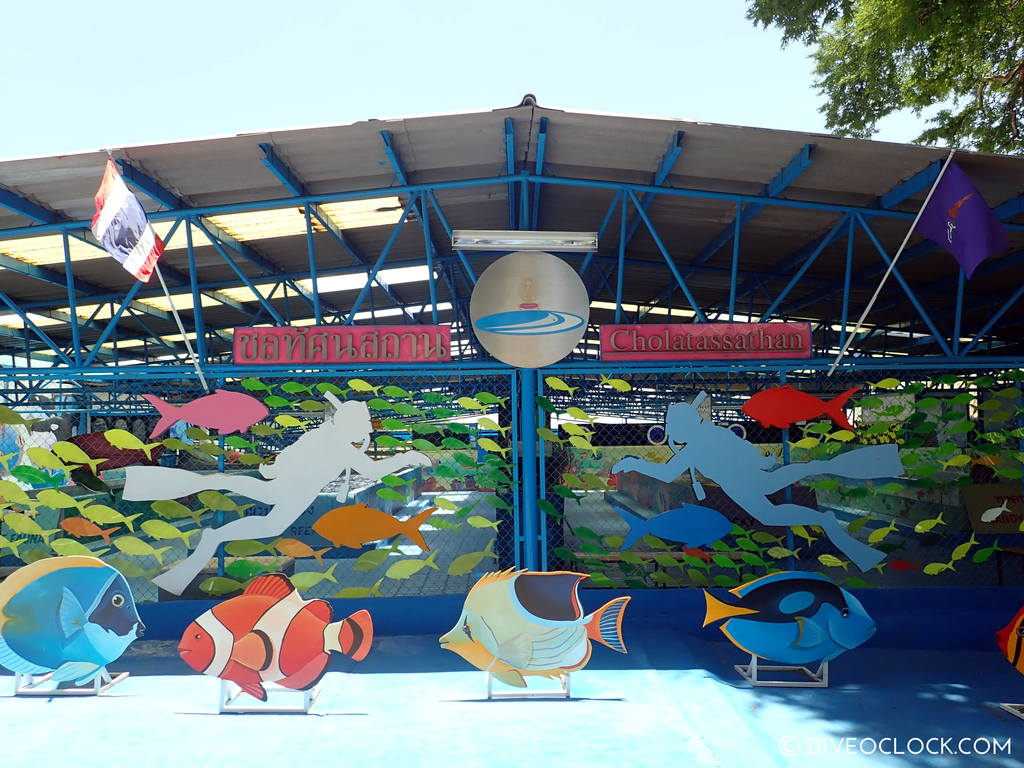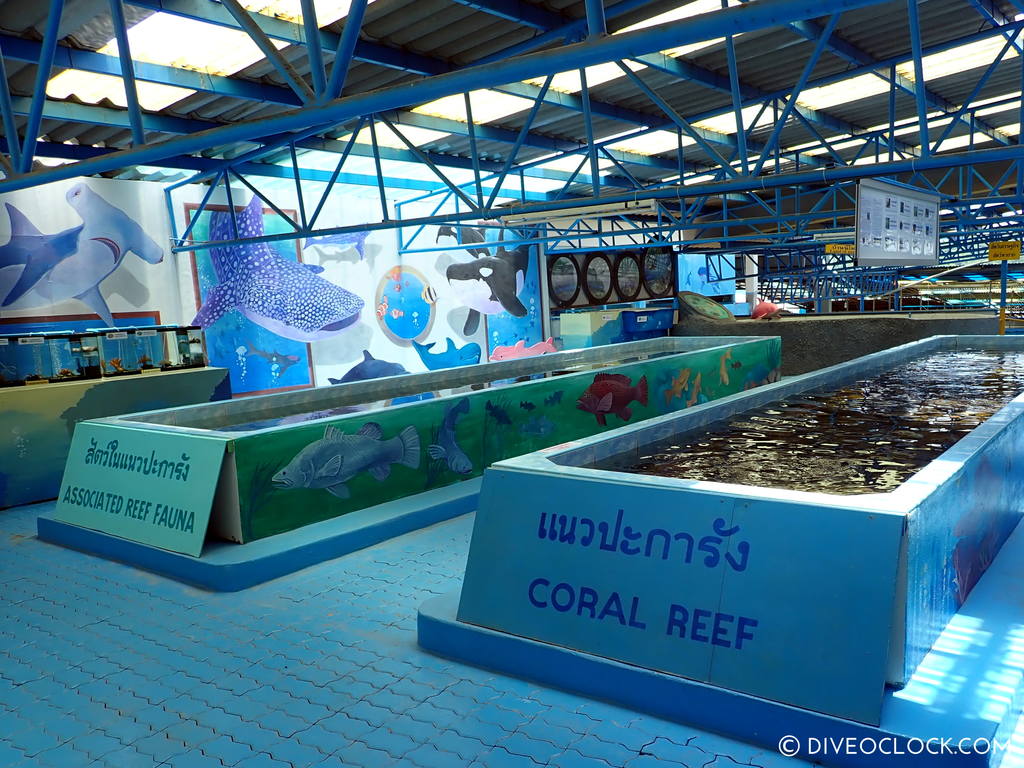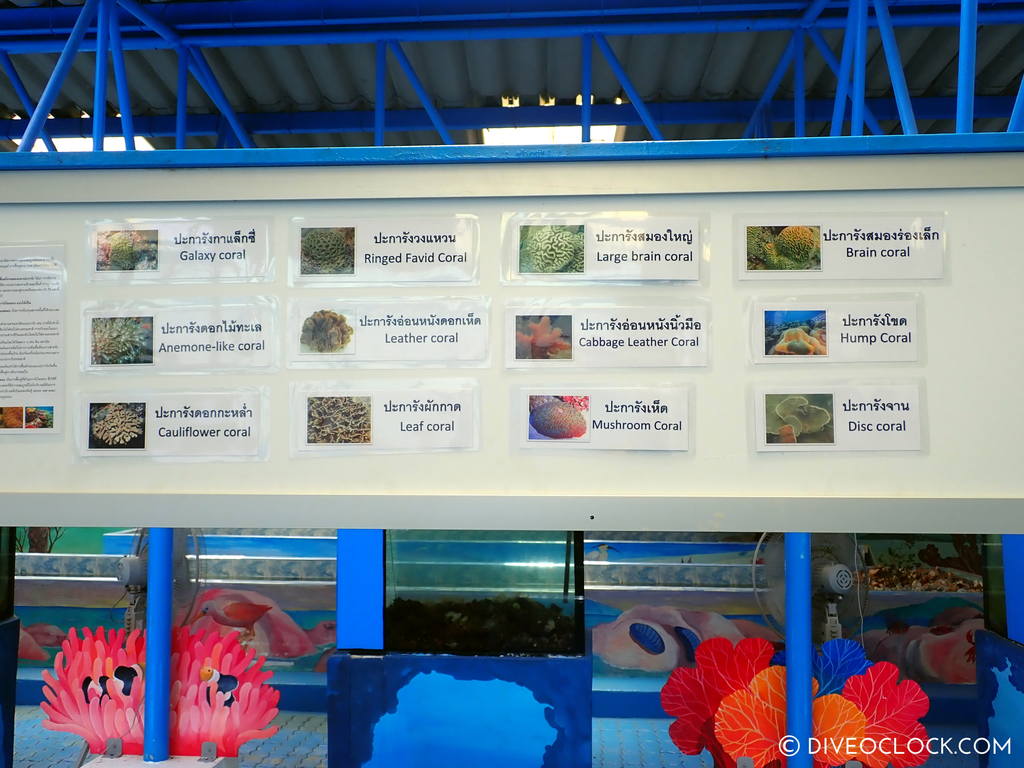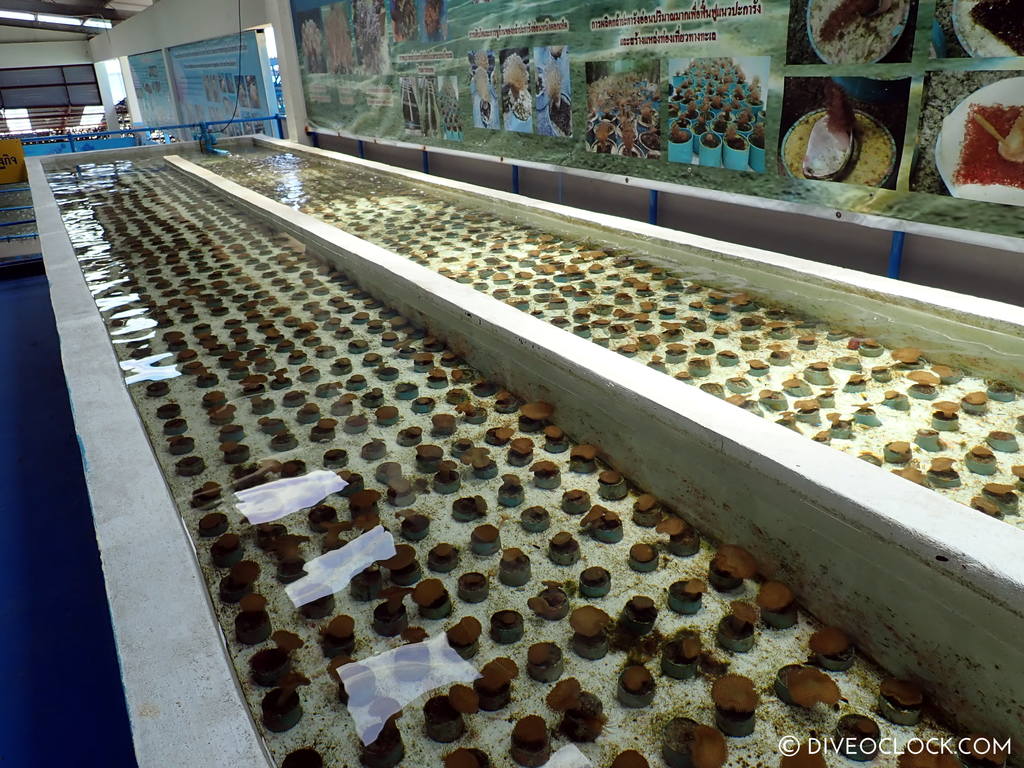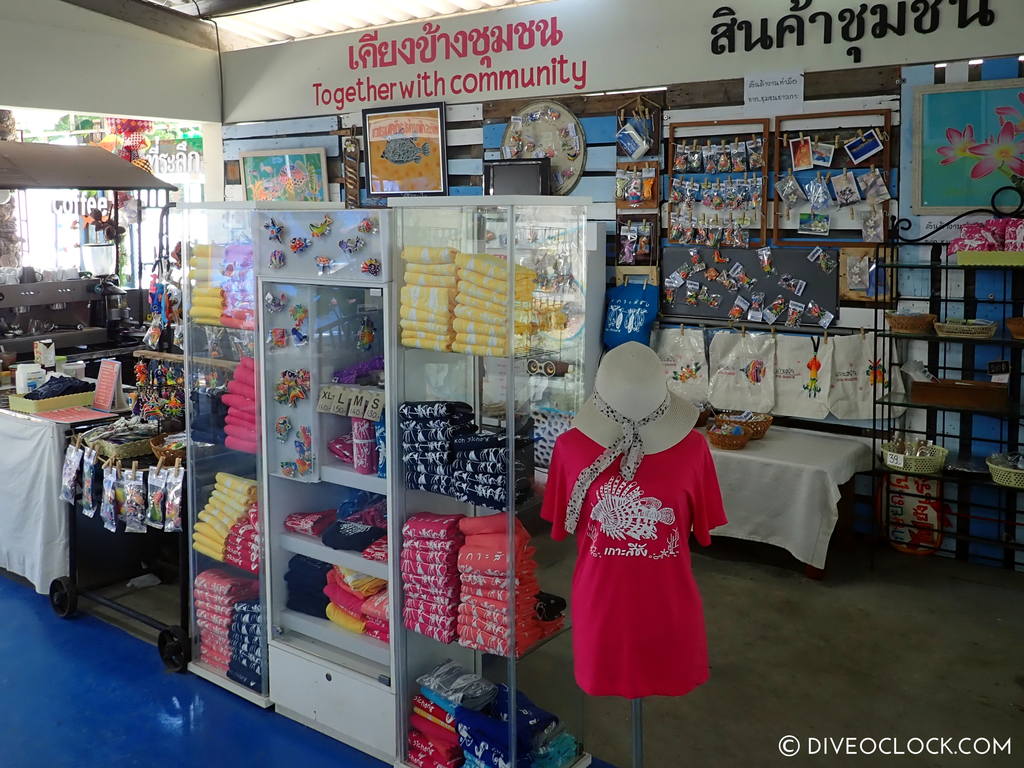 Cholathassathan Museum (พิพิธภัณฑ์ชลทัศนสถาน) on Ko Si Chang
2. Make Your Own Eco-Friendly Ocean Souvenir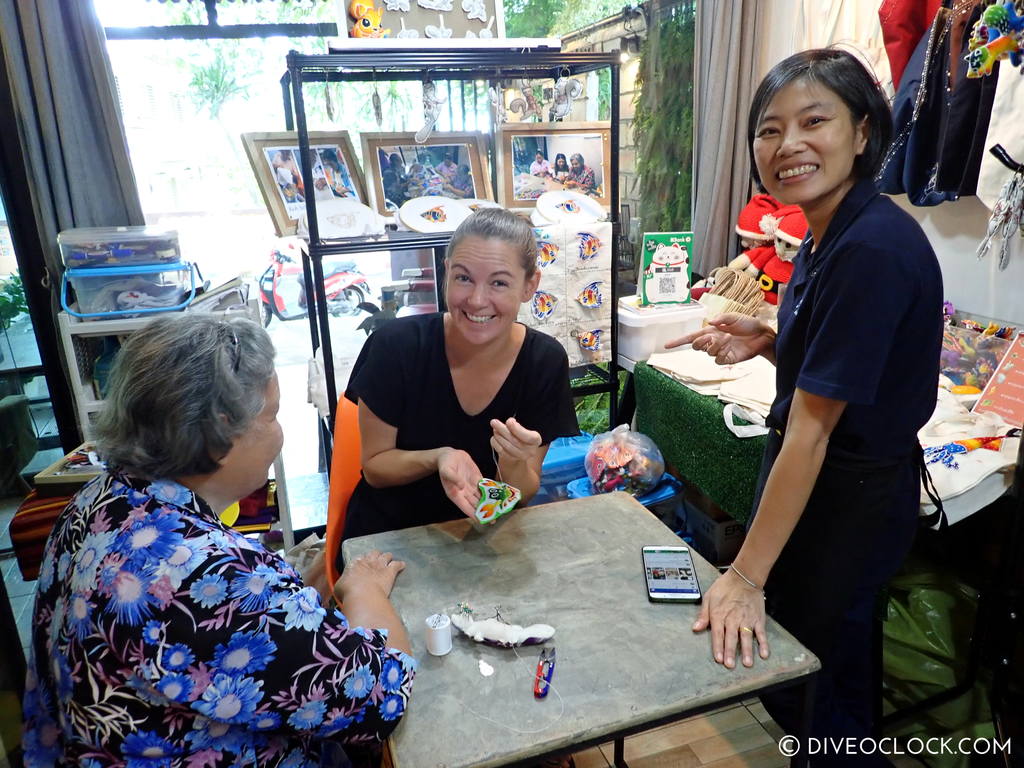 Workshop at Flower Blue Coffee and Bistro on Ko Si Chang
At the Flower Blue Coffee & Bistro (closed on Wednesdays) you can sign-up for a handicraft workshop. Make your own ocean themed key ring (with cute Ko Si Chang label) or learn how to write your name in Thai on a canvas bag / reusable shopping bag.
The old lady who helps you with the sewing and needlework is lovely. Most of the staff will be working on their own creations when it is quiet at the restaurant. There are no set times, just walk in and they will ask the lady to come.
Even if you do not like handicrafts you will love the ambiance and learn some Thai. The key ring workshop takes up to 3 hours and costs around 350 Bath.
Flower Blue Coffee & Bistro is a dog cafe, so people bring their dogs as well as there are a few around waiting for some cuddles and food.
Make sure not to miss out on their breakfast and lunch as well, one of the best places on Ko Si Chang!
Bringing your own (canvas) bag to convenience stores and supermarkets is a great way to use less plastic and set an example. Discover 9 other easy ways to Help Saving the Reef.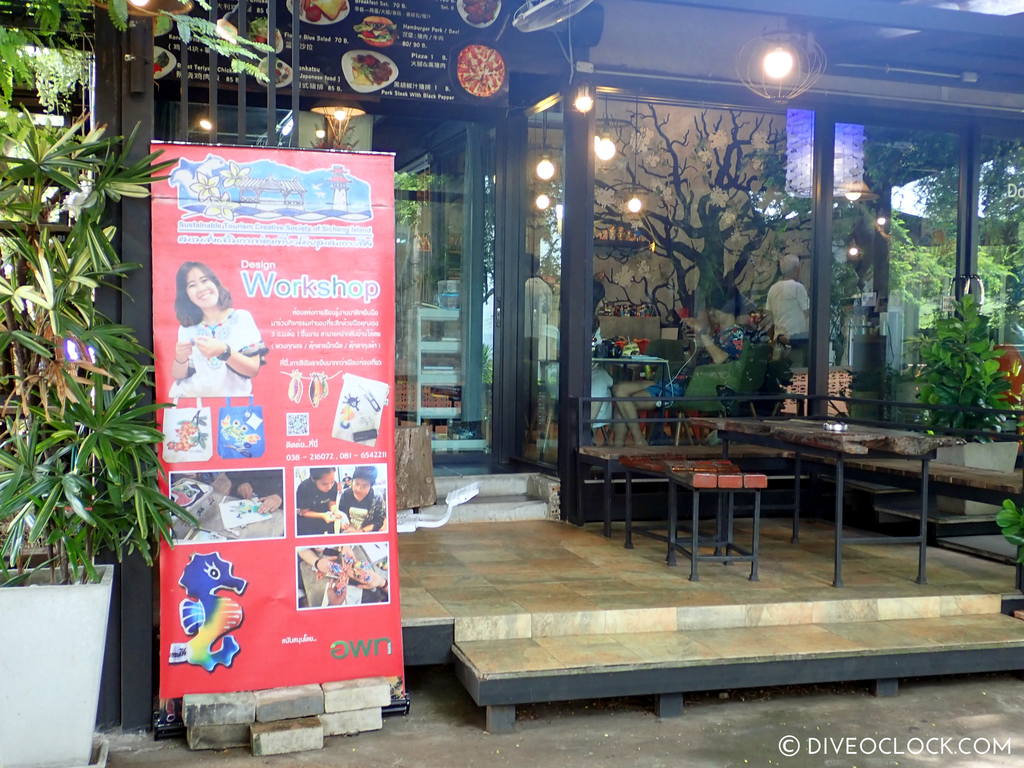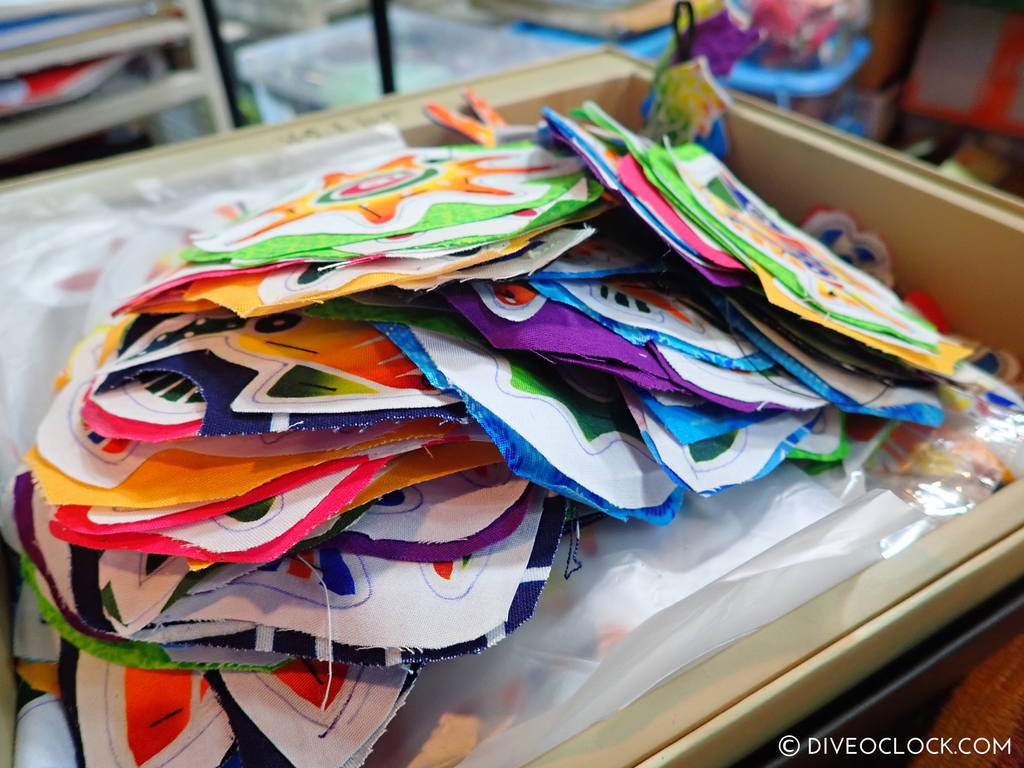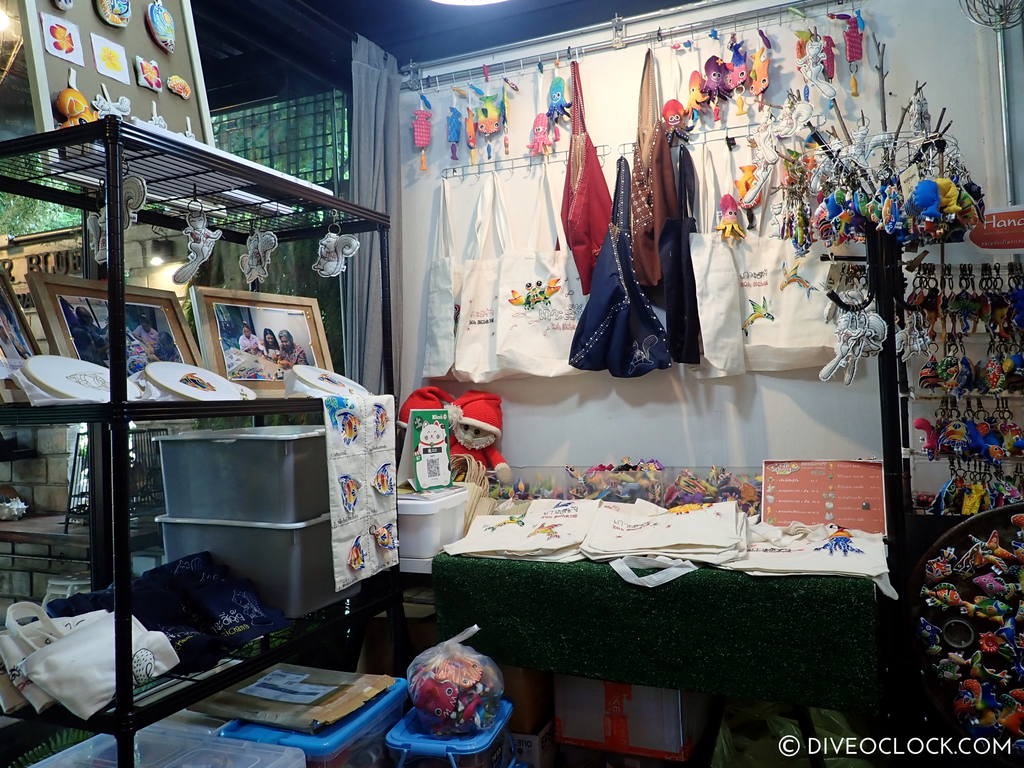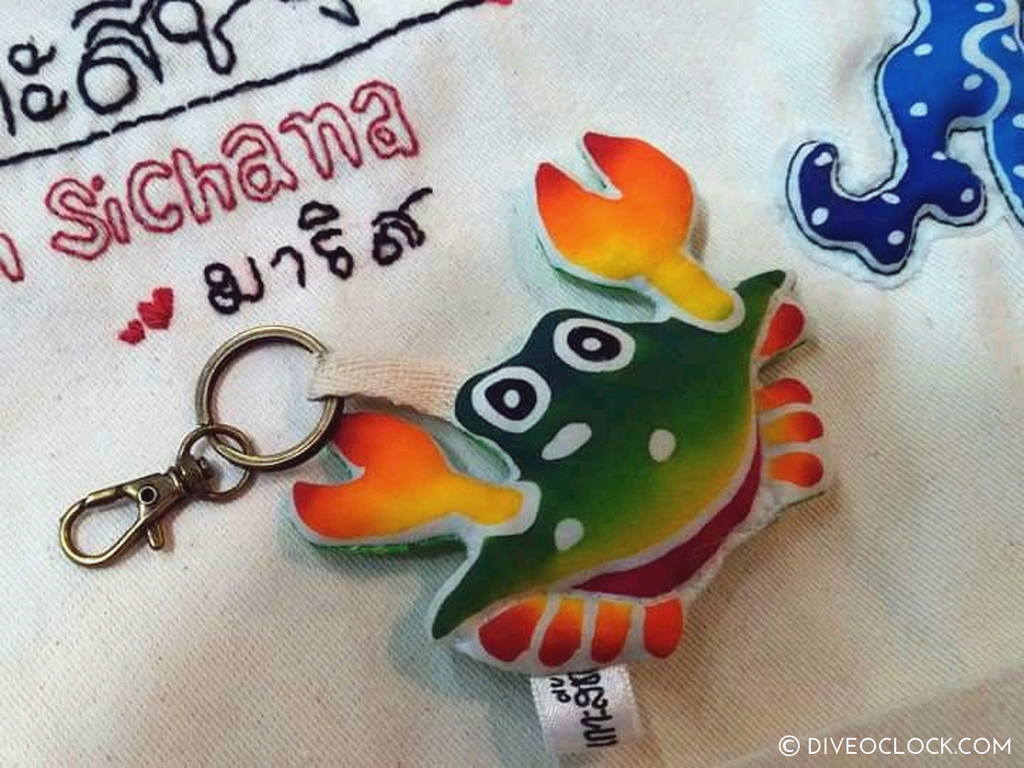 Workshop at Flower Blue Coffee and Bistro on Ko Si Chang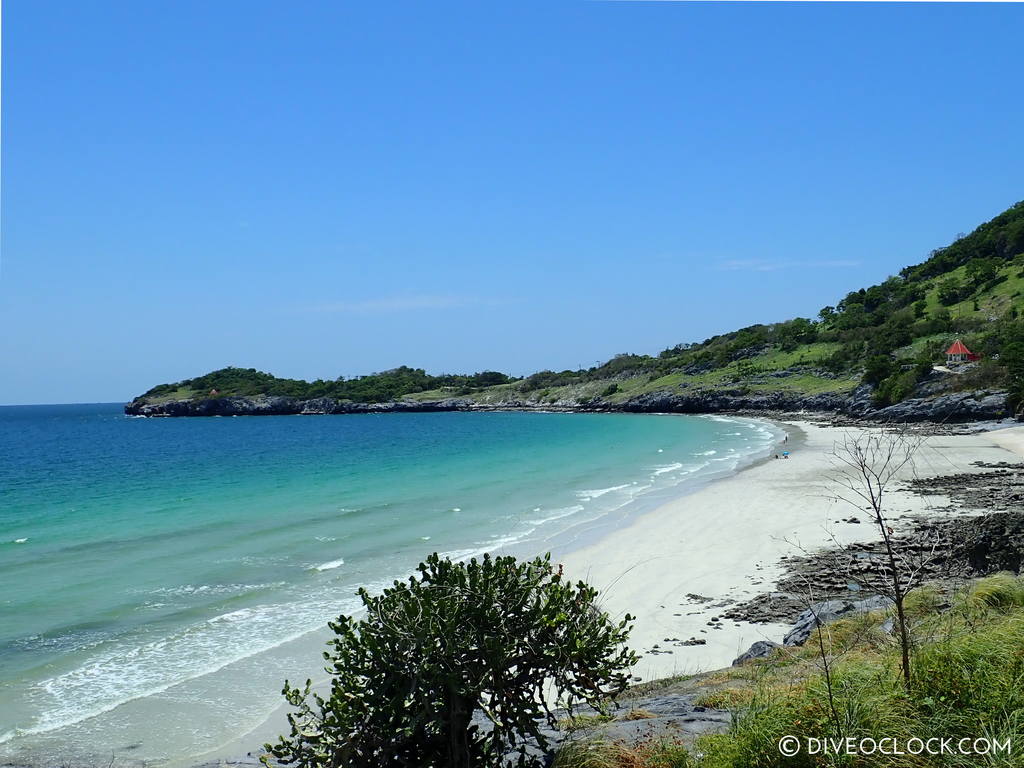 Tum Pang Beach / Tampang Beach / Haad Tham Phang on Ko Si Chang
3. Snorkeling at Ko Si Chang
The best and easiest snorkeling is done by boat. There are no regular trips, so you need a private boat trip to visit various snorkeling spots. There are 8 small islands around Ko Si Chang, the southern islands are more popular for snorkeling.
The best snorkeling from the shore (walk-in) on Ko Si Chang depends on the tide, which changes dramatically. Tum Pang Beach / Tampang Beach / Haad Tham Phang is a lovely sandy beach, so expect to see a lot of sand when snorkeling. You could swim to the rocky areas on the left and right, but it is quite far.
Right in front of the entrance of the Royal Palace you can snorkel and see some tropical fish along the rocky bottom with some sea grass. Wearing only swimwear is forbidden at the Royal Palace area, no bikinis and such. You need to cover your body with a wetsuit, UV-shirt or just your regular clothes like most Thais do.
There is one water sport rental shop at Tampang beach; mask/snorkel, kayaks and such can be rented (no fins!). I would recommend you to bring your own snorkeling gear, what you can rent and buy is very limited on the island. If you come from Bangkok of Pattaya, consider a trip to Decathlon to buy a snorkeling set that fits without spending a lot.
SCUBA Diving on Ko Si Chang
Yes you can SCUBA dive at Ko Si Chang! Visit coral reefs in the making supported by the DMCR (Department of Marine and Coastal Resources), enjoy the anemone gardens and search for nudibranch at Hin Sampayu.
Read the article of SCUBA Diving Ko Si Chang.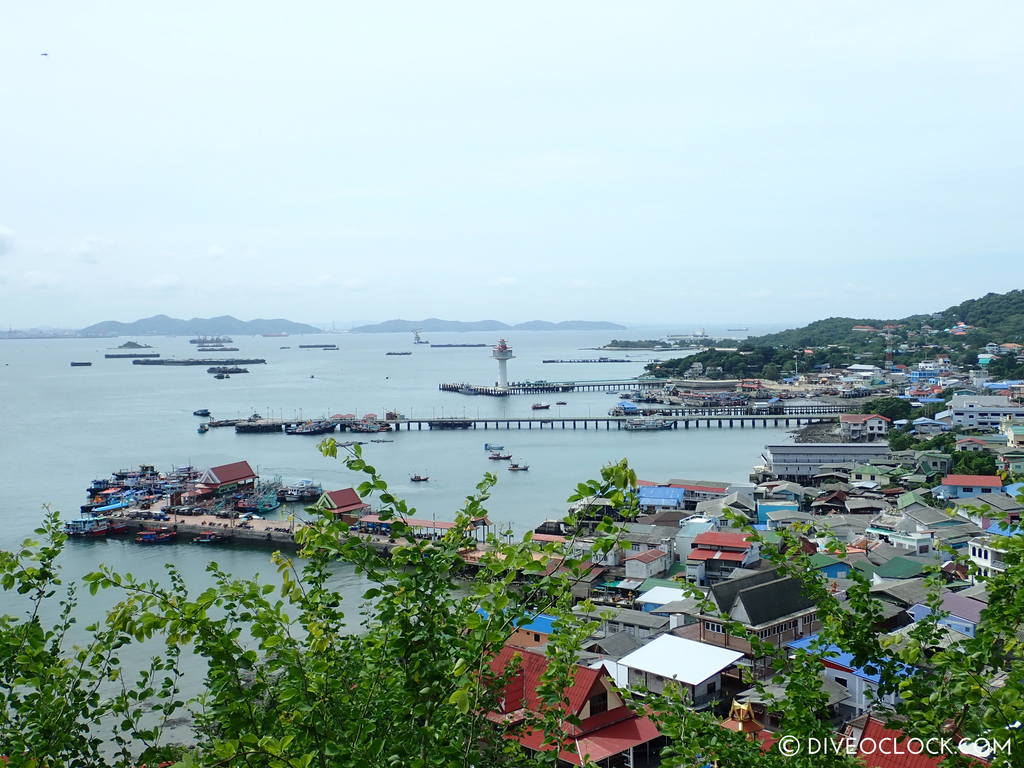 Ko Si Chang
Just one thing to know about Ko Si Chang: Ko Si Chang is close to Bangkok and various large ports (commercial harbors). Expect your sea view to be with cargo ships, containers and cranes. Other than that, it is a beautiful Thai island you must visit!
Do you have more tips for Ko Si Chang? Share them as a comment.
If you like this post, hit that like button on our
Facebook page
and stay tuned for more!
Marlies Wolters
Founder of Dive O'Clock "It's dive o'clock somewhere!"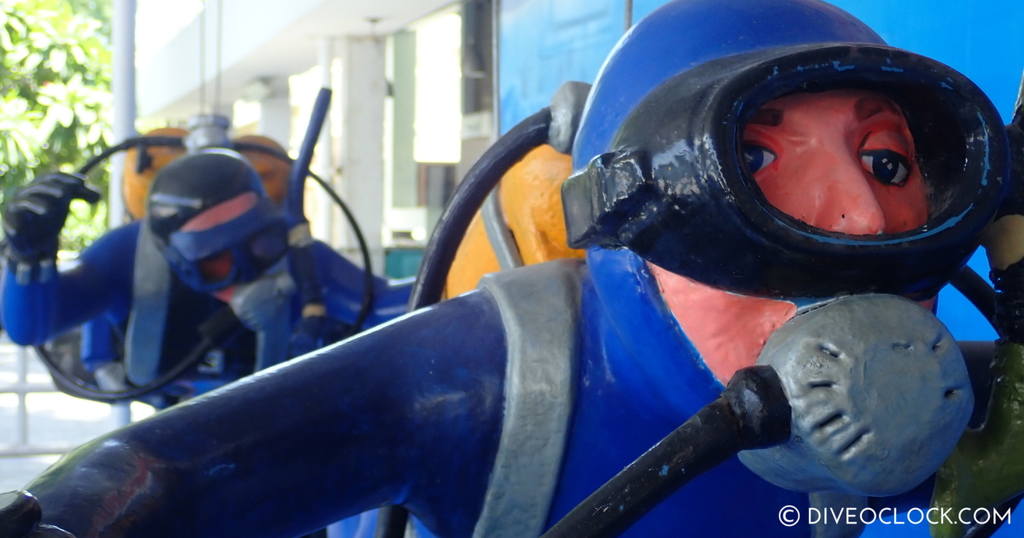 Share this page: