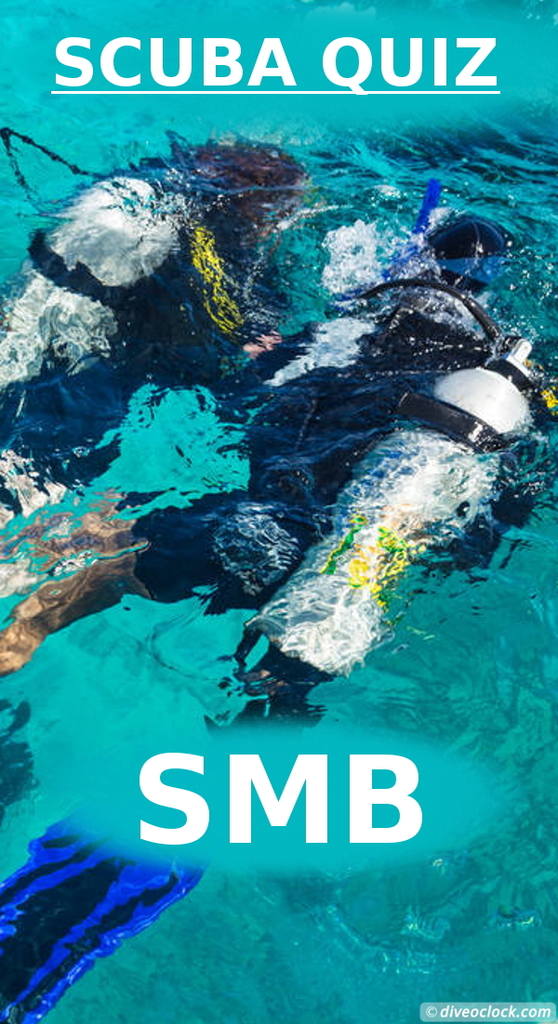 SCUBA QUIZ: Why should you have an SMB?
Having your own SMB can be a life saver and they become more and more popular as a 'standard' piece of dive equipment. Nowadays it is part of learning how to dive with the most recreational dive organizations. In some countries it is even obliged by law that every diver has its own, like in the Maldives.
Do you know what the abbreviation SMB stands for and what is the purpose when SCUBA diving?
HINT: If there is a chance of current dive centers often want each buddy team to have at least one SMB.
Show answer
Answer
Surface Marker Buoy
! Other often used words are Safety Sausage or Deco Buoy (from the word decompression). It is a flat bright colored tube you can inflate to create make a surface buoy, a (potential) life saver! You can buy them in various sizes and colors with different markings, valves, clips, weights and pouches. Often it has written "DIVER BELOW" on it, meaning nothing but a signal - not an emergency!
You can inflate it at the surface to signal the boat to pick you up. With a SMB you are spotted from a greater distance than signaling with your arms. Also you can inflate your SMB underwater if you have a rope attached to it, maybe even a reel. This way the boat can spot you even before you have reached the surface, it can prevent a long wait at the surface. Most dive guides will inflate their SMB during the safety stop at 5 meters so the boat knows where to pick-up the group and they have a few minutes to get ready. Especially in areas where there is a lot of water traffic (boat, jetskis, canoes, etc.) you want to use a SMB before you reach the surface so you will NOT get hit by anybody.
It takes a bit of practice to deploy a SMB underwater. You will need to control your own buoyancy, maybe attach the rope/reel and inflate it without being pulled to the surface like a rocket. There are various techniques of how to properly deploy a SMB underwater. Here is a video of how to deploy a SMB according to SSI Dive School International.
As you can see a SMB can be a life saver. I strongly suggest you to buy one and bring it on a dive trip!
Did you got it right? Please comment below!
If you like this post, hit that like button on our
Facebook page
and stay tuned for more!
Marlies Wolters
Founder of Dive O'Clock "It's dive o'clock somewhere!"

Share this page: