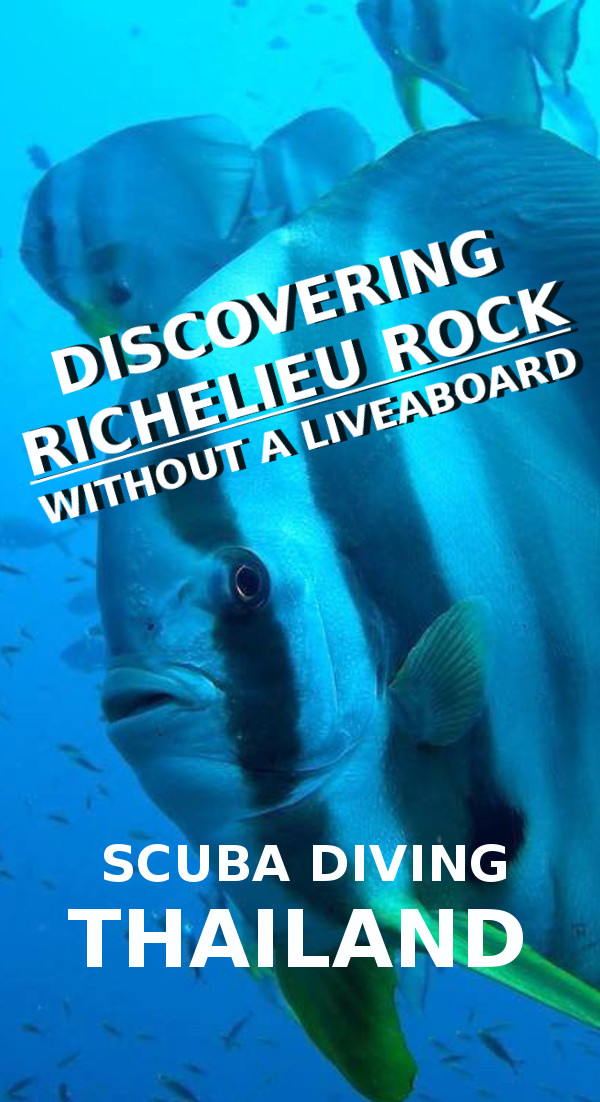 Richelieu Rock - Discover The Best Dive Site of Thailand Without a Liveaboard
The best dive spot in Thailand is arguably Richelieu Rock which is accessible with a day trip. Explore what lies beneath at this incredible dive spot in the Surin National Park, just North of the Similan Islands in the Andaman Sea.
The Similans, Koh Bon, Koh Tachai and Richelieu Rock are famous dive spots in the Andaman Sea and offered on many liveaboard in Thailand. As liveaboard are simply more expensive (but awesome, do not get me wrong) I booked a day trip to explore Richelieu Rock. Big Blue Diving Khao Lak has a speedboat that takes you to Richelieu Rock in just over one hour.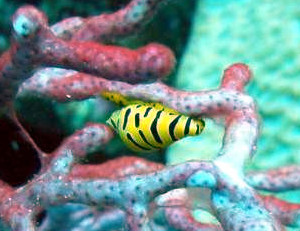 Yellow snail at Richelieu Rock - Thailand
Richelieu Rock is a formation of underwater pinnacle and rocks that goes down to about 30 meters, the sandy area goes down to about 40 meters. As this dive site is located in the open ocean the conditions have to be right. You can not dive here during monsoon and even during the right months the waves and weather forecast need to be good.
| | |
| --- | --- |
| Country | Thailand |
| Dive area name | Andaman Sea, between the Similan and Surin Islands |
| Dive center | Big Blue Diving Khao Lak |
| Famous for | Rock formation, pelagic and reef life. |
| Price | 2-tank guided boat dive to Richelieu Rick is $180,- including hotel pick-up/drop-off, dive equipment, marine park fees, lunch, fruit and soft drinks |
| Hotel recommendation | Mukdara Beach Villa & Spa Hotel |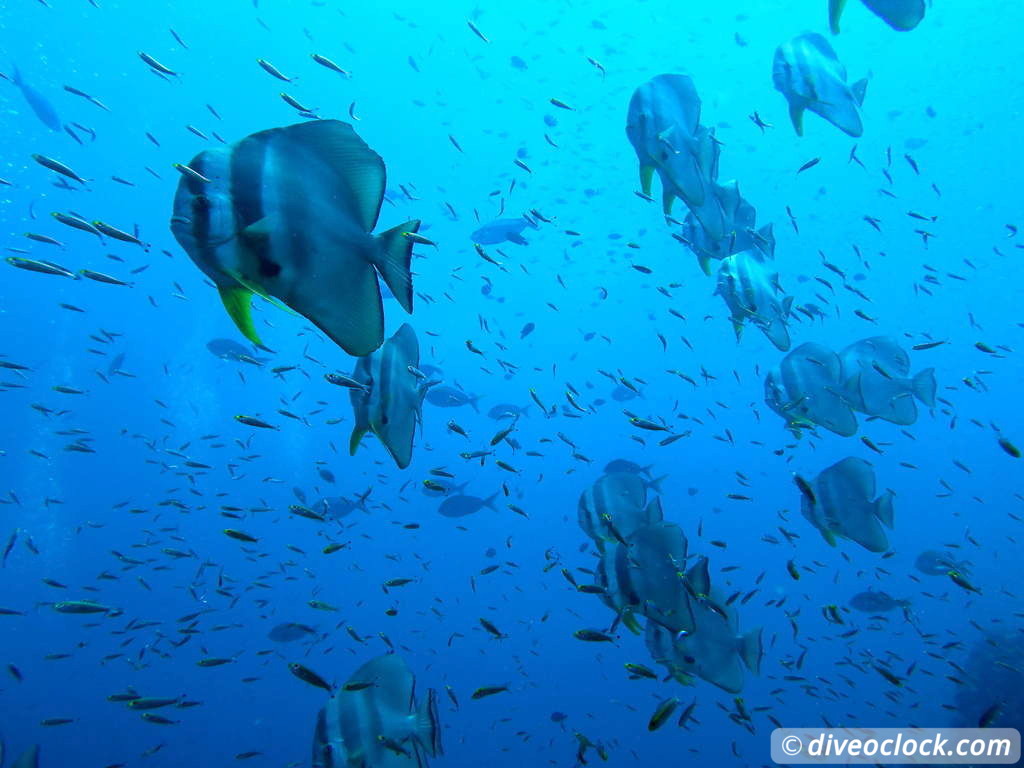 Batfish at Richelieu Rock, Thailand
SCUBA diving at Richelieu Rock
We were lucky to go out to Richelieu Rock, conditions were good. There were no other boats around, maybe the liveaboard all had different schedules, lucky us!
As soon as I put my head in the water I could see why this is such an incredible dive spot. Fish everywhere, schools of fish, colorful soft corals and carpets of sea anemones plus an interesting structure of rocks and builders.
This is one of those dive spots where you just do not know where to look, in the reef or in the blue. There is always another marine life creature to discover. Tiny shrimps and various nudibranch species could be spotted with a close look at the coral reef while Barracudas and Trevally were passing by at a distance. One of the most beautiful sights was the group of Batfish schooling or shoaling, they were everywhere and did not plan on going away any time soon.
Comparing dive destinations
Bottom structure
Reef structure
Pelagic
(big stuff in the blue)
Big reef
(bigger stuff on the reef)
Macro
(small stuff on the reef)
Current
(stream)
Flat bottom with bumps/big rocks/pinnacles
Hard corals tree-shape
(not moving)
Sharks
Turtles
Nudibranchs
(snails)
No current
Slope (going down slowly)
Soft corals tree-shape
(moving)
Rays
Eels/snakes
Sea horses
Small
(you can easily swim against it)
Wall
(steep but you see the bottom)
Table-/fan-shape
Trevally/Jacks/Tuna
Groupers
Scorpion/frog fish
Medium
(you can swim against it for a little while/higher air consumption)
Drop off
(steep and you can't see the bottom)
Anemones
Barracudas
Lobsters/crabs
Octopus/squid
Strong/reef hooks
(you cannot swim against it)
Blue
(no reference)
Sponges
Sardines/herrings
Puffers
Shrimps
Pumping/washing machine/OMG/hold your regulator
(superman)
Impressions of diving at Richelieu Rock: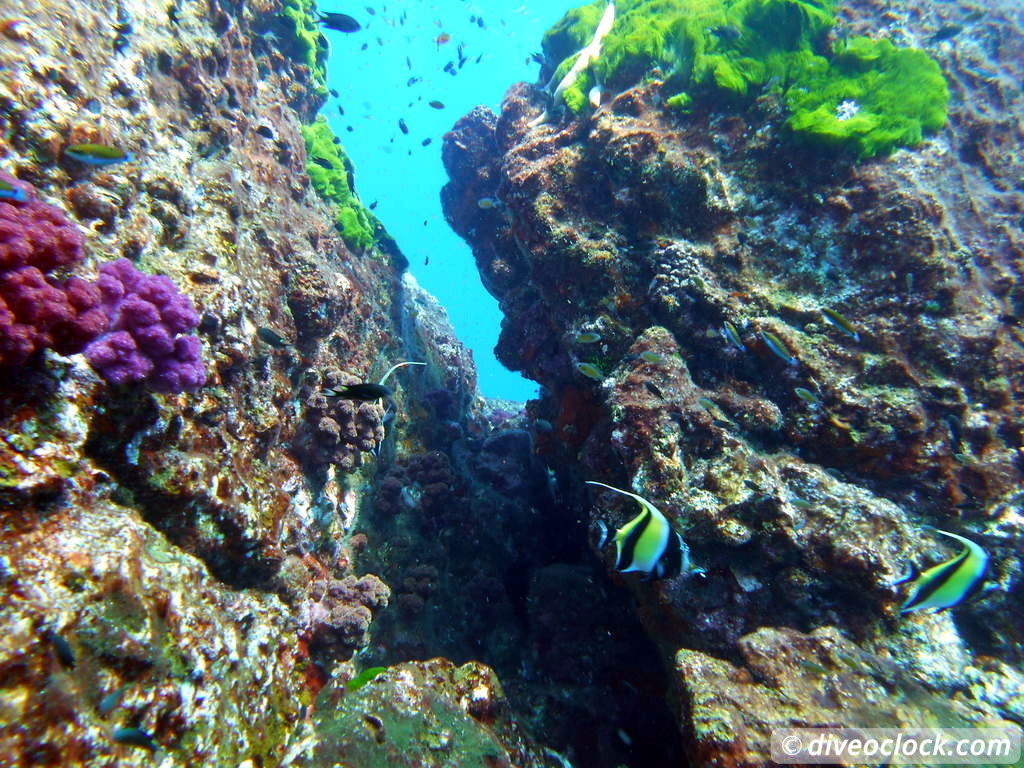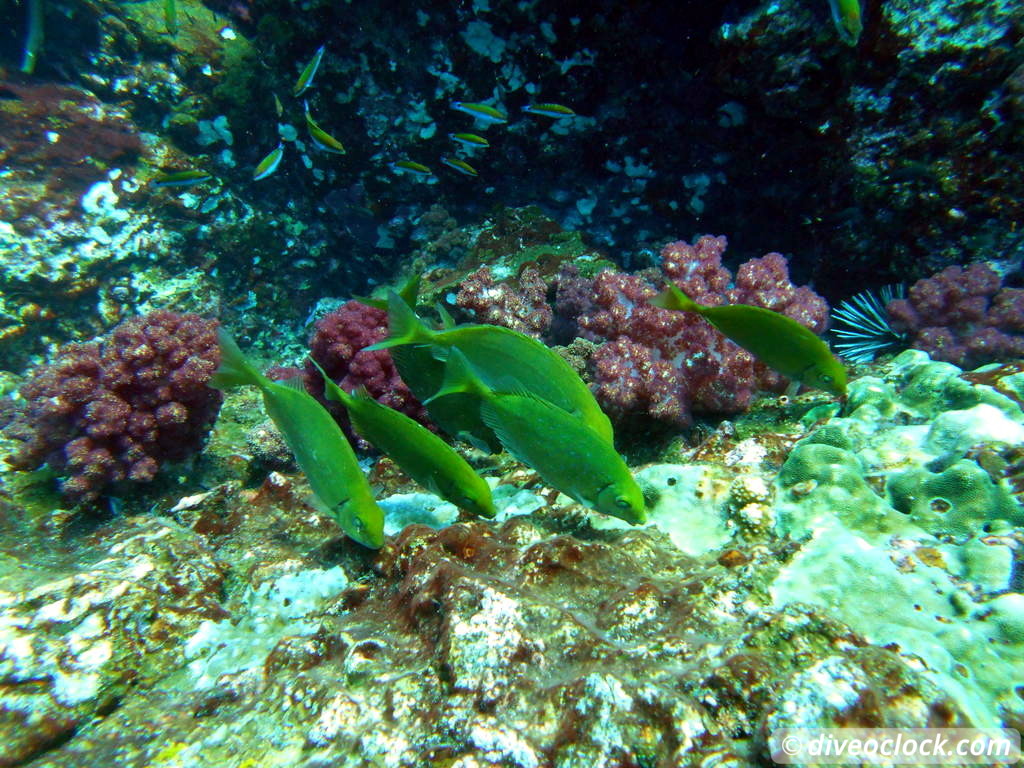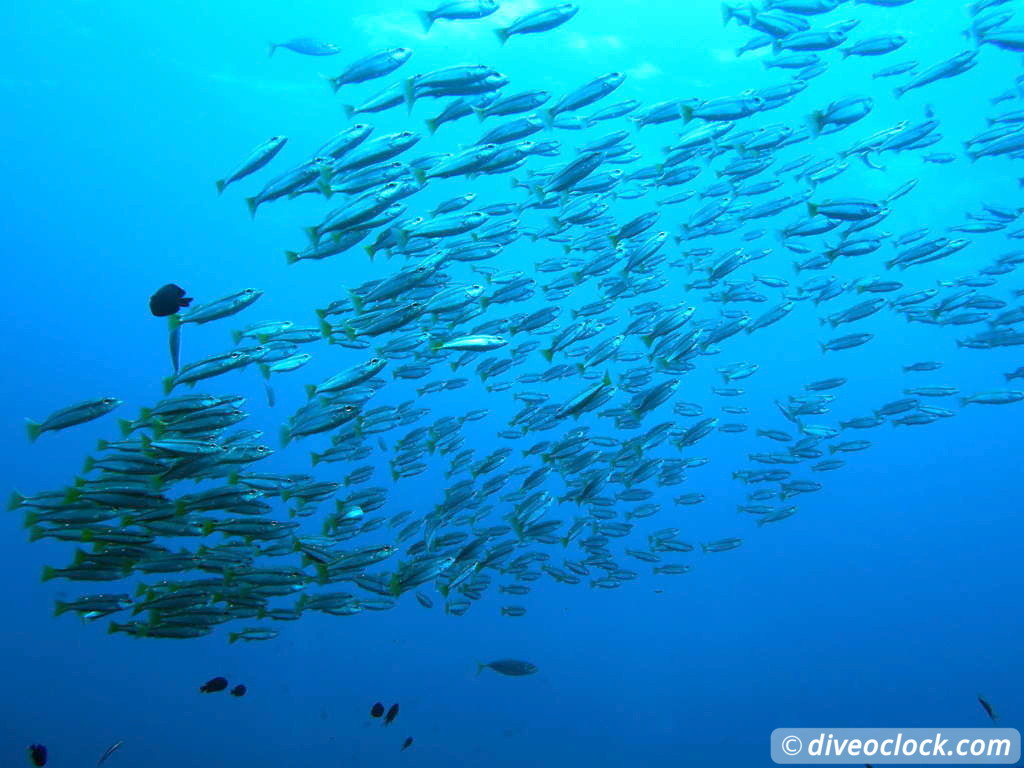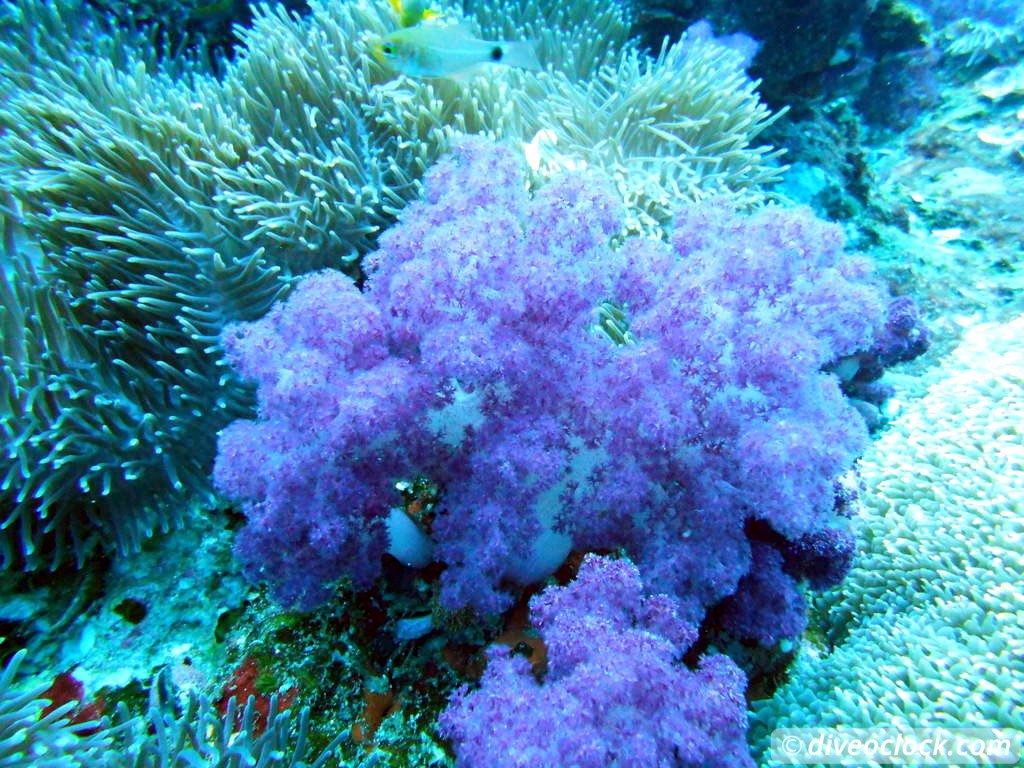 Impressions of diving at Richelieu Rock, Thailand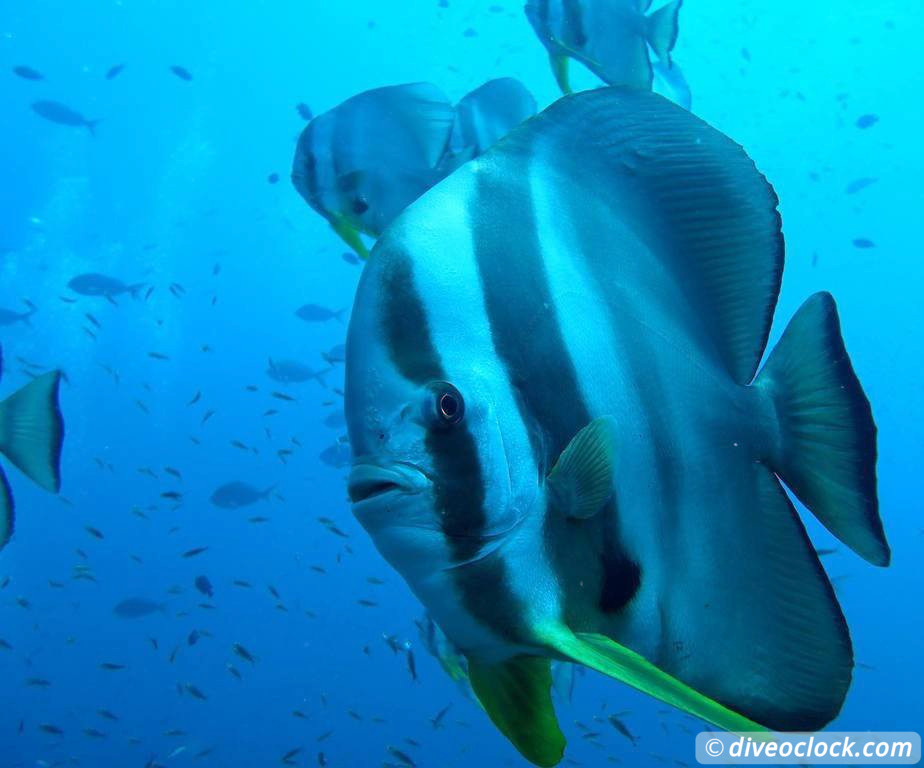 About the organization of Big Blue Diving Khao Lak
The village
Khao Lak
is on the mainland of Thailand from where you can organize day trips and liveaboards. Big Blue Diving Khao Lak offers day trips as well as liveaboards. Although I would always prefer a liveaboard a day trip with a speedboat has some great benefits as well.
Besides the price, which is obviously lower than when you stay overnight with full-board, you win quite a lot of time. Speedboats always give me a bit of a fancy feeling, racing through the water with the wind in your hairs, although you use a lot of fuel. Their boat is specially designed for SCUBA diving, with a dive tank rack, platform, shower, toilet and more features that just make diving a bit easier.
Big Blue Diving Khao Lak offers a low price guarantee, if you find a cheaper shop they will lower their price! Make sure to check the season regarding your dive planning.
If you like this post, hit that like button on our
Facebook page
and stay tuned for more!
Marlies Wolters
Founder of Dive O'Clock "It's dive o'clock somewhere!"

Share this page: