Things to do in Manado, North Sulawesi - Indonesia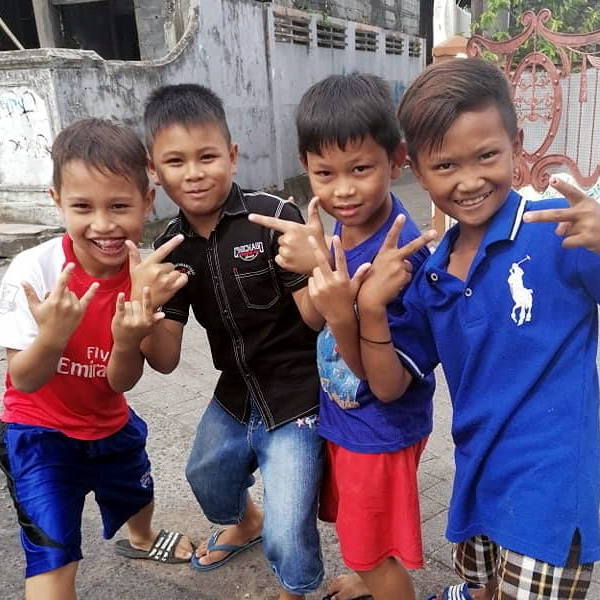 If you are planning to SCUBA dive at Lembeh, Bunaken and/or Bangka you might be thinking of spending some time in Manado. Find out other things to do in Manado and North Sulawesi, the best bars & restaurants and where to stay on a budget.
Quick Links
(Updated in December 2019)
When you come to North Sulawesi you are probably arriving to go SCUBA diving Bunaken, Bangka & Lembeh. Maybe you are considering to spend some time in Manado for some souvenir shopping and sight seeing. Manado is a pretty big Asian city that might not have major tourist attractions but there is a lot more to do than shopping. After spending a few months in Manado city throughout the years I have created this piece of advice for you to get the most out of your trip!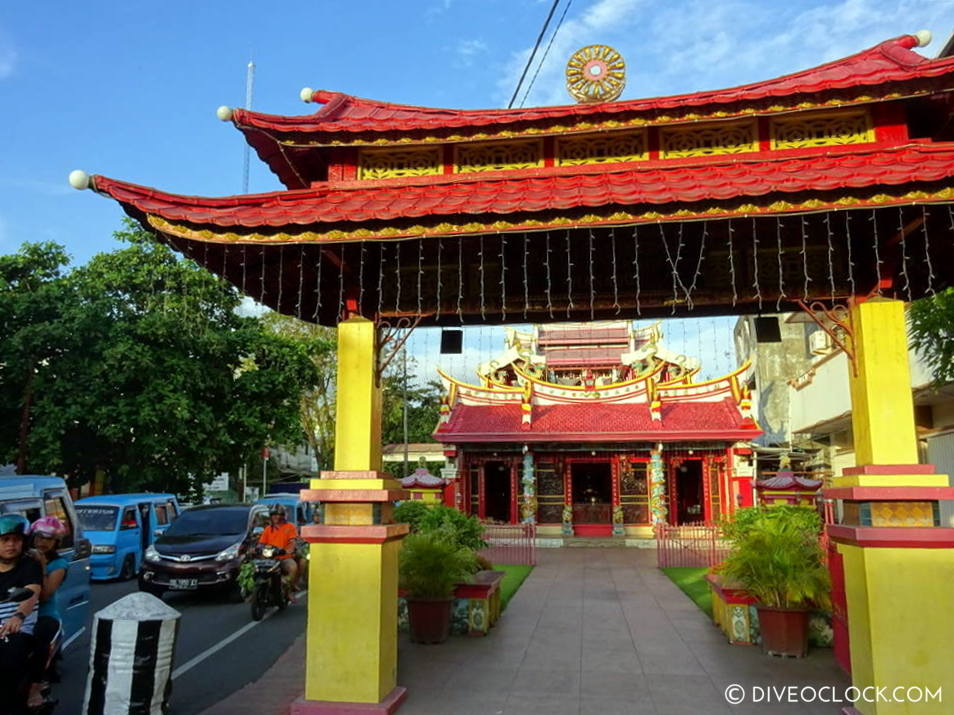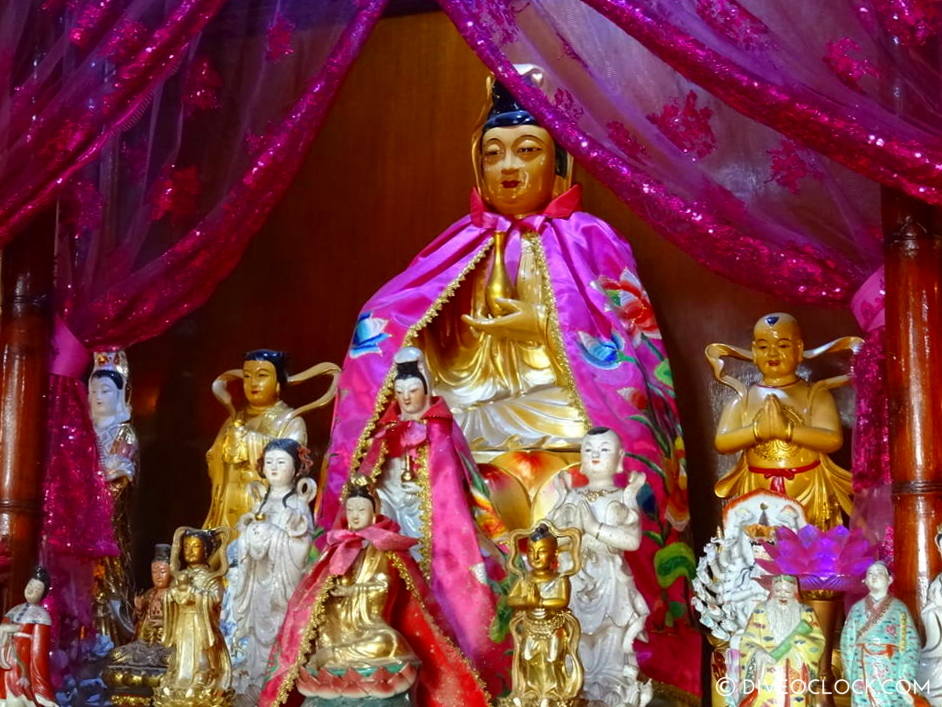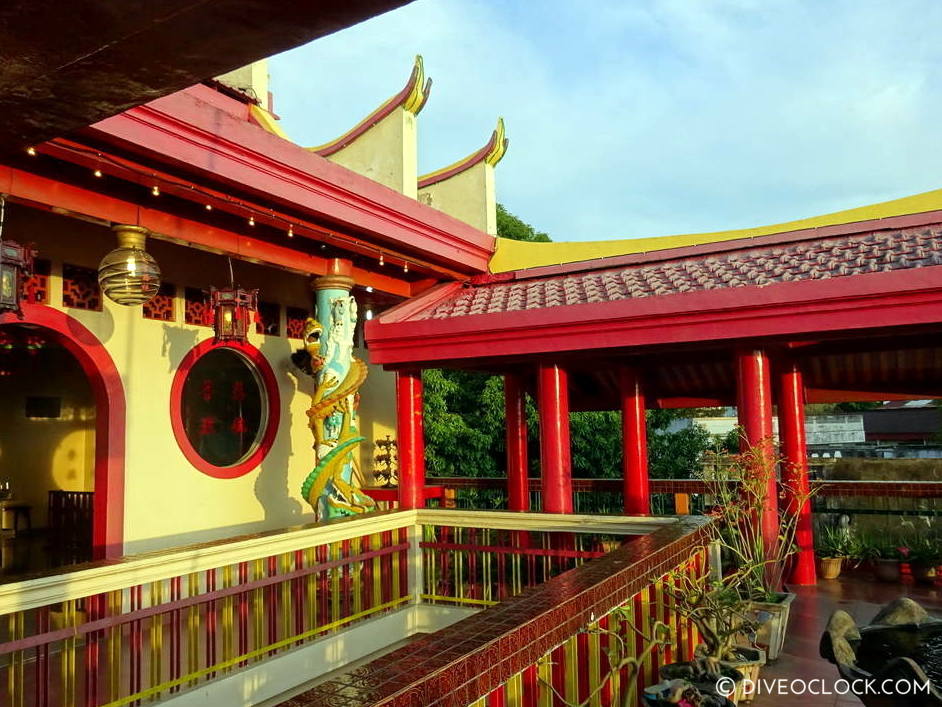 Klenteng Ban Hin Kiong, China Town Manado, Sulawesi.
Top 5 Things to do in Manado
1. Visit China town & the Arabic area!
The old center of Manado is around the river, slightly North. Klenteng Ban Hin Kiong Manado is a beautiful multilevel Chinese temple that is worth a visit. Around the temple you can find other Chinese influences in shops, restaurants and shrines.
Across the road you will see one of the gates of the Arabic area straight away. It is great to walk around the area and look at the impressive mosque. The people are extremely welcoming and very friendly, always happy that you are visiting their place. Just walk around Jalan Masjid Masyhurand and look at the beautiful Arabic details in the streets and on the houses. If you exit the area on the other side you will face the Jembatan Megawati bridge, another good place for some photos.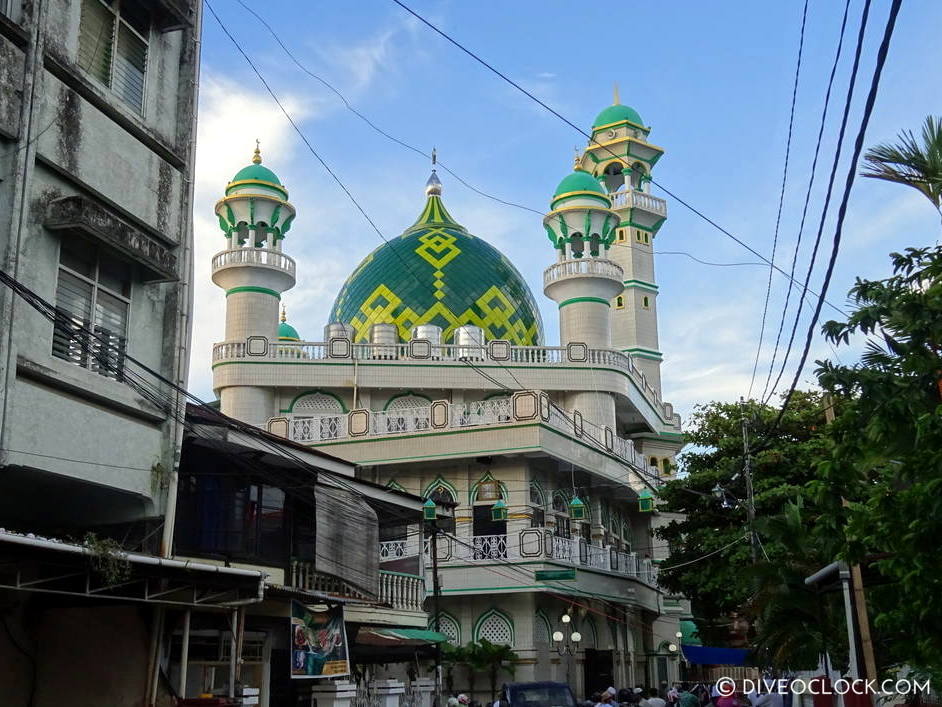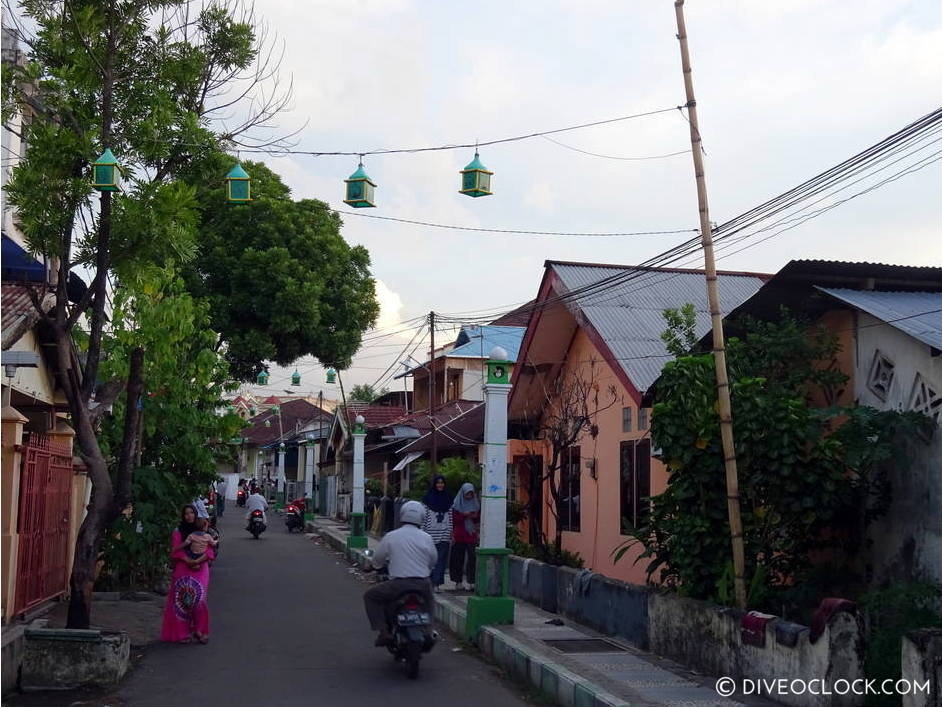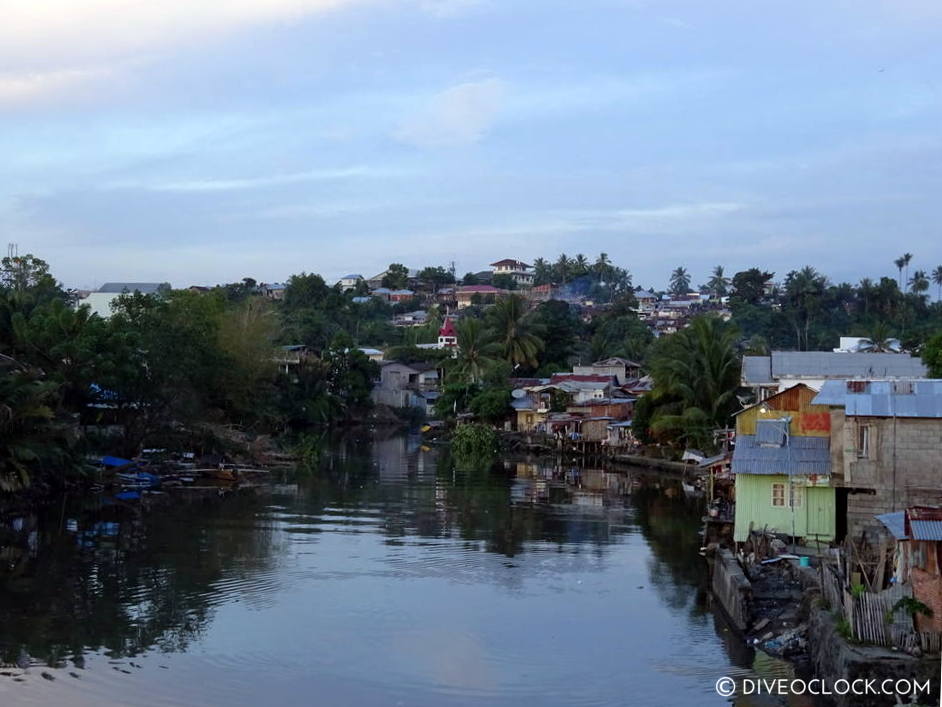 Jalan Masjid Masyhurand, Arabic vibes in Manado, Sulawesi.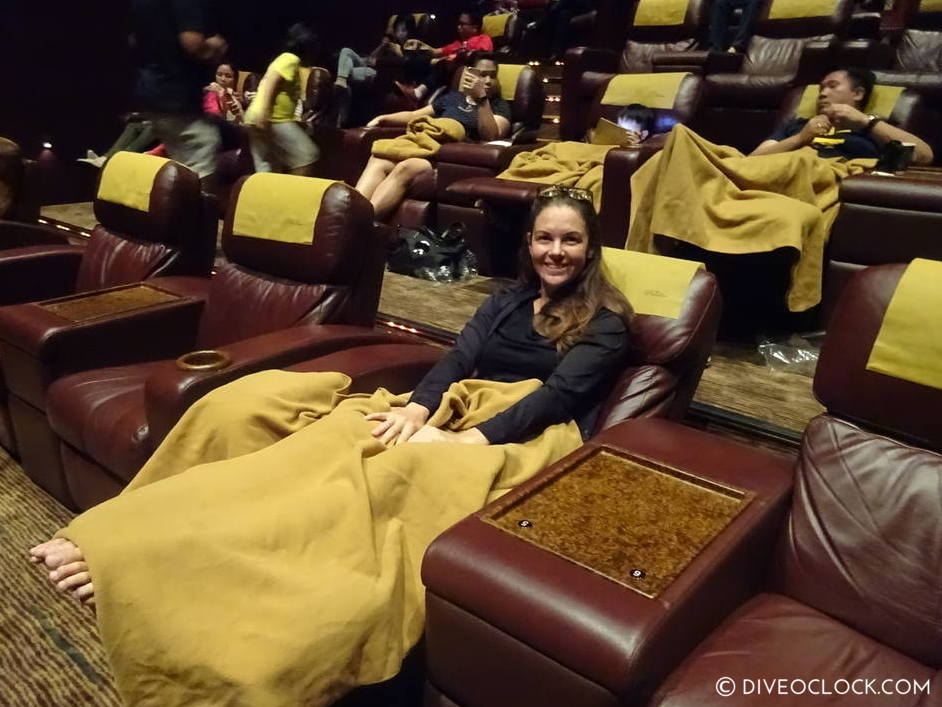 XXI Premiere Cinema at Mantos 3 Mall.
2. Watch a Movie like a VIP in the Cinema!
There are many heavily air conditioned (you might get cold!) shopping malls in Manado. Mega Mass, Mega Mall, IT Center, MTC and Mantos 1, 2, & 3 are the biggest ones. MTC and the IT Center are more budget malls, Mantos is more about luxury and international brands. There are several cinemas and most of the malls have arcades and food courts as well.
Cinema XXI (21) in Mantos 3 is my recommendation if you want to go to the cinema. You can buy PREMIERE tickets for about 60.000 (about 4 USD) per person at a separate counter. This gives you an experience like flying business class. Silver tickets in a envelop, a huge adjustable sofa, a blanket and a la carte ordering food & drinks. Make sure to bring ear plugs since there is no limit on the volume here, Asian people love it as loud as possible.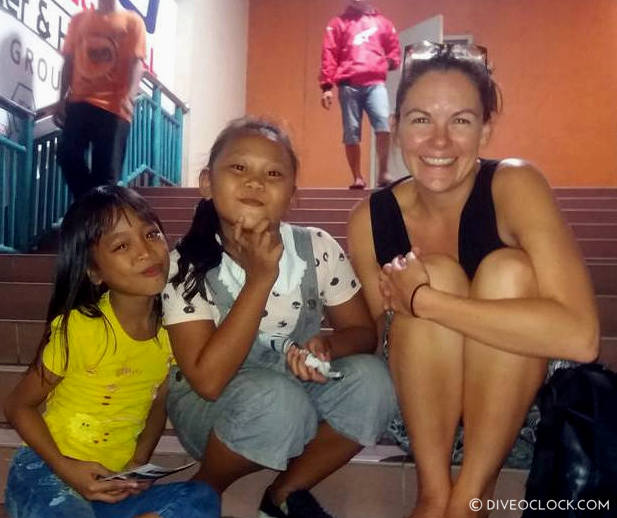 3. Be a Photo Model for One Day!
Since there are not many foreigners walking around town you will steal the show! Girls giggle when you pass by, boys might say "Hello Miss / Mister" to impress their friends - if they dare.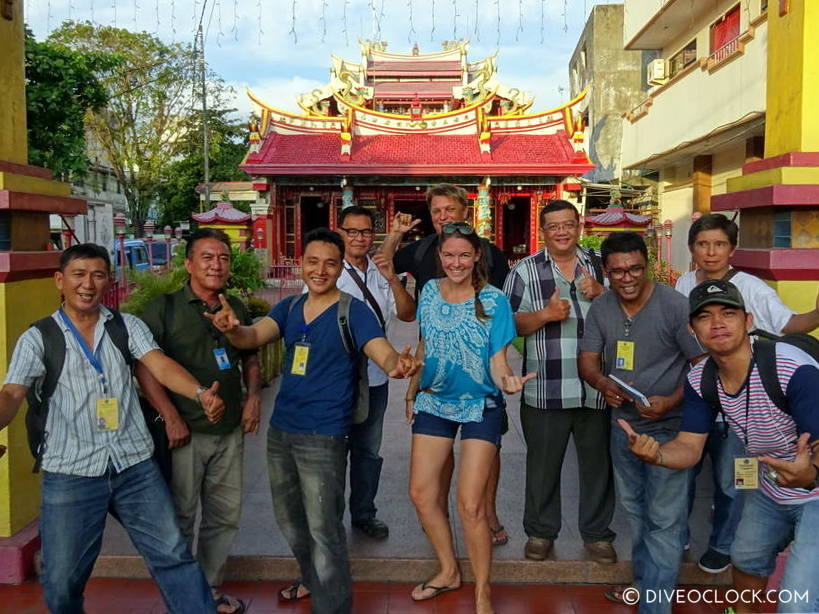 Group of tour guides posing with foreigners.
Especially inside the more local malls and city areas people would love to know where you are from, your name and if they can take a picture with you. It is so lovely and very polite. Here you can be a photo model for free, just be BBL (Blond, Blank & Long!).
4. Visit Malalayang Beach for Sunset Drinks
West of Manado, towards Tateli, you will find a local boulevard called Malalayang beach (Pantai Malalayang at Jalan Wolter Monginsidi). Here you will find many warungs lined up with tables and chairs at the waterfront and a tiny walkway from one end to the other. Enjoy some local food, a young cococut or a cold beer here!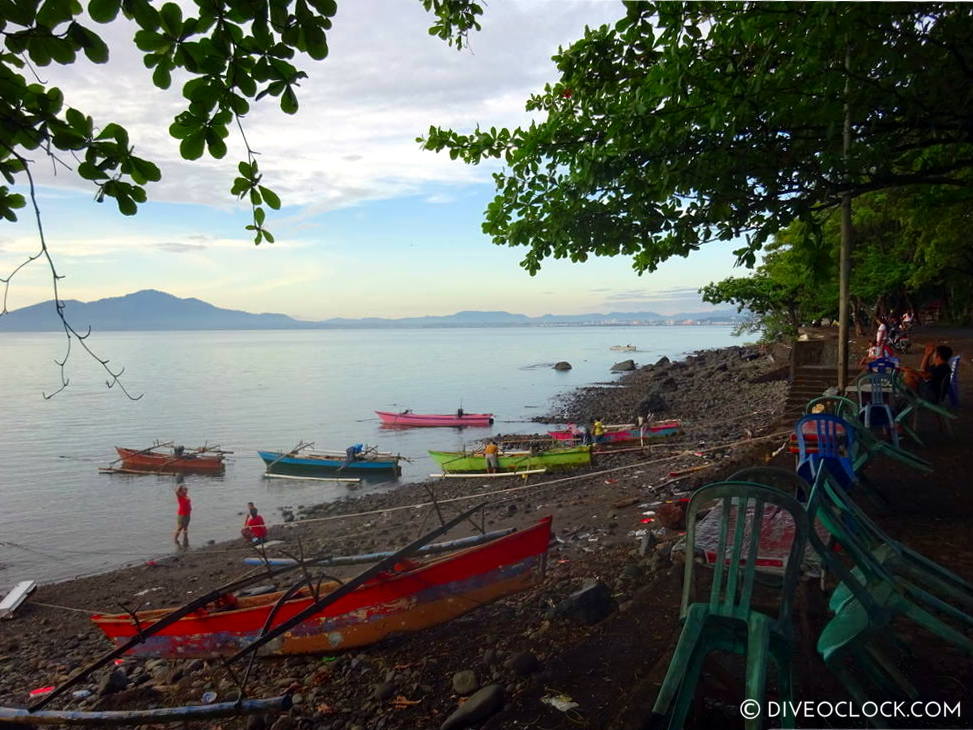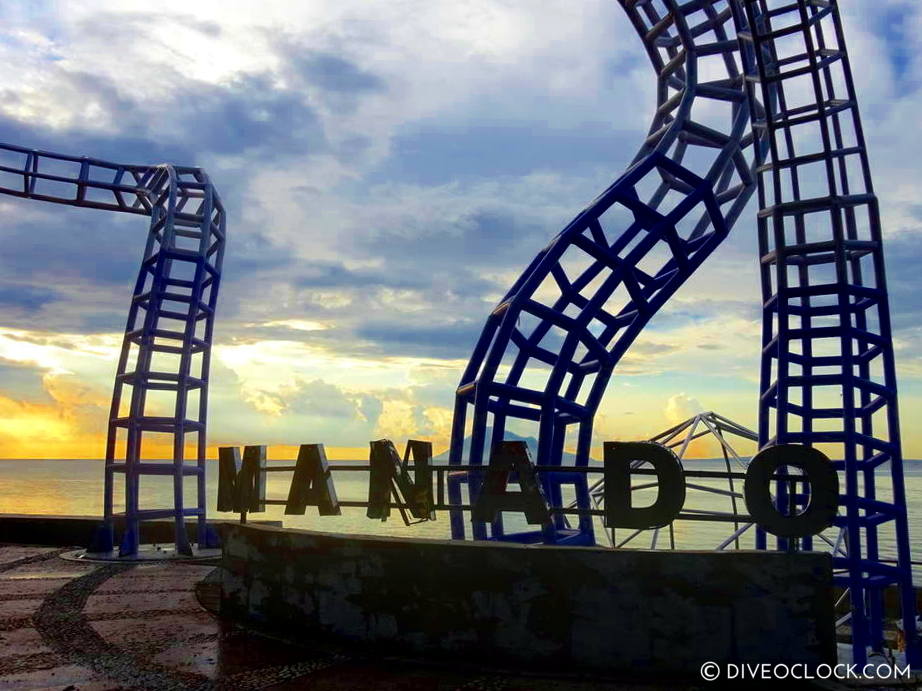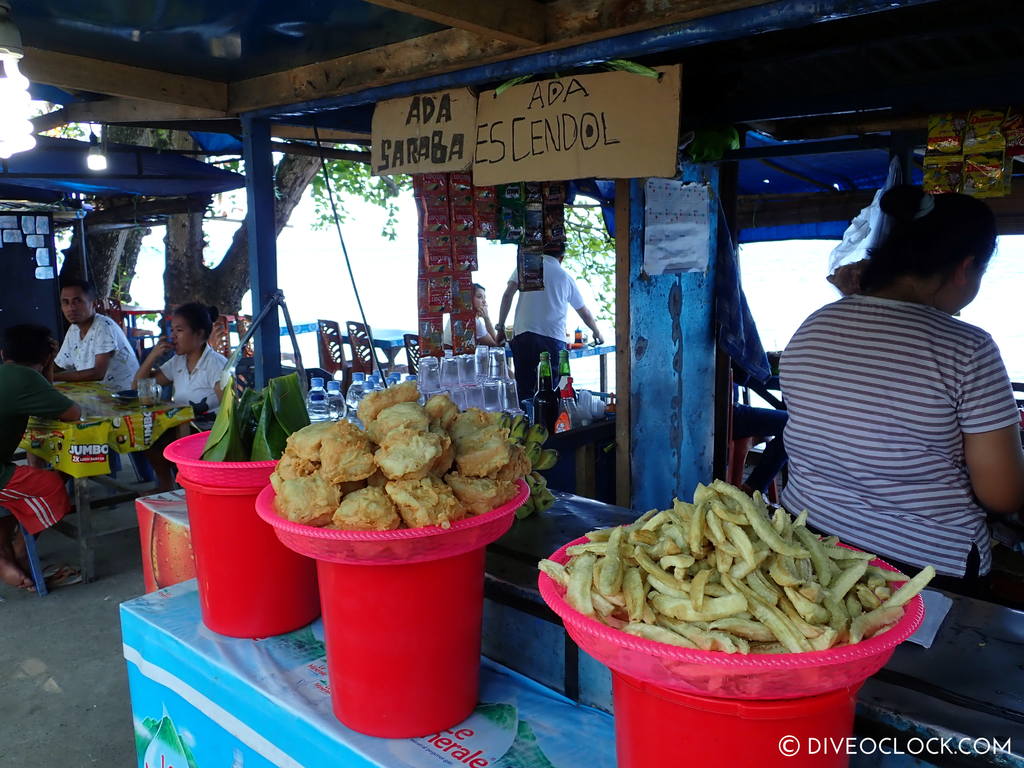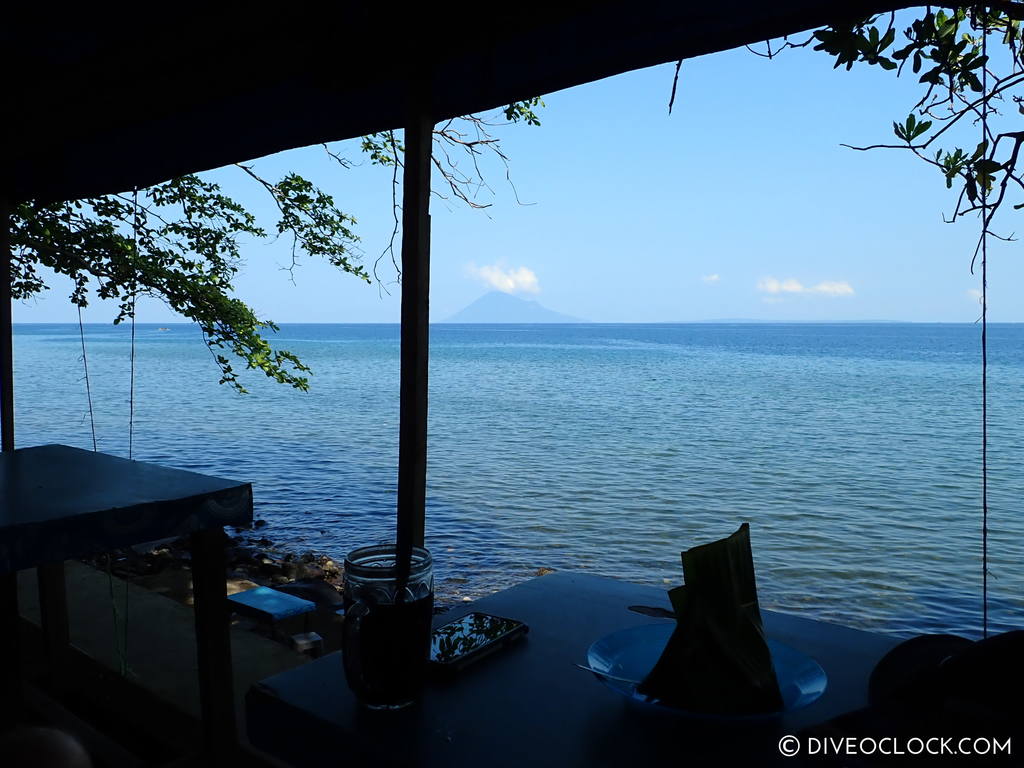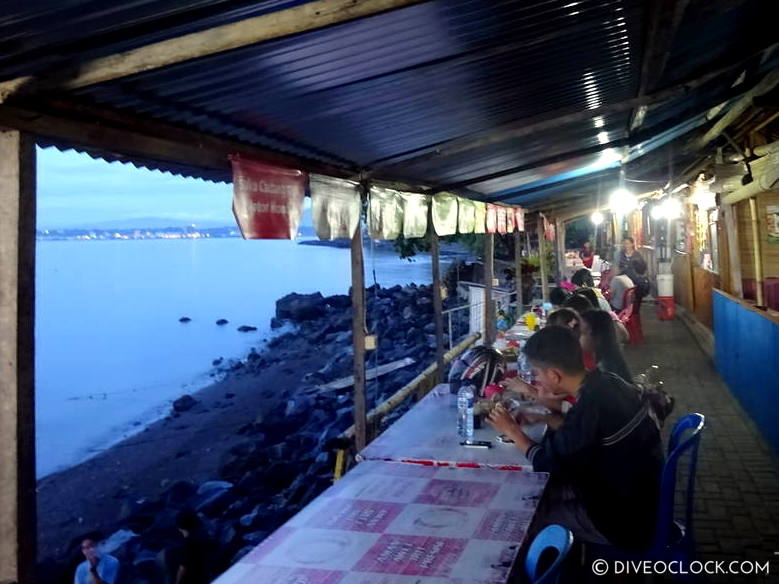 Malalayang beach in Manado.
5. Buying Souvenirs and Gifts in Manado
For souvenirs you can go to the malls but I guess you will not find anything 'authentic' apart from batik clothings.
For cheap products in general you can visit the dollar stores called Mr.D.I.Y. Those stores you can find in various Asian countries and they sell 'everything'. As you can imagine it is mainly plastics what they sell so buy only what you need... You can buy small travel accessories, reusable water bottles and gifts for children for example.
For Tourist souvenirs like Bunaken T-shirts, key rings with a scuba diver, fridge magnets, ash trays, jewelery, batik bags, food items and decoration you should visit Miens Souvenir. This is the best shop around in my opinion, but you can also check the other souvenir shops as they are all alined. Toko Manado Souvenir and Kawanua Souvenir are next door and across the road you also find a small shop with some more Sulawesi T-shirts and klappertaart.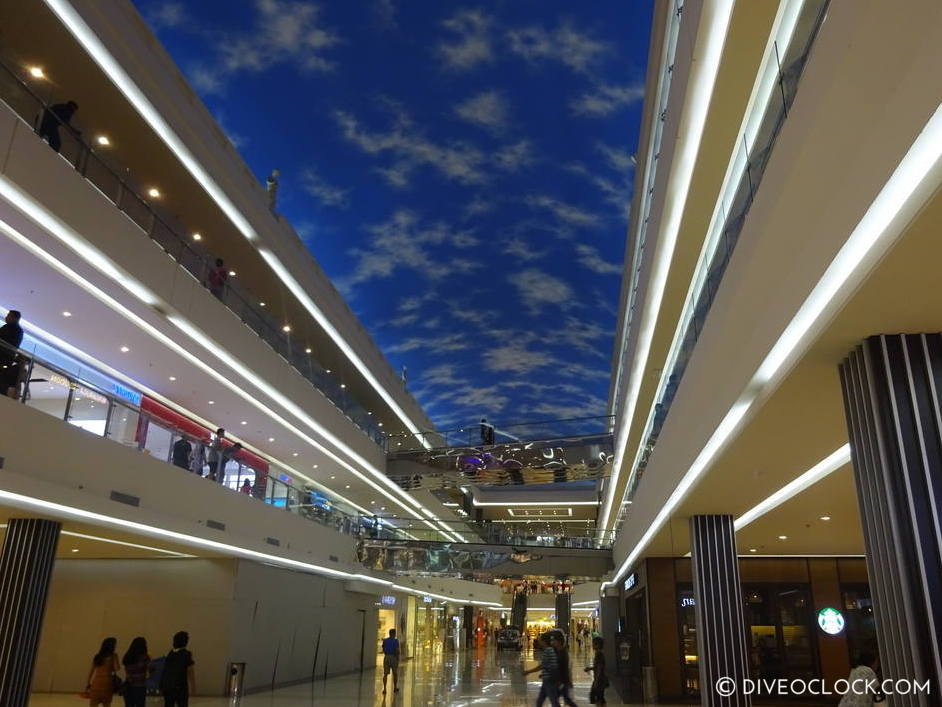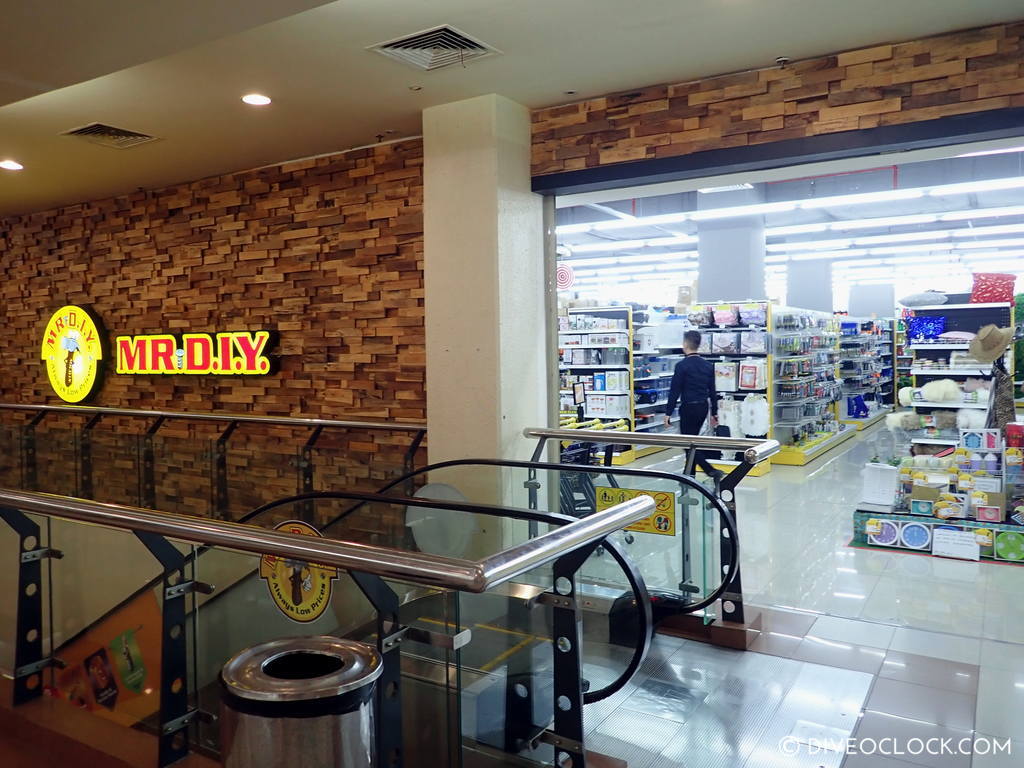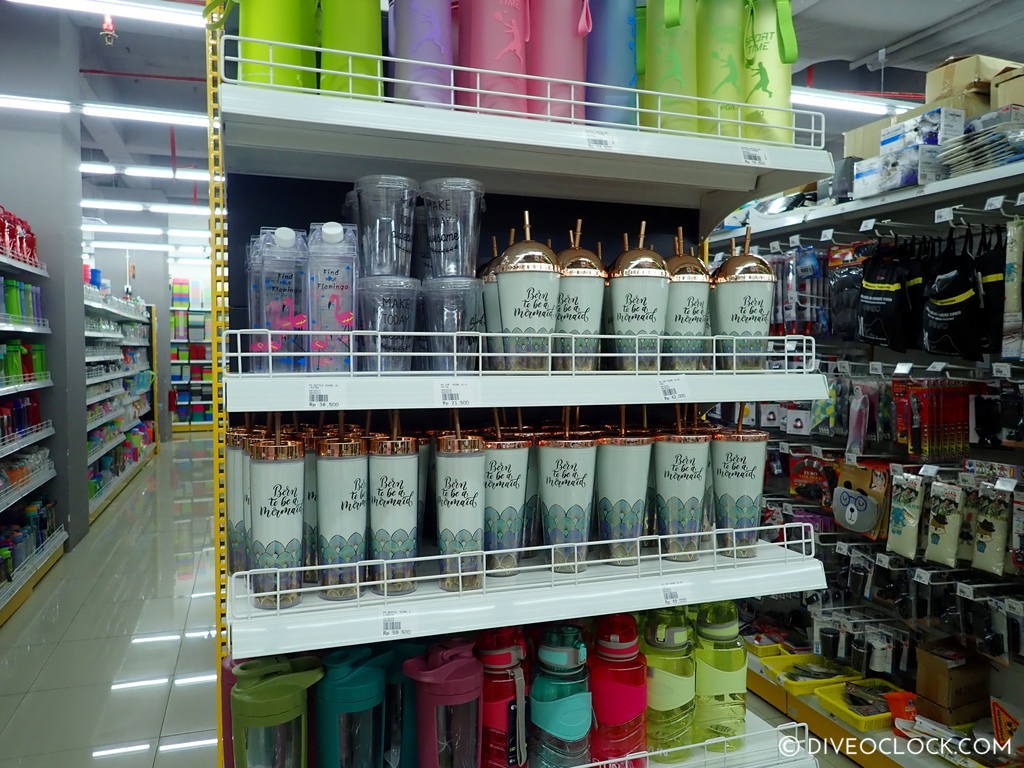 Shopping for Souvenirs and Gifts in Manado.
Things to do in North Sulawesi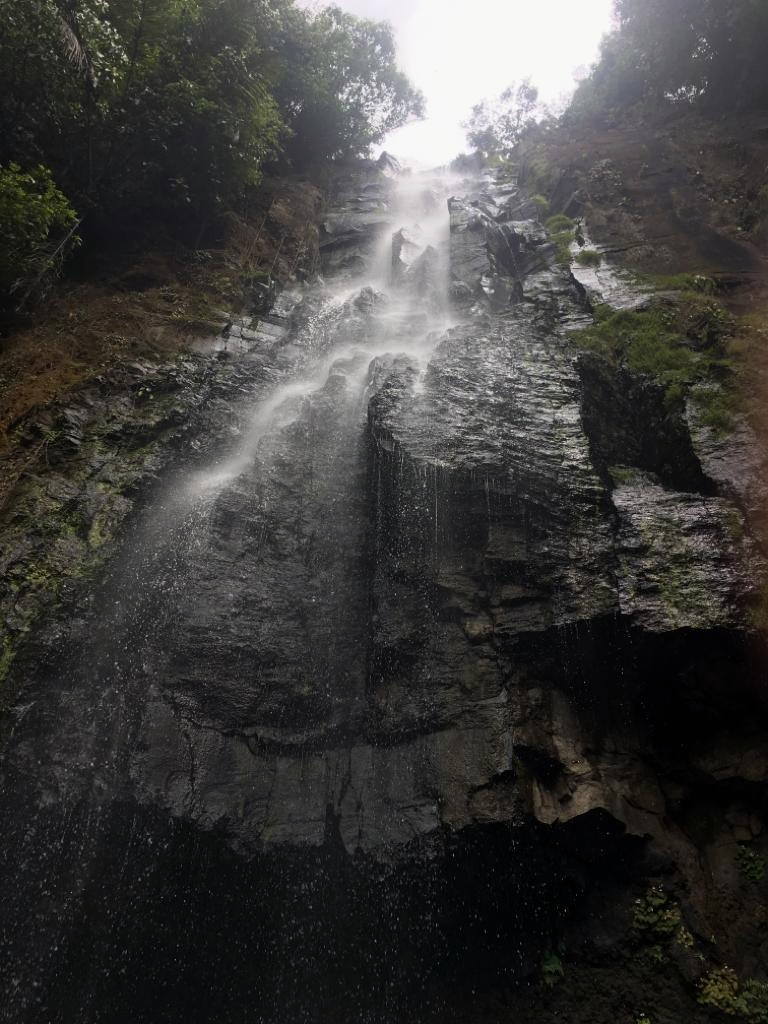 Apart from things you can do in the city Manado itself you can also consider a trip to explore North Sulawesi. There are beautiful waterfalls, you can visit Tangkoko Nature Reserve with monkeys, the Minahasa Highlands, volcanoes and various markets.
You can with book various day / half day trips with Thalassa Dive Resorts Indonesia (scroll down to the bottom). You do not need to stay at the resort but there is a minimum number of participants, contact them for more information.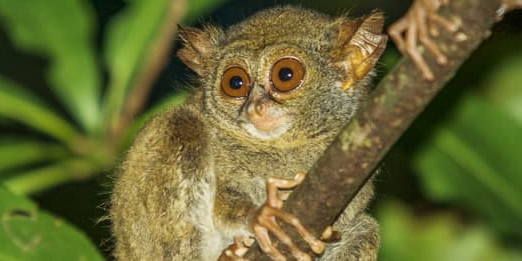 Tarsier monkey - Photo credit Thalassa.
Top 10 Restaurants and Bars in Manado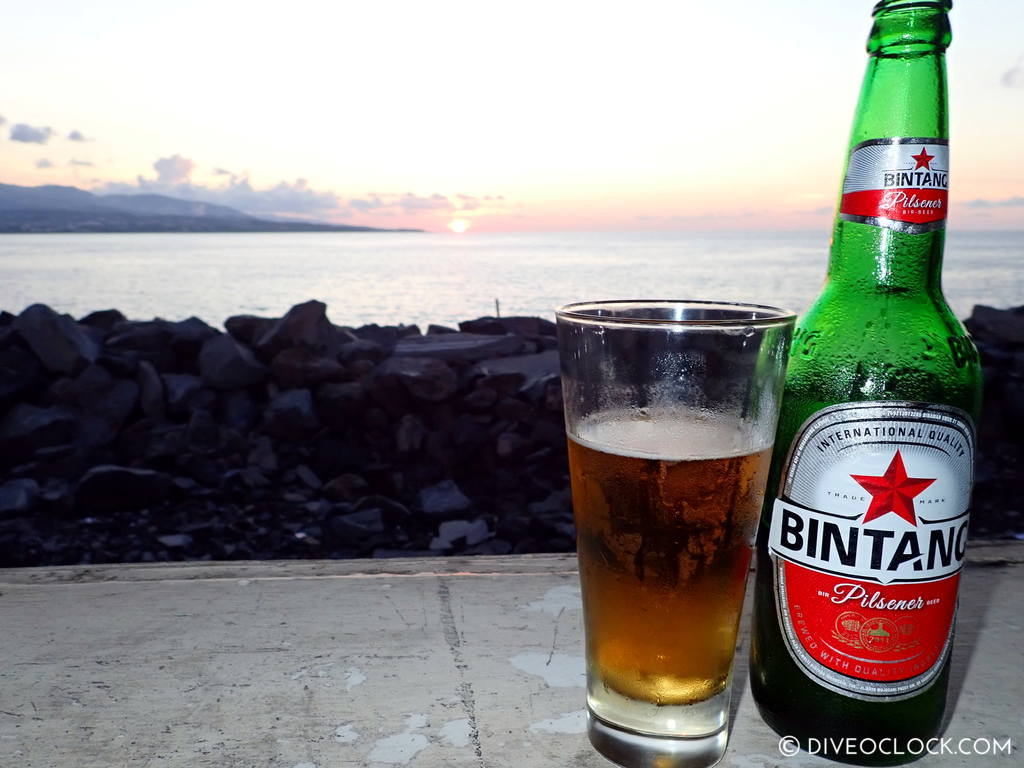 Manado has changed a lot in the last few years. Nowadays you can find plenty of
'Western' restaurants
to get comfort food, fancy coffee shops and live music (and many more places for karaoke). This is a list of the best bars and restaurants in Manado for
sunset drinks
and
night life
. These are not necessarily the places with the best food but with a combination of tasty food and a nice ambiance. Places where you can sit down and have some
beers
or cocktails. Even-though the area has mainly Christian inhabitants the access to alcohol is quite limited.
The area I recommend most is the street between MTC and Megamass, Jl. K.H. Abdurrahman Wahid street. You can find various bars and restaurants here that are quite busy at night. They are called the container cafes at Kawasan megamass. The music here is also loud, so expect only to be able to talk to each-other when you sit outside. It does not get any closer to a bar street in Manado at the moment.
For food trucks you should go to Jl. Laksda John Lie also called Megamas Beachfront / Boulevard (close to Cabal).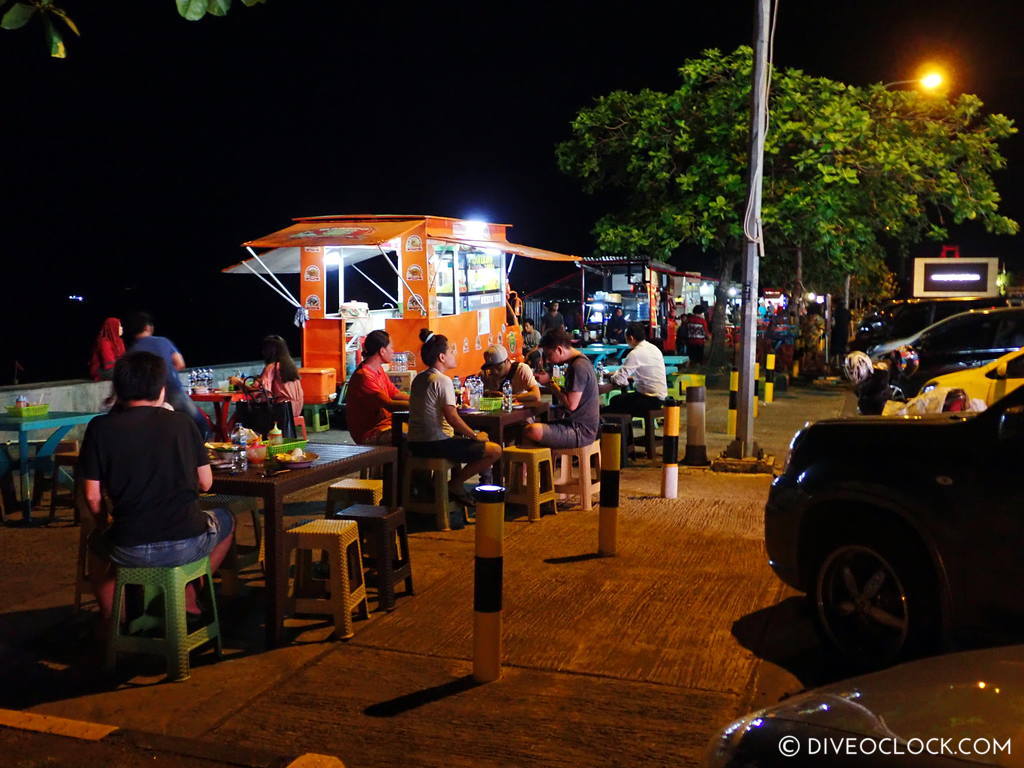 Tuna House Mega Mas, delicious fresh fish and perfect for sunset drinks.
O'Reillys, a beautiful and modern Irish pub with live music. (It is inside - do not think it is closed)
Raja Sate Restaurant, great local food - try the sate. (Can be crowded and beers can be warm)
Cabal, somewhat like a Cuban of jazz cafe with draft beer, whiskey and also live music.
AM / PM, I guess the best place of all the container cafes mentioned above.
Food trucks at the boulevard. (No beers for as far as I know but great atmosphere)
The Club, beautiful veranda setting at the waterfront, try the deserts!
Djarod, a bit remote located but very local and a good place for local drinks and beers.
City Extra, another place for delicious fish and not expensive.
Manado Warkop Kemang, they do not serve alcohol for as far as I know but organize large events.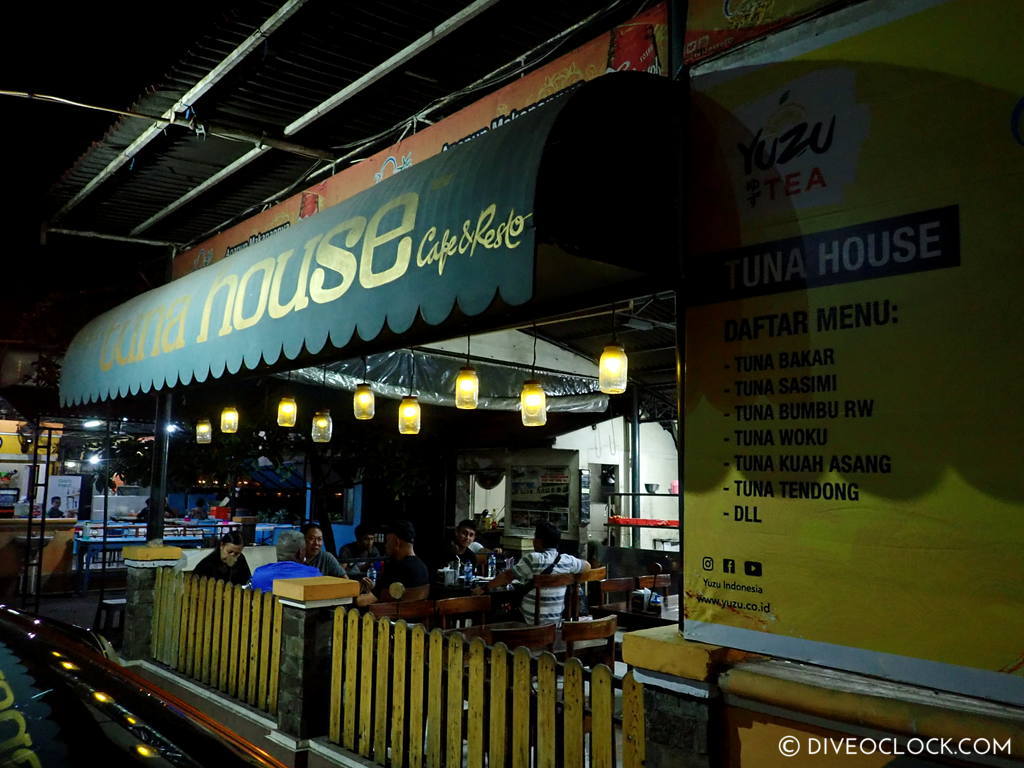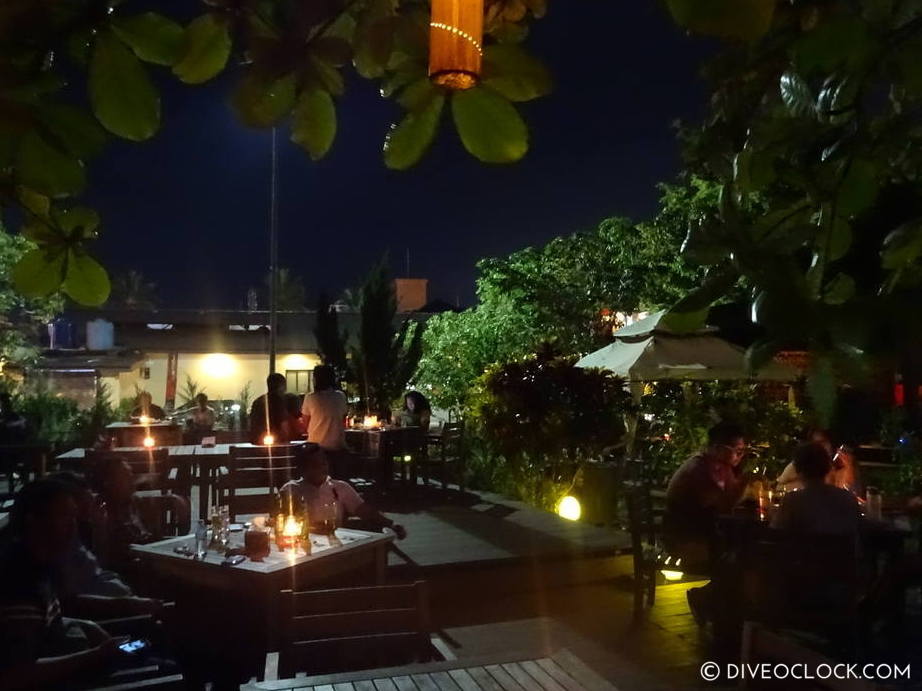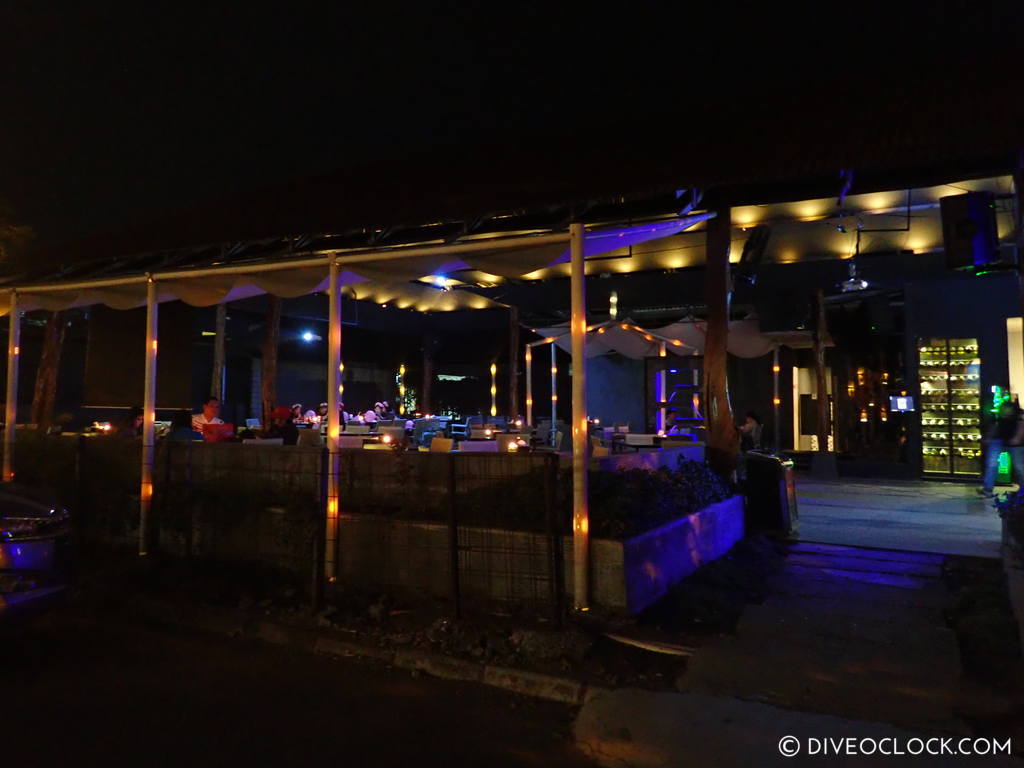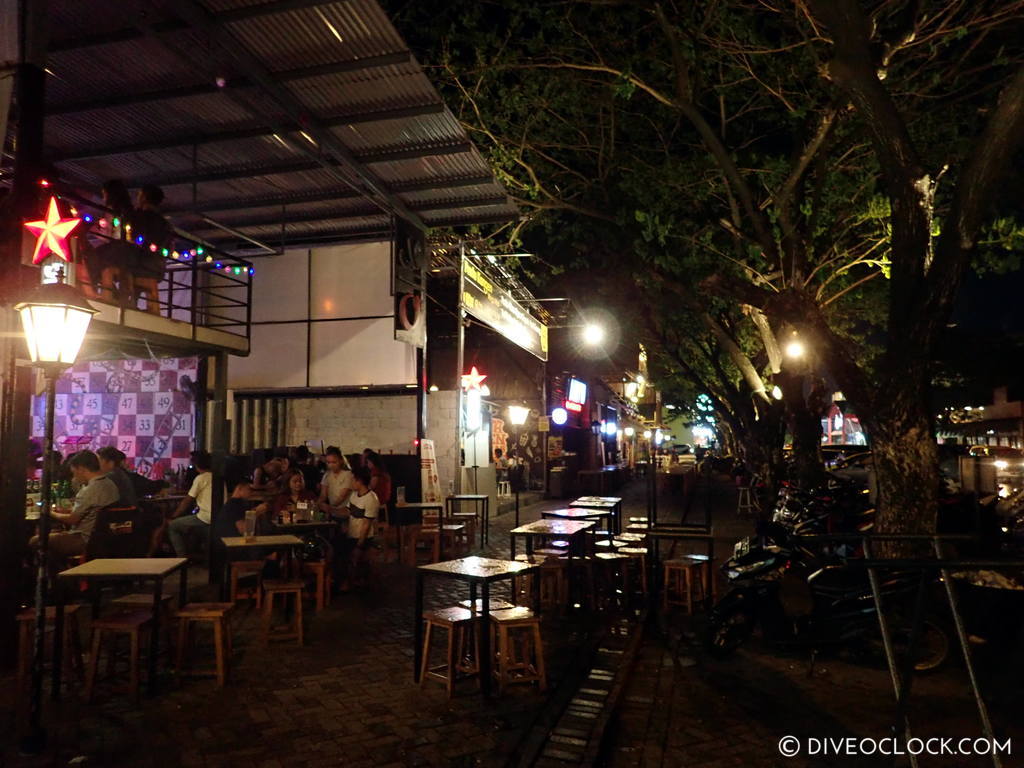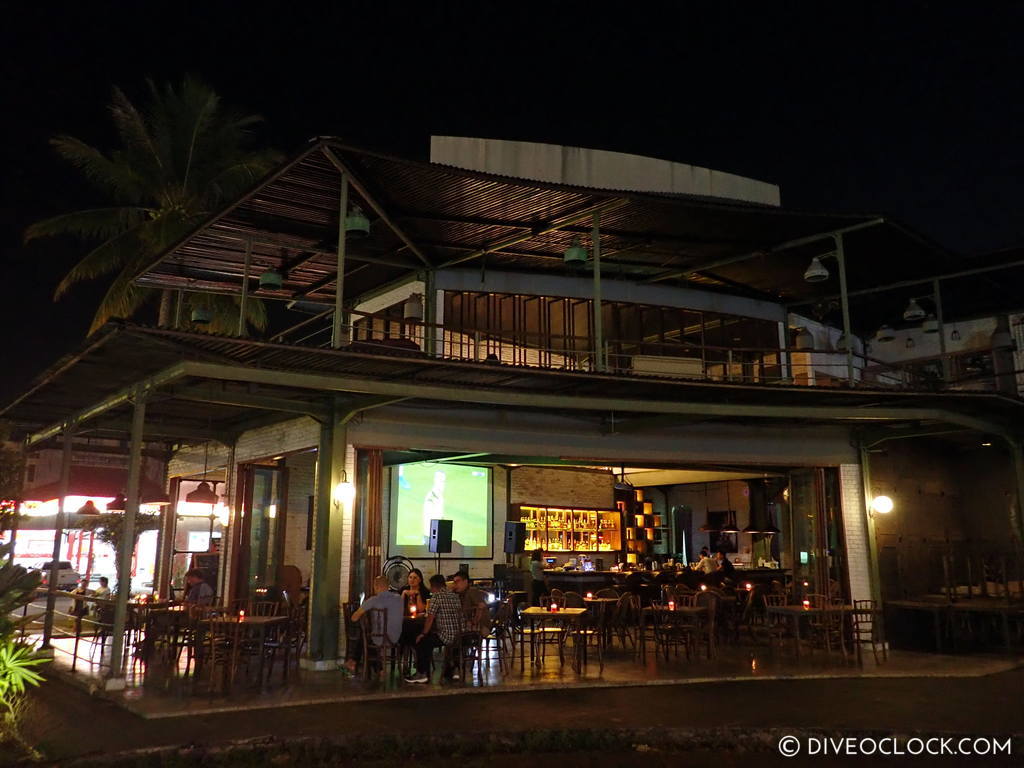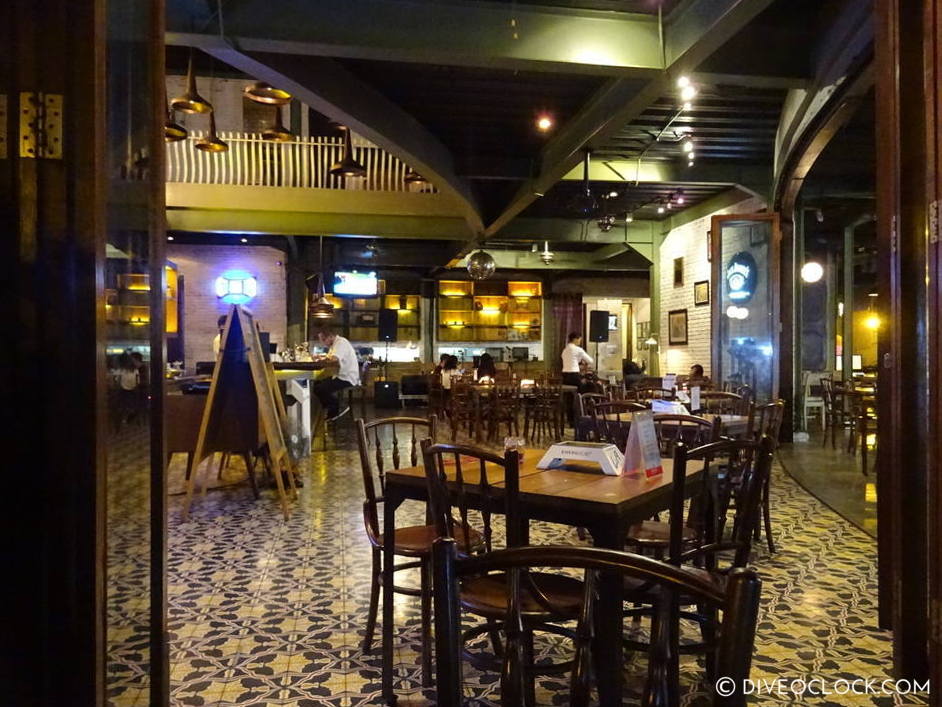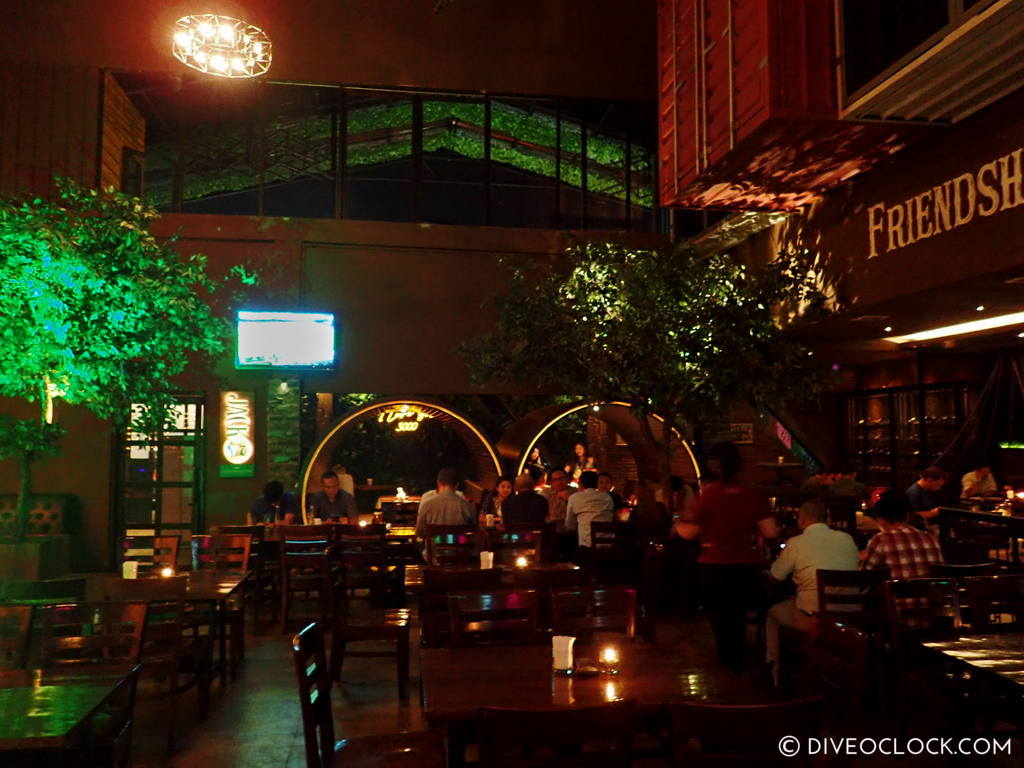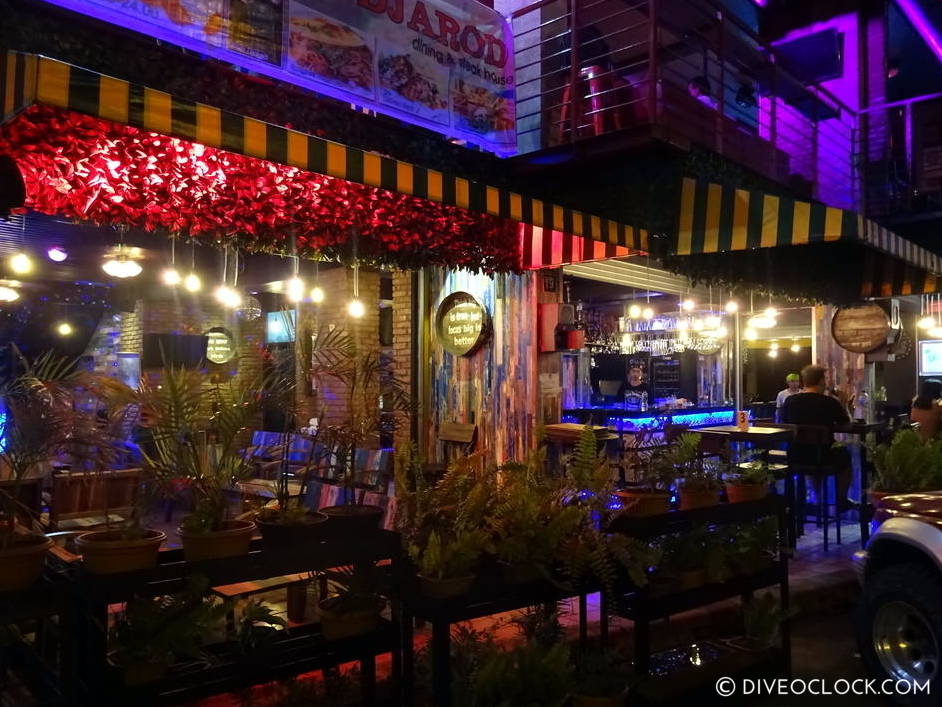 From left to right: Tuna House Mega Mas, The Club, container cafes at Kawasan megamass, Cabal Bar, O'Reilleys and Djarod.
Buy Wine & Draft beer in Manado
Wine is very expensive due to the taxes. You will not find a bottle below 200.000 Rupiah (about 15 USD) and I have not found a restaurant serving by the glass either. Restaurants & bars that sell wine by the bottle: O'Reillys, The Club, Cabal and Djarod (450.000 up / 33 USD).
Two shops that sell wine in Manado: Multi Mart - Megamas, they have a little wine shop next to the entrance.
The other one, Napa Valley wine shop, is a real wine shop with a large selection of wines located inside the Mega Mall Manado, on the top floor next to the cinema. You have to go inside Haha Billiard & Bar. Here you can drink your wine as well for a corkage fee of 50.000 (4 USD).
Haha Billiard & Bar also serves draft beer. It is inside and you can smoke here, not a cozy ambiance I would say. Other places that serve draft beer: O'Reilleys, The club, NewCABANA Cafe&resto and Club Deluxe Manado.
Many bars have draft beer systems but that does not mean they have draft beer! Even a liter of beer or a beer tower can mean bottles of beer!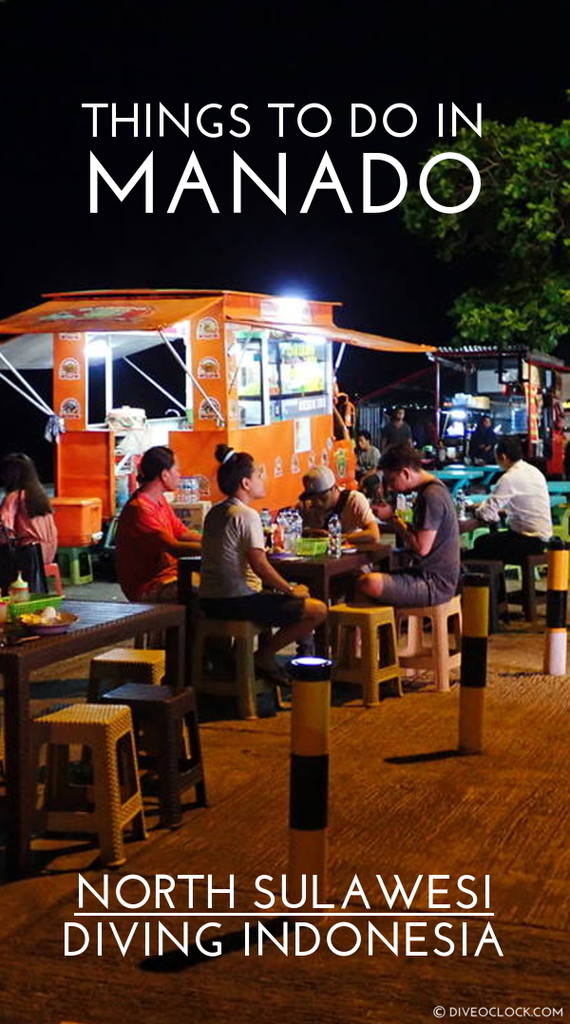 Transportation in Manado
There are plenty options for transportation. The cheapest is taking the little blue buses, micro buses. They cost around 4.000 Rupiah (0,3 USD) per person around the center, expect some 'foreigner commission'. Make sure to check all the different speakers and pimped looks some of those buses have.
With taxis it is quite easy, everyone works with the meter and they all work the same - do not worry. Half an hour is about 50.000 (4 USD), the minimum amount you pay is 25.000 (2 USD). You can call for a blue bird taxi but it works a bit different. The operator calls you back when there is a taxi around your location and asks if you are still interested... After 9 PM it is quite hard to call one but the blue buses are still around.
Using the Grab App (Uber from Asia) is by far your best option around town. You will need to have internet on your phone to order one, so a local SIM is useful but you can also go to a place with Wifi. Otherwise you can ask anybody to order a Grab for you, because you pay cash instead of by credit card. It is cheap, on demand, and you can easily explain where you need to go by pinpointing it on the map. You know upfront what it will cost as well and how long it will take the driver to pick you up. There are motorbikes, cars and larger vehicles available to order. You can even order food to be delivered and things like house cleaning and maintenance tasks.
Where to stay in Manado
There is something strange about accommodations in North Sulawesi compared to other provinces in Indonesia. Hotels are either horribly expensive for mid-range quality - you can find these online or they are mid-range priced for low quality without the possibility to book online. The (dive) resorts are quite remote and mainly offer full-board, this is not a budget option. It is quite hard to find something below 35 USD per night, excluding diving, transfers, national park fees, local taxes, etc.
Before I have stayed in four different hotels, below you can find the pros and cons. This time (2019) I wanted to stay within walking distance from all the nice bars, restaurants and stores. It is not the most romantic place to stay but very convenient for working online during the day and in the middle of 'Manado's nightlife'.
It is called Apartment MTC, Manado, Indonesia right on top of MTC or the Mega Trade Center mall with a large swimming pool. It is pretty new but not really well maintained - typical Indonesia, however it is large with a separate bedroom. Inside the mall you can find a large supermarket with a tasty and cheap warung, Solaria (local food chain restaurant) and many clothes shops.
TIP: Outside you can get a local SIM (without your passport) with data for a low price. Perfect for using the Grab App and internet in general.
Other hotel experiences in Manado In 2016 Mercure Manado Tateli Beach Resort was about the only affordable resort, without meals. The place is amazing but it is located in Tateli and not in Manado. Since I wanted to save some money this was not the best idea because the restaurant prices are high and you need to take a taxi (now Grab) to go to the supermarket or local restaurants. You can not rent motorbikes around Manado. Good for: Sunsets by the beach, amazing swimming pool and luxury & comfort.


Staying at Whiz Prime Hotel Megamas Manado includes breakfast. This hotel is clean and new looking. The room is not that big but it had a wonderful sea view and a great location. Right in front of the hotel there is a strip with small beach front restaurants (Tuna House Mega Mas!) and the container cafes are around the corner. Good for: Perfect location, comfortable and great sea view. I would have stayed here again in 2019 but there were no more rooms available...
When I got back from Lembeh in 2016 I stayed in Manado again. This time I thought I found a good and cheap place, Quint Hotel , well it was cheap... It is an old hotel and the room was not clean. The worst thing for me was that there was no window or let's say natural light but it is great if you are on a real budget. It includes free breakfast for about 15 USD. Good for: Saving money!
Another recommendation if you want something of everything is Gran Central Hotel . It is also in the middle of town, comfortable, spacious rooms and the restaurant is good with normal hotel prices for food and drinks.
If you have anything to add from your experience, please share it!
If you like this post, hit that like button on our
Facebook page
and stay tuned for more!
Marlies Wolters
Founder of Dive O'Clock "It's dive o'clock somewhere!"

Share this page: