North Sulawesi Diving - Spectacular Manado, Bunaken & Lembeh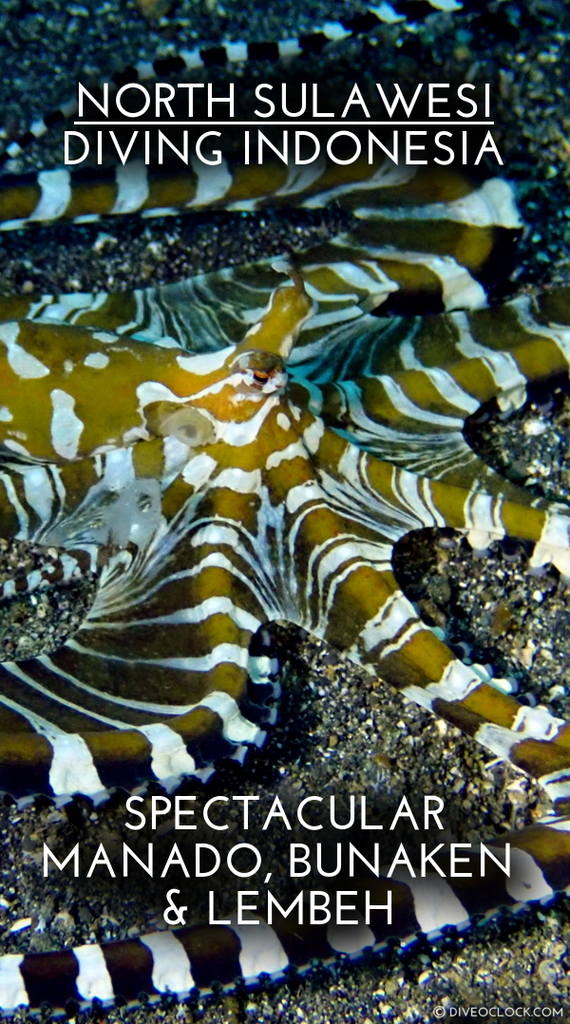 How about stunning wall dives, weird creatures in the sand and mangrove diving in between? It is all possible when you go to North Sulawesi for your dive holiday! Tips for planning your trip and why you should choose Thalassa Dive Resorts Indonesia for your stay in Manado and Lembeh.
Quick Links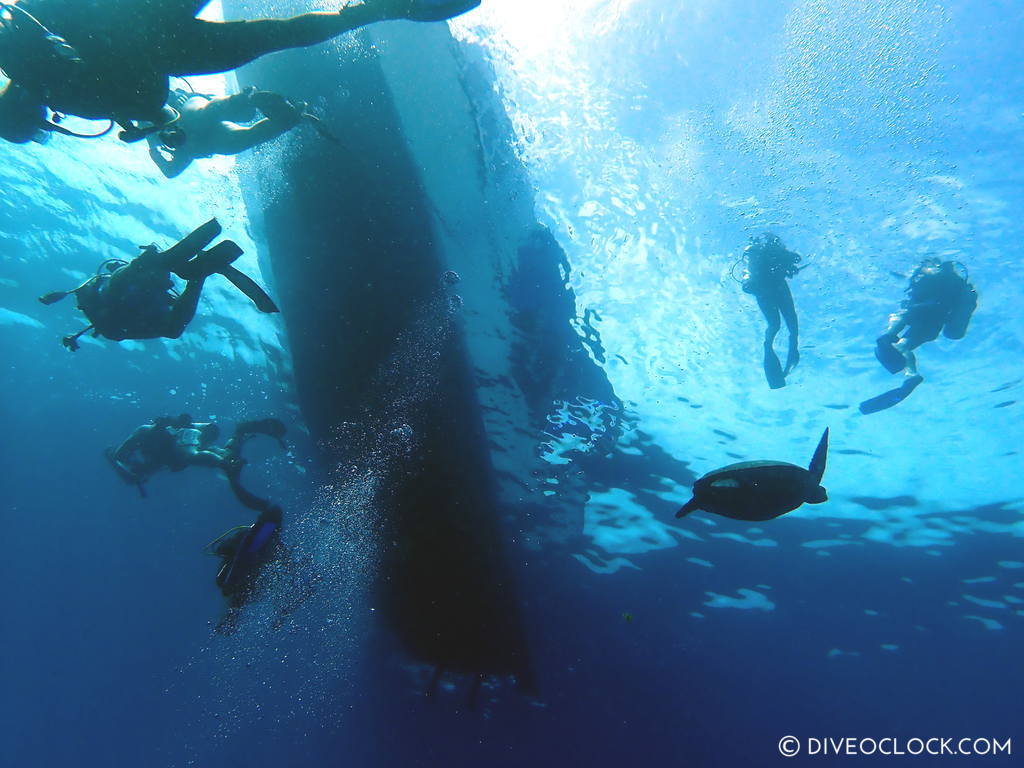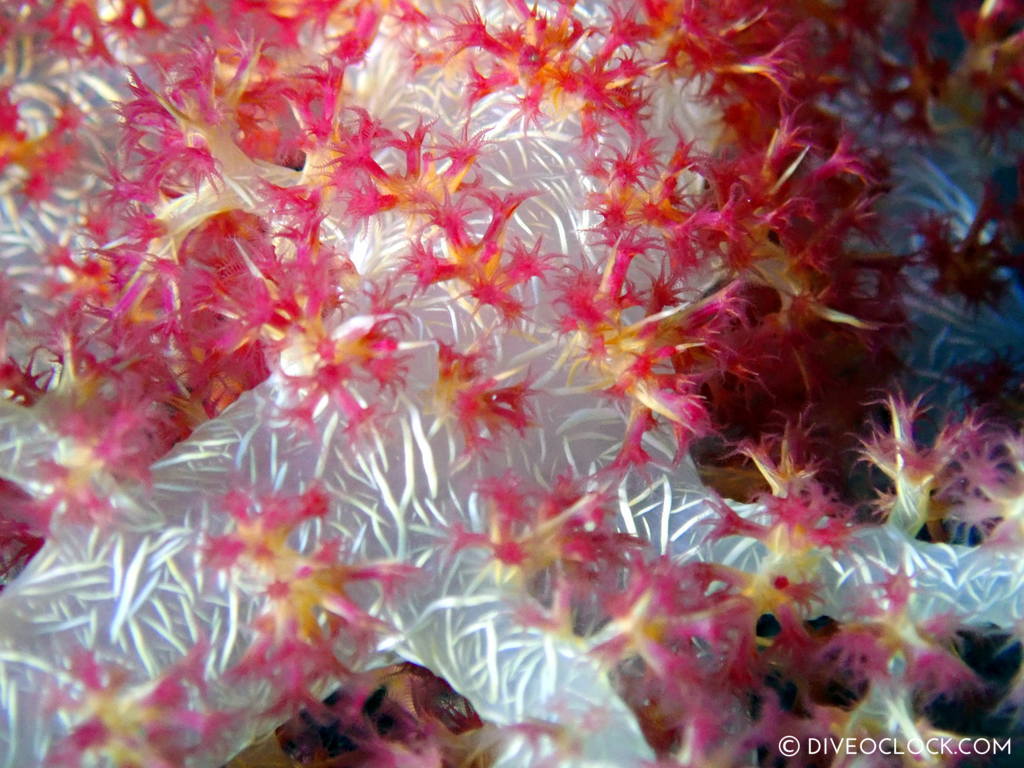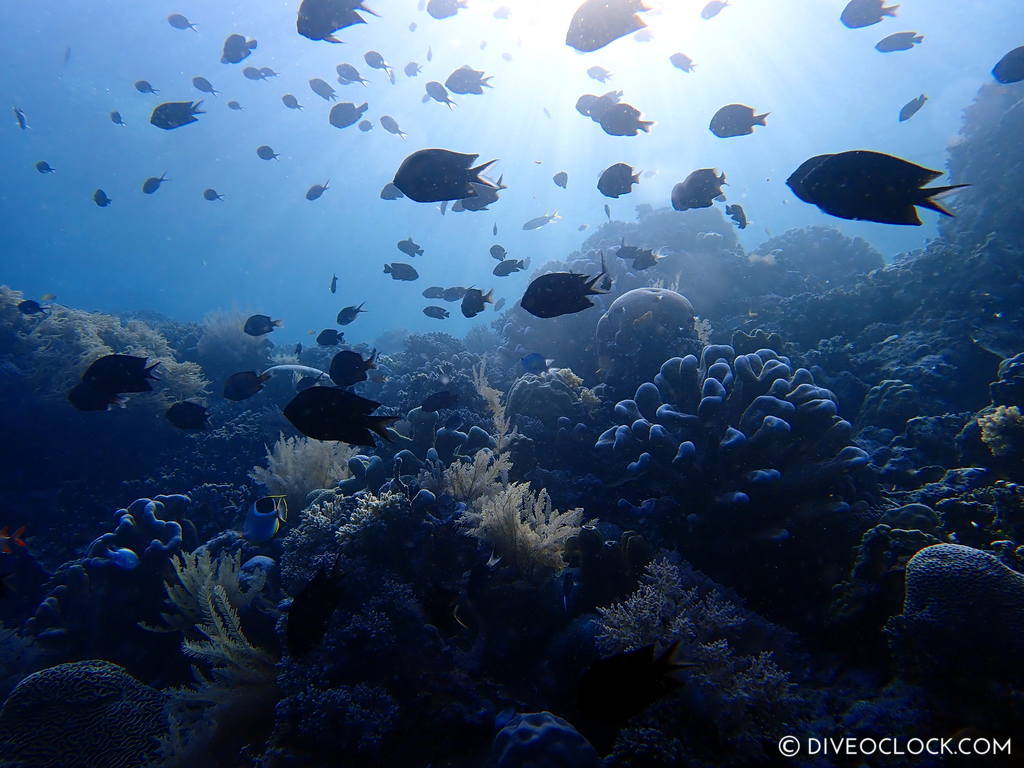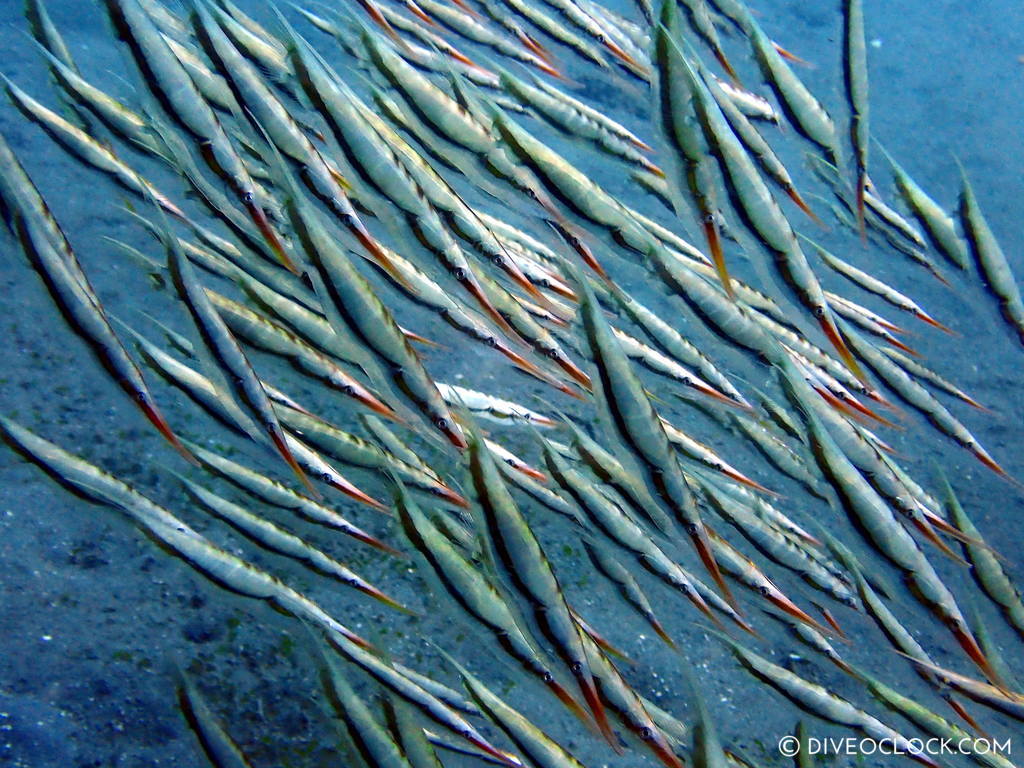 SCUBA Diving at Bunaken National Park.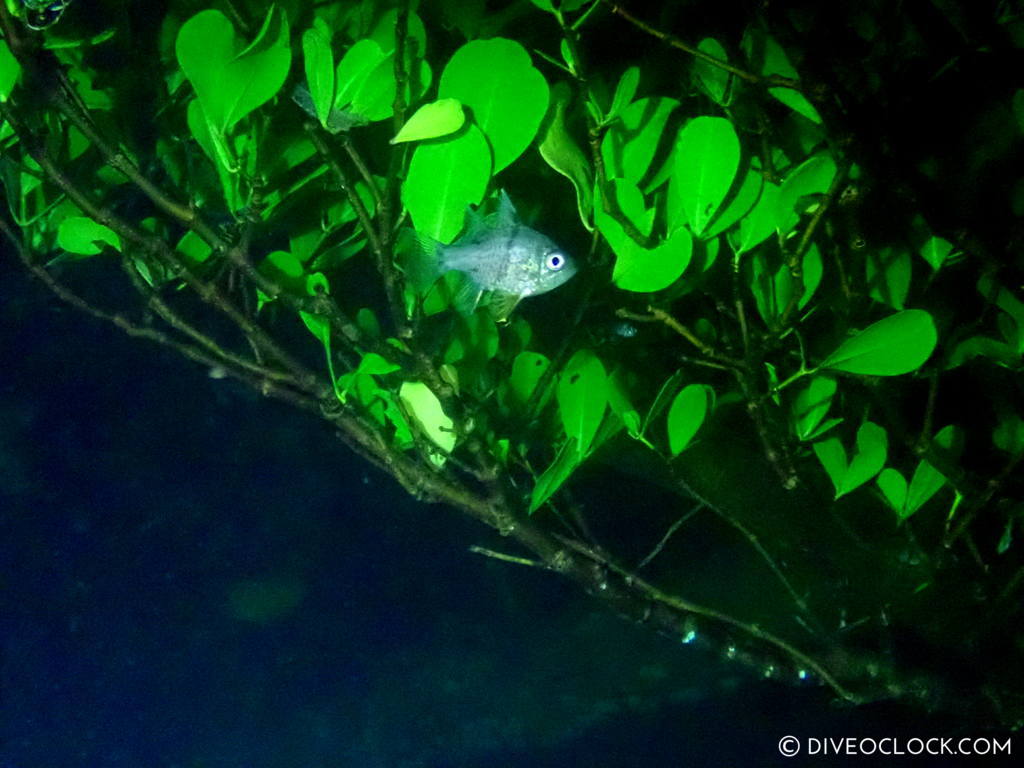 Mangrove Night Diving in Manado.
Different Types of Diving around North Sulawesi
Diving around North Sulawesi is so diverse, it feels like you can combine various dive holidays in one. With Lembeh, Bangka and Bunaken being the most famous dive areas, it is quite surprising they are pretty close to each-other yet very different.
While Lembeh is a highlight for macro lovers and underwater photographers, Bunaken is a must do for reef dive lovers with stunning wall dives and a crazy amount of sea turtles. Bangka offers a stunning mix of macro and pelagics. Due to weather conditions (big waves) I could not go to Bangka this trip, but I will be back for more!
While Bangka is known for dugongs, there is also a dive area South of Manado to spot them if you are lucky. Do not underestimate diving around Manado itself by the way - Manado is not just a hub to dive spots - it is a large dive area! Manado bay may be a bit murky but it is awesome with a lot of corals. You can also explore many slopes and muck diving areas along Manado's coastline and areas like Tanahwangko, Tateli and North towards Likupang.
My favourite dive was a mangrove night dive at Bahowo, North of Manado. For mangrove diving you only have a few options a month due to the water levels. Because it will only get a few meters deep you also need to have perfect buoyancy to move through the trees and roots without stirring-up sand. It is a mesmerizing experience to see fish in trees and it give you the feeling of sliding through a haunted mansion, highly recommended for experienced (night) divers!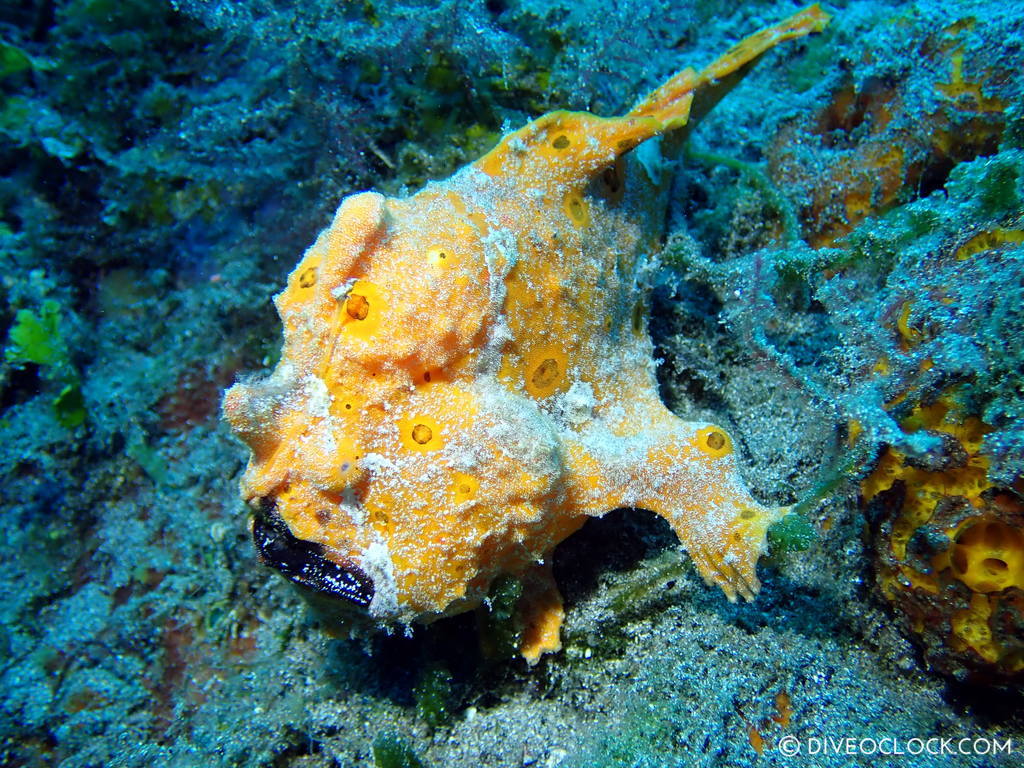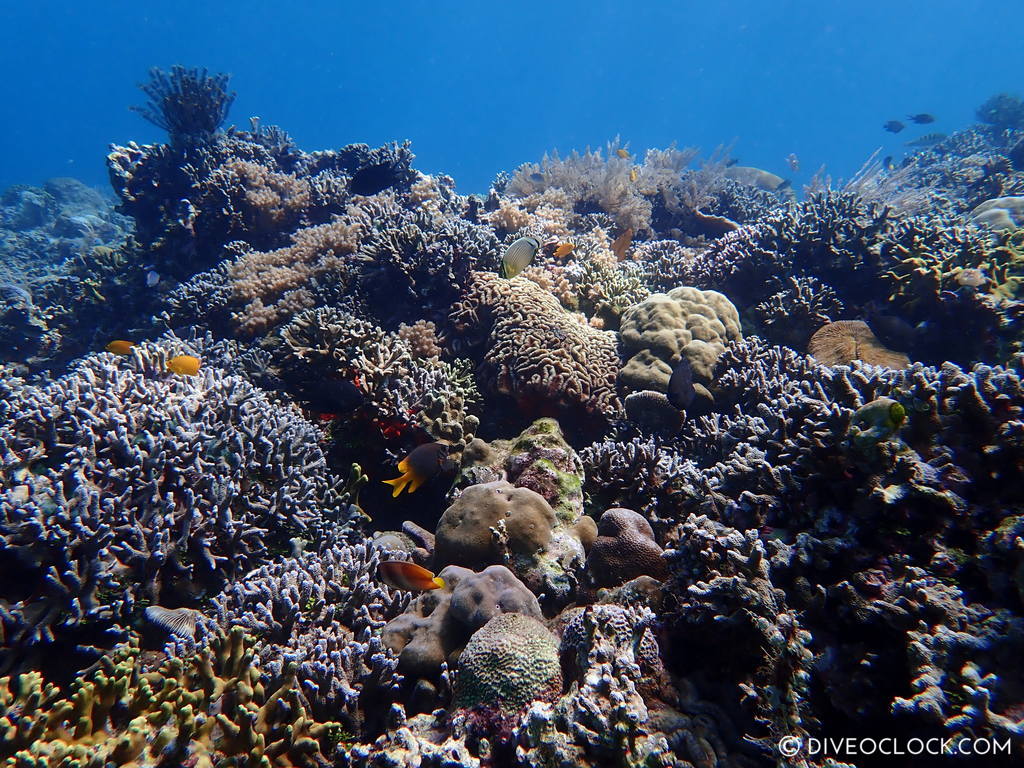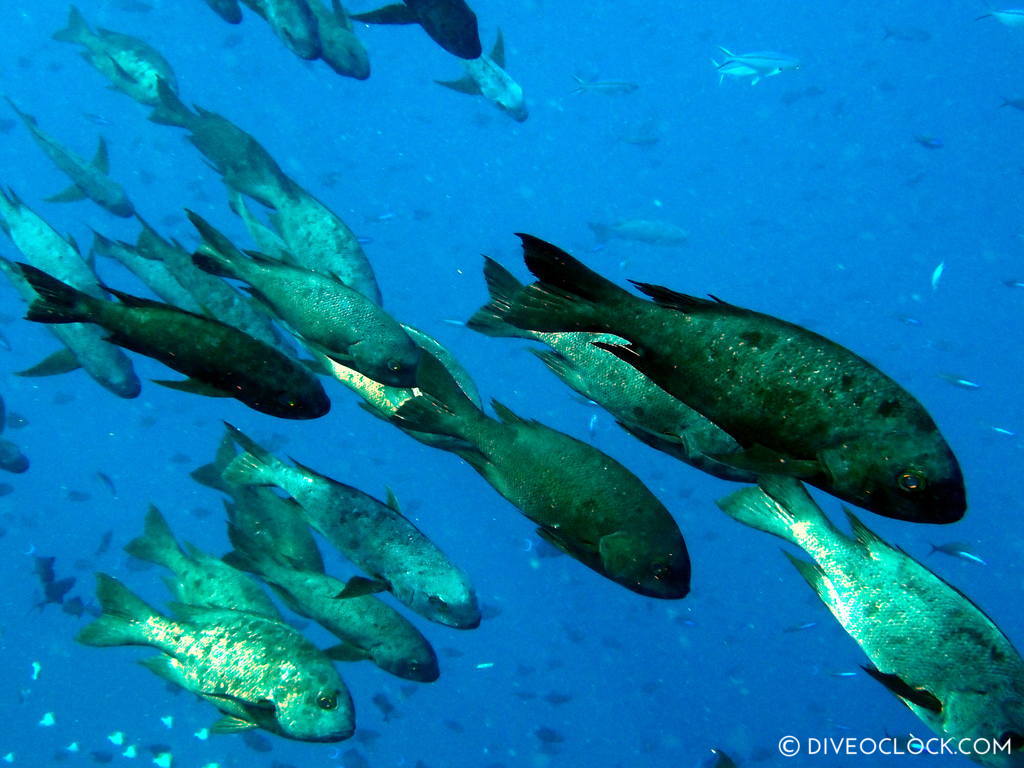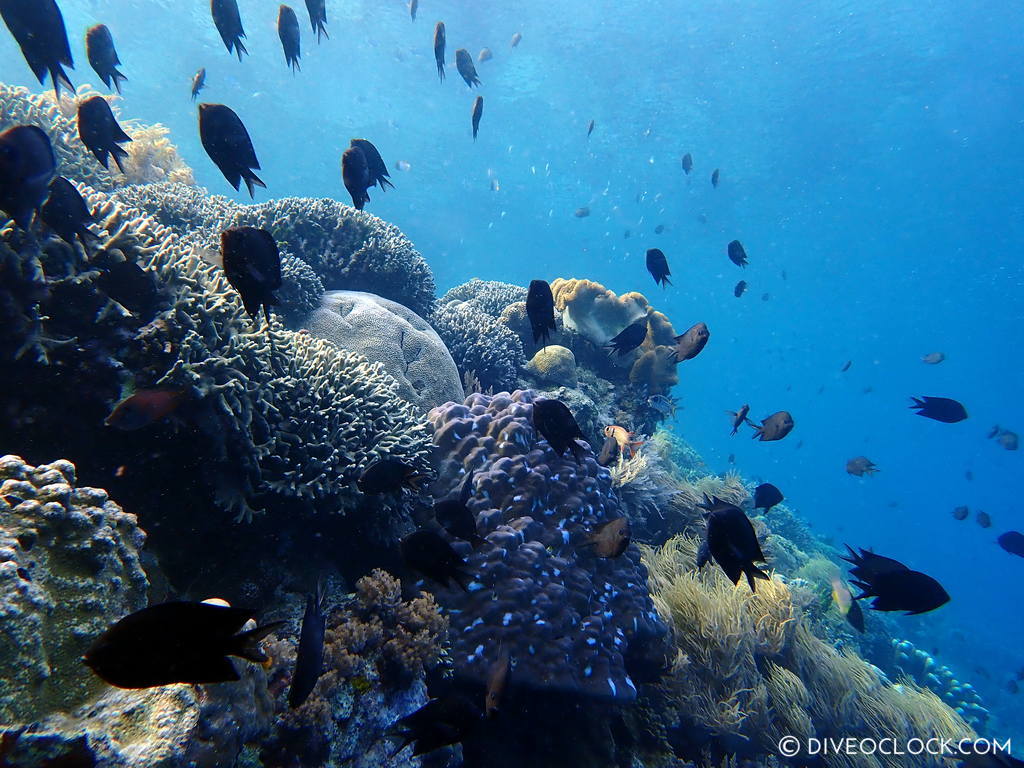 SCUBA Diving at Bunaken National Park.
General Information about Diving North Sulawesi
| | |
| --- | --- |
| Country | Indonesia |
| Dive area name | Sulawesi, North Sulawesi, Manado / Bunaken / Lembeh |
| Dive center | Thalassa Dive Resorts Indonesia |
| Famous for | Coral reefs, wall diving, muck diving and anything in between. |
| Price | One boat dive costs around 44 USD including dive guide, towel, snacks, fruits, coffee / tea and water. Dive equipment rental full set including computer around 23 USD per day. Discounts apply on stay and dive packages as well as group trips. |
| Hotel recommendation | Thalassa Dive Resort and PADI Dive Center offers a variety of luxurious air-conditioned rooms, cottages and bungalows, swimming pool located at the waterfront / ocean view. |
Why Thalassa Dive Resort is Awesome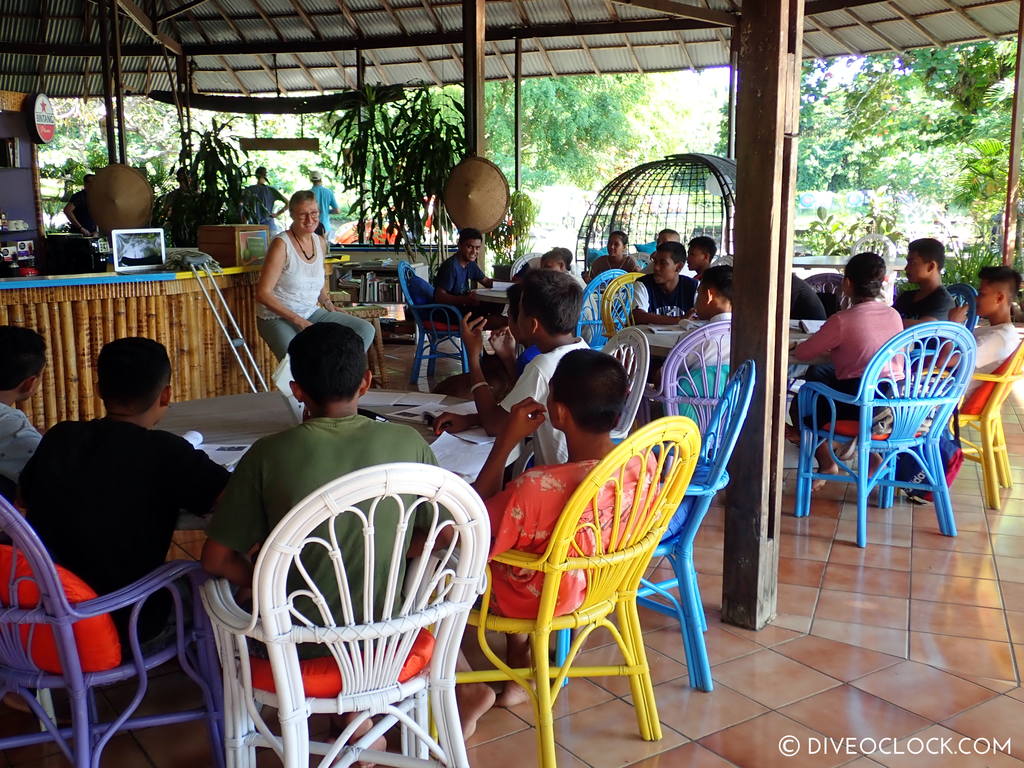 Simone Gerritsen teaching the local children diving.
Before explaining why Thalassa is awesome for you, let me explain why Thalassa is awesome in general.
Thalassa Dive Resorts, owned by a Dutch PADI Course Director Simone Gerritsen, focuses heavily on supporting local communities. While getting to know Simone and her life story, or one of the many amazing stories that happened along the way - you will feel one thing: Sustainability. Sustainability is more than being eco-friendly, it is about your environmental, social en economical impact without compromising the future.
At Thalassa sustainability begins with the tourism school they build in North Sulawesi with Simone's money to give local children a form of professional education. Watch the video below to get an impression of the school. (The lottery will be held again at Duikvaker 2020 in The Netherlands)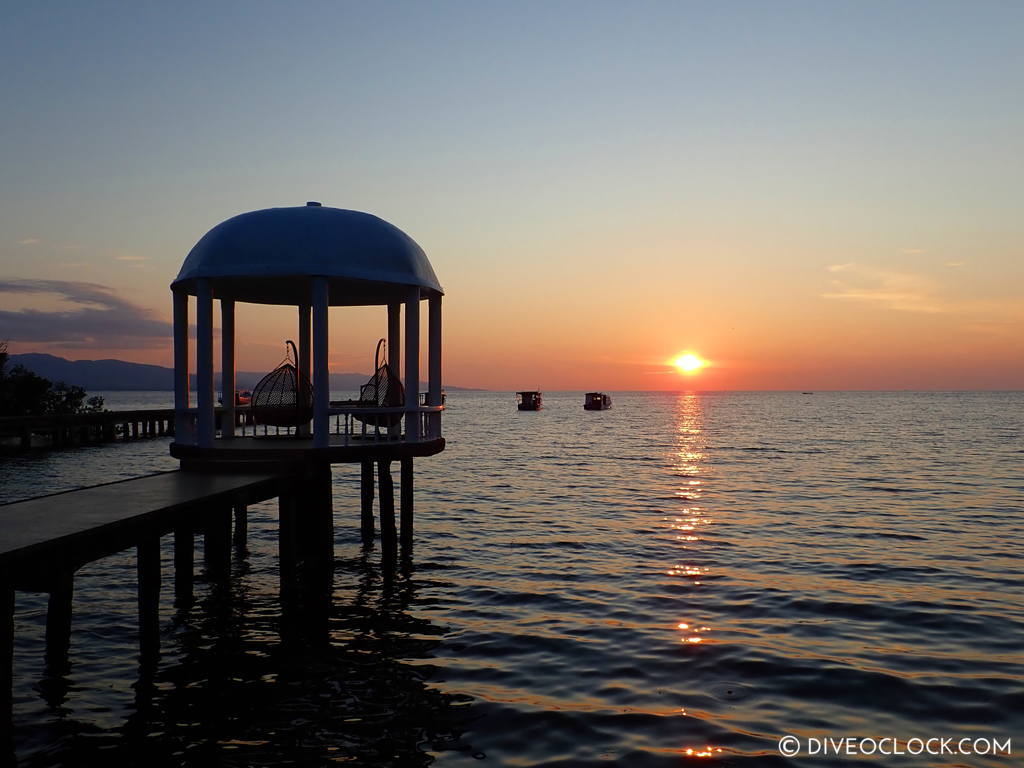 Sunset Thalassa Dive Resort Manado.
When you come to the resort you will realize (or Simone will explain you) that almost everybody that works at the resorts has had education at their school. There are even various interns or trainees helping out at the resort when I was there, learning by doing. Speaking English might be a bit scary for some in the beginning, but they are so proud to work for Simone at Thalassa. Thalassa has a lot of staff, divided over two resorts, but there are many more children going to school to work at other dive resorts in the area.
You can see Simone's efforts and the effects of 'her' school with our own eyes at Thalassa. Twice a week Simone gives swimming lessons and teaches diving to the local children, in Bahasa and with an incredible smile and patience! Giving back is top priority.
You will feel special, because they feel special to be able to serve you as a guest and I guess you will also leave as a friend! More information about their efforts in giving back you can read here.
Time to explain why Thalassa Dive Resorts are awesome for your stay and diving!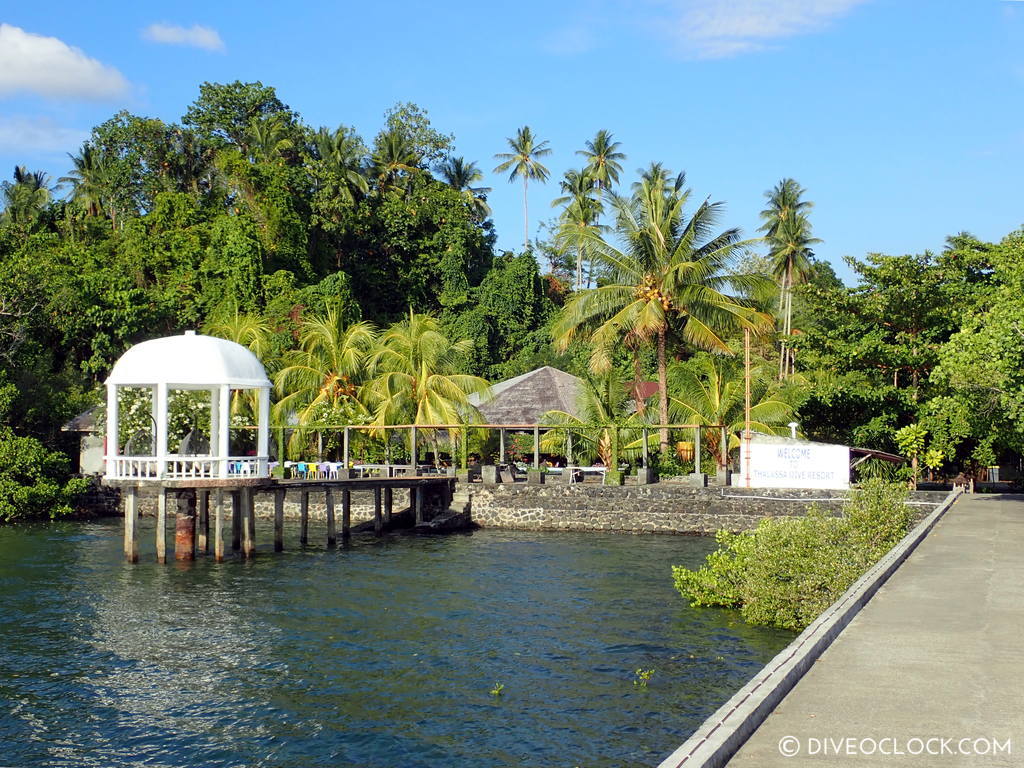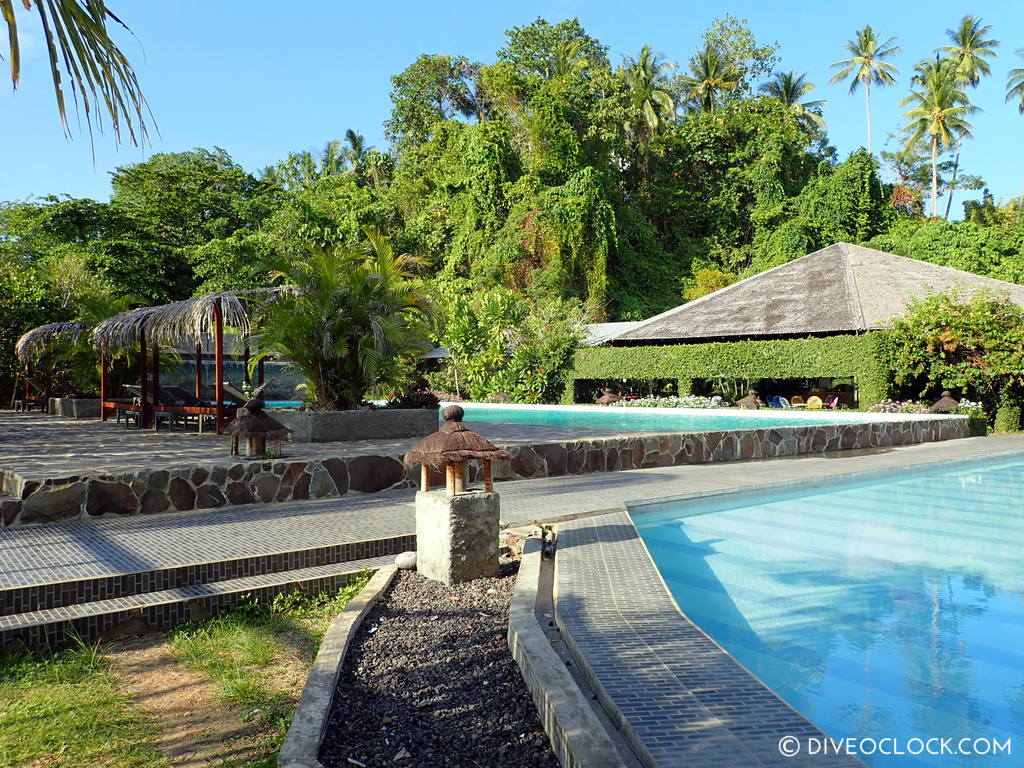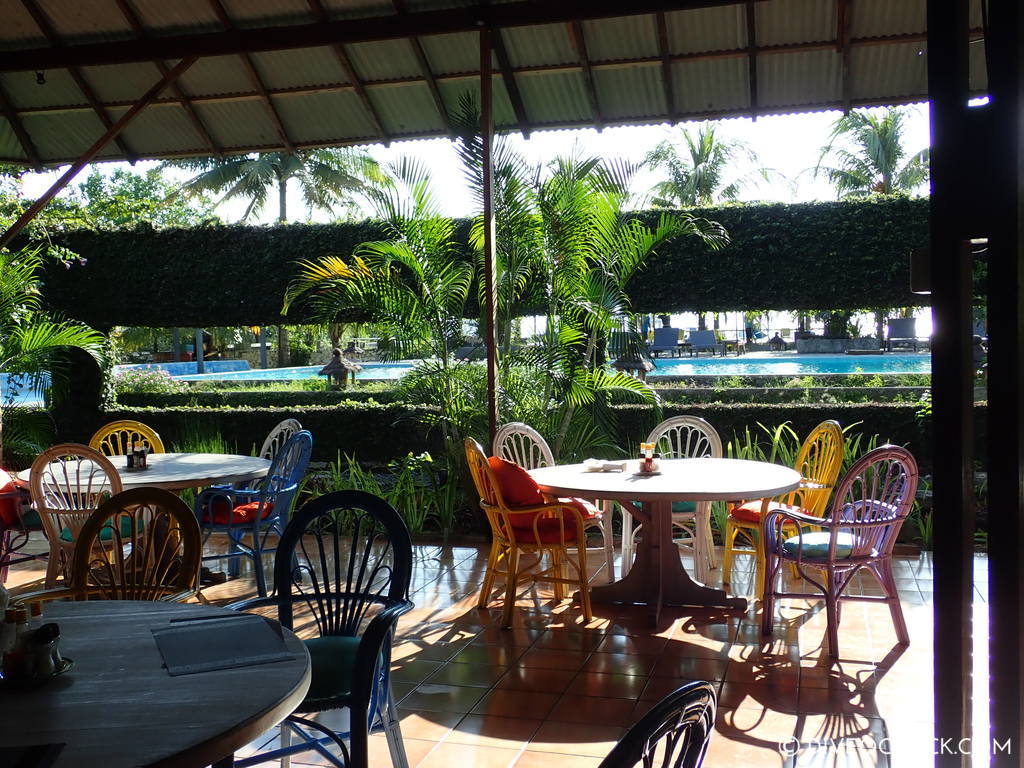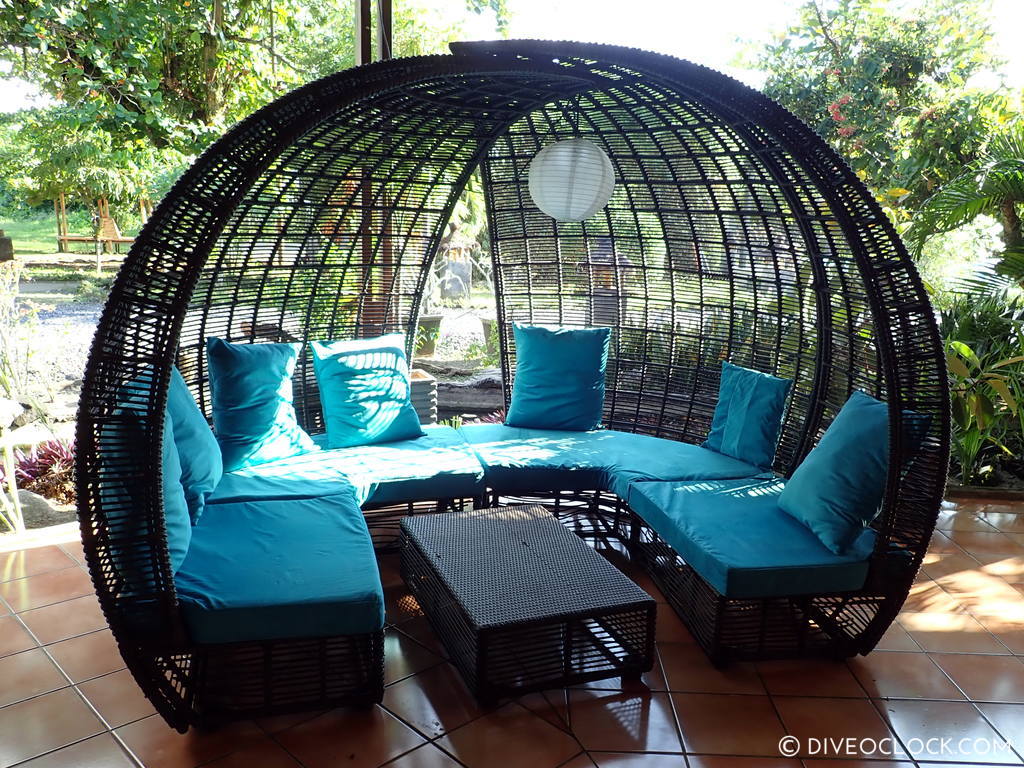 Thalassa Dive Resort Manado.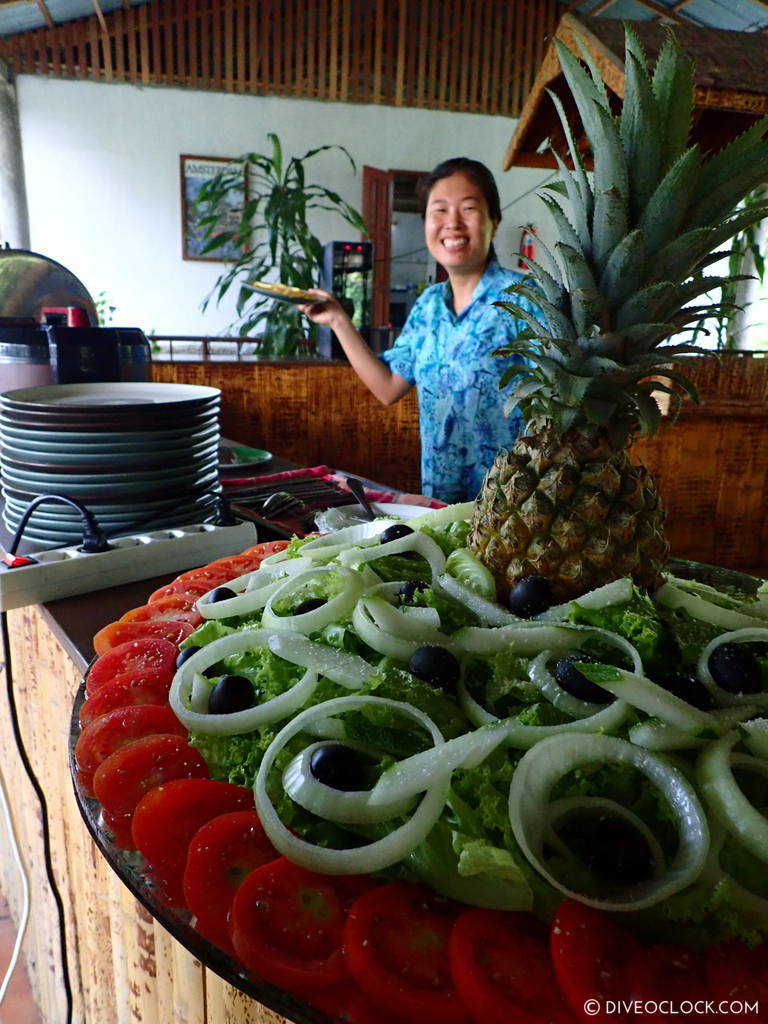 PADI Dive Instructor Satoka at the Barracuda Restaurant.
Thalassa Dive Resort Manado
When you check out the website of Thalassa Dive Resorts you can see stunning photos of the resorts and what you can see underwater. Many professional underwater photographers and film makers visit the resort, so I am not so bothered to impress you with mine but I will share some on my Instagram account.
As soon as you enter the drive-way of Thalassa Dive Resort Manado you will get a real dive resort feeling. From the beautiful welcome sign to the water fountain at the little roundabout - the first impression you get is awesome! An oasis of calm in an exotic and natural surrounding is what impressed me upon arrival. While being greeted with a delicious welcome drink I finally met the owner and PADI Course Director Simone in real life and her shadow, the sweetest dog Nolan.
Thalassa Resort Manado consists of different types of rooms, cottages and bungalows in a garden setting which to many would feel more like a jungle. There are stunning tropical birds to spot and beautiful frogs making you feel like you are away from it all instantly.
From mango trees to a large vegetable garden, the idea is to be as eco-friendly as possible. Plastic is as far reduced as possible (which is quite a challenge in this part of Indonesia) and lovely alternatives are offered. From bamboo straws to cute self-decorated refillable shampoo bottles, you will love Thalassa's conservation efforts in various ways!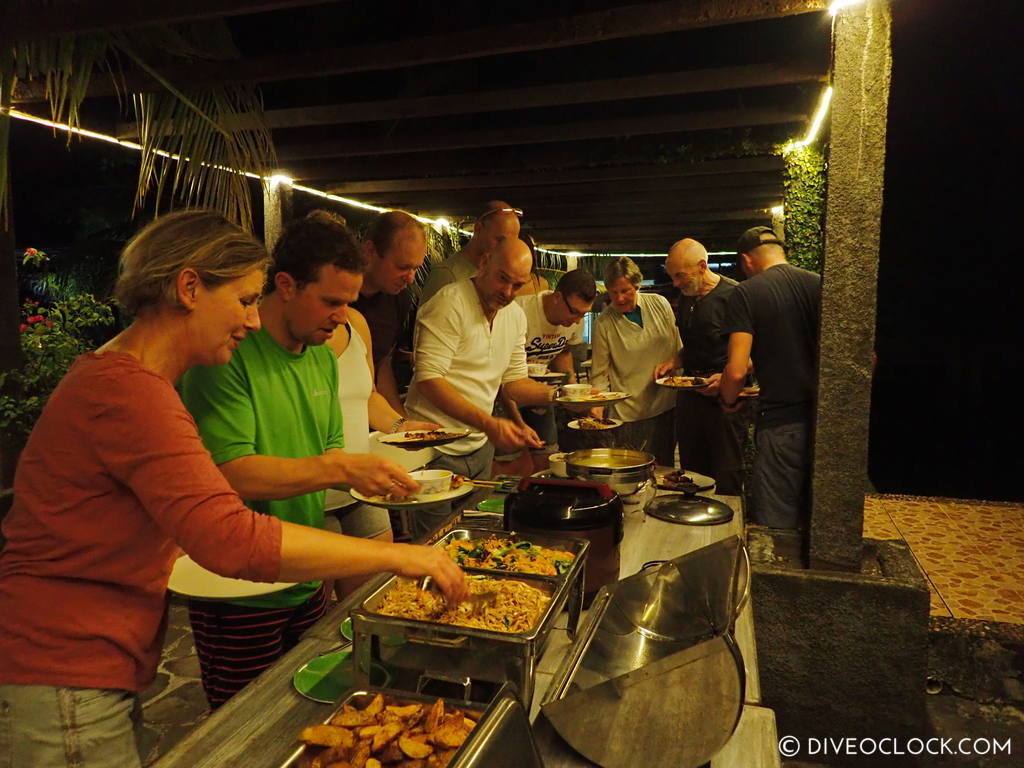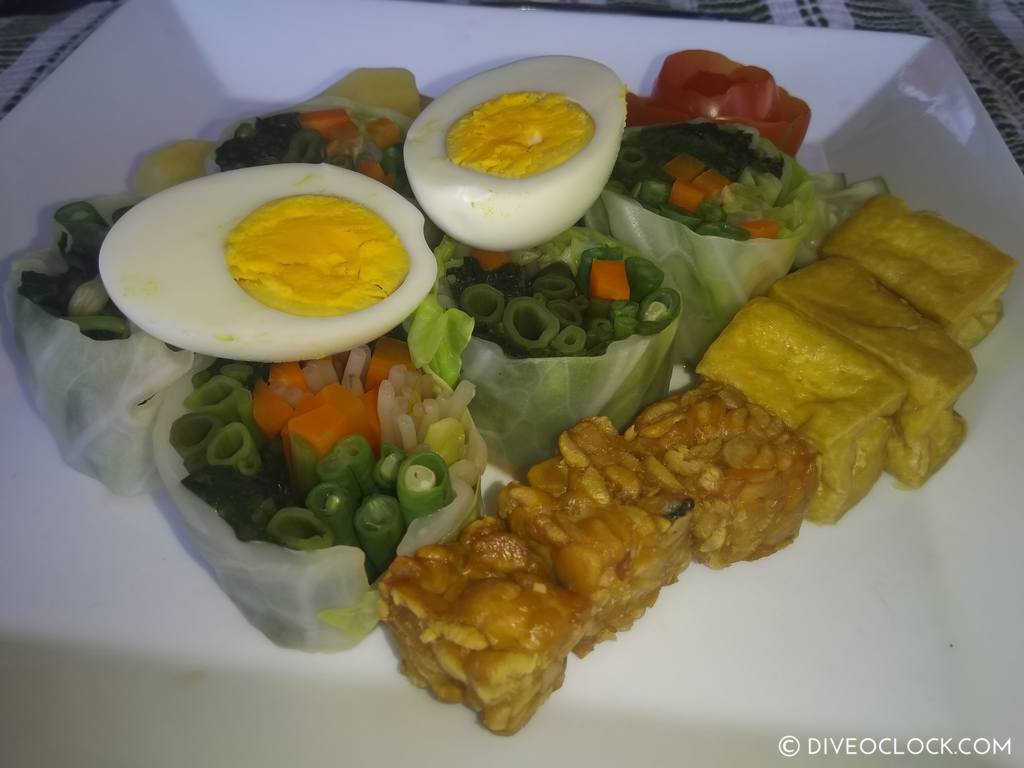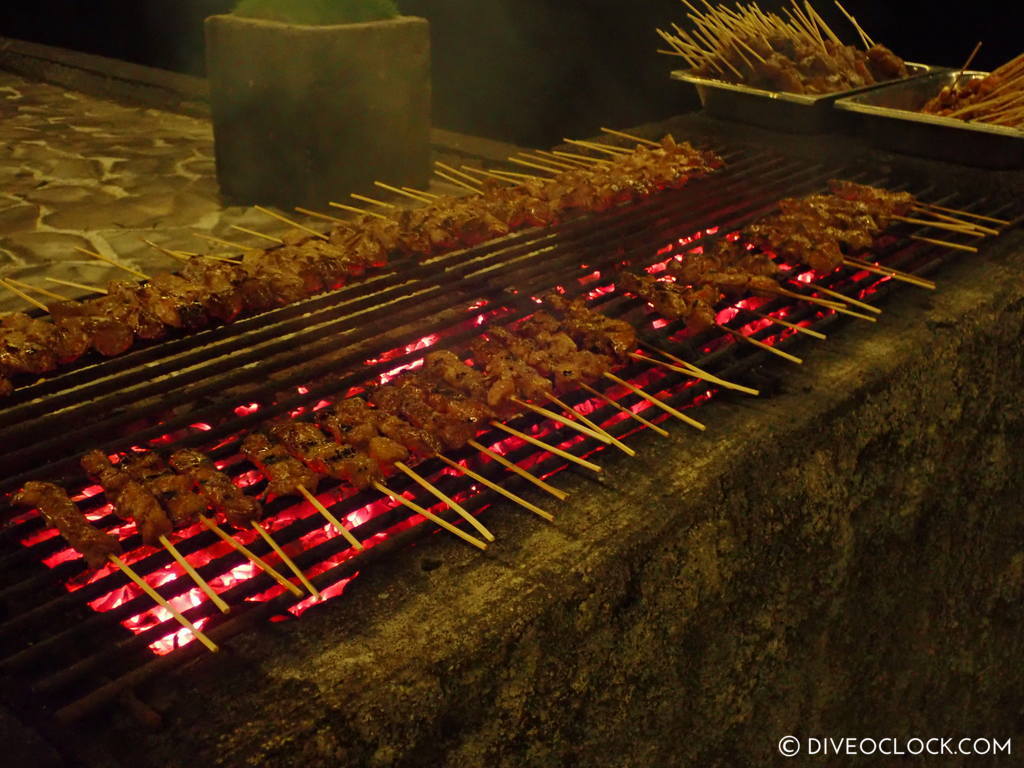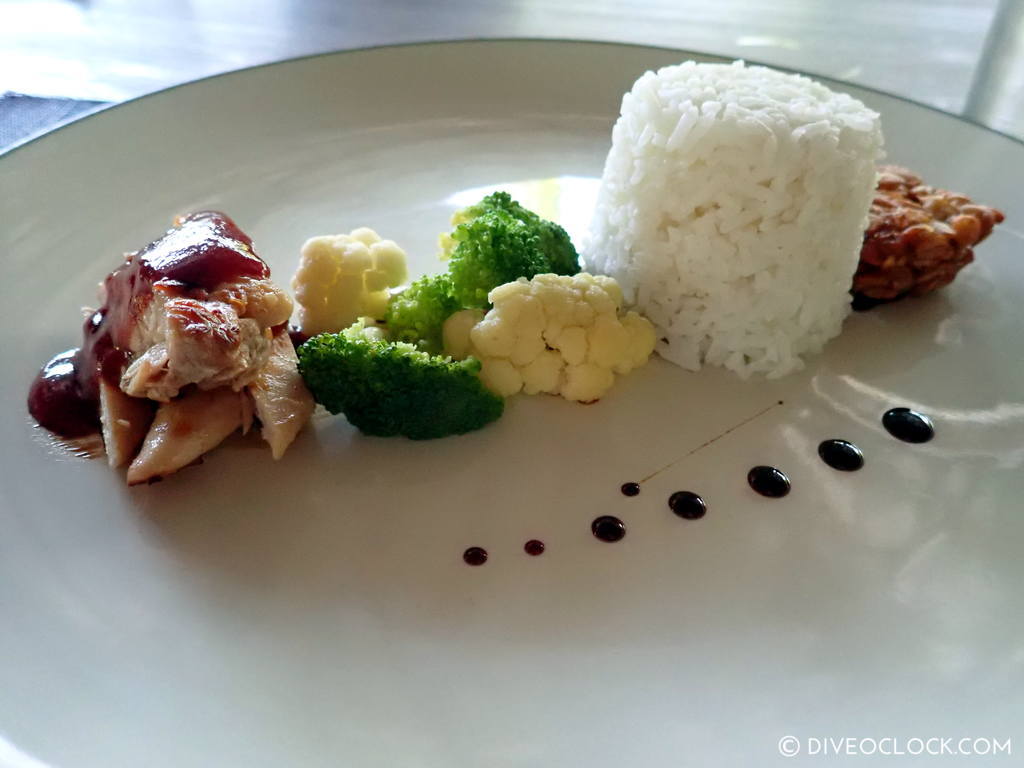 Delicious Indonesian meals at Thalassa Dive Resorts.
The resort has a spacious restaurant and bar area in a huge tiki-style open-air hut. Next to the smaller swimming pool there is a second bar which is also has a traditional pizza oven, Tuesday night = Pizza night! The large swimming pool has a waterfall and together with the soft lightening swimming under the stars is incredible.
One of the things you will love about the resort is the management. Their flexibility is incredible, a lot is 'up to you' and your wishes. If you want to swim at night - you can! If you want to have a cocktail or beer in the pool - you can! O yes, you can also get a massage, book a cooking class and many other activities but most importantly: SCUBA Diving!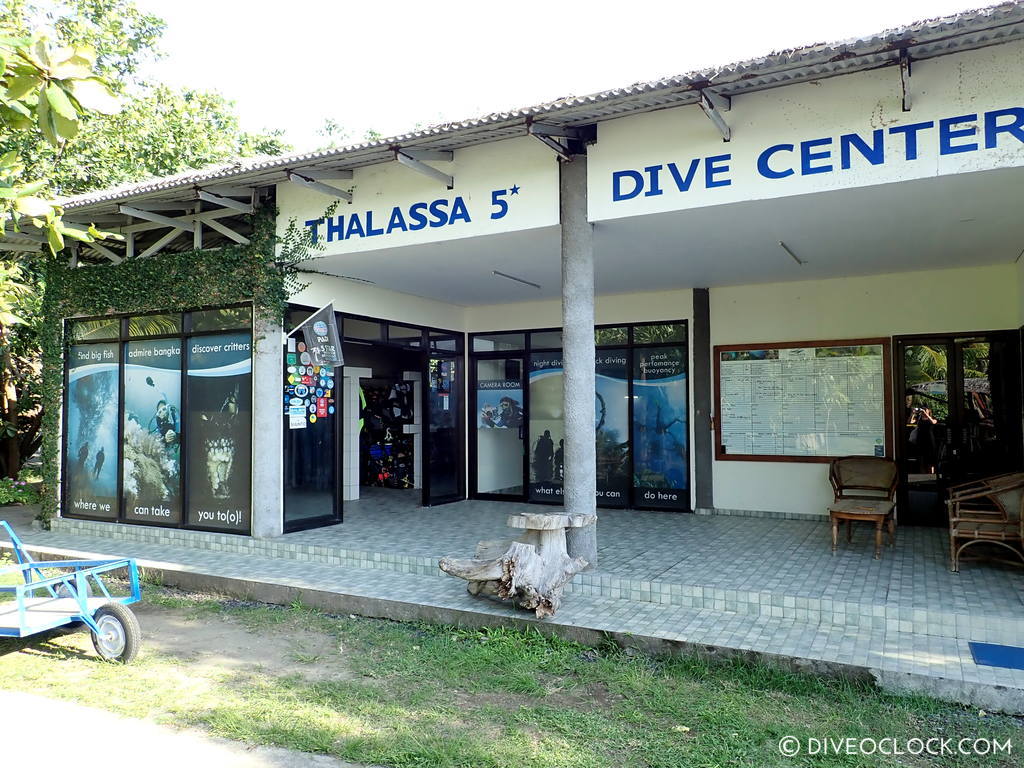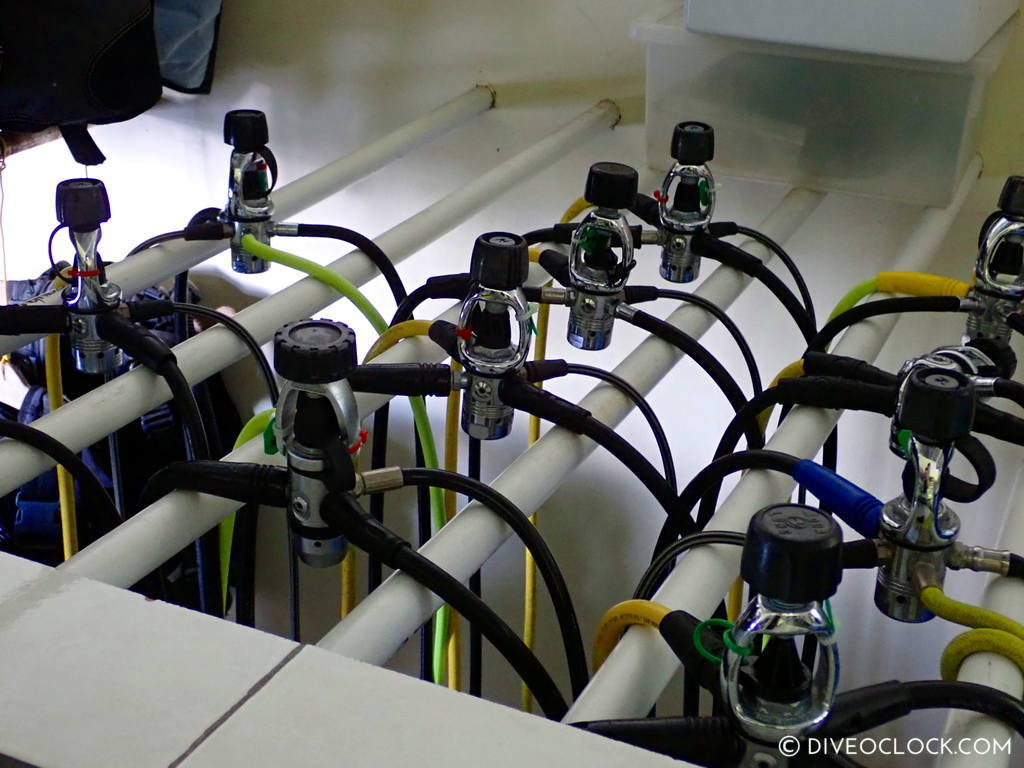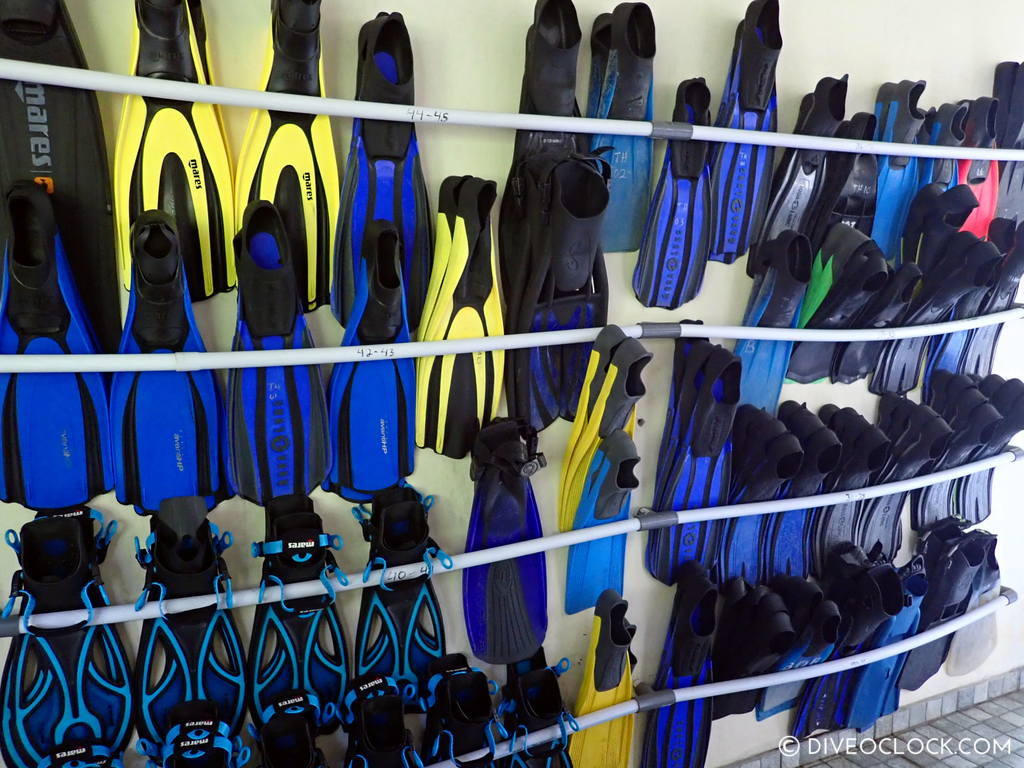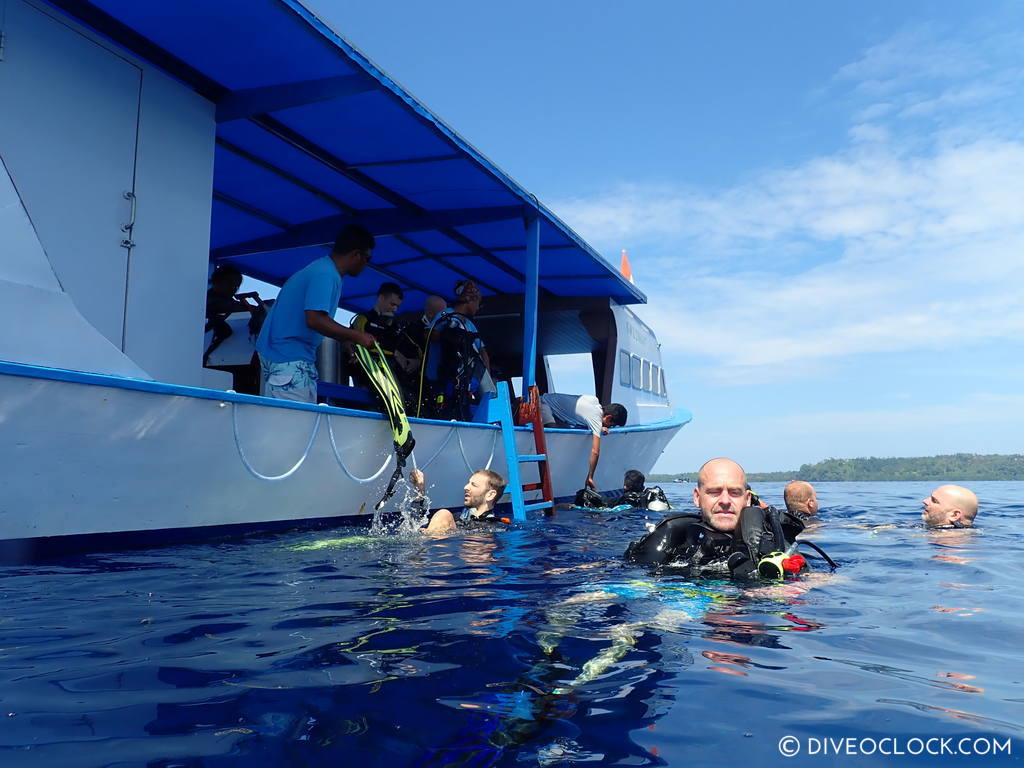 Thalassa Dive Resort Manado Dive Center.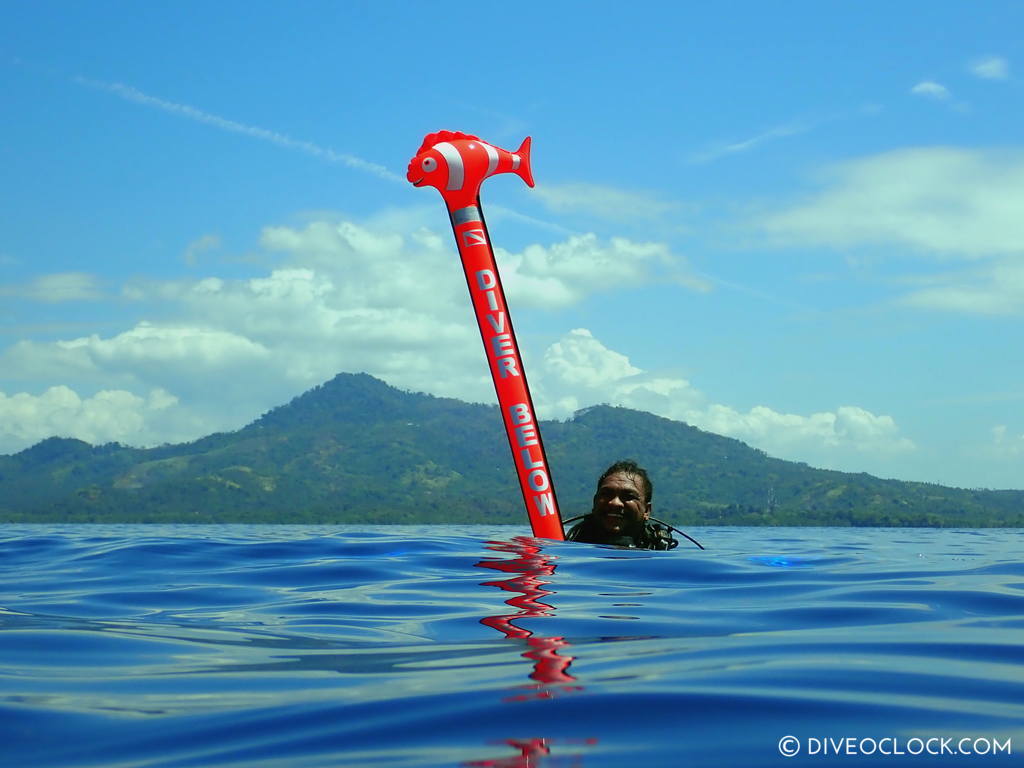 PADI Dive Instructor Fendi showing off with his funny SMB.
SCUBA Diving with Thalassa Dive Resorts
With Fendi being the dive leader and Simone & Satoka, the Japanese dive instructor who came for a dive holiday and never left, organizing everything. In Thalassa Manado they have three diving boats with a capacity of at least fifteen divers each but they are never fully loaded. Both resorts mainly receives very experienced divers who know 'what they want' and how they want it. The local dive staff is fantastic and funny! They work as a team like you can only image, more like a close family.
Diving is normally tight structured, very Dutch sort of saying. You sign-up the evening before diving latest, they make a plan and create a dive roster, your equipment will be on the boat when you dive and rinsed for you afterwards. Even your gear is set-up for you unless you request otherwise. Even towels are on board, very luxurious! Dive site briefings for every dive, dive logs, oxygen and first aid is all on board and well maintained. Maybe most importantly: Dive guides who are good 'spotters' besides focusing on your safety and comfort throughout the day.
Thalassa Dive Resort Lembeh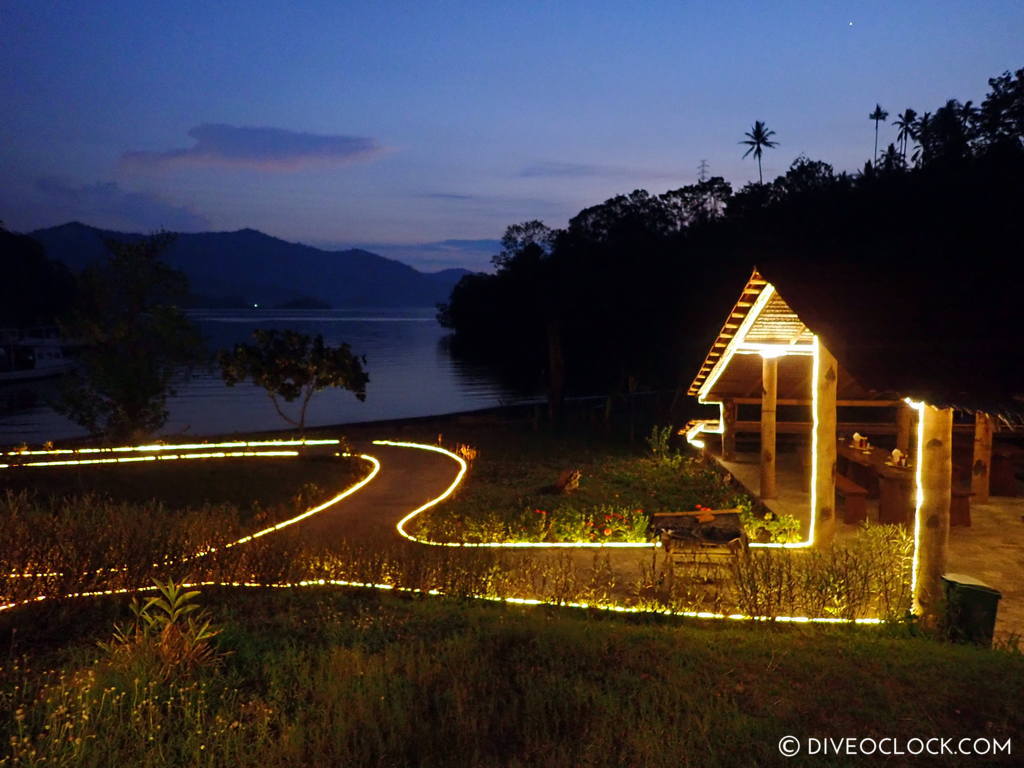 Thalassa Dive Resort Lembeh at night.
As it is only about 90 minutes driving from Manado to Lembeh I recommend dividing your dive holiday over both resorts if you have a bit of dive experience. You will experience a whole different type of diving, but also a slightly more modern resort and they have bitterballs (Dutch snack!). Moving from one resort to the other is simple. Just get your luggage (which should be light without dive gear) and your dive box will already be in the pick-up. After 90 minutes by car and a short (private) boat ride you will arrive at the jetty of beautiful Thalassa Lembeh Resort.
The Thalassa Lembeh Resort is also awesome. It has a swimming pool with ocean view, sort of infinity pool, and various lounge areas. Arjen is managing the resort, together with his partner Widi. The kitchen staff is amazing, they love to impress you with their tasty food and beautiful servings. There is no sweet dog to cuddle (and I was not allowed to bring Nolan :)) but the rooster Tok Tok loves hugs too, wait for his special dance!
My recommendation is to start in Manado and finish in Lembeh. This way you start with enjoying the colorful reefs, sea turtles and wall diving first and focus on smaller alien-like creatures when you are more 'into it'. It is a very good combination and especially if you dive only a few times a year I think this way you will enjoy it more. While the rooms in Manado have mainly garden / jungle view all the rooms and bungalows in Lembeh have ocean view. Both have the friendliest staff, good diving facilities and good macro spotters as dive guides. Also both resorts have opportunities for great sightseeing trips, local tours and basically anything else you want - just ask.
Read more about our group trip and how we 'took over' both resorts as a group here: Duikteam Baerne at Thalassa.
When you have a bit of time in Manado you can also explore some of the Things to do in Manado, Sulawesi - Indonesia for more information about the city.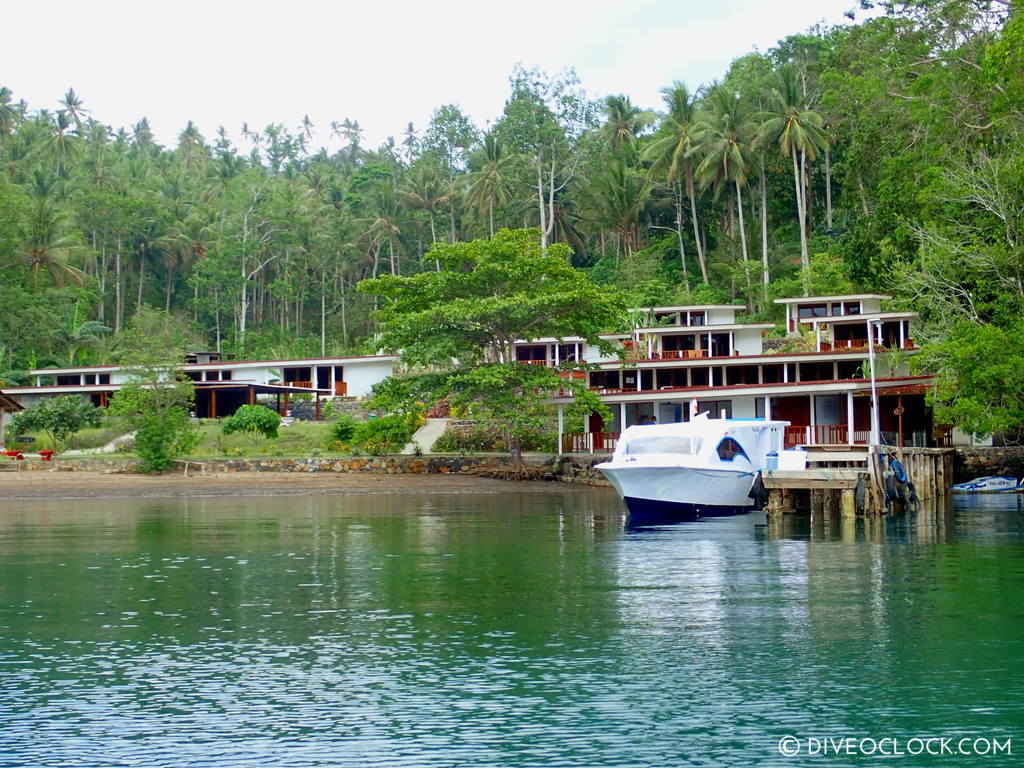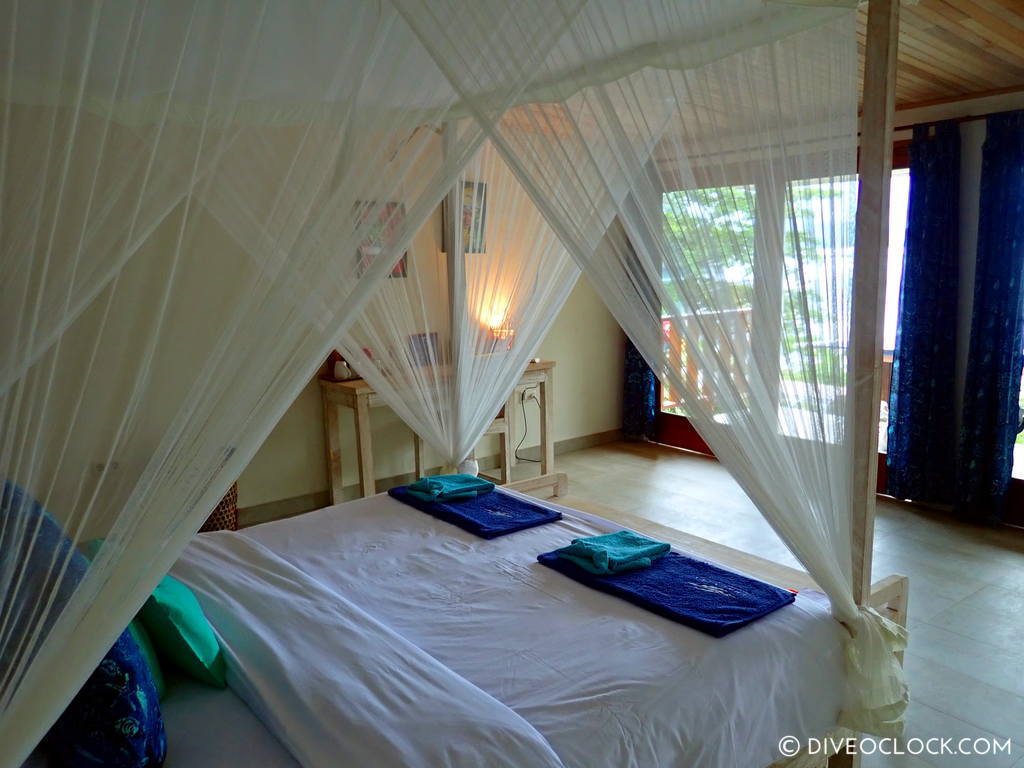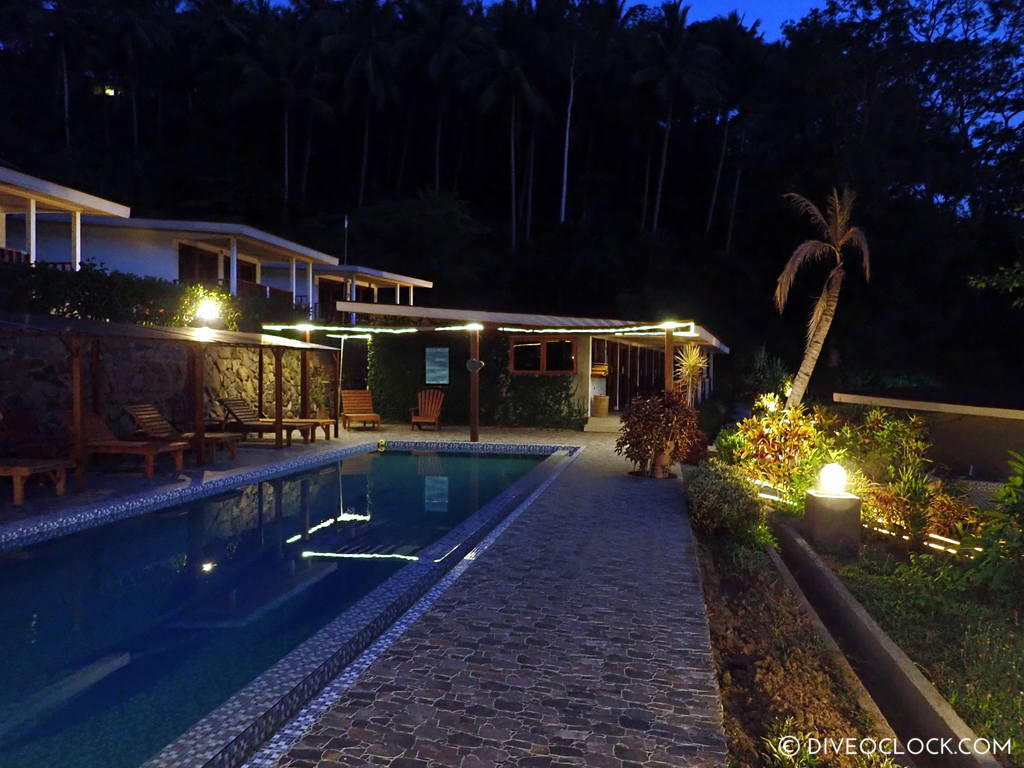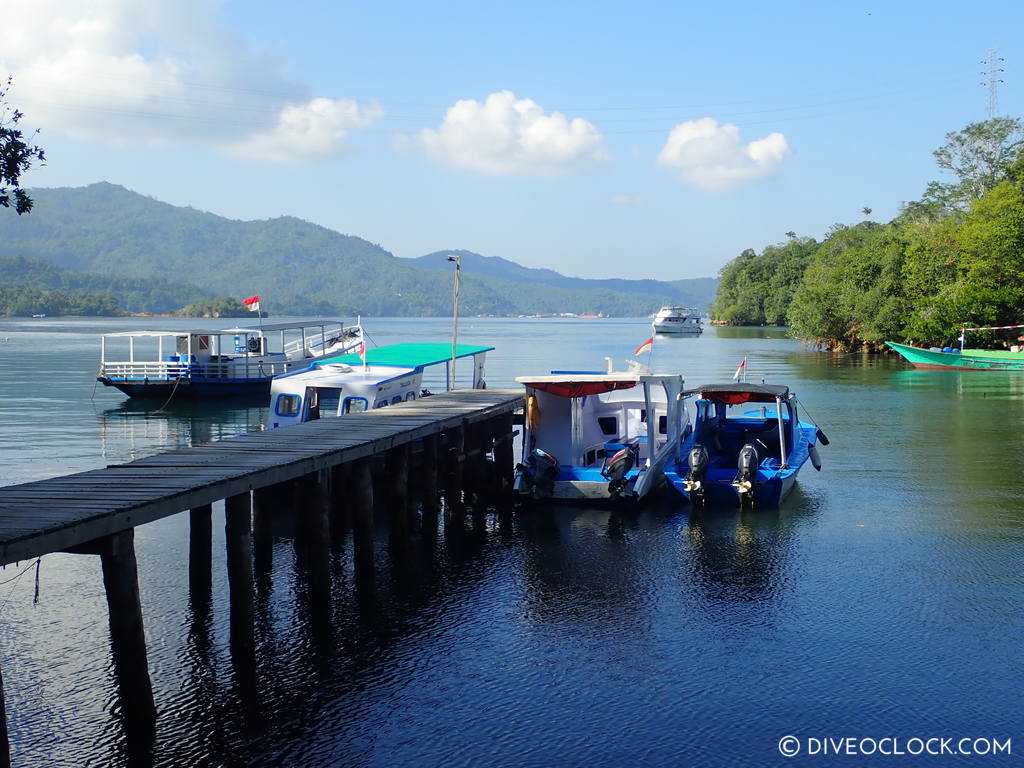 Thalassa Dive Resort Lembeh.
Please make sure to bring reef safe sunscreen to avoid harmful ingredients to enter the ocean, read Why reef safe sunscreen is important.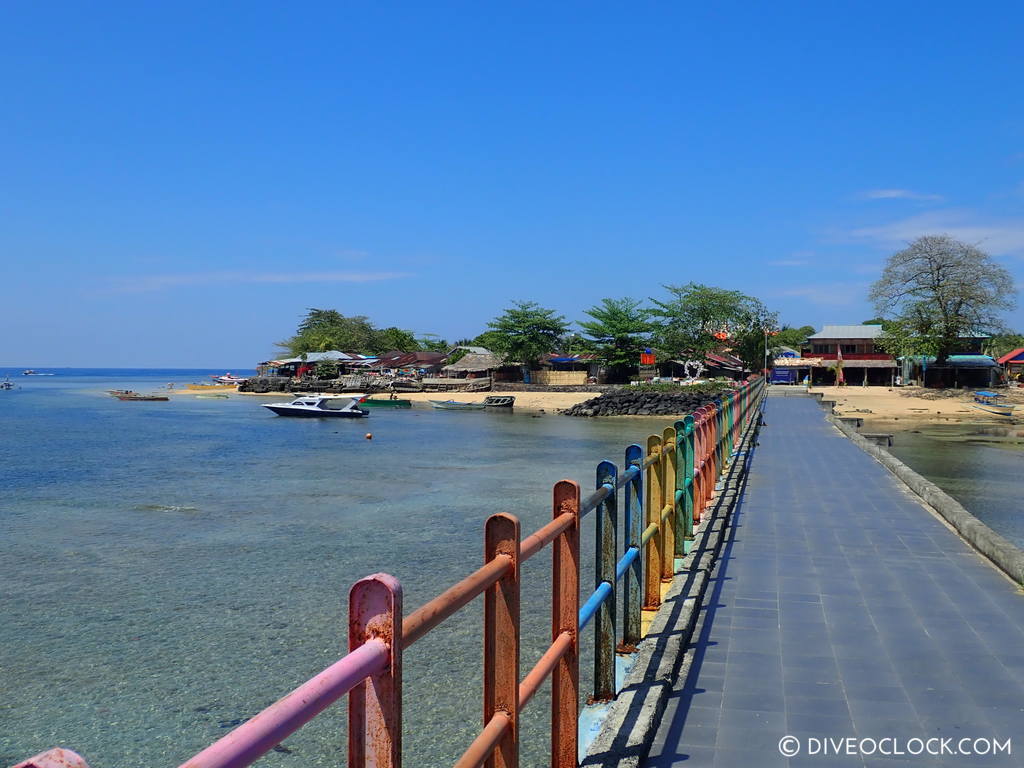 Bunaken island, North Sulawesi.
Comparing dive destinations
Bottom structure
Reef structure
Pelagic
(big stuff in the blue)
Big reef
(bigger stuff on the reef)
Macro
(small stuff on the reef)
Current
(stream)
Flat bottom with bumps/big rocks/pinnacles
Hard corals
(not moving)
Sharks
Turtles
Nudibranchs
(snails/slugs)
No current
Slope (going down slowly)
Soft corals
(moving)
Rays
Eels/snakes
Sea horses and pipe fish
Small
(you can easily swim against it)
Wall
(steep but you see the bottom)
Table-/fan-shape
Trevally/Jacks/Tuna
Groupers
Scorpion/frog fish
Medium
(you can swim against it for a little while/higher air consumption)
Drop off
(steep and you can't see the bottom)
Anemones
Barracudas
Lobsters/crabs
Octopus/squid
Strong/reef hooks
(you cannot swim against it)
Blue
(no reference)
Sponges
Sardines/herrings
Puffers
Shrimps
Pumping/washing machine/OMG/hold your regulator
(superman)
Getting around Manado and Lembeh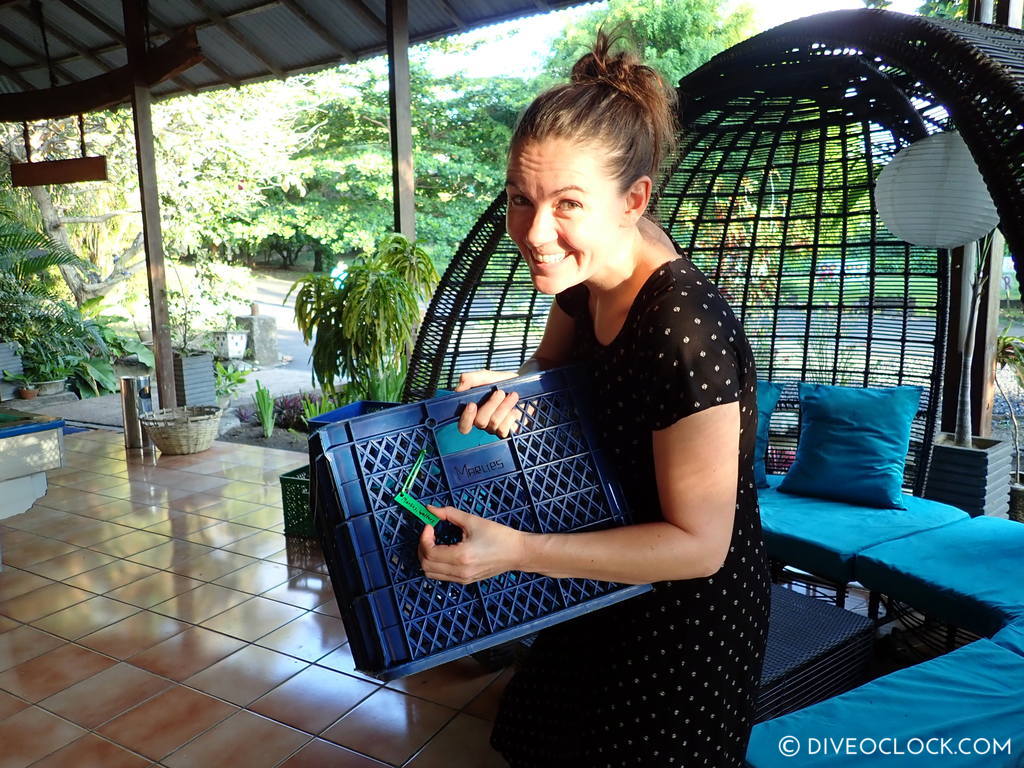 It's Dive O'Clock in Manado!
Since my visit to North Sulawesi and diving around Lembeh a lot has changed. Although tourism does seem to have developed widely, transportation has made traveling and exploring North Sulawesi a lot easier. The road conditions are very good now, around Manado but also on Lembeh.
Within 90 minutes you can drive from Manando (port to Bunaken and Manado area) to Bitung (port to Lembeh). Also with the Grab App (Uber from Asia) you can get a ride by scooter or car (and a lot more options) easily, fast and cheap. No need to speak Bahasa Indonesia, just get a local SIM card with data (there's a shop in front of the entrance of MTC shopping mall on Jl. Piere Tendean).
If you are not so used to those apps and local SIM cards you can also just ask anybody to help you, they will order a Grab for you. You pay cash upon arrival so anybody can order a car for you and the locals would love to help you out (maybe for a photo with you)! You can not rent a scooter / motorbike in Manado yet (December 2019) but you can ask Thalassa for alternatives.
Thank you for reading and drop me a message if you need help organizing your trip.
This post is not sponsored in any way, it is written from the heart.
Do you have more tips for diving around Manado? Share them as a comment.
If you like this post, hit that like button on our
Facebook page
and stay tuned for more!
Marlies Wolters
Founder of Dive O'Clock "It's dive o'clock somewhere!"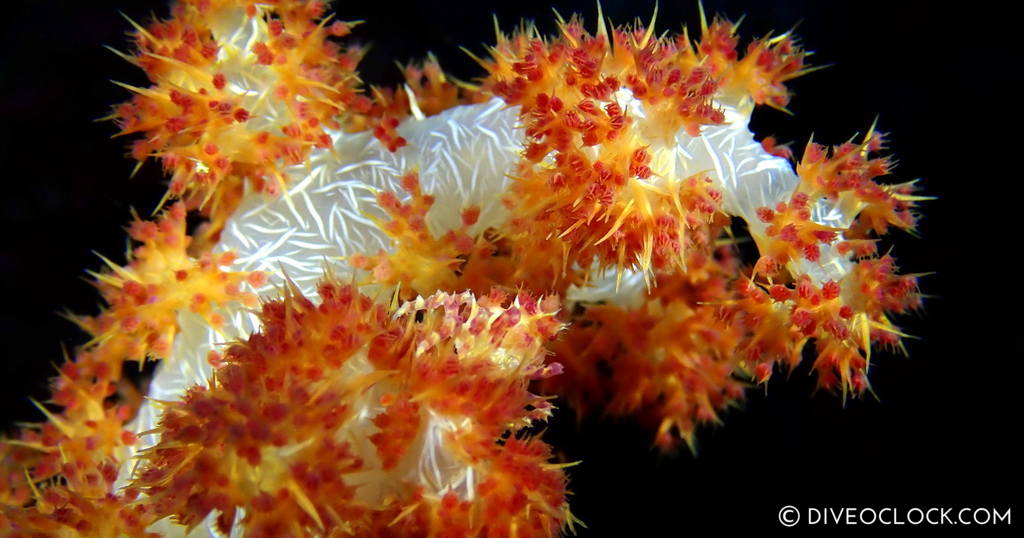 Share this page: