Amazingly Awesome Anilao - Triple-A Diving in The Philippines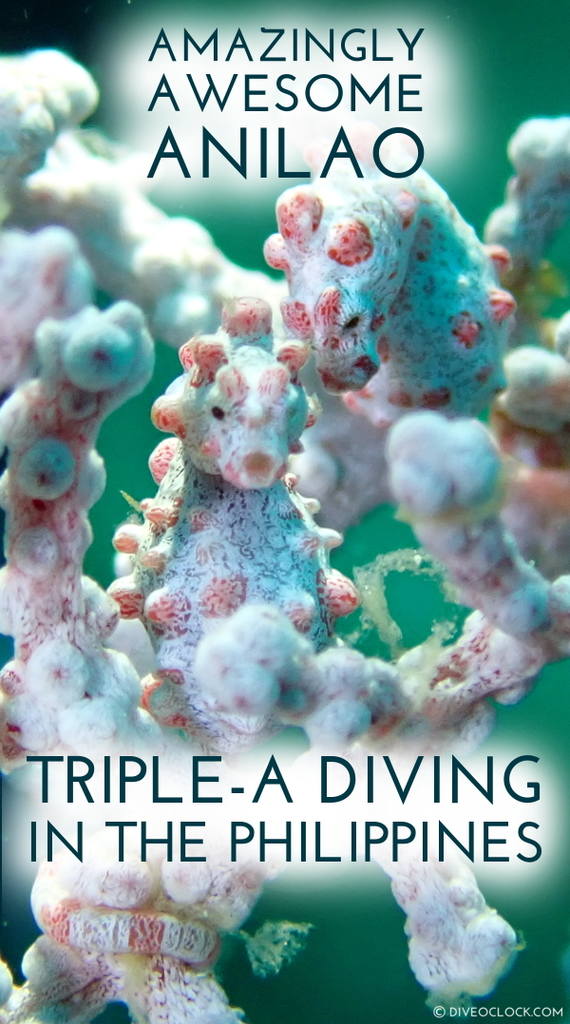 Hairy crab, ghostpipefish, candy crab, pygmy seahorse, flamboyant cuttlefish, frog fish, whip coral shrimp, ribbon eels - if any of those stunning creatures is on your list - book your SCUBA dive trip to Anilao now! Find them in between all the nudibranchs as Anilao is the nudibranchs capital of the world!
Quick Links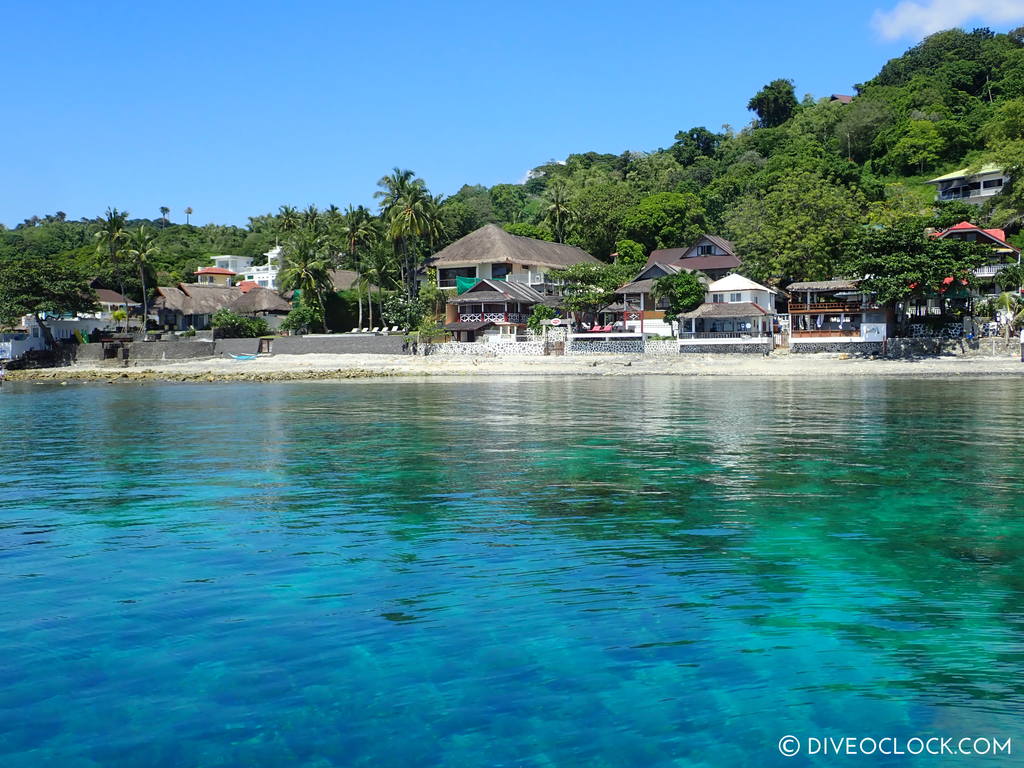 Crystal clear water around Anilao, Mabini, Batangas.
Triple-A Diving in The Philippines
Crystal clear water, often no current, the most amazing creatures and relaxed diving at your own pace. That is what diving around Anilao with Bentrina Dive Resort Anilao is all about.
Anilao is one of the first dive areas that became popular in The Philippines. It is close to Manila, on the same island, and hold a marine diversity and quantity that is unbelievable.
Anilao is the place to spot an impressive amount of stunning little animals underwater, it is my new happy place!
Compared to Puerto Galera, which is not so far away, Anilao is much more a muck dive and small critters destination for underwater photographers. Having that said, in Anilao you also have great wall diving and loads of soft corals for stunning wide angle views.
Nudibranchs of Anilao
Anilao is the nudibranchs capitol of the world. It is incredible how many nudibranchs you can spot during a single dive around Anilao. Often you see different species of nudibranchs in one small area and you rarely only see one of the same species, they seem very productive around here...
To give you an idea of how crowded it is in the nudibranch capital of the world I am creating a special page for 100 Stunning Nudibranchs of Anilao. With countless different nudibranchs you can spot around Anilao this article will be a great way to learn some names and get even more enthusiastic about diving here.
3 Different Types of Diving in Anilao
Muck diving in Anilao
Muck diving aka very slowly searching for tiny animals on a sandy bottom is big in Anilao. There are some great sandy areas where you can hunt for stunning creatures, but you can also find them on any other dive site (they are just a lot harder to spot).
My favourite dive site for muck diving around Anilao is Secret bay, which you can reach by boat or car. There are around 4 different dive sites in this bay, one with volcanic bubbles called Bubble's point, which is also a must for muck diving.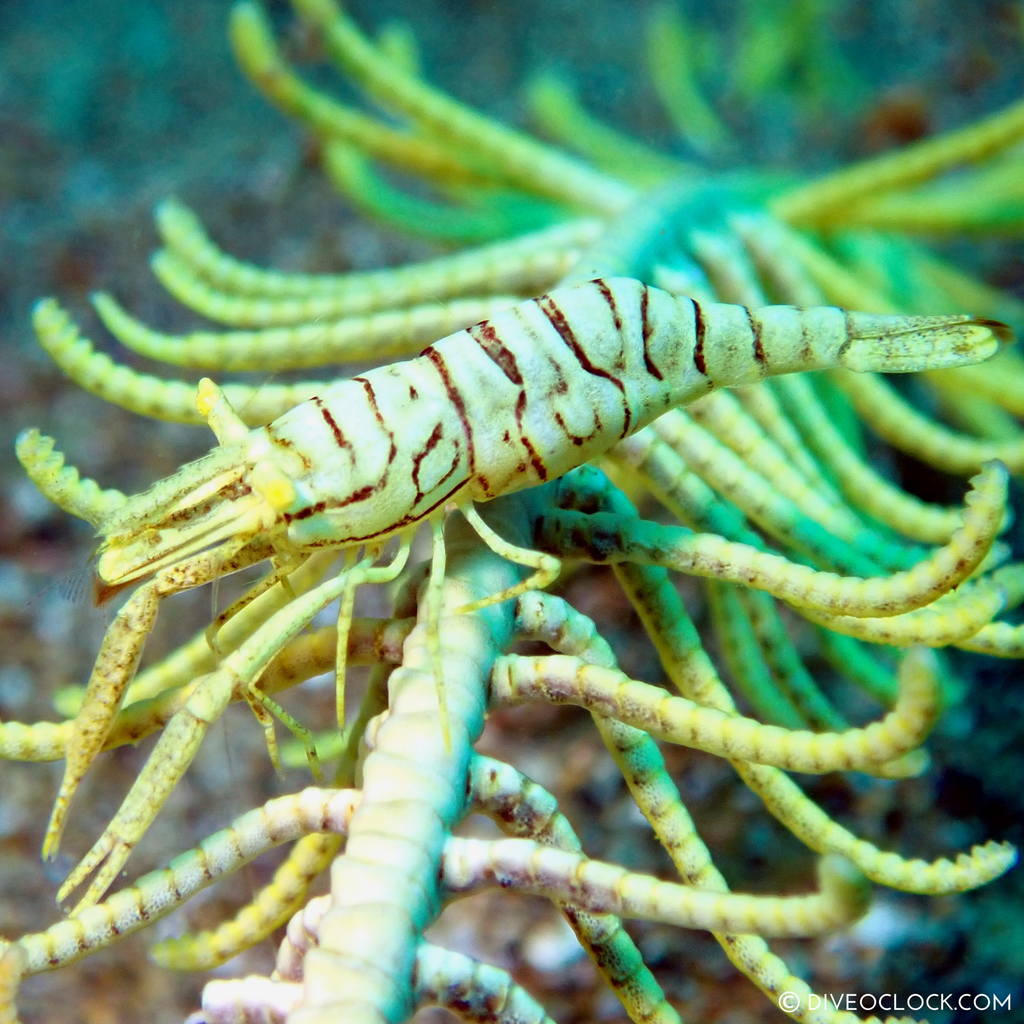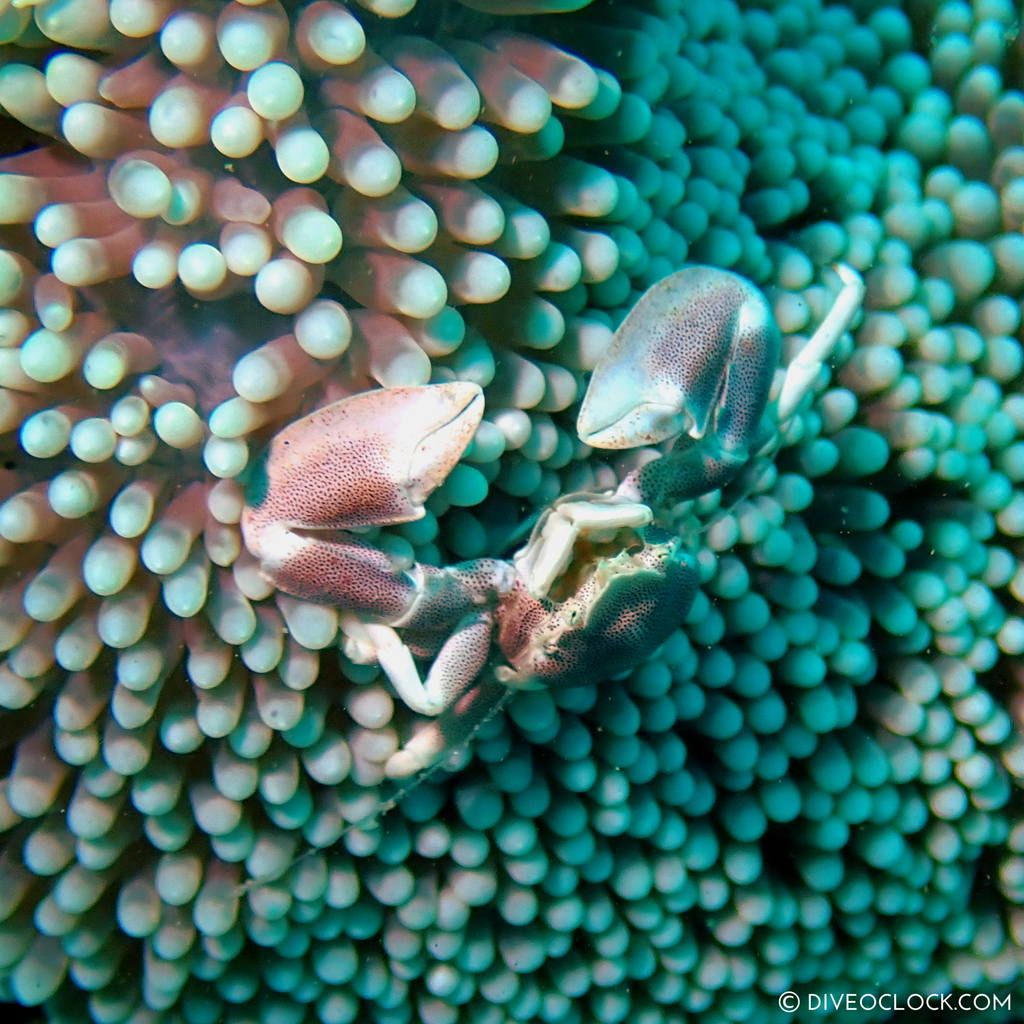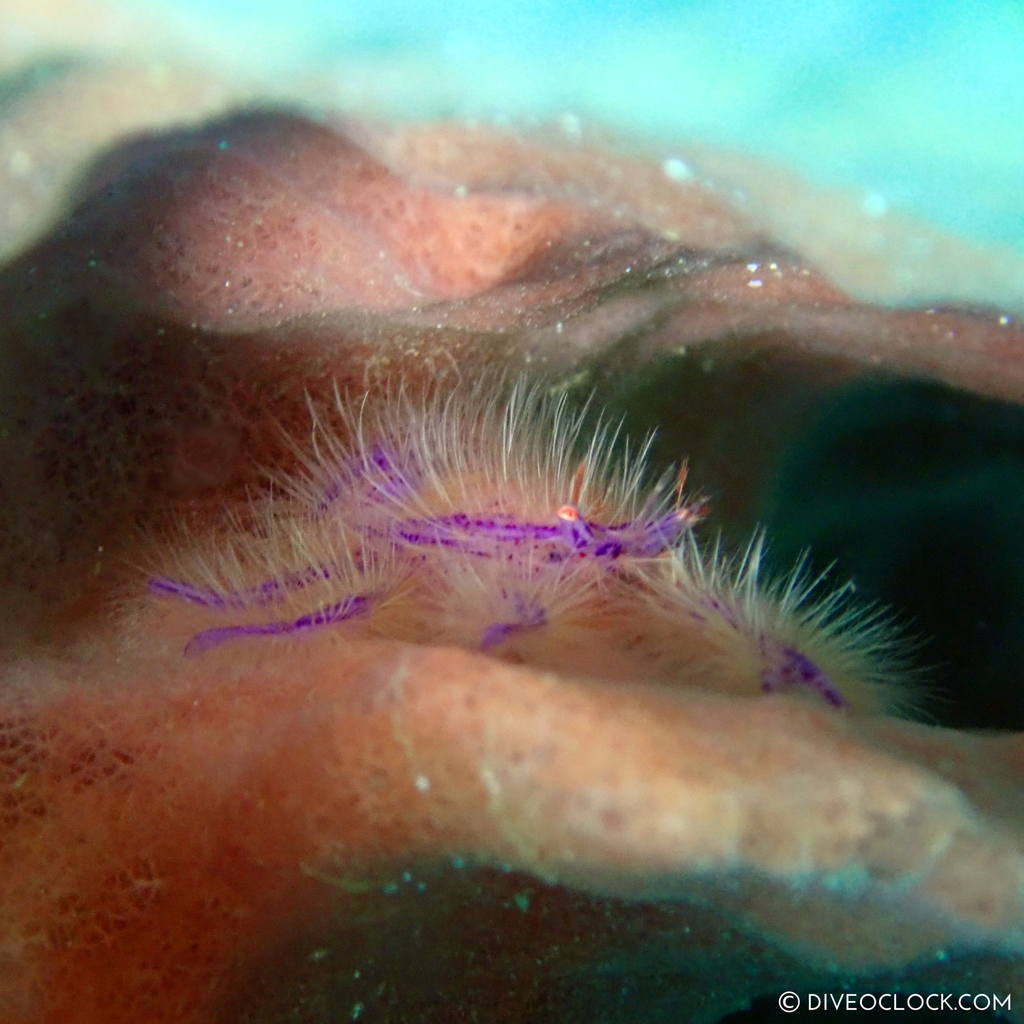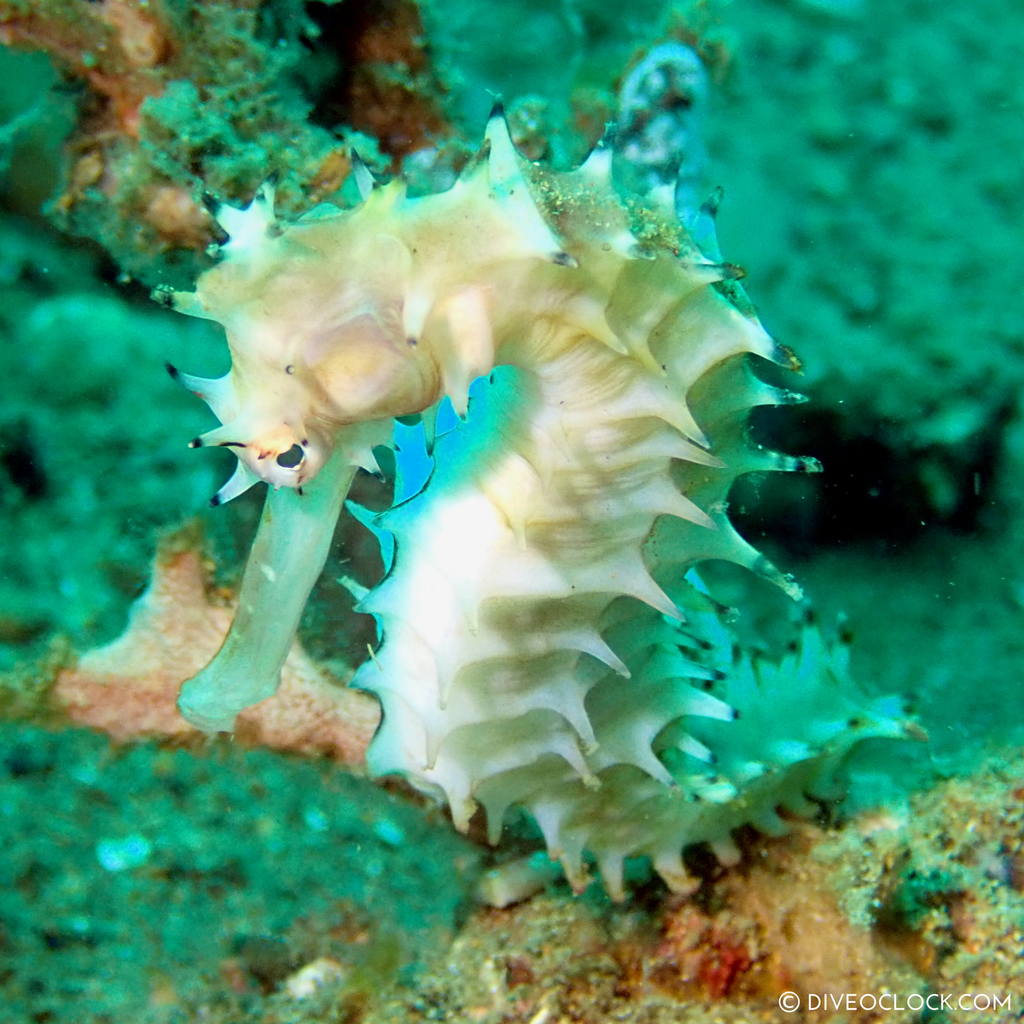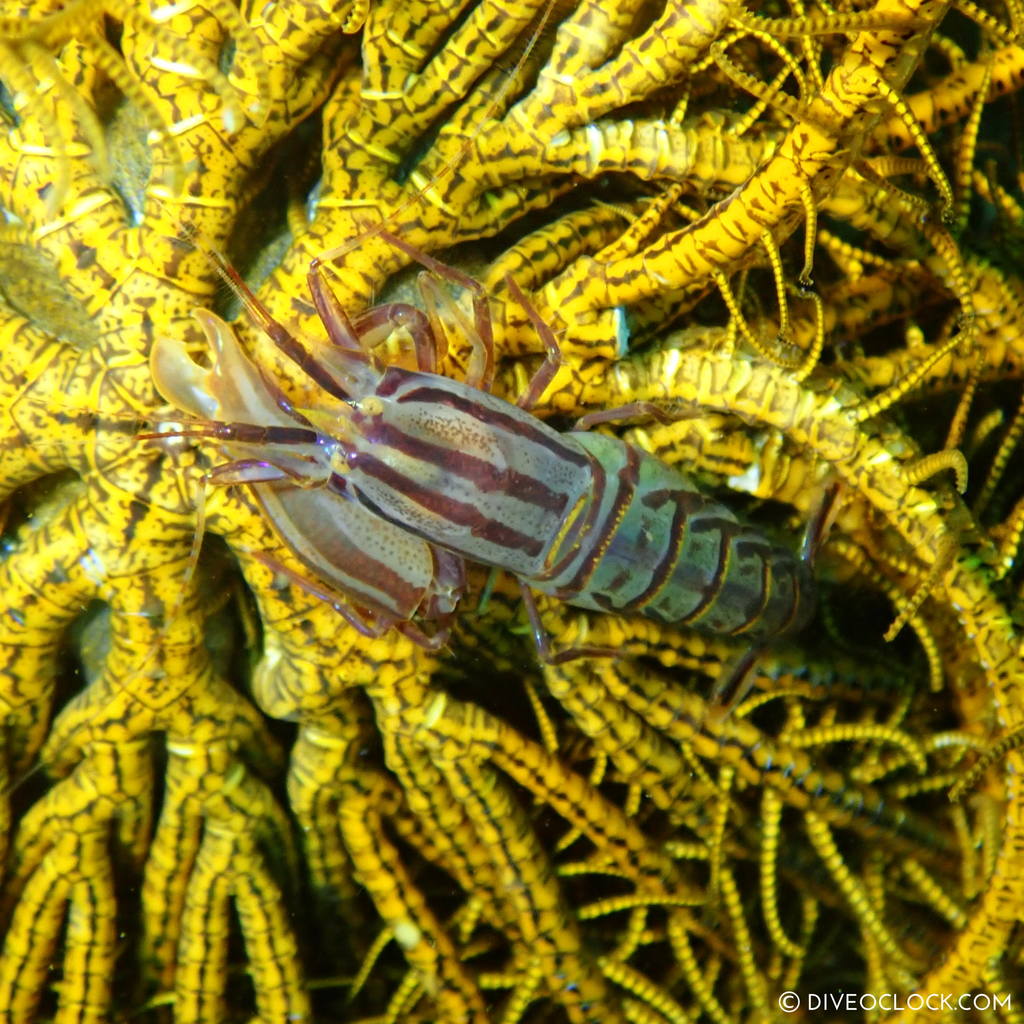 Small marine life species you can spot while muck diving around Anilao (ID's in image slider below)
Compared to muck diving in Lembeh or Dauin the animals seem to be a lot smaller around here, especially the nudibranch. Dive guide Jojo calls these microscopic nudibranch cheap nudibranch for a reason.
For taking high quality photos you definitely need good buoyancy a (let's call it a) 'pretty expensive' underwater camera set-up and macro photography experience. Some dive sites have surge and/or currents, making it even more challenging to take sharp photos of microscopic animals. As you might know by now my interest is more in showing what you can expect and learning more about the species. Scroll down for 50+ images and ID's of marine life around Anilao.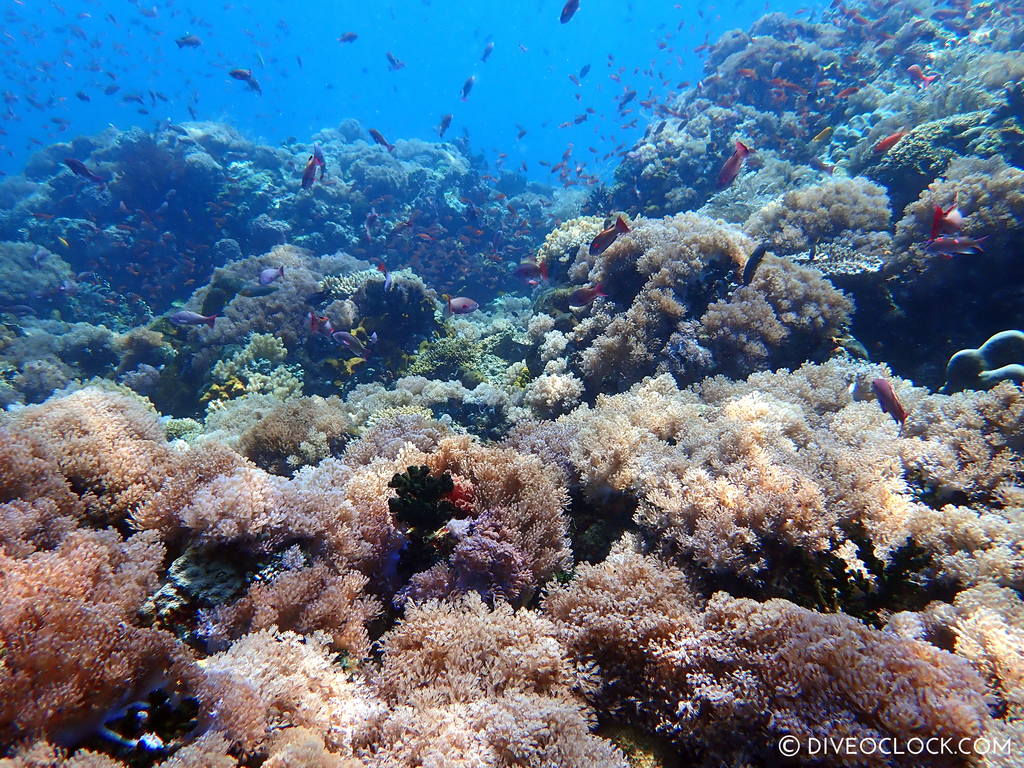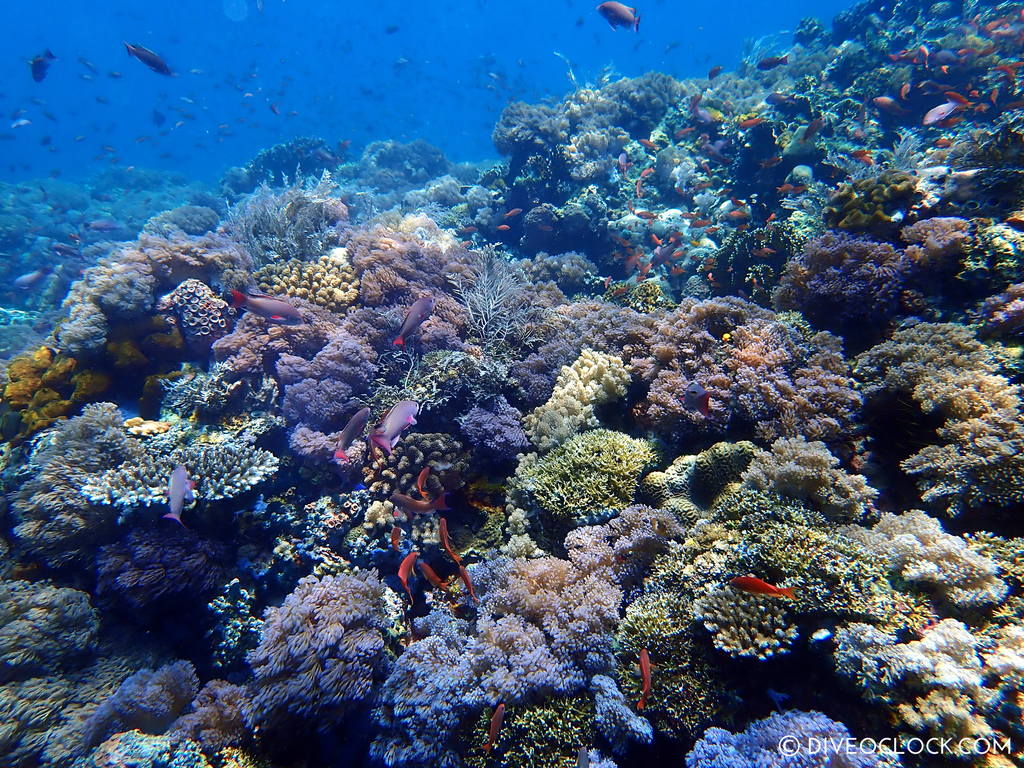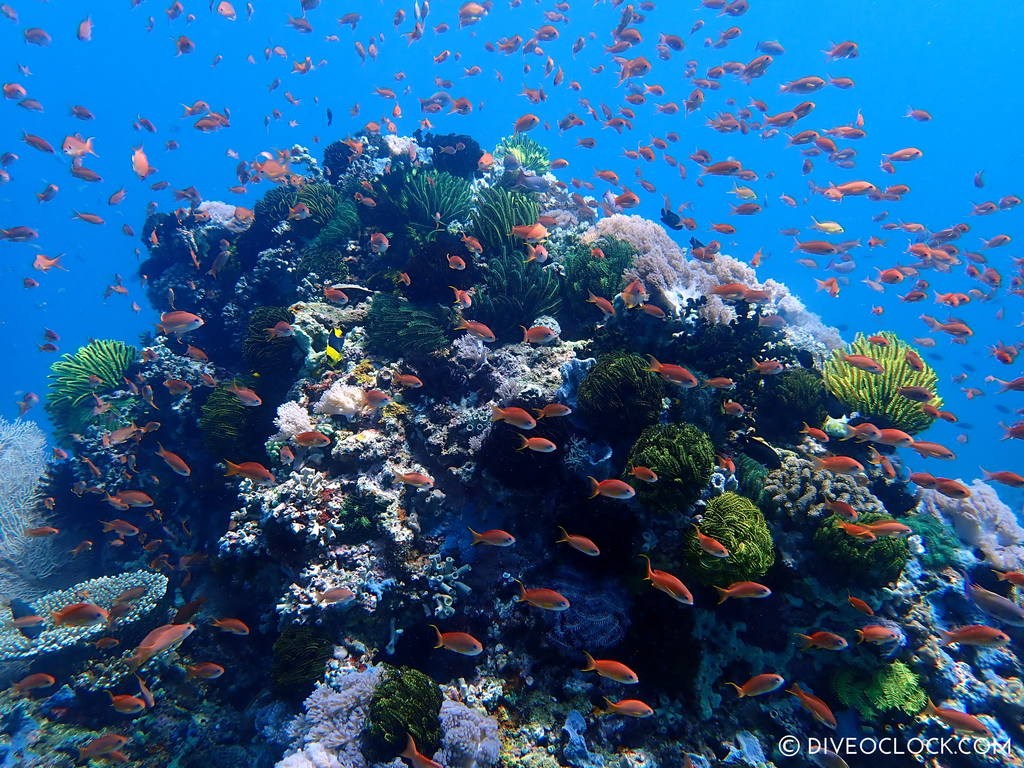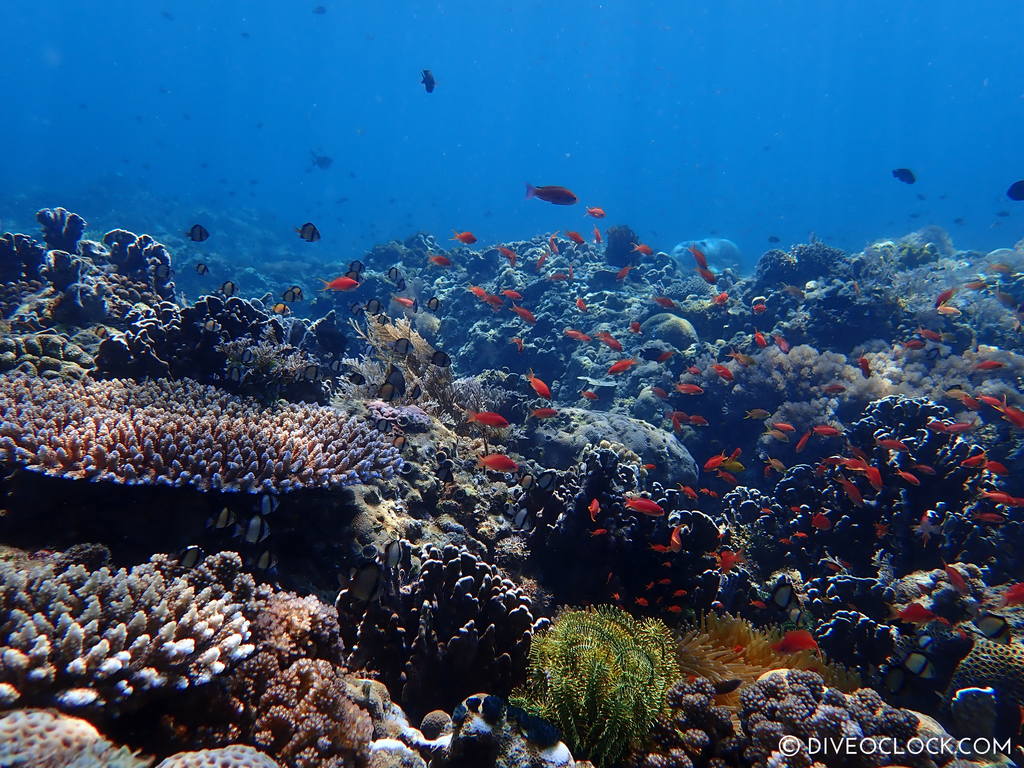 Coral Reef Diving in Anilao
While muck diving can be boring for 'reef divers', Anilao will not disappoint when it comes to corals. Especially around Sombrero island, the corals are thriving, especially the soft corals are stunning.
At Twin Rocks you should also schedule a dive to see incredible coral formations. For wall diving head to Kirby's Rock.
Please make sure to bring reef safe sunscreen to avoid harmful ingredients to enter the ocean, read why reef safe sunscreen is important.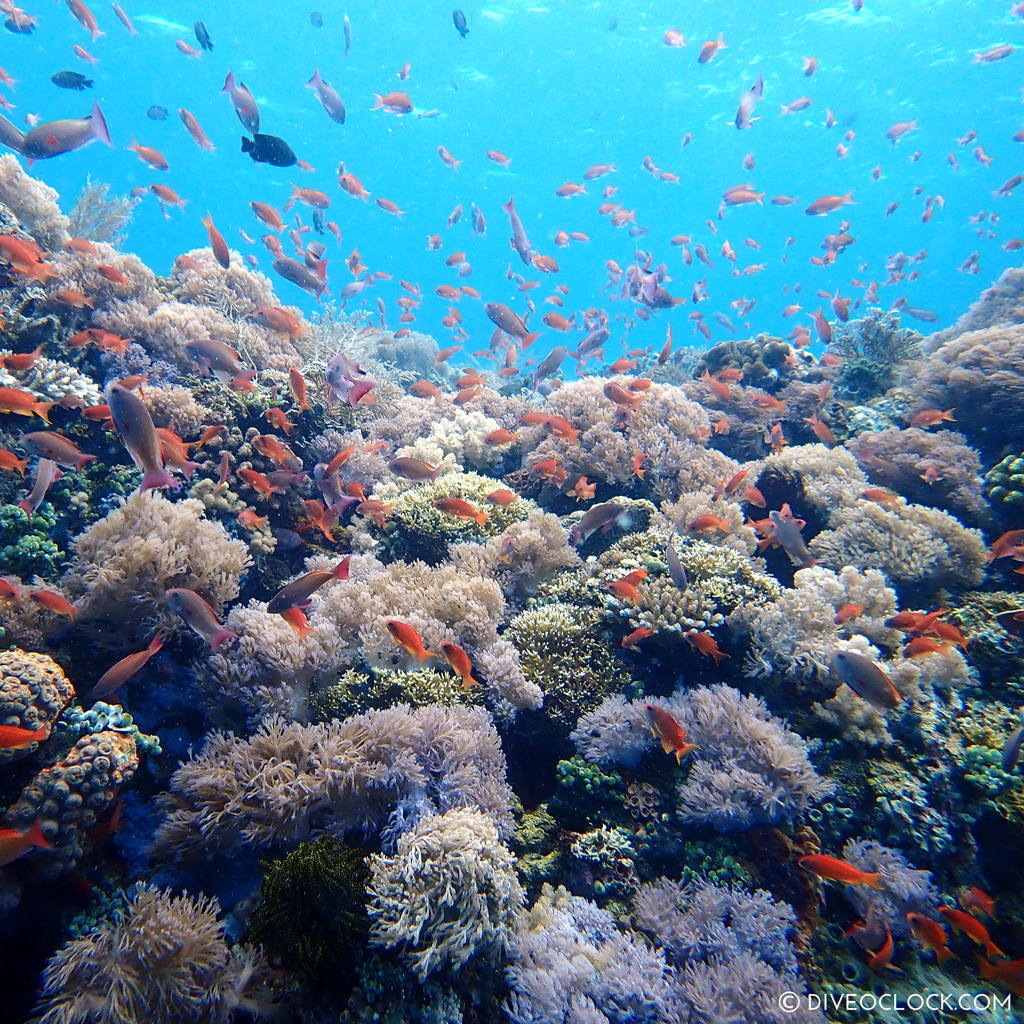 Coral reef with countless Anthias at Sombrero Island
Diving with Pelagics
Ever heard of pelagics? Pelagics and other dive expressions explained.
At the dive site called Dive & Trek you can see Jackfish tornados, technically not Anilao but Thilog. Jump in the water and see Jackfish (Big eye Trevally - Caranx sexfasciatus) swirling around like a cone tornado. It is stunning to see, the ocean seems thriving. On the reef here you can see some huge giant clams in the most beautiful colors.
Other places you can see stunning amounts of jackfish are Balicasac and Cabo Pulmo.
The advance of Anilao is that you have those other two types of diving well represented here as well.
For sharks in The Philippines you should go to Malapascua instead, although I feel really lucky to have have seen a shark in Anilao and many Remoras...
Regarding big marine life species you can see some blue spotted stingrays and some big fish species like breams and groupers. The biggest animals you often see underwater are sea turtles, some are incredibly large (+100cm/3ft).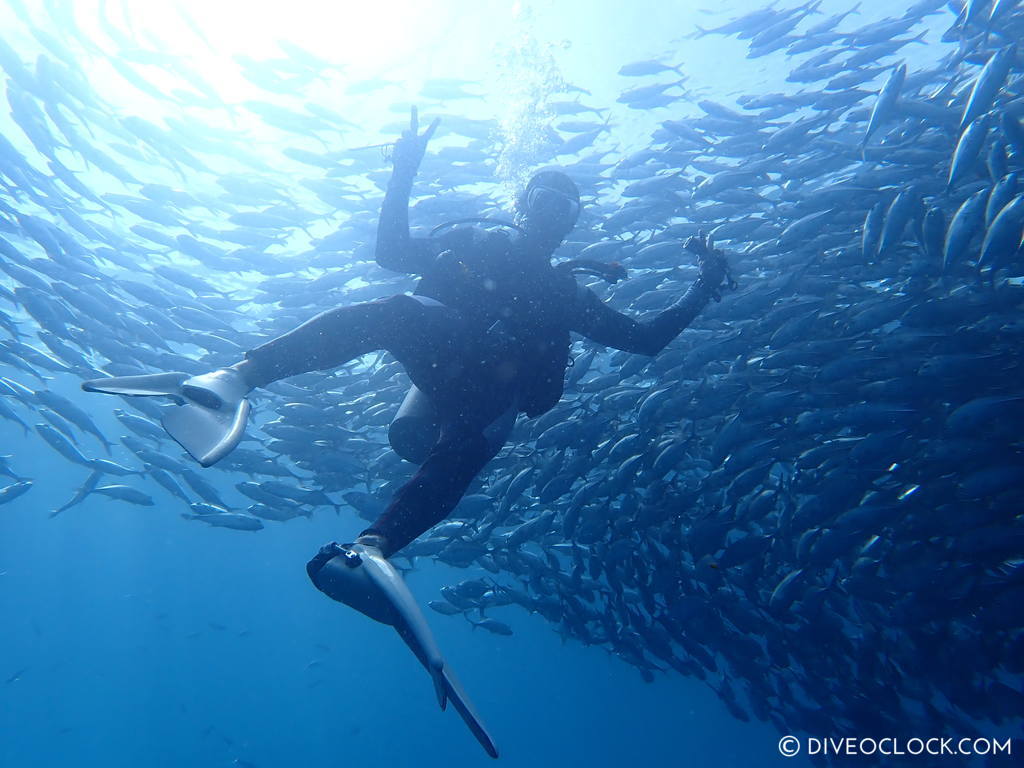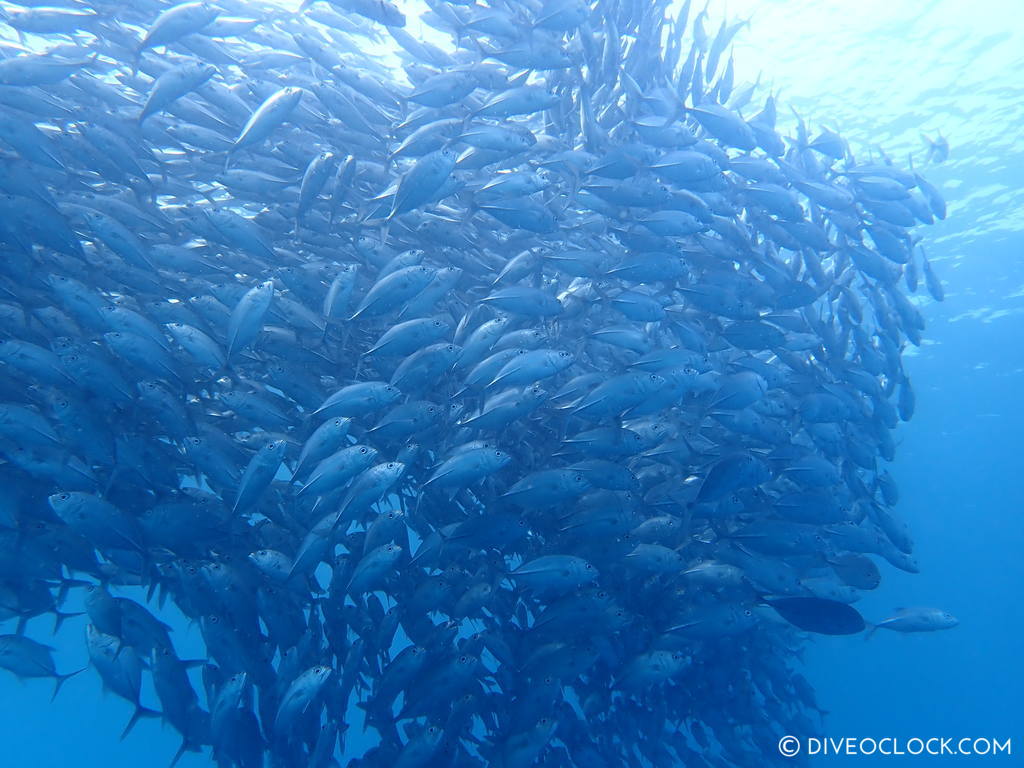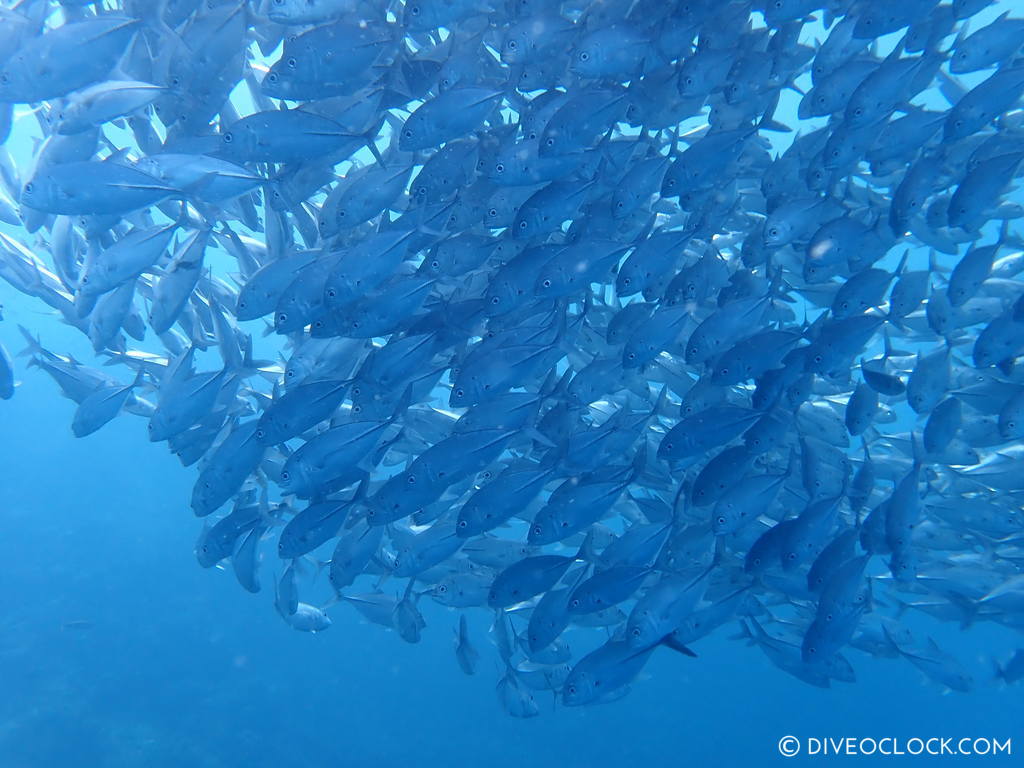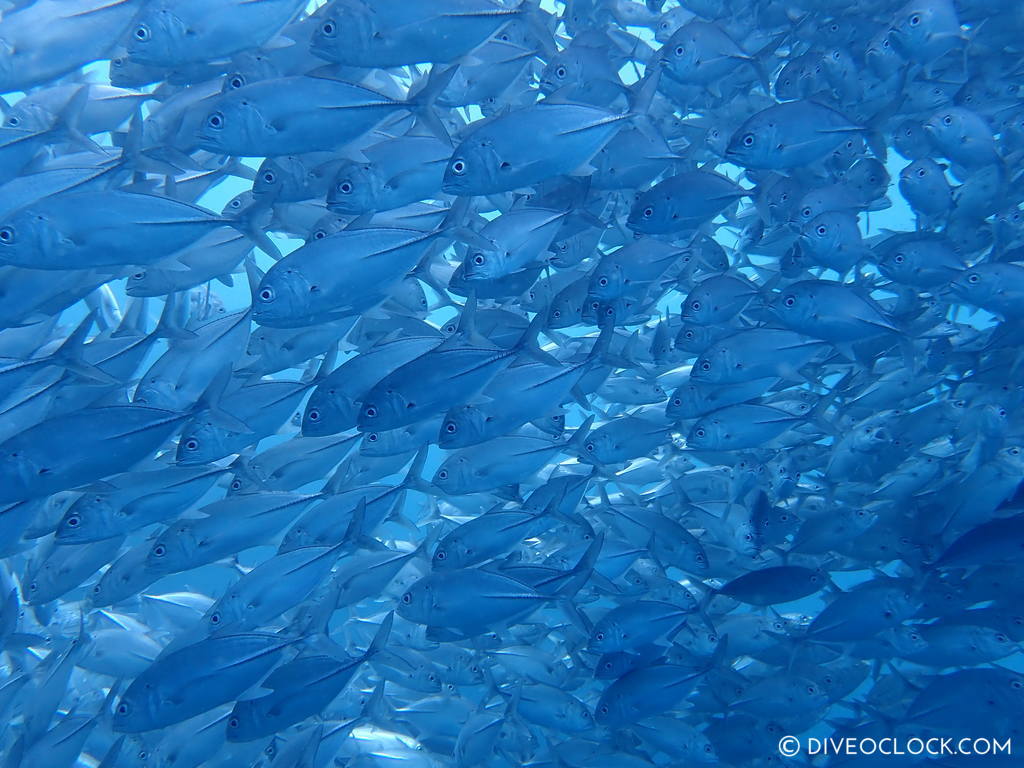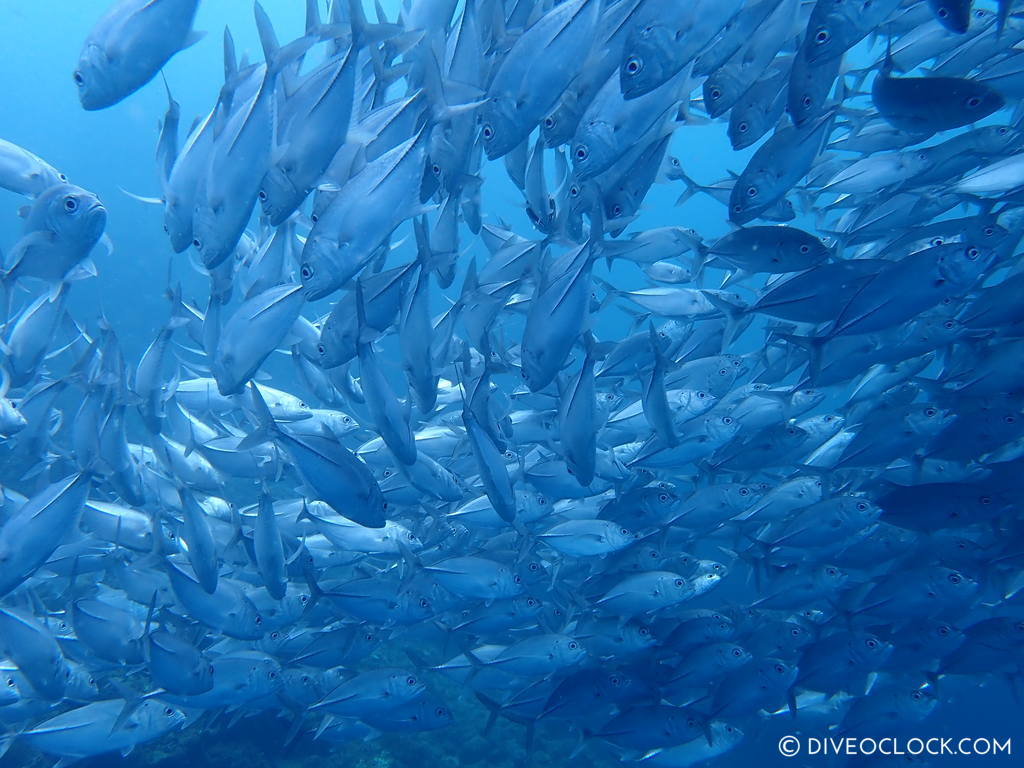 Jackfish tornados / Big eye Trevally (Caranx sexfasciatus) at Dive & Trek.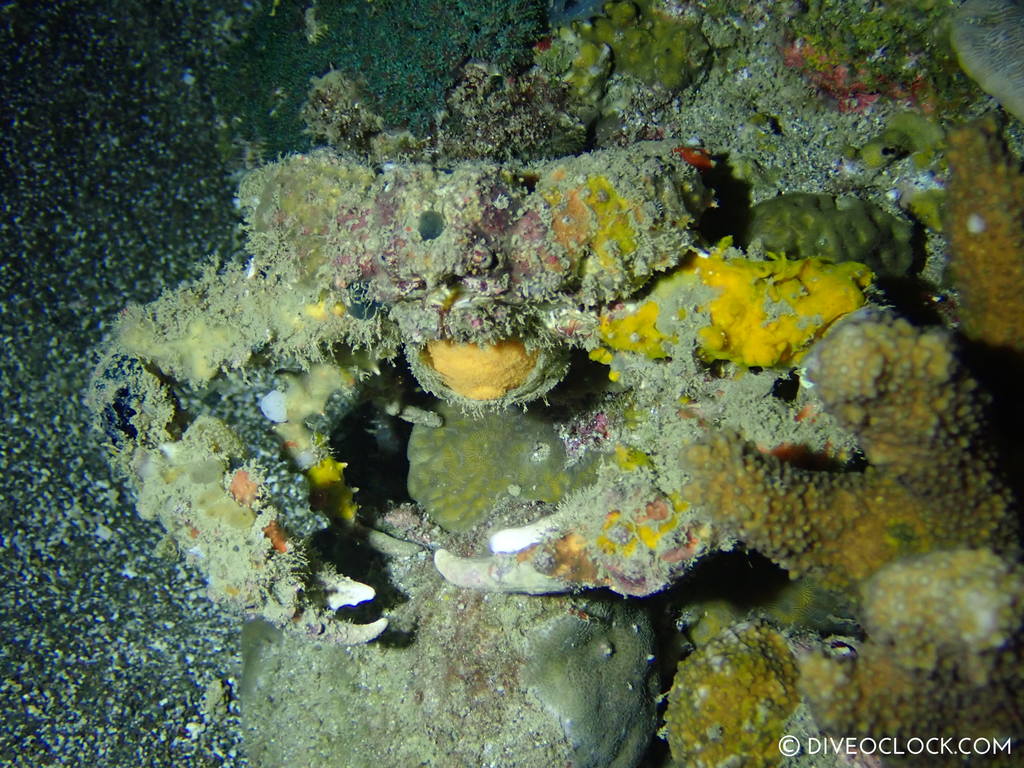 Night diving in Anilao
Night diving Anilao
Not a specific type of diving, but definitely worth mentioning here - night diving around Anilao.
Even if you are not a big fan of night diving, you should schedule some night dives here as you can see so many creatures you will not find during the day. If you stay at Bentrina Dive Resort, schedule at least one night dive at the Bentrina house reef!
Huge crabs with anemones on their backs, beautiful colored crabs, shrimps. Sleeping parrotfish, triggerfish and butterfly fish that change color. But also weird creatures, like long black and white snail-like slimy creatures. Of course countless nudibranchs as well!
Anilao pier is a famous spot for night diving, night muck diving actually, highly recommended!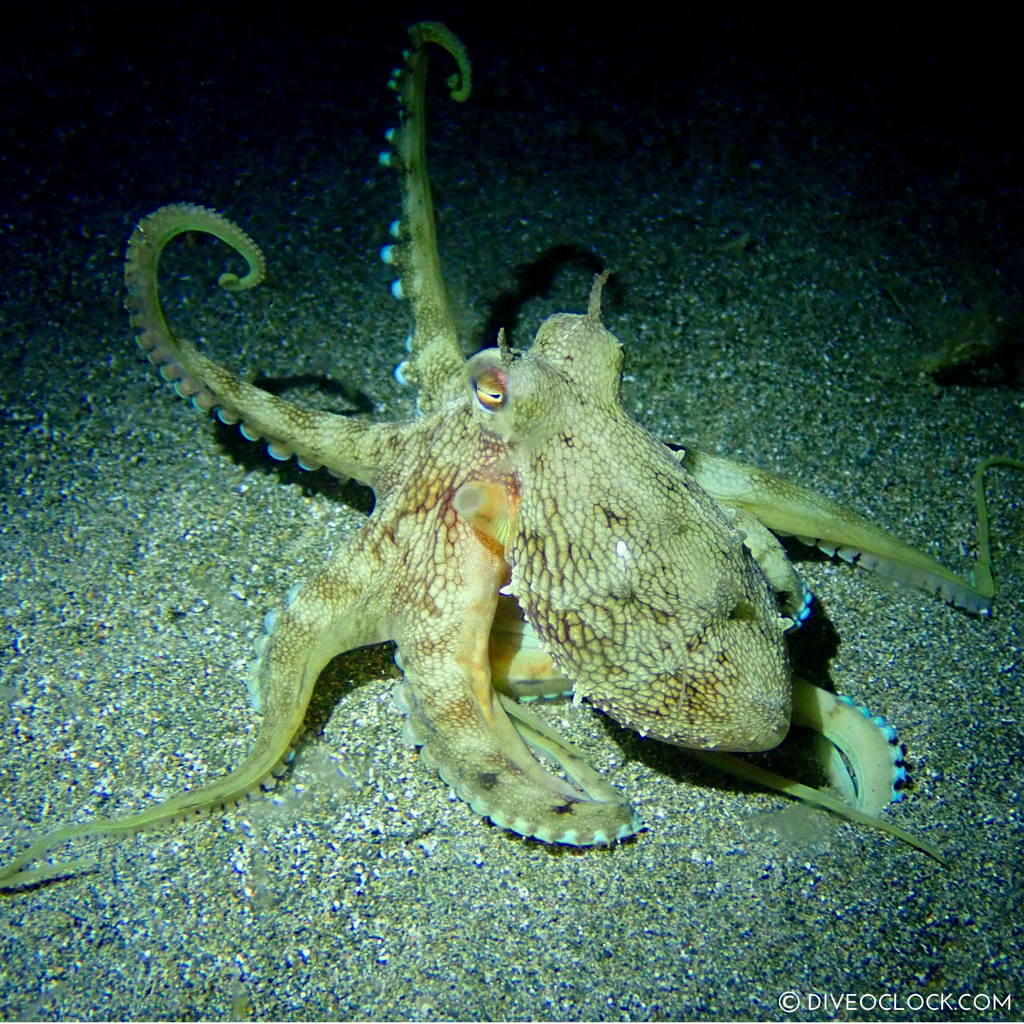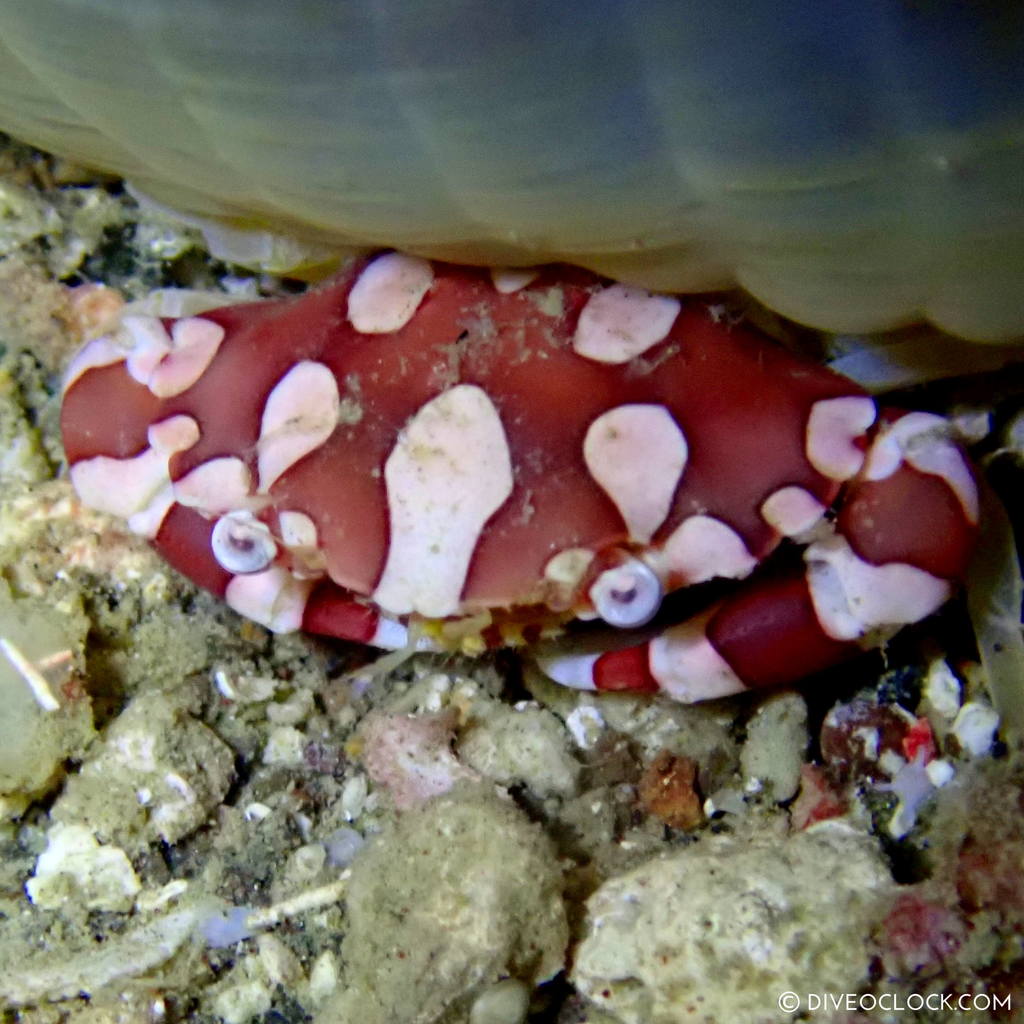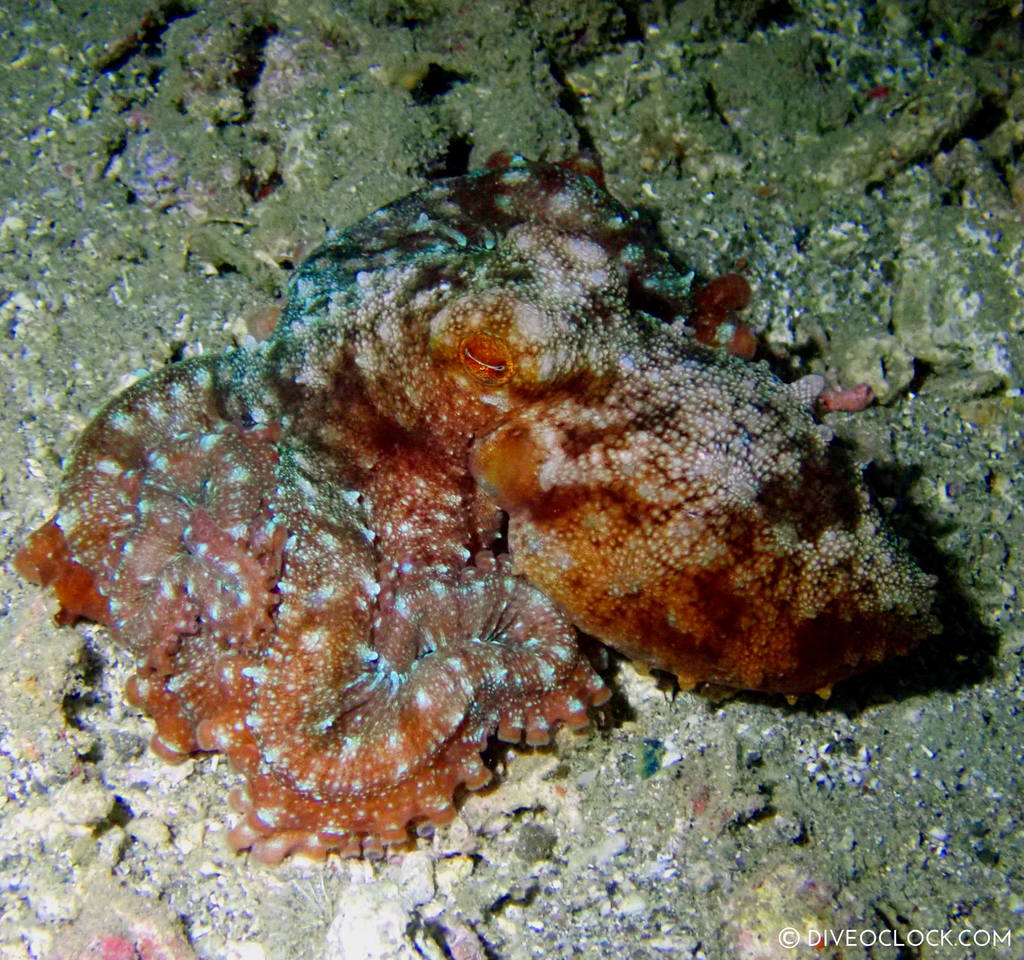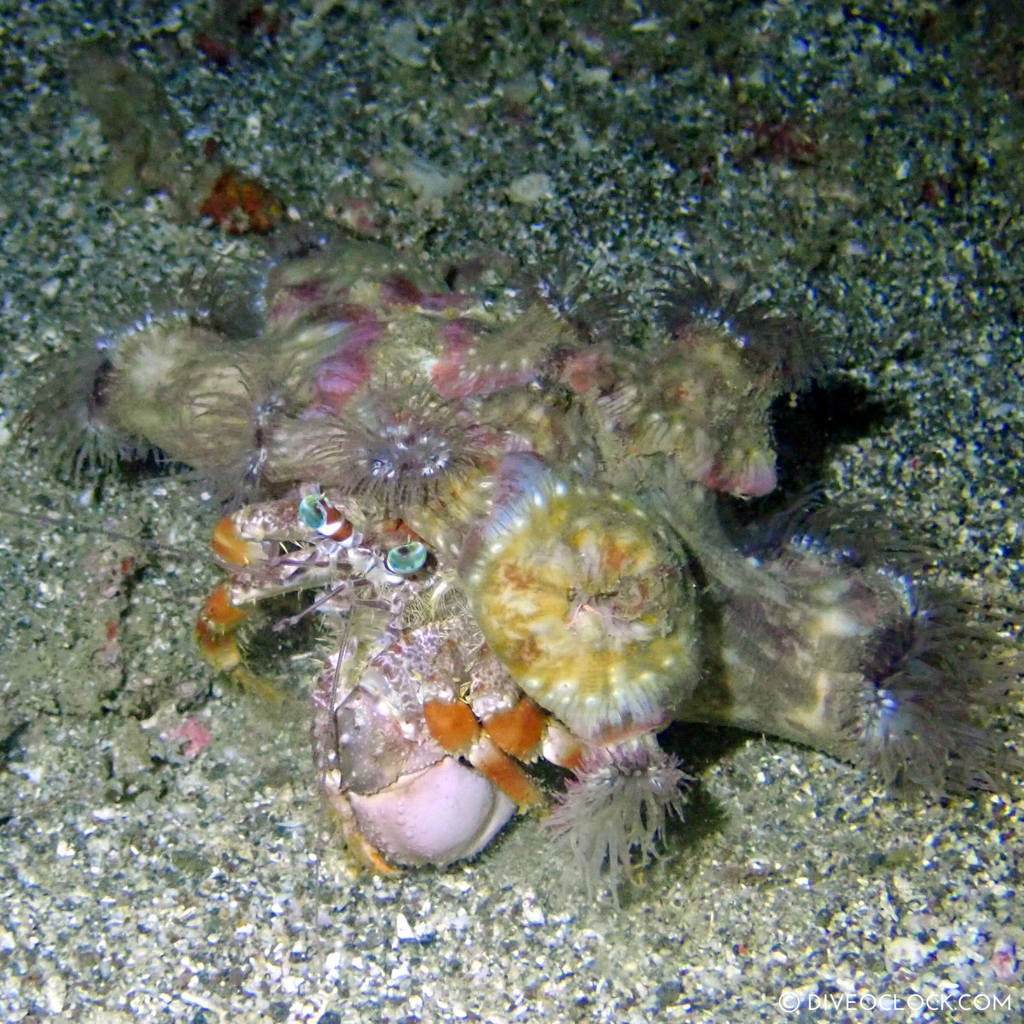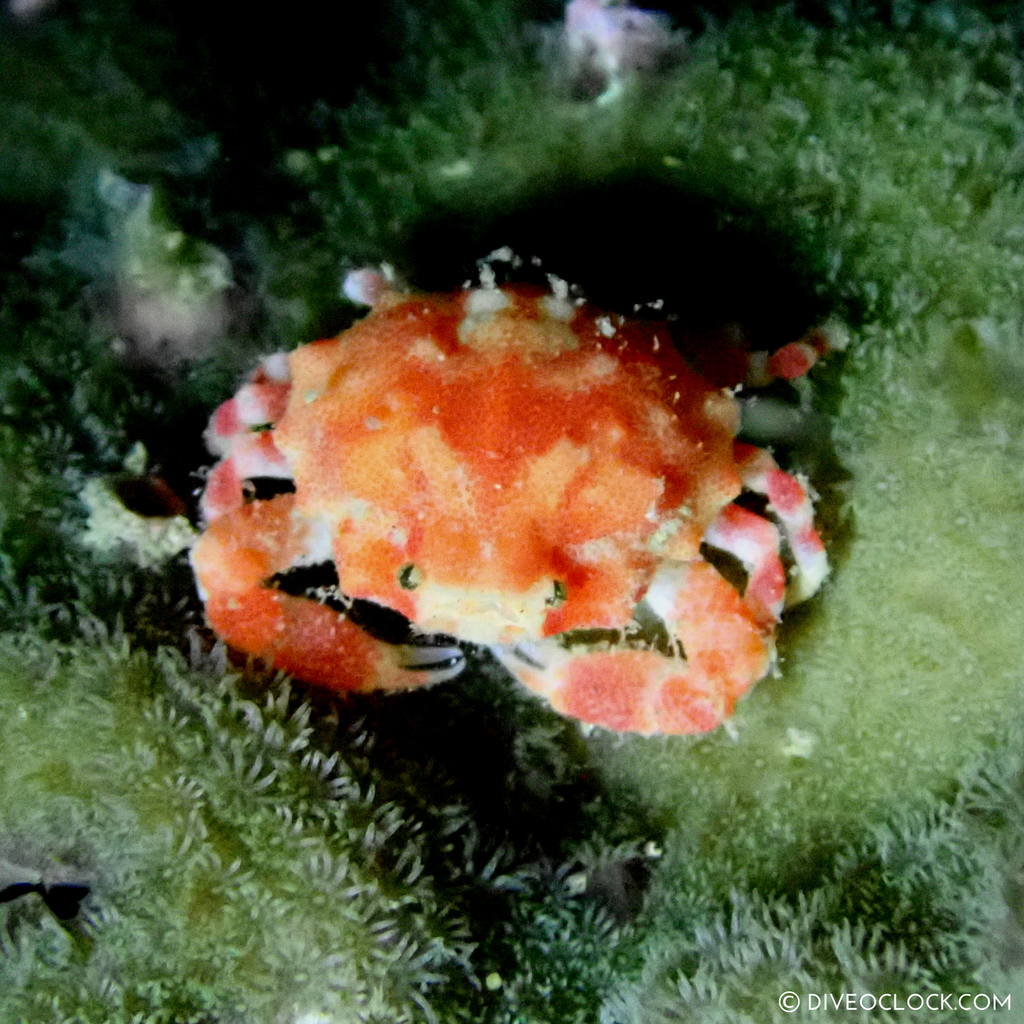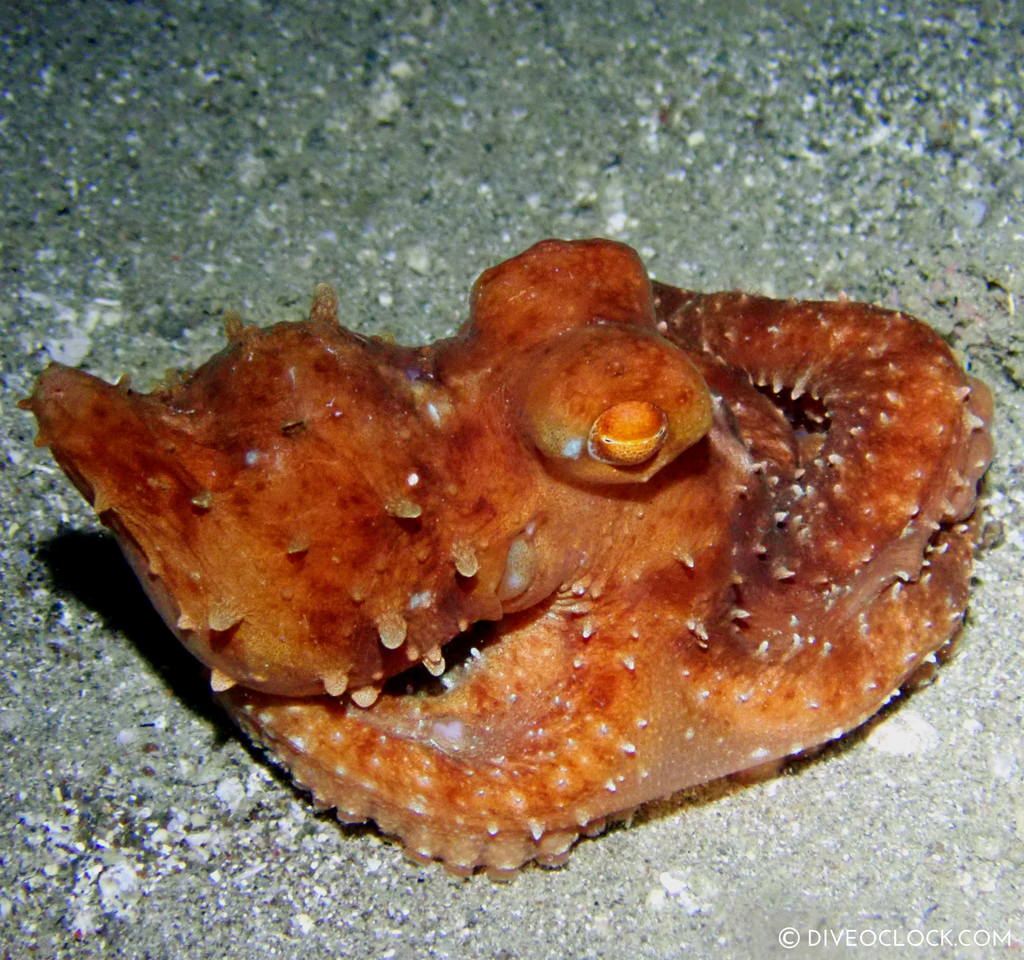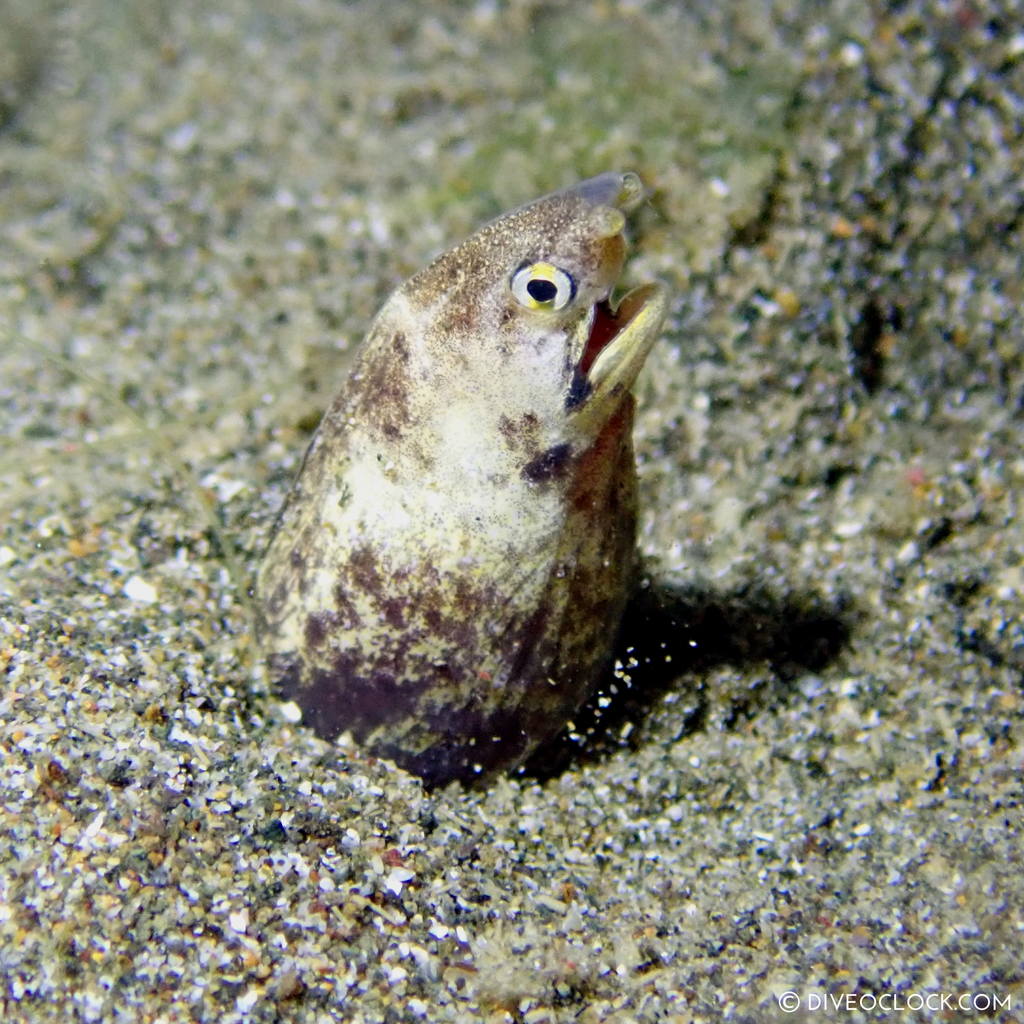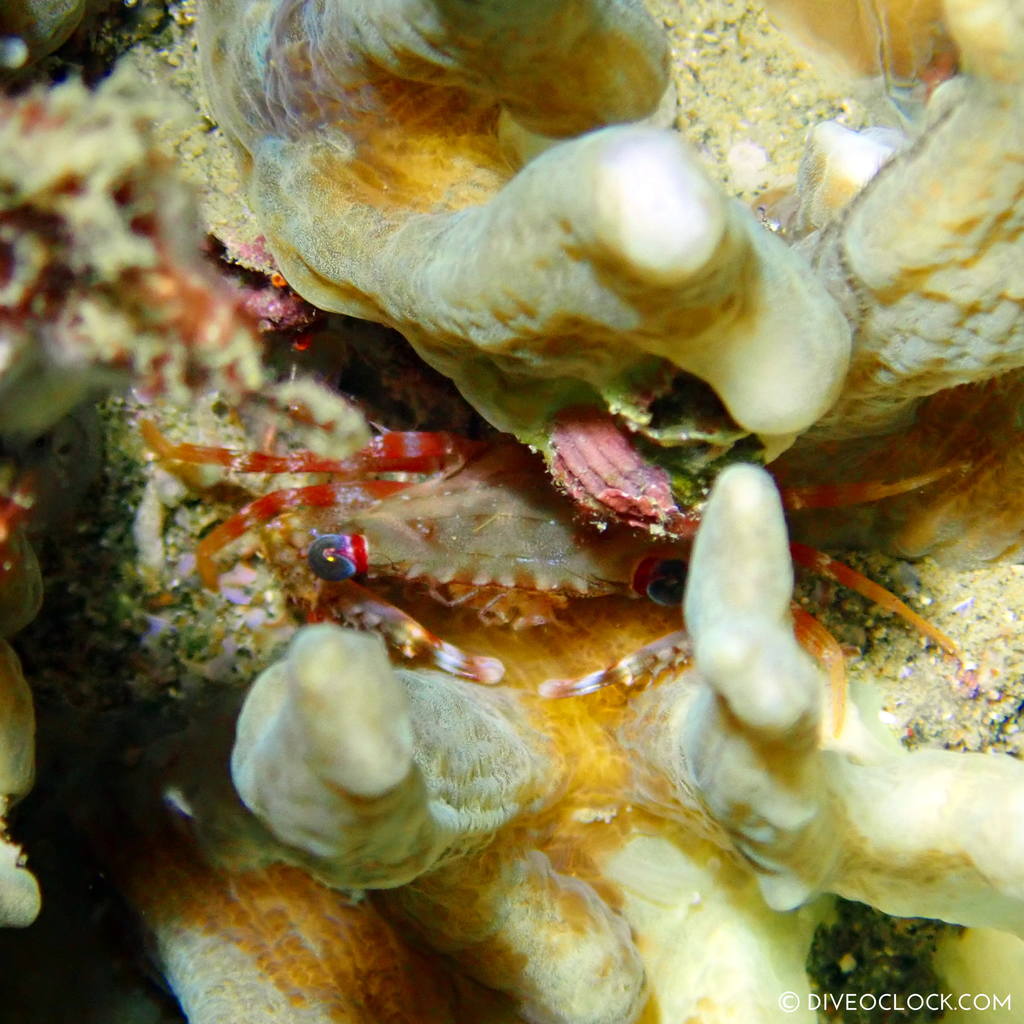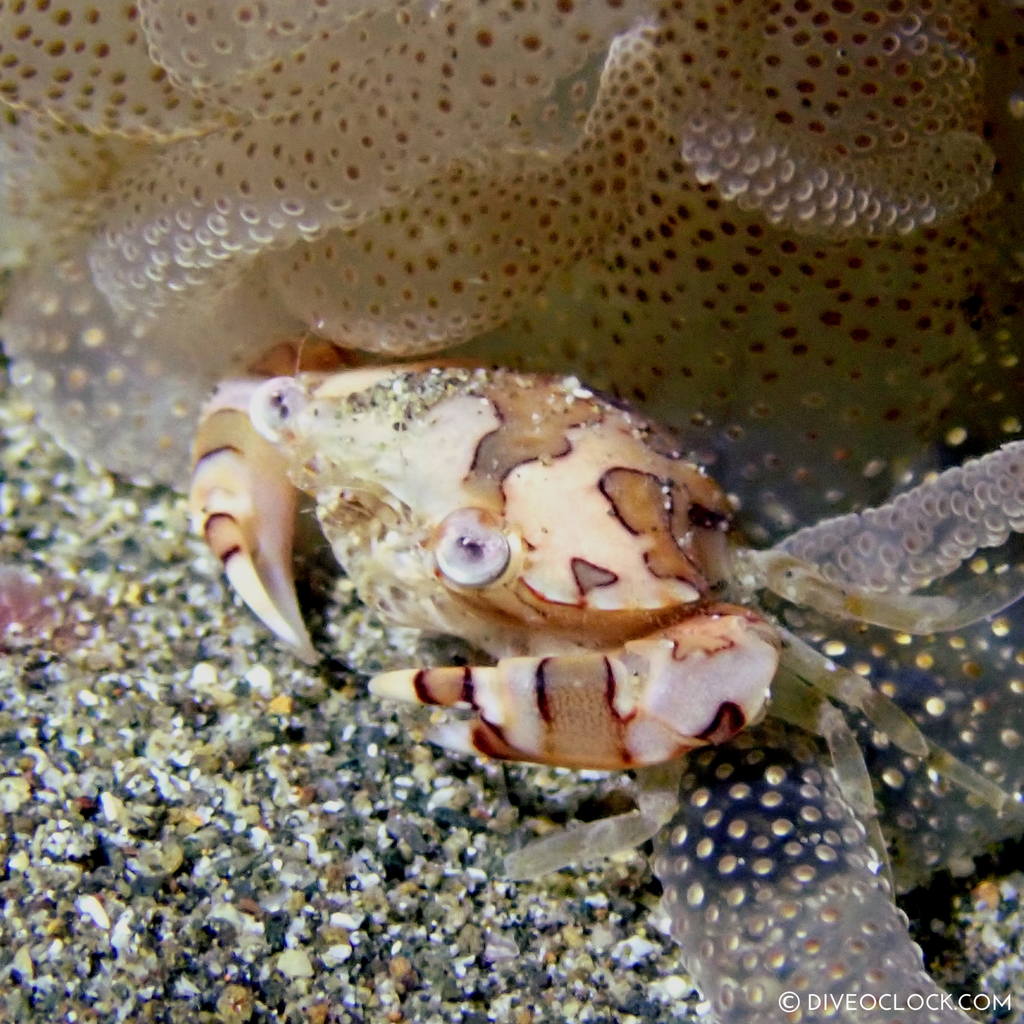 Marine life species you can spot during night diving in Anilao
General Information about Diving in Anilao
Country
The Philippines
Dive area name
Luzon, Batangas, Mabini, Anilao
Dive center
Bentrina Dive Resort
Famous for
Nudibranchs, critters, jackfish tornados and coral reefs.
Price
The price depends on the number of divers due to cost sharing, there is no fixed total price.

One dive tanks costs 250 Pesos, you also pay the tanks for the dive guide;
The boat costs 3000 pesos (some dive sites nearby 1500, some dive sites far away 3500) including towel and hot coffee (up to 5 divers);
The dive guide free is 1000 pesos per dive, 1250 for night diving (dive light rental 400 php);
Dive equipment rental 1250 pesos per day (no dive computer or SMB);
Marine park and conservation fee per person per day 200 pesos. If you are considering around 20 dive days, ask for the annual fee.

To give you an idea: A private 2-tank boat dive trip will costs you around 100 USD, if there are 5 divers you pay around 35 USD (without dive equipment).
Hotel recommendation
Bentrina Dive Resort Anilao offers large modern and comfortable rooms with air-conditioning, private bathroom, king-size bed and swimming pool / ocean view.
50+ Underwater Images and ID's of Marine Life around Anilao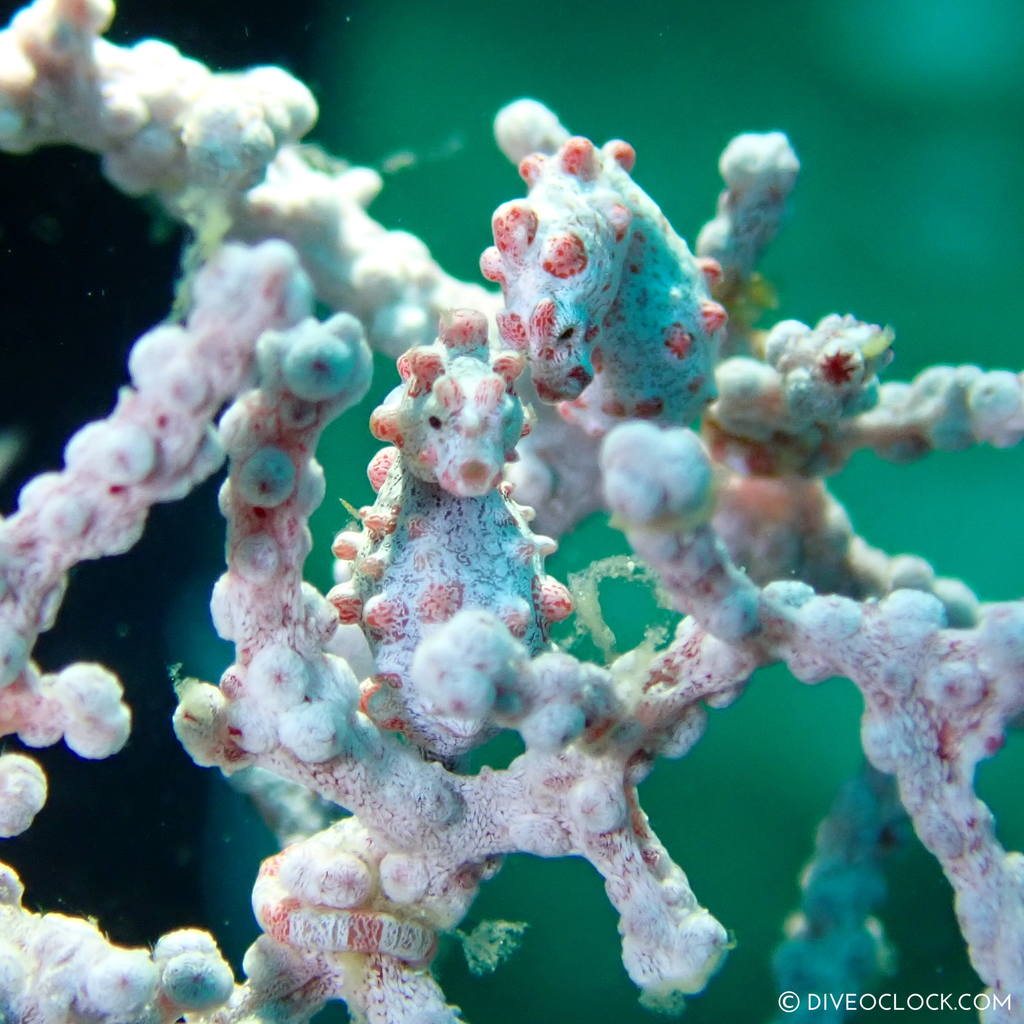 1. Pygmy seahorses (Hippocampus bargibanti)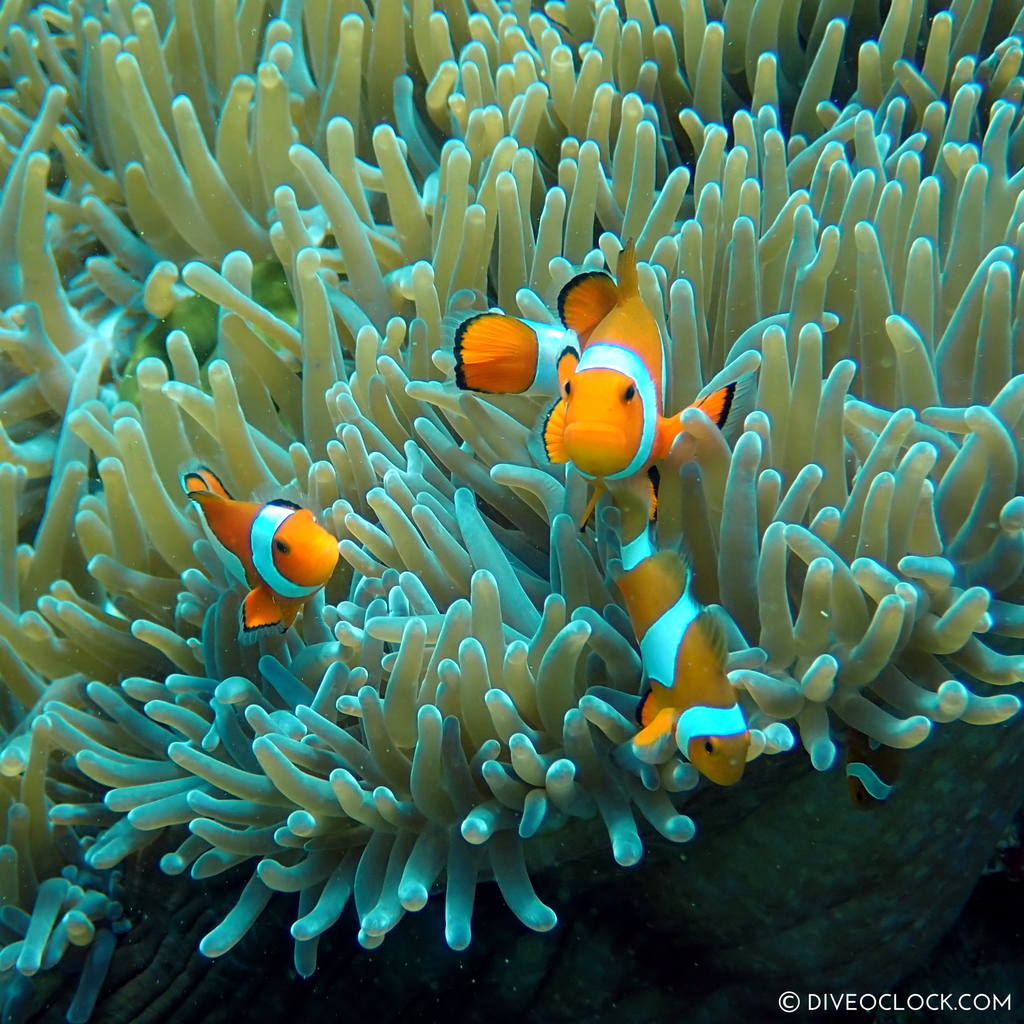 2. Ocellaris clownfish (Amphiprion ocellaris)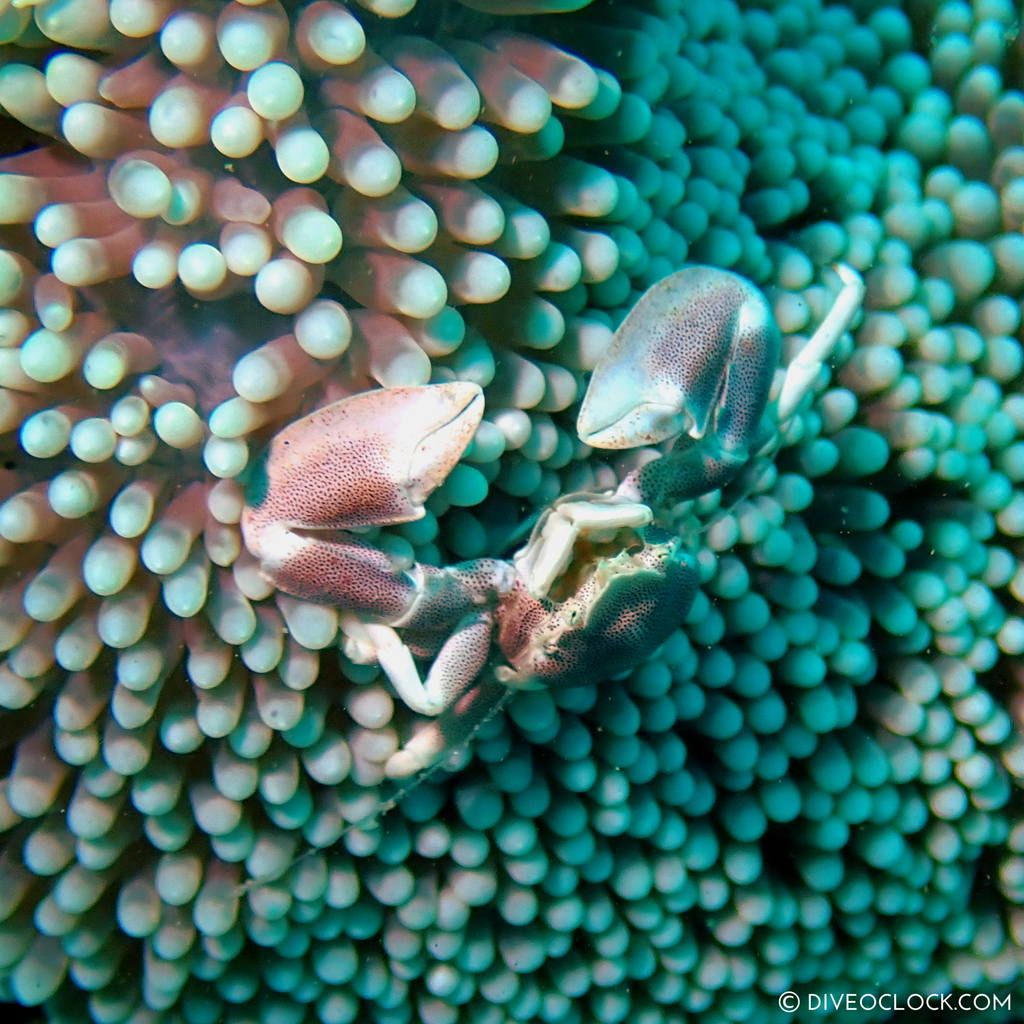 3. Porcelain crab (Neopetrolisthes maculatus)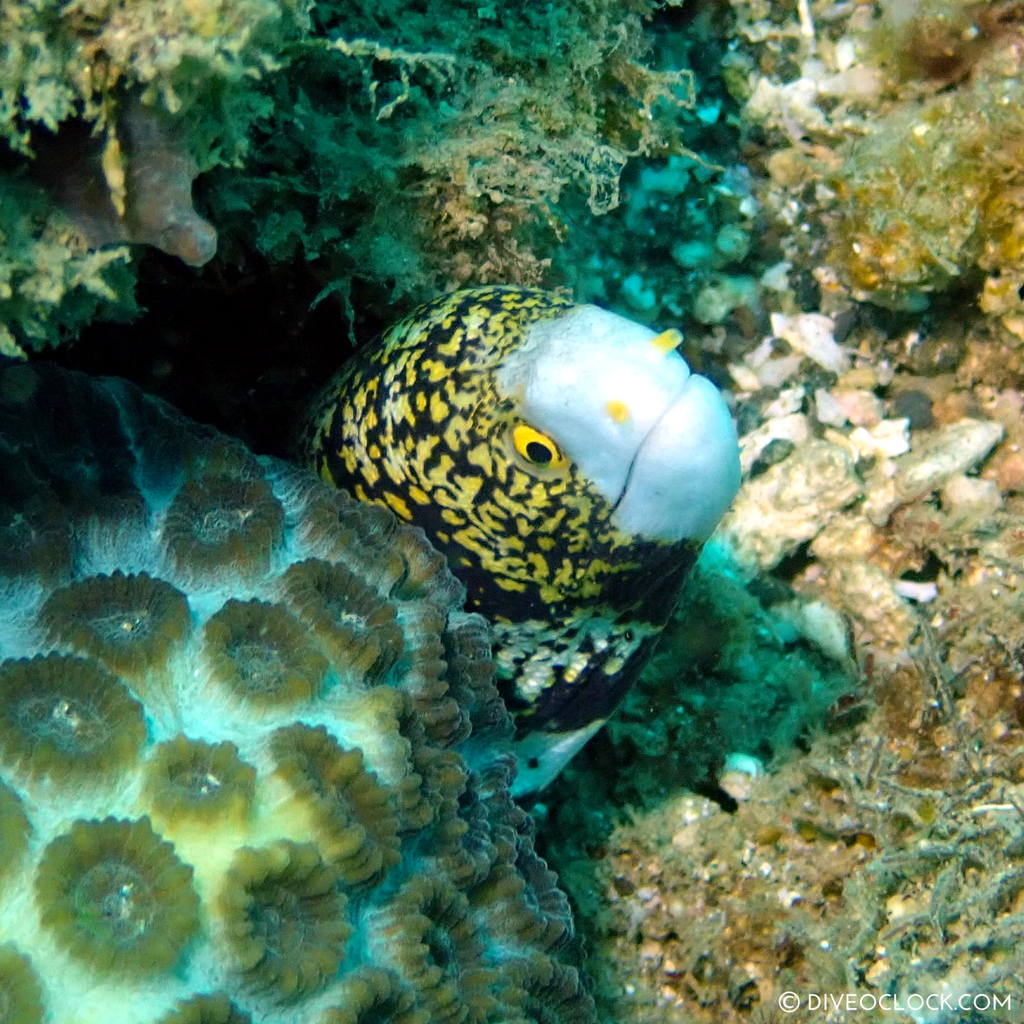 4. Snowflake moray eel (Echidna nebulosa)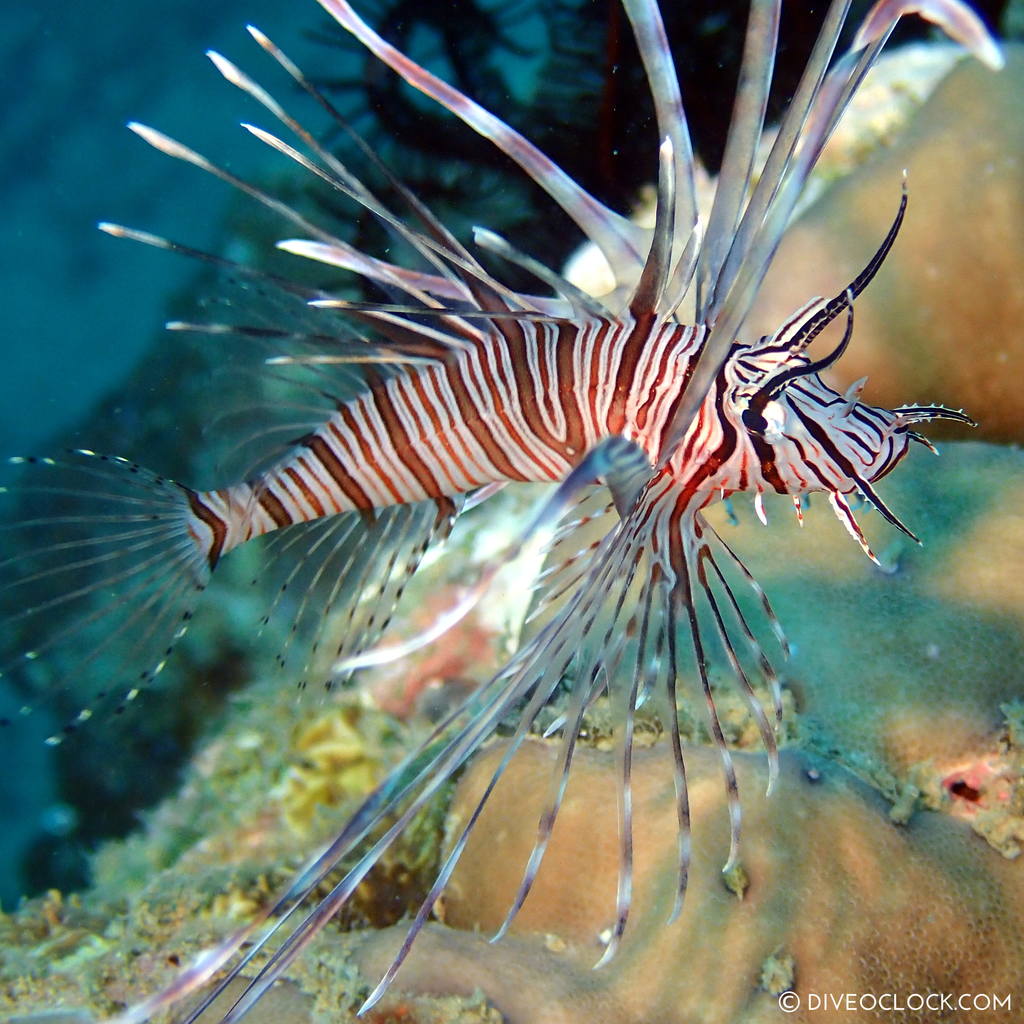 5. Lion fish (Pterois)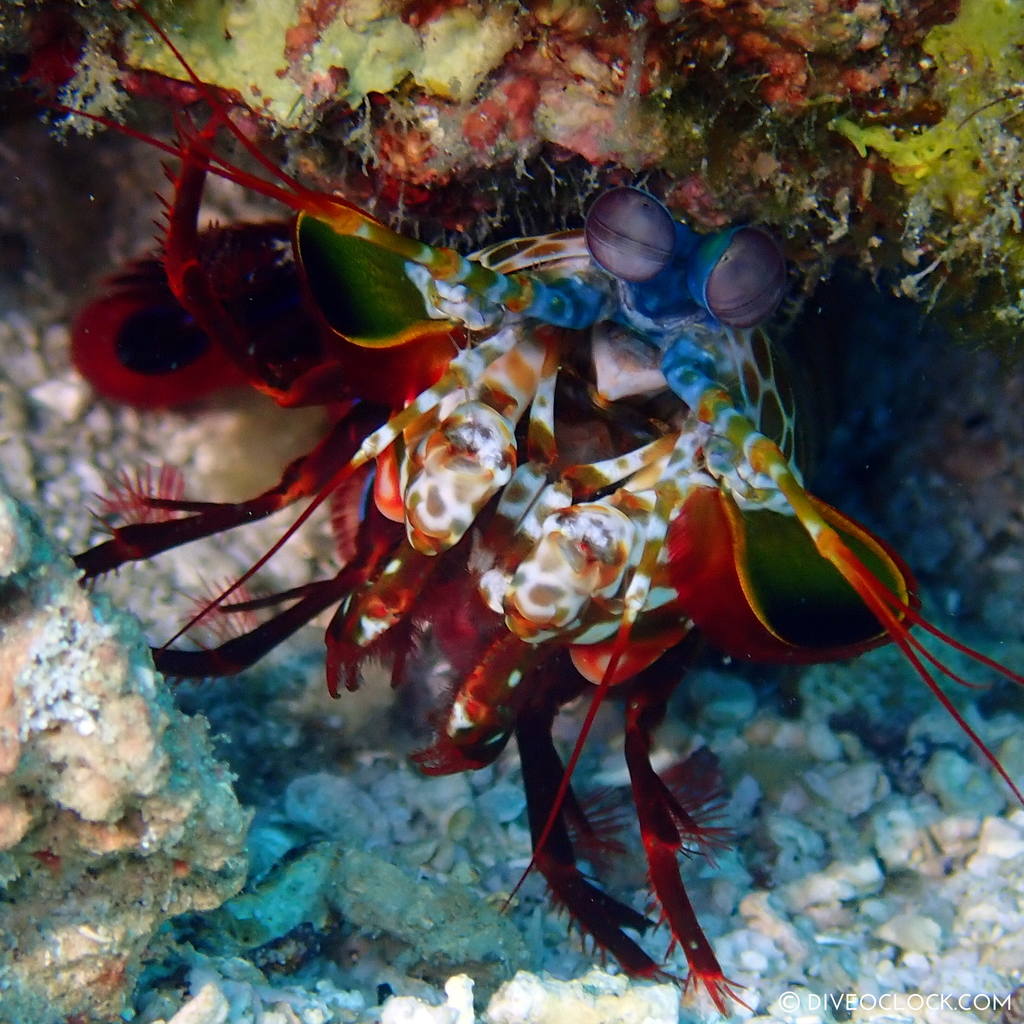 6. Mantis shrimp (Odontodactylus scyllarus)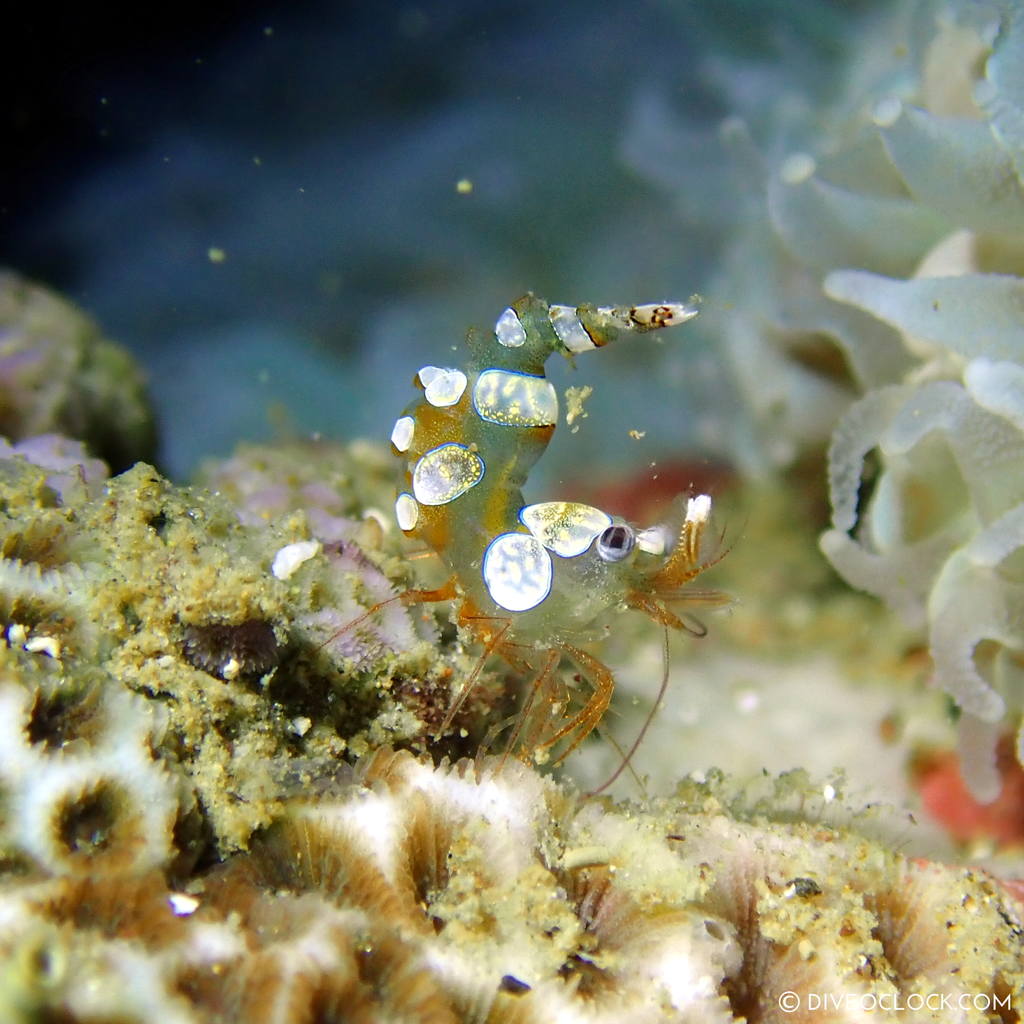 7. Squat shrimp (Thor amboinensis)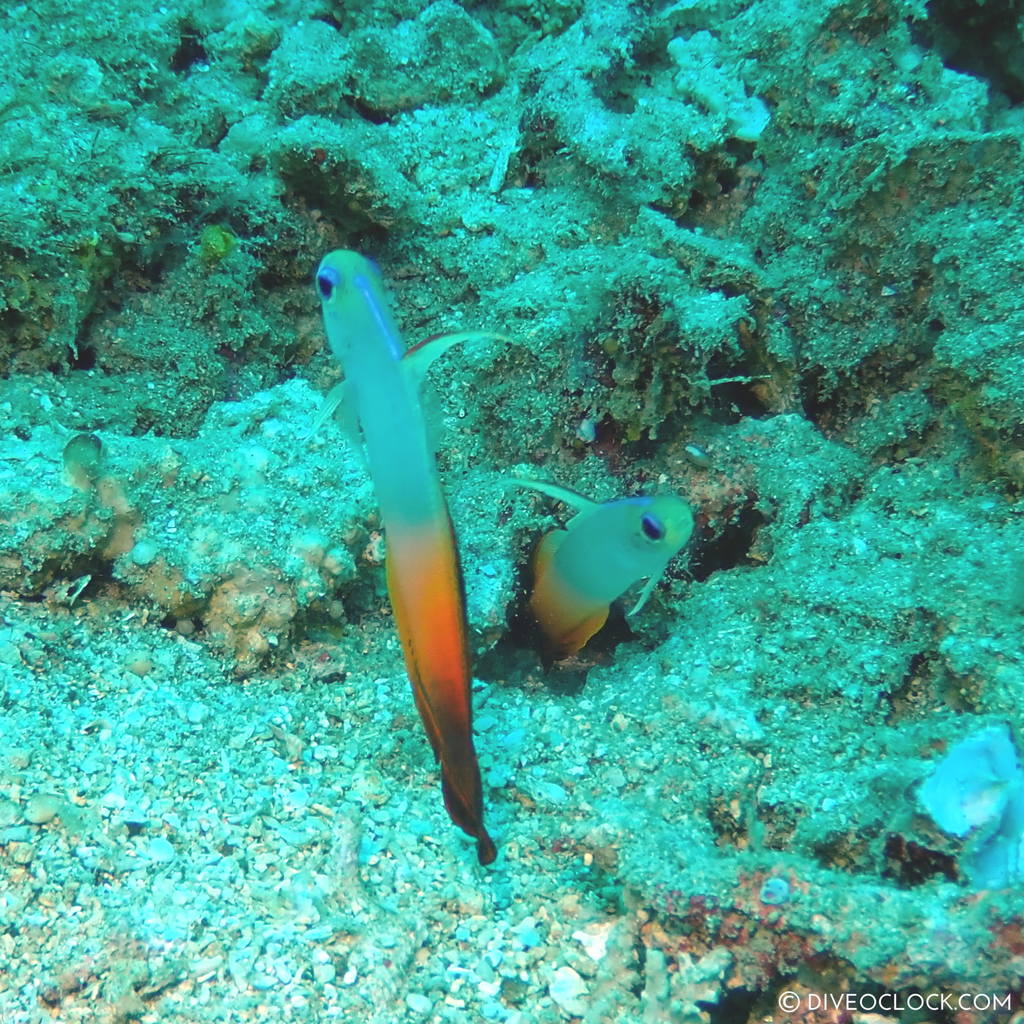 8. Fire gobies ( Nemateleotris magnifica)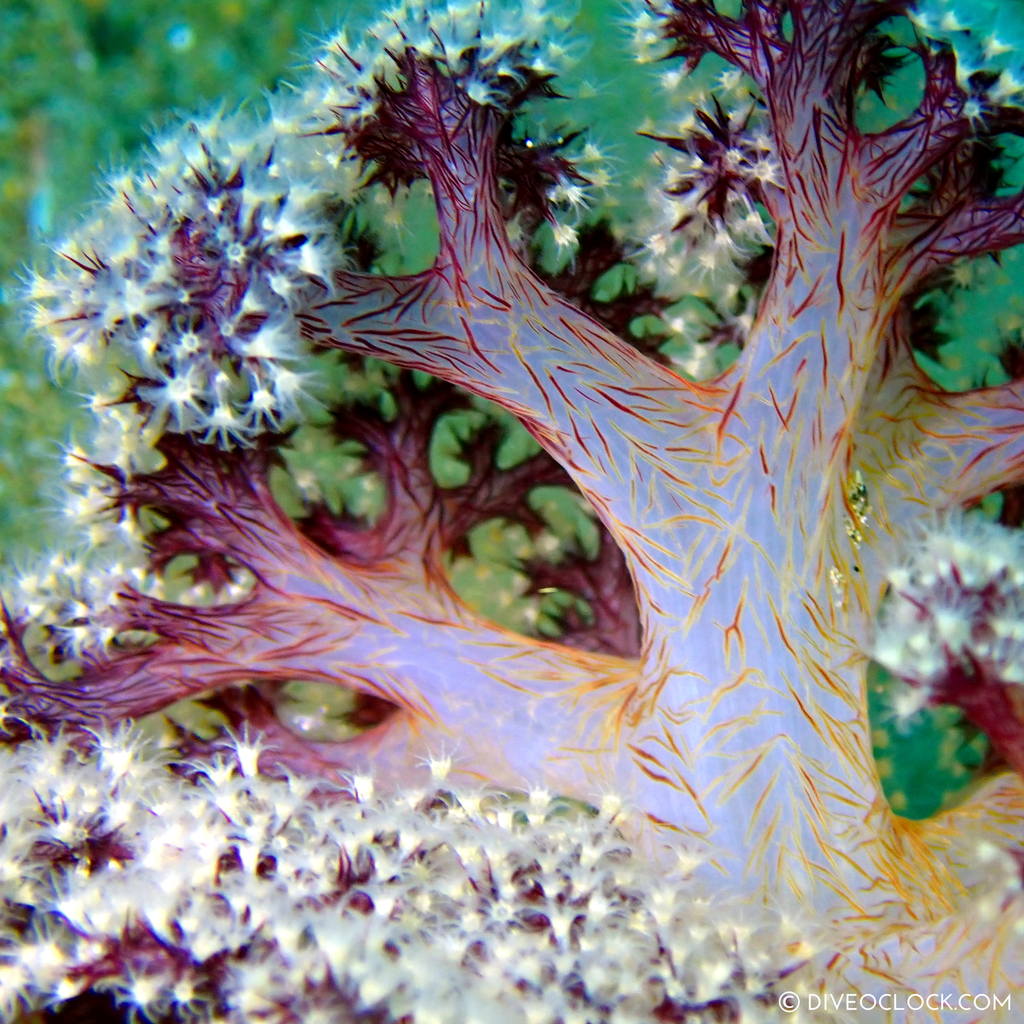 9. Klunzingers soft coral (Dendronephthya klunzingeri)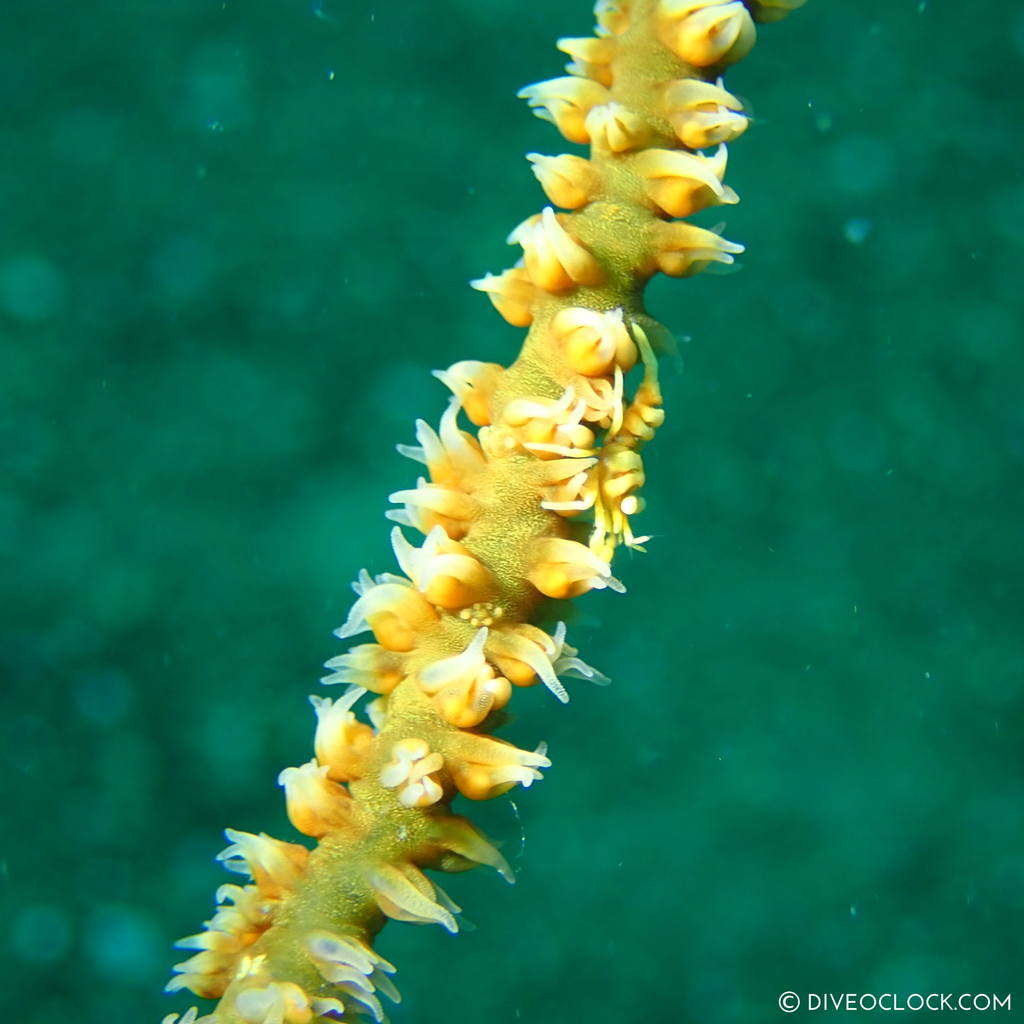 10. Whip Coral Shrimp (Pontonides unciger)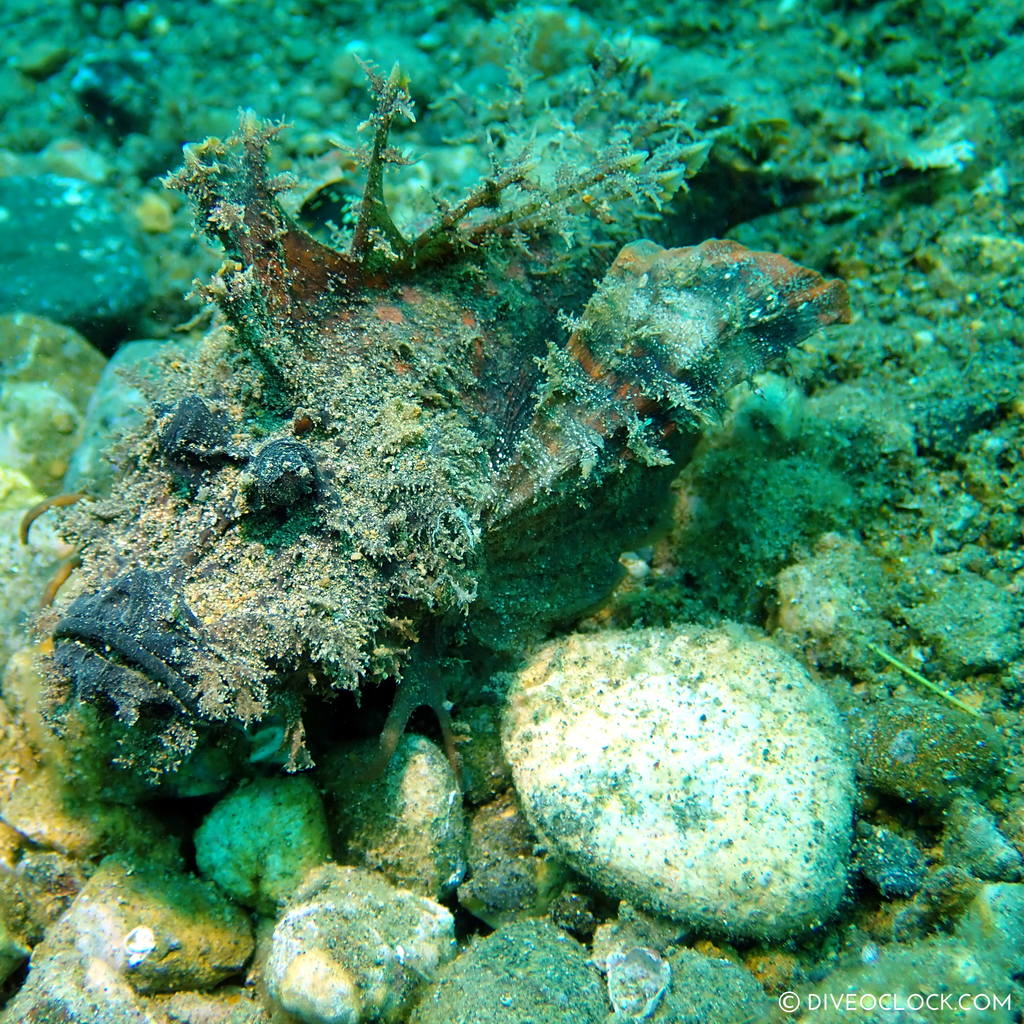 11. Devil stinger or Indian Walkman fish (Inimicus didactylus)
12. Candy crab (Hoplophrys oatesi)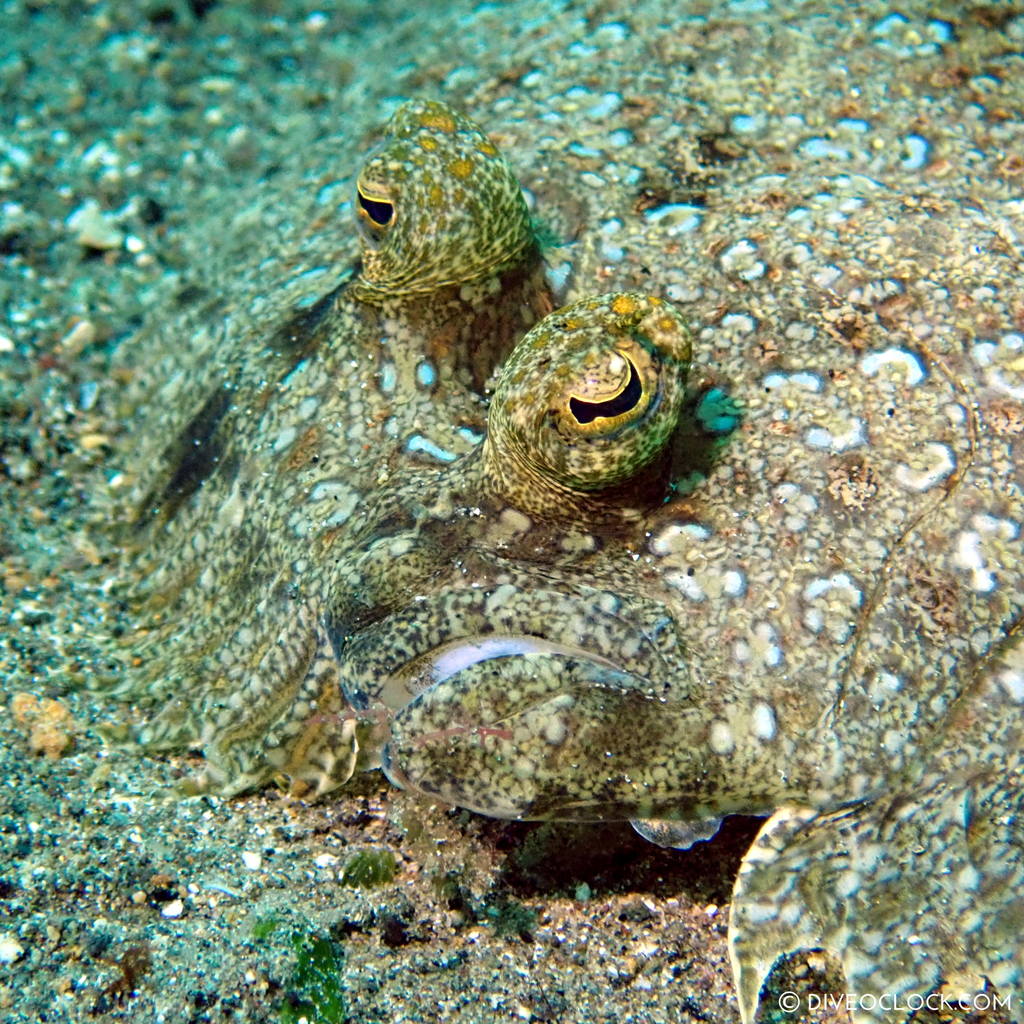 13. Peacock Flounder (Bothus Lunatus)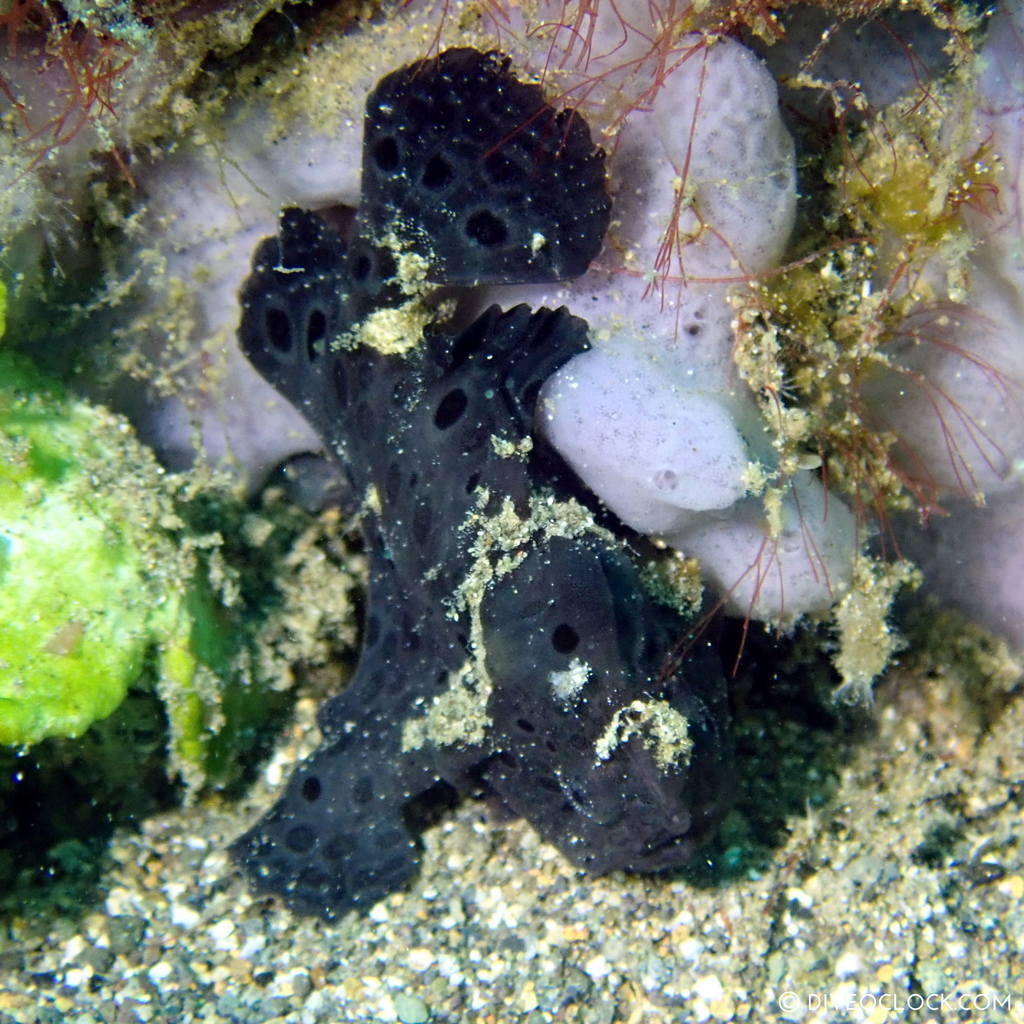 14. Young Giant Frogfish (Antennarius commerson)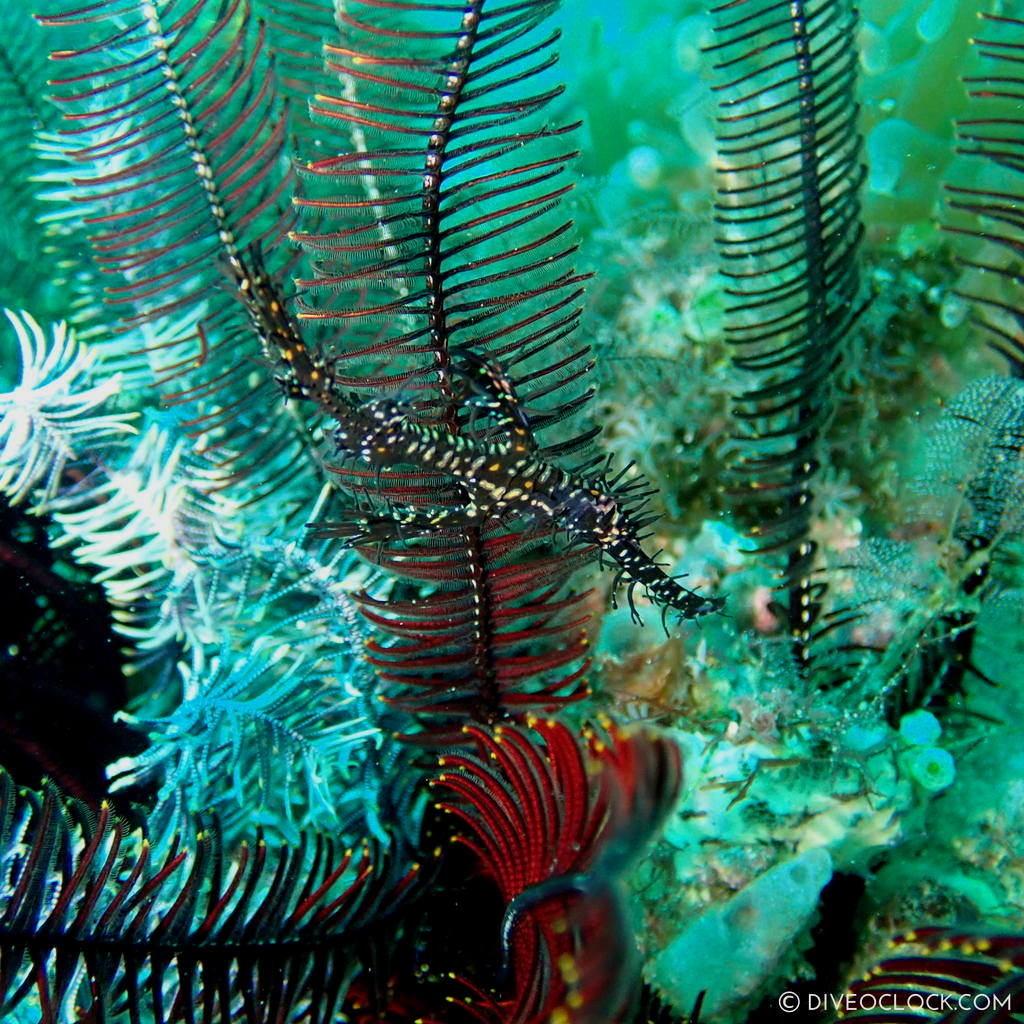 15. Ornate ghost pipefish (Solenostomus paradoxus)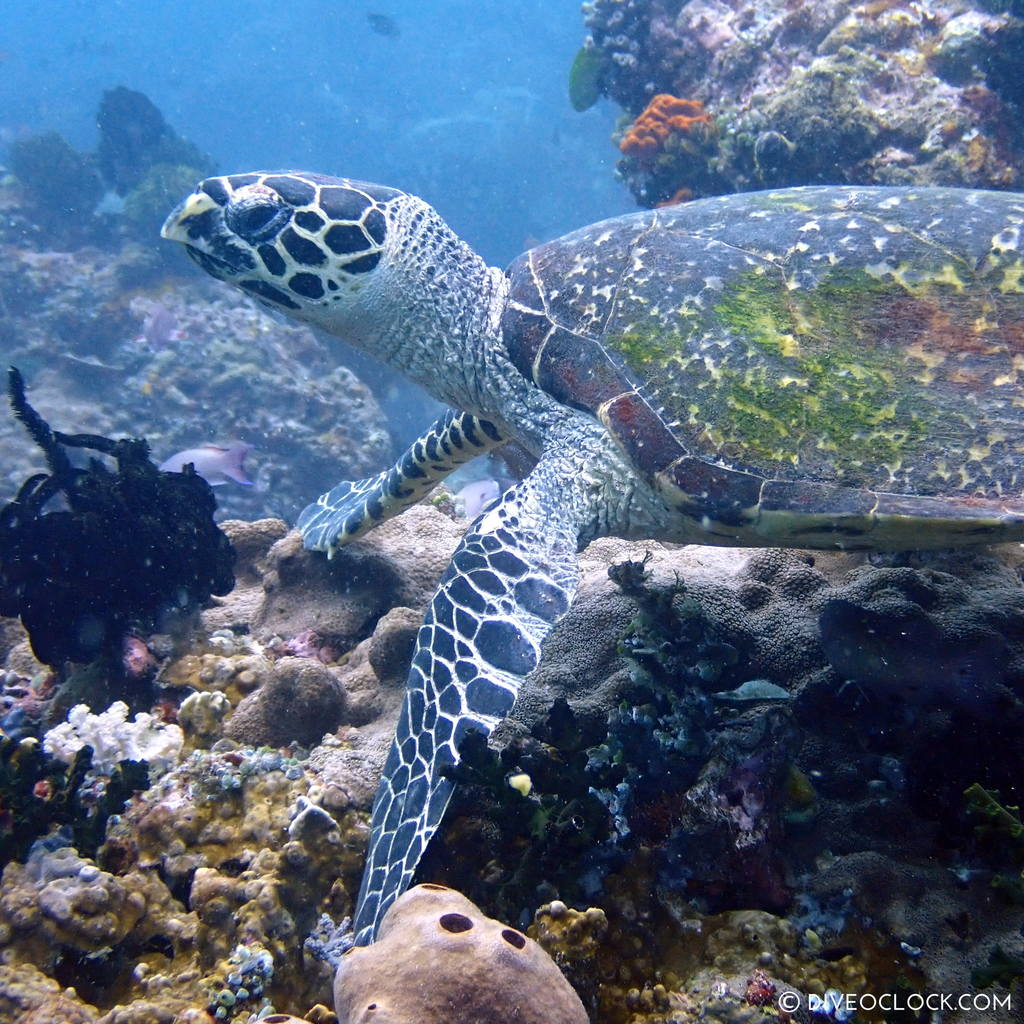 16. Hawksbill sea turtle (Eretmochelys imbricata)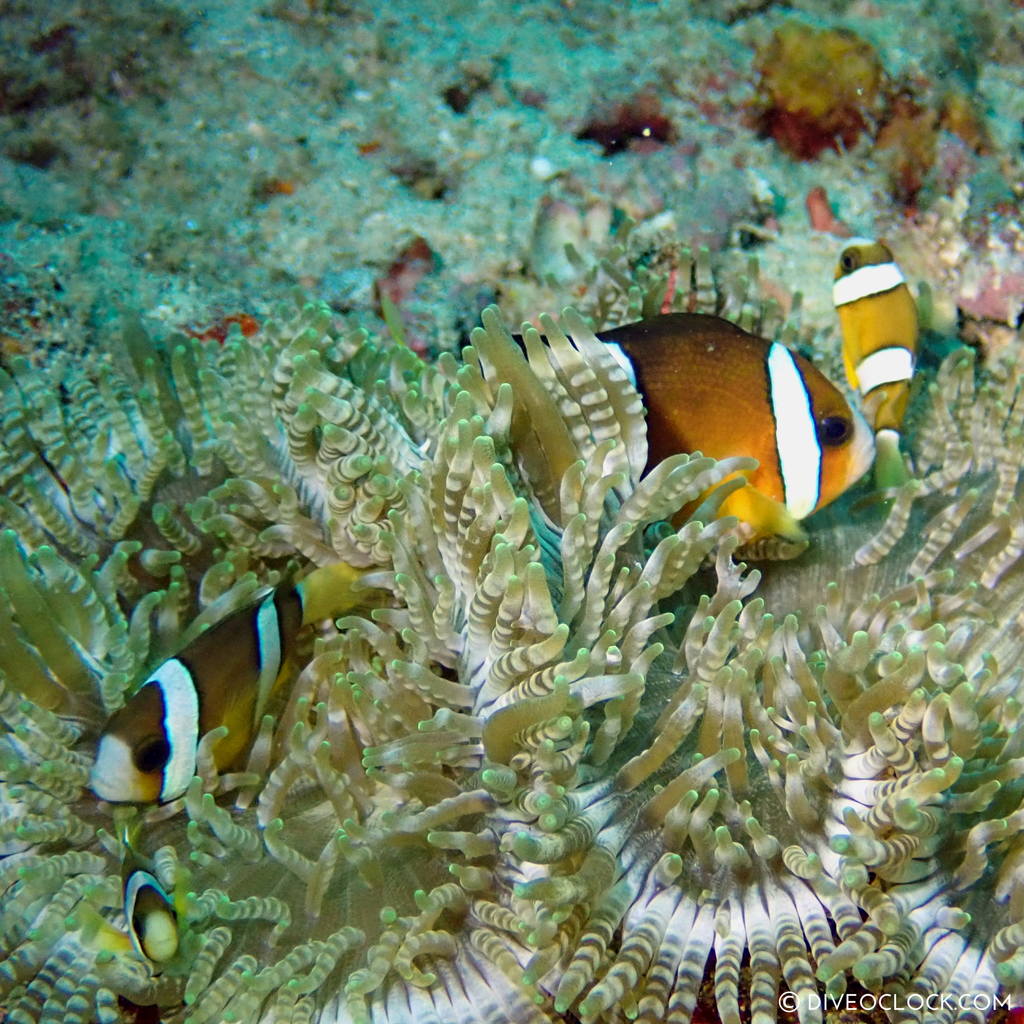 17. Clark's Anemonefish (Amphiprion clarkii)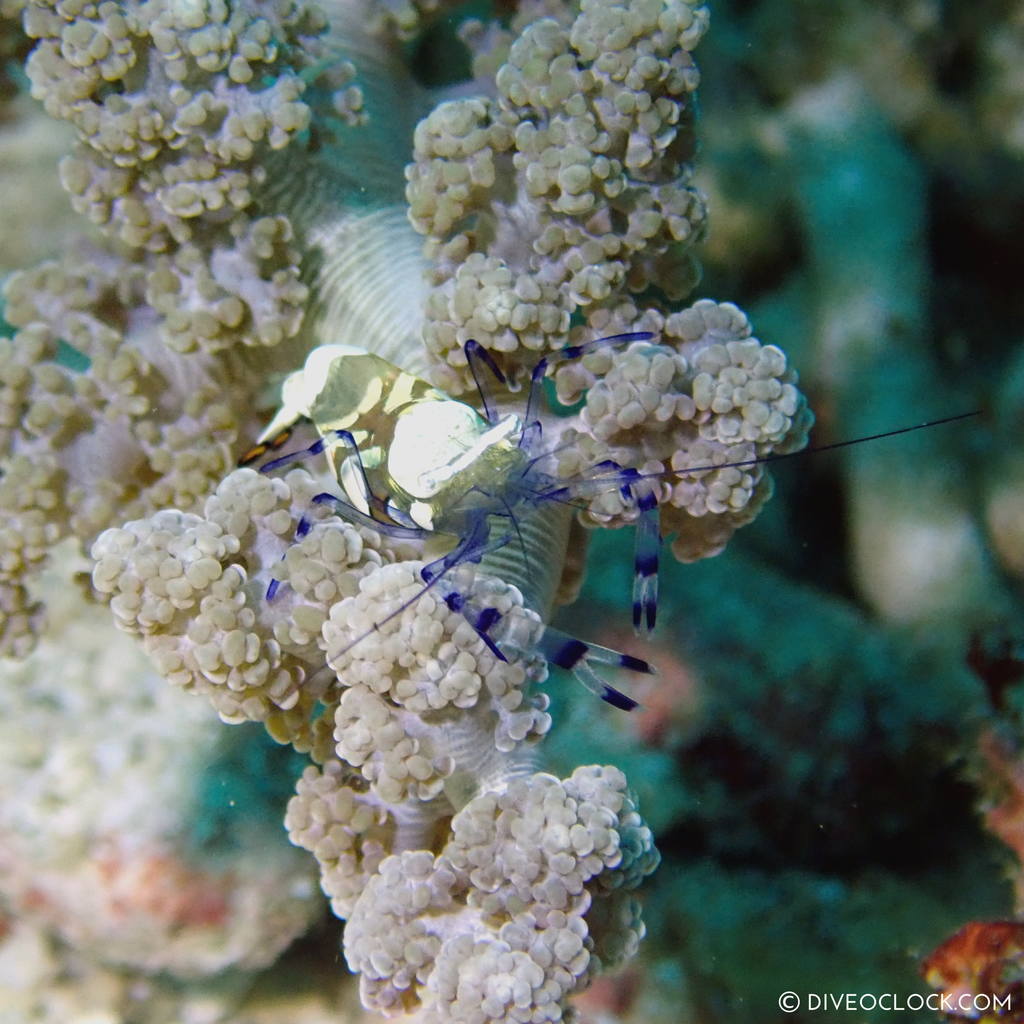 18. Peacock tail anemone shrimp (Periclimenes brevicarpalis)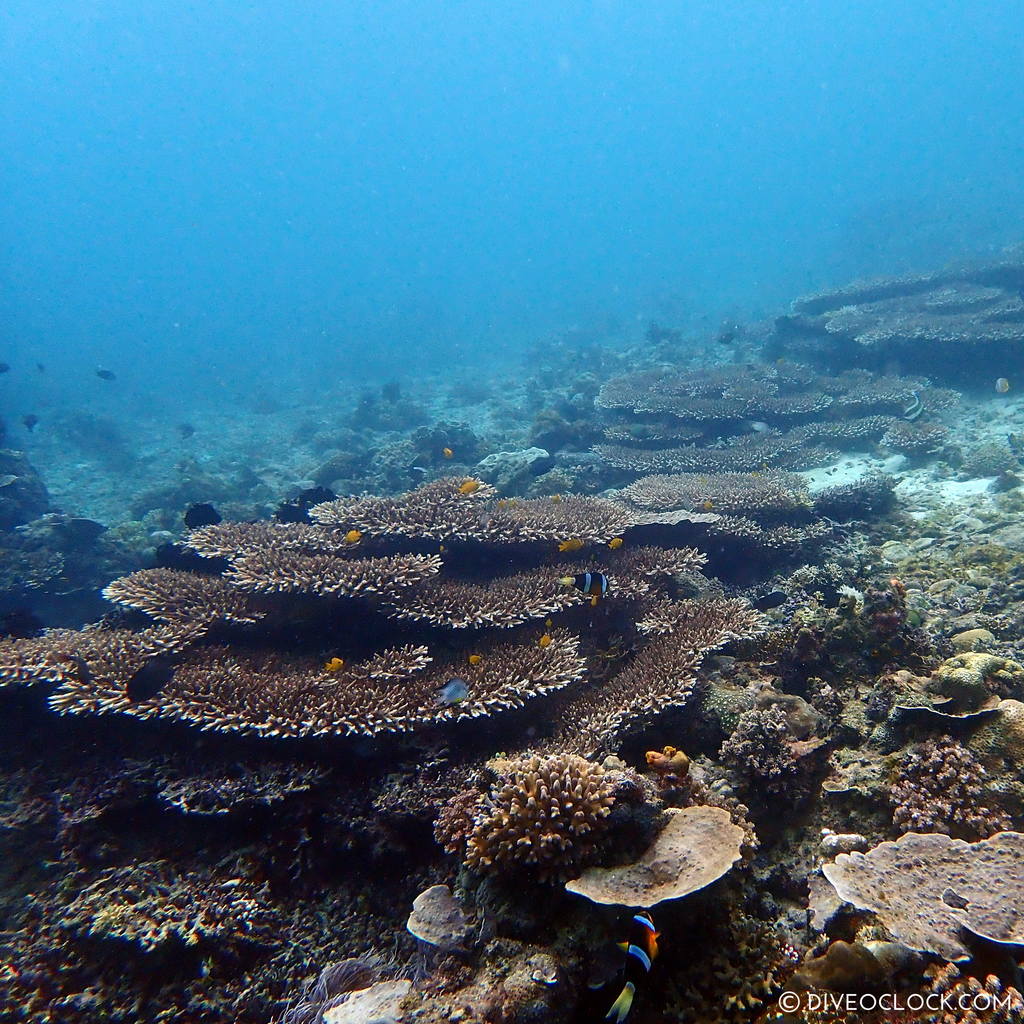 19. Table coral (acropora)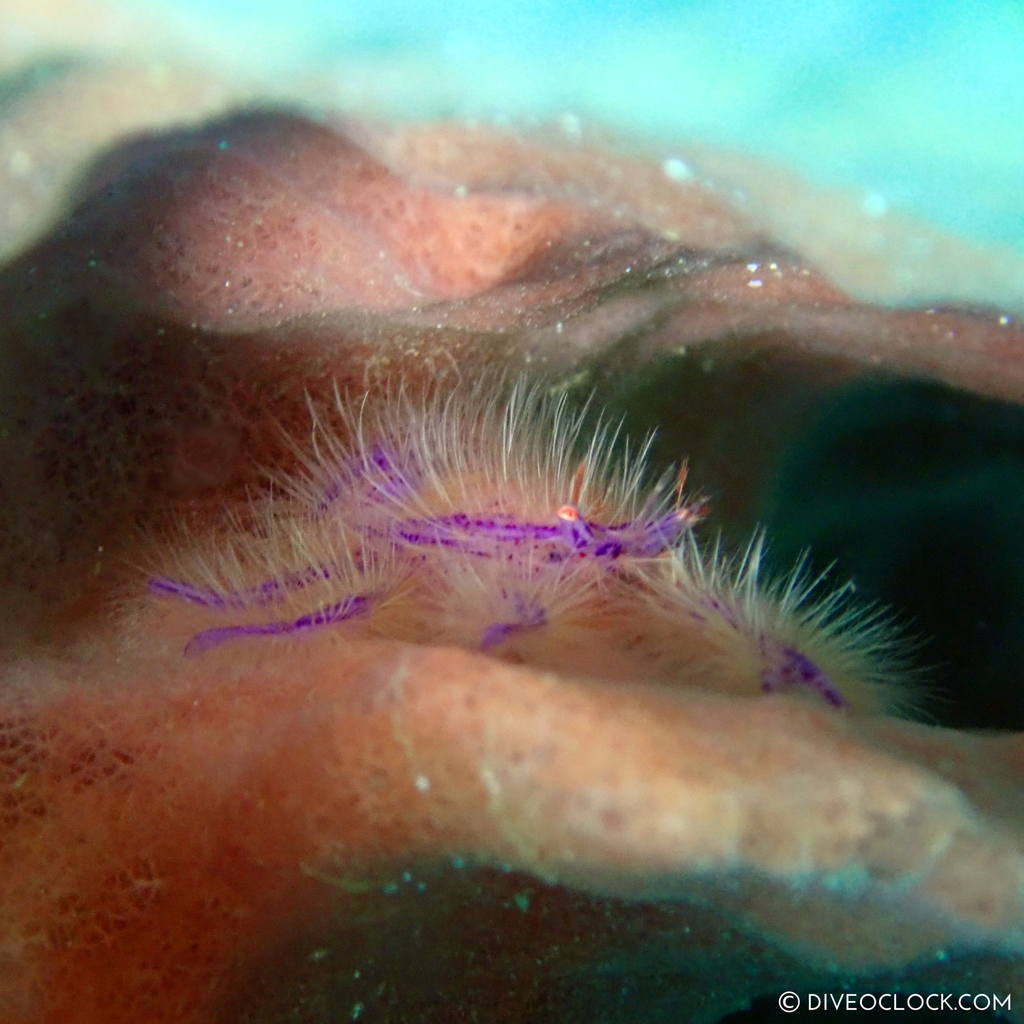 20. Hairy Squat Lobster (Lauriea siagiani)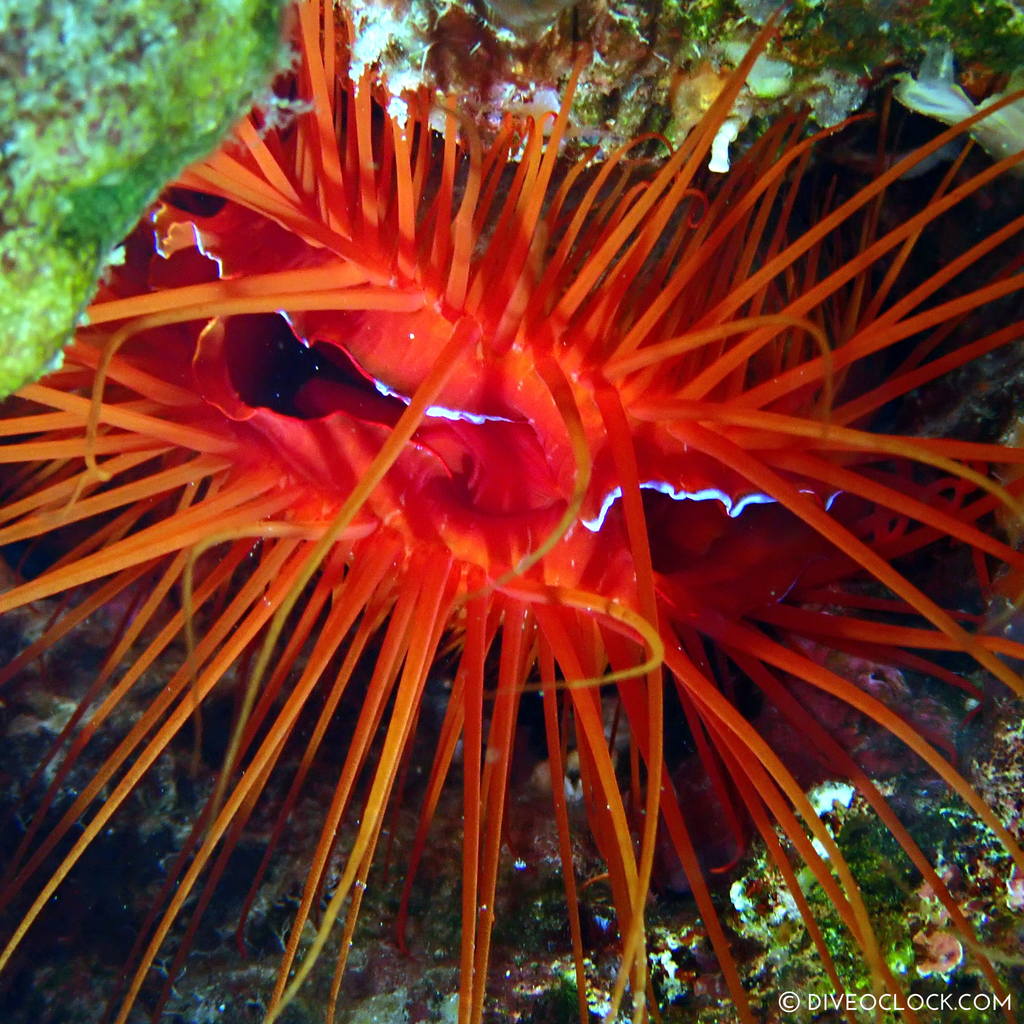 21. Electric fire clam (Ctenoides ales)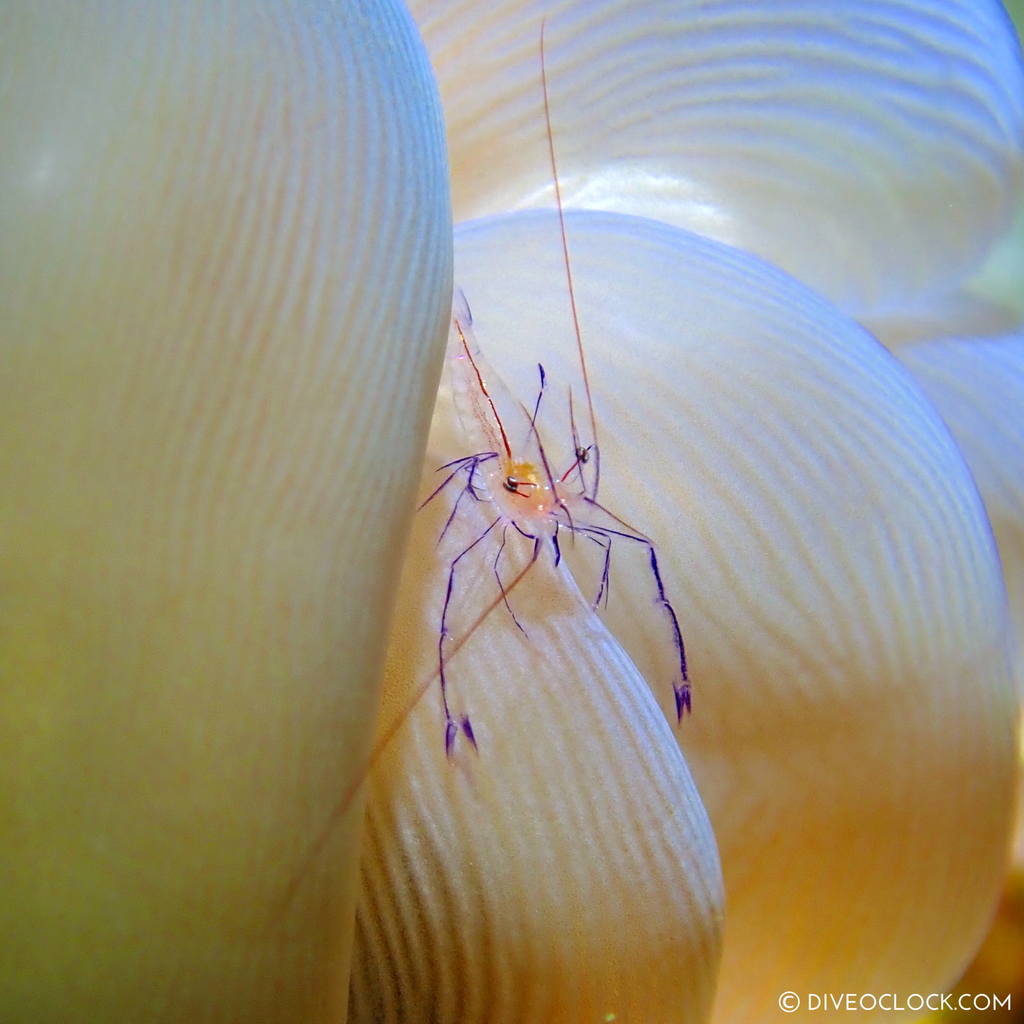 22. Bubble coral shrimp (Vir philippinensis) on Bubble coral (Plerogyra)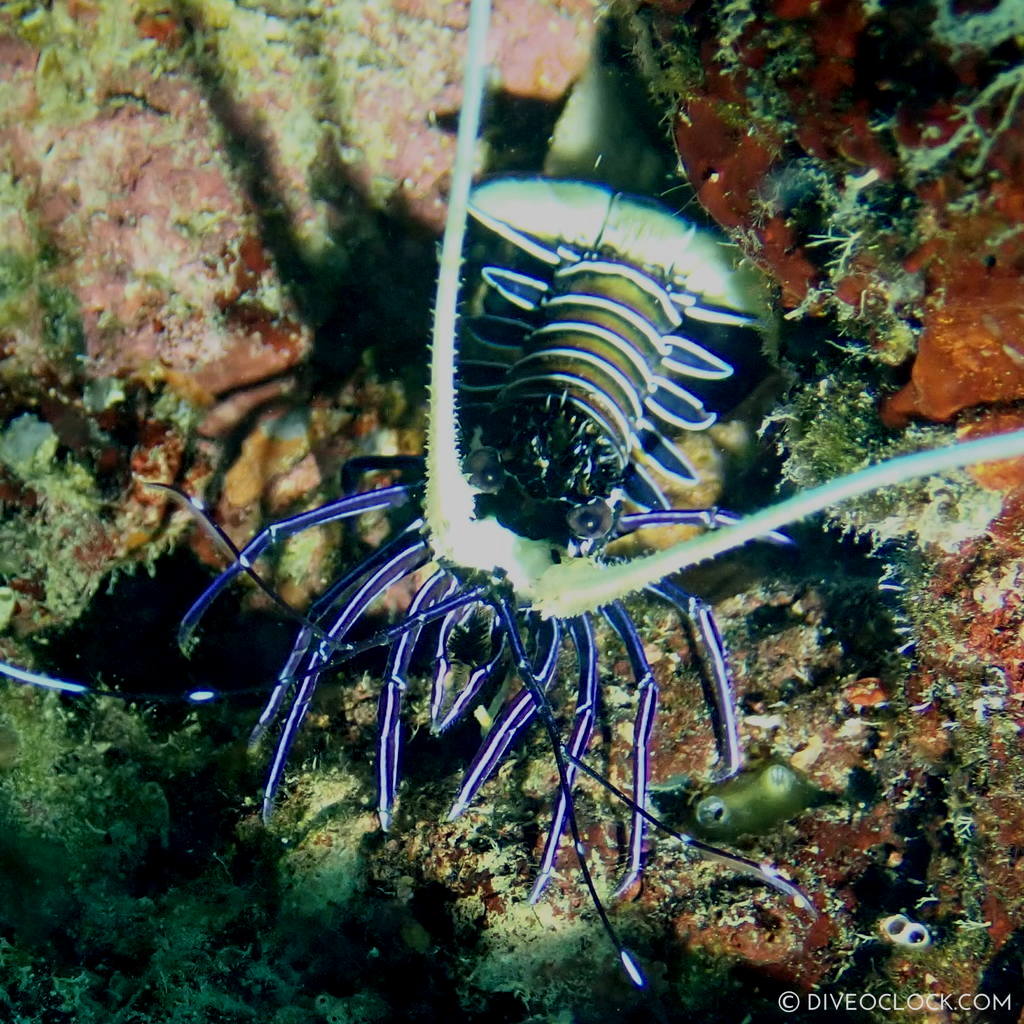 23.Spiny blue lobster (Panulirus versicolor)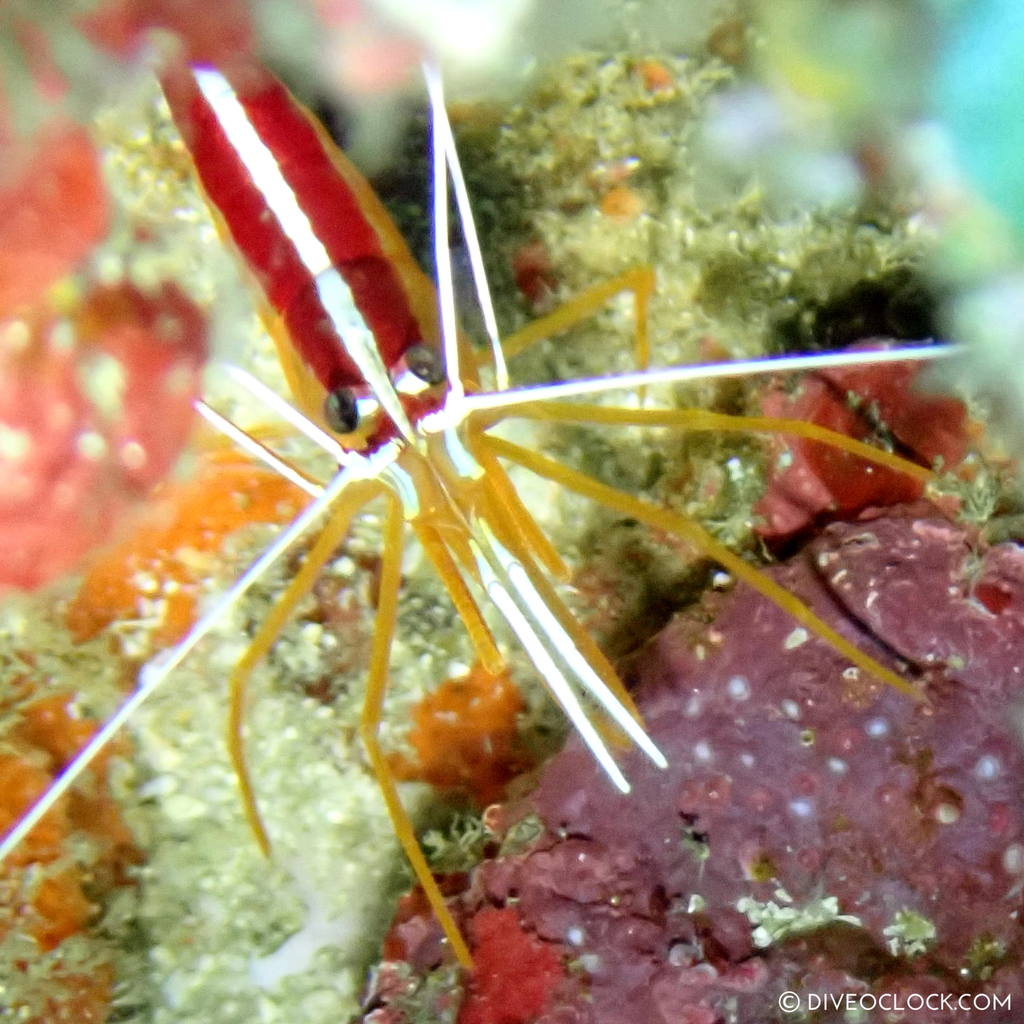 24. White-banded cleaner (Lysmata amboinensis)
25. Banded pipefish (Dunckerocampus dactyliophorus)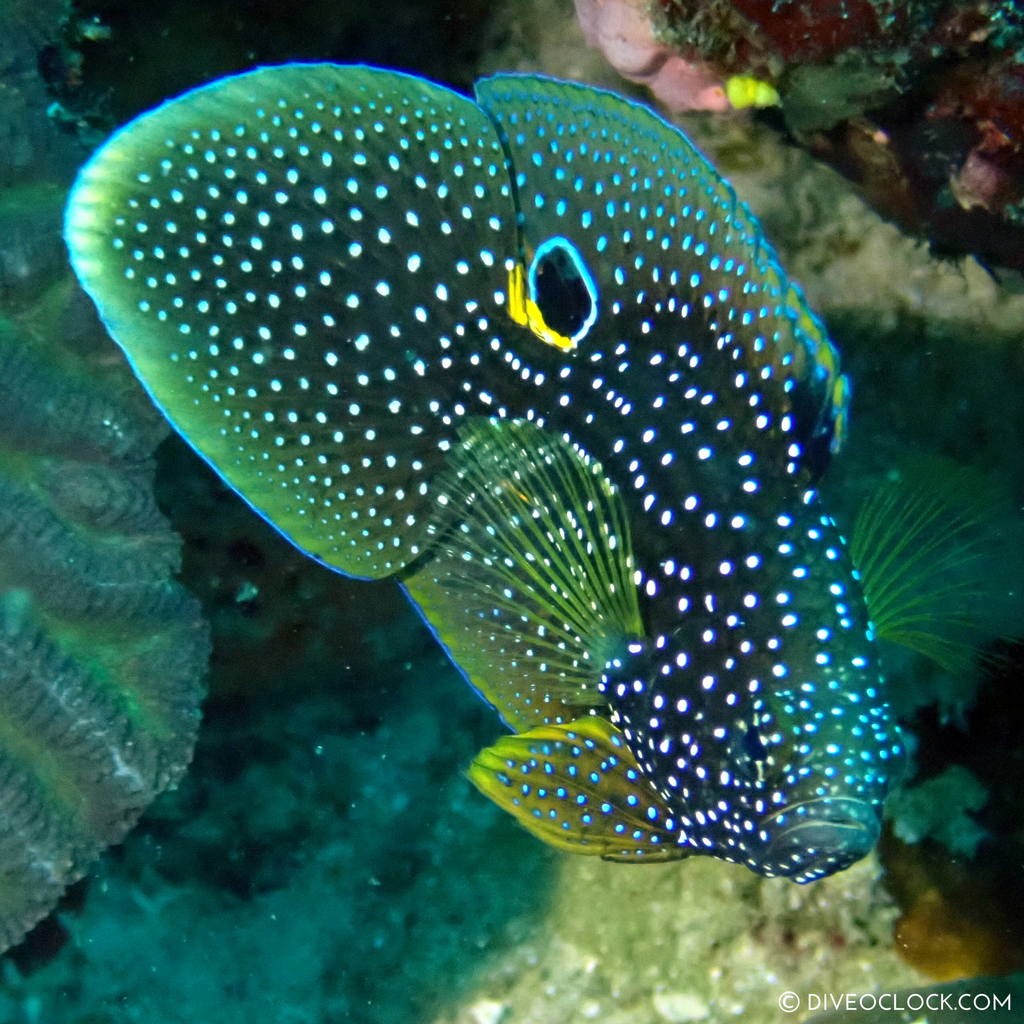 26. Comet (Calloplesiops altivelis) looking like a Turkey moray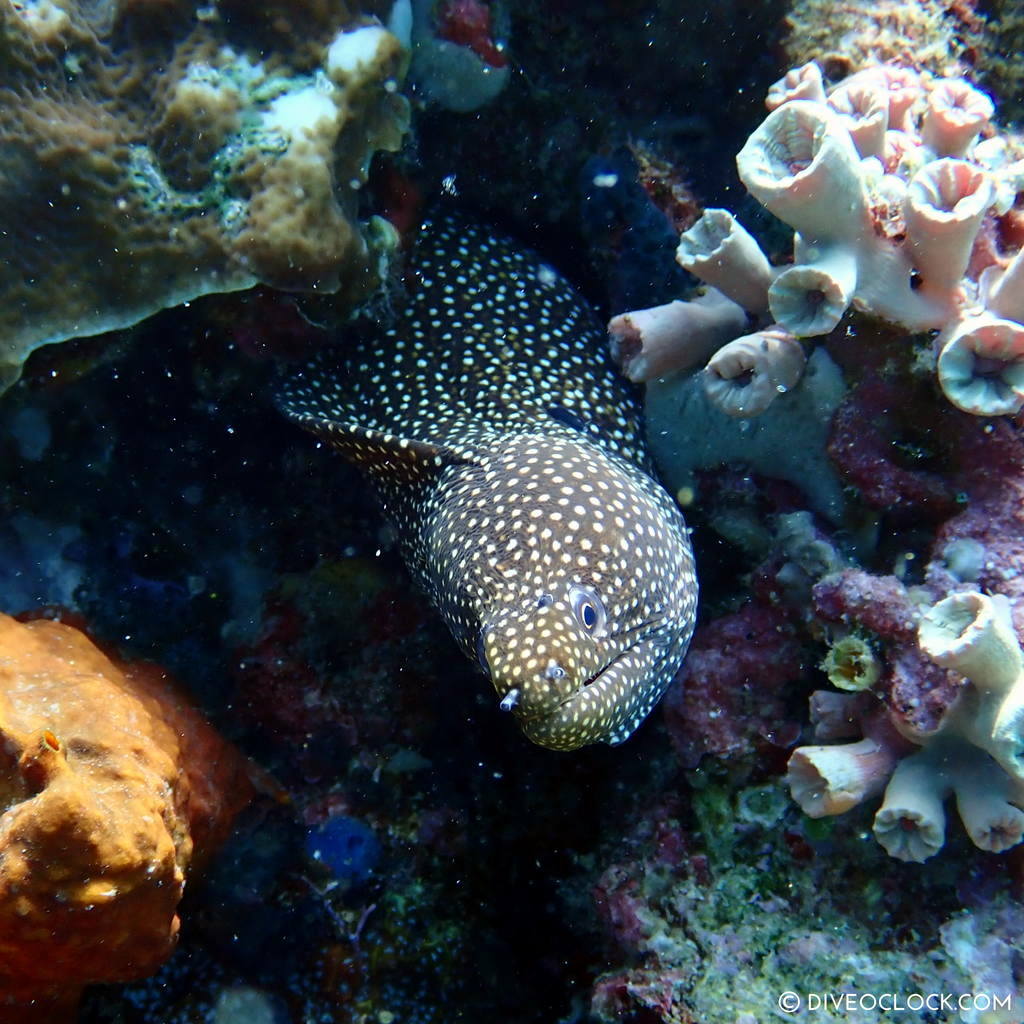 27. Turkey moray eel (Gymnothorax meleagris)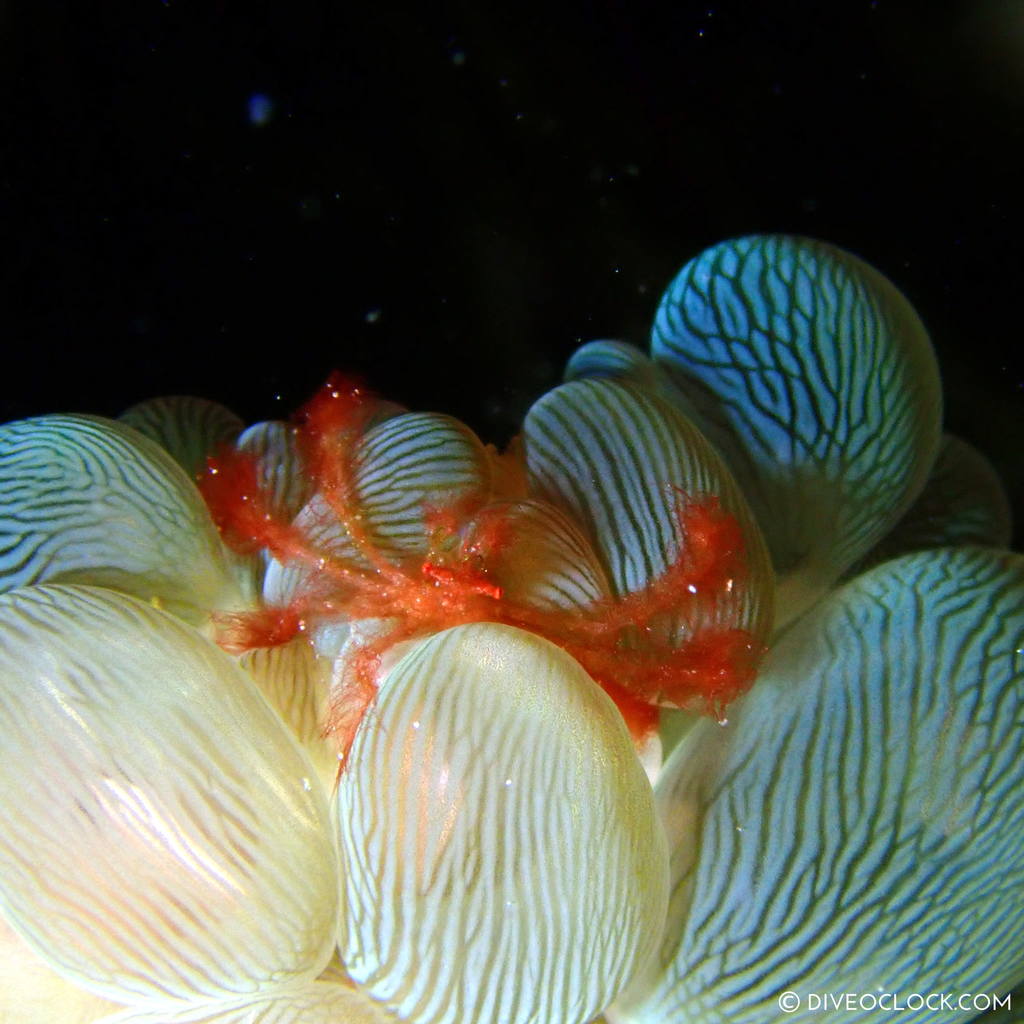 28. Hairy Orang utan crab (Achaeus japonicus) in bubble coral.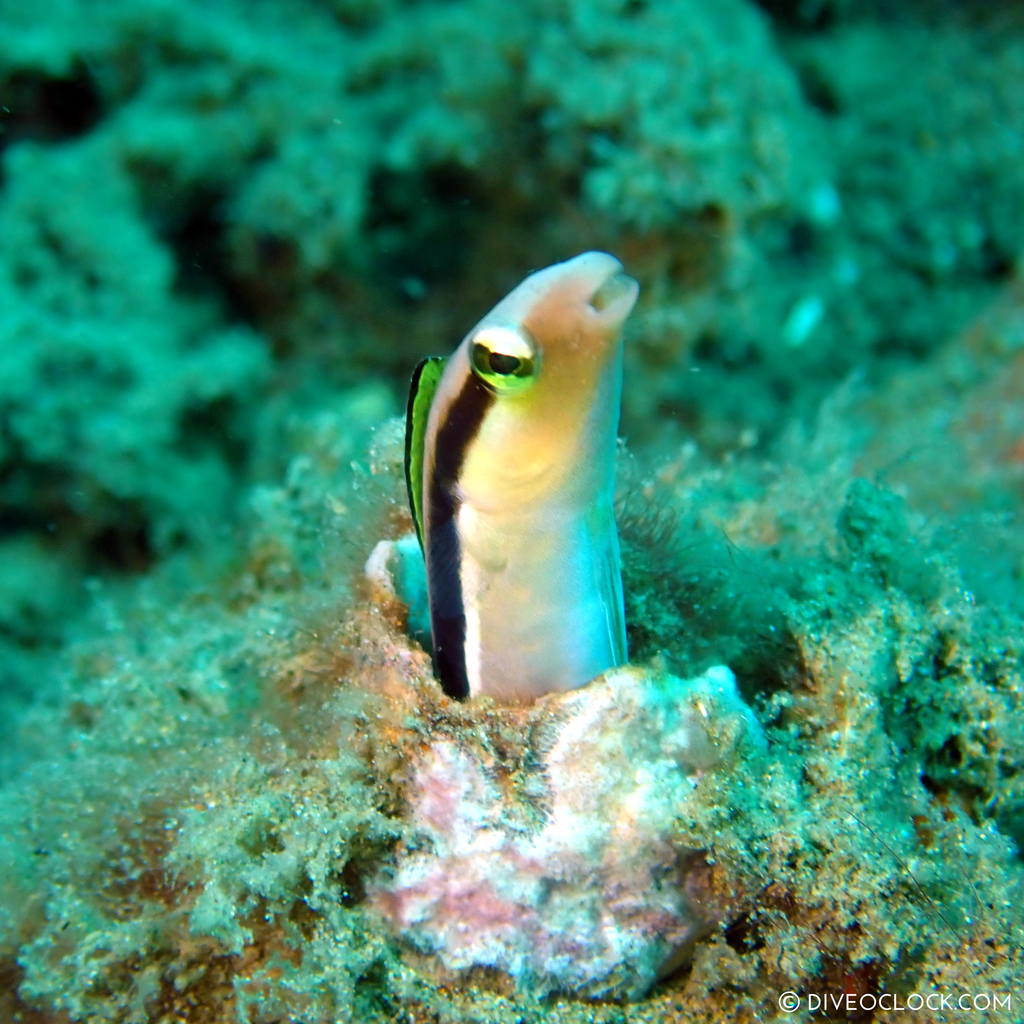 29. Blenny (Blenniiformes)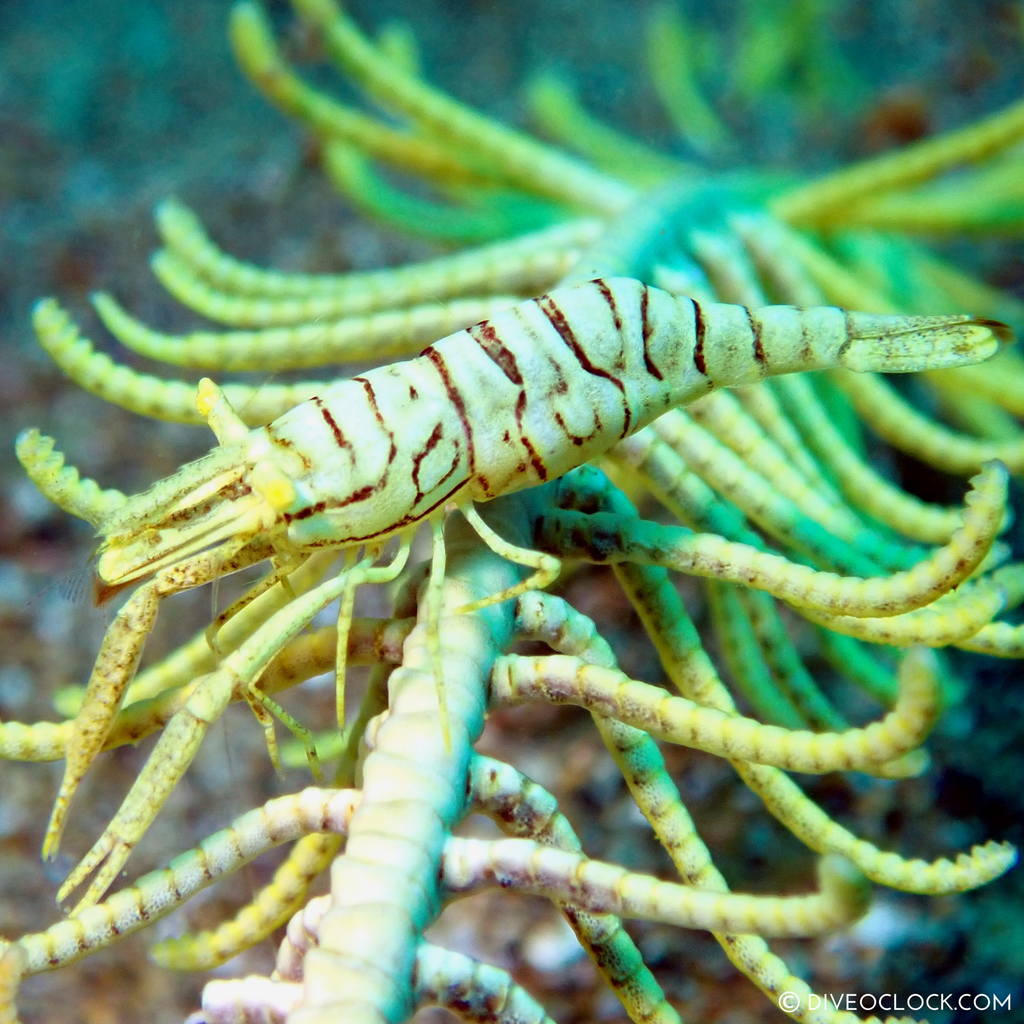 30. Crinoid shrimp, or feather star shrimp (Hippolyte catagrapha)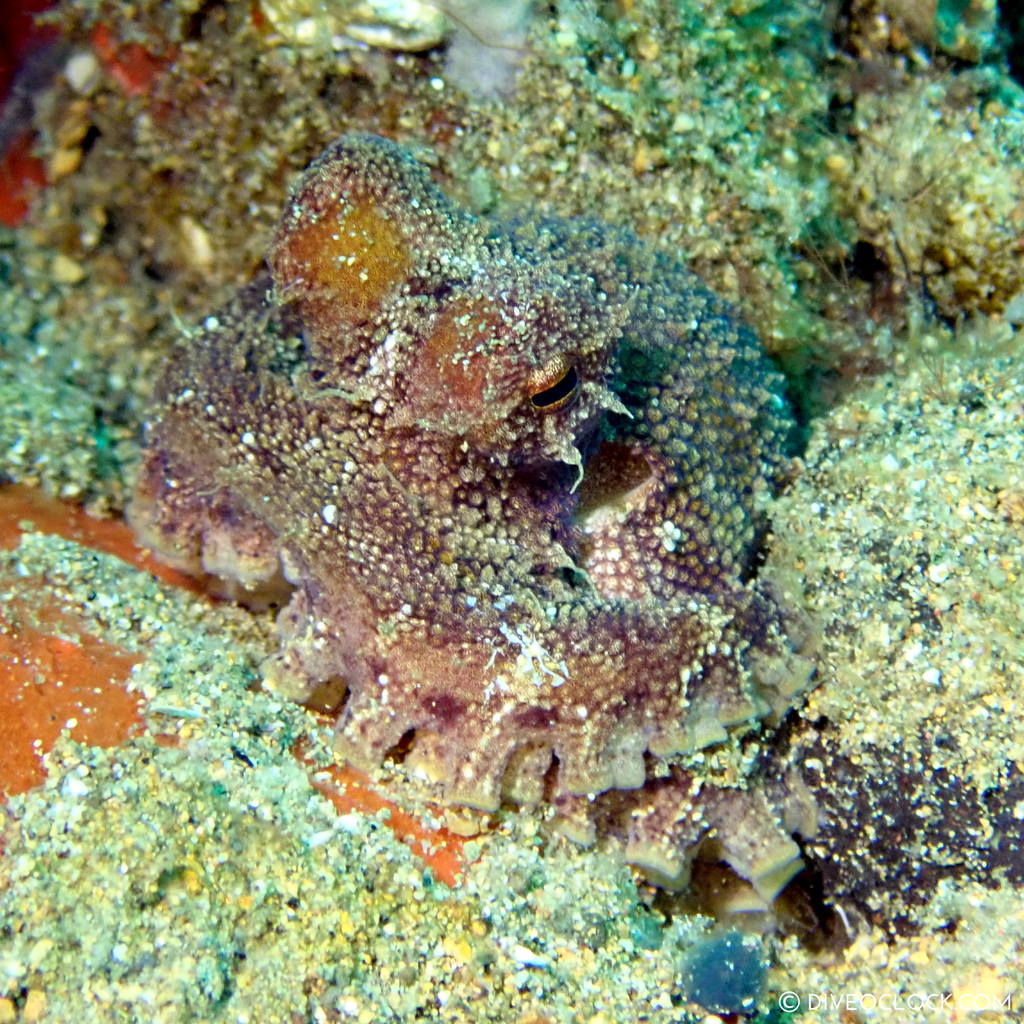 31. Octopus (Octopoda)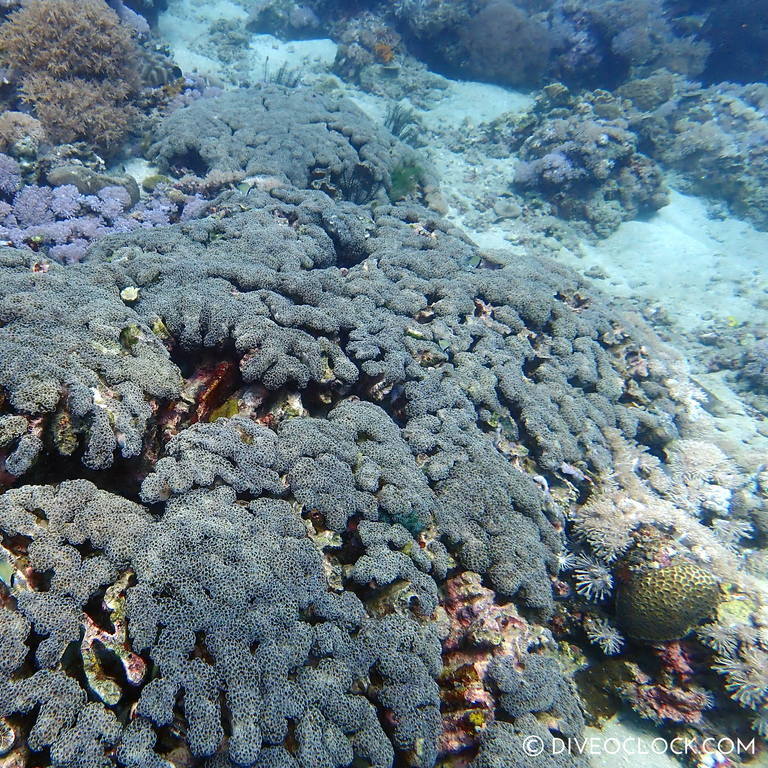 32. Hammerhead coral (euphyllia)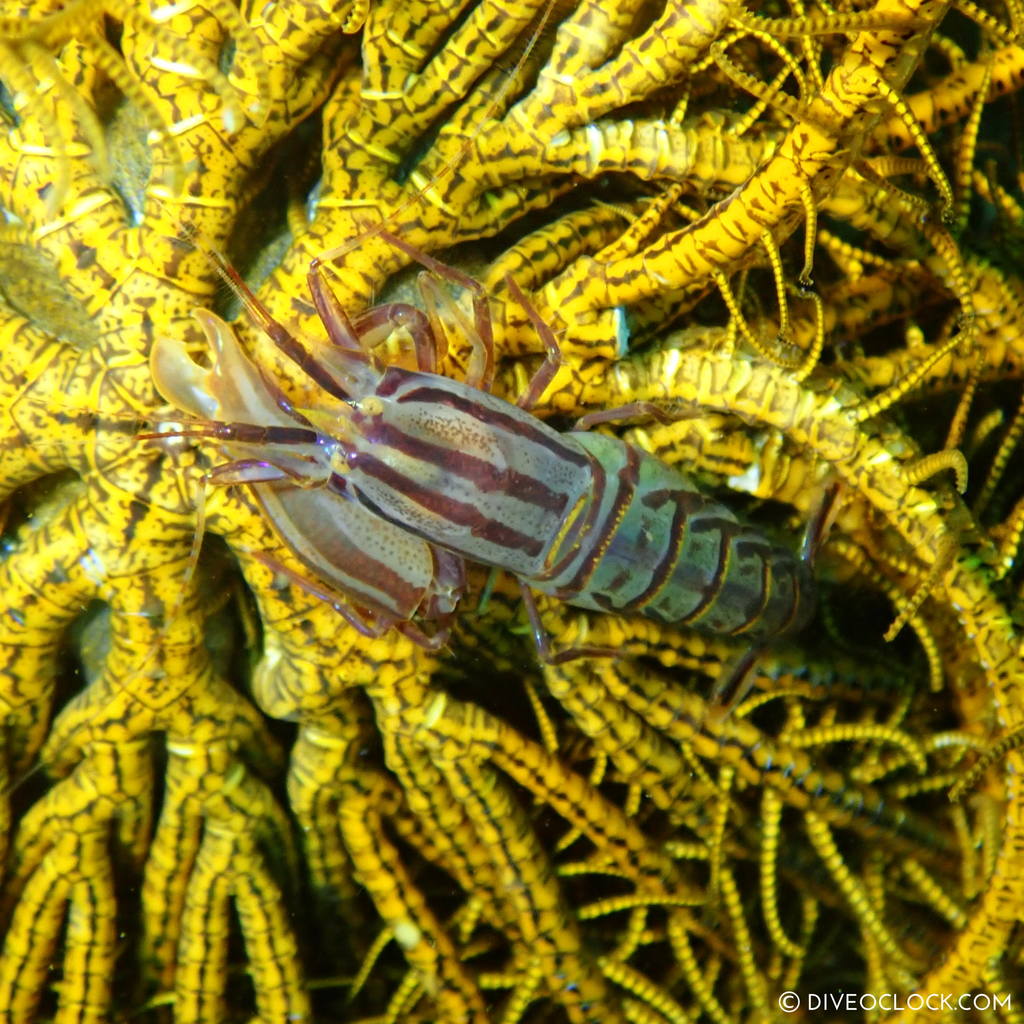 33. Crinoid shrimp, or feather star shrimp (Hippolyte catagrapha)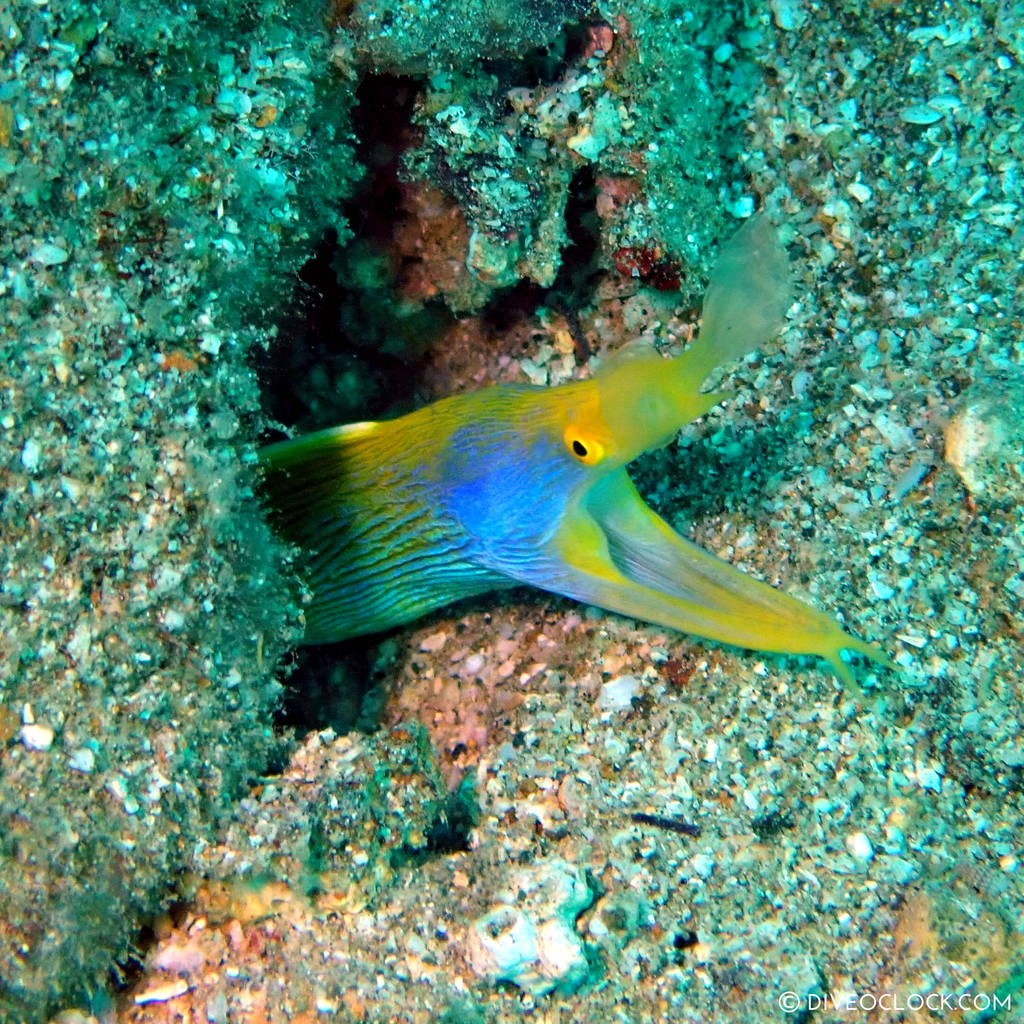 34. Ribbon eel (Rhinomuraena quaesita)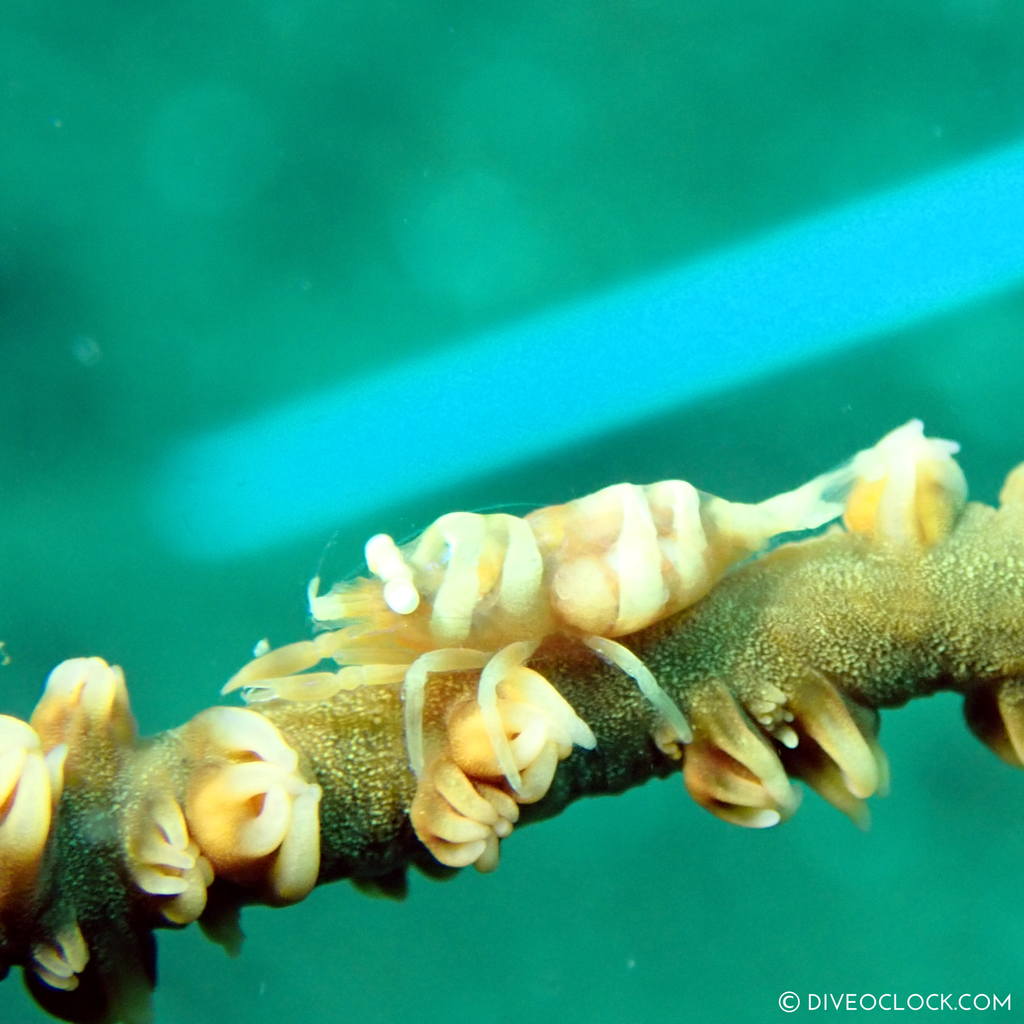 35.Whip Coral Shrimp (Pontonides unciger)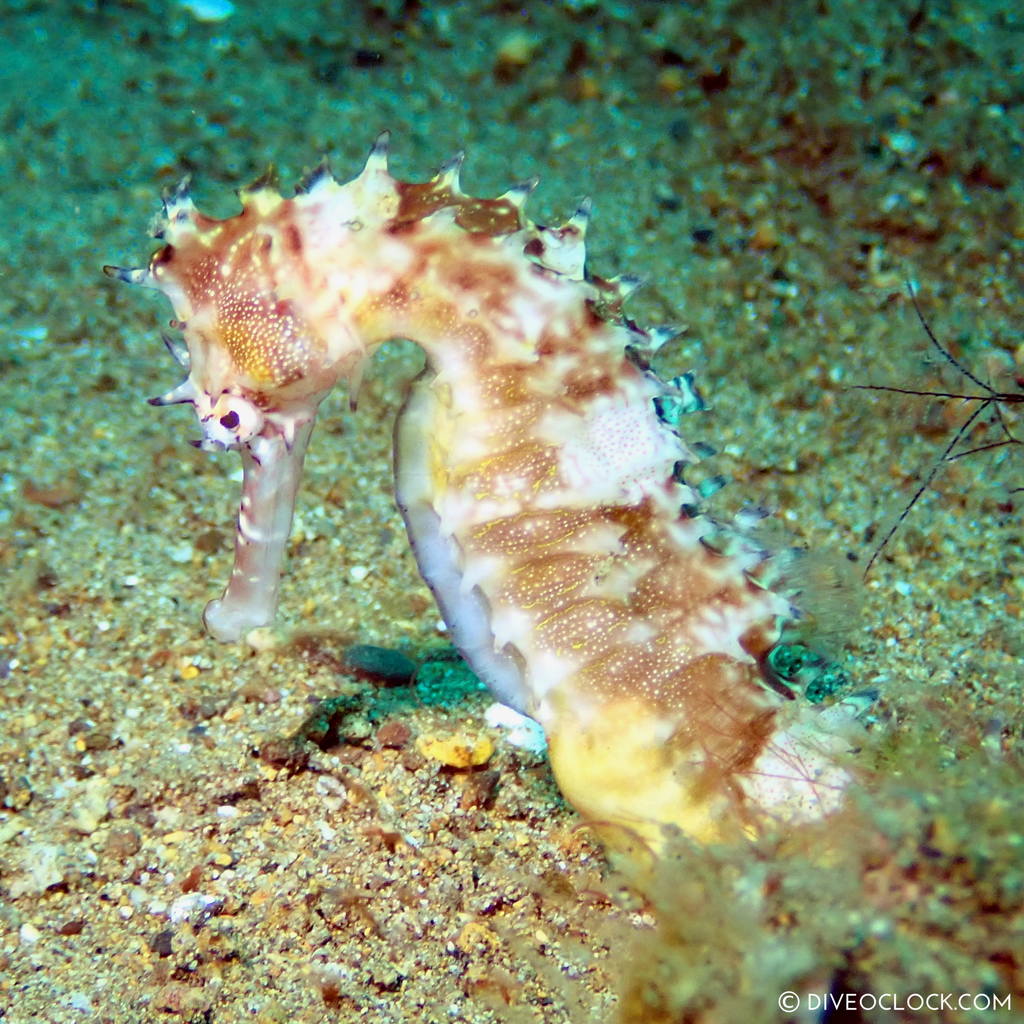 36. Thorny seahorse (Hippocampus histrix) - Pregnant?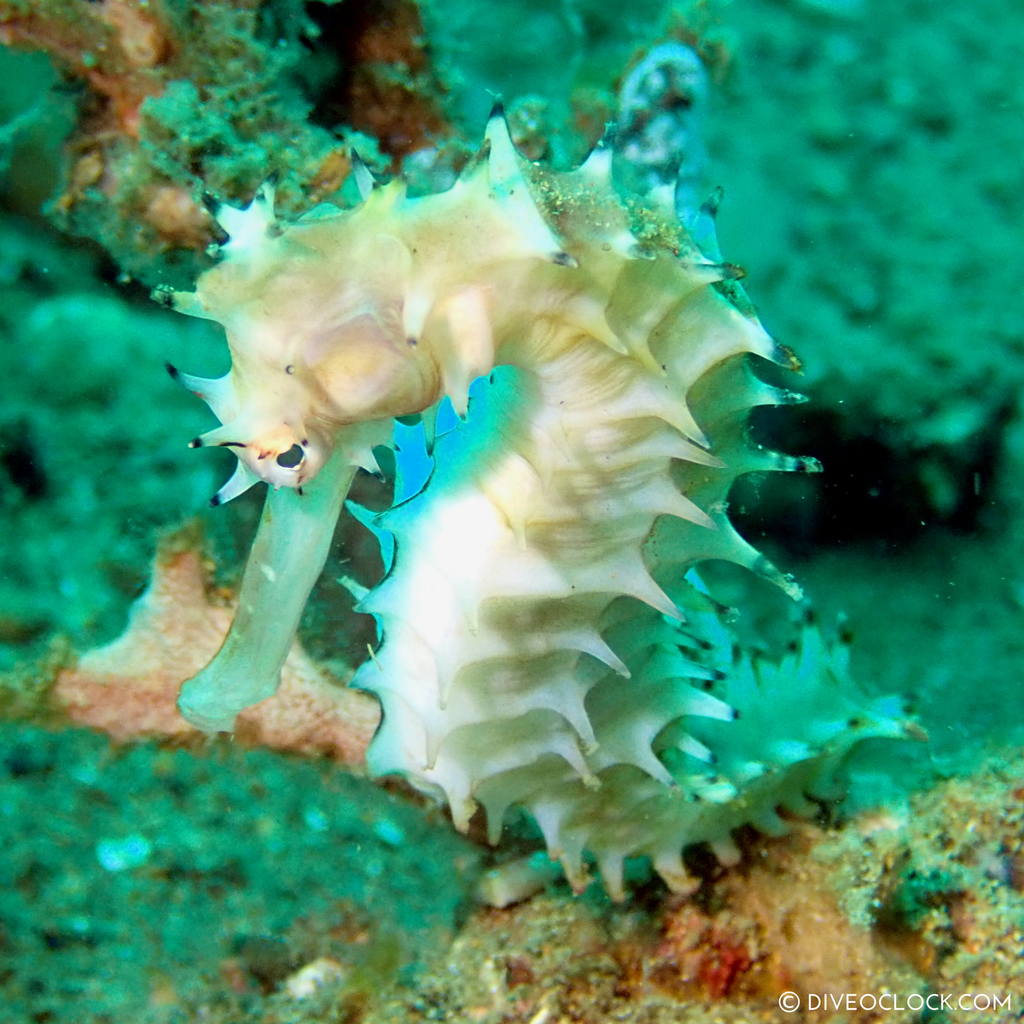 37. Thorny seahorse (Hippocampus histrix)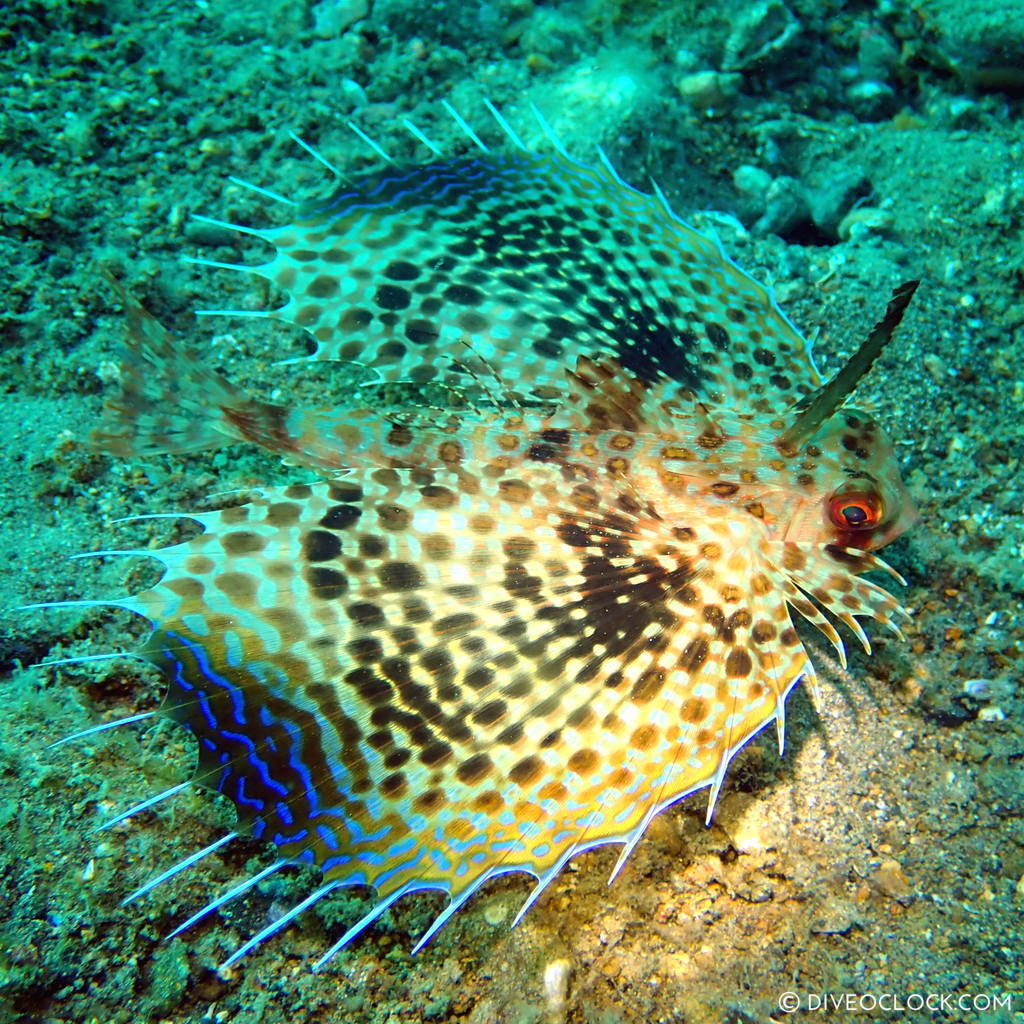 38. Flying gurnard (Dactylopterus volitans)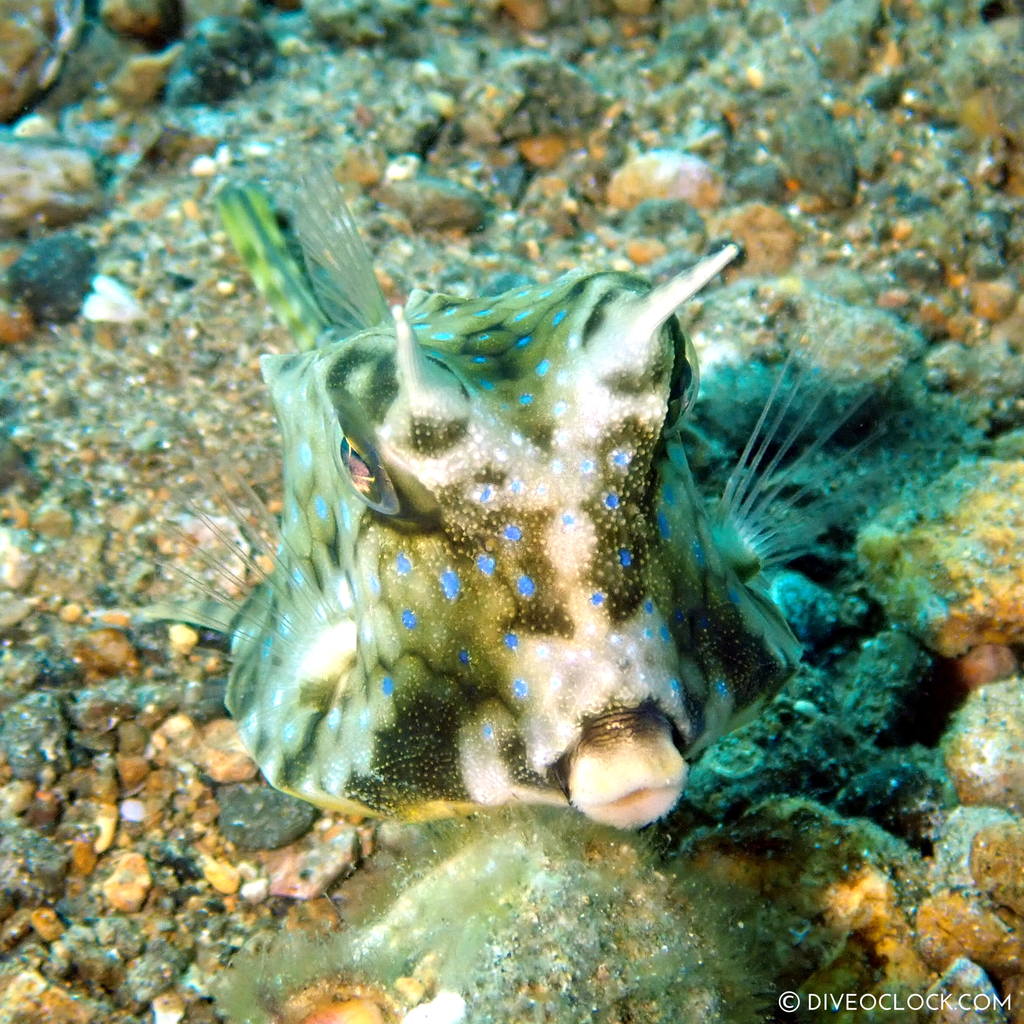 39. Thornback cowfish (Lactioria fornasini)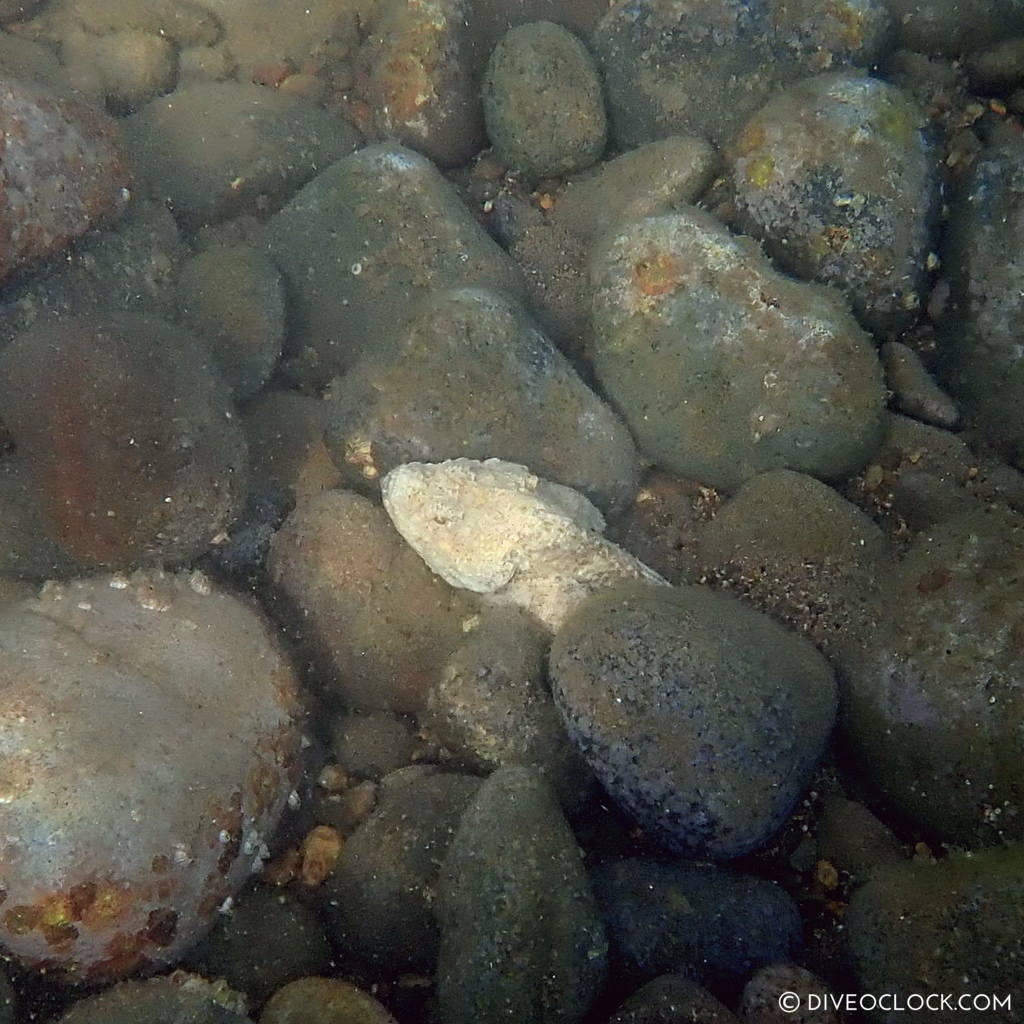 40. False stonefish (Scorpaenopsis diabolus) - He picked the wrong rocks for camouflage :)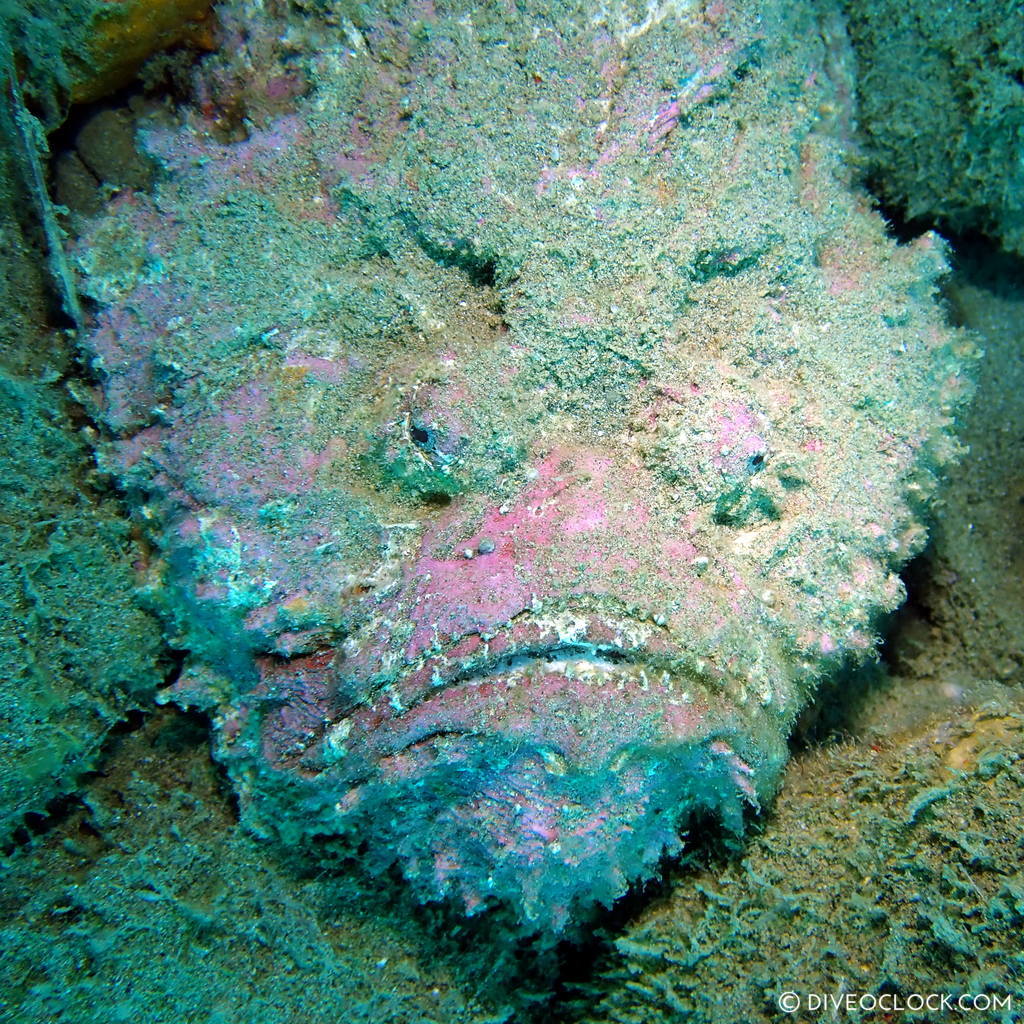 41. Stonefish (Synanceia)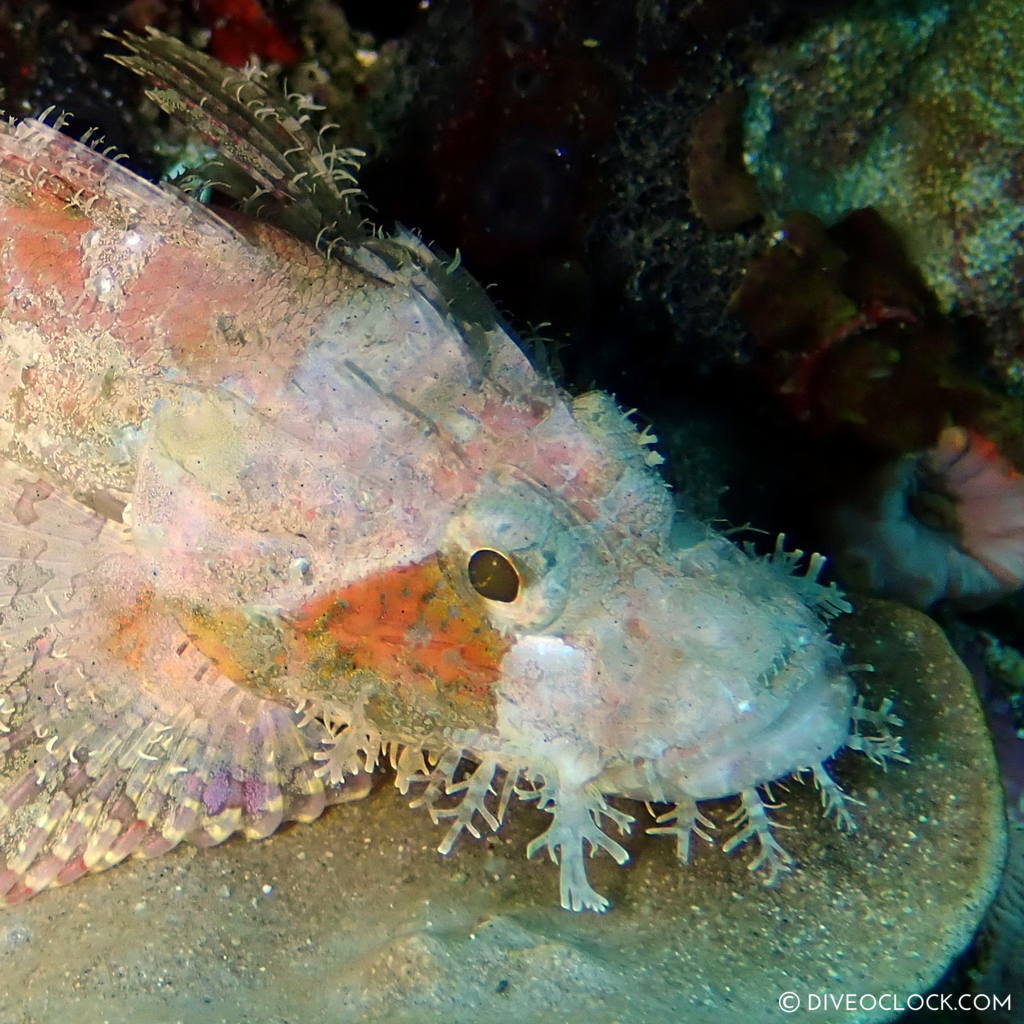 42. Bearded scorpionfish (Scorpaenopsis barbata)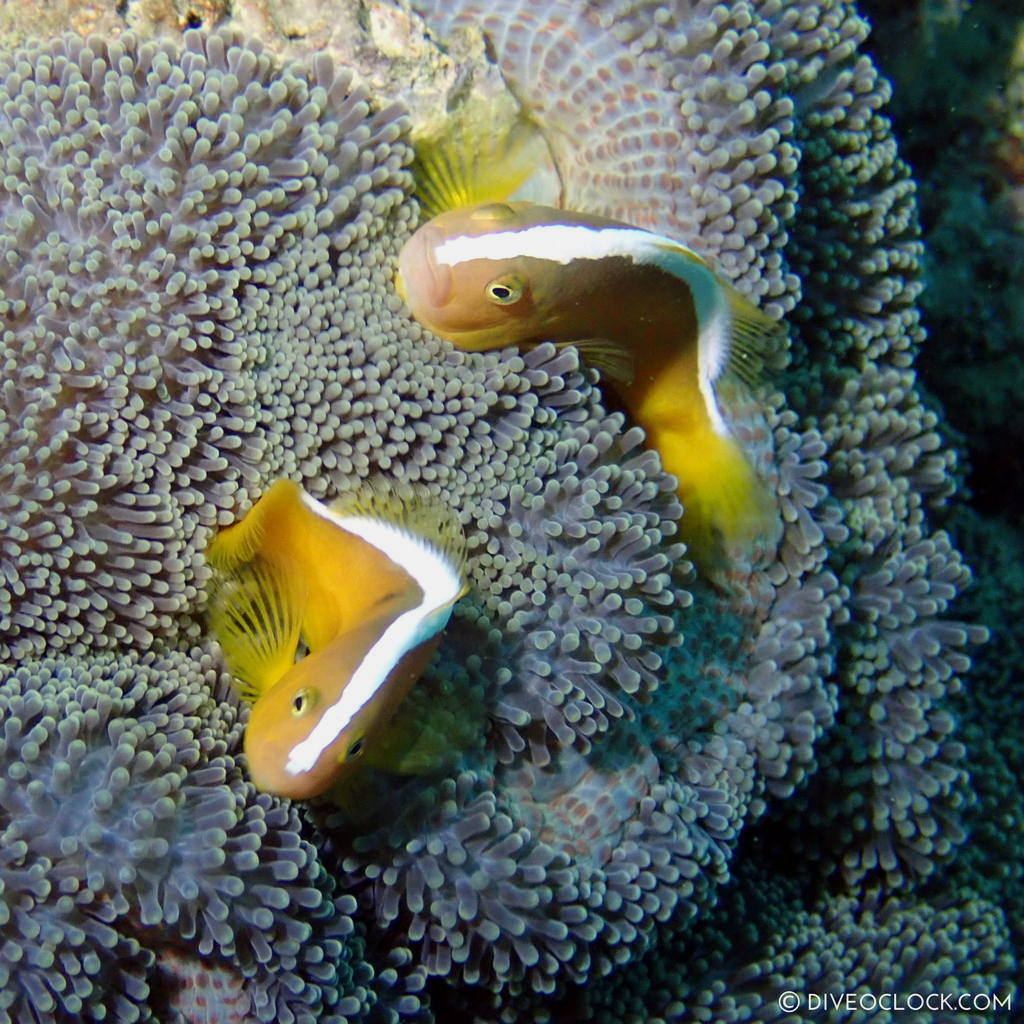 43. Orange Skunk Clownfish (Amphiprion sandaracinos)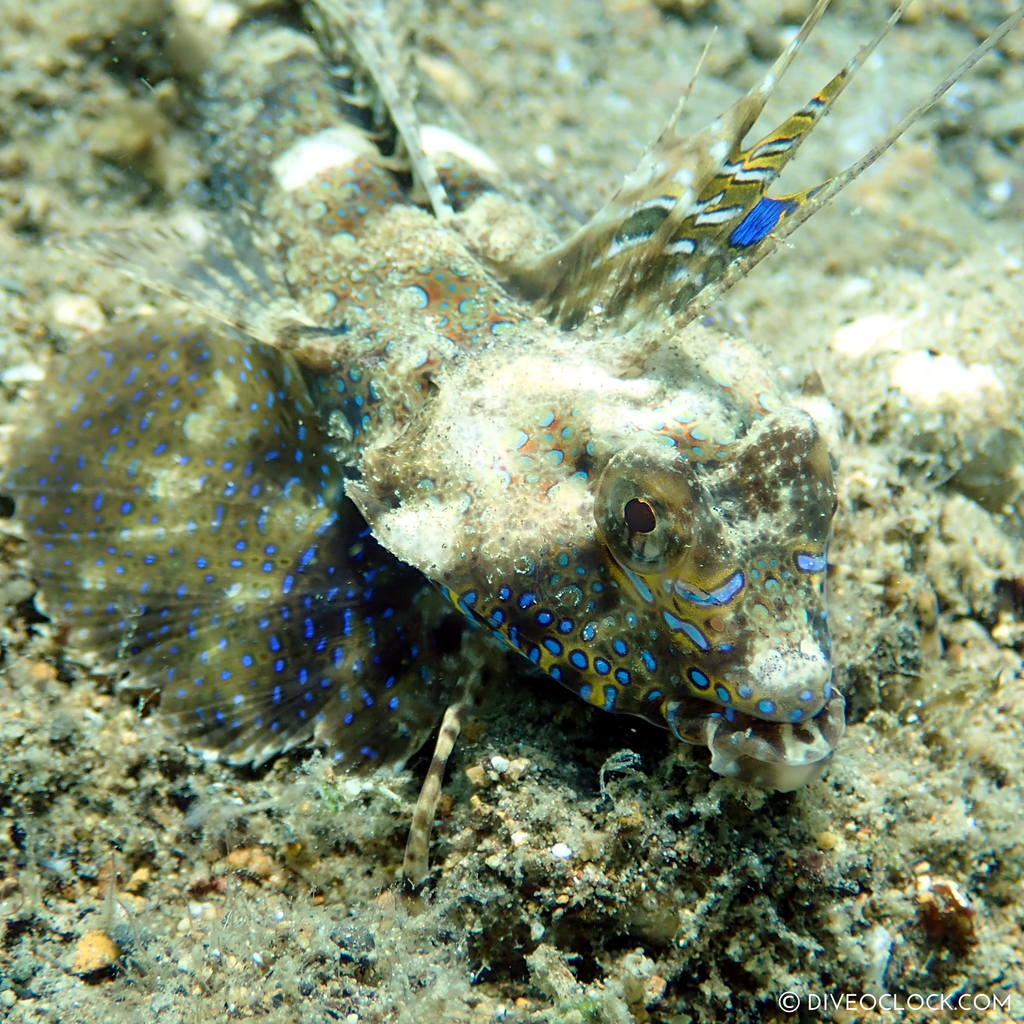 44. Dragonet (Callionymidae)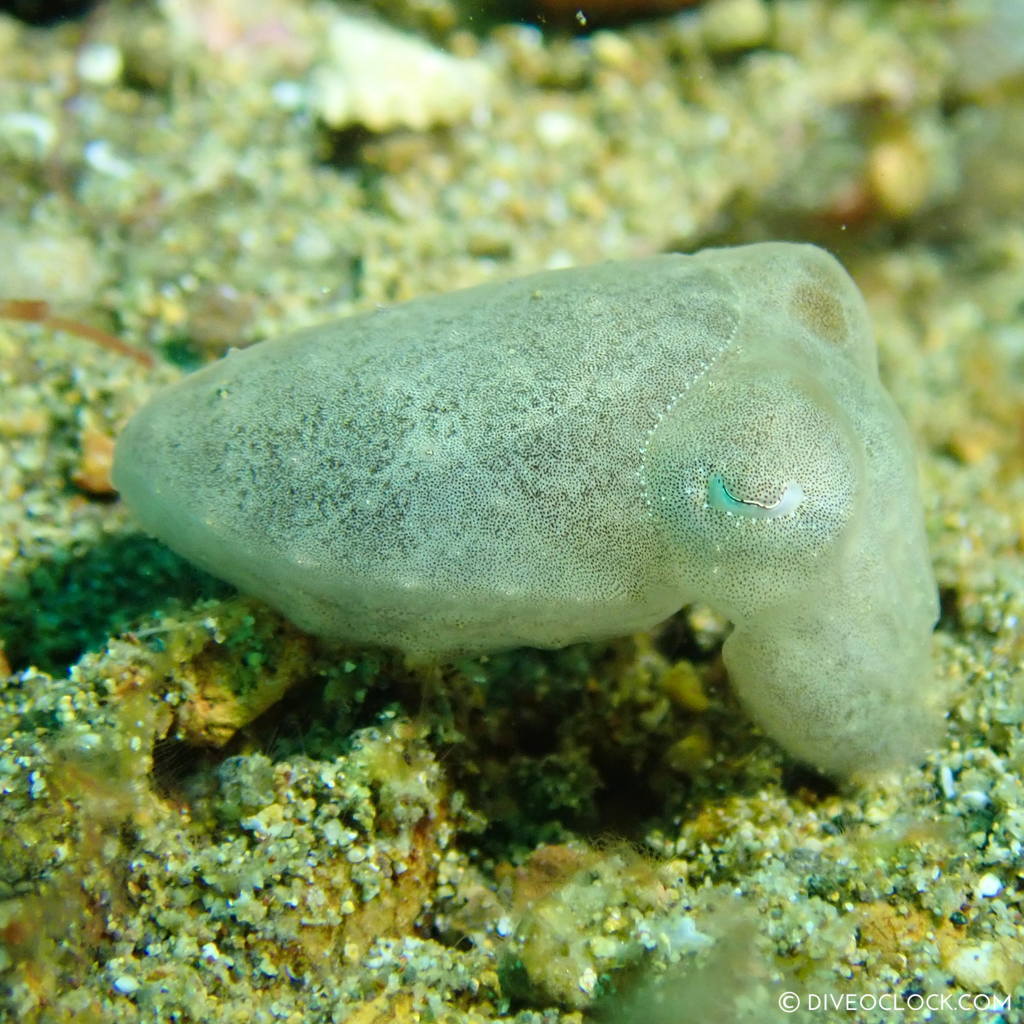 45. Bobtail squid (Sepiolida)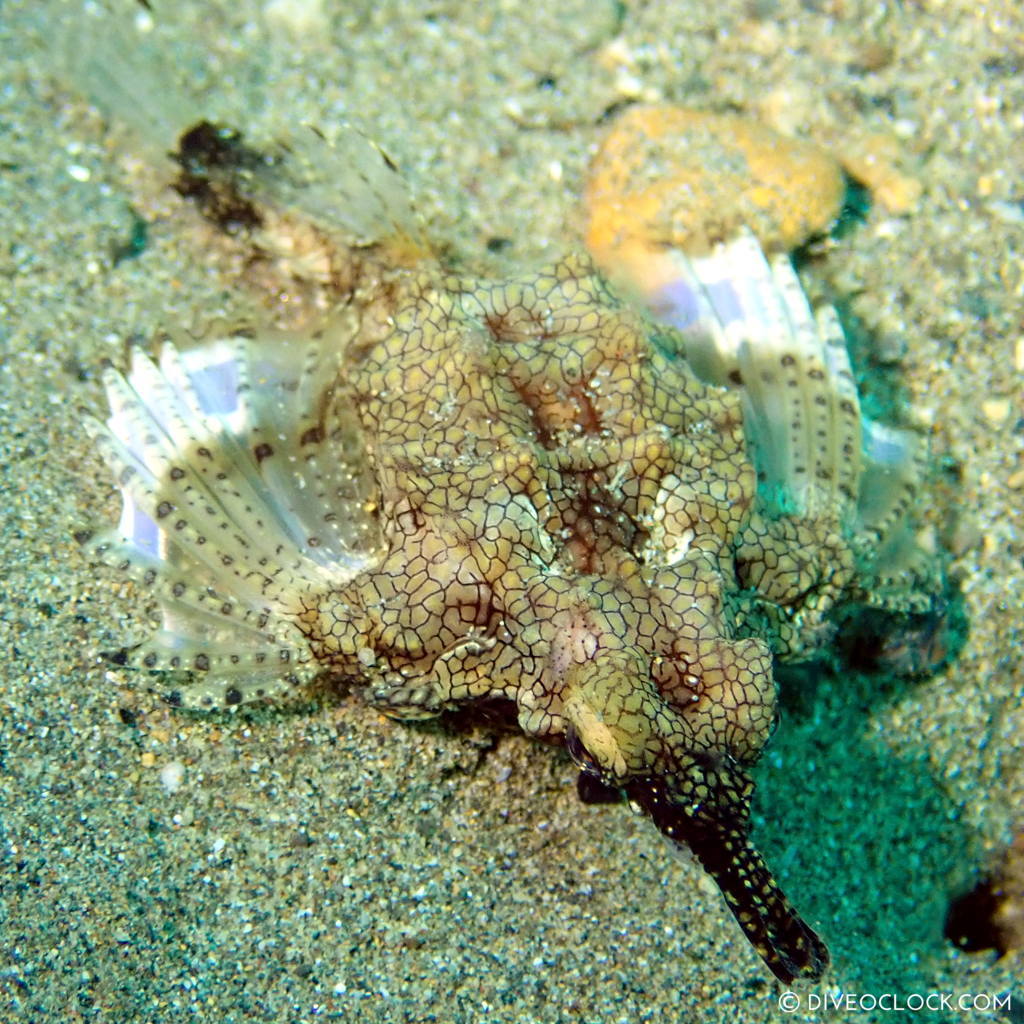 46. Dragon seamoth or Little dragon fish (Eurypegasus draconis)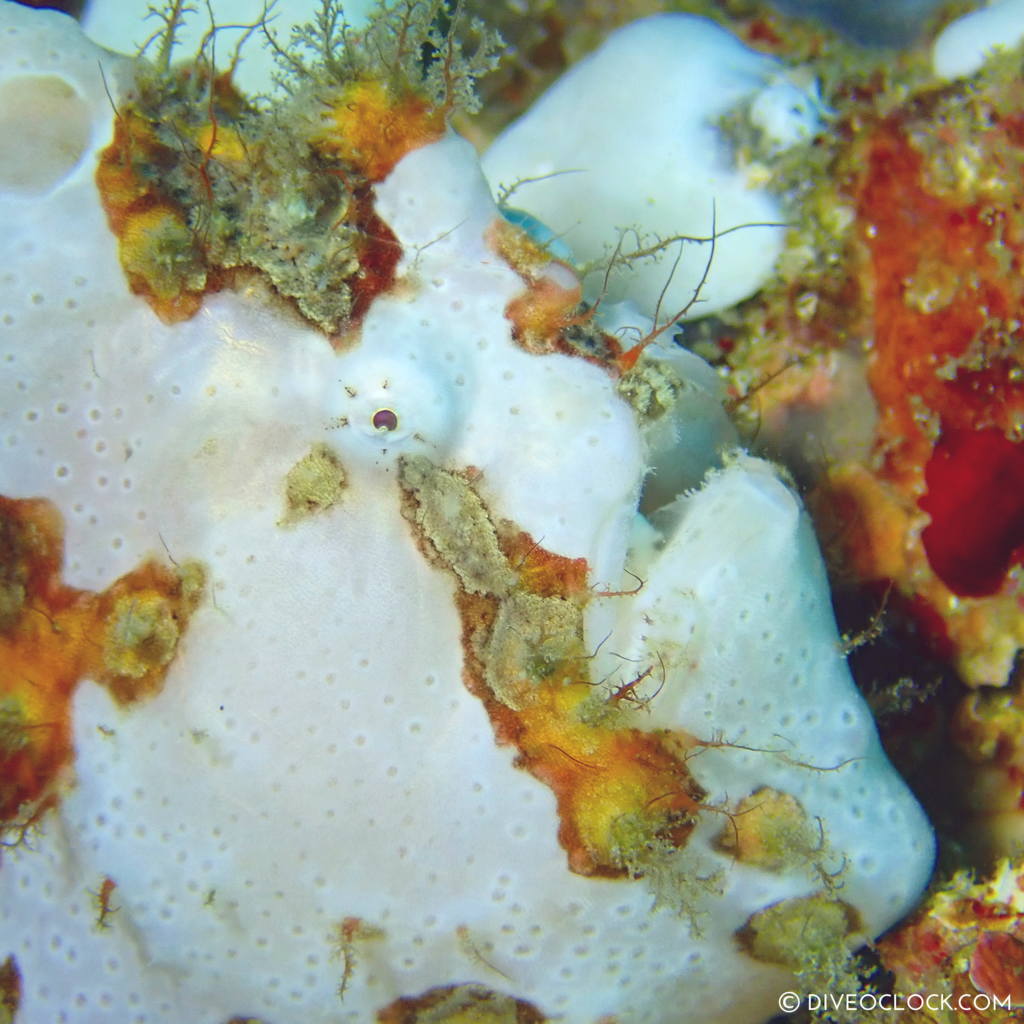 47. Warty Frogfish (Antennarius maculatus)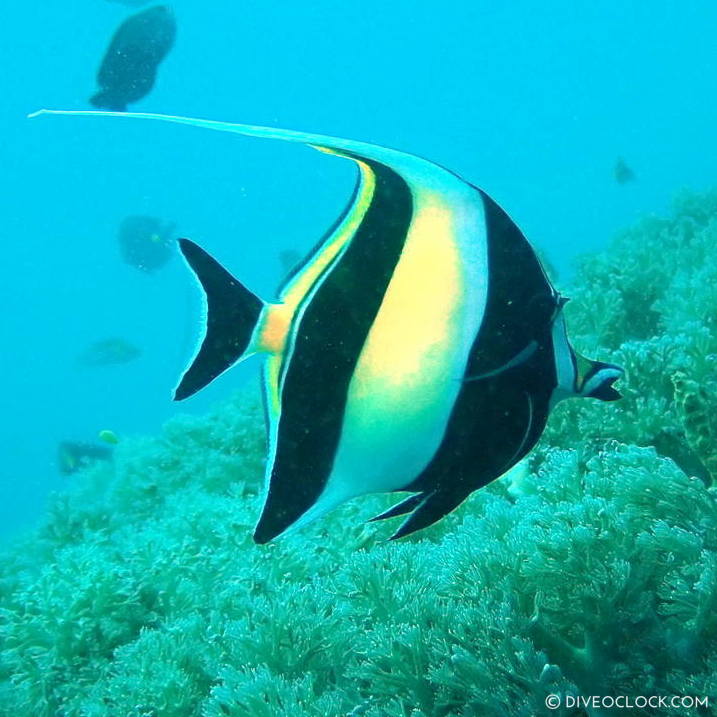 48. Moorish idol ( Zanclus Cornutus)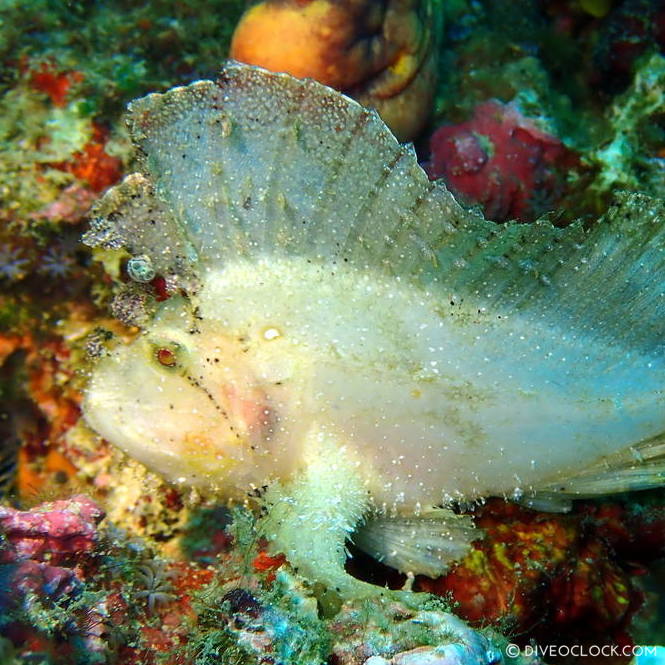 49.Leaf scorpion fish (Taenianotus triacanthus)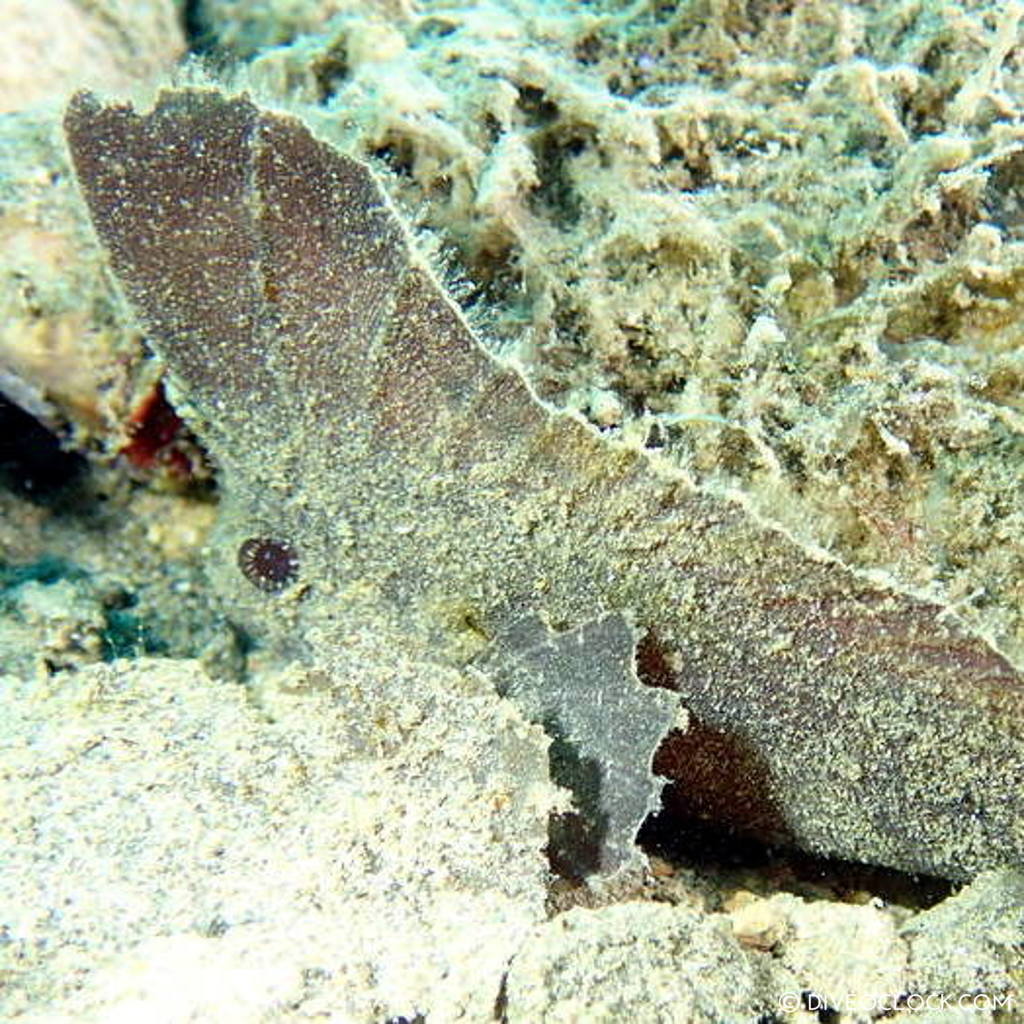 50. Cockatoo waspfish (Ablabys taenianotus)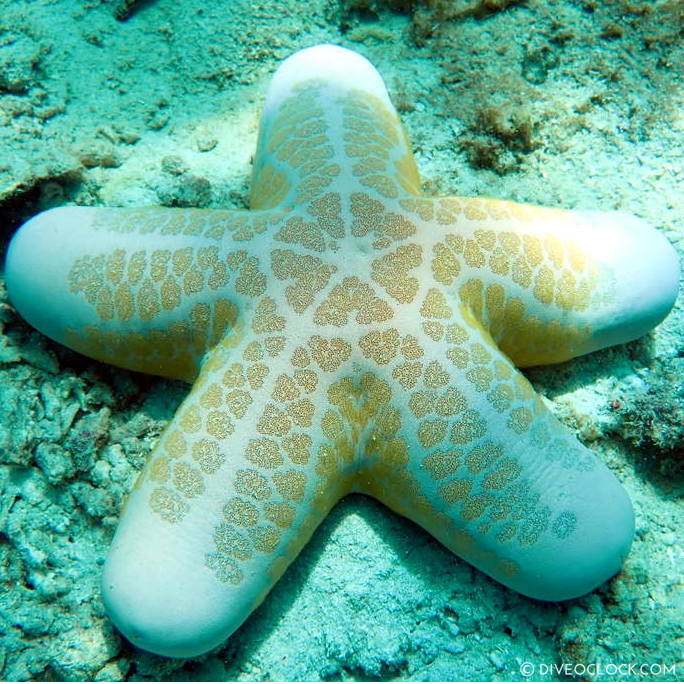 51. Cushion seastar (Choriaster granulatus)
It is my pleasure to share knowledge about marine life species but I'm not a marine biologist, the exact species might be wrong.
If you have anything to add, see typos or simply want to help out, please contact me.
Comparing dive destinations
Bottom structure
Reef structure
Pelagic
(big stuff in the blue)
Big reef
(bigger stuff on the reef)
Macro
(small stuff on the reef)
Current
(stream)
Flat bottom with bumps/big rocks/pinnacles
Hard corals
(not moving)
Sharks
Turtles
Nudibranchs
(snails/slugs)
No current
Slope (going down slowly)
Soft corals
(moving)
Rays
Eels/snakes
Sea horses and pipe fish
Small
(you can easily swim against it)
Wall
(steep but you see the bottom)
Table-/fan-shape
Trevally/Jacks/Tuna
Groupers
Scorpion/frog fish
Medium
(you can swim against it for a little while/higher air consumption)
Drop off
(steep and you can't see the bottom)
Anemones
Barracudas
Lobsters/crabs
Octopus/squid
Strong/reef hooks
(you cannot swim against it)
Blue
(no reference)
Sponges
Sardines/herrings
Puffers
Shrimps
Pumping/washing machine/OMG/hold your regulator
(superman)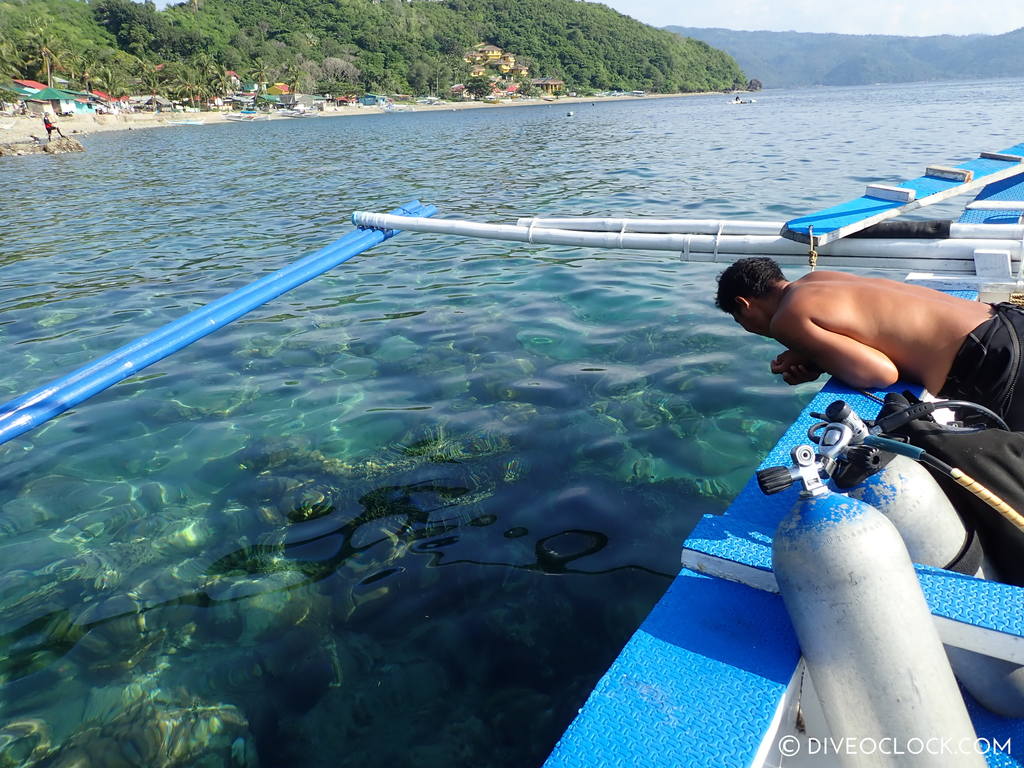 Dive guide Jojo can probably already spot the nudibranchs from the boat :)
More about Bentrina Dive Resort
At the moment there are 6 beautiful hotel rooms for rent at Bentrina Dive Resort with ocean as well as swimming pool view. You can find more information here.
The rooms are clean, modern and good value for money for this area. There is a sort of infinity pool at the waterfront, creating stunning views throughout the day. As mentioned before the house reef is great for night dives, but also for diving during the day it is good - various nudibranch species guaranteed.
At the waterfront there is a seating area next to the 'tiki' bar which is great for sunsets. The restaurant area, with unlimited drinking water, coffee and tea is good for family dinner and breakfast.
Bentrina Dive Resort has split the resort and the diving in two parts, all is Filipino family owned but managed differently. Bentrina resort is managed by the daughter of the founder and the diving is organized by Myzon, the son. This is why you can pay the resort (sleeping, food and drinks) with credit card but you need to pay for the diving (boat, dive guide, tanks) in cash. To make it more complicated, the dive equipment is owned by the resort, so this can be paid by credit card again. Anyhow Patrick, the property manager (nephew) of the resort, will help you with figuring out the bill and payment.
Myzon is the divemaster and dive manager of Bentrina Dive Resort. Together with Jojo and dive instructor Erick they are great macro spotters and muck dive experts.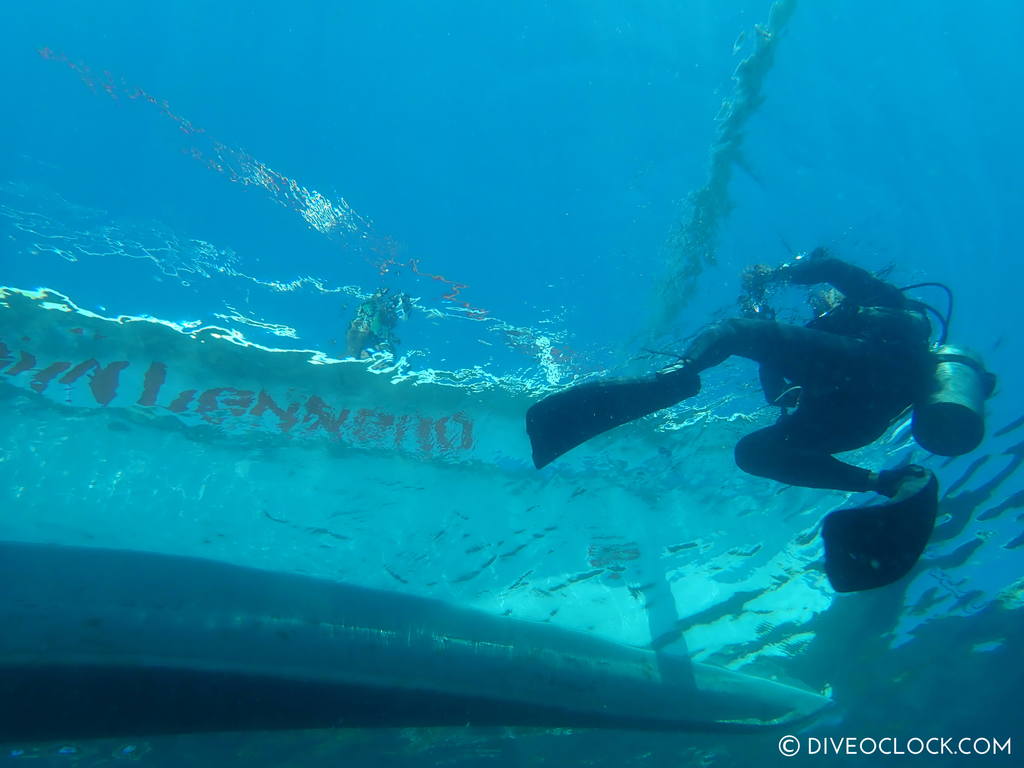 It's dive o'clock in Anilao
The happy boat crew, Ernie and Kevin, are divers themselves. They are great and knowledgeable about getting you in and out of the water comfortably. What a difference it makes!
The resort is located at the waterfront, down a pretty steep hill, with some convenience stores on the main road. The nearest ATM is in Mabini, about 100 pesos by tricycle and 20 minutes away, there is also a 7-Eleven with a larger variety of products and a market with electronics and some clothes.
Special thanks to all the other wonderful people who work at Bentrina Dive Resort: Jordan / Beth - The Chefs - ask Jordan to make laing or bicol express if you like spicy food. Lorraine / Annelie / Jamel - Customer care from ordering and serving food to cleaning the rooms. Albert and Ronald - Gardening, maintenance, driving the jeep, organizing dive tanks. If it is busy at the resort you will see more staff and family members to help out.
O yes, and you can cuddle with the resort dogs too! Especially Djoko and Brownie love attention.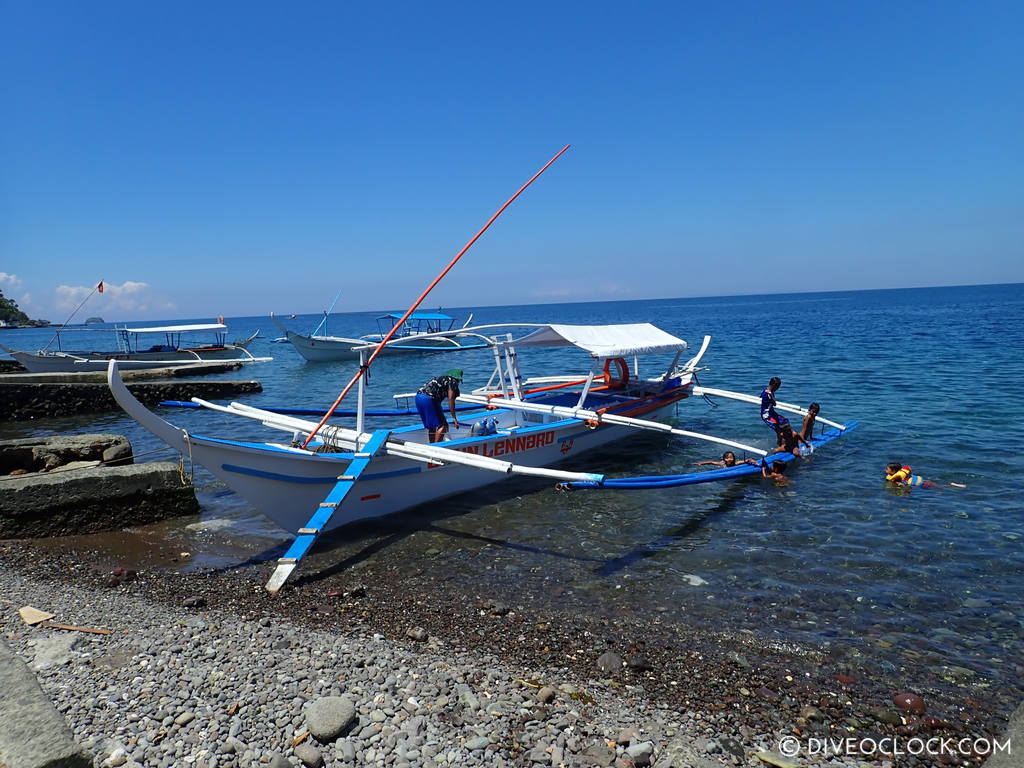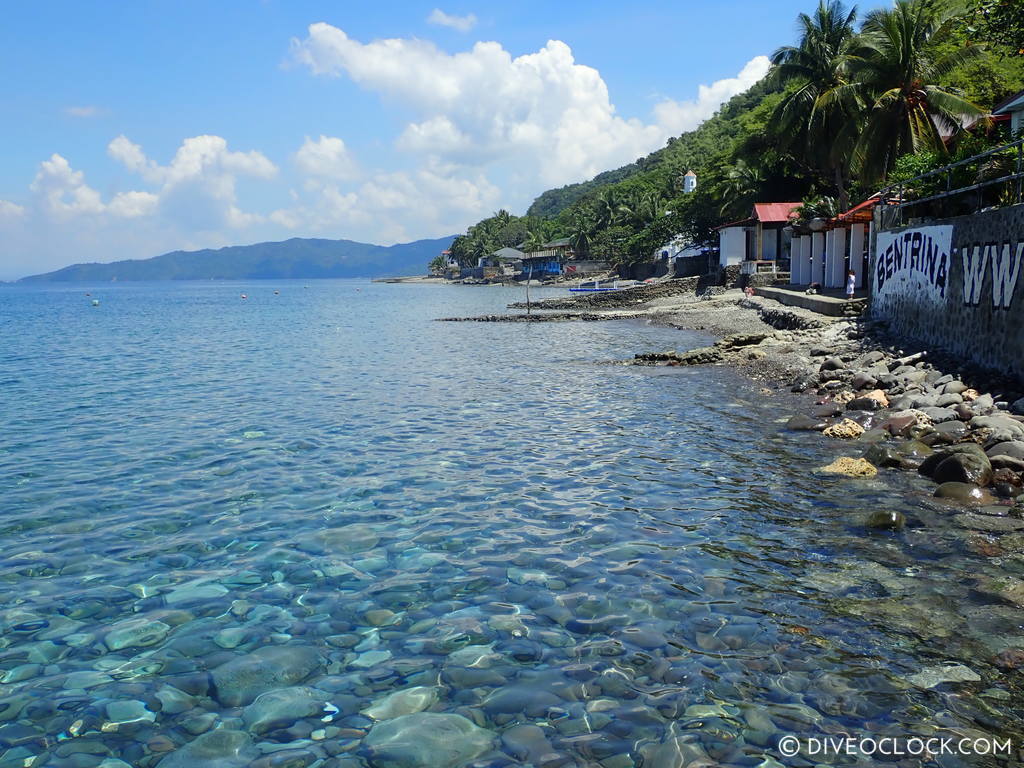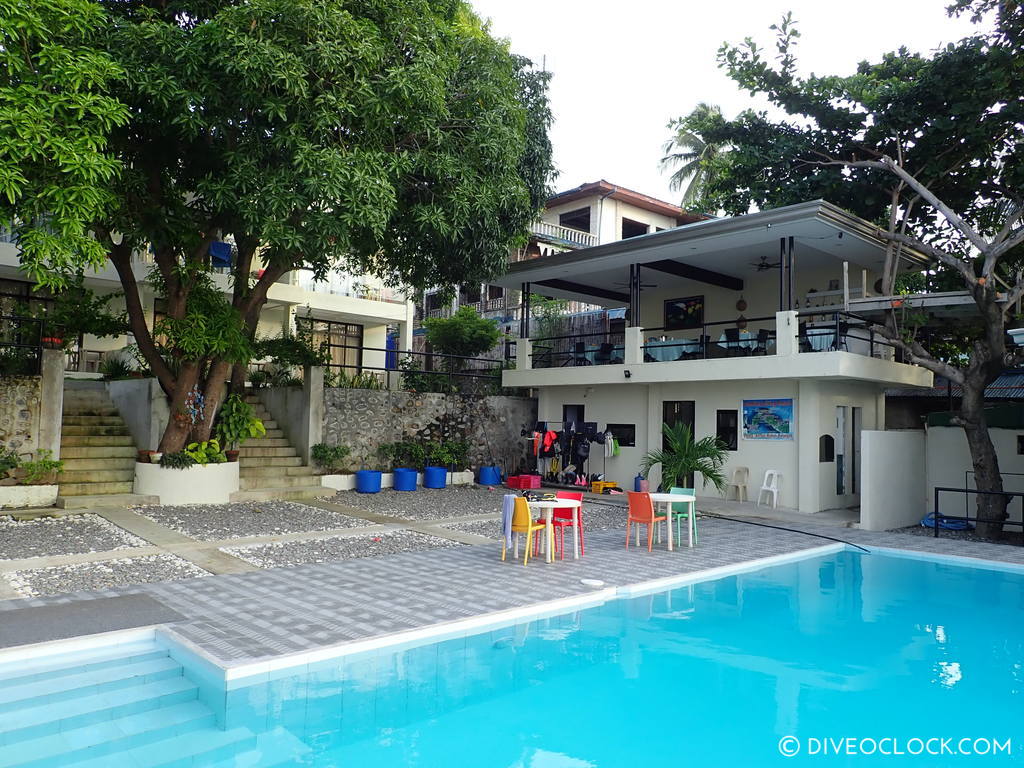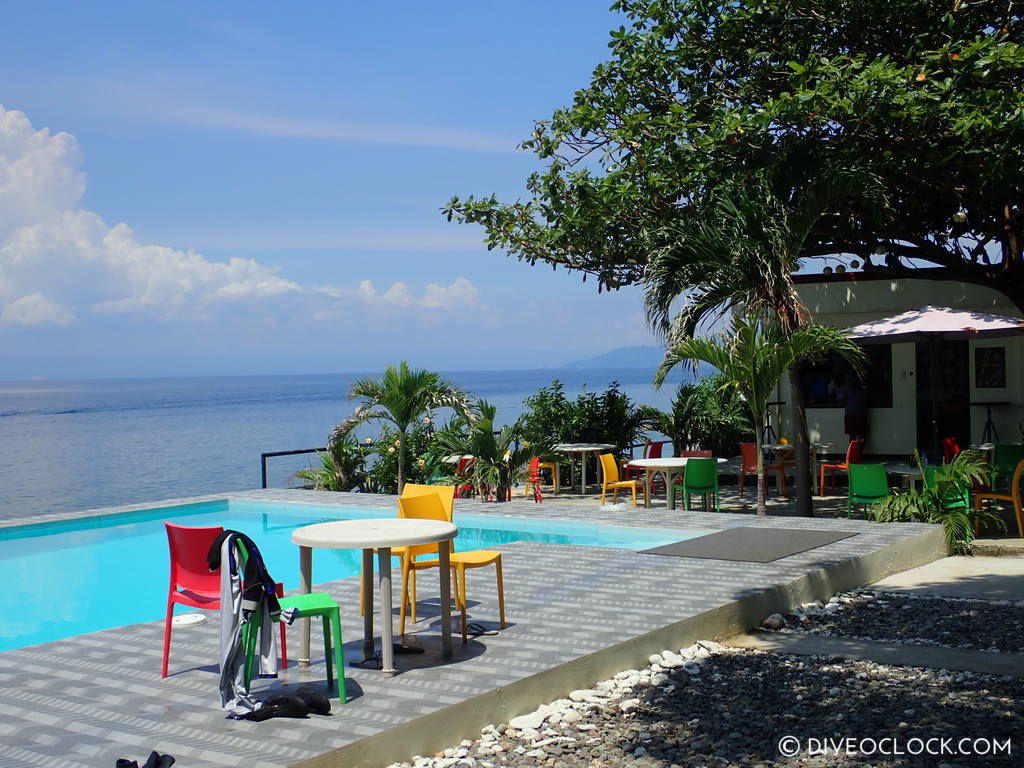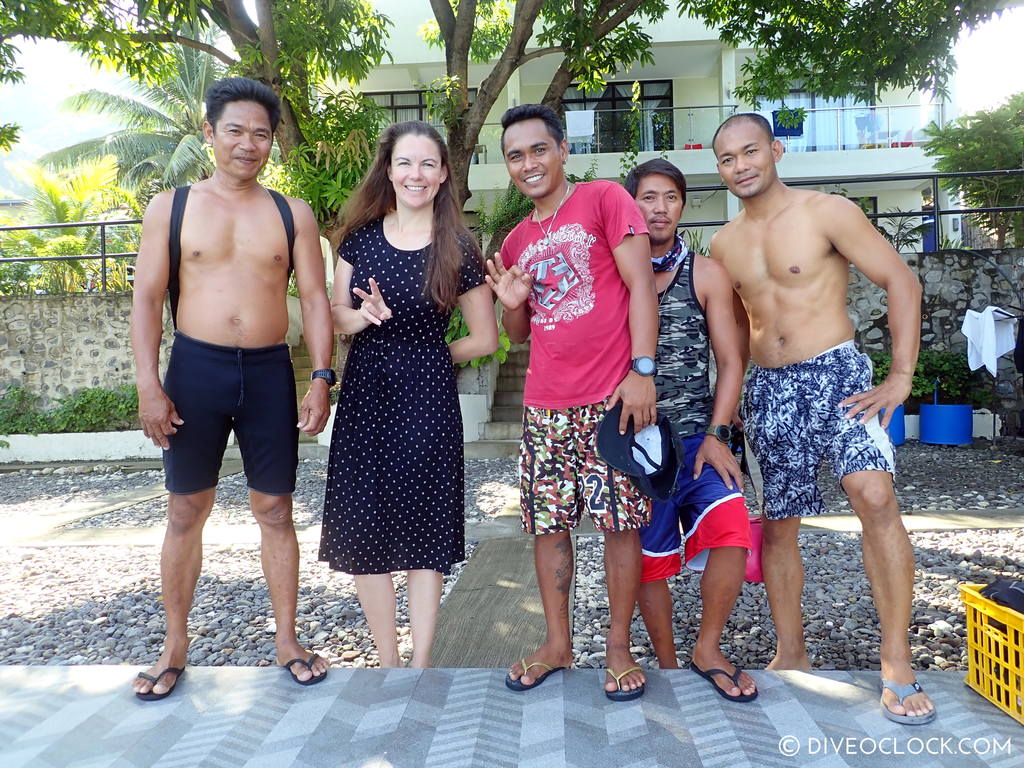 Bentrina Dive Resort in Anilao and the happy dive and boat crew!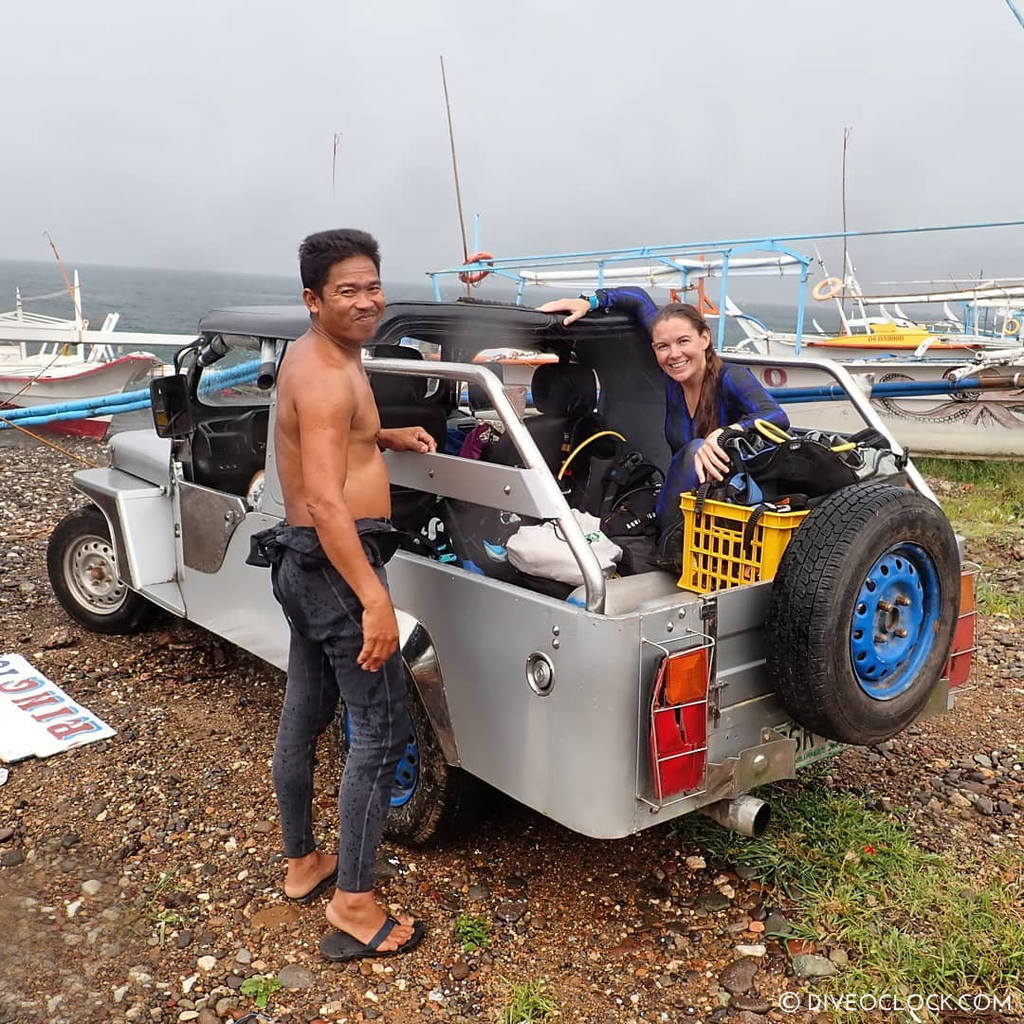 Local jeep to go to diving with Jojo
How to get to Anilao, Mabini, Batangas
The Mabini peninsula, or better said the Calumpan peninsula, has mountain-like structure, so expect swirling roads and a mountain ride from Batangas. You can get here by flying to Manila, taking a Grab to the bus terminal, bus to Batangas (touring car with air-conditioning, jeepney to Mabini and a tricycle to the resort. This is probably the cheapest way if you travel alone or as a couple.
Renting a car or use private transport is the quickest solution, prices ranging from 3500 to 5000 pesos per car (Grab is not allowed outside Manila), taking 2 to 3 hours - depending on the traffic in Manila.
In Anilao you can find various restaurants and bars on Google Maps, but there is not really a lot in the area. One restaurant close to Bentrina Dive Resort is OMG, they have great sunset views, a good ambiance and delicious food. Try to go during the weekends for the vibe in their garden. Also Camp Netanya (Santorini) has good food and is just a short walk (uphil) away.
As long as you do not expect a lot other than dive resorts in this area and enjoy the diving you will love it. For single travellers staying around Anilao might be a bit boring, but that also depends on the other guests of course.
Thank you for reading and drop me a message if you need help organizing your trip.
Do you have more tips for diving around Anilao? Share them as a comment.
If you like this post, hit that like button on our
Facebook page
and stay tuned for more!
Marlies Wolters
Founder of Dive O'Clock "It's dive o'clock somewhere!"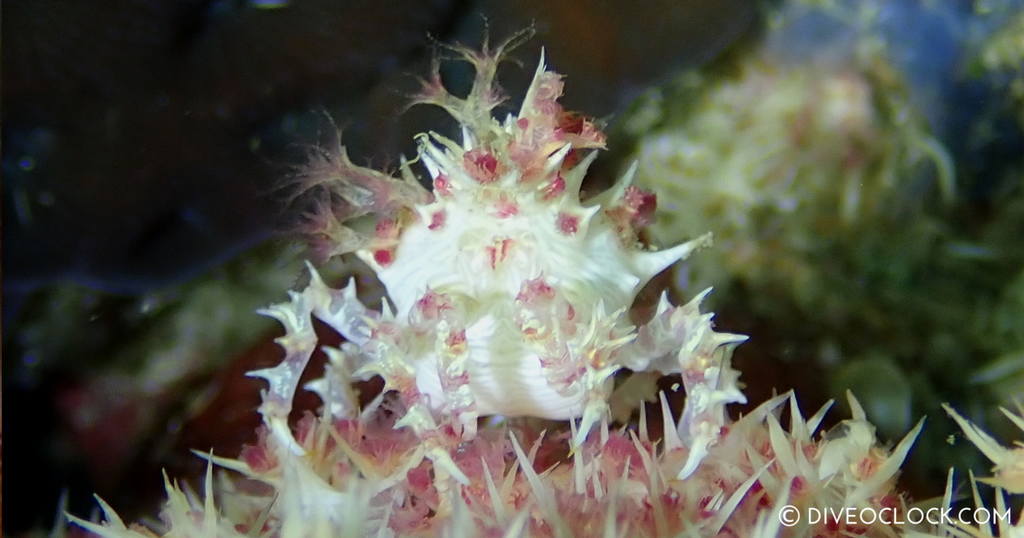 Share this page: