Ama Women Divers of Japan - Where to See & Explore this Culture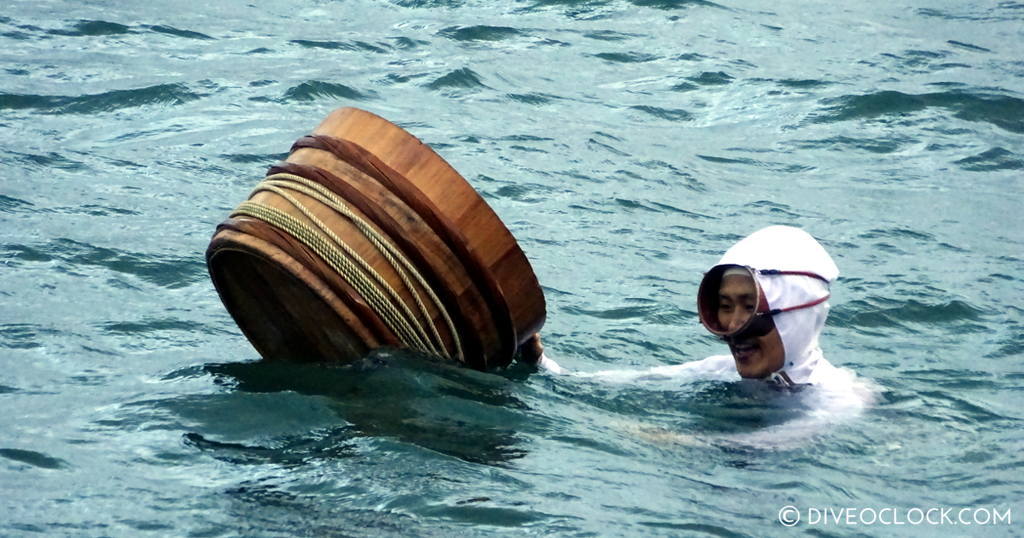 Ama Women Diver in Japan
The ama 'women divers' have been around for 3000 to 5000 years. While skin diving (free diving) these women collect seafood and pearl oysters. You can experience this hoped-for UNESCO intangible cultural heritage at various places, pick your favourite or visit them all.
Guess what I did? Of course I visited almost all the spots I could find.
Luckily they are many places to learn about Ama pretty close to each other.
Do you know other places? Please share them and I will add them to this list.
Where to See the Ama Women Divers in Japan
With a quick online search you will find out that the Mie Prefecture in the Kansai region on Japan's main island Honshu is the place to be. There are various ama places to visit around Toba. From ama museums to more interactive places, like ama huts and ama performances in the sea.
These are the places to go to if you want to learn all about ama divers in Japan.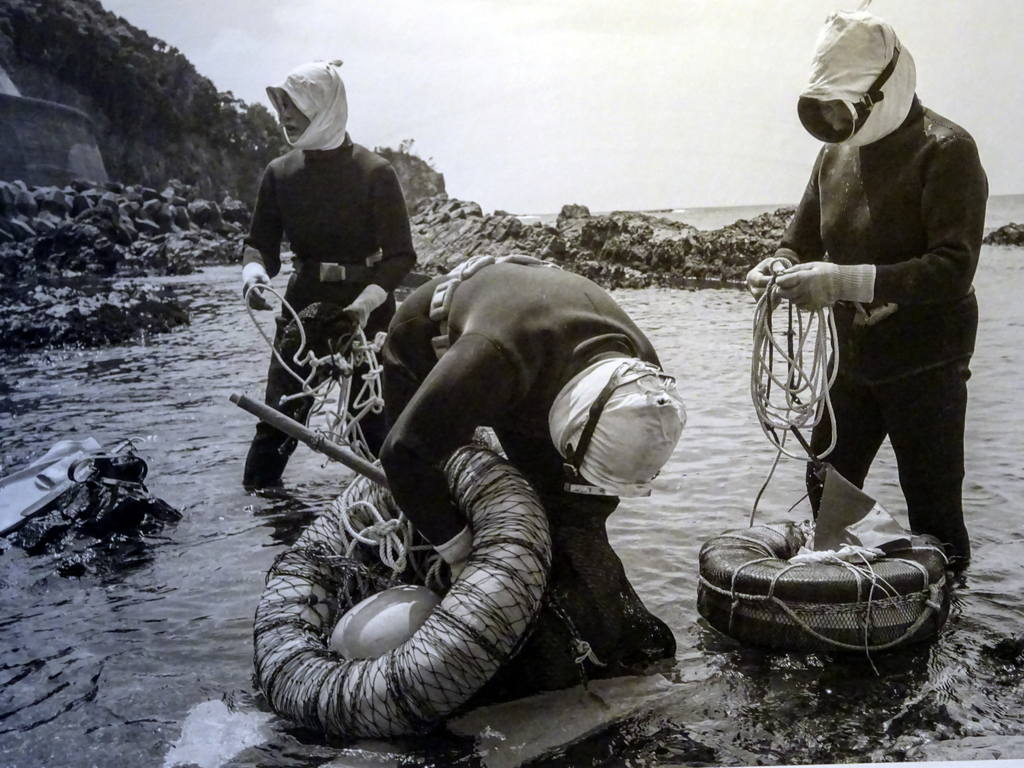 Black and white photo of ama women divers at Osatsu Ama Museum
Osatsu Ama Museum and around
The Osatsu Ama Museum - 相差海女文化資料館 is a free museum in Ōsatsuchō which also functions as a small tourism office. There are some great photos from the old days on display as well as tools they use with great explanations.
Especially if you are in to diving, the descriptions of the mask and sustainability efforts are interesting. It is not a big museum, I would say about 15 minutes is enough to see and read everything slowly.
Location of Osatsu Ama Museum - 相差海女文化資料館
Website of Osatsu Ama Museum - 相差海女文化資料館
If you walk up the road to the Shinmei Shrine Ishigami-san - 神明神社 石神さん you can also visit the Ama House "Gozaya" - 海女の家 五左屋 which is a coffee shop and offers lovely ama souvenirs and related natural products.
If you want to eat seafood caught and prepared by ama you can make a reservation at the Ama Hut "Hachiman Kamado" - はちまんかまど.
An ama hut is a hut with a fire pit in the middle, where women divers get dressed for work and relax afterwards. This is a hands-on experience I decided to skip as it seemed quite touristy, but you might love it! There are four ama huts around Mie, simply use Google Maps for the locations and make a reservation (or let somebody from the staff at your accommodation call them).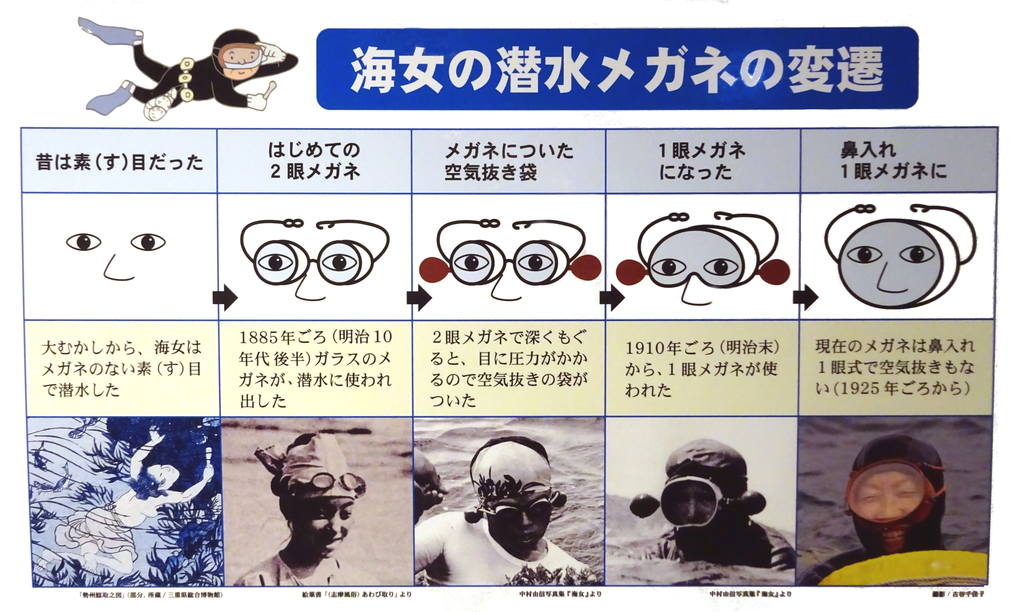 Diving masks of ama women divers throughout the years
Toba Sea-Folk Museum
Compared to the Osatsu Ama Museum the Toba Sea-Folk museum - 海の博物館 is enormous. One hour might not be enough, especially not when all exhibition areas are in use. The traditions of the sea folk or people of the sea are well explained.
Learn all about about protecting marine life against pollution, old fishing techniques and materials, special sea festivals & traditions and of course all about the ama women divers. Make sure to watch the video at the entrance of the museum in English, it's great. The entrance fee is 800 Yen (2018).
If you fancy a more active learning experience, check their programs and workshops in advance and make a reservation.
Location of Toba Sea-Folk Museum - 海の博物館
Website of Toba Sea-Folk Museum - 海の博物館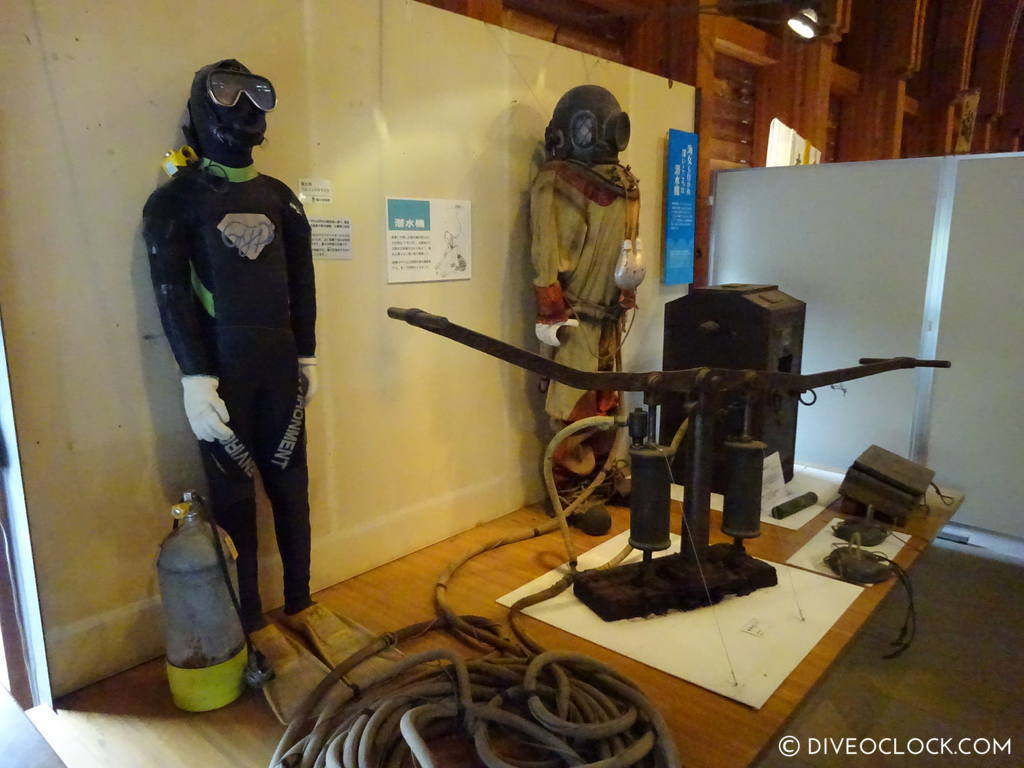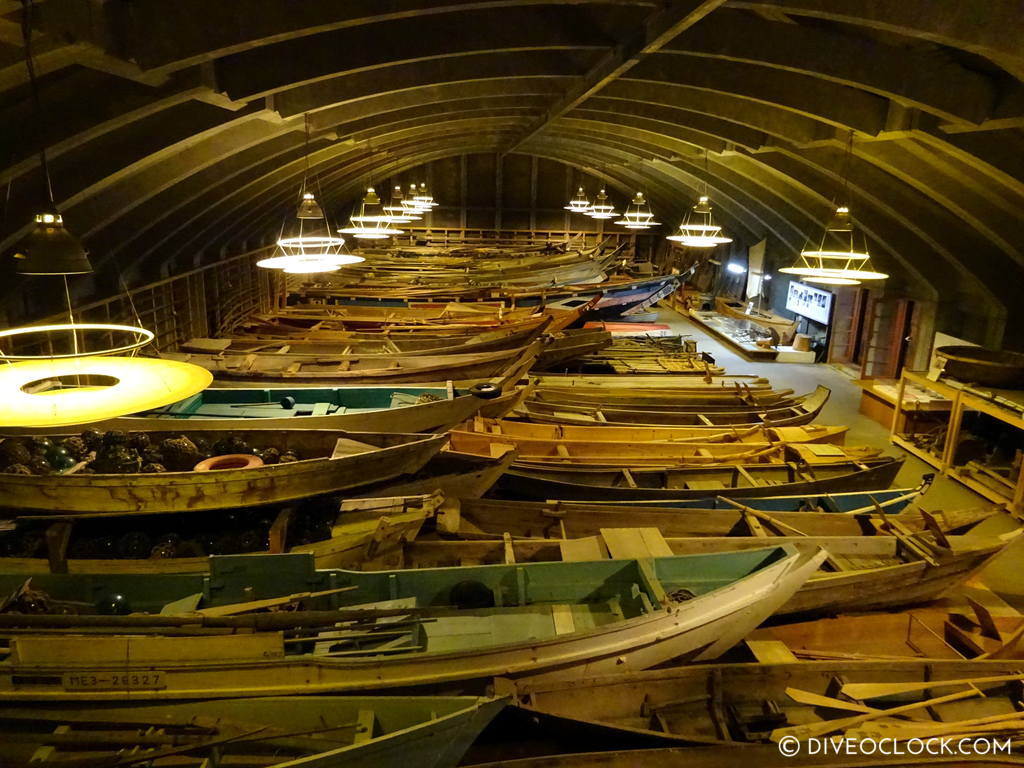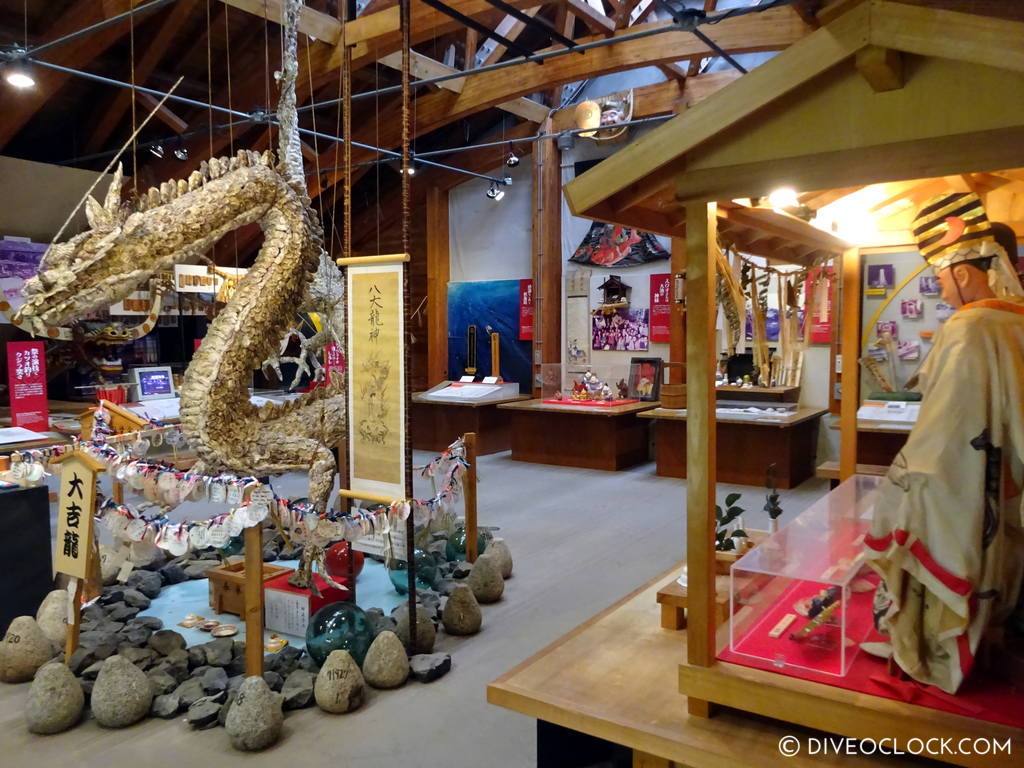 Some impressions of the Toba Sea-Folk Museum (check the SCUBA diver)
Ama Viewing Platform at Mikimoto Pearl Island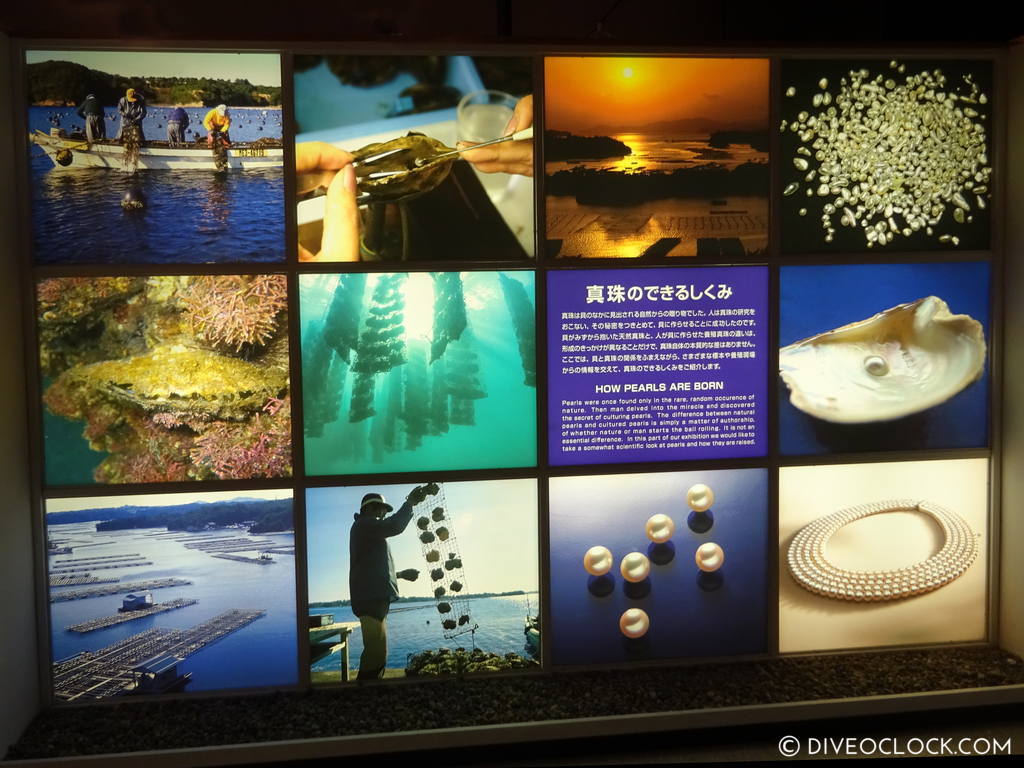 Mikimoto Pearl Museum
Ama Viewing Platform 海女スタンド at Mikimoto Pearl Island is where you can watch a demonstration of ama divers in the water. Mikimoto Pearl Island - ミキモト真珠島 is connected to the 'mainland' by a bridge. You need to pay an entrance fee for the island, 1.500 Yen. The main attraction here is the pearl museum and of course a huge shop to buy pearls.
According to the provided information, the ama divers here were part of the cultured pearl production process. In the old days they went diving for and replacing treated pearl oysters.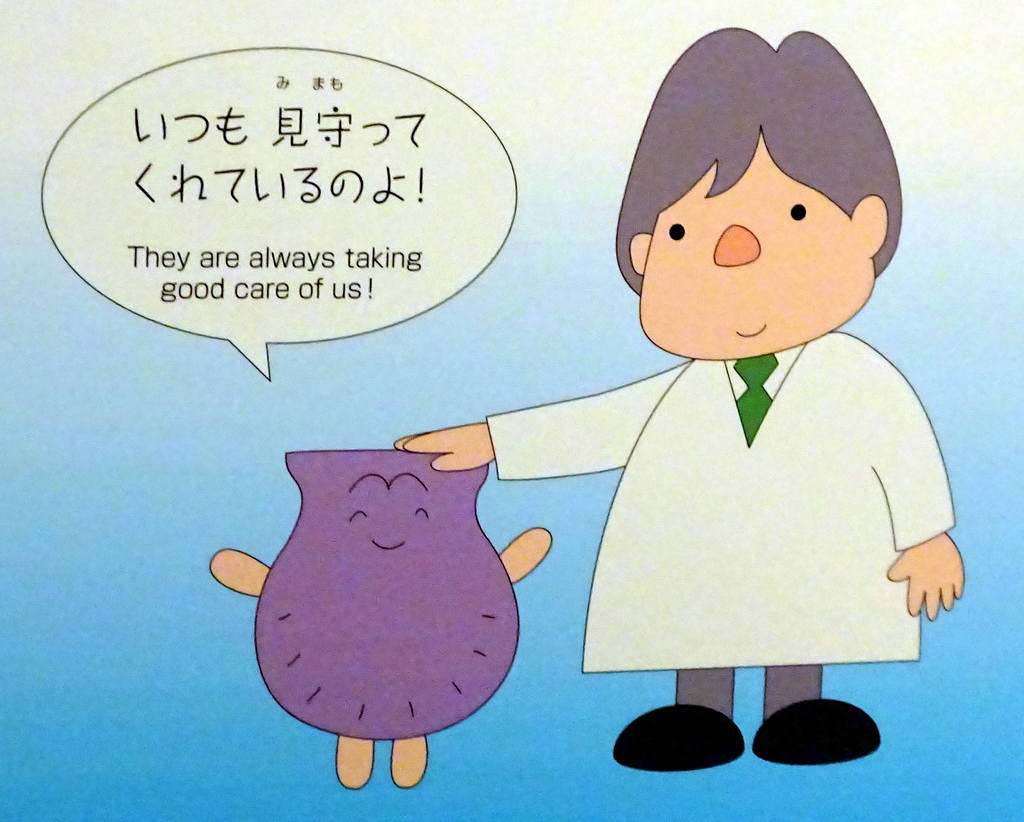 Happy Oyster
Oysters are marine animals, molluscs, and they are displayed as truly happy in this museum. It is quite funny but of course everybody understands animal welfare is not the main purpose at this advanced pearl oyster cultivation facility...
The ama women divers demonstration happens about 8 times a day at the waterfront - the ama viewing platform.
Location of Ama Viewing Platform 海女スタンド at Mikimoto Pearl Island - ミキモト真珠島
Website of Ama Viewing Platform 海女スタンド at Mikimoto Pearl Island - ミキモト真珠島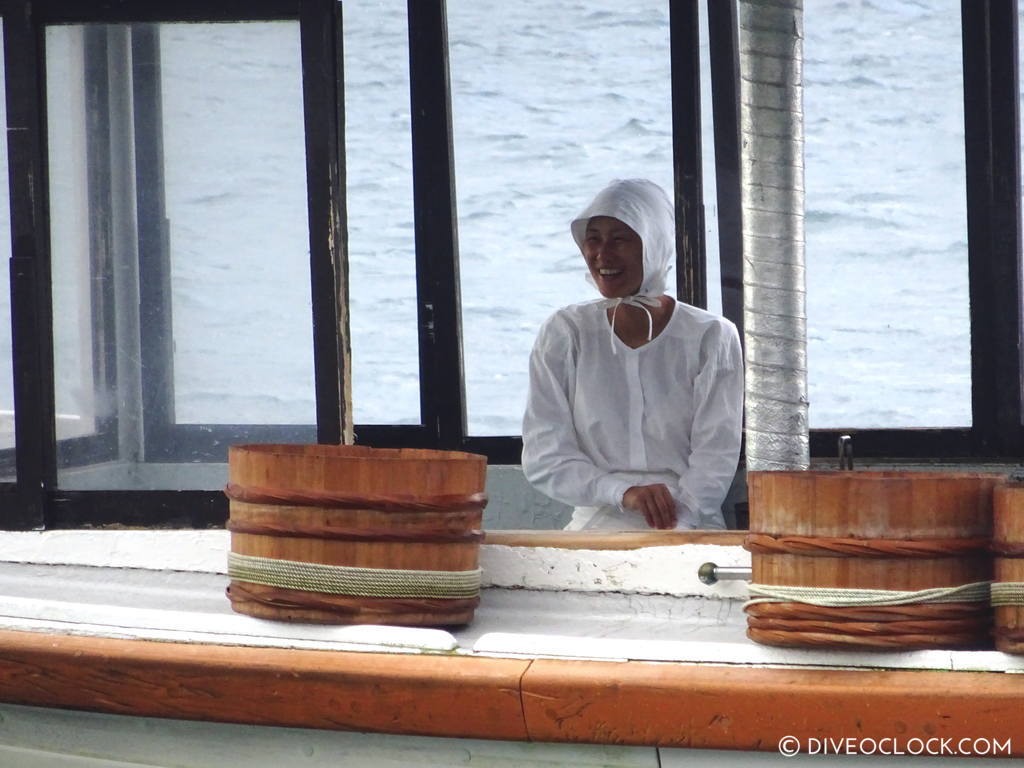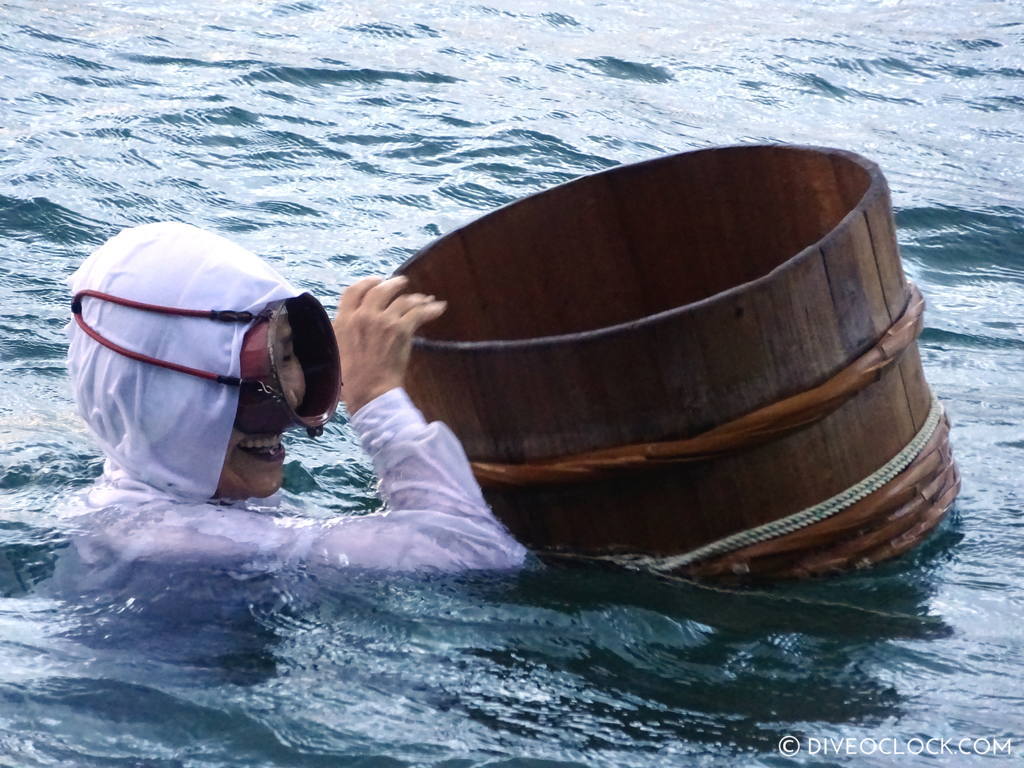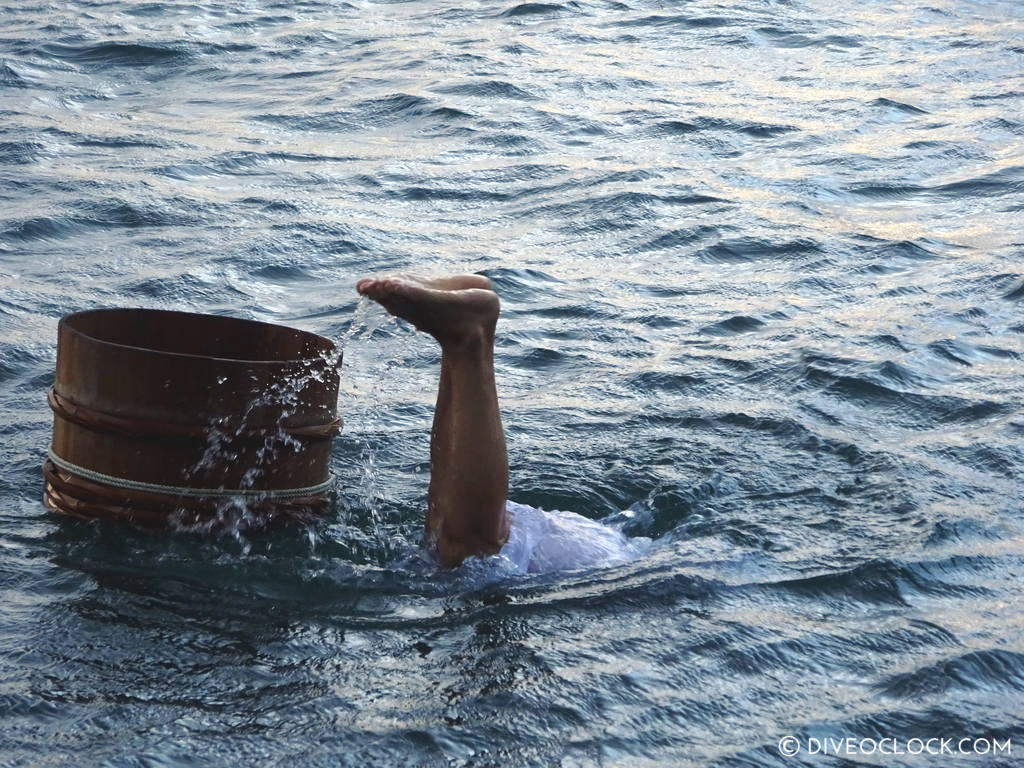 Women Divers collecting pearl oysters at the ama performance on Mikimoto Pearl Island.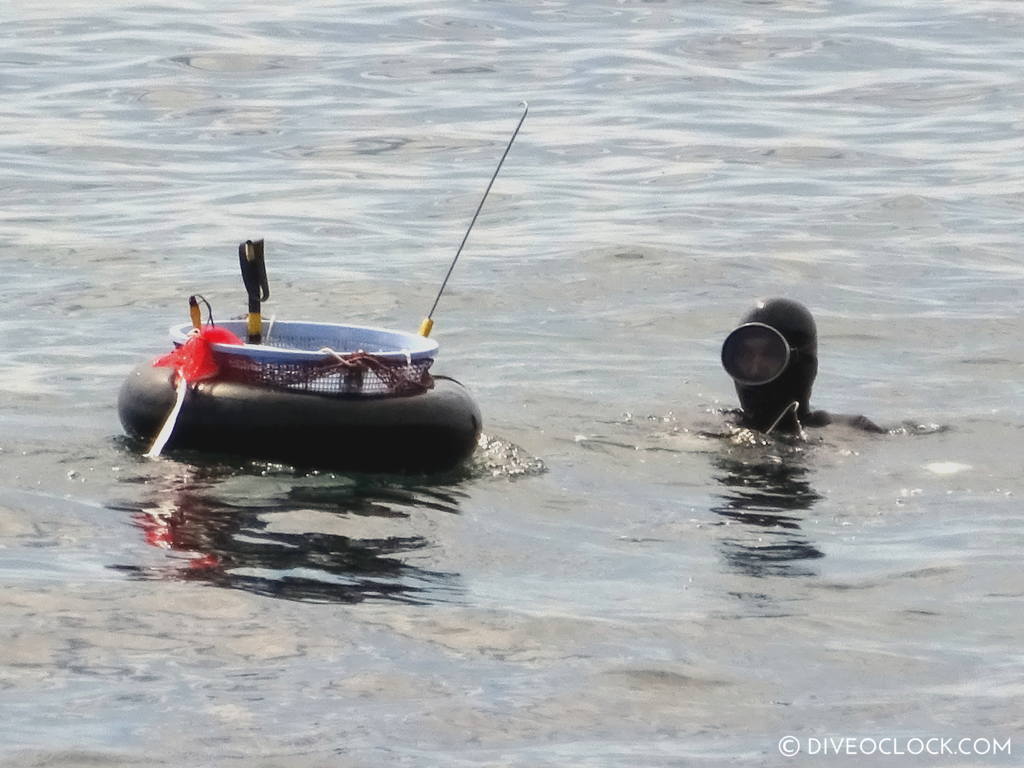 Ama diver without a performance, is it a woman or a man?
Ama Divers at Work - Where to See Ama Divers Without a Performance
Before I went to the ama museums in the area of Shima and Toba in Mie I was totally surprised about seeing ama's at work in the sea. The most funniest part was that is was at a town called Ama (Nishimachi) in Amashioyamachi, on Awaji island.
It can be totally unrelated, but after a cup of coffee on the Ama Terrace I saw ama's while driving along the coast on the 76 (Sumoto - Ama) - close to Ama beach! No white cloths and traditional tools, just black wetsuits, fishing gear and buoys. Similar to the Haenyeo in South Korea - in real life 'in the wild' or however I should call it with respect.
Ama Divers in Japan versus Haenyeo on Jeju in South Korea
The Ama in Japan and the Haenyeo in South Korea are similar. Both are skin divers / free divers for seafood, making a whistling sound and the theories of the museums are a bit similar. However there are quite a few differences.
What stood-out for me seems more like a cultural difference in general than women diver-related. If you go to Jeju for the Haenyeo or maybe for SCUBA diving on Jeju island you are unlikely to have a conversation with the women divers - they will stick to themselves. In Japan it seems like a pleasure to share their culture and an honor that you are interested. I'm guessing the number of visitors on Jeju is exponentially bigger, maybe because here it is registered as a UNESCO intangible heritage, tourism has it's impact of course. What I loved about the Ama places in Japan is that the explanations in English were more detailed, more about explaining 'what is means' rather than 'what you see'.
Some differences between ama and haenyeo:
The ama have two experience levels or classes ('kachido' and 'funado') while the haenyeo have three ('sanggun', 'junggun' and 'hagun').
In the old days the ama where diving naked (you won't learn this at the museums) while the haenyeo had clothes on since the beginning (both changed to wetsuits later on).
Ama's use a wooden barrels as buoys while haenyeo's have been using a fishing net attached to a round orange buoy for ages.
The ama's focus on keeping abalone populations healthy and prevent over-harvesting, the government plays parts in this. In South Korea there seems no control, catch what you can.
Although most ama divers are female there are also male ama divers. There are no male haenyeo divers.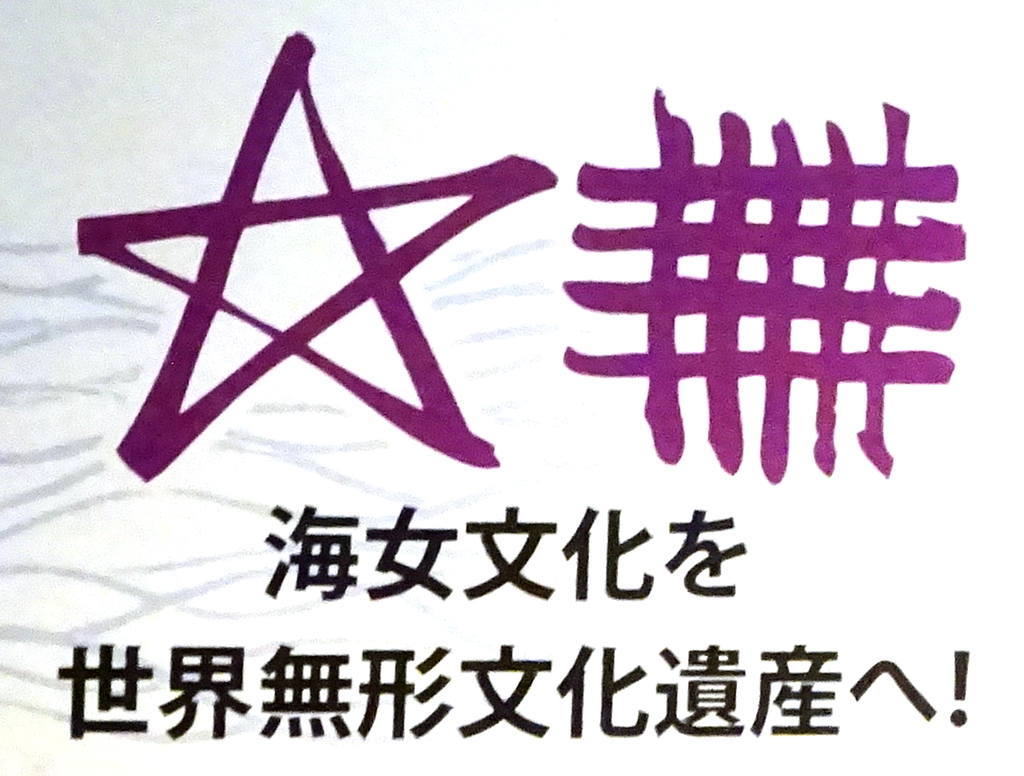 Seiman and doman symbols, good-luck
Ama symbols Seiman and Doman
If you visit Japan for the first time you might be surprised about the nazi-look-a-like symbol for temples, the swastikas. When you visit the ama's you might have a similar experience about the seiman star symbol that might look like the Jewish symbol. In both cases the Japanese symbols are actually not identical and they were used thousands of years earlier.
'The Seiman symbol is drawn with a single stroke, ending where it begun; thus, evil spirits have no place to go in since there is no opening in the star.' According to one of the theories in the Toba Sea-Folk Museum. It also means safe return to the starting point. The grid-like lattice symbol of Doman also represents no entry or exit for evil spirits. Both are lucky-charms and visible on the clothing and tools of the ama divers, mostly in pink.
If you want to contribute to this post, please don't hesitate to comment below or mail us so we can add it to this page.
If you like this post, hit that like button on our
Facebook page
and stay tuned for more!
Marlies Wolters
Founder of Dive O'Clock "It's dive o'clock somewhere!"

Share this page: