Ishigaki SCUBA Diving with Manta Rays, Okinawa - Japan
Tropical Japan in the far South offers undiscovered paradise, stunning beach escapes and turquoise blue waters. Maybe you have heard of Okinawa as a popular dive and holiday destination, but there are countless more remote islands to discover above and below. Ishigaki 'Manta island' and it's coral reef reviewed by a pro.
Click here to skip the intro, go straight to the bottom of Ishigaki
The Hawaii of Japan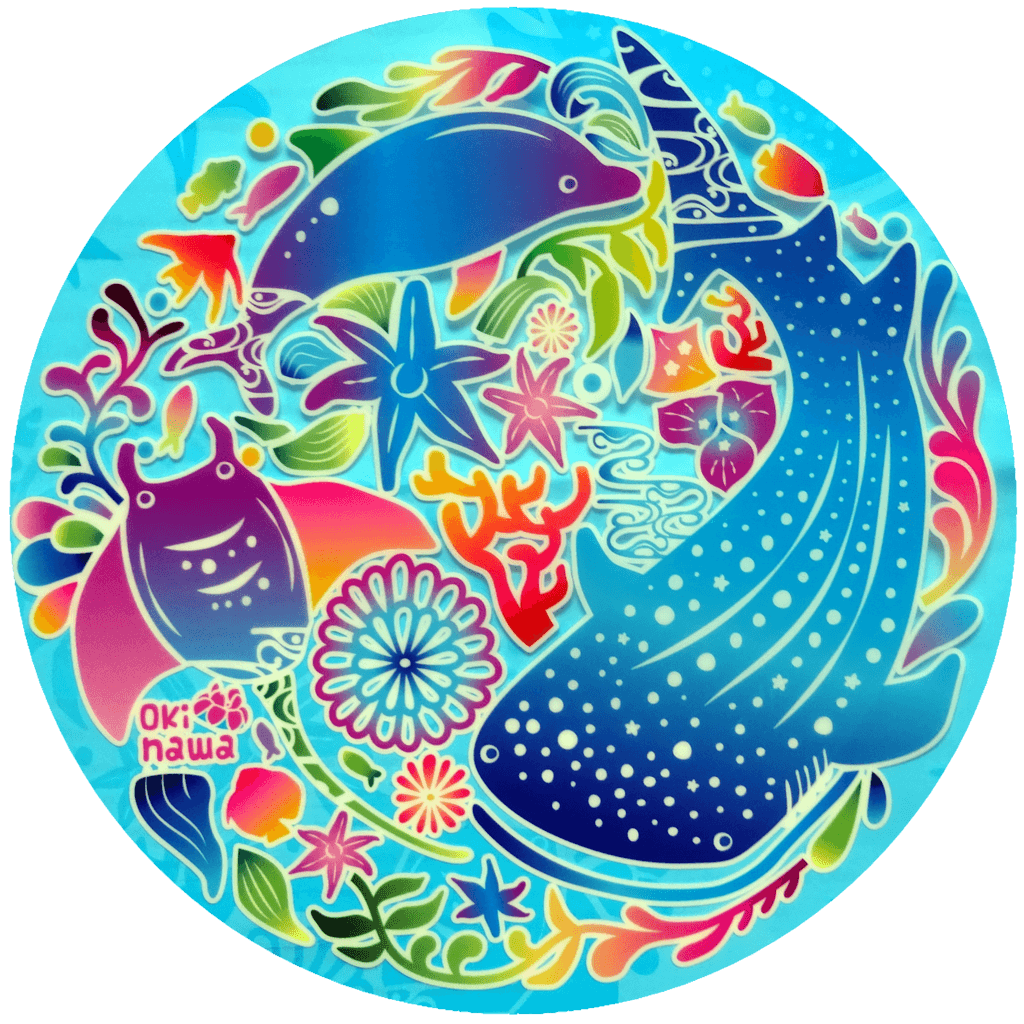 The Okinawa region aka tropical Japan contains of over 150 islands and it a beautifully diverse region. From the South almost touching the top of the coral triangle to the far East where the Ogasawara Islands lay as remotely as Guam.
The Okinawa prefecture is quite remote in itself as well yet it is a popular holiday and dive destination. If you love the boulevards of Waikiki, Cancun/Play del Carmen and Fiji you will love Naha on Okinawa's main island Okinawa Honto (沖縄本島). The nickname 'The Hawaii of Japan' is spot on, the tropical flowery beach vibe is all around. From colorful Kariyushi shirts (Aloha shirts) worn even for business to ukuleles, cocktails in coconut shells and huge themed restaurants with people luring you in.
Souvenirs shops are aligned along the major shopping areas. You can literally can find anything in the shape of a whale shark, manta ray, dolphin, anemone fish (Nemo) and garden eels (yes, garden eel pens / key chains / towels / t-shirts, you name it). You might even feel overwhelmed by it's commerce, especially the down town areas. Of course, if you leave the tourist areas you will get a whole different and more 'local' experience. Nature around the islands is truly amazing!
Some major differences between Hawaii and Okinawa? No tipping (maybe a cover charge) and the Japanese hospitality omotenashi.
Okinawa Honso is widespread so renting a car/scooter or using the public bus system is recommended unless you stay in Naha and book tours only. Get the Japan Travel – Route, Map, JR app and plan your trip, it's super easy and make sure to be on time for the bus because it won't be late. Taxis are also really affordable in my opinion and more honest and reliable than I have seen in any other country. Enough about Okinawa, let's talk about SCUBA DIVING!
The Best SCUBA Diving in Okinawa
How to select the best dive spot in Okinawa? In the first place I would let it depend on your time of visit. Around Yonaguni Island you can dive with schools of Hammerhead sharks from September to March for example. Secondly it depends your budget, Japan is not a cheap dive destination. A day of diving easily costs more than 100 US dollar, a private room at least 50 US a night and a ANA flight from Naha to Ishigaki or Miyako 100+ USD (return). Thirdly it depends on what you prefer to see underwater. You can find wrecks, coral reefs, mysterious structures and a lot of bucket list marine life species around Okinawa.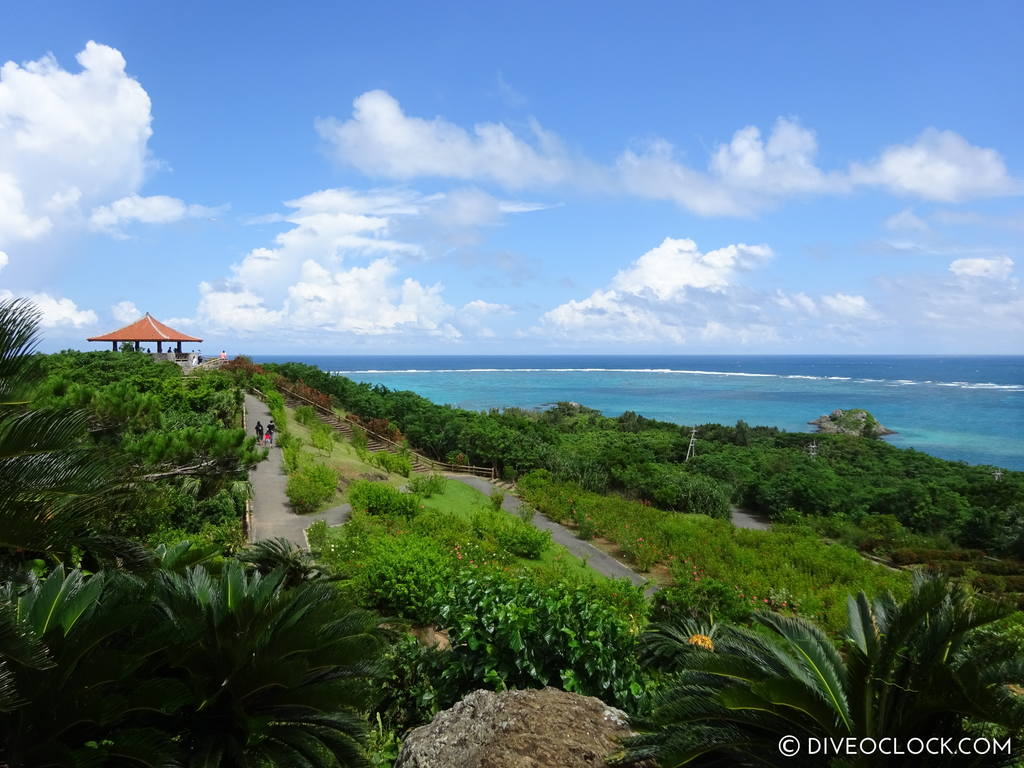 Ishigaki island - Okinawa, Japan
As I was traveling during peak typhoon as well as peak holiday season (Obon) it was busy, rainy and windy. About the worse combination for diving, I know. When asking around for fun diving around Okinawa Honso I has happy I didn't book anything in advance.
Due to the weather conditions the only dive spot possible was the famous Blue Grotto of Okinawa (Cape Maeda). Even the dive centers warned me about the crowds I would encounter, including photos. It looked like the typical El Nido Island Hopping Tours in The Philippines, more life jackets than fish. The idea of people standing on corals and chasing marine life with GoPros did not appeal to me at all. Diving around Okinawa Honso and especially the Kerama Islands must be beautiful. It's just that the circumstances where not right and my diving budget is limited.
The outer islands of Okinawa are often mentioned for better diving, healthier reefs and less crowds. If there is one thing I want to avoid while diving it is crowds.
With all the lovely recommendations I eventually selected Ishigaki island in Okinawa. Famous for the Reef manta rays (Manta alfredi) and coral reef diving. Off to Ishigaki!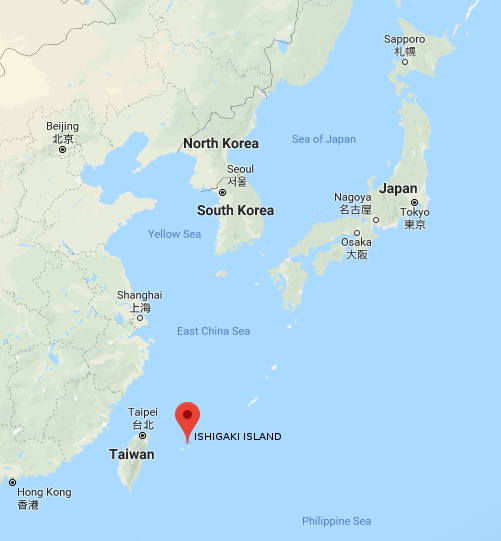 Location of Ishigaki island - Okinawa, Japan
Organizing SCUBA Diving Ishigaki - Manta Island
From Naha, Okinawa Honso, it's a one hour flight to Ishigaki (石垣島). Ishigaki is one of the Southernmost islands of Japan, laying next to Taiwan. Just like on Okinawa Honso; transportation, accommodation and all the comforts you need are easy to find and English is not a big problem. Ishigaki city is like the little sister of Naha.
From Ishigaki you can also take a ferry to Yonaguni Island for the hammerhead sharks (during the season). Also there is a strange underwater structure that looks like the remains of a lost civilization.
There are plenty of English speaking dive shops on Ishigaki. As with accommodations, last-minute bookings are not common in Japan so I booked this dive trip well in advance hoping for good weather.
As my accommodation was close to Ishigaki City the company that was recommended to me, Prime Scuba Ishigaki, offered a pick-up. Unfortunately it was raining most of the day, definitely a tropical island but not good for the diving conditions. Dive O'Clock in Ishigaki!
Country
Japan
Dive area name
East Chinese Sea / Philippine Sea, Yaeyama islands, North-West Ishigaki island
Dive center
Prime Scuba Ishigaki
Famous for
Manta rays and coral reef diving
Price
About 175 USD for a 3-tank day trip without dive equipment including lunch, coffee/tea/water, small towel.
Renting a full set of dive equipment is about 50 USD a day.
Hotel recommendation
Shirahonoyado Aoiumi Budget friendly place for a private room (shared bathroom)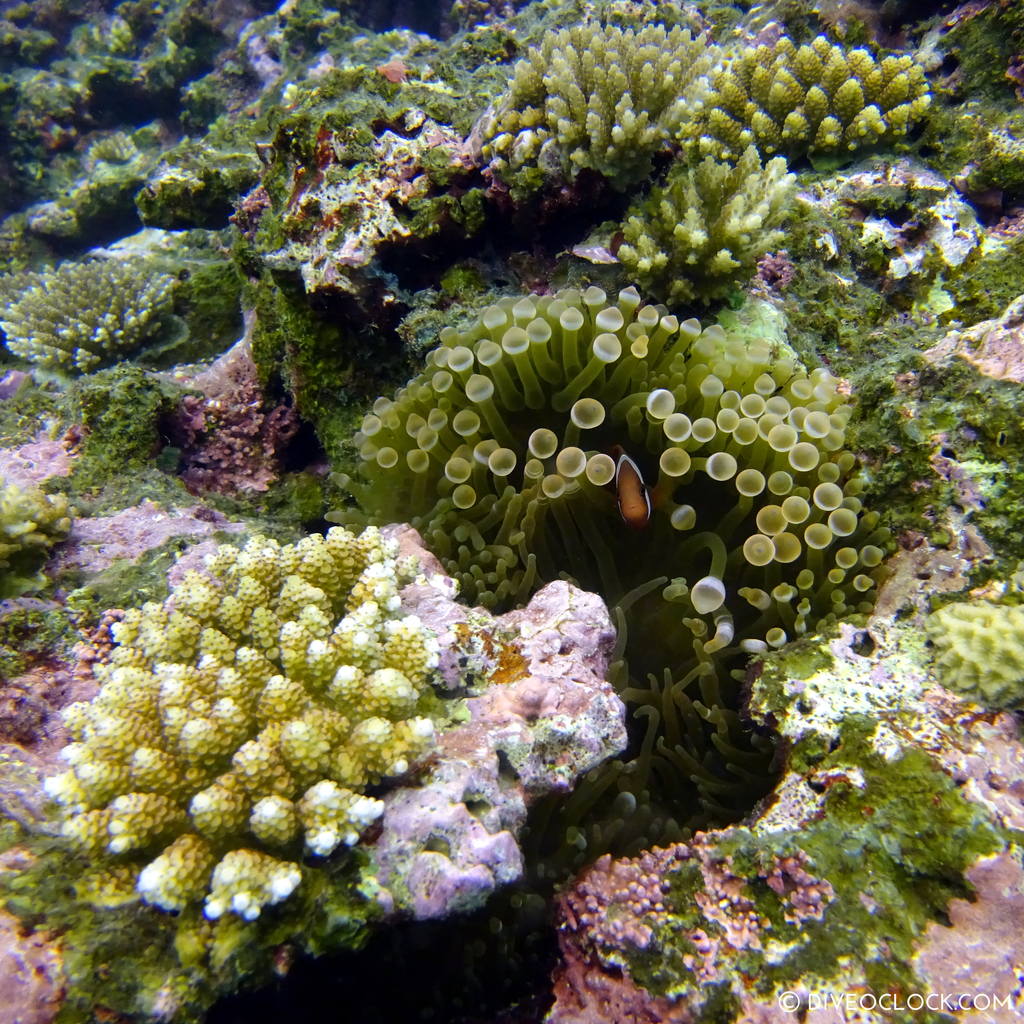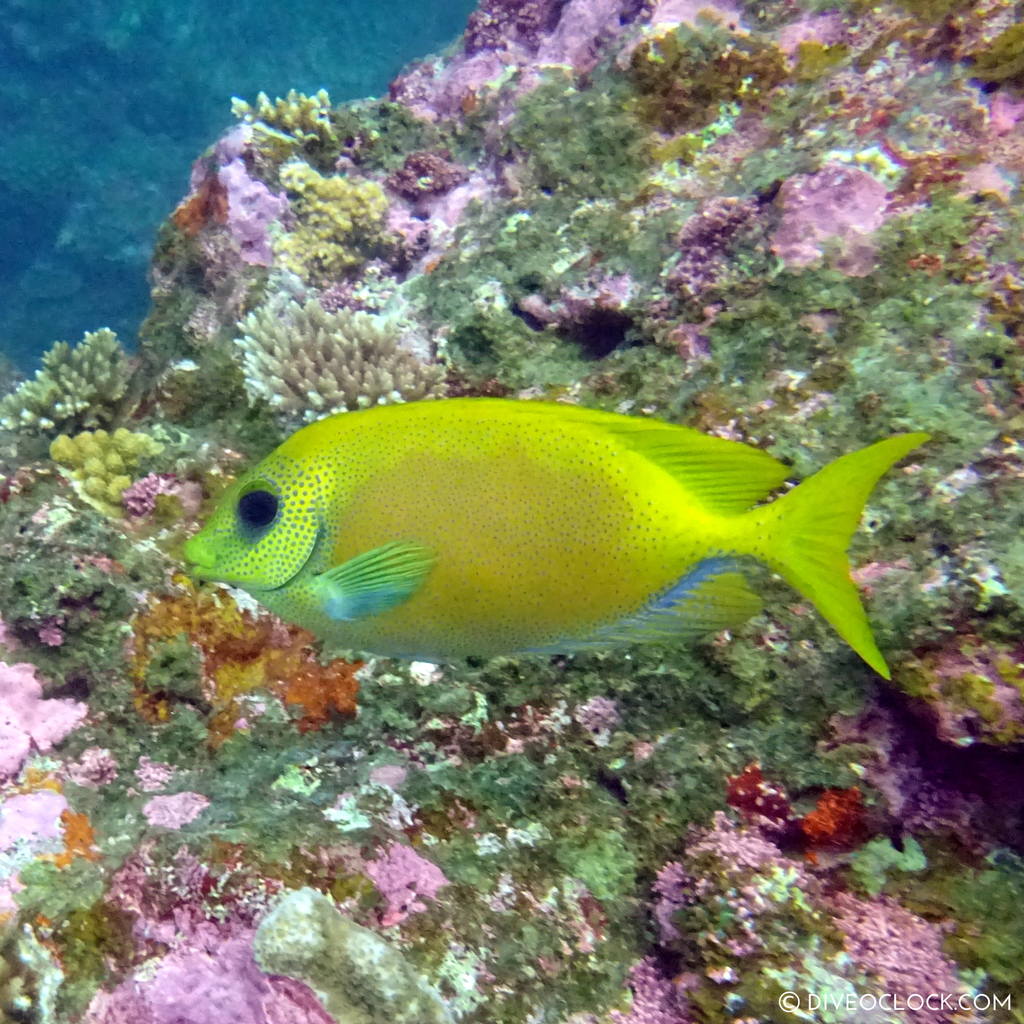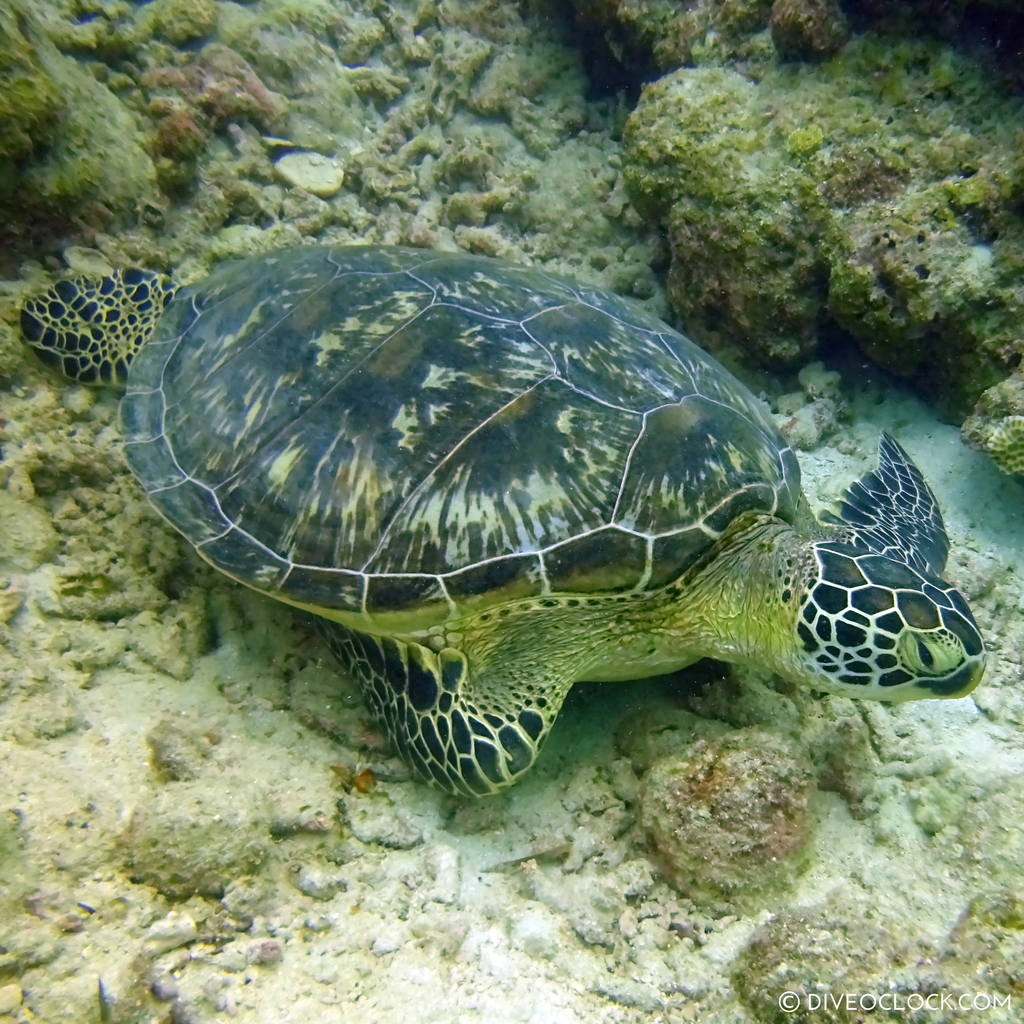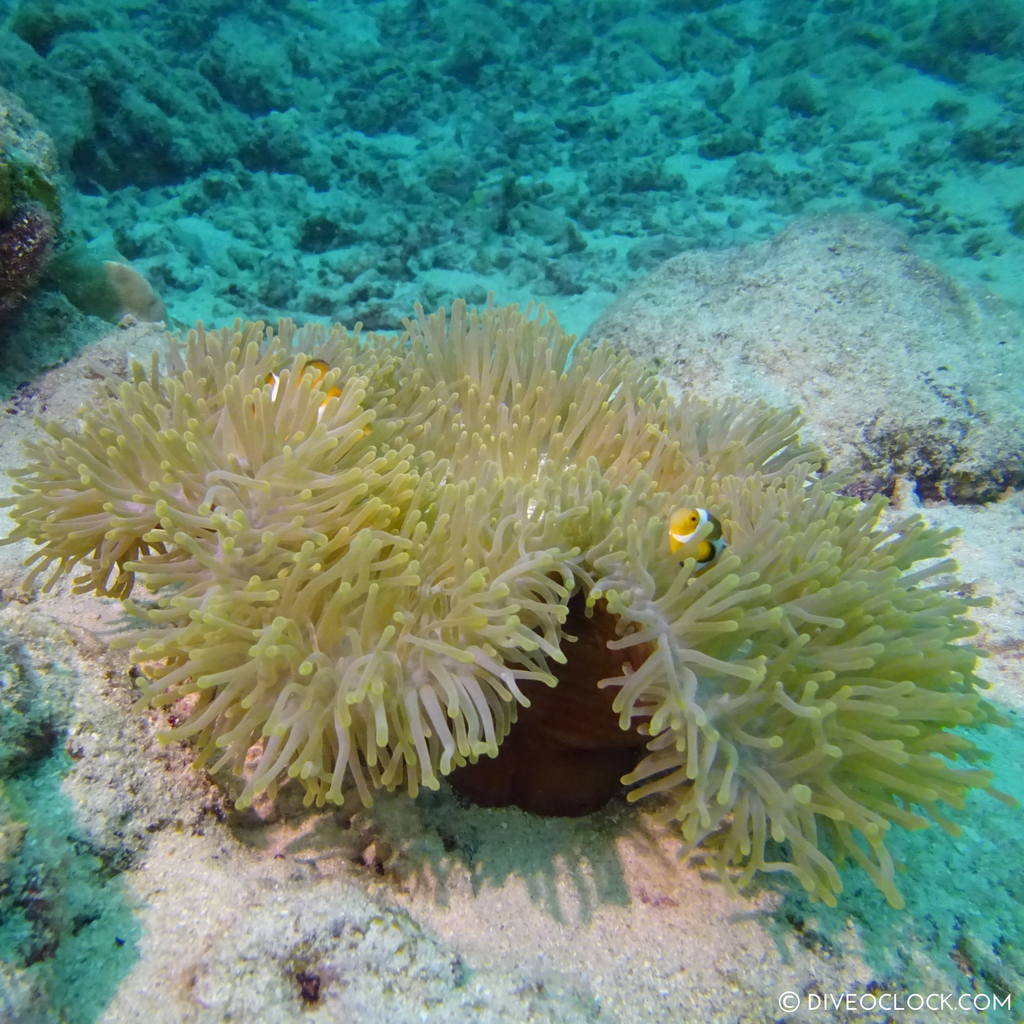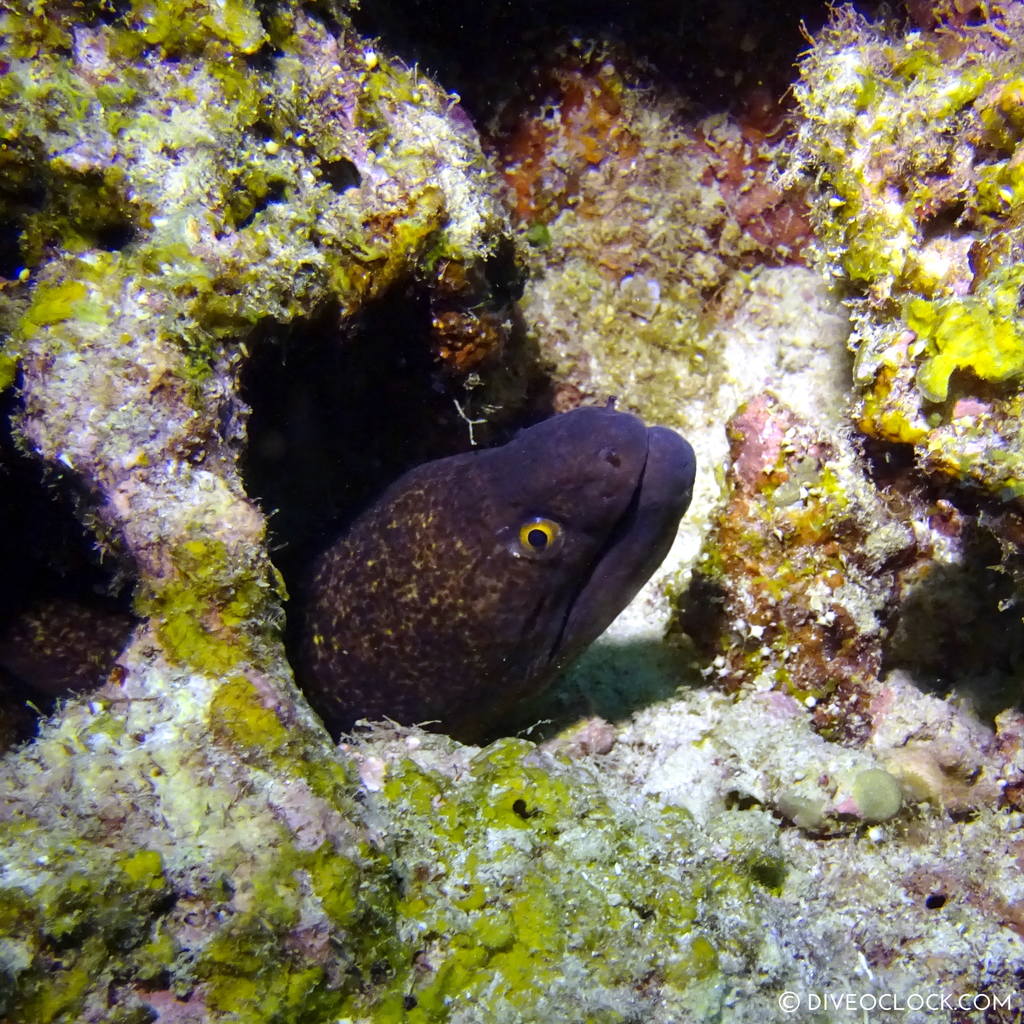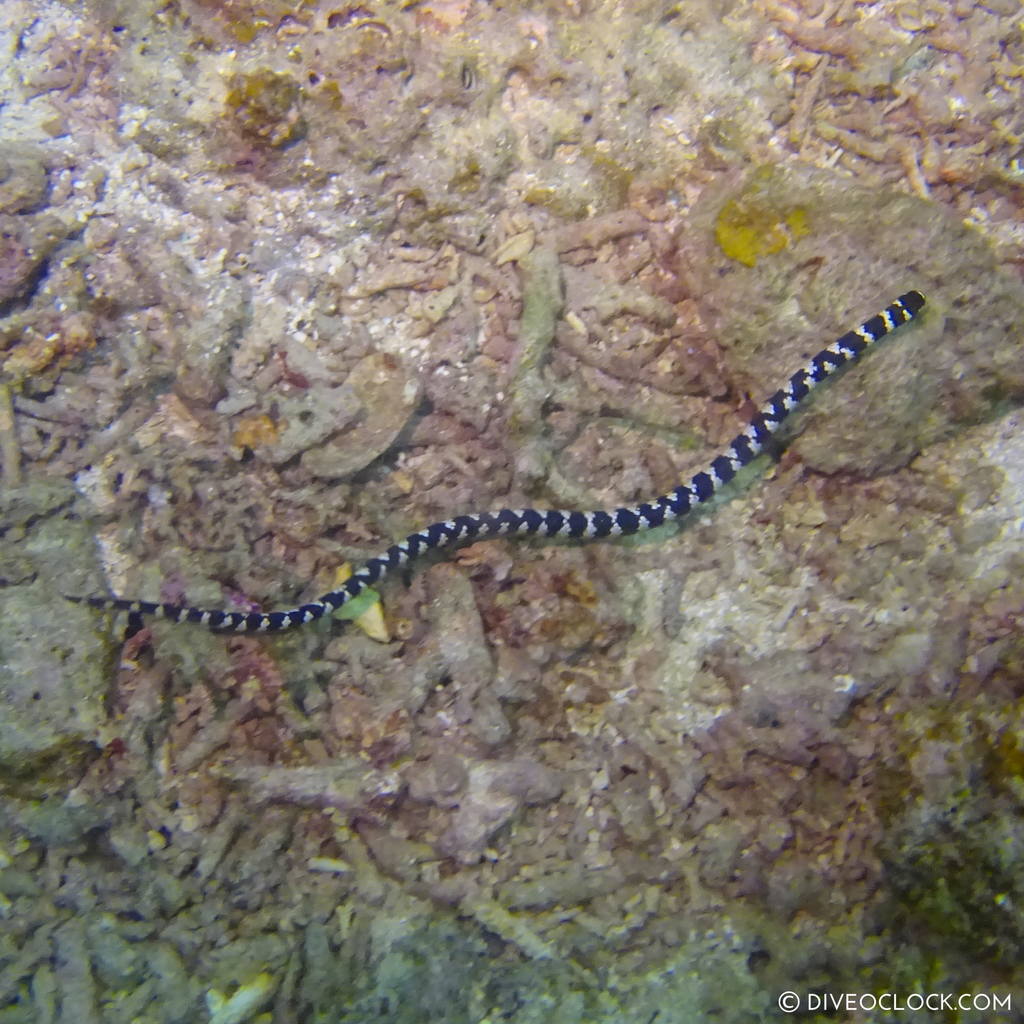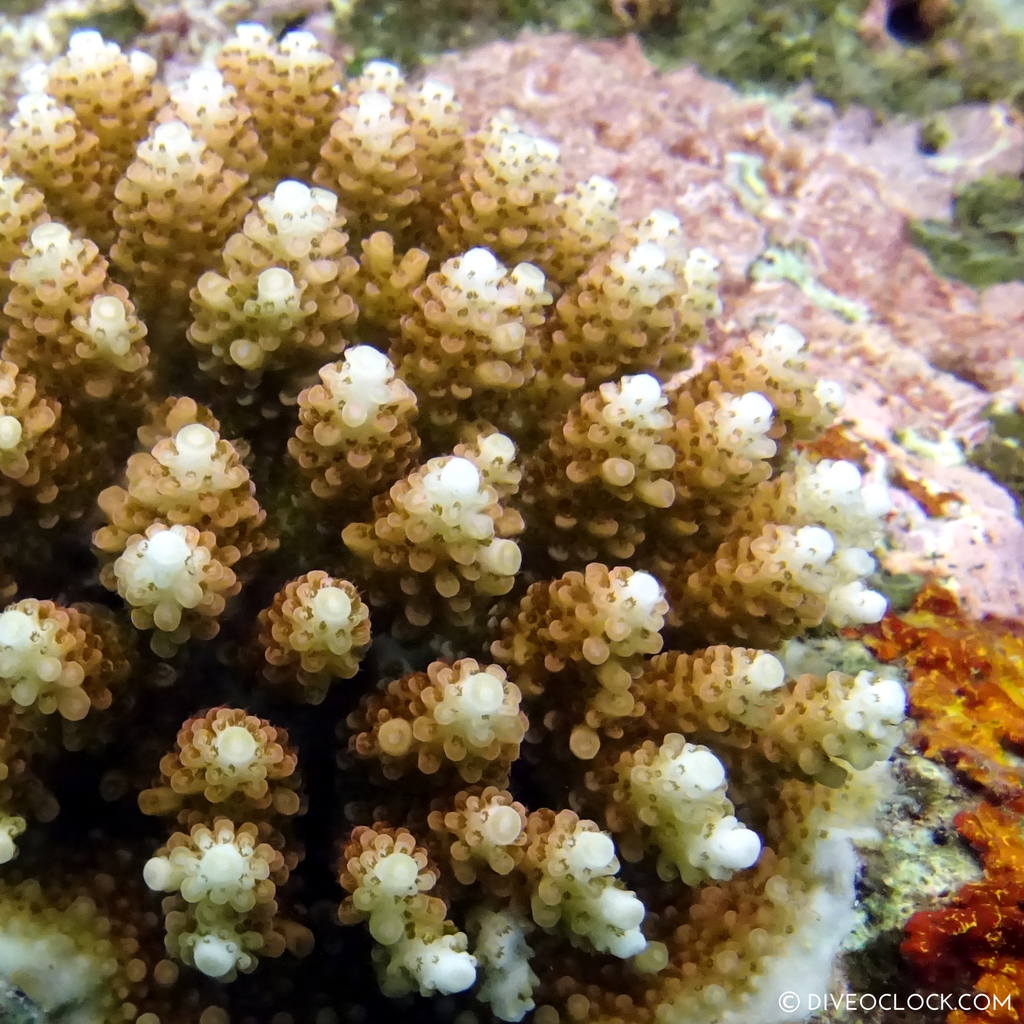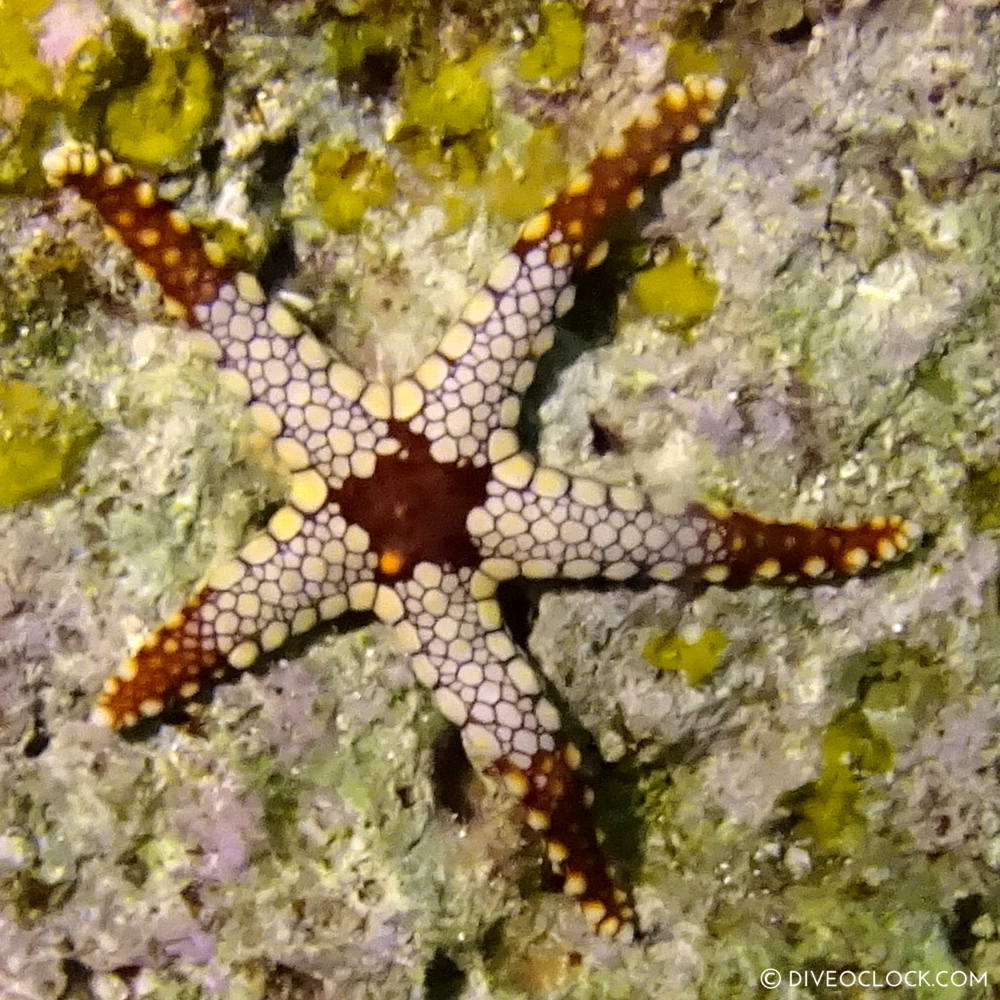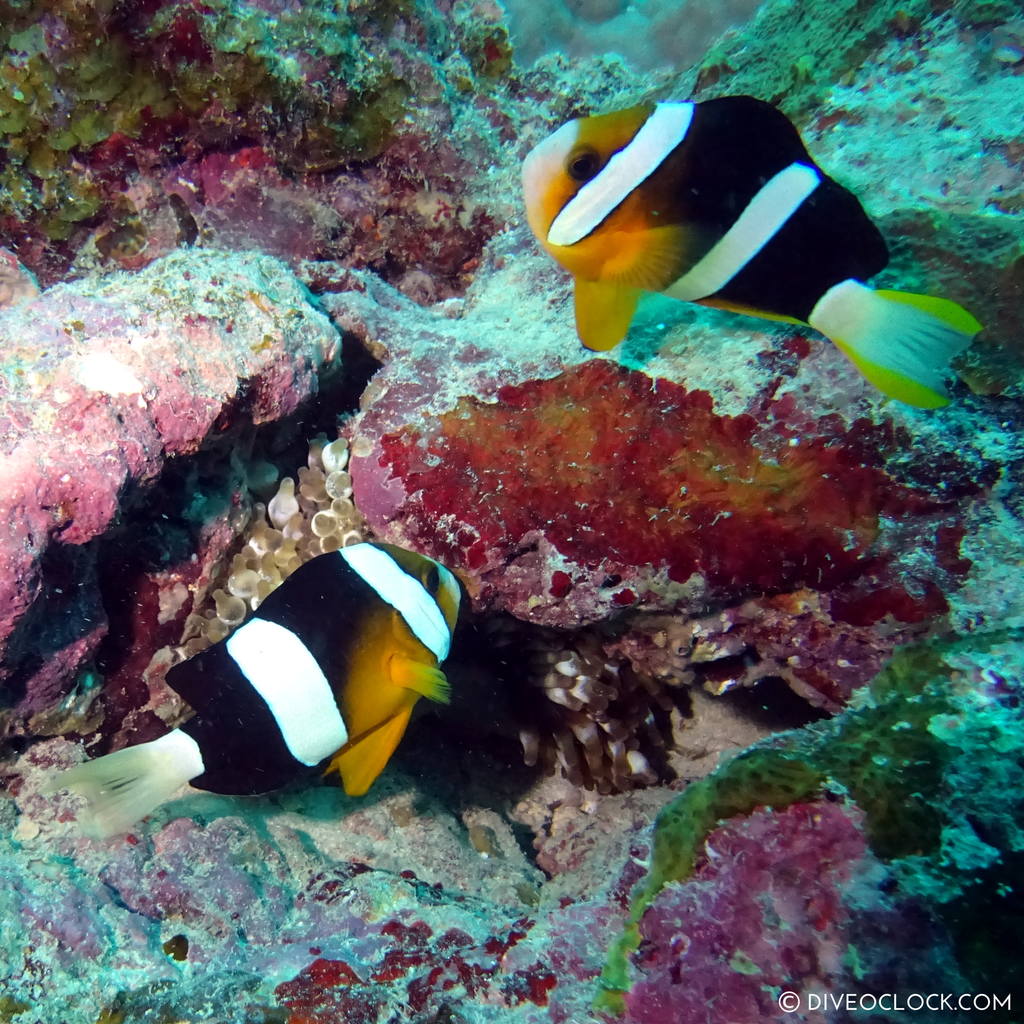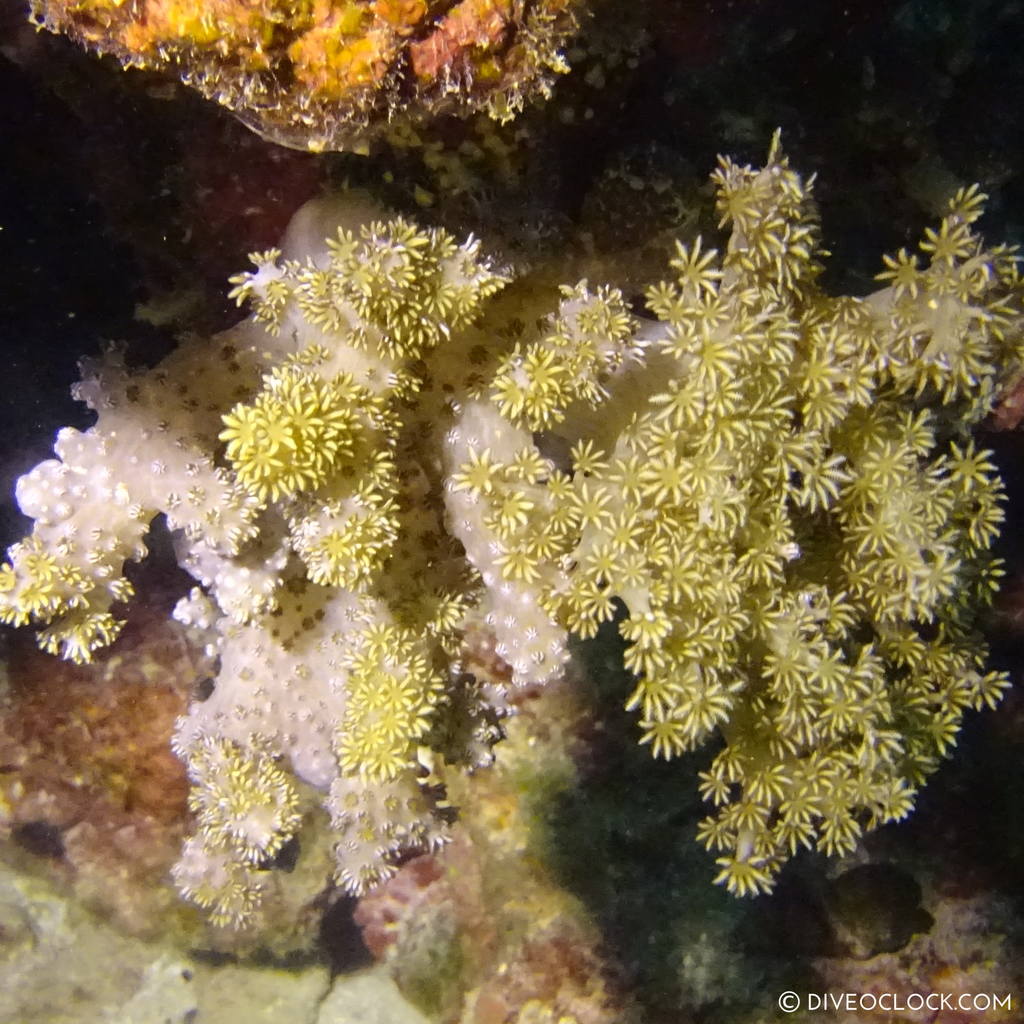 Marine life at Nagura Bay Coral Garden, Ishigaki, Okinawa - Japan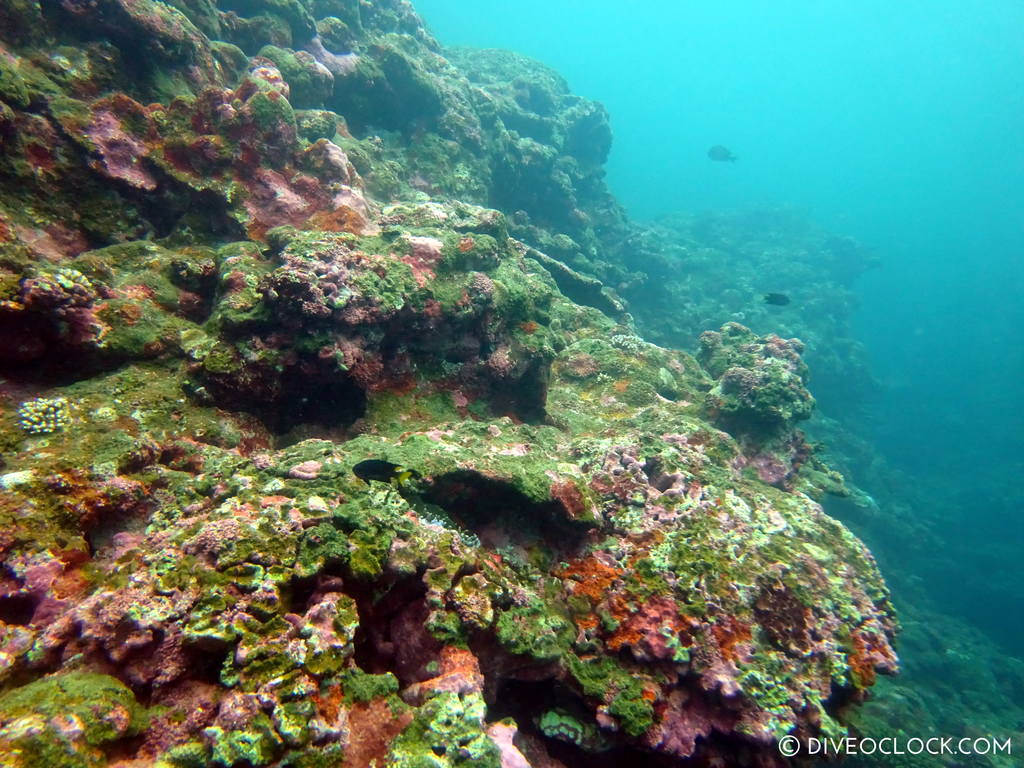 Reef status in Ishigaki - Okinawa, Japan
SCUBA Diving Ishigaki
As you might have heard a major bleaching event happened in the coral region of Japan. Only 1% of Japan's largest coral reef is healthy, study finds. All around the world corals are dying, so I was glad I could visit before all is gone.
The reef is not in the best condition unfortunately, quite a lot of dead zones and dying corals around. Still you can see on the photos above there was a good variety of marine life species. We saw a turtle, octopus, huge trumpet fish, mandarine fish, sweetlips - even a white tip reef shark showed up for a minute.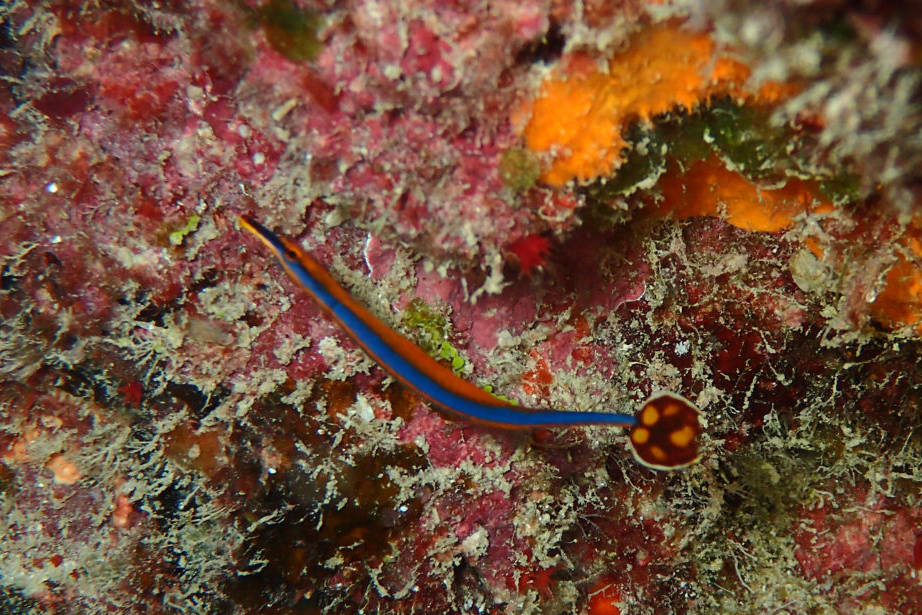 Honshu pipefish (Doryrhamphus japonicus). Photo credit: Prime Scuba Ishigaki
Muck diving in Ishigaki
It rained during the day and the visibility was not good unfortunately. When I was asked if I wanted to go for macro diving, looking for the small creatures, it didn't take long for me to decide. As this second dive site turned out to have a pretty low marine diversity and quantity, and quite a lot of sandy areas, it was great for muck diving.
We found some really stunning nudibranch and shrimps. Even a Honshu pipefish (Doryrhamphus japonicus) was around, beautiful. Flatworms, Leaf fish and a tiny Whip coral shrimp (last photo) we spotted underwater, pictures below.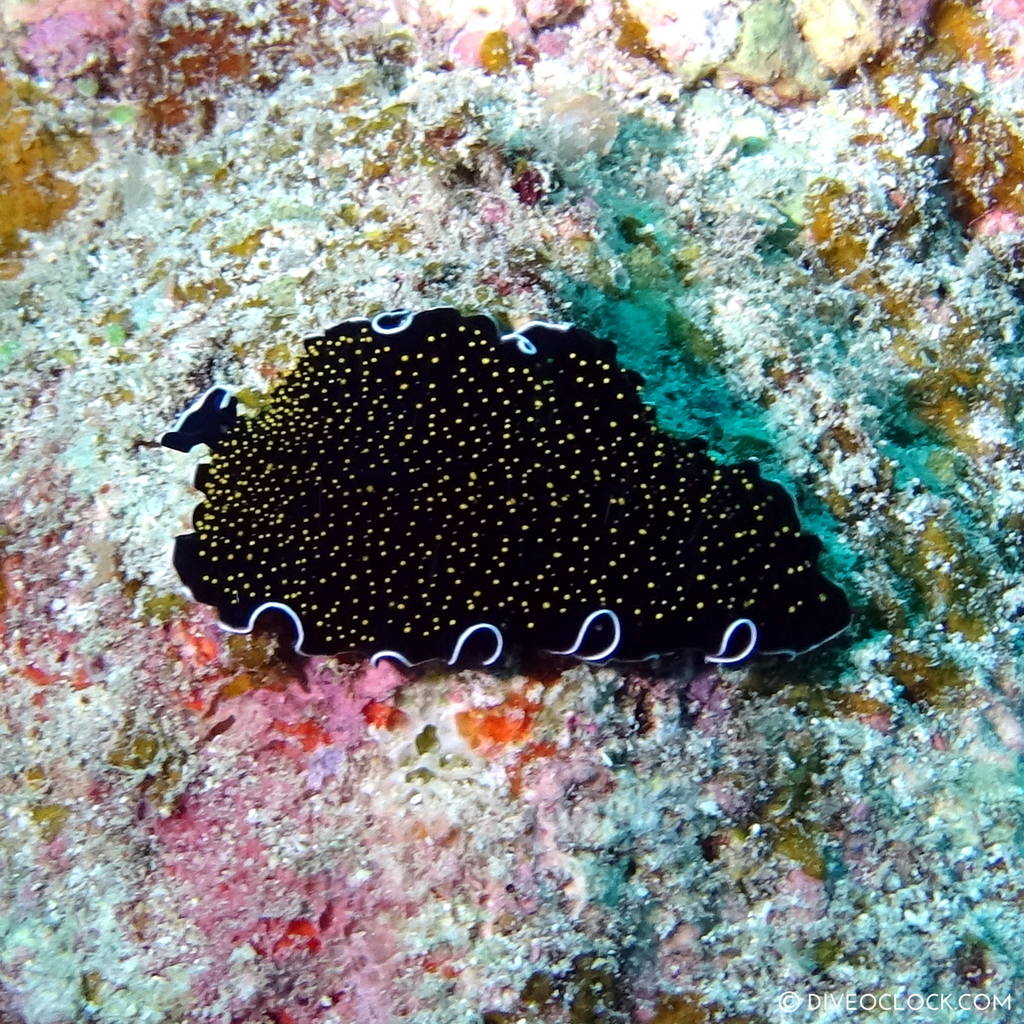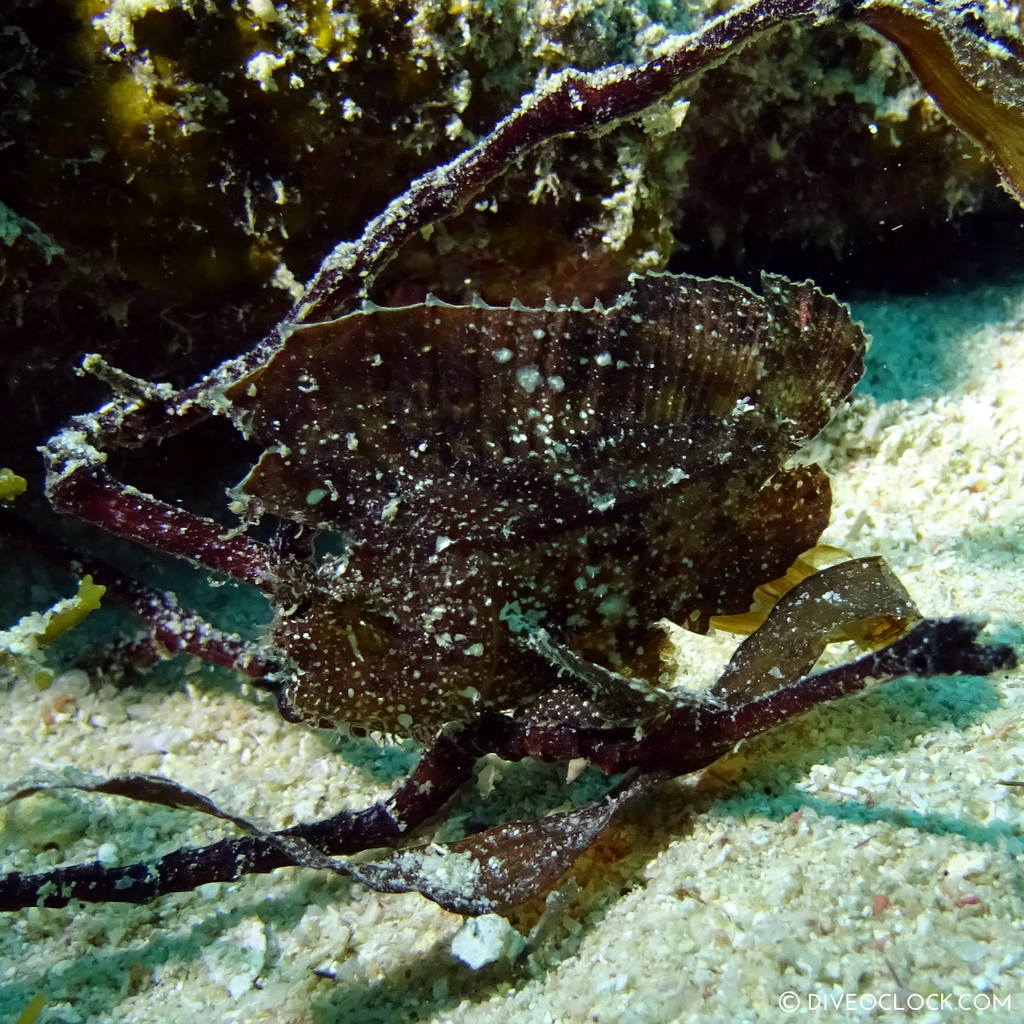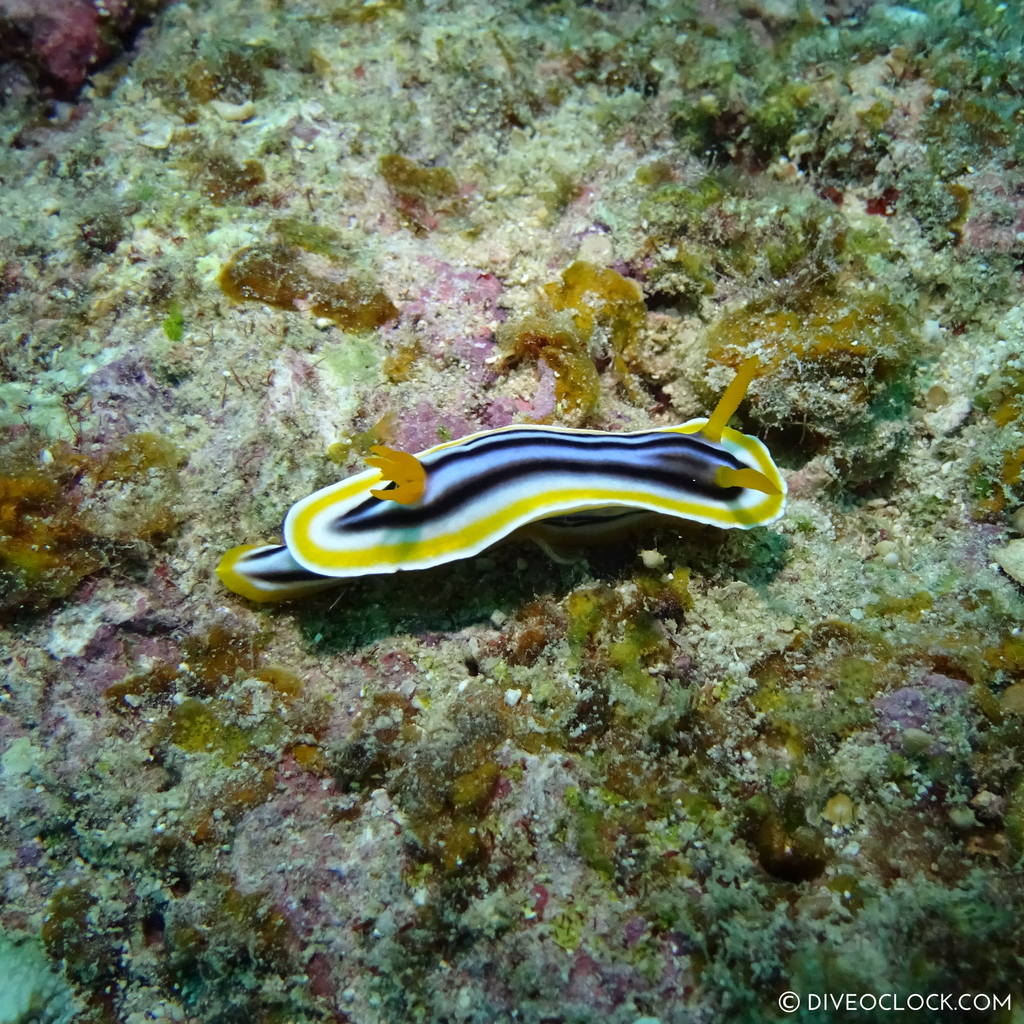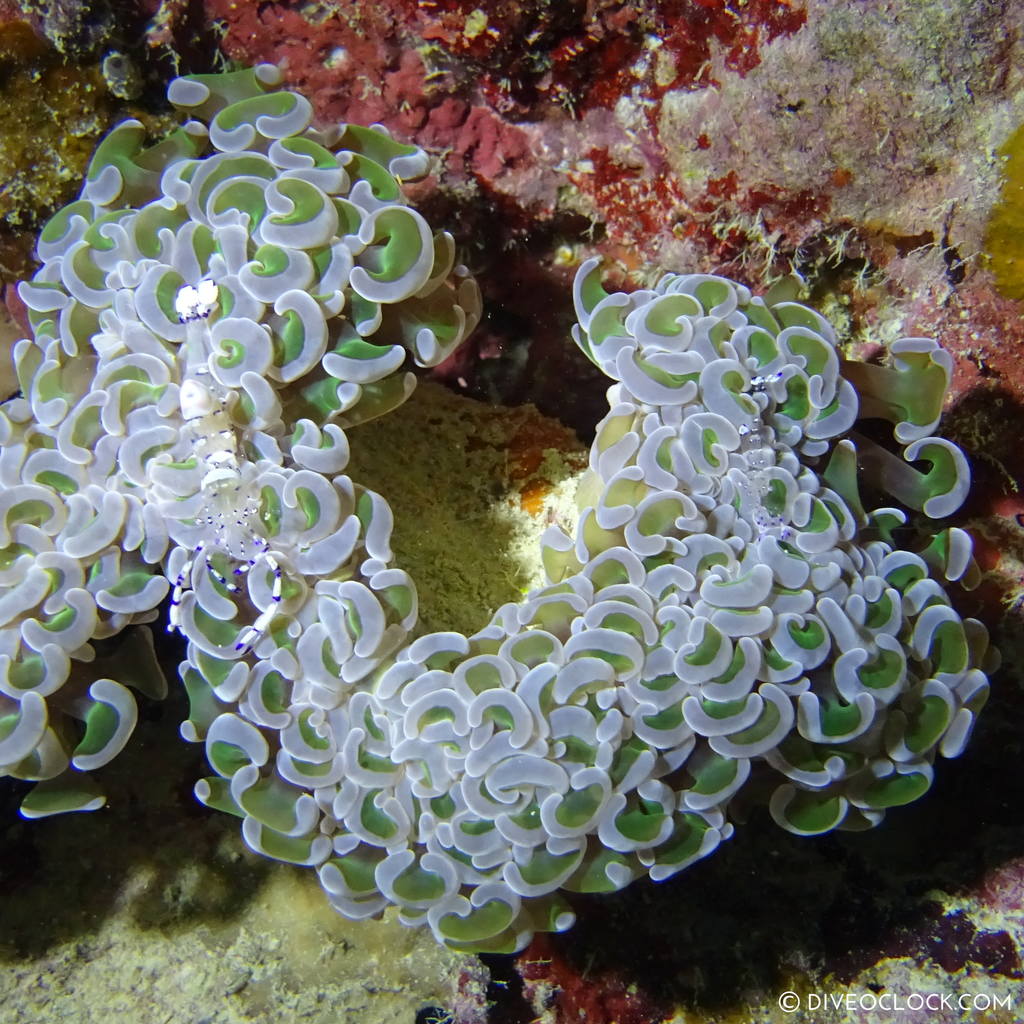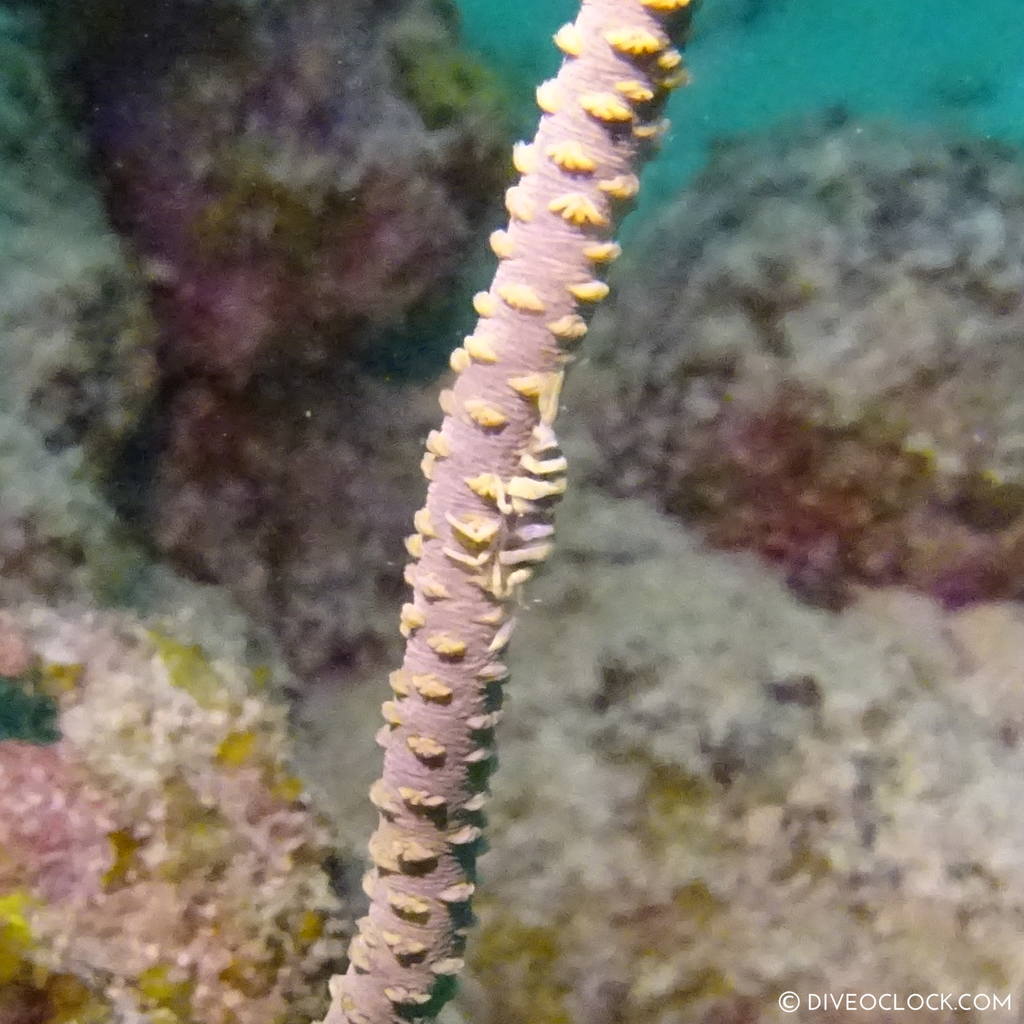 Muck diving Osaka Purple Queen Reef, Ishigaki, Okinawa - Japan
Manta Ray Diving in Ishigaki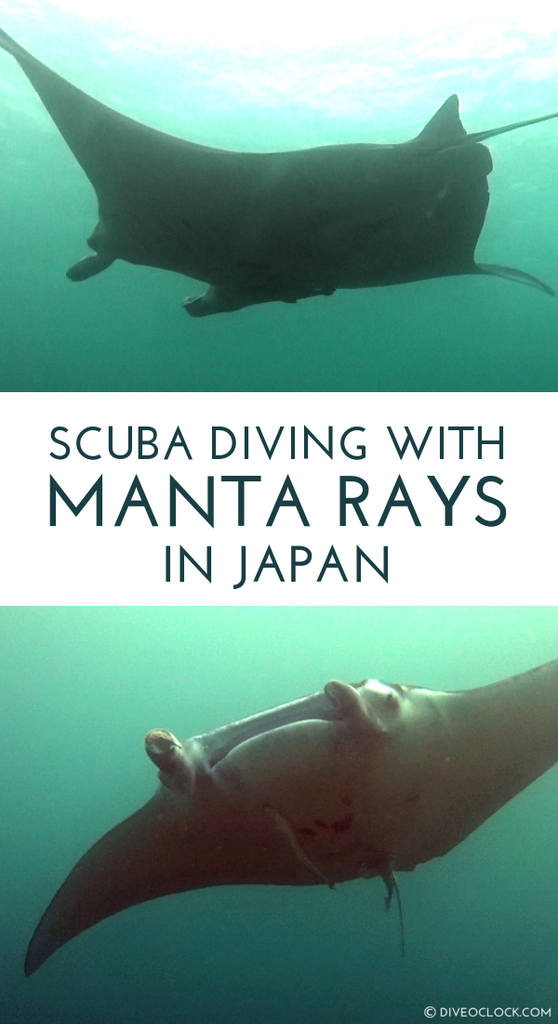 Time for the highlight of the day!
When arriving at Kabira Manta City for diving with manta rays we had to wait a bit. One of the great local rules is that there are only five boats allowed at the same time. Also there was an incredibly good briefing about manta rays and how the dive was organized.
We were lucky, there were mantas all around the cleaning station, yeah! It was truly amazing to see the manta rays in Okinawa. They are so magnificent and gentle.
What I did not like was the fact that everybody was touching what was left of the reef, holding on and stabilizing on anything. Hard corals are not rocks! Of course I get the reason why, you do not want to scare the manta rays away, but destroying the reef has a similar effect in the long run. Plus I think it is really a bad example for beginners. Rope systems to hold on, like they have for watching Thresher sharks in Malapascua would help a lot in my opinion.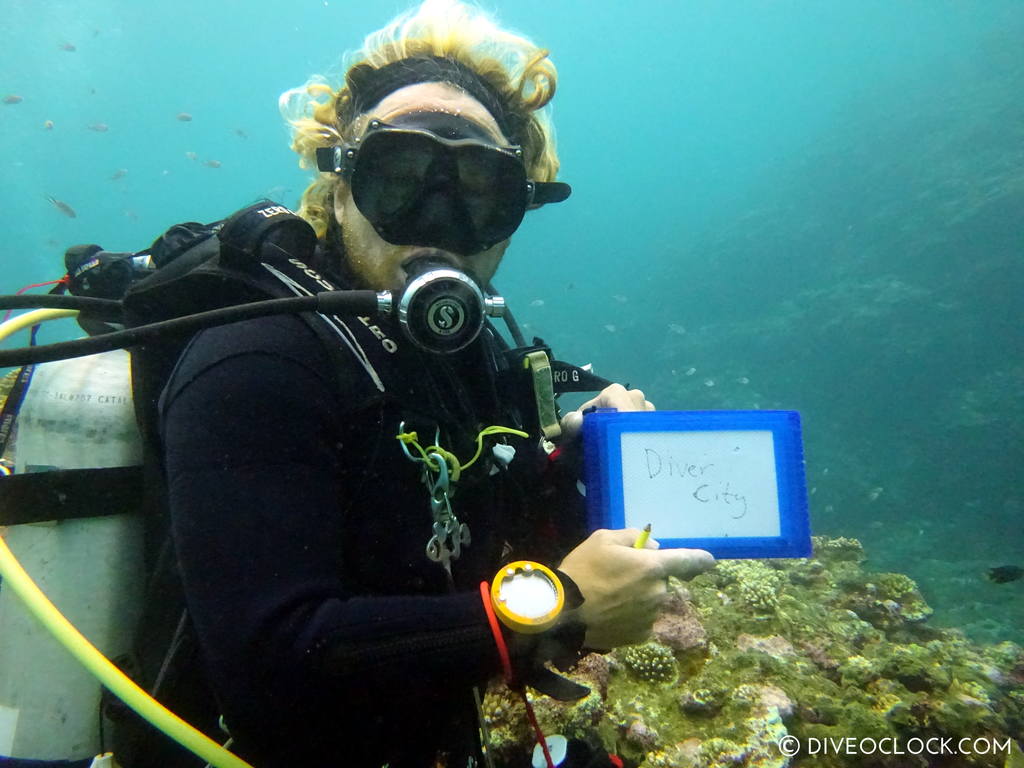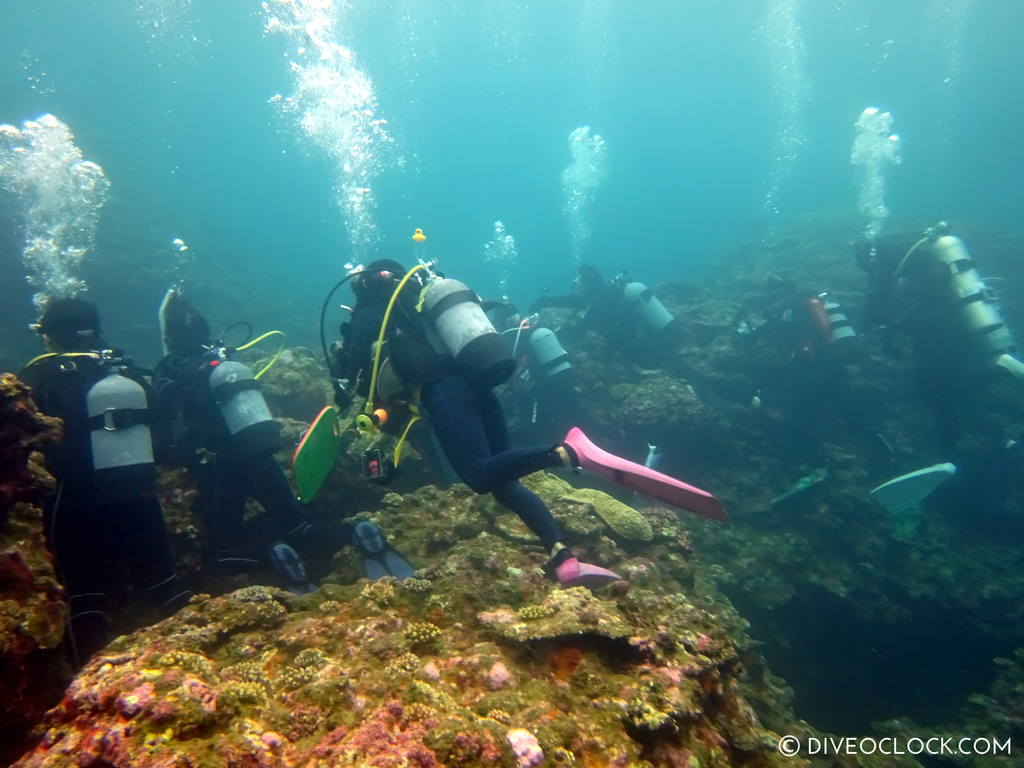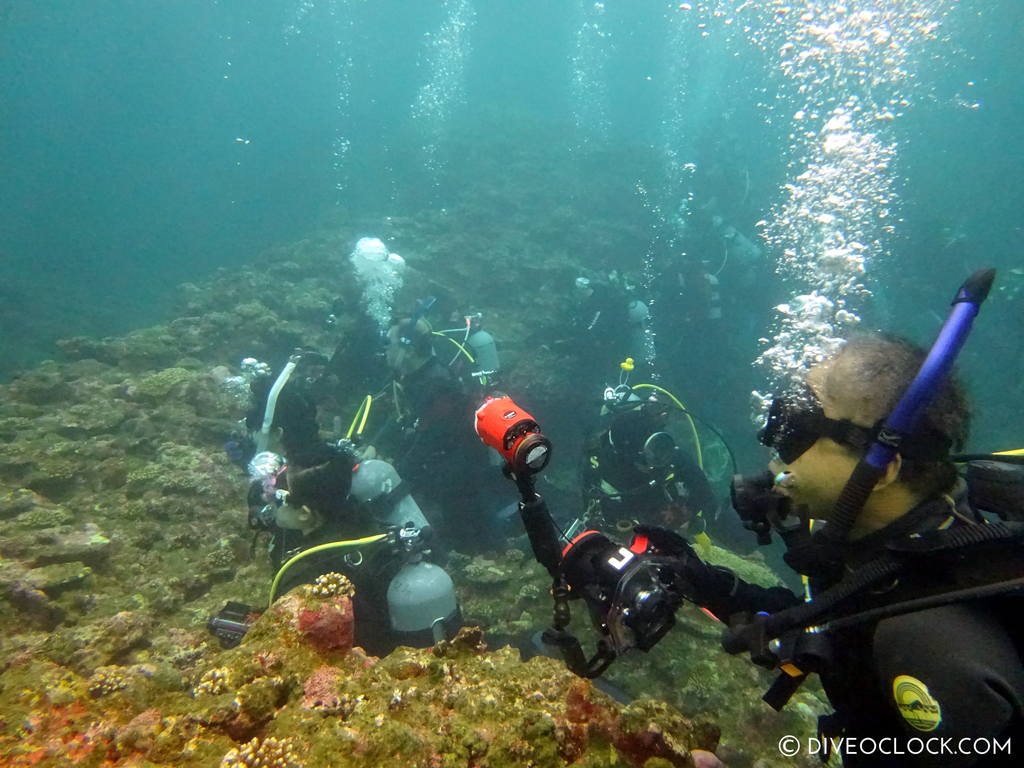 Diver City at Manta City Ishigaki, Okinawa - Japan
Comparing dive destinations
Bottom structure
Reef structure
Pelagic
(big stuff in the blue)
Big reef
(bigger stuff on the reef)
Macro
(small stuff on the reef)
Current
(stream)
Flat bottom with bumps/big rocks/pinnacles
Hard corals
(not moving)
Sharks
Turtles
Nudibranchs
(snails/slugs)
No current
Slope (going down slowly)
Soft corals
(moving)
Rays
Eels/snakes
Sea horses and pipe fish
Small
(you can easily swim against it)
Wall
(steep but you see the bottom)
Table-/fan-shape
Trevally/Jacks/Tuna
Groupers
Scorpion/frog fish
Medium
(you can swim against it for a little while/higher air consumption)
Drop off
(steep and you can't see the bottom)
Anemones
Barracudas
Lobsters/crabs
Octopus/squid
Strong/reef hooks
(you cannot swim against it)
Blue
(no reference)
Sponges
Sardines/herrings
Puffers
Shrimps
Pumping/washing machine/OMG/hold your regulator
(superman)
About Prime Scuba Ishigaki
From the pick-up to the drop-off, everything was handled with the best care possible. You definitely feel like a guest on board. Actually there is even unlimited dive time (except for the manta dive) and they divided the group in really small guided groups. I even had a private guide! There was a great ambience between the staff members and all the guests.
The only thing that concerned me was that there was nobody who stayed on board while we went diving. For safety and emergencies I think that should be a standard. They did not use mooring buoys, but I guess none of the dive centers do that.
The dive shop I have not seen, everything was handled on the boat which is spacious and comfortable. It was rainy weather but the sundeck offers a wonderful place to relax and enjoy the views. There is a dry area, changing room, toilet, showers outside and a coffee/tea corner. It's comfortable to get in and out of the boat when diving and the guys help wherever they can.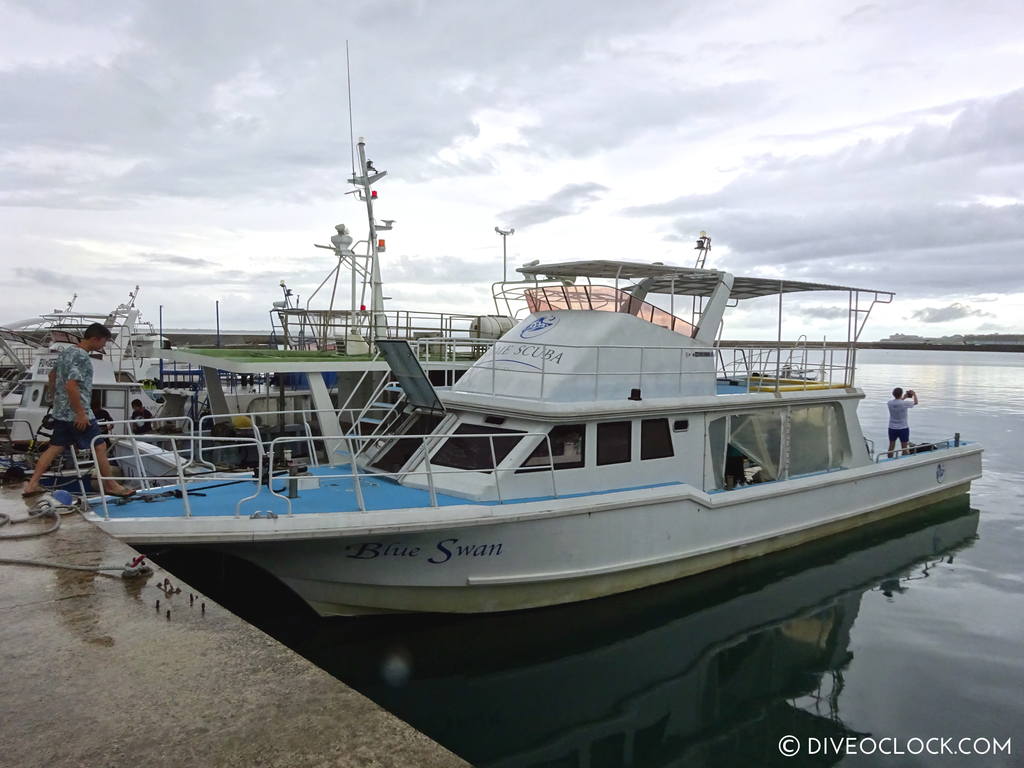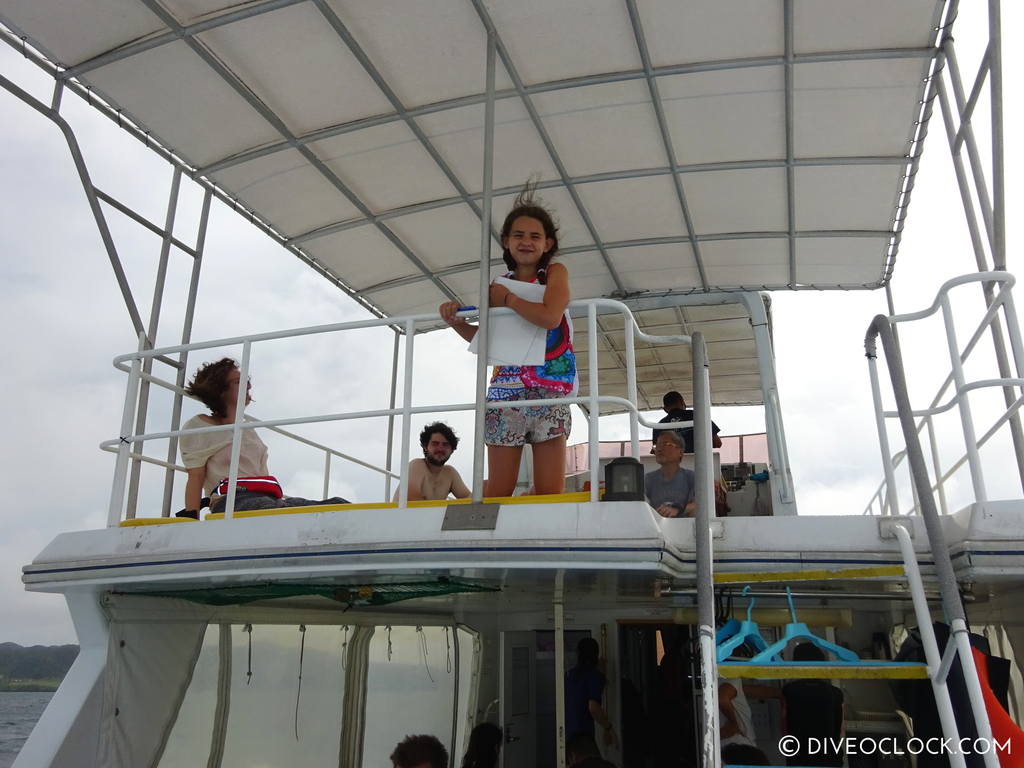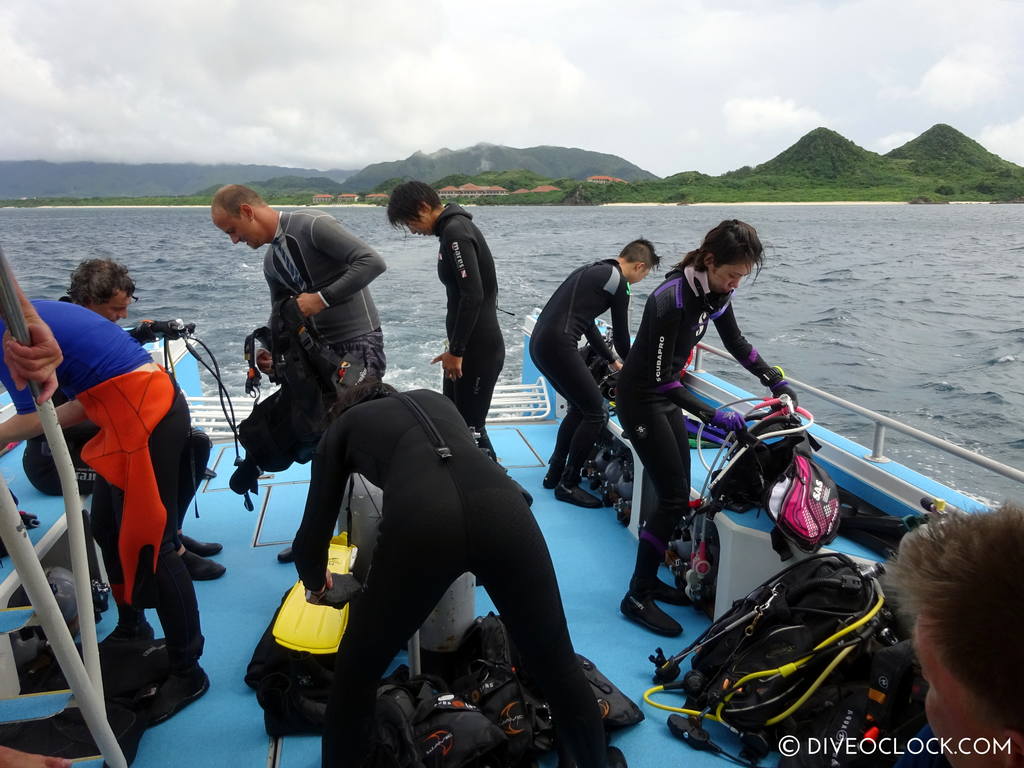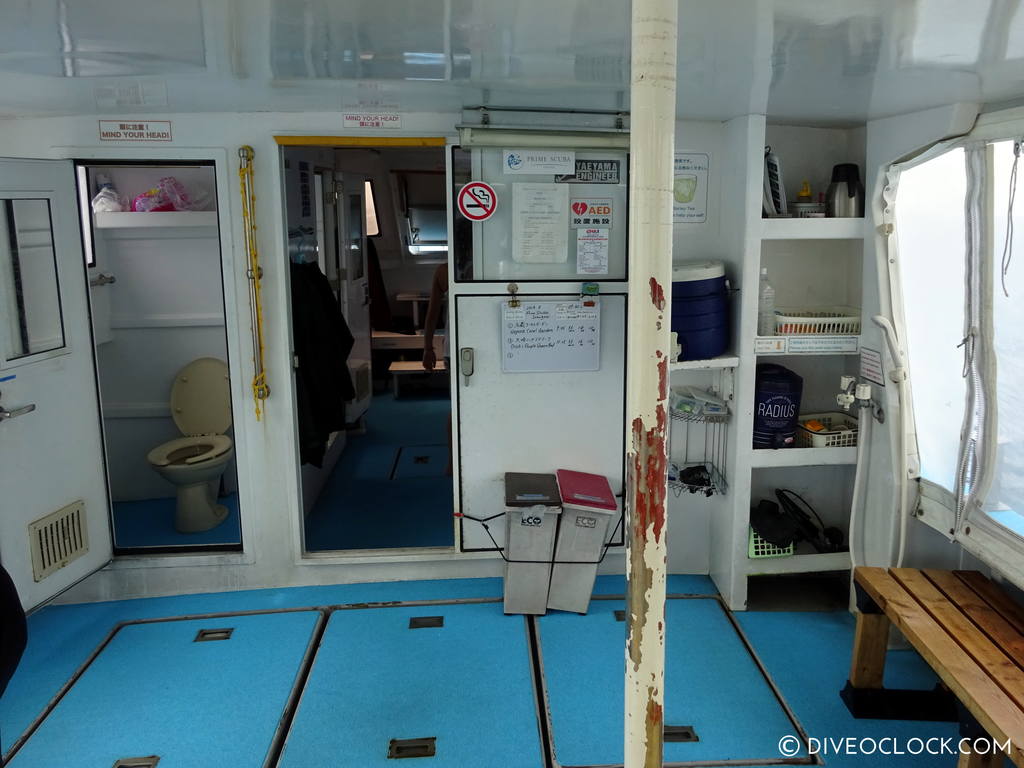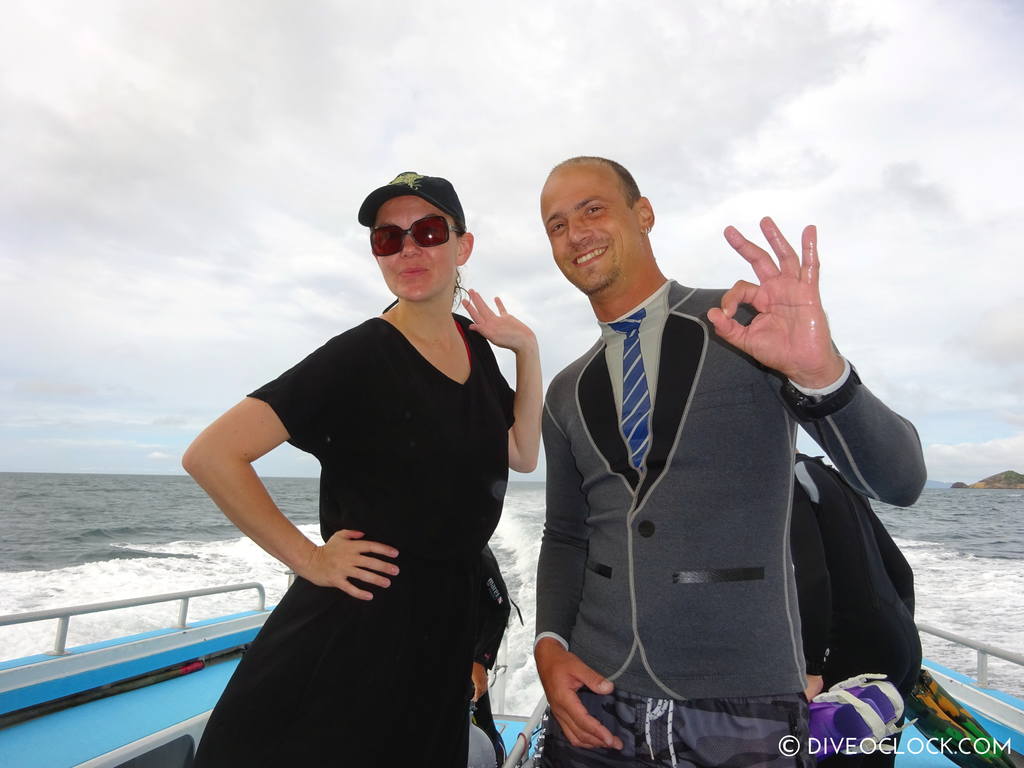 Day of boat diving with Prime Scuba Ishigaki, Okinawa - Japan
Bonus tip: Rent an electric scooter and drive around the island, great fun.

Crocodilefish (Cymbacephalus beauforti) in Ishigaki, Okinawa - Japan
If you like this post, hit that like button on our
Facebook page
and stay tuned for more!
Marlies Wolters
Founder of Dive O'Clock "It's dive o'clock somewhere!"

Share this page: